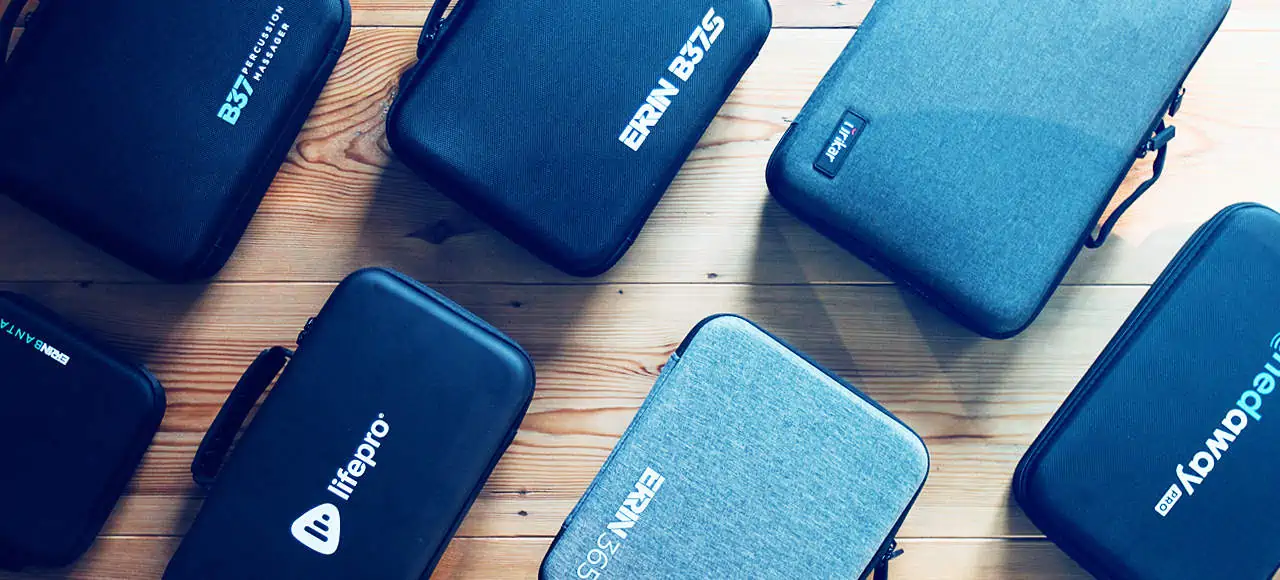 Best Massage Gun Brands of 2023 – These Brands You Can Rely On
What to Know: We independently review products we recommend. If you click on links we provide, we may earn a commission. Learn more.
---
What are the best massage gun brands of 2023? We will explore this question in this article. We will explain the reasoning behind our recommendations and tell you which brands to avoid.
How do we know what we will tell you here? We don't do "trust me, bro." You can trust the information we provide you. Why? Because:
---
---
---
Best Massage Gun Brands – Our Top 5
---
Ekrin is our number one best massage gun brand of the year, and for a number of reasons. We've loved what they do since we first interacted with Ekrin Athletics.
They are an American brand that has sold hundreds of thousands of devices to its customers. They are a genuine brand and very good at what they do.
They also focus only on massage guns. We know many brands that started with massage guns and then moved on to other things – not so for Ekrin.
Even though they've enjoyed great success since launching their first product, they have remained humble and caring. The founders are involved in running affairs and helped to keep the standards high.
Ekrin is also one of just two brands that offer a lifetime warranty for their devices – the other being Lifepro. They have a working customer-first policy; if you want to return a device for any reason, the process is fast and easy (we checked).
We also love the quality of their devices. The batteries especially last a while. They are Samsung branded and not the cheap quality we often see with devices from other brands.
---
Ekrin Athletics Massage Guns
Ekrin has 4 guns in their portfolio. All these guns look very similar (the design language) but work differently.
They include:
---
INTERESTED? You can use the MGA20 promo code, to get 20% OFF the price of any Ekrin device. Save up to $66 by buying at Ekrin's official website.
---
---
Good old Theragun still has a huge hold on the percussive massagers industry. Without them, we probably wouldn't have these devices or even percussive therapy, to be honest.
We say Theragun because, until recently, that is how they identified before they rebranded to Therabody and expanded their range of athletic recovery and wellness products.
They were first on the percussive industry scene along with Hypervolt – their main rival. But Theragun turned out to be more forward-looking than their competitor, releasing 3 generations of their massage guns. The 4th generation devices were unveiled last year, and now they're rolling out the 5th one.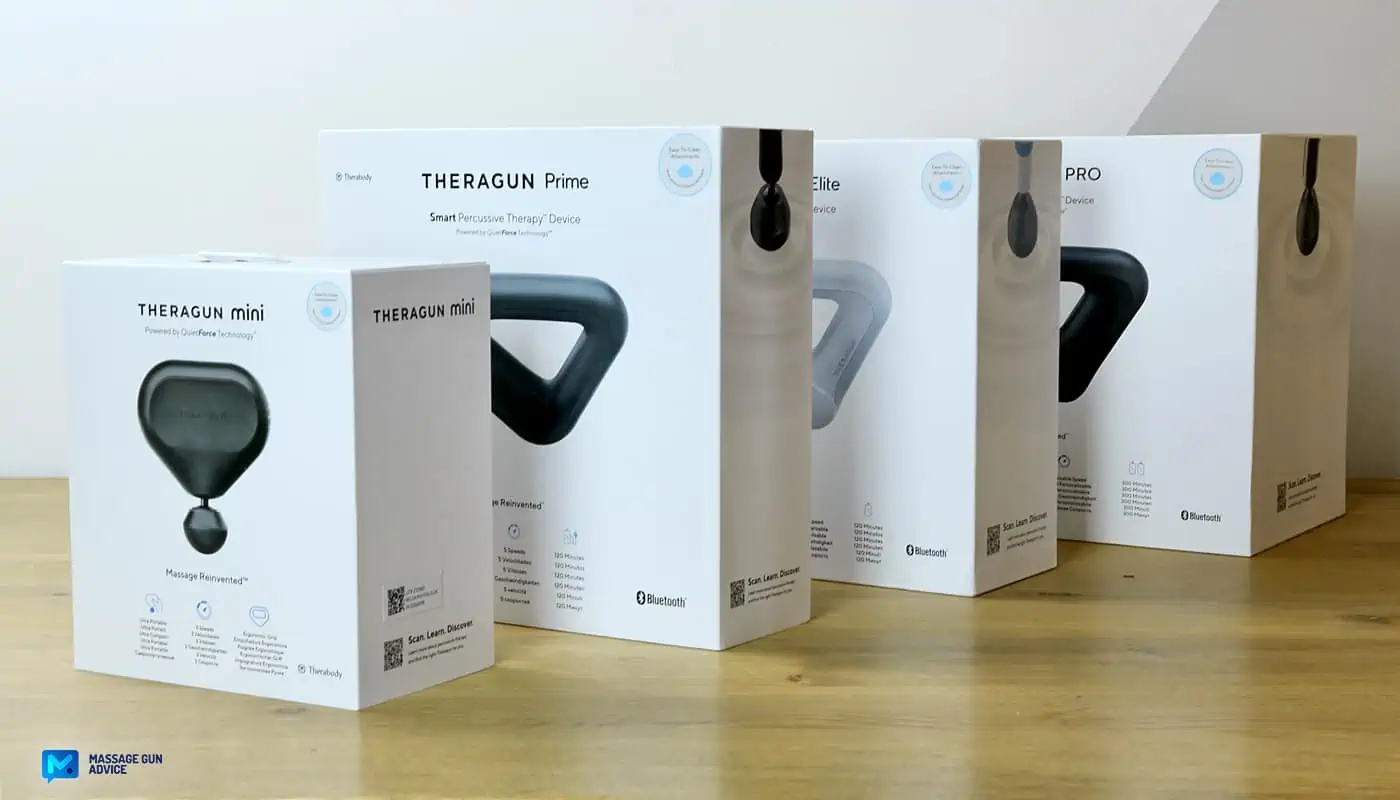 ---
What can we say about Theraguns?
Theraguns are great at what they do. All devices have a high amplitude and are quite punchy and penetrative. They are also well-equipped with numerous accessories.
However, they cost a pretty penny. Unless you really want a Theragun, you might want to check out alternatives that cost way less but still offer similar or even better features.
Since the third generation Theraguns, we haven't seen them offer something truly unique. Other brands caught up with them (Achedaway is a good example) and even worked out the features that Theragun struggled with. i.e., noise.
However, Theraguns still have things that other brands don't. For instance, they patented the triangular shape and sued brands that infringed on this patent.
They also have Bluetooth connectivity for some of their devices. The devices can work with a Therabody app with this connection. However, we think it's not a must-have feature for a device. It's awesome for beginners if you can't learn how to massage from their YouTube videos.
---
---
Achedaway is a trusted American-Chinese brand that sells recovery products. They feature here as the number 2 brand for two main reasons:
Apart from the two reasons, Achedaway equips their massage guns well. They come with great attachments, including metallic ones and semi-soft half-ball attachments.
Even though they only sell two massage guns, they always try to be innovative and disturb the usual norm of massage guns.
For instance, they recently introduced a cupping device that we reviewed a while back – it was pretty innovative. We are also aware that they are working on more solutions even now.
Want to buy it? Use the MGA50 code to get $50 OFF at the Achedaway official store here.
Read More Our hands-on Achedaway Pro review.
---
Bob Schrupp and Brad Heineck made a name for their brand on YouTube with their educational channel. They have launched a number of products, including massage guns, that they sell primarily on Amazon.
Their devices are known for being quiet and somewhat decent, but their latest D6 Pro Theragun-like massage gun has been of one of the best we've seen in a while.
We also liked their mini Q2 model, as well as the X6 Pro and T2.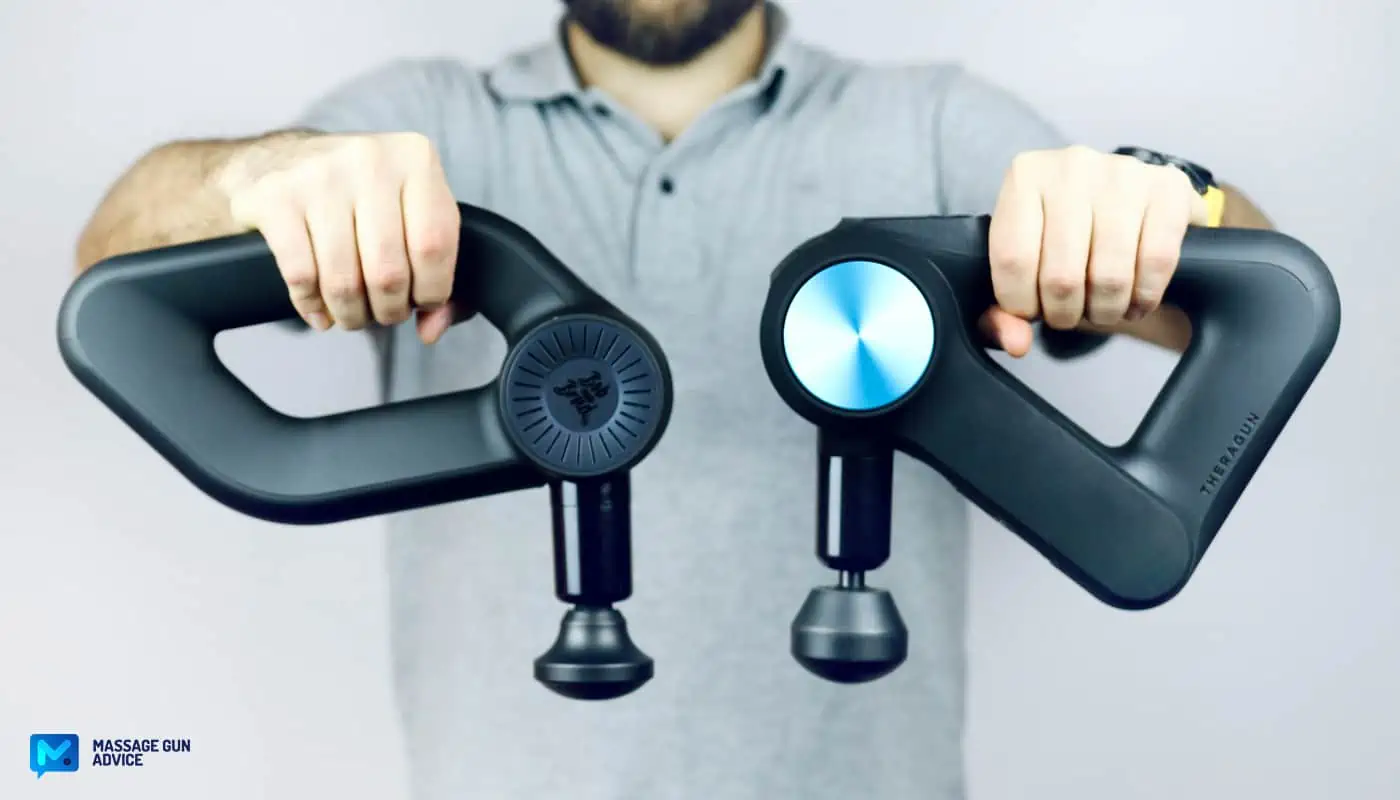 ---
We like to give credit where it's due, and Hyperice deserves a shout from us. We often put them in the same category as Therabody – they are direct competitors.
Hyperice runs a marketing campaign focusing on athletes' recovery. Indeed there are many pro athletes who praise these devices. They are the NBA players, MLS, and NFL players. They all praise the effectiveness of Hypervolts.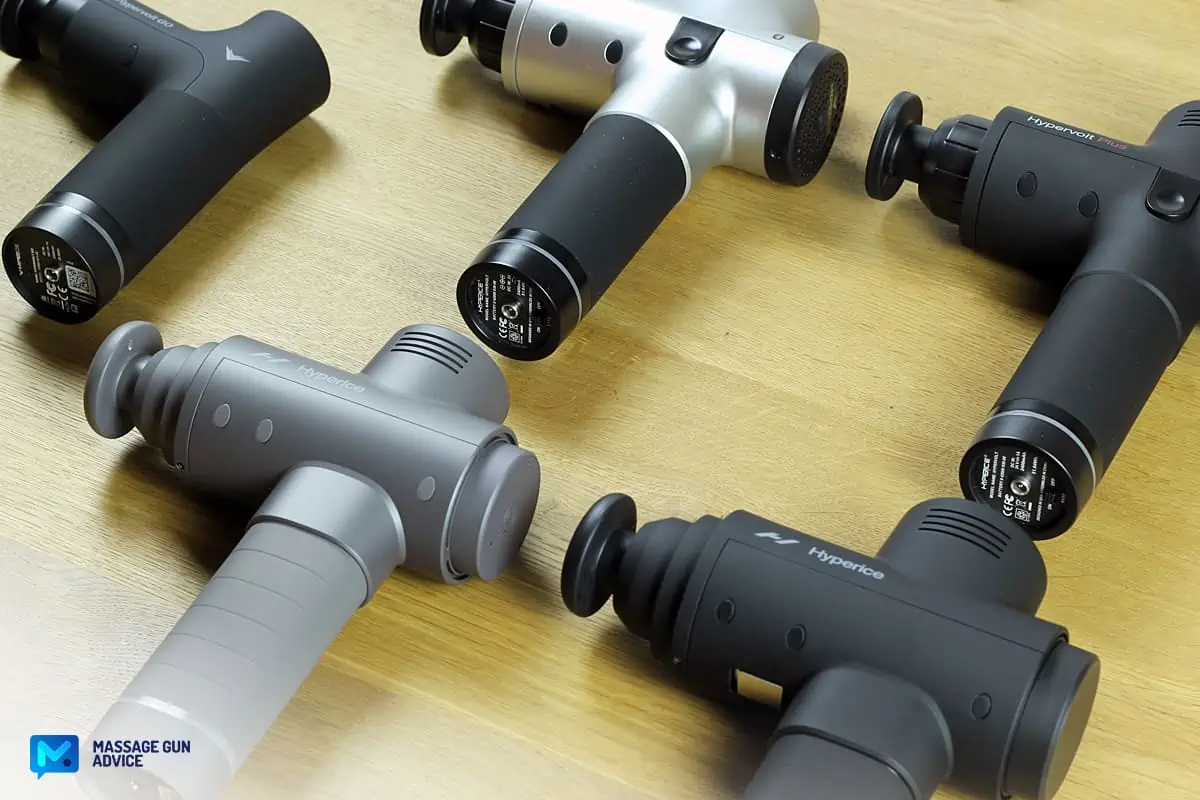 Nevertheless, Hyperice remains a great brand. We are certain they will develop new ideas to spruce up their massage guns and make Hypervolts super-impressive yet again!
---
Best Of The Rest – Three Runner Up Brands
Here are our three favorite runner-up massage gun brands..
---
Opove is among the early players. They are best known for making early Hypervolt clones that they sold for half the price of real Hypervolts.
However, they turned from the norm when they produced the Opove Apex – a high-amplitude, unique looking massage gun.
---
Lifepro, just like Ekrin Athletics, is an American brand. However, unlike Ekrin, they don't just sell massage guns; they sell a host of other fitness products.
At one point, they dominated the massage gun market (at least in terms of the number of different models; they had 15 models). But they trimmed down the number of models and only kept the best-selling ones.
---
Urikar sells very affordable but basic massage guns. However, we have yet to see another brand offering a solid sub-$100 heated massage gun (with the URIKAR200 code – gives a massive 40% off).
Urikar's Pro 2 model is the best Urikar by far, we voted it the best heated massage gun. Don't expect it be one of the most powerful massage guns, but it is a good budget device.

Read our full Urikar Pro 2 review for more details.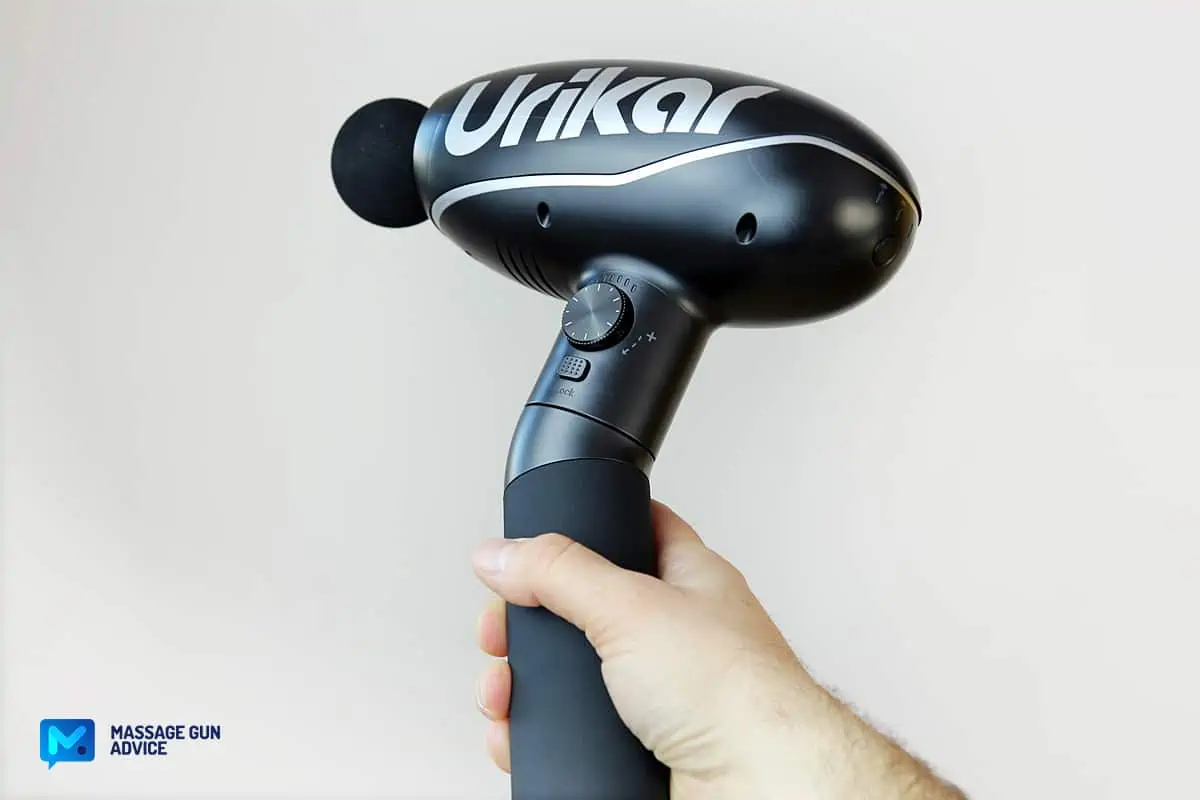 Other Good Massage Gun Brands
---
Any Massage Gun Brands To Avoid?
The brands we've listed so far are 100% okay and legit. However, you need to be aware of brands you should avoid. We will not give specific names here lest we appear judgmental.
Nevertheless, we will tell you how to figure them out. Here are some tips:
---
All Other Brands Whose Massage Guns We Have Reviewed
Here is a list of percussion massager brands whose devices we've tested or plan to test in time to come:
Addaday
addsfit
Aerlang
Bitfinic
Blackleaf
Butyce
Chirogun
Cryotex
Darkiron
Everyfun
Fitpulse
Flyby
Kingsfield
Legiral
Mebak
Medcursor
Naipo
NoCry
OYeet
Relxbit
Rexogun
TimTam
Toloco
WODFitters
---
Best Massage Gun Brands Summary
So now you know the best massage gun brands. We love Ekrin Athletics and Theragun, but we also value Hyperice (for being pioneers), Bob and Brad (for their latest D9 Pro gun), Achedaway (for all the inventions) as well as a few other brands for product/quality consistency.
Theragun started the whole industry and deserves mention. Besides, they actually make great products. Special mention to Opove, Lifepro (the only other brand that offers a lifetime warranty), and Hyperice, which is determined to keep a competitive edge over Theragun.
There are other brands that produce genuine and decent devices. However, watch out for brands that don't offer what they promise and those that sell what they don't produce at all.
Do you know any massage gun brands we haven't mentioned here? Or maybe you represent one of them? You can always contact us here.
Until next time!
Post Update History
Here's a quick rundown of all the tweaks and edits we've made to this article to keep it accurate and up-to-date!
Current version last updated on:
April 14, 2023 Made minor edits and corrected some links. (Author: Greg)
•
Written by:

Luke Deszczulka
Disclaimers
The views and opinions expressed on this website are those of the authors. Any content provided by our bloggers or authors are of their opinion and are not intended to malign any religion, ethnic group, club, organization, company, individual or anyone or anything.
All product names, logos, and brands are property of their respective owners. All company, product and service names used in this website are for identification purposes only. Use of these names, logos, and brands does not imply endorsement.
It is our policy to make every effort to respect the copyrights of outside parties. If you believe that your copyright has been misused, please provide us with a message stating your position and we will endeavor to correct any misuse immediately.
Some of the links in this post are affiliate links. As an Amazon Associate, we earn from qualifying purchases. This means if you click on the link and purchase the item, we may receive an affiliate commission, at no extra cost to you. This helps us keep this website alive. Learn more here.
Amazon Disclosure
massagegunadvice.com is a participant in the Amazon Services LLC Associates Program, an affiliate advertising program designed to provide a means for sites to earn advertising fees by advertising and linking to Amazon.com. As an Amazon Associate, we earn from qualifying purchases. Amazon and the Amazon logo are trademarks of Amazon.com, Inc. or its affiliates. Please refer to our Privacy & Affiliate Policy for details.