Best Deep Tissue Massage Gun – Our Experts Weigh In
What To Know: our content is non-sponsored and fact-checked for accuracy. We anonymously order and rigorously test each product according to our methodology. We are reader-supported, and if you buy via our links, we may earn a commission. Learn more.
---
Which is the best deep tissue massage gun? We are all here because we want to know about massage guns, right?
Well, in this world, deep tissue massage targets the deep layers of muscles and surrounding tissues. Deep tissue massage is preferred when treating sports injuries and chronic pain. A massage gun is the perfect tool to have with you if you want a daily deep tissue massage.
But which one will go with (there are so many out there)? In this post, we will share the characteristics of a massage gun that can deliver deep tissue massage.
TIP If you are itchy to know which ones we prefer, we like Ekrin B37 (details ↓) and Bob and Brad D6 Pro (details ↓). The two have differences worth knowing. Check them out below!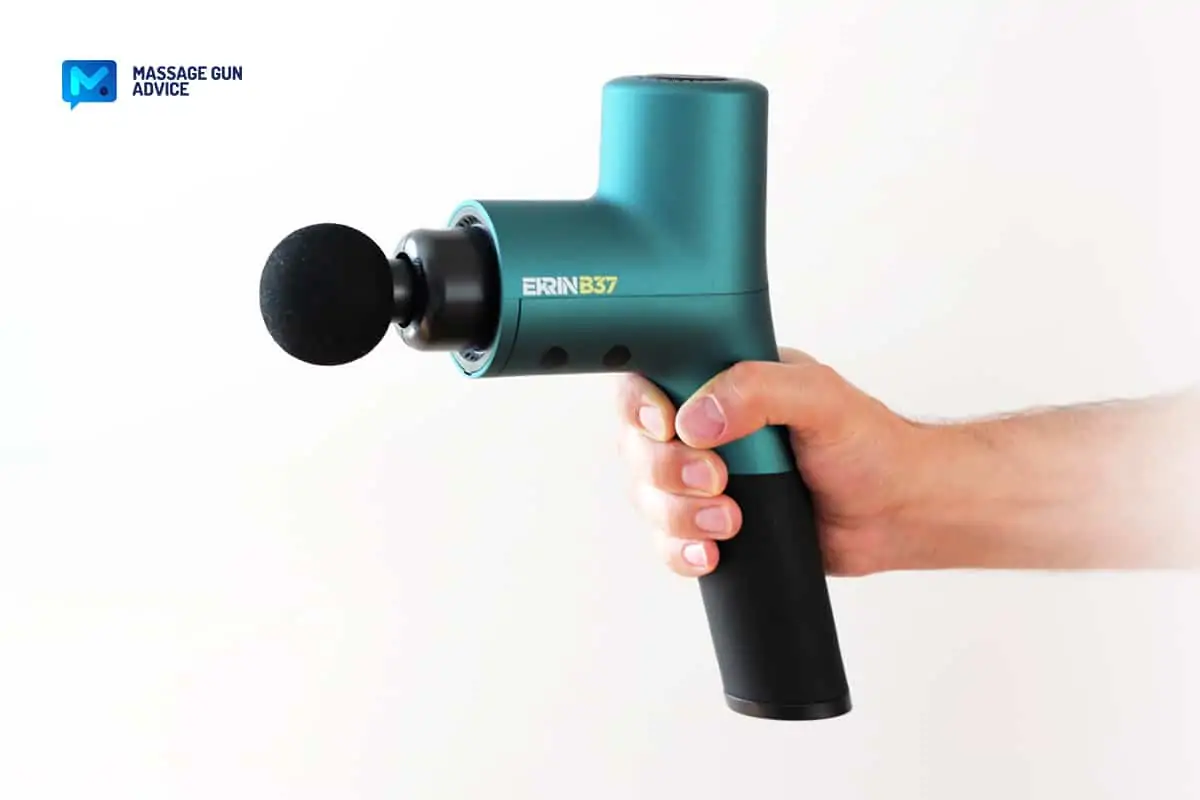 ---
---
Why Trust Our Advice?
We don't really make massage guns, but we believe experience makes the best teachers (or massage gun users).
Even so, we recommend talking to your doctor first before using a massage gun.
---
What is Deep Tissue Massage?
In a nutshell, deep tissue massage targets deep muscles and fascia (the connective tissue that surrounds your muscles). This kind of massage involves the use of firm pressure and low strokes.
It helps to break up scar tissue and loose muscle adhesions. It also involves lengthening and shortening of muscles before working on them. The tissue structure is positively altered.
After a deep tissue massage session, you will be free to move your muscles and joints. But one time doesn't always work the charm. Several sessions are required in case you have a serious injury or stubborn muscle tension.
Usually, the therapist will begin with lighter action and then apply more pressure to get to the deep muscles and tissues. The lighter action is to warm up your muscles.
There is more than one technique used in deep tissue massage. The most common ones include stripping, where the therapist glides along the length of your muscles and fascia, and friction, which involves applying pressure across the muscle grain.
But is deep tissue massage really effective?
We are not experts to know the inner working of muscles, but scientists have studied the effects of deep tissue massage. One study​1​ confirms that it helps to reduce pain intensity in the short term. The same study also suggests that deep tissue massage can lead to an increased recovery perception.
There are also other widely known deep tissue massage benefits, including;
Help with chronic pain relief.
Studies are still going on to determine how effective deep tissue massage is. However, early reports indicate that this practice can help with chronic pain emanating from osteoarthritis and fibromyalgia. The massage targets the deep layers of muscles to break down the adhesions. This helps to improve blood flow and oxygen supply to the areas affected, consequently reducing pain. Instead of going for prescribed medication, folks with back pain can try deep tissue massage.
Help with injury rehabilitation.
Sports injuries can be tough to treat. But with deep tissue massage, the rehabilitation process may be slightly easier. Deep tissue massage can help relieve pain and stiffness, improve circulation around the affected area to minimize swelling due to fluid buildup, speed the healing process (especially in sprains and strains), and help to restore the range of motion.
Help with high blood pressure and regulation of the heart rate.
Studies indicate that deep tissue massage may help regulate your heart rate and thus help treat people with high blood pressure. More studies are being conducted to determine how effective this is.
Help with mental issues.
Mental issues often stem from stress. Deep tissue massage (or any soothing massage, for that matter) can greatly reduce stress and anxiety (even depression).
Help with arthritis.
Deep tissue massage is effective in treating arthritis symptoms like pain, stiffness, sleeping trouble, and limited range of motion in the joints. The therapist can apply moderate pressure to help ease pain in arthritis patients. The reduced pain can help improve the quality of sleep in patients.


TIP

Here you can find more on arthritis massage guns.
Help in pregnancy.
Pregnant women often experience pain in their legs and lower back. Studies show that deep tissue massage can help alleviate this pain. It's not just during pregnancy that deep tissue massage is helpful, it can also help ease pain during labor​2,3​.
There are more benefits of deep tissue massage that further studies will reveal later. For now it's important to note that deep tissue massage should be done by a qualified therapist with the help of the patient (to identify any discomfort during the process). We will let you know if you can use a massage gun below.
---
Can I use a Massage Gun for Deep Tissue Massage?
What about physios and therapists? They use massage guns too. A massage gun is a must-have tool for many physiotherapists.
"But I'm really interested in using a massage gun on myself."
Well, if that is the case, then there are a few things to keep in mind:
Choose the right tool for the job. Not every massager can help with deep tissue massage. We have suggested the best deep tissue massagers for you below, and explained the reasons.
Use the massage gun properly for the best results. This is a very important point because using a massager the wrong way may cause problems rather than help you with your pain.
A massage gun is not meant to replace your massage therapists, but it's often the perfect complement to your manual therapy session.
Beware of potential side effects. Not everyone responds well to deep tissue massage. Some people may experience discomfort during the process. It may be too painful for them to bear. We recommend checking with your doctor first if:

You have a blood clotting problem
There is an increased risk of injury, such as bone fractures
You have a nerve injury
You are advanced in age
You've had recent surgery or chemo
You have wounds or a severe skin infection
You are pregnant
Remember, a massage gun is only effective when used properly. Deep tissue massage may be sensitive, and, for most folks, doing it yourself may not be the best decision. If you are not sure, consult your doctor first.
---
Deep Tissue Massage Guns – What to Know, How to Choose Right?
If you don't have any of the conditions we named above and have used a massage gun before, then you are probably good to go with your deep tissue massage.
But wait, there is more you need to know. Remember, not all guns can perform a deep tissue massage.
First, there are two major kinds of massage guns:
Low-to-medium amplitude (stroke length) with very fast percussions – these tend to feel vibrational.
Long stroke length with slow percussions – these tend to be more percussive. They feel punchy.
But is one type better than the other? Well, it depends on what you are looking for. Both types of devices can be effective.
But we are talking about deep tissue massage here, right? Well, yes. But deep tissue massage doesn't only mean deep hits – in which case you'll only need a hard-hitting massager. In fact, it's more about intensity or how fast the hits get into contact with the muscle. Also, there is a matter of how each type of device feels on the skin.
Let's explore the two types of devices then.
---
Type 1: Less Punchy (But Faster Revving) Guns
Massage guns that feel more vibrational on skin are associated with vibration therapy. Vibration therapy is a thoroughly explored way to release muscle tension.
Here's how it works; the fast strokes (vibrations), usually above 2500-3000rpm, override the pain signals to the brain. This translates to vibrations directly affecting our nervous system. In layman's terms, the nervous system then communicates with the muscles 'telling' them to relax.
But vibration therapy isn't just used to ease muscle tension, it's also perfect for lymphatic drainage and oxygen and nutrition transfer to tissues and muscles. It's also a way to help with injury rehabilitation, among other benefits.
This means that vibrations aren't to be taken lightly (at least not as far as deep tissue massage is concerned).
We know about professional medical-grade vibration devices such as Rapid Release Therapy and others. We know how incredibly effective they have been even before massage guns made their debut.
But those machines aren't cheap, and they are noisy as hell! They are also quite large. This is where massage guns come in for folks like you and us. These little handheld devices aren't as advanced but can be effective if used appropriately.
Expect most massage guns to be vibrational rather than deep-percussive. Many of them have an amplitude of 10mm or less. Even so, it's not just the amplitude that matters, it also matters how fast they can rev – not many can go above 3000rpm.
Another aspect that matters is the stall force. Many massage guns don't have enough stall force to resist pressure and keep the hits constant. Many (at least 80%) will stall at the slightest of pressure applied.
It's therefore crucial that you pay attention to the right specs if you want to find a good device that will deliver deep tissue massage.
So, what are we saying here? We are saying that a low-to-medium amplitude device can be perfect to deliver deep tissue massage if it has the right specs.
That is, it must have just the right amplitude, percuss fast enough, and have a decent stall force. That is why Ekrin B37 does it for us. It ticks all the right boxes for massage guns in this category.
---
Type 2: More Punchy (But Slower Revving) Guns
We call these high-amplitude devices. Although as you will notice in our massage gun reviews, we call any device with more than 12mm stroke length a high amplitude massage gun. There are only a handful, so don't worry about not knowing which one to go with.
One thing about these guns is that they often rev between 2400rpm and 2700rpm.
But where do they get their intensity (if intensity comes with faster hits)?
They get it from the harder hits. These devices will feel punchy on the skin. Some people prefer the punchy feeling when dealing with massage guns. However, they are not the typical massagers for most folks. They are often perceived as being more aggressive (they hammer away at your muscles).
Some brands try to mitigate this perception by equipping them with softer attachments. If you pick up a high-amplitude massage gun (from a reputable brand), you'll notice that they mix hard and soft attachments.
A good example of such guns includes the Theraguns. We also recently reviewed Bob and Brad's D6 Pro, which we have picked as our post's top representative of high-amplitude massage guns.
---
Our Take
So, which type should you go for?
We believe type 1 massage guns are more universal and appealing to most folk. They also tend to feel just right on any type of muscle.
However, type 2 massage guns can be just as great. But they are best suited for those who want a more aggressive approach to deep tissue massage using a massage gun. They offer deep hits and can be especially effective on large muscle groups.
---
Deep Tissue Massage Gun Reviews – Our Top Picks
Let's start with a quick comparison table, summarizing the key specs of our top contenders, followed by a detailed explanation of each of our best deep tissue massage gun picks.
Our recommended deep tissue massage guns and a comparison of their key performance features.
---
Ekrin B37 – The Best Deep Tissue Massage Gun
We've always had Ekrin at the top of our go-to massage gun brands. This is because they've always wowed us with their products and customer support. Their B37 massage gun features here not because of the Ekrin household name, but because it merits being here.
Is it a deep tissue massage gun? We believe it is. Why?
First, Ekrin B37 ticks every box in terms of performance aspects that matter. It comes with a decent stroke length and a whopping stall force (56lbs maximum). That is more than enough to massage even the stubborn muscle knots.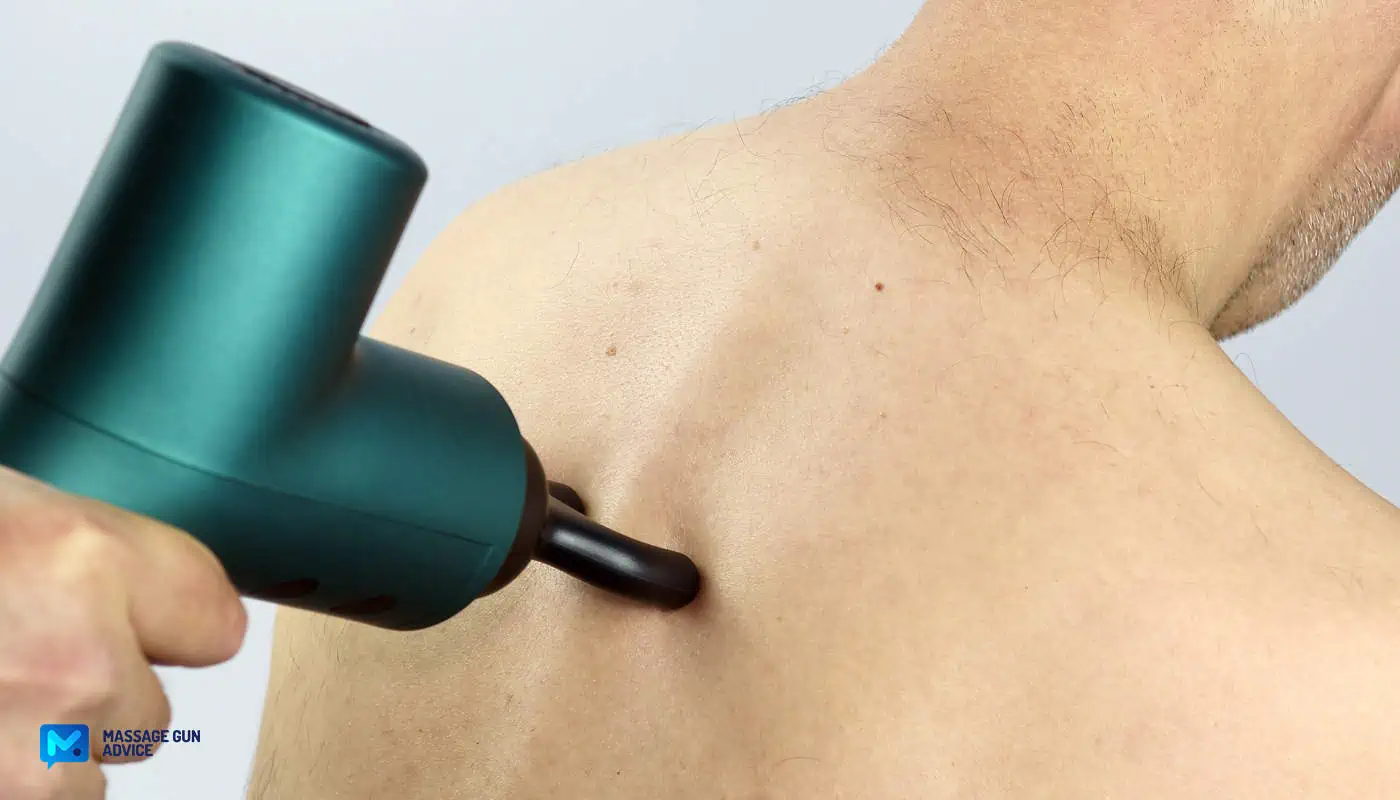 It's truly meant for deep tissue massage with its 1400-3200 percussions per minute. You'll find many guns with a 12mm amplitude, but few can rev this fast. The speed setup is also great if you want to lower the intensity – 5 speed gears.
Ekrin is the first brand to introduce the slanted handle – others simply copied them. The B37's angled handle makes for awesome ergonomics. You get plenty of rubber on the handle as well.
Other than that, you also get 4 nicely varied attachments that you can use to massage all muscle groups. The battery is great too, and will last a long time.
Is it the strongest Ekrin gun on the market? Not necessarily.
The B37S model has a bit more power in the lower gears. But you'll have to pay more to get it. Even so, the B37 really has enough power to do the job here – we voted it the best massage gun on the market.
You can use the MGA20 code to get a 20% discount. So, instead of paying the full price of $229.99, you can grab it for just $184. It's a great deal for a device with such impressive features. On top of that, you'll also receive lifetime warranties for your peace of mind.
Read More Our full, in-hand Ekrin B37 review shares more information on this device.
---
Bob and Brad D6 Pro – Great Value in High-Amplitude Category

Bob and Brad are famous on the internet. They are reputed internet physiotherapists with a lot to offer. We've had some fun using and reviewing their massage guns (their line of massage guns include the Q2, C2, T2, and X6 Pro).
We got surprised when we saw this D6 Pro. It's completely different from the other Bob and Brad massage guns. It features here because it has characteristics that make a great tool for deep tissue massage.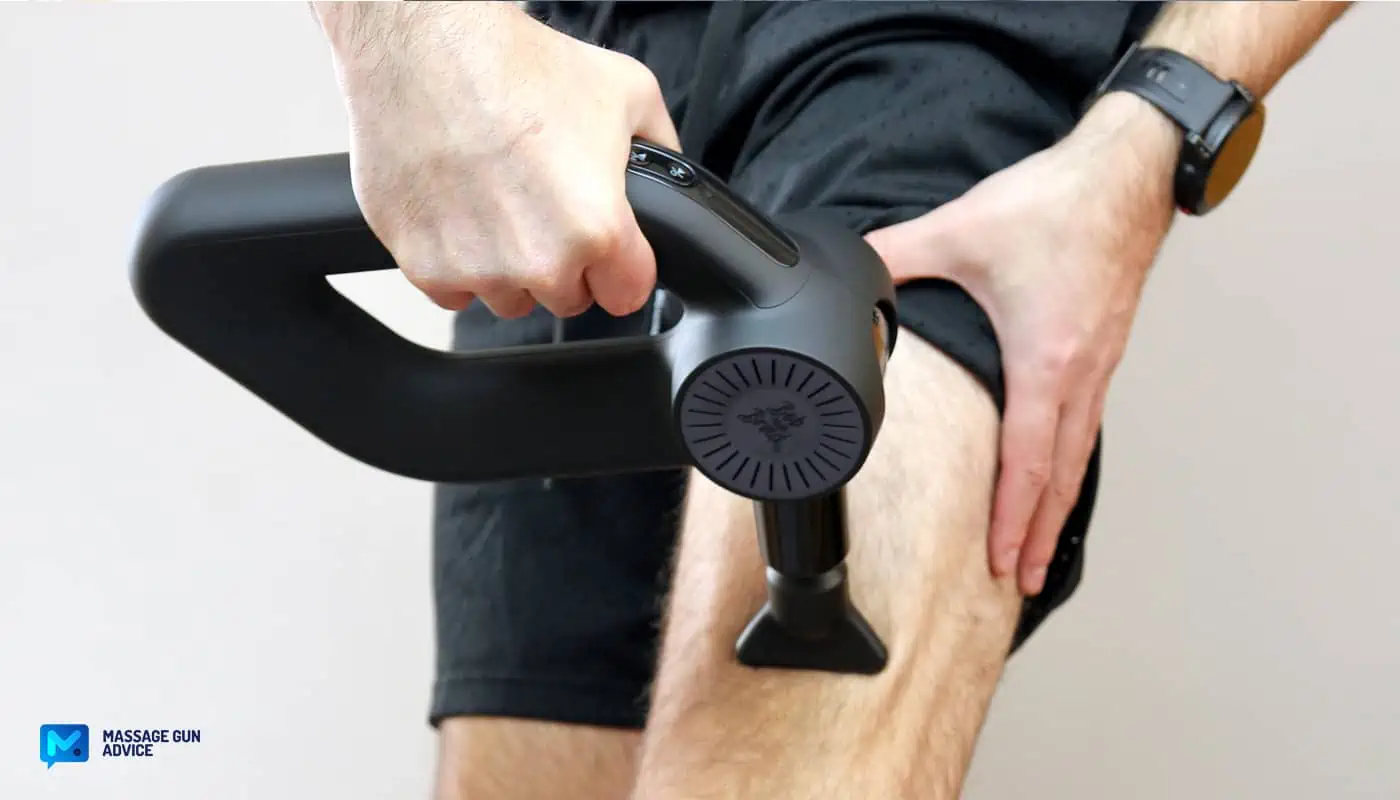 First, it has a 16mm amplitude – the longest in the business – up to 60lbs. of stall force, and 2500rpm. Very powerful!
Note #1
This sounds more like Theragun Pro. Yes, it does. In fact, it looks somewhat similar to Theragun Pro. That said, it costs a few hundred bucks less than the fancy Pro, so we'll take it.
Note #2
But it doesn't quit rev as fast as the B37 we just looked at. Well, that is because it belongs to the second category of deep tissue massage guns (our Type 2). The intensity comes mainly from the punchy hits.
Apart from the performance aspects, this gun packs enough to be a decent long-term option. First, like Theragun Pro, it comes with decent-quality attachments. The majority of these are soft. This works well for those who don't want the punchy hits to get too uncomfortable for them.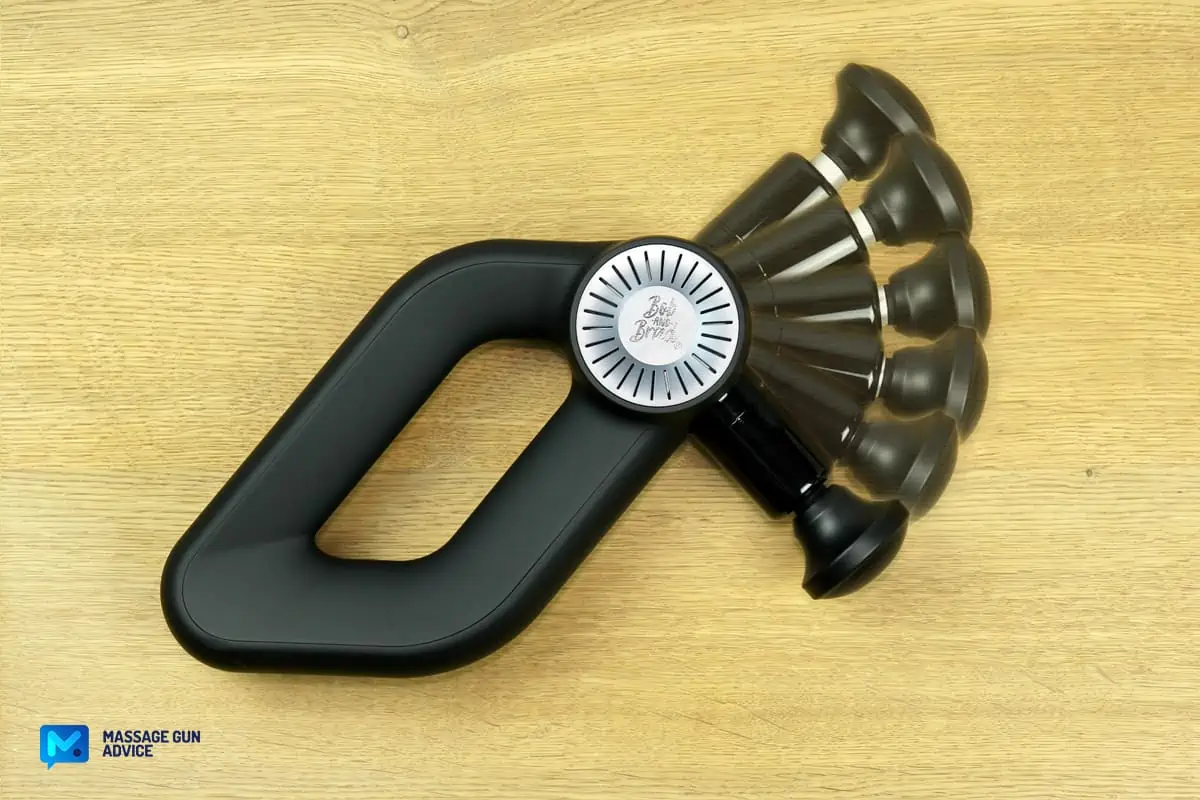 But because it comes cheap, don't expect Theragun-Pro-like advantages (not all of them, at least).
For starters, you won't get Bluetooth connectivity or be able to use the Therabody app. You also won't have the option of a removable battery.
The gun comes with a 1-year warranty, but you can rest assured that the gun will last. We haven't had problems with Bob and Brad devices.
You can use the MGADVICE code to get a 10% discount at Amazon – there may be other discounts on the product page, so make sure to use them all. Here is the link to the Amazon listing.
Read More Check out our in-hand Bob and Brad D6 Pro review for more details.
---
Achedaway Pro – Most Powerful Option

If anyone ever wanted to argue for Theragun Pro being overpriced, they'd simply have to bring along the Achedaway Pro gun. It's probably the best cheap Theragun Pro alternative.
It falls in the second category (Type 2) of guns here. But why have it here when we already listed the D6 Pro above? Well, because it offers a bit more than the D6 Pro and qualifies as the option the big guys may want to go for.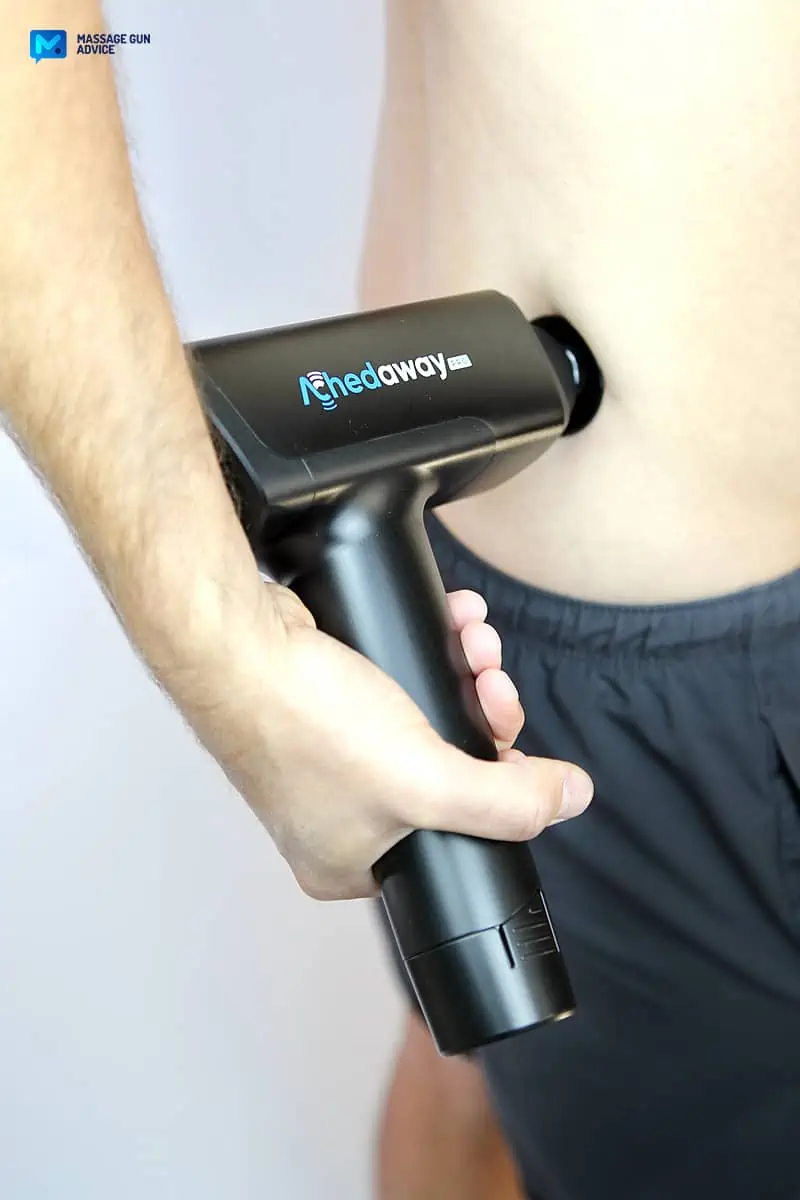 For starters, the Achedaway Pro has over 2700RPM (that's 200RPM more than Theragun Pro and the D6 Pro above). This is despite having about the same amount of power and stroke length as the two we just mentioned.
This makes Achedaway a powerful option to have. Not only does it hit harder, but the hits can also get intense too.
But does Achedaway really rev that fast? Yes, it does. We verified it with our laser tachometer.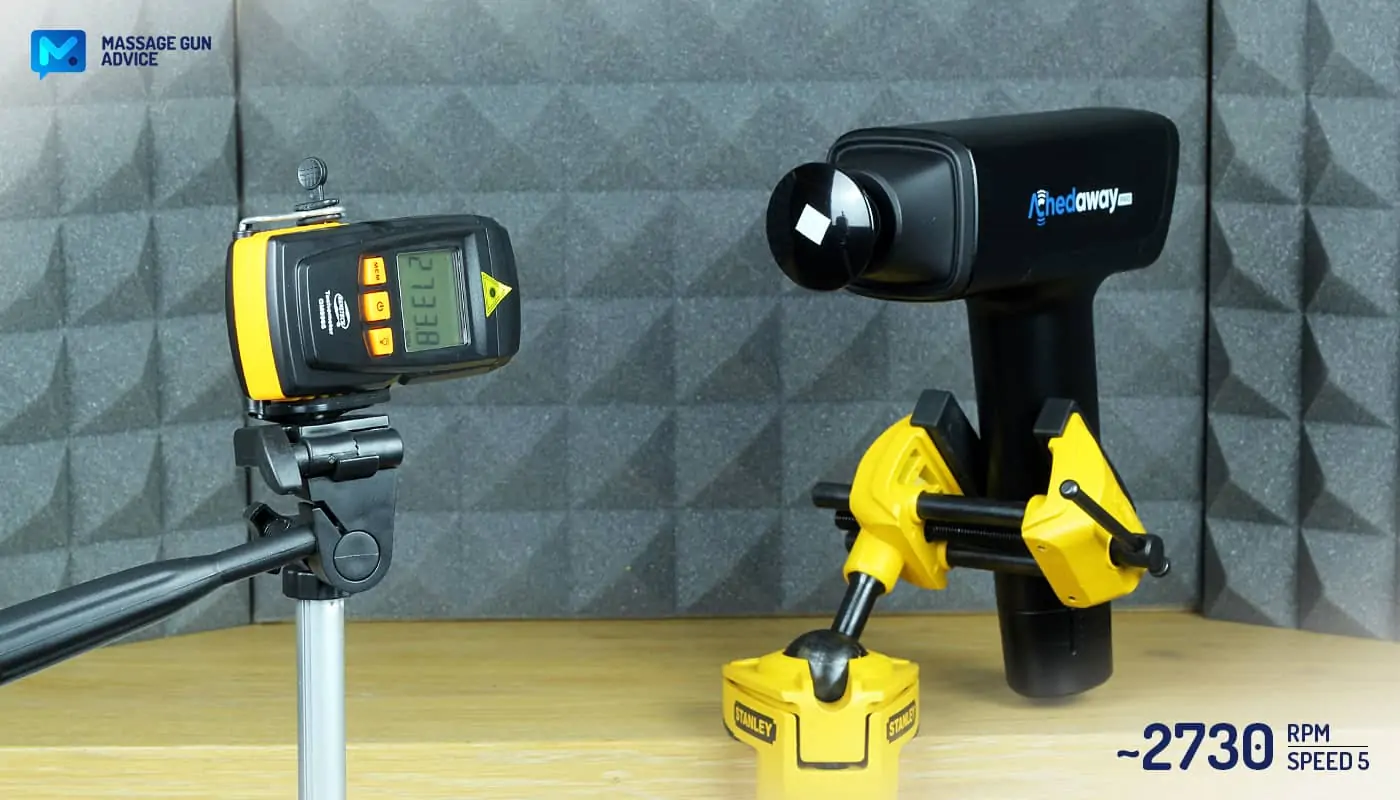 Other than all that, Achedaway is a proven brand with a lot of years in the industry. The Pro is a large solid device that will serve you for a long time.
It comes with a slanted handle to make handling easier. It also has very good attachments – including metallic ones.
It comes with a 2-year warranty – not many guns in this category have better.
It's cheaper than Theragun Pro. You can get a $60 discount if you use our exclusive MGA60 code. So instead of $299 you will only pay $239. Buy it at achedaway.com.
Read More Navigate to our comprehensive Achedaway Pro review for more details and photos taken.
---
Theragun Pro – The Crème de la Crème
Theragun recently rebranded to Therabody but their massage guns are still called Theragun. The Pro is their top device. It's the one with all the features that the giant brand can master for its clientele.
The PRO itself does nothing special as far as deep tissue massage. The Achedaway Pro and D6 Pro above offer the same features (the features that matter, i.e., amplitude, stall force, and percussions per minute).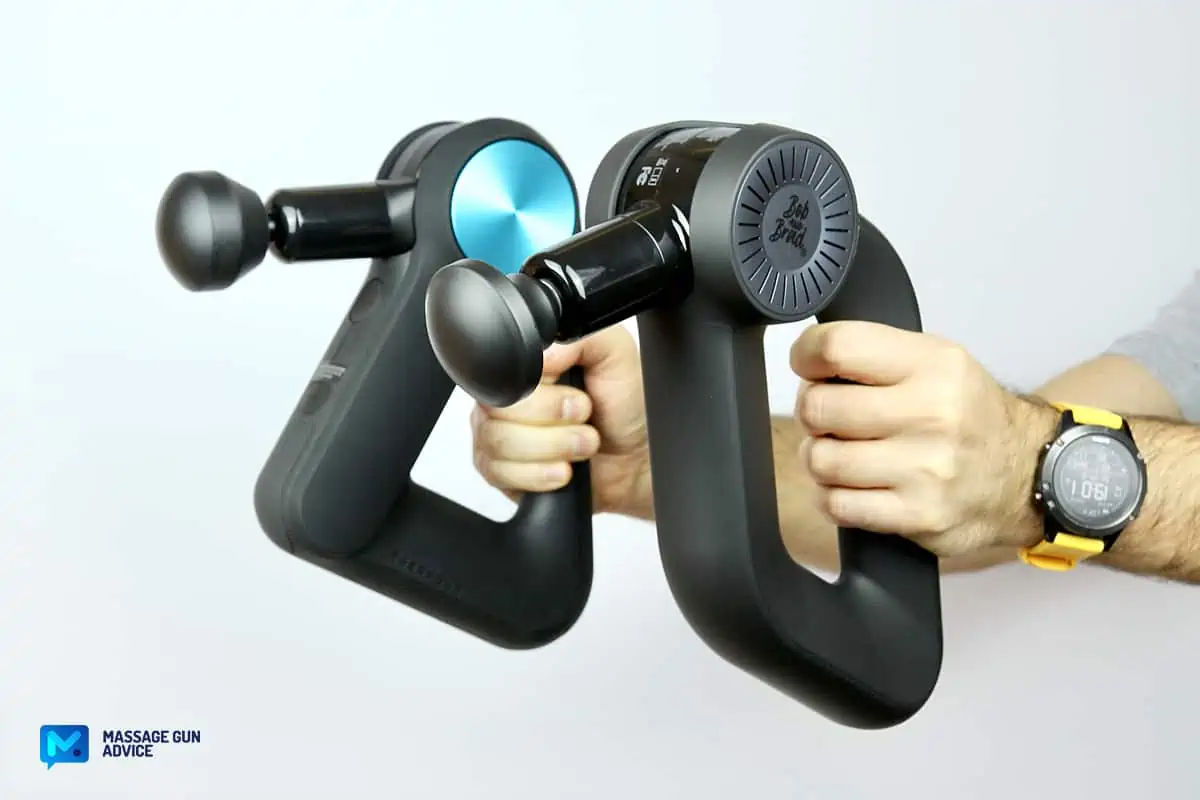 But the Pro is well-respected among physios and Chiros for a lot of other reasons that we'll see shortly.
First, though, let's see what it has to offer in terms of performance. We'll start with the stroke length. Theragun pioneered the long 16mm amplitude. Even their earlier devices had a 16mm amplitude.
Again, this falls in the second category of massage guns for our case here (Type 2). It's not just the stroke length, Theragun Pro has about 60lbs. of stall force at the top gear.
However, it comes with only 2450RPM. As we already explained, most of the intensity will come from the deep hits.
Now, Theragun Pro may offer plenty in performance, but as we have already seen, the other guns have about the same features, if not better. However, Therabody has a few standout features that the others cannot boast of.
The number one feature is Bluetooth connectivity and an intuitive app. The Therabody App allows you to massage using the preset routines. The device adjusts accordingly when you pick a particular routine. This could be awesome for folks who are new to massage guns.
Other features include an adjustable arm and a Super-soft attachment for sensitive or painful areas.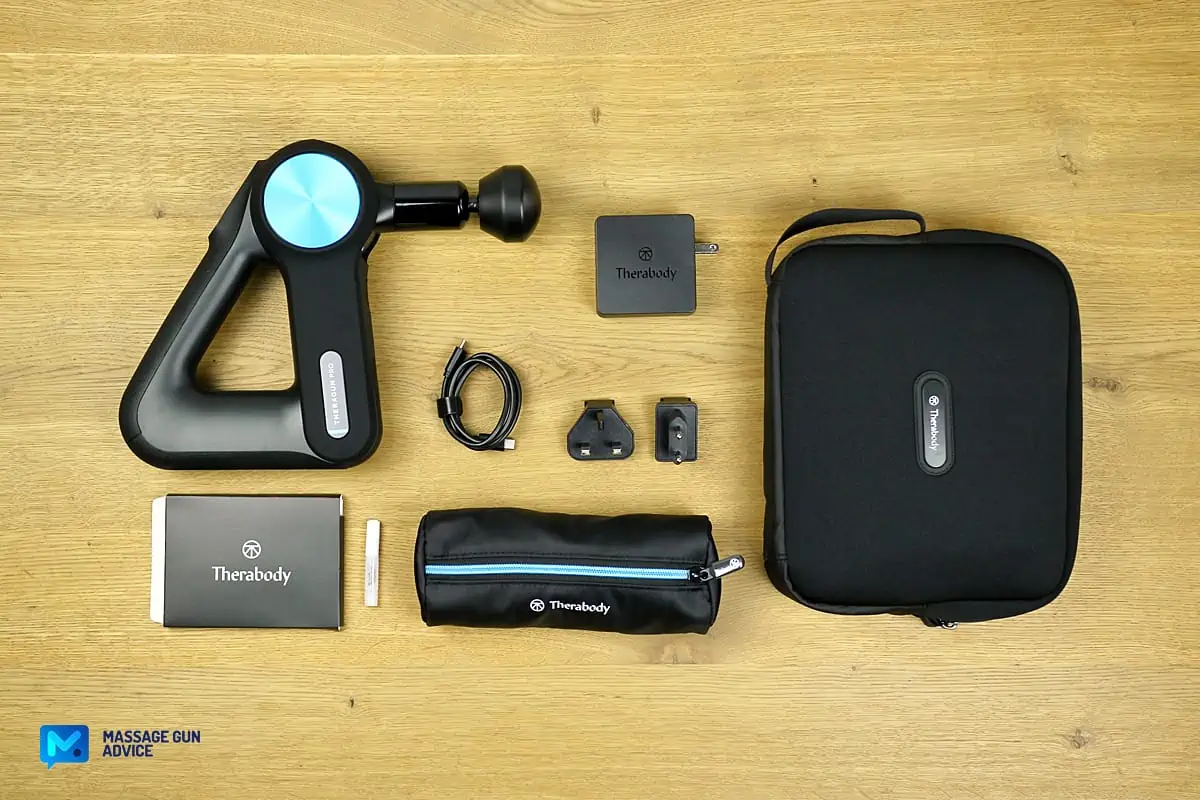 That said, The PRO is the most expensive massager on the market.
Even so, if you have the budget, this is a great device to have. It comes with a 2-year warranty – the only Theragun with a longer cover; the others have a 1-year warranty.
The Theragun Pro is priced at $599. Try using the code X8YZF10 to receive a 10% discount when purchasing at therabody.com.

TIP The previous 4th generation Pro is still available, currently on sale at $499.
Read More Check out our in-hand Theragun Pro review for more information, comparison of 4th gen. Pro to the latest 5th generation, and more.
---
Deep Tissue Massage Gun Review Summary
So, which is the best deep tissue massage gun? We believe we have pointed out the best options you can choose from.
Note that deep tissue massage is a proven treatment method that has plenty of benefits. However, applying pressure on sensitive muscles may be uncomfortable at first.
We have seen that you can go for vibrational massage guns or high-amplitude massage guns for this therapy. However, you need to be cognizant of the right specs to look for.
Above all, remember to check with your healthcare provider to ensure it's safe to get a deep tissue massage using a massage gun.
---
1.

Skillgate E, Pico-Espinosa O, Côté P, et al. Effectiveness of deep tissue massage therapy, and supervised strengthening and stretching exercises for subacute or persistent disabling neck pain. The Stockholm Neck (STONE) randomized controlled trial.

Musculoskelet Sci Pract

. 2020;45:102070. doi:

10.1016/j.msksp.2019.102070

2.

Güney E, Uçar T. Effects of deep tissue massage on pain and comfort after cesarean: A randomized controlled trial.

Complement Ther Clin Pract

. 2021;43:101320. doi:

10.1016/j.ctcp.2021.101320

3.

Smith C, Levett K, Collins C, Dahlen H, Ee C, Suganuma M. Massage, reflexology and other manual methods for pain management in labour.

Cochrane Database Syst Rev

. 2018;3(3):CD009290. doi:

10.1002/14651858.CD009290.pub3
Was this article helpful?
Your feedback makes our content better!
Thanks for your feedback!
Post Update History
Here's a quick rundown of all the tweaks and edits we've made to this article to keep it accurate and up-to-date!
Current version last updated on:
•
Written by:

Luke Deszczulka
Disclaimers
The views and opinions expressed on this website are those of the authors. Any content provided by our bloggers or authors are of their opinion and are not intended to malign any religion, ethnic group, club, organization, company, individual or anyone or anything.
All product names, logos, and brands are property of their respective owners. All company, product and service names used in this website are for identification purposes only. Use of these names, logos, and brands does not imply endorsement.
It is our policy to make every effort to respect the copyrights of outside parties. If you believe that your copyright has been misused, please provide us with a message stating your position and we will endeavor to correct any misuse immediately.
Some of the links in this post are affiliate links. As an Amazon Associate, we earn from qualifying purchases. This means if you click on the link and purchase the item, we may receive an affiliate commission, at no extra cost to you. This helps us keep this website alive. Learn more here.
Amazon Disclosure
massagegunadvice.com is a participant in the Amazon Services LLC Associates Program, an affiliate advertising program designed to provide a means for sites to earn advertising fees by advertising and linking to Amazon.com. As an Amazon Associate, we earn from qualifying purchases. Amazon and the Amazon logo are trademarks of Amazon.com, Inc. or its affiliates. Please refer to our Privacy & Affiliate Policy for details.