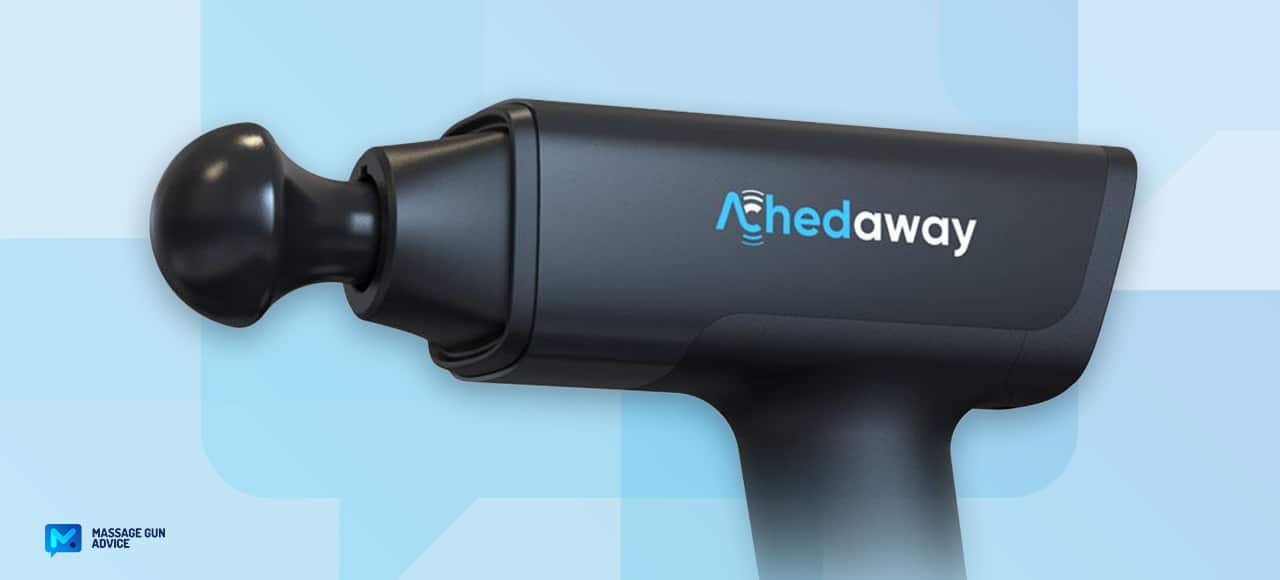 Achedaway Pro Review – Not Really Compact, But Who Cares?
Disclaimer: Our content is unbiased, non-sponsored and fact-checked. If you buy via links on our site, we may earn a commission. As an Amazon Associate, we earn from qualifying purchases.
---
Here we are again, doing another review! This time it's the Achedaway Pro review.
Before we delve deeper into it though, it's important to note that this is a powerful gun and will serve you well if you're looking for deep percussive therapy.
DEAL ALERT Use the special HOLIDAY60 code at checkout to get $60 off Achedaway Pro. Pay $239 instead of $299. Apply the coupon here.
---
---
Achedaway Brand
That said, Achedaway is not a novice in the massage gun industry. They have been in the market since 2019, and if you're aware, that's just about the time things were starting to cook in the massage gun space.
It suffices to say that considering how crazy things have gone on since then, with thousands of similar products flooding the market, Achedaway has done pretty well to stay competitive.
Their maiden gun was pretty standard, it packed a considerable punch and delivered just what the market needed at that time.
The new Pro is their second gun, also doing pretty well thus far. But just what is the secret behind Achedaway's success? We found out that, in order to develop their products, they consulted the best in both the fitness and tech industries.
Their name literally means "pain relieved" or "pain taken away" – whichever way you choose to interpret it. That aside, their Pro device will provide a deep tissue percussive therapy and do so at a fraction of the price a Theragun or a Hypervolt would.
In this post we'll explore whether the lower price means something's been sacrificed or not. Just a hint though; this is an awesomely powerful gun but with a few minor flaws.
Hang on as the ride is just beginning!
---
Achedaway Pro Massage Gun Review
Achedaway Pro Specifications
Features
Achedaway Pro
Stall Force
80 lbs
Stroke Length
16 mm
Percussions
1700-2800 ppm
Speed options
5
Battery Life
2-4 hours (removable, 3200 mAh)
Attachments
4
Weight
2.75 lbs / 2.65 lbs
(with the flat head / with no attachment)
Noise
40-60 dB
Pros
Powerful motor
Great stroke length
Very quiet
Original design
Swappable batteries
Cons

A bit bulky and heavy

Warranty
2 years
Retail Price:
$299.00 $239.00 with coupon
Discount for our readers:
$60 OFF with the code

HOLIDAY60


Get it right here
Achedaway Pro Specs
---
First Impressions
First things first, and we have always loved massage guns that come in a carrying case. We have a feeling it should be standard at this point.
We're glad the Achedaway Pro comes in a nice two-zipper carrying case.
Inside, everything's pretty well organized. The gun sticks out smack in the middle of the case.
There are other compartments for the attachments, and a real nice touch from them with a compartment for the removable battery as well (Theragun should take a hint).
The gun comes with the battery already inside, so we're guessing the spare apartment is for a spare battery should you decide to get one.
We also found the dedicated charger nicely tucked away in its space.
The device itself looks unique enough, or at least it looks a bit different from the standard look of every Tom, Dick and Harrys of the massage gun world.
It borrows a bit of the retro design. But it's more upside-down L-shaped than the usual T-shaped that you get with many Hypervolt knockoffs.
Also, the angled handle just cements its uniqueness here. It's no Ekrin B37S, but the idea is pretty much similar.
Achedaway looks to have solved a conundrum with the ventilation on the side rather than at top like most guns do. That said, it's made of different materials.
The top part is aluminum, but the rest of it is plastic. The satin paint gives it a classy look that we liked. The build quality is awesome as well and makes it look like a well thought out device.
It has the one button that is both for turning it on/off and cycling between the speeds. It works by long-pressing to turn it on/off, while quick presses will change the speeds.
It doesn't have an LCD or a touch screen for any kind of display. However, this simplistic approach is actually a plus because then you don't have to keep checking if you have the right setting or not.
There are LEDs around the power button though. The 4 on the right indicate the battery level, while the 5 on the left indicate the speed gears.
---
The Attachments
The Achedaway Pro offers you the option of 4 attachment heads (half-ball, flat, fork, bullet) that you can use on different parts of your body.
A bit on the heads:
---
The Ball Head
We use this to get a general massage. You can use it if you just want blood-flow stimulation or a quick pre-workout massage.
The one on the Achedaway is more half-ball than full ball. We appreciate the tweak and we found it pretty useful.
It is slightly squishy, but not as cushy as the one on the Theragun Pro, for instance.
---
The Fork Head
We use this one around the spine area, or when massaging the neck area. Some user like to use it on calves and around the achilles tendon.
We also like to use it for trigger point massage on larger muscles, such as quads, where it might be a good alternative to the single bullet head.
This one is hard plastic, which is exactly how it should be.
---
The Flat Head
If you like an intensive massage, this attachment might be the one you are going to use most of the time.
The flat head targets different parts of the body but you'll probably use it on larger muscles. We use it for our pecks, calves, quads, and glutes.
The one here is made from aluminum, so it is cold in touch. It has a smooth, slightly curved finish. They added a bit of shine on it that makes it look classy as well.
Best of all, the surface area is larger than in most other flat-type attachments. Well done!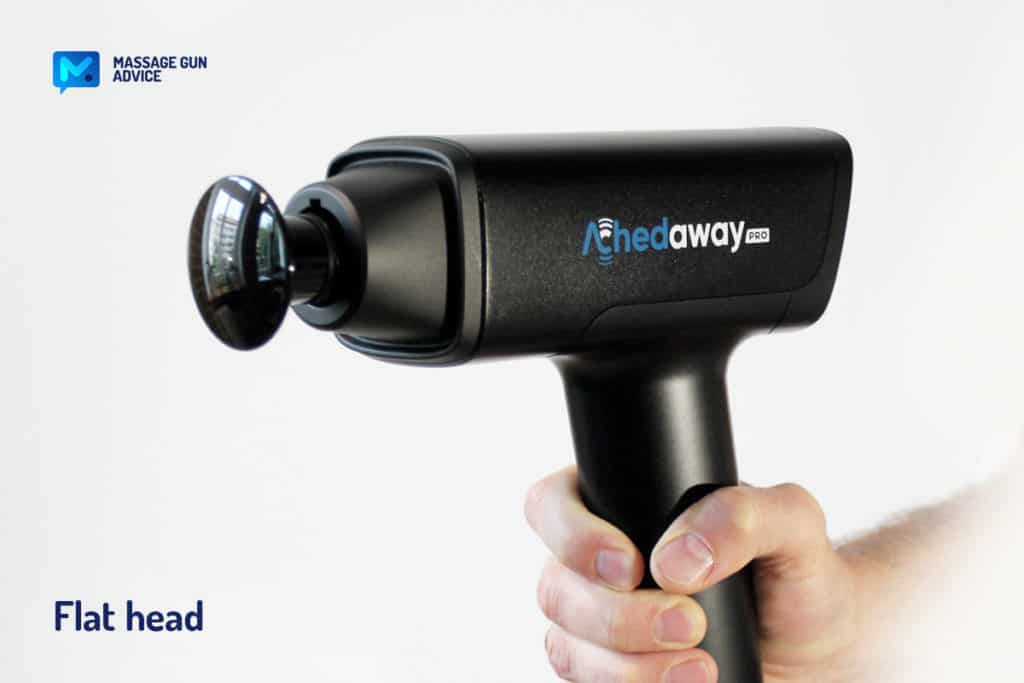 ---
The Bullet Head
We also like to call it the focus head, because you can use it to really center on a particular muscle. We use it around the forearm and ligament areas.
The one on the Achedaway Pro is more tough aluminum than it is plastic. We like the personalized touch they added to it.
Great for different types of trigger point treatment, for foot massage and plantar fasciitis.
---
A few things to note here before we move on.
We would've appreciated a regular soft ball just as an addition so they're 5, but for now we guess the 4 will have to do.
There's also a very detailed instructional pamphlet that provides information on how to use the heads and the massage gun in general.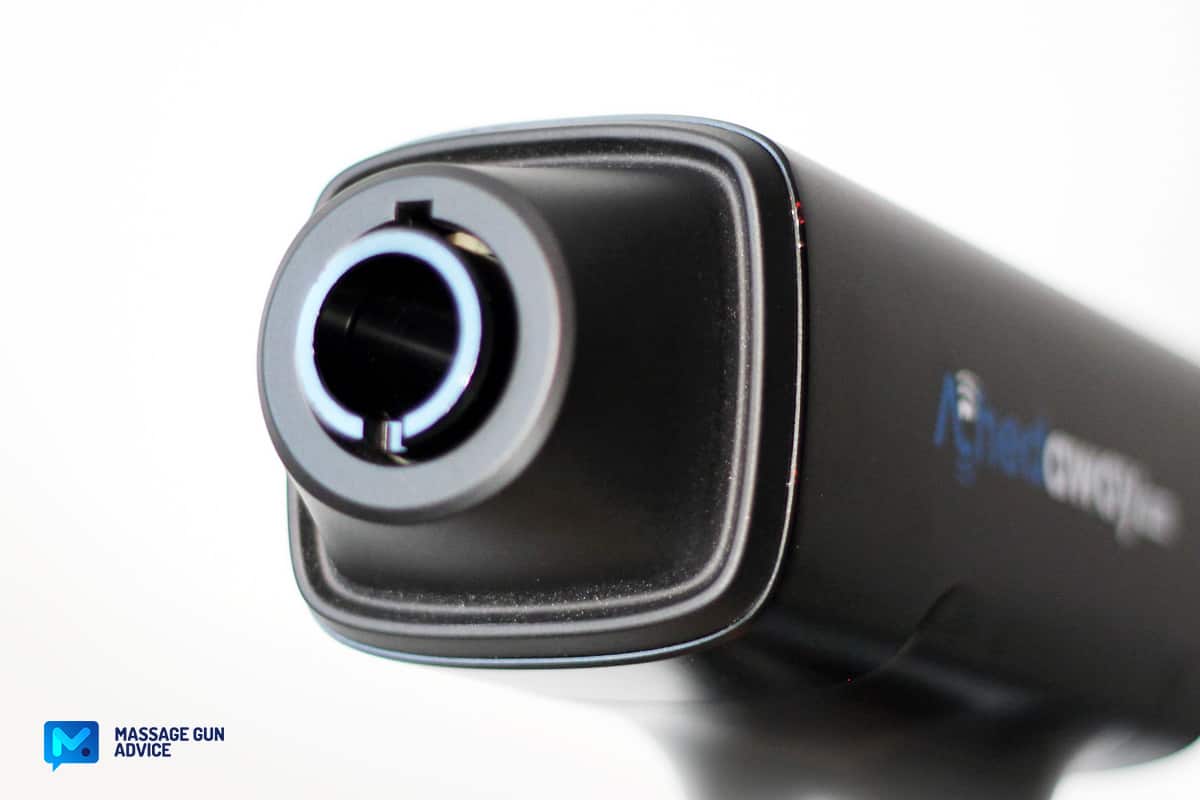 ---
Size, Weight, Ergonomics
We've always been believers in the handiness of any massage gun we've tested and later on reviewed. However, with the Achedaway Pro this is not the case because this gun is rather heavy and bulky. It's actually noticeably larger than its predecessor.
In fact, looking at it, you get the feeling that it could be larger than the Theragun Pro and the Ekrin B37s which we reviewed recently.
Obviously both Theragun Pro has a unique rectangular design that makes it handy. But the Achedaway seems to be large partly because of its power-drill-like shape and the extra-long (and thick) handle.
However, since the target users of this device are people with large muscle or heavy physique (bodybuilders, athletes etc.), the size really shouldn't be a big deal.
PRO TIP If you have small hands then this might not be the best massage gun for you. You'll be better off buying the Ekrin B37s instead.
Unlike its forerunner, the Pro is quite heavy and weighs in at 2.65lbs with no attachment head put in, and 2.75 lbs. with the aluminum flat head put in. The original Achedaway was 2.5lbs. heavy.
Although this is less than Theragun Pro (2.9lbs.), it is noticeably more than the Ekrin B37s (2.2lbs.). Nevertheless, we believe the extra weight is mainly due to its large capacity battery (more on that later).
It has an angled handle, which ensures you get to reach as many parts of the body as possible. Plus it's a big improvement on the original which had a straight handle. Even so, the handle on the Pro is longer to accommodate the lock mechanism of the removable battery.
The bummer here though, is that we don't have the option of a rubberized handle. A simple 3-4 rubber stripes around the handle would've helped a lot. But we guess no big deal here as well. It's not the end of the world!
Overall the ergonomics are good on this gun. A bit bulky and huge. But don't fret because we talked too much about its size. You can hold it any way you want provided you are getting your massage done. There's more to look forward to anyway.
---
Performance
Amplitude / Stroke Length
Amplitude, or sometimes called stroke length, is how far the head of the massage gun travels, and this is where this gun shines.
It has a 16mm amplitude – the longest in the business. This puts it at par with the Theragun Pro.
Even the Hypervolt Plus lags ~2mm behind it. OPOVE M3 Pro Max is another herculean massage gun but with a 15mm amplitude.
There isn't a big difference in terms of the punch you'll get if you used any of these guns, but the Achedaway is a monstrous underdog here.
Overall it's the perfect gun if you are looking for a deep penetrative massage. 16mm is as punchy as it gets.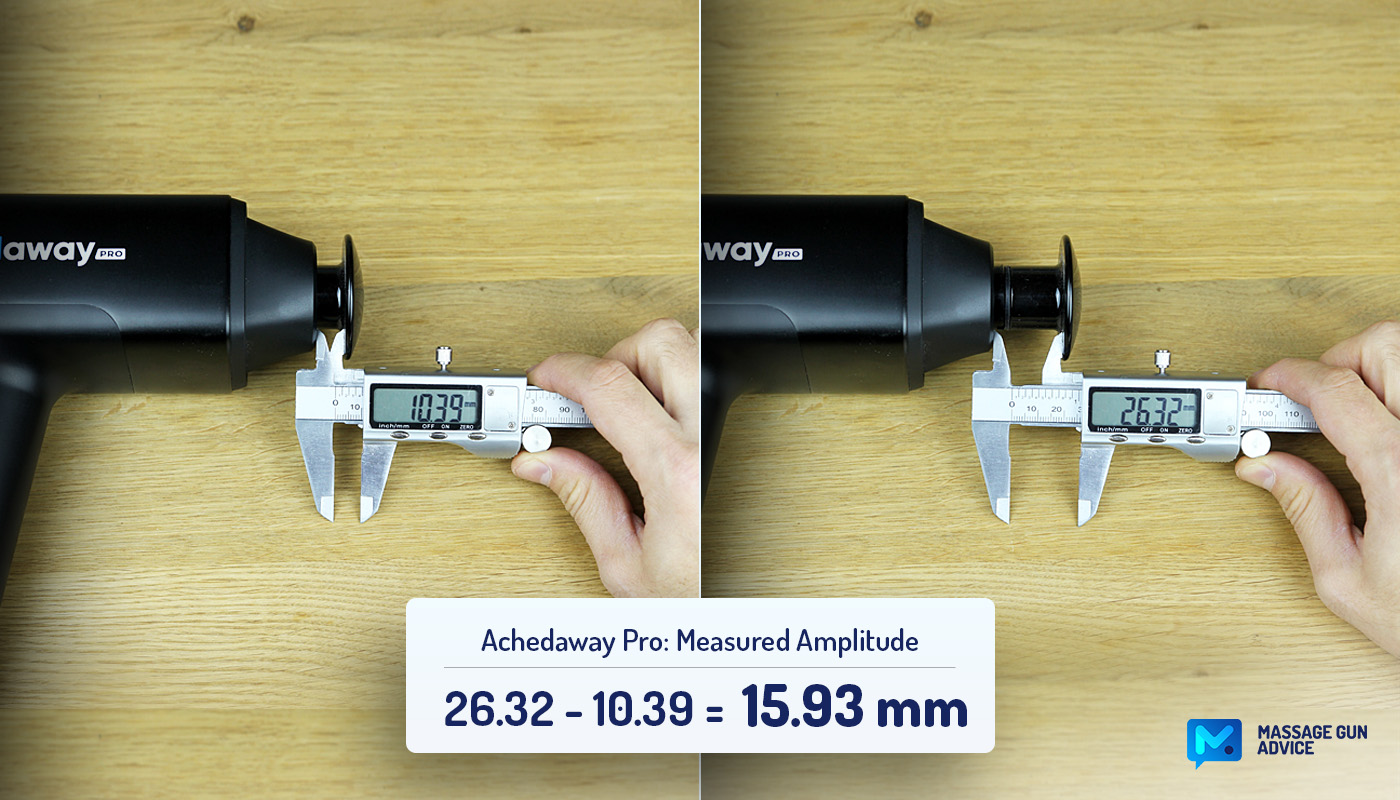 ---
Stall Force
The stall force is the amount of pressure needed to stop the massage gun from revving. Often this happens when you press the head on to your body.
The stall force determines what kind of massage you will have with a particular gun. Higher stall force means deeper percussive massage.
The Achedaway Pro has an impressive stall force. The company lists it as being 80lbs. However, we did test it and we can say it felt like 60-65lbs. of stall force on the maximum speed. This is obviously an improvement on the original device.
60lbs. is telling force, especially for a budget-friendly gun as the Achedaway Pro.
We did try to stall it by pressing it on to our palm, and on the top gear we found it very difficult to stop. We did finally manage to stop it this way but only after taking the speed down a notch. That means the stall force progresses with the speed, which is normal.
Be that as it may, we still think that the stall force on this device is great. You probably don't need more power than that to get a deep percussive massage.
---
Performance Comparison
Let's see how the Achedaway Pro compares against its competitors.
---
Stall Force (lbs.)
Conclusion
Achedaway Pro has plenty of stall force. While the claimed 80 lbs. feels a bit exaggerated, the device is indeed hard to stall. Great for demanding users.
Stroke Length (mm)
Conclusion
Stroke Length is best in business. 16mm is on par with Theragun, and slightly better than in Hypervolt Plus – another well-known device.
---
Percussions and Speed Levels
Here's where things got a bit topsy turvy (not in a bad way) and a bit surprising quite honestly.
We're used to seeing devices with a longer amplitude accompanied by less percussions per minute.
But the Achedaway Pro surprised us with a high 1700-2800rpm. Even the Theragun Pro does prove our point with the percussion range of about 2400rpm.
It's not just that, the Achedaway Pro starts as low as 1700rpm. Theragun Pro starts at 1750. This is important especially when you want a precise massage and want to use more pressure while at it.
It also comes with 5 speed levels that adjust as follows; 1700, 2000, 2300, 2600, 2800 – low to high in that order.
There's also an important feature worth mentioning, and that is the auto-shut off after 20 minutes. This is perhaps to prevent overheating.
We have seen this in cheap knockoffs as well. The trouble is that they shut off after only 10 minutes. This is hardly enough time to get a good massage.
The pictures below show how we verified the advertised percussion numbers. As you can see, what Achedaway say is confirmed: the Pro is able to rev past 2700 rpms. Impressive.
---
Battery
Moving forward with our Achedaway Pro Review, another impressive point about this gun is its battery.
A 3200mAh battery is more than enough capacity. Not many in this space rival this amount of battery juice.
That said, with a single charge you'll be able to use it for 2-4 hours depending on how intensive your massage sessions are. You'll have to charge it every week or at least every 10 days if you use it minimally.
There's something interesting about their battery design though. When you remove the battery, instead of it coming off with the handle, only the battery comes out. We thought this would make the device less compact, especially when you are travelling.
However, we did notice that you can charge the battery separately from the device. Which is convenient because you can charge one battery as you continue using another (you won't need a charging station for this).
There is no spare battery though – you'll have to purchase one separately if you want. It's a bit of a bummer, considering Theragun Pro gives you two batteries. But then again Theragun isn't as cheap as the Achedaway Pro, is it?
It's not a USB-C charger, which would've been perfect, but we'll take it.
---
Noise
The Achedaway Pro is likely the quietest massage gun we've seen yet. It's almost the standout feature about it. If you didn't like anything else about this gun, you'll like how quiet it is.
We didn't have to raise our voices while using it. In fact, we did a comparison with all the Theraguns (Pro, Elite, and Prime), and none even comes close to rivaling the Achedaway Pro. Even the Hypervolt Plus sounded a bit loud in comparison.
It's almost as quiet as some of the best mini massage guns. It's advertised as 35-55dB (depending on speed). We were able to confirm that it starts at 55dB to slightly over 65dB. It also doesn't rattle much when pressed against the skin.
It does however, transfer the vibrations to the handle which makes our case for a rubber handle.
---
Price, Warranty, Where to Buy?
DEAL ALERT Use the special HOLIDAY60 code at checkout to get $60 off Achedaway Pro. Pay $239 instead of $299. Apply the coupon here.
You can buy the Pro at $299.99 but if you use our MGA50 coupon you get $50 off and then now you can buy it at $249.99.
They also have an interesting package where you can buy Achedaway Pro with a spare battery, and that would cost you $319 with the MGA50 coupon applied.
We recommend you buy it from their website if only to support this aspiring brand. Also, while there you can read first-hand reviews from satisfied customers. It has a 2-year warranty.
---
Who is It For?
The Achedaway Pro is a pretty versatile gun but would probably be perfect for guys looking for serious power. If you have a lot of muscle, or a bodybuilder or an athlete then this is your kind of device. It gives a true deep to the bone massage.
We can also recommend it to amateur users who want a powerful massage gun to use at home. You probably won't like its bulkiness though.
If you have been drooling over the Theragun Pro but the hefty price tag is a turnoff, then this gun is just as premium-grade but cheaper.
For therapists and chiros, this a Theragun alternative if you want something with a replaceable battery. You can order a spare battery from the Achedaway store.
---
Achedaway Pro vs Achedaway
This Achedaway Pro review wouldn't be complete without making comparisons to some of the key competitors, including the original Achedaway. So, how does the Pro compare with its predecessor? We compiled a few points. Here you go!
What did they keep?
The design language isn't that much different (looks pretty much similar).
Same controls
Same 4 heads. There's a slight change in some of the heads and generally the finishing. The Pro has aluminum heads now, the forerunner didn't have this. Also, the original had a foam ball head, which is not included with the Pro. In our view the Pro has better quality attachment heads.
Both devices have 5 speeds.
Any Changes?
Pro is larger than the original and much heavier (2.65 lbs. compared to 2.5lbs.)
Pro has a better angled handle while the original has a vertical handle.
The Pro has a better amplitude (16mm). The earlier device had a way smaller amplitude (only 10mm). This is a massive upgrade.
Pro has a better stall force (as advertised: Pro 80lbs. Achedaway 50lbs.). Even though it doesn't hit 80lbs. (as we confirmed) it's still more powerful at 60-65lbs.
The original Achedaway vibrates faster (the smaller amplitude) at 1500-3200rpm compared to the Pro's 1700-2800rpm.
Pro has a higher capacity battery (3200mAh vs. 2600mAh)
Pro has a removable battery (you can purchase a spare one).
Price: Pro costs $299 or $249 with the

MGA50

discount code. The original one will cost you $229, or $179 with the

MGA50

code – valid only in Achedaway's store.
Verdict

In this Achedaway Pro vs Achedaway battle, we'll give the honors to the Pro. It will offer you great value for your money since it's powerful and comes with great features. It's definitely a huge upgrade of the predecessor. The original, even though somewhat powerful (the 50lbs. stall force), is not a good bargain with its price. We would go with the Ekrin B37s instead.
---
Achedaway Pro vs Theragun
How about the Achedaway Pro vs Theragun? Well, the closest of the Theragun family that could compare with the Achedaway Pro is the more advanced fourth gen Pro. The others have way too weak features for a fair match.
The Theragun Pro probably takes an early lead with its rectangular shape and feels slightly more ergonomic. The Achedaway Pro is more power-drill than perfect massage gun.
Key resemblances
Both have 5 speed levels
Both have industry-high 16mm amplitude.
Both have replaceable batteries
Both come in hard nicely built carrying cases
2-year warranties for both devices
Where Theragun stands out
Theragun comes with 6 attachments compared to Achedaway Pro's 4. Even so, the Theragun heads are soft (a bit spongy), while the Achedaway Pro has quality heads made of metal.
OLED screen. The Achedaway Pro has no screen at all.
Reactive force meter built in.
2 batteries included for Theragun. Just one for the Achedaway Pro and no spare.
Theragun has more grip options (better ergonomics). It's also more adjustable with a rotating arm.
Theragun has Bluetooth connectivity and works with a dedicated app.
But the Achedaway Pro wins where it matters
More advertised stall force (80lbs. on paper compared to Theragun's 60lbs.). In reality though they're about the same.
Achedaway Pro offers more intensity with higher vibrations of up to 2800rpm. Even though they tie in stall force and amplitude.
Achedaway Pro is quieter than the Theragun. It's not even close. Huge win here.
It is lighter than the Theragun Pro (2.65 vs 2.9 lbs)
Theragun Pro is exorbitantly priced. With that kind of money you can get 2 Achedaway Pros and a spare battery.
Verdict

We all know about Theragun and their premium-grade products. They're a household name in the industry. On the other hand, Achedaway is a stable brand that has a powerful device that does the job and doesn't bleed you dry. There are no bells and whistles here but it delivers what it promises.

Unless you really need the Theragun with all its extra features, we'd go for the Achedaway Pro.
---
Achedaway Pro vs Hypervolt
Finally, it's time for Achedaway Pro vs Hypervolt comparison. The only member of the Hypervolt family that even comes close to rivaling the Achedaway Pro is the more advanced Hypervolt 2 Pro.
Similar Features include:
Both share the traditional T-shape design.
Similar noise levels, size.
Similar weight.
Both have removable batteries.
Hypervolt 2 Pro is better in:
It has one more attachment, so 5 vs Achedaway Pro's 4.
It has a pressure sensor and indicator.
It's Bluetooth enabled.
It has rubberized handle.
Achedaway Pro wins where it matters:
It has a longer stroke length: 16mm vs. 14mm
It has a better stall force: 60-65lbs (practical) compared to the 2 Pro 35lbs.
It revs higher with its topping 2800rpm compared to 2700rpm
It has more speeds: 5 compared to just 3 for Hypervolt.
Comes with slightly better battery life
It has an angled handle (easier to hold, easier to reach the lower back too).
Achedaway Pro comes in a carrying case while the 2 Pro doesn't have one.
Achedaway Pro has a 2-year warranty compared to Hypervolt 1-year warranty.
Achedaway costs $249.99 with

MGA50

code while the Hypervolt 2 Pro is closer to $400.
Verdict

As you can see, there's even less reasons to go for even the head honcho of Hypervolts. Unless Bluetooth connection and a pressure sensor tickles your fancy, there's really no practical reason to choose Hypervolt.

The Achedaway Pro betters it where it matters and that while being 30% cheaper. With the price of the 2 Pro, you can get the Achedaway Pro with a spare battery, and if you use our coupon, you still get to keep $55.
---
Achedaway Pro Review – Conclusion
We've come to the end of our Achedaway Pro review. But before we wrap things up let's reminisce on what you can get with this device.
The Achedaway Pro has carved its niche in the market. It's best suited for demanding users but it's still very versatile. It guarantees a deep to the bone massage with its very impressive features.
The only bone we have to pick with it is the bulkiness. Otherwise it offers great value for money and it's a reasonable choice over the industry giants in Theragun and Hypervolt.
Ps. If you decide to give Achedaway chance, consider supporting the brand by ordering it directly from their store, where the MGA50 code can be applied for a $50 discount.
---
Achedaway Pro Review Rating
Quality

Effectiveness

Usability

Accessories

Price Value
Summary
The Achedaway Pro made it on our 'strongest massage guns' list for a reason. While larger and heavier than most other guns, it features best in the business stroke length and the stall force on par with the strongest guns out there. It looks unique, is versatile and has swappable batteries. Most importantly though, the new Achedaway Pro is able to reach the deepest of muscles – and this is precisely what it has been designed for.
Disclaimers
The views and opinions expressed on this website are those of the authors. Any content provided by our bloggers or authors are of their opinion and are not intended to malign any religion, ethnic group, club, organization, company, individual or anyone or anything.
All product names, logos, and brands are property of their respective owners. All company, product and service names used in this website are for identification purposes only. Use of these names, logos, and brands does not imply endorsement.
It is our policy to make every effort to respect the copyrights of outside parties. If you believe that your copyright has been misused, please provide us with a message stating your position and we will endeavor to correct any misuse immediately.
Some of the links in this post are affiliate links. As an Amazon Associate, we earn from qualifying purchases. This means if you click on the link and purchase the item, we may receive an affiliate commission, at no extra cost to you. This helps us keep this website alive. Learn more here.
Amazon Disclosure
massagegunadvice.com is a participant in the Amazon Services LLC Associates Program, an affiliate advertising program designed to provide a means for sites to earn advertising fees by advertising and linking to Amazon.com. As an Amazon Associate, we earn from qualifying purchases. Amazon and the Amazon logo are trademarks of Amazon.com, Inc. or its affiliates. Please refer to our Privacy & Affiliate Policy for details.