Theragun Mini Review – Checking Out The Therabody's Smallest Gun Yet
Disclaimer: Our content is unbiased, non-sponsored and fact-checked. If you buy via links on our site, we may earn a commission. As an Amazon Associate, we earn from qualifying purchases.
---
Welcome to our Theragun mini review. We have acquired, tested, and then reviewed Therabody massage guns available, and today it's time for the last one, the mini.
Theragun mini appeared to have taken some time to be unveiled, as it has only surfaced among the latest generation devices – the 4th generation.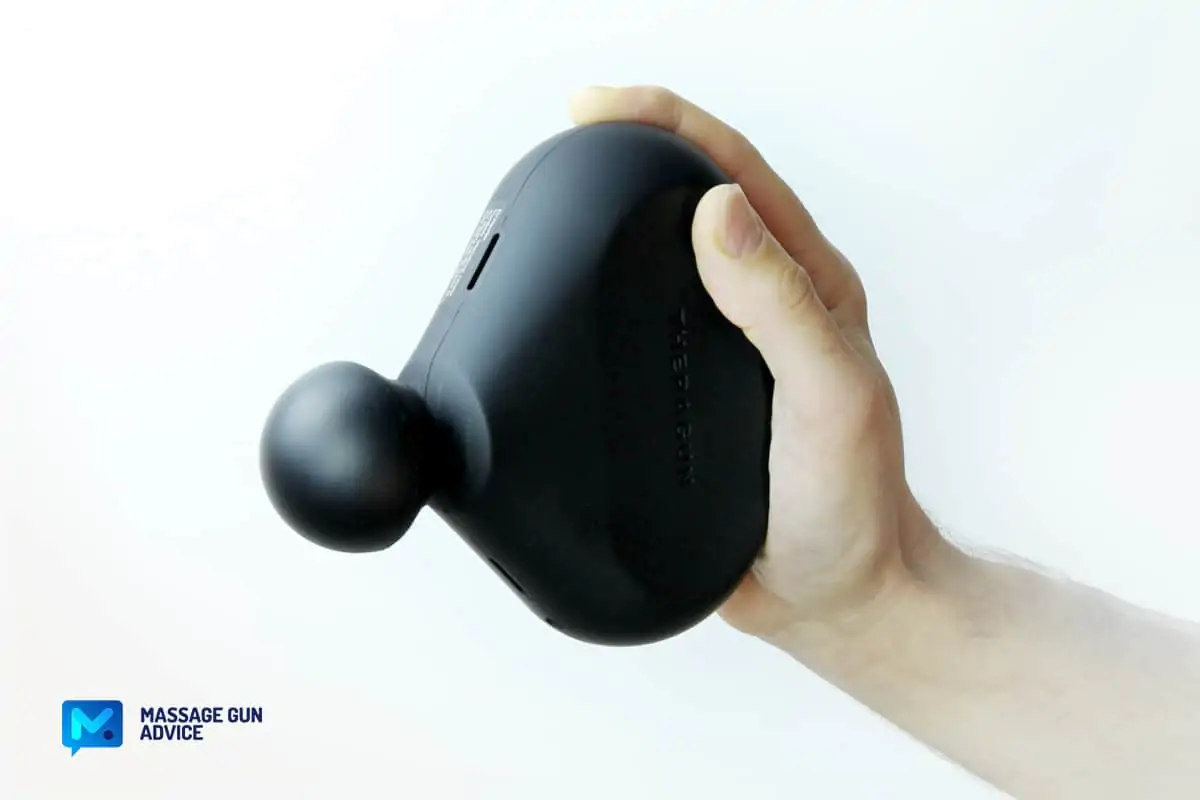 ---
---
Introduction
Therabody unveiled the Theragun mini in May 2020 as their first compact massage gun for those looking to ease tension and increase circulation on the go.
Mini massage guns have been the talk of the massage gun world lately. This is because they're compact, highly portable, can be taken anywhere and can easily fit in your bag. They're a convenient way to get a much needed massage.
Since they're small and compact, you should expect one or two compromises especially in terms of performance. Don't therefore expect the Mini to be anything like its bigger siblings; Prime, Elite, and Pro. It takes care of a completely different niche.
But what does Theragun Mini, having arrived late to the mini massage gun party, really bring to the table? Was it worth waiting for at all? Let's find out.
---
Theragun Mini Review
---
Theragun mini Specifications
Feature
Theragun mini Specs
Stall Force
20 lbs
Stroke Length
12 mm
Speeds
3
Percussion range
1750 – 2400 ppm
Weight
1.43 lbs
Dimensions
6 in x 5.3 in x 2.25 in
(15.2 cm x 13.5 cm x 7.7 cm)
Attachments
1 included
Noise (decibel)
61 dB (on top speed)
Battery Life
2 – 2.5 hours
Bluetooth
N/A
Pros
Stroke length
Unique Design
Compact size
Cons
Low Stall Force
Noise
So-so Ergonomics
Lacks USB-C charging
Poor Accessories
High Price
Warranty:
1 year
Retail Price:
$199
Where to Buy:
Theragun Official Store
Theragun mini specifications
---
First Impressions and Build Quality
The mini comes in a soft pouch and not a case.
It's soft textured and only the device (with the ball attachment) fits in there. Other accessories, like the charger are in the box.
We tried squeezing the charger into the pouch and it made the whole package bulge rather weirdly. We're guessing Therabody didn't intend for anything else to fit in there.
---
The device
We've looked at tons of massage guns but haven't seen this kind of design anywhere.
Theragun Mini is truly unique. It has a triangular shape which mirrors Therabody's design language. That said, it doesn't have similar ergonomics as its bigger siblings with multiple grip handles.
It's a solid triangular bicycle seat-shaped device. It doesn't have a lot of bells and whistles – that is, no OLEDs, just simple LED indicators for speeds and battery. It is the same quality, rubberized plastic found on its bigger counterparts.
There are four color variations to choose from: matte black, white, limited red edition Product (RED) and the new one, desert rose. We got the black one.
It's mode of operation is simplified – long press to turn it on/off, and quick press of the same button to change the speeds.
In the box, apart from the device and the dedicated charger, we also found a nice Therabody welcome envelope. In it we found a quick-start guide, the brand story, letter from the founder, a sticker, and warranty information.
---
Attachments
The Theragun Mini disappointingly only comes with one attachment. We found only the ball attachment on it and we wondered where the rest could be.
We've done many massage gun reviews and they all come with more than one attachment.
Theragun should've included at least 2 or 3 more attachments. Even though the ball attachment can be used for an overall massage, it's rather shocking to only include it.
We did however, notice that if you have any 4th generation device (Prime, Elite or Pro), the attachments are compatible with the Mini. Which makes us believe that Theragun's strategy is to upsell the Mini to their existing clientele.
However, if you are just going for the Mini and want more attachments, you can still purchase them separately at $20 each if you are purchasing directly from their store.
---
Size, Weight and Ergonomics
The Mini is about half the size of its larger counterparts. It measures 5.4 x 4.3 x 1.6 (inches). It's small and compact (as a mini should be). But we've seen smaller gadgets than this.
It weighs 1.43lbs. which is way lighter than any of the bigger guns. However, it's still not the lightest mini massage gun we've laid our hands on. We've seen devices that weigh less than a pound but with way more powerful motors.
When we say powerful motor we mean more stall force. We'll talk about this later in our review. But for now it suffices to say that Theragun Mini may be small and perhaps premium but there are better rival gadgets that are less weighty.
For instance, Ekrin Bantam weighs 1.1lbs. (25% lighter), the Minirex is not a mini massage gun (a small massage gun), looks almost like the Hypervolt Go, but only weighs 1.3lbs.
What about the Mini's ergonomics? Well, the Mini is uniquely shaped, and even though it's triangular as Theragun likes to design their devices, it's not as ergonomic as its bigger counterparts.
While it's comfortable to hold at first, it may not be as comfy to hold for longer periods especially if you have smaller hands. The grip is not as strong as the one you would get if you had a more traditional round handle.
We also noticed that during the massage, most of the vibrations transfer to the hand and this makes it a pain because you have to keep readjusting the grip.
---
Performance
Now, we know that the Theragun mini takes care of a different niche altogether and the performance features may not match what's on the bigger Theraguns, but does it offer something special as a premium gadget?
---
Amplitude
Amplitude or stroke length is how far the head of the massage gun moves back and forth to give you the percussions per minute. It determines how deep into the muscle the device can hit.
Theraguns are the kings of amplitude and have been for a long time. Recently some brands have been laying a claim for this as well but Theragun did it first.
The Mini has a 12mm amplitude – the longest in its category. We are yet to see a mini massage gun with such a long amplitude. At the moment it looks like no one's beating their Mini.
But the amplitude only works half as well if the stall force matches it. A longer amplitude with a weaker stall force is really a bit of waste in our opinion. You may get the hits, but they will mostly land on the surface of the skin and not as deep as they should.
Let's not get ahead of ourselves yet, what's the Mini's stall force?
---
Stall Force
Stall force is the amount of pressure it takes to stall the motor of a device. The stall force along with a long amplitude determines how deep into the muscles the device can get.
We couldn't figure out exactly what the Mini's stall force is, at least not by looking at the information given on Theragun's website.
We did however do our own tests and estimated it to be less than 20lbs. This, we hate to say, is not nearly enough stall force to give a deep percussive massage.
If you were thinking about hitting your glutes, quads and hamstrings, you may have to look elsewhere because the Mini won't do it. It stalls rather easily, even for a mini device.
We figure Theragun meant this device to be used for relaxation, warming up, treating your neck as you work at your desk, getting a much needed circulation massage on a hiking trip, but nothing more. If you need something that can go deeper, then you might want to try one of their bigger devices.
From where we sit, the Mini's low stall force is no-go. Not at its fleecing price. After testing many mini massage guns that are way cheaper we must say we expected more from the giants in the industry.
For instance, we got a hold of the Ekrin Bantam earlier and we were awed by its powerful stall force. The Bantam has 35lbs. stall force. This while being smaller and lighter. Even Theragun Prime doesn't have 35lbs. stall force!
Our expectations were shattered when we tested the Mini – we were expecting more from it. That said, most people will still find this device useful if you buy it for its intended purpose.
To be fair, it's actually more powerful than the Hypervolt Go which is bigger but massively underperforms when it comes to the stall force.
---
Performance Comparison
Here is how the mini compares against the most popular competitors.
---
Stall Force (lbs.)
Conclusion
Stall Force: Theragun Mini might bring some innovative design language to the table but it disappoints with the low no-stall force. Devices like Ekrin Bantam are smaller, lighter and yet deliver significantly more power. Same goes for the Addsfit Mini Pro or the Lifepro Dyna Mini.
Stroke Length (mm)
Conclusion
Stroke Length: The mini, as other Theraguns, shines when it comes to the stroke length. 12mm is best you can get for a mini massage gun and other devices can't match the mini's amplitude. It's only a pity that the high amplitude isn't adequate to the power (stall force).
---
Percussions and Speed Levels
Theragun Mini has a percussion range similar to the full-sized Theraguns – 1750-2400rpm. The only difference here is that there are only 3 speed gears to cycle through as you use the device.
The bigger Theraguns have 5 speeds to cycle through. However, we say this not to take anything away from what the Mini offers.
In fact, we believe that 3 speed gears on a mini massage gun is just about enough.
Right next to the power button there are 3 LED indicators that will show you what speed you are on.
You probably won't even need the LEDs to know what speed you are on because you can literally feel and hear the intensity change as you quick-press the power button.
But we may have a suggestion for Theragun (it's more of a wish than a suggestion). The company seems to have stuck to their guns on just about everything else, including the percussion range and a fairly long amplitude.
However, we feel they should've probably shortened the amplitude and increased the percussion range. Then, maybe with even with the low stall force, a shorter amplitude with more intensity would deliver more impact (less head travel = more frequent hits = better intensity).
To wrap-up this part, as far as performance goes, Theragun's industry-leading 12mm stroke length is more than welcomed. However, the low stall force doesn't do it justice. It does the job at a basic level, but with a little more stall force this would've been a wonderful device.
---
Noise
Our Theragun mini review wouldn't be completed without discussing how much noise this device is making. The Mini is not exactly the quietest device in its category. It's still too loud for our liking. However, it's way quieter than the Theragun Pro which is advertised as being "very quiet".
We measured the noise in decibels and it revs between 57-68dB. It's reasonable enough but it's not whisper quiet.
---
Battery
The Mini's battery is strong enough and will last up to 2-3 hours under normal usage. There's an LED indicator next to the power button that will let you know how much juice you've got left.
This is how it indicates:
Flashing red: Low charge
Flashing blue: Half-way charged
Flashing green: High charge
Solid green: Fully charged
We noticed that the battery drains if any kind of pressure is applied for a bit longer. We also noticed that the more you increase the speed, the quicker the battery drains. However, more pressure drains the battery even faster.
Under normal usage, where you don't overuse the device, you won't need to charge it until after a few days. Is it the best battery in the business? Not really. It's well juiced up but not nearly halfway what devices like the Ekrin Bantam and the Minirex have.
One huge drawback with the Mini is that it's not USB-C compatible. You'll have to carry the bulky charger with you as you travel. USB charging for mini devices means even more convenience. The Theragun Mini doesn't give you that option. What a bummer!?
---
Theragun App
The Mini is the only 4th generation Theragun device that lacks Bluetooth connectivity. This means you won't get a chance to connect it to the famed Therabody app.
However, you can still make use of the app when using the Mini if only to learn the massaging techniques and take full advantage of the many suggested routines.
It's a real pity Theragun chose to exclude the Mini from their superb app which is one of their standout features.
They no longer have the last laugh when it comes to hardware. Everyone out there is doing their best to knock them off their perch.
---
Is Theragun mini Worth it?
Yes and no.
"Yes" if you are a Theragun buff and already own a full-sized Theragun and you probably just want something to complement it. The Mini will be a nice addition if you already have any of the three devices (Prime, Elite, and Pro).
First, because it's easier to carry around, and second, because the attachments are interchangeable. The Mini does come with only the one attachment but all 4th generation attachments fit on it.
But it's a "No" if you are looking for a good mini massage gun to start with. There are far better devices out there and all you have to do is look at our best mini massage gun reviews.
Some clear disadvantages of the Mini include; its low stall force, it's not USB-C compatible forcing you to carry the bulky wall charger around, it's not as quiet, and only comes with one attachment.
Also, the current price point is too steep if you take into account other devices that cost way less but have better performance and also give you a lot of choice with the number of accessories available to you.
We are also disappointed with their less than satisfying warranty. They only promise a 1-year guarantee on the Mini. You do get a ProCare warranty which gives you free device repair or replacement but only when you pay an extra $40 and it's only for the first year.
Brands like Lifepro and Ekrin will offer you a lifetime warranty and wonderful customer support as the cherry on top.
---
If Not Theragun Mini then What?
Theragun Mini may have its shortfalls but what other device is there?
---
Ekrin Bantam
The Bantam is probably the perfect alternative to the Theragun Mini because it has everything that the Mini lacks – and more.
It's way smaller and even more portable. It weighs a meager 1.1 lbs. It also has way better ergonomics in comparison. It has a 15-degree angled handle that offers a more natural grip as opposed to what you get with the Mini.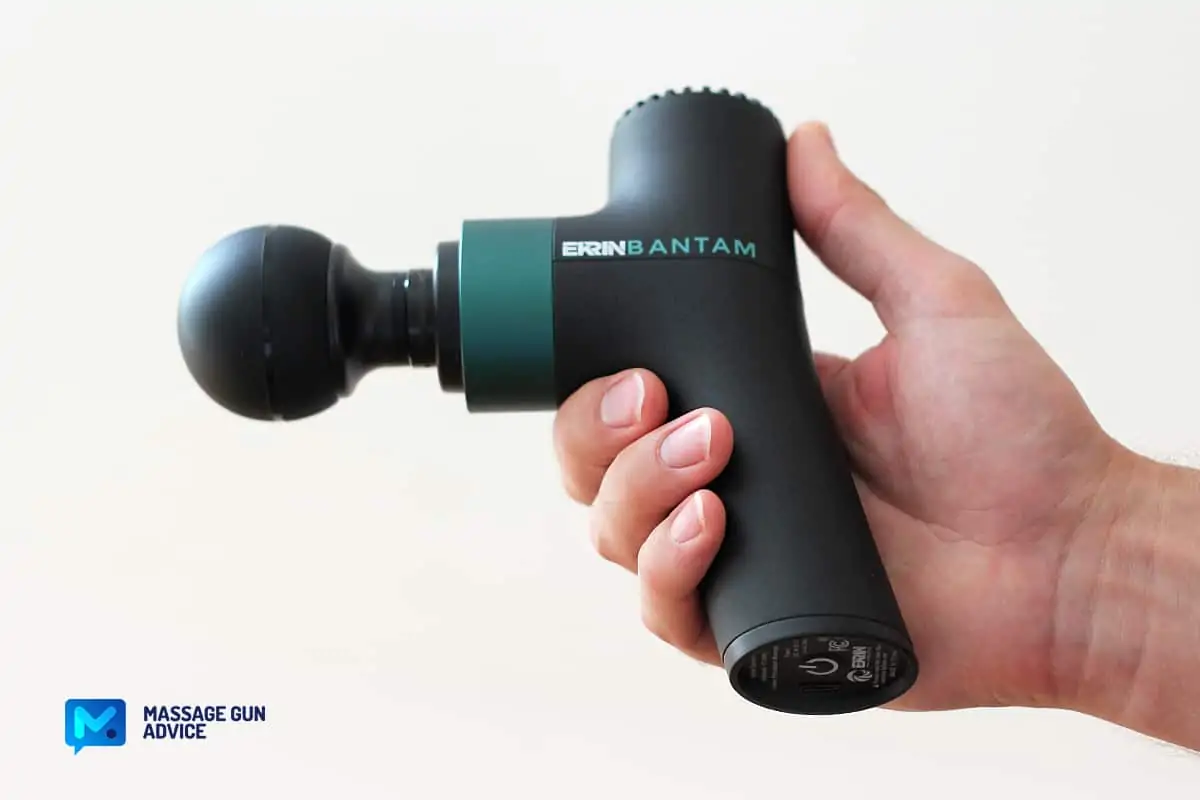 It may be smaller than the Mini but the Bantam puts up monster performance stats. While the stall force is almost nonexistent in the Mini, the Bantam delivers 35lbs. of power. This is over 50% what you get with the Mini and even better than Theragun Prime's 30lbs. stall force.
The percussion range is also more impressive, delivering 2000-3200rpm. It also does have 3 speed gears, but you are getting better intensity here. The Amplitude is only 10mm (shorter than the Mini's 12mm) but with the high stall force, the Bantam outperforms the Mini.
As we proved in our full Ekrin Bantam review, it's also quieter than the Mini, delivering less than 60dB. The noise is also way smoother compared to the rattling sound that comes from the Mini. It comes with 4 quality attachments and in a nice little carrying case.
Ekrin offers a lifetime warranty and lifetime customer support if you register after you purchase it.
It costs $159.99 but you can get it for 20% less with the MGA20 coupon code. That makes it $127.99 for one of the best mini massage guns in the market today.
---
What About the Hypervolt Go?
If we were to give a direct answer here it would be, "simply not good enough".
Hypervolt Go may be considered the more natural competitor given the long-term rivalry between Hyperice and Theragun. It has a more traditional design that is almost similar to the Ekrin Bantam. However, it's significantly larger than the Bantam.
We chose not to recommend the Hypervolt Go as the best alternative because it's even weaker than the Theragun Mini.
While the Mini was easy to stall with about 20lbs. stall force, the Go felt even weaker. When doing our Hypervolt Go review, we assumed it had below 15lbs. stall force which is just not good enough. Hyperice doesn't disclose the information on the stall force.
PRO TIP We have done a full comparison of Theragun Mini vs Hypervolt Go here.
---
Theragun mini Review Conclusion
We've come to the end of our Theragun Mini review. The Mini may be the portable solution to those who already own any of the full-sized Theraguns, but it's not the best portable gun for novice users looking for a starter device.
It's uniquely built as only Theragun would, but that's just about it. It lacks any appealing accessories and falls way short in performance with its less impressive stall force.
If you are looking for an effective compact massage gun, there are better alternatives to Theragun – the above-mentioned Ekrin Bantam is just one of them, but there's also the Addsfit Mini Pro, Lifepro DynaMini and a few others.
If you want to go ahead and buy the mini, you can do it at Theragun.com here.
---
Theragun Mini Rating
Quality

Effectiveness

Usability

Accessories

Price Value
Summary
An original-looking, complimentary device to any of the larger Theraguns but a bit disappointing in performance and accessories. It lacks the stall force, is not USB-C compatible, has questionable ergonomics, and it's not very quiet for a mini massage gun. As much as we wanted to love the mini, we found it only decent – not enough to give it a higher score.
Disclaimers
The views and opinions expressed on this website are those of the authors. Any content provided by our bloggers or authors are of their opinion and are not intended to malign any religion, ethnic group, club, organization, company, individual or anyone or anything.
All product names, logos, and brands are property of their respective owners. All company, product and service names used in this website are for identification purposes only. Use of these names, logos, and brands does not imply endorsement.
It is our policy to make every effort to respect the copyrights of outside parties. If you believe that your copyright has been misused, please provide us with a message stating your position and we will endeavor to correct any misuse immediately.
Some of the links in this post are affiliate links. As an Amazon Associate, we earn from qualifying purchases. This means if you click on the link and purchase the item, we may receive an affiliate commission, at no extra cost to you. This helps us keep this website alive. Learn more here.
Amazon Disclosure
massagegunadvice.com is a participant in the Amazon Services LLC Associates Program, an affiliate advertising program designed to provide a means for sites to earn advertising fees by advertising and linking to Amazon.com. As an Amazon Associate, we earn from qualifying purchases. Amazon and the Amazon logo are trademarks of Amazon.com, Inc. or its affiliates. Please refer to our Privacy & Affiliate Policy for details.