Best Massage Guns on Amazon: The Rare Gems That Really Stand Out
What To Know: our content is non-sponsored and fact-checked for accuracy. We anonymously order and rigorously test each product according to our methodology. We are reader-supported, and if you buy via our links, we may earn a commission. Learn more.
---
What are the best massage guns on Amazon in 2023? This is a question our readers have been asking more and more this year (more than ever before).
You can't help but notice how massage guns have risen to the heavens of fitness and wellness. We know this too, because there has been an avalanche of them on Amazon.
This could either be good or bad, depending on how you choose to look at it. Good because the prices are low, and bad because you just can't catch a break with knockoffs. But, we believe there has never been a perfect time to buy one.
That's why we have researched current products to find those worth your consideration. Because these devices evolve with time, we have tracked over 100 devices to give you an updated list.
Below, we picked 6 products from different categories. This list will be updated on the regular to reflect market changes as well as price changes.
TL;DR
Check out our two best guns that we know you'll absolutely love.
Bob and Brad D6 Pro gives you the best value for money, Ekrin B37 feels most versatile, and Achedaway Pro is a powerful and proven device for the most demanding users.
Why trust us? We are massage gun experts, that's our daily job. We only recommend products that we personally reviewed, and that passed our strict test procedures.
---
---
How Did We Choose? Criteria For The Best Amazon Massage Gun
Before we dive into recommendations, we think it's kind of important to share with you the list of criteria we've chosen to look at when when choosing the best massage gun on Amazon. Here are the most important one based on our almost three-year experience in reviewing massage guns:
---
Stall Force
Usually a good massage gun should take a considerable amount of pressure to stall its motor. That is, if you press it against your skin, the gun should keep revving unless the force is too great. If you need a deep percussive massage you'll need the number here (measured in lbs.) to be high.
Be that as it may, we realized that over 80% of guns on Amazon have a low stall force. Most don't go past 40lbs. (common range is 20-30lbs.).
With 30lbs. of stall force you can get a good relaxation massage, get those muscles activated before a workout session, get blood flowing well in your body, or break up lactic acid accumulation.
However, 30lbs. is not enough if you want a true deep to the bone percussive massage. In our experience, it is not about hammering the muscle with heavy punches, it is more about the ability to maintain high speed under pressure exerted on a body.
That's why we made sure to include devices that at least have 35lbs. in stall force. Although we would still argue that 40lbs. is more ideal and ensures you are getting an effective massage.
It really should be more if we're being honest, but sometimes you have to work with what you have, and Amazon didn't give us a lot of choice here.
Best Amazon Massage Gun – Stall Force Comparison
Conclusion A good massage gun should have a minimum 35 lbs. stall force, ideally 40 or more. Most cheap massage guns on Amazon tend to stall easily, with less than than 30 lbs. of pressure needed to stall a device.
Fun Fact The only mini gun on our list, the Bantam, matches over 80% of full size devices on Amazon when it comes to stall force, despite being a tiny device!
---
Amplitude
Also known as the stroke length, this is how far the massage head travels as it revs against your body. Usually the longer it is the better. This is because a longer amplitude ensures a deep percussive massage.
We hold that the bare minimum for any full-sized massage should be 12mm amplitude. Ideally it should be up to 16mm, but only a handful of guns even come close to that.
However, don't be fooled by devices that promise a longer amplitude but stoop way low when it comes to stall force. We have used massage guns long enough to realize that it's a bad idea to compromise the stall force. It's common to find devices with shorter stroke lengths but higher stall force.
Even though you may lose the punch, the intensity (which is a must) is not lost. For example, Ekrin B37s has only 12mm amplitude but excellent stall force that makes it powerful (and fast revving!) under pressure. This is why we voted it our best runners' percussion massager.
Best Deep Tissue Massage Gun On Amazon – Stroke Length Comparison
Conclusion Bob and Brad D6 and Achedaway Pro both match the industry darling Theragun in stroke length, while also offering more stall force. Also worth highlighting is Urikar Pro 2, which is able of providing a heated massage.
---
Percussions
This is the number of hits per minute. This is free for all and we won't necessarily give our preferred measure here. Usually the higher the percussion range the better results you will get with a particular massage gun.
However, this is not exactly written in stone. Some devices choose a longer stroke length over a higher percussion range. On the other hand, if a device has a less than satisfying amplitude, it then makes up for it with many percussions per minute.
For instance, Theragun Pro has a 16mm amplitude but only revs up to 2400 percussions per minute. The Ekrin B37s has 12mm amplitude but delivers up to 3200 percussions per minute.
However, if a gun delivers up to 3800rpms, but has an 6-7mm amplitude, we can't recommend it. In that case you're getting vibration therapy, not percussive therapy. There are better devices for an effective vibration therapy than low-amplitude massage guns, but that's for another post.
Best Percussion Massager On Amazon – Max. Percussions Comparison
Conclusion High amplitude devices usually don't exceed 2800 percussions per minute. Some models overstate their real specs (e.g. Urikar Pro 2 is advertised as capable of revving up to 3600 ppm but it doesn't exceeded 2050 in our test).
---
Speeds/ Programs
In terms of speed gears that you can cycle through as you use your massage gun, we prefer 4 to 5 gears. Why? Because most effective guns have only that many, and it's just more practical.
We've seen massage guns that have 20 to 30 speed levels. We think it's ridiculously cumbersome and to be honest, really unnecessary. Cycling through 20 gears just to get what you want is often frustrating!
Some devices are preprogrammed to change speeds automatically and we think these are awesome and very convenient.
Some guns have the heated massage mode with a dedicated ceramic head. In that case you can switch between normal and heated modes.
---
Other Aspects
Other minor but important aspects include:
Build quality: Must be well built with high quality materials.
Noise: No one wants a jackhammer that will draw unnecessary attention. That's why we have only shortlisted devices that have a max. 65dB noise level (about the same as conversation).
Weight: There are way too many weighty massage guns on Amazon. That's why our list doesn't include anything heavier than 2.6lbs.
Size: This is a sensitive aspect, because there are a lot of guns on Amazon that are cheap and bulky. A bad combination if you ask us. We prefer compact. That's for regular sized guns. We also have an option for the best mini massage gun on Amazon.
Ergonomics: We love massage gun brands that show a commitment towards improving ergonomics. We highly recommend them here.
Accessories included: We look for a carrying case and number of attachments. We have seen brands that advertise up to 15 attachments included. In our opinion, this is simply a marketing ploy. Don't fall for it!
Brand Trustworthiness: There are so many private label brands – some overseas – that it now matters more than it ever has who you choose to buy from.
Battery Capacity and Time on Battery: We prefer a higher capacity battery. But we wouldn't insist on it so much because more capacity sometimes means more weight. Besides, most guns these days will run for hours. You'll probably need to charge them once or twice a week under normal use.
Warranty Offered: There's a big problem on Amazon right now over this. Some say 1-year but customers find out after buying that it's not so. There are rare gems that offer a lifetime warranty (e.g. Lifepro, Ekrin).
Value for money: No one likes an overpriced gadget. Fortunately with more devices flooding the market the prices also drop significantly.
---
Best Massage Guns on Amazon 2023
Here is our list of the products we feel should top your priority list as you go shopping on Amazon.
---
Bob and Brad D6 Pro – Theragun-Like (NEW!)

This just-released Bob and Brad D6 Pro massage gun is a radically different proposition from all of the previous Bob and Brad massagers. In fact, we'd risk to say it could be in the same league as the mighty Achedaway Pro above.
We recently purchased this device from Amazon, run it through our usual torture treatments, and confirmed its fantastic specs. So there are things we can confidently say about this gun.
For starters, we are pretty sure the 16mm amplitude on this thing is the real deal. We've seen the gun in action, and just by looking at it, we could confidently say it is a high-amplitude device. But we measured the stroke length anyway, and it is 16mm indeed (see photo below).
The stall force on this gun is advertised as a whooping 80lbs. We are yet to verify this, by comparing it to our benchmark devices, but we don't think it is so powerful. 60lbs is likely possible, but probably not 80lbs.
We know that manufacturers tend to overstate stall force figures (stall force is tricky to verify). Nonetheless, we have yet to find a device more powerful than the two strongest massage guns, Theragun Pro and Achedaway Pro.
The percussion range of 1500 up to 2500 hits per minute sounds great and seems appropriate for a high-amplitude device.
We would have been concerned if they advertised max percussions at above 2700rpm mark, as we know there is no high-amplitude gun able to rev that fast. But 2500 sounds totally reasonable, so we think it could be fairly accurate (+/- 100rpm).
Then, there's ergonomics. It is hard not to notice that the D6 Pro's design is reminiscent of the latest Theragun Pro. The device looks similar to Theragun Pro, perhaps even too much.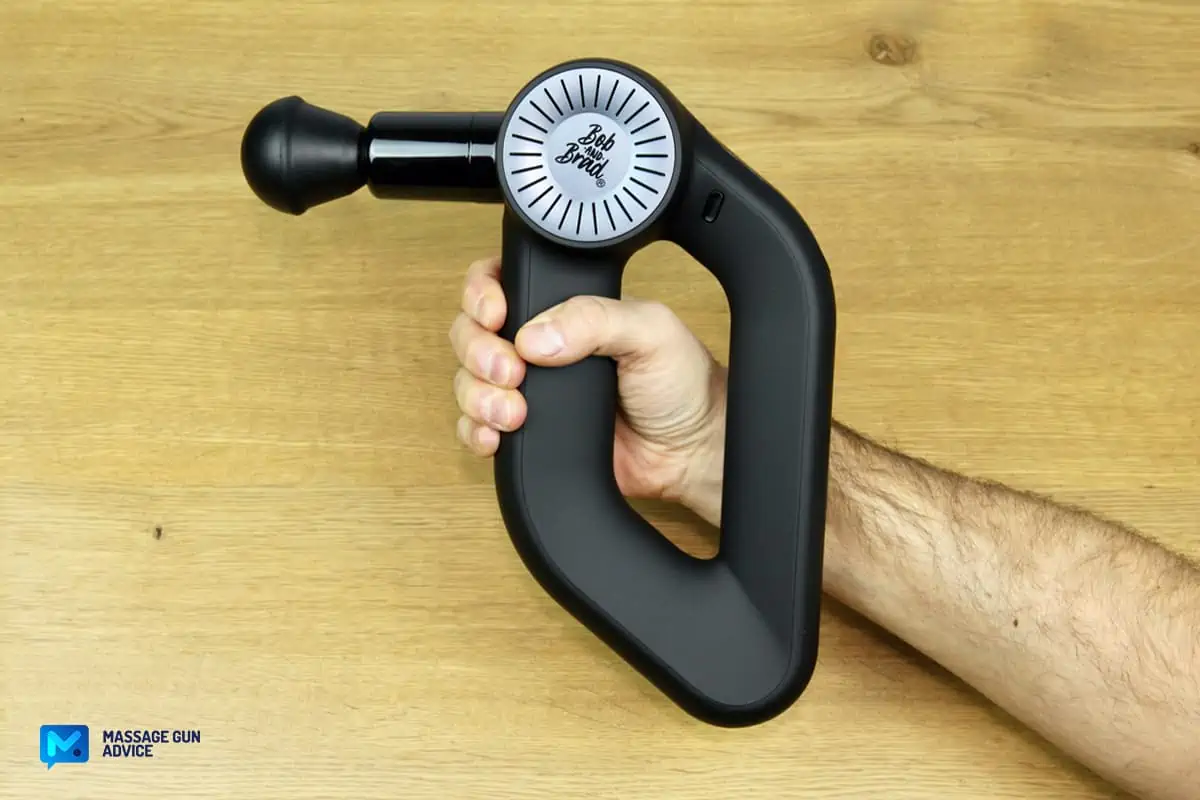 Multi-handle design? Checked. The adjustable arm? Checked. OLED display? Checked. USB-C charging? Checked. Almost the same weight (2.8lbs)? Checked. Even the arm is the same glossy piano-black as in the new Pro!
Bob and Brad seem to have creatively borrowed a lot from the Theragun's design book. But, of course, Therabody invented this kind of design, and even patented it.
To be honest, we're not sure if we like it being so similar, but we are not here to judge. Those who can't afford Theragun Pro have reasons to be happy, though.
Speaking of affordability, the D6 Pro is reasonably priced. The regular price is about $249, but you can get it for less than $200:
The last time we checked, there was an Amazon coupon box available to tick, and if you use the MGADVICE code at checkout, you will get an extra 10% OFF! Buy it on Amazon, here.
It comes with a hard case and 7 attachments, some of which seem pretty similar to guess what – Yes, you guessed it right, to Theragun!
UPDATED We just released our hands-on Bob and Brad D6 Pro review.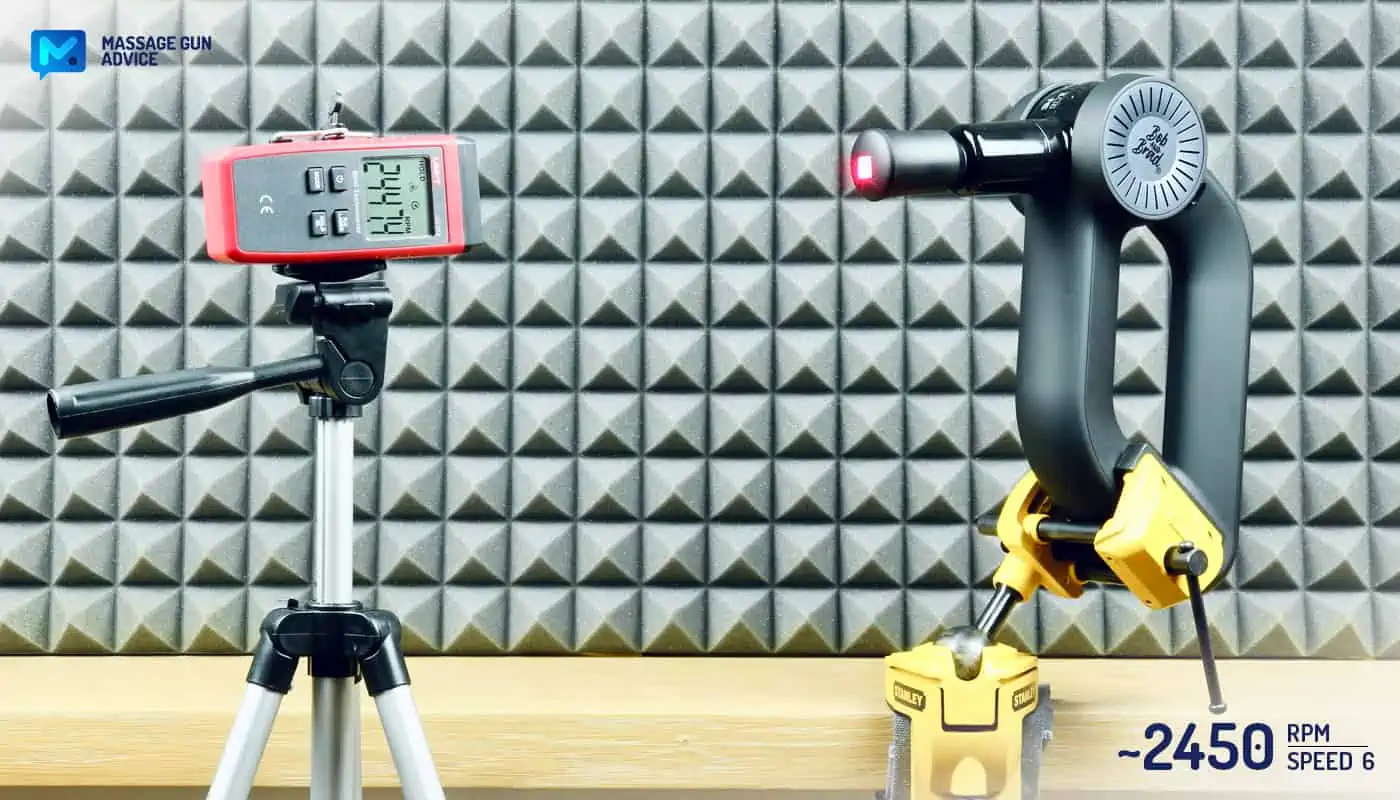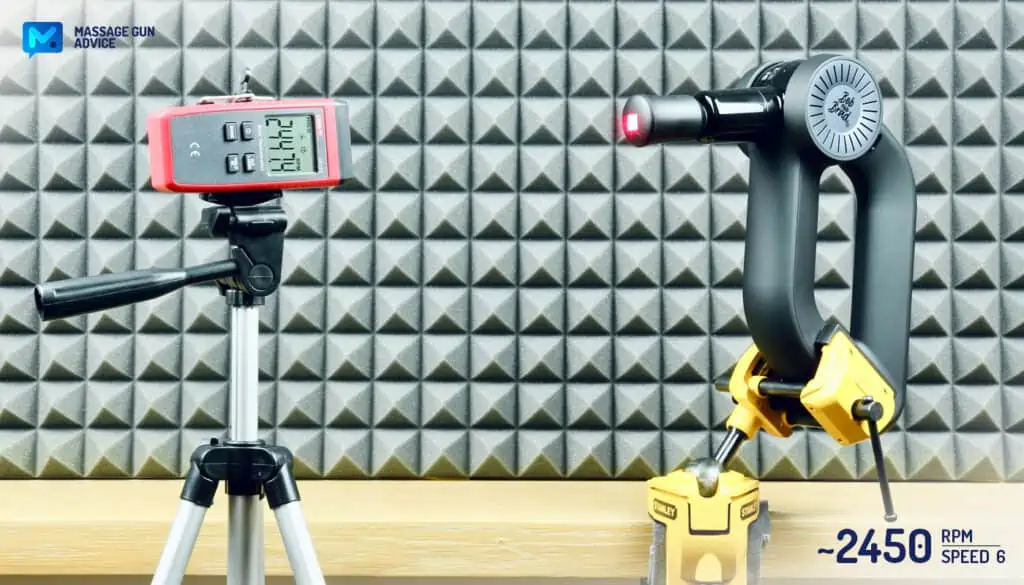 ---
Ekrin B37 – Most Versataile
To be honest we were a bit surprised when we found this Ekrin gun on Amazon. We guess they made that decision not long ago. From what we know, the B37, until recently, was only sold in Ekrin's store.
But we're glad we found it on Amazon and couldn't leave it out of our list because we have plenty of praise for it. We will also tell you how you can get it 20% cheaper!
But first, it's a really nice-looking gun. It isn't T-shaped as any other gun out there but has a 15-degree angled handle for improved ergonomics and reduced wrist tensions – you can almost feel it's a cut above the rest by just looking at it.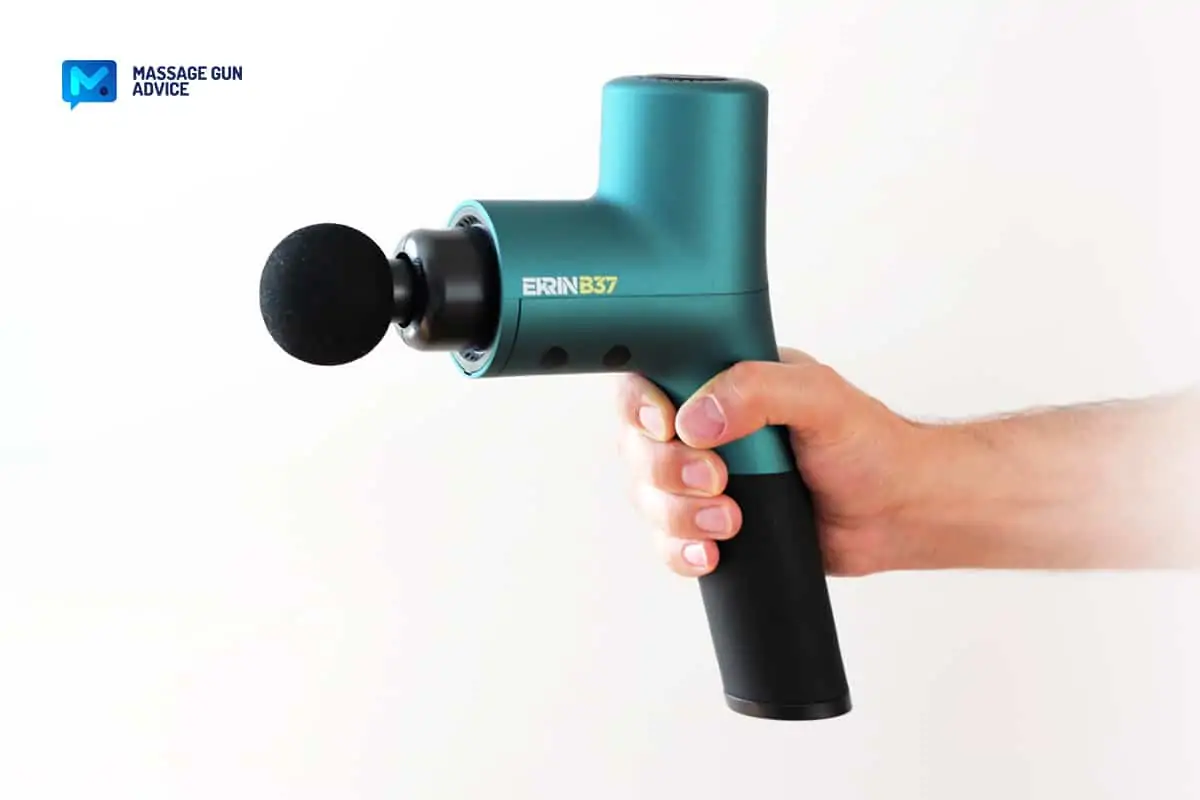 The overall round design is perfect and adds a bit of leverage as you press it against your body. It's lightweight – just 2.2lbs. The handle is rubberized to give you a comfortable grip.
In terms of performance, this is a powerful device. It has 56lbs. stall force, and this in a very compact body.
How did they fit a powerful motor in there? It's number one in our list because not many guns give you this kind of power at such a low cost.
Based on our experience, with a stall force like this, you can basically press it hard against the muscle and the medium-length stroke will provide a very decent, penetrative punch.
Although the amplitude isn't a Theragun-like 16mm, you're definitely not just going to get a relaxation massage – this device will give a deep percussive massage.
The percussions per minute range is also impressive, starting as low as 1400rpm and revving all the way to 3200rpm. That is one of the widest ranges we have seen in a massage gun.
Therefore, the intensity provided by this device comes from a combination of high stall force and high percussions, the latter enabled by the sweet-spot amplitude.

There is one more benefit: B37 will not slow down percussions even under significant pressure. This is hugely important if you want a deep, intensive massage. Most devices advertise, say, 3200 percussions per minute, but in fact they deliver less than 2000 when pushed harder. But not Ekrin!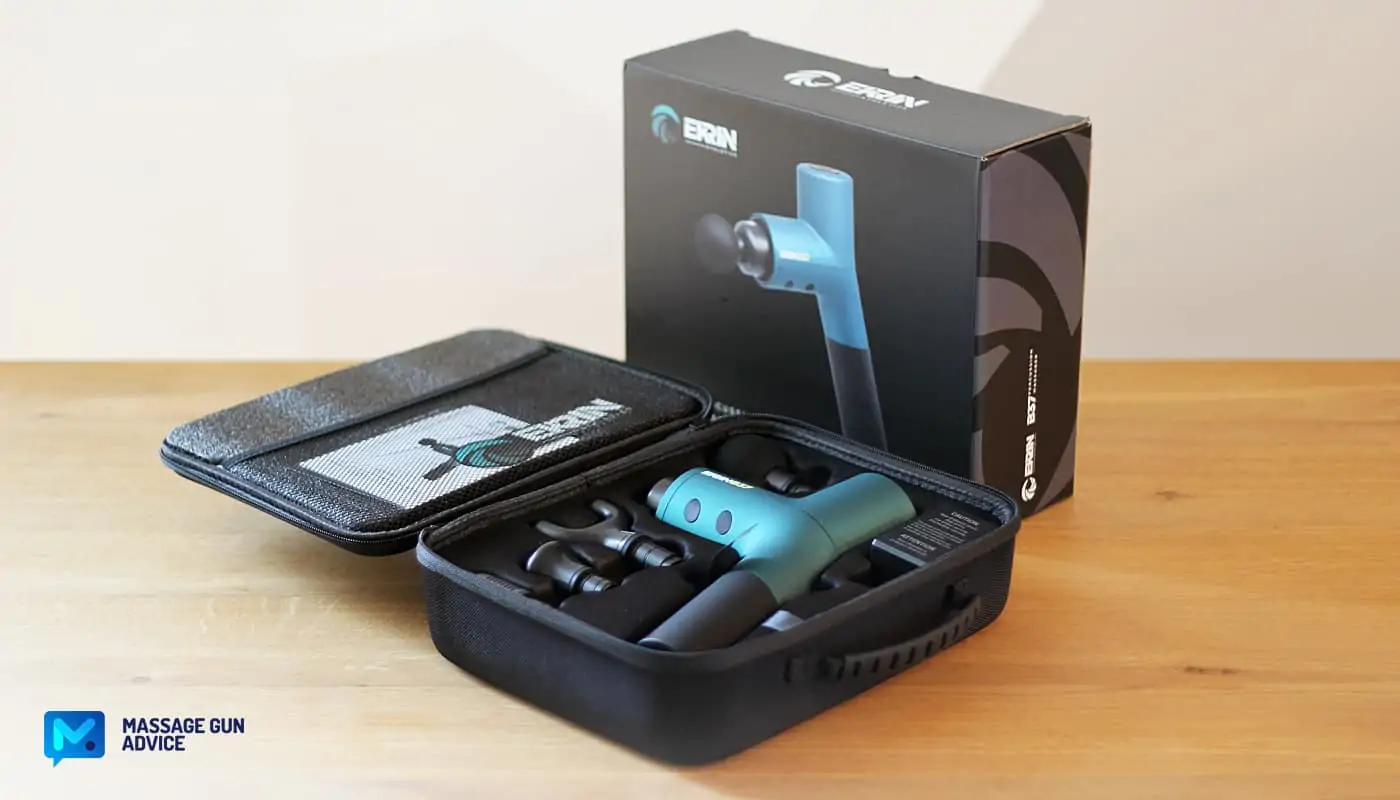 We highlight this aspect here because it starts way low (1400rpm, we verified it using laser tachometer). This is good especially if you want a quick warm-up massage and do not need to go intense.
That said, it has 5 speeds to cycle through which is okay. Not too many. It's also very quiet even at the highest intensity – goes from 50-60dB.
It has a good 2450 mAh capacity battery that will last up to 8 hours on a single charge. If you use it for too long on high intensity, as we usually do, then you'll run out of juice after 3.5-4 hours.
It comes with 5 attachments and in a nice sturdy carrying case.
Ekrin are known for their excellent customer care. They also are one of the few brands that offers lifetime warranties for all their massage guns.
A friendly tip: you can buy it on Amazon, but if you head over to their own store and use the MGA20 promo code, you will get for $183.99 – save $45 and get a lifetime warranty!
Ekrin Father's Day Sale
Enjoy 25% off the Ekrin B37 (now only $172.49) and any other Ekrin massager until June 18th. Use code MGADAD25 at checkout for the discounted price. Click here to claim your offer
More to read Refer to our full Ekrin B37 review for further details and more photos.
---
Achedaway Pro – Best Deep Tissue Massage Gun on Amazon

In this Achedaway Pro we've got something for demanding users. We're talking bodybuilders, athletes, chiropractors and therapists.
People who are interested more in deep intensive results than a quick relaxing massage. This gun stands out from the Amazon crowd even from the way it's built. It has a slanted handle that makes for great ergonomics.
Because it's built for people with heavy muscles and those who want deep percussive therapy, it has some top of the shelf performance specs.
For instance, the stall force is advertised as being over 60lbs. That's as powerful as it gets. It matches the crème de la crème of the massage gun world, Theragun Pro, as well as our top pick above, the new Bob and Brad D6 Pro.
It actually made it into our "most powerful massage gun" list. It gets even more intense and deeper with its 16mm amplitude – independently verified by us (see photo below). Top of the hill in this space – same as Theragun Pro.
It delivers 1700 to 2800 percussions per minute. Even we were surprised by this because normally a stall force that high with an even longer amplitude would be accompanied by a slightly lower percussion range.
The Theragun Pro proves our case here with a range of 1750 to 2400 percussions per minute. That said, it has 5 speeds that you can cycle through. Again, pretty standard and to our liking.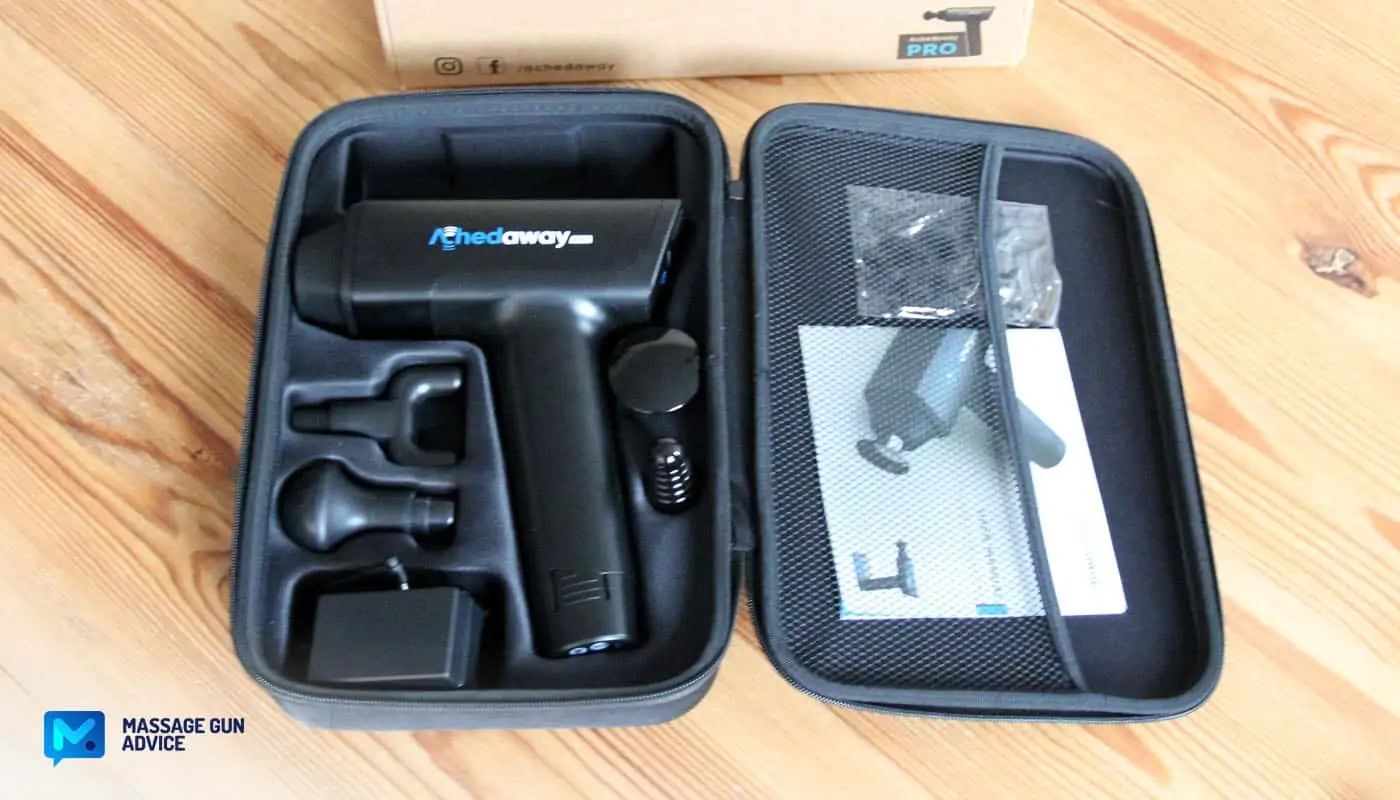 It's also amazingly quiet while at it. We tested it and it's 45dB to slightly over 60d, which means it is currently the quietest percussion massager as far as high-amplitude devices are concerned.
It has a superb 3200mAh capacity battery that will serve you for up to 4 hours on a single charge. The battery can be replaced, making it a great choice for chiropractors. However, you'll have to purchase the extra battery separately.
With all this rep, we were a bit disappointed because it's pretty heavy. At 2.6 lbs. it's the second heaviest on our list (after the Bob and Brad gun above).
By the time we compiled this list there were just a few of them left on Amazon. But…
PRO TIP: you can also get it from Achedaway's store and it is cheaper there. Use the MGA50 discount code to get $50 off the price. It will then cost $249. Get your Achedaway PRO here →
DEAL ALERT Use the special MGA60 code at checkout to get $60 off Achedaway Pro. Pay $239 instead of $299. Apply the coupon here.
More to read You can check out our Achedaway Pro Review for more details.
---
Urikar Pro 2 – Best Heated Option

Here's another gem that is miles ahead of the competition on Amazon. We saw it, tested it for two weeks, and were impressed.
One of the reasons we love it is its rather unique shape. We are so used to the T-shaped routine design that we've learned to appreciate brands that are a bit innovative, just for a change.
It has a 180-degree rotating arm (lockable) that allows you to reach most parts of the body as you massage away.
It offers a different proposition as well. It has the heated massage mode along with other modes. It's the heated mode that got our attention. It comes with an extra ceramic head that makes this mode tick.
Once turned on, the head heats up allowing you to have a heated massage. As we explained in our post dedicated to heated massage guns, heated massages are good for soothing muscles and effectively dealing with pain.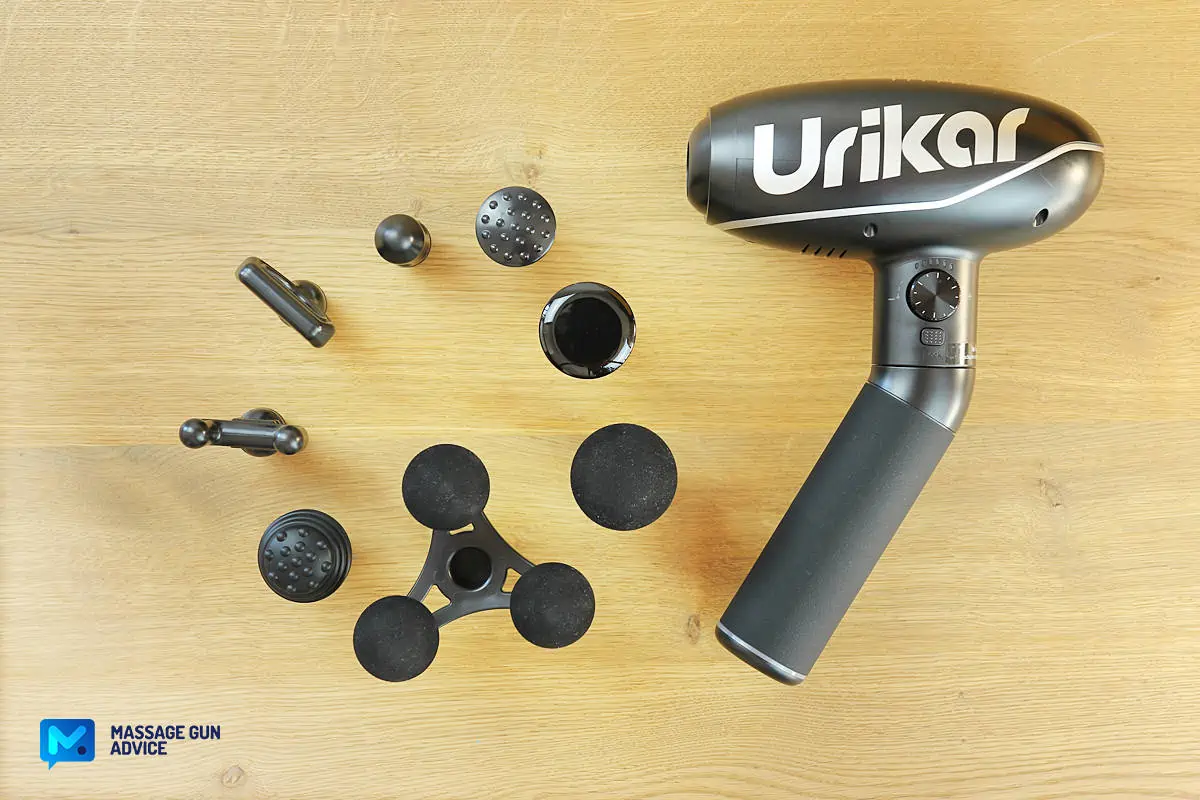 It's not just the interesting heated massage mode, this gun packs some good performance features. It has an advertised 55lbs. stall force – we reviewed it and it felt actually closer to 25-30lbs. Not so much but still the best among heated massage guns.
We measured the stroke length and it turned out to be solid 12mm. In a heated gun, 12mm is impressive and well suited for a deep tissue massage.
The percussion range is decent as well – advertised range is a whooping 1200-3600ppm, but we measured that with our laser tachometer and it is more like 1050 to 2100.
This is a pretty wide range, although it won't feel as intensive as our top pick Ekrin B37. It has 6 speeds that you can cycle through, which is just enough.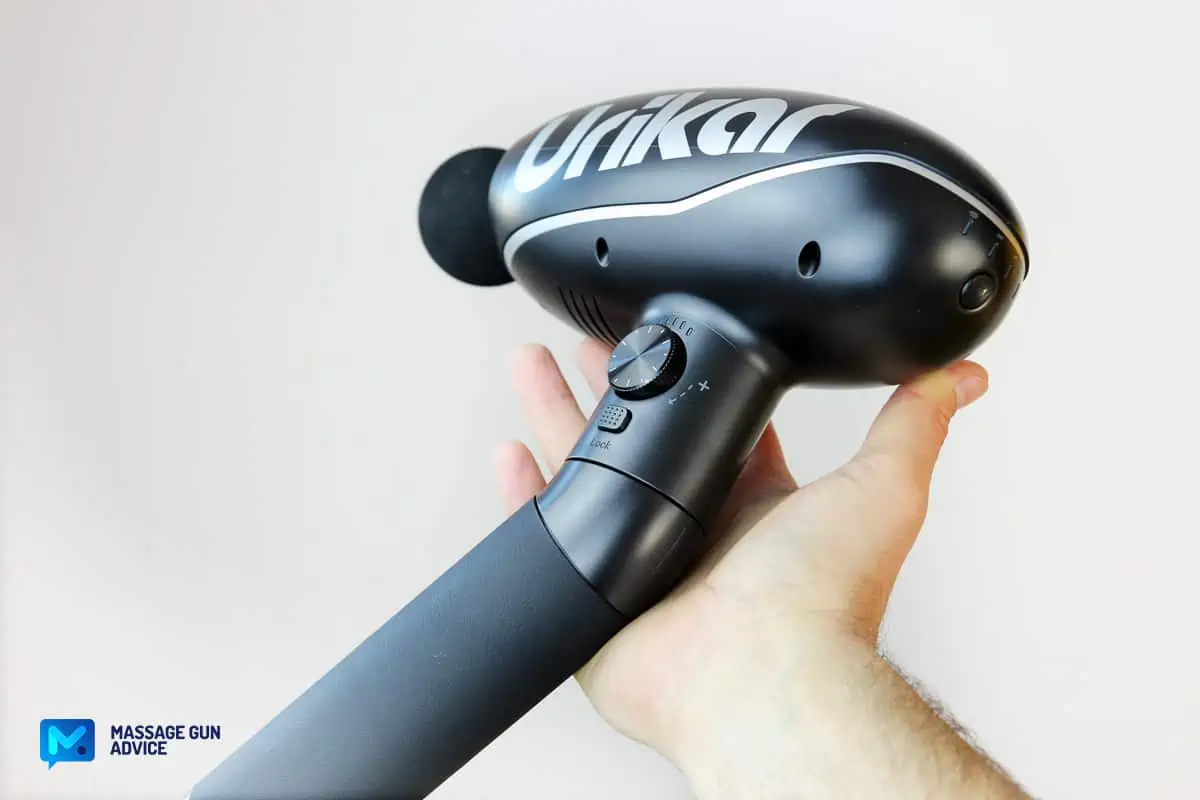 Those two other modes are; the regular mode, which they call "intermittent" and the progressive or "ladder mode" where percussions automatically increase over time.
It has a strong 2600mAh capacity battery that will last 2-5 hours depending on how you use the gun. That is, force applied, speeds, and how long intensely you use the heated mode. T
hey say the battery can last up to 10 days before you need to charge it again, but we think that's only practical if you use it at the lowest speed and if you don't touch the heated mode at all.
It has 8 attachments. That's a little extra but not too bad. It comes in a carrying case and with a 2-year warranty.

To get it you can check the availability and the current price on Amazon right here.
You can also head over to their store and get it with a huge discount. Apply the URIKAR02 code at checkout and get it for just $62.9 (the promo code only works in Urikar's own store).
More to read Our hands-on Urikar Pro 2 massage gun review.
---
Ekrin Bantam – Best Mini Massage Gun on Amazon
We looked at our Best Mini Massage Gun picks earlier and our top recommendation, Ekrin Bantam was not for sale on Amazon back then. But we checked again just recently and it is finally available on Amazon (albeit 20% more expensive than with our promo code listed below).
It's a small unique gun from an American massage gun brand that really cares about customers. All of their products, including the Bantam, come with a lifetime warranty and lifetime customer support.
This massage gun made our list for top picks in the best mini massage gun for 2023 post. We've loved Ekrin products for a while and this mini gun shares our love as well.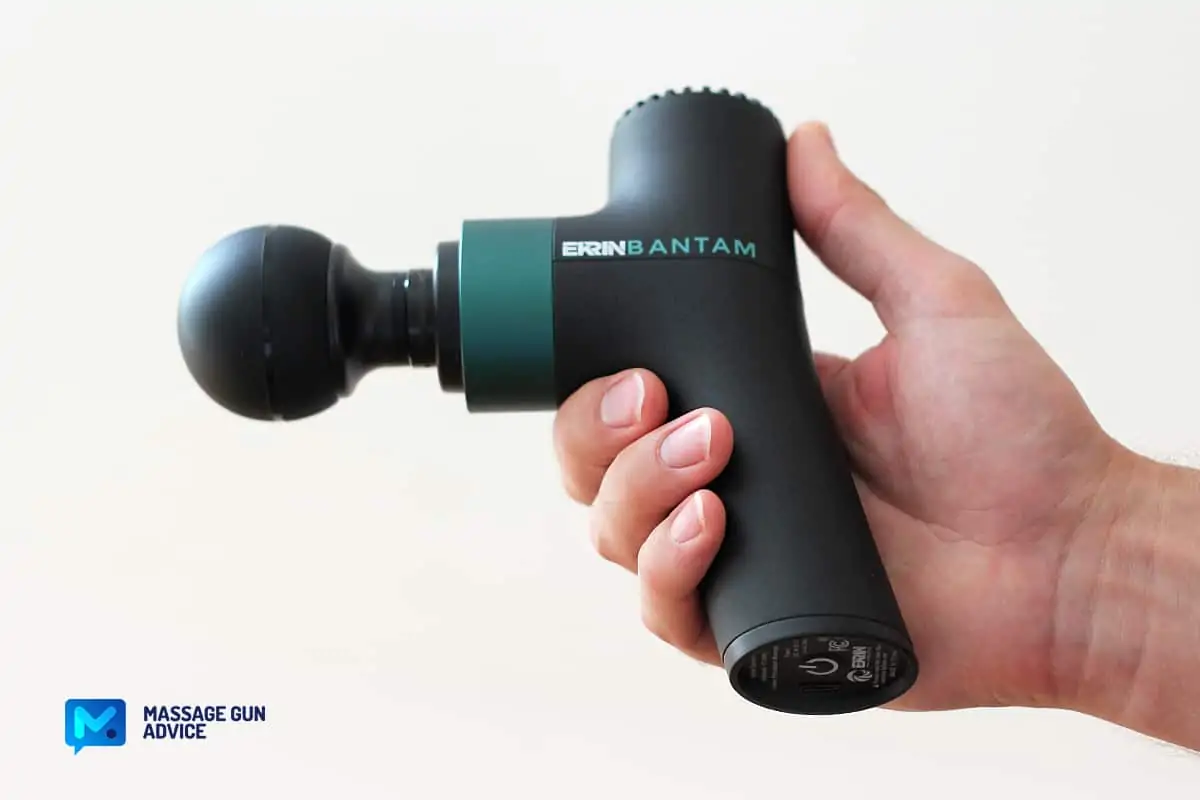 In our extensive hands-on review, Bantam performed just amazing for a miniature gun. With 35lbs. stall force and almost 10mm amplitude it outshines many guns in its category. It could actually be right on par with some full-sized massage guns.
It is perfect for sore muscles, relaxation, and after-training muscle treatment. The amplitude really good enough considering how small this device is.
The percussions per minute range is a confirmed 2000-3200, which is on par with Ekrin's top-of-the-shelf B37s massage gun and the entry level Ekrin 365 as well. You can cycle between 3 speeds while at it. It's very quiet as well. It's 50-60dB of noise.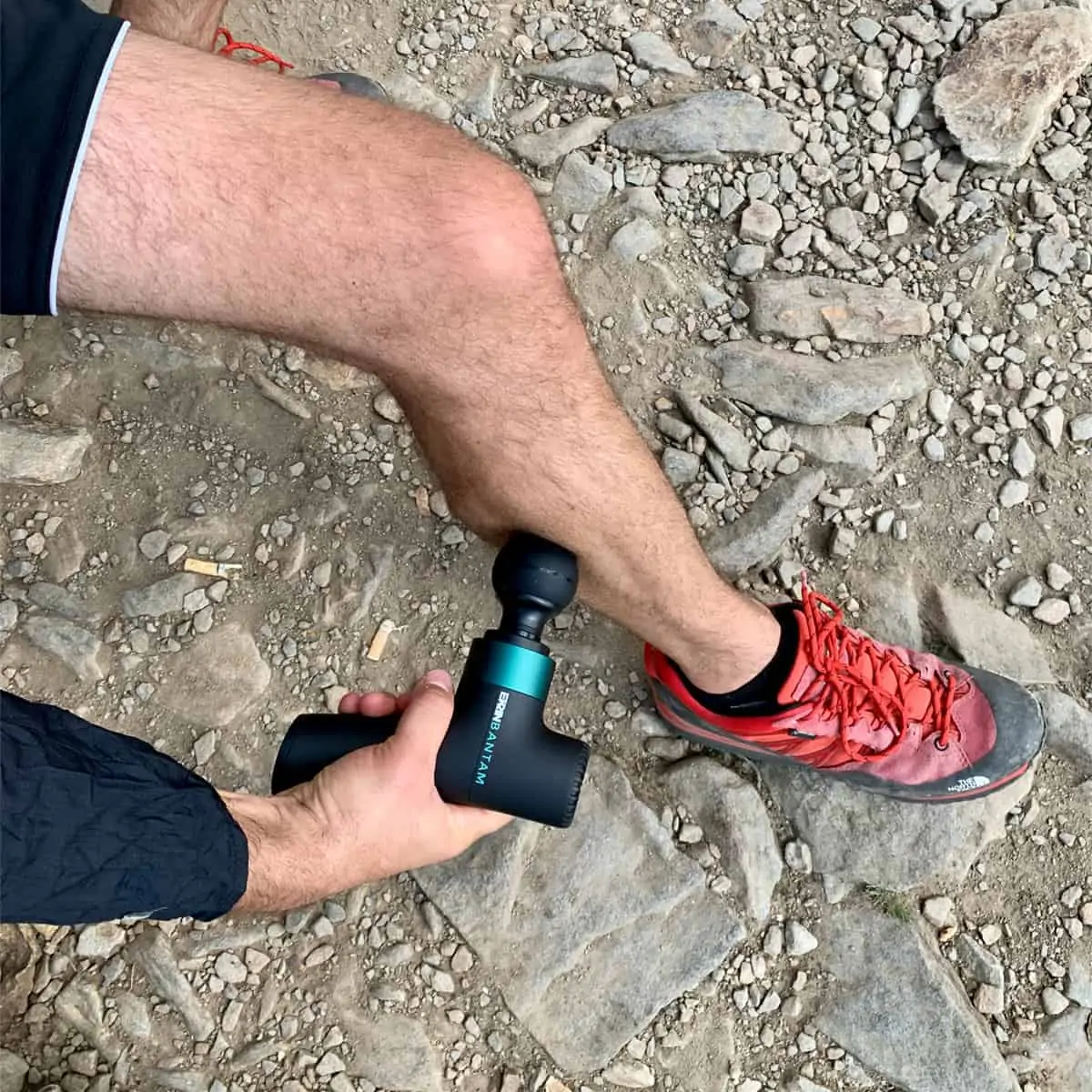 We think the battery is superb. They say it can last up to 6 hours with the one charge. Impressive, but that's probably true if you're using the lowest speed. Under slightly intensive sessions you'll probably run out of juice after about 3-4 hours – still excellent! It's USB-C compatible as well – convenient.
It has 4 attachments included. They have superb customer support and we did enjoy a great buying experience.
We did purchase it from their store and got a lifetime warranty. It should be the same on Amazon.
We advise you to compare the prices first. Check out the current Amazon price and then head over to their store and use MGA20 coupon code to claim a 20% discount. You may save $30 and still get a free shipping this way.
More to read Our in-depth Ekrin Bantam Review.
---
Taotronics – Best Budget Massage Gun on Amazon

We had a bit of a debate about whether to go for this Taotronic or the Flyby F1 Pro in this category. We finally settled on the former because Flyby is powerful enough yes, but it sells out with its meager 8mm amplitude – way below our minimum criteria.
We have Ekrin B37 as our number one, but it's more expensive compared to the Taotronic.
Taotronic TT-PCA003 is an entry-level cheap device but they have sold a good chunk of these. Over time they've been able to slightly improve the build quality. They are still, however, stuck on entry-level performance.
The stall force for instance, is only 30lbs. – too small for our liking but it will serve you well in relaxation, treating sore muscles, or improving blood flow. The 10mm amplitude just about matches well with the below par stall force. Too long and it wouldn't matter as much.
The maximum number of percussions per minute is 3200rpm, which is excellent here. They did, however, complicate things with the 10 speeds. That's a bit too many but perhaps justified by a wide percussion range from 1400 up to 3200, on par with Ekrin B37.
It is very well equipped for a cheap massage gun. Our unit came with 6 attachments, a carrying case, and a basic yet informative user manual. The battery has 2400mAh capacity capable of lasting 3-6 hours depending on how it's used. It's a light enough gun, weighing just 2.1lbs.
It comes with a 1-year warranty. Not as good as Ekrin's lifetime warranty. But, for those on a budget, this is a nice option to go for. You won't get a deep massage, but you will get what it promises to give.
You can check it on Amazon here. Before you buy, however, check it out in Taotronics' store. Last time we checked, it was only $49.99 – great price for what this device offers.
More to read Our hands-on Taotronics TT-PCA003 review.
---
Theragun Elite – Best Premium Gun on Amazon
So, why Theragun Elite and not Theragun Pro, seeing that the latter is more effective? We thought about it but decided to go with Elite because it's perfect for anyone.
Chiropractors may disagree because of the option of replaceable batteries, and we'll not argue further. But, for the purpose of this article, Elite will have to do.
This gun has 40lbs. stall force, 20lbs. less than the Pro but still way better compared to many other guns on Amazon. Also, 40lbs is still enough for a deep enough percussive massage.
It has a 16mm amplitude to go with the stall force. Again this is Theragun-only class. The percussion range we measured in our test lab was 1750-2400, which is expected given the long stroke length. It has 5 adjustable speeds that you can adjust using their dedicated app.
Being a Theragun, it enjoys privileges like Bluetooth connectivity, a dedicated app, OLED screen, and a built-in force meter. It comes with 5 attachments and you'll be happy to know that you get a carrying case as well.
We had to select a Theragun just as an appreciation for what they do. They have stayed innovative especially with their unique design, excellent ergonomics and multiple grips on their devices.
We just have a few Cons to pick with the Elite here:
It's the loudest on our list. It will exceed 70dB. That's still not too loud, but compared to the Achedaway Pro which has similar performance, we'd say it's not perfect. Bob and Brad D6 Pro was also quieter in our test.
The battery will only last between 2-3 hours on continuous use. But you'll still have to charge it after 4-6 days on minimal use, so no biggie!
Read user reviews on Amazon right here. You can also check it in the official store here.
More to read in our Theragun Elite Review.
---
Our Wish List – These Should Be on Amazon
We have just listed our favorite massage guns on Amazon in different categories. We believe these are great guns worth your consideration.
However, there are some notable guns that are missing on Amazon. Being the best marketplace by far, Amazon deserves to host at least more of the best guns out there.
Here are the 2 we really missed on there:
---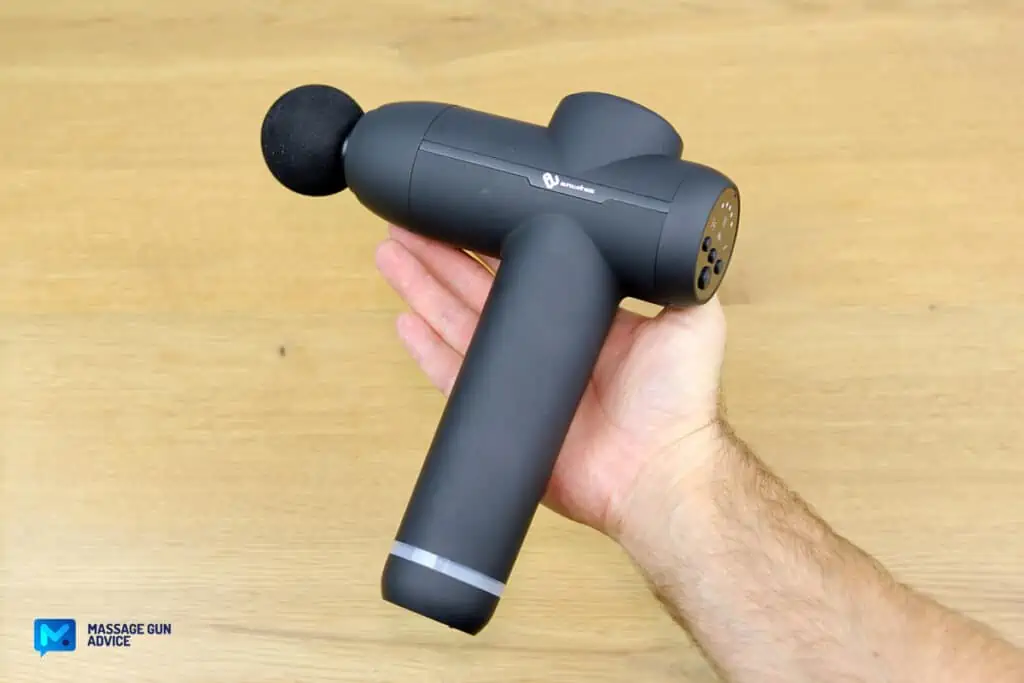 Aura Revive
This massage gun made our list for top picks in the best FSA/HSA eligible massage gun post.
It performs well and has many features worth highlighting. With a decent, 30lbs stall force, and 2600 percussions per minute, it outshines many guns in its category. But the best feature is the heated mode.
It can be purchased as a medical device, so might be a good pick for those who look to spend their FSA/HSA budget before the end of the year.
For now it's only available in HSAstore and FSAstore.
You can also read our full Aura Revive massage gun review.
---
Zarifa Z-Smart Mini
Zarifa's mini belongs to the mini massage guns category. As we said in our own review, It's slightly larger than the Ekrin Bantam but smaller than the full-sized guns.
It's slickly made with top quality material and delivers a soothing, high-intensity massage. It revs up to 3100 rpm, with a maximum stall force of about 20lbs. It has 9mm amplitude.
Like Aura Revive, this one too is HSA and FSA-approved – perhaps the only mini massage gun on the market with the approval.
Unfortunately, this one isn't available on Amazon. You can only buy it on Zarifa website. Use the MGA code for 10% off.
---
Hopefully these guns show up on Amazon soon. They deserve to be there and we'll make sure to update this post when they finally turn up there.
---
Best Massage Guns on Amazon: Conclusion
We come to the end of our best massage guns on Amazon post. Hopefully you know what guns to look at first before you make a decision.
We like the new Bob and Brad D6 Pro because it packs impressive features and comes at a great price. The same applies to Ekrin B37. We also have Theragun Elite in the list as an honorable mention.
We have picked the top gun in each category, and personally tested and compared them against each other. There could be more categories out there but none more important than what we have in this post.
We'll keep updating the post in case of changes in the future. Bye for now!
Was this article helpful?
Your feedback makes our content better!
Thanks for your feedback!
Post Update History
Here's a quick rundown of all the tweaks and edits we've made to this article to keep it accurate and up-to-date!
Current version last updated on:
•
Written by:
Greg Szostak
Disclaimers
The views and opinions expressed on this website are those of the authors. Any content provided by our bloggers or authors are of their opinion and are not intended to malign any religion, ethnic group, club, organization, company, individual or anyone or anything.
All product names, logos, and brands are property of their respective owners. All company, product and service names used in this website are for identification purposes only. Use of these names, logos, and brands does not imply endorsement.
It is our policy to make every effort to respect the copyrights of outside parties. If you believe that your copyright has been misused, please provide us with a message stating your position and we will endeavor to correct any misuse immediately.
Some of the links in this post are affiliate links. As an Amazon Associate, we earn from qualifying purchases. This means if you click on the link and purchase the item, we may receive an affiliate commission, at no extra cost to you. This helps us keep this website alive. Learn more here.
Amazon Disclosure
massagegunadvice.com is a participant in the Amazon Services LLC Associates Program, an affiliate advertising program designed to provide a means for sites to earn advertising fees by advertising and linking to Amazon.com. As an Amazon Associate, we earn from qualifying purchases. Amazon and the Amazon logo are trademarks of Amazon.com, Inc. or its affiliates. Please refer to our Privacy & Affiliate Policy for details.