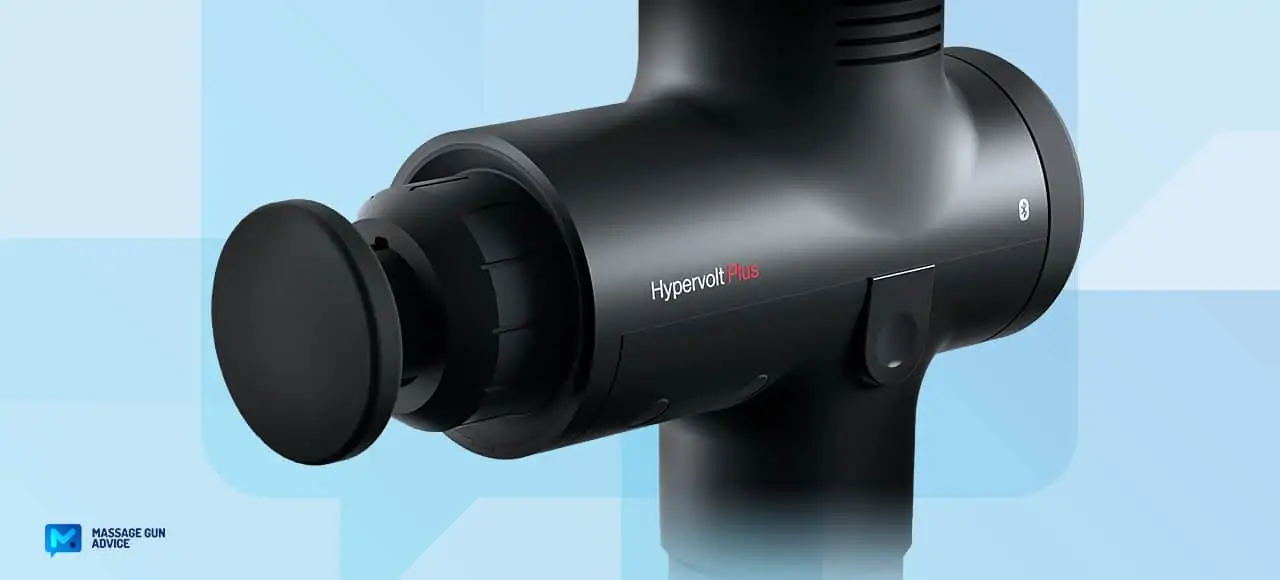 Hyperice Hypervolt Plus Review – Good or Overrated?
What to Know: We independently review products we recommend. If you click on links we provide, we may earn a commission. Learn more.
---
Welcome to our Hyperice Hypervolt Plus review. The second device from Hyperice (chronologically that is) after the first Hypervolt which is also called Hypervolt Bluetooth (we did a sought of revamped review of it recently and we discussed where it ranks in today's market).
The Hypervolt Plus on the other hand is closer to a percussive massage gun as it can be. It's a premium device, priced at a premium and loved by the sports recovery tools space. But is it all that it's hyped to be?
Important Update
Hyperice has replaced both the Hypervolt and the Hypervolt Plus with their second-generation models, so they're no longer available. For insights on the new models, we invite you to read our Hypervolt 2 Review and Hypervolt 2 Pro Review.
We are keeping the content below as a reference and future knowledge source.
---
---
Hypervolt Plus – Hyperice's First Percussive Device
Hypervolt Plus came a long way after the first device was introduced back in 2018. It was released in mid 2019. In our opinion, this is the first percussive device from Hyperice.
There may be other hypervolt reviews that call the first Hypervolt a percussive device but that's not the case. This second gun however, is a percussive device. Unveiled to take advantage of the rising popularity of such devices.
It's also partly an answer to rivals Theragun whose huge success in propagating percussive therapy cannot simply be ignored.
The device targets athletes and more demanding fitness enthusiasts. We're taking another look at this device just to see how it fairs in 2021 where many brands are coming up with simple, affordable and yet very effective devices. Come along and find out!
---
Hypervolt Plus Review
First, let's take a look on the Hypervolt Plus' specs, along with some high-level pros and cons (discussed later in details):
Hyperice Hypervolt Plus Specifications
---
Feature
Hypervolt Plus Specs
Stall Force
~45 lbs (our estimation)
Stroke Length
14 mm
Percussion range
1800 – 3200 ppm
Speeds
3
Attachments
5 included
Weight
3 lbs
Dimensions
9.34 x 6.5 x 2.5 inches
Noise (decibel)
62-69 dB
Battery Life / Capacity
2 hours (2400 mAh)
Bluetooth
Yes
Pros
Difficult to stall
Good stroke length
Low noise
Varied attachments
Detachable battery
Cons
So-so ergonomics
Time on battery
Only 3 speeds
No carrying case
Warranty
1 year
Current Price
Check at Amazon
Hypervolt Plus Specifications
First Impressions
It's almost an exact replica of the original device. In fact, the only thing that seems to have been tampered with is the top silver casing. Here it is black. Everything else seems to be the same.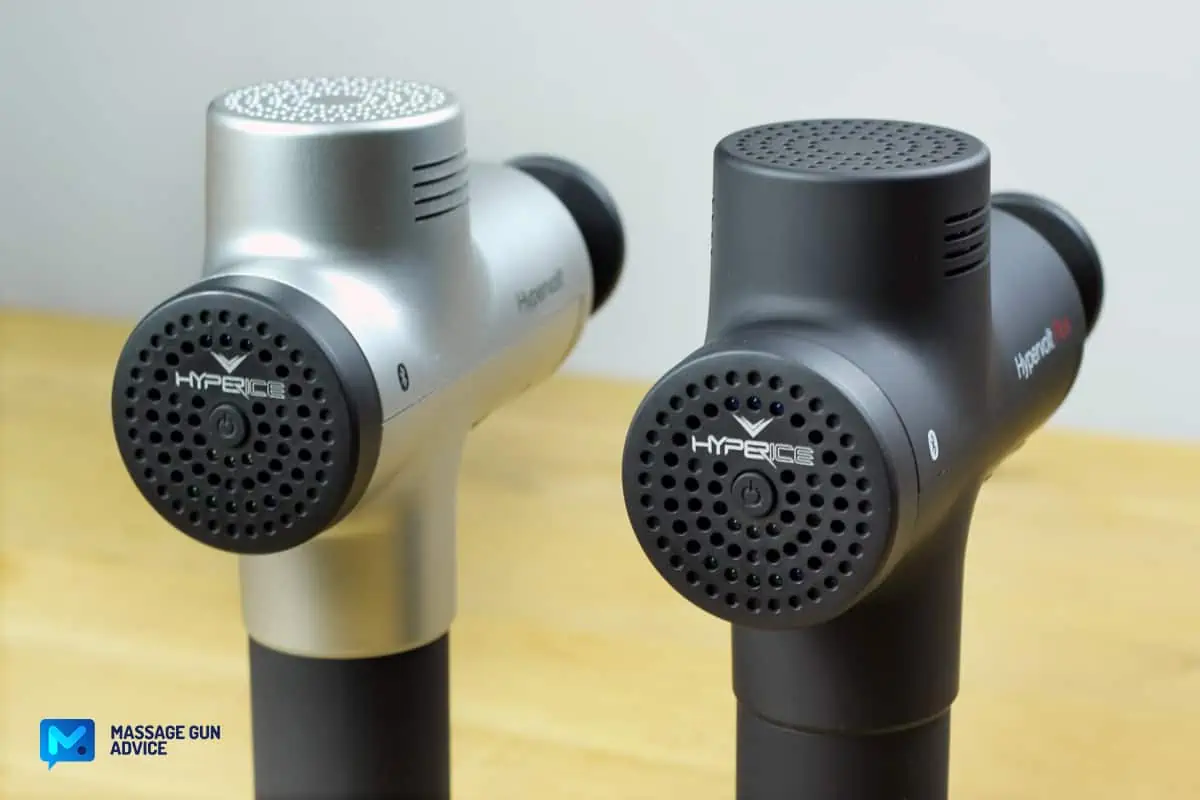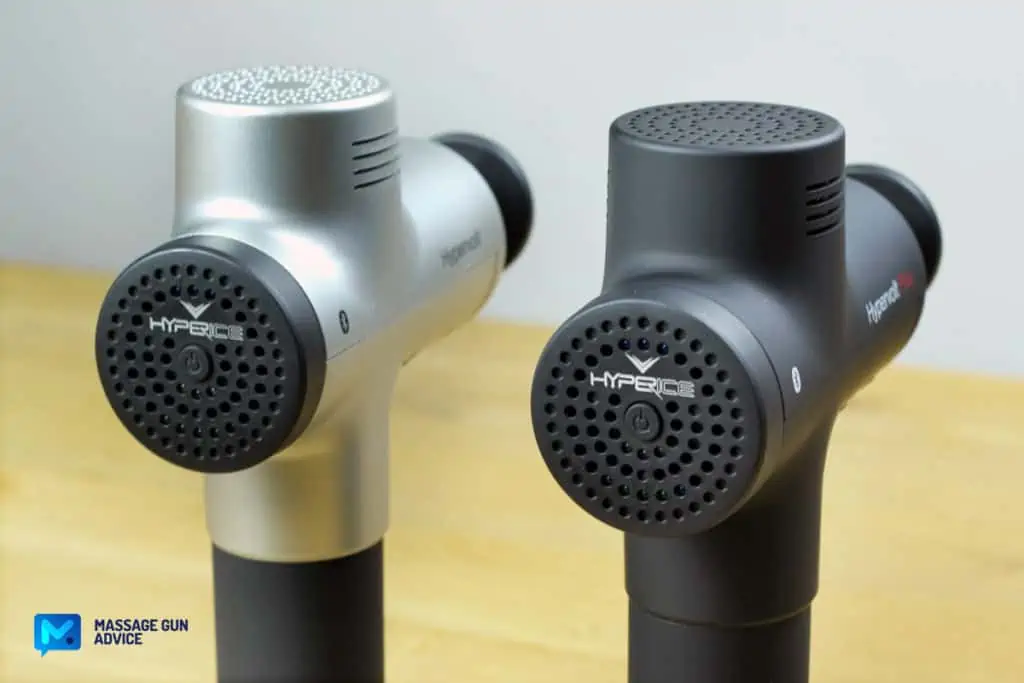 The T-shape design, the straight handle, and the visible green LED ring. It's almost incredible that nothing else has been altered to tweak things a bit given how long ago this device was unveiled.
For starters, we mentioned recently in our Hypervolt review how the T-shape design has been the most copied in the industry. Yet Hyperice apparently hasn't done much to deal with this (or at least we're not aware of it).
Theragun, which we consider to be rivals with Hyperice given what's happening in this space, has patented their triangular design to deal with copycats.
They even recently sued and successfully took down similar-looking devices from the market. Some examples include, Kraftgun, and Lifepro Pulse FX.
That said, we still believe Hyperice has had enough time to try and come up with something a bit more interesting than what we have seen for a while now. It's getting a little boring!
We highlighted in our Hypervolt vs Theragun post how Theragun was able to release 4 generations of devices since 2016. That includes two major changes between 2019 and 2020.
Maybe Hyperice isn't interested in changing their winning formula. That's understandable to some extent but, given how new brands are being innovative with their products, we missed the same here.
Nonetheless, we still like the top notch build quality, and the rubberized firm handle. Elsewhere, it's matte plastic and black. In our opinion, this one looks sleeker than the original device, but that's our perspective. Its operation is simple with no extras – no OLEDs and LCD screens.
---
Operation
There is a main switch at the base of the device next to the charging port. Similar to what is on the original device. We have seen similar configurations from other devices – a good example is the Opove M3 Pro Max .
There is also the main operation button. Once the switch is turned on, press the main button to turn it on first gear.
The second press switches on to the 2nd gear, third press turns on the 3rd gear, while the fourth press shuts off the device.
You can also shut it off via the main switch.
---
LEDs
The main highlight is the ring LED at the rear end of the handle. It illuminates different colors to indicate the battery charge level. It's the same thing we saw with the former device (Hypervolt Bluetooth).
Other LEDs include the 3 above the power button that indicate speed gears.
There are 3 more just below the power button; these indicate the level of pressure applied, and then there are 5 LEDs also at the base that indicate the battery level. These double up with the ring LED around the handle.
---
Other Features
There is a battery release push-button at the side of the device. We noticed that it takes a fair bit of force to detach the battery, which we are guessing is a good thing – perhaps to prevent the battery from falling off.
Another thing we have always complained about whenever we mention any Hypervolts is that none comes with a carrying case. There isn't even a small pouch to carry the device. There is only a simple and small pouch for the attachments. You can buy a case for $49 at their store – feels like a rip-off after spending so much on the device.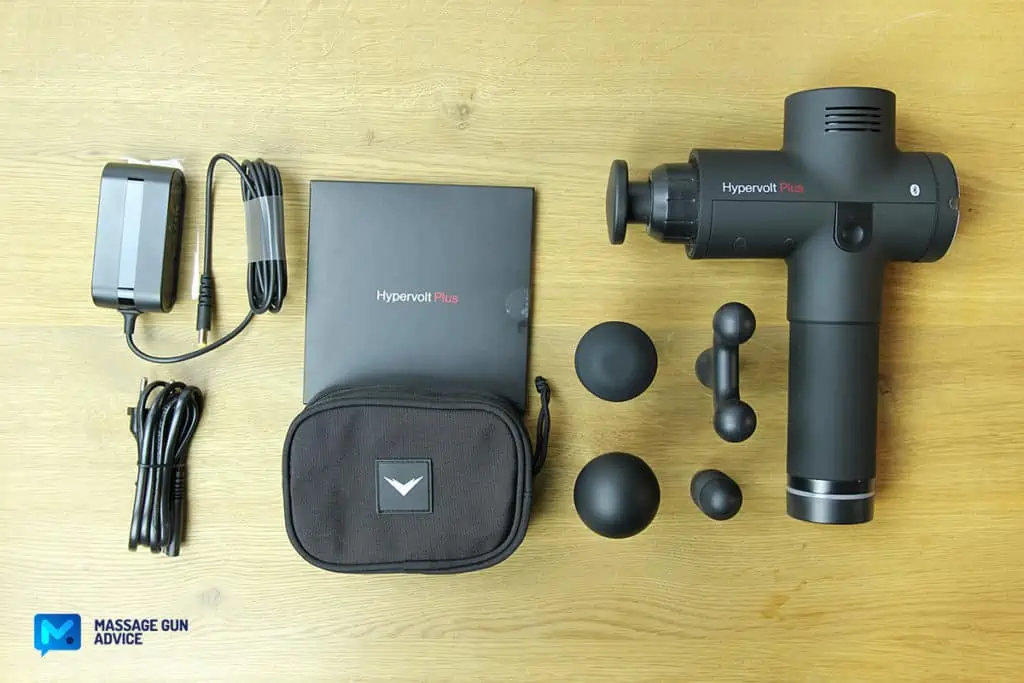 There is also a dedicated wall charger – regular, made of brick and a detachable cable. We also found a pack of cards (somewhat customary for Hyperice to include with all their devices) which they call a welcome pack.
There is a quick-start guide, attachment choosing tips, information on the Hyperice app, customer service details and an instructional manual.
---
Attachments
Just like the original device, the Hypervolt BT Plus has 5 attachments. In our Theragun vs Hypervolt post we praised them over those from Theragun because they are nicely varied among other things. Here is a bit more on these;
Ball: If you need a quick massage, this is the go-to attachment. It's good for large muscle groups but can also be used for a general massage.
Flat: This is one of our favorite massage gun heads, it's also used to hit large muscle groups and comes in handy when you need a general massage.
Fork/ Spinal: Works specifically along the spine. It can be used to massage the neck and the Achilles. It has the two prongs that glide either side of the spine to prevent injury.
Bullet: This is used for targeted deep muscle treatment – think ligaments. It can also be used on hands.
Cushion head: This one is almost a hybrid between the flat head and the ball attachment. The cushion at the head helps to prevent injury when you massage sensitive or bony areas.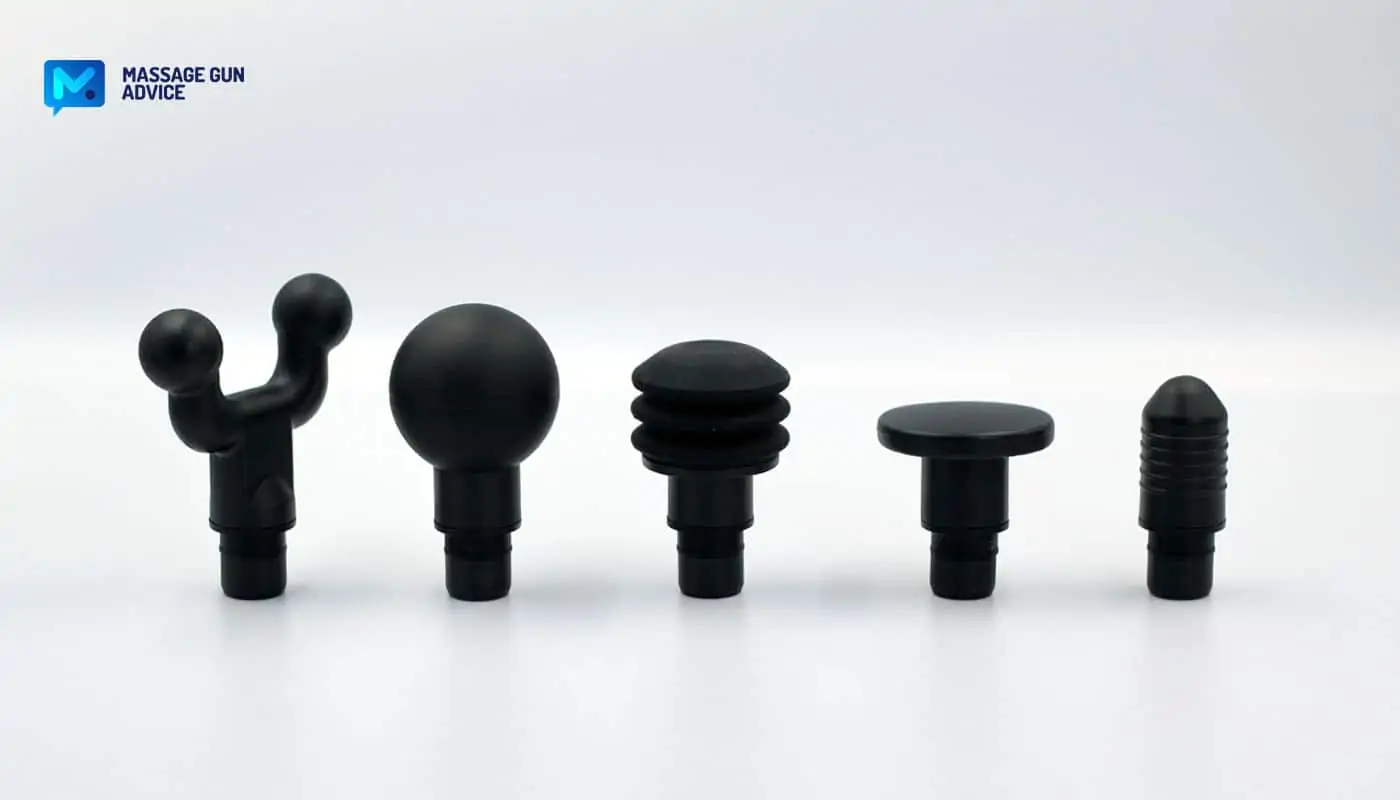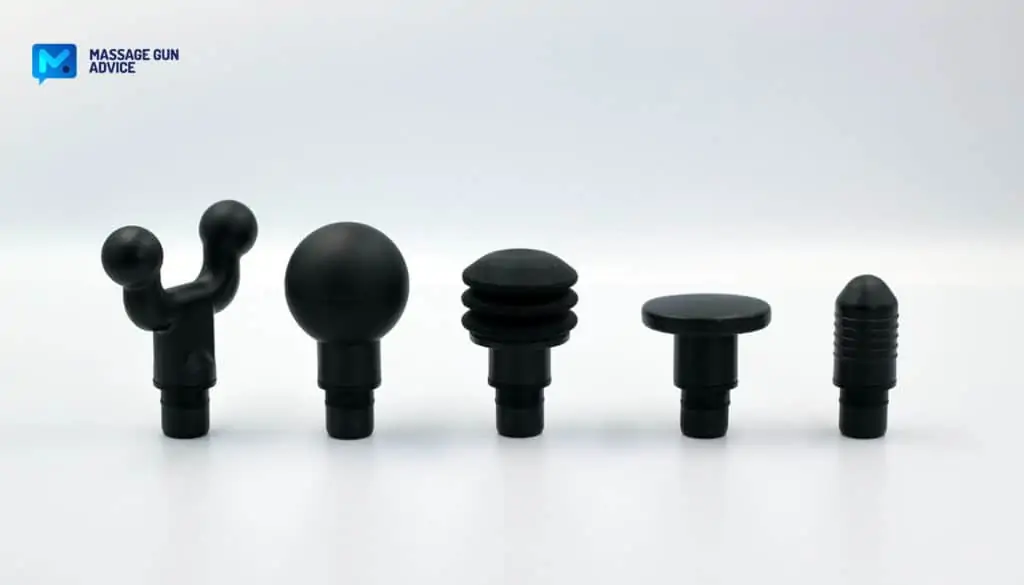 Unlike the attachments on Theraguns, the ones here lean more on the harder side. They are mostly made of hard plastic. Apart from the ball and the cushion head attachments, the rest are hard material.
The fork attachment has markers on it that have to be properly aligned as you push it in. This prevents it from spinning around as you massage away.
There is nothing special about the other attachments – they are all push-pull with no alignment needed.
Another improvement or upgrade we had hoped for was at least a special attachment like we saw with the Supersoft on Theragun Pro. Unfortunately there's none, but that's OK, we still like what we got.
---
Size, Weight and Ergonomics
Just like the original device, the Hypervolt BT Plus measures 9.34 x 6.5 x 2.5 (inches). Like we mentioned in our revamped review of the Hyperice Hypervolt, the size here isn't too bulky, but it's not the smallest device we have seen. Hyperice must love their original device that they saw no need to tweak the size here.
That said, this new device weighs 3lbs. We don't see that a lot with many other devices. That's because many rarely go over the 2.5lbs mark. In fact, the original Hypervolt is 0.5lbs lighter than this new one.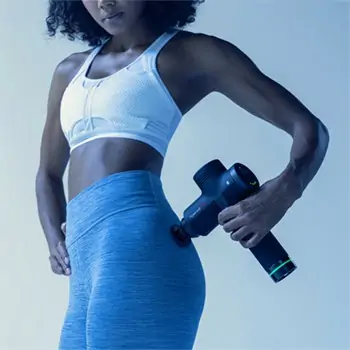 However, when you get to actually hold the device in your hand, it doesn't feel that weighty. I guess you get used to it after the first few moments.
However, it's still too heavy compared to what other brands are doing today. Many try to keep the weight of their devices within 2-2.3lbs. They do that without compromising the battery quality or the device's performance and strength.
Ergonomically, it's the same old Hypervolt. Just as we noted in our recent review of the original Hypervolt, Hyperice hasn't tweaked anything with the design of this new upgrade.
The device still has the T-shape configuration that is getting old and boring in the percussive massagers market (or maybe it's just us). Sure enough it's wise to stick to a consistent design language across products, but they should've tweaked it slightly.
Compared to Theraguns, this device may present a slight difficulty when using it. Plus, with the added weight, the tension on the wrists is even worse. The 90-degree handle makes it a hassle to reach the difficult spots – lower back or middle back.
Our verdict for the ergonomics of this device remains so-so, especially in 2021 where many brands are working to make simpler more ergonomic devices. Apart from Theragun, who are doing a marvelous job so far, other brands like Ekrin and Achedaway are also leading the way with angled handles for a more natural grip and better weight balance.
---
Performance
This is where things take a different turn from what we saw with the original Hypervolt device. What has changed?
---
Amplitude
Also known as the stroke length, this is the distance traveled by the massage gun head as it hits your skin to give you the percussions. As we have discussed in many of our posts, amplitude is a very important aspect in percussive devices. A good amplitude combined with enough stall force makes the best percussion massager.
So what does the Hypervolt BT Plus have to offer here?
Well, historically Hyperice didn't seem to pay much attention to this aspect. They don't disclose the amplitude information. What we know is that the very first device only had about 10mm of amplitude.
Fortunately, Hypervolt Plus is significantly improved. We did our own measuring again with this device – it has a 14mm amplitude. Now that is percussive device territory, and a good one at that. We are guessing that with this Hyperice officially entered the percussive therapy market.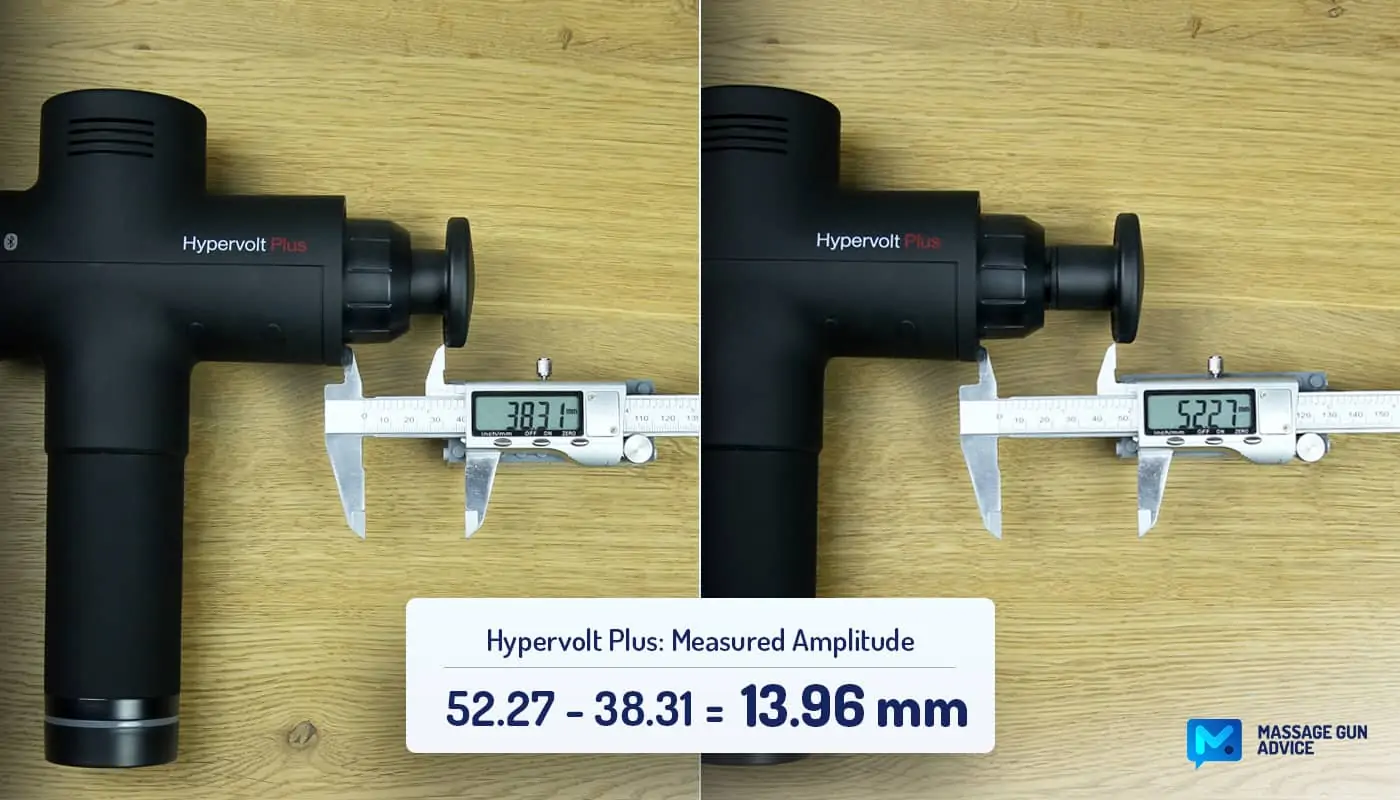 While 14mm is not as good as the 16mm on Theraguns, it's a good place to start. 14mm can dig deep into the muscle tissue and give you an awesome percussive massage. But this only happens when the stall force is good enough.
---
Stall Force
Stall force is the amount of pressure it takes to stall the motor of a device. If it takes more push to stall the device, it's probably a good percussive device. Sometimes when moving large muscles, a little more pressure can go a long way in soothing the muscle.
Again we couldn't readily find the information on the stall force of this device. The only thing they admit however, is that Hypervolt Plus's motor has 30% more power compared to the original device. The original device has a 60 Watt motor, this one has a 90 Watt motor. That says strong motor but it doesn't give us the magic number in pounds of force.
We did our own testing by comparing it with other devices that we have and we can confidently say that this gun's stall force is in the upper 40s – likely 45-50lbs. To be more precise, we'll say 45lbs.
We say this because when we pitted it against Theragun Elite, we felt a few more pounds that we missed on Elite. This is perfect force because even though it's 2mm shy of Theragun's long amplitude, it can still penetrate deep into the muscle because it can be pushed slightly harder against the skin without stalling.
With this we can now say that this is a proper percussive device. It's not just the right device, it's a versatile percussive device. Ergonomics and weight aside, this device can serve literally anyone who is looking for a strong percussion massager.
Demanding athletes and bodybuilders as well as NBA players, who are actually now using this device during their games, and any average Joe who wants to treat muscle soreness or get the blood flowing.
---
Percussions / Speeds
Even though the amplitude and power on this new device has increased, we're glad the intensity hasn't changed. Often when the amplitude is long, the intensity also reduces, for instance, Theraguns only rev up to 2400rpm.
The BT Plus still revs up to 3200rpm (they actually put it as 3180rpm). This is great, especially with the added punch. However, many brands in 2021 have devices with this kind of intensity or even more. It's really nothing new.
However, one thing that we still don't get is why Hyperice has stuck with only 3 speed gears even with this upgrade. We always feel that with that kind of percussion range, 4 to 5 speed gears will increase the options you have with the device.
It's not really criminal to have only 3 speeds, you actually get used to it over time. But, their 1800, 2400, 3200, partition doesn't give you the option for a delicate massage. 1800rpm for a start seems a little too intense.
There are 3 LED indicators that show what speed gear you are on. You can also feel and hear the speeds as you press the main button.
Glad to see they kept the pressure sensor feature in this device as well. However, it's still the same simplistic approach. There are 3 LEDs that light up to indicate how much pressure is applied. We feel this should've been improved. Rivals have better visuals for this feature – Theraguns and especially Ekrin B37S.
---
Performance Comparison: Hypervolt Plus vs. Competition
Let's see how the Hypervolt Plus looks against its key competitors.
---
Our Take
Hypervolt Plus is a true percussive therapy massage gun. With the stall force at respectable 45lbs. (our estimation) and the amplitude of 14mm, the Plus is capable of reaching the deepest of muscles to give you a true deep tissue massage.
---
Noise
Handling noise has never been a problem for Hyperice. At least as far as that first product goes, the noise wasn't a problem at all.
But you may argue that the device had a very meager amplitude and it's expected the noise levels would be quite low. What about the Hypervolt Plus with a much longer amplitude?
Well, this new device is just as hushed. It's pretty quiet. To be honest it's louder than the original Hypervolt and the sound is slightly different but we are not complaining.
We did the decibel test on our own and we came up with 62dB at the lowest speed and 69dB at the highest speed. Those are acceptable noise levels. Another thing we noticed is that, just like many other devices we've had, it rattles when pressed harder against the body.
---
Battery
It's the same 2400mAh capacity battery as the previous device, which is a bit of a surprise if you consider the extra 0.5lbs on this device. We figure, however, that it may be due to the improved and powerful motor.
That said, the battery will last for 2 hours of continuous use on a single charge. That is 30 minutes less than the original device. This is understandable given the upgraded motor. More power means more battery consumption.
The battery drains faster on higher speeds and when the device stalls (happens a lot). This means that sometimes you don't even get the 2 hours on battery.
That may sound like a bummer given how other brands like Ekrin, Opove, and Achedaway have been able to get 4-5 hours from the same capacity battery despite being stronger than Hypervolt Plus sometimes.
But one advantage that the Hypervolt Plus has over the others is the removable battery. That means you can charge one as you use the spare.
When the battery fully charges, the ring LED illuminates to bright green and all the 5 LED indicators light up. The battery takes about 3 hours to fully charge.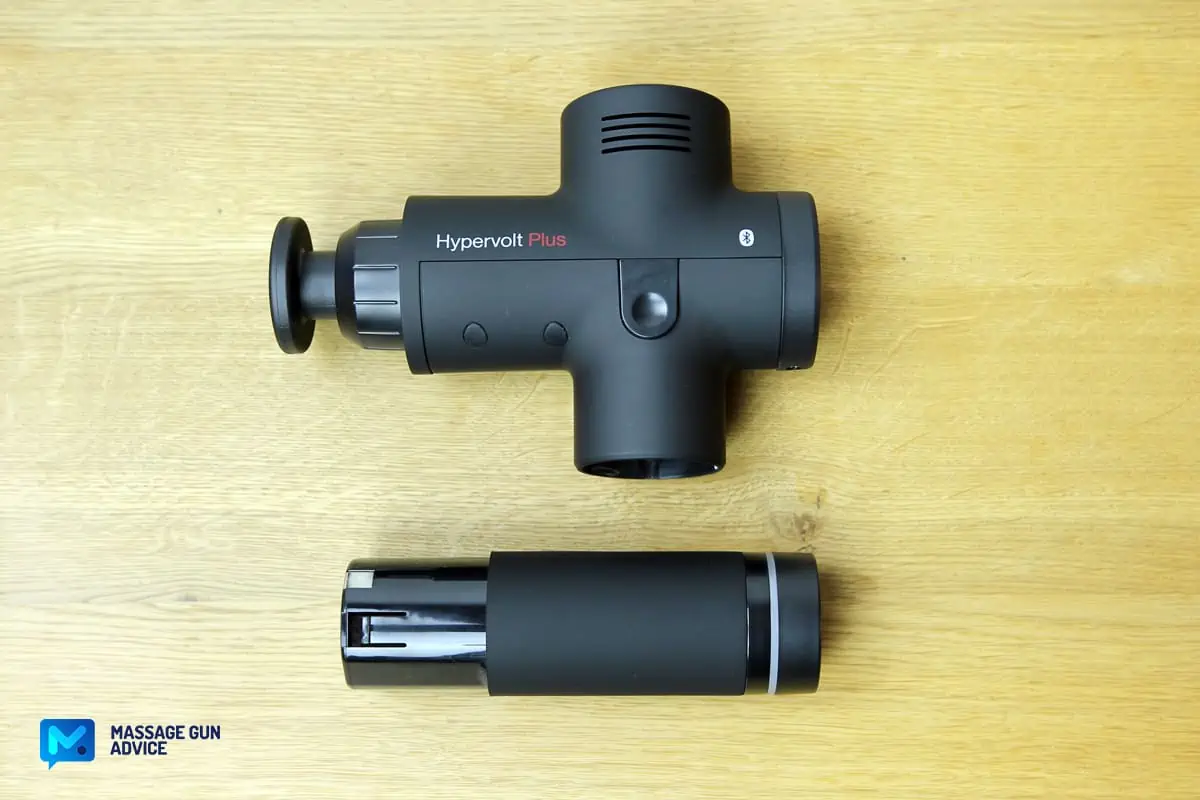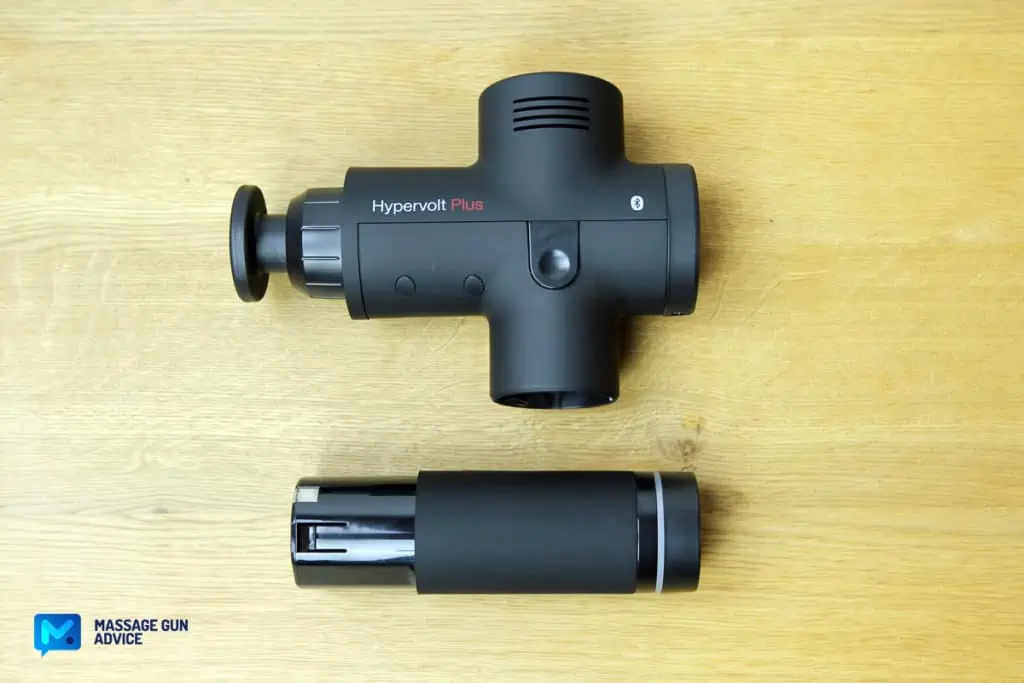 ---
App
The Hyperice app came into full effect with respect to the devices in mid-2020, for both Android and iOS.
There is a lot to discover within the app, from how-tos, guided routines and a possibility of the app taking over the operation of the device.
Only two of three Hyperice massage guns are compatible with the app. Hypervolt BT and BT Plus. Hypervolt Go still doesn't have Bluetooth connectivity.
Armed with your Hypervolt Plus, you can learn how to operate it by watching professional athletes use the device on themselves. You can watch a video of an athlete doing a particular routine and simply copy what you see.
A few things to note here:
The app can automatically adjust the speed of the device.
The app doesn't tell you how much pressure to apply for a particular routine. At least that feature hasn't been there since we last checked. We saw it when we looked at the Therabody app.
You will not be able to add your own customized speeds other than the 3 built in the device. We enjoyed the Therabody app because we could include our own speed apart from the usual ones on the device.
Having said that, we have a feeling that Hyperice has something up their sleeve concerning their app. We have seen them add new routines and new content to their app. We therefore believe that they are going to improve their app once all their devices are Bluetooth enabled.
---
Is Hypervolt Plus Worth it in 2021?
You will still have to pay a premium to buy the Hypervolt Plus. Hyperice recently lowered the price to $299 from $399 (following the launch of the new Hypervolt 2 Pro). You can check here if the reduced price is still available.
One would argue that makes the price a bit fair, but that is still quite a hefty price tag.
Our Take:
The best part about Hypervolts is that they are proven products. The earlier version of the original still works – even after 3 years. We have a feeling this new Hypervolt Plus is also going to last even longer.
As far as performance goes, this is a good device with plenty of power and finally a longer amplitude. It can perform a deep to the bone massage with such features. Most Pro athletes and bodybuilders will find it useful. It ticks all the important boxes.
But the key downsides are also quite clear. For starters the ergonomics are not improved with this new device. In fact, we could argue the added weight has made things even worse. The battery performance doesn't help, and the fact that it's still expensive is a major put-down. Also, you have to pay for everything extra – the carrying case and the spare battery.
The 1-year warranty is also disappointing for a device that goes for such a hefty price.
So, while we have to agree that the Hypervolt Plus is a much more powerful device this time, after looking at some awesome alternatives, we wouldn't pick it over these other choices. That's because the value for money is simply too good to ignore. They have similar or far better performance aspects, better battery power, more accessories, better warranties and above all, very affordable prices.
---
Best Hypervolt Plus Alternatives:
---
Ekrin B37S
The obvious number one alternative because it has everything that's missing on the Hypervolt Plus.
For starters, the ergonomics on the B37S are greatly improved with the 15-degree angled handle. The device is more compact and weighs much less – 2.2lbs compared to 3lbs on the Hypervolt Plus. It also feels better balanced in comparison.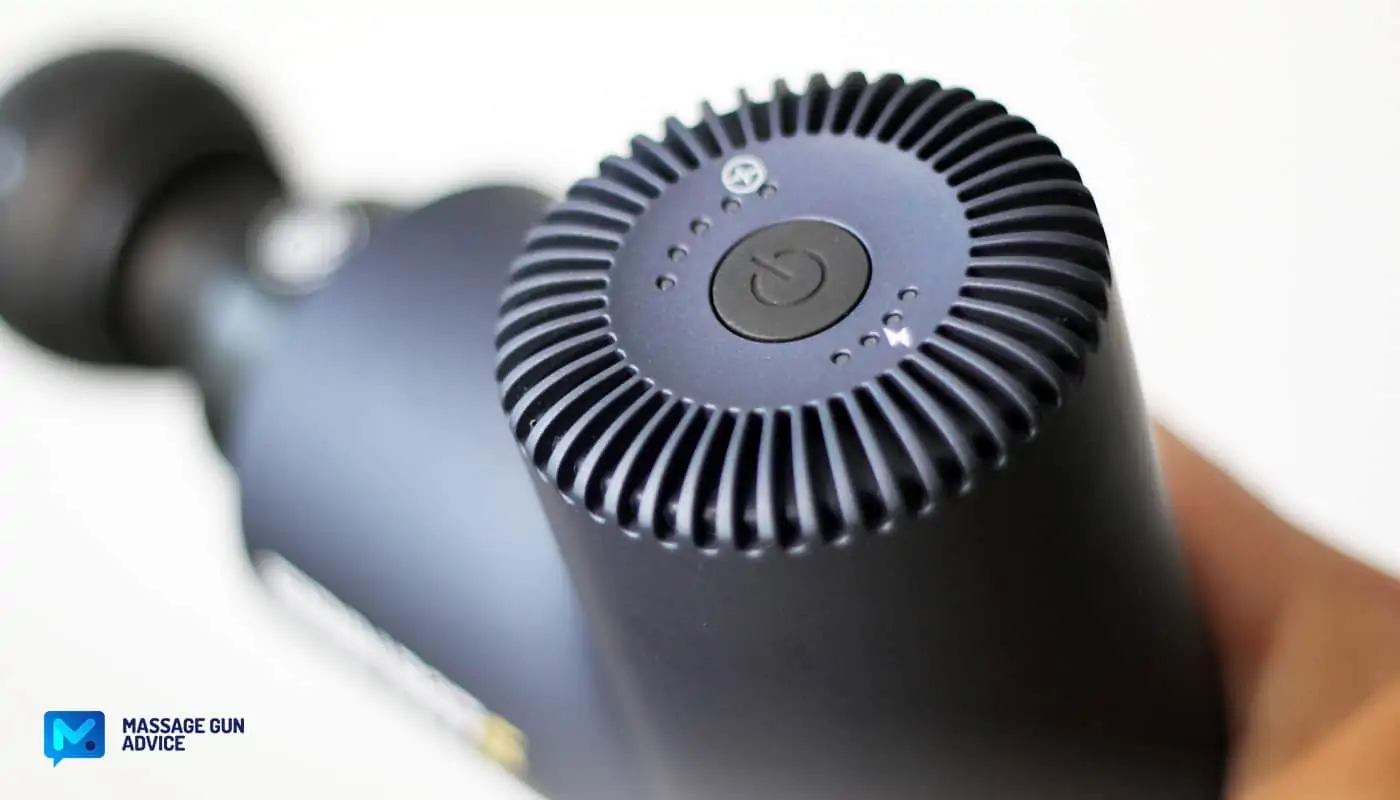 When it comes to performance, the B37S has a lot more power than the Hypervolt Plus. For instance, it has an awesome 56lbs. stall force (Hypervolt Plus only has about 45lbs.). What's even better is that the device is even harder to stall at lower speeds. That makes it punch harder and deeper even though it only has 12mm amplitude.
Even though it has the same percussion range (2000-3200rpm), the speed gears are better spread out. It has 5 speed gears. The 5th gear is a dynamic one that automatically shifts the intensity.
The B37S also has one of the best executed pressure sensors we've ever seen. The battery isn't removable but it can last up to 8 hours of continuous use (it's a Samsung branded battery). The noise levels are similar. It has 5 attachments and also comes with a carrying case.
Ekrin will offer you a lifetime warranty in case you choose to buy the B37S. Hyperice only has a 1-year warranty for the Hypervolt Plus.
The price is normally $329.99 but with the MGA20 coupon (gives you a 20% discount), it's only $263.99 – get it right here.
---
Achedaway Pro
If you want even more power (think Theragun Pro-like power) then this is the best alternative out there.
This gun doesn't compromise on performance. It has a 16mm amplitude, the same thing with Theraguns and 2mm more than what you have with Hypervolt BT Plus. That is a deep to the bone massage assured.
To add to the deeper punch, this device has an advertised 80lbs. of stall force. Realistically though, it has about 60lbs. of stall force. Again this is similar to what we saw with the top Theragun.
Because of the long amplitude, the intensity isn't as high as that of the Hypervolt Plus or the B37S. As a result, it has a percussion range of 1700-2800rpm. Even so, the percussions are well distributed through 5 speeds.
Ergonomically, this is a much better device because it has an angled handle just as Ekrin B37S. It's also lighter than the Hypervolt Plus – it weighs just 2.6lbs even though it carries a more powerful motor.
The battery has 3200mAh capacity and will last for 2-4 hours with a single charge. It's a removable battery as well and the spare can be bought separately.
It has 4 attachments. That is one less than the Hypervolt Plus but these are well done with aluminum finishes. It also comes with a carrying case. It has a 2-year warranty.
Normally it goes for $299 but with MGA50 discount code that slashes the price by $50, you can get it for $249.

If you buy it with the spare battery using the coupon, the total price is $319 – still less than the Hypervolt Plus! Check it out here.
---
Which Theragun as Hypervolt Plus Alternative?
Hypervolt Plus is somewhere between Theragun Elite and Theragun Pro. However, it's much closer to Elite. Elite is a few pounds short on stall force and as a result we rated the Hypervolt Plus over Theragun Elite in our Theragun vs Hypervolt comparison.
Elite, however, has a longer amplitude, 2mm more than the Hypervolt Plus. We noticed, however, that in practice, the difference in how these two devices punch isn't much. Both can perform a deep to the bone percussive massage.

Theragun Elite still costs the same hefty price, while Hypervolt Plus's price was recently lowered after the new Hypervolt 2 Pro hit the shelves. That makes Hypervolt Plus a compelling option.
However, you will have to forego the ergonomics and fancy embellishments on the Elite. We still feel the Ekrin B37S and the Achedaway Pro provide more bang for the buck than both Elite and Hypervolt Plus.
You can read our in-depth Hypervolt vs Theragun comparison to find out more.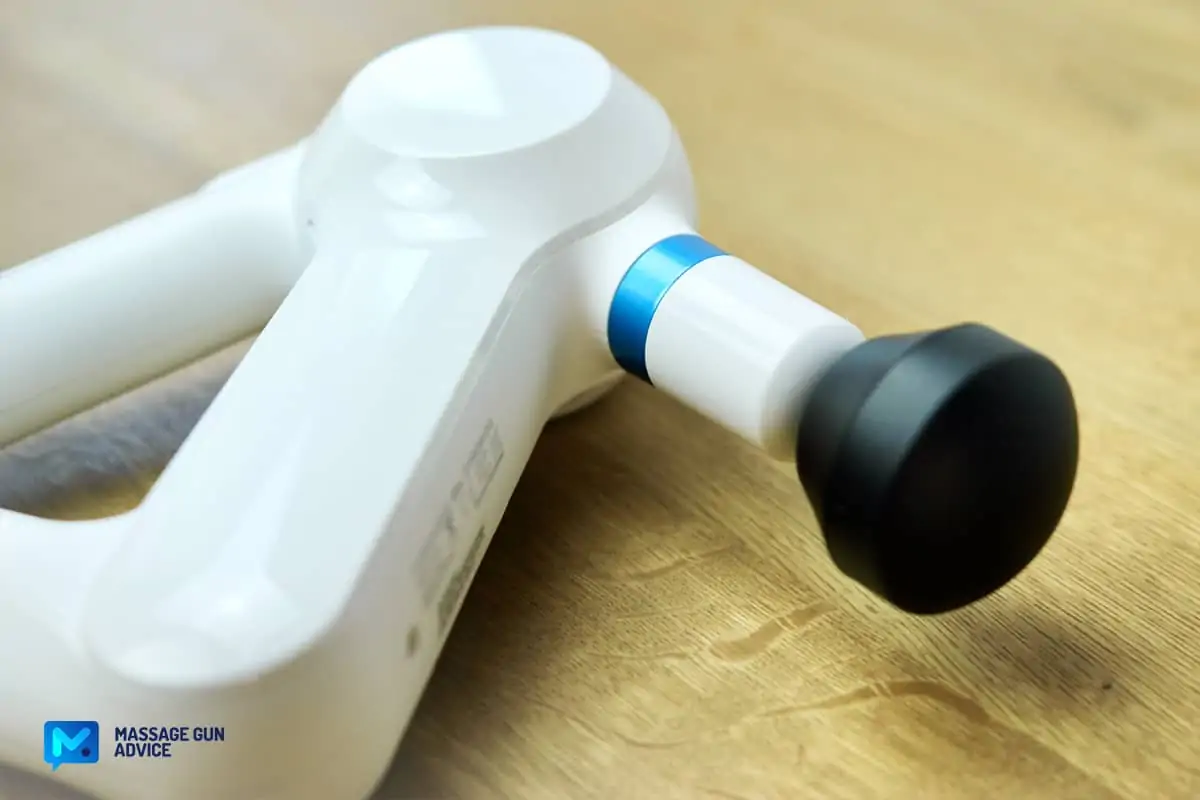 ---
Hypervolt Plus Review Conclusion
We've come to the end of our Hyperice's Hypervolt Plus review. In our opinion, Hyperice finally has a percussive device. Finally this is something worth comparing to anything offered by Theragun – their main rivals.
It's a powerful enough device that will satisfy even demanding users – the improved motor power and a long amplitude. It's still rather disappointing that the battery isn't as powerful as other devices out there (but you can get a spare one).
Also, the fact that the ergonomics haven't been improved, and the extra few added pounds in weight, makes it a less desirable gun. It's still the best choice among Hypervolts but in our opinion, there are far better devices out there.
If you want to buy it, check out the current price at Amazon.
---
Hyperice Hypervolt Plus Rating
Quality

Effectiveness

Usability

Accessories

Price Value
Summary
The Hypervolt Plus is the best of the bunch as far as the Hypervolts are concerned. It's finally the first percussive device from Hyperice. The combination of higher amplitude and more powerful motor means it can dig deep into the muscle tissue. It's a versatile device that can serve even demanding users and athletes. The battery capacity isn't as good and the fact that the ergonomics are still so-so and the price is so high means that there are better alternatives out there.
Was this article helpful?
Thanks for your feedback!
Post Update History
Here's a quick rundown of all the tweaks and edits we've made to this article to keep it accurate and up-to-date!
Current version last updated on:
September 20, 2023 Added information about the discontinuation of Hypervolt Plus and a link to its successor, Hypervolt 2 Pro. (Author: Greg)
•
Written by:
Greg Szostak
Disclaimers
The views and opinions expressed on this website are those of the authors. Any content provided by our bloggers or authors are of their opinion and are not intended to malign any religion, ethnic group, club, organization, company, individual or anyone or anything.
All product names, logos, and brands are property of their respective owners. All company, product and service names used in this website are for identification purposes only. Use of these names, logos, and brands does not imply endorsement.
It is our policy to make every effort to respect the copyrights of outside parties. If you believe that your copyright has been misused, please provide us with a message stating your position and we will endeavor to correct any misuse immediately.
Some of the links in this post are affiliate links. As an Amazon Associate, we earn from qualifying purchases. This means if you click on the link and purchase the item, we may receive an affiliate commission, at no extra cost to you. This helps us keep this website alive. Learn more here.
Amazon Disclosure
massagegunadvice.com is a participant in the Amazon Services LLC Associates Program, an affiliate advertising program designed to provide a means for sites to earn advertising fees by advertising and linking to Amazon.com. As an Amazon Associate, we earn from qualifying purchases. Amazon and the Amazon logo are trademarks of Amazon.com, Inc. or its affiliates. Please refer to our Privacy & Affiliate Policy for details.