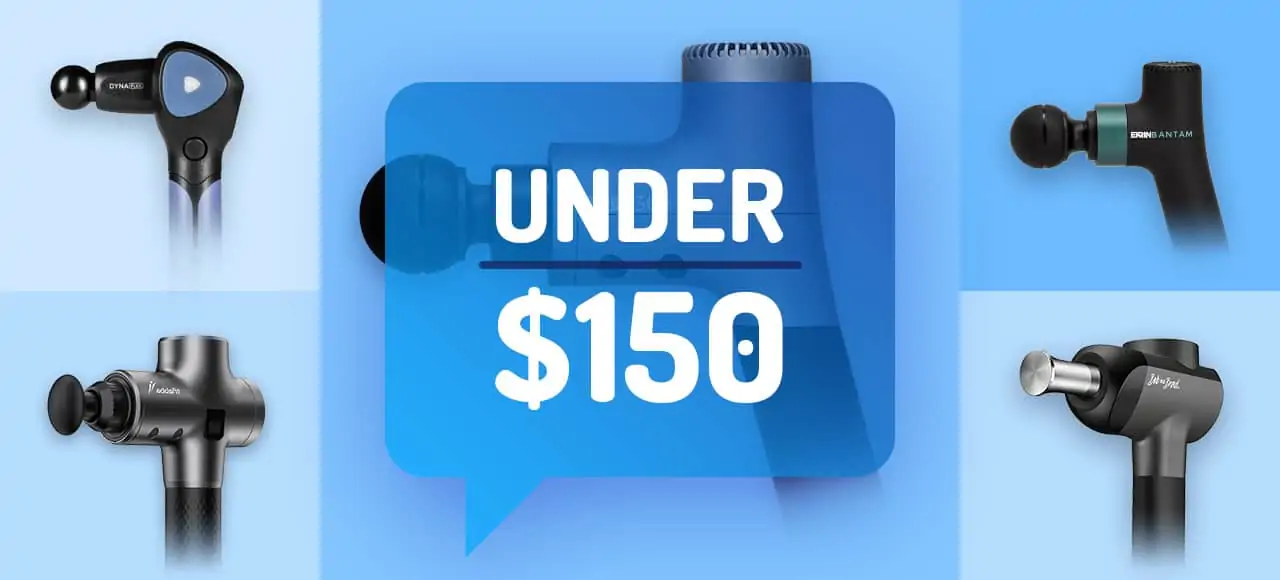 Best Massage Gun Under $150 – They Are Cheaper And Better Now
What to Know: We independently review products we recommend. If you click on links we provide, we may earn a commission. Learn more.
---
This article lists the very best massage guns under $150, compiled after our extensive testing process.
As always, we explain our reasoning behind the picks, and we will give details on each gun we've chosen – we love doing massage gun reviews!
TIP We'll also share discount coupons that make more expensive guns fall into the under $150 category.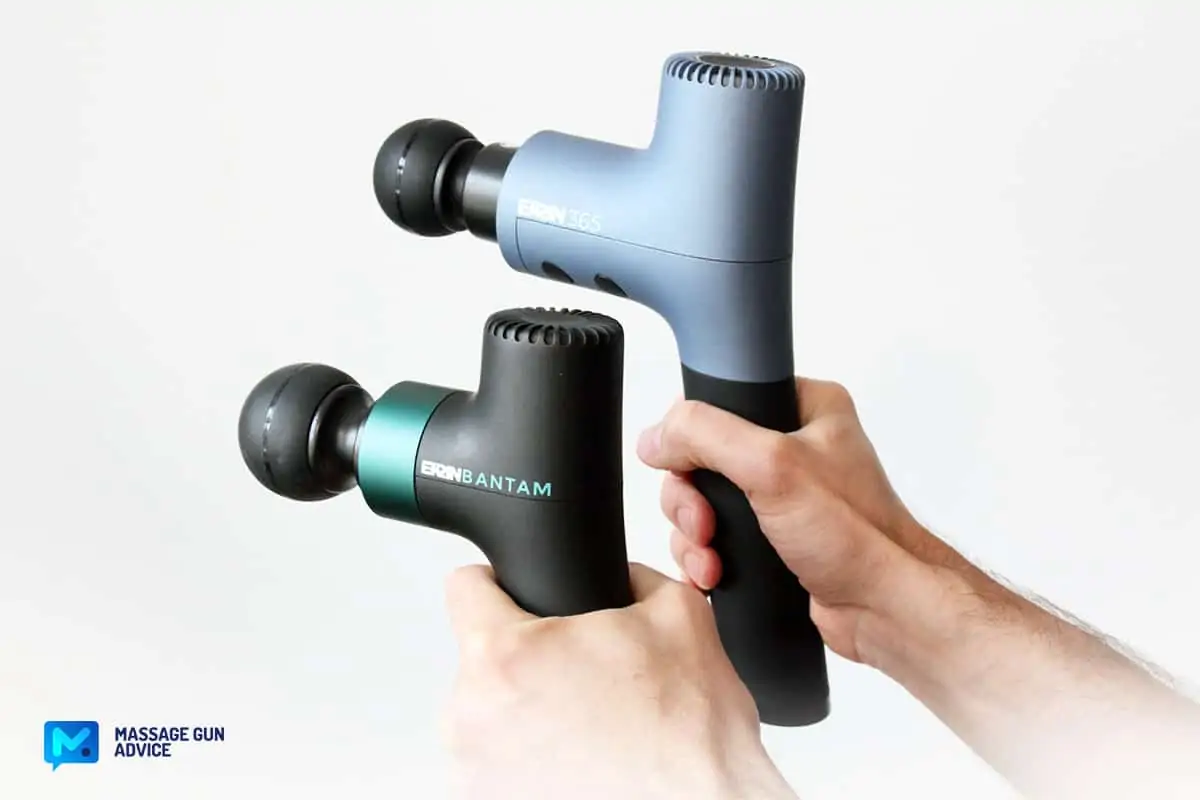 ---
What Can You Expect for Under $150?
Well, expect something decent. At least something better than what under $150 would've got you about a year ago. Since then, things have changed dramatically, and for the better too.
Now you can find some awesome devices that go for under $150. And it's not just the poorly made devices that have little to no power, which flooded the market back then; these are proper devices.
Of course don't expect to find a Theragun or a Hypervolt with less than $150 – even the cheap mini versions will set you back $199. These are two industry giants that love to charge a premium for their products.
We chose to filter out all the crappy devices that are available on popular marketplaces, and only go for what we believe are truly the best massage guns under $150.
We love examining specs for each product we buy and test. We compare data to sieve out jewels from a sea of clones. We also have to be practical about how we pick any device for our list. All devices have to meet our high standards in quality of materials, noise levels, and obviously, quality of performance.
However, remember we don't make massage guns, but we share our opinion based on actual data and proper reasoning. We also openly let you know of any cons we encounter with the devices we pick.
---
Our List of Best Massage Guns Under $150
---
TOP 1 – Ekrin 365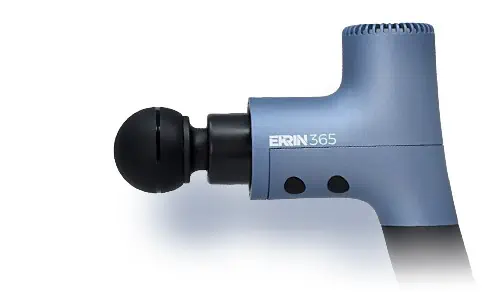 Our testing impressions:
Versatile and reliable massage gun
Great value for the money
Excellent quality overall
Lifetime warranty
We've always loved Ekrin for their high quality devices and great customer care.
Their last-released Ekrin 365 is aimed at beginners but offers so much more for a sub $150 massage gun. It has great performance specs that we can confirm are accurate (we did a hands-on review recently).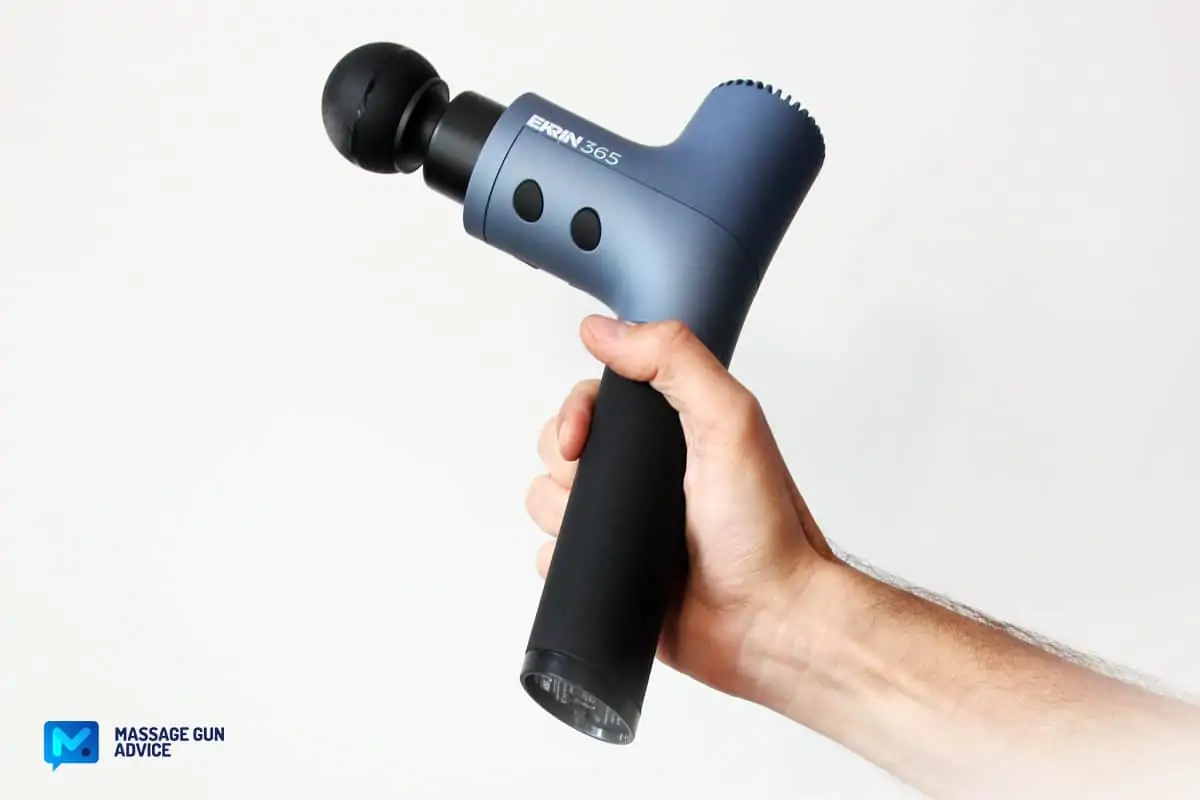 Ekrin decked this new massage gun with everything a great massage gun should have. We haven't seen many entry-level massage guns with 40lbs. of stall force, but this one has. Ekrin are suckers for devices with strong motors. Their very first device (Ekrin B37) was a success for this very reason.
We are glad they stuck to their formula even with this massage gun. It's not just the stall force.
With a stroke length of 12mm, this device can hit deeper when pressed against the body. When you want a soothing massage, where you need some decent percussions, this device can provide up to 3200 hits per minute.
It's also the only gun under $150 that has a Pressure Sensor.
It also has excellent ergonomics that somewhat mimick what Ekrin has been doing since they came onto the scene (slanted handle). But they also added a twist to it by making the handle thinner for people with small hands.
The handle is also longer on this new device and is great for when you need an extended reach for your lower back area. We also suspect that the trimmed handle could be the reason this new device only weighs 1.7lbs. Many full-sized guns weigh 2.2 pounds or more.
It comes with 4 nicely varied attachments for a full body massage and a super juiced battery that can go for 4-5 hours on a single charge. With few sessions a day, the battery can last a few days before you can charge it again. It's a quiet device, just like all Ekrin devices. It's also the first full-sized massage gun that charges via USB (a convenient way to charge).
Ekrin is a trusted brand that offers premium quality devices that are backed up with a lifetime warranty. Their customer service is also top-notch.
It usually costs $179.99 but with our MGA20 coupon, you can buy it at ekrinathletics.com for only $143.99 – that's a 20% discount.
Read More In our Ekrin 365 review →
---
TOP 2 – Lifepro DynaFlex

This is also a newly released massage gun from another trusted brand with a lot of affordable massage guns. It offers a slightly different proposition from our top pick.
For instance, instead of a 12mm amplitude, it has 13mm amplitude – 1mm more, barely noticeable once you start using it. That said, this one punches slightly harder.
It also comes with 40lbs. of stall force and can be pressed hard against the skin for a deep tissue percussive massage. You won't get the same number of maximum percussions, but you won't need more either – it has a percussion range of 1500-3000rpm.
But the outstanding feature on this device has to be the adjustable arm. Not many brands make them this way, and you have to appreciate the innovativeness.
The arm can be adjusted into 4 lockable positions of 0, 30, 60, and 90 degree angles. This is awesome for when you are massaging yourself and need an extended reach (we covered more in our post about adjustable massage guns).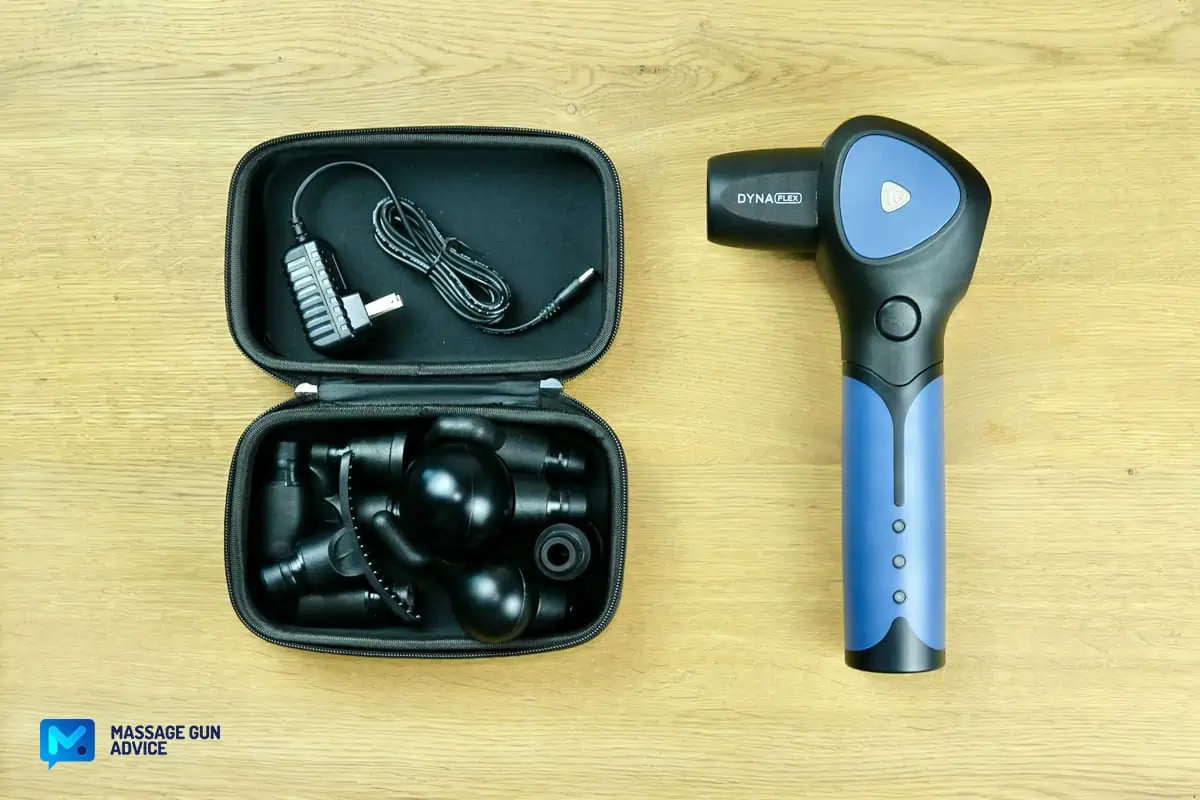 It's a quiet device as well (not as quiet as Ekrin 365), and weighs just 2.5 pounds – slightly heavier, but not something anyone can't handle. The handle diameter is also bigger than Ekrin 365 and may be uncomfortable for guys with small hands. It also doesn't come with a pressure sensor.
However, Lifepro is a proven fitness brand. They offer a lifetime warranty for all their products and the customer support is superb.
The device usually sells for $149.99 but with the MGA10 code, you can save 10% off the price and buy it for $134.99 at here at lifeprofitness.com
Read More Full Lifepro Dynaflex Review →
---
TOP 3 – Opove M3 Pro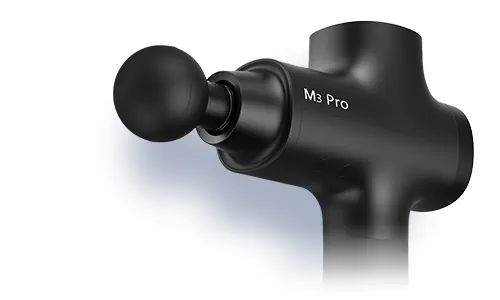 Our testing impressions:
12mm amplitude & ~40lbs of power
6 high-quality attachments
Excellent for both beginners and experts
Outstanding value for the price
Opove company has been around for a while now and built a good reputation as a fitness brand.
However, their M3 Pro massage gun is their best selling device so far. It's not the most interesting device with top features, but it offers good-enough performance specs for those who want something affordable. And just recently, they've redesigned it, and put the latest tech inside.
It has the typical, T-shape massage gun look and doesn't offer much else in ergonomics. However, it weighs a reasonable 2.5 pounds and can be easily maneuvered.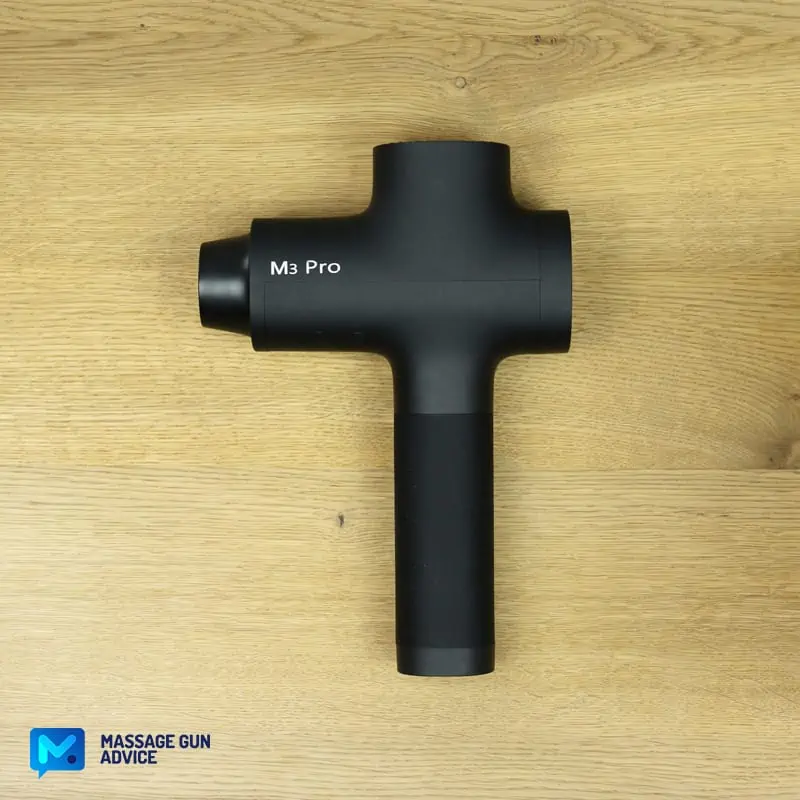 It has a stroke length of 12mm, which is what we are looking for in a sub $150 device.
The stall force is very good at more than 40lbs. and will offer a percussive massage. Even the first few gears don't stall easily (the first gear has 26lbs. of stall force). We have seen too many guns that stall easily on the first few speed gears.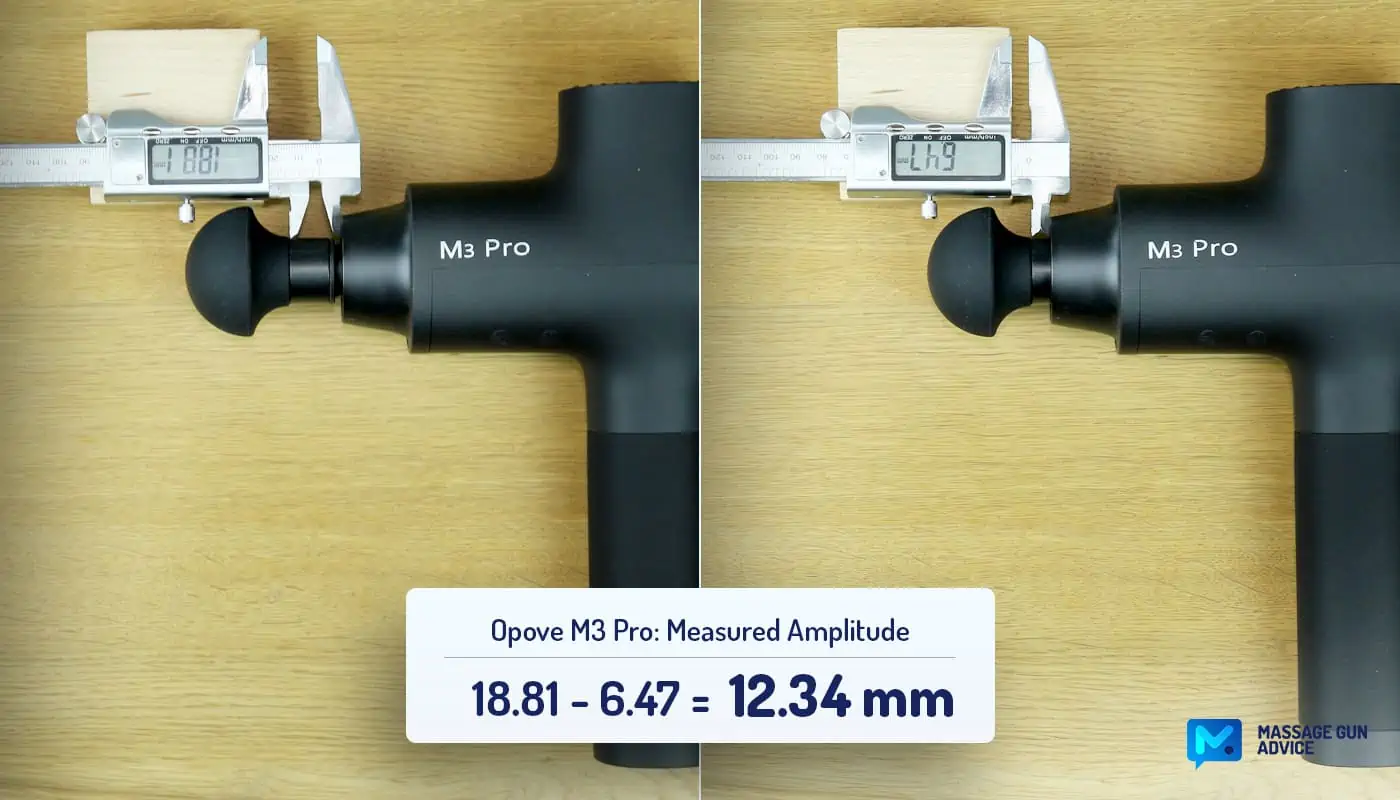 It has a percussion range of 1300-2600rpm – as wide as the first two on our list, but a tad slower percussions.
You don't have to worry about the battery draining out before you can finish your session with this device. The 2600mAh battery can go for 3-4 hours straight (3 hours if you use higher speed gears and apply pressure). It also comes with a nice hard-shell carrying case and 6 nicely varied attachments.
Cons
So-so ergonomics
No USB charger
However, Opove M3 Pro is likely the quietest percussion massager on this list, it didn't exceed 63 dB when revving at a maximum 2600 hits per minute – that is very quiet.
Opove is a trusted brand and you can expect a customer-friendly support. They also have a 30-day moneyback guarantee.
Normally it costs $199.99 but the price has been reduced to $119.99. This is awesome if you don't have the budget for Ekrin 365. Buy it at opove.com.
Read More Full Opove M3 Pro 2 Review →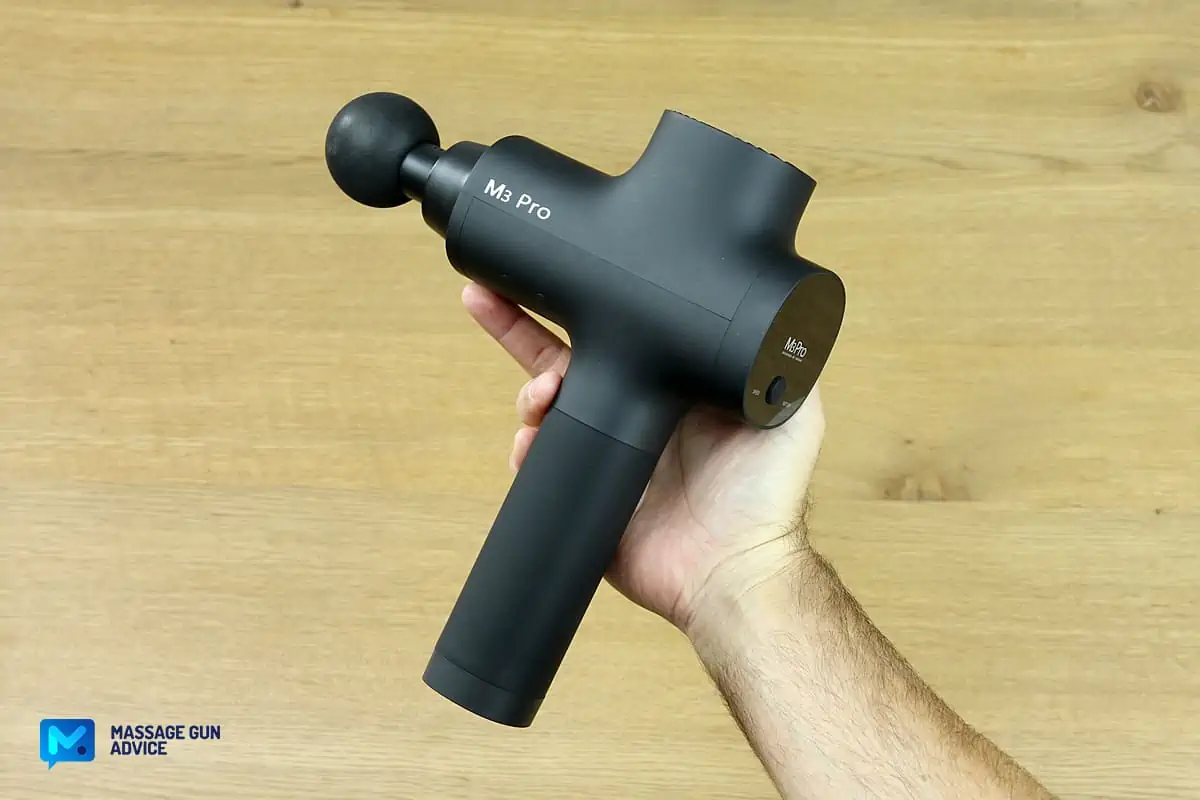 ---
TOP 4 – Ekrin Bantam: The Best Mini Massage Gun Under $150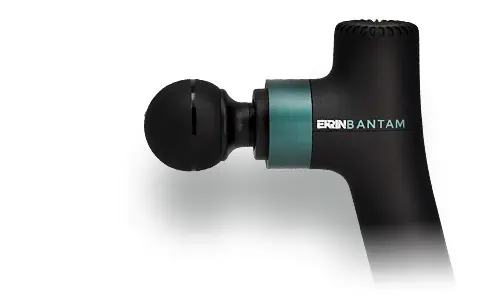 Our testing impressions:
Compact but powerful, up to 3200rpm
Great size and ergonomics
Excellent quality overall
Lifetime warranty
Another Ekrin massage gun that we are proud to include in our list. This one is a mini massage gun and it's an option if you want something highly portable to carry with you on your travels.
It's a super-compact massage gun measuring 6 x 4.5 x 1.9 inches (HLW). It's one of the smallest massage guns out there. It also measures a meager 1.1 pounds, and it's the lightest device on our list. It has an ergonomic handle as well – a slanted 15-degree handle.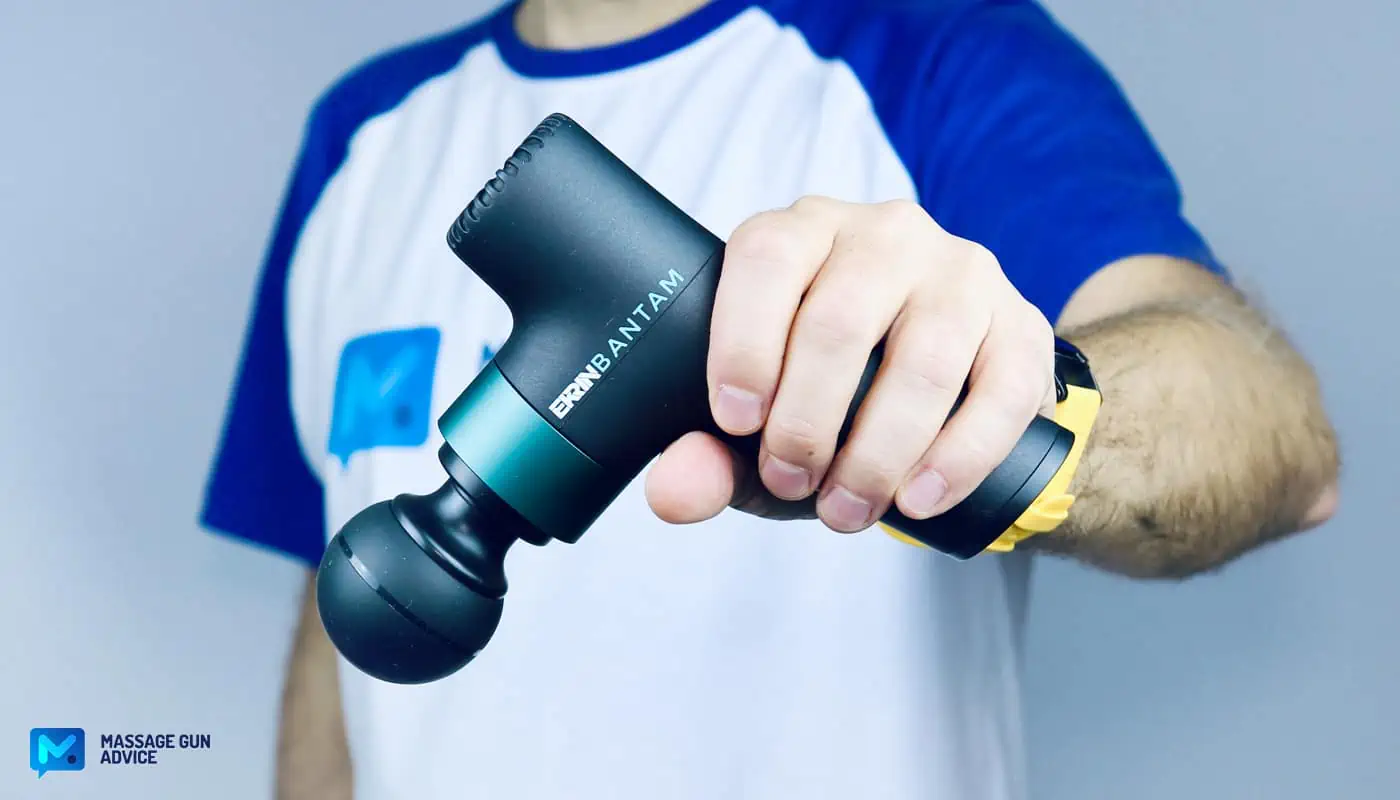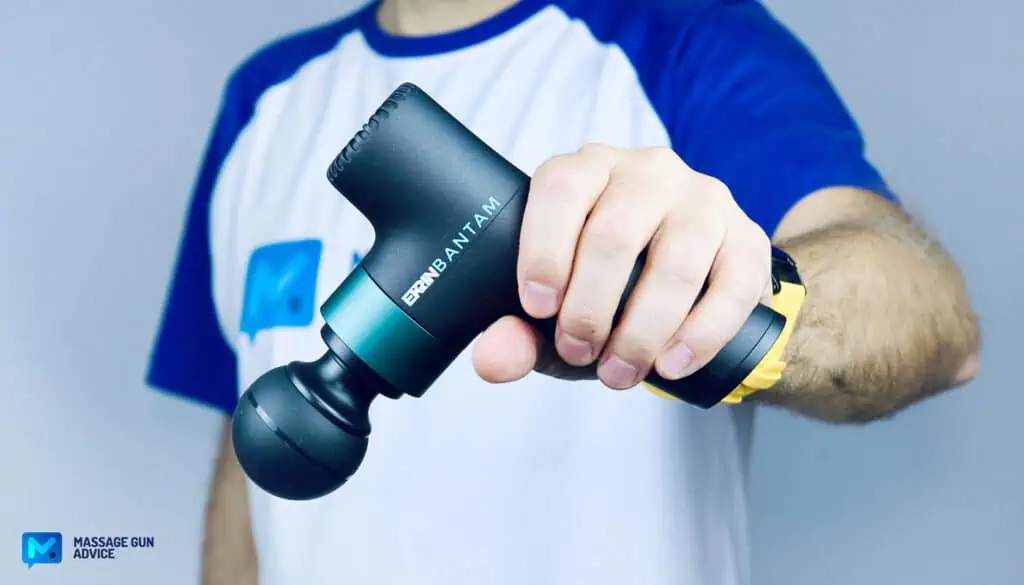 For a mini massage gun, it carries so much power. It has 35lbs. of stall force – the same as many full-sized guns (e.g. Theragun Prime). That makes it one of the most potent mini devices out there.
It complements that power with an almost 10mm amplitude. That is enough stroke length for a mini gun – those don't need more. It also has a percussion range of 2000-3200rpm across 3 speed gears – awesome for a mini massage gun.
It has a sturdy build and a premium look. It comes with 4 attachments in a nice carrying case. The high quality Samsung battery will do about 3-4 hours before you may need to charge it again.
It usually costs $159, but with our MGA20 discount code (gives 20% off), it is only $127.99. Get it here at ekrinathletics.com .
Read More Our detailed Ekrin Bantam review →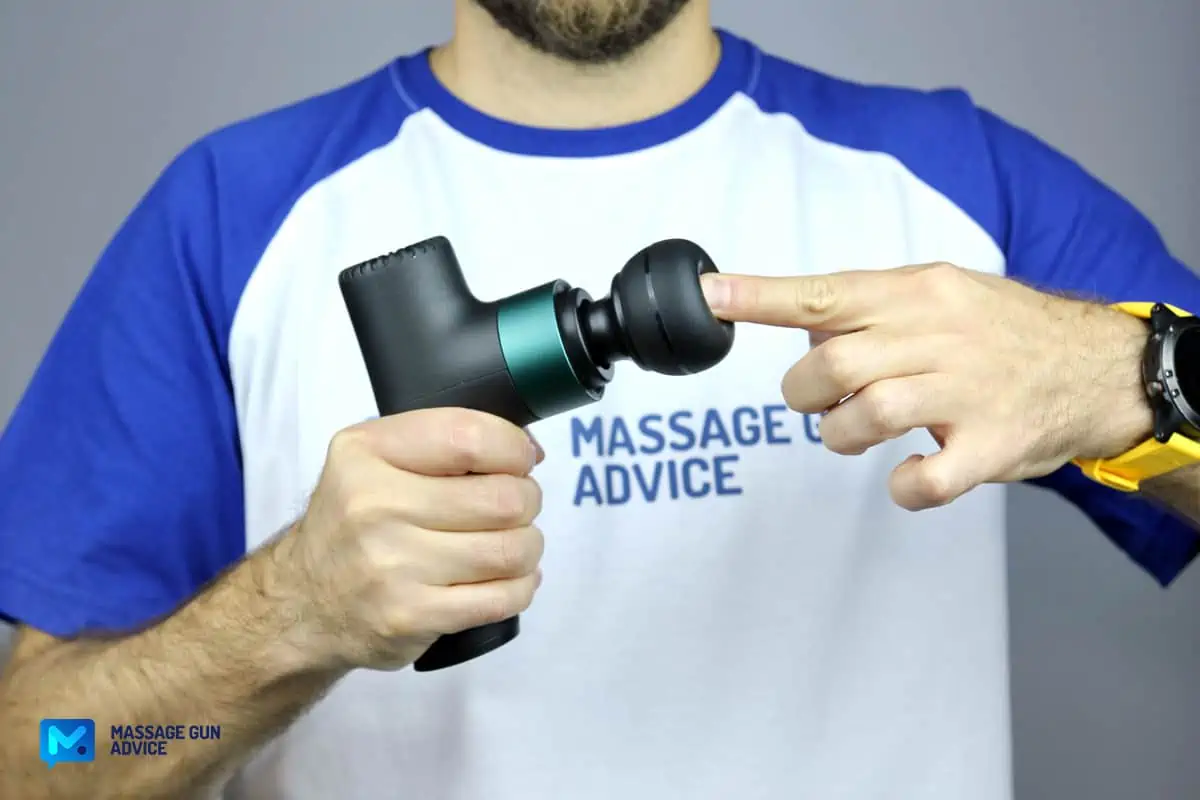 ---
TOP 5 – Bob and Brad X6 Pro

It's probably not okay that the last device on our list is inspired the most famous therapists on the internet. Bob and Brad have 3.4 million subscribers on YouTube and have been doing an amazing job educating their followers on physical health.
We had their C2 massage gun and even reviewed it here. The X6 is a new model that they're calling an upgrade. It doesn't have as much to offer as our top guns, but it's a great budget buy.
Bob and Brad say that it has a 10.5mm amplitude which is decent for its cost but not for a proper percussive massage.
They also claim that it has up to 44lbs. of stall force, which we had to check just to be sure. We compared it to Ekrin 365, and we can tell you it's not as powerful. If we are being honest, it's probably about 30-35lbs. That's similar to Addsfit but not more than Ekrin 365.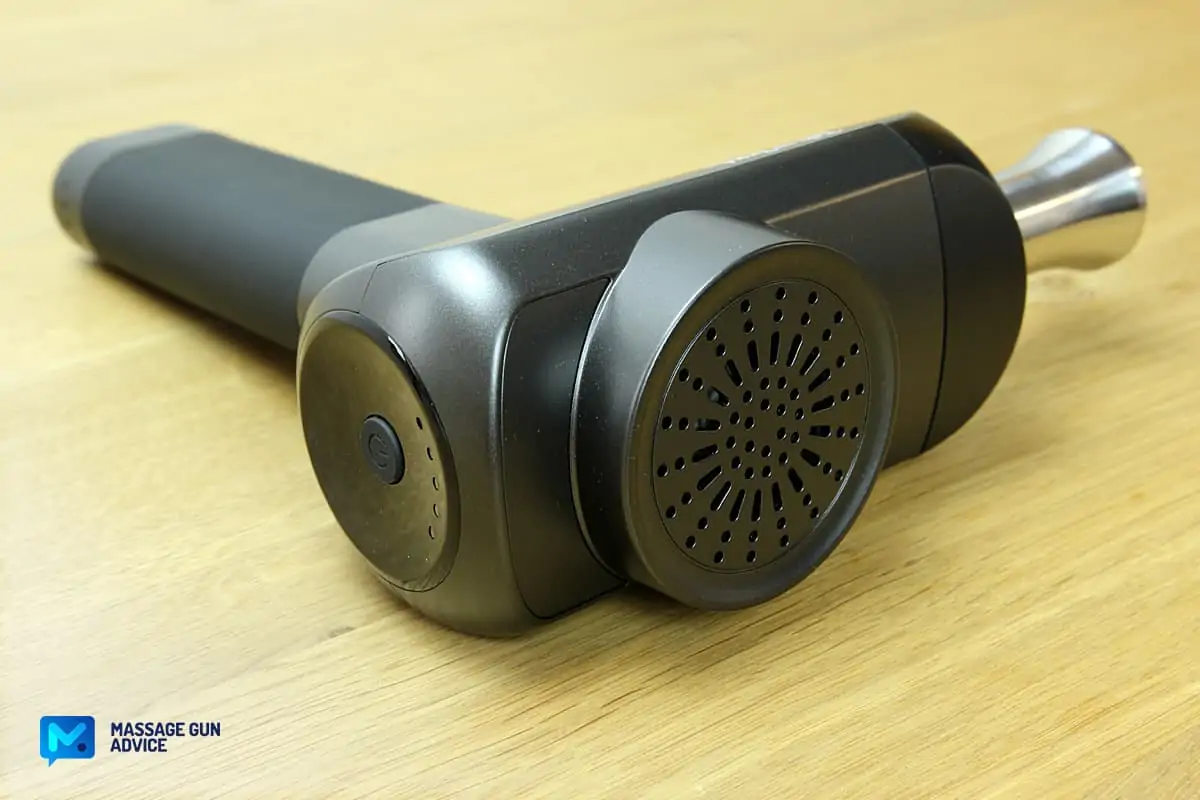 It has a percussion range of 2000-3200rpm across 5 speed gears.
We like the ergonomics approach with the oval shape rather than the typical cylindrical shape that most massage guns have. We saw the same shape with their C2 massage gun. We have also seen it with the new Hypervolts 2.
The device weighs 1.9 pounds and is very quiet – 55dB to 60dB. It comes with 5 nice attachments including one made with aluminum for hot or cold therapy (put it in a freezer or hot water). There is a carrying case as well included.
Cons
The low amplitude might feel vibrational
Just 1-year warranty
It's still a nice gun that deserves a spot on our list. It's not as powerful as the rest, and that's why it had to come last.
It sells slightly above $150, but last we checked, the price had gone down to under $150. It is best to check the current price here.
Read More Our full Bob and Brad X6 Pro review →
---
How We Choose – Our Criteria
While many reviews out there ignore or belittle some of these criteria, we don't. We take it seriously and have to ensure all devices meet them. Let's start with the performance, shall we?
---
Stall Force
Stall force is the pressure it takes to stall the motor of a device. This happens when you push a massage gun against your skin. A massage gun with a weak stall force will quickly stall when pressure is applied.
Like we have already explained, massage guns under $150 today are decent enough to offer you great performance (otherwise we wouldn't need this article).
A while ago, when we did the under $200 massage guns post, we explained that you could easily get a massage gun with 40-50lbs. of stall force for that price.
Today, we'll say the same thing, this time for the under $150 category. Again, new massage guns have been unveiled since we did that post and prices are fantastic.
We believe that a lot of stall force is good for any massage gun, and here's why;
You can have a delicate massage (soothing and relaxing) if you want to. All you have to do is float the massage gun over the skin and it will do the trick. However, when you want a deep massage​1​, especially when you have bigger muscles, you have to press the gun against the body, and that's where you need the stall force (TIP: learn more on how to use massage gun here).
Another reason is that stall force is an important performance aspect in determining the quality of a device. For instance, a device with a good amplitude but a weak stall force, isn't necessarily great.
Stall Force Comparison of Our Picks
Conclusion
Ekrin 365 is our benchmark gun when it comes to the stall force. The 365's 40 lbs. aren't overstated – this device matches the likes of mighty Theragun Elite! Other massage guns are reasonably powerful, but not more than the 365 (even though their specs say something different).
---
Stroke Length
Stall force is one thing, but we also look at amplitude.
Also called amplitude, this is the distance traveled by the massage gun head as it hits your skin (percusses). It determines how deep a massage you can get. A low amplitude device vibrates more than it percusses and may only offer surface-level massage. It would be best if you had a mid-range or higher amplitude for a proper percussive massage – which is why you buy a massage gun in the first place.
We believe that a good percussion massager should have at least 10-12mm stroke length if it's a full-sized gun or 8-10mm if it's a mini massage gun.
But look out for a good stall force here. Many cheap massage guns promise up to 16mm amplitude (Theragun-like) but have feeble stall force. These aren't good enough, and we avoided listing them here.
Stroke Length Comparison
Conclusion
10 to 13mm amplitude is a sweet spot – not too punchy, but not too vibrational either. The all-new Bob and Brad X6 Pro has only 10mm so expect more vibrational massage. Lastly, the 10mm head travel distance in the case of Bantam is actually very good for a mini massage gun.
---
Percussions
Most massage guns today have a percussion of range of 1800-3200rpm or thereabout. Some, with a higher amplitude, tend to have a slightly lower range because of the greater head travel.
However, it's not uncommon to find guns that have percussions up to 4000rpm. These usually have very low amplitude and are better suited for vibrational therapy​2​.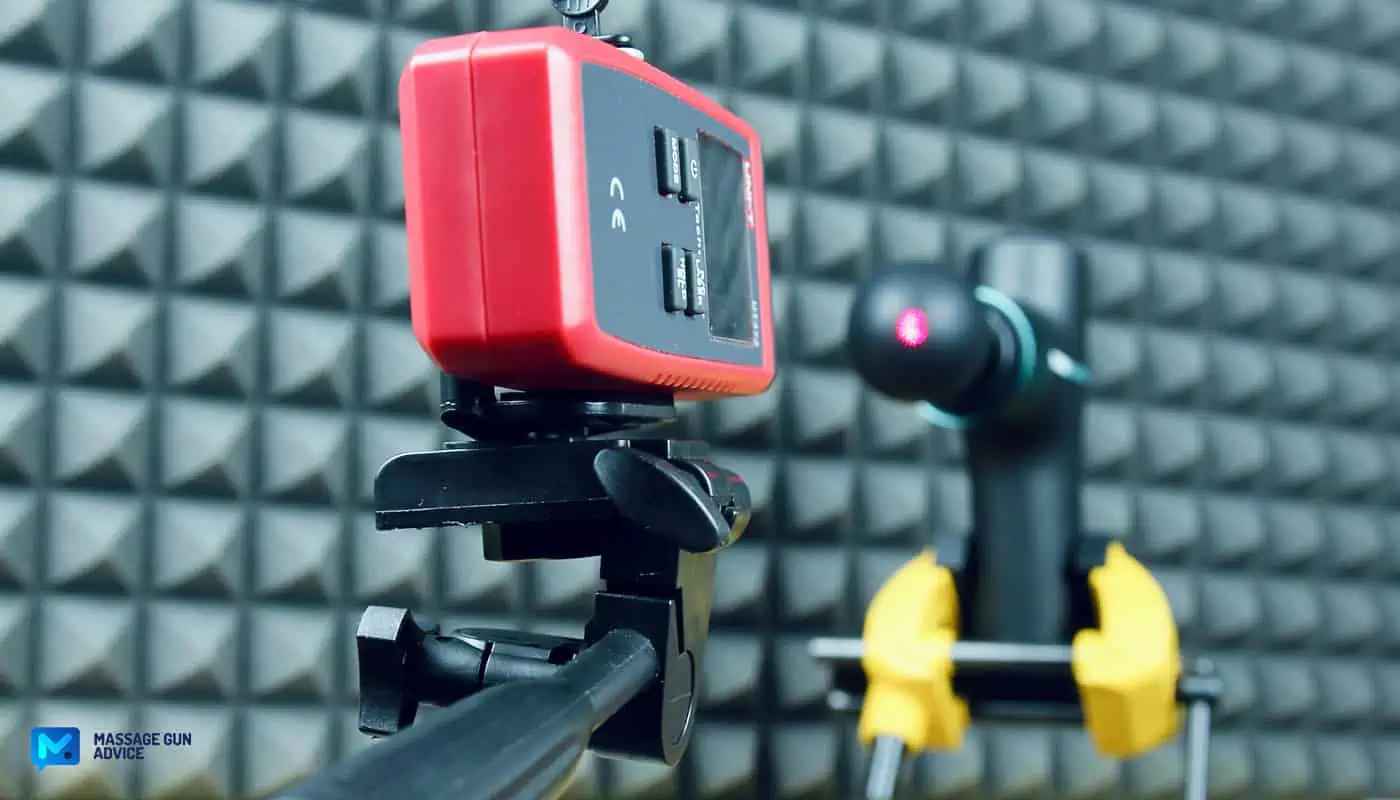 ---
Other Features to Look Out For
Number of speeds: 4 to 6 speeds is a sweet spot, 3 might be good for some devices. If you have to stretch it, then go for 7 speeds but not more.
Extras like a Pressure Sensor: It's now possible to find a sub $150 gun with a pressure sensor. Something unheard of just 6 months ago.
Build Quality: There are some premium quality devices that cost less than $150.
Noise: More sub $150 guns today are quieter than the expensive guns.
Weight: Some guns are made with heavy material and tend to be bulky. We chose devices that weigh 2.5 pounds or less (for full-sized guns).
Size: We prefer compact guns and not the cheap bulky ones.
Ergonomics: We reward attempts to improve ergonomics, and innovative brands in this area got more points from us.
Accessories included: We check for the number of attachments included, if there's a traveling case or pouch – 4-5 massage attachments are enough for the whole body.
Brand trustworthiness: We love brands that engage with us when necessary.
Battery capacity and time on battery: This shouldn't be a big issue since most guns can go for a week or 2 with a single charge.
Warranty offered: No-name brands often do not offer warranties or at best only offer a 1-year warranty. Best brands offer a lifetime warranty – we looked for devices from these brands.
Value for the money: obviously the list only includes devices that are under $150 but we picked those that offer the best bang for your buck.
---
Conclusion
Hopefully you now know which massage gun priced below $150 is good for you (and if somehow not, you should read this again!).
As you can see, many of them are over the $150 threshold, but we got you covered with our coupons. Feel free to apply them when you are shopping.
Just remember that now it's not a problem to get a very decent massage gun for $150. Just check out the features and make sure they're as good as we have explained in this article.
And let us know what you have ended up with. Comments below or our Facebook group Massage Gun Talk are to your disposition.
Go get a percussive massage!
---
Resources
1.

Koren Y, Kalichman L. Deep tissue massage: What are we talking about?

J Bodyw Mov Ther

. 2018;22(2):247-251. doi:

10.1016/j.jbmt.2017.05.006

2.

Konrad A, Glashüttner C, Reiner M, Bernsteiner D, Tilp M. The Acute Effects of a Percussive Massage Treatment with a Hypervolt Device on Plantar Flexor Muscles' Range of Motion and Performance.

J Sports Sci Med

. 2020;19(4):690-694.

https://www.ncbi.nlm.nih.gov/pubmed/33239942
Was this article helpful?
Thanks for your feedback!
Post Update History
Here's a quick rundown of all the tweaks and edits we've made to this article to keep it accurate and up-to-date!
Current version last updated on:
November 2, 2023 Large content update with refreshed texts, added videos, and corrected links for improved clarity. (Author: Greg)
June 7, 2023Minor editor changes and updates made for improved clarity. (Author: Greg)
•
Written by:

Luke Deszczulka
Disclaimers
The views and opinions expressed on this website are those of the authors. Any content provided by our bloggers or authors are of their opinion and are not intended to malign any religion, ethnic group, club, organization, company, individual or anyone or anything.
All product names, logos, and brands are property of their respective owners. All company, product and service names used in this website are for identification purposes only. Use of these names, logos, and brands does not imply endorsement.
It is our policy to make every effort to respect the copyrights of outside parties. If you believe that your copyright has been misused, please provide us with a message stating your position and we will endeavor to correct any misuse immediately.
Some of the links in this post are affiliate links. As an Amazon Associate, we earn from qualifying purchases. This means if you click on the link and purchase the item, we may receive an affiliate commission, at no extra cost to you. This helps us keep this website alive. Learn more here.
Amazon Disclosure
massagegunadvice.com is a participant in the Amazon Services LLC Associates Program, an affiliate advertising program designed to provide a means for sites to earn advertising fees by advertising and linking to Amazon.com. As an Amazon Associate, we earn from qualifying purchases. Amazon and the Amazon logo are trademarks of Amazon.com, Inc. or its affiliates. Please refer to our Privacy & Affiliate Policy for details.