Best Massage Gun under $100 – Percussive Therapy on a Budget
Disclaimer: Our content is unbiased, non-sponsored and fact-checked. If you buy via links on our site, we may earn a commission. As an Amazon Associate, we earn from qualifying purchases.
---
What is the best massage gun under $100 like? Can you get a good device at less than $100 price point? We'll be answering that question in this post and you just might be surprised at what you can get.
---
---
Best Massage Gun Under $100 – Prices Went Down in 2022
Truth is, a few years ago – make that a year or 2 ago – it was almost unheard of that a massage gun would cost anything less than $200 – not even knock-offs were that cheap.
But fast-forward to 2022 and the market has been flooded by new brands looking to sell these devices.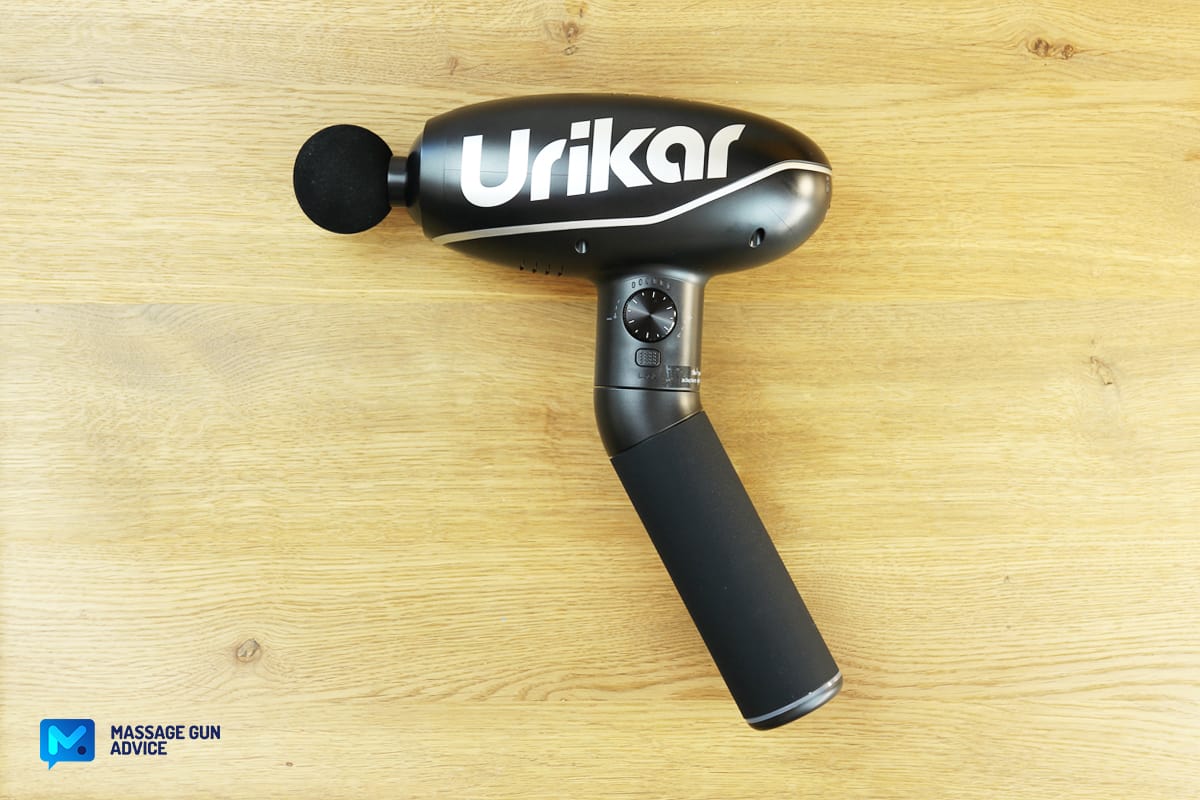 So much so that the pioneer brands have been forced to significantly lower the prices for their devices in order to stay competitive – which is good news for us customers. The avalanche of these devices onto the market has been triggered by a rise in their popularity.
To be fair though, you are probably more likely to find an excellent massage gun under $150. However, we searched far and beyond for some sweet deals under $100.
We couldn't find many posts on the internet that had something nice, the ones that came close are actually outdated. We hope you find this post useful!
In a hurry? One full-sized and one mini-sized gun you can't go wrong with:
Urikar Pro 2
The best bargain at this price point with its good performance and unique features.
The PRO2 coupon makes it only $93 in Urikar's store. Scroll down for more info or click here to jump right to it.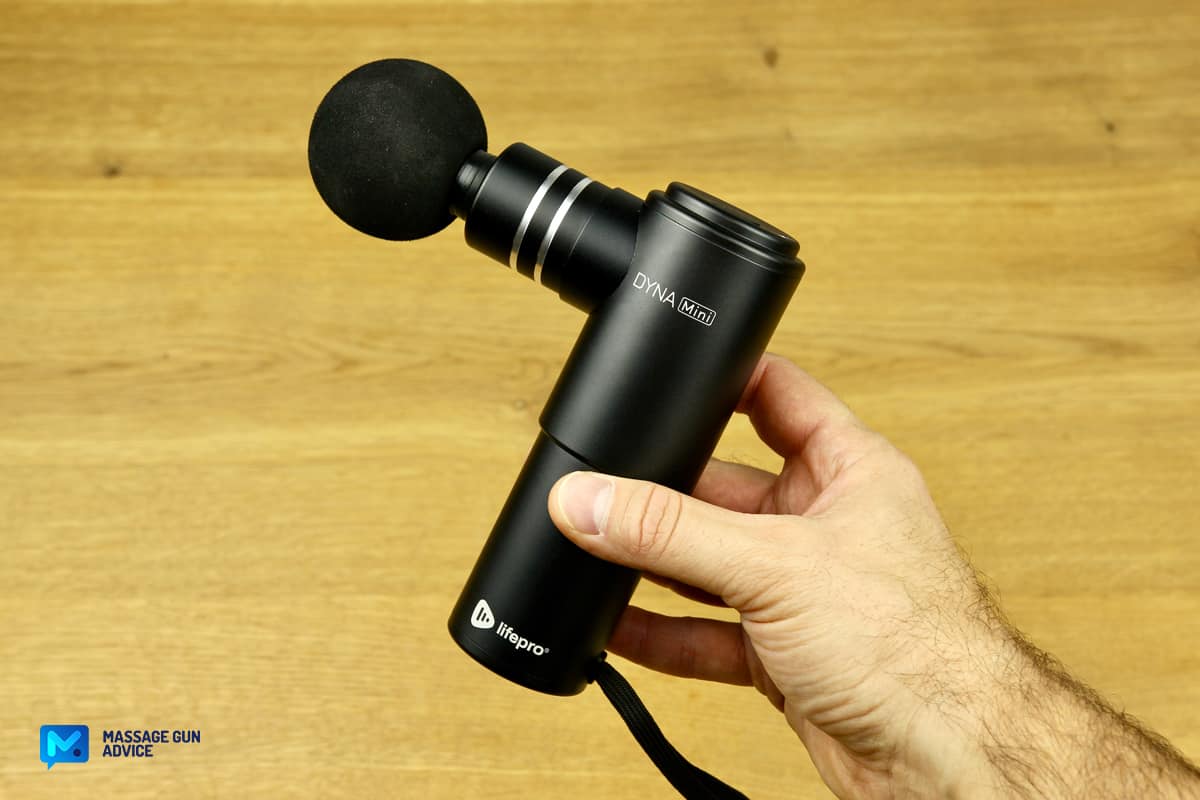 Lifepro Dyna Mini
A mini massage gun with decent power, great battery and a lifetime warranty. You can get it in Lifepro's store. Scroll down for more information or click here to jump right to it.

---
What Makes a Good Massage Gun Under $100?
We recently did cover best massage guns under $150 and under $200, and we debated among ourselves whether it was worth doing a post on best massage guns for under $100.
To be honest, even though the market is now flooded with thousands of Hypervolt knockoffs, most still cost more than 100 bucks. But given the experience we've had and our zeal to never stop buying and reviewing massage guns, we were certain we could find some gems under $100.
But there's a catch.
Most cheap guns desperately lack in key parameters, that is, amplitude and stall force. What that means in massage-gun language is that these devices will not be able to offer percussive therapy massage.
The best they can do is vibrational therapy, which is okay if you just want to relax or have a surface-level massage for other benefits that include proper blood flow. However, they won't be able to punch deeper due to a significant lack of power.
That said, our top picks have the best possible specs and we tried as hard as we could to make sure they're percussive devices and not vibrational therapy tools.
But, realistically speaking, you shouldn't expect to find insane power in these devices. This is because most are entry-level at best and you should brace for low to medium power.
Another thing you also need to know is that some of these devices are mini massage guns. These serve a particular niche and are meant to be portable and discreet. However, it's not unheard of to find some great mini massage guns with superior performance features. The main thing is that we made sure to not only pick the small but powerful, but also the affordable.
---
Key Criteria for Choosing The Best Massage Gun for Under $100
Here's what the best massage gun under 100 should have.
---
Stall Force
Stall Force: This is the amount of pressure it takes to stop the motor of a device consequently shutting it off. Sometimes when you need a deep tissue massage, passing the massage gun head over a particular muscle doesn't always do the job. Pressing hard against the muscle can get you the required results. A stronger gun can withstand much force.
Full disclosure here from us that you should not expect a lot of power from cheap devices, and the fact that our list has some mini massage guns means that the stall force is much lower.
We got a little lucky with Sportneer Elite and Lifepro Sonic which have pretty good stall force if you consider their price points. However, apart from it, the others aren't as powerful. But, from our list, expect at least 20-30-plus lbs. stall force.
That said, a good under $100 massage gun should have upper 20s to lower 30s stall force.
Stall Force Comparison of Massage Guns Under $100
Conclusion
Most massage guns under $100 are entry-level devices with low stall force, usually within the 20 – 30 lbs. range, which is usually enough for an every-day device. However, as the chart above demonstrates, sometimes you can find a device with more power (e.g. Lifepro Sonic).
---
Amplitude
Stroke Length: This is the length travelled by the massage gun heads as it hits your skin in the back and forth movement. The stroke length plays an important role in a device, because with it you can tell what kind of a massage you will have.
Most guns under $100 will not have more than 10mm amplitude. Most of them are clones of the original Hypervolt which was more of a vibrational therapy tool than a percussive one. They try to make up for lack of amplitude with more percussions per minute (more rpms) but the best you can get with these devices is a surface-level massage.
For a massage gun to really be considered a percussive therapy device, at least 10mm or ideally 12mm or more is required. Even so, for a device like this to really be effective, a lot of stall force is also needed. This is because a better stall force can make up for a short amplitude.
In other words, we think it is better to opt for a 10mm stroke length device that has more stall force, than for the opposite setup.
Even though the device may not be able to hit deep into the muscle, it can be pressed hard against the skin to achieve this. We took this into consideration when choosing which massage gun to include in our list.
Finally, there are cheap guns like Fitpulse (which we reviewed), or Butyce that scream at you with their 15-16mm amplitude but have very low stall force.
In their desire to be like Theragun, they miss out on what really matters. These are not ideal for a percussive massage. On a side note, they also usually massively overstate their stroke length figures.
Amplitude Comparison of Massage Guns for Under $100
Conclusion
No other massage gun in this category can match our best pick Urikar Pro 2, which has a verified 12mm amplitude (advertised is 15mm). If you want a deeper massage, this is it. In the mini category, 6 to 9 mm is a typical amplitude.
---
Percussions
Percussions/RPMs: Most massage guns under 100 will be more intensive and have a high percussion range – typically 1800-3200rpm. This is often because they have short amplitudes. The ones with longer amplitudes tend to be less intensive.
There are devices that have over 3800 rpms. These are meant as vibrational therapy tools and cannot hit deep into the muscle tissue. Most have very dinky stroke lengths.
---
Other Features to Look Out
Speeds: Cheap devices tend to be exaggerated here. It's not surprising to find a device with 20 or 30 speed gears. Don't be fooled by this. Typically the less speeds a device has the better it can serve you. We recommend 5 or 6 speeds. We can tolerate less – say 3 or 4 – or more – 7 or 8, but nothing more.
Pre-programmed massage modes: This is when a device has modes that change the intensity automatically. You don't find many such devices in the under $100 category.
Build quality: It's possible to get a very nicely built massage gun under $100.
Noise: Cheap doesn't mean loud. There are very quiet guns that are less than $100. In fact, some are quieter than their expensive counterparts.
Weight: It's not uncommon to find bulky guns in this category but we focused on the ones that are 2.5lbs or less. Ideally though, go for a gun that weighs 2-2.2lbs (full-sized guns).
Size: We chose the less bulky ones.
Ergonomics: We love brands that try to be innovative with their devices' ergonomics.
Accessories included: Number of attachments (5 or 6), travel case or pouch.
Brand trustworthiness: Don't buy unless they can stand behind their product.
Battery capacity and time on battery: This is not an issue because most devices have batteries that will need to be recharged a week or 2 later. Bigger batteries mean more weight.
Warranty: Cheap guns will probably have just a 1-year warranty or nothing at all. There are gems that offer lifetime warranties, we tried to include many of those here.
Value for money: Our picks are under $100 or slightly more in some cases. If you can spend more than a hundred bucks, check out our best value massage guns post.
---
Massage Gun Under $100 – Our Best Picks
Here are our top massage guns under $100, starting from our best recommendation.
Urikar Pro 2 – Great Amplitude, Heated Tip
We made sure to include Urikar Pro 2 our list as our top recommendation because, for its price, it offers great value.
This feature-packed device normally costs $169.99, so well over the $100 threshold here, but the promo code PRO2 slashes the price further to $93.50 – a massive 45% discount.
Some of its features include a motor able to withstand up to about 25-30lbs. stall force. Now, this may not be enough to give you a super-intensive, deep-to-the-bone percussive massage, but it's still one of the best you can get for well under $100 (with the above promo code, that is).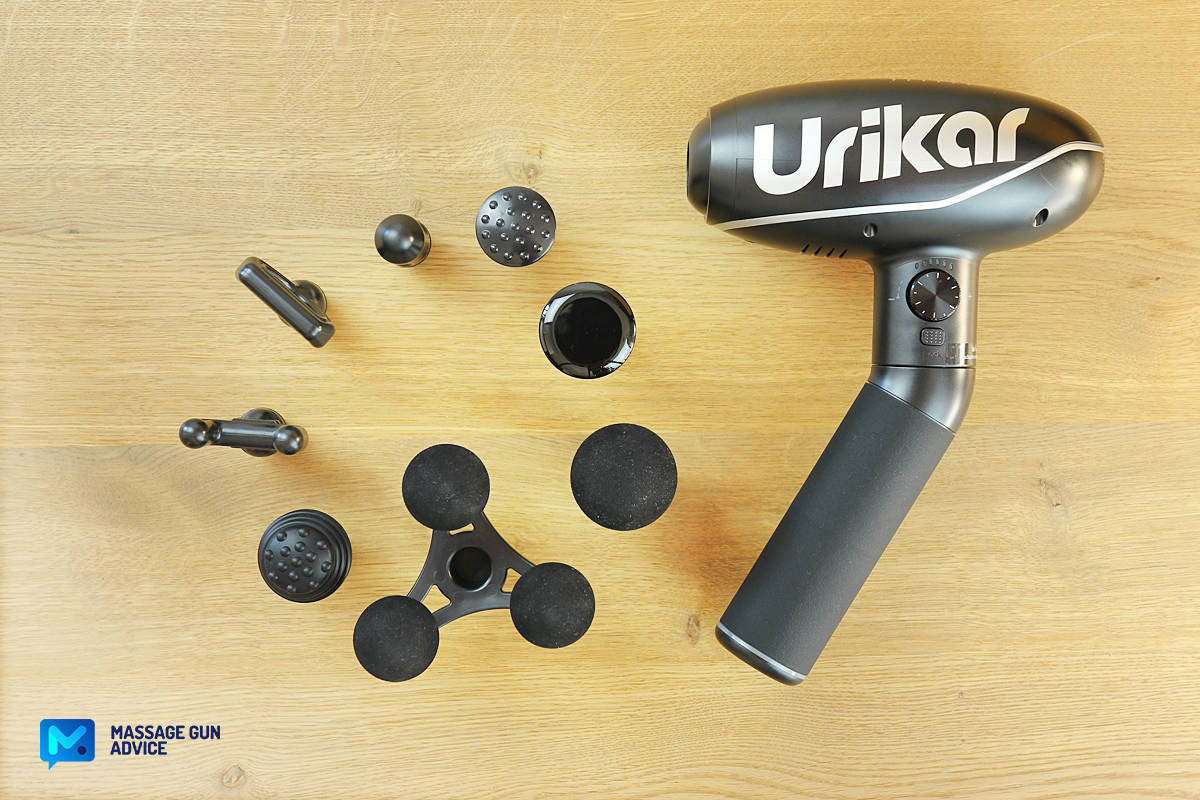 We love the amplitude on this gun, although the advertised 15mm stroke length has been slightly overstated. It is actually 12mm, we verified it with a digital caliper.
12mm is actually pretty good, and what's important, enough to provide a percussive massage rather than vibrational therapy. In fact, it is the highest amplitude device on this list.
As far as the percussion range is concerned, the Urikar website lists a whooping 3600 ppm – that is a lot. The thing is, it wouldn't be possible for a gun to rev up to 3600 ppm with a 12mm stroke length.
It is actually revving from 1040 up to 2050 on the top speed, making it a less aggressive option for those who prefer a delicate, soothing massage (albeit with deeper hits). We like it.
It also has somewhat interesting settings; there are 3 "smart" modes with different intensities and a manual mode of up to 6 speeds to choose from.
Also unique is the handle, which rotates 180 degrees with a simple twist. We haven't seen this before, and we think it is an interesting take on improving the overall ergonomics.
Another unique feature is a special ceramic attachment for a heated massage.
For this feature alone, we voted Urikar Pro 2 as best heated massage gun out there. At under a hundred dollars (with our promo code below), it makes the device a seriously attractive proposition. To learn more about the heated option, refer to this post.
Other than that, it's a bigger device that is surprisingly light for its size – 2.2lbs. It's also quiet revving at 55-62dB. The battery is a 2600mAh capacity that can last 3-6 hours depending on usage.
It's very well equipped for its price; 8 attachments that are nicely varied and comes with a carrying case. The Urikar Pro 2 is a decent massage gun for its price and will do what it's intended to do.
Overall, it is an interesting, well-equipped device that isn't super powerful, but it has the heated head and the proper amplitude to get the job done.
Urikar Pro 2 normally retails for $169.99, but with the PRO2 promo code you get a whooping 45% discount. This means it will only cost you $93.5. Get it at Urikar's store right here.
MORE INFO: Read our hands-on Urikar Pro 2 review.
---
Sportneer Elite D9 – Premium Feel, Good Power, Quiet

When it comes to bells and whistles, Sportneer Elite D9 is no Urikar by any stretch, but it offers good performance features, premium feel and hushed operation.
It retails for $129.99, but with a AFDKOF coupon code applied at checkout, you will get it for $110 (15% discount). Yes, we know, it is still over the $100 threshold here, but we think a few bucks is a small price to pay for what you are getting with one of the best Hypervolt alternatives out there.
Two things we like the most about Sportneer's gun, is how powerful (or intensive) it is, and how quietly it operates.
The stroke length we've got with our digital caliper is 10mm, just like the first Hypervolt. This is less than Urikar's 12mm, but instead, you get much faster percussions.
It percusses between 1300-3200rpm, which is an impressively wide wide range. We like two things here:
First, that you can start low and gentle – many more expensive guns start at 1800 or 2000 percussions per minute, which is already fast. But not Sportneer!
Second, that a maximum speed of 3200 hits per minute is accurate, and not overstated (as it often happens). This is a high intensity device then, and therefore pretty effective.
It has 6 speeds to go with the percussion. For the range, this is just enough, and not ridiculously configured like some other cheap guns with over 20 speeds.
Stall force is pretty good, too. The devices maxes out at 35 lbs. of pressure applied, available on the top gear. This is enough for an average person, and more than you get with, say, Urikar above or Taotronics below.
Unlike the Urikar Pro 2 above, this one is a simple device and does not have many bells and whistles (like dynamic modes, for instance). It is a very quality device, though. It's made from good quality plastic, the handle is rubberized, and everything is well put together.
It comes with 6 attachments that are nicely varied but are perhaps not the best quality we've seen.
On the other hand, the battery is superb, and one of the largest we've seen, with 3350mAh of juice.
It easily last for 4-6 hours of use, which translates to about 10 days under minimal use (10-minute daily sessions).
It is also an incredibly quiet device. Even when it revs at maximum speed, it is pleasantly hushed and the sounds it makes is smooth and not disturbing.
Sportneer D9 Elite can be yours for only $82.87 when you use the AFDKOF promo code at checkout. It gives 15% off. Buy it right here.
Sportneer is a customer-friendly brand and allows 30-day returns for any reason. All their massage guns come with a 1-year warranty.
---
Taotronics – Strong and Under $100
Taotronics probably isn't the first brand that comes to mind when researching massage guns, but they do have a few affordable models, and their geeky-sounding TT-PCA003 massage gun is one of our favorites in the under $100 category.
To substantiate our praise, this device has about 30lbs. stall force. That is pretty good if you consider the price. There aren't many massage guns with this kind of stall force in the "under $50" category.
Now we know that sometimes brands advertise false stall force and sometimes it can be real low. That is not the case with this gun, it is really not easy to stall this massager when it is running on the top speed.
To sweeten the deal even more, it has a ~10mm amplitude (advertised is 12mm) which is not too vibrational, but also not too aggressive either – not as hard-hitting as Theraguns, for example. It is less than Urikar Pro 2 above, though.
It has a nice percussion range – 1400-3200rpm – which means you can have a gentle, a relaxing, and intensive massage if you want to with this device.
It has 10 speeds to cycle through, which might be a few too many, but the wide percussion range kind of justifies that. It also has 6 nicely varied attachments.
The battery is a 2600mAh capacity battery, which is the standard sized one in its size category. Taotronics advertises 10-hour battery life on a single charge, but we would recommend taking it with a pinch of salt.
Our experience tells us that you will only get a battery life like this when you use the gun on its lowest speed setting, and avoid applying more pressure.
Realistically, when used on different gears and with some decent pressure applied here and there, expect it to run for about 4-6 hours on a single charge – similar to the Addsfit Max above.
It also comes with a carrying case which is something you don't see with cheap massage guns. To put it into perspective, Theragun Prime costs $299 but doesn't come with a carrying case.
It's a quiet massage gun, advertised to rev at just 42dB – again, it refers to the first speed, and will be up to upper 50s, but it is still quiet enough not to draw attention and cause disturbance.
When it comes to the specs, it is somewhat similar to the Urikar. It isn't as well equipped though, and this is why we ranked it slightly below the Urikar gun.
This Taotronics is now heavily discounted. The now goes for $99.99, and you can use the GIFT20 code for an additional 20% OFF. It will then cost you $79.99. Get it here at TaoTronics.com.
MORE INFO: Read our hands-on Taotronics massage gun review.
---
Lifepro Sonic – With A Lifetime Warranty
Lifepro has a fascinating massage gun in the Sonic massage gun, especially given how much it currently costs.
Granted, it's not as modern and feature-rich to compete with our top pick – Urikar Pro 2 – but it performs great, and that made us decide it should feature here.
First of all, it is a heavy-duty massager with a telling 45lbs. stall force. If we selected our recommendations based on stall force to price ratio, then this gun is the clear winner.
As you can see, on paper, not even the Theragun Elite rivals this kind of power. We actually think the 45lbs. is slightly exaggerated, but nevertheless it is a powerful device.
To sweeten the deal even more, Lifepro gave this massage gun a 11mm stroke length. This is almost the same as the Urikar Pro 2 and will work perfectly with the surprisingly high stall force.
The percussion range is 1200-2800rpm. Now, this is good because you can start your massage at a low intensity and go up as you like it. There are 5 speeds to control the percussions.
The only thing that's uninspiring is the noise at higher speeds. This device isn't the quietest and can't compete with guns like Sportneer D9. This isn't a problem on low and medium speeds though.
It comes with a nice carrying case and 8 attachment heads that can be useful if you want to target different body parts.
Lifepro offers a lifetime warranty for this gun – the only device on this list with a lifetime warranty.
You can get it at Lifeprofitness.com, where using the MGA10 code will give you 10% off, but the last time we checked, the price was better at Amazon. Check the current price here (and remember to clip the coupon displayed underneath the price).
---
Taotronics TT-PCA004 – The Cheapest One
Another Taotronics that made it to our list. As we wrote in our earlier posts, this is a kind of hybrid between a mini gun and a full-sized one. We like to call it a compact massage gun.
It is the cheapest massage gun we have ever recommended to our readers. You can get it for a mere $50.99 after discount (see below) and it actually a pretty decent gun. And here's why:
Even though it's relatively small and lightweight (1.6 lbs.), the Taotronics TT-PCA004 has a decent 25lbs. stall force (advertised is 33lbs., but take it with a grain of salt).
We think that for the size, this is a good level of stall force. Most small/mini massage guns will not be as powerful because their role is to sooth rather than treat.
This Taotronics will do more than just get the blood flowing. It's a perfect on-the-go partner.
It has a ~9mm amplitude, you might say small, but this is standard range for mini massage guns – in fact, many of them don't go past 6-7mm.
It revs up to 3200rpm, Hypervolt percussion range. Despite of the compact size and low weight, it packs an impressive 2600mAh battery, the same as the much larger Addsfit MAX.
This is what makes this massage gun stand out. Small size, low weight, and great battery life.
Because of its dinky amplitude, it's a very quiet massage gun that will not rev past 53-54dB. It may (on highest speed) reach 55dB, but that's it. It comes with 6 attachments, and a decent quality carrying case.
DEAL ALERT: This Taotronics now retails for $59.99, or $50.99 with the TT15 promo code (15% off). This is amazing price if you consider how solid it is. Buy it right here.
MORE INFO: Navigate to our hands-on Taotronics TT-PCA004 review for more information.
---
Lifepro Dyna Mini – Best Mini Gun Under $100
The Dyna Mini really lives up to its name. It's a tiny mini massage gun that has a lot to offer those who will dare try it.
Lifepro is a successful fitness equipment company that is probably best known for their vibrating rollers. Unlike most massage guns, the Dyna Mini is made of good quality metal (aircraft grade aluminum). If you needed a guarantee on durability you've got it.
We couldn't find stall force information on their website but we did our tests and determined it was about 12-15 lbs.
While it is not much, and behind the powerful mini guns such as the Ekrin Bantam, it is still okay if you look at how small it is. Plus, to put it into perspective, a hyped and expensive Hypervolt Go has about the same stall force…
Anyway, 15 lbs stall force may not be perfect for a deep percussive massage but it will be good enough for relaxation, muscle warm-up, treating soreness and getting rid of lactic acid after intensive training. It's also a good massager for runners.
It has a 6mm amplitude to go with the stall force. Again, this is a mini massage gun range and will do what it's intended to do.
It has a percussion range of 1300-3200rpm which again is standard percussion but intensive enough for what the gun is built to do. It has 4 speeds to cycle through.
It also has a powerful battery advertised as being able to last for up to 16 hours.
In our opinion that's probably true if the device is used very minimally – probably on the lowest speed and with very little pressure applied.
Otherwise we estimate that you may run out of juice in 7-9 hours under intensive use – still very impressive!
It's a super quiet massage gun, revving between 45-53dB. It comes with 4 attachments.
Lifepro offers superb customer support and buying experience. On top of that, all their products have a lifetime guarantee.
This tiny massager costs $89.99 but you can get it for only $80.99 if you use MGA10 coupon at checkout – 10% OFF. Don't miss the deal, get the Dyna Mini here.
This is a fantastic bargain from a reputable brand that also offers a lifetime warranty for all their products.
---
Best Massage Gun Under $100 – Bottom Line
Hopefully you now know what best massage gun under $100 you would like to buy.
In our opinion the Urikar Pro 2 is the best pick with its heated massage ability, above average amplitude and unique take on ergonomics.
It is followed by Sportneer Elite D9 with impressed us with a premium feel and quiet operation.
The tiny Lifepro Dyna Mini is a neat little gun that will be the best companion if you want a percussion massager on the go.
Apart from these three, all the devices on our list will perfectly suit your needs. And you don't have to spend a fortune for any of them!
With that said, if you can stretch your budget a little further, you may want to check out our post on best value massage guns – there are some real gems in there.
PS. If you still have some doubts, or need a word of advice, feel free to drop a comment below.
Disclaimers
The views and opinions expressed on this website are those of the authors. Any content provided by our bloggers or authors are of their opinion and are not intended to malign any religion, ethnic group, club, organization, company, individual or anyone or anything.
All product names, logos, and brands are property of their respective owners. All company, product and service names used in this website are for identification purposes only. Use of these names, logos, and brands does not imply endorsement.
It is our policy to make every effort to respect the copyrights of outside parties. If you believe that your copyright has been misused, please provide us with a message stating your position and we will endeavor to correct any misuse immediately.
Some of the links in this post are affiliate links. As an Amazon Associate, we earn from qualifying purchases. This means if you click on the link and purchase the item, we may receive an affiliate commission, at no extra cost to you. This helps us keep this website alive. Learn more here.
Amazon Disclosure
massagegunadvice.com is a participant in the Amazon Services LLC Associates Program, an affiliate advertising program designed to provide a means for sites to earn advertising fees by advertising and linking to Amazon.com. As an Amazon Associate, we earn from qualifying purchases. Amazon and the Amazon logo are trademarks of Amazon.com, Inc. or its affiliates. Please refer to our Privacy & Affiliate Policy for details.