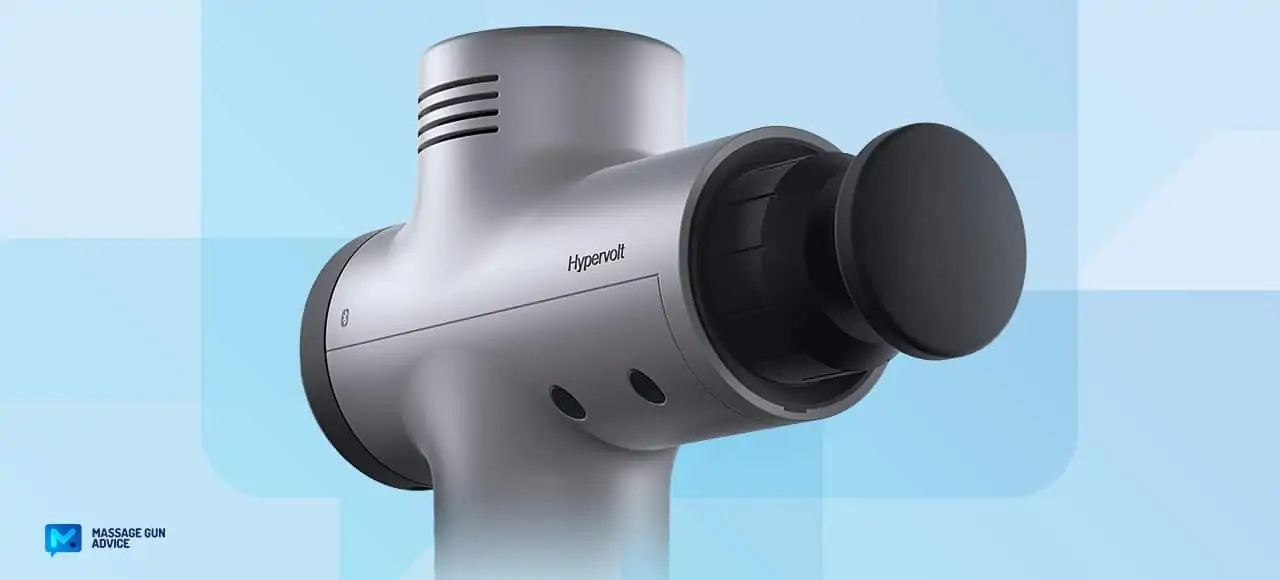 Hyperice Hypervolt Review – Is it Still Worth it?
What to Know: We independently review products we recommend. If you click on links we provide, we may earn a commission. Learn more.
---
Welcome to our Hyperice Hypervolt review in which we're going to take an in-depth dive into Hyperice's first massage gun. What's important, we'll do from the perspective of 2022.
In September 2021, Hyperice announced their new lineup of percussion massagers. It's probably best to read our Hypervolt 2 Review and Hypervolt 2 Pro Review to learn more about them.
---
---
Hypervolt – Hyperice's Maiden Product
Hyperice Hypervolt, as it was initially called (back in February 2018) was the brand's maiden product. A lot has happened since then including the addition of the Bluetooth feature that the original device did not have.
Since then Hyperice has made great moves into the sports recovery tech industry. Their Hypervolt Bluetooth device has received commendations from top celebrities in the sports world.
They have also secured some lucrative deals including a sponsorship agreement with the NBA. They have also unveiled two more massage guns; Hypervolt BT Plus and the Hypervolt Go.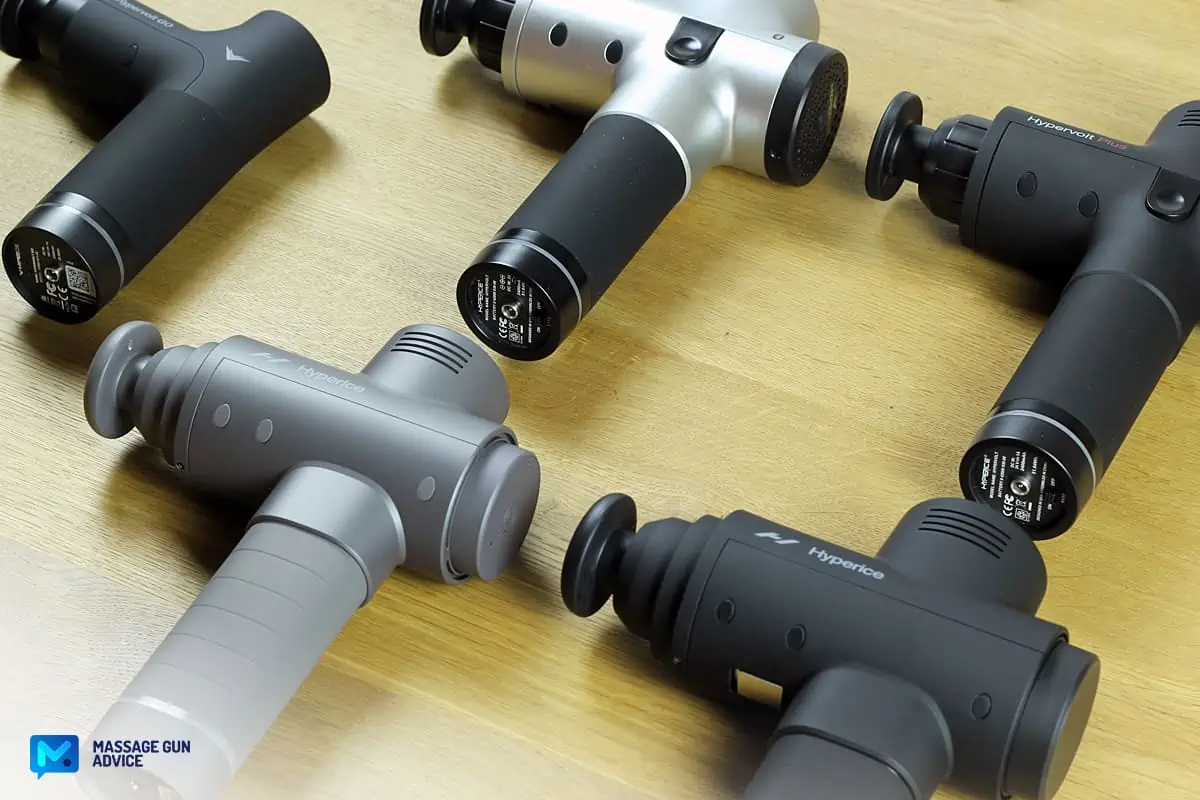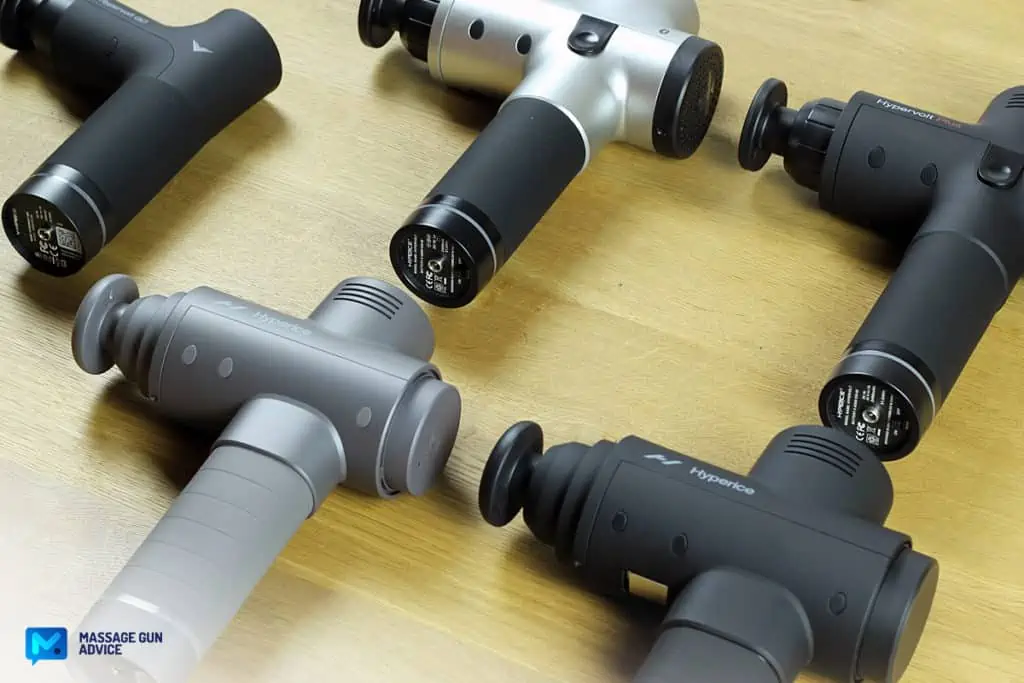 ---
Why a Hypervolt Review in 2022?
But why another Hypervolt regular (if you like) review in 2022? Simple answer would be: because it's 2022, and a lot has happened since 2018 when the regular Hypervolt was unveiled.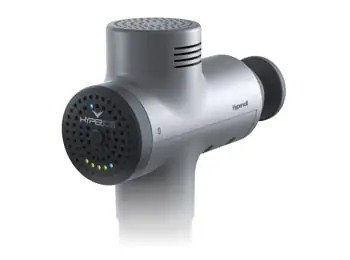 For starters, back then not many people knew about percussive therapy (apart from Theragun of course). Vibrational therapy was the recovery method that everyone was talking about.
So, while Hypervolt hasn't done much to alter their original product (except add Bluetooth connectivity to it, as far as we know), the market has changed significantly.
The vibrational therapy cake has been depleted and everyone is trying to dig into the new percussive therapy one.
The problem is that the regular Hypervolt isn't a true percussive device – it was never intended to be in the first place, it was advertised as a vibration therapy device. Even so, everyone else seems to have moved on to percussive therapy and there are literally hundreds of brands out there selling percussive devices.
Some of these brands are really innovative and if not for the lack of exposure enjoyed by Hyperice and Theragun, these brands have quite a lot to offer. We have talked about some of them extensively in our posts.
In light of these changes in the market and everyone else moving on from vibrational therapy, we thought we'd write a new Hyperice Hypervolt review.
We are also aware of what their main rivals (Theragun) have been doing since they also unveiled their first Theragun. Seeking to bring something new and interesting to their clientele every year.
But is the Hyperice Hypervolt still worth it in 2022? Does it bring anything unique to the table? These are some of the questions we'll be trying to answer in this post.
But first let's take another (enlightened) look at the Hypervolt device.
---
Hypervolt Review
Hyperice Hypervolt Specifications

Feature
Hypervolt Specs
Stall Force
~35 lbs (our estimation)
Stroke Length
10 mm
Percussion range
1800 – 3200 ppm
Speeds
3
Attachments
5 included
Weight
2.5 lbs
Dimensions
9.7 x 7 x 2.5 inches
Noise (decibel)
55-67 dB
Battery Life / Capacity
2.5 hours (2400 mAh)
Bluetooth
Yes
Pros
Durability
Battery life over time
Low noise
Varied attachments
Detachable battery
Cons
Low amplitude
So-so ergonomics
No carrying case
Time on battery
Warranty
1 year
Current Price
Check at Amazon
Hypervolt Bluetooth Specifications
---
First Impressions and Build Quality
It's the same old same old with the Hyperice Hypervolt design. Nothing has really changed from the original design. It's the once novel but now boring T-shape configuration. Many brands have copied this design and sometimes anything that isn't T-shaped is unique in the massage gun world.
Ironic enough though, when Hypervolt first came out in 2018, it was indeed unique. However, it didn't take long before everyone else copied it and made it a very common configuration. In fact, as far as design and first impression goes, no other massage gun has been copied more than this one.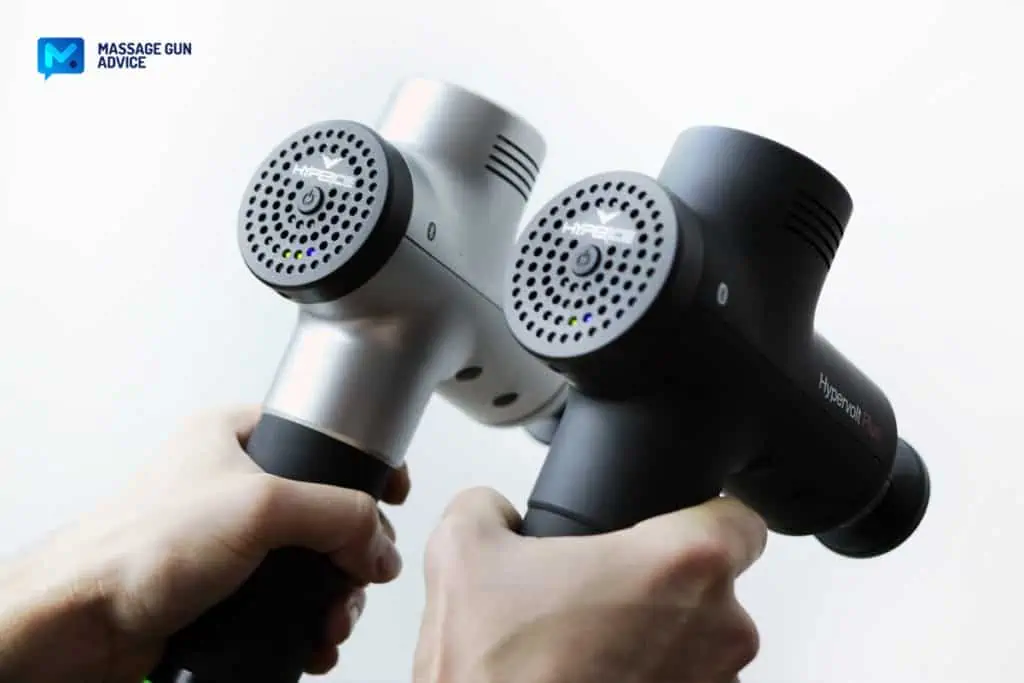 But every major brand knows this and sometimes patents protect them from knockoffs. Other times a company just gets innovative with what they do to keep their opponents guessing.
For example, despite being the pioneers in the percussive therapy market, Theragun have stayed fresh and innovative (someone might argue differently). In our Hypervolt vs Theragun post we mentioned how they have stayed on point since 2016, releasing 4 generations of devices. That is one generation of devices every year.
Hypervolt on the other hand has been almost the complete opposite. They have two new devices (Hypervolt Plus and Hypervolt Go) since their maiden product. However, nothing significant has changed about the look of that original device.
They did add Bluetooth to it later on, made some tweaks to attachments, but that's about it. No major design alterations, no significant visual tweaks either.
But some might argue, why change a winning formula? It may have been a winning formula when they kicked off but with new brands coming up with superb innovations, we're a bit disappointed by the lack of change in the Hypervolt BT device.
That said, however, we still like the top notch build quality, the rubberized handle, and the silver plastic (which feels hard for a covering but not premium, not a bummer though).
It has just one color option. It's also simple to use with the one main button operation. There are no OLEDs and LCD screens on it.
---
Operation
There is a main switch at the base of the handle, right next to the charging port. We have seen similar switches from the knockoffs – Opove M3 Pro is an example.
Once you switch the device on, press the main button to start the device.
The first press starts the device on first gear.
2nd press switches to the second gear, 3rd press to the 3rd gear and the 4th press shuts the device.
You can also turn it off instantly using the switch button.
---
LEDs
The highlight LED is the ring around the handle that illuminates in different colors to indicate different battery charge levels.
Above the power button there are 3 LEDs that indicate the speed gears. There are 3 LEDs below the button that indicate the pressure applied.
Finally there are 5 more LEDs right below that indicate the battery charge level. These double up with the ring LED but as a 5-level indication.
If you want to detach the battery, there is a battery release push-button to the side of the device. It takes a fair bit of force to detach the battery, which we guess is good (the battery won't fall off when the device is in use).
There is a small case that carries the attachments and that's it. There isn't even a pouch to carry everything else.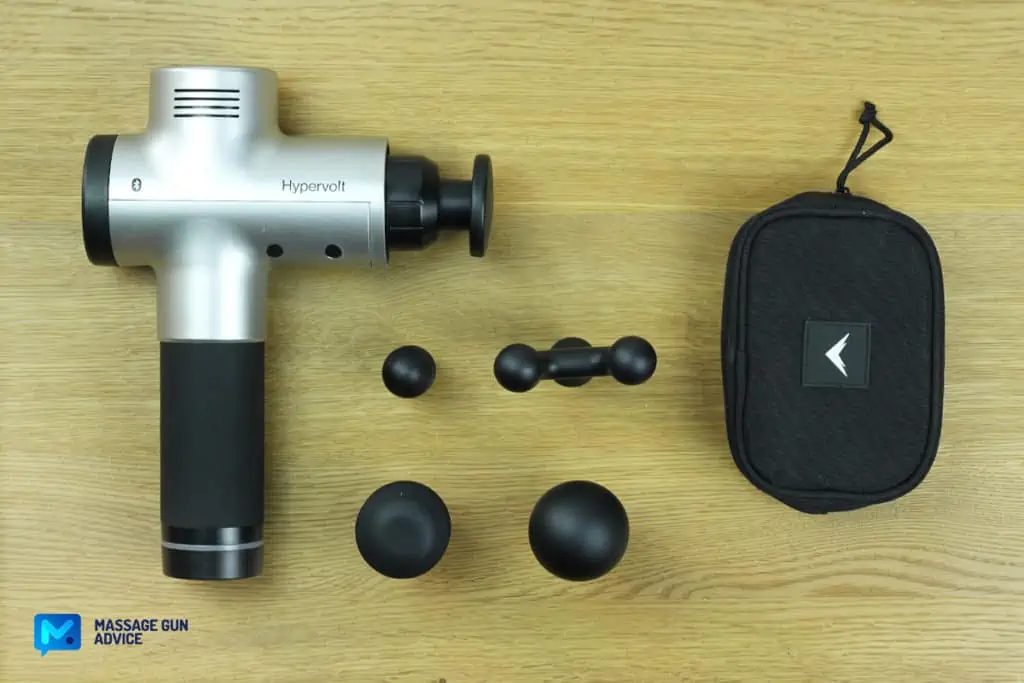 This is disappointing for a $299 device. Hyperice will sell you one for $49 if you want, or you can get a good replacement from Amazon.
There is a wall charger as well. It looks similar to many others that we've seen with many other devices. It's made of brick and detachable cable. The charger looks glossy and stylish.
There is also a Hyperice pack of cards (they do this with all their devices). The cards consist of a quick-start guide, tips on choosing the right attachment, information about the Hyperice app, customer service information, and an instructions manual.
---
Attachments
The Hyperice Hypervolt has 5 attachments and we had a lot of praise for them in our Hypervolt vs Theragun Comparison post. But here's a bit more if you don't mind;
Ball: Often the go-to attachment, it's used on large muscle groups and for a general massage.
Flat: This one is our favorite massage gun head, able to hit most parts of the body as it's very versatile. You can also use it for a general massage.
Fork: Used to massage specifically the area around the spine and the neck area. It's unique and has two prongs that go either side of the spine as you massage. We've also found that it works perfectly around the Achilles as well.
Bullet: A must-have massage gun head that is used for pinpoint treatment and deep tissue massage.
Cushion head: Usually the hybrid between the flat head and the soft ball. The cushion tweak allows it to be used along sensitive areas – bony parts.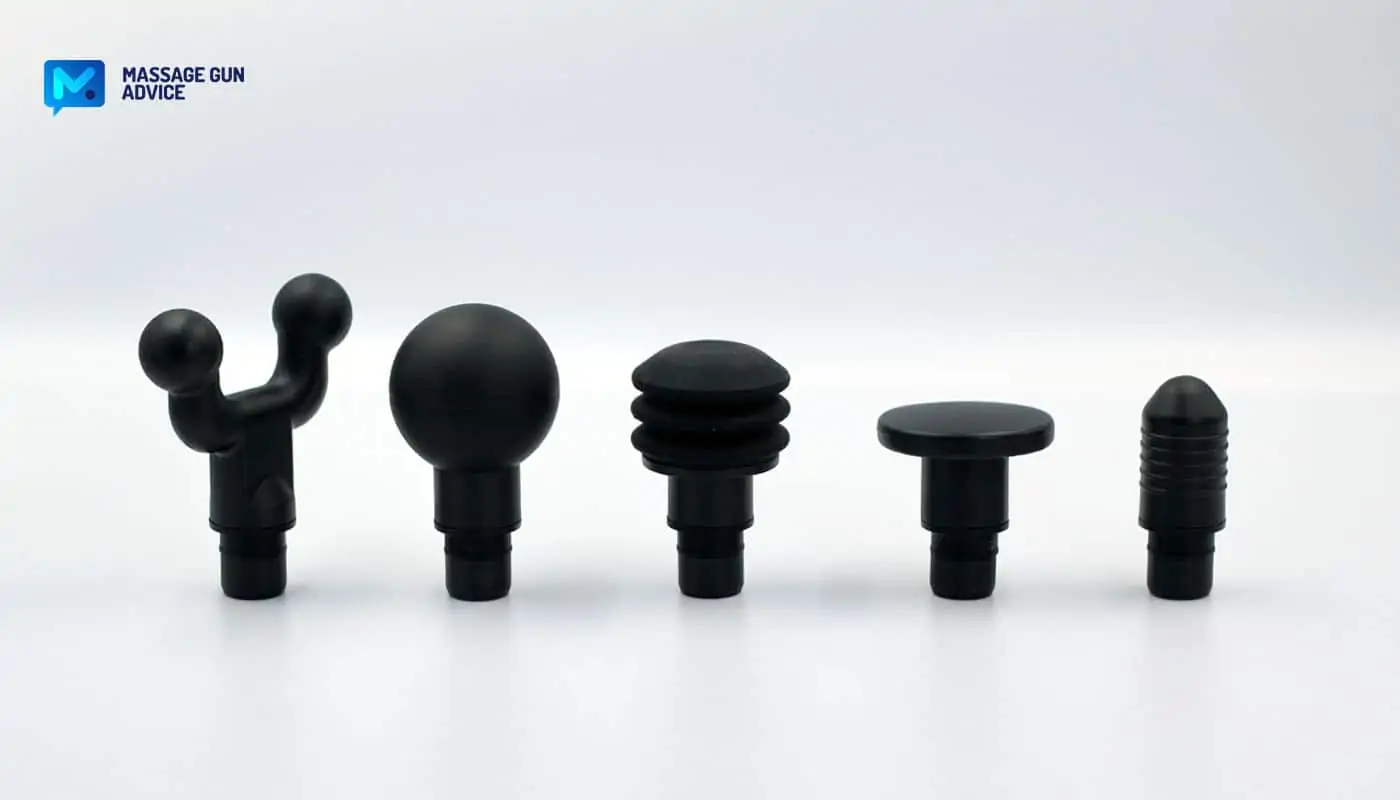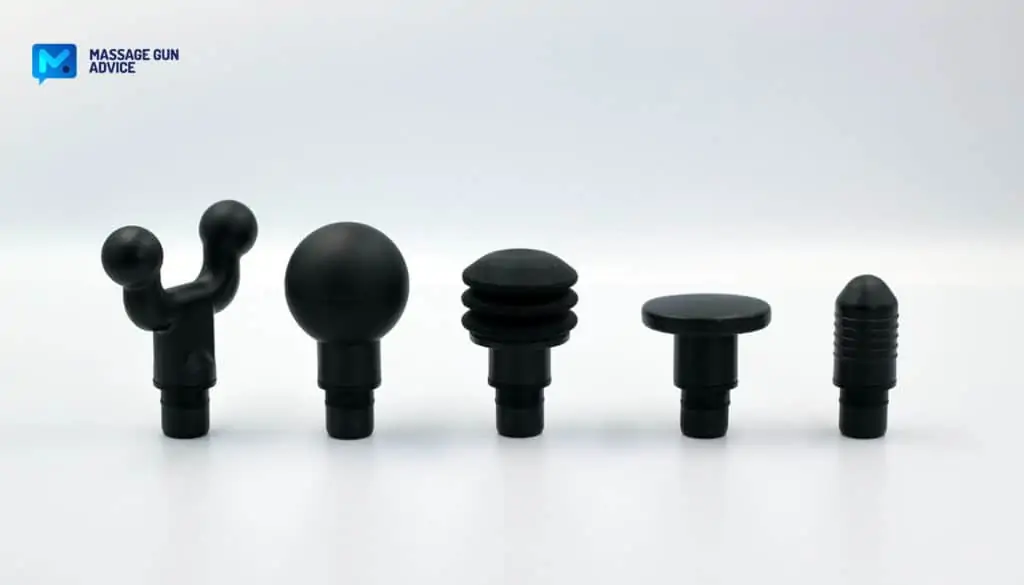 Hypervolt's attachments tend to lean on the harder side (hard plastic) compared to Theraguns's.
The flat, fork, and bullet attachments here are all hard plastic. The ball attachment is slightly squishy, but we love the cushion head because it's the softest. The fork attachment has markings that have to be aligned properly when inserting to prevent it from rotating during the massage. The other heads however, are simple push-and-pull with no special alignment required.
We saw the Supersoft attachment on Theragun Pro and we thought it would've been a great addition to the Hypervolt set of attachments. But maybe that's just us being super imposing. Either way we like the attachments on Hypervolt.
---
Size, Weight and Ergonomics
The device measures 9.7 x 7 x 2.5 (inches) which in our opinion is not too bulky but not too small either. It must have been the perfect size since it's the blueprint for many massage guns that copied its design and shape.
It weighs 2.5lbs. Again this is not too heavy but it's also not the lightest device we have seen. To be fair, most devices from rival brands don't go over the 2.2lbs mark. We saw that with Theraguns (Prime and Elite). We've also seen it with other brands like Ekrin.
Even so the device still feels well balanced.
The one area that we have been utterly disappointed with the Hypervolt is the ergonomics. It's really sad that they haven't done anything to improve the device in this aspect.
The T-shape 90-degree handle doesn't help to easily maneuver the device during a massage.
Compared to what Theragun have been doing with their devices over time, Hypervolt has disappointed big time! Massaging the back and other tough to reach spots is still not easy with this device.
The jackhammer-like shape causes tension in the wrists during a massage and can result in fatigue real quick.
We also have to mention that the handle diameter is not the best fit for those with small hands. However, we thought since the first adopters were NBA players, then maybe Hypervolt didn't have to worry about this being an issue.
With the extra weight (slightly more than its peers), large handle, and the T-shape design, we believe the ergonomics for this device is so-so.
Especially since it's 2021 when everyone from Theragun and other brands like Ekrin and Achedaway have chosen to design their products with improved ergonomics (angled handles). This provides a more natural grip and offers great balance during a massage session.
Lastly, we are hoping Hyperice will upgrade their original device soon and improve its ergonomics as well. If their new device (Hypervolt Go) is anything to go by, then we are certain that we'll soon see an angled Hypervolt Bluetooth device.
---
Performance
How does the Hyperice Hypervolt perform?
---
Amplitude
Also known as the stroke length, this is the distance travelled by the massage gun head as it hits the skin to give you the percussions. The stroke length is an important parameter that determines whether a device is percussive or just vibrational at best. The longer it is the harder it can punch deep into the muscles.
Unfortunately Hyperice have never been stroke length fans like their counterparts Therabody have. In fact, they don't even disclose the amplitude information. Theragun have always made the amplitude their number one selling point. We have always been delighted with brands that have copied Theragun in this aspect.
Even though they don't disclose the amplitude, we did our own measuring and determined that the Hypervolt device has only 10mm amplitude. This, unfortunately, is nowhere near the acceptable stroke length for a full-scale massage gun.
In fact, that is mini massage gun territory. Those can only get the blood moving smoothly, break lactic acid accumulation or treat muscle soreness and nothing more. This, to be honest, is what this device was intended to do.
Usually such devices can rev at a high intensity to help with the vibrations over the skin surface. It therefore cannot penetrate deep into the muscle to provide a percussive massage. But that's ok if what you are looking for is vibrational therapy. Don't expect it to go deep tissue though.
That brings us to the stall force. Just how hard is it to stall?
---
Stall Force
Stall Force is the amount of pressure it takes to stall the motor of a device. The harder it is to stall a device's motor the better it can perform a percussive massage.
Again, from our observation, Hyperice doesn't seem to care so much about this aspect because they don't even advertise what the stall force for this device is.
In 2022 it's absolutely important to know the stall force of a device. Many brands are improving so much in this aspect that in some of our posts we have recommended them over the so-called high and mighty (Theraguns and Hypervolts). Achedaway is a good example of a brand that has focused on making sure the stall force is good enough.
That aside, however, we have seen and tested many such devices and we estimate the stall force is somewhere in the mid 30s – let's say 35 lbs.
That sounds like more than enough for a vibrational tool. Indeed 35lbs. is more than enough for a vibrational tool which means you can press it slightly harder against the skin to sink the vibrations a bit deeper.
However, when it comes to serious stall force for a serious percussion massager, 35lbs. is entry-level at best.
We complained when we reviewed Theragun Prime because it had less than 35lbs. stall force. It actually means that the first Hypervolt is harder to stall than the entry-level Theragun. Not to exaggerate it so much though, the difference is not very big.
Even so, you still won't be able to dig deep into the glutes and hamstrings with the Hyperice Hypervolt device. It can warm the muscles, treat them after a workout or running or get you to relax at best.
---
Percussions
Hypervolt revs up to 3200rpm. This is pretty intensive. However, that is not the best in 2022. It may have been the most intensive gun when it came out in 2018, but there are more intensive guns today.
However, it seems many devices borrowed from them in this aspect – many rev up to 3200rpm.
Something else that we thought Hypervolt would at least change is the speed gears. The device has 3 speed gears and that is it (1800, 2400, and 3200 – or rather 3180 to be precise). While this may be okay, and you actually get used to it, we think a device of this kind should have at least 4 to 5 speeds.
There are 3 LEDs that indicate the current speed. You can also hear and feel the speed change – it's pretty spaced out.
Another awesome feature that Hypervolt added is the pressure indicator. It's simple enough and depicted by 3 LEDs that show how much pressure is applied. Sadly though, that is another thing that Hyperice haven't touched since they launched this device. Their rivals (Theraguns and Ekrin B37S) have done it way better with more precise visuals.
---
Performance Comparison: Hypervolt vs. Competition
Let's see how the Hypervolt compares against it's most popular competitors.
---
Our Take: Hypervolt is a vibrational therapy massage gun, so it lacks high amplitude when compared to percussive therapy guns. With just 10mm of amplitude, it won't be able to provide a deep tissue massage. The stall force, however, is actually quite decent for a device of this type.
---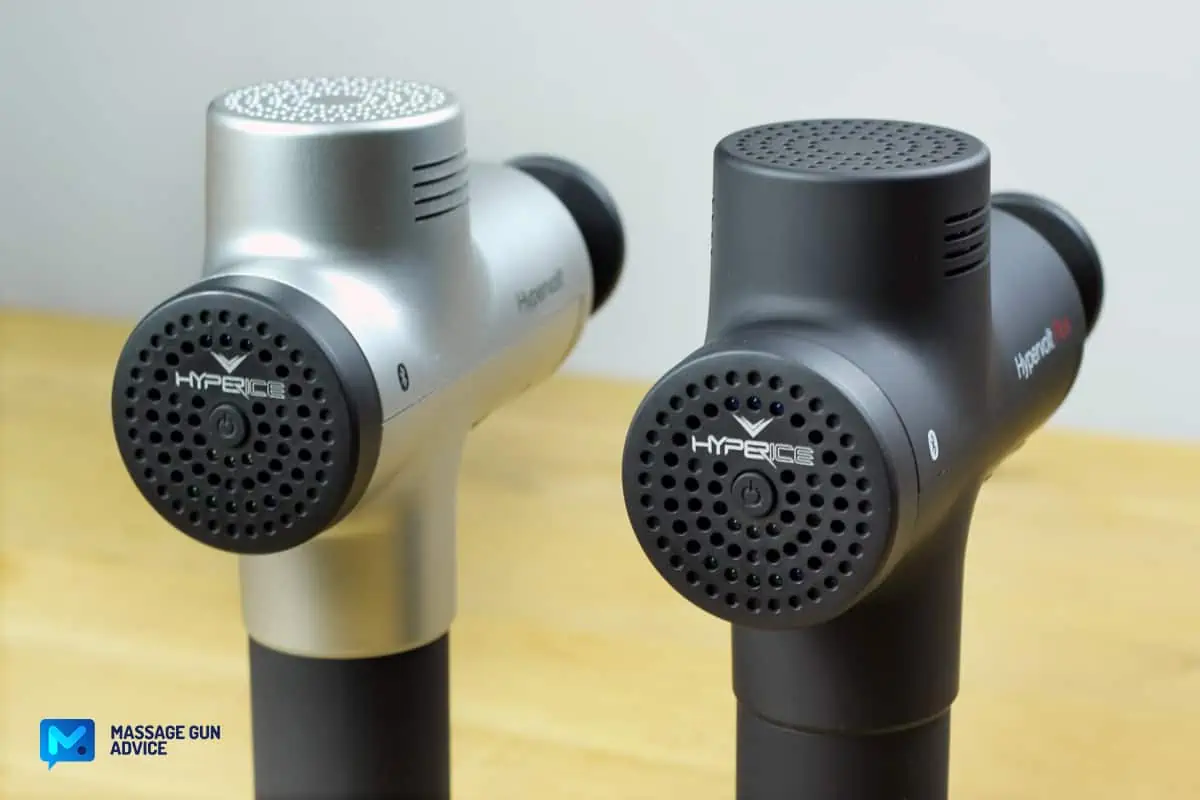 ---
Noise
Hyperice has always known how to handle the noise business. They may not have the aspects of a percussive massage gun (long amplitude and enough stall force as Theragun), but their device is very quiet. It was quiet back then, it's still quiet in 2022.
Expect 40 to mid 50s decibels. It won't disturb your conversation. Theragun have their 4th generation of devices but they have been unable to keep them hushed. But it can be argued that Theragun has a long amplitude which tends to make the device noisy.
That said, the Hypervolt device rattles quite a bit when pushed hard against the skin.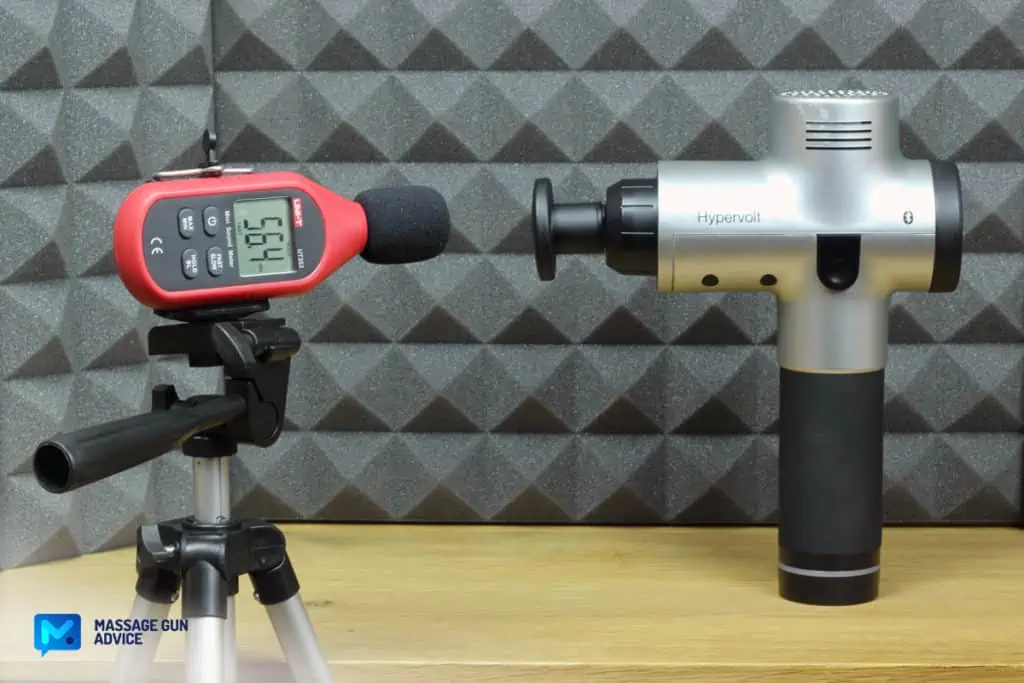 ---
Battery
Hypervolt has a 2400mAh capacity battery that will last up to 2-2.5 hours on a single charge, as advertised by Hyperice.
However, that number may vary depending on how you use the device. When used on higher speeds and stalled often (tends to happen a lot), the battery drains faster.
One thing with large capacity batteries is that it adds weight to the device. Hypervolt's battery is more average than large capacity which makes us wonder why it's over the average 2.2lbs threshold.
That said, 2 hours on battery is good enough. Also, since the battery is detachable, you can easily replace the drained battery with a fully charged one to keep the session going.
Another thing is that since the Hyperice Hypervolt happened in 2018, batteries in massage guns have evolved. Brands now promise up to 6 hours on a single charge (similar capacity).
The LED ring on the handle will light bright green when the battery is fully charged. The 5 LED indicators will also light up. It takes about 3 hours to fully charge the device.
---
App
Mid last year (2020) Hyperice added Bluetooth to their main device and it became compatible with their Hyperice smartphone app.
The app has how-to guides, guided routines (videos) and can take over the operation of the device. You can learn how to use a massage gun as you watch professional athletes use it on themselves. You can watch the athlete using the device and you can then apply what you see on yourself.
What else to know about it:
The speed automatically adjusts.
We didn't see the pressure applied last time we checked for an update. We are used to it when using our Theragun devices with the Therabody app.
You will not be able to add any custom speeds like you can with the Therabody app. There are 3 built-in speeds and that's it.
That said, we have a feeling Hyperice will be updating their app to include more features as time goes by. We have seen them add new routines and new content. We believe once they have all their devices hooked to the app then there will be more added to it.
---
Is Hypervolt still worth it?
In September 2021, Hyperice announced their new lineup of percussion massagers. It's probably best to read our Hypervolt 2 Review and Hypervolt 2 Pro Review to learn more about them.
Hypervolt still charges a premium on their regular Hypervolt device. Until recently it was $349 on Hyperice's website, but now, once the new Hypervolt 2 has been unveiled, it's $249. The old one is still available on Amazon, you can check the price here.
We could argue that now at least the price is appropriate but still very expensive for a vibrational therapy device.
Our Take:
We know that Hypervolt is already a proven device. The early units are still operational since the device came out in 2018 – 3 years on. That means it's a quality and durable product.
But when it comes to what really matters, the hardware feels outdated. If Hypervolt was novel when it came out, it no longer is. Many brands caught up with them and went a step further. The only major upgrade we have seen with Hypervolt is the Bluetooth addition.
The market has shifted towards percussive devices – offering longer amplitudes and more stall force. These are lacking in Hypervolt and make the device, to say the least, obsolete. However, they do have a percussive device in Hypervolt Plus.
Hypervolt Bluetooth is still a solid device for what it does. However, for $299 there are many far better devices that offer more for less. We have shared some of them in our review below.
Check out what actual customers think of Hypervolt Bluetooth – read Amazon reviews here.
---
If not Hypervolt then What?
---
Ekrin B37
Ekrin B37 is definitely the best Hyperice Hypervolt alternative because it has everything that is lacking in it.
For starters, the ergonomics on this device are greatly improved with the angled handle. The device is compact and weighs 2.2lbs (vs 2.5lbs on Hypervolt). It also feels very well balanced.
It has more power and better performance stats compared to what we get with the Hypervolt BT device. For instance, the amplitude is 12mm – good enough to punch deeper into the muscle tissue and offer percussive therapy.
It also has nearly twice Hypervolt's stall force – 56lbs. compared to approximately 35lbs. It has the same percussion range (up to 3200rpm) but starts at a way lower intensity (1400rpm compared to 1800rpm on Hypervolt). This means you can have a delicate massage with it.
It doesn't have a pressure sensor but if you want one you can go for the slightly expensive Ekrin B37S – it has one of the best executed pressure sensors we have ever seen.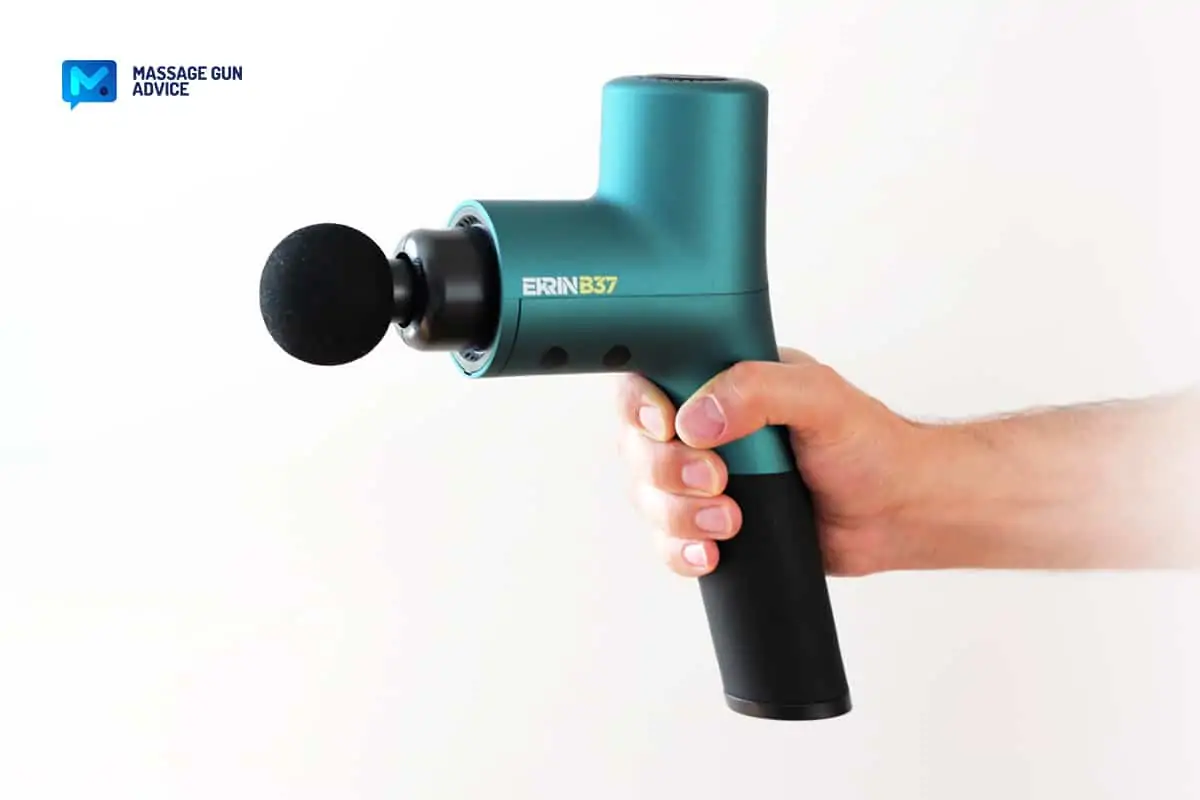 The battery can't be detached but it's a Samsung branded battery that can last up to 8 hours on a single charge. It has similar noise levels and comes with 4 attachments (nicely varied) with a carrying case.
Ekrin offers a lifetime warranty and amazing lifetime customer support.
Normally the price is $229 but with our MGA20 (20% OFF) coupon you can buy it here at only $183.99.
---
Lifepro Sonic LX Professional
Here's a Hypervolt alternative that resembles it. We are talking about the shape and design. Sonic LX Professional has the same T-shape long handle design as Hypervolt.
It however, has very interesting performance features. For instance, it has a 12mm amplitude – same as Ekrin B37 and definitely more than Hypervolt's meager 10mm.
The stall force is not as good as Ekrin B37 but it's somewhere in the mid 30s. It has a 72 watt motor compared to Hypervolt's 60 watt. Because it has a better amplitude, even though the stall force may be somewhat similar, it can actually perform a percussive massage.
Surprisingly it's more intense than Hypervolt. It revs up to 3400rpm. It also has 9 speeds compared to Hypervolt's 3. We wouldn't say it's necessarily better, but it's a different setup nonetheless.
It's lighter than Hypervolt – weighs 2.2lbs compared to Hypervolt's 2.5lbs. It has 7 amazing attachments including 2 metallic ones. It has a better battery that can last 3-4 hours of continuous usage. A carrying case is included.
Lifepro is a well-known brand that offers great massage guns at reasonable prices and offers lifetime warranties for their products.
Normally the device costs $199 but with our MGA10 you get 10% OFF which then makes it $179 only. Get it here.
---
Which Theragun Model Compares to this Hypervolt?
For the regular Hypervolt Bluetooth, the best Theragun to match it will be the entry-level Theragun Prime.

They have nothing similar in terms of design, but we can compare the performance stats. Theragun Prime has the long 16mm amplitude (synonymous with Theragun) which makes it a full-scale percussive therapy device. It however, has a slightly weaker stall force compared to what Hypervolt offers.
It costs the same as Hypervolt – $299. In our opinion, however, both Ekrin B37 and Lifepro Sonic LX Professional offer the best bang for your buck and include lifetime warranties and customer support.
If you are thinking of going for Theragun, read our in-depth Theragun vs Hypervolt comparison where we provide all the details.
---
Review Conclusion
It is 2021, and what was hot in 2018 when the Hyperice Hypervolt came into being is cold and stale. During this time, Hyperice likely hasn't bothered to iterate on their product design in more than just the one way (added Bluetooth).
Our initial Hypervolt review covered the product as it was back then; a great vibrational device, capable of warming up the muscles, treating soreness, breaking up lactic acid accumulation and for a soothing massage.
However, today, Hypervolt Bluetooth seems to lack what it takes to compete authoritatively in the percussive therapy market. While it's still a very high-quality product, there are simply better devices that offer more value for money.
Our Hyperice Hypervolt Rating
Quality

Effectiveness

Usability

Accessories

Price Value
Summary
Still a great and solid vibrational device but lacks the specs to make it a percussive device for deep tissue massage. It has a bit outdated design and so-so ergonomics. It has not been significantly upgraded over time (apart from the addition of Bluetooth). The price is too high for what it does and it's therefore not the best value for money device.
Was this article helpful?
Thanks for your feedback!
Post Update History
Here's a quick rundown of all the tweaks and edits we've made to this article to keep it accurate and up-to-date!
Current version last updated on:
November 19, 2023 A few changes in content, new photos added, and improved linking. (Author: Greg)
September 19, 2023 Minor linking changes. (Author: Greg)
•
Written by:
Greg Szostak
Disclaimers
The views and opinions expressed on this website are those of the authors. Any content provided by our bloggers or authors are of their opinion and are not intended to malign any religion, ethnic group, club, organization, company, individual or anyone or anything.
All product names, logos, and brands are property of their respective owners. All company, product and service names used in this website are for identification purposes only. Use of these names, logos, and brands does not imply endorsement.
It is our policy to make every effort to respect the copyrights of outside parties. If you believe that your copyright has been misused, please provide us with a message stating your position and we will endeavor to correct any misuse immediately.
Some of the links in this post are affiliate links. As an Amazon Associate, we earn from qualifying purchases. This means if you click on the link and purchase the item, we may receive an affiliate commission, at no extra cost to you. This helps us keep this website alive. Learn more here.
Amazon Disclosure
massagegunadvice.com is a participant in the Amazon Services LLC Associates Program, an affiliate advertising program designed to provide a means for sites to earn advertising fees by advertising and linking to Amazon.com. As an Amazon Associate, we earn from qualifying purchases. Amazon and the Amazon logo are trademarks of Amazon.com, Inc. or its affiliates. Please refer to our Privacy & Affiliate Policy for details.