Best Massage Gun for Athletes – Our Picks & Everything Athletes Should Know
What to Know: We independently review products we recommend. If you click on links we provide, we may earn a commission. Learn more.
---
Being an athlete, you know the importance of recovery in your training routine. And we're betting you're well aware that a massage gun can be beneficial (we'll explain how). But here's the kicker: not all massage guns are the same.
In this post, we'll tell you about our top five best massage guns for athletes. These devices have proven their performance in our tests (evidence included; just scroll) and offer features that pro athletes will value.
---
Understanding The Benefits
Whether you're into running, cycling, swimming, or hitting the golf course, percussive therapy can help your key muscles be ready for peak performance during training and competition.
We spoke to our experts and checked studies, finding that while massage guns may not be total game-changers, they can be valuable in your daily training routine.
Why reach for your massage gun?
Pre-Workout: Massage guns can help stimulate blood flow to your active muscles​1,2​.
Post-Workout or Competition: They can help you speed up muscle recovery and rejuvenate your nervous system​3​.
Nighttime Regimen: Finally, they can contribute to improving sleep quality and tissue repair​4​.
And here are our answers to three important questions we hear all the time:
Are massage guns worth it for athletes?
Yes, definitely! Massage guns are worth it for athletes as they provide numerous benefits.
They enhance recovery by reducing muscle soreness and stiffness after intense workouts or competitions. Massagers also improve circulation by stimulating blood flow, delivering oxygen and nutrients to the muscles while removing waste products. They help increase flexibility and range of motion (important for so many sports) by loosening tight muscles and fascia, which in turn reduces the risk of injury.
Additionally, they can be used for pre-workout muscle activation to ensure peak performance and provide pain relief by releasing tension and stimulating endorphins. Finally, they promote relaxation and a sense of well-being by reducing muscle tension.
Overall, athletic massagers are a valuable tool helping to maintain optimal muscle health and enhance performance for maximum sport effect.
TIP Learn more about the benefits of massage guns here.
How often should an athlete use a massage gun for optimal results?
The frequency and duration of massage gun usage depend on the specific goals an athlete has in mind, as well as their individual needs and preferences, and the intensity of their training schedule.
Athletes can use a massage gun 2-3 times a day, for different purposes. For muscle activation before a workout, use the massage gun for 30 seconds on the muscles to be exercised. If muscles get cold during the workout, a 15-second session can help reactivate and relieve muscle spasms and fatigue.
For muscle recovery, usually after a workout or strenuous activity, float the massage gun over the affected area for 2 minutes to help alleviate pain. Under normal circumstances, it's recommended to pass the massage gun over a section of the body for at least 15 seconds, but not exceed the 2-minute mark. A full-body massage should take about 15 minutes.
It's essential to listen to your body and adjust massage gun usage accordingly. Using the device for too long may lead to soreness and further muscle fatigue. The provided guidelines are general, and athletes should seek more personalized advice if needed.
TIP Check out our article on how to use a massage gun properly and effectively.
What massage gun do athletes use?
Top options that athletes usually pick for their athletic massager include Theragun Pro, Hypervolt 2 Pro, Achedaway Pro, Ekrin B37S, and Bob and Brad D6 Pro (all of which we've reviewed hands-on in this article). These massage guns offer various features, and come from reliable brands with good warranties ensuring they can withstand heavy use.
When selecting, athletes should also look for a range of attachments to target different muscle groups a wide percussion range (especially if amplitude isn't the highest), and a reputable brand with solid warranty coverage (take a look at Ekrin with its lifetime warranty!). We will discuss that in details just below.
TIP Are you a running athlete? If so, here you will find our dedicated recommendations for massage guns for runners.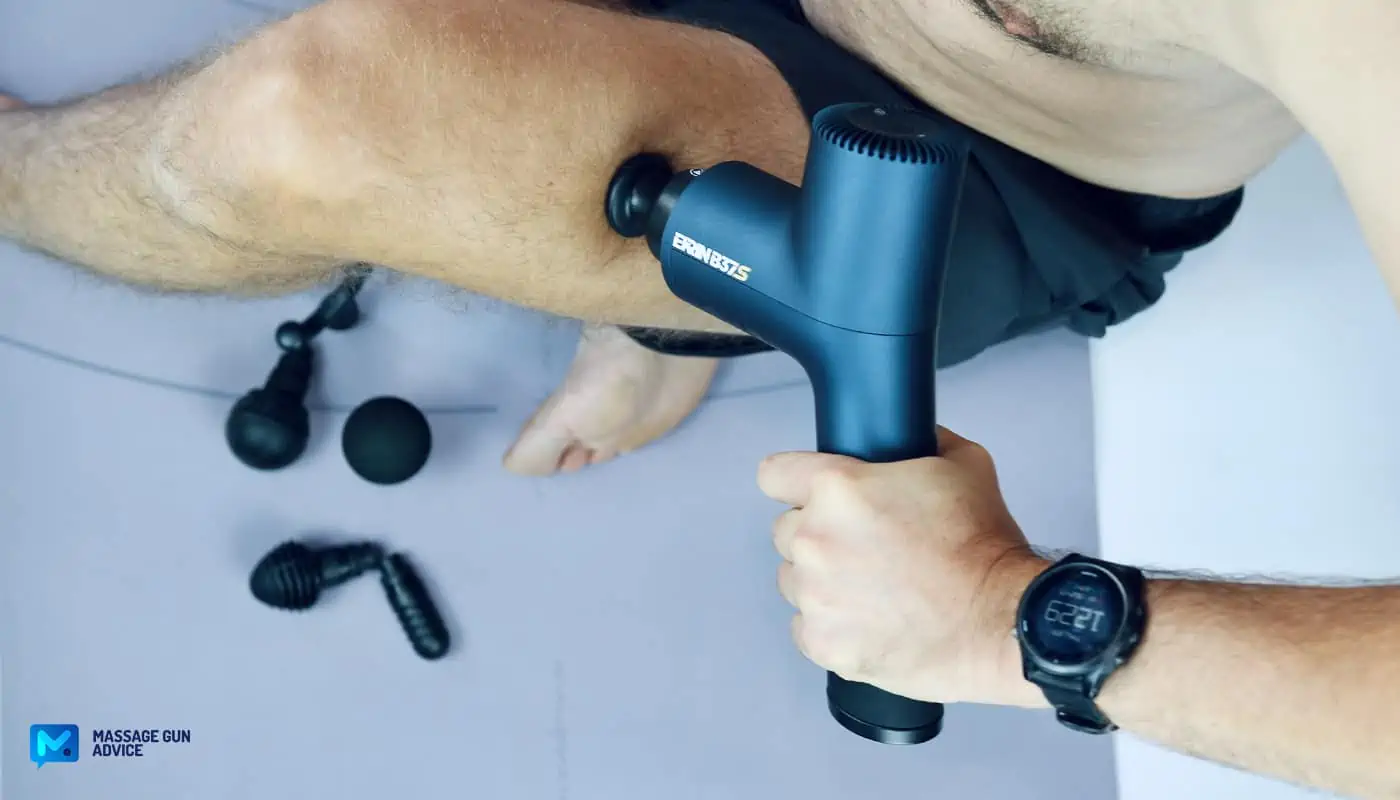 ---
Our Top Massage Gun Picks for Athletes
After testing a bunch of massage guns throughout the years of this blog, we picked these five as the best options for pro athletes. We'll back our choices with solid arguments.
---
Ekrin B37S – Best Overall
Why we like it:
Versatile and powerful massage gun
Variety of attachments, including a cushioned one
Excellent quality overall
Lifetime warranty
Ekrin's latest device and by far the most powerful. It's a significant improvement of its predecessor, the Ekrin B37 (reviewed here).
If you have time to go through their consumer feedback page (where they have a dedicated section with real buyers' reviews on the product page here), you'll quickly see just how much athletes adore this massage gun.
Performance
It has the same 56lbs. of stall force as the B37 but there's 30% more power on those lower speed gears. This makes it a very versatile massage gun considering that many other massage guns only achieve high stall force on the highest speed gear.
Apart from the high stall force, it has a 12mm amplitude – you won't need more with the high stall force.
It has a 2000-3200 ppm percussion range and 5 speeds to cycle through. The 5th speed has a dynamic mode that allows you to cycle between the highest and lowest speeds.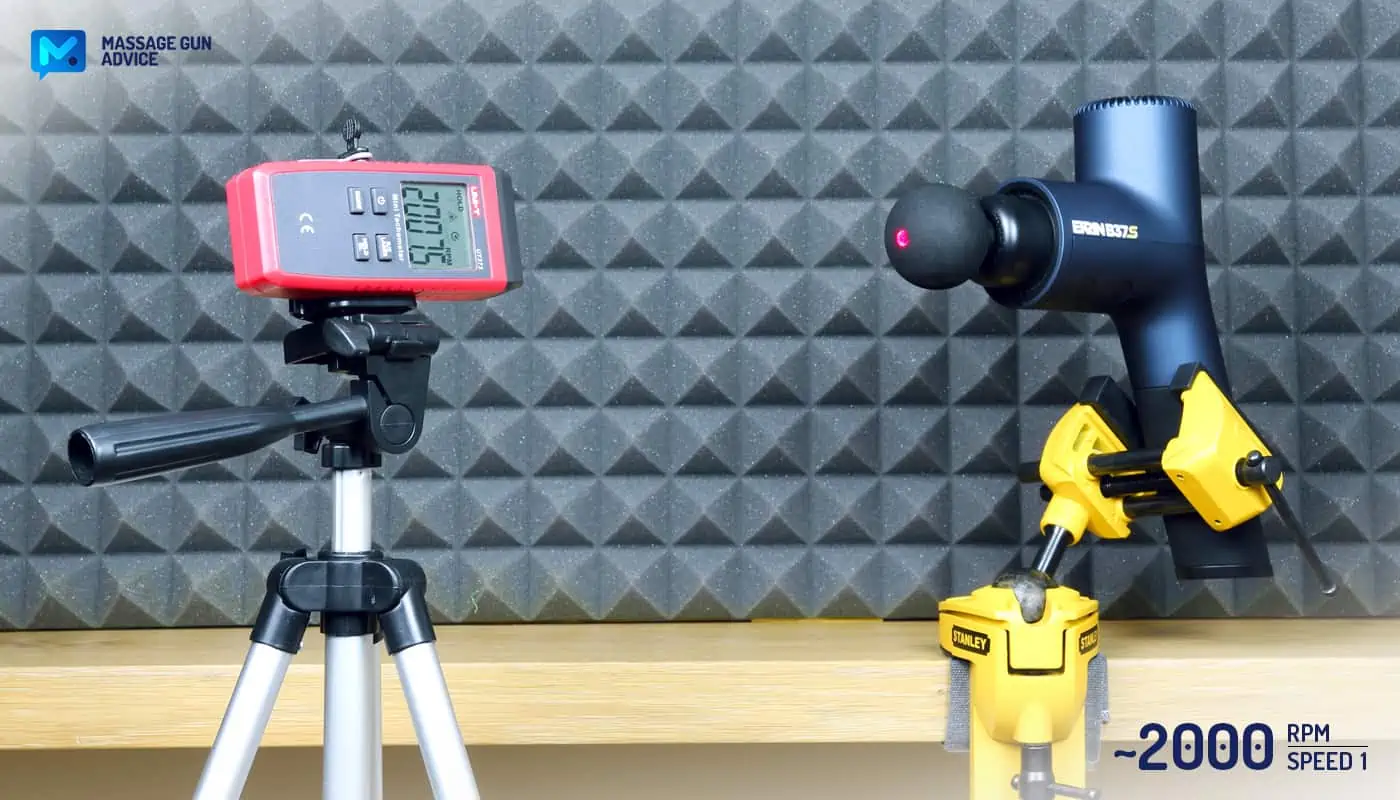 Other Features That Matter
B37s comes with 6 nicely varied attachments. The attachments have the easy to use "push and twist" locking mechanism – much more convenient than a traditional locking mechanism when you need to forcefully push the attachment in (and then pull it out in the same way).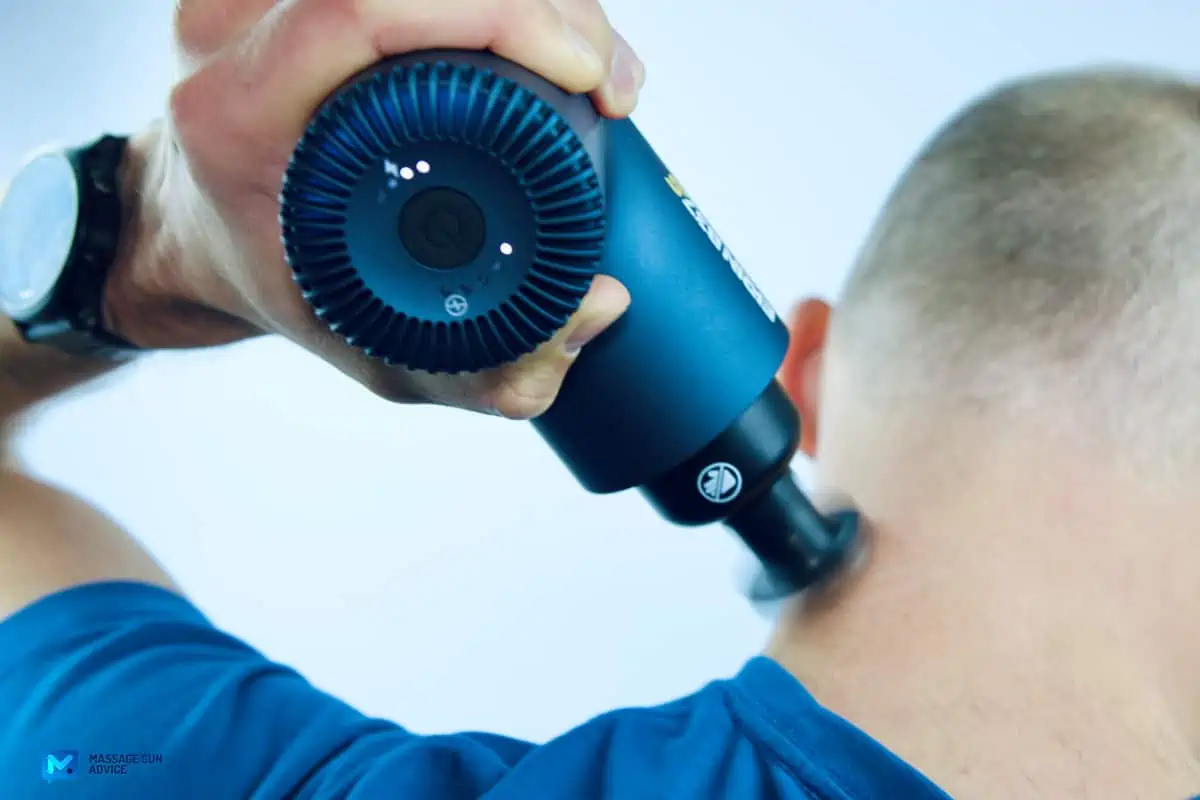 It's a one-button operating device with simple but effective LED lights indicating speed and battery charge level.
The typical Ekrin slanted handle provides excellent ergonomics and a firm grip (a rubberized handle also helps here).
The B37S features a retroactive force meter (a blue ring at the top of the device) – the best execution we've seen.
Why? It's much easier to see this large glowing ring than the small LEDs on the Hypervolt, or the thin lines on the Theragun or Bob and Brad's display. Keep in mind, you'll be reading it when you press hard, and that's when everything shakes and vibrates.
What more?
It's a light device, weighing just 2.2lbs. It's reasonably quiet and comes with a Samsung branded battery.
It has a lifetime warranty and lifetime customer support from very enthusiastic Ekrin support folks.
Price and Where to Buy
HOLIDAY SALE
Get a whooping $100 OFF the top-shelf Ekrin B37S massage gun. Only $231.00, down from $329.99. Grab the deal now!
It usually costs $329.99 but with the MGA20 coupon, you can get it for only $263.99. The price is slashed by 20%. You can buy it right here, at ekrinathletics.com
Read More Find out more in our hands-on Ekrin B37S review →
---
Achedaway Pro – High Amplitude, High Performance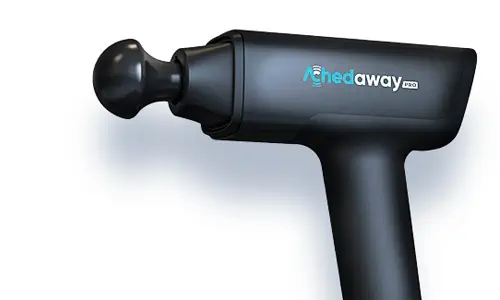 Why we like it:
Impressive stall force
Great size and ergonomics
Excellent quality overall
Accessories
Another massage gun that we love recommending to our readers. It's a different value proposition from our top pick above, but most athletes will appreciate what it has to offer.
Performance
For starters, it's the most powerful gun on our list. Achedaway advertise the stall force as 80lbs. However, we did our tests and found out it's about 60lbs. or perhaps 65lbs. which is amazingly powerful. Perhaps even more powerful than the mighty Theragun Pro.
To make things even better, it has a 16mm amplitude (the best in the business). The combination of high stall force and high amplitude makes this gun the perfect fit for guys with a lot of muscle mass (think bodybuilders and weightlifters).
It has a percussion range of 1700-2800rpm – not as intense as the Ekrin B37S above but something different given the high amplitude. It doesn't have a pressure sensor but comes with a detachable battery (you can get it with a spare battery too).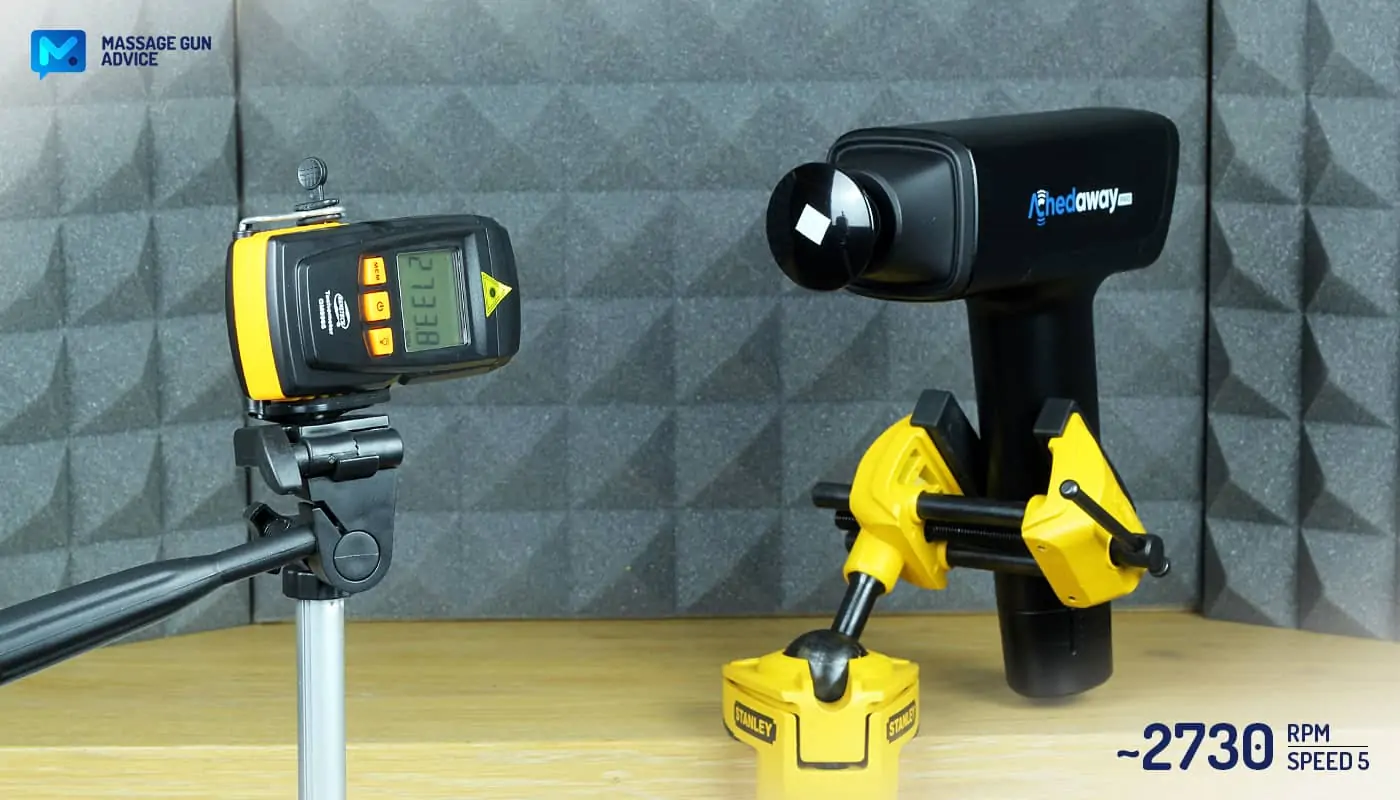 Other Features That Matter
The battery has 3200mAh capacity. However, the time on battery isn't as impressive as what is on Ekrin B37S – 2-4 hours compared to B37S's 8 hours.
So if you plan to use it extensively, it would be wise to buy it with a spare battery.
It's also a very quiet massage gun – quieter than the B37S. We measured the noise level and got 45dB to just over 60dB.
One thing that might bug some folks is the fact that it's heavier than the B37S – weighing 2.6 lbs. Achedaway Pro is a bit bulkier because of its size. But, it really comes down to personal preference as some people might actually find the extra weight helpful for applying effective pressure during use.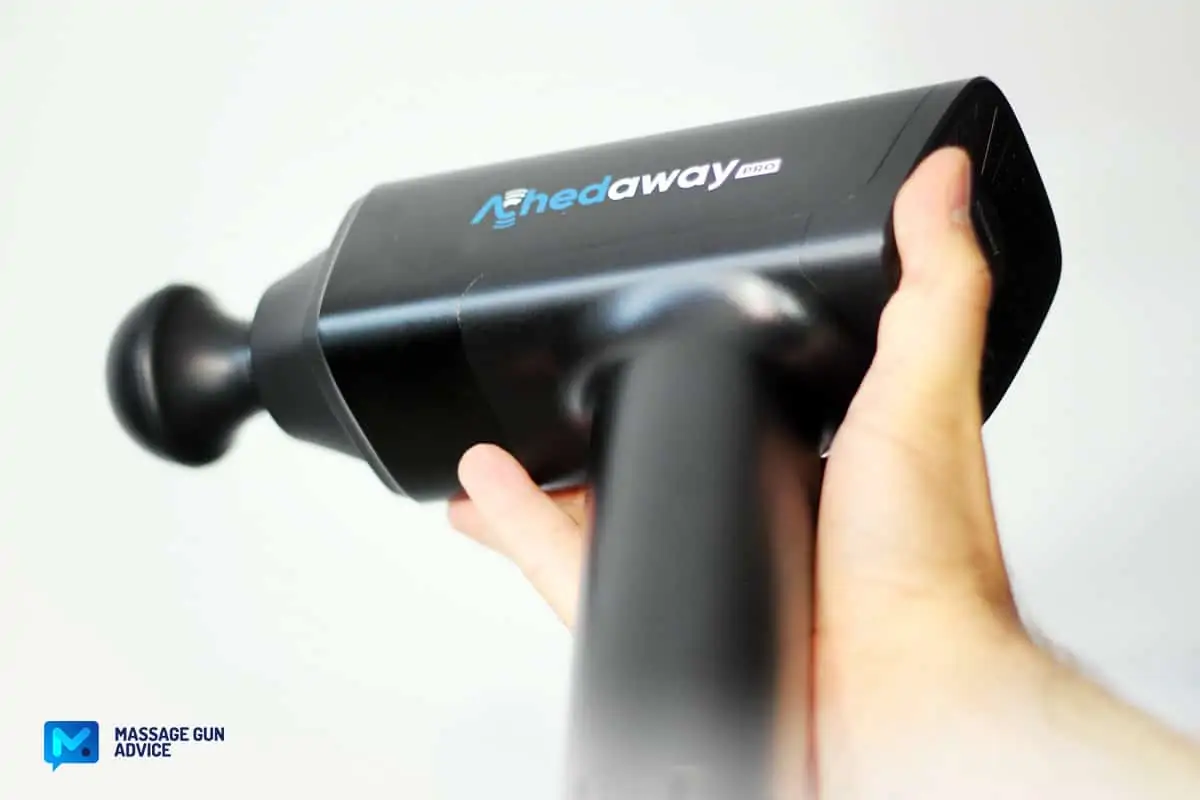 Price and Where to Buy
It usually costs $299 but with our exclusive MGA60 code ($60 off) you can get this device for $239 at achedaway.com. It is even cheaper than the B37S, and totally worth it.
Read More Find out more in our complete Achedaway PRO review →
---
Opove Apex – High Amplitude, Affordable
We finally got our hands on this latest Opove massage gun, tested and reviewed it here. So, what did we find?
Opove has gotten especially innovative with ergonomics (it's super easy to use and maneuver, see photos below) and has also introduced some good performance features in this device.
Performance
For starters, it is a high amplitude device – 14mm that we confirm (to be true it's even 14.5mm). While this is 2mm less than Achedaway Pro or Theragun, it is the same as the new Hypervolt 2 Pro. Rest assured, it is capable of giving a good punch.
The stall force is also pretty good. It ain't a 60lbs monster, but it does a reasonable 45, maybe 50lbs. We think it is strong enough, and even demanding athletes should find it sufficient.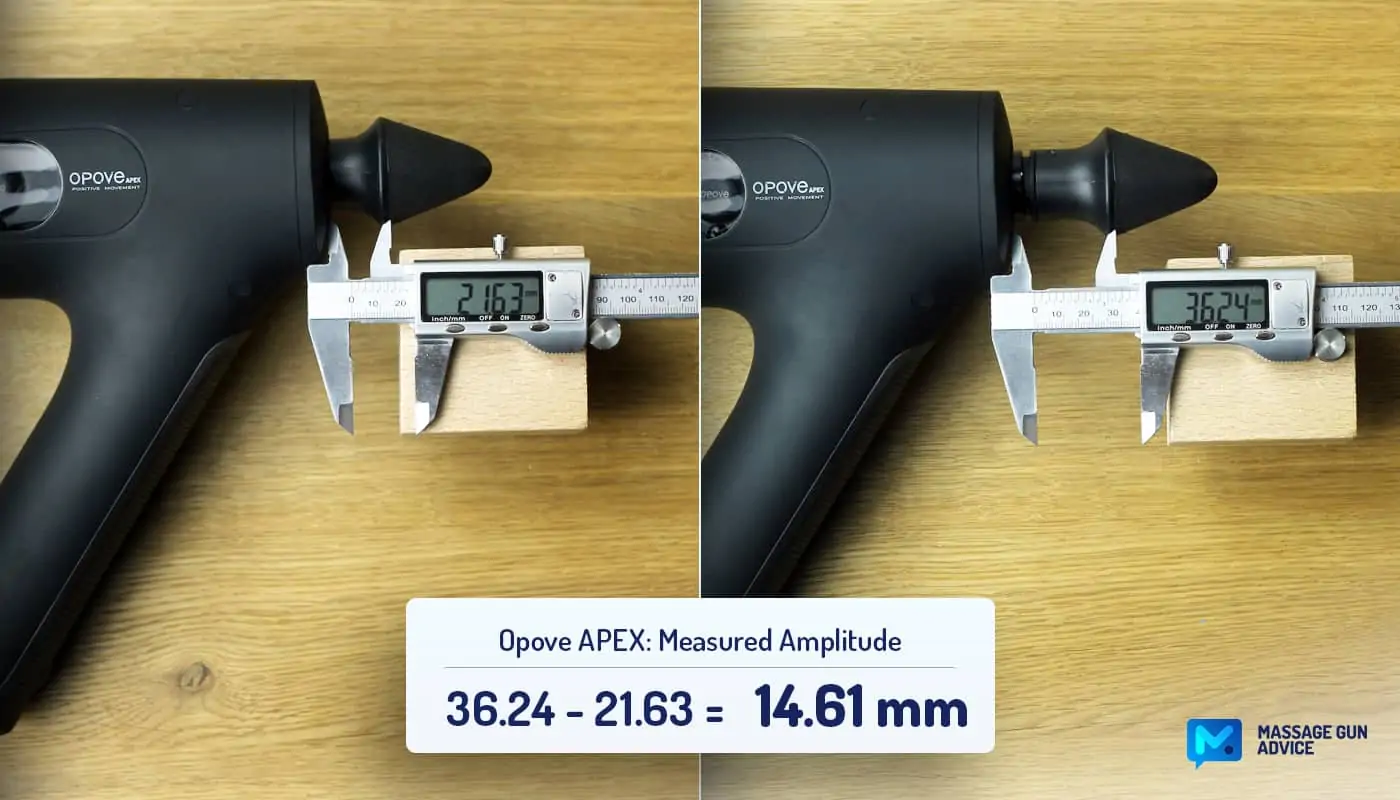 Other Features That Matter
It doesn't come with a pressure sensor or other fancy features, but you're not missing anything essential here. It is a solid percussion massager and likely the best value for the money device when it comes to high amplitude massage guns.
Plus, the weight and balance of this device, and how well it holds in hand is just fantastic.
We also appreciate the variety and quality of the included attachments. The only drawback is that the fork head could be more classic shape to perform its job better. Right now, the two prongs look rather thick, and the gap between them is really small. But this isn't a deal-breaker; it's more like a yellow card.
Given the nature of its build, it's reasonably light – 2.27lbs; just a tad heavier than Ekrin B37S. It's a quiet one too. Perhaps not as quiet as Achedaway Pro but very close.
It promises up to 2-3 weeks on a single charge. Realistically however, you get 5-7 hours depending on usage – still pretty awesome.
Any cons? Well, not many.
It doesn't rev as fast as other devices with the similar amplitud – that could be the only one. It only does 2300 rpm on its top speed (it has three) which is short of Theragun Pro's 2400, Hypervolt 2 Pro's 2700 or Achedaway Pro's 2800. But does it matter? We don't think so, it does the job pretty well.
It has a 1-year warranty, a bit sad it's not more, but comes at a great price.
Price and Where to Buy
The Opove Apex normally retails for $199 but you can currently get it for just $159 – that's 21% off. Buy it at Opove.com.
Read More Refer to our ihands-on Opove Apex review for more details and pictures.
---
Lifepro Dynaflex – Adjustable, Fastest Revving

If you find our top picks expensive so far, here's one that gives you power and versatility and comes at a great price – almost a steal given what you are getting.
It has an interesting design – perhaps a bit uninspiring in 2023, but featuring long handle, and an adjustable arm that locks in one of four different positions. The adjustability works great, and allow you to reach hard-to-reach areas with ease. It also comes handy when giving a massage to another person.
Performance
In terms of power, it is a solid machine. It has 45lbs. of stall force and 13mm amplitude, which is within our recommended threshold.
But while the amplitude and stall force combination here already mean decent performance, the main intensity/power of this device comes from a super high 3300 rpm maximum percussions (per minute) – the highest revving device on our list.
It has 16 speed setup to go with it, which feels way too many, but is perhaps justified given the wide percussion range this device offers (1500 – 3300 rpm).
We love that you can start as low as 1500 rpm – not many guns start that low. This can be quite helpful when you want a slow warm-up massage.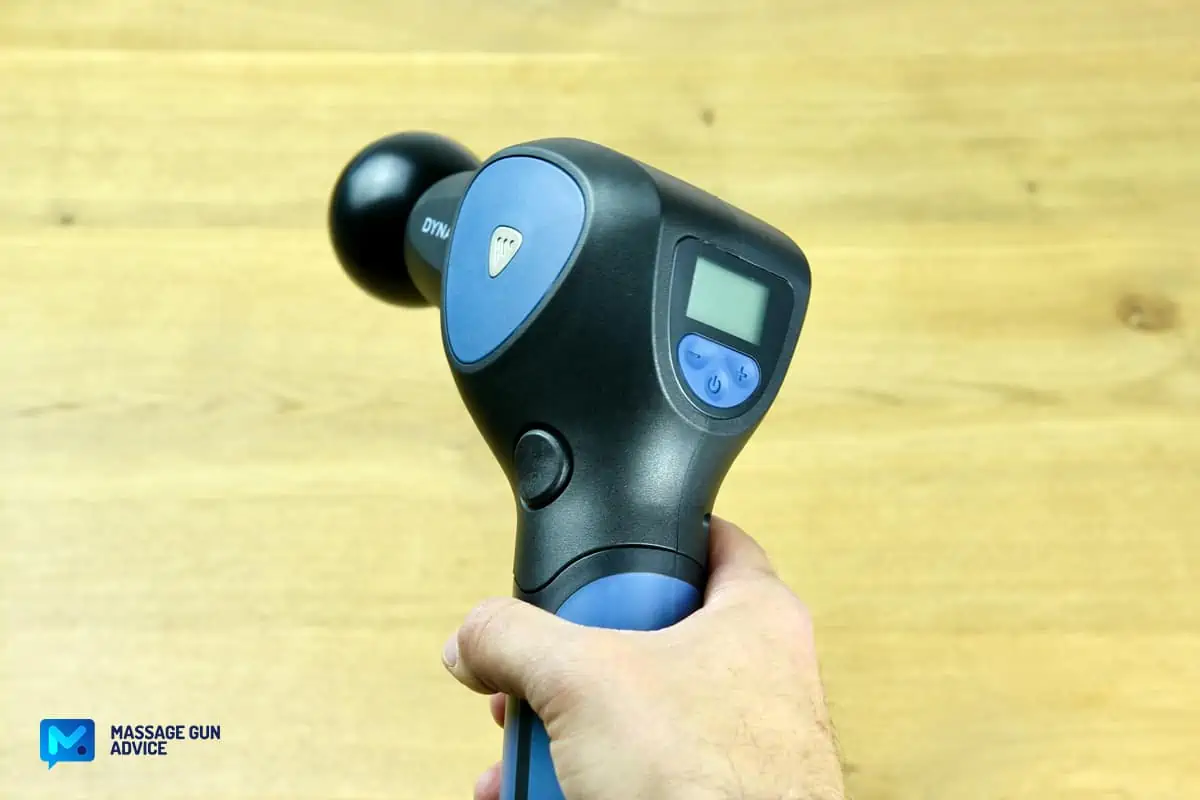 Other Features That Matter
The weight is so-so – 2.5lbs with the flat attachment mounted. It is a relatively bulky device, with a pretty thick handle. If you have small hands, it might not be the perfect choice, but bigger folks will not have a problem holding and maneuvering it.
It has no pressure sensor or dynamic modes. The screen also feels somewhat outdated by modern standards. It does, however, come with a removable battery, so you could have a spare one and never run out of juice. It also has 10 attachments included, although some of them feel somewhat similar.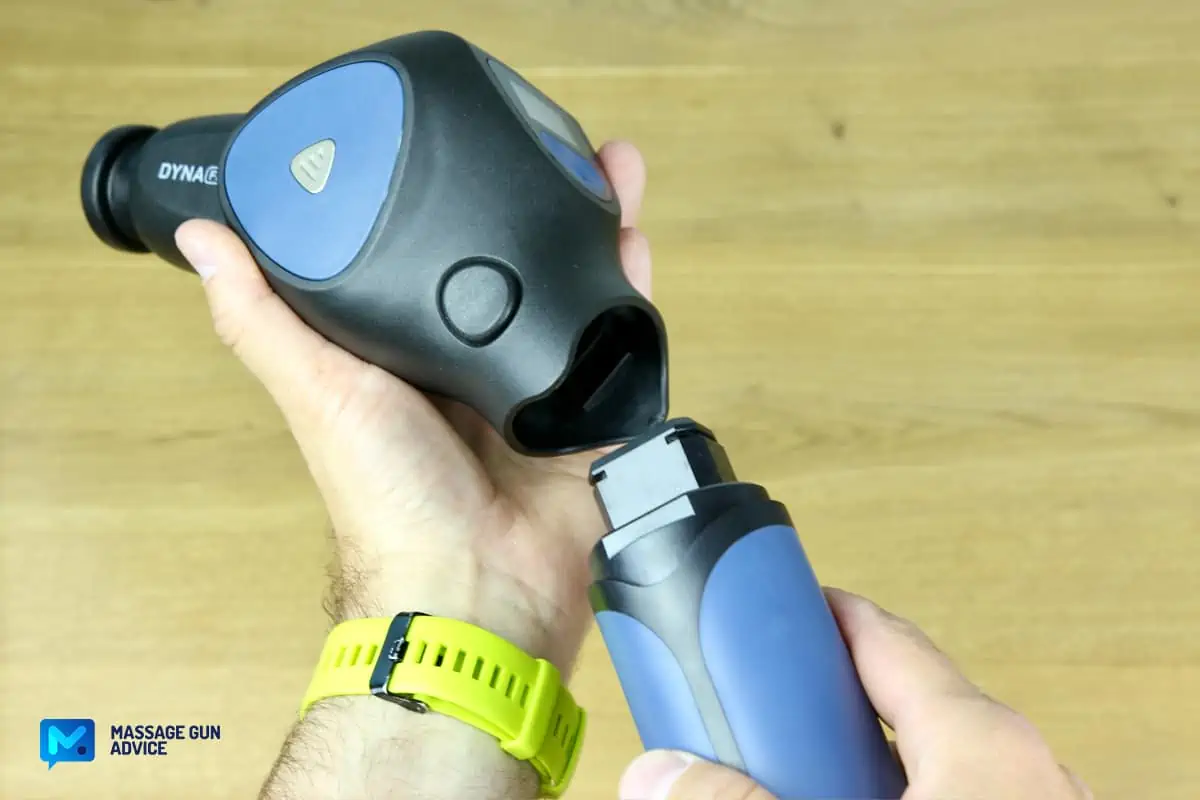 What about the noise? The truth is that it's quiet enough but only at the first few speeds. It gets noticeably louder at the top speed. But hey, it is 3300 percussions per minute, so it can't be as hushed as, say, Opove or Achedaway. We can live with that.
Another reason why we have picked this device is the warranty. Lifepro, just like Ekrin, backs all their products with a lifetime warranty.
Price and Where to Buy
And then, there's the price. For less than $200, this gun is a good value choice.
The price is $199 but with the MGA10 coupon (10% off), you can get it here for $179 – it is more than the Apex, but if you want a strong device, with extra adjustability, then this is it.
Read More Read our full Lifepro DynaFlex Review.
---
Ekrin Bantam – Best Small / Portable Gun for Athletes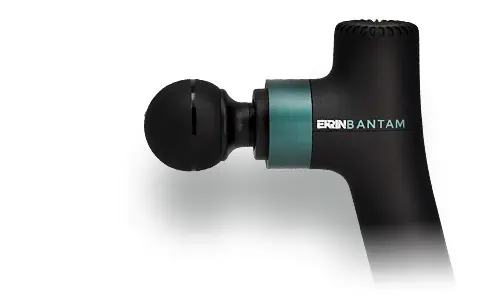 Why we like it:
Compact but powerful, up to 3200rpm
Great size and ergonomics
Excellent quality overall
Lifetime warranty
nd finally, we have the Ekrin Bantam. It's the only one on this list from the 'mini massage gun' category — and not without reason. This option is for athletes who need something compact but powerful, and the Bantam delivers on both fronts.
It has many surprising features for a mini massage gun. It's so tiny, much smaller than Theragun mini or Hypervolt Go but has more power than any of those guns can hope to deliver.
Performance
Ekrin lists Bantam's stall force as 35lbs. We would say the Bantam has slightly over 30 lbs. of stall force, which honestly is an amazing result for device that small.
It outperforms many full-size guns while being one of the smallest ones – pretty amazing.
It has close to a 10mm amplitude – perfect for a mini massager. It has a percussion range of 2000-3200rpm across 3 speed gears. Which means that the range is actually the same as in its bigger brother Ekrin B37S.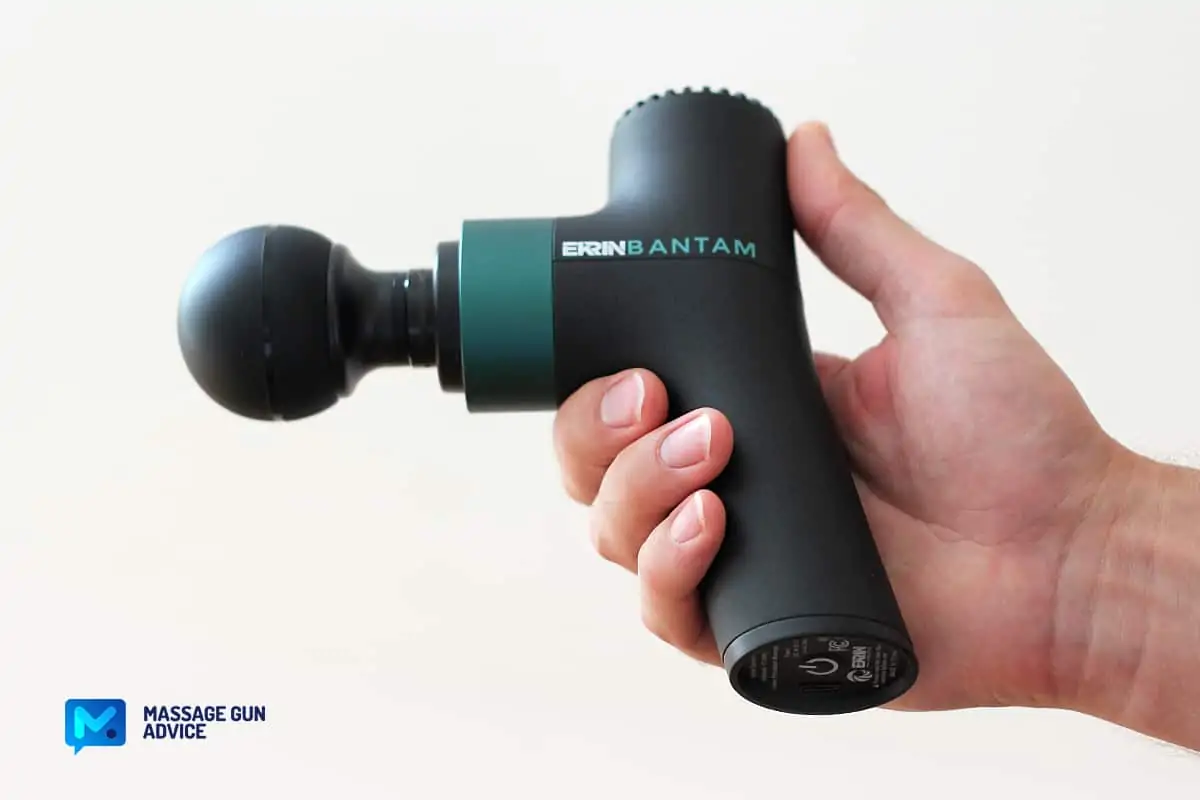 Other Features That Matter
It's a very light massage gun, weighing in at just 1.1 lbs. This makes it the perfect travel companion, especially since athletes often travel a lot. But that's not all; it's so tiny that you can throw it into your workout bag and won't even notice it's there.
It comes with four attachments that are ideal for all muscle groups. These include a soft, air-cushioned ball head, so you're not missing out on anything. The device also comes with a small carrying case to pack everything in.
Bantam has a decent battery that can last for up to a week before you need to charge it again. It also has a USB charger for convenience – the only gun in our list with an USB-C charging port.
Price and Where to Buy
It normally costs $149.99 but with the MGA20 you can get it for $119.99 – that's 20% off! You also get a lifetime warranty! Check it out at ekrinathletics.com.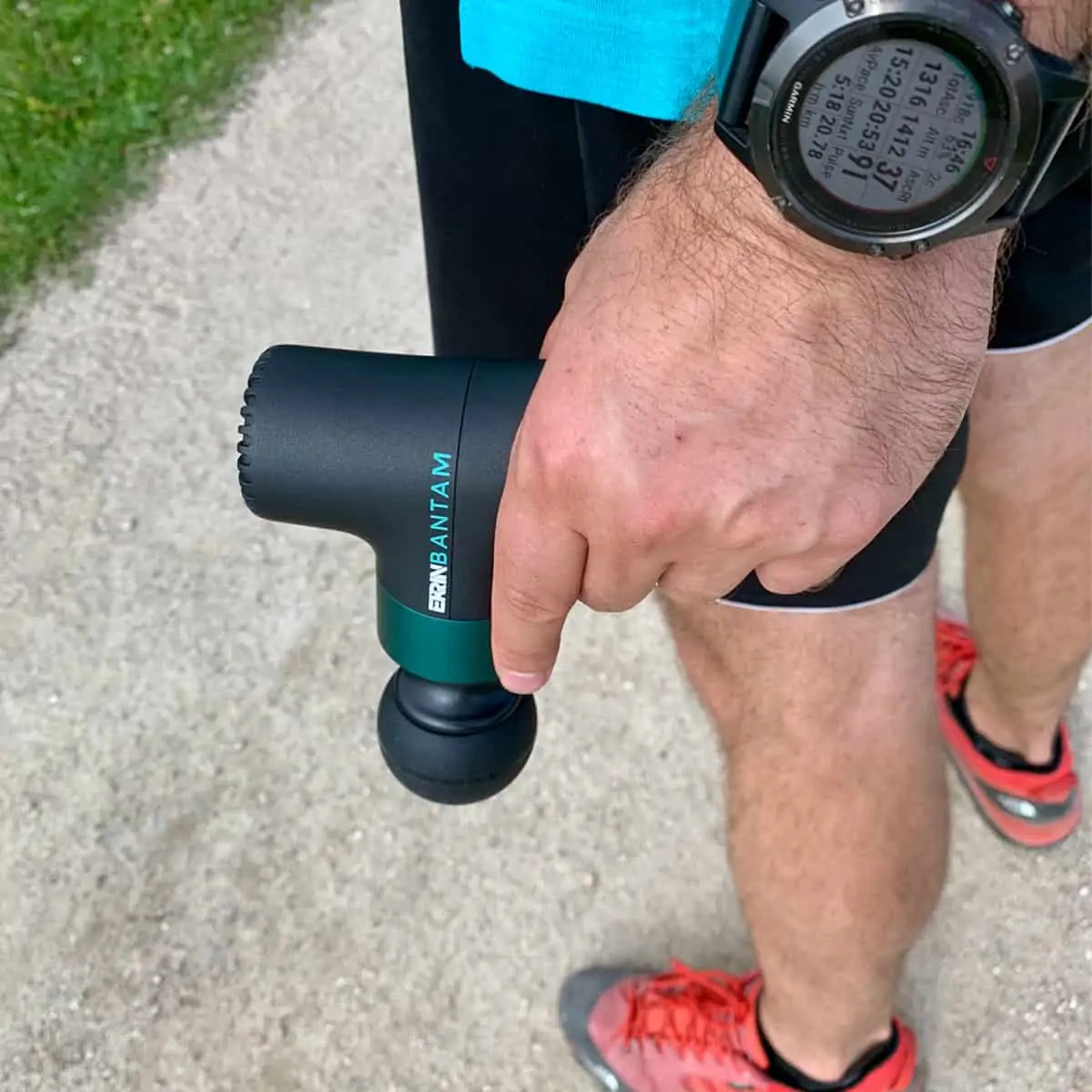 ---
What about Theragun and Hypervolt? – Two Percussive Industry Giants
This article wouldn't be complete without talking about Theragun and Hypervolt – two industry giants.
Both brands target athletes with their products and spend insane amounts of money to sign famous names as investors and ambassadors to their side. They are also active sports sponsors. If you're interested in that, check out our Theragun vs. Hypervolt post.
So, both companies have awesome products worth buying – but which ones are worth spending the money on?
---
Theragun: Pro (Strongest) or Elite (Reasonable Purchase)
---
Theragun Pro is the most advanced of all Theraguns. It has a rotating arm, Bluetooth and dual batteries. But there's a chance you will not need any of these.
It also has a great stall force (60lbs.) that is on par with some of our best picks above. But you will have to fork out $599 to get it – too expensive for common folks who just want a massage.
---
Theragun Elite on the other hand is not only about 30% cheaper ($399) than Pro, it's also powerful enough for most of users – unless you have lots of muscles and need a freakishly strong massage gun for the largest of those muscles.
Elite has the same as bigger Pro, 16mm amplitude – the longest one thus far in the industry and same as Achedaway Pro. Elite therefore provides enough punch to treat sore muscles after a workout or game.
It has a percussion range of 1750-2400, which is perhaps not as intense as Ekrin B37S or Achedaway Pro, but still decent enough.
Similar to the Pro, Elite has an OLED display and a built-in force meter. It also has Bluetooth connectivity which works excellently with the Therabody app – this is what makes it stand out from all our picks above.
It has 5 built-in speeds including adjustable ones via the app. It has 5 attachments and also comes with a carrying case.
But there are a few cons worth noting:
It's probably the loudest gun here. It may perhaps be excusable but compared to hushed Achedaway Pro, (the quietest here) it's pretty loud.
The battery is so-so with 2-3 hours of working time. It also doesn't feature a detachable battery like the Theragun Pro or Achedaway Pro.
It doesn't have a lifetime warranty. Just the 1 year, even though you are paying top dollar for it.
Elite is still pricey – with no discount may be too high for some people. With $300 you can get the Achedaway Pro with a spare battery and still pocket $99 (use the

MGA60

coupon).
CYBER MONDAY
Theragun Sale is here! Enjoy up to $250 off select Theraguns, along with more deals on recovery tech. Now FSA/HSA eligible! Browse the deals here.
TIP If you want more information, here's further reading: Theragun Elite review & Theragun Pro review.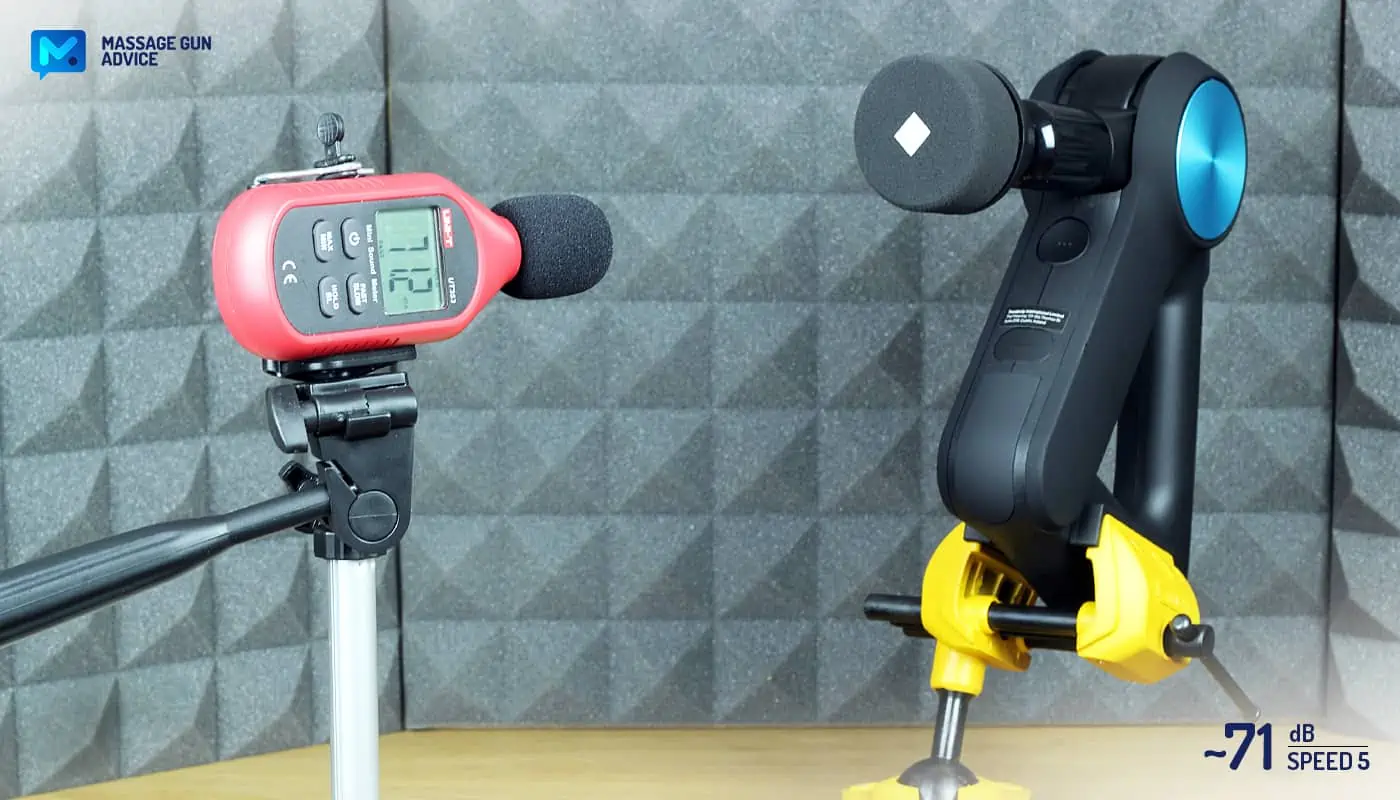 ---
Hyperice – Hypervolt 2 Pro
It's a no-brainer that an athlete should go for Hypervolt 2 Pro instead of the regular Hypervolt 2. It's a top of the line massage gun for Hyperice – you won't find anything better from them.
So, the Hypervolt 2 Pro try to compete with high-end Theraguns, but we found in our tests that it's actually less powerful than its older version, the Hypervolt Plus.
That's because it has about 30-35 lbs. of stall force (we had to figure that out ourselves because Hyperice doesn't disclose that information), which is behind Elite's 40lbs. It's also far behind Ekrin B37S, not to mention Achedaway Pro.
But It has a 14mm amplitude (again we had to measure this for ourselves), which is the very right one – sits over Ekrin B37S and just behind Theraguns, Achedaway Pro.
The fact that Hyperice has a partnership with the NBA clearly means it's a top device with a great build. But a few things disqualify it from topping our list:
Unimpressive ergonomics – We prefer Ekrin, Achedaway Pro and Opove Apex because they actually try to be innovative here. Note: Theragun has the best ergonomics in the business, yes – but they price don't make it on our list.
It has enough performance yes, but our picks have even more power and intensity.
It's heavier than many of the guns discussed in this article – 2.6 lbs. This may not be a problem for bigger athletes, but for female athletes or guys with small hands, it may be uncomfortable to hold for long.
Battery performance is not so great for a full-size device.
It comes without a carrying case – the only device on our list without one.
It has just the 1-year warranty.
Given its price point ($329 at hyperice.com), apart from the Bluetooth connectivity and the Hyperice app support, the device doesn't offer anything special that our picks above don't already have.
In fact, those have better performance features and offer the best bang for the buck.
---
What Athletes Should Look For in a Massage Gun
When you are trying to find the best massage gun from an athlete's perspective, there is only one question to ask yourself: What do I need it for?
Generally an athlete will need a massage gun for these two reasons:
Recovery. This is post-workout treatment where deep tissue massage matters the most, and
Warm-up. This is where you need an intensive but surface-level massage to wake up and warm up the muscles before you begin your workout.
So, taking this into account, we will discuss the factors you should consider when making your choice. We'll explain them and provide recommended spec numbers to look for, as well as other tips and insights from our experience. And we will refer to our picks, just to show you why we chose them.
---
Stall Force
This is the amount of pressure it takes to stall the motor of a massage gun. It applies when you press the massage gun head against your body. Every device has a certain amount of pressure that it can withstand.
With athletes, stall force plays an important role in whichever massage gun they choose to go with. Most well-trained athletes tend to have denser muscles and low body fat. This means that the muscles, even though well developed, are easy to massage.
However, such athletes will still need a device strong enough to break through large muscle groups like hamstrings, quads, and glutes.
But athletes with bigger physiques like basketball players, bodybuilders and weightlifters have way larger muscles in most parts of their bodies. These athletes will need a device with a lot of power to withhold the pressure against the body.
There are massage guns that can serve these two groups of athletes. That said however, we advise going for a massage gun that not only has a good amplitude (at least 10-12mm) but one that has at least 40-45lbs. of stall force.
For the bigger guys, go for 50-60lbs. of stall force. Obviously this kind of power is only available with full-sized massage guns (and here are the strongest ones we've tested). Mini massage guns have less power, and shorter stronger length as well.
We suggest that you don't go for cheap massage guns that cannot offer anything beyond 30lbs. of stall force. Many massage guns that cost $100 or below simply have no power to deliver deep tissue massage. Their motors often slow down percussions a lot, or even stall completely when some more pressure gets exerted.
Stall Force Comparison
Our Advice
When it comes to stall force, it's worth to keep in mind that brands list a maximum possible stall force, and such is typically available only on the top gear. Here, Ekrin B37s shines, as it has 30% more power on lower gears. Achedaway Pro and Theragun Pro are the most powerful on top speed. Tiny Bantam has the least power, but is still surprisingly powerful for a mini device.
---
Amplitude
Amplitude is the massage gun head travel distance when the device is revving. It's measured in millimeters.
For athletes, this is an important massage gun aspect. In 2023, we wouldn't recommend anything below 10-12mm. Even if you just want something to warm up the muscles, the medium amplitude is the right place to settle with.
This is because with a medium amplitude massage gun, you can easily cover both intense deep massage (with a lot of stall force of course) and a soothing surface-level but high-revving massage.
Again here it's important to note that the higher the amplitude the stronger the punch you can get. So, if you are heavily built, with large muscles, we suggest opting for a massage gun with 14-16mm amplitude.
But also look out for stall force. It's no use going for 14-16mm amplitude but very low stall force. Usually, the difference between a 10-12mm amplitude massage gun with more stall force and a device with 14-16mm amplitude is the intensity. The former tend to rev faster – keep it in mind. This is why a high-amplitude Theragun Pro revs up to only about 2400 rpms, while 12mm Ekrin goes up to 3200.
While it's advisable to go for lower amplitude, it's not wise to choose a device with low stall force even if that device has the longest amplitude available.
A device with low amplitude but with more than enough stall force can be pressed hard against the body to be effective even on those larger muscle groups (the motor will keep revving with high intensity when pressed). The same cannot be said of a hard-punching device but with very low stall force.
Stroke Length (Amplitude) Comparison
Our Advice
Our top pick Ekrin B37s' amplitude is within a sweet spot of 10 to 13mm. It can do gentle/soothing massage but can also be pressed aggressively against the skin without stalling the motor. Those 14-16mm guns will provide heavy-hitting punches, so a bit different characteristics. For mini guns, we recommend stroke length of not less than 9-10mm.
---
What about Percussions?
Percussions are easy. Here different brands experiment with different things. Sometimes high amplitude means low intensity (low percussion range). But that can also be tricky if you don't know massage guns that well.
That is because vibrational massage guns also tend to rev faster at top speed. Again what we'd advise here is to check that the amplitude is at least 10-12mm as discussed above. Anything less than that is a vibrational tool, usually without any reasonable stall force.
That said, most full-sized devices in 2023 tend to rev with over 3000 hits per minute at top speed. There are few instances where some devices don't go over the 2500 hits per minute mark. Such devices aren't bad, it just means that they have high amplitudes.
Again just to reiterate, devices that promises 3600 or even 3800 hits per minute but only have a few mm amplitude are meant to offer vibrational therapy.
Vibrational therapy can be effective, but usually require super-faster vibrations (like a Rapid Release Therapy device, which revvs up to 10,000 rpm – very effective device). For a percussion massager, however, even a high 3800 rpms isn't often enough when the amplitude is low.
---
Speeds, Programs and Sensors
Go for a device that has 4-5 speeds.
There are devices that promise 20 to 30 speed gears. These only tend to complicate the operation of the percussion massager.
The highest number of speed gears acceptable shouldn't be more than 8, and that's when the intensity of the massage gun is quite high and the percussions are reasonably spaced.
Look out also for massage guns with pre-programmed massage modes (where the intensity changes automatically or with more pressure applied).
There are massage guns that have a pressure sensor fitted in. These have become popular with many advanced devices. Devices with pressure sensor include Ekrin B37S (well executed one), Hypervolt 2 Pro or Theragun Elite and/or Prime.
The sensor helps you to keep tabs with your massage (maintain consistency). However, it's sometimes more like a nice-to-have addition and not a must-have feature, especially when you already know how to use a massage gun.
---
Other Factors You Need to Look Out For
Build quality – The device should be well put together with high quality materials used.
Weight – the lighter the device the easier it is to handle during a massage. Ideally go for 2.2lbs or 2.5lbs. Devices like Theragun Pro, or early Hypervolts, weigh more.
Size – Cheap guns tend to be bulky. We prefer more compact devices. In our list we also chose to include one mini massage gun for those who run while on their travels.
Ergonomics – We love brands that try to be innovative here. Any attempts to make ergonomics attractive is welcome here.
Accessories – We look for the number of attachments included (5-6 is enough to massage the whole body) and if a travel case/pouch is included.
Noise – We shortlisted devices with a maximum 65dB in noise level (on top speed). You can easily have a conversation during a massage.
Brand trustworthiness – We suggested devices from brands you can rely on.
Battery – We looked for devices with enough battery capacity and ones that offer more time on battery. However, most guns today can go for 1-2 weeks on a single charge. Bigger batteries means heavier guns.
Warranty offered – Most cheap massage guns offer no warranties or offer just a 1-year warranty. Best brands offer more or sometimes lifetime warranties.
Price/ Value for money – Go for a product that offers more for less.
---
Bottom Line
Hopefully you now know what specs and features the best massage gun for athletes should have. You also know which one we voted the best pick – for the record the Ekrin B37S.
It suffices to say that there are many options to choose from and we have certainly given you a lot to think about with this post.
Our best pick stands out with its power and simplicity. But we have also given you plenty of other guns in case you like them.
Theraguns and Hypervolts remain the celebrities of massage guns but keep in mind that they have their shortcomings and come at a costly price.
What have you chosen for yourself? Are you satisfied? Let us know in the comments below, or share your thoughts in the Massage Gun Talks Facebook group (we invite you to join!).
Take Care!
References
1.

Konrad A, Glashüttner C, Reiner M, Bernsteiner D, Tilp M. The Acute Effects of a Percussive Massage Treatment with a Hypervolt Device on Plantar Flexor Muscles' Range of Motion and Performance.

J Sports Sci Med

. 2020;19(4):690-694.

https://www.ncbi.nlm.nih.gov/pubmed/33239942

2.

Sams L, Langdown B, Simons J, Vseteckova J. The Effect Of Percussive Therapy On Musculoskeletal Performance And Experiences Of Pain: A Systematic Literature Review.

Int J Sports Phys Ther

. 2023;18(2):309-327. doi:

10.26603/001c.73795

3.

García-Sillero M, Benítez-Porres J, García-Romero J, Bonilla D, Petro J, Vargas-Molina S. Comparison of Interventional Strategies to Improve Recovery after Eccentric Exercise-Induced Muscle Fatigue.

Int J Environ Res Public Health

. 2021;18(2). doi:

10.3390/ijerph18020647

4.

Sleep Disorders and Sleep Deprivation

. National Academies Press; 2006. doi:

10.17226/11617
Was this article helpful?
Thanks for your feedback!
Post Update History
Here's a quick rundown of all the tweaks and edits we've made to this article to keep it accurate and up-to-date!
Current version last updated on:
October 25, 2023 Post revisited and rewritten for clearer information and better readability. (Author: Greg)
September 7, 2023 Minor text changes for better readability. (Author: Greg)
April 26, 2023 New FAQ section that answers some of our readers' most common questions about massage guns for athletes. (Author: Greg)
April 25, 2023 Editorial fixes to ensure that article provides clear and accurate information for our readers. (Author: Luke)
•
Written by:

Luke Deszczulka
Disclaimers
The views and opinions expressed on this website are those of the authors. Any content provided by our bloggers or authors are of their opinion and are not intended to malign any religion, ethnic group, club, organization, company, individual or anyone or anything.
All product names, logos, and brands are property of their respective owners. All company, product and service names used in this website are for identification purposes only. Use of these names, logos, and brands does not imply endorsement.
It is our policy to make every effort to respect the copyrights of outside parties. If you believe that your copyright has been misused, please provide us with a message stating your position and we will endeavor to correct any misuse immediately.
Some of the links in this post are affiliate links. As an Amazon Associate, we earn from qualifying purchases. This means if you click on the link and purchase the item, we may receive an affiliate commission, at no extra cost to you. This helps us keep this website alive. Learn more here.
Amazon Disclosure
massagegunadvice.com is a participant in the Amazon Services LLC Associates Program, an affiliate advertising program designed to provide a means for sites to earn advertising fees by advertising and linking to Amazon.com. As an Amazon Associate, we earn from qualifying purchases. Amazon and the Amazon logo are trademarks of Amazon.com, Inc. or its affiliates. Please refer to our Privacy & Affiliate Policy for details.