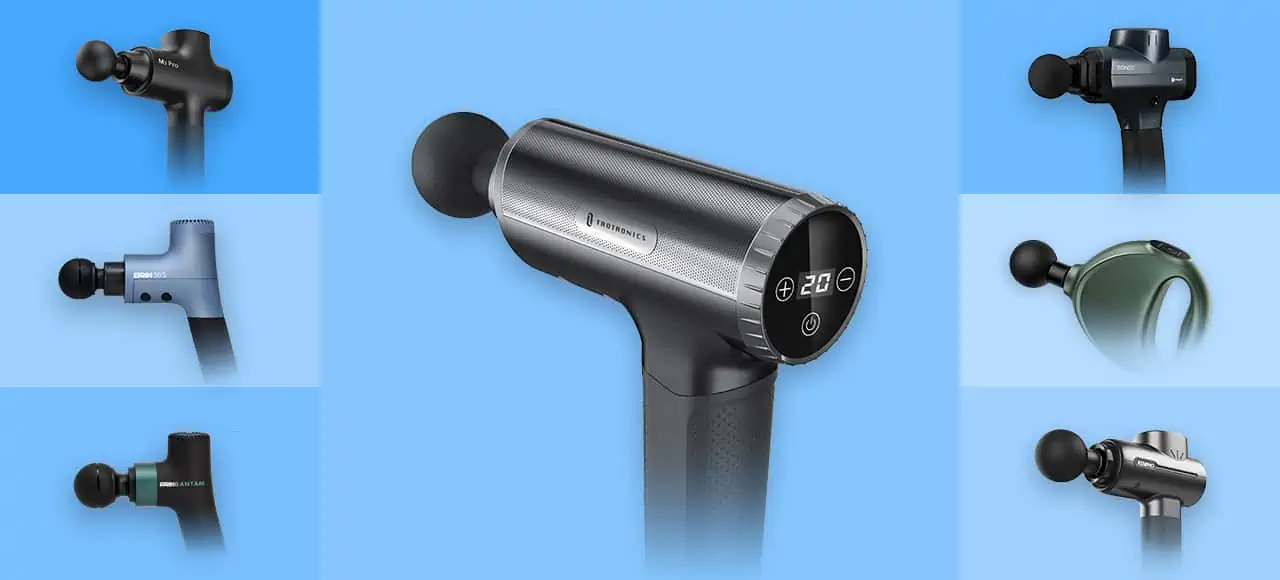 Best Budget Massage Gun – Cheapest, Affordable, But Good Options
Note: Our content is non-sponsored and fact-checked. If you buy via our links, we may earn a commission. As an Amazon Associate, we earn from qualifying purchases.
---
Hello and welcome! Today we will look at the best budget massage gun. Believe it or not, you can get a decent massage gun today for about $50, which was unheard of when massage guns first came out.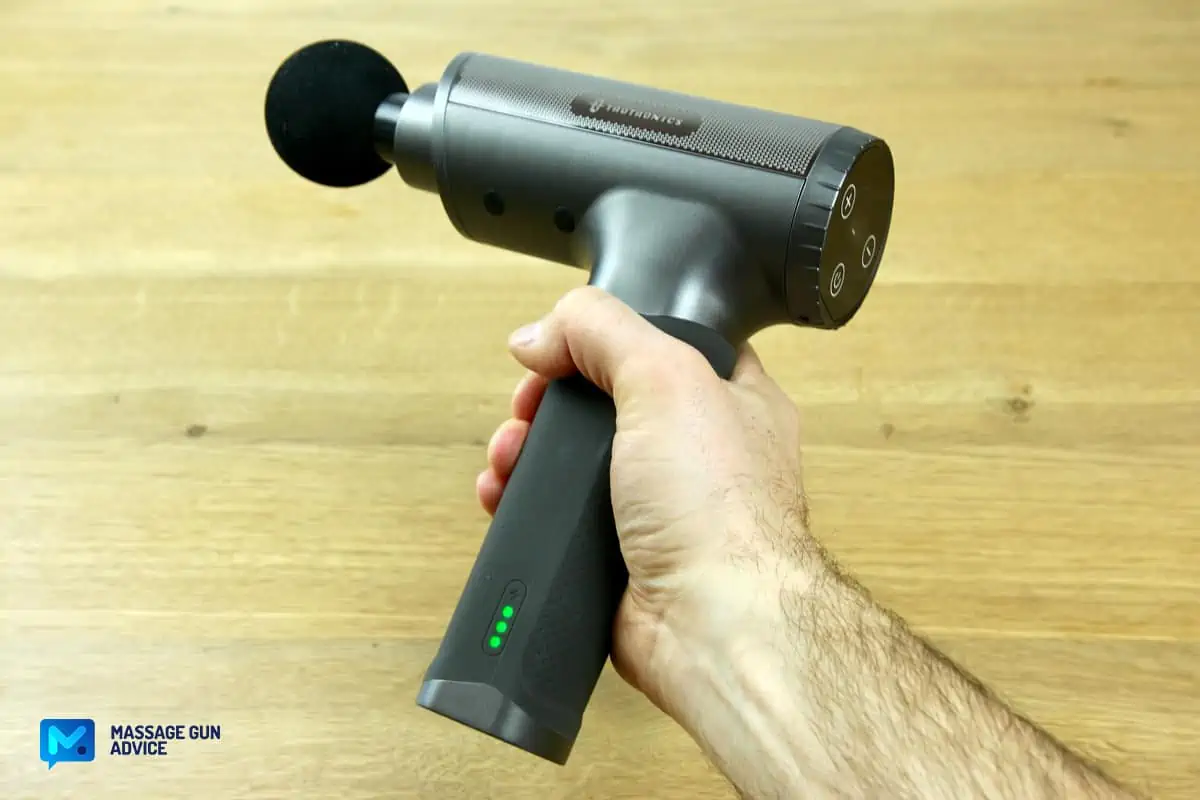 We have always insisted on buying a massage gun that is decent enough to do the job. Finding one such massage gun at a cheaper price isn't anyone's cup of tea. So today, we will tell you how to find the best affordable massage gun.
We know there are plenty of cheap devices on Amazon. We will not list any of those here – we know most are crap. Instead, we will list devices that we have tested and proved ourselves.
Also, look out for our reasoning behind the picks and how the cheap guns differ from their expensive counterparts.
Key Takeaways
Cheapest massage guns are often low stroke length devices that will feel vibrational.
They can be effective if they have enough stall force & many percussions per minute.
The best cheapest massage gun will be strong enough to keep revving fast even when pressure is applied – pressed against the body.
Cheap brands tend to overstate the performance features – amplitude, stall force, and percussion range.
We are confident with what the Taotronics TT-PCA004 gun has to offer. It's insanely cheap and ticks nearly all the boxes we discuss below.
The Taotronics costs $50.99 (after discount) even with a strong motor, good ergonomics, and a well-juiced battery. The

TT15

code gives 15% OFF.
Read on to learn more, or jump straight to our best picks.
---
---
Cheap vs. Expensive Massage Gun – Where's the Catch?
Are cheap massage guns any good? It's not unusual to see budget massage guns pitting themselves against their expensive counterparts, claiming to be just as powerful.
However, they simply aren't what they promise.
Most inexpensive massage guns we've seen rarely have anything to stand against a +$150 massage gun. The best these brands can do is overstate the specs to try and match those of the expensive guns.
They mostly exaggerate the three crucial massage gun aspects, amplitude, stall force, and percussions per minute.
Here let us explain…
Amplitude
Aka stroke length, is the distance traveled by the massage gun head during percussions.
Many cheap massage guns tend to have low amplitudes – often between 6-9mm or at best 10mm. If a device promises 16mm or even 12mm, they are probably lying.
These guns tend to be more vibrational than percussive. They will not deliver punchy hits as do high amplitude guns.
But what is the implication of this? Is it a bad thing?
No. Shallow hits are equally as effective as punchy hits; you just need to know where to apply them. In fact, it's not just the cheap guns that have low amplitude; even best massage gun brands employ low amplitudes for some of their guns – a good example is Ekrin.
However, low amplitude has to be matched with good stall force if the gun is to be effective. It also has to have high percussions per minute.
Percussions
A low amplitude gun has to rev fast to be effective. This is because percussive therapy works by overriding pain signals to the brain, thereby releasing muscle tension (1). The rapid strokes of a massage gun greatly impact this process.
The same intensity can be drawn from hard and deep hits that you get from high-amplitude guns. Such guns don't have to rev fast – Theragun is a good example of such a setup.
Since most budget massage guns have a low amplitude, they must have a high percussion rate of at least 3000RPM – this number should reflect in their specs and be practical too.
But, there is a catch with this as well.
Even though most inexpensive massage guns will tend to rev high, they may not maintain that intensity when pressed against the body. This is where you have to check for stall force.
Stall Force
Stall force is a massage gun's motor ability to withstand pressure.
You need the percussive intensity of an affordable massage gun to be consistent for it to be effective. This is especially crucial when you press the gun hard against the body.
You need the pressure to get deep into the muscle and relieve clogged blood vessels (2),(3) that cause muscle tension.
Sadly, many cheap massage guns drastically fail to withstand considerable pressure – most have extremely low stall force. Even though they advertise a high stall force, they easily collapse under the least amount of pressure. This results in non-effective treatment.
However, it's not all doom and gloom for these affordable percussive massagers. Some are reasonably strong, and we list them below.
---
TIP How to verify the important aspects (amplitude, percussions, and stall force)
Use a caliper to measure the amplitude of a device. We use high-precision digital calipers to confirm the real stroke length.
For percussions, we use a laser tachometer that tells us the actual percussions for different speeds.
Stall force is tricky to verify. We compare the stall force of budget massage guns using benchmark devices that we know their real stall force.
---
How Cheap Massage Gun Brands Try to Wow Customers – Know the Tricks
As we have discussed, many brands selling cheap massage guns will try to lie their way into selling a massage gun. Many overstate the crucial aspects of their massage guns.
These are some of the marketing tricks they use:
They will tell you how their device has many speeds, often 20-30 speed gears. This creates the impression of a high-performing gun with probably a high percussion range. But the opposite is true. In a real sense, you don't need that many speed gears on a massage gun – 5 to 6 gears are enough (why do you think Theragun has fewer speed gears?). We can live with maybe 10, but not more. Bottom line; don't pay much attention to speed gears.
They promise many attachments. There's nothing wrong with this, except it doesn't necessarily make a device better. You will probably only need 5 attachments to massage the entire body. If a brand promises 10 attachments, the likelihood is that they are probably different variations of well-known attachments. They don't offer a different effect. We prefer to look at the quality of the attachments and how varied they are. Many inexpensive massage guns tend to only come with hard attachments. You need one or two soft or semi-soft attachments for bony and sensitive areas. Don't go for quantity, rather, go for quality and good variety.
What to expect in most budget massage guns?
You will hardly get any fancy features with highly affordable massage guns. Don't expect to find pressure sensors, dynamic modes, OLED screens, and Bluetooth connectivity.
Many budget massage guns tend to wear off quickly – often within months after purchasing them.
Many have short warranties. The best you can find is a 1-year warranty or, as is often the case, no warranty at all. Customer support and care is often lacking, as we found out with such brands as Legiral and Chirogun – it's very difficult to find support in case something goes wrong.
Many are often no-name brands that sell from China. If you are buying from the US, you likely won't get any customer support, or contacting brand may otherwise prove difficult.
Luckily, there are a few that try to do things differently.
We combed the market for this before writing this article. We even found a cheap massage gun with a lifetime warranty from one of the famous brands.
---
Best Budget Massage Gun Picks
In our research and testing, we found 4 massage guns that stand out from the cheap devices crowd. These deliver good performance at very affordable prices.
---
Taotronics TT-PCA004 – Best Cheapest Massage Gun

This Taotronics is the best cheapest massage gun, and we didn't need to have a long debate to figure it out. It is insanely cheap – only $50. However, it has incredible specs that will surprise many users.
We've had our unit for almost a year now and are loving life with it – it still works like it's new.
We love its compactness. It looks like a mini and full-sized hybrid. It weighs a paltry 1.67 pounds and will be very easy to maneuver. You'll also appreciate its ergonomic design—something you rarely see with inexpensive massage guns.
The handle is a good size – not as thick as many others like it. It's a squared handle with rounded corners. The entire handle is rubberized, which adds more grip.
It's not just the handle, the whole design looks flashy for something that costs very little. We love the metal finish at the top.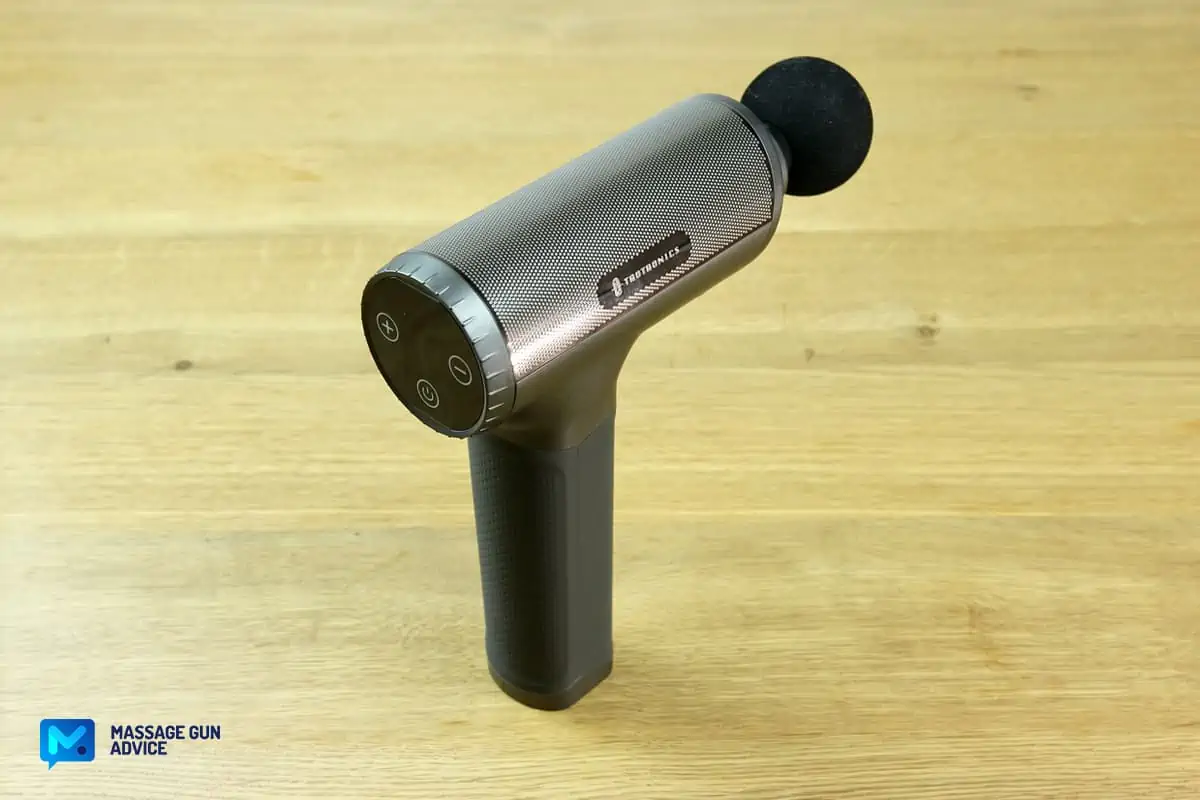 But we love the performance of this thing even more. If you ever thought you couldn't get a performing cheap massage gun, this one's different.
The amplitude is 9mm. This sounds a bit on the lower side, but we're glad it's not lower than 9mm. You'll still only get light percussion therapy with this stroke length, but the stall force will help improve it.
This gun has a stall force of 30lbs. This is impressive. For comparison, Theragun Prime, which costs way more, has the same stall force.
What about the percussions per minute? Well, you get a range of 1000-3000RPM – we verified that this is indeed true.
With this kind of setup, you get fast hits that will not slow down even under pressure. It is a good massage gun for your back, arms, and neck. It should also occasionally help you massage large muscle groups like the quads and hamstrings.
There's just one bit we don't like about this device: the 20-speed setup. These are way too many to cycle through. Even so, it makes sense when you have enough stall force and a wide percussion range.
It's also well-equipped. It comes with 6 attachments that are decent in quality. One is soft and useful if you want to massage sensitive areas. It also comes with a carrying case – a nice touch from a budget device.
It doesn't have a noise issue. The battery has a capacity of 2600mAh, which is on par with the bigger and heavier guns.
It comes with a 1-year warranty. We know Taotronics has a robust customer support system that handles all issues.
Taotronics TT-PCA004 amazingly only costs $50.99 if you apply the TT15 coupon for 15% discount. Get yours at the Tatronics store here.
Read More Check out our full in-depth Taotronics TT-PCA004 review.
---
Two cheap Runner Ups…
Sportneer D9 Elite – Inexpensive with a Pressure Sensor

Sportneer is a well-known fitness company. They were among the early entrants into the massage gun space. Their D9 Elite device was one of the earlier devices that is still going strong even today.
We recently saw it heavily discounted, from $129.99 to just $64.99. This is probably not the cheapest by the standards here, but we picked it because it's a very high-quality device, and well equipped, too.
It performs decently, especially for a gun priced this low. For starters, the stall force is about 30-35 lbs., which is a tad more than the Taotronics above.
The amplitude is slightly better as well – 10mm, so 10% more than in the Taotronics.
The percussion range is impressive, as this device can actually rev to 3150rpm. We verified it with our laser tachometer! That is faster than the Taotronics above, albeit not by a lot. 
The handle is slightly oval, and we like it. We also like that they surrounded it with rubber. Apart from the handle, it's a very quiet device – no issues with the noise at all.
This is probably the cheapest massage gun we have seen that has a pressure indicator included. It is visualized by a set of three LEDs. It is a nice to have feature (but not a must-have, though).
It has a carrying case and 6 attachments. Unfortunately, the attachment is the Achilles heel of this device. They feel cheap, and are all hard-plastic. It also lacks a soft attachment. This is part of the reason it ranks lower than the Taotronics above. 
Overall, this device feels pretty awesome, despite being an old product already by the market standards. It comes with a 1-year warranty. We have tested it quite extensively and are certain it will keep working for a long time.
Want to buy? It now retails for $64.99 here at sportneer.com. The last time we checked, the AFDKOF coupon was not working with this lowered price, but it doesn't hurt to try!
---
Renpho R3 Active
Renpho is another budget device that we have field-tested. We also know the manufacturer – a Chinese-American brand that is rooted in the US.
Renpho makes inexpensive massage guns. We tried and tested a few of their massage guns, and we like the R3 Active because it's the most versatile. It appears here because it's an affordable massage gun – it costs $85 with a discount coupon.
What about Renpho R3 Active's performance? Well, it performs similarly to the top 2 we just discussed above.
The stall force is a stable 30lbs. that we believe is good enough for an entry-level device. It has a 10mm amplitude, which is about a millimeter more than the Taotronics.
It has a percussion range of 1800-3200RPM. It comes with 5 speeds, which makes it a better setup than Taotronics'.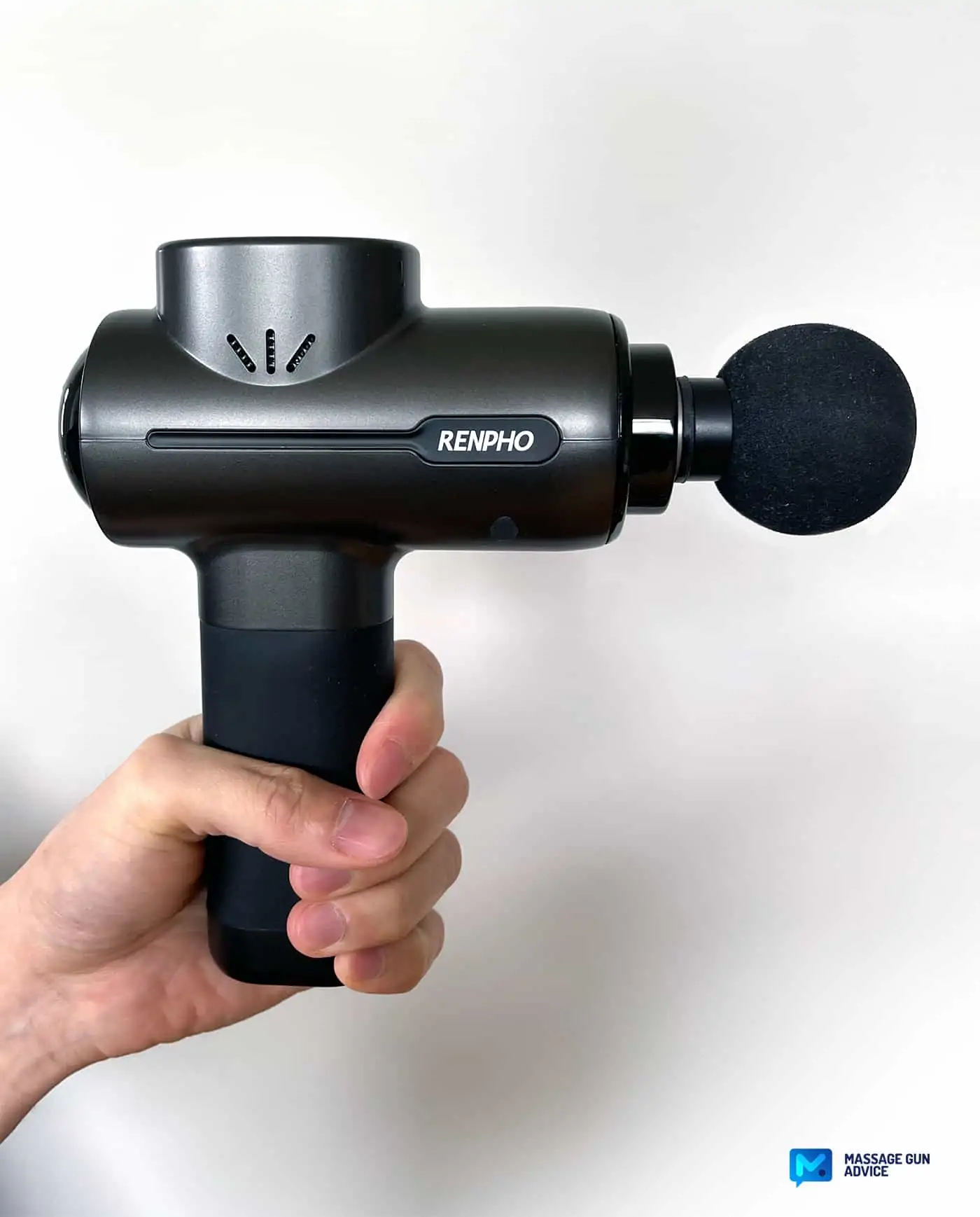 Apart from the performance, we love the economic size and weight. It's about the same size as the Taotronics above and weighs about 1.5 pounds.
The battery has a capacity of 2600mAh that can last for a week on a single charge. We also love the ergonomic handle – it's oval with plenty of rubber around it.
The Renpho R3 Active is awesome when you want a relaxing massage, for recovery, and to treat soreness.
It comes with a convenient USB-C charger – something we haven't seen with other guns in this category thus far.
It's well-equipped too, with 5 attachments (including a squishy one) and a carrying case.
It usually costs $99.99, but you can use the coupon RECOVERME to get it for $85 – a 15% discount. It's probably not the cheapest gun (Taotronics is way cheaper), but you'll love its quality.
Read More Check our hands-on Renpho R3 review for more details.
---
Bitfinic – Cheapest Mini Massage Gun
This is the only other sub $40 massage gun that we find decent. This one, unlike the Taotronics, is a mini device.
Compared to other minis such as Ekrin Bantam and the Bob and Brad Q2, this one's slightly bigger. Nonetheless, we still like the compact size. The design is probably inspired by Theragun mini. Even so, we love it and appreciate the nice quality plastic.
Despite the Theragun mini-like design, it doesn't have the same performance features as the former.
For starters, it has a 10mm amplitude, which is its biggest advantage over many other cheap minis. Most minis struggle to do over 8mm. This means you're getting a slightly percussive massage compared to what you'd normally get with most minis.
Despite the impressive stroke length, the stall force is rather low. You'd probably only enjoy using it for surface-level therapy but not deep tissue massage. It will work better on your neck, arms, hands, and feet.
The percussion range hits a maximum of 2560RPM. It's not as high, but we will take it because of the long amplitude.
It's a light device that weighs just a pound – the lightest on our list. It has an impressive 2600mAh capacity battery that charges via a USB-C cable.
It's also well-equipped for an under $40 massage gun. It comes with a pouch, 4 attachments, and a small charger.
Overall, it doesn't beat the Taotronics, but for the price of just over $30, it's definitely worth giving a try. You can buy it here.
Read More Check out our Bitfinic massage gun review for details.
---
Two Great Options for Those Willing to Increase Their Budgets
Check out these two guns if you have slightly more cash to spend.
---
Ekrin Massage Guns – What's The Cheapest One?
Ekrin is a well-known US brand that makes decent massage guns. They are known not just for their top-quality devices but also for their lifetime warranty for all devices and impeccable customer support.
We voted them the number one brand of 2023 for the above reasons and their fantastic quality-price ratio. Their entry-level devices don't cost $50, but they're totally worth it if you have more cash to spend.
---
Ekrin 365
This is a light, full-sized device with superb ergonomics. We know Ekrin calls it an entry-level gun, but it's more powerful than all the guns we just talked about.
It has really fantastic attachments that screw on rather than push in and out – you don't have to worry about the attachment coming off. It comes with a pressure sensor like the top models.
It costs $143.99 if you use the coupon MGA20 (20% off) to buy it. You can get it right here.
---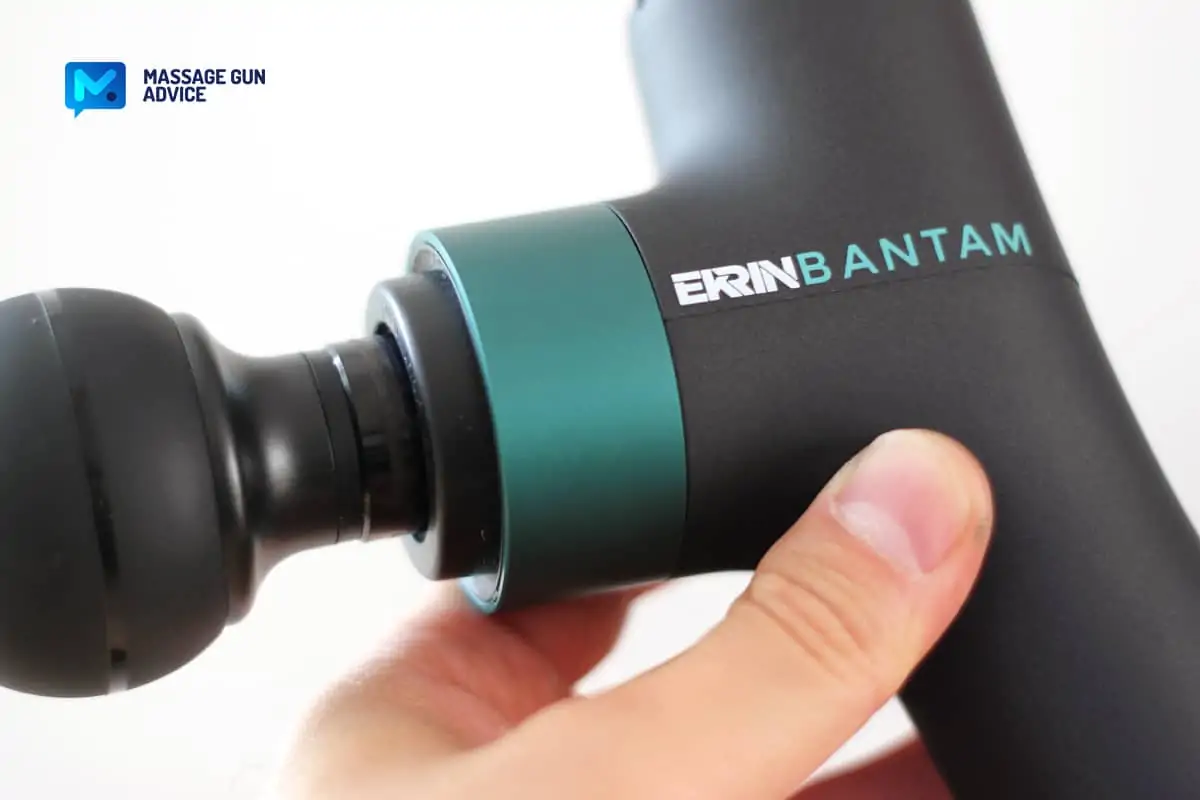 ---
New Opove M3 Pro
This is a relatively new massage gun with a sleek modern look. It's also very affordable.
Opove is a respected brand that's best known for its affordable Hypervolt alternatives.
The new M3 Pro has more power than any of the devices we have mentioned thus far. It has a stall force of 40lbs. It also has a 12mm stroke length – it will be punchier than the guns above. It can rev up to 2600RPM – this is awesome with a 12mm amplitude.
It's also the quietest device on our list. It has fantastic attachments that vary in shape and materials – soft and semi-soft attachments are included.
It costs $119, which we believe is a steal for what this gun has to offer. Buy it here at opove.com.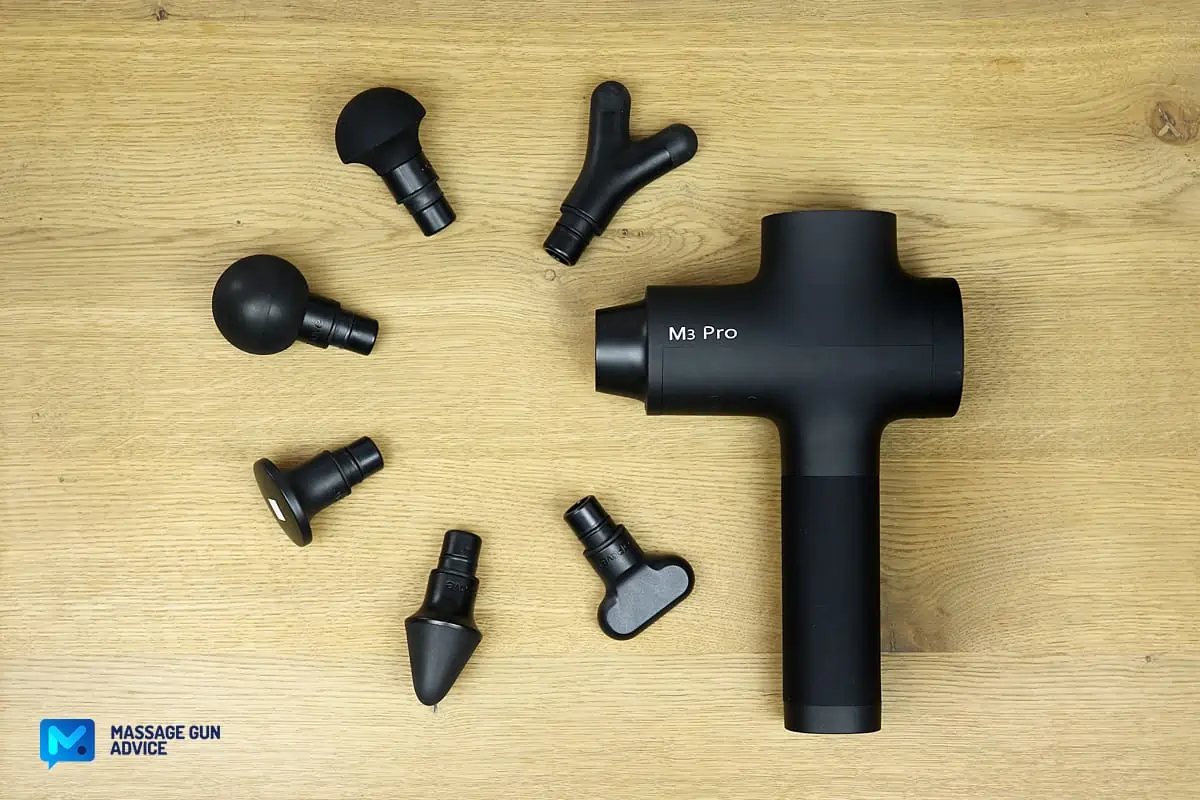 ---
Budget Massage Guns Conclusion
If you want the best budget massage gun, you have to look really hard at what is already available on the market. Even then, you might not succeed in finding the best one.
Luckily we have done the job for you, and you can find the right one among our picks.
We recommend the Taotronics TT-PCA004 as the best cheapest massage gun. There are other guns that perform really well, and we made sure to include them here.
If you have a little more to spend, you can check out our other recommendations, which cost a little over $100 but are totally worth every penny.
Until next time!
---
References
Considering a massage gun? Here's what you need to know about percussive therapy. UCLA Health, February 2, 2022
Konrad A, Glashüttner C, Reiner MM, Bernsteiner D, Tilp M. The Acute Effects of a Percussive Massage Treatment with a Hypervolt Device on Plantar Flexor Muscles' Range of Motion and Performance. J Sports Sci Med. 2020 Nov 19;19(4):690-694. PMID: 33239942; PMCID: PMC7675623.
Barbara Alcaraz, M.A., B.A., L.M.T. Massage Therapy Program Chair M. A. Organizational Management, University of Phoenix B.A. University of Minnesota, American Studies L.M.T. Northwest Health Careers. Do Massage Guns Really Work?. Northwest Career College, August 6, 2020.
Disclaimers
The views and opinions expressed on this website are those of the authors. Any content provided by our bloggers or authors are of their opinion and are not intended to malign any religion, ethnic group, club, organization, company, individual or anyone or anything.
All product names, logos, and brands are property of their respective owners. All company, product and service names used in this website are for identification purposes only. Use of these names, logos, and brands does not imply endorsement.
It is our policy to make every effort to respect the copyrights of outside parties. If you believe that your copyright has been misused, please provide us with a message stating your position and we will endeavor to correct any misuse immediately.
Some of the links in this post are affiliate links. As an Amazon Associate, we earn from qualifying purchases. This means if you click on the link and purchase the item, we may receive an affiliate commission, at no extra cost to you. This helps us keep this website alive. Learn more here.
Amazon Disclosure
massagegunadvice.com is a participant in the Amazon Services LLC Associates Program, an affiliate advertising program designed to provide a means for sites to earn advertising fees by advertising and linking to Amazon.com. As an Amazon Associate, we earn from qualifying purchases. Amazon and the Amazon logo are trademarks of Amazon.com, Inc. or its affiliates. Please refer to our Privacy & Affiliate Policy for details.