Renpho R3 Mini Massage Gun Review – How Does It Perform?
What to Know: We independently review products we recommend. If you click on links we provide, we may earn a commission. Learn more.
---
Welcome to our Renpho R3 Mini massage gun review. But first let's clear the air before we delve deep into this review. The R3, as we'll call it through this post, is an affordable Mini device, to put it mildly.
However, it's a very interesting device because it comes off as a rule-breaker. It's a portable option to the full-sized R4, but it carries more than many mini massage guns we've seen and reviewed.
---
---
Introduction
Renpho is a recognized brand. Their main deal is to "use technology to improve individuals' well-being, health and overall fitness".
They are not known for their prowess in making massage guns (Theraguns and Hypervolts have something to do with that) but they have a professionalism in what they do. Unlike many brands with cheap entry-level massage guns, they actually have a nice website.
Their collection of massage guns include: Pocket, Titanium Alloy Pro, R3, C3, and R4. With this we can confirm they love making massage guns. That love for what they do has made many customers fall in love with their products – they have tons of positive customer reviews.

We've also had a chance to interact with some of these guns; like the R4 which impressed us with its unique design and superb ergonomics – we actually included it in our best massage gun under $100 post.
We also got our hands on the R3 massage gun and we quickly sought to find out how it ranks among compact massage guns. Here's what we think…
---
Renpho R3 Mini Massage Gun Review
Let's check out the specs first:
Renpho R3 Specs
Features
Renpho R3
Stall Force
~25 lbs
Stroke Length
9 mm
Percussions per min.
1800-3000 ppm
(advertised 1800-3200)
Speed options
5
Battery Life
80 minutes of continues run
(non-removable)
Attachments
5
Weight
1.5 lbs
Noise
50-62 dB
(40-45dB advertised)
Pros
Small, compact size
Lightweight
Good ergonomics
Cons
So-so stroke length
and stall force
Warranty
1 year
Retail Price
$99.99
Discount Code
$30 OFF with a discount code:


RECOVERME
Renpho R3 Specs
---
First Impressions
Our package included a small silver two-zipper carrying case which we appreciated greatly.
It's always nice to see a brand include a case for their massage gun.
Inside we found:
the device,
the attachments (5),
a USB-C charger,
and an instructional manual.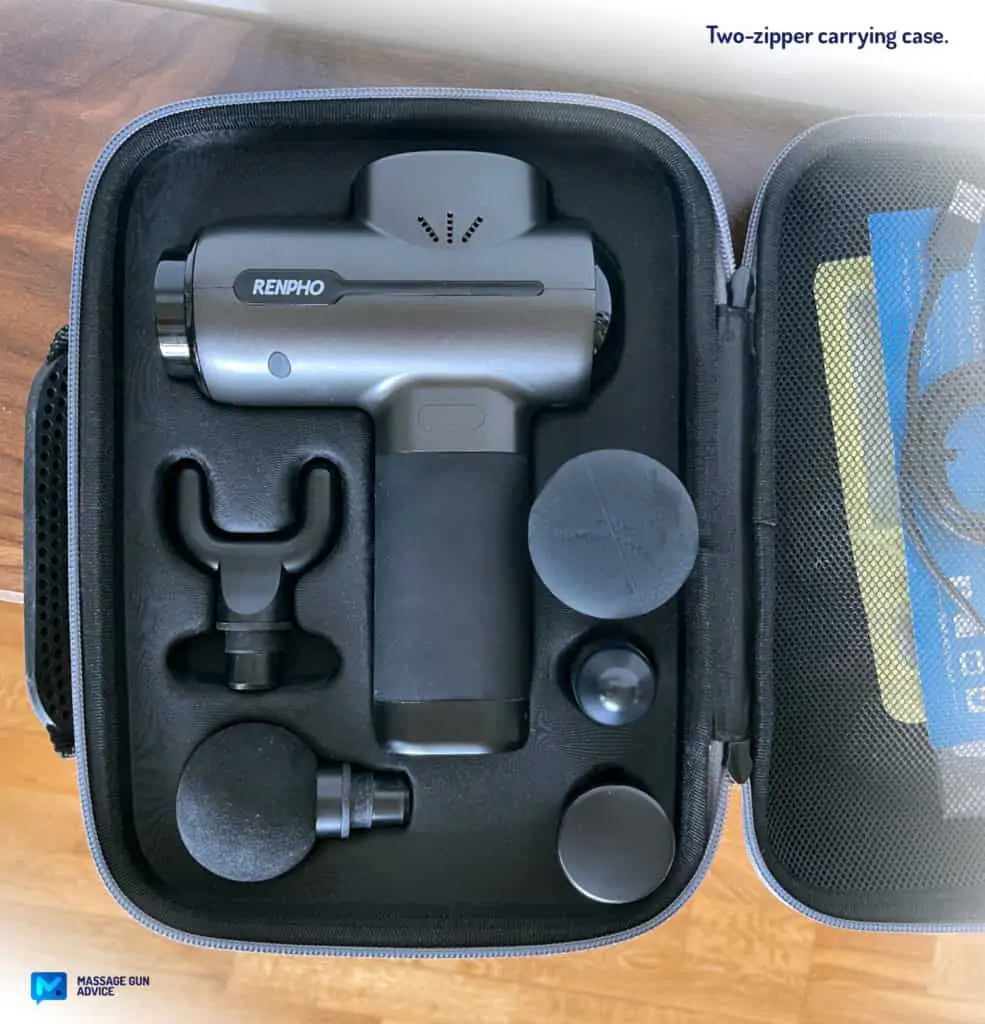 ---
The Device
It's a nice, sturdy, durable and well thought out device. We are used to seeing these miniaturized versions stripped of so much that they become a bit diminished, to say the least.
But the R3 looks nice, almost as though Renpho intended it as a full-scale device other than a compact portable one. The polished plastic covered with a metallic paint gives it a sleek appearance that we perhaps can only compare with what we saw when we first got the new Mini rex, which used the same metallic body.
There are no bells and whistles with this device – we've come to expect this with many of these mini guns. It's a single button operation – the power button does all the work. Turn it on/off with a long press and tap for speed gear change.
There are two types of LEDs here; the five around the power button for speed gears and the four at the bottom of the handle that indicate battery charge level.
---
Attachments
The Renpho R3 has 5 attachments. A bit surprising for us because the main brands tend to only include an attachment or two with their mini massage guns (Theragun and Hyperice).
It's a good thing to know that you're not just getting a mini gun here for portability and convenience, but you also enjoy the comfort of a full massage.
A bit of what we think about the attachments here:
Ball – This is the attachment used for large muscle groups. It's the go-to attachment for a quick massage. Renpho chose to use EVA foam here. This makes the ball feel a bit softer, but the downside is that the foam does tend to wear off over time.
Flat – Usually our favorite. It's good for most parts of the body and can really be helpful when you want a deep tissue massage on large muscle groups. It's made of hard plastic.
Bullet – This is used for pinpoint treatment and other areas like joints, palms and soles. You can also use it for a deep tissue massage. It's made of hard plastic.
Fork/Spine – This, as the name suggests, is used around the spine area. It is also used to massage the neck. The two prongs go either side of the spine which avoids hitting the spine directly. It's also made of hard plastic.
Air Cushion Head – This a slight variation of the flat head attachment. The added cushion on top means it can be used over sensitive areas and bony parts. Most brands don't include it with their devices, but some do (e.g. we saw it with Everyfun M3 Pro just recently).
---
Size, Weight, Ergonomics
The R3 is designed to fit in your pocket (it's the same height as a smartphone). To put it into perspective, it measures 7.9" (with ball attachment) x 7.3" x 2.3", well, not exactly pocket-sized, but something close to that.
It's a compact gun so we don't expect it to be bulky. However, we realize that sometimes depending on battery capacity, some devices tend to be slightly heavy.
The R3 is slightly bigger than, say, Ekrin Bantam or the Wodfitters' Mighty Mini. In our opinion, we could say it's something between a full-sized gun and a mini gun.
It weighs 1.5lbs, which is over the weight limit for most mini massage guns (Theragun Mini is probably the heaviest – weighs 1.43lbs) but way below the weight of a full-sized gun.
The handle is oval, the same thing we saw with the Bob & Brad C2 massage gun. We are used to seeing a round handle with most massage guns and it felt a little unusual to hold it. Nonetheless, the handle feels sturdy and comfortable if you don't mind the shape. The handle is rubberized as well, for extra grip.
The only downside to its ergonomics is that it's a traditional T-shape which tends to put a lot of tension on the wrist when used for a long time. It's not a huge issue considering how compact it is. However, a slightly angled handle would've been perfect.
---
Performance
How does the R3 perform? Let's find out…
---
Amplitude (Stroke Length)
Amplitude, or sometimes referred to as the stroke length is the length of the massage gun head. It's the distance covered by the head as it moves back and forth to give you the percussions. It usually determines whether a gun can perform a percussive massage or simply vibrate over the skin. We are more interested in percussive therapy and we love massage guns that can do that.
Disappointingly, however, Renpho doesn't disclose any information on what the stroke length on R3 is. We often find this lack of transparency to be frustrating. Also, if you consider the fact that they are an established brand, it feels rather baffling.
Nonetheless, we did the measuring and determined that it's a 9mm amplitude. This is acceptable for a mini massage gun considering what it's meant to do.
We often find that even 9mm amplitude with enough stall force can perform a percussive massage. But what's the stall force on this one?
---
Stall Force
Stall force is the amount of pressure it takes to stall the motor of a device. Stall force is also an important parameter in determining whether a device can perform a percussive massage or if it's simply a vibrational therapy tool. Many entry-level massage guns tend to perform very poorly here and we've discarded many into the vibrational therapy trash can.
What about Renpho R3?
Well, again we couldn't find any information on stall force. We did our own tests and also considered the 25W motor power. We figure it's between 20-25lbs. stall force, likely the former.
This is not top power for a massage gun – not even close! However, for an entry-level device, and especially for a gun this size, this can okay.
Even so, this is still more power than we've seen with guns like Hypervolt Go, which despite being pricey, under-delivers big time!
---
Percussions
The advertised percussion range for the R3 is 1800-3000 rpm, according to our laser tachometer device. Although slightly overstated (the advertised figure was 3200), this is standard percussion range for many massage guns that we've looked at.
Also, many of the entry-level brands tend to sometimes overcompensate here because they lack in amplitude. High intensity always works with vibrational tools but it's not a must-have in percussive devices, especially when the important parameters like amplitude and stall force are taken care of.
The gun has 5 speeds to work with. Again this is good, because we've encountered devices that promise over 20-30 speed gears over the same percussion range. This is often a salesy approach used by these brands. It's not ideal to have that many gears. In fact, it only becomes annoying when you have to cycle through that many to find the right one.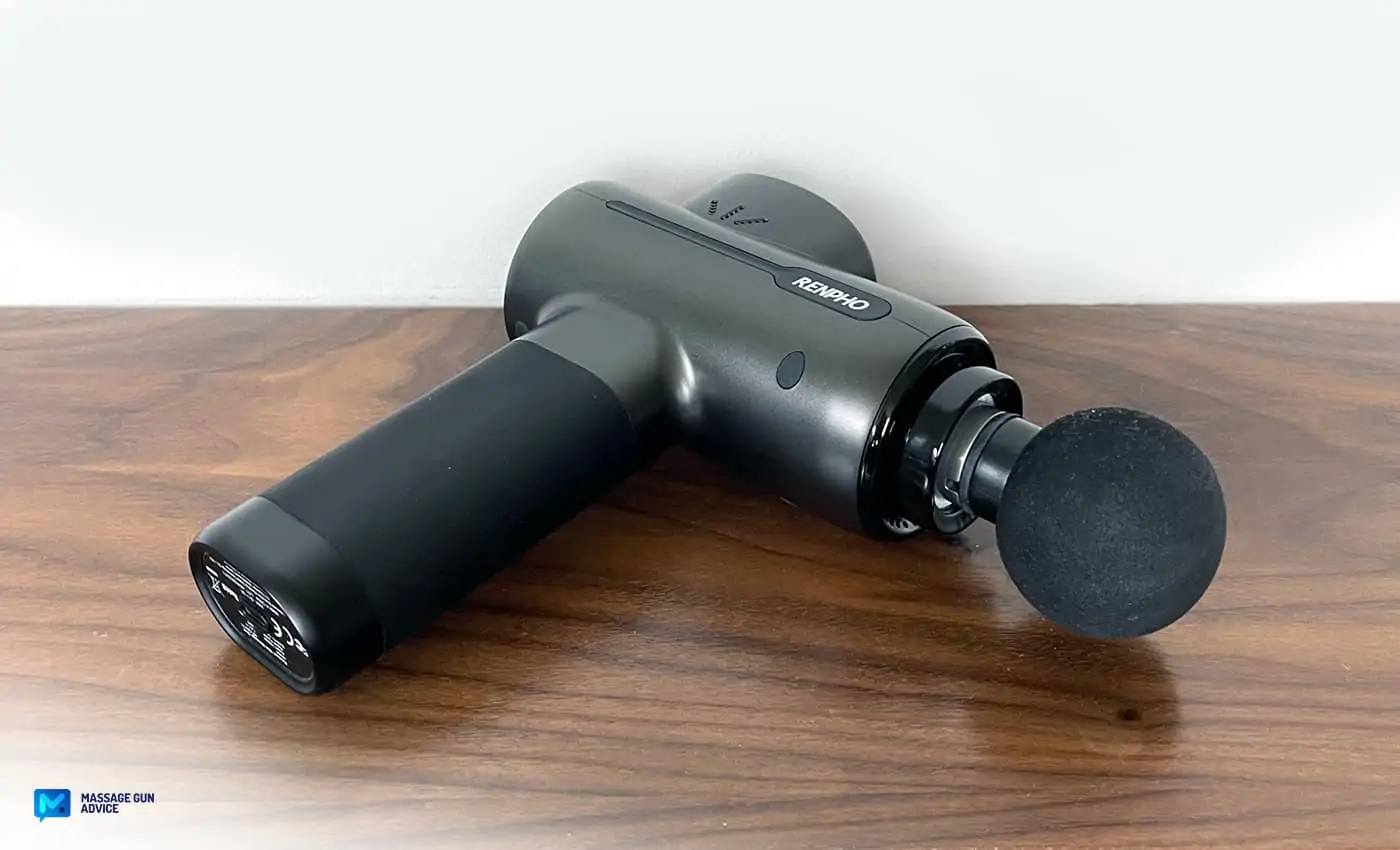 ---
Battery
The battery is 2500mAh capacity, decent but not uncommon. It takes 3 hours to fully charge it, which is good enough in our opinion. Once fully charged, it can last for up to 80 minutes of continuous use.
There are 4 LEDs integrated in the handle that indicate the battery charge level. Another huge plus is the USB-C compatible charging. We often appreciate this because it can be quite a hassle to carry the wall charger everywhere you go. We've seen mini guns that don't come with a USB charger (like the Minirex). This one is great because you can charge it on a powerbank.
It has a safe and battery save feature that shuts off the device after 10 minutes. Of course, many other devices come with this feature. In our opinion, this may be an unnecessary disruption especially when a massage session takes longer than 10 minutes. On other hand, as some may notice, it prevents the device from overheating, and saves the battery, which is a good thing.
---
Noise
It's a very quiet device, probably because of the small amplitude, but very impressive. It gets a bit louder on higher speeds and you may need to up the TV volume in the evening, but nothing too irksome.
The noise level advertised is 40-45dB, but in our observation it was 50 to 61-62 dB. This is still really quiet.
---
Who is the Renpho R3 Percussion Massager Best For?
Being an entry-level massage gun we expect it to be good for home use and for those always on the go and looking to have a once-in-while relaxing massage.
It's strong enough to dispel lactic acid, treat sore muscles, warm up muscles, break up scar tissue, and for day-to-day post-training massage. It may also be a good pick for seniors.
It is, however, not the best device for demanding users primarily because it lacks in important parameters like amplitude and stall force. If you are an athlete or bodybuilder, you may want to get something that gives you at least 12-16mm amplitude and 40-50lbs. of stall force.
For an everyday Joe, Renpho R3 is a good device for relaxation, recovery or treating soreness.
---
Pricing, Warranty and Where to Buy?
It's safe to buy it from the Renpho website. While there you can use the RECOVERME coupon that gives you a $30 discount. This makes the gun very affordable and instead of $99.99, you can get it for $69.99.
Alternatively you can buy it from Amazon.
The device has a 1-year warranty. There are many brands that offer lifetime warranties for similar or even better devices (like Urikar, Ekrin or Wodfitters to name a few), so 1 year feels a bit disappointing to be honest.
---
Renpho R3 Best Alternatives
If not the R3, then what?
---
Ekrin Bantam – Smaller and Stronger
If you are willing to slightly adjust your budget, then you could get this Ekrin Bantam – an amazing miniature massage gun.
It has more power than the R3 and it's backed up by a great brand that is improving each day. The Bantam has 35lbs. of stall force. For a tiny massage gun that only weighs 1.1lbs, this is fantastic.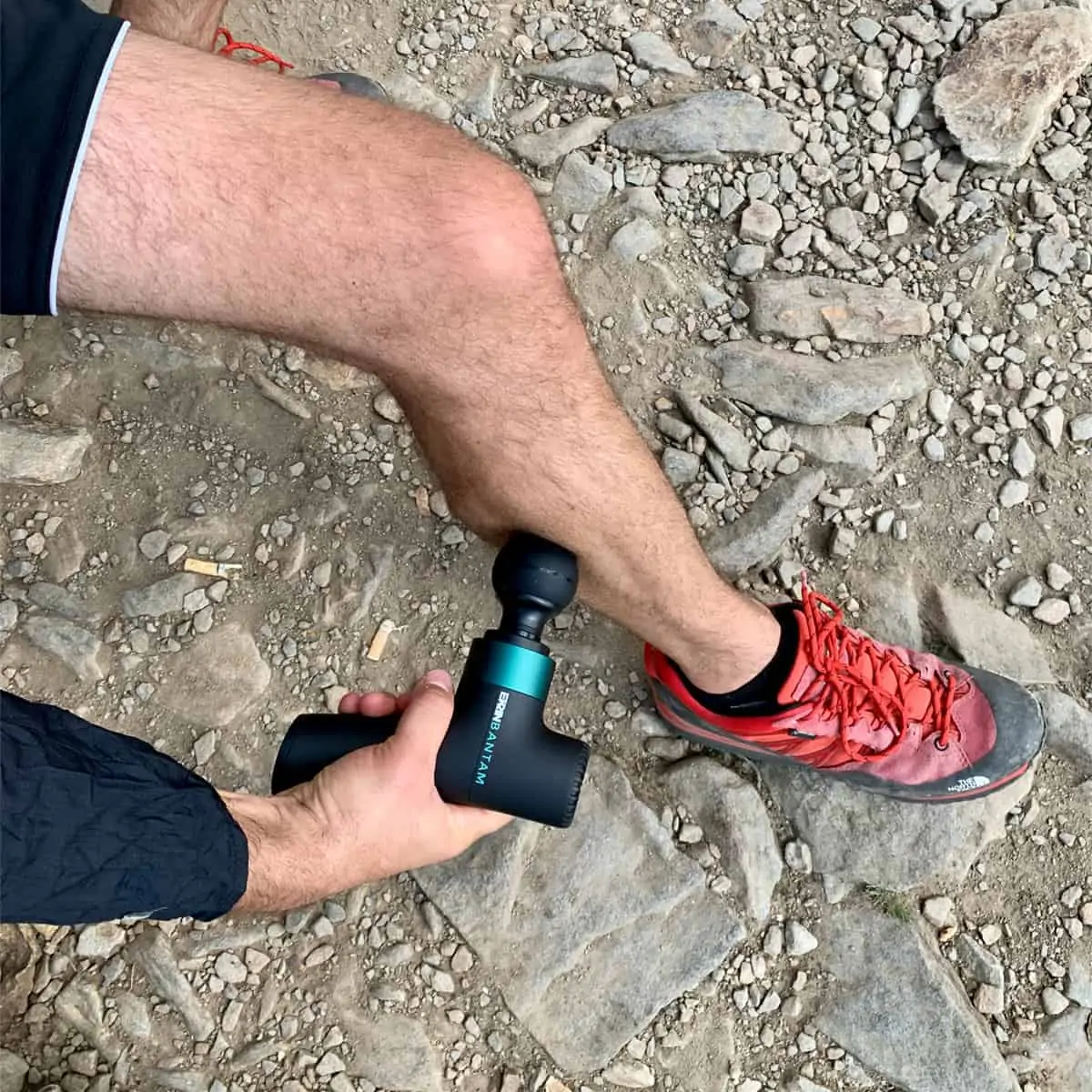 It may have a similar 10mm amplitude as the R3 (slightly larger), but the more than enough power guarantees a deep percussive massage.
It's superbly built and has even better ergonomics. With an angled handle, this device guarantees longer massage sessions without wrist fatigue. You get a lifetime warranty if you choose to buy from Ekrin, and a lifetime awesome customer support as the cherry on top.
It goes for $149.99 but with our MGA20 which gives you a 20% discount, you can get it here for only $119.99. A small price to pay for a way better device.
TIP: Read our full Ekrin Bantam Review for more info and pictures.
---
Urikar Pro 2 – Heated and Cheaper
For users who may feel let down by the little punch offered by the R3, Urikar Pro is a great yet affordable option.
Yes, it weighs 2.2lbs which is slightly heavier, but it has decent power and punch. With a 12mm amplitude, you are guaranteed a deep percussive punch.
That is accentuated with the heated massage capability that makes this thing a very unique proposition. There is a special attachment for that soothing warm massage – we covered it in our heated massage gun post.
It has 1040-2050rpm percussion range (measured by us) and revs across 6 speed gears. That's a wide range given the long amplitude. You can still start with very low intensity for a delicate massage and then gradually increase it as you see fit.
It retails at $149 but you can use our PRO2 coupon for a massive 45% discount – get it for just $82.50.
TIP: Read our full Urikar Pro 2 Review for more info and photos.
---
Renpho R3 Massage Gun Rating
Quality

Effectiveness

Usability

Accessories

Price Value
Summary
Great compact device with an impressive build. Has enough for a relaxation or post-training massage but lacks enough power and stroke length for demanding users. With 10mm amplitude and less than 35lbs of stall force, it may not be easy to perform a deep tissue percussive massage. It's a cheap entry-level device for those looking for a starter device.
---
Renpho R3 Mini Review Conclusion
Our Renpho R3 mini massage gun review comes to an end. One thing we loved about this massage gun is its compactness and the durable build. We loved the ergonomics as well, especially the rubberized and awesomely done handle.
However, we didn't exactly fall in love with the dinky 10mm amplitude and the feeble stall force. Yes that may be good enough for those looking for an entry-level relaxation device, but for serious and demanding users, we may be forced to look elsewhere.
Our alternatives are a great place to start.
Happy massage!
---
Was this article helpful?
Thanks for your feedback!
Post Update History
Here's a quick rundown of all the tweaks and edits we've made to this article to keep it accurate and up-to-date!
Current version last updated on:
•
Written by:
Greg Szostak
Disclaimers
The views and opinions expressed on this website are those of the authors. Any content provided by our bloggers or authors are of their opinion and are not intended to malign any religion, ethnic group, club, organization, company, individual or anyone or anything.
All product names, logos, and brands are property of their respective owners. All company, product and service names used in this website are for identification purposes only. Use of these names, logos, and brands does not imply endorsement.
It is our policy to make every effort to respect the copyrights of outside parties. If you believe that your copyright has been misused, please provide us with a message stating your position and we will endeavor to correct any misuse immediately.
Some of the links in this post are affiliate links. As an Amazon Associate, we earn from qualifying purchases. This means if you click on the link and purchase the item, we may receive an affiliate commission, at no extra cost to you. This helps us keep this website alive. Learn more here.
Amazon Disclosure
massagegunadvice.com is a participant in the Amazon Services LLC Associates Program, an affiliate advertising program designed to provide a means for sites to earn advertising fees by advertising and linking to Amazon.com. As an Amazon Associate, we earn from qualifying purchases. Amazon and the Amazon logo are trademarks of Amazon.com, Inc. or its affiliates. Please refer to our Privacy & Affiliate Policy for details.