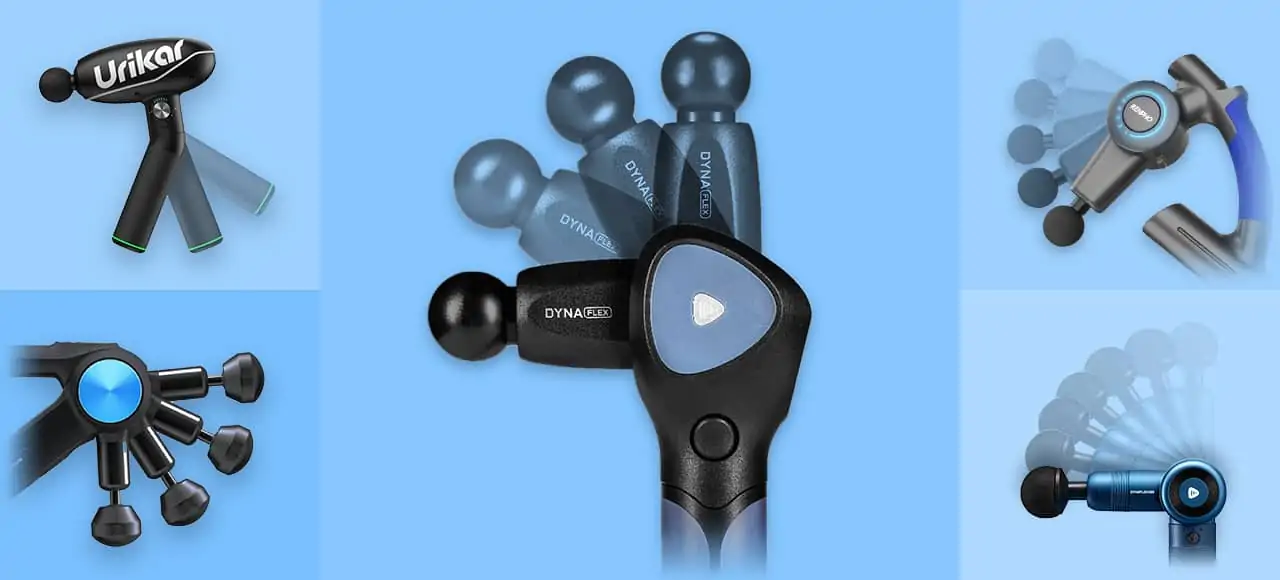 Adjustable Massage Gun – Which One To Buy And How to Choose
What To Know: our content is non-sponsored and fact-checked for accuracy. We anonymously order and rigorously test each product according to our methodology. We are reader-supported, and if you buy via our links, we may earn a commission. Learn more.
---
Does an adjustable massage gun have an advantage over any other massage gun? What kind of adjustability can you get with a massage gun? Is it such a big deal to have adjustability in a massage gun?
Well, these are some of the questions we are going to answer in this article. We are also going to list best adjustable massage guns and give you plenty to choose from if you are planning on getting one.
Come along with us!
---
---
For those in a hurry…
Bob and Brad D6 Pro – A newly released, affordable massage gun with an adjustable arm and fantastic performance features.
Urikar Pro 2 – An even cheaper option. It has an adjustable handle, and special ceramic attachment for a soothing heated massage.
Ps. we list discount codes below – scroll down to the reviews!
---
How Can Massage Guns be Adjusted?
Adjustability in massage guns isn't really a popular thing among brands that make these devices. We'd say, for now, it's more of a fancy feature introduced by some brands to address their clienteles' needs.
Some of these either have an adjustable arm or an adjustable handle. It's more common to find a device with an adjustable arm than one with an adjustable handle.
Theragun were the first to introduce adjustability in massage guns. Their G3 Pro (3rd generation Pro) had an adjustable arm. That is also the case for their 4th generation Pro device. It's the only Theragun with an adjustable arm (find full Theragun Pro Review here)
We have also seen other brands try to imitate what Theragun has done with their Pro. One such brand is Urikar, also with their Pro 2 massage gun that has an adjustable handle.
But, as we'll see with most of the products we have chosen to highlight in this article, arm adjustability is more common than handle adjustability.
There are hundreds of massage gun brands out there and each tries to outshine the other by being innovative. Some do it better than others though.
---
Adjustability Benefits and, is Adjustability Needed at All?
Adjustability has its advantages but none better than the extended reach it offers for a DIY massage.
With the traditional and certainly many other massage gun designs, massaging your back and your shoulder can present a bit of a challenge. A massage gun with an adjustable arm can help reach these areas easily.
If you have to use the massage gun on someone else, an adjustable massage gun can help with the handling of the device to effectively massage a friend.
Depending on how flexible (they don't all adjust the same way) an adjustable massage gun can be, you can also get an angle that helps you apply more pressure when needed. More pressure is needed when massaging large muscle groups for deep tissue treatment.
But is it written on stone that you must have adjustability in a massage gun?
Our answer is no. You don't necessarily need adjustability in a massage gun. We know that physiotherapists and chiropractors might benefit from adjustability because they need both the ergonomics and precision of it.
However, we have barely needed an adjustable arm when working with most massage guns – we use massage guns every day, testing them or sometimes using them for recovery after working out.
Also, we are not the only ones that find the adjustability feature peripheral, lots of physios and chiros use Hypervolt massage guns, and we all know those are not adjustable in any way.
If it's about ergonomics, some brands have come up with tweaks to their design to address that. Such brands include Ekrin and Achedaway with their 15-degree angled handles. Others include a long handle that makes it easy to reach your back.
That said, adjustability is not a must-have feature for any massage gun – unless you really need it to address a particular situation.
If you are going to buy a device for personal use, we recommend looking at other more important features like performance, noise level, and accessories (number of attachments).
---
Best Adjustable Massage Guns
---
Bob and Brad D6 Pro – Best Adjustable Massage Gun
We all know that Theragun introduced the adjustability feature into massage guns. However, for ordinary folks, that gun (Theragun Pro) is way too expensive.
Enter Bob and Brad's D6 Pro percussion massager.
This is the Theragun Pro we never knew we needed until it arrived. How is it a Theragun Pro? Well, it looks and quacks like a Theragun Pro. In other words, it has many aspects similar to the premium gun, even though it is clearly a Theragun knockoff.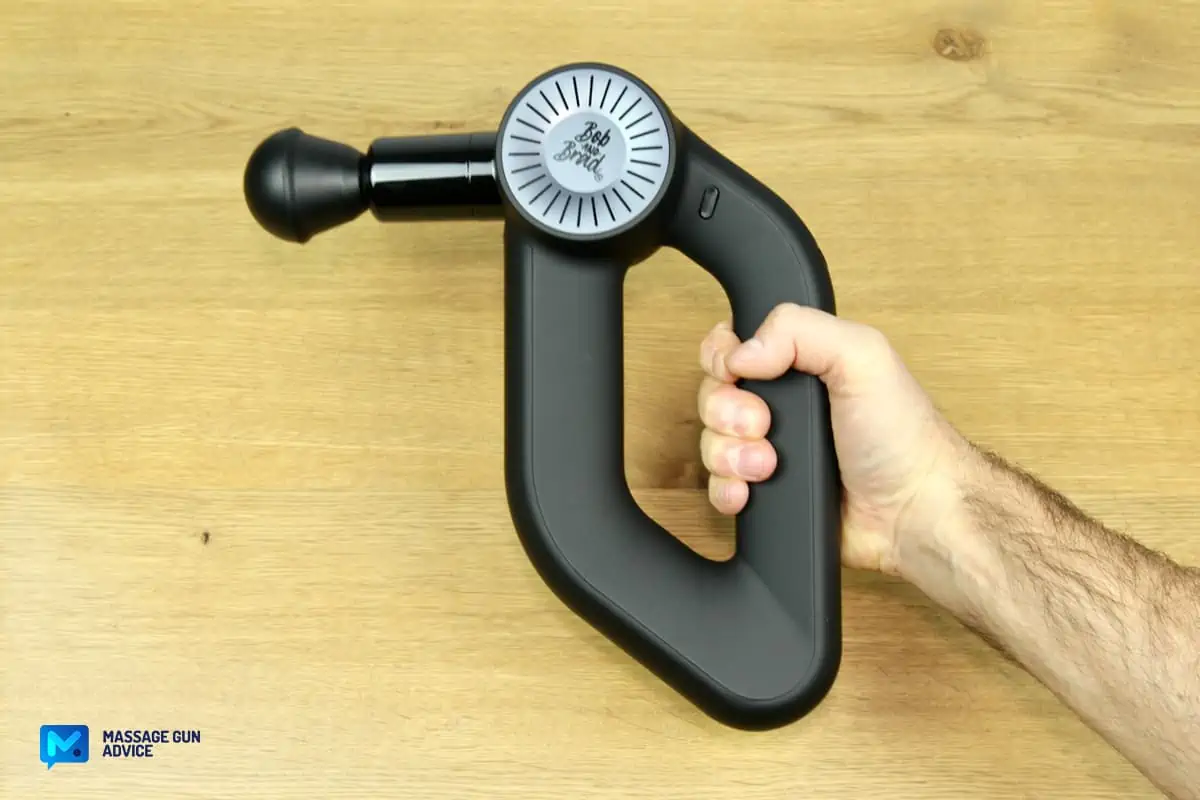 The good thing is, it's highly affordable. We will have it as our number one for now.
Let's talk about the adjustability this gun has. Remember how Theragun Pro has an adjustable arm? This one has a similar arm too. Theragun Pro's arm adjusts into 4 lockable positions. This one can adjust into 5 positions. You get an extra position for your troubles.
We are not entirely sure how the fifth position makes it better, but it wouldn't hurt to have it in the back pocket, right?
It's not just the adjustable arm that makes this gun an awesome choice, the arm has multiple grips. Just like Theragun Pro? Not exactly, but something closer to that setup.
Instead of Theragun Pro's triangular handle, this one is D-shaped.
It has a 16mm amplitude and a monster stall force of up to 60lbs.
It also revs as fast as Theraguns, up to ~2500RPM.
Plus, It has massage modes that can help make your session slightly better.
This gun isn't just number one because of its adjustable arm, it's a real value-for-money massage gun.
You will not have to break the bank to enjoy its features. Take advantage of the current coupons and discounts.
Last time we checked the price was close to $250. However, you can clip the Amazon coupon to lower the price, and, after that, apply the MGADVICE promo code (at the checkout) to save an additional 10%. This makes it a sub-$200 device – awesome value. Buy it at Amazon here.
TIP Read our full Bob and Brad D6 Pro Review.
---
Urikar Pro 2 – Heated, Adjustable Handle

Here comes our second best recommendation.
Unlike other guns on our list, Urikar opted for a different approach by making a massage gun with an adjustable handle – they actually bent their way into the adjustable massage gun space.
The handle can be adjusted up to 180 degrees. Urikar claims that this design increases flexibility by up to 30%. This makes it easier to massage the upper, middle, and lower back areas than the normal fixed handles.
We are not certain you'll enjoy using a massage gun with an adjustable handle better than you would enjoy one with an adjustable arm, but one thing is for sure, the adjustable handle is a clever way to improve the ergonomics of a massage gun.
For personal DIY massage, this massage gun is nice to have however, we believe Physiotherapists and Chiropractors will enjoy an adjustable arm more.
But what about the performance features of this device?
Well, Urikar claims that their Pro 2 has 60lbs. of stall force, that is Theragun Pro territory, but we are not so sure, it stalled rather easily. It might not have more than 30 lbs.
However, it has a 12mm amplitude that makes it a punchy gun – you may not get more applied pressure, but you will get some good punches. It can also rev at an intensity with up to 2050 rpm, as measured by us.
The Pro 2 has one killer feature – the heated massage attachment. It is the only heated gun on our list, and we recently voted it the best heated massage gun overall.
It has a good grip and dynamic speed modes that allow the device to change its intensity over time.
It costs $155.99 but Urikar will occasionally share discount coupons that can range from 20-45% off the normal price. Last time we checked, PRO2 coupon was working well, slashing the price by 45% to a very reasonable $93.5. Get your Urikar Pro 2 here.

ps. You can also try using the URIKAR200 promo code (40% OFF). .
TIP If that's too expensive you can go with the cheaper Pro 3. All these have the same adjustable handle but does not come with a heating option. For more details, refer to our Urikar Pro 2 review.
---
Lifepro DynaFlex – Also Recommended

If you have to insist on getting an adjustable massage gun, then this newly released Lifepro device should be your first choice.
It comes as a much needed alternative to the expensive Theragun Pro. Even the cheaper Renpho massage gun with its "astonishing" design isn't the best adjustable device out there – at least not as far as performance goes.
This Lifepro DynaFlex has everything packaged in one device. It doesn't just come with the adjustable feature, it is a powerful device as well, and all this at a very affordable price.
In terms of adjustability, this massage gun has an arm that rotates into 4 lockable positions (0o, 30o, 60o, and 90o). The 4 positions are lockable – the lockable feature is crucial for any adjustable massage gun.
It works by pressing the big blue button on the side of the gun and pushing the arm up into any position you want. Pretty simple to use.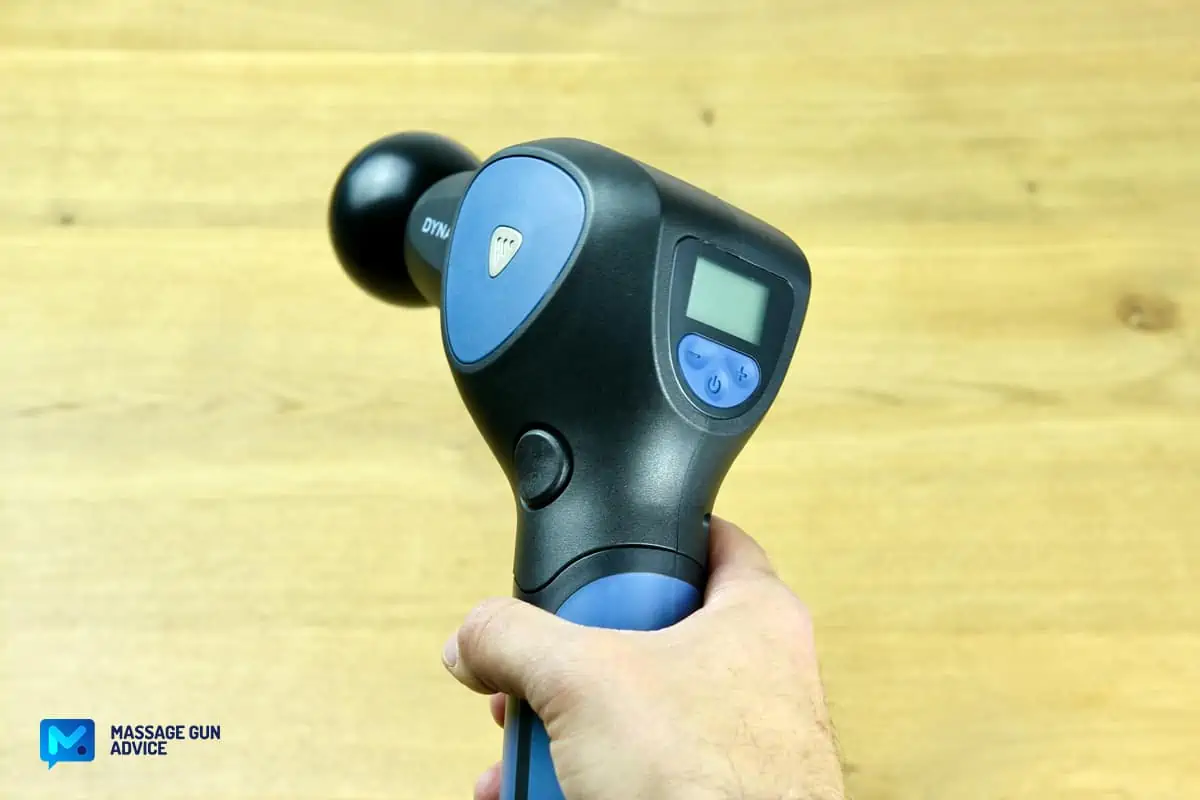 Apart from the adjustability, this massage gun has nice performance features – we love it. For starters, it has a 13mm amplitude – 1mm above the 12mm sweet spot. It's not 16mm like Theragun but 13mm is good enough for a deep tissue massage even on strong muscles.
It also has 45lbs. of stall force. It's obviously not as strong as the Sonic X which has a whopping 56lbs. of stall force but 45lbs. is Theragun Elite and Hypervolt Plus league.
It has a percussion range of 1500-3300rpm – pretty intensive. It has 16 speeds to cycle through and may take a bit of getting used to before you can figure out what speed works for you. It's not a heavy device, just 2.5lbs – similar to the original Hypervolt.
It comes with 10 attachments and a carrying case as well. You also get a lifetime warranty and awesome customer support.
More importantly though, it only costs $149.99 and 10% less if you apply the MGA10 coupon. It's then only $134.99 at Lifepro official store.
TIP Refer to our full Lifepro DynaFlex review for more details.
---
Renpho R4 Pro Massage Gun – Budget / Entry Level Choice
Renpho takes the prize for being the most peculiar massage gun on our list. For a device that has been on the market for 2 years now, it looks amazing and innovative. Many devices from 2 years ago had everything apart from decent ergonomics.
The R4 is another adjustable massage gun. It's another one with an adjustable arm. It gives you multiple options to work with – up to 5 adjustable angles.
In terms of performance, however, Renpho R4 Pro works more on the surface than deep into the muscle tissue – it has the characteristics of a vibrational massage device.
One of the things that makes it unsuitable for a deep tissue massage is its 10mm amplitude. This again is only good if you are looking to warm up your muscles before a workout or a soothing massage. It does, however, have enough intensity to do the job well – up to 3200rpm across 4 speeds.
The stall force is below 30lbs. and won't be good enough for an aggressive massage.
Another cool thing about this percussion massager is the removable batteries feature. We don't encounter this a lot with most massage guns. Physiotherapists and chiropractors love massage guns with removable batteries. It comes with 6 attachments and a carrying case.
You can buy it here for $99.
---
Theragun Pro – Best for Professionals
What about Theragun Pro? After all, wasn't it the first ever adjustable massage gun? We'll reserve the answer for the second question, but this post wouldn't be complete without mentioning Theragun Pro.
Theragun are the pioneers of the percussive massage guns industry and their Pro massage gun has a lot to offer, not just in adjustability, but a lot of other important aspects as well.
But first, the gun adjusts into 4 lockable positions. This greatly improves the already great ergonomics – it has the patented triangular shape that allows for multiple grips.
The Pro is also the most powerful massage gun on our list. With up to 60lbs. of stall force, it's one of the best massage guns for deep percussive massage. It also punches the best in the business. It has a 16mm amplitude – Theragun has had this for a while, other brands are catching up (like Achedaway Pro) but they were here first.
It has Bluetooth connectivity that allows it to connect to the Therabody app – an awesome feature that allows you to interact with your massage gun on a whole new level.
It's made for pro athletes, physios, and chiropractors. It comes with 2 batteries included, 6 attachments, and a traveling case.
It definitely isn't cheap, but it's probably worth it given what you are getting. Get the Theragun Pro here at therabody.com.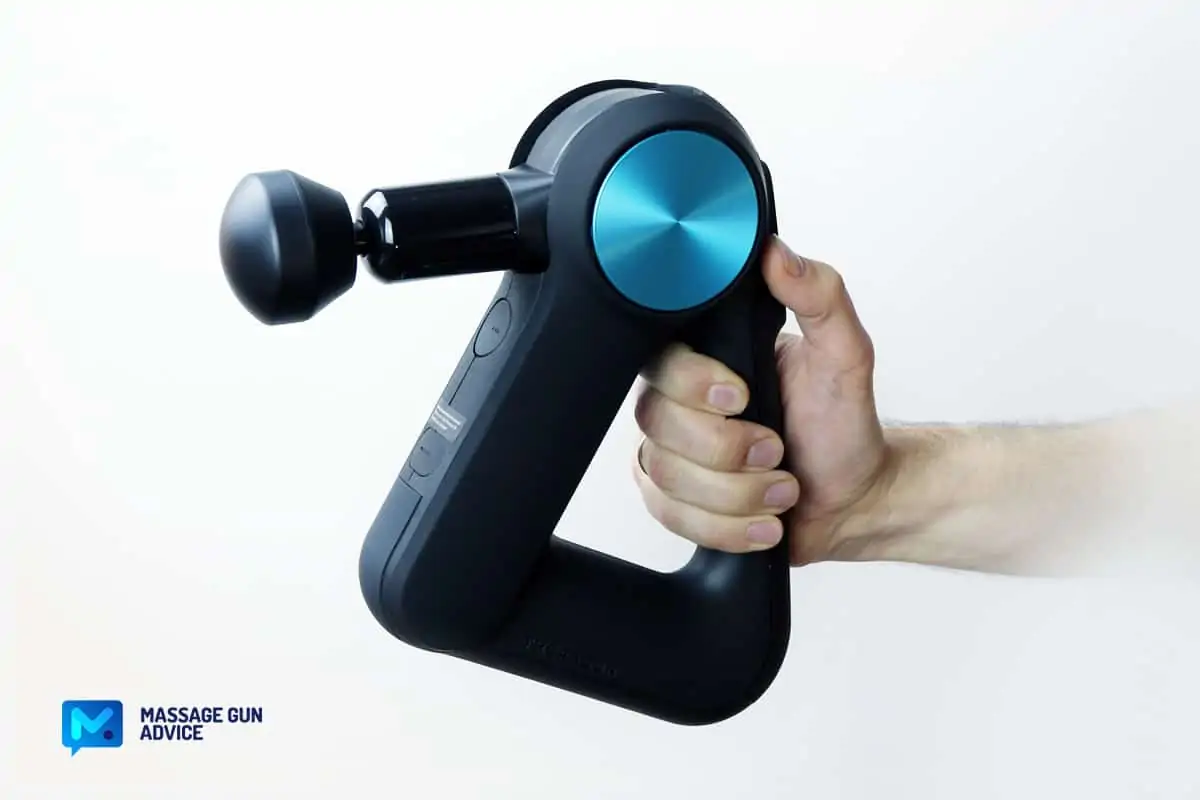 Often Asked
How to Adjust Theragun Arm?
We know how good Theragun Pro is as an adjustable massage gun (the only adjustable Theragun model in fact). But how do you adjust the Theragun Pro arm? Well, it's simple really:
Find the adjustability button on the gun. It's just under the arm and clearly visible.
Press and hold the button down.
Move the arm up until you hear a clicking sound.
Do this for all 4 positions.
Sometimes the arm doesn't click into position that easily. This shouldn't worry you, just try applying a bit more force. Nothing too violent though, Theragun isn't liable for any breakage that happens when you use too much force.
---
Massage Gun with Adjustable Arm – Conclusion
Finally, in our opinion, the new Bob and Brad D6 Pro has all what it takes to be a near-perfect massage gun. It is highly adjustable, well set up as a percussive massage gun with good performance features, and comes at a reasonable price.
The Urikar Pro 2 is an even cheaper, but also interesting adjustable massage gun option that has the clever mechanism to adjust the gun, and heated massage mode.
If you have the budget for it, Theragun Pro presents all kinds of possibilities and still ranks as one of the top percussion massagers overall.
Still can't decide or have more questions? Drop us a comment below!
Take care!
Was this article helpful?
Your feedback makes our content better!
Thanks for your feedback!
Post Update History
Here's a quick rundown of all the tweaks and edits we've made to this article to keep it accurate and up-to-date!
Current version last updated on:
•
Written by:
Greg Szostak
Disclaimers
The views and opinions expressed on this website are those of the authors. Any content provided by our bloggers or authors are of their opinion and are not intended to malign any religion, ethnic group, club, organization, company, individual or anyone or anything.
All product names, logos, and brands are property of their respective owners. All company, product and service names used in this website are for identification purposes only. Use of these names, logos, and brands does not imply endorsement.
It is our policy to make every effort to respect the copyrights of outside parties. If you believe that your copyright has been misused, please provide us with a message stating your position and we will endeavor to correct any misuse immediately.
Some of the links in this post are affiliate links. As an Amazon Associate, we earn from qualifying purchases. This means if you click on the link and purchase the item, we may receive an affiliate commission, at no extra cost to you. This helps us keep this website alive. Learn more here.
Amazon Disclosure
massagegunadvice.com is a participant in the Amazon Services LLC Associates Program, an affiliate advertising program designed to provide a means for sites to earn advertising fees by advertising and linking to Amazon.com. As an Amazon Associate, we earn from qualifying purchases. Amazon and the Amazon logo are trademarks of Amazon.com, Inc. or its affiliates. Please refer to our Privacy & Affiliate Policy for details.