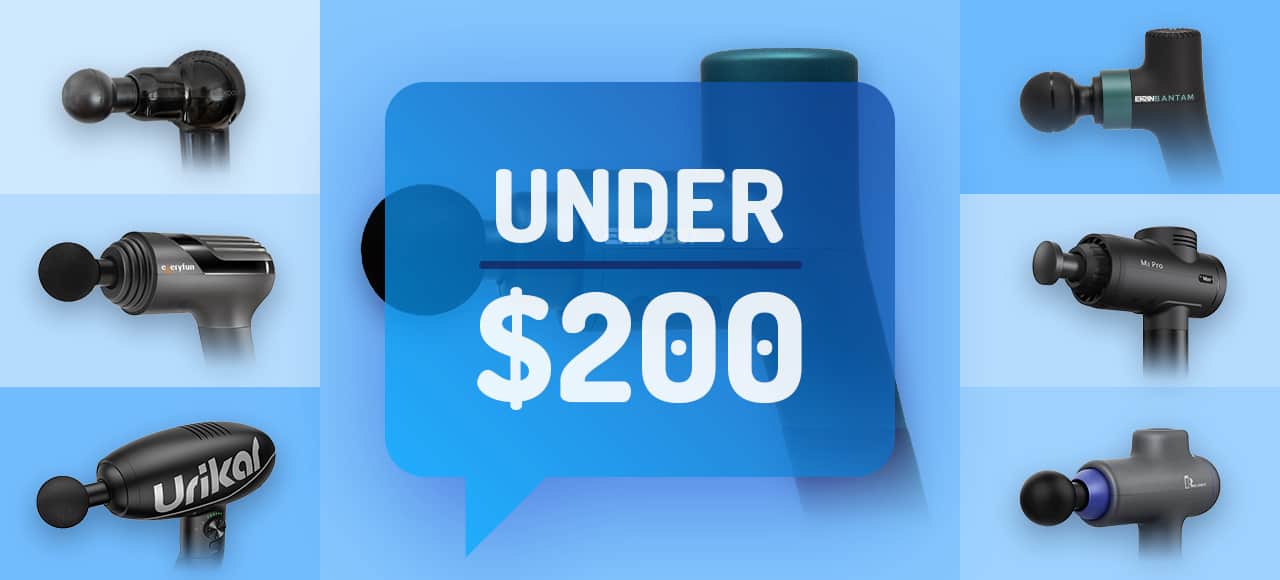 Best Massage Gun Under $200 – A Look At The Best Underpriced Gems
Disclaimer: Our content is unbiased, non-sponsored and fact-checked. If you buy via links on our site, we may earn a commission. As an Amazon Associate, we earn from qualifying purchases.
---
Welcome to our best massage gun under $200 post. This one comes hot in the heels of the previous post where we tried finding the best massage gun under $100. That was a tough one, to be honest. We had to search nook and cranny for massage guns that are cheap but without compromising on our highly set standards.
However, for this one, things are looking up.
---
In a hurry? If you have to go this early, check out our two best recommendations:
Ekrin B37
Great performance features and comes with a lifetime warranty. It's normally over $200 but with our MGA20 coupon it falls below the $200 mark. More details below.
Opove APEX
A high amplitude gun with some excellent ergonomics. It stands out but still cheap. Its MSRP is $199, but it is currently 20% off. Get it here. More details below
---
---
Best Massage Gun Under $200
Just 2 years ago, it would've been difficult to come up with a best massage guns below $200 list. This is because back then, anything under $200 would only fetch you an introductory device, and boy were those awful!
But since then things have changed and the fact that the market is flooded with these devices means that many are cheap now. You can easily find a worthy massage gun with this budget. In fact, we have seen hundreds of devices under $200 and amazingly enough, a few of our favorite as well.
We'll be sharing our best picks in this category and coupons for devices that are slightly over our threshold to even things out.
So, let's find you the best massage gun under $200!
---
What Makes a Good Massage Gun Under $200?
Things are not as murky in 2021 for the under $200 category as they are for the under $100 category. Most under $100 massage guns are mediocre devices from unknown brands that we know will not survive one more year. However, as we saw in our post, you can get some good devices from trusted brands that actually care about their customers.
For the under $200 category, now in 2021, it's somewhat easy to find good massage guns that will serve you well. However, it's also not uncommon to encounter devices that just won't cut it – very poor performance features.
We believe it's very important that the performance features be good enough because there are flashy toys in the market. All these brands do is embellish their products to look like Theragun or Hypervolt but with no real quality.
Another thing that we also noticed in our research for this post, is that most guns are still vibrational therapy tools. Instead of more power and long head travel, all they do is offer intensive surface-level massage.
While this is also fine, for those just looking for a soothing device, we prefer percussive massage guns – those that deliver power, and punch deep into the muscle tissue.
---
Criteria for Choosing – A Few Practical Tips
Here's what to look out for.
---
Stall Force
Stall force is the amount of pressure it takes to stall the motor of a device. This happens when the device is pressed hard against the skin. Strong devices can withstand a fair amount of pressure before they stall. The pressure is measured in pounds (lbs.).
Almost 80% of devices on Amazon have 30lbs. or below of stall force. However, some under $200 guns will still offer more power – 40-50lbs or sometimes even more. We are believers in more stall force.
This is because a device that can offer more stall force is more versatile than one that offers very little power. Even though you may need a delicate massage, hamstrings and glutes will need a bit more power.
Stall Force Comparison of Massage Guns Under $200
Conclusion
Finding a massage gun with reasonable power under $200 was difficult two years ago but things have changed since then. Devices like Ekrin B37, Opove Apex, or and Ekrin Bantam (in the mini category) all offer plenty of stall force while being reasonably priced.
---
Stroke Length (a.k.a Amplitude)
Commonly referred to as amplitude, stroke length is the distance traveled by the massage gun head to give you the percussions per minute. The amplitude of a device tells you whether a device is percussive or simply vibrational. A long amplitude means the device can reach deep into the muscle, while a short one means it's a vibrational tool.
A good enough stroke length, paired by just enough stall force can propel a device to the top of percussive performance. We believe that even for massage guns under $200, the amplitude should be at least 12mm long. Our top picks have more – 13 to 15mm long.
We should warn you of cheap devices that have extra-long amplitudes but have very little stall force to back it up with – recent examples include Legiral Le3, Chirogun and Cansou.
Amplitude Comparison of Massage Guns for Under $200
Conclusion
Generally, more amplitude is better for a percussion device but only if there's enough stall force available. Our top picks all have pretty powerful motors (which doesn't mean they cannot be used gently). Some of them, like Ekrin B37 or RecoverFun Plus have lower amplitude but plenty of stall force to compensate for that. In the mini category, 10mm stroke is what you should look for.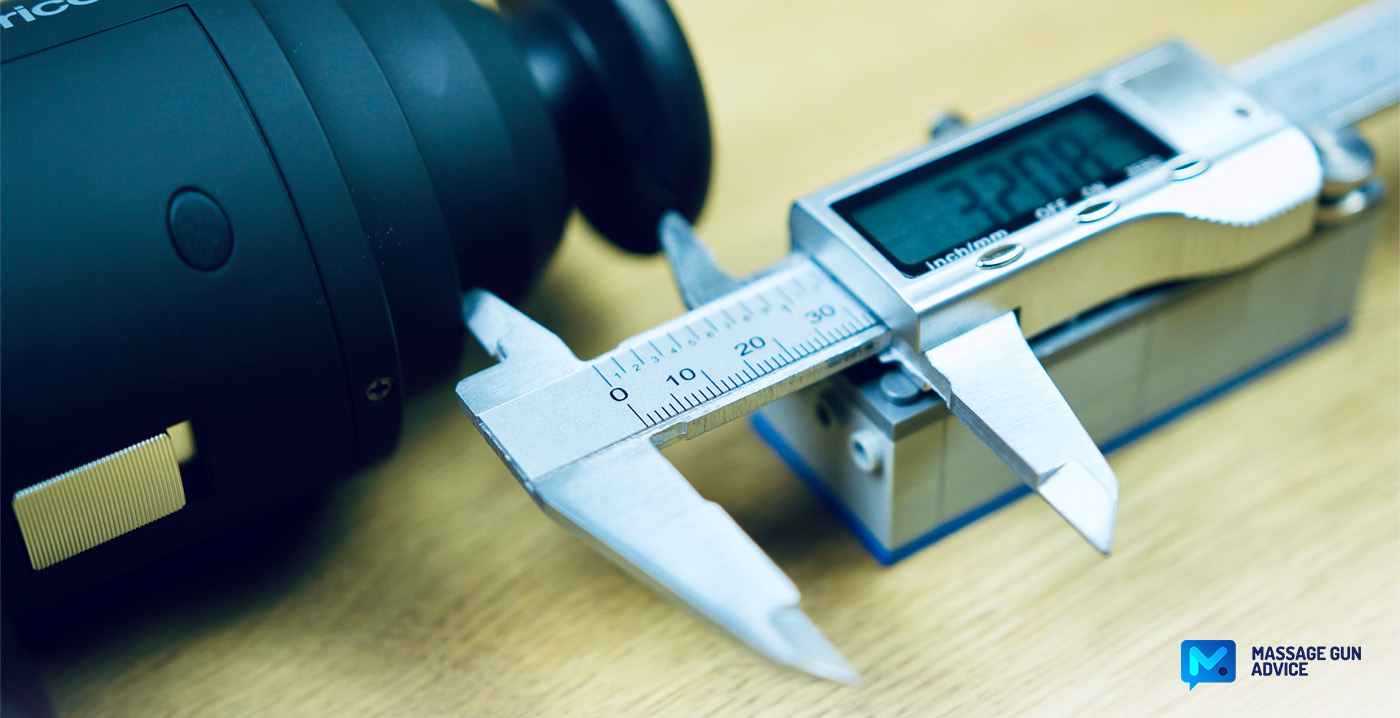 ---
Percussions
Percussions/RPMS: In this category, most guns will have a percussion range of 1800-3200rpm. This is standard percussion range for most guns.
However, there are devices with less percussions per minute. These often have long amplitudes. Some devices will have up to 4000 maximum RPMs. These are, in most cases, vibrational tools that need more intensity to get the work done.
---
Other Features To Look Out For
Speed gears: We prefer 4-6 speeds. 3 speeds is acceptable, and maybe 7-8, but really nothing more (cycling through 20+ speeds = frustration guaranteed)
Pre-programmed massage modes: When pressure changes means automatic intensity change as well. These are preferable.
Extras like pressure sensors.
Build quality: Unheard of 2 years ago but now there are awesomely built devices that cost less than $200.
Noise: There are many massage guns under $200 that are way quieter than even the so-called best in the business.
Weight: This is an issue for the full-sized massage guns. Some tend to be too heavy. We chose that are not heavier than 2.5lbs. Ideally though, go for guns that are 2.2lbs or lighter.
Size: Size is a real challenge for most cheap massage guns. Many are bulky. We prefer compact devices and we tried to find those.
Ergonomics: we gave more points to devices that tried to be innovative in this area.
Accessories: We looked for the number of attachments (5 or 6 is enough), travelling case/pouch.
Brand trustworthiness.
Battery capacity and time on battery: This is no big deal because most devices these days tend to stay juiced up for 1-2 weeks after a single charge.
Warranty offered: Many no-name brands offer just 1-year warranties or nothing at all. Trusted brands often offer lifetime warranties – we tried to find such.
Value for money: Obviously we picked devices under $200 but we also tried to pick those that offer the best bang for your buck.
---
Best Massage Guns Under $200 – Full Sized Devices
Below is our list of what we think are best massage guns under $200, starting from our best pick. We'll first include regular-sized devices, and then follow up with our best picks in the mini/small category.
---
Ekrin B37 – Editor's Top Pick
Ekrin is one of our favorite brands not just because they have great quality products, but also because they offer superb customer care. We can never help it but go back for more.
When we compiled this list, their B37 massage gun was over our $200 threshold. However, because they have a great offer that knocks 20% OFF the usual price (use code MGA20), we had to include it here – and rank it as our number 1 recommendation too.
Straightaway Ekrin shines where it matters most – stall force. This device has a whopping 56lbs. stall force. In most of our massage gun reviews we have always ranked it right next to the mighty Theraguns because of this.
To go with the great stall force, it has a 12mm amplitude. This means that Ekrin B37 can give a deep-to-the-bone percussive massage. Even though the amplitude is not Theragun-like, the great stall force allows for this.
Other features that made us pick the B37 include the percussion range – 1400-3200rpm. It's probably normal range for most guns in this category.
But we like how the range is so spaced out. It means that with this gun you can start slow and climb up as you see fit. Instead of starting at 1750rpms like in Theragun, you can start at 1400rpms. It has 5 speeds to cycle through, which is just perfect. 
It's nicely built and comes in great size. It weighs 2.2lbs, which is just about the accepted weight limit for massage guns in its category.
It also has great ergonomics. Ekrin probably started a revolution with their 15-degree angled handle concept, many brands are angling this way.
It has a Samsung branded battery with 2550mAh capacity that can last for 5-8 hours with a single charge. It's also a fairly quiet gun (advertised as revving 35-55dB, but it starts at 50dB to slightly over 60dB).
Ekrin is our favorite brand because they offer a lifetime warranty for all their products.
With the MGA20 coupon code you get 20% OFF the normal price so you can buy it at only $183.99. Get it right here.
More Info: Read our in-depth Ekrin B37 Review for more details.
---
Opove APEX – Our Top 2 Choice

The first Opove device we encountered was the Opove M3 Pro which was more Hypervolt-like than anything else. Then, The M3 Pro Max (get the names right here) looked more similar to Hypervolt Plus. Recently, however, we welcomed the new Opove Apex – finally a unique and original-looking gun by Opove.
Not only that, it's a great bargain for what you are getting. It also slightly falls over the $200 mark, but we have a great offer that puts it right within our category here.
For starters, unlike our beloved Ekrin B37, Opove APEX focusses more on amplitude. It has a verified 14.5mm amplitude that wowed us.
We are used to seeing this kind of amplitude in high-end massage guns like Theragun and Achedaway Pro.
That is powerful company to be in but only if you have enough stall force. The Pro Max has plenty of stall force as well – up to about 45lbs. We thought this was more advertising than real, but we tested it and it's not easy to stall it.
The Apex has also been well thought out ergonomically and is comparable to our top product – Ekrin B37 – although in this case handle is even more aggressively angled. It also weighs slightly more than the B37 – 2.3lbs.
It has a decent percussion range for a gun with a long amplitude – 1800-2300rpm. It has 3 speeds to cycle through which might not be a lot, but is enough for the percussion range.
It comes with 6 varied attachments and a carrying case. It's quiet for a high amplitude gun – 60dB at the highest intensity is not a lot.
The best part? It's normally $199 but with this link you can get it for $59 – it's $40 OFF.
More Info Read our full Opove APEX review.
---
Lifepro Sonic LX – Top 3

The Lifepro Sonic LX is the third device in our list but don't let the ranking fool you. As we said in our full review, this is a serious device with a lot to offer and at a great price.
But perhaps the thing that made us stop and pay attention to this massage gun, is its motor power. It's a 72 Watt monster that we are certain can deliver a lot of power for a percussive massager.
Yet, with that kind of power output Sonic LX has about 33lbs. stall force. We'd expect more, to be honest, but on the other hand we've recently seen a number o brands overstating the specs, so we'll take the real 33lbs. instead of fake 50 or so.
One thing for sure: the LX massage gun definitely feels stronger than, say, Theragun Prime or Hypervolt.
To go with the decent stall force is a 12mm amplitude that guarantees a good punch.
It also has a great percussion range – 1800-3400rpm across 9 speeds to cycle through. Not many guns have a wide range like this one has.
It's a power tool as well and unlike our beloved Ekrin B37, the ergonomics are a bit of a letdown. It however weighs just 2.3lbs which is superb for a full-sized massage gun.
It comes with 7 attachments and a carrying case. The battery is well juiced and can last for up to 4 hours depending on what mode you use. It's a quiet gun – 60-65dB – maybe not the quietest on our list, but still ok.
It comes with a lifetime warranty. It normally retails for $199.99, but with our MGA10 coupon code you get a 10% discount. It then only costs $179.99.
More Info: Read the full Lifepro Sonic LX Review for further information.
---
RecoverFun Plus – Top 4
The RecoverFun Plus is an interesting percussion massager. For starters, it is a bit smaller than our previous recommendation, Lifepro Sonic LX and slightly more portable this way.
We recently reviewed the RecoverFun Plus and really liked what we saw. Here we include it because it's a great bargain.
The Elite has an advertised 62 lbs. stall force which at first sight sounds super-impressive, but in practice turns out to be less, likely around 45-50. It is still more than enough for most people so we think that even big boys and gym rats will be happy from how strong it is.
It may not hold the record for the highest stall force, but the 12mm amplitude is something to behold (especially for the size).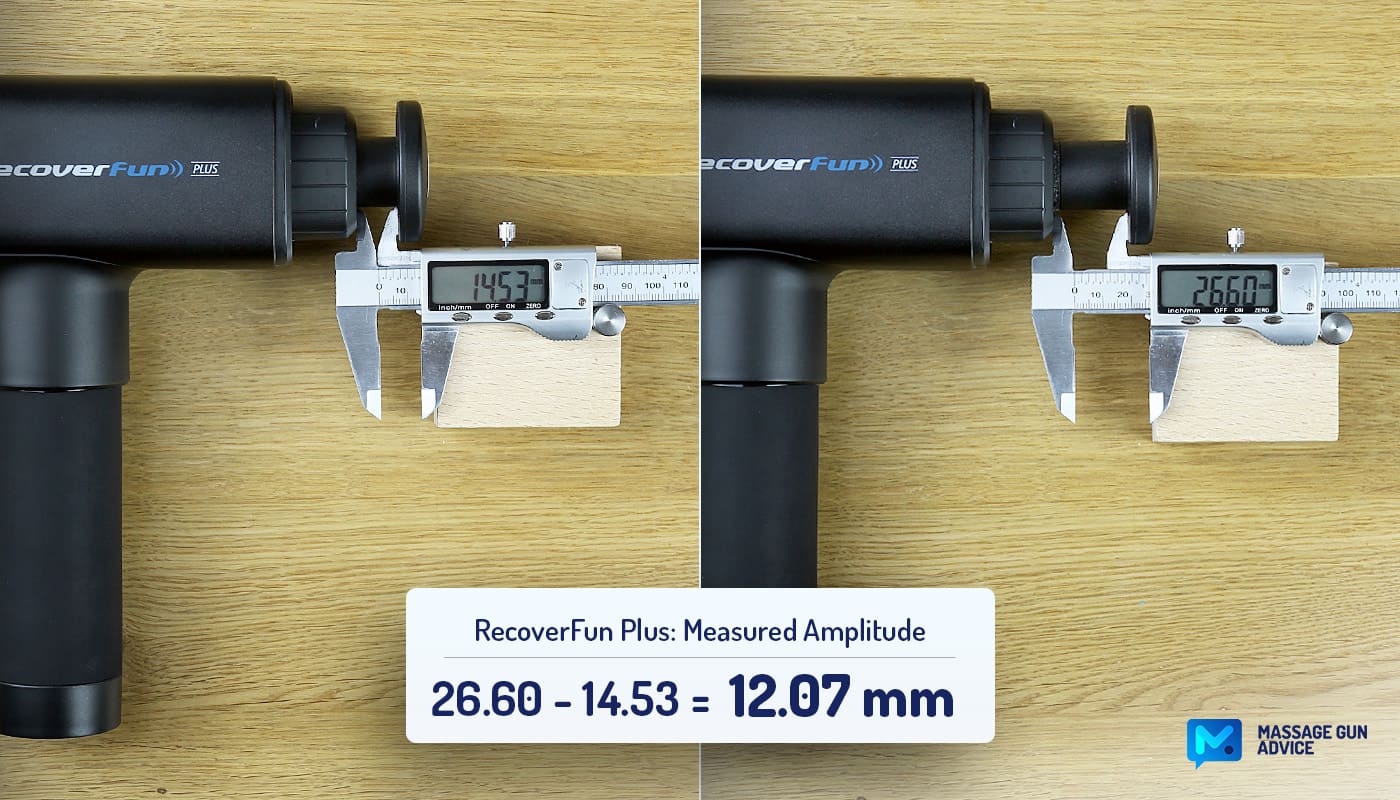 Then there's the percussion range, 1500 to over 3000 percussions per minute.
Our experienced judgement tells us it's actually accurate, which doesn't happen often (many brands like to overstate percussion figures). Needless to say, this is good enough for a percussive massage.
It's well built but isn't the slimmest and lightest device out there. Our first two recommendations, Ekrin B37 and Opove Apex, are more ergonomic devices. This one can compete with the Lifepro Sonic LX though.
Battery life is good – up to 3 hours on a single chars. If you need more, you can buy a spare battery as this is the only device on our list with detachable battery. With a second battery, this device can definitely do 5 to 6 hours, depending on how much pressure you apply and what speed you are using the most.
It comes with 6 attachments, 4 of which are made from silicone, and a carrying case.
RecoverFun Plus retails for $169, but you can use our MGA5 coupon that knocks off $5 and then you can get it here for slightly less, $164.
MORE INFO Read our Recoverfun Plus Review for further details.
---
Bob and Brad X6 Pro – Top 5

This one is a newly released massage gun with a lot to offer. Bob and Brad finally made the leap to full-size massage guns. We'll call it an upgrade of the previous C2 model because it has many similar features.
For starters, Bob and Brad kept the oval shaped handle and made it nicely rubberized for a firmer grip. They also made sure to keep it as compact as possible – it's not bulky and weighs just 1.9 pounds.
In terms of performance, it's so-so. It has a decent 40lbs. stall force but only 10mm stroke length.
That means it's a vibrational device that can be pressed hard against the body. We're still not convinced that it can offer a deep percussive massage, but it will be a nice choice if you don't cherish an aggressive massage. It has a standard percussion range of 2000-3200rpm.
It's well equipped with a carrying case and 5 nicely varied attachments. The flat attachment is metallic and can be heated or put in the freezer for a hot or cold massage – a neat feature to have.
It comes with a 1-year warranty and costs less than $150—a decent buy for those who want a starter massage or for the elderly.
If you'd like to give it a try, you can get it at Amazon right here.
More Info Read our Bob and Brad X6 Pro Review for further details.
---
Best Mini Percussion Massager Under $200
---
Ekrin Bantam – Best Mini
Ekrin Bantam is the scaled down version of the successful B37 and we enjoyed reviewing it a few months ago. It's a super-compact device that is about 6.5" tall, 4.5" long (with the ball attachment), and 1.9" width.
That means it's even smaller than the Theragun Mini or Hypervolt Go – you can literally put this device in your pocket and it won't bulge it. It has the same 15-degree angled handle like its bigger counterpart. It's nicely built and weighs just 1.1lbs.
This massage gun also impresses greatly with its performance features. It has 35lbs. stall force, which is one of the best among mini massage guns.
It has a respectable 10mm amplitude which is enough when paired with the great stall force.
It has a 2000-3200 percussion range with three speeds to go with it. Three speeds is standard for most mini massage guns.
It comes with four attachments with a nice instructions manual on how to use them. It has a Samsung branded battery that will last 3-5 hours depending on usage. For a mini massage gun, it comes with a carrying case, something we don't get with the highly priced Theragun Mini.
It normally costs $149, but with our MGA20 code that gives you a 20% discount, you can get it right here for only $119.99 – a fantastic deal in our opinion.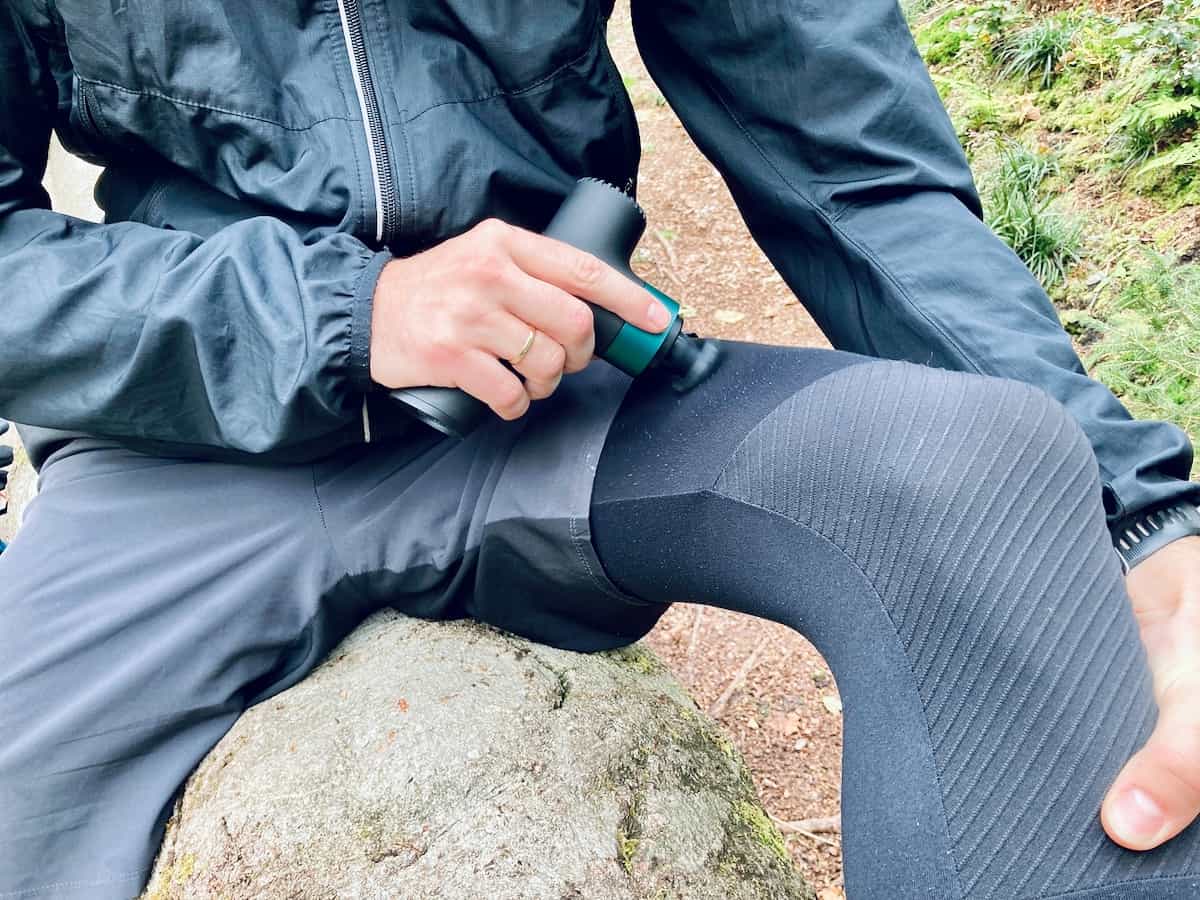 ---
Best Massage Gun Under $200 – Bottom Line
There goes our list for the best massage gun under $200. As you probably noticed, many of them have a coupon discount that makes them even cheaper.
We chose the Ekrin B37 as our top pick because we love what Ekrin are doing for the percussive therapy industry with their great devices and unrivaled customer support. The Bantam ranks top among mini massage guns under $200 with a superb ergonomics, reasonable power and nice build.
If you still have doubts and need help, you can always get in touch by asking a question. We'll be glad to suggest you the right massage gun for your needs.
Till the next one!
Disclaimers
The views and opinions expressed on this website are those of the authors. Any content provided by our bloggers or authors are of their opinion and are not intended to malign any religion, ethnic group, club, organization, company, individual or anyone or anything.
All product names, logos, and brands are property of their respective owners. All company, product and service names used in this website are for identification purposes only. Use of these names, logos, and brands does not imply endorsement.
It is our policy to make every effort to respect the copyrights of outside parties. If you believe that your copyright has been misused, please provide us with a message stating your position and we will endeavor to correct any misuse immediately.
Some of the links in this post are affiliate links. As an Amazon Associate, we earn from qualifying purchases. This means if you click on the link and purchase the item, we may receive an affiliate commission, at no extra cost to you. This helps us keep this website alive. Learn more here.
Amazon Disclosure
massagegunadvice.com is a participant in the Amazon Services LLC Associates Program, an affiliate advertising program designed to provide a means for sites to earn advertising fees by advertising and linking to Amazon.com. As an Amazon Associate, we earn from qualifying purchases. Amazon and the Amazon logo are trademarks of Amazon.com, Inc. or its affiliates. Please refer to our Privacy & Affiliate Policy for details.