Theragun Elite Review – Does It Live Up to Its Name?
Disclaimer: Our content is unbiased, non-sponsored and fact-checked. If you buy via links on our site, we may earn a commission. As an Amazon Associate, we earn from qualifying purchases.
---
Today in our Theragun Elite review, we're going to find out whether Theragun's second most powerful gun really lives up to its name.
Theragun themselves are "elite" in the percussive therapy space. It would be such an outrageous injustice if for some reason we fail to mention them first when talking about massage guns. They are a company that always seeks to improve what they do.
Theragun SALE Save up to $200 on 4th gen Theraguns. Browse all the deals
---
---
Speaking of always improving, the Elite is in the group of massage guns that they are calling "fourth generation". This group comes with a number of features bettered from the previous third generation.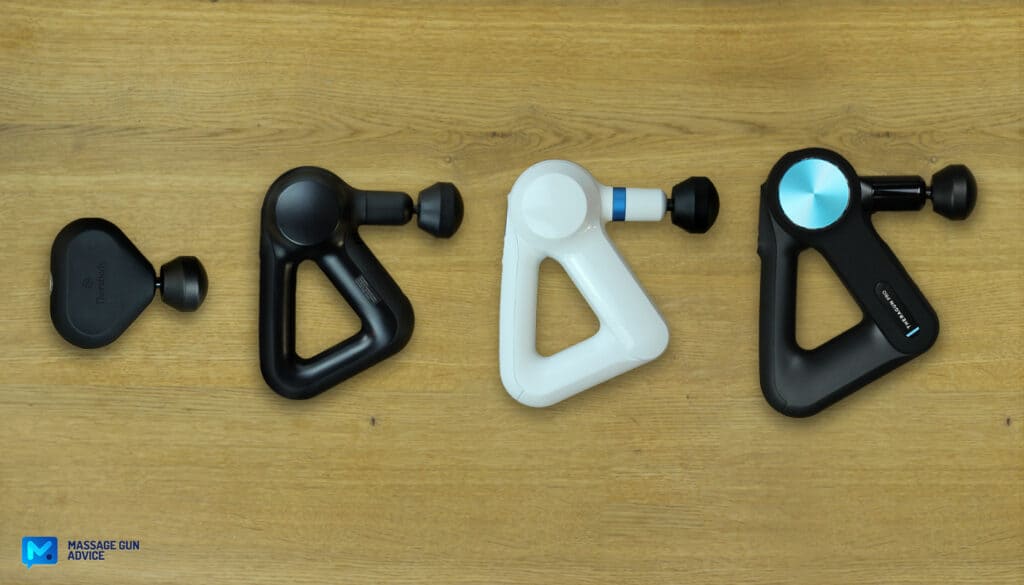 For starters even the names given to these new devices are different. But perhaps the thing that stands out for these set of devices, is that Theragun promises they're much quieter. If you have used the third generation devices you're probably saying "they better be!"
Well, the Elite is the second most powerful massage gun in the Theragun family after the Pro. We recently reviewed their entry-level Prime and were hoping that this one perhaps has better features. We were disappointed by Prime's power to say the least.
So, is the Elite really that "elite"? Is it worth buying, or are its more affordable competition better?
Read on to find out!
---
Theragun Elite Review
---
Theragun Elite Specs
Feature
Theragun Elite Specs
Stall Force
40 lbs
Stroke Length
16 mm
Speeds
5
(unlimited with Therabody app)
Percussion range
1750 – 2400 ppm
Weight
2.2 lbs
Dimensions
9.5" x 6.7" x 2.8"
(24cm x 17cm x 7.4cm)
Attachments
5 included
Noise (decibel)
~60-67 dB
Battery Life
2 hours
Extra Features
OLED Screen
Force meter
Custom Routines Pre-set
Bluetooth and Therabody app
Pros
Great stroke length
Adequate stall force (to stroke length)
Ergonomy
Cons
Still too loud
So-so time on battery
Fingerprint magnet
High Price
Warranty
1 year
Current Price
Check here
Theragun Elite Specification
---
First Impressions and Build Quality
First things first and finally a Theragun with a carrying case. The bottom two in line only offer a so-called "soft pouch".
Theragun Elite comes in a high quality textured case that looks sleek and feels really nice. Maybe we just might have something with this one. But let's see what's in the case first.
So the gun is smack in the middle of the case when you open it. We have seen many cases with shaped out compartments for other accessories that come with the gun.
But for the Elite, Theragun chose two pouches sewn into the sides of the case that hold the attachments, the dedicated charger, and we also found an Apple-style envelope.
Inside we found the brand story, a letter from the founder, a quick-start guide, a sticker, and warranty information.
---
The Device
Again this is a true Theragun device in terms of its design. It's the same triangular shape that they are well known for.
The multiple grips option is an excellent selling point. If you've read many of our reviews you might have noticed our distaste for the T-shaped guns like Hypervolt.
The Elite is an impressive device to behold. It's not all matte black like its Prime sibling. It's glossy piano-black to the sides and the arm, which makes it look stylish and elegant.
We talked of the Prime being a good gift, this one is a step higher in quality. It has a blue ring on its arm which identifies it as the Elite model.
The other parts including the handle are made of two types of plastic; the inside is slick smooth plastic while the outside is slightly rubberized plastic.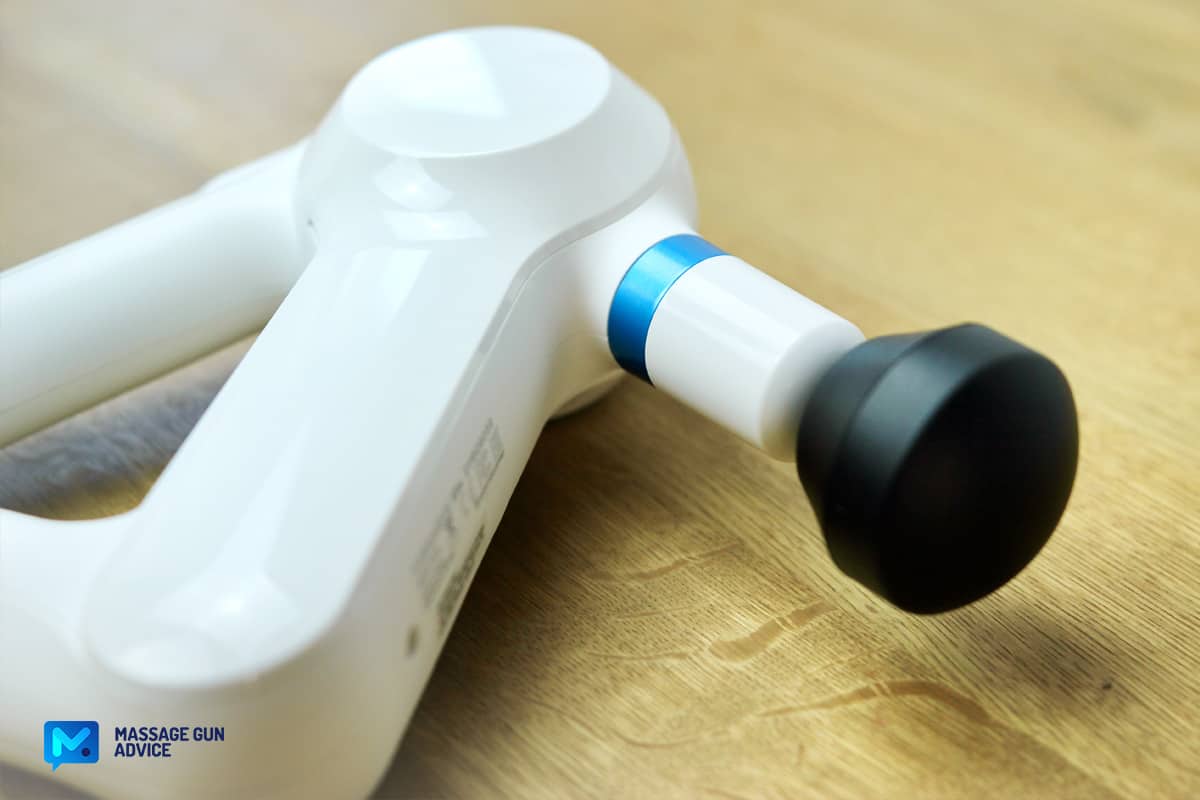 The Elite has 3 color options with the others being white and Product (RED) – something we didn't see with the cheaper Prime. It's definitely an impressive massage gun.
The only thing we noticed is that the glossy parts are fingerprint magnets. Otherwise we loved it at first sight.
Another thing that puts this percussion massager in the Theragun elite group is the OLED display. The only other device with this feature is the Pro model. The screen, once turned on displays the speed gears, battery level, and force being applied.
The controls evolved as well:
Press and hold the power button to turn it on and off.
Press

+

and

–

to change speeds.
Press

<

and

>

to cycle between custom preset routines saved on the device (we'll expound on this later in our post).
---
Attachments
The Elite comes with 5 attachments so definitely an improvement from the entry-level Prime.
A just a few thoughts on the attachments:
---
Dampener Head
This is made to massage the bony and tender areas of the body. It's also the perfect choice for an overall massage.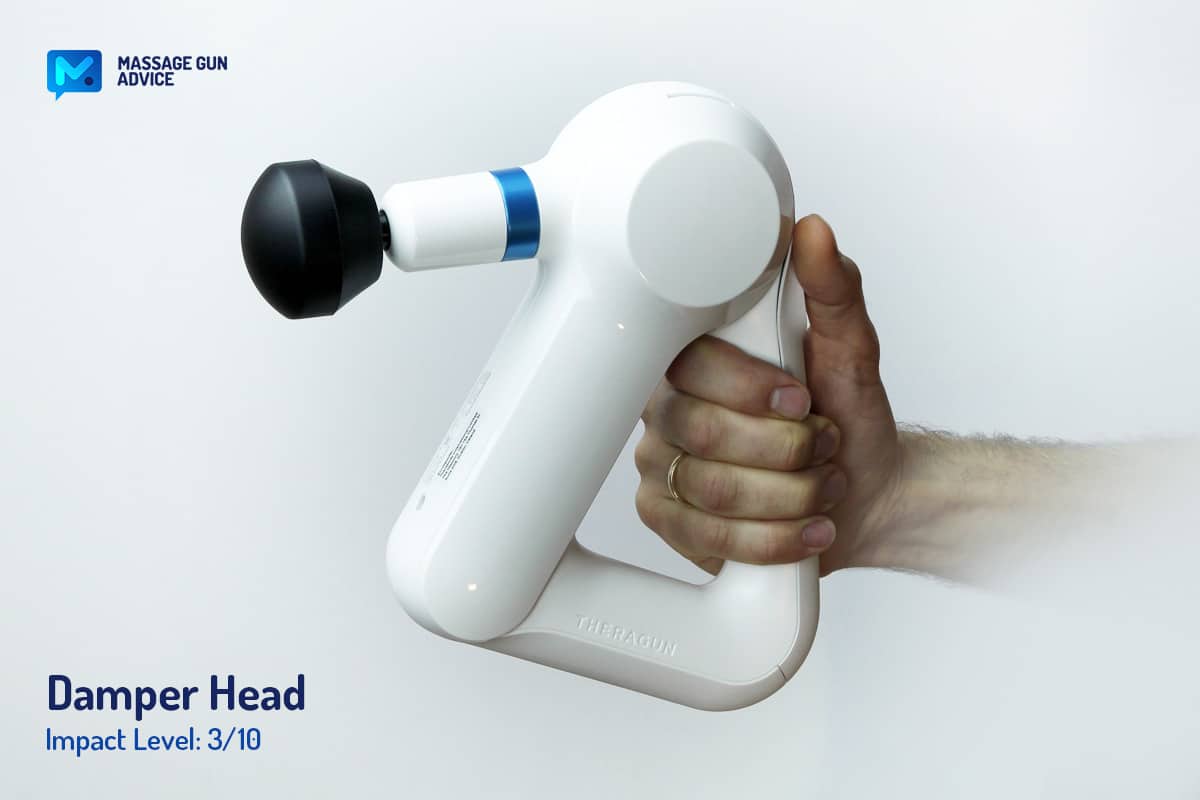 ---
Standard Ball Head
This can be used on small and large muscle groups. You can also use it for an overall massage if you know what you're doing.
---
---
Cone Head
This is the Theragun pinpoint attachment used for specific areas within the body – mostly the hands and feet.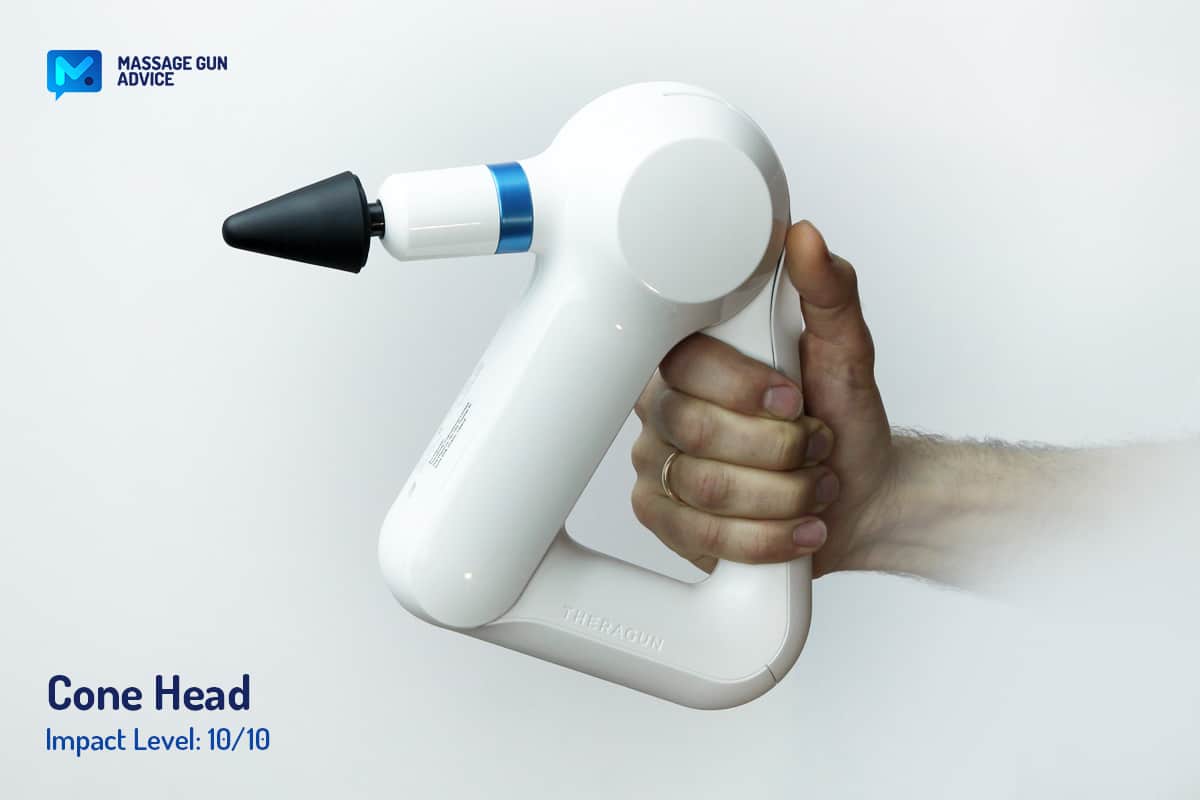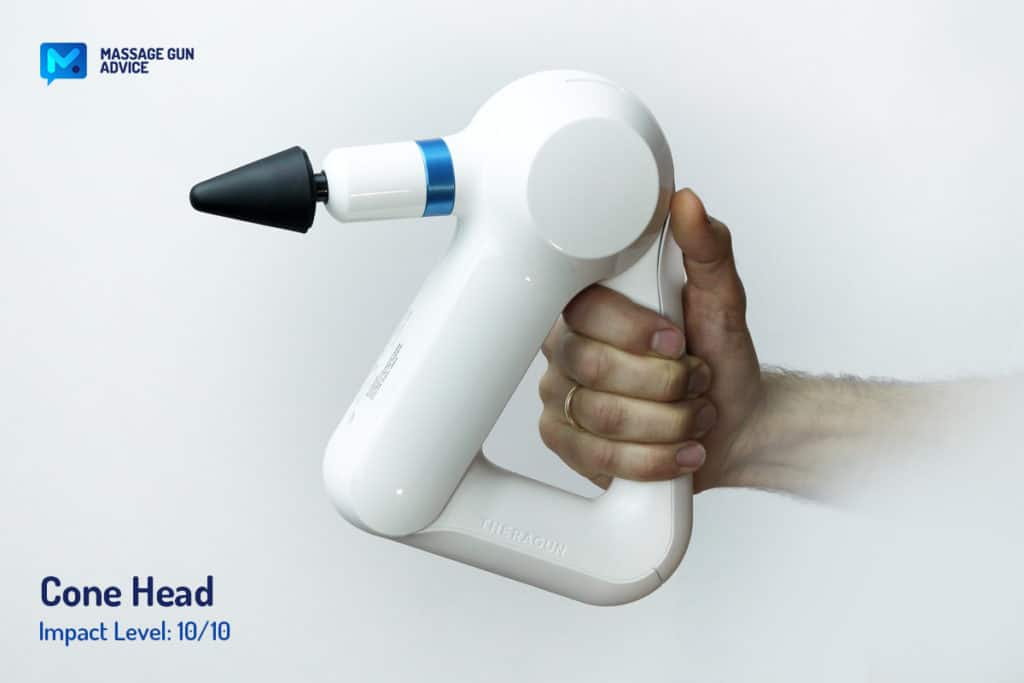 ---
Wedge Head
A different proposition that's not in the Prime. It's used on the shoulder blades and IT Bands. It's great for "scraping" and "flushing" which is a great way to improve circulation and reduce muscle tension.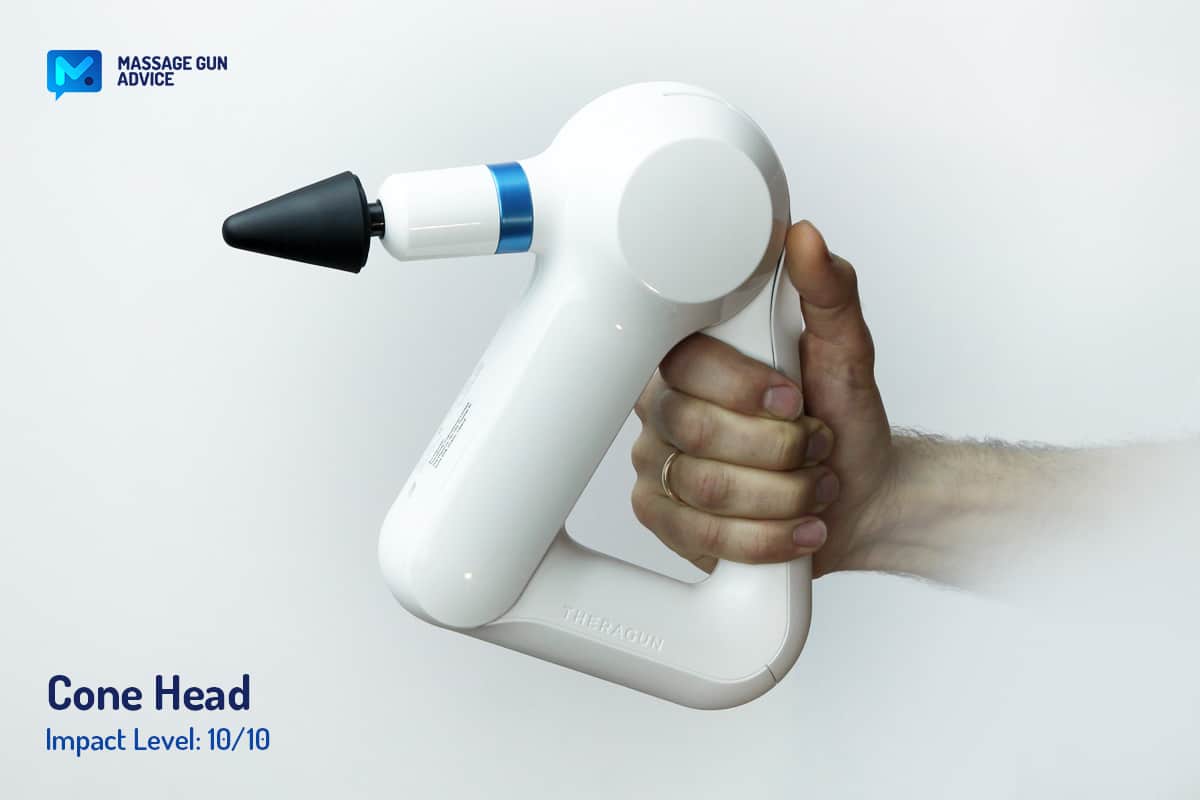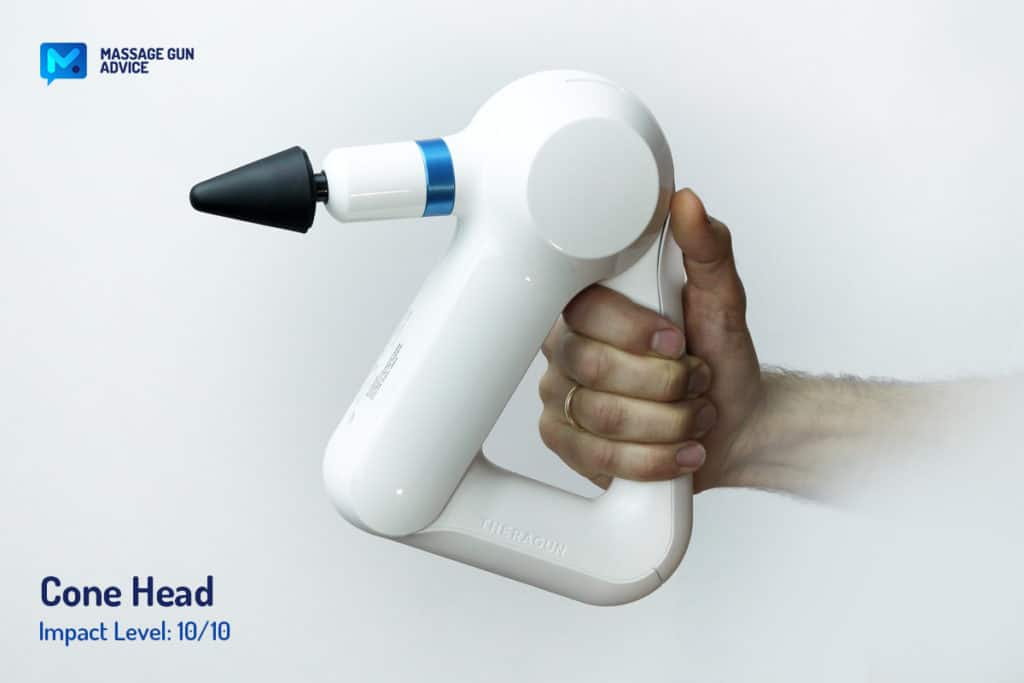 ---
The attachments are good quality rubber that will last. We prefer rubber to foam which deteriorates in quality rather fast. We know of massage guns that like to keep the ball attachment softer than the others, but here the dampener is the softest.
The ball is soft as well. The only one that seems a bit hard is the cone but that's expected given its use on pinpoint areas.
Our only concern, however, is we feel that Theragun would've done well adding a bit of variety. Having seen so many different devices, some of these attachments feel pretty much the same.
For instance, there isn't much difference between the dampener and the ball attachment. We wouldn't mind if they added say, a fork or flat head attachment. That would add a bit more choice.
We also feel the need to highlight Theragun's mechanism for installing the attachments.
It's still the simple push and pull, but it feels more solid compared to what we have seen from other brands. There are two metal ball bearings that click into the attachment making it more stable.
A lot of these other devices have plastic tips that with time could easily wear out.
Another great thing is that these attachments will fit on all 4th generation Theraguns.
---
Attachment Accessories
Theragun offers a wide range of additional attachment accessories. Noteworthies are the Supersoft attachment with its foam tip refill and the Duo Adapter, allowing you to mount two attachment heads to your Theragun simultaneously.
Check all the Theragun accessories here
---
Size, Weight and Ergonomics
It's almost unnoticeable but the Elite is slightly bigger than the Prime. If you thought otherwise, we've got the measurements for you; 9.5" x 6.7" x 2.8" or 24cm x 17cm x 7.4cm. Even though it's bigger, it's just about the perfect size for what it is meant to do.
Big means heavy, right? Surprisingly, Elite weighs the same as the smaller Prime – 2.2lbs. This is standard weight for most massage guns in its category. Not too heavy, and just enough to feel like a serious device.
The ergonomics are perfect just as we're used to seeing with all Theraguns. The multiple grip options are a thing of excellence. That means you can use the device without feeling the strain on your wrists.
You don't get a rotating arm like what's on the Pro model but we don't feel it's very necessary to have it here. Part of the handle is rubberized. We would've loved the inside of the handle to have a bit of rubber as well just to make things a little firmer.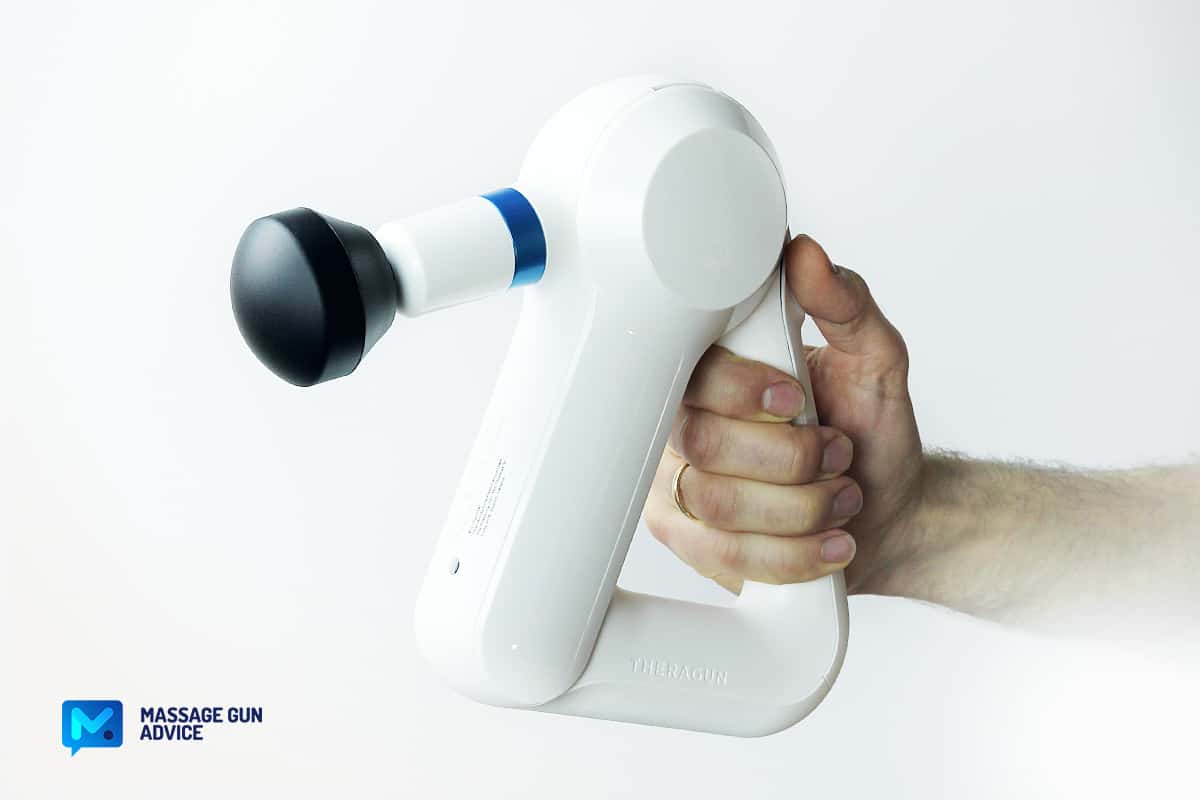 ---
Performance
---
Amplitude
Amplitude or sometimes called stroke length, is how far the head travels back and forth to give you the percussions. It determines how deep into the muscle the massage gets.
It is, and has for a long time been a key selling point for Theragun. The Elite has 16mm amplitude. Actually, apart from the Theragun Mini (12mm) all the other devices have the 16mm Theragun standard amplitude.
Recently, however, many more brands have started equipping their devices with 16mm amplitudes. 16mm means the Elite can give a great punch if accompanied by enough stall force. Does the Elite have enough stall force though?
---
Stall Force
The stall force, or sometimes called "no-stall force" is the amount of pressure needed to stall the motor of a given percussion massager. Usually this happens when you press the gun against the skin.
Here's where the Elite actually makes a case for its name compared to its lower brother, Theragun Prime. If you've read our Theragun Prime review then you know we were a bit disappointed with the stall force on Prime and were hoping for something better with the Elite.
Fortunately sometimes wishes can be granted. The Elite has a stall force of 40lbs. This, if not for anything else, is a tolerable improvement from what the Prime gave us. It's a meagre 10lbs. more but we'll take it.
With 40lbs. you can still have a deep enough massage if you want to (especially with the impressive 16mm amplitude). The massage gun will probably still stall easily, especially if you are working on large muscle groups like the glutes, but you'll still have fun massaging other areas.
We still feel for its price, the Elite should accommodate at least 50lbs. of power, but 40lbs. does some good justice to the impressive stroke length.
However, you might want to know that the 40lbs. stall force is progressive. In other words, the gun will stall with much less pressure at lower speeds. The only time it gets slightly tough to stall is when it's revving at the highest speed.
---
Performance Comparison
Let's see how the Theragun Elite compares against its competitors.
---
Stall Force (lbs.)
OUR TAKE
Stall Force: Elite has 10 lbs. of no-stall force more than in the entry-level Prime, and that 10 lbs. makes a difference. While we wished it was on par with device like Ekrin B37 or B37s, the Elite has enough stall force to justify the 16mm amplitude
Stroke Length (mm)
OUR TAKE
Stroke Length: 16mm of stroke length, or amplitude, is best in the business, and not many guns can offer that (but some do). Elite's 16mm is the same as in the entry-level Prime (and top-shelf Pro) but unlike Prime, Elite has enough stall force to make a good use of those 16mm.
---
Percussions and Speed Levels
The Elite has the same percussion range as all the full-sized Theraguns of 1750-2400ppm. We believe that 2400 maximum percussions per minute is still enough for a nice, intensive percussive therapy massage.
To be fair, even though sometimes more percussions are needed, if a device has a long amplitude (16mm for the Elite here), then you probably won't need the intense vibrations. However, Achedaway Pro, a serious rival to the high-end Theraguns boasts both a long amplitude (16mm) and high percussions (2800rpm) which makes it a serious contender.
The Elite has 5 built-in speeds that you can cycle through. We like that the lowest speed starts way back at 1750rpm. With this you can easily get an accurate massage by starting low before you gradually increase the intensity.
The speed calibration is as follows:
1750 – lowest
1900 – second
2100 – third
2200 – fourth
2400 – fifth/highest
---
New Features Added
Our Theragun Elite review wouldn't be complete without mentioning the new features it comes with. Apart from the addition of the OLED screen, there are two new features that we didn't see on the Prime device.
The first one allows you to save custom routines on your device. You can save up to 3 different routines. For each of these routines you can have different speeds, time, and the amount of pressure used.
We think it's really awesome that now you get to keep your favorite settings from the previous massages and quickly access them when you need them.
The second feature that we didn't see with the Theragun Prime is the in-built force meter. On the OLED screen you can see a bar graph appear that shows you the amount of pressure applied on the gun.
It's a really cool feature to have, but we think it's perhaps only useful if you were using the gun on another person. Otherwise we don't believe it's a must-have feature if you just need the device for yourself.
---
Noise
This is where things get a bit tacky with most Theragun devices. Theragun have touted these fourth generation devices as being the quietest yet. That's a relief if the third generation devices are anything to go by. Those were power drills that were way too uncomfortable to use.
The Elite is noticeably quieter than the Prime which we looked at before, and the sound it makes is much "smoother". So this is a good news.
The bad news, however, is that we tested the decibels and we were, to be honest, disappointed. The Elite revs with 60-67dB.
"That's not really that loud", you might say. Yes, it may not be, but when you see a Theragun ad. saying "ultra-quiet smart percussive therapy device with advanced sound insulation", you can't help but feel duped when you hear something different. For $399 we still feel the device could've been a little quieter.
The thing is, back in 2019 you would be excused for having a few more decibels on your product. But since then brands have been working hard to come up with hushed down devices.
To mention just a few devices that are quieter but also come with great features: Ekrin B37S, Achedaway Pro or the new Hypervolt 2 Pro.
---
Battery
The Elite model still doesn't give you the option of a replaceable battery. On a single charge, you can get up to 2 hours of continuous massage. However, you may not get all that time if you stay too long on the maximum speed or use too much pressure.
Our experience using massage guns tells us you probably won't need 2 hours of continuous massage. Unless you are using it to massage more than one person.
However, the competition has better battery power. For example, Ekrin devices will last 4-8 hours with a single charge (keep in mind that Ekrin B37S still weighs the same as Theragun Elite).
It comes with a wall charger, which interestingly enough is not as compact as the one that comes with the Prime.
This one is bigger. It has the option for an additional adapter for other countries.
Unlike the Prime, but similarly to the Theragun Pro, Elite is a wireless charger-enabled device.
And just as a note, we noticed the device doesn't work when plugged in. We test this with every device and the result has always been the same (most don't work when plugged in).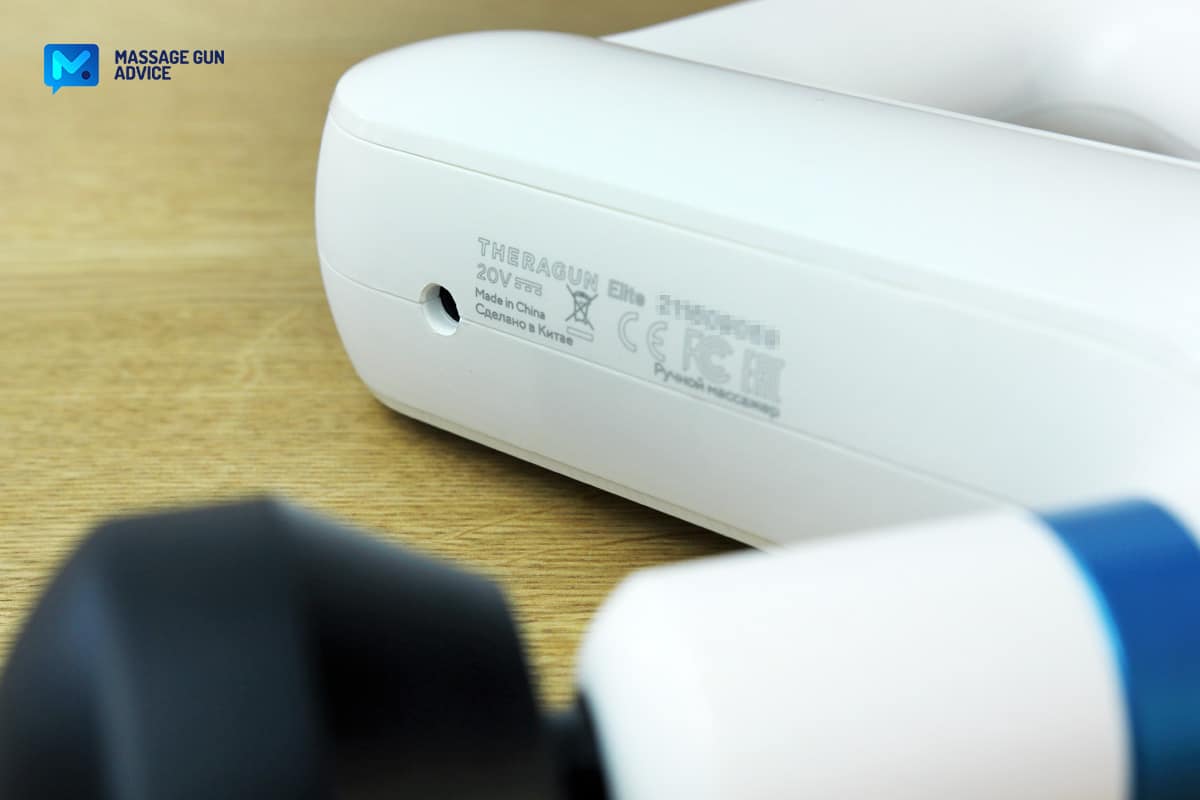 ---
Theragun App
We don't say this with many other devices, but Theragun have a dedicated app that works with your device (iOS or Android). They call it the Therabody app, and it's the best thing yet.
The app connects with the device via Bluetooth. Sometimes it works better if your device has an updated firmware.
The first thing you notice with the app are the many different routines that are available to you. If you have never used a massage gun, here's a chance to become a pro without much hassle.
The app tells you what to do and how to do it. It even recommends what grip is best for the part you are massaging. You'll notice that your device behaves differently with each part of the body you massage. For instance, you'll notice the intensity increasing or decreasing as you hit different muscle groups.
You can also easily customize the intensity within the app. There's a slider that you can slide either to the left or to the right to reduce or increase the intensity respectively.
You can also know how much pressure to use on a certain area of the body. There's a bar-like interface that tells you how much pressure you're applying.
There's even a calibration within the bar that indicates just the right amount of pressure needed.
One thing you can do with the Elite within the app that isn't available with the Theragun Prime, is being able to save up to 3 of your favorite routines.
---
Who is Theragun Elite For?
The Elite is the most versatile of the Theragun family of devices. In fact, it's probably the best Theragun if the price point is not the issue.
If you're looking for something to relax your muscles or something to warm up the muscles before a workout, then here's your best bet. We can also recommend the Elite for advanced users because this device is capable of a deep intensive massage.
It may not have the power to reach deep into dense well developed muscles, but it's the better option compared to Theragun Prime. It's the mid-range massage gun if you love Theragun. It's the safest bet.
We also recently recommended the Elite for runners. If you are a pro athlete, a bodybuilder, or you simply want something much more powerful, we recommend going for the top dollar Pro model.
Otherwise, you can still get something even better with the options we have recommended below.
---
Is Theragun Elite Worth It?
Theragun SALE Save up to $200 on 4th gen Theraguns. Browse all the deals
So let's see, what does Theragun Elite have that makes it special?
For starters the Elite will cost you $399. A hefty price perhaps that could get you a better gun but from a different brand. It's $100 more than the Prime.
You'll only get a 1-year warranty in case something goes wrong with the device. This is disappointing because we know of brands that will offer you a lifetime or at least a 2-year warranty.
But maybe it's worth it if you absolutely have to get a Theragun device. In this case the Elite is more expensive than the Prime but has a better stall force. The extra 10lbs. will give you a better deep percussive massage. However, we still hold that there are better alternatives that will cost even less.
With $399 you can get a massage gun that's more powerful and still keep some change. The only thing that other brands may not have is the dedicated app, which we must agree is an awesome feature to have especially if you want to learn how to use a massage gun effectively.
---
Best Alternatives to Theragun Elite
---
Ekrin B37S
The Ekrin B37S is a notably powerful massage gun. The only thing is that it's not as celebrated as the Theragun Elite. It's not talked about a lot but it packs a lot of high-end features. It's the second device from Ekrin but it's an improvement of its predecessor (Ekrin B37).
It has a stall force of 56lbs. which is almost a third stronger than the Elite. The stall force is progressive but there's 50% more power available on lower speeds.
It has a 12mm amplitude. This is smaller than the 16mm one on the Elite. However, with the high stall force, you can still get a deep percussive massage. You can press it harder against the body than you will be able to do with the Elite.
It can get more intensive than the Elite. It hits a maximum of 3200 percussions per minute. The higher percussion range is needed because of the small amplitude. It has 5 speed gears.
The unique thing is that the 5th speed is pre-programmed to cycle between the lowest and the highest speed. Even with the high percussion range it's a hushed down device – less than 60dB.
It comes with 6 attachments. This is nothing special but you do get better options like the fork and the flat head.
It also has a reactive force meter built-in. It has a far superior battery that can last up to 8 hours compared to Elite's 2 hours.
Ekrin offers a lifetime warranty on all their devices.
Overall, the Ekrin B37S offers slightly different features from the Elite but it's an even more powerful and versatile device.
It retails at $329.99 but you can get 20% off the regular price if you use the coupon code MGA20. You then get it for only $263.99 – Elite costs $399.
TIP Read our full Ekrin B37s review for more details.
---
Opove APEX
This is a great alternative if you need a high amplitude massage gun but don't necessarily one that costs $399.
The Apex is the new kid on the block, a recently released device that has a 14.5mm amplitude. A 1.5mm difference doesn't make much of a difference – If you could test both guns, you'd know.
Even so, 14.5 can go as deep into the muscle and give you a percussive massage – which is why you need a massage gun anyway.
In terms of stall force, this gun goes toe-to-toe with Theragun Elite. It won't, however, be as powerful as Ekrin B37S above.
The advertised stall force is about 50lbs. but we feel it has been slightly overstated. It feels like a mid 40s massage gun. That is good enough for athletes and those who want a deeper massage.
It weighs just about the same as Theragun Elite. However, you won't get the luxury of a pressure sensor or Bluetooth connectivity. This is a simple device with more focus on performance than anything else. It, however, has that premium feel that you'd get from a top brand. We'd say it feels just the same as Ekrin B37S above.
The Apex is also noticeably quieter than the Elite. It didn't not go past 60 dB on our noise meter, and the sound is smoother, not as rough as with the Elite.
It has a nice percussion range – about the same as Theragun Elite but lower than Ekrin B37S. That is because Ekrin B37S has a shorter stroke length.
The battery is another feature worth mentioning here. For a single charge, it can last for 2-3 weeks before you may need to charge it again – even with a single daily use.
It costs $199.99 but last time we checked, there was a special 17% introductory discount live with this special link. This means $165 instead of $199.
TIP Read our full Opove Apex Review for more details and photos.
---
Theragun Elite Review Conclusion
We come to the end of our Theragun Elite review. The Elite is a nice powerful gun. It's more midrange than beginner Theragun device.
It's better than the entry-level Theragun Prime with more power and additional features. It may not be as powerful as the top of the shelf Pro model, but it can offer a fairly deep percussive massage.
However, there are better alternatives that cost even less, so take a moment to think about the features in a massage gun that are most important to you. Our other post fully dedicated to best Theragun alternatives might be worth reading, too.
Lastly, you can always ask us a question and either Luke or Greg will come back to you with a more personalized advice.
---
Theragun Elite Rating
Quality

Effectiveness

Usability

Accessories

Price Value
Summary
Theragun Elite is the second best/ powerful massage gun of the Theragun family devices, and the quietest one in the range. It has the high, 16mm amplitude and a reasonable 40lbs. stall force. Even though it's not as powerful as the top Pro model, it can still offer a fairly deep percussive massage. However, for the price, we wish it was a bit more powerful.
Disclaimers
The views and opinions expressed on this website are those of the authors. Any content provided by our bloggers or authors are of their opinion and are not intended to malign any religion, ethnic group, club, organization, company, individual or anyone or anything.
All product names, logos, and brands are property of their respective owners. All company, product and service names used in this website are for identification purposes only. Use of these names, logos, and brands does not imply endorsement.
It is our policy to make every effort to respect the copyrights of outside parties. If you believe that your copyright has been misused, please provide us with a message stating your position and we will endeavor to correct any misuse immediately.
Some of the links in this post are affiliate links. As an Amazon Associate, we earn from qualifying purchases. This means if you click on the link and purchase the item, we may receive an affiliate commission, at no extra cost to you. This helps us keep this website alive. Learn more here.
Amazon Disclosure
massagegunadvice.com is a participant in the Amazon Services LLC Associates Program, an affiliate advertising program designed to provide a means for sites to earn advertising fees by advertising and linking to Amazon.com. As an Amazon Associate, we earn from qualifying purchases. Amazon and the Amazon logo are trademarks of Amazon.com, Inc. or its affiliates. Please refer to our Privacy & Affiliate Policy for details.