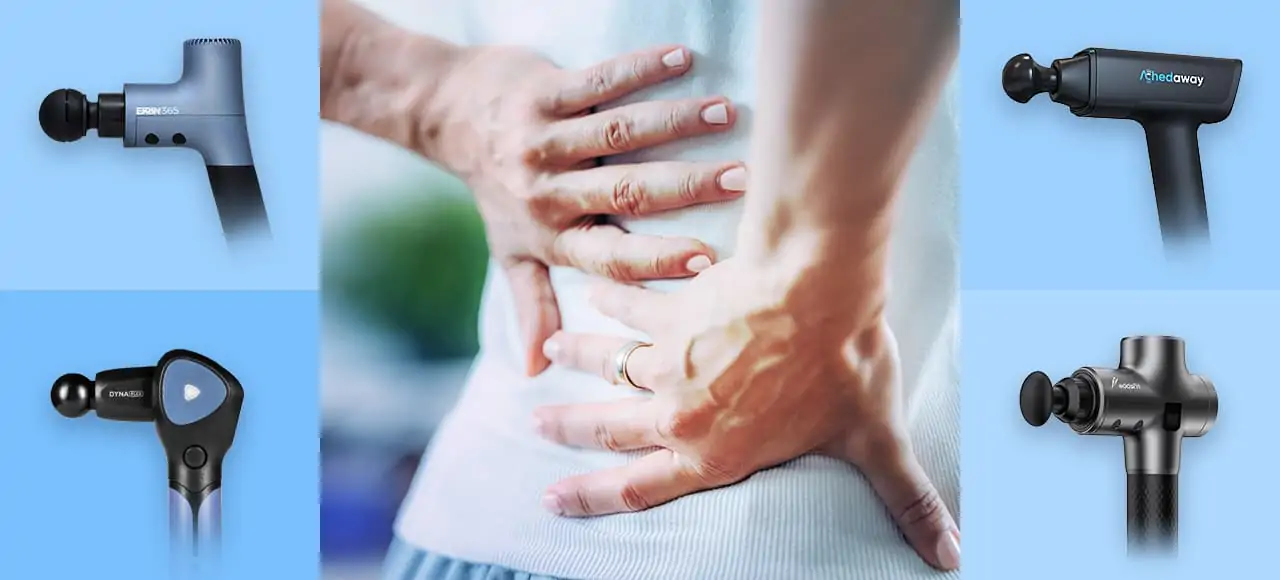 Best Massage Gun For Sciatica Nerve Pain – Our Recommendations
What To Know: our content is non-sponsored and fact-checked for accuracy. We anonymously order and rigorously test each product according to our methodology. We are reader-supported, and if you buy via our links, we may earn a commission. Learn more.
---
In this post we'll find out what is the best massage gun for sciatica nerve pain. We'll also talk about what you need to consider when choosing a massage gun and explain why.
Before we dive in, know that this is a follow-up post to the one on how massage guns can be good for sciatica. In that article we discussed how percussion therapy can help reduce pain caused by the sciatic nerve.
As we saw in that post, sciatica manifests as pain in the lower back, the thigh area, and the calves. This pain can be caused by a number of factors, but can be heavily influenced by tension in the muscles which then exert pressure on the sciatic nerve.
Massage guns can be used to ease tension in those muscles and provide relief.
Another advantage of using massage guns to treat sciatica is that you can do it yourself, at home, or anywhere.
While it's recommended to visit a physiotherapist for more effective treatment, you can reduce the number of visits to the physio if you have a massage gun with you.
This article is here to help you pick the right massage gun to treat your sciatica. Follow along!
---
In a hurry?
If you don't want to go through the entire post and would instead just go straight to picking a massage gun, we recommend checking out these gems:
Ekrin 365: It's the most versatile option. It has good power, excellent features, a lifetime warranty, and great value for your money.
Achedaway Pro: It's a more powerful option for demanding users who want to relieve sciatica pain but prefer something aggressive with deeper hits – high amplitude.
We discuss both of these devices down below, read on to find out more.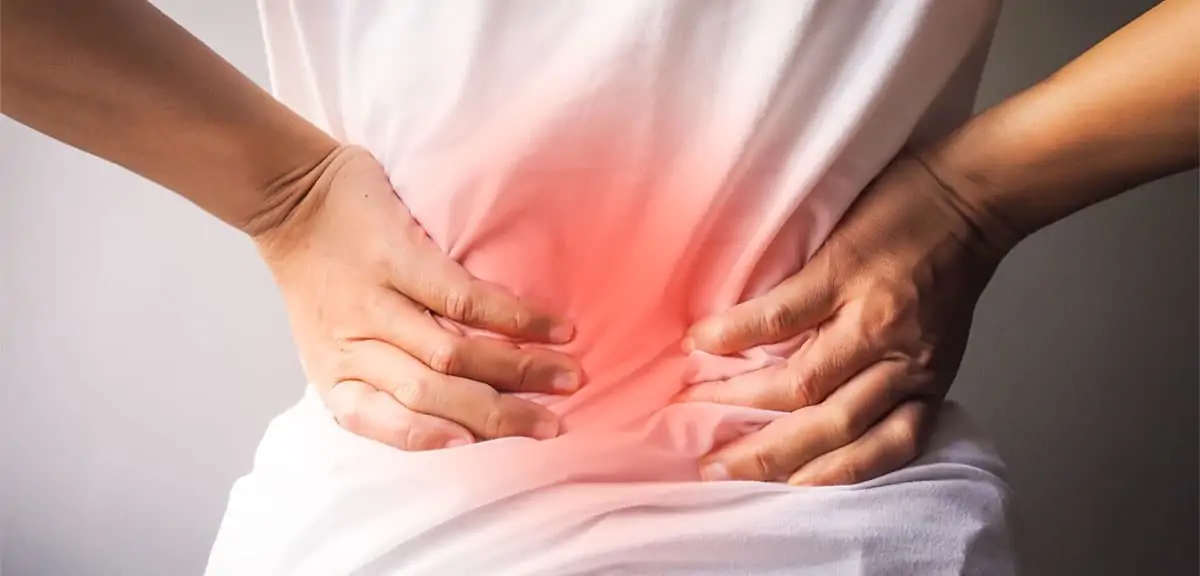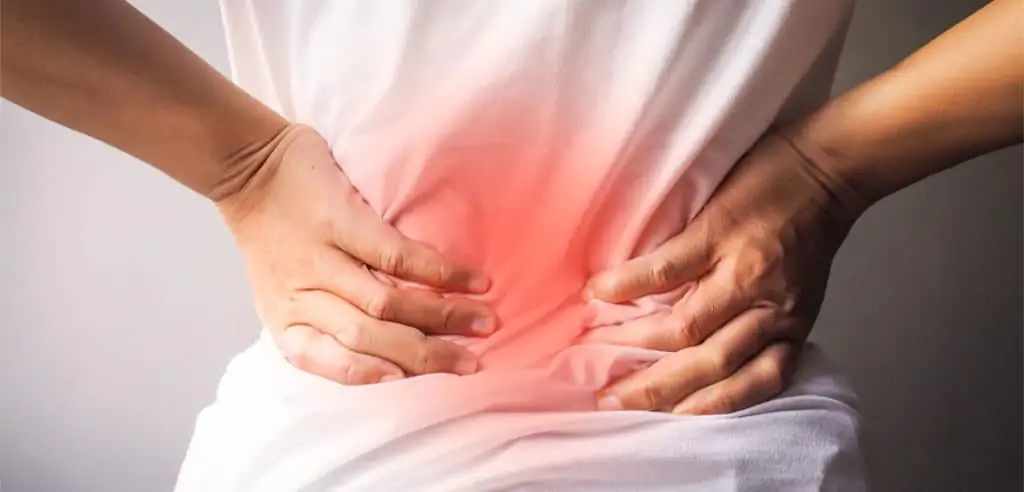 ---
---
Why Trust Our Advice and Some Disclaimer
This post is written from a practical consumer perspective. We are guys who spend a lot of our time testing massage guns, but we're not doctors or medical practitioners.
However, we don't write these types of posts from the point of ignorance. We consult our experts (licensed physiotherapists and chiropractors) to ensure we're giving trustworthy advice. This post has been medically reviewed for accuracy.
Lastly, we don't market any particular device, but we provide alternatives and explain the differences between devices. That way, you can make an educated choice without feeling coerced.
---
Massage Gun for Sciatica – How To Choose?
You have to pay attention to two very important aspects of a massage gun if you want to pick a great device to treat your sciatica – stroke length and stall force. Get these right, and you have the best chance at improving your feeling better, faster.
---
Why Stroke Length?
Stroke length is sometimes also referred to as amplitude in massage gun language. It's the distance traveled by the massage gun head during percussions – the back and forth motion as the device vibrates.
How is this distance related to massaging the sciatica pain away? Well, as we have already explained, massage therapy can help ease tension in muscles that press the sciatic nerve. Massage guns can provide the deep tissue massage needed to loosen tense muscles, release trigger points, improve blood flow, and dispel lactic acid.
Deep tissue massage happens when percussions hit deep enough into the muscle tissues to do everything we just mentioned.
The thing is, not all massage guns can hit deep enough. A massage gun that can't hit deep enough often has a low amplitude, while a deep-hitting massage gun has a high amplitude.
A low amplitude massage gun can only offer vibrational therapy, which may help do some good things, including improving blood flow. Still, it can't go deep enough into the muscle tissue.
Even if a vibrational massage gun (low amplitude) can somehow relieve some pain, it may not be effective when you are massaging large muscles such as quads and hamstrings. That's why you need a massage gun with a medium or high amplitude.
But sciatica pain can be severe and may require a lighter massage. That's why a massage gun with a medium-range amplitude may be ideal for managing sciatica.
OUR RECOMMENDATION
We recommend going for a massage gun with 10 to 13mm amplitude.
Our Top Picks – Stroke Length Comparison
OUR TAKE A medium-range amplitude of 10-13mm is a sweet spot for managing sciatica pain. If you want more intensity, you may consider devices with the 14-16mm stroke length – those will be more punchy.
But you also need decent stall force. Why?
---
Stall Force
Stall force is the amount of pressure it takes to stall a device. We say a device has a low stall force when it easily stalls with very little pressure applied during a massage.
We know that some pressure is needed when treating sciatica using a massage gun. There are different options when it comes to stall force in massage guns.
Massage guns with a stall force of 30lbs. or lower are considered entry-level. Those with a stall force of between 35-50lbs. are considered to be medium-range, while those with 50-60lbs. of stall force are the strongest and most aggressive massage guns – they are not easy to stall.
Studies have shown1 that deep tissue massage can be just as effective as non-steroidal anti-inflammatory drugs in treating sciatica pain. Deep tissue massage happens when adequate pressure is applied to the muscle.
Generally, when using a massage gun, you don't need to apply very much pressure on small muscle groups like the neck area, shoulders, or forearms.
However, more pressure is required to go deep into the tissue for large muscle groups like quads, hamstrings, and sometimes calves.
But sciatica pain can be severe and you may not feel comfortable applying pressure. Another thing, if you go for a gun with a high amplitude, the hard hits alone may be enough for an effective massage.
OUR RECOMMENDATION
That is why we recommend going for a massage gun with medium-range amplitude and medium-range stall force as well. This is a perfect combination for treating sciatica in our opinion.
Here's why:
A massage gun with 12 or 13mm amplitude but with a medium stall force of between 35-45lbs. will allow you to start with a light massage to warm up the muscle without applying pressure. When you need to apply pressure (to larger muscles), you can do so easily and tenderly.
A high amplitude massage gun can work pretty much the same way, but you'll have to deal with the hard punches on the skin even before you apply any pressure. We recommend going for a high amplitude gun if you are heavily built or have a lot of muscles. Theragun or Theragun-like device will do.
However, if you are unsure, we recommend going with a device that won't be as hard-hitting or too strong. It shouldn't be too strong or too weak.
Stall Force Comparison of Our Choices
OUR TAKE Medium-range stall force, like 35-40lbs. is high enough for a good sciatica massage gun, but some devices can get you more than that.
---
Other Aspects to Take Into Account
Percussion range
Most devices will have a minimum of 1700-2000rpm and a maximum of 2400-3200rpm. Devices with a longer amplitude will often have fewer maximum hits per minute (due to the longer distance travelled by the head).
Number of Programs/Speeds
4 to 5 speeds is enough. Don't be fooled by devices that promise 20 to 30 speeds; they're mostly just complicated but have no real value.
Noise
The last thing you need when going through sciatica pain is a noisy device. We prefer quiet devices. There are instances when brands understate the noise levels of their devices. We check this with noise meters.
Ergonomics
We reward any device that tries something other than the generic T-shape to improve ergonomics.
Weight
You shouldn't have to deal with double pain in your lower body and wrist when using a massage gun. We recommend something weighing 2.5 pounds or lower.
Attachments
4 to 5 attachments is good enough to massage all body areas. For sciatica you'll need the standard ball for your lower back and leg, the bullet head for trigger points, the flat head for larger muscles, and perhaps a softer attachment for painful areas.
Battery capacity and time on battery
This isn't such a big deal now because most massage guns can go for a week or two before you may need to charge them again. Larger batteries may increase the overall weight of the device.
Warranty offered
Cheap massage guns don't offer anything. If you're lucky you'll get a 1-year warranty. We prefer brands that offer a lifetime warranty.
Overall value for money
Some devices offer the best bang for your buck.
---
Best Massage Guns for Sciatica – Our Picks, Explained
---
Ekrin 365 – Our Top Recommendation

Perhaps the most versatile massage guns on the market right now and one of our favorite devices. It has the best features for a massage gun for sciatica and then some.
It's the latest creation of Ekrin Athletics, one of the leading and most exciting massage gun brands out there. We can attest that they made this device for everyone.
Unlike their earlier versions of massage guns, this one features a deliberately tinkered handle that makes its ergonomics superb. The handle is thinner and perfect to hold even for users with small hands. It also has an angled handle that allows for a natural grip.
They also added a bit more length to this version so that you can easily reach your lower back – perfect for treating sciatica.
It's also one of the lightest full-sized massage guns, weighing just 1.8 pounds – it will be easier to handle even during longer sessions.
That said, this gun may be the best option for your sciatica management. It has the best performance features.
These include the medium-range amplitude of 12mm and a cool 40lbs. of stall force. Like we recommended earlier in the article, you don't need a very weak or very strong device, but something in the middle – and this is it.
The 12mm will give you gentle but steady taps on the skin, while you can comfortably apply pressure on large muscles without a problem. If you want intensity, it has a percussion range of 2000-3200rpm, which we believe will be great for any massage. It has 5 speed settings.
But there's more with this gun. Ekrin included 4 nicely varied attachments even though they call it an entry-level device. It also comes with a Pressure Sensor to help you monitor how much you're putting into your massage.
It has a good battery that will last for 4-5 hours per charge. The good thing is the device charges via USB – very convenient.
It's backed up by a lifetime warranty and superb customer care from Ekrin.
Father's Day SALE
Enjoy 25% off the Ekrin 365 and any other Ekrin massager until June 18th. Use code MGADAD25 at checkout to apply the discount. Click here to claim your offer
It sells for $179.99 but if you use our MGA20 coupon here at ekrinathletics.com, you can get it for only $143.99 – 20% off. That means it's an under $150 gun.
Overall, this is an excellent device perfect smaller people with lighter frames. If you have big muscles and need something aggressive, you can go for the other more powerful Ekrin guns in B37 and B37S.
READ MORE For more details, refer to our in-depth Ekin 365 review →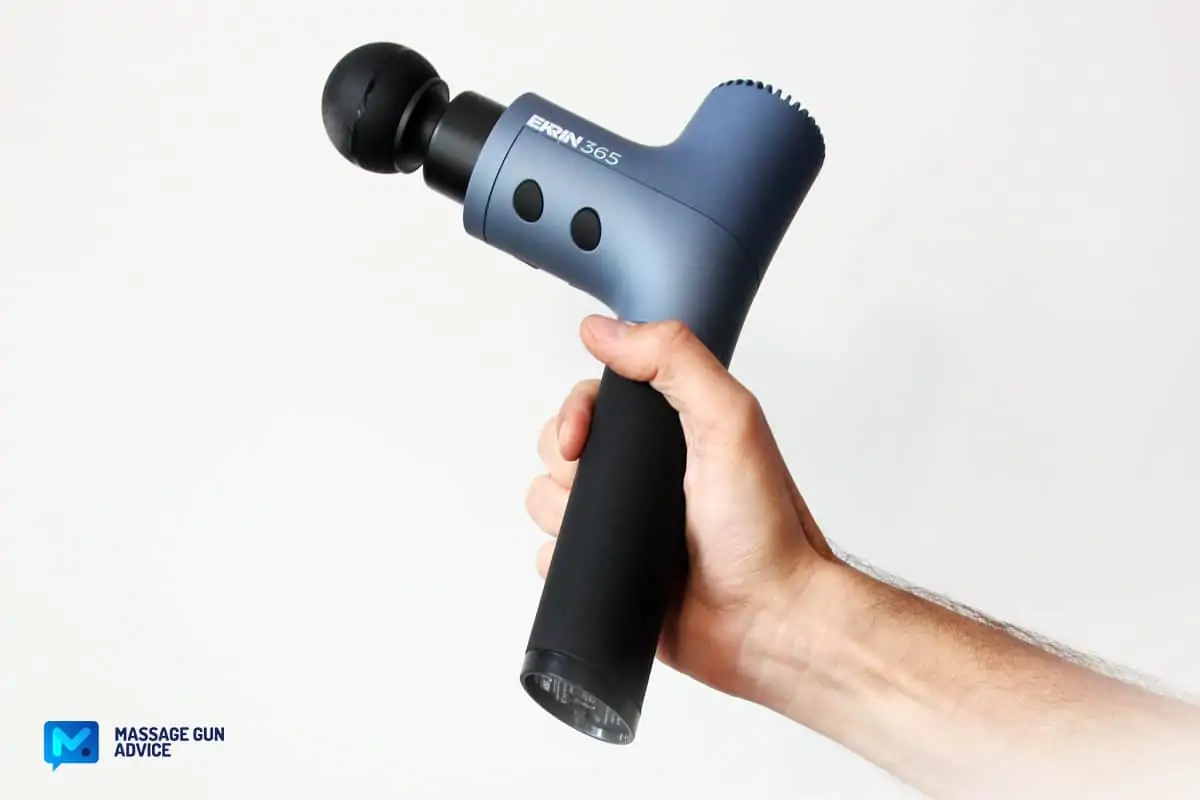 ---
Lifepro DynaFlex

This is the latest device from Lifepro. Another massage gun brand that we like a lot. This one has almost similar specs to our top gun above but with a few letdowns that won't do any harm to your sciatica treatment.
It has a 13mm amplitude – a bit more punchy than our top recommendation but we have seen a lot of these guns and the 1mm difference isn't bad in this case. It will still feel more aggressive than a 12mm gun, but it it still has a low likelihood of irritating your sciatica symptoms.
It has 40lbs. of stall force (Lifepro says 45lbs. but in reality it feels the same as Ekrin 365). We believe the amplitude and stall force are perfectly balanced here to make it one of the best massage guns for sciatica.
The percussion range is awesome – 1500-3000rpm. This is a wide range, but awesome if you want to start real slow before you can crank it up a notch.
We like the ergonomics of this gun — the only adjustable massage gun on our list. The arm can be adjusted into 4 lockable positions of 0, 30, 60, and 90 degrees.
This adjustment helps when you want to reach the lower back and other areas that may be hard to reach. We also like that it's a very quiet massage gun made with modern tech just like the Ekrin 365.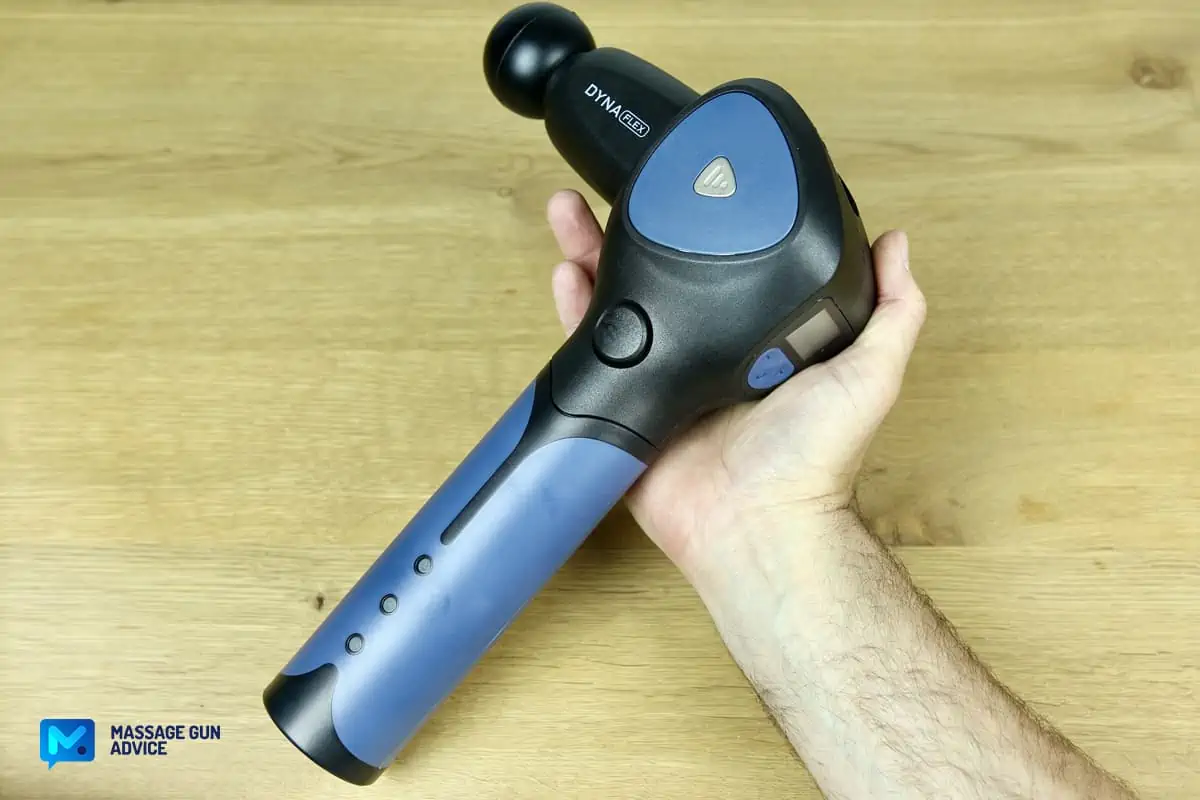 Any Cons?
Yes, this device weighs 2.5 pounds and might be heavy for some people. It's not the worst thing, but when we tested it with our elderly family members, they complained that it wasn't as easy to maneuver as Ekrin 365 or Ekrin Bantam. Also, the handle diameter is larger than Ekrin 365's.
But you will still get a lifetime warranty with this device and fantastic customer support as well.
It's sold at $149.99, but with our MGA10 coupon that gives the 10% off, you can get it at lifeprofitness.com for only $134.
READ MORE Our full Lifepro DynaFlex massage gun review.
---
Achedaway Pro – For Demanding Users

If you are heavily built (with large muscles) or simply love a strong massage gun, then Achedaway Pro is your device. It's a bit more expensive than the first 2 we just looked at, but it also comes with more powerful specs.
For instance, it has a stall force of 60lbs. (Achedaway puts it at 80lbs. but we tested it against Theragun Pro, and the power is the same). That much power should be more than enough to massage large muscles even before you factor in the 16mm amplitude – the longest stroke length in the business.
The percussion range is 1700-2800rpm. Not as intense as the previous 2 in our list, but that is because of the longer amplitude.
Another important feature of Achedaway Pro is the huge and awesome battery. It has a capacity of 3200mAh. However, that juice drains out pretty quickly. It will run for 2-4 hours depending on pressure and the speed setting used.
If you plan to use it extensively, we suggest buying the device with a spare battery (at this link, the MGA50 coupon also applies). You can charge one as you use the other.
It's a very quiet massage gun given what it has to offer. The only disadvantage, though it may not be that bad, is the weight. It weighs 2.6 pounds, perhaps because of the big battery.
It comes with a 2-year warranty and not a lifetime one as Ekrin or Lifepro's guns. But this is a better deal than what you get with Hypervolts and Theragun Prime or Elite.
DEAL ALERT Use the special MGA60 code at checkout to get $60 off Achedaway Pro. Pay $239 instead of $299. Apply the coupon here.
It costs $299 but with our MGA50 coupon, entitling to the $50 discount, you can get it from Achedaway for $249. That puts it in the same range as Ekrin B37 or Ekrin B37S.
READ MORE Check out full details in our Achedaway Pro review.
---
Opove M3 Pro 2
If you want a more pocket-friendly massage gun to treat sciatica, this is the device for you. It's not as excellent as our previous options, but it's still a top quality massage gun with everything you need.
For starters, it won't give you insane power but 40lbs. of stall force will be enough for most people to treat sciatica. Add 12mm of stroke length to that medium-range power and you have a decent device that can perform a deep tissue massage if used well.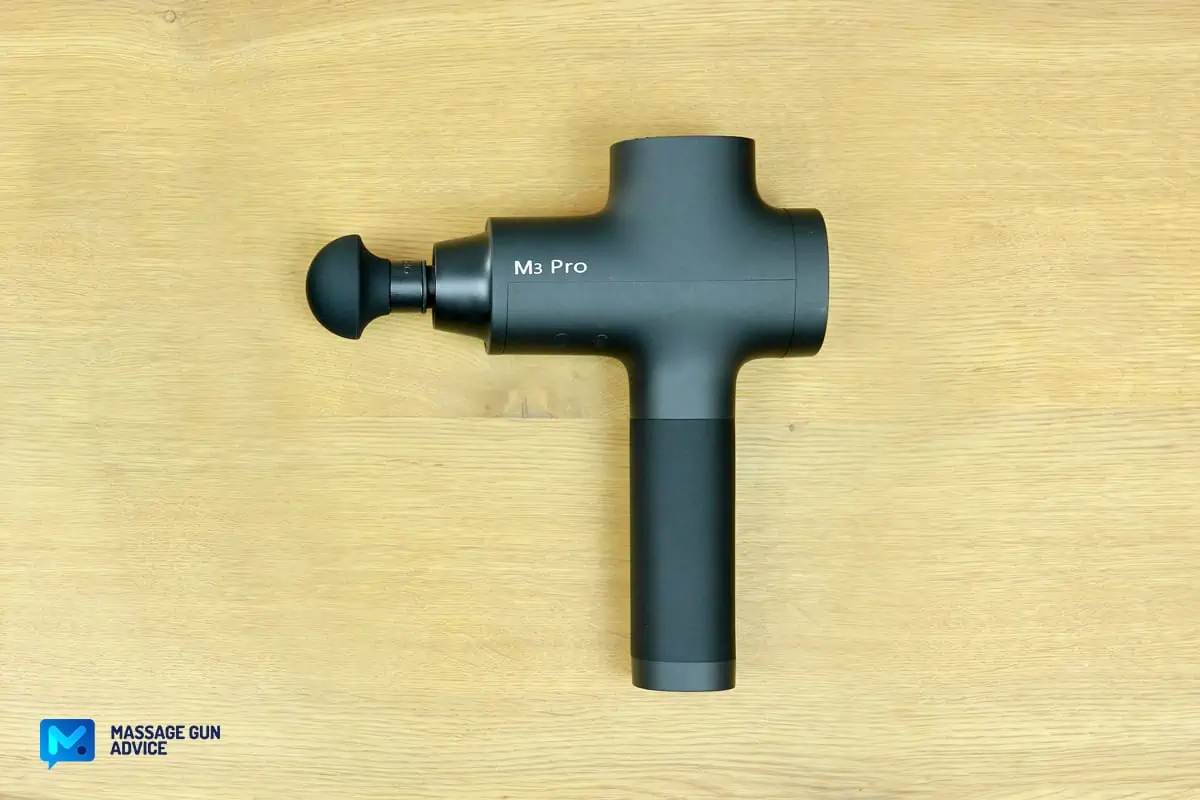 With a percussion range of 1300-2600rpm, it revs a tad slower than any of our other recommendations, but still high enough. We actually like that it revs low on a first two speeds.
It might not have the same effect as Ekrin 365 or Achedaway Pro, but it will still dispel lactic acid, improve blood flow, and break muscle knots when needed.
We don't like that:
It has the generic T-shape that comes with most massage guns. But if you prefer your massage gun this way, then this shouldn't be a big deal.
The warranty is only 1-year, less than the two above guns.
We love that:
It has 6 attachments of great variety and quality material used.
It comes with a respectable battery that has a capacity of 2600mAh. You can expect 3-4 hours of use and at least a week if you use it normally.
It is even quieter than Achedaway Pro — only 63dB at top speed, hushed!
It's an affordable device. It currently costs $119.99. Get it at Opove.com right here.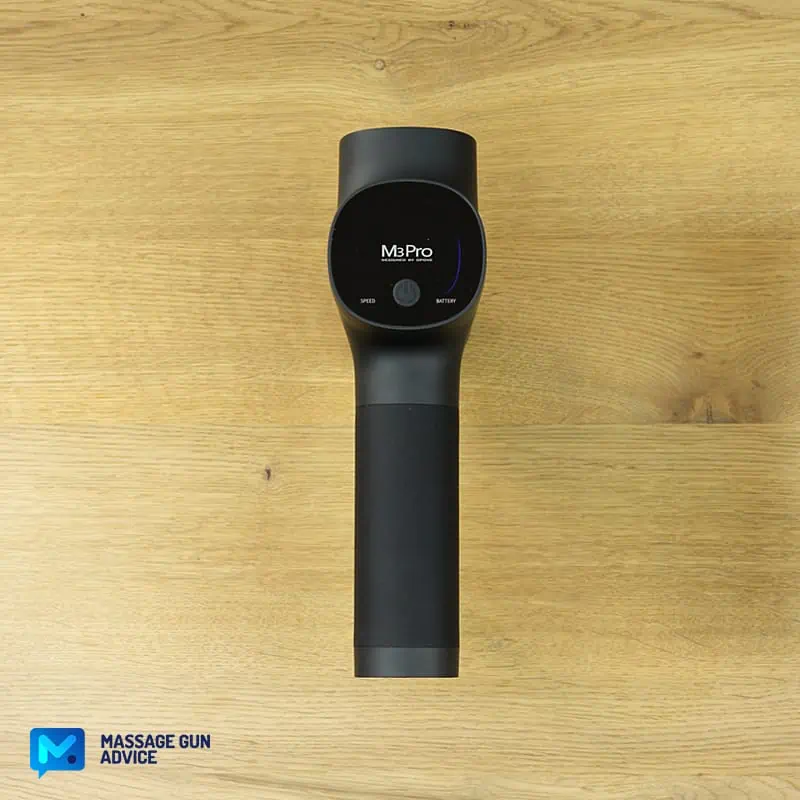 READ MORE: Read our hands-on Opove M3 Pro 2022 review.
---
Which Theragun for Sciatica Nerve Pain?
Theragun FATHER'S DAY SALE
Therabody is offering up to $170 off on gifts for Dad, including the Theragun massage guns and other recovery tools. Explore all the available deals.
Theraguns started the whole percussive massage gun industry. They are great devices made with great professionalism.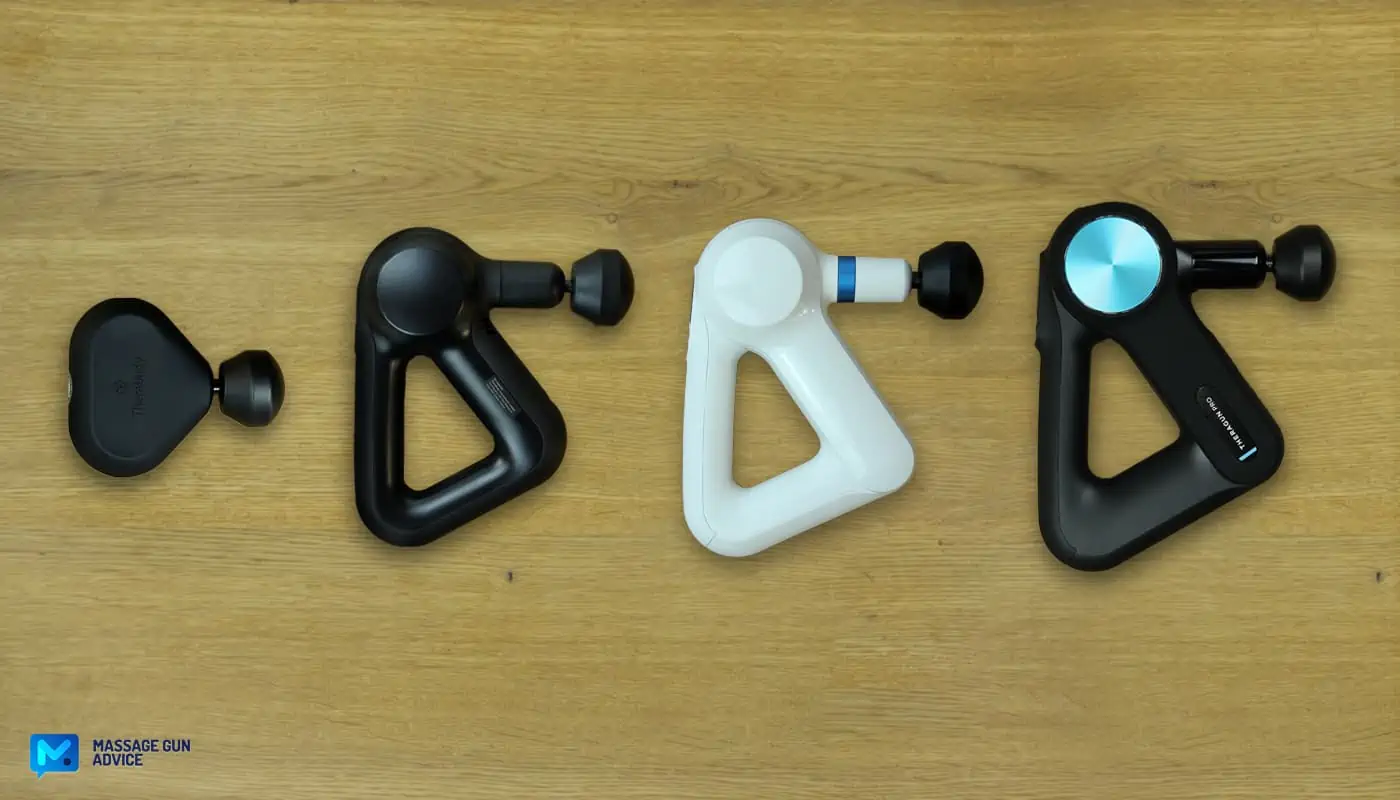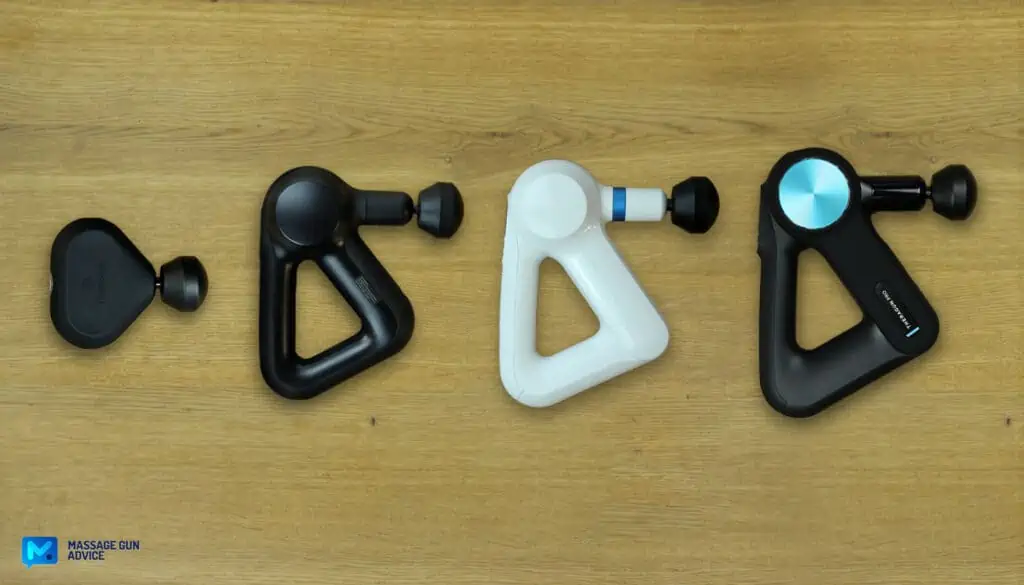 All the current 4th generation guns feature a 16mm amplitude apart from Theragun Mini, a mini massage gun (it has a 12mm amplitude). With this high amplitude, Theraguns are great for deep tissue massage – they're aggressive and punchy. This may be great for some people but not all.
If your sciatica pain is too intense, a Theragun may be too aggressive for you. You may have to go for the guns with lower amplitude.
But there's one thing that separates all Theraguns; they don't all have the same stall force. The Pro has the highest stall force (60lbs.) among all Theraguns. If you can't get the Pro, we suggest going for the entry-level Prime, which has a stall force of 30lbs.
Better yet, go for Theragun Elite, which has a stall force of 40lbs. Prime is more affordable but much easier to stall. Still with 16mm stroke length, you may not need to apply any pressure. Theragun Elite is slightly more expensive than Prime, but as we proved in our Theragun Prime vs Elite post, it's the more versatile option. With 40lbs. of stall force, it matches our top pick (Ekrin 365).
The Cons of Theraguns
Even the entry-level Prime costs more than any of our recommended guns for sciatica. Theragun Elite is even more expensive, and you're not getting the Pro model unless you have $599 – very expensive.
Warranty is a bummer. Just 1 year for all the guns except Theragun Pro which has a 2-year warranty – still disappointing for what you are paying.
They're no longer unique. Apart from the triangular design, which is awesome, there's nothing else to set them apart from the competition.
You can read more about what we think of Theraguns in our individual reviews:
---
Which Hypervolt for Sciatica?
Hyperice Hypervolt is another big-name brand in the percussion massagers industry. They often go head-to-head with Therabody's Theraguns.
Hyperice already had 2 competitive massage guns in Hypervolt (silver) and Hypervolt Plus. However, they recently unveiled 2 more massage guns in Hypervolt 2 and Hypervolt 2 Pro.
If you love Hypervolts and would like one to treat your sciatica pain, we recommend skipping the silver Hypervolt. Even though it has a decent ~35lbs. of stall force, it lacks a good stroke length – just 10mm, which is vibrational.
You could go for Hypervolt 2. It has a 12mm amplitude which falls within our recommended range. The only disadvantage is the very low stall force. It easily stalls and may not be good enough if you want to apply some pressure. It may be a nice option for those who only want to massage their lower back.
But you are probably better off going for either Hypervolt Plus or Hypervolt 2 Pro. The Hypervolt Plus has a 14mm amplitude and up to 40lbs. of stall force. However, it weighs 3 pounds and may not be easily maneuverable.
Hypervolt 2 Pro will be easier to stall than Hypervolt Plus, but it's made with newer tech, has improved ergonomics, and is lighter as well.
Hypervolts are expensive. However, older models are currently discounted and you can get Hypervolt Plus at $70 less than Hypervolt 2 Pro.
Cons
Only a 1-year warranty for all models
No Hypervolt comes with a carrying case.
TIP You can also read our detailed Hypervolt vs Hypervolt Plus comparison.
---
Massage Gun for Sciatica Pain – Conclusion
Hopefully, now you can pick the best massage gun for sciatica. We have seen how you don't necessarily need the most powerful or expensive massage gun to treat your sciatica.
If you must, you can opt for either a Theragun or a Hypervolt if you have the budget for them.
However, our recommended picks still give you the best value for money. For us, the best one is Ekrin 365, and if you need a more potent gun, then Achedaway Pro has got you covered.
As always, we strongly encourage you to comment and discuss below. Or you can ask us a question directly here.
Take care!
---
Article Sources
---
NOTE: We only use high-quality sources and rely on peer-reviewed studies, academic research institutions, and medical associations to support the facts within our articles.
Was this article helpful?
Your feedback makes our content better!
Thanks for your feedback!
Post Update History
Here's a quick rundown of all the tweaks and edits we've made to this article to keep it accurate and up-to-date!
Current version last updated on:
•
Written by:

Luke Deszczulka
Disclaimers
The views and opinions expressed on this website are those of the authors. Any content provided by our bloggers or authors are of their opinion and are not intended to malign any religion, ethnic group, club, organization, company, individual or anyone or anything.
All product names, logos, and brands are property of their respective owners. All company, product and service names used in this website are for identification purposes only. Use of these names, logos, and brands does not imply endorsement.
It is our policy to make every effort to respect the copyrights of outside parties. If you believe that your copyright has been misused, please provide us with a message stating your position and we will endeavor to correct any misuse immediately.
Some of the links in this post are affiliate links. As an Amazon Associate, we earn from qualifying purchases. This means if you click on the link and purchase the item, we may receive an affiliate commission, at no extra cost to you. This helps us keep this website alive. Learn more here.
Amazon Disclosure
massagegunadvice.com is a participant in the Amazon Services LLC Associates Program, an affiliate advertising program designed to provide a means for sites to earn advertising fees by advertising and linking to Amazon.com. As an Amazon Associate, we earn from qualifying purchases. Amazon and the Amazon logo are trademarks of Amazon.com, Inc. or its affiliates. Please refer to our Privacy & Affiliate Policy for details.