Disclaimer: Our content is unbiased, non-sponsored and fact-checked. If you buy via links on our site, we may earn a commission. As an Amazon Associate, we earn from qualifying purchases.
---
Today let's look at the Ekrin Bantam review. Now, we've reviewed Ekrin's path-breaker massage gun in our Ekrin B37 review, and we absolutely loved that gun.
We also then looked at the B37's sequel, the B37S, that also lived up to the high standards set by its predecessor.
Today however, we'll look at this mini-version of their gun. But doesn't "mini" mean trade-offs and low performance (at least as far as the full-sized guns go)? Yes it does mean that, but they're worth having if only to fill a unique kind of need.
Does the Ekrin Bantam mini-gun fill any special need? We think so. And we'll be spending a better part of this review proving that. So follow along as we take a look at Ekrin's own "Theragun Mini" if you will.
---
---
Meet Bantam, by Ekrin Athletics
Ekrin Athletics have done well for themselves. After releasing the B37 model, which quickly gained traction, they've since gone on to establish themselves as giants of their own kind.
They went on to release the B37S which also competed well in the market (an awesome massage gun, we had fun reviewing it).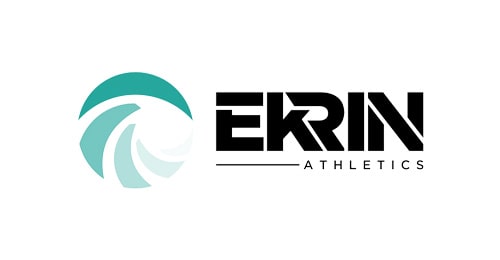 The company was founded by two former student athletes in early 2019. Their main priority was to share with others about the importance of being healthy and fit.
They chose to direct their focus on aiding athletes' muscle recuperation and prevention of injuries. Their way of doing this was to manufacture massage guns. We're glad that's all they do.
Unlike many massage gun brands, Ekrin's standout attribute by far has been their excellent customer service. We've always endorsed their products because of their LIFETIME WARRANTY on all their products.
The Bantam is their newest addition to their already illustrious line of products. It's basically the miniaturized version of the two B37. We expect it's a scaled-down massage gun but we're excited and a bit surprised at just how powerful it is.
Let's go deeper and explore this wonderful mini massage gun shall we?
---
Ekrin Bantam Review
Ekrin Bantam Specifications
Features
Ekrin Bantam
Stall Force
35 lbs
Stroke Length
10 mm
Percussions
2000-3200 ppm
Battery Life
5-6 hours (1600 mAh, non-removable)
Noise
50 – 58 dB
Number of Attachments
4
Weight
1.1 lbs
Speed options
3
Warranty
Lifetime!
Base Price
$149.99 $119.99
Ekrin Coupon
& Where to buy
20% OFF with the MGA20 coupon
Get it right here
Ekrin Bantam Specs
---
First Impressions
We sometimes love to judge our books by the cover. And Ekrin has always had a reputation for quality carrying cases for their top quality massage guns.
The Bantam comes with a two-zipper mini-bag. It's a small nicely crafted case that we enjoyed having. Definitely if you're the kind that likes looking slick as you walk into the gym, you'll enjoy carrying the gun in it.
But let's offload the bag, shall we.
Inside the case, the Bantam sticks out among the contents; which include four attachment heads, a USB-C cable (charger), and a couple of accessories that we'll look at later.
The Bantam is a gorgeous little percussion massager with an impressive build. Ekrin chose to stay true to their usual quality here.
Just like its larger counterparts (B37/B37S), it's the same great quality material. We'll say high-end matte plastic and nicely colored. It feels sturdy, and obviously durable.
Also, we noticed the power button is at the bottom end of the handle. Felt a little out of place for us. We would've preferred it at the top end of the gun. But no harm done here though.
We appreciate that they stayed with the simplistic approach of just one button. Another simplified approach, we did notice there are no screens or LEDs, just the one to indicate when it's on.
The power button works by long-pressing to turn the device on or off and quick-pressing to shift between the speed gears.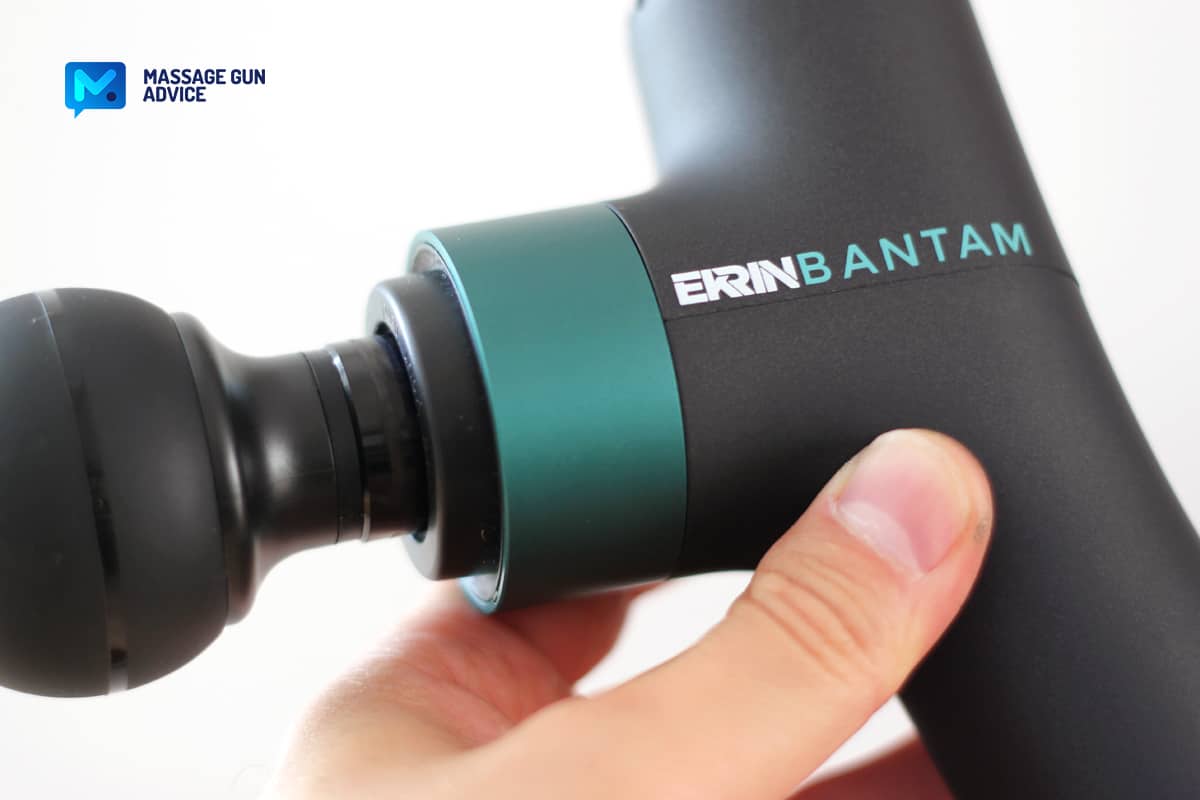 ---
The Attachments
The Bantam mini-gun has four (ball, fork, flat, and bullet) attachments that look really nicely built (top quality). This impressed us because some mini-guns (like Hypervolt Go, or Theragun Mini) don't give you the option of three, let alone four.
---
Ball Attachment
This attachment is useful for larger muscle groups. You can use it over any part of the body. The Bantam one is a silicone hollowed ball (squishy if you press it).
It's not foam, which is great because foam tends to deteriorate quickly with time. We're positive this one will last a little longer. As we just mentioned it's hollow (and a bit soft). Ekrin probably intended it for softer spots or bony areas.
---
Flat Attachment
This is used to target larger muscles. We like to call it the power head because it hits hard and you'll do yourself a favor by not passing it over bony areas of your body.
The Bantam has the same quality as the ones on the larger guns – hard plastic. There's a slight tweak though with Ekrin including a silicone top cover for it.
---
Fork/Spine Attachment
This one's used around the spine or neck area. It's much more suited for those places because of the two prongs that will go along either side of the spine. Otherwise you can also use it along the Achilles tendon as well.
Ekrin stayed with the same quality as the larger guns; hard plastic material for this one.
---
Bullet Attachment
The bullet head is the pinpoint head. It's best for "focus" massage sessions. Think ligaments, hidden muscle folds and the generally hard to reach muscles. The Bantam one is hard plastic as well. Looks sturdy.
---
Other notable things that we did find inside the case; the how-to-use instructions pamphlet which has very good information on the massage heads and also general massage-gun-use instructions.
We also loved the nice gesture from Ekrin to include a large branded sticker. As fans we love it!
---
Size, Weight and Ergonomics
The Bantam weighs at just 1.1lbs. Obviously expected since it's a small gun, but it feels heavy enough not to be confused with a toy.
Ever heard of the just the right small size? That's exactly how we would call this. It's compact and highly portable. Definitely for those always on the go. It's about 6-inches tall (probably the same height as most cellphones).
The ergonomics are great. Ekrin stayed true to their class with the same 15-degree tilt as the larger ones. The handle has a nice grip to it and feels very comfortable as you use it.
It would've been great to add a bit silicone-style rubber to the handle but this one will do just fine. The angled handle is perfect because it reduces the pressure on your wrists unlike the T-shaped normal massage guns.
---
Performance
We were expecting a scale-down in performance as well with this mini-gun. It's a no-brainer you say. Sorry to disappoint you but the Bantam actually surprised us with its premium-type performance. Let's have a look.
---
Stroke Length / Amplitude
Amplitude or stroke length is how far the massage head travels. It determines whether a massage gun can really hit deep into the muscles, even bigger muscles.
The Bantam has a stroke length of just shy of 10mm. We think this is impressive. Why? Well, try scouring the market for mini massage guns with such high amplitude and we promise you won't find many.
Only the giant Theragun has 12mm for its mini version (we all know how plentiful Theragun are). Most have between 6-8mm amplitude. There's just a handful of massagers offering ~10mm head travel, such as Ekrin Bantam itself, or the Hypervolt Go 2.
What do you get with 10mm? You get a deep enough massage to relax, get the blood moving well within the muscles, get to the sore muscle and smooth them out, and also get rid of lactic acid build-up after a workout.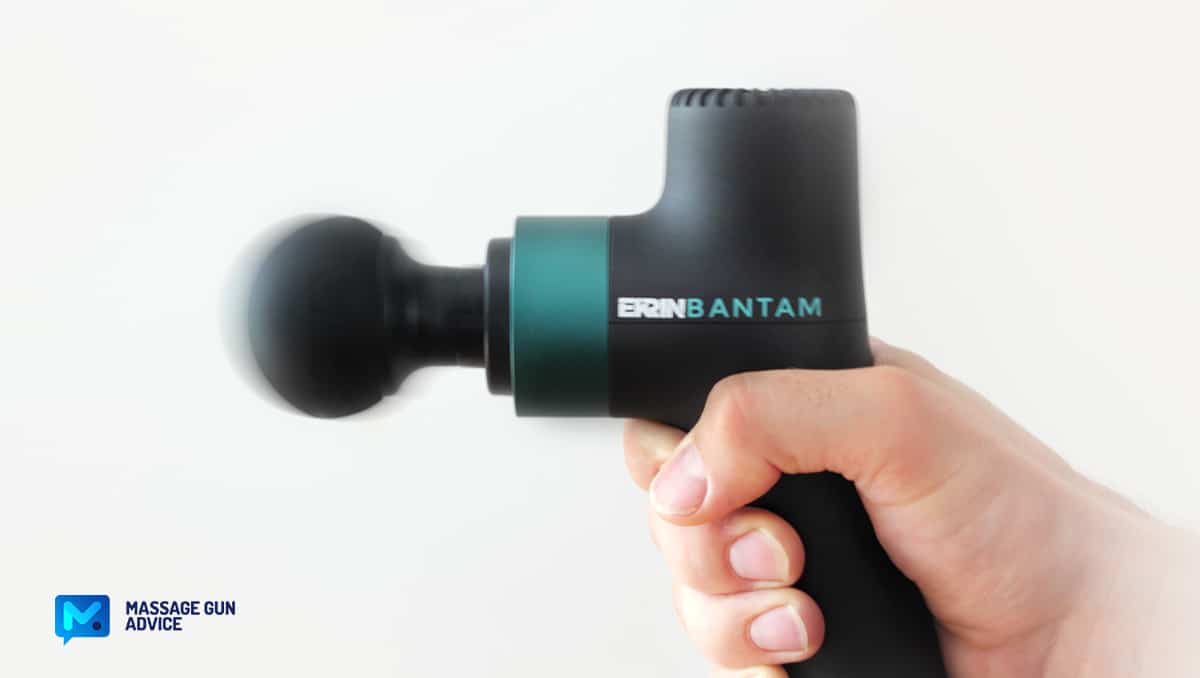 To be fair though, 10mm is a bit on the lower end of things if you are looking for deep muscle penetration. Unless the motor is impressively strong.
Is it though with the Bantam?
---
Stall Force
Here's where we answer the question about the motor. But first, what is stall force?
We've talked about getting a deeper penetrating massage. In order to do this, you'll have to press the massage gun against the part of the body you're trying to massage. Sometimes when the force applied is too great, the massage gun stops.
This force needed to stop the massage gun is what we call stall force (or sometimes 'no-stall force')
Now, a massage gun with a weak motor cannot withstand a lot of force and may therefore not be able to give a deep meaningful massage.
But Bantam surprised us with its stall force. 35lbs. is more than enough to get a deep enough massage.
Even some full-sized massage guns do not hit 35lbs. To be fair though, it's scaled down from the larger ones which stall at 56lbs. of pressure. We tried, just for practice to stall this gun and it took a fair bit of pressure.
But as impressive as 35lbs. of stall force is, it varies with the speed level – keep this in mind. It's progressive with 28lbs. at the lowest, followed by 32lbs. and then finally 35lbs. at the highest gear.
Of course, this is typical and we are yet to see the massage gun able to stall with about the same force all through the speed levels.
But nonetheless, Bantam's power is very impressive.
---
Percussions and Speed Levels
Interestingly, Bantam's percussion range is the same as in their top-shelf B37S model, which means that it hits between 2000-3200rpm.
This is a good range and is actually standard for best mini massage guns. Most good quality devices don't go over this limit. Those that do feature much lower stroke length (lower amplitude translates to faster vibrations).
Bantam comes with 3 levels of speed that start with 2000, then 2600, and finally 3200. It feels an appropriate setup for the range but we wouldn't having a fourth speed.
It doesn't have speed indicators anywhere that we could use to tell the difference between speeds but you can easily tell the change in intensity. You can actually even hear from the sound it makes.
---
Performance Comparison
Let's see how the Bantam compares against the most popular competitors.
---
Stall Force (lbs.)
OUR TAKE
Stall Force: Bantam's stall force is just amazing for a mini gun. It's stronger than Theragun mini and in fact, it is as strong as the full-sized Theragun Prime.
Stroke Length (mm)
OUR TAKE
Stroke Length: 10mm is the sweet spot for a mini massage gun. Theragun Mini has a higher amplitude, but it stalls much easier.
---
Battery
So how much battery juice do you get with this device. Fairly enough, we'll say. 1600 mAh is more than enough for a mini gun. There are devices with slightly more juiced batteries but you'll have to deal with slightly more weight.
It's a Samsung battery, so definitely Ekrin showing their class again by being transparent about the quality of the battery included.
We have used many massage guns that don't specify this and have gone on to deteriorate pretty fast (sometimes up to 50% drop in efficiency after just 3 months).
One charge will get you between 4-6 hours of use depending on the intensity of the massage and also the speed level used.
If you use it averagely, say 15 minutes of massage a day, then you'll have to charge it once a week or sometimes even 10 days later.
There's one LED at the bottom (to the right of the button) that will tell you the amount of juice you're working with. It lights blue when it's up to 80% full, purple when it's 60-80%, red between 20-60%, and blinks red with less than 20% juice.
We love that it comes with a USB-C type charger. Some convenience here if you don't like a dedicated charger. The cable is long enough (about 3 feet long).
We did notice it doesn't come with a wall plug. Guess you'll have to use your phone plug or charge it on your laptop when you have to.
---
Noise
It's quiet enough. The noise level is advertised to be 50dB but it can go up to slightly over 60dB. Nonetheless it's still very quiet. We didn't have to turn the TV up when using it in the evening. The noise level progresses with the speed level; the higher the speed the louder it gets.
One noticeable positive here is that it doesn't rattle when pressed against the body. Most mini guns and sometimes even normal-sized guns have this problem. It also doesn't transfer the vibrations to the handle making it very comfortable to use.
---
Price, Warranty and Where to Buy?
The Bantam mini gun will normally cost you $149.99, but you can use the coupon MGA20 and get it at $119.99. That's 20% off the normal price.
We recommend buying it from Ekrin's website to give them a little support and appreciate their top quality customer support. You can also check out reviews from satisfied customers.
The Bantam comes with a lifetime warranty. This is great as it shows a company willing to stand behind their product.
---
---
Our Verdict and Who is it Best For
This is a great compact massage gun if you're always on the move and would like something that gives you stable performance.
It's strong enough to do the nitty gritties of percussive therapy such as get rid of lactic acid build-up, break-up scar tissue, and give you muscle activation before you hit the gym.
If you're an office guy and would like something to use after a long day of work, then this device is perfect for you.
It's not as powerful as the top-shelf B37s, but it's way smaller, and still strong enough to do a good job.
---
Taking Bantam for a Hike
Is Bantam a good travel companion? I decided to find out myself.
I took it with me for a two-day hiking trip. Great views, wild trails, pure nature – epic!
It was also quite an effort, especially for the legs and my back (20qt backpack).
I did about 30 miles, 8500 ft up in total, using Bantam on my legs every 6-8 miles and then at the end of each day.
Did it help? Yes, I noticed less soreness the next morning and felt less muscle fatigue overall.
The best thing, though? It's how portable it is! I always pack as light as possible, and this little sucker is so light, and honestly perfectly sized!
---
Bantam vs. Theragun mini

Feature
Ekrin Bantam
Theragun mini
Stall Force
35 lbs
<20 lbs
Stroke Length
10 mm
12 mm
Speed Options
3
3
Battery Life
~6 hours
2.5 hours
Noise
~50 dB
~50 dB
Weight
1.1 lbs
1.4 lbs
Attachments
4
1
Warranty
Lifetime
One-year
Price
$149.99 $119.99
$199
Discount
-20% with the

MGA20

coupon
None
View in Store
View in Store
Ekrin Bantam vs. Theragun mini
Interested in Ekrin Bantam vs. Theragun mini comparison? Let's look at some key differences and similarities between these two mini guns:
Their designs are very different. Theragun mini looks very unique with a heart-shape design while the Bantam follows the B37s pattern of design.
Theragun's amplitude is slightly bigger at 12mm. Bantam is 10mm.
Ekrin has superior stall force of 35lbs. compared to Thergun's meager 20lbs.
mini percussions hit at the rate of between 1750-2400rpm. Bantam has slightly better at between 2000-3200rpm even though it has a much lower amplitude. We would say both companies took different approaches here.
Theragun Mini has 3 speed levels but only one attachment head. Bantam has 3 speed levels but with 4 attachments.
Theragun is slightly heavier at 1.5lbs compared to Bantam at 1.1lbs.
Lifetime warranty for Bantam but only 1 year with Theragun.
Bantam has a far better battery that lasts up to 4-6 hours. Theragun's only lasts up to 2.5 hours.
You can get the Bantam at $127.99 with the

MGA20

code provided. The Theragun mini will cost you much more.
Verdict

We all know the fame of Theragun in the percussive therapy industry. They offer premium products but with a premium price to bear with.

Ekrin on the other hand is less known, but has been slowly gaining popularity with top quality products.

You can get the Theragun if you like the brand but we recommend the Bantam because it floors the Theragun Mini in all aspects, both in performance and in accessories.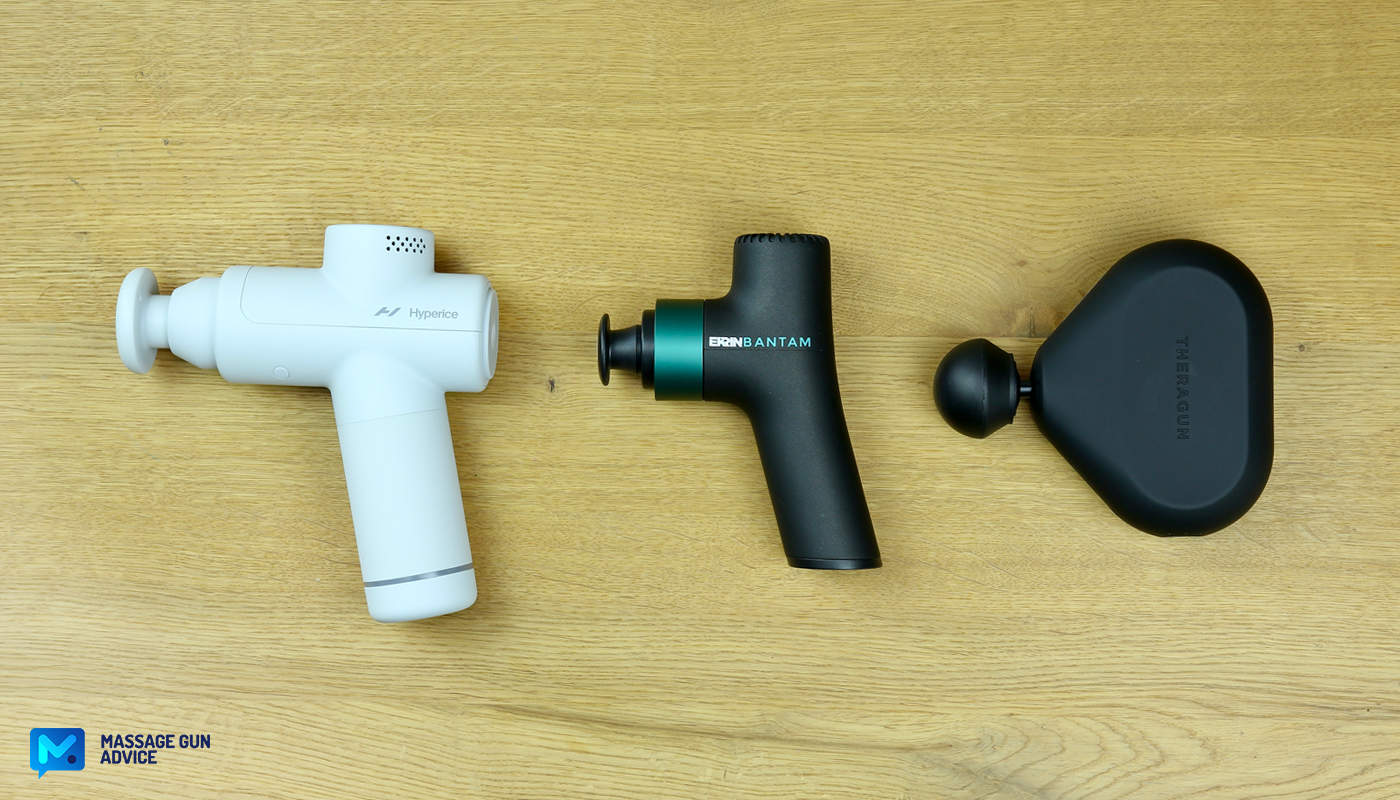 ---
Bantam vs. Hypervolt Go
| Feature | Ekrin Bantam | Hypervolt Go2 |
| --- | --- | --- |
| Stall Force | 35 lbs | <20 lbs |
| Stroke Length | 10 mm | 10 mm |
| Speed Options | 3 | 3 |
| Battery Life | ~6 hours | 3 hours |
| Noise | ~50 dB | ~50 dB |
| Weight | 1.1 lbs | 1.5 lbs |
| Attachments | 4 | 2 |
| Warranty | Lifetime | One-year |
| MSRP Price | $149.99 $119.99 | $199 |
| Discount | -20% with the MGA20 coupon | None |
| | View in Store | View in Store |
Ekrin Bantam vs. Hypervolt Go 2
How about Ekrin Bantam vs. Hypervolt Go 2? A few points on how these two guns compare:
They both have the same ergonomics with Hypervolts smaller model looking like they borrowed a leaf from Ekrin's book.
But Bantam is smaller than the Hypervolt Go. Much smaller in fact.
They have similar amplitude, percussion and speeds, and about the same noise levels too.
But they massively differ in stall force (Bantam's 35lbs. vs. Go's less than 15 lbs.), weight (Go weighs 1.5lbs), carrying case (Go doesn't have one),
Bantam had 4 attachments vs. Hypervolt Go's only 2.
Bantam has a better battery and a USB-C charger while the Hypervolt Go 2 has a dedicated wall charger.
Warranty: Hypervolt only give you a 1-year warranty. Ekrin offers a lifetime warranty.
Price: Bantam only goes for $119.99 with the

MGA20

coupon code, while Hypervolt Go 2 is much more expensive.
Verdict

You can choose to go with "big-name" Hypervolt if you want but the Bantam is the easier choice here. It beats the Hypervolt Go 2 (and Go 1) where it matters most. Think performance, price, and warranty.
---
If not Ekrin Bantam Then What? Best Alternative
If you've read our any other massage gun reviews we did then you know that we always aim to use our expertise to provide our readers with what we think are best alternatives to a reviewed massager.
In this case, however, we think that the only viable alternative to Bantam is…. Theragun mini. Yes, it is more expensive, and in our opinion the Bantam is a clear winner, but if we were forced to choose one good alternative, it would be mini.
We could list several mini guns here, like Addsfit mini, Sportneer mini, Lifepro DynaMini, and others. But the truth is that we checked all of these (and more), and none of them gets even close.
As of July 2022, we are yet to find another mini gun that could rival the Bantam in terms of the size and performance.
---
Ekrin Bantam Review – Conclusion
To wrap up this Ekrin Bantam review, let's just say that the Ekrin's first mini gun didn't disappoint at all. Just like the full-sized B37s they packed top quality into this massager as well.
It's perfectly balanced with great ergonomics and overall a strong massage gun (surprisingly strong given its size).
It fairs way better compared to industry heavyweights in Theragun and Hypervolt's mini versions, and we highly recommend it if you are looking for something to take with you on the go.
If you decide to get it, use the MGA20 coupon in Ekrin's store to save yourself over 30 bucks.
With that we conclude our Ekrin Bantam massage gun review. Bye!
---
Ekrin Bantam Rating
Quality

Effectiveness

Usability

Accessories

Price Value
Summary
Ekrin Bantam is lightweight, highly portable and powerful massage gun for its size. Being stronger, better equipped and much cheaper than the two industry darlings, Theragun Mini and Hypervolt Go, makes it a close-to-perfect mini massage gun for those on the move. Highly recommended buy!
Disclaimers
The views and opinions expressed on this website are those of the authors. Any content provided by our bloggers or authors are of their opinion and are not intended to malign any religion, ethnic group, club, organization, company, individual or anyone or anything.
All product names, logos, and brands are property of their respective owners. All company, product and service names used in this website are for identification purposes only. Use of these names, logos, and brands does not imply endorsement.
It is our policy to make every effort to respect the copyrights of outside parties. If you believe that your copyright has been misused, please provide us with a message stating your position and we will endeavor to correct any misuse immediately.
Some of the links in this post are affiliate links. As an Amazon Associate, we earn from qualifying purchases. This means if you click on the link and purchase the item, we may receive an affiliate commission, at no extra cost to you. This helps us keep this website alive. Learn more here.
Amazon Disclosure
massagegunadvice.com is a participant in the Amazon Services LLC Associates Program, an affiliate advertising program designed to provide a means for sites to earn advertising fees by advertising and linking to Amazon.com. As an Amazon Associate, we earn from qualifying purchases. Amazon and the Amazon logo are trademarks of Amazon.com, Inc. or its affiliates. Please refer to our Privacy & Affiliate Policy for details.