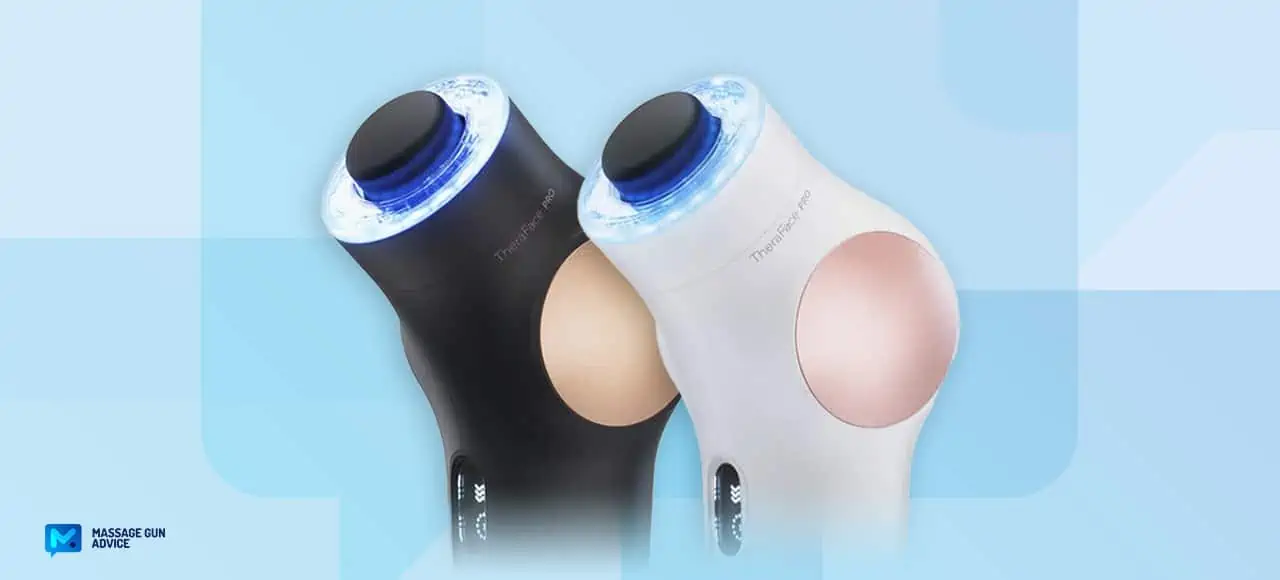 TheraFace PRO Review – The New Theragun For Face… And More
What to Know: We independently review products we recommend. If you click on links we provide, we may earn a commission. Learn more.
---
Welcome to this hands-on TheraFace PRO review.
Apparently, people have been punching themselves in the face using Theraguns. Yes, Theraguns are punching massage guns because of those long amplitudes.
We know people have been abusing their faces with Theraguns because of the number of emails we have received asking us whether it's healthy to use a Theragun on your face.
Well, we didn't know how to appropriately answer these questions without harming people's faces even more. Turns out Theragun must've been bombarded with similar questions throughout their existence.
They just released the TheraFace PRO – the quintessential Theragun for face. But after seeing what this new innovative genius from Therabody can do, we would say it's more than a face massage gun (at last!). There's more to it than just making your face feel nice and rejuvenated.
We have studied it, and here's what we think about it.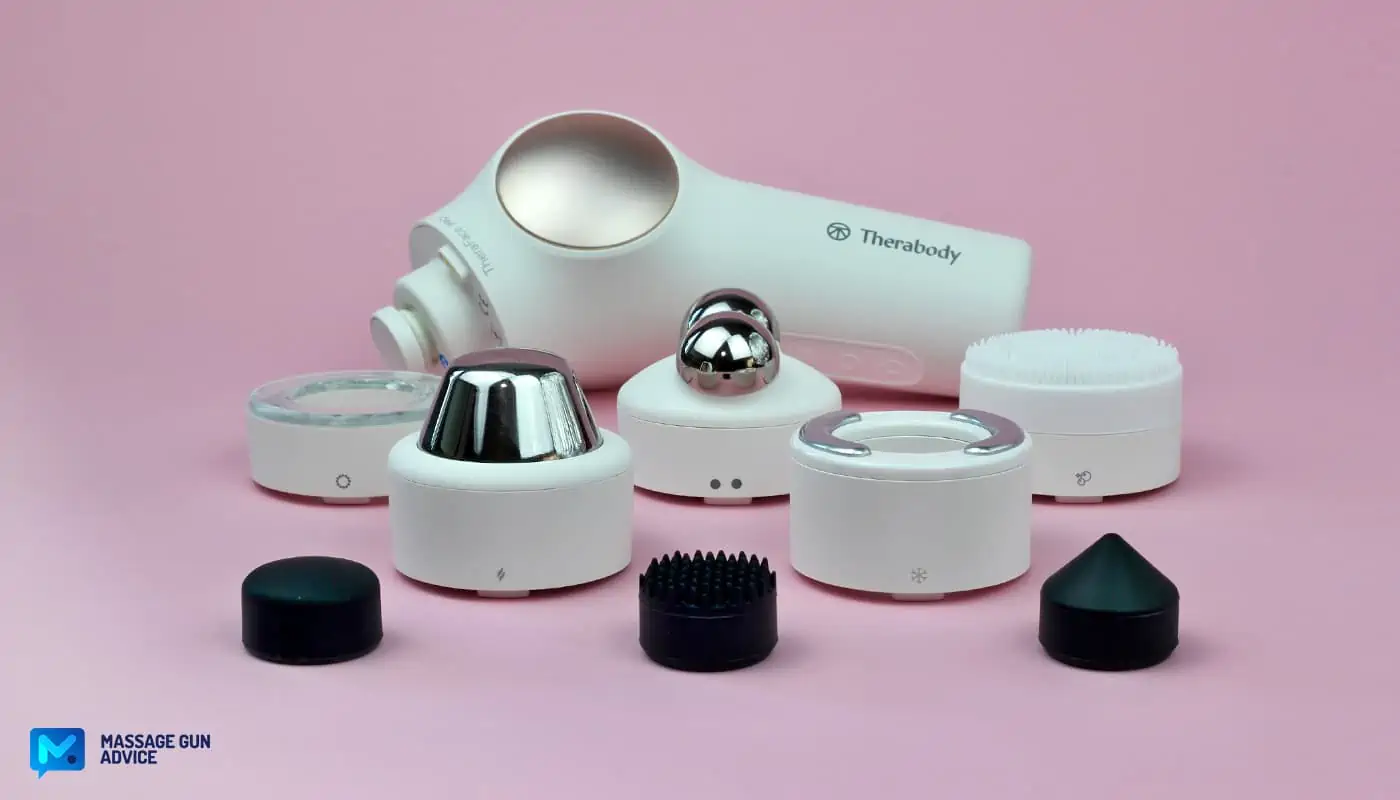 ---
---
What's TheraFace PRO – Who is it For?
Yes, the TheraFace PRO is a percussion massager for the face; but it doesn't end there. This new device is more of a facial spa than just a face massage gun.
Therabody calls it "an advanced solution for better facial wellness" and we agree. It's a 4-in-1 solution cleverly designed for a premium device. The device combines many treatments in one tiny but very interesting product.
TIP Here, you can read if you can use a massage gun on your face?
Here's what you can expect the TheraFace PRO with its ingenious accessories to do for you;
Reduce facial tension and relax the jaw and facial muscles. Thanks to percussive massage optimized for the face, you don't have to endure the counterproductive heavy punching from regular massage guns anymore.
It can firm and tighten the skin.
Improves muscle tone and contours of your face.
Reduce fine lines and wrinkles.
Helps to remove the facial buildup of dirt, debris, and oil.
Reduces under-eye puffiness and rejuvenates the skin with cold therapy.
Soothes the pain and lets the face relax with heated therapy.
But all these things sound like the device will be best suited for women. Nothing could be further from the truth. Therabody isn't just looking to woe women with this new innovation. Both men and women can benefit from paying attention to facial well-being.
We have to agree with Theragun. Our faces express emotions and have a lot to say about our overall well-being. Facial muscles do a lot of work during the day when we are awake. The modern lifestyle doesn't help with keeping them healthy.
That necessitates the need to keep our faces healthy just as the rest of our bodies. It doesn't matter whether you are a man or woman, these things affect us equally.
Let's find out more about this amazing device.
---
TheraFace PRO Review
---
TheraFace PRO Specifications
Features
TheraFace PRO Specs
Amplitude (Stroke length)
3mm
Percussions
1750, 2100, 2400 PPMs
Stall Force
~5-8 lbs. (estimated)
Speeds / Intensity Levels
3
Battery Life
120 min (non-removable)
Therapies
Percussive
Microcurrent
LED Light (3 wavelengths)
Deep Cleansing
Cold*
Hot*
Percussive attachments
3
Weight
0.61 lbs
Noise
49 – 52 dB (hushed)
Pros
Fully optimized for face
4 different treatments in one device
Possibility to combine treatments
Well equipped
Attention to detail
Low noise
Premium feel / high quality
Cons
Only 1-year warranty
Hot and Cold attachments not included
Steep price
Base Price
$399 (+ $99 for Hot and Cold Rings)
Buy at therabody.com
Discount info
Therabody discount page
TheraFace PRO Specs / *Hot and Cold rings sold separately /
---
What it Comes Equipped With
Here are some of the things you will find when you open the package;
1 device
3 attachments for facial percussive therapy
1 LED treatment ring
1 microcurrent ring
1 cleansing ring
1 conductive gel for microcurrent treatment
1 pouch to carry some of the accessories
1 stand for the device
1 USB-C charging cable. That's right; the very first Therabody device with convenient USB-C. Awesome!
A user manual in different languages
Optional accessories included (bought separately): 1 hot and 1 cold ring. It costs $99 extra but we wanted to see how it works and bought it as well..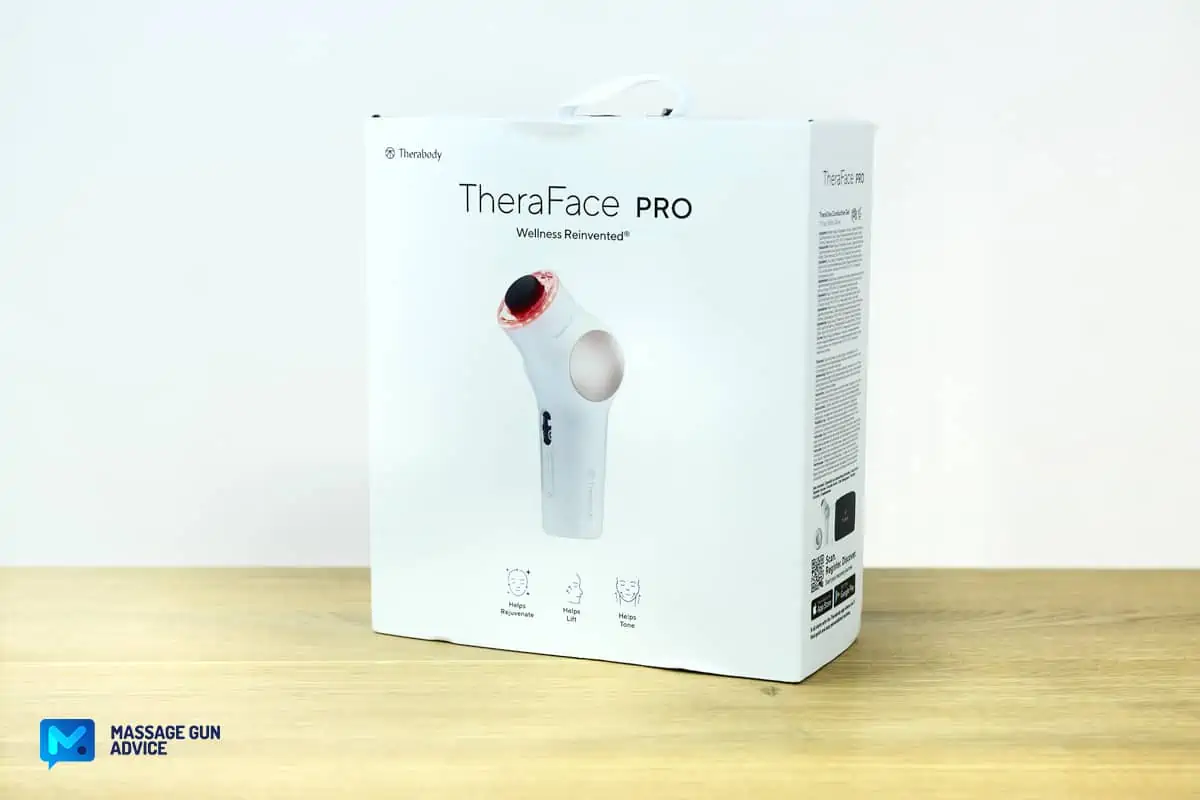 Now, let's have a look at the device itself…
---
First Impressions
We buy and test a lot of massage guns. We've become so accustomed to these devices that we can immediately tell whether a device is worth its weight in gold or not.
For this TheraFace PRO, everything looks impeccable. From the quality of packaging to the contents inside, everything screams top-quality.
Therabody doesn't cut any corners with this device. From the great quality of the materials used (including soft rubberized plastic) to the attention to detail with the accessories included with the device, it feels pretty premium.
You can tell they wanted to make this face massage gun device as high-end as possible (not that they make anything cheap). We've seen devices cut corners with the quality of material used to build their devices, but that is not the case here.
The device feels innovative – certainly the first of its kind. We're yet to see anything like it. There are many clever solutions here.
For instance, the magnetic attachments and ring-mounting system look futuristic. There is also a simple but effective OLED screen that we have seen many brands fumble with – not Therabody here.
The device is optimized for the face. If ever there was to be a Theragun for face, then this is definitely it.
---
Size and Weight
It's dinky and easy to hold – it looks like those tiny beard trimmers. It's only about 5.5 inches tall, 2.55 inches wide, and about 2.16 inches thick. That makes it very compact.
It's very light as well – can't have a device for your face that needs two hands to comfortably maneuver. It weighs just 0.61 pounds with the ring and a tip.
---
Noise
This Theraface Pro review wouldn't be complete without discussing how loud this new device is.
After all, you need a quiet facial device if you are going to use it close to your ears. Not just us, but many users as well have complained about Theraguns being noisy before.
Good news here – this new device is very quiet – finally a hushed Theragun. It's so pleasantly quiet that we didn't feel the need to use our decibel meter to find out how buzzy it is.
But we did anyway and if you are curious you'll be pleased to know that the first speed gives about 49dB, the second speed about 51dB, and the third speed 52dB.
It's a very quiet piece of equipment.
---
Practical and Well-Thought-Out
Designing this device must've been a tough task. You'd think designing a massage gun for the face wouldn't be so tough for Therabody. However, combining many different therapies in one tiny device isn't quite the same thing.
Even so, we have to applaud what Therabody did here. We noted some design choices that were critical to the making of this device;
The attachments and rings can work together. That means you can perform more than one treatment at ago. For instance, the LED ring, the cold therapy (3) ring, and the cleansing ring; all three can work when you are massaging your face using percussive therapy attachment.
The magnetic attachment-mounting system is awesome. You don't need to push or twist anything – just move the attachment close to the tip and it fixes on. It feels incredibly nice to have this here.
The attachment/ring automatic recognition: the device knows the specific ring or attachment mounted. That means you won't need two buttons to operate the device.
---
Display
The OLED display lights up when the device is turned on. On it you can see the battery charge status, the ring currently attached, and what therapy is on.
For example, you'll see the snowflake icon when the cold therapy ring is attached. The screen also shows the percussion speed and the therapy intensity– heating/cleansing/microcurrent/cold therapy.
---
Controls
The controls are simple (amazingly enough given the sophistication displayed here).
Since the device can easily recognize what is mounted on it, there are only three buttons in total.
The buttons are located along the front of the handle.
The power button (has the universal symbol) is the first one from the bottom. It turns the device on or off.
The second button from the bottom is the ring button that activates the rings and adjusts their settings (

O

).
The top button is the speed button that activates percussion massage. You can click it to increase the percussion speed – the speeds can be seen on the OLED screen.
Obviously, it's a bit confusing to only see 3 buttons with all these therapies on the device. However, once you start using the device, everything becomes clear. It's very simple and intuitive to use.
So let's take a closer look at it…
---
How Does it Work?
We have seen everything included here and what everything can do, but this is a new device on the market. So how exactly does it work? Here's how;
---
This is where we know Theragun excels. There are 3 attachments – they are all black; most Theragun attachments are black anyway.
They include what we'd call a flat head, a cone head, and a micro-point attachment.
Flat Head
The flat head, even though tiny, we're guessing it's the universal one and should be used most of the time.
---
Cone Head
The cone head should be used for pressure points and targeted areas including massaging around the eyes and the nasolabial line.
---
The attachments are smaller than any we've seen from Theragun. They are soft and gentle (they should be; no one wants a rough attachment on their face). Even the cone attachment has a lot of give to it.
The attachments feel great on the face when used. We'll compare them with the attachments we saw with the addsfit Max (those were magnanimous compared to these though).
The attachments are magnetic, and so is the tip of the device. You simply put them on there and they'll stick. They administer percussive massage quite nicely on your face.
---
Performance Aspects – Amplitude, Stall Force, and Percussions
Since it's partly a massage gun, we have to talk about the massage gun elements, especially with performance.
The amplitude (the length of the tip of the massage gun attachment that determines how deep a massage you can get) is 3mm according to Therabody; pretty tiny compared to the bigger massage guns (Theragun mini has 12mm, Pro, Elite, and Prime have 16mm).
A 3mm amplitude sounds tiny for a massage gun, but that's because there aren't large muscles on your face. We're impressed with the choice here. It's just about perfect – anything lower or higher would properly not work.
Interestingly the percussion range wasn't touched. It's the same range as every other Theragun: 1750-2400RPM. The first speed has 1750RPM, the second speed has 2100RPM, and the third speed has 2400RPM.
What about the stall force (the amount of force a massage gun can withstand before stalling)? Would even be right to talk about stall force for a facial massage gun?
Well, you won't need to press the device hard against your face. That means you shouldn't expect this device to have a lot of stall force like the devices meant for other parts of your body.
Surprisingly though, we tried applying some pressure (just to test the stall force), and we have to say, there is a bit of stall force here – it doesn't stall that easily.
Even when it stalls, it kicks back almost immediately when the pressure is released.
---
Effects of a Percussive Massage
Using the TheraFace PRO for a percussive facial massage is quite beneficial. Expect to treat minor jaw stiffness with a short massage session. It also helps you relax as the skin gets warmer due to increased blood flow.
As with any other part of the body, percussion therapy gets you the best results when done regularly.
That is why Therabody has introduced new routines for facial treatment that are worth checking out. You can apply these routines as suggested and note how you feel over time.
Watch to learn more about TheraFace PRO's percussive therapy effects.
---
Compatibility With Rings
You can combine massage therapy with the ring therapies. You can have the rings on along with the attachments.
The combination of treatments provides even better results faster.
For instance, you can have the LED ring on as you massage. You can also combine cold therapy with percussion therapy (our favorite). The feeling on your skin is magnificent. You also save time when you combine therapies like this.
Genius Fact
You can also use the cleansing ring for a percussive massage. You can't have both the ring and the attachment on (you'll have to remove the attachment first).
However, the central part of the ring is made of soft rubber and feels just like an attachment, and the device vibrates even during a cleansing therapy.
Another thing to note, however, is that percussion therapy cannot be combined with microcurrent and heat rings.
Overall, it's hard to imagine how they could've done any better as far as the percussion massage therapy is concerned. Also, the fact that you can combine it with cold, light, and the cleansing ring is brilliant.
---
The LED ring has Red, Blue, and Red+Infrared light therapy.
LED therapy has gained popularity among aestheticians because it's a safe therapy with minimal side effects. It also doesn't have ultraviolet waves.
The different light wavelengths and helpful in treating acne (the blue light), reducing inflammation, and improving circulation (the red and infrared lights).
This also means that LED light therapy can aid in reducing fine lines and wrinkles giving the skin a healthy glow.
PRO TIP We have already seen another device that incorporates LED therapy into its operation. I'm talking about the Achedaway Cupper, a smart cupping device.
How to use the LED Light Therapy Rings
Attach the ring to the device
Once the device is on (

O

button), press the middle button to activate the ring. You can press the ring again to toggle between light options.
Hover the device slowly over your facial skin
Therabody recommends maintaining a 0.5-inch distance from the skin – to avoid skin contact. The device has a proximity sensor. When it's at the right distance, the ring reaches full brightness. That's nice to have – you won't have to worry about trying to maintain that distance yourself.
The LED ring is mostly passive but the light changes in intensity depending on the distance.
As we have already mentioned, you can combine this therapy with percussion massage therapy using the attachments included. It saves you time and it's even more effective.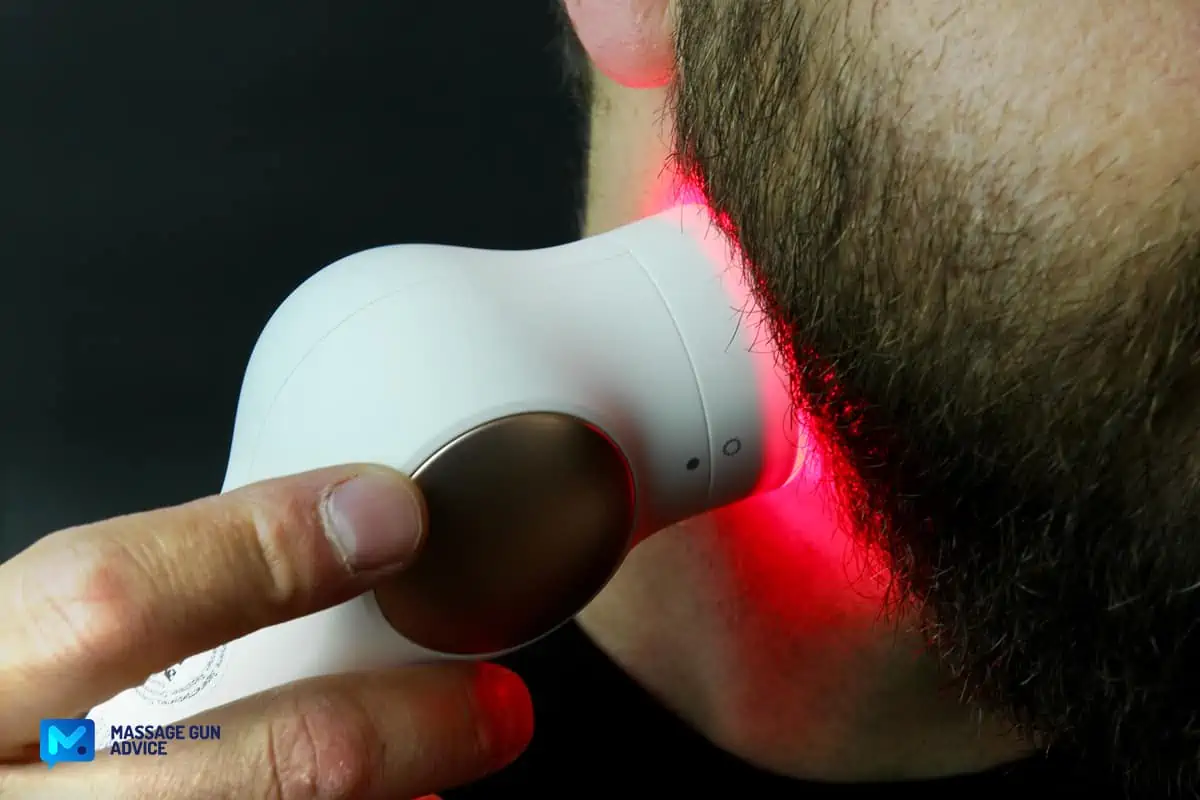 ---
According to recent research (2) using low-level electrical currents on the skin has massive benefits. Among the benefits include lifting the skin, toning, smoothening the skin, and more.
The therapy is also responsible for improving the functioning of facial muscles, helping in circulation, reducing inflammation, and healing wounds.
It's not really a silver bullet for bad skin health, but, used regularly it can work just as well as any anti-aging treatment. You can use this therapy on all parts of your face.
There are already numerous microcurrent devices on the market. However, we haven't seen any such devices attempt to incorporate multiple therapies in one device. With the microcurrent therapy, TheraFace PRO can seriously rival the likes of Nuface and others.
How to use Microcurrent Ring?
Apply the TheraFace conductive gel to a clean, dry part of your face. This is needed for proper conduction.


TIP

You may want to test the conductive gel on a small patch of your skin first.
If you have a percussion ring on the device, remove it and attach the microcurrent ring. You cannot combine this treatment with percussion therapy.
Turn on the device and press the

O

button to activate the microcurrent mode.
Glide the device over the skin applying light pressure as needed.
Keep both metal spheres on the face at the same time.
You can adjust the intensity (from 1 to 3) by pressing the middle button more times.
Try not to exceed 5-8 sessions per 24-hour period.
Once done, wash your face and apply your favorite moisturizer.
How Does it Feel?
The electric impulses are never painful. You will feel a slight tingly effect but nothing more. There is a chance you will immediately feel your skin tighten.
After using it for a while, expect a lifted appearance, better facial contour, and good skin tone.
---
Like all the others, the ring is magnetic and you won't have a problem attaching it. It's a full ring without a hole in the middle; meaning you cannot combine this therapy with percussion therapy.
However, the way the ring is built, it can work as the fourth attachment. The ring endings resemble the micropoint attachment. However, the contact area is bigger, gentler, and softer.
Once attached, the middle part is flexible enough and can be used for a percussive massage on your face. This means that you can do two things with this ring; clean your face, and massage it at the same time. Awesome!
How to use Cleansing Ring?
Attach the ring, turn on the device and glide the device over your skin
After treatment, remove the ring attachment
The ring doesn't have any electrical components in it so washing it after use shouldn't be a problem. Just don't wash the device along with the ring – you might damage the device.
---
Hot and Cold Therapy
The setup for this has to be purchased separately at $99. We mentioned how Therabody paid attention to detail here as well.
The setup comes in a stylish zippered pouch made of good quality leather – it's soft and feels very premium.
The pouch is thermally insulated (presumably to keep both the rings and the pouch safe). There is a piece attached on how to use the rings.
---

The ring has two metal stripes that get cold once the ring is activated.
The placing of the rings gives the impression that Therabody was targeting the area under the eyes. However, it's not just the eyes, you can use cold therapy on your forehead and the back of your neck – it's safe to use on any other part of your body.
The cool thing about this ring is that it can be combined with percussion therapy. You can use any of the 3 attachments along with the cold ring for double treatment.
The ring has 3 temperature levels;
79 degrees Fahrenheit (26 C°)
72 degrees Fahrenheit (22 C°)
64 degrees Fahrenheit (18 C°)
How to use the Cold Ring?
Attach the ring on the device and let it click in place via magnetic connection.
Decide whether you want a percussion massage along with the cold therapy. If so, attach a preferred attachment.


PRO TIP

We believe the flat attachment works perfectly along with the cold therapy. That's because it's more or less the same height as the ring itself. That means you can feel both the vibrations and the cold.
Turn on the device and press the

O

button.
Choose a desired temperature level
Wait for about 15 seconds for the metal stripes to start transferring the cold – or simply wait until you hear the first beep.
Optionally, you can activate percussions by pressing the top button – press a few more times to increase the intensity.
Glide the device over your skin, under the eyes, on your forehead, and on your cheeks.
A single session should last about 8 minutes
---
Like the cold ring, it too has 3 temperature levels as follows;
95 degrees Fahrenheit (35 C°)
102 degrees Fahrenheit (39 C°)
109 degrees Fahrenheit (43 C°)
However, unlike the cold ring, this one cannot be used along with percussion therapy. Which is a bit of a bummer because otherwise you'd have the very first mini heated massage gun – how cool?
Plus, heating in massage guns makes them even more effective. We're guessing the folks at Therabody thought it would be too much for the skin.
How to use the Hot Ring
Remove any attachments and rings from the device
Attach the hot ring onto the device and let it click in place
Turn on the device and activate the device by pressing the

O

button
Choose the desired heating level
Wait for a few seconds until the ring warms up. You can test it on your hand.
When warm enough, glide the device over the skin. Hint: you can also use it on other parts of the body other than the face.
PRO TIP Apply the provided TheraOne conductive gel before using the heated ring for an enhanced experience.
---
Are Hot and Cold Rings Worth the Extra $99?
We believe that while it's not necessarily a must-have, it's highly recommended that you buy these as well. It just feels like you're missing something without the hot and cold rings.
We highly recommend trying the cold ring, especially along with percussion therapy; the feeling is amazingly relaxing and refreshing – especially on a hot day.
The heated ring is also magnificent and adds more therapy to the others. We like that both rings cool and heat almost immediately – it's only a 15-second wait.
The leather pouch is something special too; perhaps a reminder that you paid $99 for it!
---
Beeping (Controlled Timing)
When you are using the microcurrent, the LED light, and the hot and cold rings, the device beeps every 15 seconds. This is done to help you get the treatment right – it's called controlled timing.
The beeps work as follows;
2 beeps mean the ring has accidentally disconnected.
3 beeps are meant to notify you the treatment is over. The beeps happen after 8 minutes.
The beeping isn't really very aggressive and you won't feel disturbed. However, we wish there was an option to silence them. Perhaps the OLED screen should've been used to indicate the progress.
But it's not really a major bummer and doesn't take away any points from the performance of this device.
---
Battery
With all these therapies in one gadget, you'd be interested to know how the juice holds up. Well, the battery is surprisingly formidable.
You can do at least a few longer sessions on a single charge, no problem! If you use it normally, we'd say that battery will last about a week before you may need to charge it again.
Keep in mind that the battery performance will depend on these factors;
The intensity of the percussion massage settings.
The amount of pressure applied during a percussion massage.
The level of intensity during a microcurrent treatment and also the hot and cold therapies.
Whether you choose to combine percussion massage along with the ring therapies – they include the red and infrared and others.
The battery is charged via USB-C this time. This offers better convenience than having to use a wall charger.
There is a stand included but it's not a charging stand. You'll probably need it to rest your device on your bathroom stand (or somewhere).
You'll see the battery percentage indicated on the screen when the device is charging.
---
Ideas on What to Improve
Don't misunderstand us, Therabody deserves lots of kudos for coming up with a simple yet effective device like the TheraFace Pro. However, we hope for certain improvements for later iterations.
Some suggestions would be;
Add Bluetooth so the device is consistent with the rest of the Theraguns.
Add a possibility to mute the beeps (at least within the app).
Let the stand also be a charging stand.
Combine the hot and cold rings into one ring that can also work with percussion massage. This would simplify things and also allow heated percussion massage.
---
Price/Value – Is TheraFace Pro Worth the Money?
At the moment the TheraFace costs $399 and an extra $99 for the hot and cold therapies package.
That is not pocket change for a lot of folks. To put it into perspective, the entire set makes it the second most expensive Therabody device after the Theragun Pro.
But we believe this device is actually worth the $500 bucks.
Here's why;
It's a Theragun for face and as we know, there isn't a Theragun that costs less than $199.
It supports Microcurrent therapy. The next best thing for this kind of tech is this NuFace which goes for over $200. But the NuFace only has that one therapy.
It comes with LED therapy with 3 different wavelengths along with the hot and cold therapies. How much do you think these would cost?
You can clean your skin and massage it at the same time – unique feature.
We are yet to see a device that combines any of the treatments included with this thing.
Our Verdict

Considering the premium quality of this device and all the other advantages, $399 and an extra $99 feels just about right. You get a uniquely designed 4-in-1 device from a reputable brand.

It has a superb finish, clever concepts used, and attention to detail. Above all, it does what it's touted for. Gets yours here.
---
FAQ
Can you combine TheraFace Pro's percussions with other therapies at the same time?
Percussion massage can only be combined with other therapies like the LED treatment, cold ring for cold therapy (the ring is sold separately), and the cleansing ring – which percusses on its own.
Can TheraFace Pro be used while charging?
No, it doesn't work while plugged in.
Can the Microcurrent ring be used with a different gel other than Therabody's TheraOne?
Yes, this shouldn't be an issue. Any conductive gel should work well. Many such devices (for example, NuFace) have their own conductive gels. You can use these with your TheraFace Pro.
Can TheraFace Pro attachments be used with Theragun and vice versa?
No, there is no compatibility. Normal Theragun attachments are too big to be mounted on the TheraFace Pro.
Did TheraFace Pro receive FDA clearance?
Yes, TheraFace Pro has an FDA clearance as a Class II device for microcurrent, LED light therapy, and other features.
What is the amplitude of TheraFace Pro?
The stroke length of the TheraFace Pro is 3mm.
What is the stall force of the TheraFace Pro?
We cannot give you a specific number but we believe it shouldn't really matter. What matters is the device can withstand some reasonable pressure and still keep percussing. The motor is surprisingly strong for such a tiny device – remember it's meant to be gentle.
Is the TheraFace Pro easy to clean?
We bought the white device (we don't know about the black device) and can confidently say that it's easy to clean. It's not a fingerprint magnet. You can use a soft cloth to clean the device and the rings. Also, the cleansing ring doesn't have any electrical components and can be cleaned using water.
---
Review Conclusion
We've come to the end of our TheraFace Pro review. We have to say we always appreciate when brands try to be innovative. It doesn't always happen. This time, however, we have a real innovation.
It's a fresh, well-designed, and incredibly well-executed device. Therabody has finally answered the calls for a "Theragun for face." And they did it in style, offering not just a percussive device, but introducing a whole new concept of facial wellness at home.
We like that it's not just any gadget. It works as it's intended to, works perfectly as a percussion massager, and the other therapies have real benefits too.
Yes, it is expensive, but the quality is top-notch and the value can clearly be seen. It's a 4-in-1 device that allows for multiple treatments. You can also combine some treatments and double the benefits in one go. You get an all-in-one facial solution that both men and women can enjoy using at home conveniently.
We highly recommend it if you can afford it! Get yours here at Therabody.com.
---
Quality

Effectiveness

Usability

Accessories

Price Value
Summary
Therabody's new invention is a neatly designed and perfectly executed concept. Not only it's a Theragun for face, but also a pretty robust device combining different therapies at a go to improve facial wellness at home for both men and women. The price is steep, but worth it – it feels premium and offers four therapies in one small package.
---
Was this article helpful?
Thanks for your feedback!
Post Update History
Here's a quick rundown of all the tweaks and edits we've made to this article to keep it accurate and up-to-date!
Current version last updated on:
•
Written by:

Luke Deszczulka
Disclaimers
The views and opinions expressed on this website are those of the authors. Any content provided by our bloggers or authors are of their opinion and are not intended to malign any religion, ethnic group, club, organization, company, individual or anyone or anything.
All product names, logos, and brands are property of their respective owners. All company, product and service names used in this website are for identification purposes only. Use of these names, logos, and brands does not imply endorsement.
It is our policy to make every effort to respect the copyrights of outside parties. If you believe that your copyright has been misused, please provide us with a message stating your position and we will endeavor to correct any misuse immediately.
Some of the links in this post are affiliate links. As an Amazon Associate, we earn from qualifying purchases. This means if you click on the link and purchase the item, we may receive an affiliate commission, at no extra cost to you. This helps us keep this website alive. Learn more here.
Amazon Disclosure
massagegunadvice.com is a participant in the Amazon Services LLC Associates Program, an affiliate advertising program designed to provide a means for sites to earn advertising fees by advertising and linking to Amazon.com. As an Amazon Associate, we earn from qualifying purchases. Amazon and the Amazon logo are trademarks of Amazon.com, Inc. or its affiliates. Please refer to our Privacy & Affiliate Policy for details.