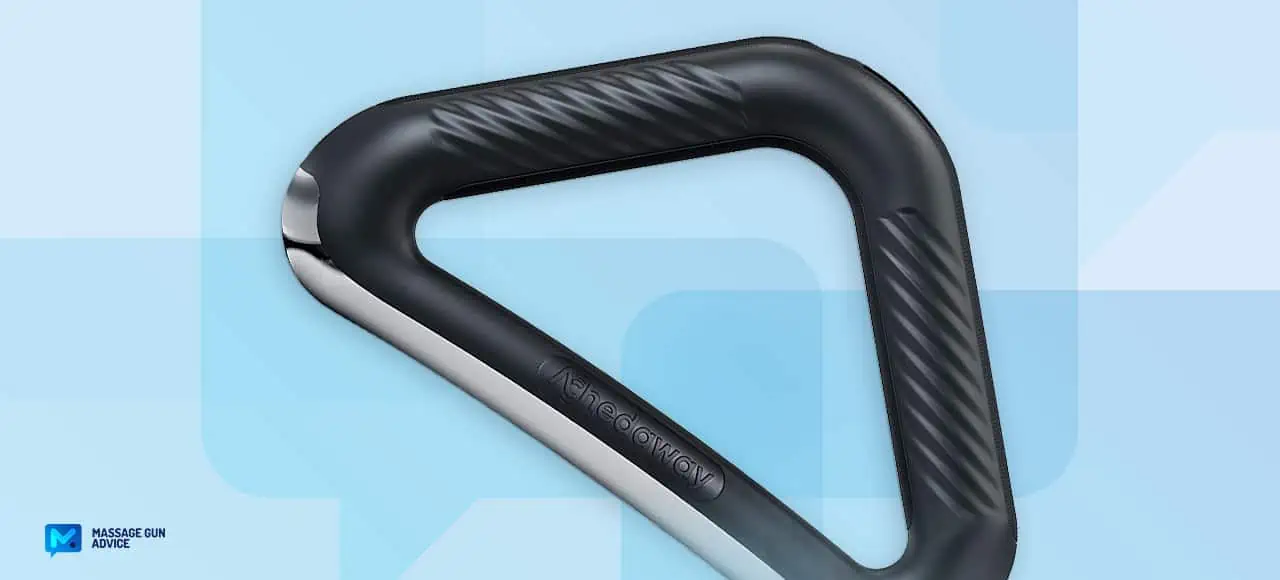 Achedaway Scraper Review – A Heated Muscle Scraping Tool You Didn't Know You Need
What to Know: We independently review products we recommend. If you click on links we provide, we may earn a commission. Learn more.
---
Welcome to this Achedaway scraper review. Achedaway's scraper tool is another innovation in the sports recovery space. Today we'll take a break from massage guns to review this new device.
It's probably one of a kind (Achedaway's new idea) because we haven't seen anyone else with it.
However, it follows the same path of taking something that's been around for centuries, leveraging it with new tech, and sprinkling it with smart features. We know of their massage guns (including the flagship Achedaway Pro) and, more recently, a dynamic cupping device.
Today we'll find out about this scraper. Do you need it? What problems does it solve, and is it worth the price tag?
Let's find out…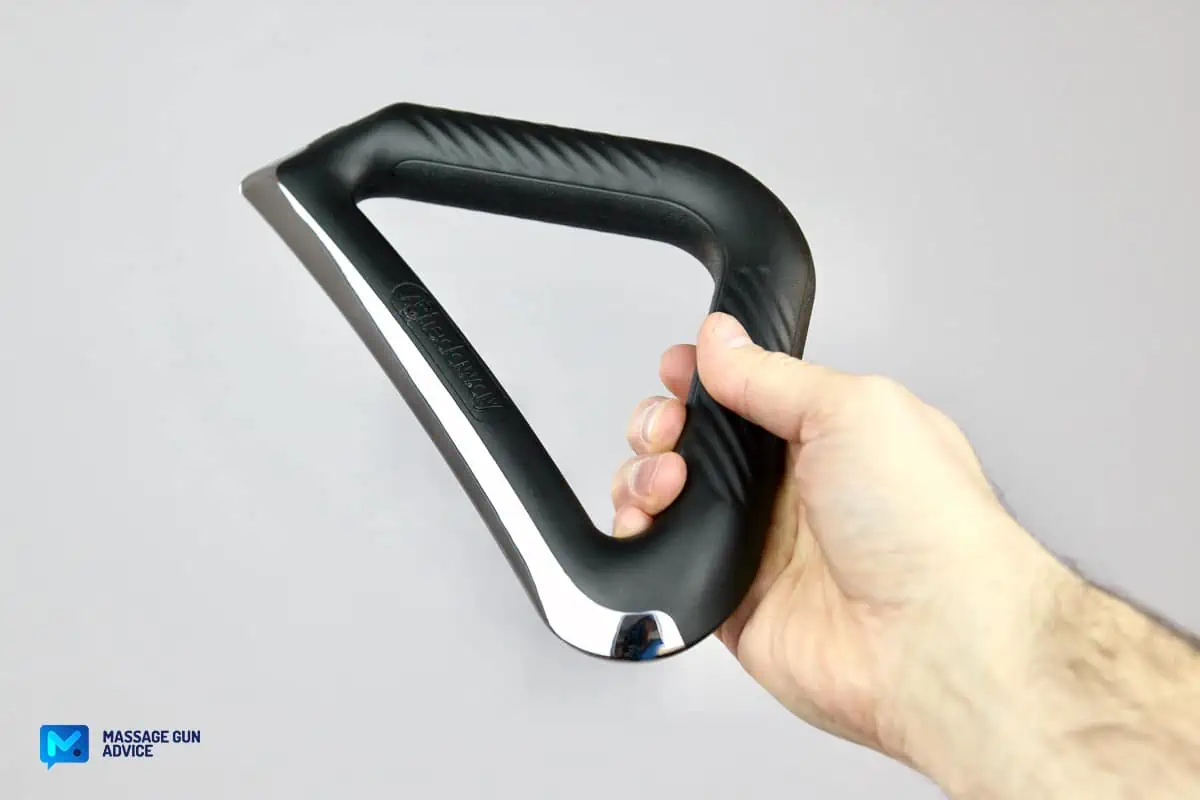 ---
---
Scraping Therapy and Gua-Sha
We can't talk about Achedaway's scraper tools without talking about the scraping method and Gua-Sha. They are connected, you'll see!
TIP In a hurry? You can jump straight to the review.
---
What is Gua-Sha?
It's an ancient Chinese healing treatment that professionals use to alleviate some conditions such as tendinopathy, joint stiffness, and chronic pain. The professional strokes a smooth-edged tool on your skin while applying some pressure.
Gua-Sha can treat tendinopathy, joint stiffness, and chronic pain across different parts of the body. You can combine it with other treatments such as massage, acupuncture, and heat therapy.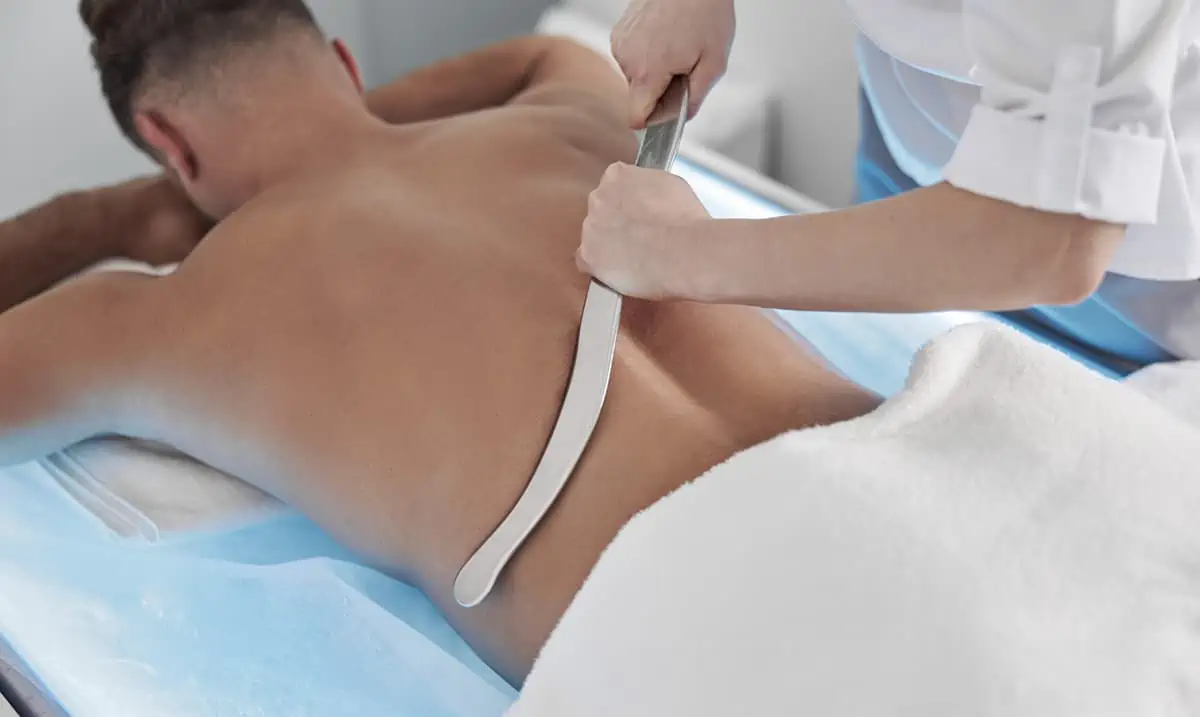 ---
How Does it Happen?
The technician will apply some oil on your skin and then use the tool to apply long downward strokes.
You can get Gua-Sha on your:
Neck
Butt
Back
Legs
Arms
Back
The technician gradually applies pressure to the strokes. They will only apply as much pressure as you are comfortable with.
The process can help in blood flow and give your skin a "lift." This helps to reduce toxins in your body and boost healing.
You can also apply Gua-Sha on your face; only remember to be gentle.
---
What are the Benefits?
Gua-Sha is effective in loosening up tight fascia and muscles, myofascial release, and improving blood flow. However, it's best known for relieving conditions that cause chronic pain.
Some of these conditions include:
Hepatitis B
Hepatitis B causes liver infection, damage, and scarring. If used appropriately, Gua-Sha can help reduce liver inflammation.
There have been studies​1​ to prove this, where a man with liver enzymes responded positively to Gua-Sha. However, more studies will likely be needed to confirm it.
Migraines
There is proof​2​ (even though small) that Gua-Sha can relieve migraines that won't go away even after treating them with over-the-counter medications. A study was conducted where a 72-year-old lady with migraines was treated with Gua-Sha over a 14-day period. She got better. More research is underway.
Breast engorgement
Breastfeeding women occasionally experience breast engorgement. This happens when their breasts overfill with baby milk. It usually happens in the first weeks of breastfeeding. The mother's breasts become swollen and painful.
A study​3​ was conducted where mothers received the Gua-Sha treatment from the second day of breastfeeding until they left the hospital. These mothers did not experience breast fullness.
There are other proven benefits of Gua-Sha, including neck pain relief, treating delayed onset muscle soreness (DOMS), and perimenopausal symptoms. These are just some areas that Achedaway's new device can help. 
---
Who Uses Scrapers?
Mostly physiotherapists on their patients, who may have one or a few symptoms that the use of a scraper can alleviate.
Athletes can also use scrapers, and DIY folks who know how to use the tool to their benefit.
Women may also use a scraping tool to treat cellulite. Since Gua-Sha promotes fluid release, it may also aid in releasing body tension and easing cellulite build-up.
The release of muscle tension helps to break up fascia. This improves blood flow through the skin capillaries allowing more nutrients into the skin. It also encourages waste to leave the skin.
---
Achedaway Scraper Review
Enough about Gua-Sha and now on to the Achedaway scraper review.
---
Achedaway Scraper Specs
Features
Achedaway Scraper
Rated Power
11 W
Heating Temperature
104°F (40°C), 113°F (45°C), 122°F (50°C)
Battery: Capacity / Life / Charging Time
3200 mAh / ~2 hours / 4 hours
Weight
0.77 Ibs (350g)
Dimensions
8.8×5.5×1.2 inches (223×140×31 mm)
Pros
Excellent heating
Large blade
Overall Quality
Ease of use
Ease of clean up
USB-C charging
Cons
Vibrations could be stronger
No lotion included
Warranty
One year
Retail Price
$249.00 $224.00
Discount:
$25 OFF with the

MGA25

code
Get it right here!
Achedaway Scraper Specs
---
First Impressions and Design
Achedaway has this impressive habit of including a case with many of their products. The Achedaway muscle scraper comes in a decent-quality case. It measures 10 × 6 × 2 inches (i.e., length × width × thickness).
The device itself measures 8.78 × 5.51 × 1.22 inches – so pretty compact. It's also light and only weighs 0.77 pounds, or 350 grams. Most of the weight is on the batteries and the steel blade. It feels like they put batteries on either side of the handle because it feels well-balanced.
The size of the steel blade feels just about right. The edges have different shapes to allow for different scraping techniques (we'll talk more about this below).
The manual is included with the device. It includes the device's specifications and how-to-use information with sketches on how to hold it.
---
What about the controls?
Well, they are very simple and intuitive.
There's one button to turn it on and off (long press in both cases)
Short presses will change the heating level. The levels are indicated as 1-3 vertical bars. The temperature is also displayed.
There is a large battery charge status indicator. The display is colored.
---
Are there any accessories?
Just the USB cable that you can use to charge it. We probably shouldn't expect much because this is a scraper after all, not a massage gun that often comes with attachments and other embellishments.
Even so, shouldn't they at least include a lotion to make it more premium? Therabody included one with their TheraFace Pro anyway. But this device is perhaps mainly intended to be used by professionals who more than likely already have their preferred lubricant solutions.
Another thing, Achedaway has always focused on the core product rather than the extras. This is partly why we like them; they have a product-first policy.
Our Take
This is not just a smart idea, it's also very well executed. It's clearly designed to be used extensively.
We love the build quality; it's superb. Everything else feels durable, and we don't see it breaking – we tried breaking it!
---
Ergonomics
One of the major problems of scraping tools is that many of them tend to be small and difficult to hold – or at least get a good grip as you apply the strokes. This causes hand fatigue pretty fast. It's worse when you are doing small, fast strokes.
Again, since scraping involves using oil or a lubricant, the metal scrapers get slippery. This adds more friction and tension to your wrists, hand, and fingers.
Achedaway found a way to incorporate a large handle with ridges on it so you can hold it confidently. The handle has a triangular design (hello, Therabody!), offering a much larger grip area and an ergonomic shape.
The handle is made of hard plastic, but good quality plastic.
We figured they could've perhaps made it shorter and put some soft rubber on it. But we realized that scrapers are used with massage lubricants. That means they need to be cleaned and sanitized. The hard plastic is the better choice because you can easily keep it clean and still comfortably handle it as you scrape away.
Our Take
Overall, we love how they adopted the scraping tool concept and worked on it to improve it. This is an awesomely comfortable tool to use and will be a workhorse when you need it to be.
Achedaway didn't really reinvent the wheel here, but the devil's in the details. The small improvements add up to make this product a genius device.
---
How Does it Work, and What's Unique?
---
Scraping
This is a scraper that screams convenience all through. It's an all-in-one device with well-thought-out blade shapes and edges for multipurpose use.
---
The main blade – large steel one called the "concave heated metal strip" works on large areas. It's about 8 inches long. It has a concave shape – slightly curved or angled to reach major muscle groups.
It's a bit sharp. Maybe sharper than some other scrapers we have seen, but not extremely sharp (the edge is rounded).
---
One side is a "sharp metal edge" that is useful when holding at a 90-degree angle.
This is for pinpoint treatment and when you need to reach tiny areas like between the toes.
---
The other edge is called the "convex metal edge." It's smoother than the other edge.
It resembles a thumb and is good for smaller muscles or when you don't need aggressive pinpointed treatment. It works around the ankles.
---
As a result, you have a top-quality, versatile, and easy-to-use scraper for most body parts.
---
Heating Component
There is a built-in heating component, which is largely the most important feature of this device.
This is a great innovation as far as scraping tools go. This is because, earlier, physiotherapists had to use hot blankets or towels, hot stones, or water heating pads to avoid the initial feeling of a cold steel blade on a patient's body, especially on a sore area.
Also, heat warms the tissues and makes the massage or scraping more effective. Generally, heated therapy improves muscle relaxation and reduces stress in the muscle tissue (we wrote more about it in our heated massage guns post).
But the methods employed above are often messy and inconvenient. They also always fell short of providing consistent heat. This scraper eliminates that. This scraper keeps the blade pleasantly warm during the whole treatment.
It heats up very fast – it takes about 20 to 30 seconds to warm up. This allows for a warm first contact with the skin.
The heating is also pretty strong:
Heat 1: 104°F (40°C),
Heat 2: 113°F (45°C),
Heat 3: 122°F (50°C).
TIP Notice that the 3rd heat setting may be slightly warmer and maybe even hot.
The physio will not leave the blade on one spot here. Instead, they will glide it along the skin. We recommend starting with the lowest (default) setting to avoid burns.
You can also use the device without the heating function. Simply don't turn it on!
---
Vibrations
We have to conclude that the folks at Achedaway love vibrations. Most of the devices they designed had either a vibration or percussion component. This one follows suit.
However, the vibrations here aren't the main feature.
The vibrations feel very delicate. Don't expect a proper vibration therapy device here. It's more of a feeling of vibrations (they are more in the background) than real vibrations. They are meant to create a soothing effect (relieve stress).
The vibrations can't be turned off when the device is on. However, perhaps to save on the battery, a built-in sensor detects when you are holding the handle. The vibrations stop when you put the device aside.
That said, it looks like Achedaway didn't want to have vibrations as the main feature of this device. It's probably for a good reason.
After all, the vibrations aren't needed as much as the heating component. Nevertheless, the device vibrates and creates a pleasant, gentle sensation.
---
Achedaway Scraper in Use
We've put the Achedaway Scraper to the test, and found it both easy to use and effective. The heating component worked perfectly, and when used with a lotion, it feels absolutely fantastic. Note: the device can be used for DIY scraping on areas such as the back of a neck, arms and legs, but you will likely need someone's help to use it on a back.
---
Battery
The battery has a 3200mAh capacity, which is surprisingly large, given how light the scraper is.
Achedaway indicates that the battery will take 4 hours to charge, but we had a full battery in much less time. The key is not to let the battery completely die before you can charge it.
The battery charge can last for 2 straight hours. It can be less if you consistently use the highest temperature setting. In practice, this is good enough to handle patients, but we feel busy professionals might need an extra device. For individual use, though, one is more than enough.
You cannot use the device while it charges. A USB-C cable is provided for charging. There is a large battery charge indicator on the display.
---
Cleaning
Cleaning the Achedaway muscle scraping tool is not such a biggie. The simple shape and one-part design make it a breeze to clean.
Use a clean non-woven cloth to clean it. The manual says you should avoid acidic and alkaline cleaners or alcohol, thinner, petrol, or nail cleaner. Don't use strong cleaning agents.
---
Pricing and Warranty
One device costs $224, or you can buy a double pack for $449 using our exclusive MGA25 coupon (which gives you $25 off at the checkout). The regular prices are $249 for one and $449 fot two devices, respectively.
We believe, based on the features and the convenience you get, that the price is fair.
It's best to buy it off Achedaway.com to support the brand and establish direct contact (they are responsive). You can also read real user reviews with pictures on the website.
You get a 1-year warranty on the device. You also get 30 days to return the product if you don't like what you get.
---
Achedaway Scraper Review Final Thoughts
We've come to the end of our Achedaway scraper review. We must say that this is an innovative device that takes muscle scraping to a new era. The concept is superb. It's even better that you are getting it from a trusted brand whose mission statement is rooted in its name – Ached-away.
This is a great device for physiotherapists and masseurs (you may want to get the double pack if you specialize in scraping techniques).
Both pro and amateur athletes may find this tool useful for speeding up muscle recovery post-workout. Scraping is good for everyone if done properly and safely.
The device is portable and top-quality. Most importantly, it's not a toy; it works as intended. The price seems fair, especially for professionals – more results, less frustration.
---
Achedaway Muscle Scraper - Our Rating
Quality

Effectiveness

Usability

Price Value
Summary
Achedaway's heated muscle scraper is top quality scraping tool. Most users will love the excellent overall design and the blade's multiple functionality. The heated component adds a much-needed aspect to a scraping tool.
---
References
1.

Chan S tak, Yuen JWM, Gohel MDI, Chung C ping, Wong H cheong, Kwong KK. Guasha-induced hepatoprotection in chronic active hepatitis B: A case study.

Clinica Chimica Acta

. Published online August 2011:1686-1688. doi:

10.1016/j.cca.2011.05.009

2.

Schwickert ME, Saha FJ, Braun M, Dobos GJ. Gua Sha bei Migräne in der stationären Entzugsbehandlung von medikamenteninduziertem Kopfschmerz.

Complement Med Res

. Published online 2007:297-300. doi:

10.1159/000107731
Was this article helpful?
Thanks for your feedback!
Post Update History
Here's a quick rundown of all the tweaks and edits we've made to this article to keep it accurate and up-to-date!
Current version last updated on:
•
Written by:
Greg Szostak
Disclaimers
The views and opinions expressed on this website are those of the authors. Any content provided by our bloggers or authors are of their opinion and are not intended to malign any religion, ethnic group, club, organization, company, individual or anyone or anything.
All product names, logos, and brands are property of their respective owners. All company, product and service names used in this website are for identification purposes only. Use of these names, logos, and brands does not imply endorsement.
It is our policy to make every effort to respect the copyrights of outside parties. If you believe that your copyright has been misused, please provide us with a message stating your position and we will endeavor to correct any misuse immediately.
Some of the links in this post are affiliate links. As an Amazon Associate, we earn from qualifying purchases. This means if you click on the link and purchase the item, we may receive an affiliate commission, at no extra cost to you. This helps us keep this website alive. Learn more here.
Amazon Disclosure
massagegunadvice.com is a participant in the Amazon Services LLC Associates Program, an affiliate advertising program designed to provide a means for sites to earn advertising fees by advertising and linking to Amazon.com. As an Amazon Associate, we earn from qualifying purchases. Amazon and the Amazon logo are trademarks of Amazon.com, Inc. or its affiliates. Please refer to our Privacy & Affiliate Policy for details.