Pulseroll Massage Gun Review – A Decent, Heavy-Duty Percussive Device
Disclaimer: Our content is unbiased, non-sponsored and fact-checked. If you buy via links on our site, we may earn a commission. As an Amazon Associate, we earn from qualifying purchases.
---
One of the UK's most popular massage gun brands has a gun that caught our attention. In this Pulseroll massage gun review we are going to check if their flagship massage gun is worth the hype it has generated over the years.
We'll talk about the specs and compare them to the industry's main rivals. We also have a few alternatives worth looking at.
Let's roll!
DEAL ALERT: Pulseroll products are 30% OFF for Black Friday and Cyber Monday. Browse all the deals →.
---
---
Meet Pulseroll
The company was founded in 2016 in Manchester by Paul McCabe. They started with foam rollers and gradually moved on to percussion massagers.
They are taking the Therabody and Hyperice route of signing celebrities, sports personalities, and organizations on a smaller scale.
One example is Anthony Joshua, the heavyweight boxer.
They have also partnered with British Gymnastics, British Rowing, and British Weightlifting. They call themselves the "official supplier."
They have also invested in Premier League clubs, including Leicester City and Norwich
They are not just in the UK, they have expanded to the EU as well.
All this means that this is already a well-backed brand with decent history. Their product is field-tested and probably worth the money.
But can it hold its own in 2022? Let's see.
---
Pulseroll Massage Gun Review
---
Pulseroll PRO Review – Specifications

Feature
Pulseroll Pro Specs
Stall Force
50 lbs*
Stroke Length
10 mm (12 mm*)
Percussion range
1500 to 2900 rpm (1300 – 3300 rpm*)
Speeds
4
Attachments
6 included
Weight
~1 kg (1089 grams)
Noise (decibel)
50 – 70 dB
Battery Capacity
12V Lithium-ion (2400mAh)
Pros
great stall force
heavy-duty build
good weight
long handle
accessories
Cons
amplitude lower than advertised
percussion range smaller than advertised
noise at higher speeds
design feels a bit dated
Price
£224.49 £202.49
Use the MGA10 coupon for 10% OFF.
Where to Buy
with Discount
Get it at Pulseroll.com
Pulseroll Pro Specifications (*as advertised by Pulseroll)
---
What is included?
Things included in the package;
A carrying case that is bigger than many we've seen. There is a carrying strap – we are also seeing this for the first time, and we love it. You can put it on your shoulder, and off you go! There is also a box that conveniently closes via built-in magnets and stores the case.
A wall charger with UK, US, and EU charge plugs.
The attachments (see more on them below).
Registration and warranty information.
A very nice manual that contains the usual information like how to operate the device and how to use the attachments. There are also instructions on how to use massage guns on different parts of your body – which attachment and for how long.
---
First Impressions
It looks unique, that's for sure – just not the kind of unique you see every day.
The one familiar thing is that it's a T-shaped, power drill-like massage gun. It's got a Thor hammer-inspired design. That is, it has this huge upper part (motor covering) that makes it look bulky. It's also the part with the control panel.
Is it sleek-looking? Not by any stretch! But we would say the designers thought of something different and went for it.
It looks solid enough and well put together. It has a red and black color mix that looks distinct. The body is primarily matte plastic but good quality – the touch feel is rubberized.
You can clearly see the rough-hewn overall design, buttons, and other smaller details that tell you the design might've been thought of a while back.
To be completely honest, it looks more 2018/2019 than anything recent.
They probably have some recent productions, but unlike Theragun and local rival RecovaPro, they haven't modernized their design to make them sleek.
Our Take

This look is solid and perhaps durable, but we can't make a case for its elegance. This is not exciting at all to look at. It's still a regular full-sized massage gun, but not much attention was given to the overall appearance.
---
Ergonomics
It's the standard T-shape but looks slightly angled. You probably won't see it immediately, but it's there.
We like angled handles because they are easy to hold and reduce the fatigue felt on the wrist during a long massage session.
The handle is more extended than we've seen with most guns. The handle alone is 15cm (5.9″). The entire gun is 24.45cm long (9.63″).
Is it okay for a handle to be this long?

Yes, if you want to reach those hard-to-reach parts of your body (lower back, mid-back, etc.). A longer handle also gives you multiple grip options. But a long handle also adds to the bulkiness of the device and makes it hard to maneuver. Carrying it around will also present some challenges.
The device, despite looking bulky, weighs 1kg, or 2.2 lbs. That is a good weight for a massage gun – most guns weigh between 0.8 and 1kg. This one looks bigger, but it doesn't weigh a ton. Holding it feels okay as well.
However, we feel it should've been a little more compact like most devices these days.
The current trend has leaned towards making smaller devices. For instance, Hyperice reduced the size of their new generation devices.
---
Controls
The controls are located on the panel.
There's a master switch that you have to switch on at the bottom of the handle.
You can then go ahead to use the one-button operation at the top.
You can quick-press it to change speeds and hold it for 2 seconds to turn the device off.
There is no screen to display anything, and no OLEDs either. But that's fine; simple is better. There are:
4 white LEDs around the power button that indicate the speed levels.
3 red LEDs that indicate the battery charge level.
Overall, the controls are simple but functional.
---
The Attachments
There are 6 attachments included. The method is a push-in-out system – you'll have to use a bit of force to push in and secure the attachment before using the device.
The method works fine for a while but tends to wear out the gaskets. Interestingly there aren't any spare ones included here.
The set includes;
Flat head – It's best suited for large muscle groups but can also work as a universal attachment.
Small ball head – It's universal and can massage the entire body. It is covered with EVA foam but feels rather hard. There's a little give to it, but we wouldn't use it on clothes.
Big ball head – It probably works the same as the small ball head. It looks the same only larger. We don't know why they included two similar attachments, albeit different sizes.
Air cushioned head – They call it the "pneumatic" head. It's for bony and sensitive areas. It's nice to have this type included. It's the softest one on the set.
Bullet head – It's made of hard plastic and used for trigger points, on soles, and on palms.
Fork head – It's good for the spine area. It can also be used in the Achilles or as a double-headed bullet attachment.
Our Take

Overall, we like that they included 6 attachments. They may not be the best quality attachments we've ever seen (Achedaway Pro, RecovaPro, and Ekrin all have better), but they will do. Just to compare with what Theragun has, these are stiffer and harder.
---
Performance
Let's examine the amplitude, stall force, and percussion range of this thing.
---
Amplitude / Stroke Length
It's the distance traveled by the massage gun head as it percusses. It determines how deep a massage you can get.
We couldn't wait to find out how long the stroke length is here. The advertisement and the specs said 12mm, but we had to be sure. So we measured it using our digital calipers, and alas!
It's not what Pulseroll says it is; it's 10mm or 9.98, according to our calipers. We double-checked and the figures didn't change.
The thing is, 10mm isn't bad at all – many massage guns do well with that kind of amplitude. But this also means that the Pulseroll device will feel more vibrational than percussive.
It also means it lags behind competitors like RecovaPro SE, which has a verified 12mm. High amplitude guns like Theragun and Achedaway Pro have 16mm (we also confirmed that)
But 10mm can be effective if the stall force is good enough.
---
Stall Force
It's the ability of a massage gun's motor to withstand pressure. The device can continue revving even when considerable pressure is exerted.
The Pulseroll Pro shines here. The advertised figure is 50lbs. (22kg), and we believe it's accurate (we did comparison tests against our benchmark devices).
That also means it's quite powerful. Pulseroll may have given us the short end of the stick with the stroke length, but the stall force more than makes up for that.
We noticed that even in first gear, it doesn't easily stall. It gets even harder if you skip to the top speed and try to stall it.
This kind of stall force also means that you can keep pressure on it and not worry about the intensity you are getting. This also makes up for the shorter amplitude. Even when it stalls, it kicks up immediately when the pressure is let up.
---
Speeds and Percussions
The percussion range advertised is 1300-3300RPM. This suggests a wide range, but we have seen this kind of setup before.
Just to be certain, we measured it, and again it's slightly lower than the figure advertised; 1500-2900RPM.
We know low amplitude devices tend to rev a lot to make up for the shallow hits. That's often the opposite with high amplitude devices like Theragun that only rev up to 2400RPM – the deeper hits are slower but intensive.
But the max percussions here are somewhat lower than you would expect with this kind of amplitude. Still, 2900RPM isn't so bad.
There are 4 speed gears to go with the percussions. That is 1500, 1900, 2400, and 2900 – gears 1-4, respectively. We have seen devices of this nature that percuss with way more vibrations.
This leads us to conclude that the performance here is only decent. The 4-speed setup isn't unheard of, but we wouldn't mind one more just to stick with the norm.
---
Our Take on Pulseroll's Performance
If you only consider the stall force, this looks like a powerful device. However, the 10mm stroke length feels vibrational, and the specs-oriented guys might feel a little shortchanged given the discrepancy between the advertised figure and the real figure.
We don't mind the difference between the advertised percussion range and the real range. The 4-speed setup with the 1500-2900 percussion range is within what the industry offers and allows for good intensity.
Overall, you have a powerful device here, but it won't be as punchy as Achedaway Pro, any Theragun, or RecovaPro SE/MAX – just thing to keep in mind.
Pulseroll Pro Performance Compared to Its Rivals
Stall Force (lbs.)
All figures are our expert estimates (we compared all devices against our benchmark ones).
Amplitude (lbs.)
All figures are actual figures, measured by us using a high-precision digital caliper.
---
Noise
We don't expect low amplitude devices to be loud, but this device has broken so many records so far we don't know what to expect.
The noise level on the first gears was okay. However, it starts to get noisier the higher you go. The 4th gear is the noisiest.
We particularly cringed at the rattling sound that was hostile to the ears. The decibel meter gave us 50dB to 70dB (with an ambient sound of 35dB) – pretty high, if we're being honest.
---
Battery
The battery is not detachable. However, it has a decent capacity of 2400mAh.
Its performance is okay and will drain slowly if used at lower speeds and with moderate pressure. It will drain faster when high speeds and more pressure is used. Realistically expect 2-4 hours of continuous use.
There is an auto-shutoff feature to prevent overheating. There is also an additional 4 LEDs underneath the handle to indicate the battery charge. We don't know why there had to be extra LEDs for this.
FUN FACT: Pulseroll's tiny mini gun, Pulseroll Mini, has 2500 mAh battery – bigger than this big gun! Find out more in our hands-on Pulseroll Mini Review.
---
Who is it Best for Then?
Athletes who love vibrational devices will like this device. If punchy thuds are not your thing, this is a solid proposition. If you are a cyclist or runner and want something for quick vibrational therapy before the action, this will do.
If you are a big person and like what this device offers, you won't mind having it.
The long handle makes it easier to reach your back.
It's also a good device to use at home. Too bad if you have to travel because this is baggage that you'd be better off without (Pulseroll mini will be a much better choice)
However, this is not the gun for people who want a true deep percussive massage that take a longer stroke length.
Also, if you want a super-intensive feel, there are devices that can rev up to 3200-3300RPm – addsfit Max comes to mind.
This is also not a Theragun alternative because the amplitude is too low.
We also don't like this massage gun for women or the elderly. There are far more compact and lighter devices out there, Pulseroll mini being one of them.
---
Warranty and Price – Is Pulseroll Worth It?
The device goes for £224.99 normally, or £202.49 if you apply the MGA10 discount code at checkout – the coupon takes 10% from the main price. Get it at discounted price here.
But Is the price really justified here? Is Pulseroll worth it? Well, we have mixed feelings here.
The stall force is good, and you may get some good results, but the price seems slightly inflated.
The 1-year warranty doesn't help the case either. We know of the more powerful Achedaway Pro that has a 2-year warranty. The local rival RecovaPro also provides a 2-year warranty.
That said, even though this is still a good gun, we feel it's a little overpriced. Unless you want to support a British brand and get the next-day delivery, we suggest exploring other alternatives.
Some of them address the weak points of Pulseroll and are even more advanced.
---
Best Pulseroll Alternatives
This Pulseroll massage gun review wouldn't be complete without listing some of the worthy competitors to Pulseroll Pro. The following two guns are, in our opinion, the best ones available in the UK right now.
---
Achedaway Pro – Similar Price, Better Specs
Achedaway Pro is the perfect Theragun-like gun that costs way cheaper than the real thing and is also available in the UK.
For starters, you get a 16mm amplitude that hits deeper and up to 60lbs. of stall force to withstand any pressure you may apply.
The bigger advantage comes with the percussions. Unlike Pulseroll's overstated number, this one has up to 2800RPM.
That's awesome for a gun with a high stroke length. It has a 5-speed setup to go with the percussions.
The ergonomics are better with the angled handle. It's also one of the quietest massage guns out there.
You get 4 nice attachments with 2 made of aluminum. You also get a monster battery with 3200mAh capacity. The battery is removable as well and you can get a spare if you want.
Besides, Achedaway has a new look that modern devices have adopted and feels like a new tech – contrary to the design adopted by Pulseroll, which feels a bit dated.
Pro athletes, physiotherapists, and anyone who wants a high amplitude device will love this device instead.
Achedaway offers a better warranty of 2 years and a coupon. The MGA50 coupon gives a $50 discount, so about £42. So instead of paying ~£249, you part with about £207.

NOTE: Achedaway seems to ship from outside of the UK, but promises fast shipping and no custom fees.
---
Recovapro SE – Slightly More Expensive but Better
The Recovapro SE has better quality compared to Pulseroll.
That is because it was recently updated to take a more modern look and feel (SE 2.0). It's also made of better materials and is more appealing than Pulseroll.
In terms of performance, the Recovapro is better. You get a real 12mm amplitude (even though they advertise it as 14mm).
It has a similar stall force as the Pulseroll, but it makes the device better with the high amplitude.
The percussion range is wider than Pulseroll's – 1530-3150RPM (we verified it). So you get a better punch and even more intensity here.
The attachments also feel better, and you feel as though you were using Ekrin B37S' attachments – one of our favorite guns in the US.
For instance, the ball head is made of silicone instead of foam, and the fork head has wider prongs compared to Pulseroll's.
Recovapro is Bluetooth enabled even though we haven't seen an app yet. It also comes with a better warranty – 2 years.
Any cons? Yes, the handle is shorter, and it weighs more (1204 grams compared to Pulseroll's 1089 grams). It also doesn't have an angled handle, and the extra weight doesn't help improve it.
It costs £229.99, which is more than the Pulseroll (after the MGA10 code discount). You can check the latest price here.
However, it's better in more ways. It uses modern tech (design), and performs even better. Though, the Achedaway Pro above is even better, in our opinion.

TIP: Find out more in our hands-on Recovapro SE review.
---
Pulseroll vs Theragun – How it Compares
Pulseroll is a cheaper alternative to Theragun devices but radically different as well. Pulseroll has its own comparison to Theragun Pro, but we don't believe they offer a complete picture.
Here's what you need to know;
Pulseroll is a low/medium amplitude device, while Theraguns are high amplitude devices. That is 10mm compared to Theraguns' 16mm. Even the small Theragun mini has a 12mm amplitude.
Theraguns' high amplitude makes them punch harder but rev slower. The intensity on Pulseroll comes from the fast vibrations, while Theraguns get intensive with the harder hits. Both propositions work well, depending on what you are looking for.
The stall force is probably the most comparable thing between the two concepts. Pulseroll has a better stall force than Theragun Prime and Elite. Theragun Pro is stronger. But high-amplitude devices often don't necessarily need a lot of stall force to do well. Low amplitude devices like Pulseroll need more stall force to do well. That means Pulseroll's obvious competition is probably Theragun Prime and Elite, not Theragun Pro.
Theraguns have better ergonomics. They have multiple grips. Prime and Elite are also lighter than Pulseroll.
Theraguns are new devices with a modern design. They already have 4th generation devices.
Pulseroll is cheaper than even the entry-level Theragun Prime. It's also better equipped and feels stronger than Prime.

We'd pick Pulseroll Pro over the £275 Theragun Prime.

Theragun Elite costs £375, but Pulseroll feels just as effective if you won't mind the Bluetooth feature, OLED displays, and pressure sensors.

You can save a lot if you choose Pulseroll. Get yours at Pulseroll.com.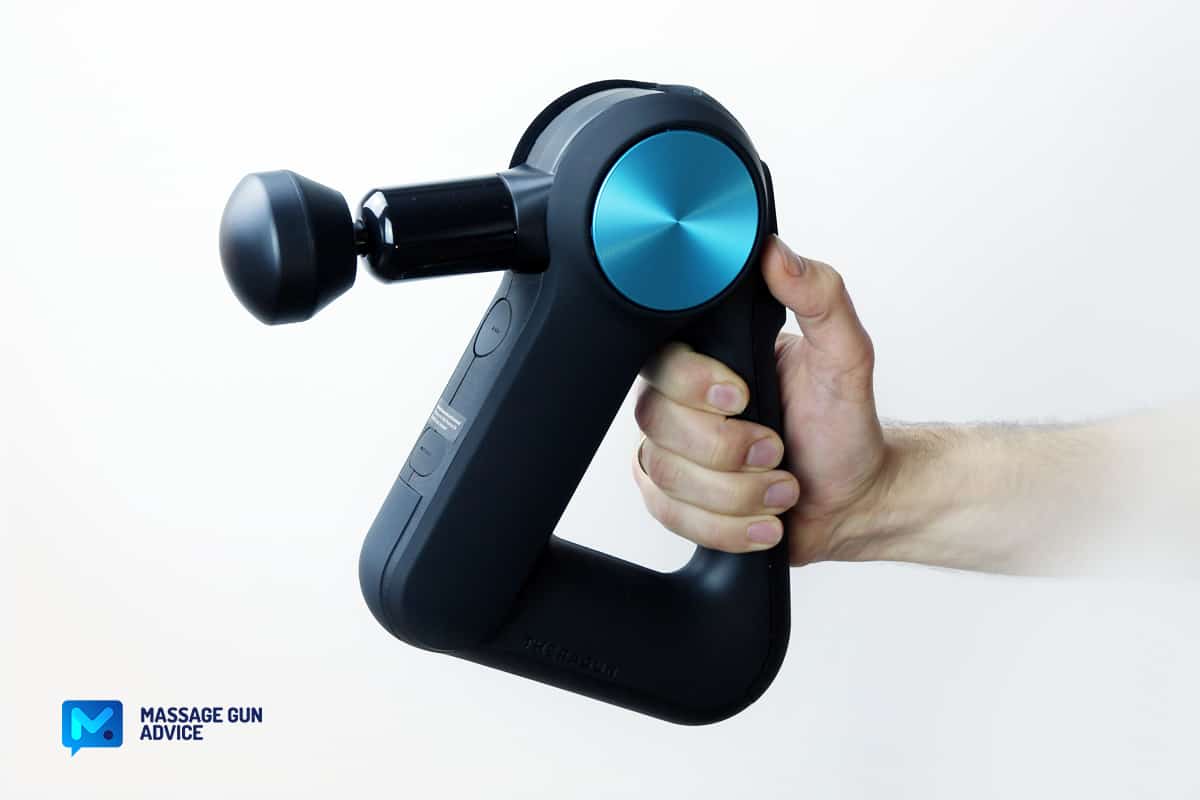 ---
Pulseroll Massage Gun Review Conclusion
Before we end this brutally honest Pulseroll massage gun review, we have a few things to say.
First, this is a simplistic device that will do the job
It's from a trusted UK brand that already has a lot of customers who love their products.
It performs well overall, even though it vibrates more than it percusses.
Overall, it's still a solid buy that won't disappoint.
Yes, its design looks a bit outdated by 2022 standards, but it feels durable, and heavy-duty, which may be an important consideration for a lot of buyers.
That said, we think that some other massage gun brands and competitors have better devices at a similar price.
---
Pulseroll PRO Massage Gun Rating
Quality

Effectiveness

Usability

Accessories

Price Value
Summary
This Pulseroll massage gun looks more like a vibrational device than a serious puncher. It has a low/medium stroke length but is complemented by a strong stall force. It lacks the design aesthetics and great ergonomics, but it's still a good bargain if you're in the market for a durable, heavy-duty workhorse massage gun.
Disclaimers
The views and opinions expressed on this website are those of the authors. Any content provided by our bloggers or authors are of their opinion and are not intended to malign any religion, ethnic group, club, organization, company, individual or anyone or anything.
All product names, logos, and brands are property of their respective owners. All company, product and service names used in this website are for identification purposes only. Use of these names, logos, and brands does not imply endorsement.
It is our policy to make every effort to respect the copyrights of outside parties. If you believe that your copyright has been misused, please provide us with a message stating your position and we will endeavor to correct any misuse immediately.
Some of the links in this post are affiliate links. As an Amazon Associate, we earn from qualifying purchases. This means if you click on the link and purchase the item, we may receive an affiliate commission, at no extra cost to you. This helps us keep this website alive. Learn more here.
Amazon Disclosure
massagegunadvice.com is a participant in the Amazon Services LLC Associates Program, an affiliate advertising program designed to provide a means for sites to earn advertising fees by advertising and linking to Amazon.com. As an Amazon Associate, we earn from qualifying purchases. Amazon and the Amazon logo are trademarks of Amazon.com, Inc. or its affiliates. Please refer to our Privacy & Affiliate Policy for details.