Theragun Prime Review – Is Therabody's Beginner Percussion Massager Worth It?
Disclaimer: Our content is unbiased, non-sponsored and fact-checked. If you buy via links on our site, we may earn a commission. As an Amazon Associate, we earn from qualifying purchases.
---
Today we'll do the Theragun Prime review. If you've noticed in our other non-Theragun massage gun reviews, we like to give the brand an honorable mention. It's not always just for comparison, it's also just to appreciate what Theragun have done for the percussive therapy industry.
Theragun SALE Save up to $200 on 4th gen Theraguns. Browse all the deals
---
---
Theragun Introduction
Theragun (currently part of the Therabody's ecosystem) is where it all began. Their very first percussion massager hit the market way back in 2016.
Now, if you've been following the massage guns phenomenon you know that they began to catch fire sometime in 2018. This is when celebrities began endorsing them on social media and then everyone jumped on the bandwagon.
However, no massage gun brand has done quite as well as Theragun. We love Theragun because of their innovativeness. Always making things interesting and keeping the competitors on their toes.
Theragun Prime is in their fourth generation of Theragun devices. It's the most affordable of their full-sized guns, going for $299 at Theragun.com, compared to the Elite at $399 and the powerful Pro that costs $599.
Theragun have dubbed it an entry-level massage gun, but we believe it's a step further than their mini – smallest of the Theraguns.
Is Therargun Prime worth the price tag? Are there good alternatives to it? We'll be answering that in full below.
---
Theragun Prime Review
For the beginning let's take a look at the specs.
---
Theragun Prime Specs
Feature
Theragun Prime Specs
Max. Stall Force
30 lbs.
Stroke Length
16 mm
Battery Life
2 hours (Non-removeable)
Weight
2.2 lbs
Size
8.9 in x 6.3 in x 2.7 in
(22.5 cm x 16 cm x 7.3 cm)
Noise
59-69 dB
Speed options
5 speeds, unlimited with Therabody app.
Number of Attachments
4
Pros
High Amplitude
Ergonomics
Bluetooth & Therabody app
Build quality
Cons
Low stall force
No case included
Quite Noisy
Warranty
1 year
MSRP
$299
Where to buy
Here at Theragun.com
Theragun Prime Specifications
---
First Impressions
First things first, and what is a massage gun without a carrying case? Perhaps not very courteous. But that's our opinion, you'll probably agree with us on this though. If we're being fair, at that price point, the Prime should probably come in a carrying case.
It is however, in a box, with everything else packed nicely in there. The device itself, the attachments, a soft pouch (not a case, but better than nothing at all we guess), and a dedicated charger.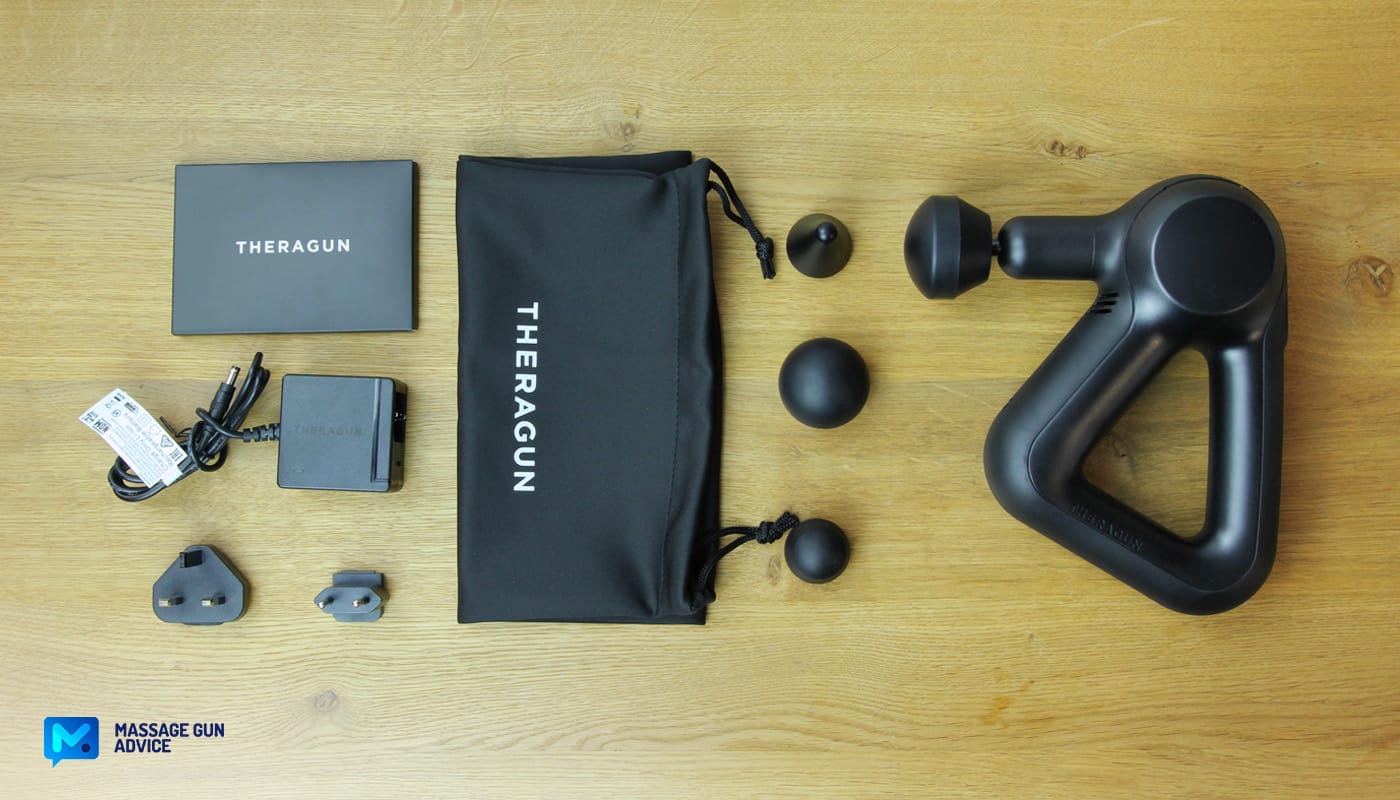 The gun itself is true to Theragun's uniqueness. Even though they advertise it as an entry level massage gun, we appreciate that it stays with a similar shape as its high-end siblings.
It also does have the familiar triangular shape with multiple grip ergonomics. It's also quite compact as we'll see in another section.
It's made of plastic. At least a huge chunk of it is plastic. We would've loved at least a rubberized handle but maybe we'll have to look elsewhere for now. It's matte black.
A mix of colors would've made things a bit interesting, like what Ekrin did with their B37S with the satin finish. Still color isn't a big deal here but a premium product should offer a bit of slickness.
That aside, we do like that it's a really well put together percussion massager.
---
Operation
We like that it's a simple operation device. The power button at the back of the device works by long-pressing it to turn the device on and off.
If you want to cycle between speeds, there are 2 arrows on top and below the power button for this. The one pointing up increases the speed, while the one pointing down decreases the speed.
It doesn't have the OLED screen like the Elite and Pro. We are guessing that's why they're calling it entry-level. It does however, have simple LED indicators for speed and battery level.
We also found a pamphlet packed in an Apple-style envelope. Inside we found the story on Theragun, a letter from the founder (nice touch), instructions page, a quick-start guide, and information on warranty.
---
Attachments
The Prime comes with 4 attachments that we must admit are rather unique – we'll say Theragun unique.
The Dampener: It's the tender attachment specifically designed to work on tender and bony areas. It's also perfect for when you want a general massage.
The Standard Ball: This one Theragun designed to work on your whole body. It will work better on large muscle groups compared to the dampener.
The Thumb: This is a specially designed attachment meant to work the trigger points and the lower back.
The Cone: It's the equivalent of the bullet point that's found on many non-theragun percussion massagers. It's used for pinpoint muscle treatment. You can use it on both hands and feet.
As you would expect from a brand that takes quality seriously, the attachments on the Prime are really nice. They're made of rubber and not foam which tends to wear out quickly.
The dampener is the softest of all the attachments. The cone feels a bit hard, but we guess it's because it's used for pinpoint muscle massage.
The method of installing the attachments is pretty simple as you'd expect for any massage gun. However, the attachments feel more solid once attached compared to guns from different brands.
We noticed there are two metal ball bearings that click into the attachment. Feels more secure and durable.
Perhaps the only concern we have, with regards to the attachments, is that could have been a little more varied. The thumb, ball and dampener feel quite similar and we wouldn't mind if they replace one of those with a flat head, and another of the two with a spinal/fork head. That would be, in our opinion, a better and more balanced set.
---
Attachment Accessories
Theragun offers a wide range of additional attachment accessories. Noteworthies are the Supersoft attachment with its foam tip refill and the Duo Adapter, allowing you to mount two attachment heads to your Theragun simultaneously.
Check all the Theragun accessories here
---
Size, Weight and Ergonomics
Even though the Prime looks almost similar to its two siblings in Elite and Pro, it's slightly smaller in size. It measures 8.9" x 6.3" x 2.9".
The size is perfect for what the device does. It doesn't feel too heavy to wear you out as you use but it also doesn't feel too light to not do the job properly.
It weighs in at 2.2lbs. which is the average weight for most full-sized massage guns out there. We are a bit perplexed that it weighs the same as Elite which has extra features built in like the Force Meter, OLED screen and actually looks larger than the Prime.
That said, it feels well balanced and perfectly built. It could be the perfect gift to give to someone.
The ergonomics are good. It has multiple grips, just like its other two counterparts. It doesn't have a rotating arm like the more advanced Pro but we didn't feel it was necessary here.
---
Performance
---
Stall Force
This is the amount of pressure needed to stop a massage gun's motor. This happens when the gun is pressed against the body.
The stall force is a great feature for any massage gun because it determines what kind of massage you can have. Most entry level guns do not have a higher stall force because you'll mostly just need them for a quick soothing massage.
Theragun Prime is advertised as being an entry level massage gun and only stalls at 30lbs of pressure. Well, it's not impressive, to say at least. We'd forgive any other device for this but not the mighty Theragun.
We believe that the amazing 16mm amplitude seems a bit of a waste with the low stall force. For that kind of stall force (30-35 lbs), a 12mm amplitude would be just enough. Or, In our opinion, the flipside would've been perfect here – i.e. the stall force should've been more and the amplitude shorter.
We also noticed that the stall force is progressive and not the same throughout the speed gears. You only get 30lbs. stall force at the highest speed.
Even so, it's not a device recommended for those with bigger muscles that need a deep to the bone massage.
---
Amplitude (Stroke Length)
Amplitude is how far the head moves back and forth, and no one in this industry does it quite like Theragun. We would argue it's their biggest selling point for all their devices.
The Prime has a 16mm amplitude which is the longest in the market for now. This used to be an only-Theragun kind of thing but more brands now equip their guns with 16mm amplitude.
The 16mm amplitude is perfect for a deep percussive massage. In fact, if you're a body builder or a demanding user, 16mm stroke length is perfect.
However, this only works if the stall force (no-stall force) is also good enough, and unfortunately we can't say so for Theragun Prime.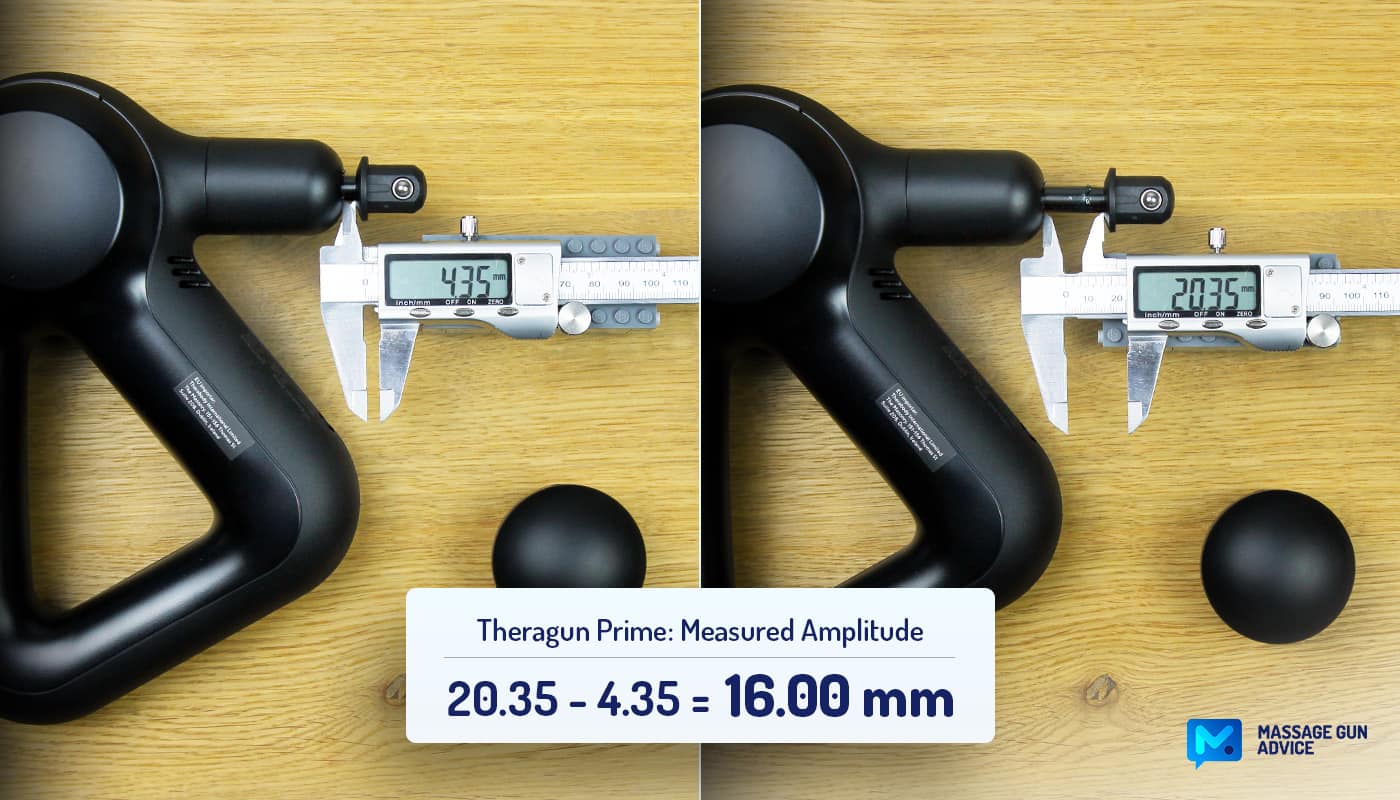 ---
Performance Comparison
Let's see how the Theragun Prime compares against its competitors.
---
Stall Force (lbs.)
Our Take
Stall Force: With 30 lbs. of 'no-stall force', Theragun Prime is great as an entry-level massager, but won't be able to keep up with some of its competitors (all more affordable).
Stroke Length (mm)
Our Take
Stroke Length: Prime's amplitude of 16mm is best in business, rivaled only by Achedaway same 16mm. It's just a pity that the stall force isn't good enough to make the best use of it.
---
Percussions and Speed Levels
Percussions are the ones that tell you how intensive a massage can get with a particular device. We have always held that the higher the percussions the more you can get from a device.
However, there are exceptions to this rule. For instance, if the percussions are too high and the amplitude is too low, then what you're getting is vibration therapy and not percussion therapy. Also, if a device has a longer amplitude and fewer percussions per minute, then it's good enough for a percussive massage.
Theragun Prime has a percussion range of 1750-2400rpm (rotations per minute). This is okay because of its longer amplitude.
However, we have seen devices that offer more percussions per minute with the same amplitude – the Achedaway Pro is a perfect example with 16mm amplitude and 2800 maximum percussions per minute.
Prime has 5 speed levels to go with the percussions. The calibration is:
1750 – first speed (lowest)
1900 – second speed
2100 – third speed
2200 – fourth speed
2400 – fifth speed (highest)
We love that the lowest speed starts at 1750rpm because with it you can get a precise massage – especially if you plan to use more pressure to target a specific point.
This could also be perfect for a warm-up massage which doesn't need to be intensive (runners will love it for sure!).
---
Noise
Theragun claims that the fourth generation devices are quieter than the previous 3rd generation and we agree. The Prime is a lot quieter than its predecessor – Liv.
However, it's still not the quietest of guns. At 61 dB on the top speed, it's louder than the bigger and more powerful Elite. The sound it makes isn't as smooth as in the Elite, too.
In fact, we can name a dozen guns in this category that are quieter than this.
Even some of the most powerful guns are more hushed – Hypervolt Plus has a powerful motor but is a little bit more piped down, others include Ekrin B37S, Opove M3 Pro Max, and Achedaway Pro.
But we will single out the Achedaway Pro here because it's the smoothest of them all.
---
Battery
It's a non-replaceable battery that will last for up to two hours of continuous use. However, even the two hours promised here depend on how you use the device.
For instance it may not last the full two hours if you stay too long on the maximum speed or apply too much pressure. You probably won't need all of two hours for a massage anyway.
To be fair, there are devices with better optimized and more juiced up batteries. For example, Ekrin's full-sized guns offer 2550mAh capacity batteries that last 4-8 hours per single charge. This while weighing the same as the Prime.
---
The Therabody App
The Therabody app is the perhaps the coolest thing about the Theragun Prime. It is also one feature that distinguishes Theragun from anyone in the massage gun industry.
The gun connects with the app via Bluetooth. We recommend updating the device firmware if you want to enjoy the full range of functionalities.
Once connected (happens rather seamlessly), the app guides you through how best to use your device and also how to maximize the benefits of each massage.
There are a lot of massage routines recommended within the app. There are warm-up routines, recovery routines, and routines for different situations like daily wellness, sleep, and waking up.
It's really cool when using the app. For instance, if you were to have a full body massage for relaxation, the app will recommend; the massage attachment (dampener here), the type of grip, and the amount of pressure to apply for each body part.
As you massage the different body parts, you can feel the intensity changing as you move on to a different section of the body.
You can also adjust the massage gun speed within the app. The app also guides you on how much pressure to apply for what body part.
You can get the App here: iOS version or Android version.
---
Who Is It Best For?
We advise that you consider Theragun Prime as an entry-level massage gun. It's only good if you want to have low to semi-intensive massages.
It's not strong enough to offer deep to the bone percussive therapy and may not be good enough for body builders or people with a lot of muscle mass.
However, it may be a good gun for those looking to manage conditions such as lower back pain, arthritis, or other related issues that require delicate treatment.
---
Is Theragun Prime Worth It?
The Prime MSRP is $299 which is a pretty hefty price point. Perhaps the biggest reason why you may want to look elsewhere. You can check the latest price here, just to know for sure.
In addition to almost bleeding you dry, Theragun doesn't even offer you a lifetime warranty. The best they can do is a 1-year warranty and this with conditions that have to be met to qualify. We know of brands that offer lifetime warranties on all their devices e.g. Lifepro or Ekrin.
But we perhaps won't throw the baby out with the bathwater. Theragun Prime is still a good introductory device that should be okay for anyone who just wants an everyday massage. It may not be good for professionals who want the most out of a massage gun though. For instance, the stall force is a big letdown if you consider the price.
If you just want a Theragun and nothing else, then by all means go for the Prime. If you are okay with the low stall force, we recommend choosing it over the Elite model which is much more expensive. If you want to learn more, check out our comprehensive Theragun Prime vs. Elite vs. Pro vs. Mini comparison.
However, if you really want a bang for your buck, there are some pretty viable options that we can recommend to you. Check out the ones below!
---
Best Alternatives to Theragun Prime
---
Ekrin B37S
The B37S is Ekrin's second gun after their maiden Ekrin B37. As our Ekrin B37s review has shown, the B37S is definitely an improvement of the predecessor because it comes with some new exciting features.
We'll go ahead and call it a high-end, premium device even though it's not as celebrated as the Theragun.
To be honest we were wondering whether to suggest it as an alternative to the Theragun prime because it has way more advanced features.
Here's what you get with this gun:
The stall force is superb. Even though Ekrin have not added anything to the stall force with this latest device (it's still 56lbs of stall force), it's still way better than what you are getting with the Prime. This means that you can get an intensive massage even if you have a lot of muscle mass. Also, with the Prime, the stall force is progressive and feels less powerful at lower speeds. With the Ekrin B37S, even with the lowest speeds the stall force still feels strong enough to work on bigger muscles.
The amplitude is perfect with the high stall force. We said before how a smaller amplitude shouldn't be a cause for concern if the stall force is more than enough. With the B37S, the 12mm amplitude will still serve you perfectly even when you have to massage your quads, glutes, and hamstring.
It delivers better intensity. The B37S revs up to 3200rpms. Compared to the Prime which stays at 2400, this device offers you more options. It also has 5 speeds to go with the percussions. The 5th speed gear alternates between the highest and lowest speeds automatically.
It's more hushed than the Prime. With 60dB of noise, this thing is perfect to use anywhere without attracting attention.
It has 6 attachments. Now there are many devices with even more attachments, but it's worth noting that Theragun Prime doesn't have two crucial attachments – flat head, and the fork head.
It has a built-in force meter like the bigger Pro and Elite.
It has a far more juiced-up battery. The battery will last up to 8 hours compared to Prime's measly 2 hours.
It comes in a nice traveling case. The Prime only affords you a soft pouch.
It doesn't come with an app for now, but we've heard rumors that Ekrin is working on one.
It has a lifetime warranty compared to Prime's 1-year warranty.
B37S has similar features as the Theragun Elite/PRO but way cheaper than the Prime – if you use the coupon code MGA20 you can get it for $263.99, 20% off the original $329.99 price.

MORE INFO Read our hands-on Ekrin B37S review for more details and hi-resolution photos.
---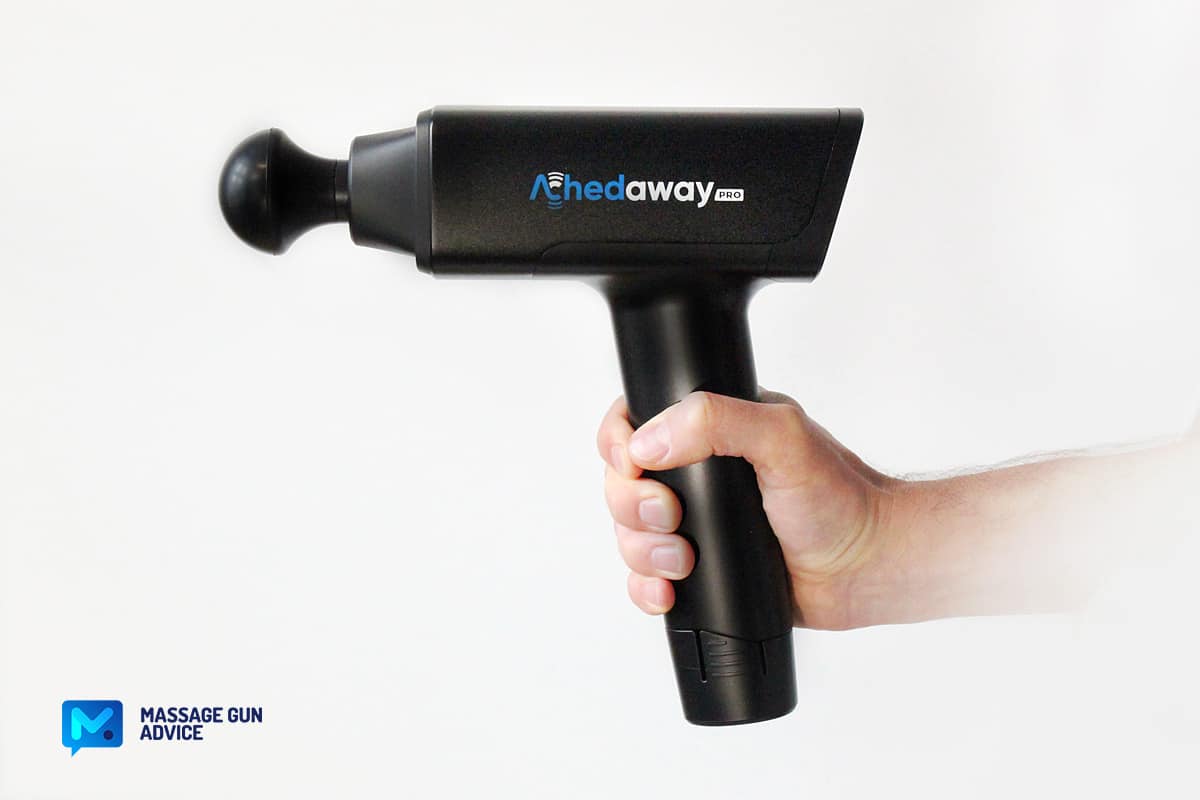 Achedaway Pro
The Achedaway Pro is another great alternative that gives you way more options and features. It's also the brand's second massage gun that's an improvement of its predecessor. It's a powerful gun with similar features perhaps as the Theragun Pro.
Here's what it offers:
A powerful stall force. The Prime only has meagre 30lbs. stall force. This device has an advertised 80lbs. no-stall force. We have already used it when doing our Achedaway Pro review, and we can confirm that it's indeed powerful but perhaps only 60lbs. no-stall force. Even so, this is Theragun Pro range of power.
It has 16mm amplitude. This is also why you should consider getting it instead.
Even with the 16mm amplitude, it's more intensive than even the Theragun Pro. It has up to 2800rpms.
Even with the higher percussions and it's powerful motor, this device is the quietest we have ever tested. We think it's about 55dB of noise even at the highest speed gear. None of the Theraguns are this quiet. It has 5 speeds as well.
It has better made attachments. Although it also only comes with 4 attachments (same as the Prime), the aluminum metal finishing (apart from the round spongy attachment) is quite slick.
The battery is colossal! It has a 3200mAh capacity battery that can last up to 4 hours straight. Ekrin B37S is better but the Achedaway Pro offers you the option of a removable battery. You can buy a spare battery.
It comes with a travelling case.
It has a 2-year warranty.
DEAL ALERT Use the special HOLIDAY60 code at checkout to get $60 off Achedaway Pro. Pay $239 instead of $299. Apply the coupon here.
It's also peer to the Theragun Pro but retails at the same price as the Prime ($299). You can use the coupon code MGA50 that gives you a $50 discount and thus get it for only $249.
---
Theragun Prime Review Conclusion
Before we sum up this Theragun Prime review, we can draw a few things from Theragun's entry-level massage gun.
First it's an awesome premium-made gun that will serve you well if you're not a demanding user. It has just the perfect features for those looking for an everyday massage.
We also really like the Therabody app that will serve you well even if you have never used a massage gun before. The routines recommended are superb.
However, if you want something stronger in the Theragun family, we suggest Theragun Elite.
If you're pressed for budget, then check out our two more powerful alternatives – Ekrin B37S and Achedaway Pro. You can also check our post dedicated to Theragun alternatives for even more product recommendations.
Lastly, if you're feeling stuck and indecisive about your next massage gun, feel free to ask us a question here and we'll do our best to help you choose right.
Bye!
---
Theragun Prime Review - The Score
Quality

Effectiveness

Usability

Accessories

Price Value
Summary
Theragun Prime is a well-designed, entry-level massage gun with clever ergonomics, best-in-business stroke length and some interesting features. While its performance is going to be just enough for amateur users, at a hefty $199 price tag we'd expect  more stall force (to make a better use of its superb amplitude) and a quieter operation as unfortunately it's still a bit too loud.
Disclaimers
The views and opinions expressed on this website are those of the authors. Any content provided by our bloggers or authors are of their opinion and are not intended to malign any religion, ethnic group, club, organization, company, individual or anyone or anything.
All product names, logos, and brands are property of their respective owners. All company, product and service names used in this website are for identification purposes only. Use of these names, logos, and brands does not imply endorsement.
It is our policy to make every effort to respect the copyrights of outside parties. If you believe that your copyright has been misused, please provide us with a message stating your position and we will endeavor to correct any misuse immediately.
Some of the links in this post are affiliate links. As an Amazon Associate, we earn from qualifying purchases. This means if you click on the link and purchase the item, we may receive an affiliate commission, at no extra cost to you. This helps us keep this website alive. Learn more here.
Amazon Disclosure
massagegunadvice.com is a participant in the Amazon Services LLC Associates Program, an affiliate advertising program designed to provide a means for sites to earn advertising fees by advertising and linking to Amazon.com. As an Amazon Associate, we earn from qualifying purchases. Amazon and the Amazon logo are trademarks of Amazon.com, Inc. or its affiliates. Please refer to our Privacy & Affiliate Policy for details.