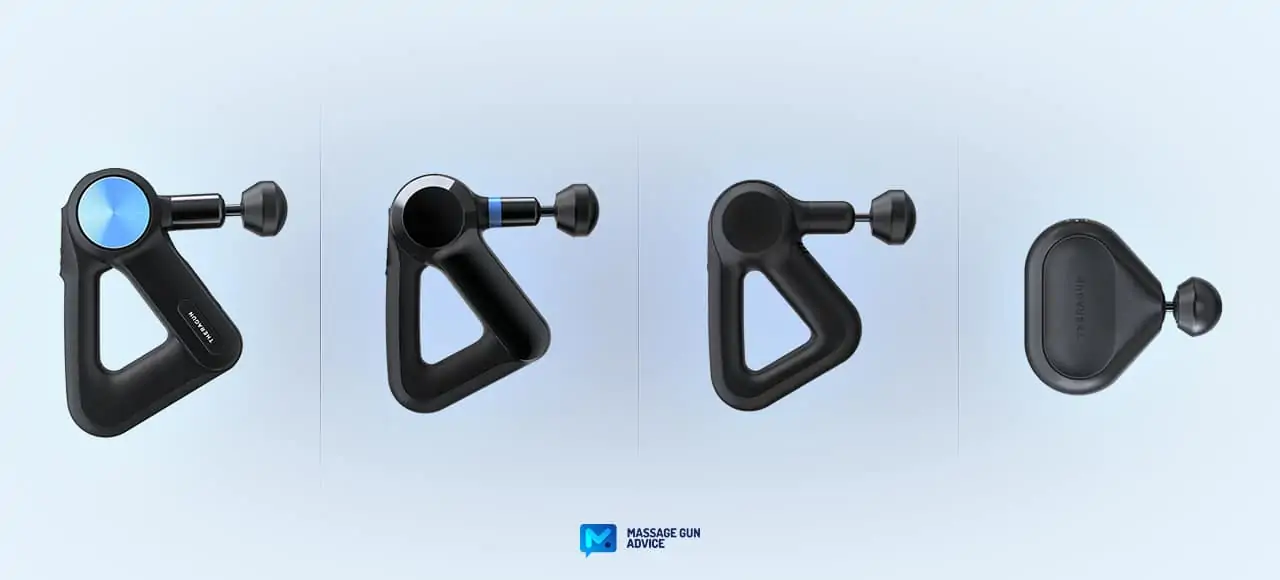 Theragun Pro vs Elite vs Prime vs Mini – In-Depth, Hands-On Comparison
What to Know: We independently review products we recommend. If you click on links we provide, we may earn a commission. Learn more.
---
In this hands-on Theragun vs Elite vs Prime vs Mini post, we'll closely compare all 4 Theraguns, including the latest 5th generation Theragun Pro.
We've used them extensively over many weeks and shot plenty of photos while doing so. Read on to have a bird's-eye view of the industry giant's products.
Theragun

Black Friday Sale
This Black Friday brings you the best opportunity of the year to purchase Theraguns at unbeatable prices:
Theragun Pro 5th Gen: Was $599, now only $499
Theragun Pro 4th Gen: Was $599, now only $349 (Big Deal)
Theragun Elite: Slashed from $399 to $289.
Theragun Prime: Down from $299 to $189.
Theragun Mini: Was $199, now down to $149.
Grab the deal now – save BIG!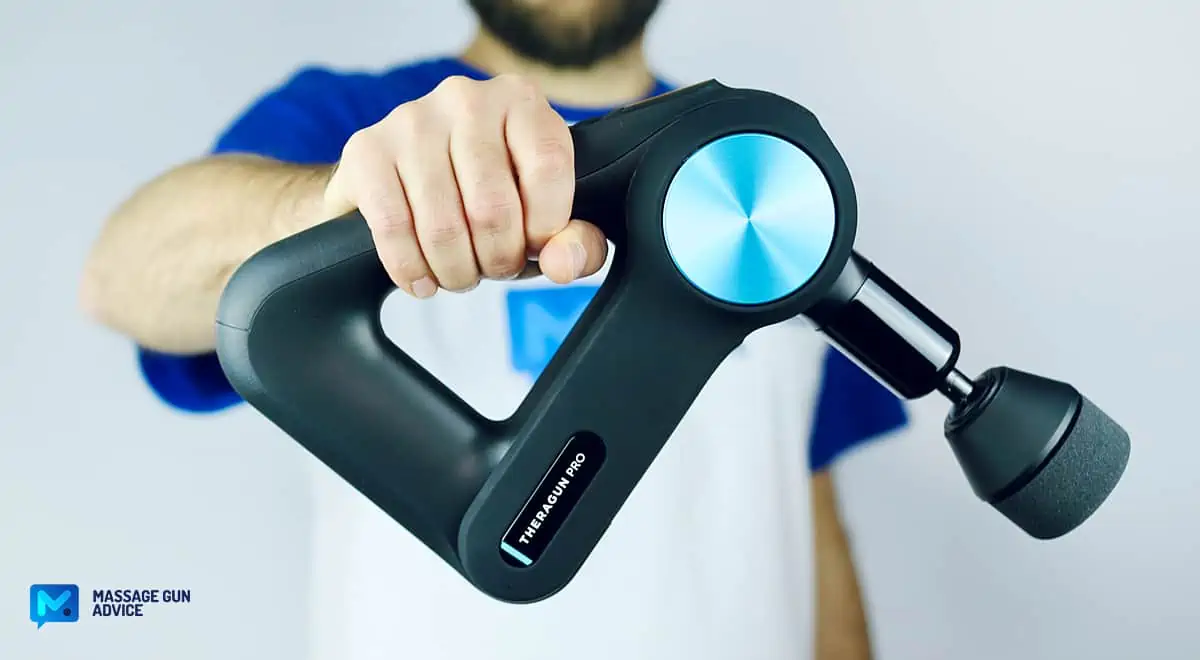 ---
---
Theragun 4th and 5th Generation
Theragun, all things considered, is probably the prototype of the massage gun and maybe by a stretch, the percussive therapy industry. They've always been innovative with everything and as the market demand has increased, the brand has had all the answers to the questions asked of them.
One of the questions has been to address different needs for different people. This they have done by coming up with different devices.
Today we take a look at all their 4th generation products, as well as the newly released 5th generation Theragun Pro.
We've had all these massage guns, tested them and reviewed them thoroughly. Hopefully you've enjoyed some of our individual product reviews, such as: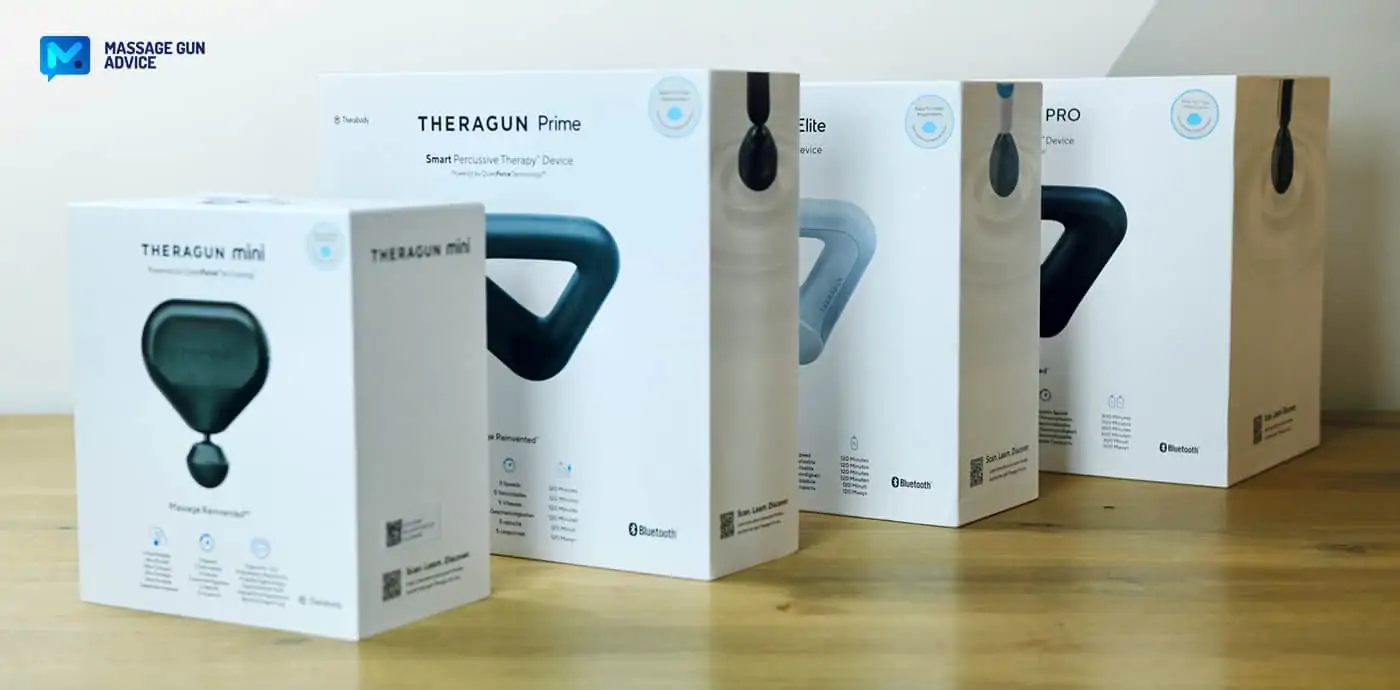 Don't worry, this post is not a repetition of those reviews but sort of a guide to make things clear for you. And you will need it because:
First, Theraguns are expensive (albeit premium) devices so you'll need every bit of information if you're going to get your money's worth.
Secondly, you may need to find out which Theragun best suits your needs.
And finally, maybe there are better alternatives to all Theraguns.
We will look at everything here. So, tune in!
---
Theragun Prime vs Elite vs Pro vs Mini
Theragun Prime, Elite and Pro are all full-sized massage guns. The Mini on the other hand is much smaller. It serves a different niche altogether. It was never part of what Theragun has been doing for a long time until only recently.
In September 2022, Theragun unveiled their new flagship device, Theragun Pro G5, and announced the new, smaller Mini. All 3 large massage guns have a lot in common. However, interestingly enough, the Mini doesn't fall too far from the tree.
Some features of the mini are almost similar to what you find in Theragun Prime. So the mini makes the cut if only for this reason.
---
Theragun Models in 2023 and Their Specs
Theragun Pro vs Elite vs Prime vs Mini – Specs Comparison

Theragun PRO
Theragun Elite
Theragun Prime
Theragun mini
Generation
5th
4th
4th
2nd
Stall Force
60 lbs.
40 lbs.
30 lbs.
<20 lbs.
Stroke Length (Amplitude)
16 mm
16 mm
16 mm
12 mm
Battery Life
2.5 hours
2.5 hours
2 hours
2 hours
Speed Options
5 – unlimited with an app
5 – unlimited with an App
5 – unlimited with an App
3 – unlimited with an App
Noise
(our figures)
63 – 66 dB
66-68 dB
65-69 dB
56-51 dB
Weight
2.8 lbs
2.2 lbs
2.2 lbs
1.05 lbs
Size
10" x 7.1" x 3"
(25.5 x 18 x 7.6 cm)
9.5" x 6.7" x 2.8"
(24 x 17 x 7.4cm)
8.9" x 6.3" in x 2.7"
(22.5 x 16 x 7.3 cm)
5.55″ x 4.92″ x 1.93″
(14.1 x 12.5 x 4.9 cm)
Display
OLED
OLED
LED
none
Bluetooth & App Control
Yes
Yes
Yes
Yes
Number of Attachments
6
5
4
3
Our Rating (1-5)
4.4
full review
4.1
full review
3.7
full review
4.0
full review
Regular Price
$599
$399
$299
$199
Promo Code

X8YZF10


use at checkout

X8YZF10


use at checkout

X8YZF10


use at checkout

X8YZF10


use at checkout
Current Price
PRO at therabody.com
Elite at therabody.com
Prime at therabody.com
Mini at therabody.com
Theragun Prime vs Elite vs PRO vs mini specs.
---
The Basics: Design, Colors, First Impressions
All three full-sized Theraguns are similar apart from minor tweaks here and there – like the build materials.
---
Theragun Prime
The Prime is black (no color variations). It is matte plastic and looks rather basic and a bit uninspiring. But its basic nature makes it practical and very easy to clean.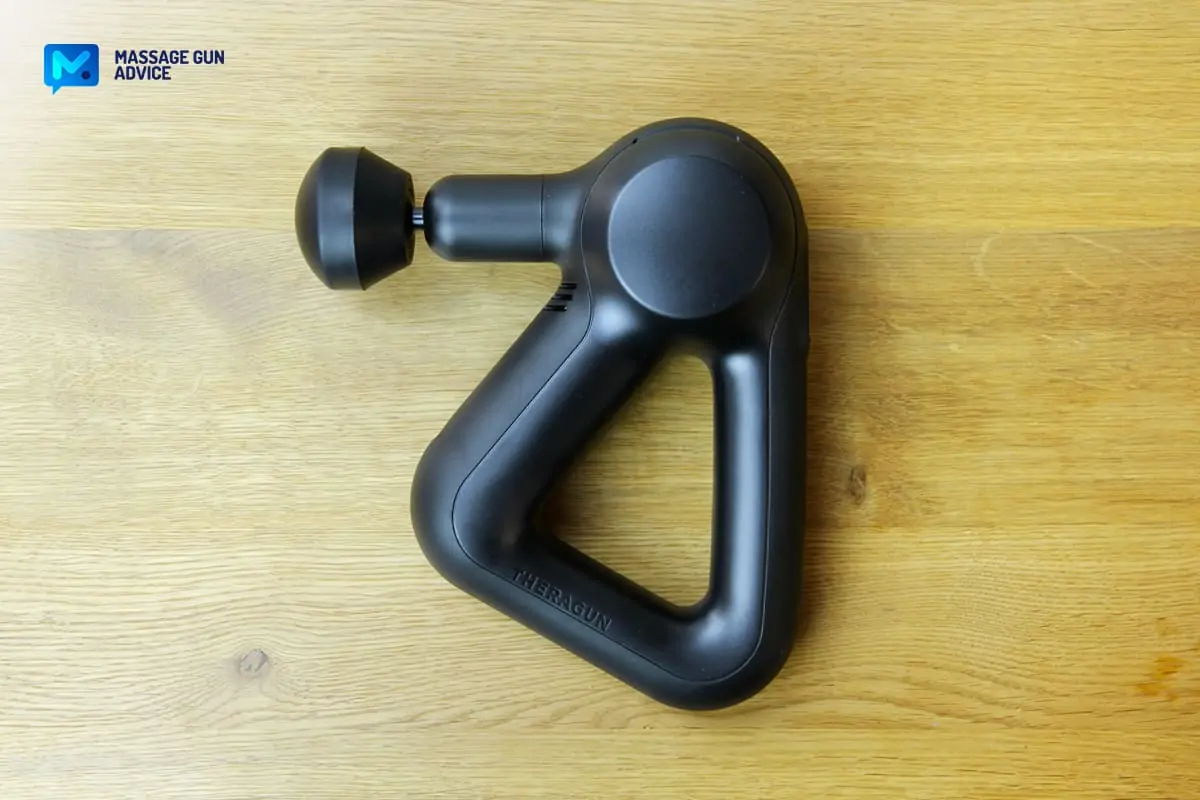 ---
Theragun Elite
The Elite is more refined than its humbler brother. Upon unboxing it, we were immediately struck by its glossy piano black exterior, particularly the gleaming side housing the motor and arm.
Its construction involved two types of plastic: a slick, smooth kind on the inside of the multiple grip handle, and a rubberized exterior that provided a secure grip during our tests.

It comes in 3 color variations; black, white and red – except the one indicated as red is not really red, but white, with only the ring on the arm being red. That's a special edition Product(RED) where every purchase contributes to the Global Fund to fight pandemics around the world.
Speaking of the rings, both the black and white variations have a blue ring on the arm.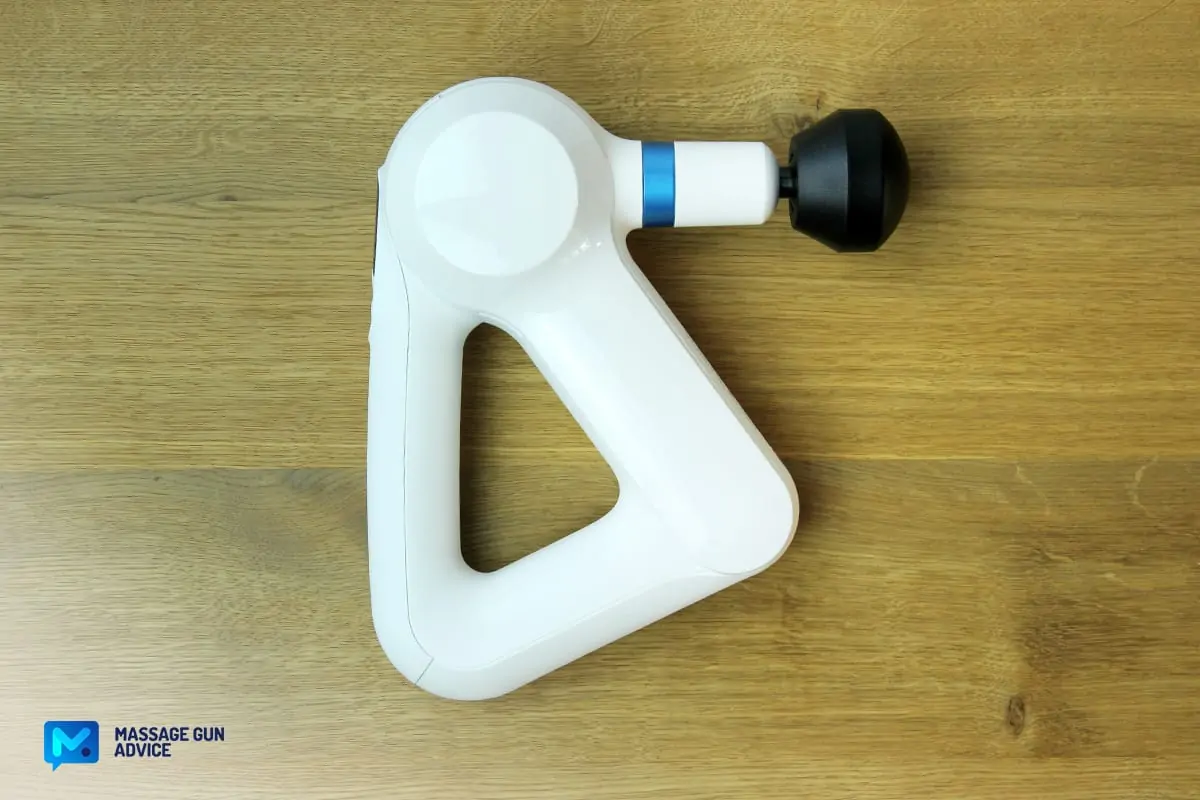 ---
Theragun Pro
Our evaluation showed that the Pro resembles the Elite in more ways than one, except, instead of a colored ring on the arm, the part covering the motor is colored (blue circle for the black one).
Both the Pro and the Elite have the glossy parts. The only thing is that these are fingerprint magnets and look rather untidy after using the device. They also both look more stylish than the Prime.
Comparing the new Theragun Pro G5 with its predecessor, the G4 model, we found them to be nearly identical. What set the G5 apart during our inspection was the new Therabody logo, distinguished by a blue stripe, a departure from the Theragun imprint on the G4 that lacked these blue accents.
---
Theragun mini
When we first picked up the mini, we were pleasantly surprised by its comfortable, rubberized plastic construction. It feels good and comfortable to hold. With two color options, black and desert rose, the Mini's uniform color stood out in contrast to the segmented color design of the Elite and Pro models.
In terms of accessories, our inspection revealed that the Prime and the Mini do not come with a carrying case. Just a simple soft pouch for both. Elite comes with a carrying case, and the new Pro now has a fancy soft shell (great quality one). It has an added pouch for the attachments.
---
Size, Weight and Ergonomics
Theragun Prime is the smallest of the full-sized devices measuring 8.9" x 6.3" x 2.9" (22.5cm x 16cm x 7.3cm). The Elite is slightly larger and measures 9.5" x 6.7" x 2.8" (24cm x 17cm x 7.4cm).
We found the Pro the largest of all models, measuring 10" x 7.1" x 3" (25.5cm x 18cm x 7.6cm) – that makes it slightly larger than the Elite but observably larger than the Prime.
One interesting observation we had was that Theragun Prime, even though slightly smaller in size, still weighs the same as the Elite (2.2lbs.). Now this is standard weight for devices in this category.
The Pro, however, is not just the heaviest of all Theraguns, but at 2.8lbs. it's also one of the heaviest massage guns on the market – 0.6lbs heavier than its two counterparts.
The new Mini, representing a different category altogether, is less than half the size of the Prime. It measures only 5.55″ x 4.92″ x 1.93″ and weighs 1.10lbs with a ball attachment – a 20% size and 25% weight reduction versus the first generation Theragun mini.
Now that makes the Mini the smallest of all Theraguns. However, we made mention in our full review of the Mini, that even though it's the smallest Theragun, compared to many mini massage guns, it's not the smallest we've ever tested. In fact, the Mini is one of the heaviest mini guns on the market.
That said, all devices take the conventional triangular shape that Theragun is known for. There is a slight tinkering with the Mini though. It's triangular, yes, but it doesn't have the multi-grip super ergonomic handle.
Theragun obviously had to come up with something unique for its category. But we commend their ingenuity in keeping the triangular shape for the Mini.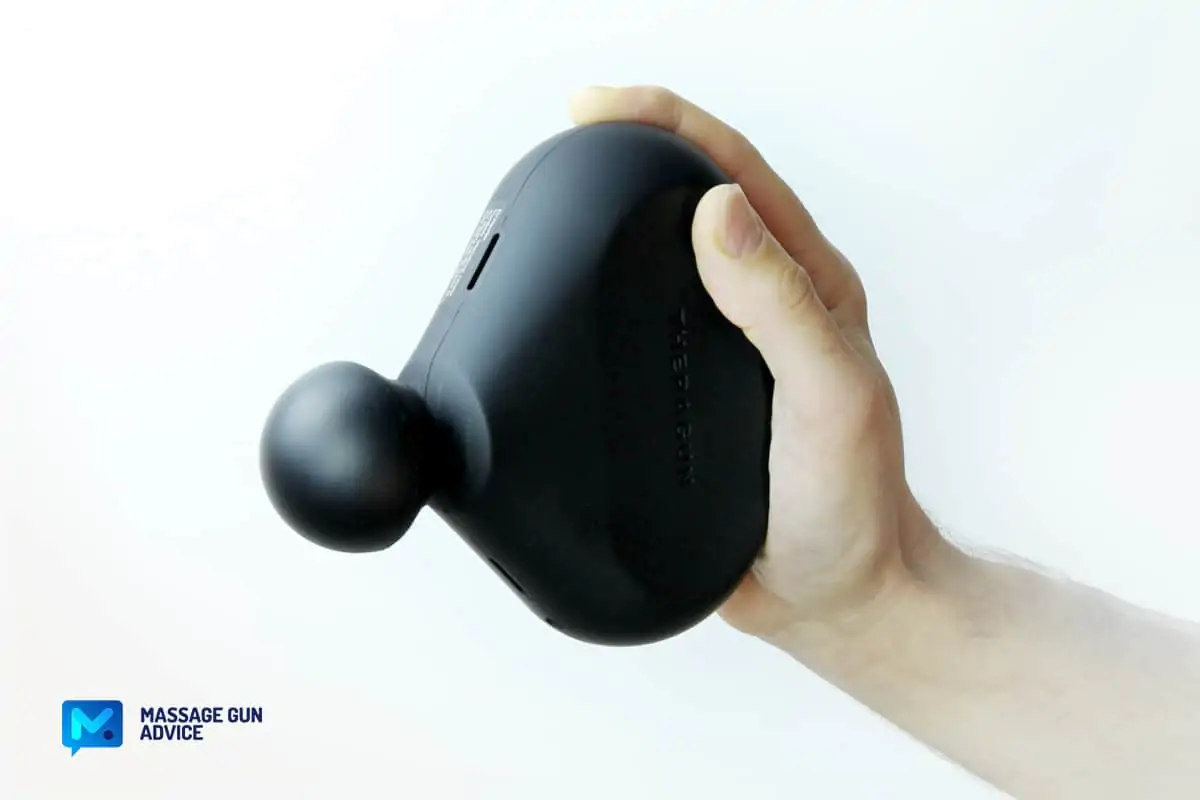 We found the ergonomics superb, especially for the 3 full-sized guns. The triangular shape and multiple grip handle is something only Theragun can boast of.
We just had a bit of concern with the Mini. Yes they may have ingeniously kept the triangular shape, but ergonomically it falls short in our opinion. A traditional round handle would've been the best design choice in our opinion.
The Pro of course has a rotating arm that's not only adjustable but locks in one of 4 positions. But we mention in our Theragun Pro review that the adjustable arm may be unique and cute but it's not necessary to have. Unless in the case of a professional therapist or chiropractor using it on another person.
For a DIY massage, the adjustable arm may come in handy if you want to reach your lower or middle back. However, we noticed that both the Prime and Elite can easily reach these areas too. So, in our opinion, it's not a must-have feature.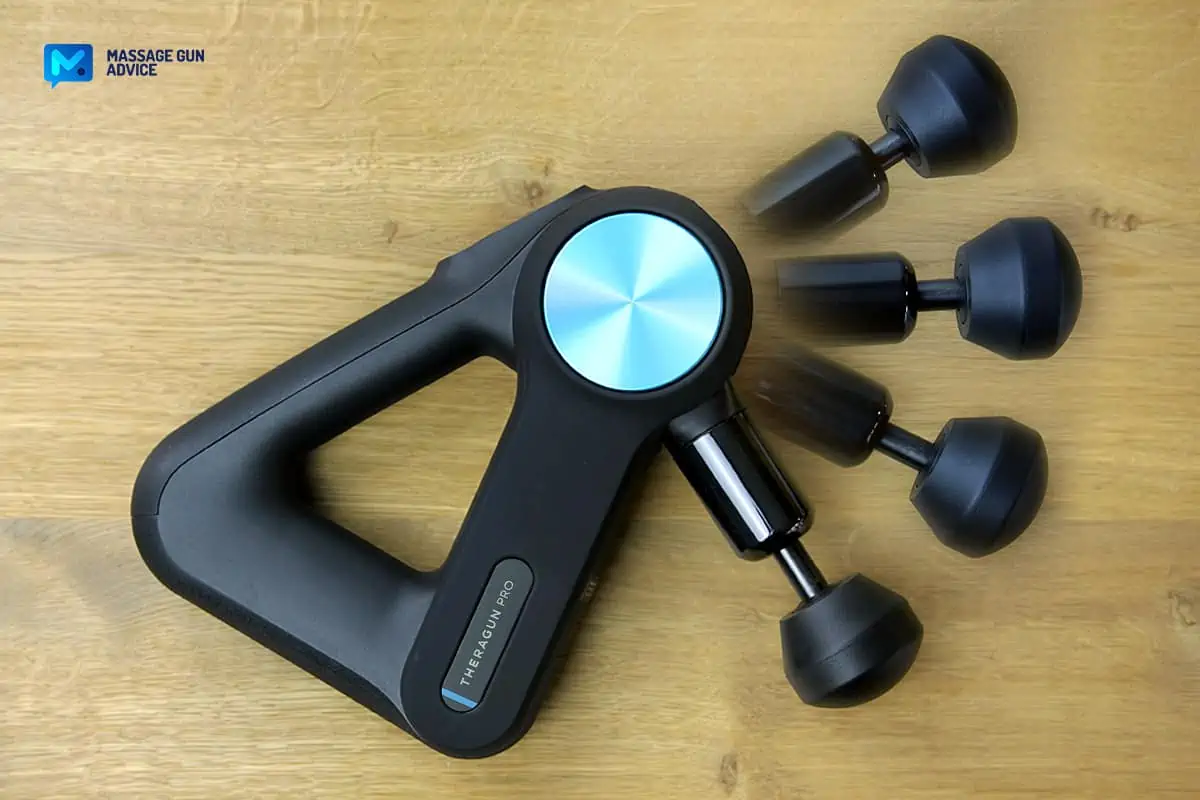 ---
Attachments
The first Mini had (and still has) only one attachment – ball. The newly released 2022 Mini has two more included.
The Prime comes with 4 – dampener, ball, thumb and cone. The Elite has 5 attachments – same as Prime, plus the wedge head. The new Pro comes with 6 attachments – the two others are supersoft and the brand new micropoint (replaces cone).
PRO
(new 5th)
Pro(4th)
Elite
Prime
mini
(new 2nd)
mini (1st)
6 heads
6 heads
5 heads
4 heads
3 heads
1 head
Standard Ball
Dampener
Thumb
Wedge
SupersoftTM


NEW

Micro-Point
Standard Ball
Dampener
Thumb
Wedge
SupersoftTM
Cone
Standard Ball
Dampener
Thumb
Wedge
Cone
Standard Ball
Dampener
Thumb
Cone
Standard Ball
Dampener
Thumb
Standard Ball
Theragun PRO attachments vs. Elite attachments vs. Prime attachments vs. mini attachments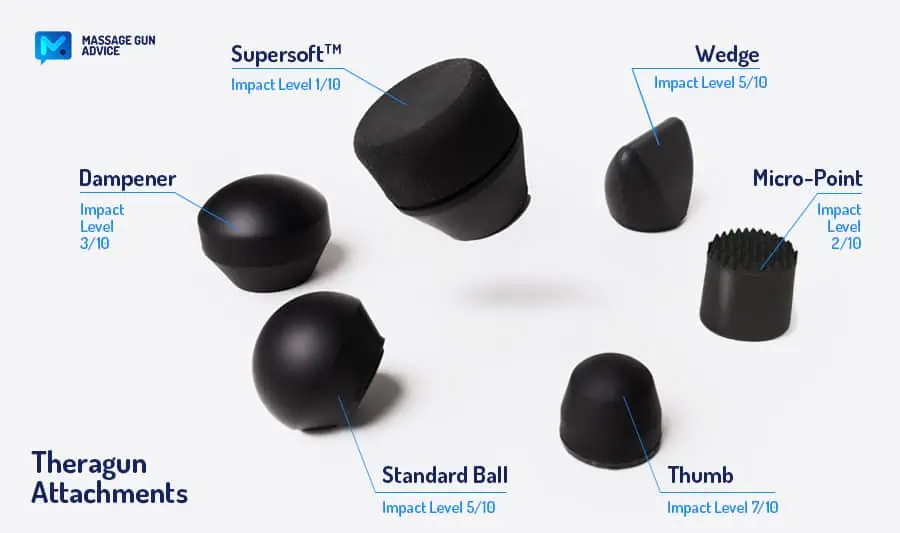 In our opinion all the attachments are Theragun-unique and are of nice quality. The supersoft is the softest of all the attachments, followed by the dampener and the ball attachment.
We found the Cone head the least soft. It is often used to target pinpoint areas like the feet. Interestingly, the Cone head is not included in the recently unveiled Theragun Pro G5. It got replaced by the all-new Micropoint attachment.
The Supersoft attachment is our favorite one specifically because you can easily use it on bony areas. Despite the general recommendation against using massage guns on these areas, the Supersoft attachment safely allows for it.
While the Supersoft attachment comes standard with the Pro, it, along with other attachments, can be purchased separately. Moreover, all the attachments are compatible with each of these devices.
It comes with the Pro, but can be bought separately (as can other attachments).
All the attachments are interchangeable between all these devices. Even so, Theragun sells them separately in their store.
The only concern we have with the Theragun attachments – and we repeated this in our reviews – is that they're so-so varied. For example, the dampener, the thumb and ball attachments feel quite similar when used.
The new Micropoint attachment is a step in the right direction, but having seen and used many other devices, we believe that adding the flat or fork attachments would vary them nicely.
---
Extra Accessories
Ever thought about using two attachments at once? It might sound odd at first, but if you're focusing primarily on large muscle groups, using Theragun Duo Adapter makes sense — it saves time!
Therabody also sells a plethora of spare parts, e.g., Supersoft attachment tops (the foamy part), or single attachments—they're compatible with all 4th and 5th-generation devices.
---
Screen and Controls
Prime has no OLED screen like the Elite and Pro models. Instead it has simple LED indicators for speeds and battery charge level.
But the lack of OLED display for the Prime isn't really a bummer – it's an entry-level device with simple controls. It has a power button that you press and hold to turn the device on/off. It has up and down arrows that you can use to change the speeds.
Both the Elite and Pro models have the OLED display that indicates battery charge level, speed and the amount of force applied. Both the Elite and Pro have a few trinkets up their sleeves.
One such trinket is a custom presets feature that allows you to store your favorite routines (settings) within the devices for easy access.
Because of this, there are the < and > arrows used to cycle between the presets. There are also up and down arrows that you can use to cycle between speeds.
In addition, the new 5th generation Theragun Pro has an updated screen. It now displays visual instructions for four built-in routines, so that you don't have to use the Therabody app to follow those. The built-in routines are Sleep, Warm Up, Recover, and Relax.
The Mini is a simplified device as far as the screen and controls go. There are LED indicators to show 1 of 3 speeds and the battery charge level indicator. These work just perfectly and we think the lack of OLEDs is justified.
---
Performance
Amplitude (Stroke Length)
Amplitude or stroke length is how far the massage gun head travels back and forth to give you percussions.
Theragun are the king of amplitude. All 4 devices are absolutely stocked with this, and nothing has changed with the September 2022 addition of the new Theragun Pro and the new Mini.
Prime, Elite and Pro all have the industry-high 16mm amplitude. Although other brands are now equipping their devices with 16mm amplitudes (Achedaway Pro, or Bob and Brad D6 Pro), there's no doubt that Theragun was here first.
The Mini has 12mm amplitude, which is still perfect if you consider its purpose. Actually a mini gun doesn't need anything more. At 12mm, the Mini actually tops most (if not all) mini massage guns on the market. Most have between 6 to 10mm amplitudes.
But as we highlight in our Theragun reviews, long amplitude doesn't necessarily mean good performance. Unless it's accompanied by enough stall force, then it's a bit of a waste to be honest. We did have some interesting findings as we explain in the reviews for all 4 devices.
---
Stall Force
Stall force is the amount of pressure it takes to stall the motor of a massage gun. It's important in determining how effective a massage gun can be when it comes to delivering a deep percussive massage.
Here Theragun varies the stall force for all 4 devices. Just a glimpse on what we felt about the stall force for all 4 devices.
We found the stall force of the Prime model to be somewhat underwhelming. With a stall force of only 30 lbs., the Prime falls short by about 3-10 lbs. of what we'd expect from a high-quality entry-level percussion massager. It tends to stall relatively easily and struggles to keep revving fast when the pressure is exerted. We feel that the Prime fails to take advantage of its long, 16mm amplitude.
Yes, the 16mm stroke length is impressive, but sometimes it may be more beneficial to compromise a little on head length in favor of additional motor power. Several devices have adopted this approach to great effect, such as the Ekrin B37 and B37s.
In our opinion, reducing the amplitude to around 12 to 13mm and boosting the stall force to at least 40 lbs. could enhance the Prime's effectiveness. With a device like that you can get a deep percussive massage even on large muscle groups – pecs, hamstrings, glutes etc. It would still be below the Elite but it would hit with better intensity when pressed against the skin.
Theragun Elite on the other hand felt somewhat more reliable in our hands. With 40lbs. of stall force, it's not the best, but the long stroke length is finally justified. While not the best, the ample stroke length finally feels justified. An additional 10 lbs. of pressure can make a significant difference in the results when compared to the Theragun Prime. In our Elite review we still decry the Elite's stall force given its hefty price. However, it's still slightly harder to stall compared to the Prime.
The Pro boasts an impressive 60lbs. stall force – the highest among all Theraguns. Given its status as the flagship massage gun of the brand, we expected the Pro to be this powerful. While there are a few more powerful massage guns with even more stall force, in our opinion 60lbs. is more than you'll ever need. You'll have to be intentionally forceful to stall the Pro's motor. In our tests on large muscle groups, it seemed almost impossible to stall.
The mini is the weakest of all Theraguns as far as the stall force is concerned. It stalls with about 15-20lbs. of pressure applied. While this may be expected for the least powerful Theragun, we expressed our disappointment while reviewing it.
Our argument was that 15-20lbs. stall force simply does not justify the rather long, 12mm stroke length. There are better mini guns with shorter amplitudes but way better stall force. However, we made a case against the Hypervolt Go which is even weaker in comparison.
Finally, before we close the argument on stall force, it's important to note that all these guns have progressive stall force. That is, lower on a lower speed and higher on a higher speed. That means that you only get the advertised stall force on the highest speed gear.
---
Stall Force (lbs.)
Stall Force: This is how the Therabody decided to vary stall force across the Theragun range.
Our Take It would have been perfect if they added at least 5-10lbs to the mini, Prime and Elite (especially to the first two, both of which lag behind the competition).
Stroke Length (mm)
Stroke Length: 16mm in Prime, Elite and Pro is the industry-highest. Same goes for the 12mm in the mini, as most small massage guns usually have between 8 to 10mm.
Our Take It's just a pity that the high amplitude feels a bit wasted in the Prime and the mini (due to the low stall force available).
---
Percussions, Speeds
Percussions refer to hits per minute delivered by the massage gun head. The more the hits per minute, the more effective the massage. Different brands approach this area differently in relation to other performance features on their devices.
For example, some massage guns can have a longer amplitude but few percussions per minute. This is okay. The opposite can also be okay. A shorter amplitude but more percussions per minute is still acceptable.
All Theraguns have a similar percussion range. That is, they all rev from 1750rpm to 2400rpm. The regular-sized guns have up to 5 speed gears to cycle through.
They all have similar calibrations of:
1750 – first speed
1900 – second speed
2100 – third speed
2200 – fourth speed
2400 – fifth speed
For the Prime, Elite and the Pro, you can still get custom speeds when you use the Therabody app. Within the app you can use the slider to select your preferred intensity.
The mini however, has the same percussion range but has only 3 speeds to cycle through – 3 speeds is standard for most mini guns on the market.
The speeds are calibrated as follows:
1750 – first speed
2100 – second speed
2400 – third speed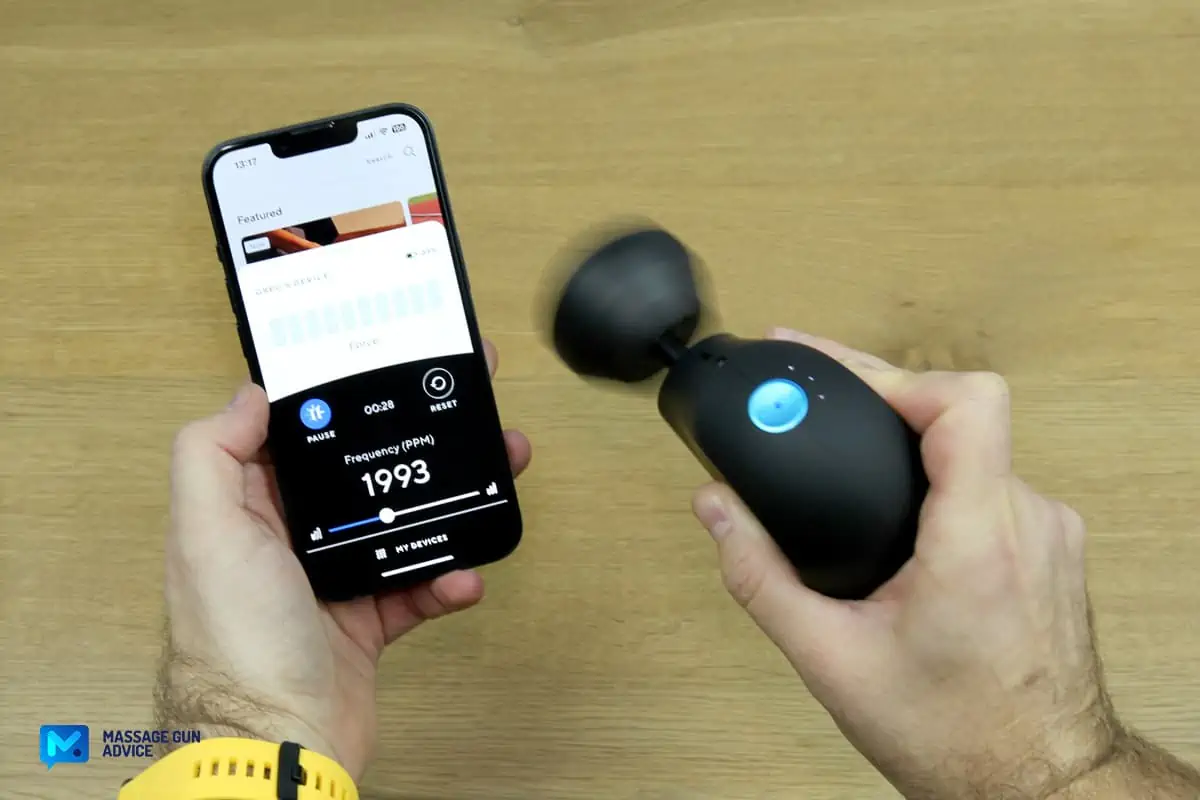 Like we mentioned above, some devices have a higher percussions-per-minute rating. For example, the Hypervolts have a percussion range of up to 3200rpm, some rev up to 3800rpm. However, these do not have the long stroke length like what you get with the Theraguns.
There are a few exceptions though, but generally the shorter the amplitude the more intense the device will get. However, we always warn you to beware of devices that have way shorter amplitudes. These offer vibrational therapy rather than percussive therapy.
---
Force Meter
Only the Elite and Pro have a force meter that displays on their OLED screens. The meter shows by a simplified bar scale how much force is being applied to the body.
However, as we mention in our reviews of these devices, this feature is only useful if you're massaging another person. We feel it's something only professional therapists and chiropractors would be interested in.
---
Connectivity, Therabody app and Extra Features
One of the best selling points for Theraguns is the Therabody app. The app is available for all 3 full-sized devices, and the new mini G2, and can be downloaded for both Android and iOS systems.
It connects via Bluetooth and guides you on how to use the device for best effect. There are a lot of routines within the app for you to discover. They include body parts routines, general, warm-up, recovery, and sleep routine.
When you start on any particular routine, the app automatically adjusts the intensity of the device as you massage different parts of the body. You can also track your progress as you massage away. The massaged areas are marked within the app.
The app also recommends what grip to use for what part of the body – this is only available on the Elite and Pro models. The force to be applied is also recommended within the app. You can also adjust the speed of the percussion massager using the slider within the app.
Another important feature that you also get with the Elite and Pro devices is that you can save your favorite customized routines within the device. This allows you to quickly access these routines any time you need to use the device.
Each routine can be customized with different speeds, time and force applied. You can use the < and > arrows to cycle through these routines. We think that this is an amazing feature to have.
---
Noise
For a long time now noise has been Theragun's Achilles heel. As we indicate in our reviews, this remains the tricky part for Theragun devices.
We simply cannot excuse Theragun in this area, not with them being a premium brand and going for a premium price. The bar is pretty high for them and they've got to live up to this reputation.
However, it seems they have been well aware of the criticism and decided to improve things on the noise front. A prominent examples of this is the recent introduction of their 5th gen Pro model. Our tests confirmed the marked improvements in noise reduction in this latest device.
The new Pro is now the quietest of all 3 full-sized devices. It's perhaps the smoothest of them all as well – the unpleasant rattling sound is now largely gone, although it still sounds somewhat rough.
The brand says the new Pro is 20% quieter than the predecessor, and that is about right (our noise meter recorded 8 dB difference at the top speed). Keep in mind, however, that the previous Pro was (still is) the loudest of them all, so don't expect the hushed and smooth sound known from Achedaway Pro.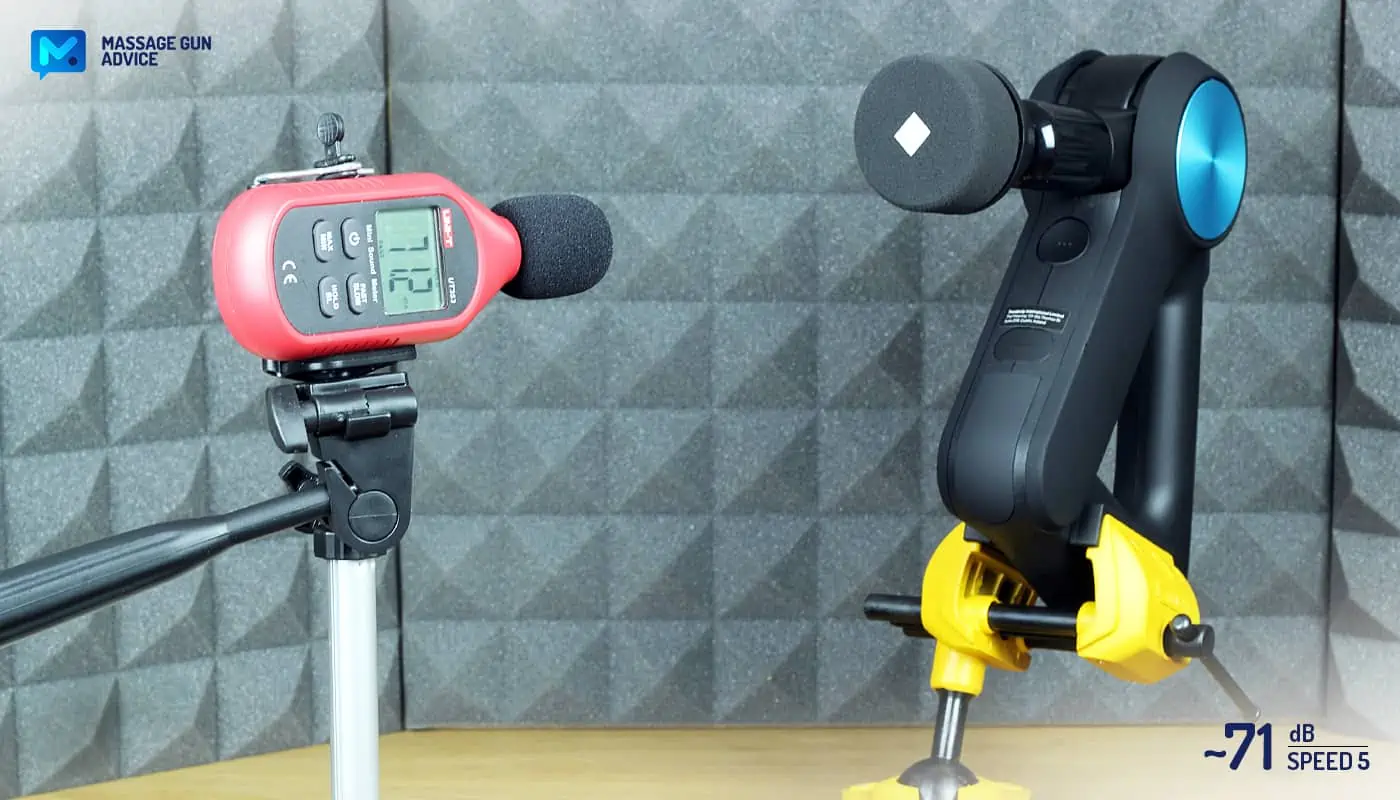 The Elite now ranks the second quietest. The sound it makes is reasonably smooth, per Theragun standards. We tested it and it came in a few decibels quieter than the Prime – about 66-68dB.
The Prime comes third in ranking for smooth sound at 69 decibels. There's a roughness to its sound that makes the Elite just a bit less intrusive in comparison.
The Mini falls under a different category and we tested it with this in mind. Obviously, compared to its bigger siblings it's relatively quiet, but perhaps not more than the new Pro.
However, rated against other mini massage guns, it's not the quietest. It also vibrates quite a bit and often forces you to re-adjust the grip as you use it.
Our Take
It's 2023 and the noise aspect, we believe, can still be handled better as other massage gun brands have shown us.

Ekrin devices (B37 and B37S), and the Achedaway Pro, a powerful massage gun with similarly powerful features – 16mm amplitude and powerful motor – are good examples of devices that are hushed down (especially the Achedaway).
Fortunately, the outlook is positive as Theraguns become more hushed with every new generation. We are pretty sure the anticipated 2023 Elite and Prime 5th gen will follow the new, quieter Pro.
---
Battery
Prime and Elite have non-removable batteries that will last up to 2 hours (continuous usage) on a single charge.
We found the Pro a little more juiced up – enough to last for 2-2.5 hours on a single charge. It's the only Theragun with removable batteries. That said, the new Theragun Pro comes with only one battery included (previous model had two).
The Mini is advertised as being able to deliver 150 minutes of usage per single charge.
The new Pro and the just-released mini both have a convenient USB-C charging, so this is a major change versus the 4-gen devices that all came with dedicated wall chargers (we know that these kinds of chargers can be pretty bulky and a bit of a bother).
Elite and Pro have wireless charging ability. The wireless chargers can be purchased separately from the Therabody store.
Here's what we think on Theragun's battery performance:
You can still get 2-2.5 hours of battery time. However, we did notice that if you use more pressure and higher speeds – overwork the motor – the batteries drain faster.
It gets comfortable with the Pro. You can buy the extra battery and use one as the other is charging. This is excellent news for therapists and chiros.
Elite and Prime have okay batteries but the majority of other brands have way better juiced up batteries. For example, Ekrin B37 and B37S can last up to 8 hours on a single charge with their Samsung branded batteries. There are also other devices capable of 4-8 hours per charge.
The new 2nd generation Mini has a much-anticipated USB charging ability. Most guns in its category have USB charging, so the Mini finally catched up.
---
Theragun Discount, Price, Warranty and Customization
CYBER MONDAY
Theragun Sale is here! Enjoy up to $250 off select Theraguns, along with more deals on recovery tech. Now FSA/HSA eligible! Browse the deals here.
Theraguns are without a doubt exorbitantly priced. As of writing this post, The Mini costs $199, the Prime goes for $299, the Elite retails at $399, and you'll have to choke up $599 for the Pro.
Fortunately, there is the X8YZF10 promo code, which may give you up to 10% OFF at checkout. The coupon only works at Therabody's own store (for EU customers the discount might not be that high).
There's also a way to get a Theragun 20% discount code but it might not be for everyone, it's best to check out this page for more info on that.
Theragun, even with the high prices, disappoint greatly with the warranties. Apart from the Pro – which has a 2-year warranty – the rest only give you a 1-year guarantee.
Therabody introduced an Apple-style ProCare warranty that you can use to get free repair or replacement within the first year as well as other benefits.
This is bought separately. It's $40 for the Mini, $55 for Prime, $75 for Elite, and $100 for Pro. Customization can only be applied on the Pro model for an extra $50. This is only accessible when you buy via the Therabody store – more details here.
Our Thoughts

Theragun is a premium brand and there are extras to pay for and this definitely increases the cost even further.

We think the warranty is somewhat disappointing. Especially when you consider that brands like Ekrin and Lifepro give you a lifetime warranty when you buy their devices. They also guarantee you lifetime customer support. Theragun asks you to pay extra for extra coverage for just 1 year.

Great devices but comparing to their best alternatives, they don't offer great value for money. Not anymore.
---
A Way To Buy Theragun with FSA/HSA Funds
Holding an HSA or FSA card and eyeing a Theragun purchase with tax advantages? Now you can.
Therabody has recently declared their Theragun devices as FSA and HSA eligible, opening a pathway to utilize your FSA/HSA funds for purchases.
To do this, simply visit therabody.com and use your card at checkout. It's that easy!
Ensure to read their FAQ section beforehand for clarity.
Read More For a deeper dive into acquiring FSA and HSA eligible massage guns, explore our dedicated post on this topic.
---
Theragun Mini vs Prime – Summary
Similarities:
Both devices are entry-level models, with weak motors;
Bluetooth connectivity (introduced in the new Mini – 2nd generation ; the previous one didn't have it)
Similar batteries;
Same 1 year warranty
Theragun Mini vs Prime advantages:
More portable: smaller size and lighter body
Slightly less noisy (the new mini 2G is noticeably quieter)
Also comes in different color variation
USB-C charging enabled (introduced in the new Mini – 2nd generation)
Costs $100 less
Prime over Mini Advantages:
More powerful motor, able to withhold 30 lbs. of pressure (mini has less than 20 lbs, stall force making it very easy to stall);
16mm stroke length vs. 12mm on the mini – That means Prime will punch harder.
5 speeds available vs. 3 in the mini – same percussion range;
4 attachments vs. 3 on the new Mini
Better ergonomics, reaching lower or middle back is easier with the Prime
Our Take on Theragun Mini vs Prime

Both are entry-level devices that are good for low to semi-intensive massaging i.e. warming up, relaxation, etc. However, they might not be strong enough to do a good job massaging large muscle groups or for people with a lot of muscle mass.

If it comes down to portability for when you're on the move (hiking, biking, or kayaking for a few days), the mini is the better option because it's smaller, lighter and now also USB-C enabled.

If you are looking for performance, gym goers, the Prime is the better option. It's bigger than the Mini but smaller than the Elite. Also, it has a better amplitude and higher stall force.
---
Theragun Prime vs Elite – Summary
Similarities:
16mm stroke length
5 built-in speeds
Same Ergonomics, triangular shape and multiple-grip option
Bluetooth + Therabody app compatibility
Similar batteries – non-removable
Same 1-year warranty
What Prime has that Elite doesn't:
Whole matte-black body – not a fingerprint magnet
Smaller dimensions
Smaller wall charger
Costs $100 less
What Elite has that Prime doesn't:
10 lbs. more stall force – 40 lbs. vs. 30lbs. in Prime.
A carrying case
5 attachments vs 4 in Prime (extra wedge attachment)
Less noisy than Prime
Custom routines pre-set and space for 3 routines to be saved on it.
Additional

<

and

>

control arrows on device to cycle through pre-set routines
Force meter built-in
OLED screen for extra information (force meter bar-type scale, battery charge level, current speed)
Piano-black glossy plastic, matte plastic and blue ring on the arm;
3 colors available black, white and red – Prime only comes as black
Our Take on Theragun Prime vs Elite

For a light massage that won't go deep into bigger muscles, Prime should be good enough. However, for deep tissue massage and especially when you want to work on your quads and hamstring, the extra 10lbs. stall force on the Elite can make a huge difference. Also, the long amplitude is justified on Elite.

We prefer an intensive and stronger massage and in this case we will pick Elite over Prime. It has more power, more features, and more accessories – the extra $100 is justified.
---
Theragun Elite vs Pro – Summary
Similarities:
16mm stroke length
5 built-in speeds
Triangular shape and plenty of grip options
OLED screen for extra information (force meter bar-type scale, battery charge level, current speed)
Custom routines pre-set and space for 3 routines to be saved on device
Additional

<

and

>

control arrows on device to cycle through pre-set routines
Force meter built-in
Bluetooth and Therabody app compatibility;
Carrying case included (The new Pro has a pouch, but a good one!)
What Elite has that Pro doesn't:
Smaller dimensions
Less weighty (2.2lbs. vs 2.8lbs.)
More glossy plastic parts
3 colors available
Costs $200 less
What Pro has that Elite doesn't:
20 lbs. more stall force – 60 lbs. vs. 40 in Elite.
6 attachments vs 5 in Elite (extra super-soft head & the new micropoint replacing cone)
Updated display, now with four visually guided built-in routines
Adjustable arm with 4 fixed positions for enhanced ergonomics
Removable batteries
Slightly less noisy and smoother sound (the new fifth generation Pro, that is)
More juice out of a single battery (2.5 hrs. vs 2 hours in Elite)
2 year warranty vs. 1 year for the Elite
Personalization: Custom engraving (for an extra $50)
Our Take on Theragun Elite vs Pro

Unless you're a therapist or a chiropractor, or you need to give a massage to another person, or you're looking for plenty of stall force (bodybuilders, pro athletes, and weightlifters), Elite will be good enough for the job.

The Pro is definitely suited to people who need it as a workhorse (removable batteries) or to demanding users. Even though the new Pro is a tad quieter than the Elite, we would rather go with Elite for personal use.

Better yet, we'd seriously consider more affordable yet fantastic alternatives to Theragun Pro.
---
Give a Chance to These Theragun Competitors
After hours of testing and exploring the different functionalities of Theraguns, we have experienced first-hand why these devices are so highly praised. They also represent a well-known brand and consistently deliver premium quality performance.
However, over time their status is becoming rather common. So much such that devices from competitors have overtaken them with better features and accessories. These competitor devices are quieter, sometimes more powerful, twice as affordable, and jammed with more features and accessories.
We have a dedicated post for the best Theragun alternatives where we elaborate even more, but to save you time, let's just take a quick look at some top recommendations.
One device for each Theragun:
---
Instead of Theragun Mini, consider BANTAM
After personally testing numerous mini massage guns, we found Bantam to be the best in the market due to its superior performance and versatility.
Through our hands-on use, we discovered that it's smaller, lighter, better equipped with more attachments, more cost-effective, and also comes with a lifetime warranty.
Best of all, it will only cost you $119.20 with the MGA20 code.
Read More Check out our in-depth Bantam review for more information.
---
Instead of Theragun Prime consider Ekrin B37
In our hands-on testing, the Ekrin B37 impressed us with its 56lbs. stall force, elegant look, compact design, and well-equipped feature set.
It has a lifetime warranty and only costs $183.99 when the MGA20 discount code is applied. That is 38% cheaper than the Prime.
Read More Read our hands-on Ekrin B37 review to learn more.
---
Instead of Theragun Elite consider the more powerful Ekrin B37S
HOLIDAY SALE
Get a whooping $100 OFF the top-shelf Ekrin B37S massage gun. Only $231.00, down from $329.99. Grab the deal now!
When we tested the Ekrin B37S, we estimated that it delivers a maximum stall force of 56lbs., significantly more than the Elite. Additionally, it proved to be much harder to stall even at lower speeds.
It has 5 well-varied attachments, 8 hours battery life (Samsung battery), force meter, and a lifetime warranty.
It costs $263.99 when the MGA20 coupon is applied – more power, better warranty for a third of the price. You can get it here.
Read More Find our more in our hands-on B37S review.
---
Instead of Theragun Pro consider Bob and Brad D6 Pro
We conducted a side-by-side comparison test between the Bob and Brad D6 Pro and the new Theragun Pro G5, using both of them for consecutive days.
We found that the D6 Pro closely matched the Theragun Pro G5 in terms of performance, feeling just as powerful during our muscle recovery sessions, and offering comparable features.
It has the same 16mm amplitude and stall force. It's an incredibly powerful gun but also a pretty quiet, just like the new generation of Theragun Pro. No removable battery here, but the arm can be adjusted in five lockable positions (Theragun has four).
It has great accessories and is more than half the price of Theragun Pro. Plus, you can cut it by further 10% with the code MGAD6PRO – simply apply it at the Amazon checkout).
Read More Read our Bob and Brad D6 Pro review for more details.
---
FAQ – Your Burning Questions, Our To-the-Point Answers
Is Theragun worth it?
Yes. From our extensive hands-on experience, we can confidently say that Theraguns are worth the investment. These premium devices from a top brand have demonstrated exceptional quality, attention to detail, and use of high-quality materials.c Although they are among the more expensive massage guns we've tested, their superior performance, reliability, and our overall user experience with these devices often justify the higher price tag. However, if the cost is a concern, there are also some quite good alternatives.
Which Theragun to buy?
Based on our comprehensive testing of various models, we found that deciding which Theragun to buy really depends on your individual needs, as each model has its unique pros. For the most demanding users, the Theragun PRO is the clear choice due to its advanced features and performance. If you need a travel-friendly or on-the-go option, the Theragun Mini is your best bet. For all other who prefer a good balance of size, specifications, and value, the Theragun Prime is a reasonable choice. Ultimately, you can't go wrong with any Theragun model, as each one caters to different preferences and requirements.
Which Theragun has Bluetooth?
Having tested all models, we can confirm that all Theragun models now feature Bluetooth connectivity (including Theragun mini 2.0). With Bluetooth enabled, each Theragun device seamlessly integrates with the Therabody App, allowing you to control speed settings and access guided treatment plans for a personalized massage experience.
Do pro athletes use Theragun?
Yes, many pro athletes use Theragun and other Therabody products for their recovery needs. They often share their experiences on social media and can be seen using the devices during sports broadcasts, such as NBA games. Therabody also partners with athletes like James Harden, Tyler Herro, Paul George, DeAndre Hopkins, DeVonta Smith, Chase Claypool, DK Metcalf, Johnny Gaudreau, Trent Alexander-Arnold, Felipe Gustavo, Maro Itoje, and Crystal Dunn to promote their products. Additionally, Therabody collaborates with teams like Red Bull F1 Racing Team, Paris Saint-Germain, Arsenal, Manchester City, and Duke Athletics, and is the Official Recovery Partner of NRG.
Can a Theragun replace massage?
Based on our experience, a Theragun cannot entirely replace a professional massage, but it serves as a fantastic complement to traditional massage therapies. Percussion therapy devices like Theraguns provide effective, at-home, do-it-yourself massage therapy, which can help with muscle recovery and relaxation. However, they should be used in addition to, not as a substitute for, professional massages performed by trained PTs. To ensure safe and effective use of Theraguns, it's crucial to understand the device and how to use it.
---
Wrapping Up
We wrap up our Theragun Pro vs Elite vs Prime vs Mini comparison article.
Having tested a wide range of products, we can vouch for Theragun as an industry giant that consistently offers premium quality devices. We've noticed they keep iterating on their devices, and we've found the recently introduced features to be extremely useful.
However, their premium pricing means there must be some extra scrutiny before a choice is made, and because of that we think they still have a way to go – especially with the Prime and Elite, the only two devices that have not been updated this year.
Hopefully now you know which Theragun will suit your needs. Check the latest prices here at therabody.com
In case you're not as impressed with the Theraguns as we were during our testing, we recommend exploring the alternative options we've personally tested and listed above.
Still confused or need more information? Drop a comment below or ask us a question.
Thank you and goodbye!
Was this article helpful?
Thanks for your feedback!
Post Update History
Here's a quick rundown of all the tweaks and edits we've made to this article to keep it accurate and up-to-date!
Current version last updated on:
November 18, 2023 More changes made to the FSA/HSA purchases section according to therabody.com updates. Black Friday deals section added. (Author: Greg)
October 5, 2023 FSA/HSA information changes. Some internal and external linking corrects. (Author: Greg)
September 7, 2023 Minor updates. (Author: Greg)
May 26, 2023 Minor updates to the article. (Author: Luke)
April 17, 2023 FAQ section added, answering common questions about Theragun devices. (Author: Greg)
January 2, 2023 Added Bob and Brad D6 Pro as an alternative, following our in-depth test. (Author: Luke)
November 28, 2022 Added Theragun Mini second generation, compared it to the first generation.  (Author: Luke)
October 20, 2022 Article updated with information about Theragun Pro G5, following the hands-on review we've done.  (Author: Luke)
March 12, 2022 Updated with more photos of the Theraguns we own (Author: Greg)
January 10, 2022 Added more practical information about Theraguns (Author: Luke)
October 27, 2021 Fact-checked by Dr. Alex Stone, DPT, CSCS.
•
Written by:

Luke Deszczulka
Disclaimers
The views and opinions expressed on this website are those of the authors. Any content provided by our bloggers or authors are of their opinion and are not intended to malign any religion, ethnic group, club, organization, company, individual or anyone or anything.
All product names, logos, and brands are property of their respective owners. All company, product and service names used in this website are for identification purposes only. Use of these names, logos, and brands does not imply endorsement.
It is our policy to make every effort to respect the copyrights of outside parties. If you believe that your copyright has been misused, please provide us with a message stating your position and we will endeavor to correct any misuse immediately.
Some of the links in this post are affiliate links. As an Amazon Associate, we earn from qualifying purchases. This means if you click on the link and purchase the item, we may receive an affiliate commission, at no extra cost to you. This helps us keep this website alive. Learn more here.
Amazon Disclosure
massagegunadvice.com is a participant in the Amazon Services LLC Associates Program, an affiliate advertising program designed to provide a means for sites to earn advertising fees by advertising and linking to Amazon.com. As an Amazon Associate, we earn from qualifying purchases. Amazon and the Amazon logo are trademarks of Amazon.com, Inc. or its affiliates. Please refer to our Privacy & Affiliate Policy for details.