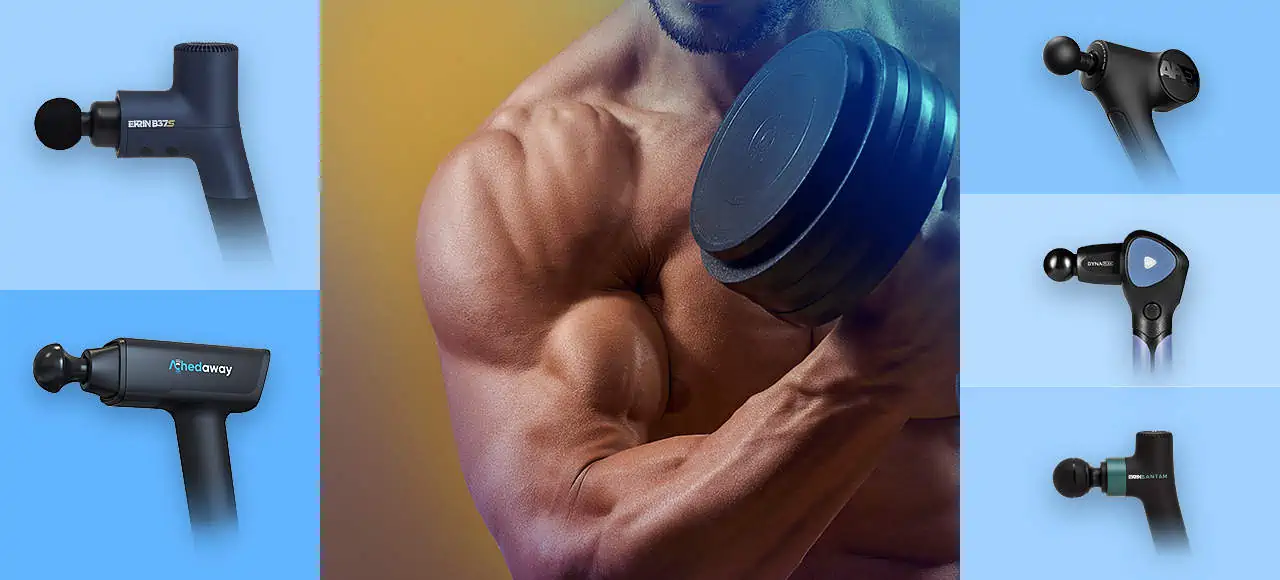 Best Massage Gun for Bodybuilders and Weightlifting – And What Makes It Different?
What to Know: We independently review products we recommend. If you click on links we provide, we may earn a commission. Learn more.
---
We think bodybuilders and weightlifters should have their own massage guns. Why? Well, you guys have more muscle to look after than most athletes. This calls for a unique approach to recovery and injury prevention, which standard-designed massagers may not adequately address.
And there's even more to consider: can a $50 device perform the same way as a $300 gun? Which massage gun gives you the best value for money?
We will answer these questions for you, provide top picks, and explain the reasoning behind them—to help you find the perfect fit.
So, here's what you'll learn:
---
What You Should Look for in a Massage Gun (From a Bodybuilder's Perspective)
Generally, bodybuilders, weightlifters, and powerlifters can benefit from a massage gun in two ways:
Using them to warm the muscles before a workout – Vibrations and punches from a massage gun wake up muscles by increasing the blood flow and preparing them for action.
For post-workout recovery – A study revealed that massage guns could help reduce DOMS (delayed onset muscle soreness) and improve muscle length for a short period.
They also help in a myofascial release by mimicking manual massage. This makes them cost-effective tools because you don't have to visit a physio every time you need a myofascial release.
That said, here's what you need to look out for…
---
Performance – What Matters for Big Guys and What to Look For
Here you want to look at where the intensity is coming from in a massage gun. There are two approaches;
Some massage guns can hit deep but percuss slower. These employ a long stroke length – the Theragun-like approach.
Some massage guns vibrate faster but have shallow hits.
Using either approach can give you the desired results. However, the stall force plays a big role in making this possible.
---
Stall Force
The amount of pressure a device can withhold without stalling or shutting off. We believe this is the most important parameter if you have large developed muscles and want an effective massage gun.
Why?
Bodybuilders are well trained and likely to have densely developed muscles and low body fat. It's easy to reach these muscles with a massage gun, but hitting deeper requires a bit more force. That force can only be delivered using a strong device. You can massage your glutes and quads with such a device.
A high stall force means the gun won't easily stall when applying pressure. This allows for deeper penetration into the muscle.
A high stall force also prevents the motor from slowing down, thus reducing the percussions.
We have seen cases where devices can go as high as 3200RPM, but because of the low stall force, they slow dramatically when some pressure is applied. That means the 3200 max RPMs are only felt when you don't apply any pressure at all. That beats the purpose of a massage gun.
Our Advice

That you choose a device with a minimum of 40-45lbs. of stall force. or ideally, go for a device that has closer to 60lbs. – that's for a full-sized device; mini devices can have less.

Remember that most brands indicate the maximum stall force that is only achieved at top speed. Very few devices have enough stall force at lower speeds – and the best one is Ekrin B37s.

We don't recommend weak guns that tend to be cheap as well – usually around $100 or less. These can barely put up with 30lbs. of pressure at the highest gear. They also won't go deep enough into the tissue to deliver an effective percussive massage.
Our Picks Stall Force Comparison
(*as advertised by the manufacturer; read reviews below to find how they compare to our measurements)
OUR TAKE
Theragun Pro, Ekrin B37S and Achedaway Pro are the strongest devices on the market. Both B37S and Achedaway cost half the price of the Theragun though. We love B37S for allowing significant force on low speeds, while Achedaway Pro remains the best Theragun Pro alternative.
---
Amplitude
Also called stroke length, amplitude is the distance covered by the massage gun tips as it moves back and forth.
Like the stall force, you also need to pay attention to the amplitude of any device you buy if you are a bodybuilder or weightlifter.
Those well-developed muscles will need a high amplitude device – one that can deliver stronger punches.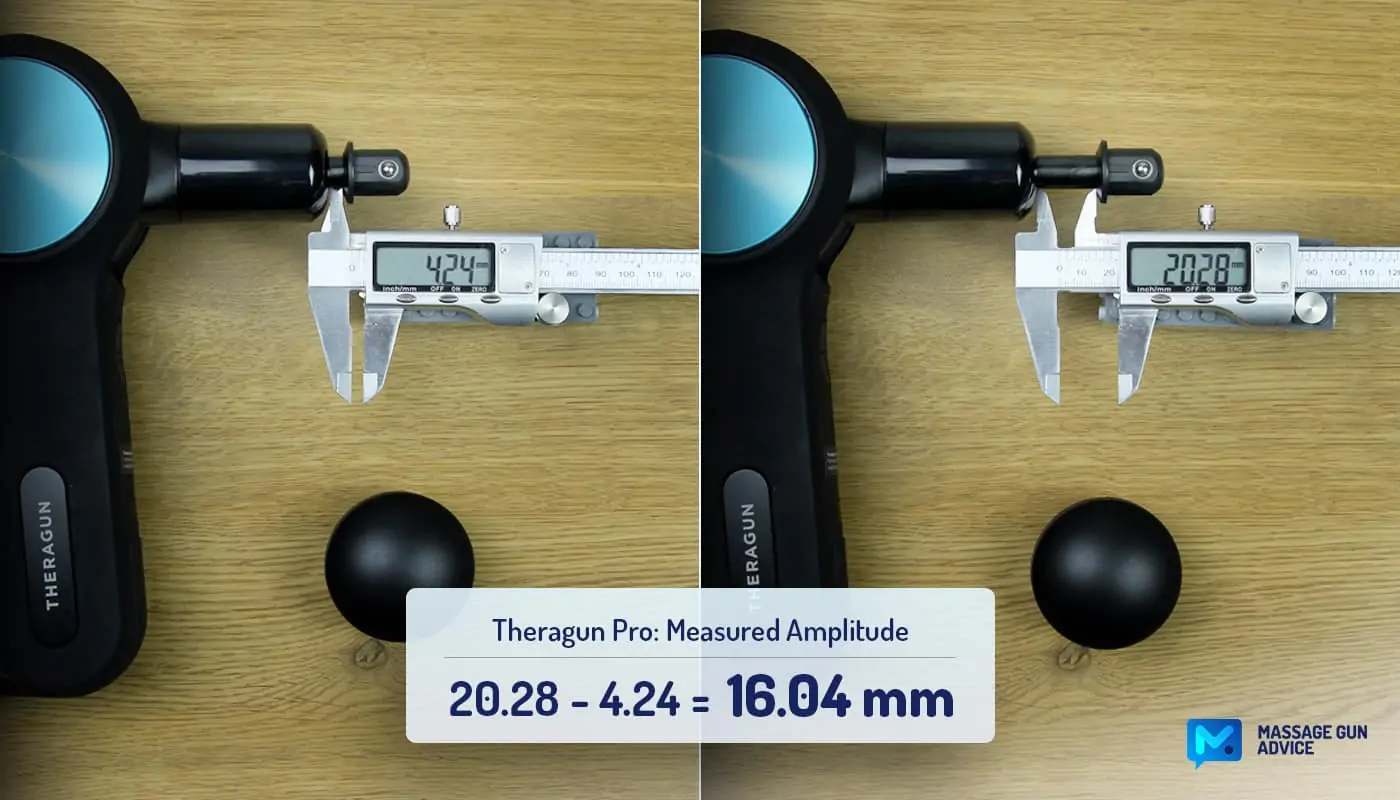 However, sometimes a high amplitude also means a reduced number of percussions per minute.
For instance, a full-sized Theragun has a 16mm amplitude but only percusses up to 2400RPM. Ekrin B37S has a 12mm amplitude but can percuss up to a whopping 3200RPM.
But in this case, the B37S makes up for the shorter amplitude by delivering more percussions – the percussions are the source of intensity here because the increased vibrations also lead to muscle tension release. Look at it as two different approaches by gym massage gun brands.
Full-Sized Massage Gun Amplitude Classification
| Amplitude Classification | Amplitude in mm | Typical Max. Percussions |
| --- | --- | --- |
| Low | up to 10 mm | 3100-3300 |
| Medium | 10-13 mm | 2900-3200 |
| High | 14-16 mm | 2300-2700 |
Full Sized Massage Gun Amplitude Classification
Our Advice

Go for a medium to high amplitude device. A 10-13mm device can be just as effective as a 14-16mm device if it has reasonable stall force (we're talking 40-60lbs.). Such a device (example: Opove Apex) can be pressed hard against the body. Fast percussions and vibrations will do the deep tissue job.

In the same breath, avoid devices that say 14-16mm yet only stall when 20lbs. of pressure is applied. We strongly don't recommend these.
Amplitude Comparison of Our Recommended Massage Guns
(*as advertised by the manufacturer; read reviews below to find how they compare to our measurements)
OUR TAKE
Achedaway Pro matches Theragun's best-in-the-business 16mm amplitude. Ekrin B37S, our top pick, has medium-length stroke length, but revs much higher instead. The Bantam may only have about 10mm, but that's respectable for such a tiny mini device.
---
Number of Percussions
We know that percussions are important for providing the much-needed intensity. Usually, the more a device can rev (3000-3200RPM) the more it feels vibrational.
But not all devices can rev faster. Some can only go as far as 2400-2700RPM. That's fine as well. Provided such a gun has a substantial stroke length (often 14-16mm), it will do the job just as effectively. The head travel is long and will provide the intensity needed for a percussive massage.
But what about devices that advertise up to 3600 percussions per minute and a 14-16mm amplitude? In our view, this is often false advertising.
When it comes to percussions, there are only two ways; a high amplitude with less frequency or a low amplitude with more frequency. There is never a third option.
We are yet to see a device with 14-16mm amplitude rev past 2700RPM – the best to ever do it is Achedaway Pro with close to 2800RPM and a 16mm amplitude, but that's an exceptional gun.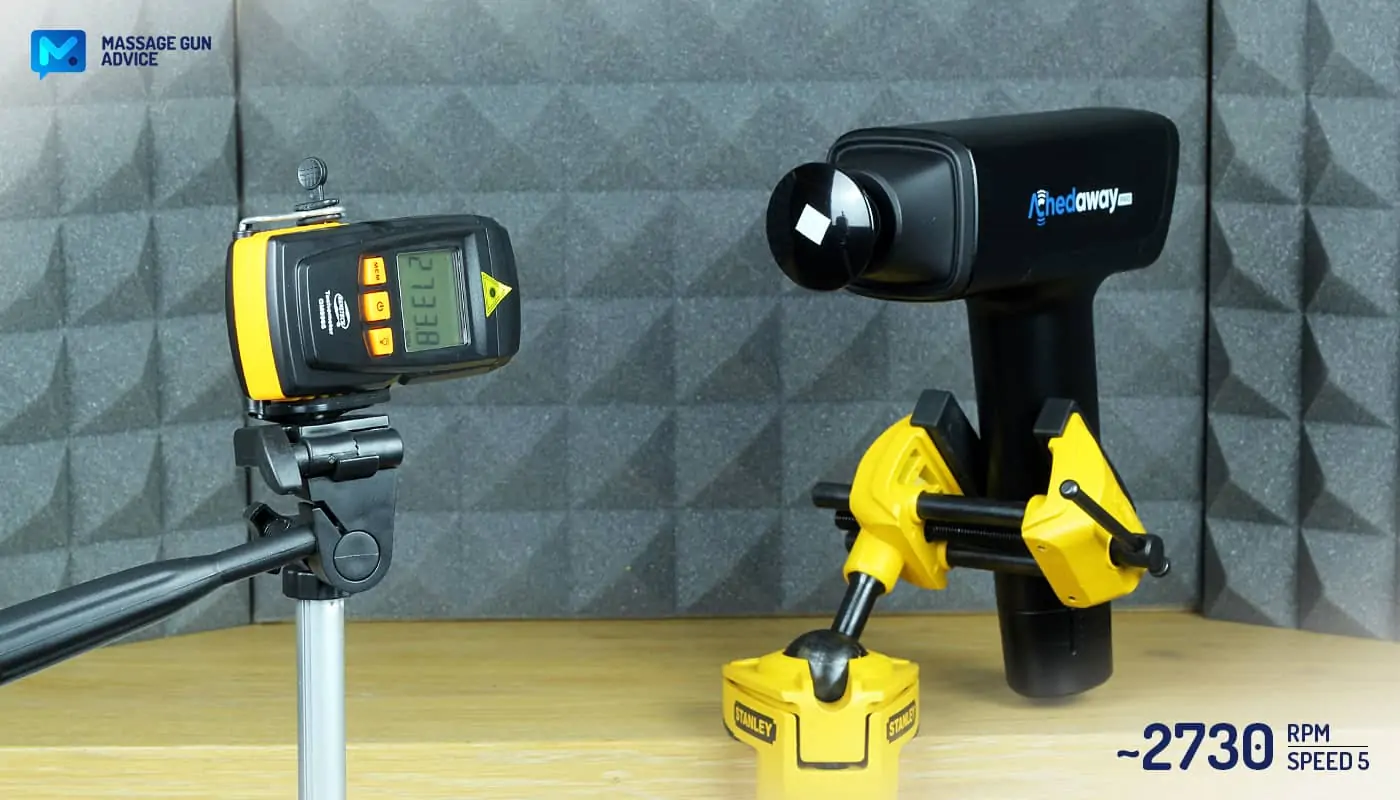 ---
Number of Programs and Speeds
4 to 5 speeds is the best setup as far as we have seen. We can accept 10 speeds for some devices (those with a wide percussion range) but not more.
Even so, 10 speeds is a lot to cycle through when you want something specific.
We also like pre-programmed massage modes, where intensity changes automatically – Ekrin B37S has this feature.
Pressure sensors are also now popular with most guns, especially the more advanced massagers (e.g. Ekrin B37S, Theragun Pro, or Hypervolt 2 Pro).
A pressure sensor aids in providing a consistent message, but it's not a must-have feature.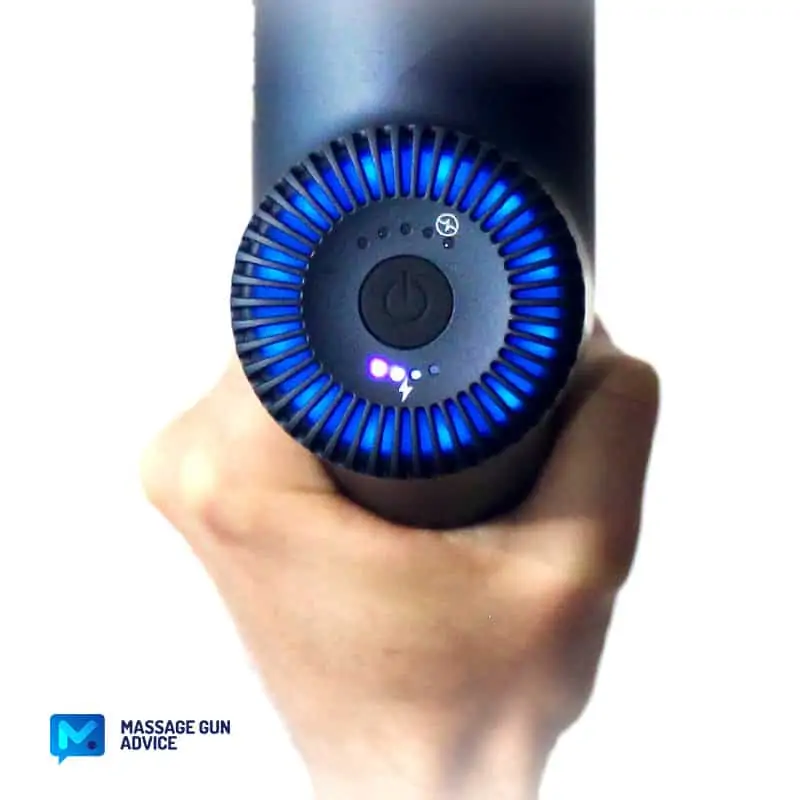 ---
Some Other Factors for Consideration
Noise: Our list only includes devices that don't exceed 60dB at high speed. This is an okay noise level to have a conversation while massaging.
Build quality: You want a device that is well put together and made with great quality material. Something that won't break when your strong clutches grasp it 😉
Weight: The sweet spot is 2.2 pounds to about 2.5 pounds. Some heavy-duty guns like Theragun Pro and Achedaway Pro weigh more, but that shouldn't be a problem for strong guys.
Size: Some more powerful guns are noticeably bigger. This is also not going to be a biggie for strong folks.
Ergonomics: We reward attempts to improve in this area, and we give more points to brands that try to be innovative.
Accessories included: We check for the number of attachments included and if there's any travel case or pouch. For attachments, 5 or 6 are often enough to massage the whole body.
Brand trustworthiness: You want to buy from a brand that cares about its customers.
Battery capacity and time on battery: This is not an issue these days as most guns can easily do 1 to 2 weeks on a single charge. Also, bigger batteries tend to add to the weight of the device.
Warranty offered: Many cheap brands only offer a 1-year warranty or nothing at all. Best brands offer a lifetime warranty.
Price or value for money: We included the best products for their prices.
---
Which is the Best Massage Gun for Bodybuilders? Our Recommendations
---
Ekrin B37S – Best Overall
Why we like it:
Versatile and powerful massage gun
Variety of attachments, including a cushioned one
Excellent quality overall
Lifetime warranty
This is Ekrin Athletics' crème de la crème device. It's a significant improvement over its predecessor Erin B37.
It has more power than that previous gun and a few added embellishments as well. It's our number one pick for bodybuilders for a few reasons.
First, it has a colossal stall force; up to 56lbs. that's the same as the previous B37, but there's 30% more power on those lower gears.
Even though the stall force is still progressive here, the lower gears can sustain a bit more pressure than the previous gun.
This is also true when you compare it to other guns. Many only achieve high stall force on the highest gear. If you want a versatile gun, this is it!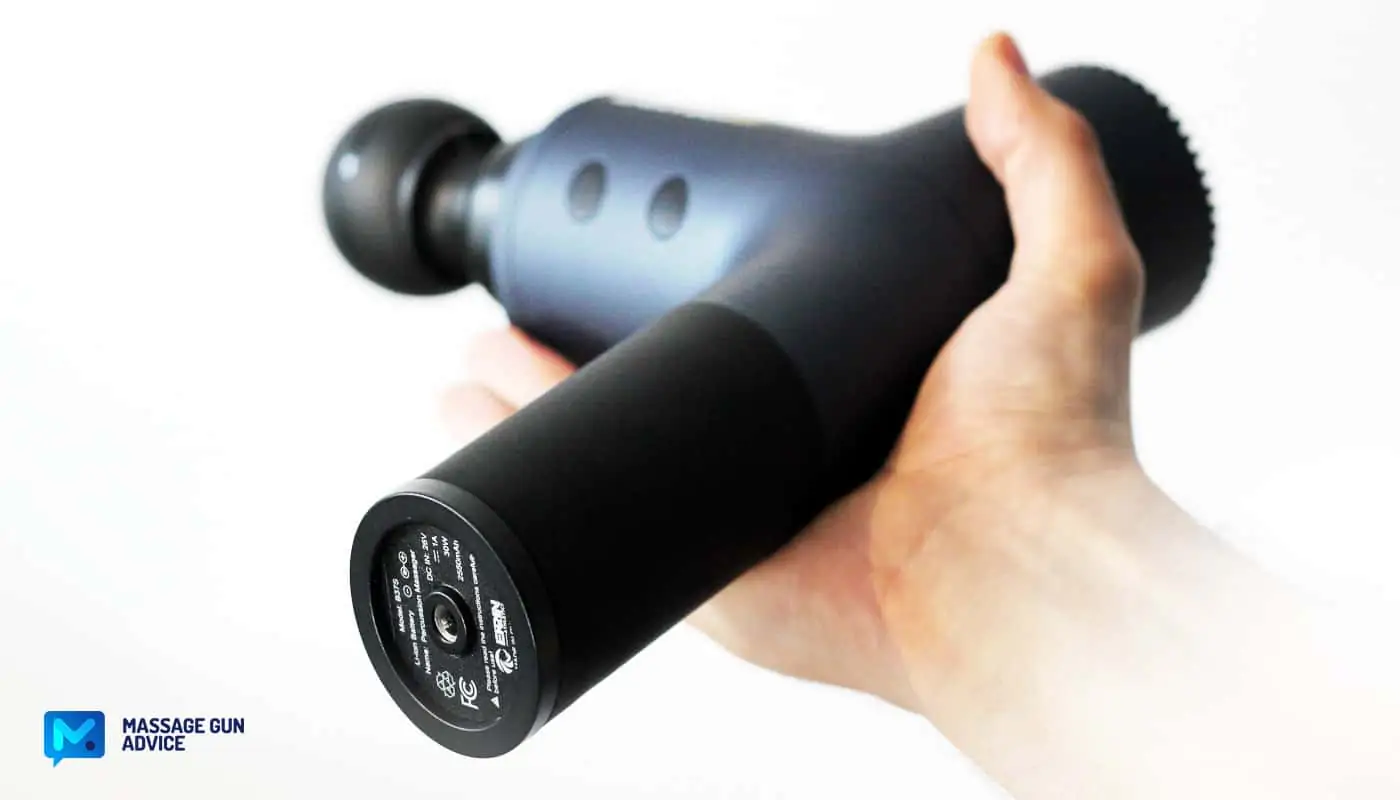 It has a medium amplitude. Yes, it isn't Theragun-like, but with the stall force and up to 3200RPM, this gun will be just as intense, if not better.
The shorter stroke length also allows for a better percussion range – 2000-3200RPM. You also get 5-speed gears to go with the range.
The 5th gear has a dynamic mode that cycles between low and high speeds.
You get 6 attachments with a "push and twist" mechanism that protects the attachment gaskets and keeps them from wearing out over time (gaskets become old and loose after a few months – we seen this happening in cheaper guns).
It has a great ergonomics handle that is slightly tilted to allow a more natural grip. This makes it great for guys with big arms trying to massage their backs.
The retroactive force meter marked with an LED ring at the top helps you control the pressure you are applying.
The device weighs 2.2 pounds and is very hushed. You get a 2550mAh battery that lasts 10 days or more on a single charge.
You also get a lifetime warranty and lifetime incredible customer support.
HOLIDAY SALE
Get a whooping $100 OFF the top-shelf Ekrin B37S massage gun. Only $231.00, down from $329.99. Grab the deal now!
The device usually costs $329.99, but with the code MGA20, you can get it for $263.99 – a 20% discount.
Read More For more information, refer to our hands-on Ekrin B37S review
---
Achedaway Pro – Powerful and Punchy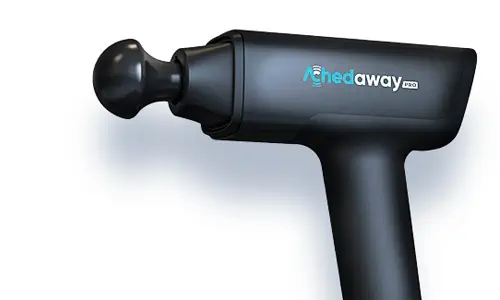 Why we like it:
Impressive stall force
Great size and ergonomics
Excellent quality overall
Accessories
Achedaway Pro is the quintessential massage gun for weightlifting. It's not as versatile as the Ekrin B37S we just described, but it's nothing short of robust.
It has a high amplitude and, get this, up to 80lbs. of stall force. Well, it's more or less about 60-70lbs. but still a lot for a massage gun. For comparison, Theragun Pro (the top Theragun) has 60lbs.
That said, the 16mm amplitude is the highest in the business – rivaled only by the Theraguns. That means Achedaway Pro is the go-to massage device for folks with a lot of muscle.
It can hit deep and provide a true percussive massage. Also, with the long amplitude, you won't need the max 3200RPM of the Ekrin B37S. This one has a range of 1700-2800RPM – very impressive (Theragun "only" revs up to 2400).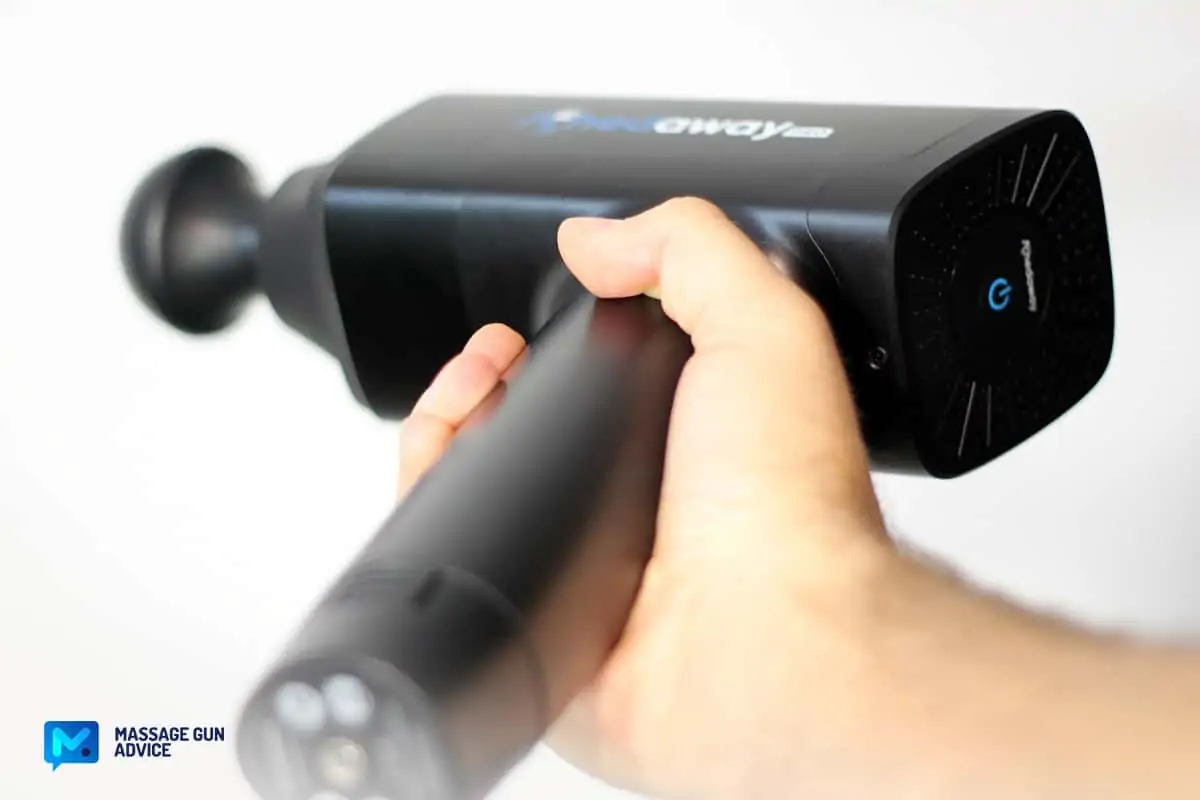 It comes with a 5-speed setup just like Ekrin B37S but has no dynamic mode.
It also doesn't have a pressure sensor, but it has a detachable battery.
This means you can purchase it with a spare battery and never run out of juice. The battery is a 3200mAh capacity but drains faster than Ekrin B37S's.
It will take about 2-4 hours of continuous use before you may need to recharge it. That means Ekrin B37S's battery can last longer under the same conditions. However, that shouldn't be such a biggie if you can get a spare battery.
It's quieter than Ekrin B37s – emitting just 45dB at the lowest gear and slightly over 60dB at the highest speed. It's one of the quietest devices out there.
The more power and bigger battery mean additional weight, so expect 2.6 pounds here – which is still okay.
If you want to buy it, you will have to part with $299, or even better, use the MGA60 coupon and get it for $239 instead – a $60 discount. The Achedaway Pro comes with a 2-year warranty.
Read More Check out our hands-on Achedaway Pro review.
---
Opove Apex – Affordable High Amplitude Option
Our testing impressions:
14.5mm amplitude & ~45 lbs of power
6 high-quality attachments
Excellent ergonomics and grip
Great value for the price
The Opove Apex is the second best device on our list as far as high amplitude goes. If the 2 picks above seem a bit expensive, this is the reprieve you want.
It doesn't have as much power as any of the two we just looked at – only about 45lbs. – but it has a lot else going for it.
For starters, it has a very good amplitude and stall force combination.
The amplitude is 14.5mm, and the stall force of 45lbs. is good territory for a weightlifting massage gun. Even though the stroke length will be 1.5mm less punchy compared to Achedaway Pro or Theragun, it can still provide a true deep percussive massage.
The advertised percussion range is up to 2800RPM, but our measurement gave us a range of 1800-2300RPM. This is still not as great as any of the two above, but it can still do the job.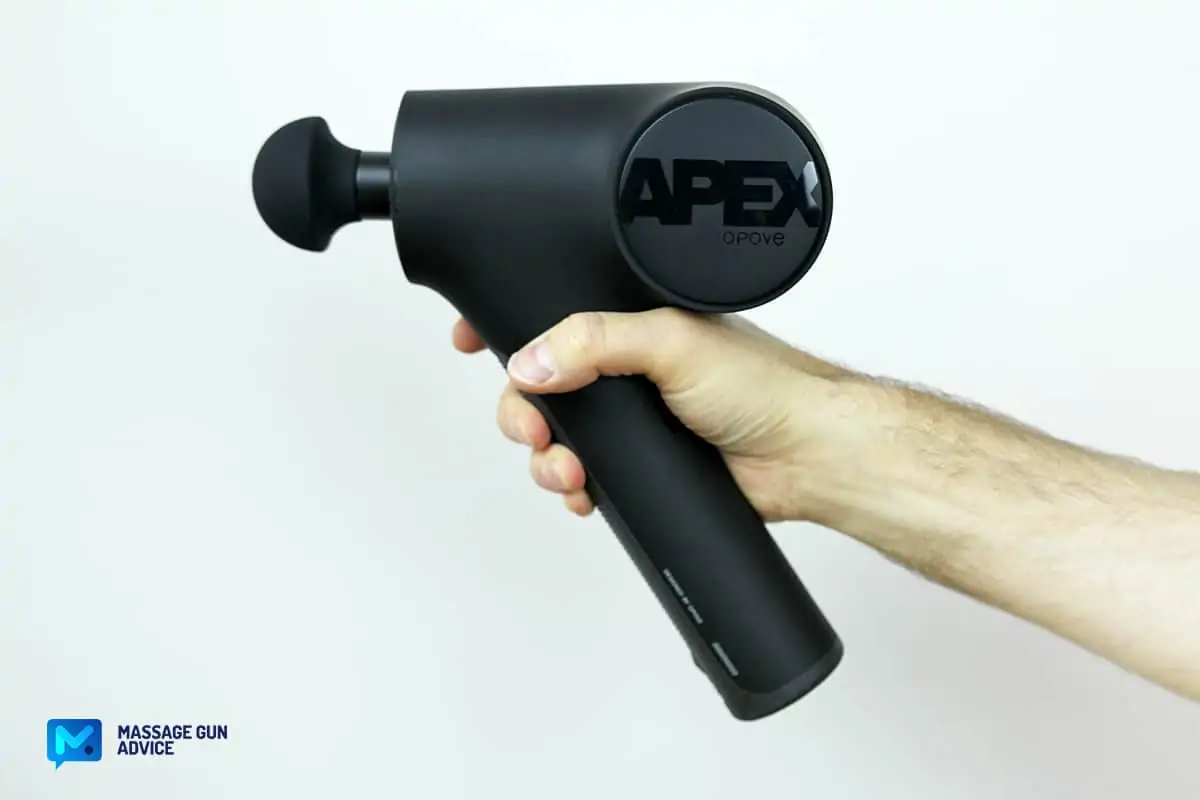 Apex's best feature is ergonomics. The weight distribution is great, and the handle is aggressively tilted to allow for an even greater hold than Ekrin B37 and Achedaway Pro.
It's also a very quiet massage gun that revs between 59dB to 60dB. It has a great battery that will last a whopping 3 weeks if you use it normally. It also comes with 6 attachments and a nice carrying case.
You won't get a lifetime warranty here as you would with the Ekrin B37S, but a 1-year warranty. A bit of a bummer, but great if you consider the price.
Overall this is a basic but very effective device. You will need to have at least $199 to buy it. However, last we checked opove.com, there was a promo price of $159
That makes it a great value high-amplitude and powerful device.
Read More Our in-depth Opove Apex review
---
Lifepro Dynaflex – Affordable and Adjustable Option

This is a heavy-duty Lifepro gun. Lifepro is a well-known and trusted fitness brand. It has solid specs and comes at a reasonable price.
We love the 13mm amplitude combined with about 40lbs. of stall force. It also has a percussion range of 1500- 3000RPM. This is an impressive range for a device of this nature.
With this kind of setup, this device can still provide a true deep percussive massage. The only bummer in the setup are the 16-speed gears. Those are too many to cycle through, but we believe it is because of the wide percussion range.
It's great elsewhere too. The arm can be adjusted into 4 positions (the positions fix firmly). The positions are 0, 30, 60, and 90-degree angles. This is important when you want an extended reach as you massage yourself.
However, the handle isn't rubberized to increase the grip. Even so, it still holds well.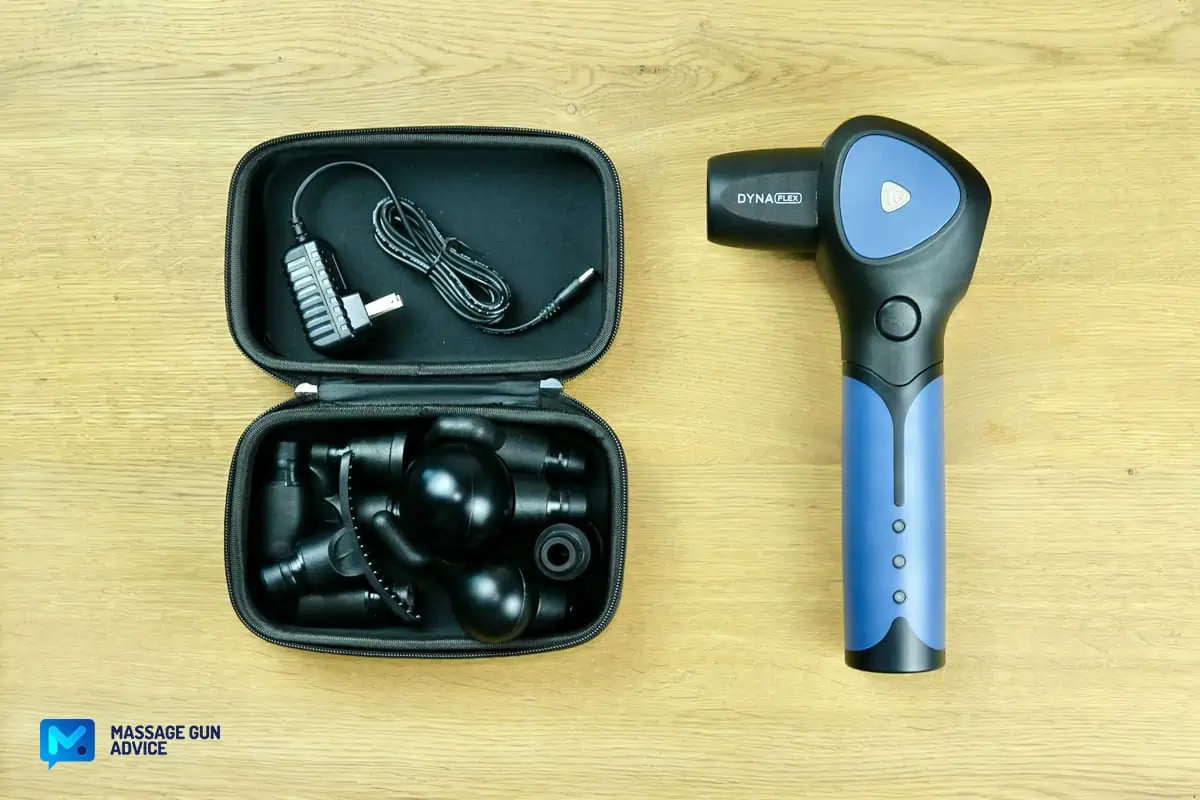 But why rank it below the others?
It looks bulky, but some bodybuilders may not mind.
It looks a bit "raw" and not as high-quality as the picks we just mentioned.
It has no extras like a pressure sensor or a dynamic speed mode.
It may be reasonably quiet, but the others are quieter.
It still ranks here because;
It definitely has the power bodybuilders need.
Lifepro is a proven fitness brand with great customer support.
It has a lifetime warranty just like Ekrin B37S.
It has great accessories – you get 10 attachments and a carrying case
It only costs $199.99, but use the

MGA10

code here at lifeprofitness.com to enjoy a 10% discount. You will then pay $179.99.
Read More Check out our hands-on Lifepro Dynaflex review.
---
Ekrin Bantam – Best Portable Massager to Take to the Gym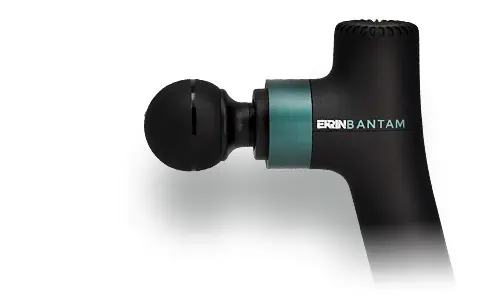 Why we like it:
Compact but powerful, up to 3200rpm
Great size and ergonomics
Excellent quality overall
Lifetime warranty
The Bantam is for those who need something compact yet reasonably powerful. This is probably the strongest mini device out there. Plus, it's small enough to fit into any workout bag, so you can easily take it with you for your gym training sessions.
It's tiny but mighty, more powerful than the Hypervolt Go 2 or Theragun mini (you will find direct comparisons in both reviews).
That is because it has a 35lbs. stall force and almost 10mm amplitude.
The other two don't even have half that kind of stall force. Theragun has a 12mm amplitude but lacks massively in stall force. It also revs like the bigger Ekrin B37S with a similar range of 2000-3200RPM.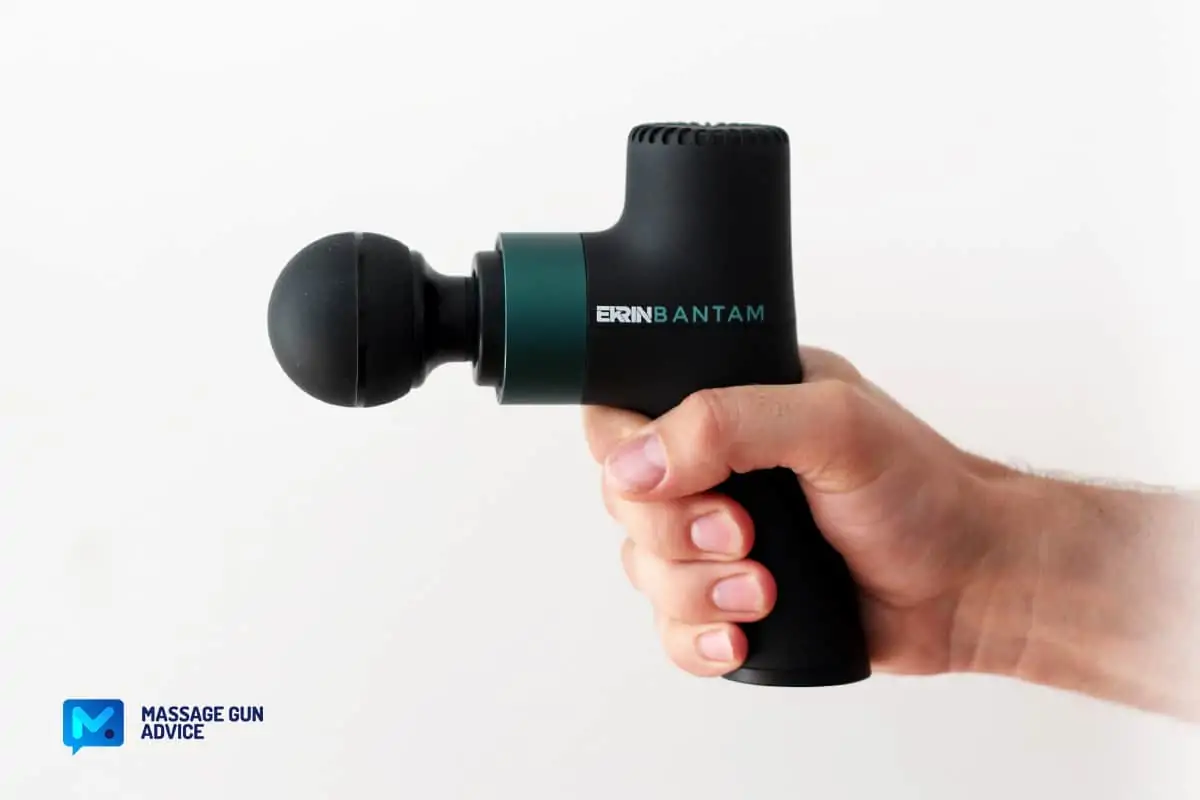 It's a very light device that weighs only about 1.1 pounds.
It also comes with a very impressive battery that can last over a week if used moderately. It's also the only gun on our list that charges via USB-C – USB-C charging is so convenient.
You also get 4 attachments for different muscle groups and a carrying case.
Overall, it won't outperform any of the full-sized devices we just talked about, but for a mini massage gun, it's hard to come up with better specs than this.
You can buy it for $149 or use MGA20 and spend 20% less, which makes it only $119.
Read More Be sure to check out our in-depth Ekrin Bantam review.
---
Are Theragun and Hypervolt Right for Heavy Lifters?
Both brands are huge and deserve a place in this post. Bodybuilders and power / weightlifters can benefit from products from any of these two giants – if you have the budget.
Even so, which one should you go for? Which model is the best from aby of the two?
---
For Theragun: Pro is the Strongest, but Elite is More Reasonable
---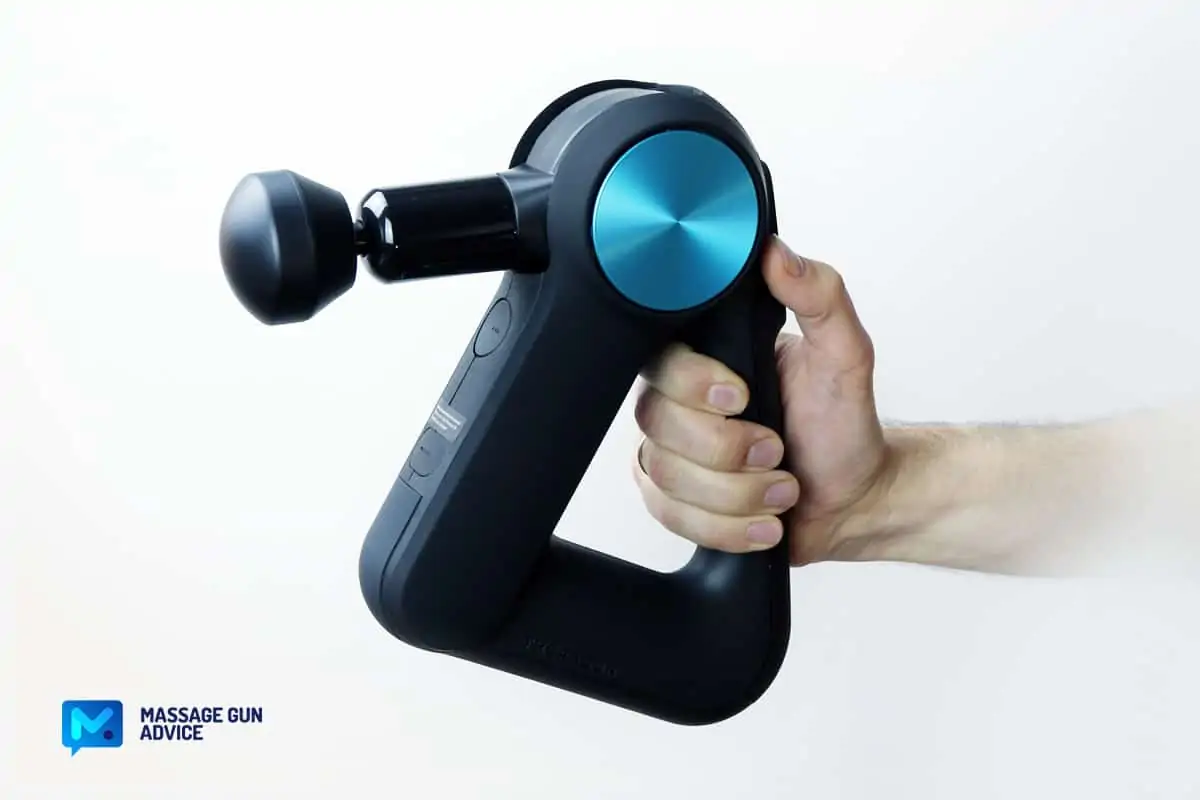 Theragun Pro is the most advanced percussive massager out there, but there is a good chance you won't need the rotating arm and the dual batteries.
But Theragun Pro also has 60lbs. of stall force and matches out Achedaway Pro.
However, are you willing to pay more than twice the Achedaway price for one? It costs a lot to buy a Theragun Pro.
---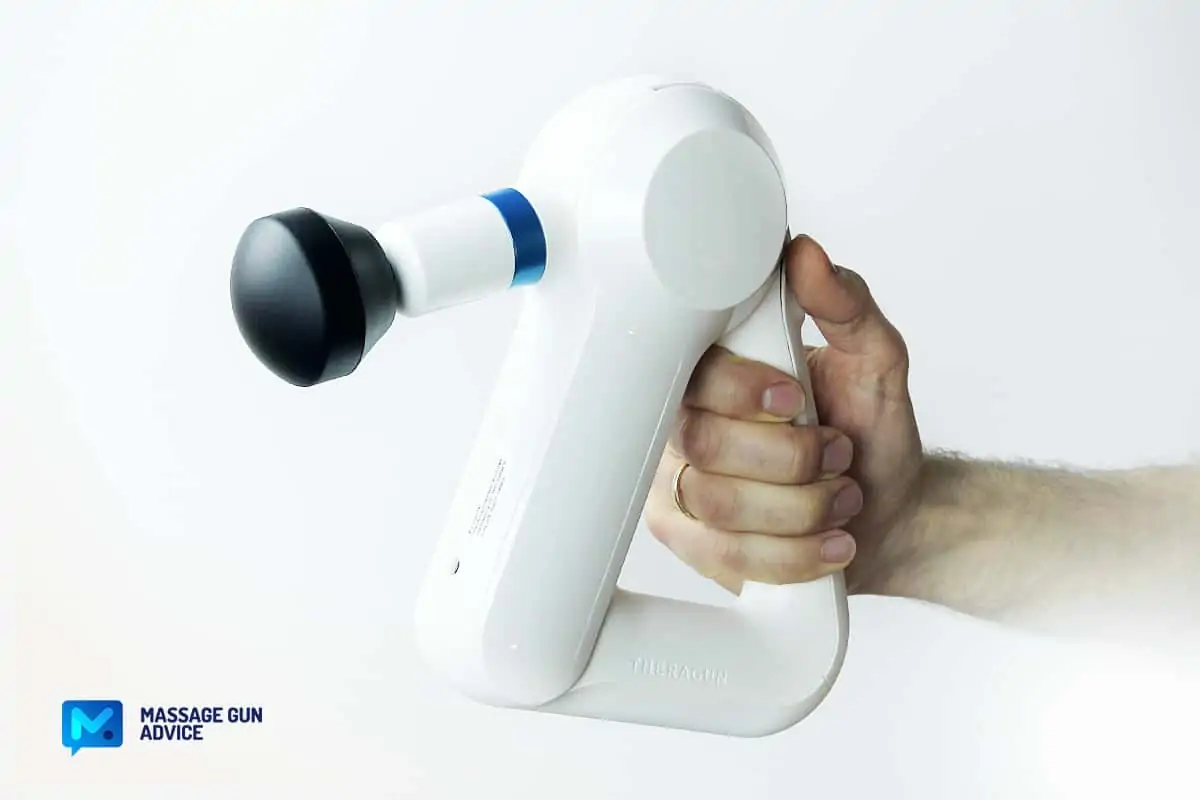 Theragun Elite, on the other hand, is 30% cheaper than its luxurious compatriot.
Besides, it's powerful enough for most users – unless you have some really strong and stubborn muscles that need to be targeted directly.
Elite has the same long 16mm amplitude (just like Theragun and our Achedaway Pro). Therefore, Elite will provide enough punch to treat those tired muscles after a tough workout and get rid of muscle knots as well.
---
Both Pro and Elite:
Can do 1750-2400RPM, which is not as good as Achedaway Pro, but efficient nonetheless.
Have an OLED display and a built-in force meter.
Have Bluetooth connectivity that allows you to work with the excellent Therabody app.
Have 5 built-in speeds and adjustable ones that are controlled via the app.
You get 5 attachments with Elite and 6 attachments with Pro.
CYBER MONDAY
Theragun Sale is here! Enjoy up to $250 off select Theraguns, along with more deals on recovery tech. Now FSA/HSA eligible! Browse the deals here.
Cons
These two are probably the loudest guns in this entire post. Theragun Pro will exceed the 70dB mark. Elite isn't the quietest gun either. Compared to Achedaway, Ekrin B37S, and Opove Apex, these are simply too loud.
The battery is so-so. You get only 2-3 hours of use for either. Plus, Elite doesn't have a detachable battery as the Pro does.
Elite is pricey. You will need to choke up $399 to get one. If you have that kind of money, you can get the Achedaway Pro and a spare battery and still keep $90 as a pocket change when you apply the

MGA60

coupon.
None of them come with a lifetime warranty. Elite has a one-year warranty, the Pro has a two-year one. We believe it should be a lifetime considering what you are paying.
You can read more about these two in our respective reviews: Theragun Elite Review and Theragun Pro Review.
---
For Hyperice: Hypervolt 2 Pro is the Only Adequate Choice
There are no ifs, buts, and maybes here. We believe only Hypervolt 2 Pro deserves a dime from any serious weightlifter or bodybuilder.
That's because Hypervolt 2 and the Go 2 are too weak (we'd rather you go with Theragun Prime and Theragun mini instead). The two Hypervolts do not have enough stall force.
Hypervolt 2 Pro will get the job done even though it's probably the easiest to stall in this post. It has about 35lbs. of stall force – our own estimate since Hyperice never discloses that information. That said, the stall force will still work for some people.
The amplitude of the Hypervolt 2 Pro is the positive thing about it. With 14mm, it is like the Opove Apex and falls just shy of both Theraguns and Achedaway Pro.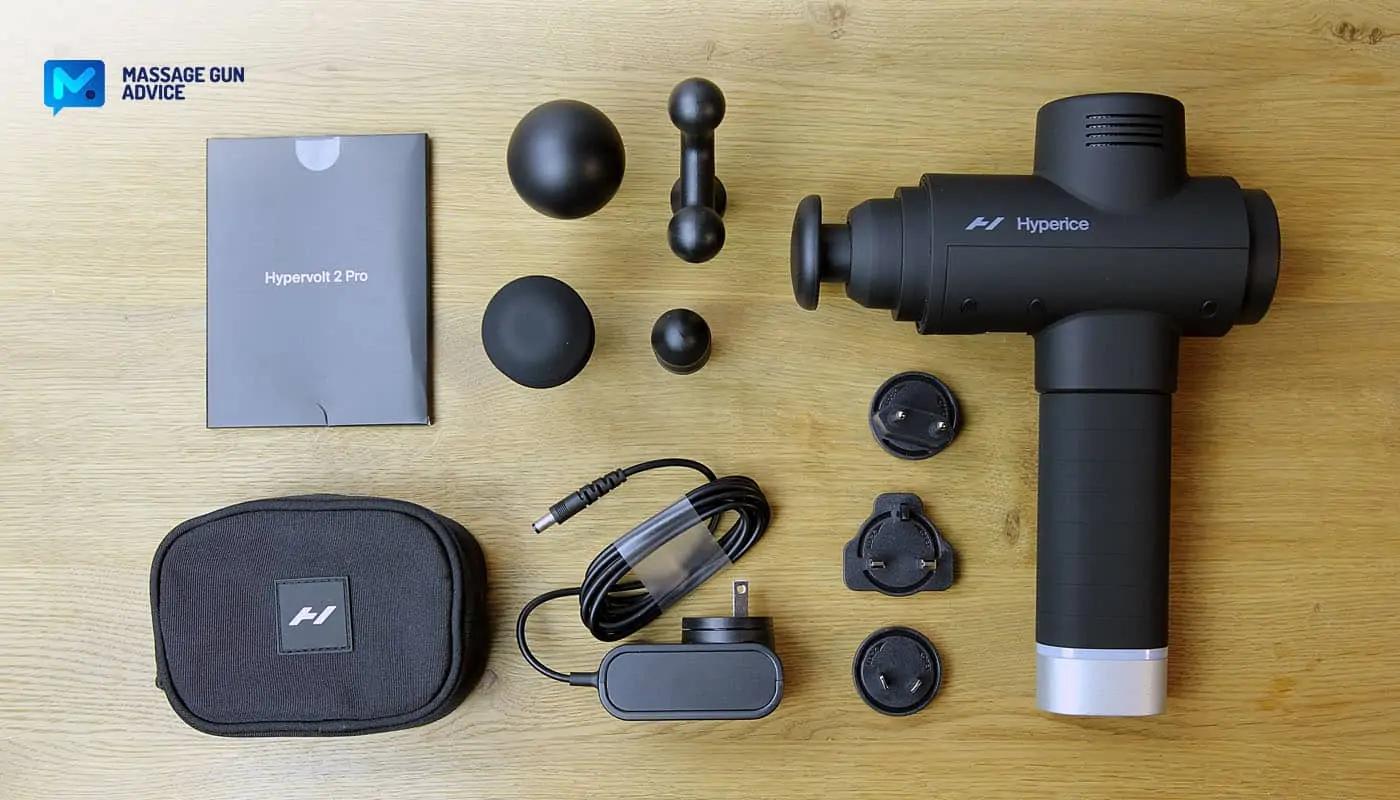 This is a solid device, no doubt, but it falls short in certain areas;
The performance isn't as great as we just mentioned.
The ergonomics aren't that impressive, considering what the competition is offering. Ekrin B37S and Achedaway Pro both have slanted handles. Theraguns have the best ergonomics in the business.
The battery performance isn't great. But the battery is detachable, and you can use a spare.
There is only a 1-year warranty. Some of our picks have a lifetime warranty.
At its price point, apart from Bluetooth connectivity and compatibility with the Hyperice app, the device itself doesn't offer anything special that our best picks don't already offer. Besides, our picks offer the best bang for the buck.
---
Summary
So there you have it. We've laid out some top picks to help you find the best massage gun for your weightlifting or bodybuilding needs.
However, if you have to go with a Theragun or Hypervolt (they have the hype), then Elite will work best, while Hypervolt 2 Pro will also do the job as well. Just take note of the cons we mentioned for both guns.
Have a question? Drop us a comment below!
Was this article helpful?
Thanks for your feedback!
Post Update History
Here's a quick rundown of all the tweaks and edits we've made to this article to keep it accurate and up-to-date!
Current version last updated on:
October 26, 2023 Large content update to better address readers' needs and clarify information. Also added Opove Apex as a high-amplitude, budget-friendly option. (Author: Greg)
September 16, 2023 Minor content update for better readability and experience. (Author: Greg)
•
Written by:

Luke Deszczulka
Disclaimers
The views and opinions expressed on this website are those of the authors. Any content provided by our bloggers or authors are of their opinion and are not intended to malign any religion, ethnic group, club, organization, company, individual or anyone or anything.
All product names, logos, and brands are property of their respective owners. All company, product and service names used in this website are for identification purposes only. Use of these names, logos, and brands does not imply endorsement.
It is our policy to make every effort to respect the copyrights of outside parties. If you believe that your copyright has been misused, please provide us with a message stating your position and we will endeavor to correct any misuse immediately.
Some of the links in this post are affiliate links. As an Amazon Associate, we earn from qualifying purchases. This means if you click on the link and purchase the item, we may receive an affiliate commission, at no extra cost to you. This helps us keep this website alive. Learn more here.
Amazon Disclosure
massagegunadvice.com is a participant in the Amazon Services LLC Associates Program, an affiliate advertising program designed to provide a means for sites to earn advertising fees by advertising and linking to Amazon.com. As an Amazon Associate, we earn from qualifying purchases. Amazon and the Amazon logo are trademarks of Amazon.com, Inc. or its affiliates. Please refer to our Privacy & Affiliate Policy for details.