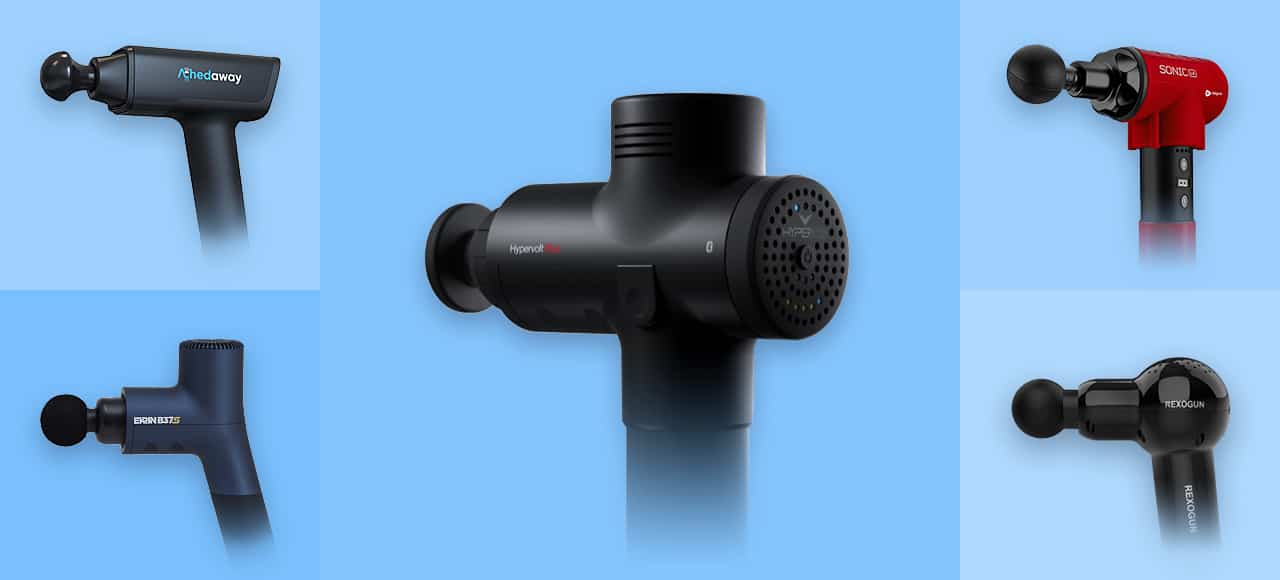 Best Hypervolt Alternative: What Else If Not The Hyped Hypervolts?
Disclaimer: Our content is unbiased, non-sponsored and fact-checked. If you buy via links on our site, we may earn a commission. As an Amazon Associate, we earn from qualifying purchases.
---
What is the best Hypervolt alternative massage gun? We know all about Hypervolts fame, but are there any devices from competitor brands that can rival them? Well, even though Hypervolts are already giants in the massage gun field, we're almost certain there are plenty of other devices that can take their place.
How easily though? Well, we have to applaud Hyperice for their T-shaped massage gun invention. Back when nobody even thought about it. They own a number of patents related to the very first product.
They are also listed as an Official Recovery Technology Partner of the NBA, NFL, MLB, UFC, PGA Tour and lately U.S. Soccer Federation. Pretty impressive!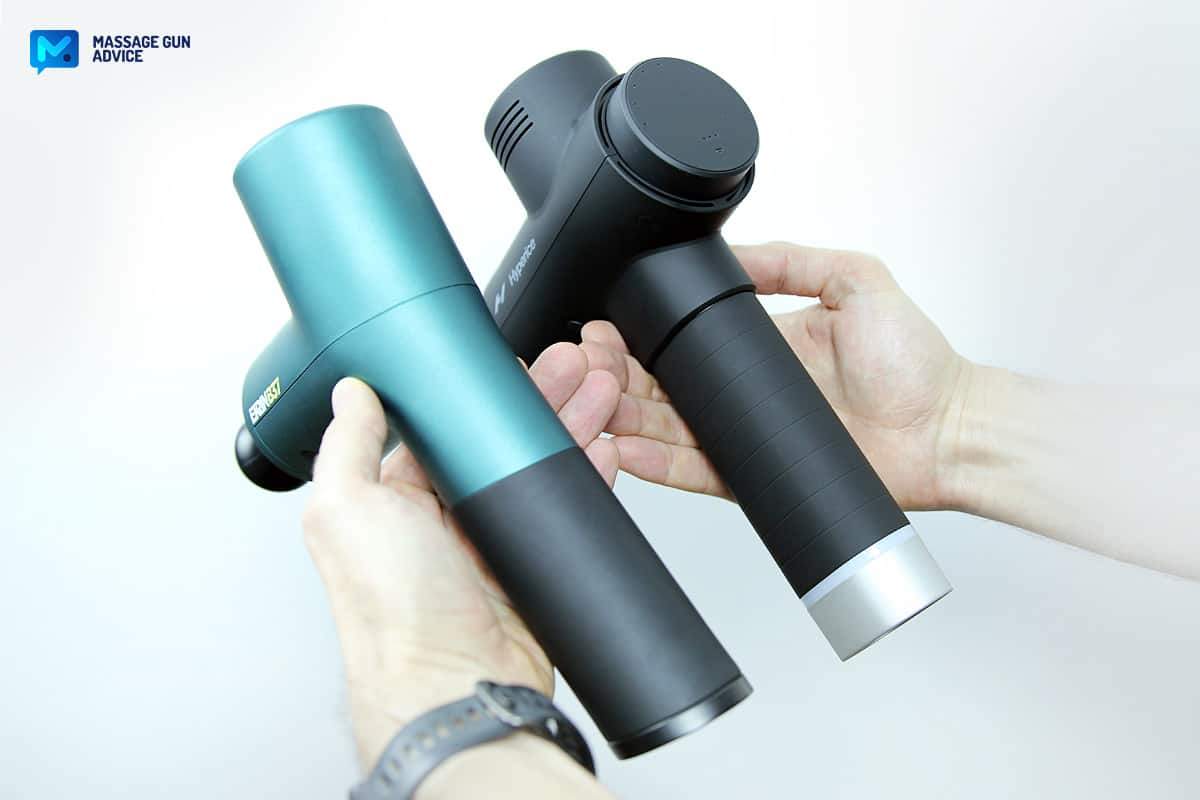 However, Hypervolts are high priced devices. That is reason enough for people to want to look elsewhere. Fortunately we know the massage gun market in and out and can provide such people with a list of affordable Hypervolt alternatives.
We have handled and reviewed dozens of these devices and can confidently suggest not just alternatives, but the best devices in 2022. Some of them not only match Hypervolts, they even better the mighty Hypervolts.
Read on to find out!
---
---
In a hurry?
We recommend reading through the post to find out why we think these products are good alternatives. But, if you are short on time and can't go further, we suggest checking out these Hypervolt alternatives:
Ekrin B37 and B37S as alternatives to Hypervolt and Hypervolt Plus. The Ekrins have more power, better ergonomics, and come with a lifetime warranty. They also come at a better price than the two Hypervolts (apply the

MGA20

coupon code).
Addsfit Mini Pro or Ekrin Bantam as alternatives to Hypervolt Go. These two are also more powerful and better equipped than the Hypervolt Go.
---
What are the key reasons to opt for Hypervolt alternatives?
Apart from being expensive, Hypervolts have a number of cons that cannot be ignored:
Their so-so ergonomics. The 90-degree handle is known to cause tension in the wrists especially during longer massage sessions. Despite being copied for a while, some brands have figured out a way to better the ergonomics on their devices.
The increased weigh. Another thing that sticks out like a sore thumb in Hypervolts' repertoire is how heavy they are. Many full-sized massage guns tend not to go over the 2.3lbs mark. The lightest Hypervolt weighs 2.5lbs while the Plus weighs 3.0lbs.
They have only 3 speeds. For some reason Hyperice decided that 3 speeds is enough for all their massage guns. While this may not be a deal-breaker – probably just a different approach by the company – we've often found that 5-6 speeds is optimal for most devices. Especially when such devices can rev at a high intensity (sub – 2000 rpm to over 3000 rpm).
Battery performance. Hypervolt batteries perform rather so-so. The time on battery is simply not as good as some of these alternatives. Even though the full-sized Hypervolts have removable batteries that can be replaced with spare ones, it would still be better if the batteries could last for more than a mere 2.5 hours (sometimes just 2 hours). Many of these competitors have batteries that can go for up to 6 hours before a second charge is needed.
No carrying case included. Many brands include a carrying case with their devices, something we appreciate a lot.
Poor warranty. The Hypervolts will not offer anything over a 1-year warranty, even though they are costly. Brands like Ekrin offer a lifetime warranty.
---
Opting for an Alternative to Hypervolt – Vibrational vs Percussive
Before we list some products like Hypervolt, we should remind you that the two full-sized devices have some key differences to keep in mind.
Both the first Hypervolt and the new Hypervolt Plus, are built to be percussion massagers. However, the original device was marketed by the company as a vibrational therapy device – providing more like surface-level massage.
That means that it has:
A low amplitude. Amplitude is the massage head travel distance, measured in millimeters. The first Hypervolt has a 10mm stroke length. While this is enough to do some vibrational treatment like get the blood going, reduce soreness and even generally improve recovery, it's not nearly enough to provide a deep tissue massage, which is why people buy massage guns to begin with.
A stall force of only about 35lbs. which to be honest is not really that bad, but coupled with a 10mm amplitude, it makes the device pretty feeble. This means the original Hypervolt isn't strong enough to perform a deep percussive massage – especially on denser muscles.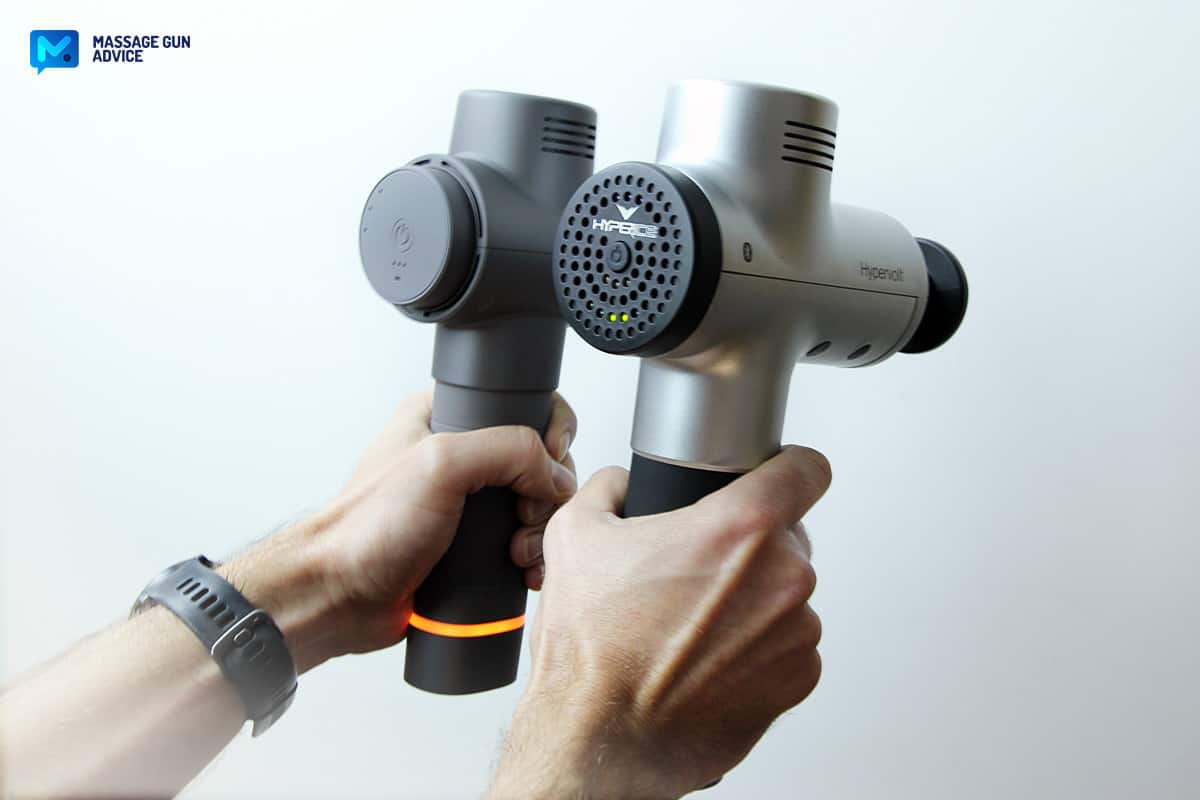 That said, when the Hypervolt Plus was released in 2020, these gaps were addressed. While the two devices look indistinguishable – at least according to design (nothing changed other than the black color) – there were improvements where it mattered most. The performance of the new device was bettered.
The amplitude increased by 40% to 14mm (Hyperice doesn't disclose this information, we had to do our own measuring). While this is not the 16mm longest amplitude you get with Theraguns, it's good enough for a deep tissue massage. The new Hypervolt 2 Pro has the same stroke length.
The no-stall force was increased by 30%. As a result (better amplitude factored in), Hypervolt Plus can be considered a professional-grade massage gun. Not only can it hit harder with deeper punches, it can also be pressed against the skin without stalling easily. This is perfect for big folks and pro athletes who prefer a deep-to-the-bone massage.
If you would like more information on how Hypervolt Plus differs from Hypervolt Bluetooth, we covered the topic extensively in our Hypervolt vs Hypervolt Plus post.
Nonetheless, the key takeaway here in the context of looking for the best alternative to both devices is that the original Hypervolt was a vibrational device. Hypervolt Plus on the other hand, is a true percussive device that is able to provide deeper hits and a more intensive massage.
We tried our best to list alternatives that have similar characteristics to both devices.
In September 2021, Hyperice unveiled two second generation devices. Read our Hypervolt 2 Review and Hypervolt 2 Pro Review to see what we think of these new massagers.
---
What Hypervolt Alternatives Won't Get You
One obvious thing that you are going to miss if you opt for these Hypervolt alternatives is the Bluetooth compatibility that allows the device to connect with the Hyperice app. We described the app in detail when we covered the Hypervolts' individual reviews.
For now, it suffices to say that with the app, you get to watch how-to videos and guided routines. The app can also take over the device and change the speeds automatically. So, even though there are rumors of some of these alternative brands working on their own app, for now you'll have to do without it.
Our Take
One thing we can tell you however, is that as much as the app functionality is an awesome thing, you probably won't need it – it's not a must-have. Once you get used to a particular device after a few sessions, then you don't need the extra app help that the app offers.

You can also read our how to use a massage gun post for some useful insights. Also, only the full-sized Hypervolts have Bluetooth connectivity, the Go doesn't have it.
---
Best Alternatives to Hypervolt Bluetooth
These are vibrational-type devices with the similar characteristics as the original Hypervolt.
---
Ekrin B37 – Best Choice
Ekrin B37 deservedly takes the best Hypervolt alternative spot, at least as far as that original device is concerned. What makes it the perfect replacement is that it has everything lacking in Hypervolt Bluetooth, and perhaps a bit more.
For starters, it has better ergonomics. If we had a chance to remake the original Hypervolt, the first thing we'd do is copy the slanted handle on Ekrin B37. As we have already seen, the T-shaped configuration isn't the best for long massage sessions.
Another thing we'd change (or perhaps correct) is the weight – make it lighter, just like Ekrin B37 which weighs just 2.2lbs compared to 2.5lbs for Hypervolt Bluetooth. The extra ounces really count when you want a long massage.
In terms of performance, Ekrin B37 has better specs; 12mm amplitude and 56lbs. of stall force. This is an awesome combination that makes Ekrin B37 a different proposition perhaps.
With 12mm, it's not really the highest amplitude, but it's better than the 10mm on Hypervolt. With the increased stall force, pressing this device against the body is not going to be a problem.
Intensity is the same between both devices (3200 maximum rpms). But we would go with Ekrin B37 because of the lower initial rpms. Instead of starting off at 1800 rpms, the B37 starts slower at 1400 rpms. It has 5 speeds (perfect for a full-sized massage gun) compared to just 3 on the Hypervolt.
We would've hoped for a pressure sensor on this one but Ekrin chose not to include it. The battery is Samsung branded and well juiced. It's not noisy at all – similar levels to Hypervolt Bluetooth. It comes with a lifetime warranty and lifetime customer support.
It normally costs $229 but you can get it for $183.99 if you use the MGA20 coupon code (gives 20% off). Get it in Ekrin's store here.
TIP Read the full Ekrin B37 review →
---
Lifepro Sonic LX Professional – Hypervolt Cheaper Alternative

This one doesn't have the same awesome performance specs as Ekrin B37, but it's way more affordable with more or less the same features as Hypervolt Bluetooth.
For starters it has the same T-shape configuration. However, it has a better stroke length compared to Hypervolt – 12mm. The stall force is perhaps in the same range as Hypervolt Bluetooth. They say the motor is 72 Watt – stronger than Hypervolt's 60 Watt motor. Ekrin beats them both here and can perform better than both devices.
Surprisingly though, Lifepro Sonic LX professional can rev higher than both Hypervolt Bluetooth and Ekrin B37. It has up to 3400 maximum rpms. It does, however, have 9 speeds which sometimes can feel a bit overdone but not as bad if you are willing to be patient with it.
It's a lighter device (2.2lbs same as Ekrin B37). It has 7 awesome attachments, including 2 metallic ones. It has a better battery – can last for 3-4 hours with the first charge. It also has a carrying case included.
Apart from being affordable, the LX Professional is a quality device from a quality brand. Lifepro will give you a lifetime warranty for this device – it's just 1 year with Hypervolt.
Normally you'd buy it for $199 but if you use the MGA10 coupon you can get it for just $179 (10% off). Get it right here.
TIP Read our complete Lifepro Sonic LX review →
---
Best Hypervolt Plus Alternative – Top Picks
---
Ekrin B37S – Best Choice

Hypervolt Plus is a nice and strong device and would perhaps need an equally stronger competitor to match it. Ekrin B37S is that stronger competitor.
It's the second device from Ekrin after the B37. It's an improvement of that earlier device. Ekrin made a number of noticeable alterations to this new device but the one noticeable change is the power added to the speed gears.
The B37S has the same 56lbs. of stall force at top gear as its predecessor. What makes it special, however, is that whereas the original B37 had somewhat weaker stall force at lower speeds, this one has 30% more power at those lower speeds.
Ekrin chose to stick with the same 12mm amplitude as the original device. Note here that it's lower than Hypervolt Plus's 14mm amplitude. But the higher stall force makes up for this.
It has 5 speeds, with the 5th speed being a dynamic one. It has the same percussion range as Hypervolt Plus – 2000-3200 rpm. Ergonomically it's the better choice with the angled handle which allows for a more natural hold. It's also lighter than Hypervolt Plus (2.2lbs vs 3.0lbs).
It has a really well done pressure sensor that we praised in the individual review.
The battery is still non-removable in this one but one charge can last up to 8 hours. Noise levels are similar to Hypervolt Plus. It has 6 nicely varied attachments and comes with a lifetime warranty.
Instead of paying the full $329 for it, you can use the MGA20 coupon and get it for $263.99 (20% off). Get it in Ekrin's store right here.
TIP For further information, read the full Ekrin B37S review →
---
Achedaway Pro – Runner Up
Here is an even more powerful Hypervolt alternative. The Achedaway Pro doesn't compromise when it comes to performance. This gun has a 16mm amplitude – right up there with Theraguns and 1-2mm longer than what Hypervolt Plus has.
It's also very powerful with over 60lbs. of stall force – Achedaway overstates it in their advertisement as 80lbs. of stall force, even so 60lbs. is the perhaps the highest stall force in the business today.
It doesn't rev as intensely as Hypervolt plus – just 1700-2800 rpm. That is perhaps because of the long amplitude. It has 5 speeds.
It has better ergonomics – an angled handle that is reminiscent of the one on Ekrin B37S. It comes with just 4 attachments that includes 2 metallic ones that look really nice.
The battery is something to behold. It has a 3200mAh capacity battery – 25% more juice than Hypervolt Plus. The runtime is 2-4 hours depending on how far you push the device.
It's a removable battery and you can buy an extra one with the device. Despite the high capacity battery, Achedaway Pro is lighter than Hypervolt Plus (2.6lbs vs 3.0lbs).
It has a 2-year warranty – 1 year more than what you get with Hypervolt Plus.
You can get a $50 discount if you use our MGA50 coupon at the Achedaway store. That means, instead of paying $299, you pay $249 instead. Or if you buy it with the extra battery, you only pay $319. It's still cheaper than Hypervolt Plus either way.
TIP Read the full Achedaway Pro review for more information →
---
What About Hypervolt Go?
Hypervolt Go is the latest device that Hyperice added to their collection. It's the mini version of the bigger guns. We loved the quality of the product and were hoping it would be a worthy consideration.
However, we felt a little let down by how it performed. You can read the full Hypervolt Go review to find out what we thought about it. But here's what we didn't like;
It had a decent 10mm amplitude but a very weak stall force. In fact, even at top speed, it was very easy to stall. Our alternatives below are way better.
It had only 2 attachments. The only consoling fact is that if you have the full-sized Hypervolts then you can use those attachments (they're interchangeable).
It lacked a USB charger. We have come to expect all mini massage guns to be USB-C compatible.
The fact that it was released on the back of Theragun Mini, we felt it didn't quite have anything to offer to better their competition.
It had the same rather disappointing 1-year warranty.
It is still very expensive for what it has to offer.
---
Best Hypervolt Go Alternatives
---
Ekrin Bantam – Best Pick
The Bantam is another Ekrin darling that we've come to adore. Despite being in the same category as the Hypervolt Go, it has some really enticing features.
For starters, it's much smaller and lighter than the Go – weighs just 1.1lbs compared to Go's 1.5lbs. It has a similar slanted handle as the Go but we would consider this more of an Ekrin thing than a Hyperice one – it's better on an Ekrin device.
In terms of performance, the Bantam has the best stats. The amplitude is 10mm but the stall force is what makes it interesting. With 35lbs. of stall force, Ekrin Bantam is the better device.
It has a similar percussion range as the Go (2000-3200 rpm). It has 3 speeds. The battery can last up to 6 hours with a single charge and charges via USB.
It's a quiet device (less than 60dB) with a smoother sound. It has 4 attachments and comes with a carrying case. You get a lifetime warranty and lifetime customer support if you register your device.
Instead of $159.99, pay $127.99 by applying the MGA20 coupon that gives you a 20% discount. Here's a link to Bantam in Ekrin's store.
TIP Read more in our hands-on Ekrin Bantam review →
---
Addsfit Mini PRO – Runner Up
Addsfit Mini Pro is a hybrid between a mini massage gun and the full-sized one. We call it like that, because even though it is a mini device, you can easily convert it into something tad bigger.
How come? It has the extensible handle, that's how. With a simple twist, you can extend the hand grip by over 3 inches. It then becomes taller than Hypervolt Go, which is good if you want to massage your lower back.
Overall, we think it has a more appealing design (all-metal body) and even better specs. It's lighter than Hypervolt Go (weighs 1.3lbs compared to Go's 1.5lbs).
In terms of performance, the Mini Pro shines. It has the same 10mm amplitude as the Go but has a more powerful motor. The advertised stall force is 28.6lbs., which is less than Bantam, but almost twice as much as the Go.
It revs between 1100-3300 rpm. Hypervolt Go revs between 2200-3200 rpm. Wider percussion range, the Mini Pro is better spaced in our opinion. It has 5 speeds while the Go has 3.
It also comes with 4 attachments while the Go only has 2. Unless you have the bigger Hypervolts, Addsfit is the better choice.
It's a quiet massage gun – 50-59dB. The battery has 2600mAh capacity and can go for 4-5 hours. It has a USB charger.
Normally it costs $159 but you can use the MASSAGE25 coupon to slash the price by a whooping 25%. It will then cost $119.25 – this is slightly less than Bantam, but mind that it won't be as powerful. Get it at addsfit.com right here.
TIP Read the full Addsfit Mini Pro review for more information →
---
Best Hypervolt Alternative Conclusion
Hypervolts are decent devices from a premium brand that is making waves in the massage gun world.
However, there are obvious flaws that cannot be ignored if you are looking for the best device for your needs.
Hopefully this article has enlightened you on what the best Hypervolt alternative is. Keep in mind that we don't just recommend products we have not interacted with.
All the recommended devices here have been rigorously tested. You can read the full individual review to get a better insight into every product.
If you have any more questions, feel free to ask us here or write a comment below.
Disclaimers
The views and opinions expressed on this website are those of the authors. Any content provided by our bloggers or authors are of their opinion and are not intended to malign any religion, ethnic group, club, organization, company, individual or anyone or anything.
All product names, logos, and brands are property of their respective owners. All company, product and service names used in this website are for identification purposes only. Use of these names, logos, and brands does not imply endorsement.
It is our policy to make every effort to respect the copyrights of outside parties. If you believe that your copyright has been misused, please provide us with a message stating your position and we will endeavor to correct any misuse immediately.
Some of the links in this post are affiliate links. As an Amazon Associate, we earn from qualifying purchases. This means if you click on the link and purchase the item, we may receive an affiliate commission, at no extra cost to you. This helps us keep this website alive. Learn more here.
Amazon Disclosure
massagegunadvice.com is a participant in the Amazon Services LLC Associates Program, an affiliate advertising program designed to provide a means for sites to earn advertising fees by advertising and linking to Amazon.com. As an Amazon Associate, we earn from qualifying purchases. Amazon and the Amazon logo are trademarks of Amazon.com, Inc. or its affiliates. Please refer to our Privacy & Affiliate Policy for details.