Hypervolt 2 Pro Review: Is There Power in This Pricey Hypervolt Massage Gun?
What to Know: We independently review products we recommend. If you click on links we provide, we may earn a commission. Learn more.
---
In this Hypervolt 2 Pro review, we explore Hyperice's top-shelf massage gun, stepping up as the second generation of the reputable Hypervolt Plus. Now, the questions arise — does it bring more power to the table? Are there notable upgrades? Is the price justified now, and how does it stack up against the Theragun Pro?
So, we put this device to the test, measuring all its parameters and comparing it to rivals and its predecessor. Here's what we discovered and what we think about it.
Key Takeaways
We see the Hypervolt 2 Pro more as a refinement rather than a significant upgrade from Hypervolt Plus, especially in terms of performance enhancements​.
Although it maintains a classic T-Shape design, we notice an improvement in ergonomics, primarily due to a more comfortable and ergonomically designed handle.
The premium feel and look, coupled with quality materials, give it a high-end appeal; however, the absence of a carrying case is a letdown for such a top-tier device.
The high price tag is a concern; for similar cost, more power is offered by Achedaway Pro, while Ekrin backs its massagers with a lifetime warranty.
---
---
Hypervolt 2 Pro Review
Hyperice Hypervolt 2 Pro Specs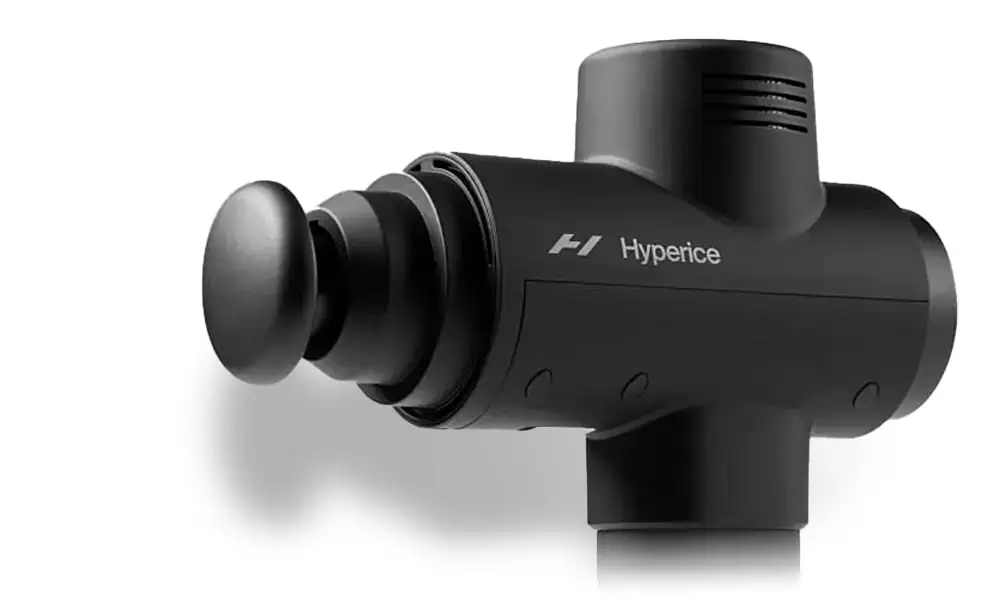 Our testing impressions:
Overall quality and premium feel
High, 14mm amplitude, but low stall force
Intuitive controls & ergonomic handle
Expensive (and still lacks of carrying case)
Feature
Hypervolt 2 Pro Specs
Stall Force
~35 lbs (our estimation)
Stroke Length
14 mm*
Percussion range
1700, 1900, 2100, 2400 and 2700 rpm*
Speeds
5
Attachments
5 included
Weight
2.6 lbs
Dimensions
8 x 2.5 x 10.4 inches
Noise (decibel)
54-66 dB*
Battery Life / Capacity
2 – 3 hours
Bluetooth
Yes
Pros

High amplitude


Ergonomic handle
Removable battery
Varied attachments


Intuitive controls

Cons
Low stall force
No carrying case


Expensive

Warranty
1 year
Price
$329
Where to buy?
Buy at Hyperice.com
Buy at Amazon.com
Hypervolt 2 Pro Specifications (*values measured by us for verification)
Hyperice Hypervolt 2 Pro - Our Rating
Quality

Effectiveness

Usability

Accessories

Price Value
Summary
Hypervolt 2 Pro is a high quality product from a premium brand, featuring an improved ergonomics and a refreshing new take on controls. The amplitude is great for a deep tissue massage but the stall force feels just not good enough for us. Overall, it is a decent percussive device but in our opinion, it doesn't offer the best value for money for those who want a stronger massage.
---
First Impressions
Hyperice knows how to make a good first impression. The packaging is well designed, with the device placed inside in an interesting, and perhaps a bit unconventional way. Unboxing the new Hypervolt has been a pleasure for us.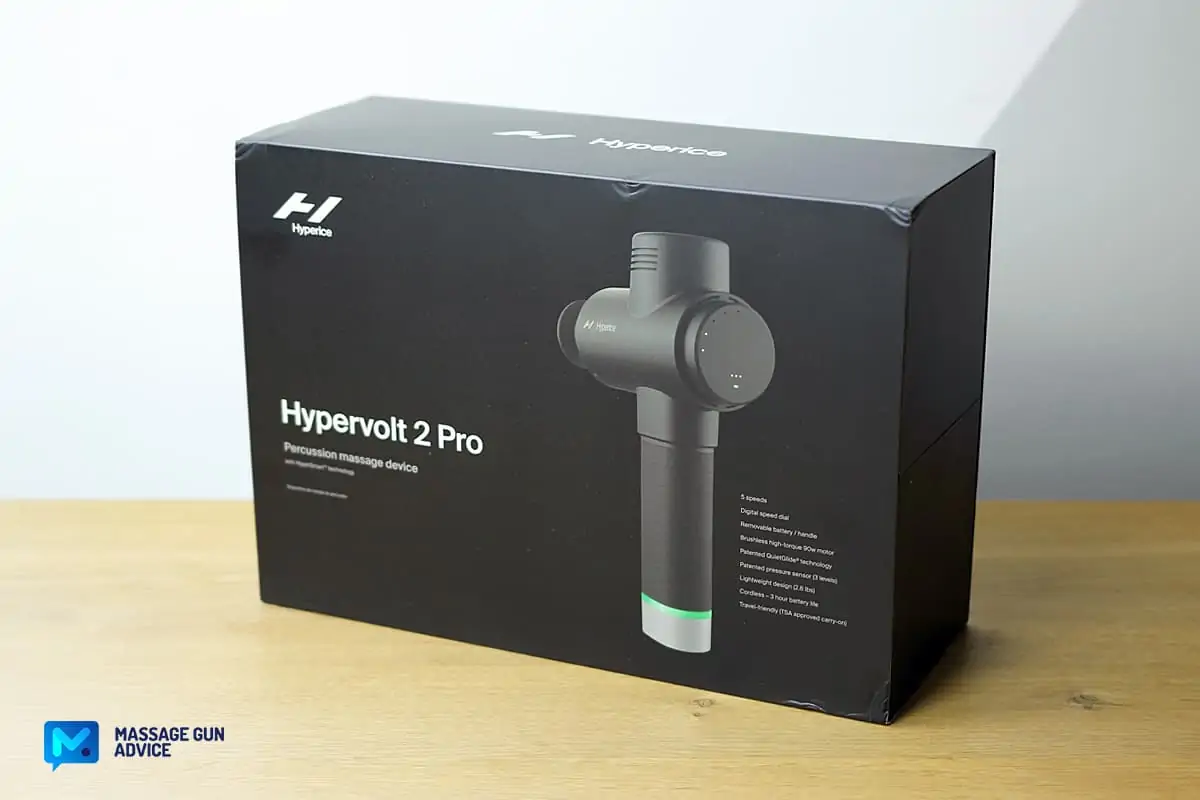 Unfortunately, there's still no carrying case included, which is disappointing given that this is their top of the shelf device. We're left wondering what it will take for Hyperice to include one—perhaps a presidential intervention?
On a brighter note, a pouch for attachments is provided, much like what we had with the Hypervolt 2.
As for charging, a wall charger with various international plugs is included, a detail we appreciate. Yet, in this modern era, a single USB-C cable would have sufficed.
The package also contains the usual informational cards, including an attachment choosing guide, a quick-start guide, details about their app, customer service information, and an instructional manual.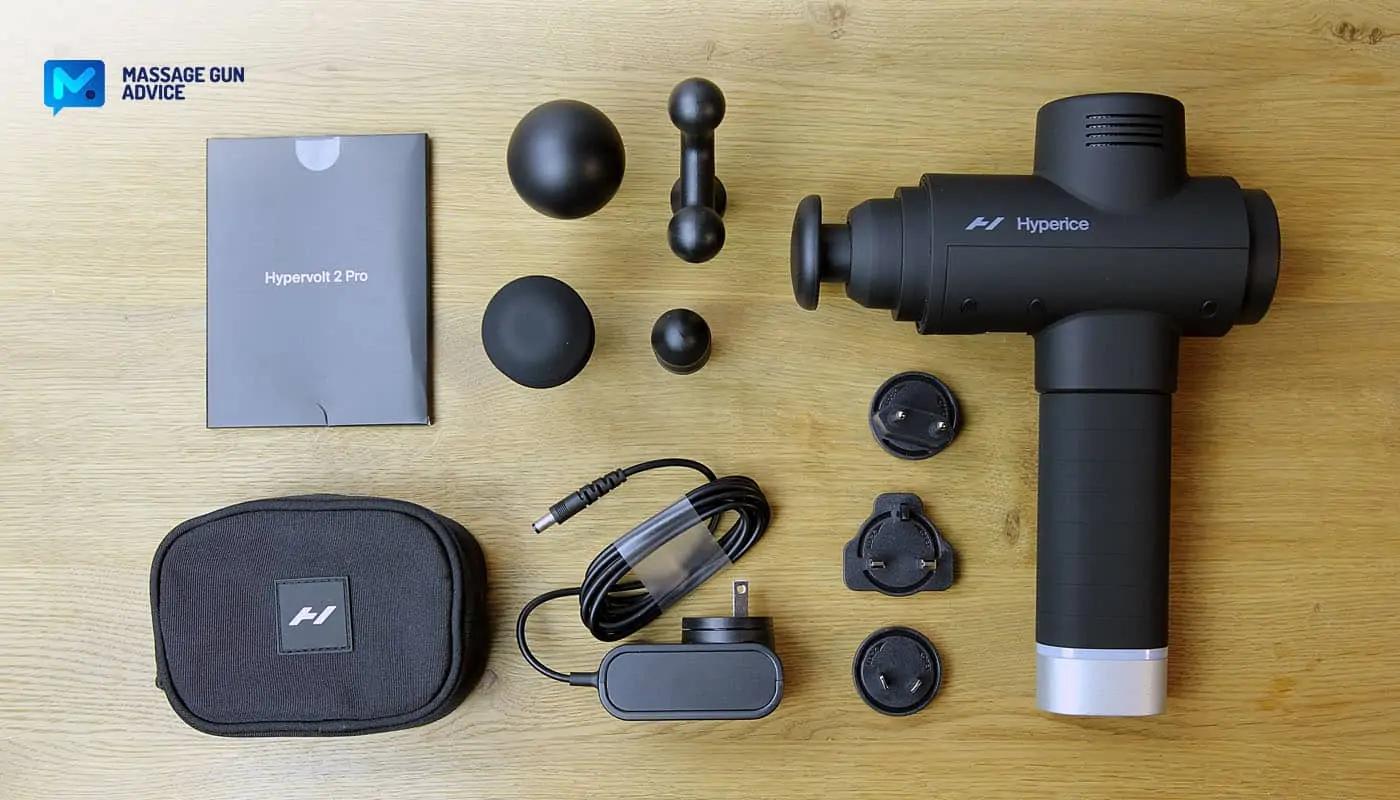 ---
Design
A little reflection to start with… Having recently conducted a Hypervolt 2 review, when we first unboxed the device, we could immediately tell that it was different from the first gen Hypervolt. The color was different (Slate Gray), and the device felt smaller and lighter as well – something new at last!
We didn't get the same immediate feeling with the Hypervolt 2 Pro. In fact, the device looks about the same size as the Hypervolt Plus, just slightly lighter.
Visually it's very much the same thing as the Plus – the housing design hasn't changed much and it's still mostly black. It has the same T-shape configuration as well.
But wait a minute…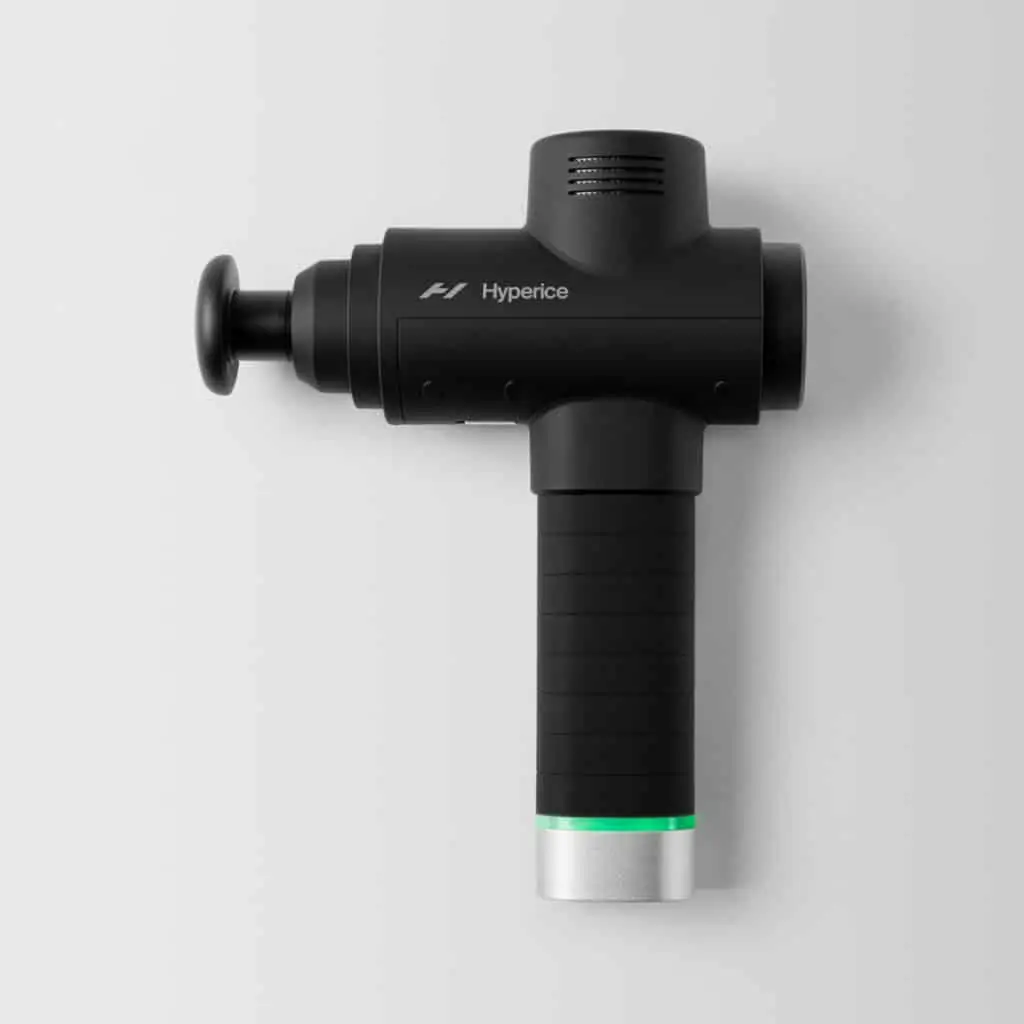 When you take the device into your hand, things begin to unravel. Like magic, notable differences begin to appear.
For instance, the handle has been redesigned to be more ergonomic than what was on the Hypervolt Plus – we'll talk more about this in the ergonomics section below.
Other than that, the entire handle is black with a tiny silver section at the bottom – right after the usual LED ring that lights up when the device is plugged in.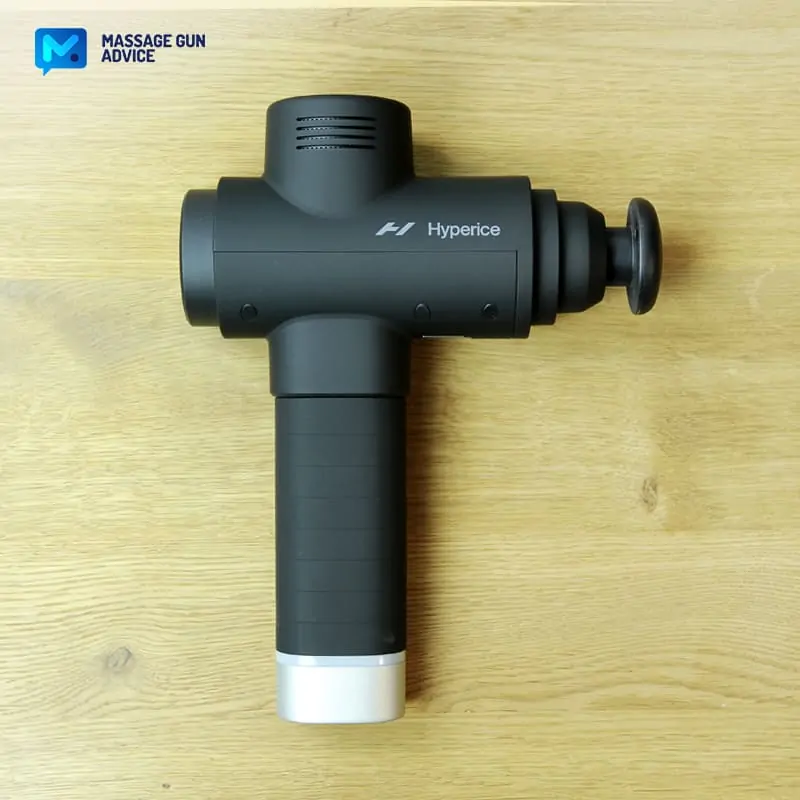 The new logo is on the side. It's slanted H, probably represents the company's new direction as a brand – evolving into a "holistic high-performance wellness brand..
The back panel has also changed. But not as much as the main control area. There are no more buttons. Instead we have a dial that you use both to activate the device and change the speed levels.
This feature is only on this device, the Hypervolt 2 has a button. With the dial, you don't need to go through each speed. You can quickly move through the speeds now by rotating the dial in either direction. The LEDs indicate the speeds at the edge of the panel.
We love the intuitive controls and appreciate the novelty in it – it feels awesome to use and looks stylish.
Other LEDs include:
3 LEDs in the center of the panel for the pressure sensor.
Another LED just below the pressure sensor – the Bluetooth connection indicator.
The signature LED ring on the handle that lights up when the battery is plugged in (red = battery low, green = battery fully charged).
There is also a main switch at the base of the device (next to the charging port). You have to switch this on to activate the device before using the control panel. You can also use it to quickly power off the device as well. There is also a battery release button underneath the main housing.
Our Overall Observation

The Pro 2 looks similar to the old Plus device. We are guessing Hyperice didn't want this new device to look very different. After all the Plus was a top-of-the-shelf device.

At the same time, it's also very different from the Hypervolt 2. Hyperice wanted to make it clear that the two devices are different. The Pro has some new features that weren't in the original device (the dial control stands out) but nothing too radical or out of the ordinary.

The build quality is still great and feels premium, which we believe contributes to the higher price point.
---
Size and Weight
The Hypervolt 2 Pro is about the same size as the original Hypervolt Plus – it measures 8 x 2.5 x 10.4 (inches). At the same time, it's noticeably larger than the Hypervolt 2.
But what about the weight? Remember how we've always complained about Hypervolt Plus being the heaviest gun thus far? Well, not anymore, at least it's not as heavy as it was before.
This new upgrade is a tad lighter than the predecessor weighing just 2.6lbs. We know that sounds better, but it's not a noticeable difference when you actually compare the two guns.
The competition has always done it better. Ekrin B37S only weighs 2.2lbs. We're glad this new device is lighter and well balanced as well. The battery is in the handle.
---
Attachments
The Hypervolt 2 Pro comes with 5 attachments – the same thing we saw with the Hypervolt 2 earlier. The difference here that these attachments are not slated gray as that first gun. They are all black.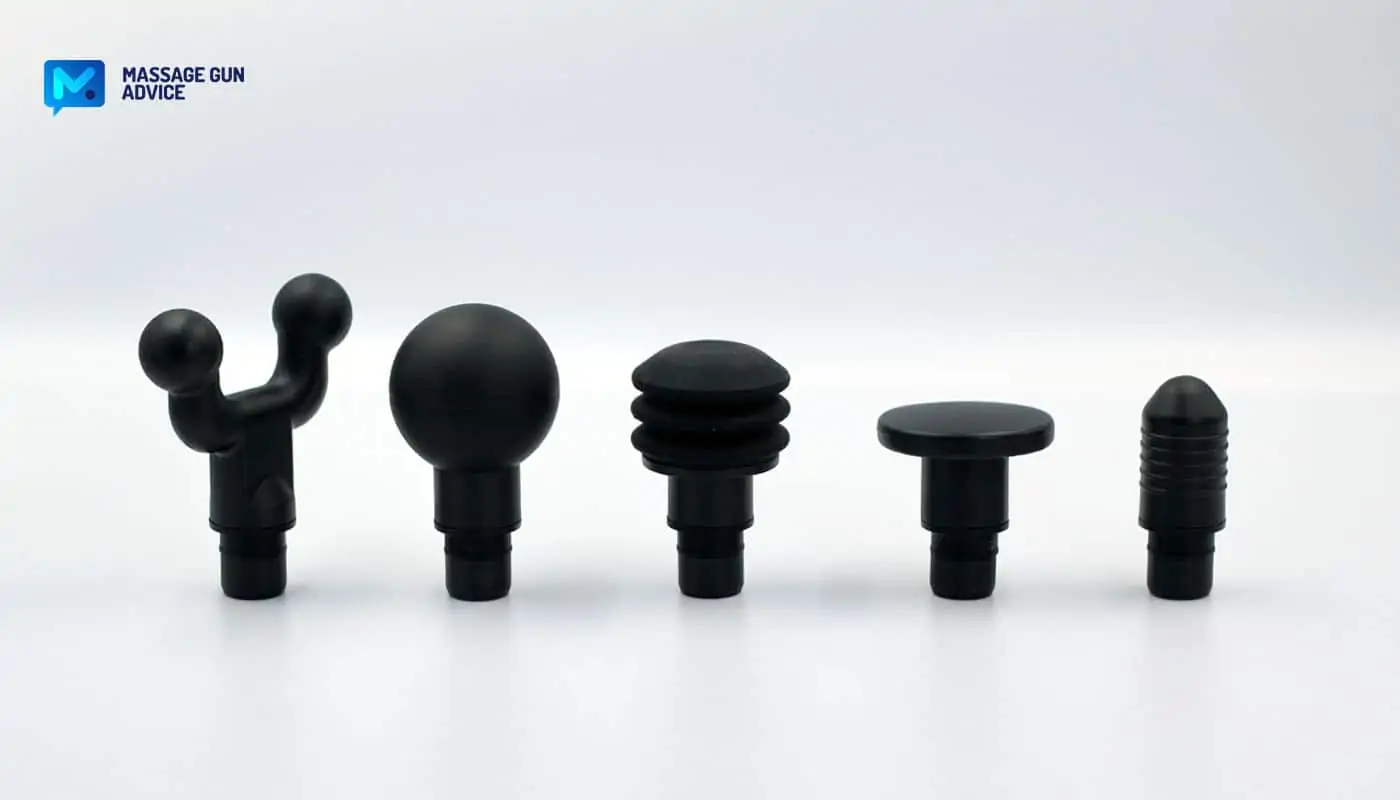 That aside, we like that you still have a great variety to massage the whole body. There are no surprises here though – it's the same old set:
Ball/Round Head: The universal attachment used to massage all body parts. It works better on large muscle groups.
Flat Head: This one is a favorite for those with big muscles. If you want harder hits, then this is your go-to attachment.
Fork/Spine Head: This one is used to massage the spine area. It's also great for massaging the area around your neck. Athletes love to use it to treat their calves and Achilles.
Bullet: Used to treat trigger points, can also be used for foot massage and for plantar fasciitis.
Cushion Head: Last but not least. We love this one because it offers a soft option for when you have a tender area to massage. You can also use it on bony areas.
Four of the five attachments here are made of hard material (hard plastic). Hyperice has always used hard plastic for their attachments. Unlike Theragun attachments which are soft. The ball head may have a little give to it, but it's plastic as well. Just for comparison, the ball attachment for Hypervolt Plus was made of foam and was not easy to clean.
The only soft attachment is the cushion, a combination of rubber and air inside. It's good that this tip is included in the set, allowing for the massage of more sensitive areas and body parts (e.g., around bones).
The mechanism for inserting and removing the attachments is "push & pull." Only the fork head needs to be aligned to prevent it from spinning around when you are using the gun.
Our Verdict

We have no complaints against the attachments on the Hypervolt 2 Pro massage gun. The quality is excellent, and the variety is fantastic. We were just wondering whether it would've been even better to have a Supersoft attachment like Theragun has for their Pro massage gun.

After all, this is Hyperice's top massage gun. We know Theragun owns the rights to the Supersoft attachment, but something unique for Hyperice wouldn't hurt.
---
Hypervolt Heated Head Attachment
Recently, Hypervolt unveiled a heated attachment compatible with all their massagers, including the Hypervolt 2 Pro.
While we haven't tested it personally, we're sharing initial insights based on Hypervolt's website and recent press releases.
Our Initial Observations:
It's a conventional flat head design, but thicker to house the battery and electronics.
Its universal fit with all Hypervolt massagers is a plus, catering to a wide user base.
The heating and power are self-contained, eliminating the need for connections with massager body.
Heats up to 120°F, slightly above Urikar Pro 2's 113°F.
At 0.22lbs, we're keen to explore its impact on the massager's balance once we acquire it.
The only available black color fits the black finish of Hypervolt 2 Pro (but might not appeal to those with the white Hypervolt Go 2 Pro or gray Hypervolt 2.
Price – at $59, it's a bit pricey for a single attachment, but given its potential benefits, it could be a nice addon.
We are waiting for it to become available again (as it sold out very quickly), and will provide updates here. Stay tuned!
TIP Curious about heated massage benefits? Check out our guide on heated massage guns to learn more.
---
Ergonomics
We promised to address some things here and now let's see what we have with this new device.
The Hypervolt 2 Pro handle is now slimmer and has a new shape. We said the same thing with the Hypervolt 2 but that's because they have a similar shape – pill-shaped. We'd normally call it oval, but pill-shaped is fine as well.
This is something new with Hyperice devices. We know the Hypervolt Plus was cylindrical and so was the original Hypervolt silver device. However, we've seen this shape with other massagers we reviewed, like Bob and Brad C2 and Renpho R3.
We believe this new shape is better than the cylindrical shape, which presented a challenge for people with small hands. The new shape makes the handle thinner and allows for better grip.
Did we mention that the handle is rubberized as well?
But not everything has been addressed even with the reduced weight and a better shaped handle. The overall configuration (T-Shape) of the gun hasn't been addressed. As we've always said, the 90-degree approach isn't the best, it puts a lot of strain on your wrist and longer massage sessions can be uncomfortable.
We were hoping for a tilted handle like the Hypervolt Go. With the handle tilted, you can have a more natural grip and reach the lower back easily. Ekrin B37S did it well – it's going to be Hypervolt 2 Pro's main rival.
Our Take

Hyperice has addressed some concerns with this new gun. The weight has been reduced, albeit negligible, and the handle has also been worked on to cater to people with small hands.

However, we were hoping for an even better approach with ergonomics. For instance, make everything as it is but include an angled handle as well.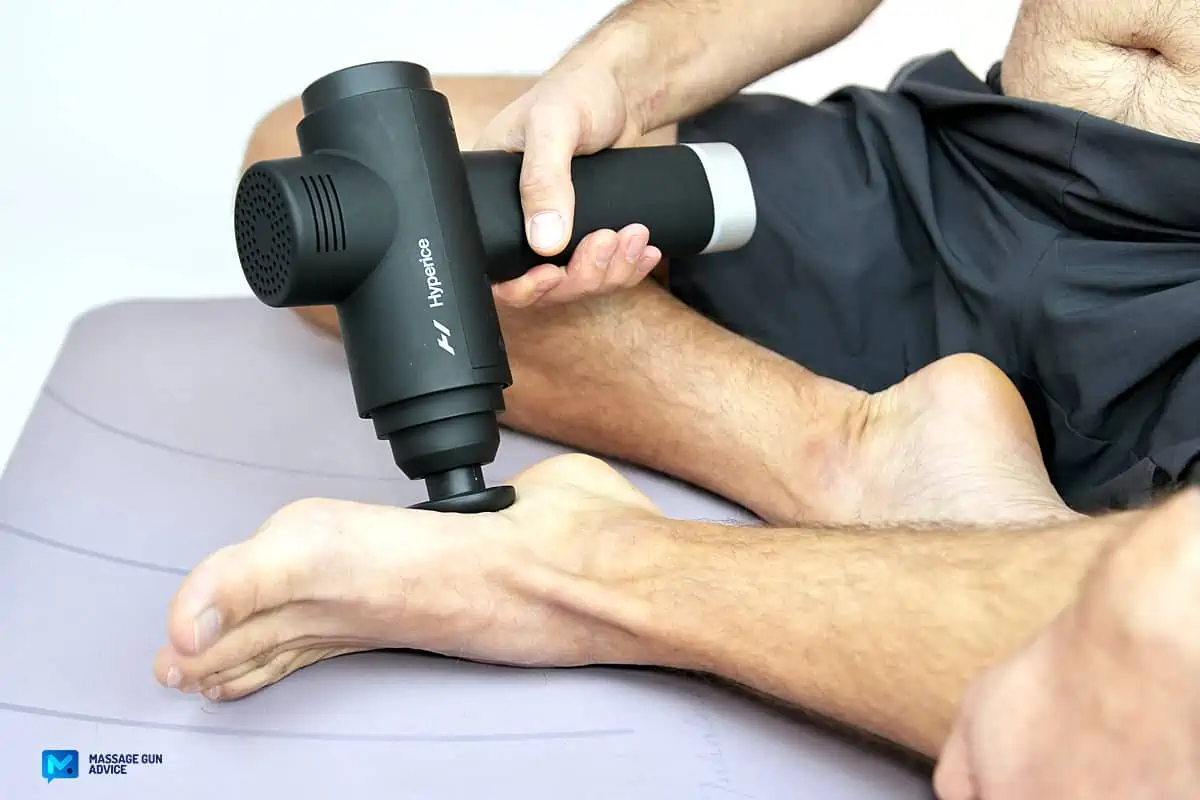 PRO TIP Find out more about how to use a massage gun properly.
---
Performance
In performance, we often look at 3 key aspects: amplitude, stall force, and percussions per minute.
Hypervolt Plus has been, for a while, Hyperice's most potent massage gun with a near-perfect balance of all these aspects. How good is the upgrade though?
---
Amplitude
Also known as the stroke length, this is the distance the massage gun head travels as it percusses. The stroke length determines how deep a massage you can get.
The Hypervolt 2 Pro has a 14mm amplitude.
No, Hyperice still doesn't disclose information about the amplitude as other massage gun brands do. We had to measure it ourselves (as you can see below).
The 14mm amplitude is the same thing as the Hypervolt Plus. It's good enough and can give a deep percussive massage.
Maybe we expected something a bit longer as an upgrade (like Theragun's 16mm), but this is still really okay and not vibrational, so we'll take it.
But what about the stall force? Is it enough to utilize the long amplitude?
---
Stall Force
Stall force is the amount of pressure needed to stall the motor of a device. This happens when you press the massage gun against your body.
When we reviewed the new Hypervolt 2, we mentioned how it was very easy to stall it. It was a disappointment and we noted that those who are looking for more stall force should opt for alternatives. We had hoped that this Hypervolt 2 Pro would be better.
Unfortunately we were wrong.
As far as the stall force is concerned, the Hypervolt 2 Pro doesn't feel as powerful as the good old Hypervolt Plus.
Again, we couldn't get the information about the stall force directly from Hyperice – we had to do our own estimation. We tested it against a bunch of other massage guns and could tell what the stall force on this device is – it's probably 30lbs. or at most only about 35lbs.
Even at the highest speed it stalls quite easily. Since this the Hypervolt is expected to rival big guns like Theragun Pro, Achedaway Pro, and Ekrin B37S, with this kind of stall force, we don't see that happening.
But does it really matter if the stall force is very low in this device?
Well, if you particularly love Hypervolts and can't do with any other massage gun, then the low stall force shouldn't be a big issue. If you just float the device over your skin without pressing it against your body, you can still feel the effect. It still hits deep enough with the 14mm amplitude.
The stall force issue will probably not be a problem for new users who haven't interacted with more powerful massagers before. The 30-35lbs. of stall force on this device will serve novice users well.
However, for users who were hoping for a Hypervolt Plus upgrade, the stall force on this new Hypervolt 2 Pro might feel like a let-down.
---
Percussions and Speed Levels
We are glad that there's been a change here. Finally a Hypervolt that has more than 3 speed levels. The Pro 2 comes with 5 speeds to match the competition from Theragun, Ekrin, and Achedaway.
You might have noticed how this new device doesn't rev up to 3200rpm as the previous versions of Hypervolts. It's 500rpm slower on the highest speed level.
We can't tell exactly why they went that route. It's obviously not because of the amplitude, because the previous Hypervolt Plus had the same 14mm stroke length but with 3200 maximum percussions.
Of course we can only speculate why they went a different direction with the maximum percussions.
We have our own hunches:
They might have encountered a bottleneck in manufacturing, or changed the manufacturer and this new device couldn't rev past the 2700rpm – less likely, but maybe?
Or maybe it's intentional. They elected to have the device feel more punchy than vibrational. With less frequent hits, the device has a strong percussive bass-like impact and not the vibrational hits that have a treble-like impact – a thud! thud! thud! effect rather than a Whirrrrr! effect.
However, what is sure is that even with the 2700 maximum percussions you can still have a nice percussive massage.
What's more, with the 14mm amplitude, we would expect a device to rev below 3000 rpms. The longer the stroke length, the longer the distance the head travels back and forth, and thus the few percussions per minute. 16mm amplitude Theraguns, rev only up to 2400rpm so it makes sense.
The bottom line here is that with 2700 max. percussions, the device also now feels more punchy than the Hypervolt Plus, and maybe that's a good thing.
---
Performance Summary
Our Take

Unfortunately the stall force on this device feels reduced compared to what we already know the Hypervolt Plus had. If you pay attention to stall force, or have already felt the power on the Hypervolt Plus, this device may feel underpowered.

But somehow the 14mm amplitude and the reduced number of percussions for the highest gear have made this gun feel somewhat strong. Certainly in terms of the punches delivered to your skin.

If this was an intentional move from Hyperice then it has definitely worked.
---
Pressure Sensor
The pressure sensor is still here – we wouldn't expect anything different.
It's indicated by 3 LED lights that glow up when pressure is applied. It's been calibrated to reflect the stall force in this new device – it doesn't take a lot of pressure for all 3 LEDs to glow up.
Also, they haven't upgraded the sensor to look sleeker than what was there previously. This feels pretty old and dull if you compare what Theragun and Ekrin have done with their Elite, Pro and B37S devices.
That said, it is there, it is working well and for most users it won't be the most important feature. You will probably not need the pressure indication to have a decent massage.
---
Noise
Noise has never been an issue with Hypervolt devices. The Hypervolt 2 Pro isn't noisy either. With the 14mm amplitude you expect a bit of noise and some rattling, but it's not too much.
You can expect 55-56dB on lower speed gears and up to 64-66dB on higher gears. These are the results we obtained from our own noise level tests (see the pictures below).
The measured noise levels (in dB) mean that you can use the device and still talk and hear each other easily. You also won't need to turn up the TV volume.
---
Battery
We were surprised to find no detachable battery in the Hypervolt 2 when we reviewed it. We assumed Hyperice had abandoned the detachable battery feature, but it appears it was only for the Hypervolt 2.
The 2 Pro model has a detachable battery, with a release button located underneath the motor housing.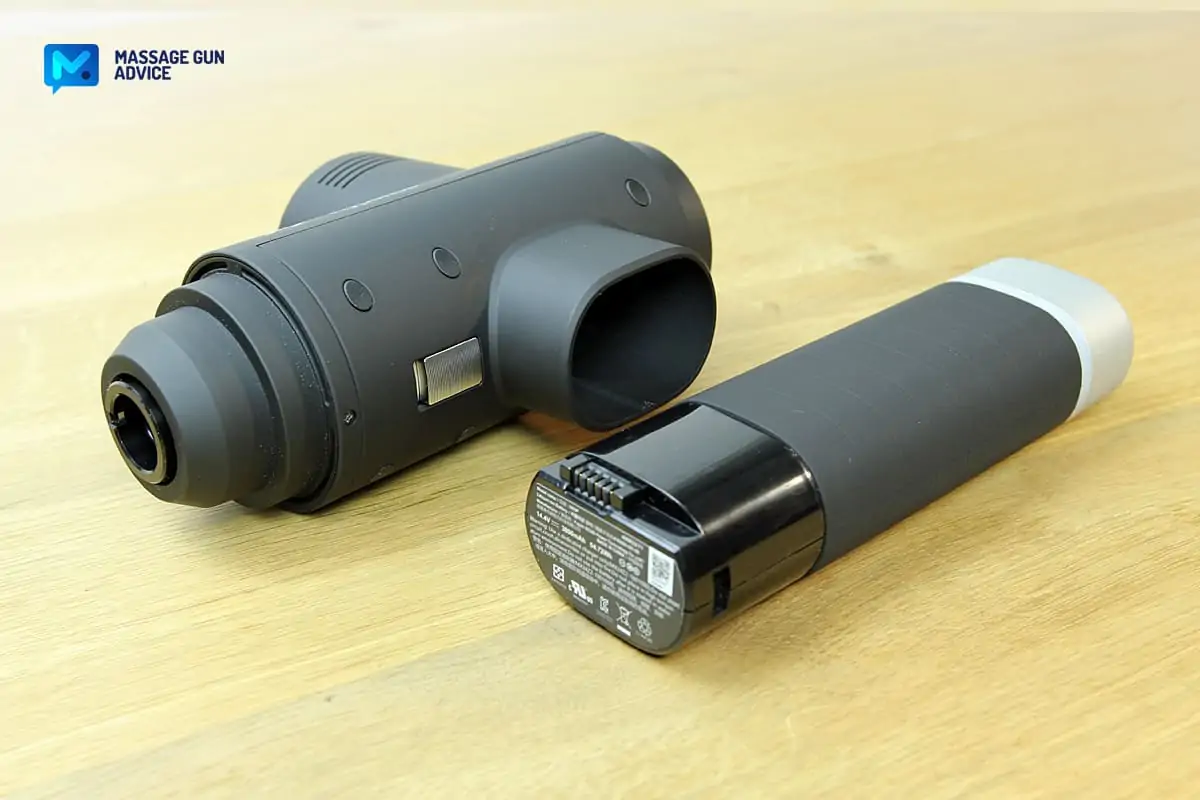 We expect that this device will be beneficial for professionals like physiotherapists and chiropractors, who would find this feature essential. Moreover, this feature further differentiates the Hypervolt 2 from the Hypervolt 2 Pro.
The battery is a rechargeable 23V lithium-ion unit. Hyperice claims it can last up to 3 hours on a single charge. While we find this to be achievable, it's primarily if you stick to lower speeds and apply minimal to no pressure. Under such usage, you can expect a battery life of over 2 hours.
This battery life is reasonable, especially if you plan on using the device once a day. You'll find that there's still some battery left even a few days later.
There's one thing we don't like here: the lack of USB-C charging. Although Hyperice includes different international plugs, with USB-C, they wouldn't be needed.
---
Bluetooth and App
This Hypervolt 2 Pro review wouldn't be complete without touching on the connectivity features, which have always been a strong selling point for Hyperice.
Indeed, this new device retains its Bluetooth functionality, allowing you to connect it to the Hyperice app (available on Android or iOS) for guided routines. Through the app, you can have more controlled massage sessions.
We would like to highlight that the Hyperice app is a handy tool for learning how to use the device, and to see how professional athletes make use of it.
---
Is Hypervolt 2 Pro Worth it? And Who is it Best For?
We have mixed feelings about this device. The Hypervolt 2 Pro has good ergonomics and punches hard enough to get the job done.
But the drawback is the power. While it delivers adequate deep hits and solid percussions, it's relatively easy to stall. This is particularly noticeable when we recall that the previous generation didn't have a power issue. Given the target audience (pro users), it's a surprising move from Hyperice.
Nevertheless, we are sure Hyperice knows what they are doing.
We also believe that most users, especially new ones, will still find the Hypervolt 2 Pro strong enough. After all it is a stronger device than the introductory Hypervolt 2.
What's more, chiropractors and physiotherapists, who use massage guns to help patients relax, will also find this device useful, mainly thanks to a detachable battery included for this model.
Hypervolt 2 Pro now FSA and HSA eligible
Additionally, it's noteworthy to mention that Hypervolt products are now FSA-HSA approved. You can learn more about this approval and what it means for your purchase in our detailed guide on FSA-HSA eligible massage guns.
This is a big deal as it makes these premium massage guns more accessible, especially for those who are budget-conscious but still want to invest in a quality device. So, if you have FSA or HSA funds available, this might be the perfect opportunity to get a Hypervolt 2 Pro without feeling the financial pinch. Just pay with your FSA or HSA card at the checkout.
TIP The old generation Hypervolt devices are still on sale and have that feature as well – but they may not stay on the market for long.
Our Verdict

This is a high quality device from a premium brand that majors in sports recovery. But is it really worth the hefty price tag? We have our doubts.

If you prefer an aggressive massage and you are kind of a stall force freak (like us), the Hypervolt 2 Pro may not offer the best value for your money. There are more excellent devices that cost much less than $329 but come with better performance specs.

The 1-year warranty is also off-putting and you may want to check out other brands that offer excellent devices backed by a lifetime warranty. Ekrin is the best alternative thus far, and you can explore their offerings here.
---
Hypervolt 2 Pro vs. Hypervolt Plus – Summary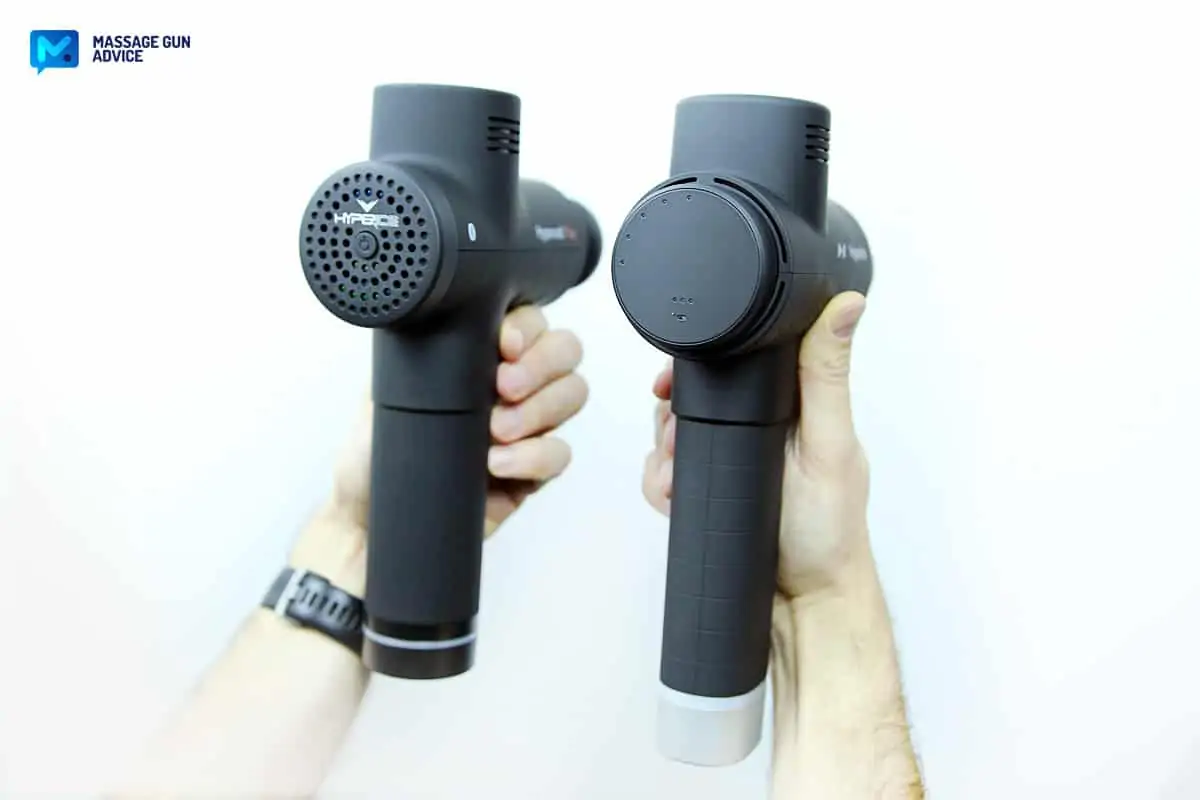 Here is the summary of Hypervolt 2 Pro vs Hypervolt Plus comparison:
Similarities:
Size – about the same size
Amplitude (both 14mm)
Noise levels
T-shaped design with a vertical handle
3-level pressure sensor
Bluetooth and Hyperice app compatibility
Same attachments (5)
Removable battery
Color – both black (Hypervolt 2 Pro with a silver bottom).
What Hypervolt 2 Pro has that Hypervolt Plus doesn't:
5 speeds (vs 3)
Lower weight (2.6lbs vs 3.0 lbs)
Slimmer, oval handle
New control panel with a dial
Better time on battery (advertised 3 hours vs 2 hours)
Where Hypervolt Plus still beats Hypervolt 2 Pro:
More stall force (est. 45 lbs vs only about estimated 30-35 lbs. in Hypervolt 2 Pro)
Better max. percussions (3200 vs 2700 in Hypervolt 2 Pro)
Both lack:
A carrying case
More extended warranty (just 1 year)
Our Take

In our opinion, the Hypervolt 2 Pro feels more like a refresh than an upgrade. Compared to Hypervolt Plus, not much has been changed.

If you want a Hypervolt with a high amplitude and a revamped body, then go for the Hypervolt 2 Pro. The ergonomics are better, it's lighter, slimmer, and looks sleek-looking, but that's it.

From a performance standpoint, we're not convinced it has much to offer over the old Hypervolt Plus. It boils down to preference.

However, since they're both on sale, we believe Hypervolt Plus is still a viable choice. To make it even better, Hypervolt Plus now costs $70 less than Hypervolt 2 Pro (at the time of updating this review).

Here you can check the current prices: Hypervolt Plus and Hypervolt 2 Pro.
---
If not Hypervolt 2 Pro Then What?
Since we do many massage gun reviews, and test many different devices each month, we think we are well positioned to present some viable alternatives. Here are the two Hypervolt 2 Pro rivals that we can wholeheartedly recommend.
---
Ekrin B37S
This is likely the best alternative to the new Hypervolt 2 Pro.
Why this one? The 5 main reasons:
Angled handle – better ergonomic
More Stall Force Power – up to 56lbs.
Revs up to 3200rpm
Lifetime Warranty
40% cheaper than Hypervolt 2 Pro
If you prefer a device with more power, this one has plenty of it.
Whereas the new Hypervolt 2 Pro feels like a proper ergonomic massage gun (thinner, reshaped rubberized handle), Ekrin B37S proposes something even better.
The handle is angled to provide a more natural and firm grip, allowing for longer sessions. The T-shape configuration on Hypervolt 2 Pro fatigues the wrist. Ekrin B37S is also slightly lighter, weighing just 2.2lbs.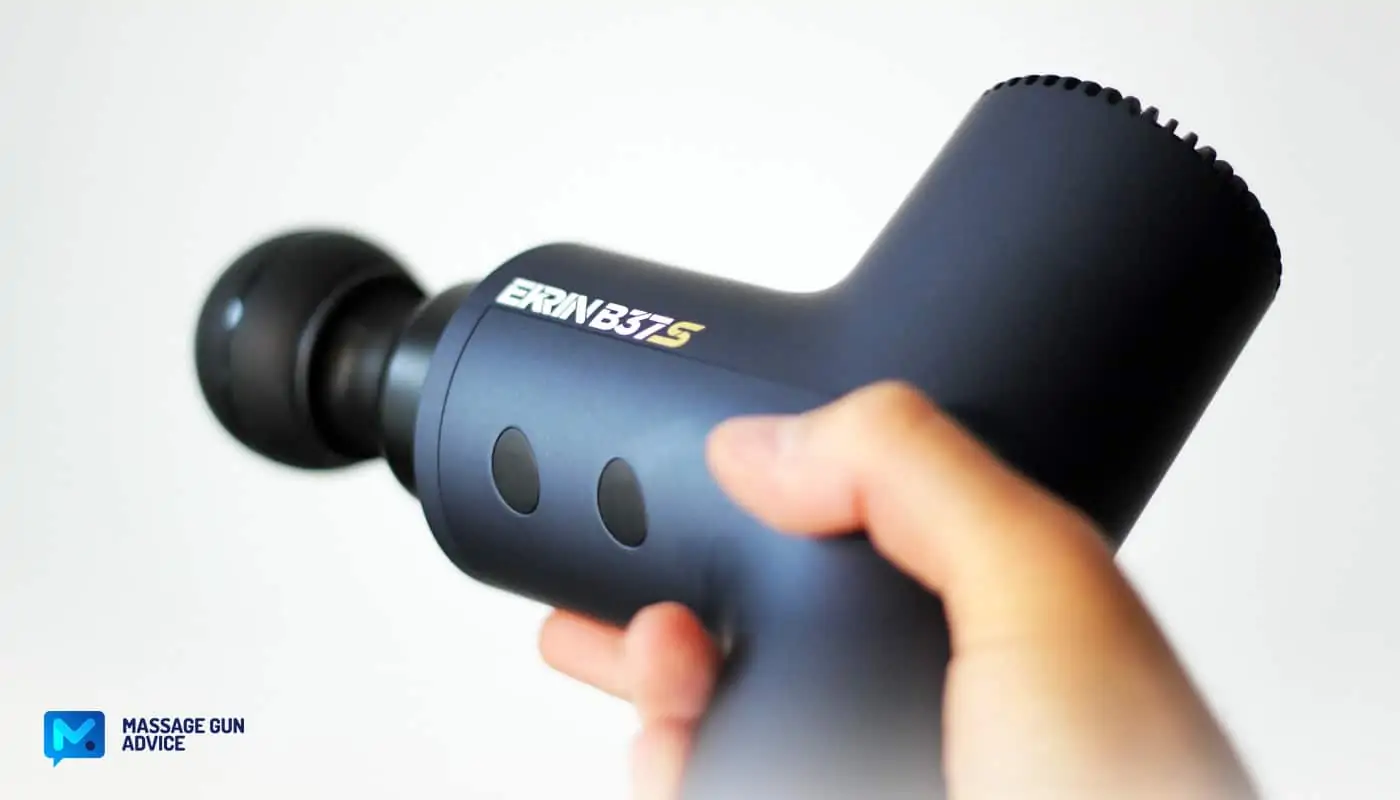 In terms of power, which is where the B37S beats Hypervolt 2 Pro hands down, there's plenty here. There's up to 56lbs. of stall force on the highest gear – even the lower gears will be hard to stall.
This is why even though it only has a 12mm amplitude, it can still penetrate deep into large muscles. You can press it hard against the skin and it won't stall as easily as Hypervolt 2 Pro.
Ekrin B37S has more maximum percussions as well. The range is 2000-3200rpm. There are 5 speed gears – the 5th speed is dynamic, allowing automatic intensity change. The Pressure Sensor on the B37S is, in our opinion, better executed than what is on Hypervolt 2 Pro.
The battery is non-detachable, yes, but it has way more juice than what Hypervolt 2 Pro has. It's also a quality Samsung battery. The B37S will also be quieter because of the lower amplitude. It also comes with 5 attachments and a carrying case. You can expect excellent build material.
It has a lifetime warranty and amazing customer support – Hypervolt 2 Pro has a 1-year warranty.
HOLIDAY SALE
Get a whooping $100 OFF the top-shelf Ekrin B37S massage gun. Only $231.00, down from $329.99. Grab the deal now!
It normally sells at $329 but you can buy it for just $263 if you use the coupon MGA20, which gives you a 20% discount. So you save $136 by choosing this one over Hypervolt 2 Pro.
Read More Explore our in-depth Ekrin B37s review, complete with more pictures and comparisons.
---
Achedaway Pro
Why this one? The 5 main reasons:
Slanted handle – better ergonomic
16mm amplitude
Revs up to 2800rpm
2-year warranty
About $100 less than Hypervolt 2 Pro. Check here.
An even more powerful alternative. Achedaway Pro has a high amplitude and high stall force. A perfect combination for those who want an aggressive massage.
It comes with a 16mm amplitude – Theragun-like. That's 2mm more than Hypervolt 2 Pro and definitely 2mm of deeper and better hits. The advertised stall force is 80lbs. but we believe it's somewhere in the mid-50s like Ekrin B37S.
Even so, it's still significantly harder to stall than Hypervolt 2 Pro. Even with all that, it can be more intensive with up to 2800 maximum percussions – 100rpm more than Hypervolt 2 Pro. It comes with 5 speed gears as well.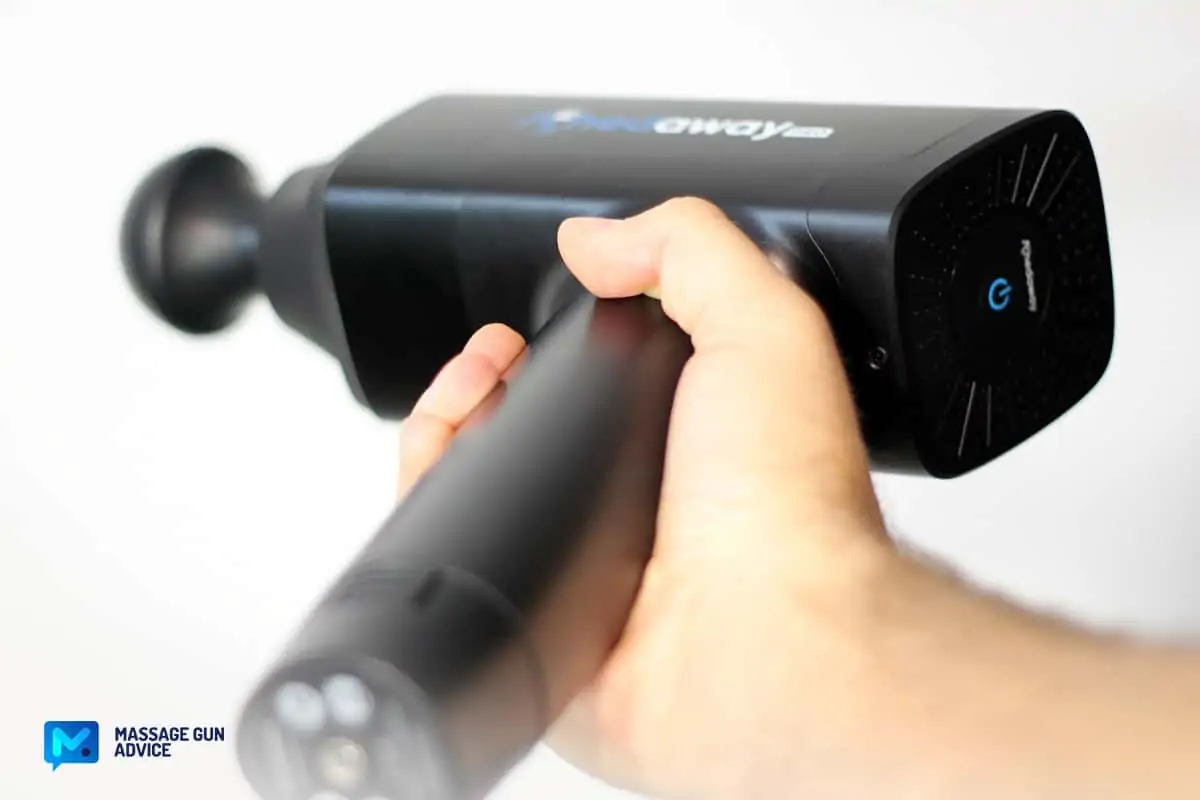 Ergonomics are somewhat the same as B37S, with the slanted handle.
Hint You get a carrying case with Achedaway Pro – Hypervolt (still) comes without one.
The overall weight is 2.6lbs – similar to Hypervolt 2 Pro. It comes with 4 attachments that are nicely done – 2 are made of aluminum.
The battery has a capacity of 3200mAh, and can last for 2-4 hours on a single charge. The battery is removable too, and there's an option to buy the device with a spare one. This makes it an excellent pick for professionals.
It has a 2-year warranty – better than what Hyperice offers for their Pro device.
Usually you'd have to pay $299 to get this device, but with our MGA60 coupon, you can get a $60 discount. That makes it $239 – or $309 if you buy it with the spare battery. Still much cheaper than Hypervolt 2 Pro. Get it right here.
Read More Read our full Achedaway Pro Review for more details.
---
Review Summary
As we close this Hypervolt 2 Pro review, there are a few key points to note with this new Hypervolt.
In our opinion, this feels more like a refresh than an upgrade of the previous Hypervolt Plus. Some new features like improved ergonomics, reduced weight, and new controls, but nothing more to suggest a serious upgrade.
In terms of performance, this new device doesn't deliver more than the predecessor – in fact, it's easier to stall.
Pro athletes or physiotherapists who are looking to buy a Hypervolt will face a bit of a conundrum about whether to choose the Pro 2 or the good old Hypervolt Plus (still on sale at a reduced price). When Hyperice retires Hypervolt Plus, then this new device will be the strongest Hypervolt.
Either way, the value for money isn't great. We believe there are better products that offer more for less if you can live without the Hypervolt badge (and the Bluetooth connectivity).
TIP As always, feel free to comment below or ask us a questions directly.
---
Was this article helpful?
Thanks for your feedback!
Post Update History
Here's a quick rundown of all the tweaks and edits we've made to this article to keep it accurate and up-to-date!
Current version last updated on:
September 28, 2023 Added a section on Hypervolt's new heated attachment. Revisited the intro section and other parts of the text for better readability and clarity. (Author: Luke)
•
Written by:

Luke Deszczulka
Disclaimers
The views and opinions expressed on this website are those of the authors. Any content provided by our bloggers or authors are of their opinion and are not intended to malign any religion, ethnic group, club, organization, company, individual or anyone or anything.
All product names, logos, and brands are property of their respective owners. All company, product and service names used in this website are for identification purposes only. Use of these names, logos, and brands does not imply endorsement.
It is our policy to make every effort to respect the copyrights of outside parties. If you believe that your copyright has been misused, please provide us with a message stating your position and we will endeavor to correct any misuse immediately.
Some of the links in this post are affiliate links. As an Amazon Associate, we earn from qualifying purchases. This means if you click on the link and purchase the item, we may receive an affiliate commission, at no extra cost to you. This helps us keep this website alive. Learn more here.
Amazon Disclosure
massagegunadvice.com is a participant in the Amazon Services LLC Associates Program, an affiliate advertising program designed to provide a means for sites to earn advertising fees by advertising and linking to Amazon.com. As an Amazon Associate, we earn from qualifying purchases. Amazon and the Amazon logo are trademarks of Amazon.com, Inc. or its affiliates. Please refer to our Privacy & Affiliate Policy for details.