Opove M3 Pro Review (2022 Model) – Solid Specs, Good Performance
Disclaimer: Our content is unbiased, non-sponsored and fact-checked. If you buy via links on our site, we may earn a commission. As an Amazon Associate, we earn from qualifying purchases.
---
Here's our hands-on Opove M3 Pro review, the newly released 2022 model.
We've been fascinated for quite some time now about this massage gun. We are always fascinated about massage guns. However, not many devices tingle our percussive therapy senses enough to warrant our concern.
The latest, 2022 edition of the Opove's popular M3 Pro has all the markings of a massage gun that has to be talked about – it's the least we can do.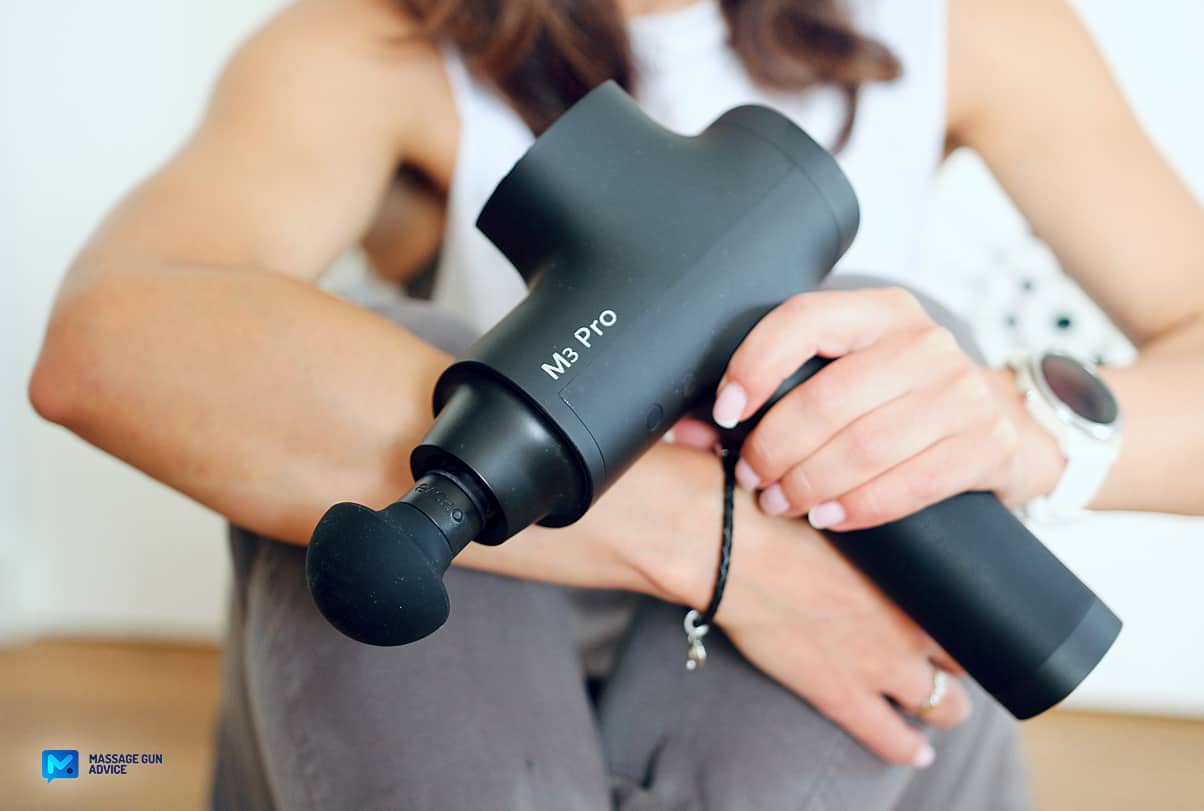 ---
---
Meet the Opove
Opove has been selling massage guns for the better part of the last 4 years as far as we know. Just like everyone else that's not Theragun or Hyperice, they seem to take their cue for their products from these two industry giants.
Opove borrows from Hyperice and has, for the time they've been around, sought to borrow a leaf from the Hyperice design book. OK, maybe except of their Apex massage gun, which is truly an original design.
Their first product goes head-to-head against Hyperice's first Hypervolt but at an affordable price – twice cheaper.
A few months ago, they came up with their own Hypervolt 2 Pro alternative – The Opove M3 Pro 2.
What does the new M3 Pro seek to address, is it a punch for punch copy of the overpriced Hypervolt? Read on to find out.
---
Opove M3 Pro Review
Opove M3 Pro Specifications – New 2022 Model
Feature
Opove M3 Pro 2
Stall Force
-45 lbs (advertised 70)
Stroke Length
12 mm
Weight
2.5 lbs with a ball head
Battery Life / Capacity
4 hours / 2600 mAh
Noise (decibel)
45 – 63 dB
Speeds
5
Percussion Range
1300-2600 ppm
Pros
Good amplitude
Good stall force
Very quiet
Great attachments
High-quality feel
Very affordable
Cons
Relatively low max. percussions
so-so ergonomics
Number of Attachments
6
Warranty
1-year
Price
$199 $119 at opove.com
Opove M3 Pro 2022 Specifications
---
First Impressions
First things first, and just as we like it, the M3 Pro comes with a nice two-zipper carrying case. Nothing says "we care" more than a good carrying case.
Inside, packaged nicely, are the gun itself, the attachments, the wall charger, and a side compartment with an Opove "thank you" envelope with the user manual inside.
---
The Device
From the first sight you can tell that they were definitely seeking to replicate the T-shaped Hypervolt Plus, if not the latest 2 Pro model. It's black, same shape but a few notable omissions that tell you it's not the Hypervolt.
For instance the round LED at the bottom of the handle is conspicuously missing. The new 2 Pro also has oval-shaped handle, this one has round.
Otherwise, this is a sturdy durable device made from good quality material – it's not cheap plastic, it feels rubberized end-to-end, making it nice to touch.
The matte black color gives it a nice professional look. It also keeps the device clean, unlike the shiny fingerprint magnets we saw with Theragun Elite.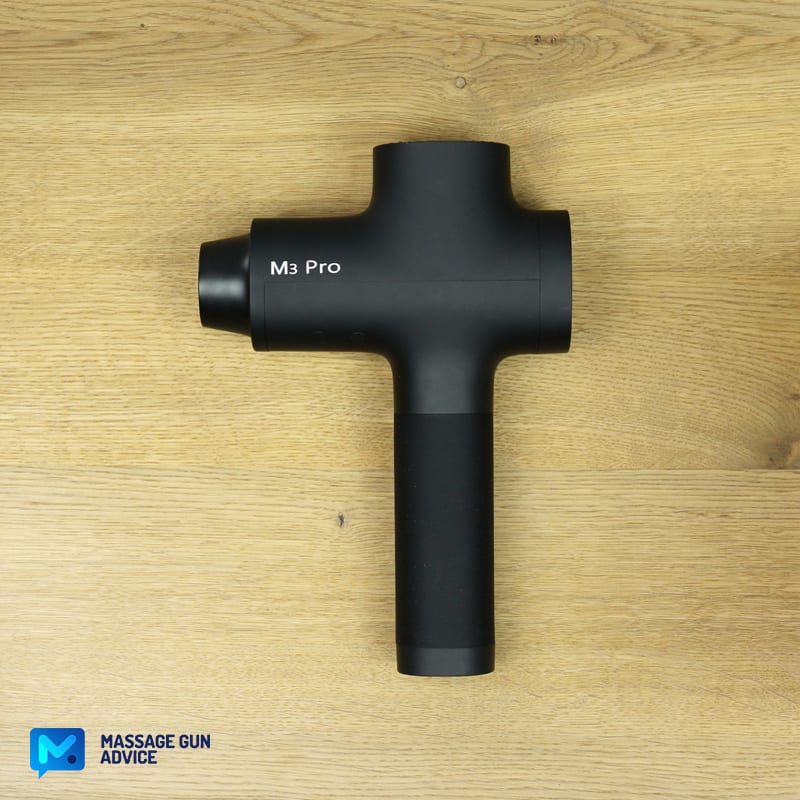 The controls are nothing fancy or innovative but they are simple and intuitive. There is a uniqueness that we rarely see with other similar devices.
For instance, at the back it shows the battery level – blue, modern-looking vertical bars on the right side that seem to be emanating from the battery sign – and the speed gears on the left.
This device is easy to use because of the one-button operation. The only other is the on/off switch is at the base of the handle – something we have seen in Hypervolt and similar guns.
On a back-panel, there is the main central button that you use to activate the device and set the desired speed gear.
The speed gear indicators are clear to see, albeit the blue LEDs might feel a bit too dark. Compared to the previous model, there are no digits displayed (those used to take a large part of the LCD – calculator-like font).
Here, everything feels somewhat modern, and the device look quite slick for a T-shaped gun. We also like the device's hidden vents, another small but nice touch.
---
Attachments
The M3 Pro comes with 6 nicely varied attachments. Here's what we thought about them:
Ball – This is used to work large muscle groups. It can be used for a general massage as well provided you don't overdo it on bony areas. The one here is made of silicone rubber, which should make it last longer. We have seen too many of the attachments with a soft EVA foam wear out pretty fast, and we are glad Opove didn't go the easy route here.
Flat – This one is used on large muscle groups as well, but you shouldn't pass it over bony areas to avoid injury. The one here is made from hard plastic which is common. It's often our favorite attachment because of its ability to punch harder.
Fork/Spinal – Used to massage the area around the spine and the neck area. It can also be used over the Achilles or be used as a double-bullet head for trigger points. Here it's made of hard plastic, but the tips are rubberized.
Cone/Bullet – Used for pinpoint treatment. If you want a focus massage, this is the go-to applicator. It's made of part hard and part rubberized plastic, which is perfect for what it's meant to do.
Wedge/Shovel – Hard-plastic attachment with rounded top, good for shoulders, muscles around the iliotibial band (IT-band).
Cushion Head – It's a hybrid of the ball and flat attachments. It's used for large muscle groups or a delicate areas. It has the cushion added which means you can pass it over bony areas.
Apart from the attachments we found the instructions pamphlet which we thought was good because of the clear language used.
It has instructions on how to use the device, information about the massage applicators and general safety stuff.
---
Size, Weight, Ergonomics
Sometimes it's not easy to tell what the right size is for a good percussion massager. But the M3 pro feels just about the right size.
It's not the most compact massage gun we've ever seen and the T-shape design doesn't help its case either, but it's not as bulky as some other T-shaped guns from Amazon. Since it rivals Hypervolt Plus and 2 Pro, we'll say it's slightly smaller in comparison (especially from the Plus model)
That said, it weighs 2.5lbs (with a ball attachment). This is near standard weight for most guns in its category, but we've seen lighter guns. We often associate bulkiness with the type of battery a device has.
Ergonomically, the M3 Pro is okay. The vertical handle doesn't help reduce the strain on the arm during a massage. In our experience, it can be quite a challenge using a T-shaped massage gun over prolonged periods.
That's why we've always advocated for angled handles (like the one in Ekrin B37 for example). The slight tweak goes a long way in making things smooth.
One thing we appreciate here however, is that even though the ergonomics are not perfect, the handle diameter is accommodating even for people with small hands. Interestingly, even though the handle is round, it is not a perfect round shape – it is slightly oval.
The handle is also not as long as many other devices out there. It has a silicone rubber grip that makes things even handier.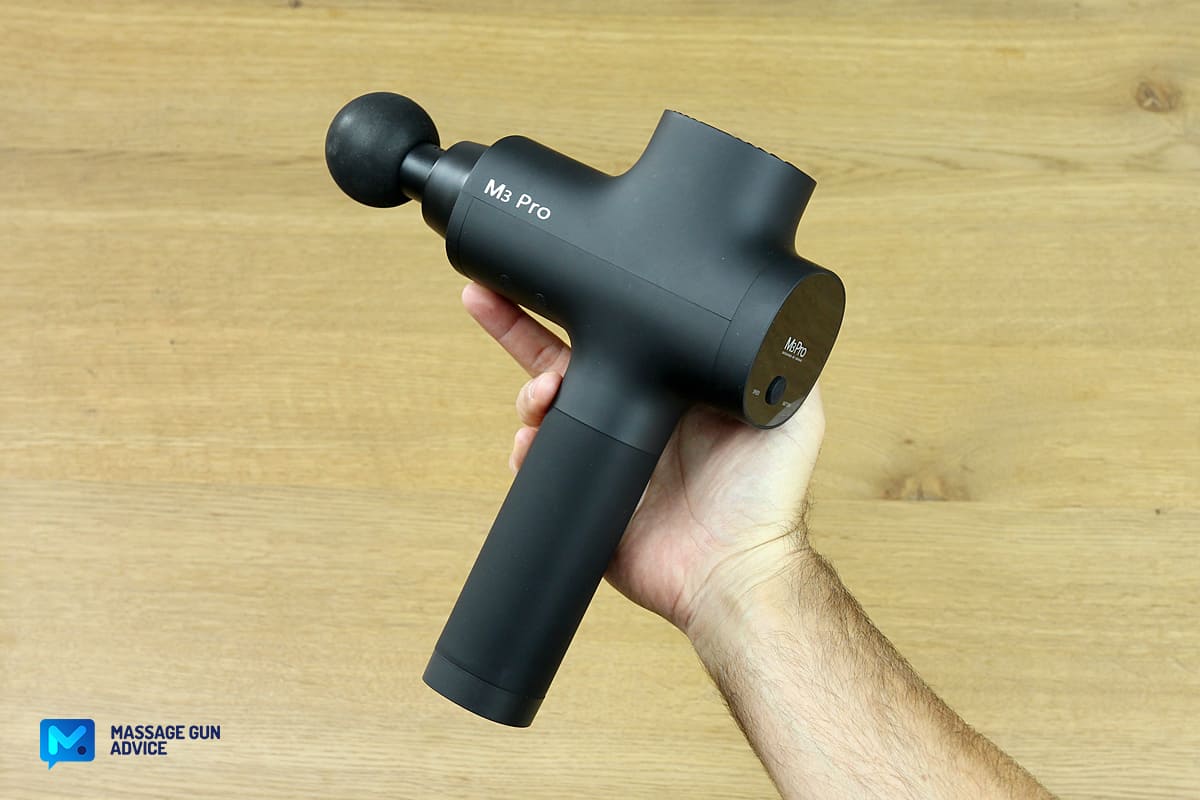 ---
Performance
Here's where we get to know whether this device has a case for being an excellent value for money.
---
Amplitude
Amplitude is the distance the massage gun head travels back and forth to give you the percussions. The amplitude determines how deep a gun can hit. Too short and it's probably not a percussion massager (vibrational therapy).
Most knock-offs tend to compromise the stroke length. But that's not the case with the new M3 Pro.
This thing has a 12mm amplitude, 20% more than it had before.
What does it mean? Well, we often call this amplitude a sweet spot.
This is medium amplitude, per massage gun standards. It the percussive therapy effective but at the same time, it doesn't feel as aggressive as punchy, high-amplitude guns, think of Theraguns or Achedaway.
With 12mm stroke length, the M3 Pro is dining with more expensive devices like Recoverfun Plus, Ekrin B37 or Hypervolt 2 Pro – even though the latter has 14mm amplitude, the 2mm difference is negligible.
After seeing the 12mm stroke length, we just had one question, does the M3 Pro have enough stall force to sufficiently utilize the amplitude? We have seen devices like Urikar AT1 with 16mm amplitude fail miserably to justify the long amplitude with enough stall force.
---
Stall Force
This is the amount of pressure it takes to stall the motor of a percussion massager, usually when the device is pressed hard against the muscle.
Stall force is an important parameter in a massage gun because it determines what type of therapy you can have. Too little force means the device won't hit deep into the muscle tissue with a proper intensity (will slow down under pressure). The more power a device has, the better it can deliver.
According to info graphics at Opove.com, the M3 Pro impressively delivers 70lbs. of stall force.
If true, that would be higher than the mighty Achedaway Pro and Theragun Pro, so we knew we had to take it with a pinch of salt.
In reality, it is less. By comparison to our benchmark devices, we can confidently say the stall force of this thing is between 40 to 45lbs – pretty good, if you'd ask us
This is more than Hypervolt 2 Pro (estimated 30-35lbs), and likely more than 90% of massage guns that sell at Amazon. In fact, this is Theragun Elite range, or the more expensive brother, Opove Apex, if you will.
With 45lbs. stall force and a 12mm amplitude this new device is strong enough for athletes and demanding users. It can punch reasonably deep into even large muscles.
The stall force is progressive, meaning you'll only get maximum stall force when you hit the highest speed gear. This is good for those who may just want a soothing massage. You don't need to press it hard against the body to get the job done.
But what about the intensity of this thing?
---
Percussion Range and Speeds
Well, here things haven't been so hunky-dory for the new Opove.
The M3 Pro can get reasonably intense, but for a massage gun with a 12mm amplitude, it doesn't rev very fast.
It has the percussion range of 1300-2600 hits per minute, a tad less actually (we were able to confirm this with our laser tachometer device).
With 12mm amplitude it should be more intensive, because, usually, the shorter the amplitude, the faster devices tend to percuss.
We have seen massage guns with long amplitudes that are more intense than the M3 Pro, for instance Achedaway Pro (16mm) or Hypervolt 2 Pro (14mm).
However, both of them are more than two times expensive than the affordable M3 Pro, so in this context, Opove's result is actually decent and good enough to make the massage effective.
We also like that it can rev slow, 1300 percussions per minute on first speed. Many devices with this kind of amplitude starts only at 1800 or 2000 ppm, so here Opove stands out.
The slower percussion setup is great for warming up muscles before hitting the gym, running or a soothing massage session after a long day.
---
Battery
The M3 Pro 2022 has a 2600mAh capacity battery.
This is standard battery capacity for devices that weigh 2.5lbs or thereabout.
The battery is strong enough and will last for 2.5-4 hours.
Keep in mind that the battery will drain faster when more pressure and high intensity is used. But you will still have some juice left in the device 10 days later if you use it sparingly (10-15 minutes sessions per day).
The battery is not removable as we saw with the predecessor device.
This, perhaps, and the lack of Bluetooth Connectivity makes it different from Hypervolt 2 Pro, their inspiration model.
---
Noise
We didn't have absolutely any noise problem with this device. In fact, this might be the quietest percussion massager on the market, and we are confident it is the most quiet gun with a 12mm amplitude. This thing is whisper quiet!
From our measurements we determined that at the highest speed it revs up to only 62dB, with a normal background noise at 35 dB. At the first speed, our noise meter displayed 46 dB – it is crazy low!
The sound is also very smooth, unlike what you hear when Theragun Pro or Mini are rattling away. We'll also say it's smoother than any Hypervolt.
This is impressive if you consider the amplitude, usually such devices tend to rattle so much. To be honest though, it doesn't rev as high as some of the competitors, so it is also why it is perceived as a much quieter one. Nevertheless, Opove knows how to handle the noise business!
Also, the vibrations don't transfer to the handle, which is a sign of quality motor insulation.
---
Who is it Best for Then?
The M3 Pro is a pretty versatile device and will serve different people with different needs.
Because of the long amplitude and enough stall force, this device can serve athletes and amateur bodybuilders.
It can be taken to the gym for a warm-up massage and also used after a workout. It's also a great all-rounder device that the whole family can enjoy using.
Beginners who want a strong massage and don't know where to start, this will be a great option to consider.
Being almost similar to Hypervolt 2 Pro in performance (lower amplitude but better stall force), it's a great value for money massage gun, almost as good as its more expensive, high-amplitude brother called Opove Apex.
Therapists and chiropractors will also like this device. The only problem will be the lack of a removable battery which allows for continuous use.
---
Price, Warranty and Where to buy?
The M3 Pro goes for $119 for a limited time, a massive 40% off vs. the regular price of $199. You can buy it here at opove.com.
We recommend buying the device from the Opove store because they are always stocked. You also get free and fast shipping.
The device comes with a 1-year warranty if you provide the receipt as proof of purchase. There is a 30-day money back guarantee in case you are not satisfied with the product.
We've bought from Opove's store a few times already, and we never encountered any problems.
---
Opove M3 Pro 2 vs M3 Pro
So, how does the new device compare with its predecessor from 2019? We have a few points that we noted below.
More amplitude: 12mm vs only 10mm before.
The Previous M3 Pro had only about 30lbs. stall force. The successor has 40-45 lbs. which is a huge improvement.
New M3 Pro is lighter compared to its predecessor; 2.5lbs compared to 2.65lbs. in the original.
Obviously, the new one feels like a modern tech. The old one was from 2019 – that's ages in percussion therapy industry.
The new one doesn't have a detachable battery which was present with the old device.
Old M3 Pro had 3200 maximum percussions. The new Pro has less, 2600 due to longer stroke.
Latest M3 Pro is a incredibly quiet, one of the quietest guns out available.
The main difference however, is that the two devices are built for different purposes. The older M3 Pro being inspired by the first Hypervolt, was a vibrational therapy device because of the smaller amplitude and a weaker stall force. The new device is percussive and goes after the new Hypervolt 2 Pro (and its predecessor, Hypervolt Plus).
The older M3 Pro is no longer available. You can get their latest device at a very reasonable $119.
---
Opove M3 Pro vs Hypervolt 2 Pro
Opove has always been inspired by Hypervolt from the very first day, offering simplistic-looking devices for less. The new M3 Pro keeps the tradition by going after the new Hypervolt 2 Pro, and, to some extent its predecessor, Hypervolt Plus (still available at Amazon).
It only makes sense that the comparison be between these two. So here it goes:
Similarities:
Same shape with a vertical handle, design, black colored body.
5 speeds in both devices.
Ergonomics (Hypervolt's handle is more oval-shaped than M3 Pro's)
Similarly efficient on power – will last for 2 – 3 hours when used normally;
1-year warranty.
Hypervolt 2 Pro advantages over M3 Pro.
More amplitude, 14mm vs. 12mm in the Opove.
100 more max. percussions: 2700 vs 2600
Bluetooth connectivity with a dedicated app.
Pressure sensor with 3-level LED indicators.
Detachable battery (higher capacity as well, 3800 vs 2600mAh).
Opove M3 Pro advantages over Hypervolt 2 Pro:
More stall force; about 40-45 lbs (Hypervolt doesn't disclose it but we estimated less, ~35lbs.)
Tad lighter – 2.5 lbs vs. 2.6 lbs
Much quieter – 46 to 62dB vs. 55 to 65 dB (Hypervolt's sound is rougher, too)
More attachments – 6 vs. 5.
Carrying case included
More than half the price of Hypervolt ($119 at opove.com vs $349 at time of writing)
Verdict

If you must have the Bluetooth connectivity and a dedicated app, or you want something to use on you patients as a therapist or chiropractor (removable battery and pressure level indicators), then Hypervolt 2 Pro will likely serve you better.

On the other hand, the M3 Pro is a great personal device. It's a great gun with solid performance features and its own. It's also significantly cheaper even though it comes from a trusted brand.
---
Opove M3 Pro Review Conclusion
That is it for our Opove M3 Pro review. Opove have always been inspired by Hypervolt. This new device goes after the new Hypervolt Plus and the newer 2 Pro and does it so well and at an affordable price.
Opove may not get points from us for being innovative with this device, but they get more than a nod from us for a solid execution of a proven concept. We don't like the ergonomics that much, but we love how quiet and intuitive it is.
It's also the bang for your buck device if you consider the older M3 Pro.
---
Opove M3 Pro Max Rating
Quality

Effectiveness

Usability

Accessories

Price Value
Summary
Great solid device, T-shaped and so-so ergonomics but very good performance features. A definite improvement of the older M3 Pro. It has many advantages over Hypervolt Plus and at a very affordable price. A very good choice overall!
Disclaimers
The views and opinions expressed on this website are those of the authors. Any content provided by our bloggers or authors are of their opinion and are not intended to malign any religion, ethnic group, club, organization, company, individual or anyone or anything.
All product names, logos, and brands are property of their respective owners. All company, product and service names used in this website are for identification purposes only. Use of these names, logos, and brands does not imply endorsement.
It is our policy to make every effort to respect the copyrights of outside parties. If you believe that your copyright has been misused, please provide us with a message stating your position and we will endeavor to correct any misuse immediately.
Some of the links in this post are affiliate links. As an Amazon Associate, we earn from qualifying purchases. This means if you click on the link and purchase the item, we may receive an affiliate commission, at no extra cost to you. This helps us keep this website alive. Learn more here.
Amazon Disclosure
massagegunadvice.com is a participant in the Amazon Services LLC Associates Program, an affiliate advertising program designed to provide a means for sites to earn advertising fees by advertising and linking to Amazon.com. As an Amazon Associate, we earn from qualifying purchases. Amazon and the Amazon logo are trademarks of Amazon.com, Inc. or its affiliates. Please refer to our Privacy & Affiliate Policy for details.