Best Massage Gun For Elderly Folks – For When The Seniors Need A Massage
What To Know: our content is non-sponsored and fact-checked for accuracy. We anonymously order and rigorously test each product according to our methodology. We are reader-supported, and if you buy via our links, we may earn a commission. Learn more.
---
Welcome to our best massage gun for elderly people guide. Since we buy a lot of massage guns (to review them), we have had to disperse some of them to friends and family members.
Recently though, we decided to do a little experiment; give some massage guns to the elderly members of our family to see which ones they like the most. We gave 2 to 3 different massage guns to each of them. They were to try them over some time. The age group for this experiment was 62-78.
We then sat down and discussed what we gathered from them. We can say we had some very interesting feedback.
---
---
Based on the feedback we got and our knowledge of interacting with these massage guns as well, we made a list of top picks for the elderly. We also have tips on what to look for when you are choosing one.
Read on to find the best massage gun for seniors.
In a hurry?
If you can't read through the entire post, here are our top recommendations:
Ekrin 365 – Everything about it seems to have been designed for the elderly. It's light, has great ergonomics, just enough power, a lifetime warranty, and a great price.
Opove Apex or Ekrin Bantam – these are for those who want something punchier (the Apex) or really small in size (Bantam).
---
How Seniors can Benefit from Using Massage Guns
First of all, a good massage can do wonders to physical well-being and our state of mind. Massage therapy as a whole can help you rehabilitate problem areas on your body as well as enhance the overall performance of your muscles.
It's also good as an anti-inflammatory measure and can reduce the risk of muscle injury if done on a regular basis. With good massage therapy, you can get blood flowing through your circulatory system and all the other fluids flowing through your lymphatic system without a hitch.
Elderly folks should consider getting a massage on a regular basis, and massage guns are nothing else than smart, handy tools that allow on-demand, DIY massage therapy.
We discussed extensively the benefits of using massage guns in this post which you can check out later. For now, we'll just note that massage guns have plenty of benefits for seniors.
They can be used as an extra prescription for injury or illness or they can be a significant method of staying fit and healthy. Here are some direct benefits for seniors:
Massage therapy has been known to reduce stress and improve the overall mood of a person. For the elderly, stress levels tend to go overboard and grumpy can be a word thrown at you often. Turns out massage guns have a way of keeping your stress low1 and keep you in high spirits.
If used correctly, a massage gun can help you relax. Massage therapy helps to reduce tension in the body, especially after a stressful and hard day. It has also been proven that massage therapy can help stroke patients feel comfortable and relaxed. This relaxation also helps Alzheimer's patients.
Massage guns can help reduce pain. Pain reduction is very important for people who have recently had cardiovascular surgery. For patients with knee arthritis2, massaging your legs can greatly reduce pain.
Last but not least, an advice from one of our experts:
I would highly recommended for elderly consumers to consult a physician prior to using a massage gun at home. Especially if they have any medical conditions or take medications that cause easy bruising, have a pacemaker, or are just not sure if they should use a percussive device.

~ Elizabeth Falk, PTA, OPTA, NASM-PES
---
Choosing a Massage Gun for Elderly Folks
Based on the feedback we got from our older family members and using our own knowledge of massage guns, we have a few points to share on what makes a great percussion massage for elderly people.
---
How Powerful Should it be?
In determining the power of any massage gun, we look at three aspects; stroke length (amplitude), stall force, and percussions per minute.
---
Amplitude
This is the distance traveled by the massage gun head to give you the percussions. It's also called stroke length. Based on how far the head travel goes, you can get two kinds of massage gun therapy; vibrational and percussive. We consider massage guns with head travel of below 10mm to be vibrational while those above 10mm can be percussive. But there is what we consider a sweet spot (10-13mm), and there is also what we consider punchy or aggressive (14-16mm).
From what we could gather in our little experiment, older people prefer the sweet spot (10-13mm) which isn't surprising. Unless it's a case of Arnold Schwarzenegger kind of physique (heavy muscles), then you'd probably need a punchy gun with 14-16mm.
That can also apply if you exercise regularly and need something a little bit aggressive. If you are such a person, check out Opove Apex, our third recommendation down below. But take care not to hurt yourself because punchy guns can be painful especially around the neck, shoulder, or lower back.
On the lower spectrum (massage guns below 10mm) however, you will likely not be able to achieve deep tissue massage. This defeats the purpose of getting a massage gun in the first place.
From what we could gather from our loved ones, although the first few sessions with a massage gun felt painful (for those with soreness), after a few sessions you start to enjoy the benefits of deep tissue massage.
That's why we recommend going for a device that has at least 10mm, ideally 12 or 13mm stroke length. These are neither vibrational nor too aggressive. They can be delicate over the skin and can also go deep as long as there is enough stall force to work with.
---
Stall Force
Stall force is the pressure it takes to stall the motor of a massage gun. Like we explained above, if you have a massage gun with 12-13mm amplitude, you need enough stall force to get deep tissue treatment. If there isn't enough stall force in a massage gun, pressing it against the skin will stall its motor (stop it). A massage gun with less than 30lbs. of stall force is considered entry-level while one with 50-60lbs. is considered powerful (most powerful).
Seniors can benefit from a decent entry-level massage gun. We believe going for something with a stall force of 30-35lbs. will give you great results.
Again, if you feel you need a device that can go "deep to the bone" then go for something more powerful. We can recommend Ekrin B37 which has a stall force of 56lbs.
However, a majority of older folks will enjoy a gun with 30-35lbs. of stall force with 12-13mm amplitude.
Such a device will allow for a soothing and relaxing massage before or after sleep. You can also use it on sensitive areas that are sore or painful to warm and relax the tissue. When you need to, you can press it against the skin for deep tissue massage.
Such a device will also be perfect for foot massage to alleviate plantar fasciitis (we recently did a post on the best massage gun for plantar fasciitis).
---
Percussions
For hits per minute, a lot of massage guns tend to be predictable. Most massage guns with long amplitudes tend to have fewer maximum hits per minute due to the longer head travel.
For instance, Theragun massage guns have 16mm amplitude but can only rev up to 2400 hits per minute – they can punch harder but not very fast. Same goes for the Opove Apex (14.5mm, 2300 hits per minute).
But for 12-13mm amplitude massage guns (most of our picks below have this), the maximum percussions can go up to 3300rpm – which is really fast.
While these guns will not be as punchy, they can rev faster. This makes them powerful as well.
---
Massage Gun for Old People – Performance Comparison
Stall Force
Conclusion
In our opinion, a device with 30-45 lbs. of stall force will be an excellent choice for seniors. It will allow some reasonable pressure to be applied against the skin (if you wish to).
Amplitude
Conclusion
Opove shines with 14.5 stroke length but we think a 12-13mm amplitude is a sweet spot. Not too vibrational, but not too punchy either. Bantam has only 10mm, but it is a mini gun, thus the shorter stroke length.
---
Size, Weight, Ergonomics, and Ease of Use are Key Features too…
From the feedback we got from the members of our family who tried the different massage guns we gave to them, we picked a few points worth noting for massage guns for the elderly:
They should be light – 2.5lbs may be a tad bit heavy and so we have recommended guns that don't go past the 2.3lbs mark. The real deal here is the Ekrin 365 that only weighs 1.7lbs.
Shouldn't be bulky – None of our elderly family members liked the bulky massage guns. So we'd stay away from Urikar AT1 for this category. Small is better as long as it meets the power criteria. We included a mini gun (Ekrin Bantam) that checks all boxes.
For ergonomics – we stayed away from the 90-degree handle massage guns that can cause tension and fatigue to the wrist and opted for devices with a tilted handle. You can hold them naturally and reach your lower back without having to strain so much. We also opted for devices with thinner extended handles which can be comfortably handled by folks with small hands.
Ease of Use – Some massage guns have a lot of extras and can be too complicated as a result. Older folks love something easy to use. That means small buttons, too many buttons, LCD screens with tiny fonts are a no! We opted for simplified devices. These are easy to turn on/off, easy to change speeds, and everything can be read easily.
---
Other Features Worth Checking for
Noise – The last thing an elderly person needs is a noisy device. They prefer devices that don't disturb their peace. That's why we have suggested devices that you can have a conversation while using them. One thing worth noting is that devices with long amplitudes tend to be noisy. Most of our picks are quiet.
Attachments – Look for 4-6 varied attachments to massage the whole body. Beware of brands that try to sell you up to 20 attachments. Most of them use it as a trick to lure customers. Now you know!
Battery and charging – Most massage guns today have decent battery capacity and a single charge can last for a few days or even a week. However, look out for convenience – how easily you can charge your device. We find that a device with USB charging is fun to have because you can charge it on your laptop or use a power bank. One less bulky charger to worry about!
Travel case – It's nice to have one.
Warranty – Most brands will offer a 1-year warranty. However, there are awesome brands that offer lifetime warranties and superb customer support.
Value for money – Make sure the device is worth its cost.
---
Best Massage Gun for Elderly – Our Recommendations
Here are the best picks, in our opinion, for the best massage gun for elderly folks.
---
Ekrin 365 – Our Best Pick

Ekrin is one of our favorite massage gun brands. We have bought, loved, and reviewed their products.
The 365 massager was recently just released and we believe it's the perfect massage gun for old people. It has a perfect blend of everything we just discussed above; not too weak, but not too strong either – a sweet spot.
For starters, it has a 12mm amplitude which is great for a massage gun in this category. We are yet to see an Ekrin massage gun that has anything other than a 12mm stroke length. We also talked about entry-level stall force and this device has more than that – 40lbs. of stall force.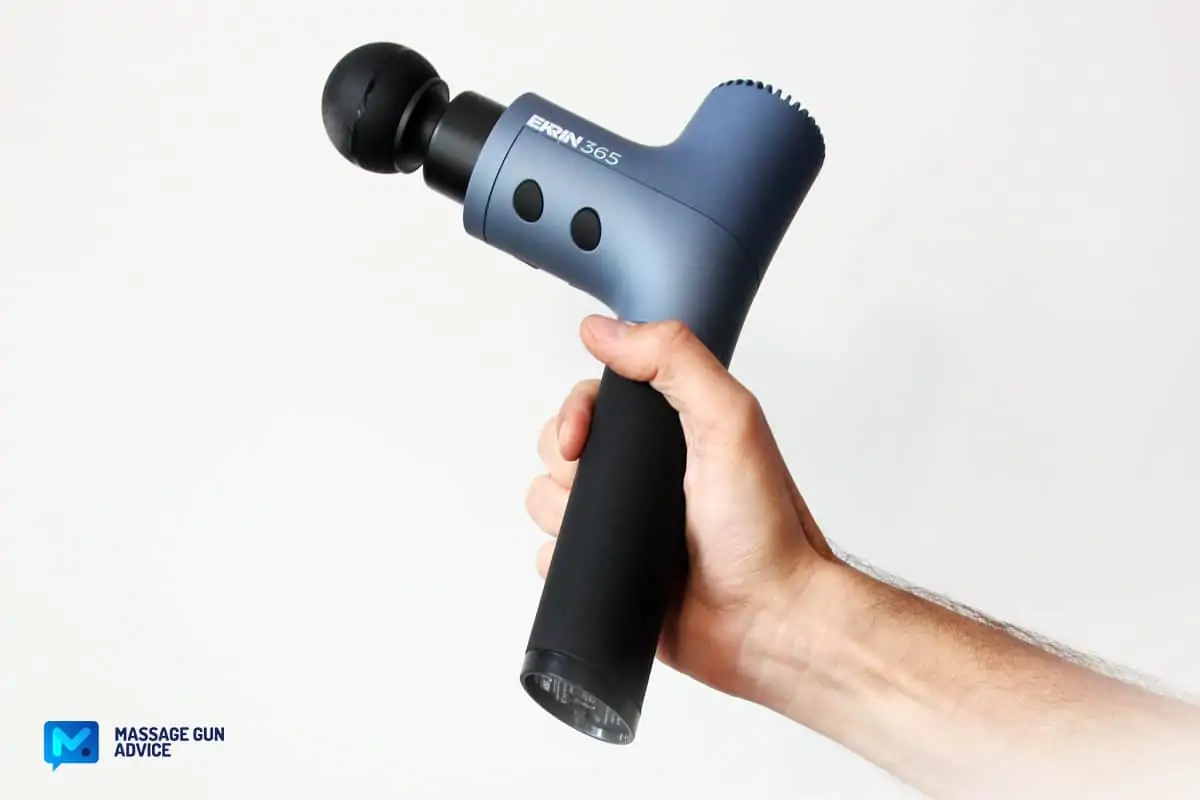 Well, isn't that slightly powerful? Not necessarily, it just means that this device can withstand more pressure but can still be gentle. The 40lbs. of stall force is perfect when you need to massage large muscle groups.
As far as percussions go, this device can rev up to 3200 hits per minute. This is awesome for a soothing massage after a long day. You simply pass it over your skin and let it do the work.
Another aspect that makes this massage gun great for seniors is the ergonomics. Apart from just making a tilted handle which is great to hold, Ekrin has added a few more details to it.
The handle has been extended, made thinner for people with small hands, and a great deal of rubber grip has been added as well. As a result, even the overall weight of the device is greatly lowered – from the usual 2.2lbs (for the older guns) to a portable 1.7lbs.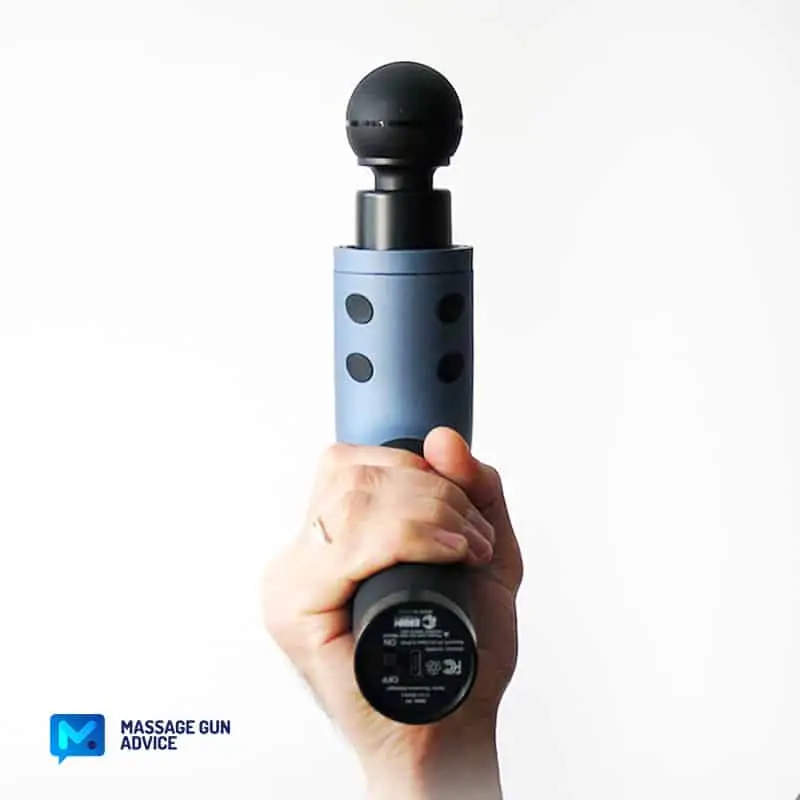 The battery on this new device is great as well. With a single charge, you can get up to 5 hours of continuous running.
It's a simple device with a single-button operation. Ekrin makes them silent so you won't have to worry about the noise on this one. It charges via USB for convenience and has 4 nicely varied attachments.
You get a lifetime warranty, hassle-free returns and US-based customer support.
Father's Day SALE
Enjoy 25% off the Ekrin 365 and any other Ekrin massager until June 18th. Use code MGADAD25 at checkout to apply the discount. Click here to claim your offer
It only costs $179.99 or $143.99 if you use the coupon MGA20 that gives you a 20% discount. You can get it at ekrinathletics.com
TIP More more information, refer to our in-depth Ekrin 365 review.
---
Urikar Pro 2 – Larger, but Heated and Adjustable

Another great percussion massager for older people. Urikar is a relatively new brand that offers affordable massage guns. Just like our top pick above, this massage gun ticks a lot of the boxes that we have outlined in this guide, plus more.
The Pro 2 has a 12mm stroke length – they advertise it as slightly longer, 15mm, but we checked with a digital caliper and it is 12mm – still in the recommended range. This gun will be slightly punchy but good enough for the elderly.
It has a stall force of 25, maybe up to 30 lbs. You don't need to afraid of applying too much pressure with this one, it isn't the strongest one. Yet, it is just enough for when you need to dig a bit deeper into the muscle.
As for the hits per minute, you can expect this device to be moderately intensive, which as we have said, is perfect for a relaxing session.
But it gets even more interesting with ergonomics on this gun. It's not only a great massage gun to hold, it has an adjustable arm that moves into 2 lockable positions for extended reach – great for a DIY massage.
It is reasonably light, weighs 2.1lbs. It is actually lighter than you think it is when you look at it – it is not as compact as our top pick Ekrin 365. Some of our older family members said it was slightly large but manageable. The handle diameter is also larger than the Ekrin 365 one.
Last, but not least, the Urikar's killer feature: heated massage capability. It comes with a special, ceramic-coated attachment that warms up to 104-113 degrees F. to deliver a warm, soothing, and relaxing massage experience – seniors will love it.
It only has a 1-year warranty though, another reason why we've chosen Ekrin as our best recommendation. This one, however, is more affordable.
It usually costs $149.99 but you can get 40% off if you use the coupon URIKAR200 coupon at the checkout, so it will only be $90. Get it from the Urikar's store here.
TIP More more info, read our very own Urikar Pro 2 review.
---
Opove Apex – For Those Preferring Deep Hits
For active seniors who would rather have a deep tissue massage than vibrational therapy, this one is the massage gun for you.
It's not as light as Ekrin 365, and the handle isn't as thin, but it does really well in other areas. For starters, for the elderly folks that want a higher amplitude, this one has 14.5mm – over 2mm more than Ekrin 365.
What that means is you have a slightly aggressive massage gun that will hit deep into the muscle tissue. It will not be as thudy! as, say Theragun Pro (the 1.5mm difference). You can use it on your quads and hamstrings.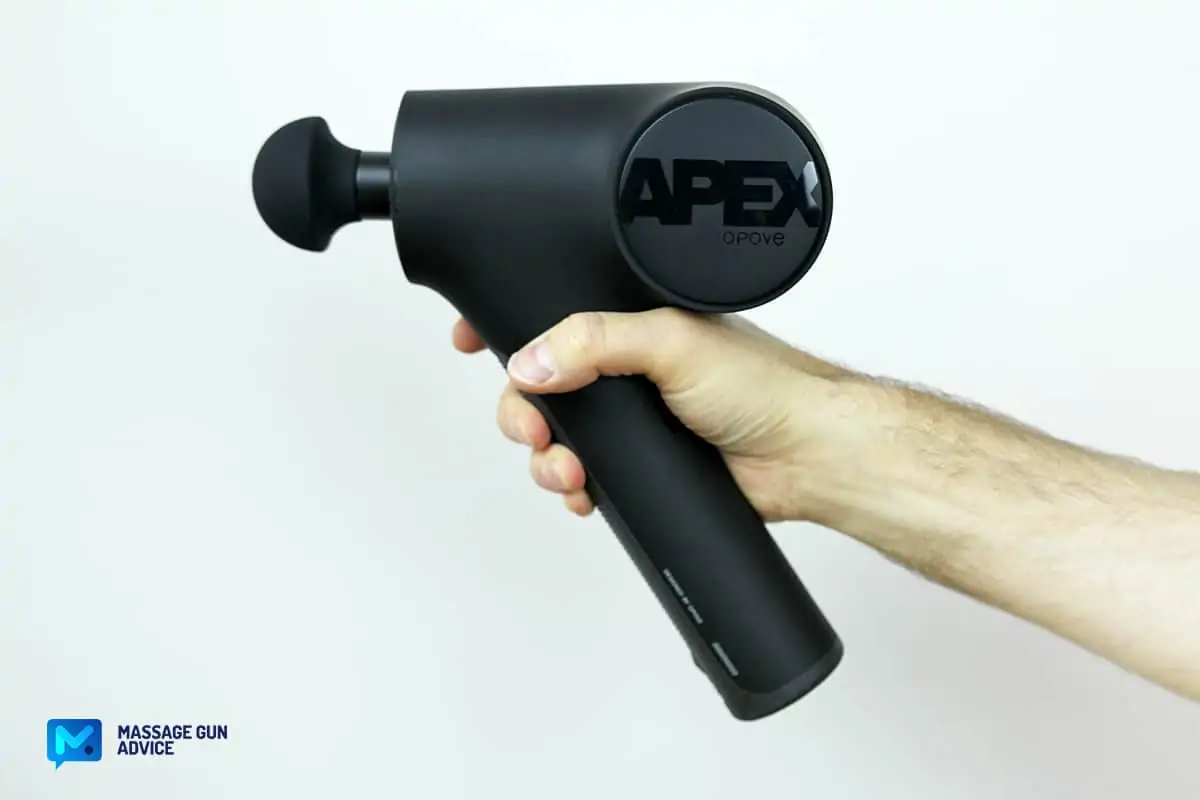 For power (stall force), if you prefer an aggressive massage you'll want something that doesn't stall easily. This gun has just as much power to withstand reasonable pressure. It's about the same stall force as Ekrin 365, only here you get a bit more punch with it.
Since it's a high amplitude gun, don't expect it to vibrate with many percussions. With 2300RPM as the maximum percussions, you have something that you can comfortably work with. There are only 3 speeds to work with. It's not a favorable setup for us, but you will get used to it pretty quickly.
Another advantage that you will also have with this device is the weight. With about 2.3 pounds, it falls within the category of a nice gun for the elderly.
The handle is aggressively angled to give you more room to naturally hold it as you massage. It gives you two spots to handle when using – the top part and the handle itself. In both positions, it sits comfortably in your hand.
It usually costs $199 but currently you can get it for $165 – a special introductory price. Get it here at opove.com.
TIP We share a lot more in our full Opove Apex Review here.
---
Bob and Brad X6 Pro – For Heat & Cold Treatment

Bob and Brad have recently released a full-sized massage gun and we believe it has the perfect features for an elderly massage gun. It's not as great as our number one pick, but it definitely has the qualities to feature here.
For starters, Bob and Brad increased the stroke length from the previous C2 model – instead of 8mm, it's now 10mm. Not that the additional 2mm will make a world of difference – it's still feels more like a vibrational device, but some elderly folks will prefer it over 8mm.
The stall force is much better with this new device. When you need to press the device against the body, the 40lbs. of stall force will be enough. It also revs faster – 2000-3200 percussions per minute across 5 speeds.
The X6 Pro is a compact device and weighs just 1.9 pounds. Still slightly heavier than Ekrin 365 but a good spot for an elderly gun.
It comes with a nice carrying case and 5 attachments, including a metallic one that offers the option of a heated or cold massage.
The X6 Pro costs less than $150 and includes a 1-year warranty.
TIP For more information, refer to our full Bob and Brad X6 Pro review.
---
Ekrin Bantam – Best Mini Massager for Seniors
Another massage gun from Ekrin. This one is a true mini massage gun that got decent points from the elderly folks at home. It's tiny but powerful enough to cater to the massage needs of the elderly. It's the perfect massage gun for those who travel a lot.
It weighs just 1.1lbs which is expected of a mini massage gun. In terms of the power it can deliver, this mini device has a 10mm amplitude and up to 35lbs. of stall force.
It's okay that it has a small amplitude because you don't really get more from such devices (only Theragun mini has more but its stall force is disappointing). But even with 10mm amplitude, the 35lbs. of stall force should help to mitigate some of that. You can still get a good massage with this thing.
The 3200 maximum hits per minute should also help you get in a decent massage.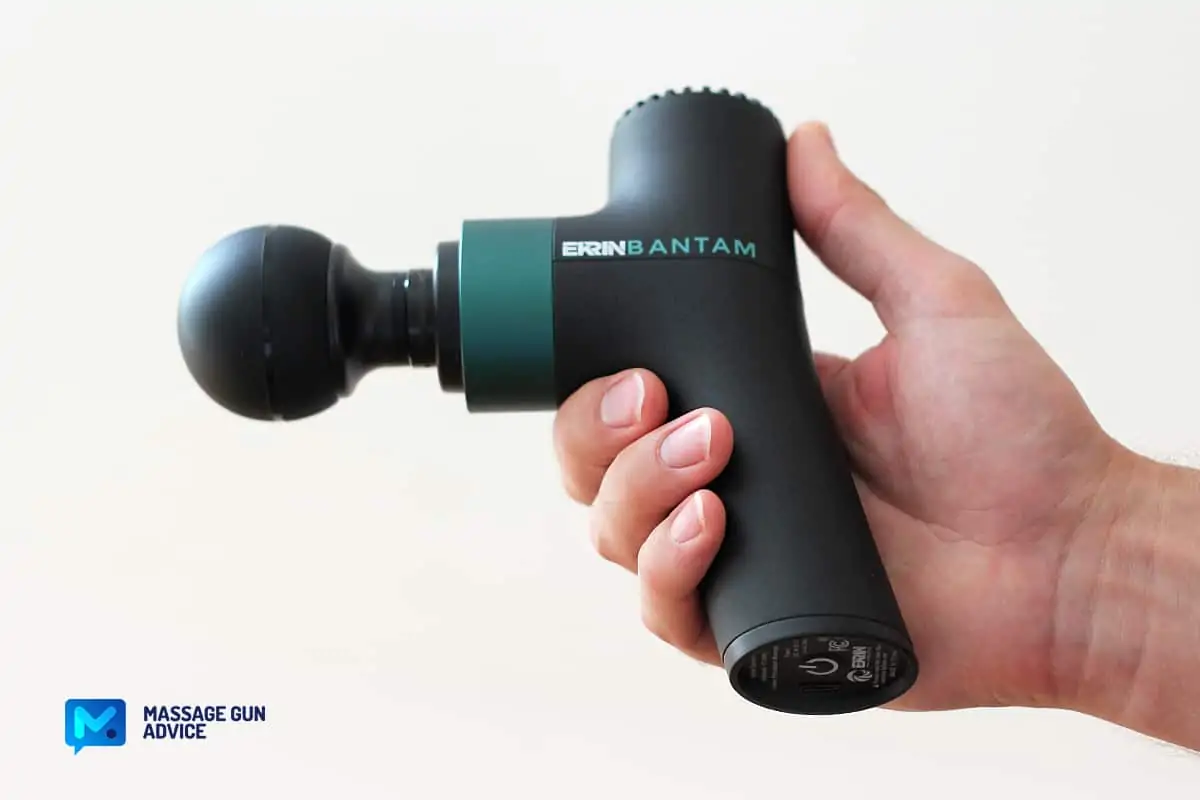 The handle is angled, just as the rest of Ekrin devices. You can easily massage your lower back. The handle circumference is 5" which is the same as Ekrin 365.
It is a simplified device that is very easy to operate – just one button to turn it on and cycle between the speeds. The battery will last for 6 hours and you can conveniently charge it via USB.
It has a lifetime warranty and customer support. The regular price is $149.99 but you can get it for $119.99 if you use the 20% discount coupon MGA20. Get the Bantam right here.
TIP Check out our detailed Ekrin Bantam review →
---
Which Theragun For Elderly People?
We owe the whole percussive therapy idea to Theragun and we believe an honorable mention is the least we can do.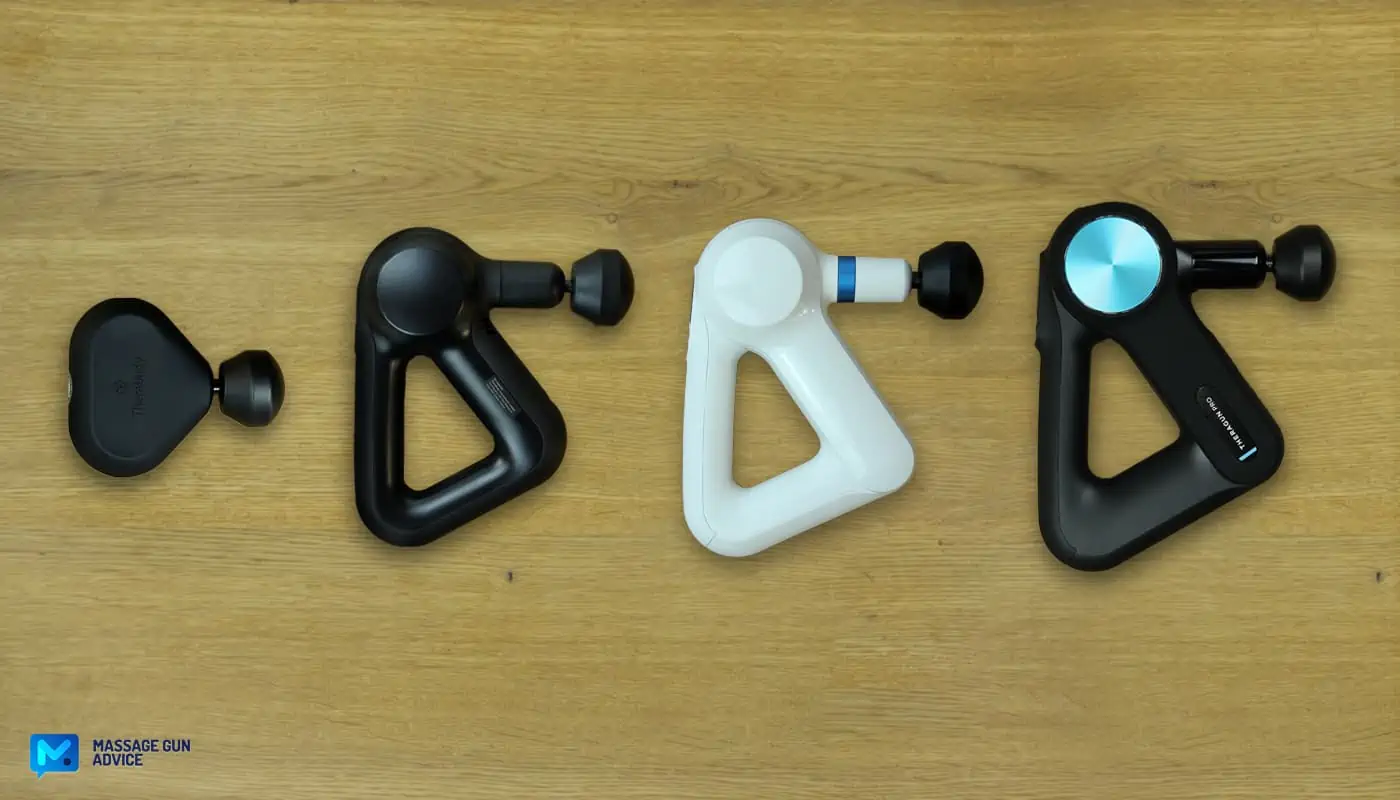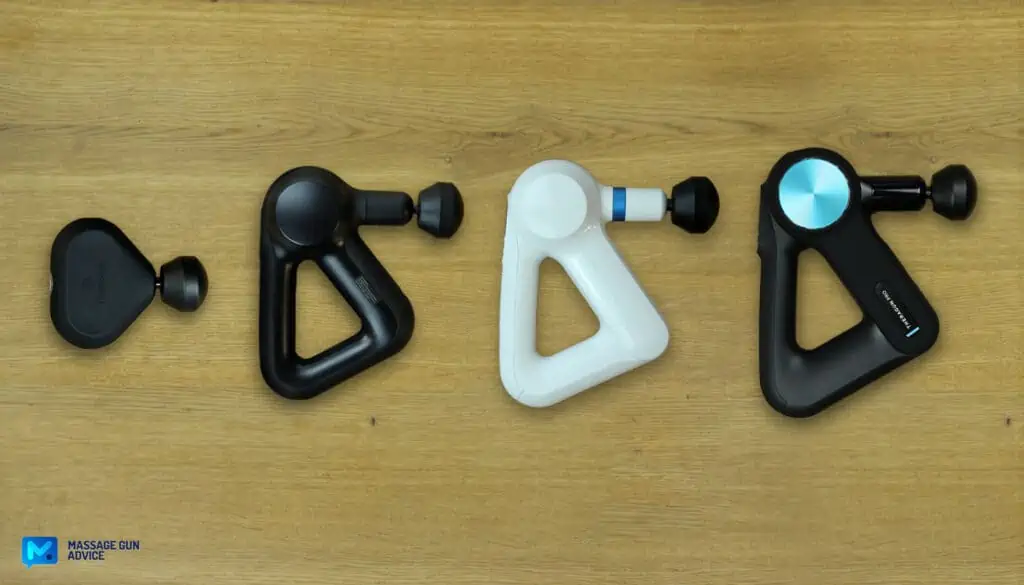 However, Theraguns are specifically known for their long amplitudes – all their 4th generation massage guns have 16mm amplitude apart from the mini which has 12mm amplitude (the highest in the category). The motor power differs per device though.
If you like punchy devices and can afford a Theragun, then by all means go for it. If you want something punchy but affordable, check out our Achedaway Pro review – it is a very good alternative.
But which Theragun will be the best for the elderly folks? Well, we'd recommend the entry-level Theragun Prime or Theragun mini.
The former has a 16mm amplitude but only 30lbs. of stall force. We believe that is good enough for most older folks.
Theragun mini on the other hand is more portable and has the perfect 12mm amplitude. We just have an issue with the weak stall force. It does stall very easily and will not be perfect for those who may want to apply pressure when they need to.
All Theraguns rev up to 2400 hits per minute. That is 700-800 fewer hits than all our picks above. The longer stroke length means fewer percussions.
A few things to point on the best Theraguns for elderly folks:
Theragun Prime has 4 attachments but Theragun mini has just one.
There is no carrying case for Prime but there's a pouch for the mini.
The batteries in both devices will last for only about 2 hours on a single charge.
Theraguns are not known for being quiet. Our picks above are way quieter.
Theraguns are expensive. Theragun Prime will cost you $299 while the mini goes for $199 – take your pick. You can change the latest price here (for Prime) and here (for the mini), just to see if anything changed since we published this post.
The warranty for both devices is just 1 year.
Our Take

Theraguns may be awesome devices for deep punchy massaging – if you can afford them, but the high cost, short warranty, and few accessories make them a disappointing choice if you want more value for your money.
---
Best Massage Gun for Seniors – Bottom Line
Before we wrap up our best massage gun for elderly folks guide, we would like to once again reiterate that massage guns are important tools for the elderly. These devices can help improve the health and overall life quality of the senior members of our society.
We compiled this list based on actual feedback from real elderly users of massage guns.
Once again we have to say they loved Ekrin 365 for its brilliant qualities and affordable price (especially with the MGA20 discount code applied at checkout).
The other picks on our list were also highly favored. Theraguns may be expensive but if you can afford one and know what value you can get, then by all means go for one.
---
Article Sources
Carolina Barquilla Ávila, Juan Rodríguez-Mansilla.

Therapeutic massage on behavioral disturbances of elderly patients with dementia

.

National Library of Medicine, Epub 2015 Jan 29.

.

Nicole L Nelson, James R Churilla. Massage Therapy for Pain and Function in Patients With Arthritis: A Systematic Review of Randomized Controlled Trials. PubMed.gov, 2017 Sep;96(9):665-672.
Abilio Reig-Ferrer, corresponding author Rosario Ferrer-Cascales, Ana Santos-Ruiz, Adolfo Campos-Ferrer, Alvaro Prieto-Seva, Irene Velasco-Ruiz, Maria Dolores Fernandez-Pascual, and Natalia Albaladejo-Blazquez. A relaxation technique enhances psychological well-being and immune parameters in elderly people from a nursing home: A randomized controlled study. Published online 2014 Aug 23. doi: 10.1186/1472-6882-14-311

---
NOTE: We only use high-quality sources and rely on peer-reviewed studies, academic research institutions, and medical associations to support the facts within our articles.
Was this article helpful?
Your feedback makes our content better!
Thanks for your feedback!
Post Update History
Here's a quick rundown of all the tweaks and edits we've made to this article to keep it accurate and up-to-date!
Current version last updated on:
•
Written by:
Greg Szostak
Disclaimers
The views and opinions expressed on this website are those of the authors. Any content provided by our bloggers or authors are of their opinion and are not intended to malign any religion, ethnic group, club, organization, company, individual or anyone or anything.
All product names, logos, and brands are property of their respective owners. All company, product and service names used in this website are for identification purposes only. Use of these names, logos, and brands does not imply endorsement.
It is our policy to make every effort to respect the copyrights of outside parties. If you believe that your copyright has been misused, please provide us with a message stating your position and we will endeavor to correct any misuse immediately.
Some of the links in this post are affiliate links. As an Amazon Associate, we earn from qualifying purchases. This means if you click on the link and purchase the item, we may receive an affiliate commission, at no extra cost to you. This helps us keep this website alive. Learn more here.
Amazon Disclosure
massagegunadvice.com is a participant in the Amazon Services LLC Associates Program, an affiliate advertising program designed to provide a means for sites to earn advertising fees by advertising and linking to Amazon.com. As an Amazon Associate, we earn from qualifying purchases. Amazon and the Amazon logo are trademarks of Amazon.com, Inc. or its affiliates. Please refer to our Privacy & Affiliate Policy for details.