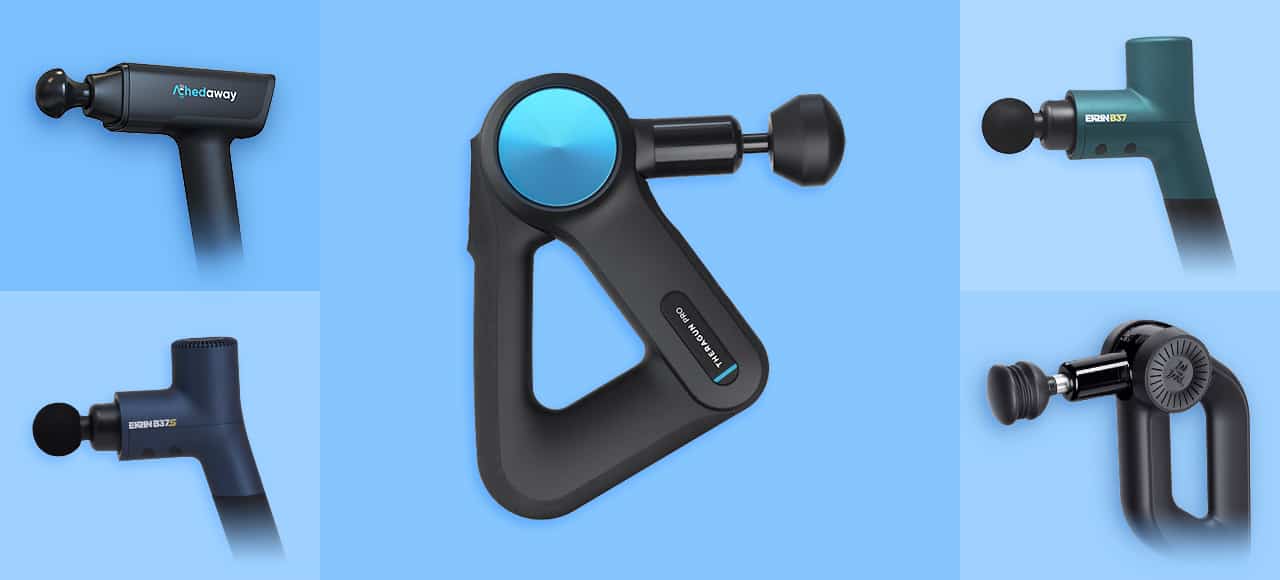 Best Theragun Alternative – What Else if Not the Mighty Theraguns?
Disclaimer: Our content is unbiased, non-sponsored and fact-checked. If you buy via links on our site, we may earn a commission. As an Amazon Associate, we earn from qualifying purchases.
---
In this post we'll cover the best Theragun alternatives. Wait, what is the best Theragun alternative? Does anyone even come close to making better percussion massagers as Theragun?
Yes, in 2022 there are certainly good massage gun brands that can now rival Theragun and sometimes even outgun them.
Theragun SALE Save up to $200 on 4th gen Theraguns. Browse all the deals
---
TL;DR
In a hurry and don't have time to read the whole article?
Here are two alternatives to each Theragun to consider:
7 Best Theragun Alternatives
---
---
Are There Any Products Similar To Theragun?
Yes! But first, we'll give credit where it's due; Theragun have dominated the percussive therapy industry for some time now. For the better part of that time their massage guns have been the best and worth every costly penny spent on them.
They have been, and are still top quality products. But as we've said, it's 2022 and things in this industry have changed. What hasn't changed though is the pricey nature of Theraguns. They simply are not affordable for everyone.
You could put up a case for Theragun's innovativeness, but, to be honest, Theragun no longer holds the title for being ingenious anymore – other brands are giving them a run for their money. More brands have been able to come up with similar or better quality devices and managed to keep their devices affordable.
We know all about this because not only have we had all Theraguns and reviewed them, we also buy and test new devices almost every day.
Truth be told, we don't find Theraguns fascinating anymore, call it overconfidence bias, but we truly believe there are better alternatives to Theraguns and this article proves it.
Read along to find out!
---
Theragun's Strengths and Weaknesses – In A Nutshell
Theragun, for us, has always stood out with their connectivity features. The Therabody app is the one feature that makes them the crème de la crème of the percussive therapy industry.
But even if that is just an embellishment that can be overlooked, you certainly cannot overlook the fact that Theragun excels in:
Superb Ergonomics
The triangular design (especially for their full-sized massage guns) allows for a multiple grip handle that is a huge advantage when you are doing a DIY massage. You can practically reach all areas of the body without making your arm uncomfortable.
Theragun Pro even has an adjustable arm that locks into one of four positions. However, as we've seen with other devices, secure ergonomics can be achieved without multiple grips – slight imagination and small tweaks. These devices have also achieved this while being compact.
Industry-Leading Stroke Length
Stroke length being the distance covered by the massage gun head as it moves back and forth to give you the percussions per minute. Theragun's 16mm amplitude for the full-sized guns and 12mm for the Mini really are unrivaled – a lot of devices struggle to reach 13mm let alone 16mm.
The Mini has the longest stroke length in its category. However, apart from the Mini, Theragun's full-sized guns are not so highly perched when it comes to the amplitude anymore.
But even if Theragun were somehow able to tower above all other devices with their stroke length, there is the issue of that privilege being put down by inadequate stall force. The stall force is an important parameter in percussive therapy and Theragun hasn't always impressed here.
We addressed our concerns when we reviewed the Prime and the Mini – the stall force in these devices is too low and the long amplitude feels not fully utilized. Even Elite, their mid-range gun, had somewhat sufficient stall force but failed miserably when more was demanded of it.
Apart from the inadequate stall force to fully utilize the long amplitude, Theragun's Achilles heel has also been:
Above average noise – As an industry giant they cannot seem to solve the noise conundrum in their devices. However, the recently released 5th gen Theragun Pro is quieter, and so is the Mini 2.0, so things are heading in the right direction for Therabody!
So-so varied attachments – attachments like Ball and Dampener feel basically the same.
Few accessories in their entry-level guns – Prime has 4 poorly varied attachments don't come with a carrying case. Mini used to have just one attachment, but the new Mini 2.0 finally has more.
Average battery performance – their batteries struggle to rev for more than 2 hours. Moreover, the new Pro now comes with just one battery (the 4th gen Pro has two).
High price – too high for many potential customers.
Poor warranty – just 1-year, with more protection when you pay for it. Only Theragun Pro has 2-year warranty.
---
So, What Then Makes The Best Theragun Alternative?
So here's what makes the best Theragun alternative:
More stall force – better than any of the Theraguns can offer.
Similar stroke length – but even 12mm amplitude is acceptable as long as the stall force is good enough. This will yield better results than a Theragun with 16mm amplitude but with low stall force.
Well thought-out ergonomics.
At least the same number of attachments – many competitors outperform Theragun here.
More varied attachments.
Lower noise levels – only Theragun seems to be struggling here, although they've improved things a little in the latest generation Pro and Mini.
Extra features – pressure sensors, dynamic speeds/modes, heated tips, USB-C compatibility etc.
Affordability or value for money
Better warranty – Theragun offers at most 2-year warranties, better brands offer lifetime warranties.
Now that you know what to pay attention to, let's check what devices meet the above criteria. We've prepared not one but two great alternatives to each Theragun.
---
Best Theragun Mini Alternative
---
Ekrin Bantam – More Power, Better Warranty

This is the best Theragun Mini alternative in our opinion. We complained when we reviewed the Mini about how easily it was to stall its meager 20lbs. stall force.
On the Bantam, the stall force is advertised as 30-35lbs! It is even more powerful than Theragun Prime, which is the full-sized entry-level massage gun. Prime has 30lbs. stall force.
Bantam has about 10mm amplitude (slightly less), and if you saw how small it is, this is an impressive stroke length. Yet the Mini still has a better 12mm amplitude – the highest in the business. So in practice, Theragun feels a tad more percussive, but the Bantam will likely be more effective.
How's that? Well, it boils down to intensity. Bantam's shorter stroke delivers a whooping 3200 percussions per minute, 25% more than Theragun Mini, which only revs up to 2400 hits per minute.
The whole thing about percussive therapy is to create an impact of between 2200-3300 RPM to override pain signals to the brain, which subsequently leads to tension release.
Bantam has the right intensity to do the job and high enough stall force to prevent its motor from slowing down when you press it to larger muscles. It just doesn't slow down percussions easily when the pressure is exerted, and it takes a fairly good amount of force to stall it completely.
Therefore, the combination of high stall force and fast percussions is what makes this tiny gun so effective.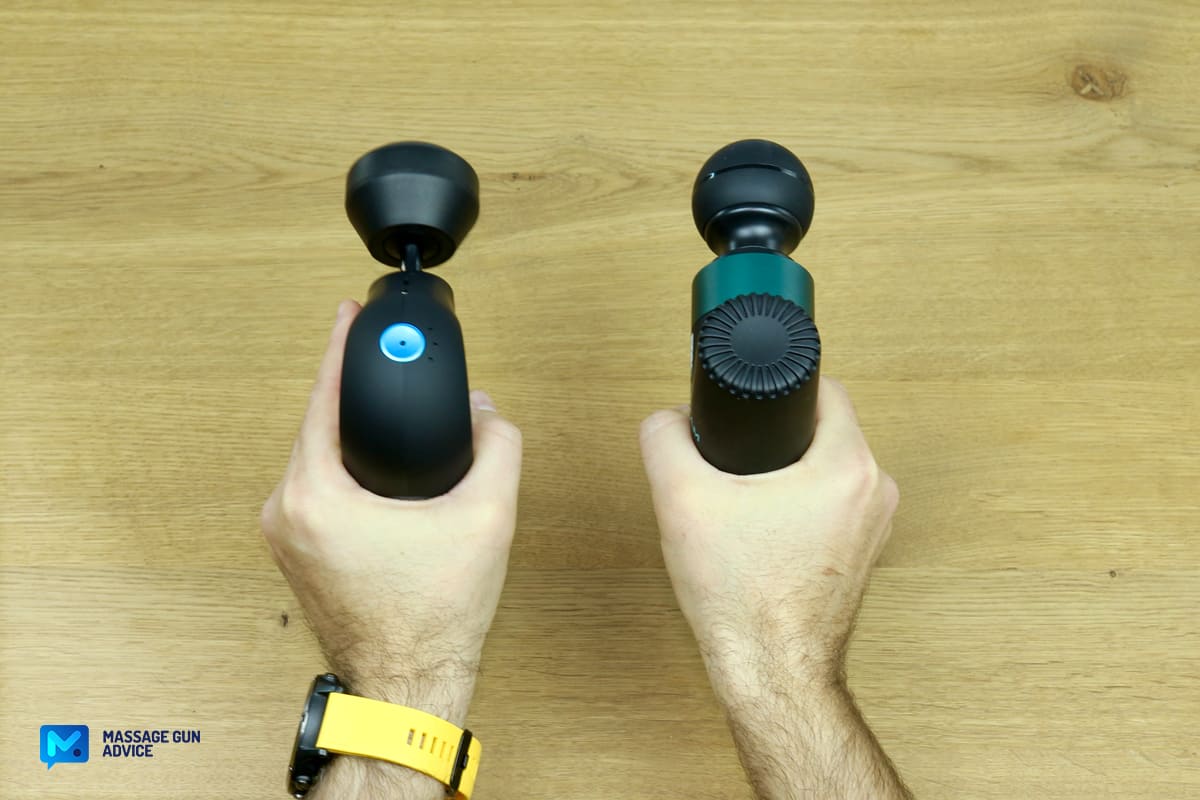 It's also the true mini massage gun, and if you want something that can even fit in your pocket, then this is it.
It's about 25-30% smaller than the first-generation Mini, and about the same size as the recently released successor, Theragun Mini 2.0. It is also incredibly light, only 1.1 lbs.
The Bantam also has nice ergonomics with the slightly angled handle. It's very nicely built with a round body that fits perfectly in the hand even if you have small hands.
It also has 4 nicely varied attachments meaning you can have a full body massage on the go. Its Samsung branded battery can last up to 6 hours and charges via USB.
It also comes with a nice carrying case and a lifetime warranty, which you don't get with Theragun.
The retail price is $149 but it will only cost you $127.99 if you use our MGA20 coupon that gives a nice 20% discount. Get your Bantam here.
MORE INFO Read our Ekrin Bantam review.
---
Bitfinic – Most Affordable
This gun isn't better, more powerful or better executed mini gun. However, it is the likely the most affordable Theragun mini alternative on the market today, and this is why we decided to feature it here.
Bitfinic is a nice little massage gun that veers slightly off the traditional route of t-shaped mini massage guns. It looks more like the Theragun mini than any other massage gun we have seen out there, although it is bigger than the current Mini 2.0 (it feels more like the first-generation Mini).
The design is made even more interesting with the addition of a handle – which is lacking in the Theragun mini. The handle makes it a bit more comfortable to hold than Theragun Mini.
Bitfinic comes with 4 nicely varied attachments and a USB-C charger. It's very light given its rather bulky appearance. It's probably one of the lightest devices out there – weighing just 1.03 pounds.
But how does it perform? It has a 10mm amplitude, which is really good for a mini device. However, it lacks greatly when it comes to stall force. With just 10-12lbs. of stall force, this is not the device that can better Theragun Mini and provide a deep massage.
It underperforms greatly compared to Ekrin Bantam, which has 35lbs. of stall force. The percussion range is better than Theragun's – 1400-2560RPM – but not as great as the 1800-3200RPM on the Bantam. It has 4 speeds to go with the range, 1 more than the Mini and Bantam.
But the biggest win is its price. For a mere $34.99 you can have this as your first/trial device, buy it as a gift or complementary gun, or one for delicate massages.
However, you will have to pay more if you want a deep percussive massage. In that case, get the Bantam with better materials, way more power, and lifetime warranty.
If you decide to buy the Bitfinic, you will only spend $34.99. Buy it here at Taotronics.com.
More Info Read our Bitfinic massage gun review.
---
Summary – Specs Compared
Here's the specs table comparing Theragun Mini alternatives: Mini Rex vs Ekrin Bantam:
Feature
Theragun Mini 2.0
Ekrin Bantam
Bitfinic BN-PCA004
Stall Force
~20 lbs
~30 lbs
~12 lbs
Stroke Length
12 mm
9 mm
10 mm
Percussions
1750–2400 rpm
2000–3200 rpm
1400–2560 rpm
Speed Options
3
3
4
Battery Life
2.5 hours
4-5 hours
2-4 hours
Noise
56 – 61 dB
49 – 57 dB
48 – 58 dB
Weight
1.1 lbs
1.1 lbs
1.03 lbs
Attachments
3
4
4
Warranty
1 year
Lifetime
1 year
Base Price
$199
$159 $127.99
$34.99
Discount
-$10


X8YZF10

code
-20%


MGA20

code
–
Buy Now
Buy Now
Buy Now
Best Theragun Mini alternatives: Ekrin Bantam and Bitfinic
---
Theragun Prime Alternative
---
Ekrin B37 – Our Top Pick
Ekrin Athletics is one of our darling brands and we have enjoyed their devices so much. They take a different approach from Theragun. Instead of going all out for a long amplitude, Ekrin seems to focus more on the intensity in their devices – offering more percussions per minute.
However, they make it even better with significantly high stall force. This means that their devices can give deep to the bone percussive massages because they can be pushed harder against the body.
Ekrin B37 has a 12mm amplitude compared to Theragun Prime's 16mm. However, the B37 offers so much more in comparison.
For instance, instead of the meager 30lbs. stall force, the B37 has a whopping 56lbs. – that's nearly twice what the Prime offers.
The B37 also has a better percussion range – 1400-3200 compared to Prime's 1750-2400. It's also much quieter revving at 53-67dB compared to Prime's 63-69dB in our full Ekrin B37 review.
The B37 comes with 4 nicely varied attachments. The Prime also comes with 4 attachments but they are poorly varied with 3 feeling similar when used.
The B37's Samsung branded battery is super juiced and can go for 8 hours straight before it can be charged again. It comes with a zippered carrying case. Prime only comes with a soft pouch.
Ekrin offers a lifetime warranty if you buy the B37 while Theragun only offers a 1-year warranty for their Prime.
Ekrin B37 normally costs $229 but with MGA20 coupon you can get it here for $183.99 which is 20% less. That also means that it's 40% cheaper than Theragun Prime.
More Info Read our hands-on Ekrin B37 review.
---
Opove M3 Pro 2 – Runner-Up
Opove has been on the massage gun market for a few years now and has gained a good reputation with their nice devices. Their popular model has been the M3 Pro, and we're convinced the latest version is a suitable Theragun Prime alternative.
It doesn't have quite the mettle like our number 1 choice (Ekrin B37), but it's cheaper and perhaps slightly better than Theragun Prime in some aspects.
It adopts a more traditional design – T-shaped – and we missed the angled handle ergonomics like what we see on Ekrin B37. We will go ahead and admit that Theragun Prime comes out on top here. However, that may be the only thing that it lags behind the Prime in.
Otherwise, even though it only has 12mm amplitude, it has better stall force compared to Prime, about 40-45lbs. The Prime's 30lbs. stalls rather easily and we wished for even 5lbs. more if only to make it slightly stronger.
It has a better percussion range of 1300-2600rpm. It also has 5 speed gears to go with the percussions.
Even though it has better intensity than Prime, it's way quieter – 45-63dB. In fact, this is one of the quietest massage guns on the market today, and definitely the quietest one in the under $150 category.
It has 6 nicely varied attachments and also comes in a nice carrying case, something you don't find with Theragun Prime.
It also has a 2600mAh capacity battery that has slightly more life than Prime – 2.5 to 4 hours compared to Prime's 2 to 2.5 hours.
It comes with a 1-year warranty just like Theragun Prime. And then, there is the price:
The new M3 Pro currently retails for only $119.99. We guess it's the introductory price, as it has only been released a few weeks ago. Get it here at opove.com
More Info In our in-depth Opove M3 Pro review.
---
Summary – Specs Compared
To wrap up this part, here are our two Theragun Prime alternatives compared against each other:
Feature
Theragun Prime
Ekrin B37
Opove M3 Pro 2
Stall Force
30 lbs
56 lbs
40 lbs
Stroke Length
16 mm
12 mm
12 mm
Speed Options
5+
5
5
Battery Life
2 hours
8 hours
4 hours
Noise
65 – 69 dB
53 – 67 dB
45 – 63 dB
Weight
2.2 lbs
2.2 lbs
2.5 lbs
Attachments
4
4
6
Warranty
1-year
Lifetime
1-year
Base Price
$299
$229 $184
$199 $119
Discount Coupon
–
-20%
with

MGA20

code
–
Buy Now
Buy Now
Buy Now
Best Theragun Prime alternatives: Ekrin B37 and Opove M3 Pro 2
---
Theragun Elite Alternative
Ekrin B37S – Best Overall
Ekrin B37S is a huge improvement to its predecessor, the B37, especially when it comes to power. It still has the same stall force (56lbs.) as its forerunner. However, the stall force feels much stronger even on lower speeds, which we proved in our Ekrin B37s review. That's why we chose it as a Theragun Elite alternative.
Elite has 40lbs. stall force, which is good enough but not very strong and it's only that powerful on the highest gear. The B37S has a better stall force through all gears – there's 30% more power on lower gears compared to the original B37.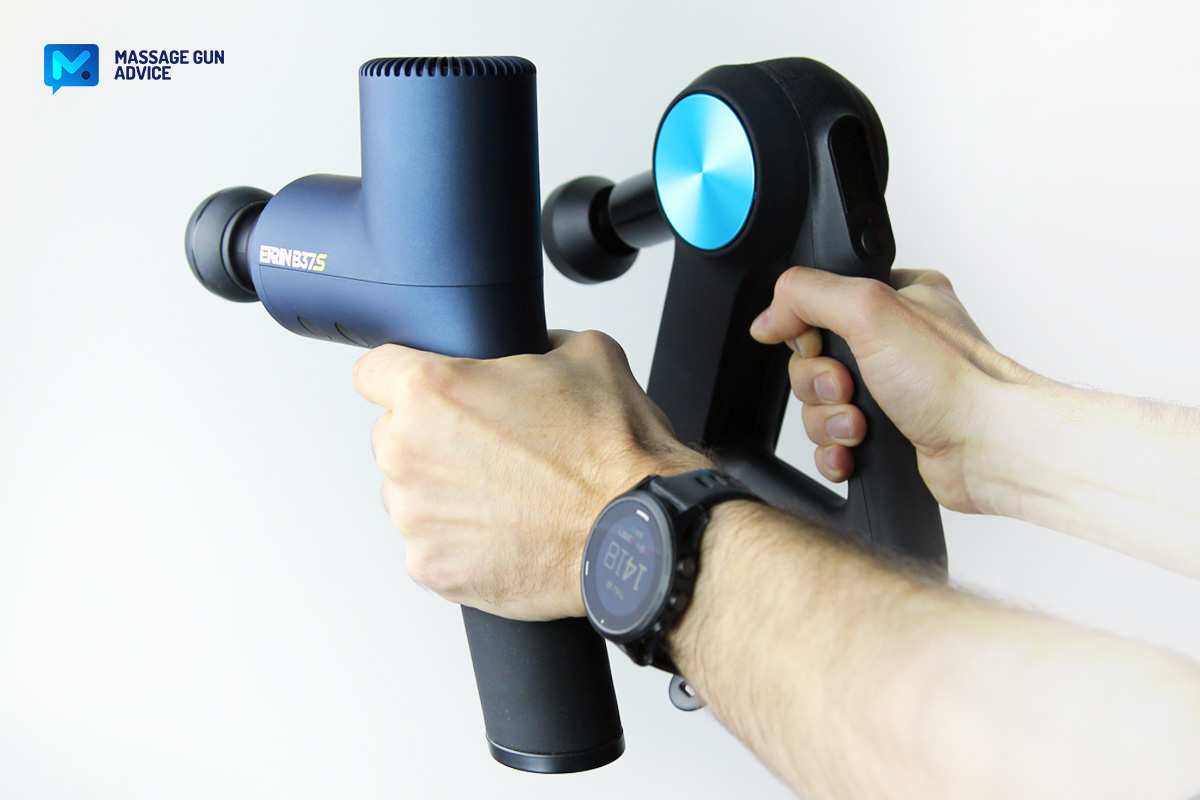 Ekrin B37S has 12mm amplitude, which in our opinion is enough if you consider the high stall force and the added power on lower gears. Elite may boast a longer stroke length, but without power it doesn't work as well as our B37S.
Elite boasts a multiple grip handle due to its design, but the B37S approaches the ergonomics much simpler, with a 15-degree angled handle. In our opinion, this makes it less bulky while still being comfortable to hold.
Other features include the retroactive force meter which is also available on Elite. However, in our testing, the B37S force meter is smoother than Elite's. It has better intensity – 2000-3200rpm vs. 1750-2400rpm for Elite.
It has 5 speeds to cycle through with a special 5th speed that has a pre-programmed dynamic mode (cycles between highest and lowest speed). It comes with 6 attachments that are well varied and a "push and twist" head locking mechanism. The Samsung branded battery will last for up to 8 hours.
Ekrin offers a lifetime warranty for this device and will also be available throughout to answer any questions you may have concerning your massage gun.
It normally costs $229.99 but you can use promo code MGA20 to get 20% off the original price and get the B37 here for only $184.99 – Elite costs $399.
More Info: Read our hands-on Ekrin B37S Review.
---
Hypervolt 2 Pro – Runner-Up
Hypervolt 2 Pro adopts the traditional power-drill design that we have come to associate with all previous Hypervolt models. However, despite the design, it packs some really impressive features.
It's not as powerful as the B37S, but it offers something else instead. If you find the stroke length on the B37 too small, then this one will do it for you. It has 14mm amplitude, pretty close to Elite's 16mm – you won't feel the difference.
It's not just the long amplitude, the stall force too is comparable to the 40lbs. you get with Elite. It could be a tad less, but pretty close.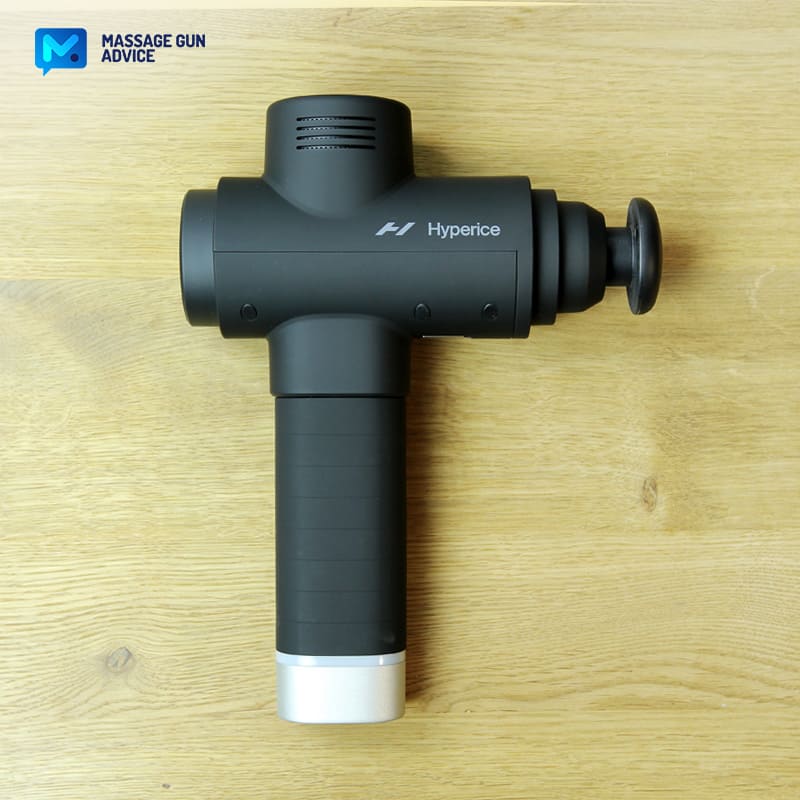 Another feature that impressed us with the Hypervolt 2 Pro is its intensity. It has a percussion of 1700-2700rpm. Now, having tested many of these devices, it's not often that you see a device that has a long amplitude and still revs this fast. Even Elite with its 16mm can only rev to a maximum of 2400 percussions per minute.
It comes with 5 speeds, and bluetooth connectivity. Hyperice's app is capable of connecting to the device and taking over speed control while it guides you through various massage routines.
Unfortunately, it doesn't come with a carrying case – Elite has a carrying case. It's also quieter than Elite. Elite may be the quietest Theragun, but Hypervolt 2 Pro betters it slightly. In our test it delivered 54-64dB compared to Elite's 65-67dB. The sound on Hypervolt is also smoother.
It has a 1-year warranty, which is the same as the Elite but unfortunately not as good as the lifetime warranty on Ekrin B37.
Hypervolt 2 Pro goes for $349 at RecoveryForAthletes.com – Hyperice's official retailer. It is $50 cheaper than than the Elite. Use the HEALTH5 code for an extra 5% discount at checkout.
More Info Read our hands-on Hypervolt 2 Pro Review.
---
Summary – Specs Compared
To wrap up, here's the specs table comparing our Theragun Elite alternatives: Ekrin B37s vs Opove M3 Pro MAX.
Feature
Theragun Elite
Ekrin B37s
Hypervolt 2 Pro
Stall Force
40 lbs
56 lbs
35-40 lbs
Stroke Length
16 mm
12 mm
14 mm
Speed Options
5+
5
5
Battery Life
2.5 hours
8 hours
2 – 3 hours
Noise
66-68 dB
35 – 55 dB
53 – 64dB
Weight
2.2 lbs
2.2 lbs
2.6 lbs
Attachments
5
6
5
Warranty
1-year
Lifetime
1-year
Base Price
$399
$329.99 $263.99
$399 $349
Discount
–
-20%


MGA20

code
-5%


HEALTH5

code
Buy Now
Buy Now
Buy Now
Best Theragun Prime alternatives: Ekrin B37s and Opove M3 Pro Max
---
Theragun Pro Alternatives
---
Achedaway Pro – Our Best Pick
Achedaway Pro takes home the price for being the most powerful massage gun on our list. It packs both power and punch. The advertised stall force on this thing is a whopping 80lbs. We wish it was that strong, but after testing it felt somewhere between 60-70lbs.
However, it's still more powerful than Theragun Pro which has just about 60lbs.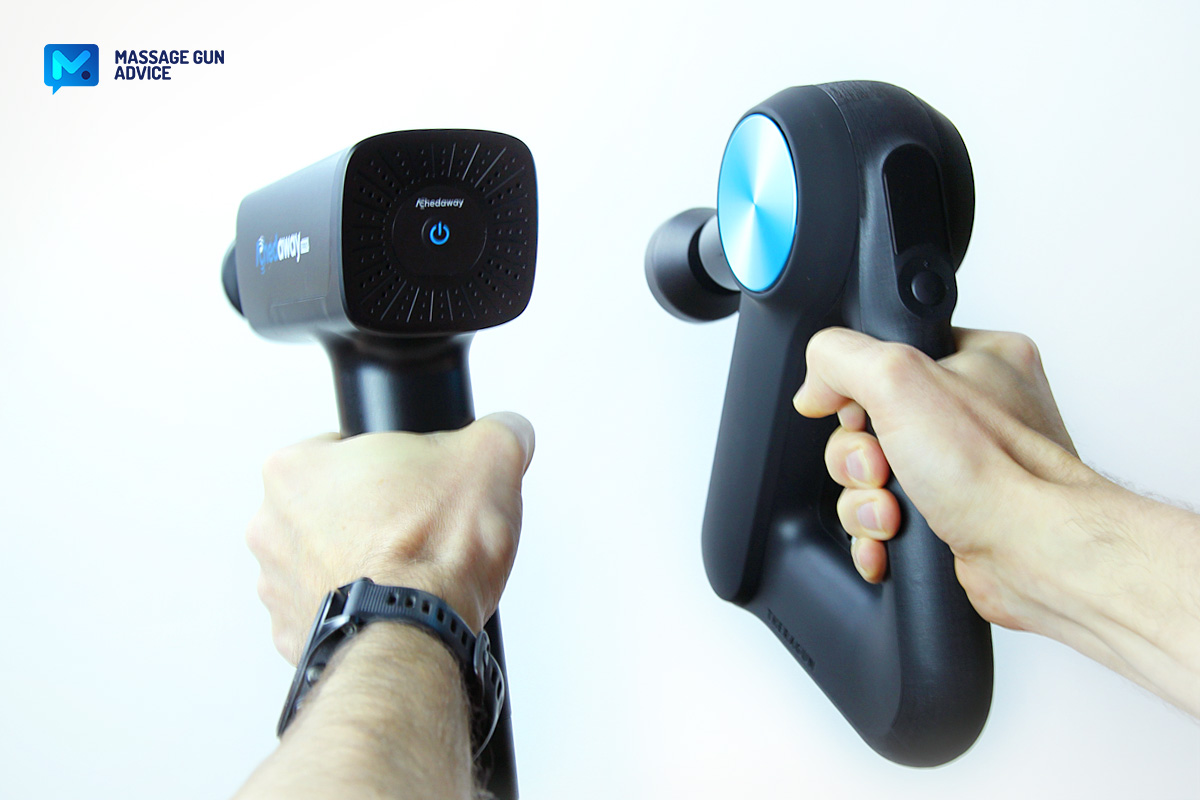 Achedaway Pro matches Theragun Pro punch for punch because it also has the industry-high 16mm amplitude. This makes it perfect for people with a lot of muscle mass and those looking to have a deep to the bone percussive massage.
Achedaway Pro also has better intensity than Theragun Pro. It has a percussion range of 1700-2800rpm. It has 5 speeds to cycle through as well. Interestingly, although it revs faster, it's way hushed down.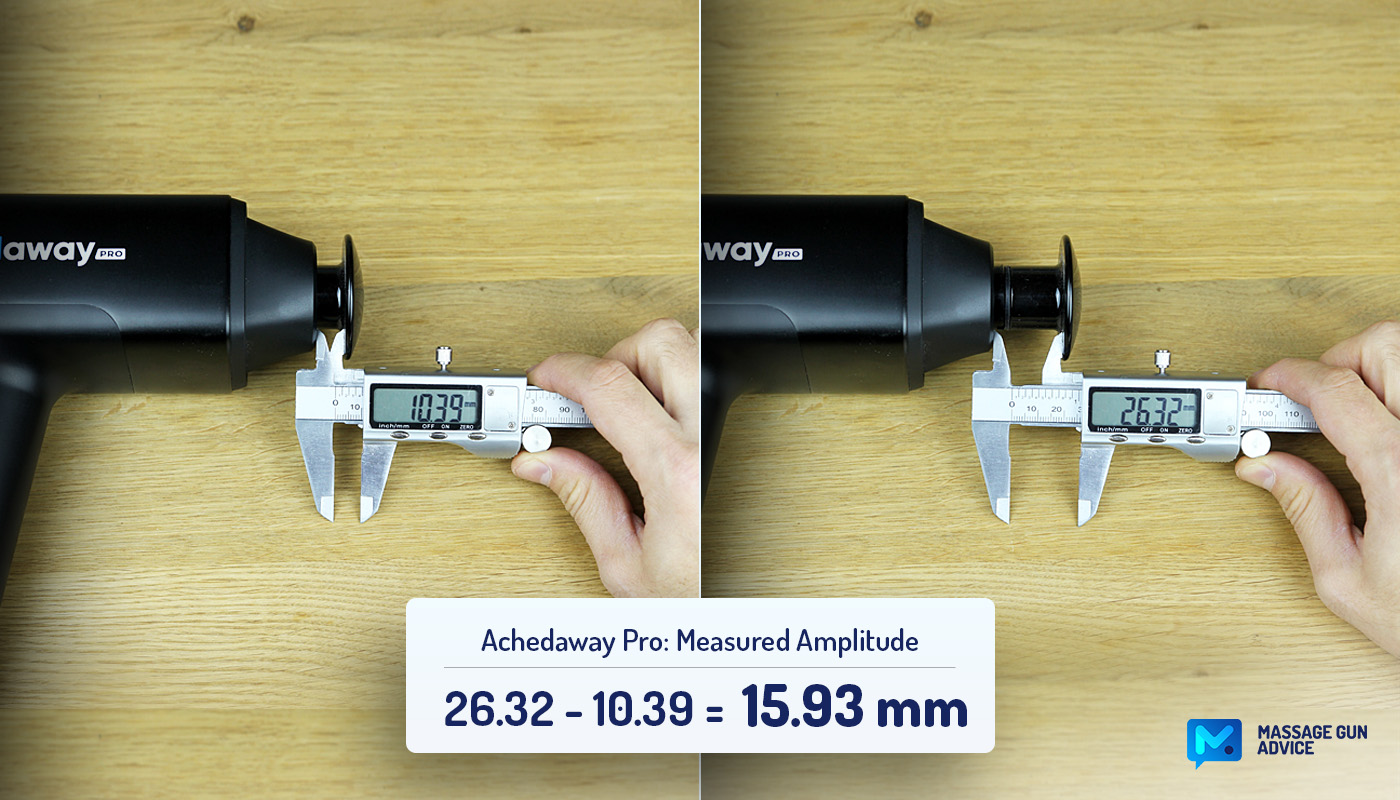 It's the complete opposite of Theragun Pro when it comes to noise level. Whereas Theragun Pro is probably the loudest gun we've ever tested, the Achedaway Pro is the quietest we've had.
It's also lighter than Theragun Pro – 2.6lbs vs 2.8lbs for Achedaway Pro. It has a nicely juiced battery that will last for 2-4 hours with a single charge. Another thing, the battery is removable and allows you to use the device while the spare is charging. This is perfect for professional therapists and chiropractors.
One thing to note here is that the device only comes with the one battery and you will have to purchase the spare battery from their store.
DEAL ALERT Use the special HOLIDAY60 code at checkout to get $60 off Achedaway Pro. Pay $239 instead of $299. Apply the coupon here.
It normally costs $299 but you can use our coupon code MGA50 to get a $50 discount right here – that means it's now $249. Just think of it, for the price of Theragun Pro you can get 2 Achedaway Pro guns and still keep some change. How cool is that!

If you choose to purchase the device along with the spare battery, you can still use our MGA50 coupon and get it for $319 right here.
More Info For more details, read the full Achedaway Pro review here
---
Bob And Brad D6 Pro – New Release!
We recently just stumbled on the just-released Bob and Brad D6 Pro massage gun and we've been surprised at how close it is to the recently-upgraded Theragun Pro G5 (perhaps even too close?). If you were looking for a Theragun Pro alternative that actually looks like the Pro, then this is it.
The new D6 PRO adopts the D-shaped, multiple-handle design that we have come to associate with Theragun. It is a very different approach than the one we saw in Achedaway Pro above.
While we are yet to verify some of the Bob and Brad's claims (we just bought the device and it's on the way to us), most of the data they provide seem realistic (OK, maybe except of the 80lbs. stall force – we think it could be closer to 60 lbs.).
While it is clearly a Theragun copycat, we are impressed with what they have done specs-wise. It packs some really impressive features.
For starters, it has a powerful motor which, on paper, matches the one you get with Theragun Pro and Achedaway Pro. It also has the same amplitude as these two guns – 16mm.
It has a slightly better intensity than the Pro with an advertised 1500-2500rpm percussion range, but is second to Achedaway, which can rev at to 2800rpm (confirmed). It also has 6 speeds to go with this.
It has a 2500mAh capacity battery that can run for 180 minutes non-stop. Note that it can only run for 180 minutes straight when no pressure is applied. It will likely do less when ran at high speeds and with some pressure applied here and there. Charging is conveniently done via USB-C.
Overall, it looks like a solid device. While we would prefer to see something more original (design-wise), we like that Bob and Brad happily share the amplitude, stall force and percussion information. We have had a tough time with brands that don't openly disclose important parameters about their devices. This makes it hard to trust both the brand and their products.
It has a 1-year warranty and is backed by an Amazon-famous easy return policy. You will also be treated to great customer experience while at it.
The base price is almost $300, but there are coupons you can use to slash the price by almost a third.
The last time we checked there was a $50 Amazon coupon available. Then, apply the MGADVICE code at checkout to get an extra 10% off. Save a Check out the D6 Pro gun on Amazon.
MORE INFO In our in-depth Bob and Brad D6 Pro Review.
Summary of Our Theragun Pro Alternatives
See the table below for comparison of what we think are two best Theragun Pro alternatives.
Feature
Theragun Pro
Achedaway Pro
Bob and Brad D6 Pro
Stall Force
(advertised)
60 lbs
80 lbs
80 lbs
Stroke Length
16 mm
16 mm
16mm
Speed Options
5+
5
6
Battery Life
2.5 hours
2-4 hours
3 hours
Noise
65 – 71 dB
40 – 60 dB
tbd
Weight
2.8 lbs
2.6 lbs
2.8 lbs
Attachments
6
4
7
Warranty
1-year
2-years
1-year
Base Price
$599
$299 $249
$299
Discount
–
$50 OFF
with the

MGA50

code
10% OFF
with the MGADVICE code
Latest Price
Check at
therabody.com
Check at
achedaway.com
Check at
Amazon
Best Theragun Pro alternative: Achedaway Pro, Bob and Brad D6 Pro
---
Best Theragun Alternative – Bottom Line
Hopefully you now believe that there are devices that can perform better than the hyped Theraguns.
With our recommendations you can now hopefully get the best Theragun alternative. Whichever of the Theraguns you may be eyeing, there is a better and cheaper alternative.
If you have any doubts or further questions, feel free to drop a comment below – we'll be glad to help and give you a personalized advice if you need such.
Till the next time!
Disclaimers
The views and opinions expressed on this website are those of the authors. Any content provided by our bloggers or authors are of their opinion and are not intended to malign any religion, ethnic group, club, organization, company, individual or anyone or anything.
All product names, logos, and brands are property of their respective owners. All company, product and service names used in this website are for identification purposes only. Use of these names, logos, and brands does not imply endorsement.
It is our policy to make every effort to respect the copyrights of outside parties. If you believe that your copyright has been misused, please provide us with a message stating your position and we will endeavor to correct any misuse immediately.
Some of the links in this post are affiliate links. As an Amazon Associate, we earn from qualifying purchases. This means if you click on the link and purchase the item, we may receive an affiliate commission, at no extra cost to you. This helps us keep this website alive. Learn more here.
Amazon Disclosure
massagegunadvice.com is a participant in the Amazon Services LLC Associates Program, an affiliate advertising program designed to provide a means for sites to earn advertising fees by advertising and linking to Amazon.com. As an Amazon Associate, we earn from qualifying purchases. Amazon and the Amazon logo are trademarks of Amazon.com, Inc. or its affiliates. Please refer to our Privacy & Affiliate Policy for details.