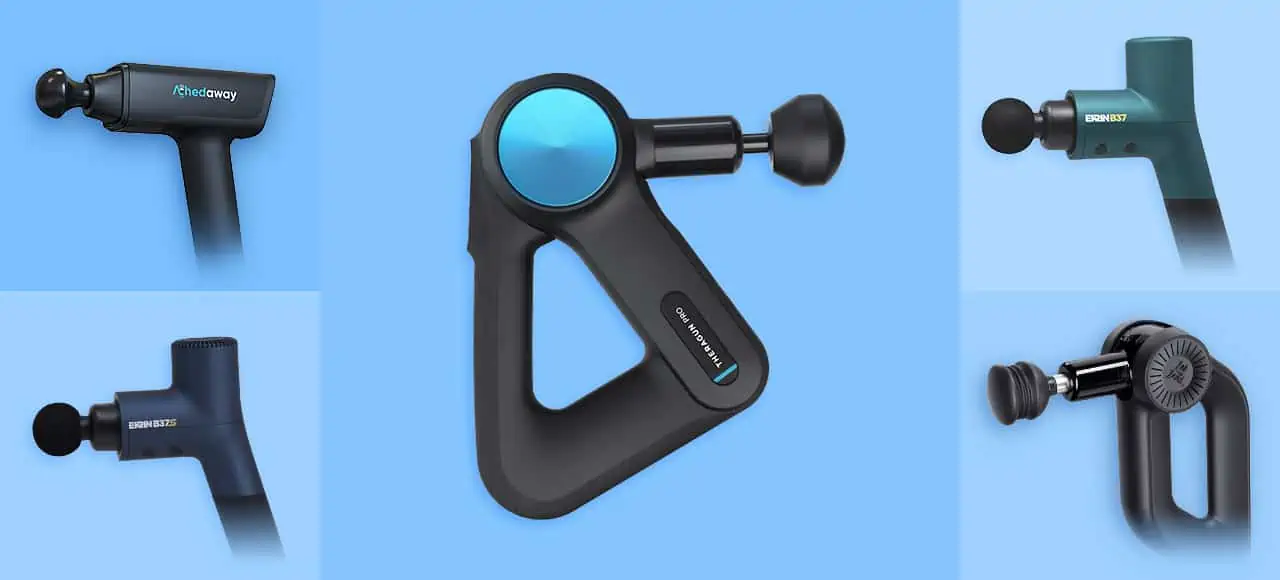 Best Theragun Alternative – What Else if Not the Mighty Theraguns?
What to Know: We independently review products we recommend. If you click on links we provide, we may earn a commission. Learn more.
---
Hello, fellow massage gun enthusiasts! In this post, we're taking a deep dive into the best Theragun alternatives that are shaking up the market in 2023.
You might be thinking, "Best Theragun alternative? Surely, that's a tall order!"
But bear with us. We've spent countless hours personally testing, reviewing, and experiencing firsthand more than 70 unique massage guns fo far. So when we say there are contenders that can rival, and occasionally outshine Theragun, we're speaking from our own experience.
So rest easy, you're in capable hands. Let's dive in!
---
Key Takeaways
Theraguns are undoubtedly premium devices, yet they come with their own set of drawbacks (which we'll delve into later).
We have tested over 70 other massage guns and found great alternatives among them.
Some of them truly impressed us, proving to be better choices than their Theragun counterparts.
The lower price of these alternatives make them a big deal. We will even share extra promo codes below, so jump right to the first pick ↓
---
Quick links to sections below on recommended Theragun alternatives for your consideration:
CYBER MONDAY
Theragun Sale is here! Enjoy up to $250 off select Theraguns, along with more deals on recovery tech. Now FSA/HSA eligible! Browse the deals here.
---
---
Are There Any Products Similar To Theragun?
Yes! But first, we'll give credit where it's due; Theragun have dominated the percussive therapy industry for some time now. For the better part of that time their massage guns have been the best and worth every costly penny spent on them.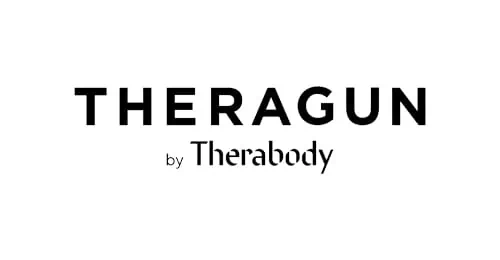 They have been, and are still top quality products. But as we've said, it's 2023 and things in this industry have changed. What hasn't changed though is the pricey nature of Theraguns. They simply are not affordable for everyone.
You could put up a case for Theragun's innovativeness, but, to be honest, Theragun no longer holds the title for being ingenious anymore – other brands are giving them a run for their money.
More brands have been able to come up with similar or better quality devices and managed to keep their devices affordable.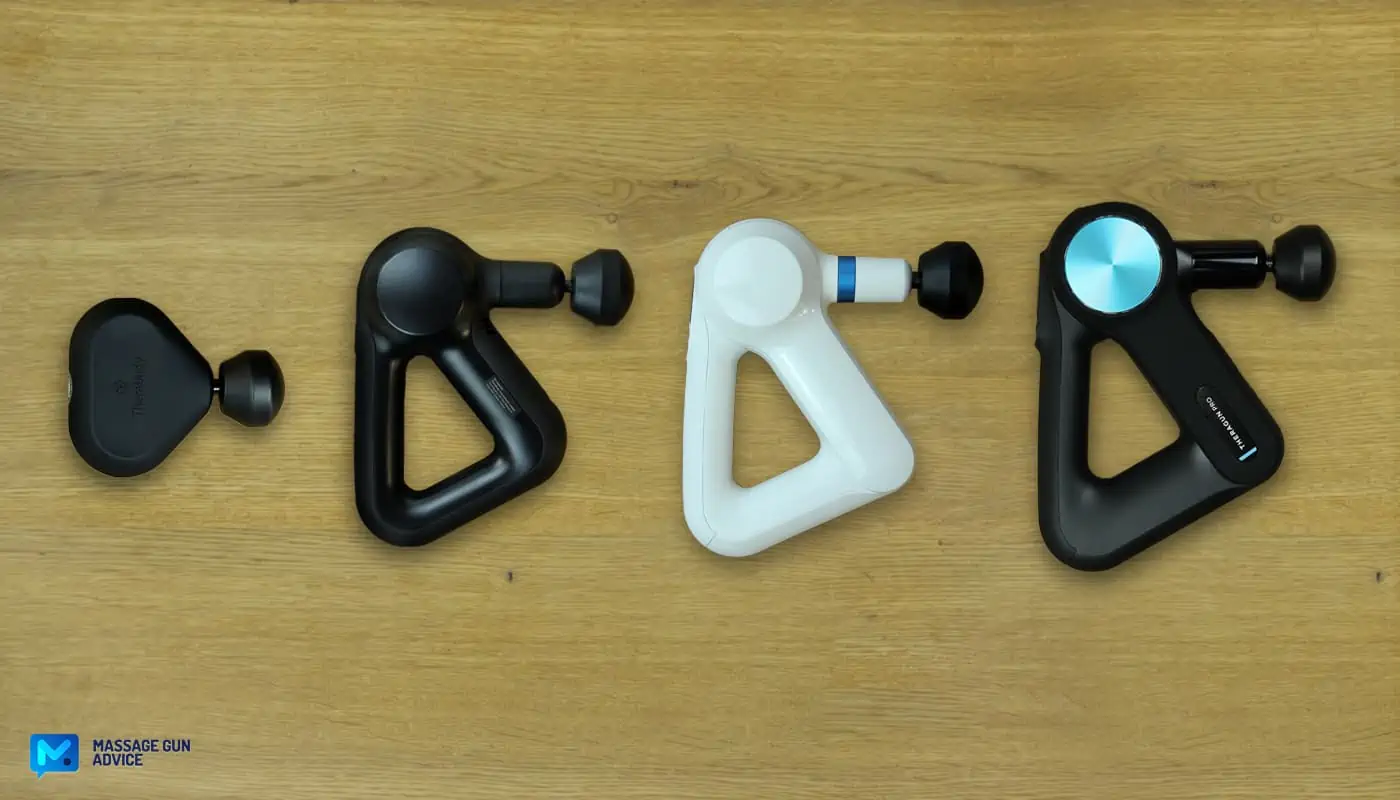 We know all about this because not only have we had all Theraguns and reviewed them, we also buy and test new devices almost every day.
Truth be told, we don't find Theraguns fascinating anymore, call it overconfidence bias, but we truly believe there are better alternatives and this article proves it.
---
Theragun's Strengths and Weaknesses – In A Nutshell
Theragun, for us, has always stood out with their connectivity features. The Therabody app is the one feature that makes them the crème de la crème of the percussive therapy industry.
But even if that is just an embellishment that can be overlooked, you certainly cannot overlook the fact that Theragun excels in:
Superb Ergonomics
The triangular design (especially for their full-sized massage guns) allows for a multiple grip handle that is a huge advantage when you are doing a DIY massage. You can practically reach all areas of the body without making your arm uncomfortable.
Theragun Pro even has an adjustable arm that locks into one of four positions.
However, as we've seen with other devices, secure ergonomics can be achieved without multiple grips – slight imagination and small tweaks. These devices have also achieved this while being compact.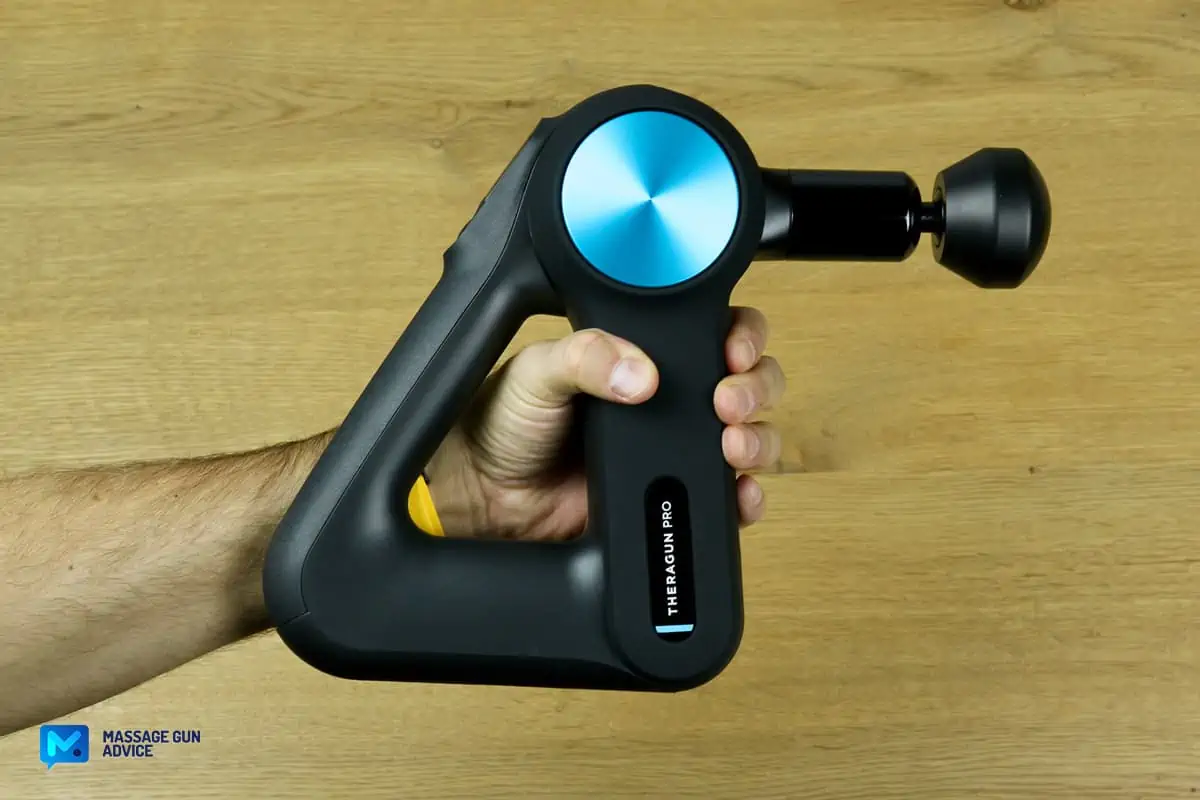 Industry-Leading Stroke Length
Stroke length being the distance covered by the massage gun head as it moves back and forth to give you the percussions per minute. Theragun's 16mm amplitude for the full-sized guns and 12mm for the Mini really are unrivaled – a lot of devices struggle to reach 13mm let alone 16mm.
The Mini has the longest stroke length in its category. However, apart from the Mini, Theragun's full-sized guns are not so highly perched when it comes to the amplitude anymore.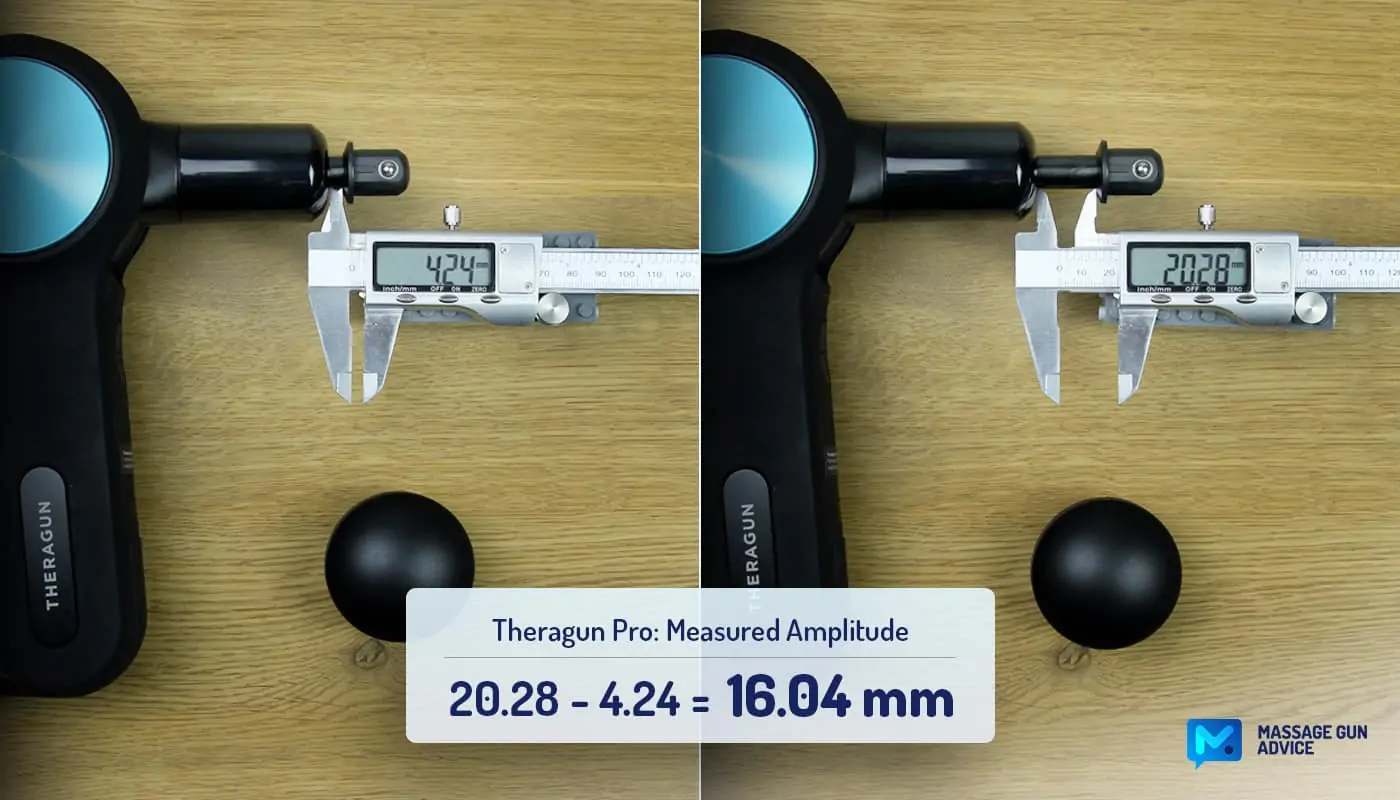 But even if Theragun were somehow able to tower above all other devices with their stroke length, there is the issue of that privilege being put down by inadequate stall force.
The stall force is an important parameter in percussive therapy and Theragun hasn't always impressed here.
We addressed our concerns when we reviewed the Prime and the Mini – the stall force in these devices is too low and the long amplitude feels not fully utilized. Even Elite, their mid-range gun, had somewhat sufficient stall force but failed miserably when more was demanded of it.
Apart from the inadequate stall force to fully utilize the long amplitude, Theragun's Achilles heel has also been:
Above average noise – As an industry giant they cannot seem to solve the noise conundrum in their devices. However, the 5th gen Theragun Pro is finally quieter (we confirm this in tests in our review), and so is the Mini 2.0, so things are heading in the right direction for Therabody!
So-so varied attachments – attachments like Ball and Dampener feel basically the same.
Few accessories in their entry-level guns – Prime has 4 poorly varied attachments don't come with a carrying case. Mini used to have just one attachment, but the new Mini 2.0 finally has more.
Average battery performance – their batteries struggle to rev for more than 2 hours. Moreover, the new Pro now comes with just one battery (the 4th gen Pro has two).
High price – too high for many potential customers.
Poor warranty – just 1-year, with more protection when you pay for it. Only Theragun Pro has 2-year warranty.
---
So, What Then Makes The Massager a Better Alternative to Theragun?
Here's what we found to be important and what you should pay attention to:
More stall force – better than any of the Theraguns can offer.
Similar stroke length – but remember, even 12mm amplitude is acceptable as long as the stall force is good enough. This will yield better results than a Theragun with 16mm amplitude but with low stall force.
Well thought-out ergonomics.
At least the same number of attachments – many competitors outperform Theragun at this.
More varied attachments.
Lower noise levels – only Theragun seems to be struggling here, although they've improved things a little in the latest generation Pro and Mini.
Extra features – pressure sensors, dynamic speeds/modes, heated tips, USB-C compatibility etc.
Affordability or value for money
Better warranty – Theragun offers at most 2-year warranties, better brands offer lifetime warranties.
Now that you know what to pay attention to, let's check what devices meet the above criteria. We've prepared not one but two great alternatives to each Theragun.
---
Best Theragun Mini Alternatives
---
Ekrin Bantam – More Power, Better Warranty
This is the best Theragun Mini alternative in our opinion. When we reviewed the Theragun Mini, we expressed concerns about its stall force of only 20lbs, which was easily stalled under pressure.
In contrast, the Ekrin Bantam, despite its compact size, boasts a verified stall force of 30-35lbs, which even surpasses the Theragun Prime, a full-sized entry-level massage gun with a 30lbs. stall force.
When we examined the amplitude of the Bantam, we confirmed it to be approximately 10mm (slightly less), which is impressive considering the device's size. The Theragun Mini does have a superior amplitude of 12mm, which is the highest in the market, making it feel more percussive in practice. However, we found the Bantam to be more effective overall.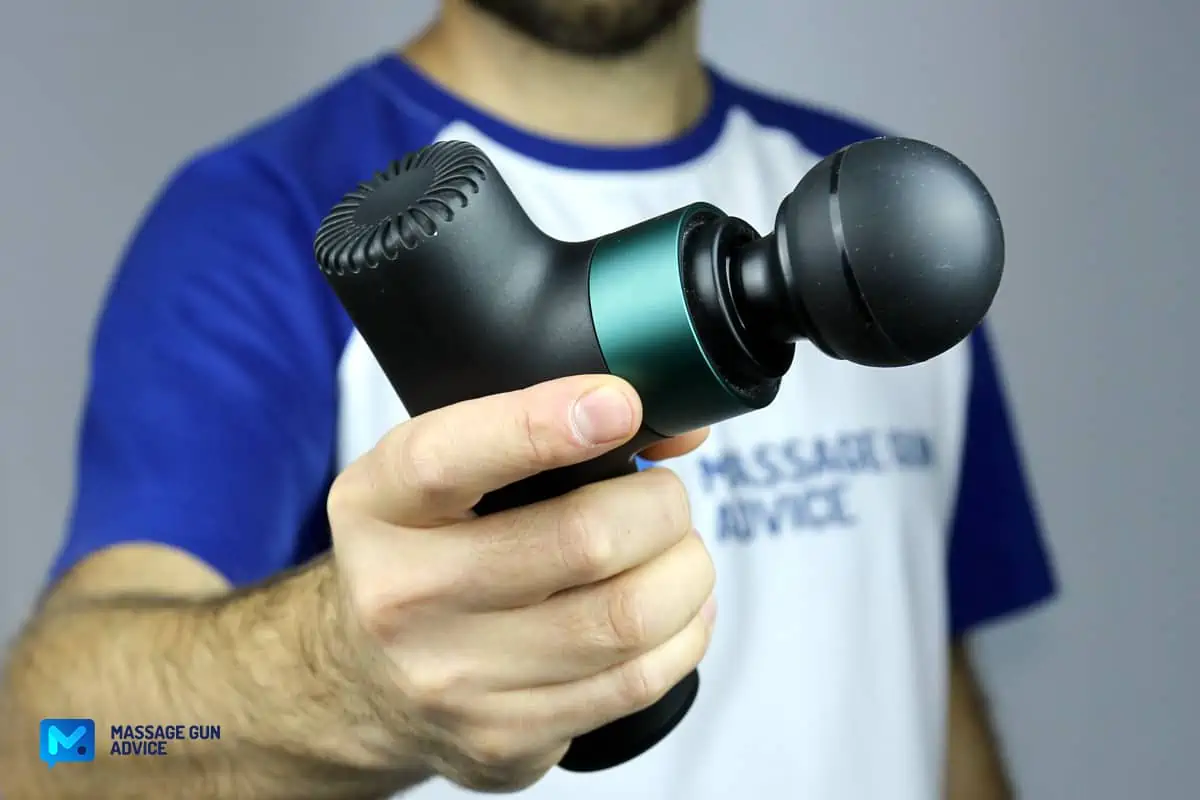 Why is this so? It comes down to intensity and percussion range. Despite having a slightly shorter stroke length, the Bantam can deliver up to 3200 percussions per minute, a whopping 25% more than the Theragun Mini's 2400 RPMs.
Percussive therapy aims to create an impact between 2200-3300 RPM to override pain signals to the brain, leading to tension release. The Bantam, with its high-intensity percussions and solid stall force, excels in this aspect.
It doesn't easily slow down percussions when pressure is applied to larger muscles, and it takes a significant amount of force to stall it completely.
Therefore, the combination of high stall force and fast percussions is what makes this tiny gun so effective.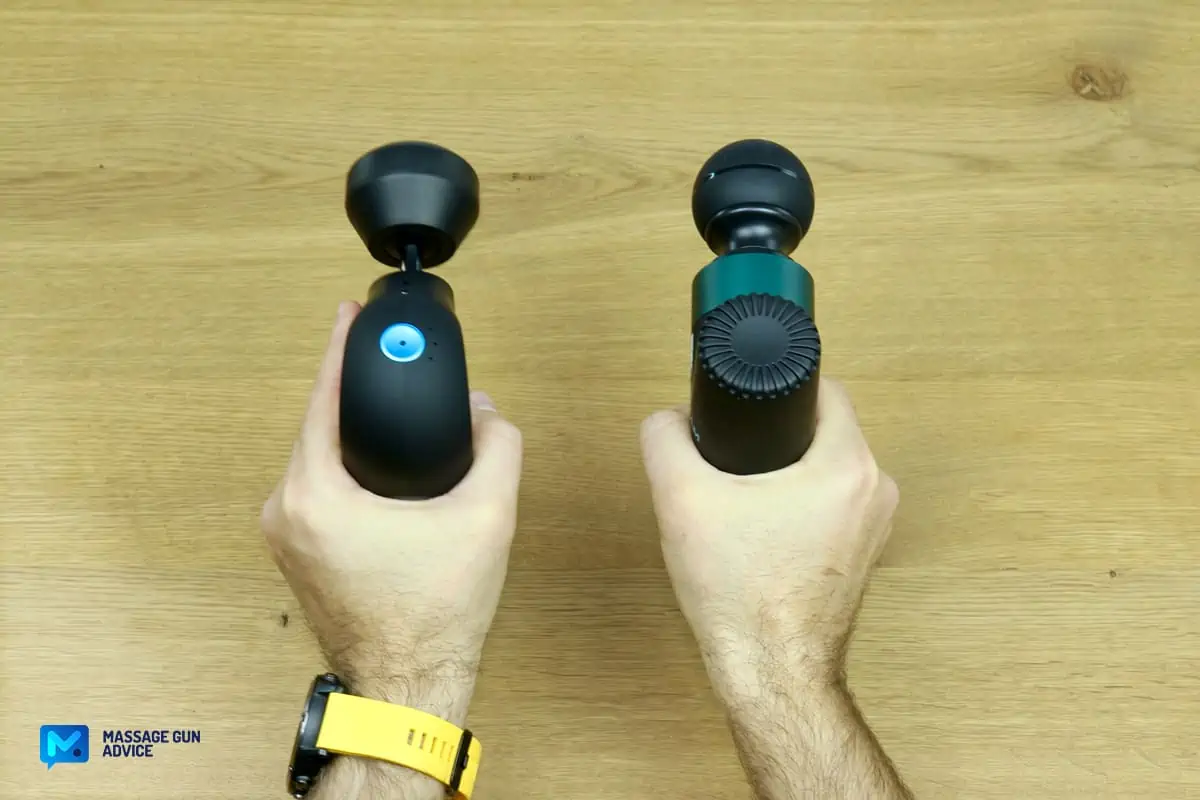 It's also the true mini massage gun, and if you want something that can even fit in your pocket, then this is it.
It's about 25-30% smaller than the first-generation Mini, and about the same size as its successor, Theragun Mini 2.0. It is also incredibly light – only 1.1 lbs, so perfect for those needing portability.
In our test, we also appreciated nice ergonomics with the slightly angled handle. It's very nicely built with a round body that fits perfectly in the hand even if you have small hands.
It also has 4 nicely varied attachments meaning you can have a full body massage on the go. We tested the Samsung-branded battery and found it to last up to 5-6 hours, recharging conveniently via USB.
IAnother advantage of the Bantam is the inclusion of a carrying case and a lifetime warranty, features not available with Theragun. This underscores the Bantam's value as a top Theragun alternative.
The retail price is $149 but it will only cost you $127.99 if you use our MGA20 coupon that gives a nice 20% discount. Get your Bantam here at ekrinathletics.com.
More Info Read our full, hands-on Ekrin Bantam review.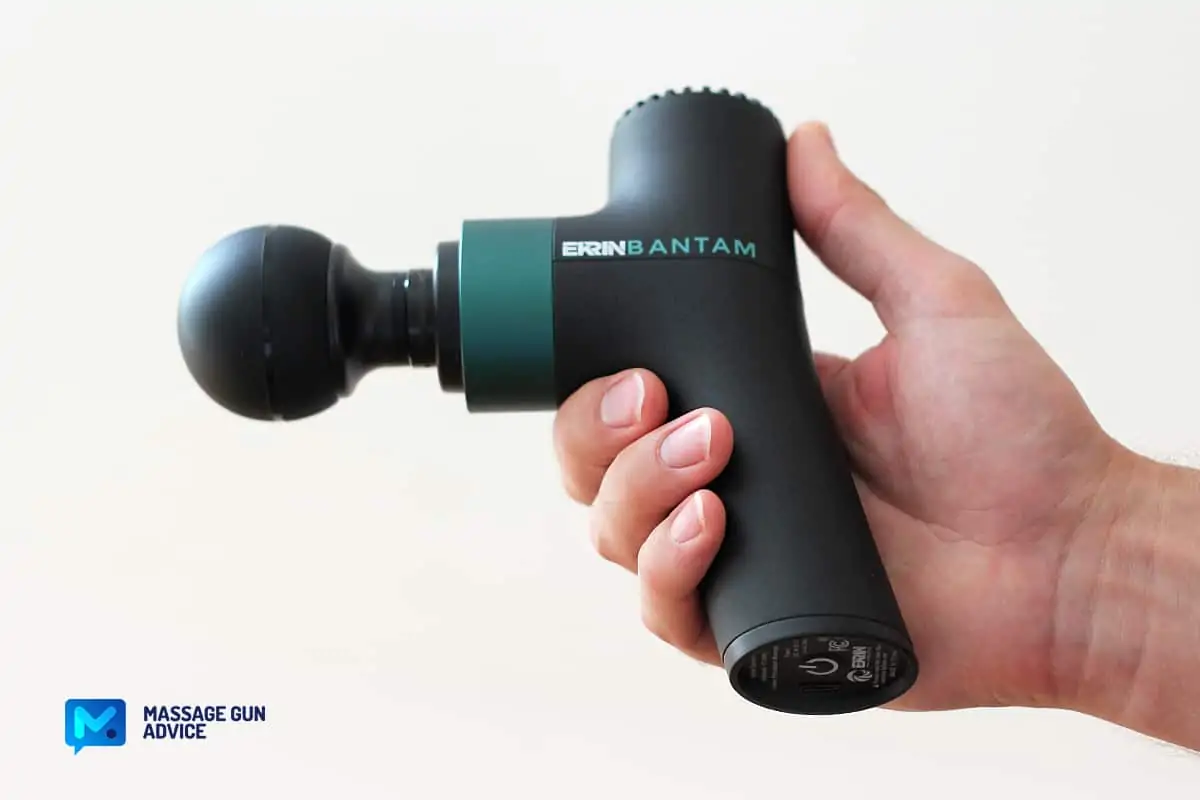 ---
Bob and Brad Q2 – Most Affordable
Bob and Brad are pretty cool online physical therapists with a huge YouTube following. They know their stuff, especially when it comes to massage guns. They've got their own line of massage guns on Amazon, and the Q2 Mini is one of their best (P.S. stay tuned for another one coming soon).
The Q2 Mini is a pocket-friendly massage gun that impressed us so much when we tested it. It's far more compact than the Theragun Mini. In fact, it's even smaller than Bantam. It's tiny, light, and easy to carry around, especially when traveling.
A cool thing about the Q2 Mini is its unique oval shape which feels more comfy in hand than the Theragun Mini. And because of its small size, its classic ergonomics is a plus.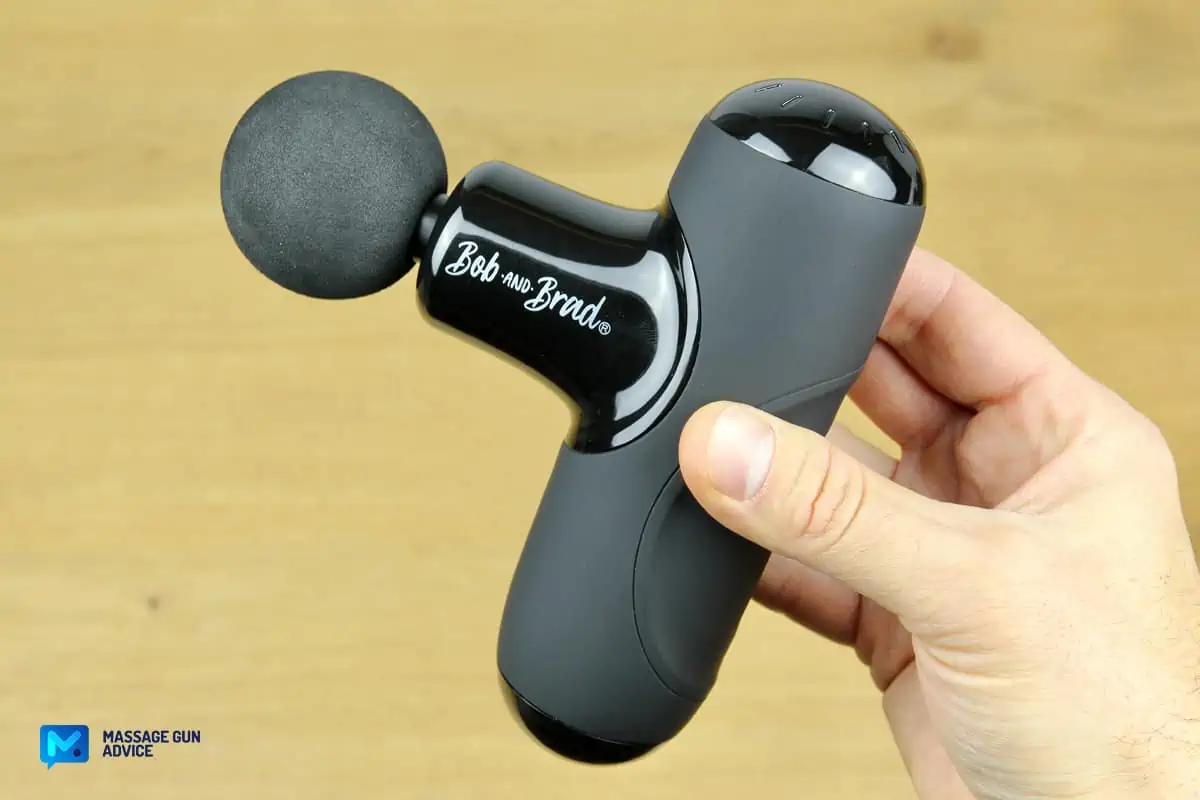 It's a solid choice for those looking to soothe minor muscle aches or shake off lactic acid post-workout. While it has a slightly lower amplitude, it compensates with a strong percussion rate, guaranteeing a thorough massage.
It also comes with 5 different heads to switch things up for a more personalized massage, which is more than what you get with the Theragun Mini and Bantam (first has three and second four attachment heads).
Battery life is a big plus too. The Q2 Mini lasts for 3-4 hours before needing a recharge, and it's easy to charge up with the included USB-C cord. Plus, it comes in a neat little carrying case for when you're on the move.
The real kicker? The Q2 Mini is way cheaper, priced at only a third of the Theragun Mini's cost. It's a great deal for anyone looking for a reliable, budget-friendly massage gun without skimping on quality. Check it at Amazon here
More Info Read our full Bob and Brad Q2 review here.
---
Our Take and Verdict
When stacking up all the features of these three gadgets (table below), we marked in green where each one shines.
However, numbers only tell part of the story; the real deal comes from the our experience and tests, and in our books, the Ekrin Bantam leads the pack.
But, when price enters the equation, the Bob and Brad Q2 steals the spotlight without a doubt.
Feature
Theragun Mini 2.0
Ekrin Bantam
Bob and Brad Q2
Stall Force
~20 lbs
~30 lbs
~32 lbs
Stroke Length
12 mm
9 mm
7.5 mm
Percussions
1750–2400 rpm
2000–3200 rpm
1800 – 3000 rpm
Speed Options
3
3
5
Battery Life
2.5 hours
4-5 hours
3-4 hours
Noise
56 – 61 dB
49 – 57 dB
49 – 52 dB
Weight
1.1 lbs
1.1 lbs
1 lbs
Attachments
3
4
5
Warranty
1 year
Lifetime
1 year
Price
$199 $179
$159 $127.99
$66
Discount Code
10% Off


X8YZF10

code
20% Off


MGA20

code
–
Buy Now
at therabody.com
Buy Now
at ekrinathletics.com
Buy Now
at Amazon
The best – in our opinion – Theragun Mini alternatives are: Ekrin Bantam and Bob and Brad Q2 Mini.
---
Theragun Prime Alternatives
---
Ekrin B37 – Our Top Pick
Ekrin Athletics is one of our darling brands and we have enjoyed their devices so much.
They approach their device designs differently from Theragun, focusing more on the intensity and stall force of their devices rather than simply increasing amplitude.
However, they make it even better with significantly high stall force. This means that their devices can give deep to the bone percussive massages because they can be pushed harder against the body.
The Ekrin B37, our top alternative to Theragun Prime, provides a great example of this. While it has a 12mm amplitude compared to the Prime's 16mm, it offers a lot more in terms of overall performance.
Perhaps the most noteworthy comparison is the stall force. While Theragun Prime offers a stall force of 30lbs, the B37 boasts an impressive 56lbs. That's almost double what the Prime offer! This significant stall force means that the B37 can deliver deep percussive massages by being pushed harder against the body, reaching deeper tissues.
The B37 also outperforms the Prime in terms of its percussion range. Delivering 1400-3200 RPM, it surpasses the Prime's range of 1750-2400 RPM.
In our detailed Ekrin B37 review, we also found it to be much quieter than the Prime, producing 53-67dB compared to the Prime's 63-69dB.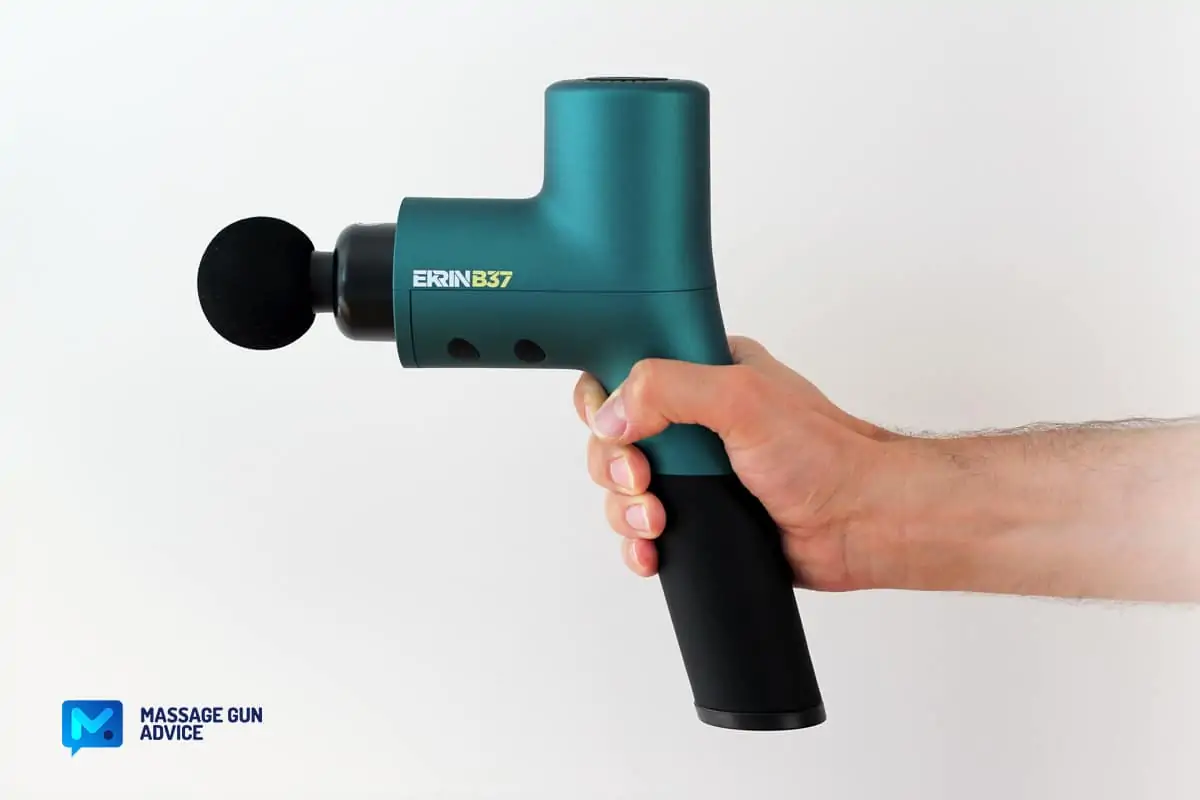 The B37's Samsung branded battery is super juiced and can go for 8 hours straight before it can be charged again – we confirmed it in our long term test.
It comes with a zippered carrying case. Prime only comes with a soft pouch.
Finally, Ekrin offers a lifetime warranty if you buy the B37 while Theragun only offers a 1-year warranty for their Prime.
Ekrin B37 normally costs $229 but with MGA20 coupon you can get it here for $183.99 which is 20% cheaper. That also means that it's 40% cheaper than Theragun Prime.
More Info Read our hands-on Ekrin B37 review.
---
Opove M3 Pro 2 – Runner-Up
Opove has made a name for itself in the massage gun market over the past few years, particularly with their M3 Pro model. Having tested and evaluated the latest version, we can confidently say that it stands as a compelling alternative to the Theragun Prime..
While it might not have the same strength as our top choice, the Ekrin B37, the Opove M3 Pro offers several features that make it competitive, and in some aspects, even superior to the Theragun Prime. Plus, it comes at a lower price point.
The M3 Pro has a traditional T-shaped design, lacking the ergonomic angled handle that we appreciate on the Ekrin B37, and in this respect, the Theragun Prime has an edge. However, this seems to be one of the few areas where it lags behind the Prime.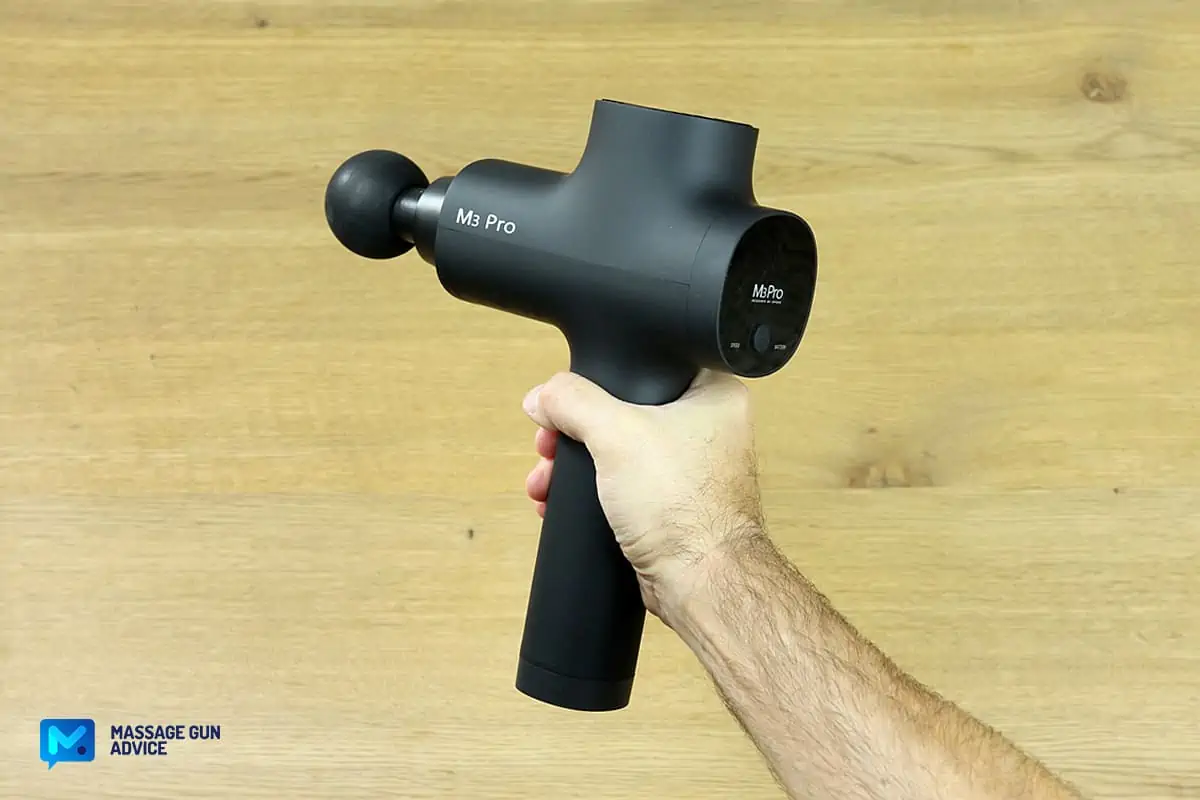 Otherwise, even though it only has 12mm amplitude, the M3 Pro has a higher stall force at around 40-45lbs. This is a considerable advantage over the Prime's 30lbs, which we found to stall rather easily during our testing.
The Opove M3 Pro also boasts a superior percussion range of 1300-2600rpm across five different speed settings – we personally verified the range with a laser tachometer.
Even though it has better intensity than Prime, it's way quieter – 45-63dB. This makes it one of the quietest massage guns currently available, especially within the sub-$150 price range.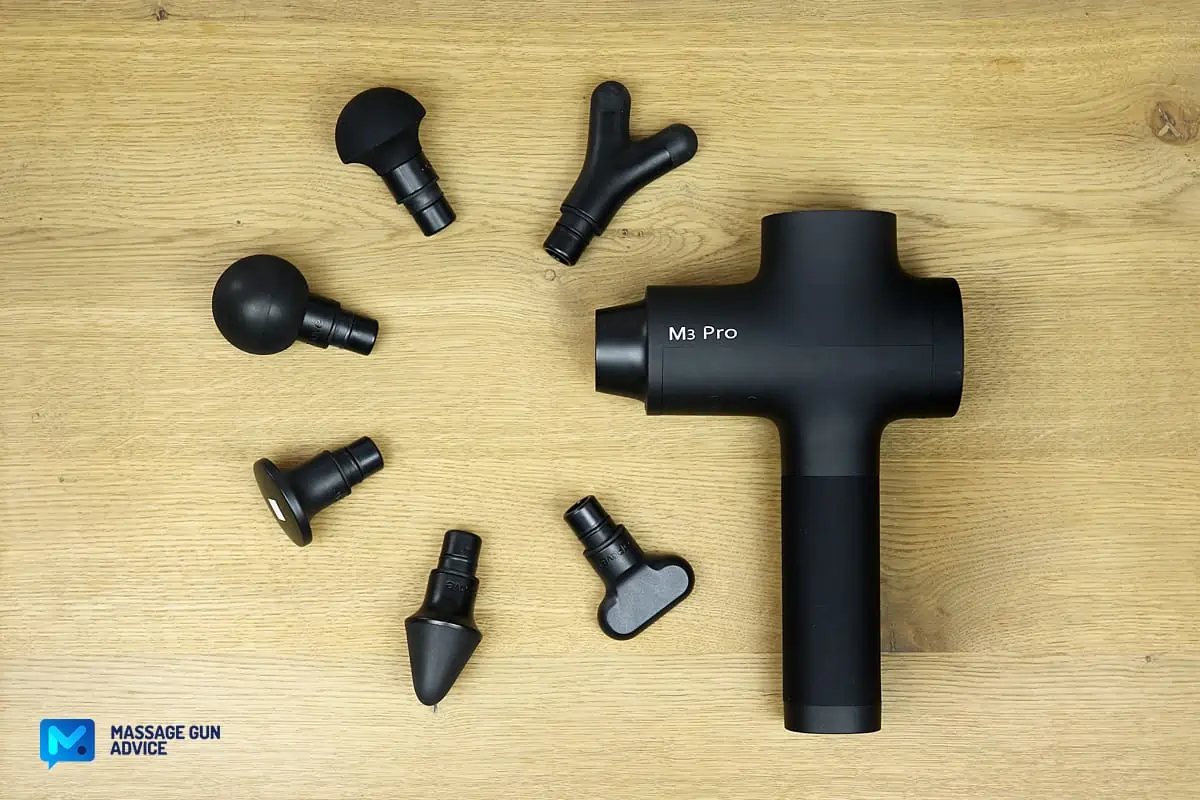 IThe M3 Pro comes with six varied attachments and a convenient carrying case, a feature we did not found with the Theragun Prime.
Additionally, its 2600mAh battery offers slightly longer life than the Prime's, providing 2.5 to 4 hours of use compared to the Prime's 2 to 2.5 hours.
Finally, similar to the Theragun Prime, the M3 Pro offers a 1-year warranty. But where it really stands out is in its pricing.
The new M3 Pro currently retails for only $119.99. We guess it's the introductory price, as it has only been released a few weeks ago. Get it here at opove.com
To wrap up, the Opove M3 Pro offers compelling value for its cost, making it a viable option for those looking for a more affordable alternative to the Theragun Prime.
More Info In our in-depth Opove M3 Pro review.
---
Our Take and Verdict
To wrap up this part, here are our two Theragun Prime alternatives compared against each other:
Feature
Theragun Prime
Ekrin B37
Opove M3 Pro
Stall Force
30 lbs
56 lbs
40 lbs
Stroke Length
16 mm
12 mm
12 mm
Speed Options
5+
5
5
Battery Life
2 hours
8 hours
4 hours
Noise
65 – 69 dB
53 – 67 dB
45 – 63 dB
Weight
2.2 lbs
2.2 lbs
2.5 lbs
Attachments
4
4
6
Warranty
1-year
Lifetime
1-year
Price
$299 $269
$229 $184
$199 $119
Discount Code
10% Off


X8YZF10

code
20% Off


MGA20

code
–
Buy Now
at therabody.com
Buy Now
at ekrinathletics.com
Buy Now
at opove.com
Our recommended Theragun Prime alternatives: Ekrin B37 and Opove M3 Pro 2
---
Theragun Elite Alternatives
Ekrin B37S – Best Overall
Ekrin B37S is a huge improvement to its predecessor, the B37, especially when it comes to power.
Despite maintaining the same stall force of 56lbs., our hands-on experience during our Ekrin B37S review demonstrated that this stall force feels considerably stronger even on lower speeds. This characteristic alone makes it a compelling Theragun Elite alternative.
Elite has 40lbs. stall force, which is good enough but not very strong and it's only that powerful on the highest gear. The B37S has a better stall force through all gears – there's 30% more power on lower gears compared to the original B37.
Ekrin B37S has 12mm amplitude, which in our opinion is enough if you consider the high stall force and the added power on lower gears. The Elite may claim a longer stroke length, but our testing suggested that without enough power, it does not perform as effectively as the B37S.
Elite boasts a multiple grip handle due to its design, but the B37S approaches the ergonomics much simpler, with a 15-degree angled handle. In our opinion, this makes it less bulky while still being comfortable to hold.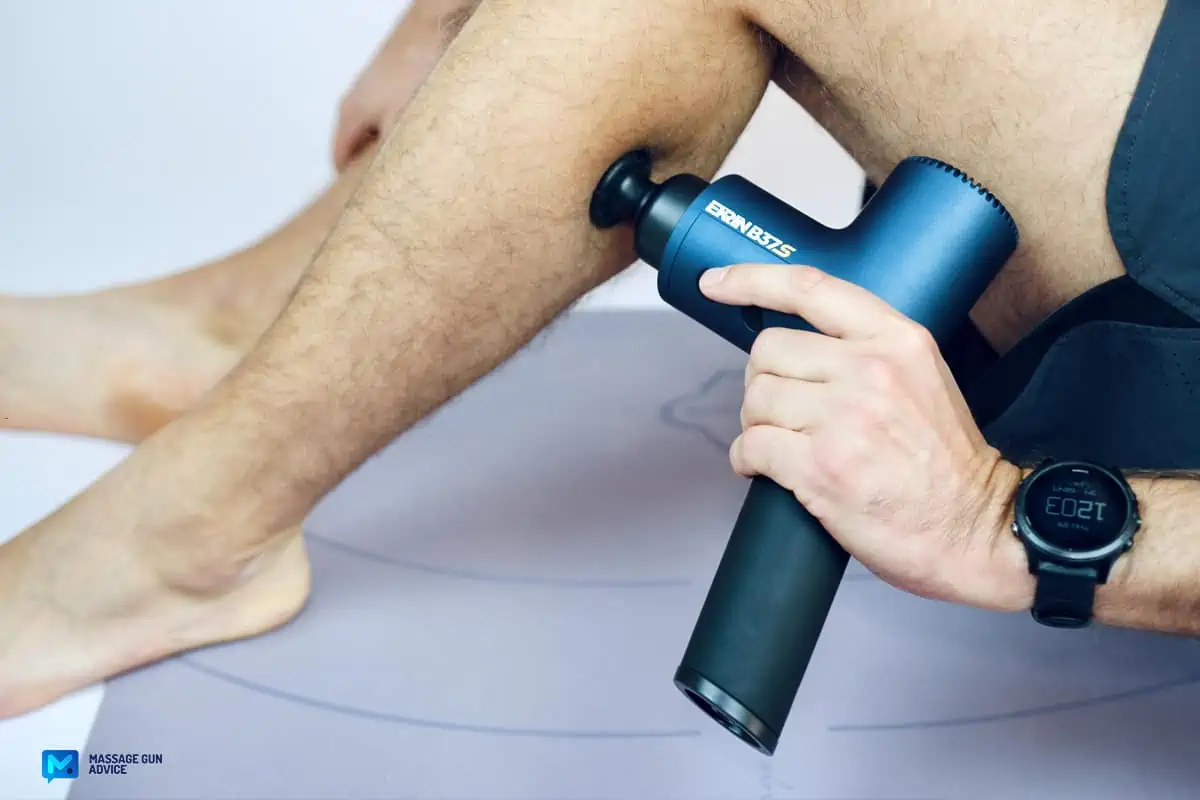 The B37S also includes a reactive force meter, similar to the Elite. But, based on our hands-on testing, the B37S's force meter operates more smoothly than the Elite's. Furthermore, the B37S delivers superior intensity, offering 2000-3200rpm versus the Elite's 1750-2400rpm.
It has 5 speeds to cycle through with a special 5th speed that has a pre-programmed dynamic mode (cycles between highest and lowest speed). It comes with 6 attachments that are well varied and a "push and twist" head locking mechanism. The Samsung branded battery will last for up to 8 hours.
Ekrin offers a lifetime warranty for this device and will also be available throughout to answer any questions you may have concerning your massage gun.
HOLIDAY SALE
Get a whooping $100 OFF the top-shelf Ekrin B37S massage gun. Only $231.00, down from $329.99. Grab the deal now!
It normally costs $229.99 but you can use promo code MGA20 to get 20% off the original price and get the B37 here for only $184.99 – Elite costs $399.
More Info Read our hands-on Ekrin B37S Review.
---
Hypervolt 2 Pro – Runner-Up
Hypervolt 2 Pro adopts the traditional power-drill design that we have come to associate with all previous Hypervolt models. However, despite the design, it packs some really impressive features.
While not quite as powerful as the B37S, it brings something different to the table. If the 12mm amplitude of the B37S seems limited, the Hypervolt 2 Pro's 14mm amplitude, very close to the Elite's 16mm, will indeed be a significant upgrade, with the difference barely noticeable.
Not only does it boast a longer amplitude, but its stall force is also comparable to the Elite's 40lbs. We found it to be slightly less, but the difference is minimal.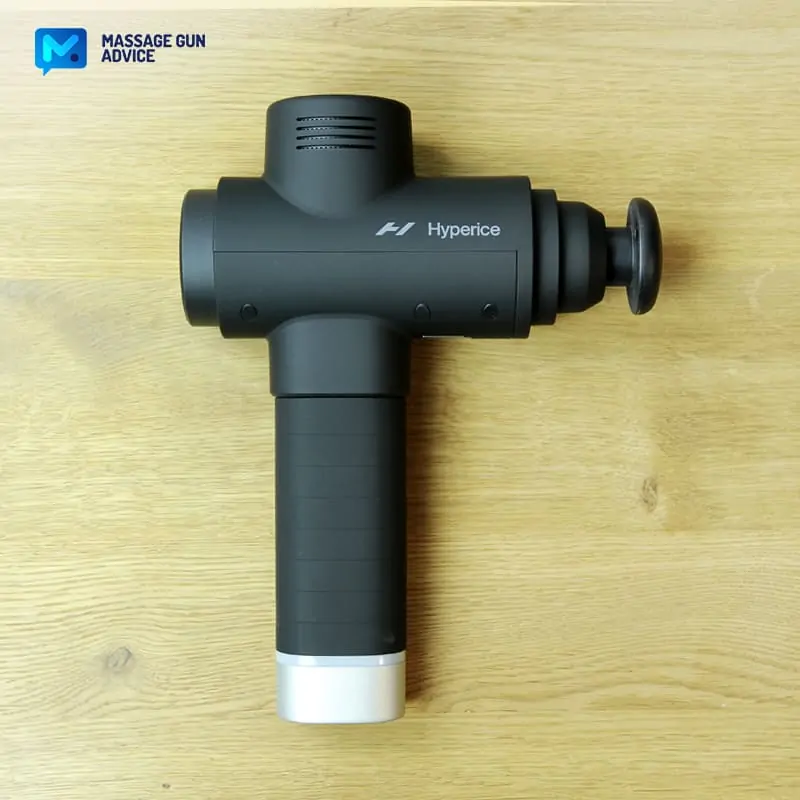 We were particularly impressed by the Hypervolt 2 Pro's intensity. It offers a percussion range of 1700-2700rpm.
Now, having tested so many massage guns, it's not often that you see a device that has a long amplitude and still revs this fast. Even Elite, with its 16mm stroke, can only rev to a maximum of 2400 percussions per minute.
It comes with 5 speeds, and bluetooth connectivity. Hyperice's app is capable of connecting to the device and taking over speed control while it guides you through various massage routines.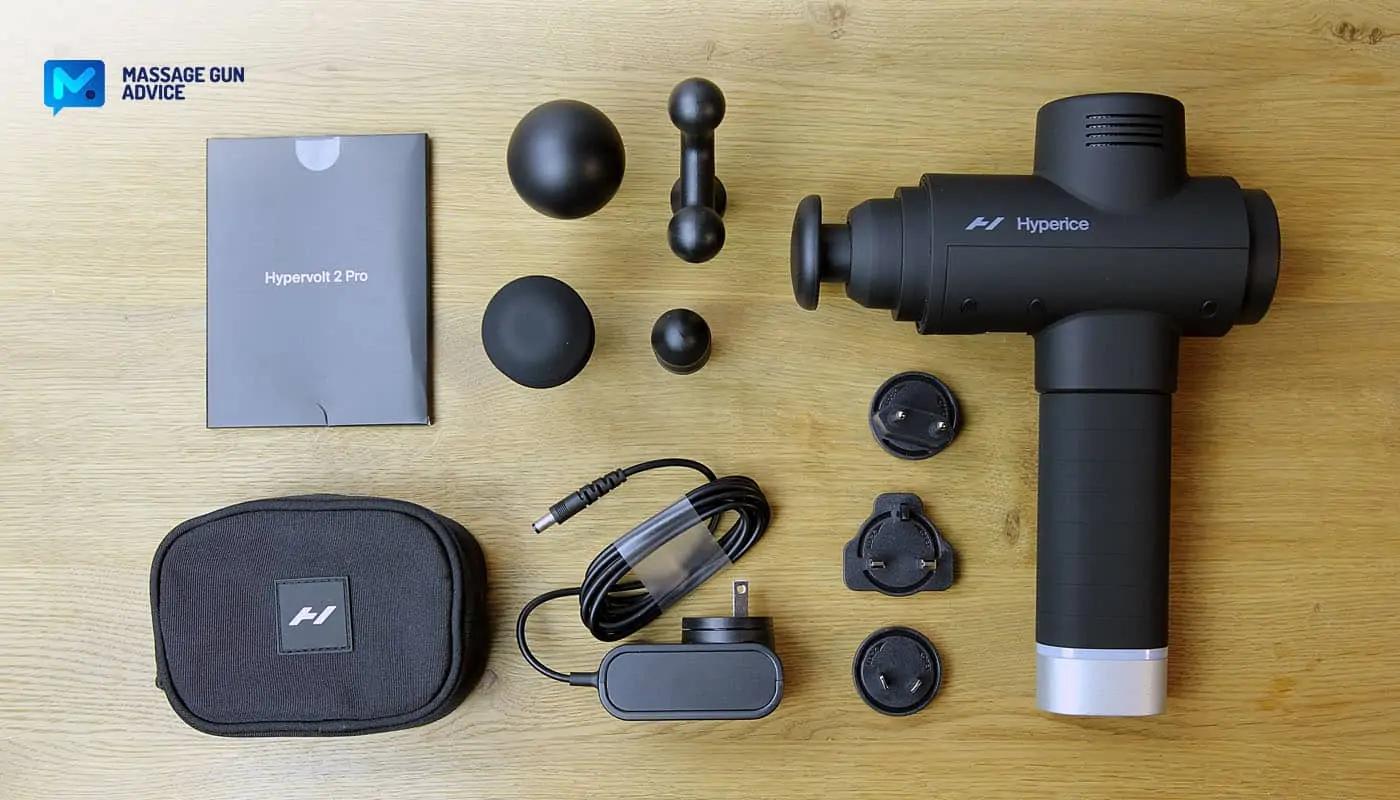 Unfortunately, it doesn't come with a carrying case – Elite has a carrying case.
However, in terms of noise, the Hypervolt 2 Pro outperforms the Elite, even though the latter is Theragun's quietest model. In our test, it delivered 54-64dB compared to Elite's 65-67dB. The sound on Hypervolt is also smoother.
It has a 1-year warranty, which is the same as the Elite but unfortunately not as good as the lifetime warranty on Ekrin B37.
The Hypervolt 2 Pro is priced at $329 at the official Hyperice store, which is $70 cheaper than the Elite (when at regular price).
More Info Read our hands-on Hypervolt 2 Pro Review.
---
Our Take and Verdict
To wrap up, here's the specs table comparing our Theragun Elite alternatives: Ekrin B37s vs Hypervolt 2 Pro.
Feature
Theragun Elite
Ekrin B37s
Hypervolt 2 Pro
Stall Force
40 lbs
56 lbs
35-40 lbs
Stroke Length
16 mm
12 mm
14 mm
Speed Options
5+
5
5
Battery Life
2.5 hours
8 hours
2 – 3 hours
Noise
66-68 dB
35 – 55 dB
53 – 64dB
Weight
2.2 lbs
2.2 lbs
2.6 lbs
Attachments
5
6
5
Warranty
1-year
Lifetime
1-year
Price
$399 $359
$329.99 $264
$329
Discount Code
10% Off


X8YZF10

code
20% Off


MGA20

code
–
Buy Now
at therabody.com
Buy Now
at ekrinathletics.com
Buy Now
at hyperice.com
Our two Theragun Elite alternatives: Ekrin B37s and Hypervolt 2 Pro
---
Theragun Pro Alternatives
---
Achedaway Pro – Our Best Pick
Achedaway Pro clinches the top spot as the most powerful massage gun we've tested. It showcases impressive power and performance. While it boasts an advertised stall force of an astounding 80lbs, our personal hands-on testing indicated that it operates somewhere between 60-70lbs.
Despite this, it still surpasses the Theragun Pro, which only offers about 60lbs of stall force.
Achedaway Pro matches Theragun Pro punch for punch because it also has the industry-high 16mm amplitude. This makes it perfect for people with a lot of muscle mass and those looking to have a deep to the bone percussive massage.
Achedaway Pro also has better intensity than Theragun Pro. It has a percussion range of 1700-2800rpm. It has 5 speeds to cycle through as well. Remarkably, despite a faster percussion speed, it operates at a significantly quieter level.
The noise level of Achedaway Pro starkly contrasts with that of Theragun Pro. While the latter is possibly the loudest gun we've ever tested, the Achedaway Pro is the quietest we've experienced.
It's also lighter than Theragun Pro – 2.6lbs vs 2.8lbs for Achedaway Pro. It has a nicely juiced battery that will last for 2-4 hours with a single charge.
Another thing, the battery is removable and allows you to use the device while the spare is charging. This is perfect for professional therapists and chiropractors.
However, it's crucial to note that the device comes with only one battery. You will need to purchase any additional batteries from their store.
It normally costs $299 but you can use our coupon code MGA60 to get $60 off in Achedaway store – that means it's now $239. Just think of it, for the price of Theragun Pro you can get 2 Achedaway Pro guns and still keep some change. How cool is that!

If you choose to purchase the device along with the spare battery, you can still use the same MGA60 coupon and get it for $309 right here.
More Info For more details, read the full Achedaway Pro review here
---
Bob And Brad D6 Pro – New Release!
Our most recent discovery, the Bob and Brad D6 Pro massage gun, truly intrigued us with its striking resemblance to the newly upgraded Theragun Pro G5. If you're in the market for a Theragun Pro alternative that echoes its design, then this device might just fit the bill.
The D6 Pro features the D-shaped, multi-grip design we associate with Theragun, a significant deviation from the Achedaway Pro we previously discussed.
While it is clearly a Theragun copycat, we are impressed with what they have done specs-wise. We've put the Bob and Brad D6 Pro through extensive testing, and it's been a pleasant surprise to find that the advertised specifications hold true.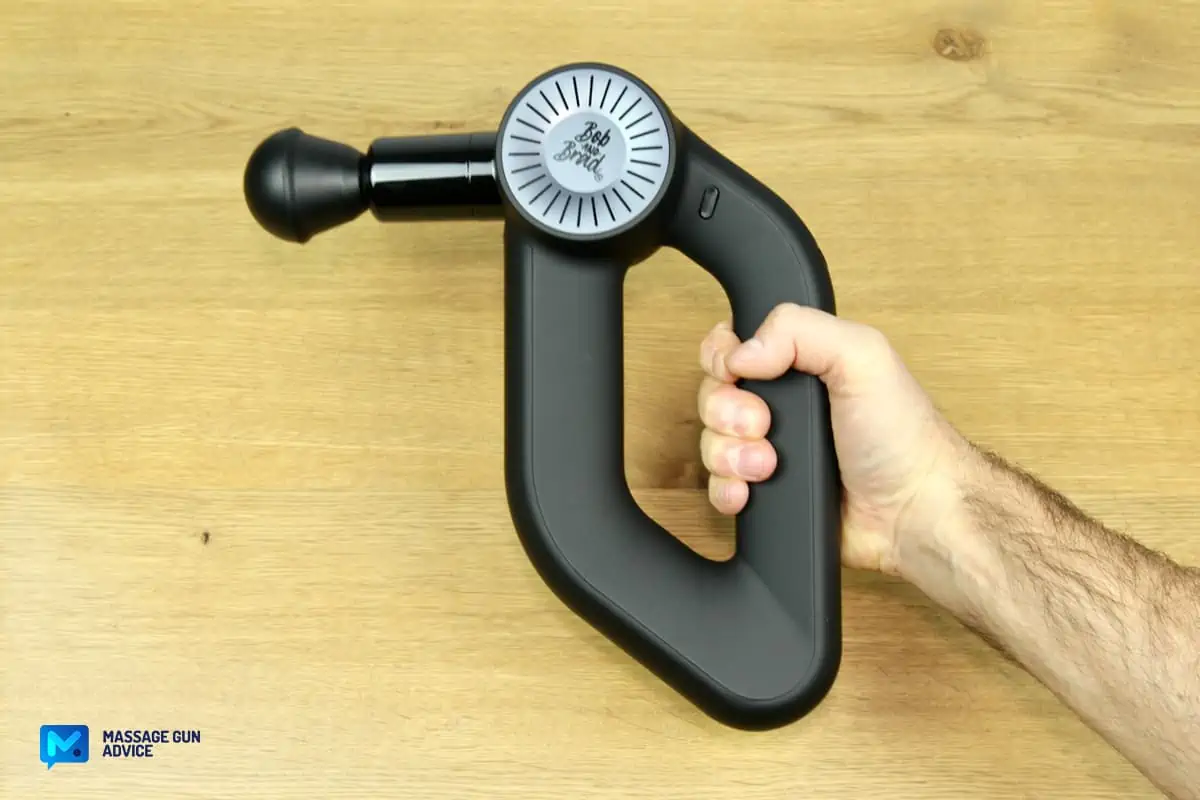 Notably, the stall force, often advertised optimistically by brands, does seem to approach the declared 60-80lbs., placing it well in the upper bracket of massage guns we've tested.
In addition, it mirrors the 16mm amplitude that's standard in Theragun devices.
Where intensity is concerned, the D6 Pro slightly outpaces the Theragun Pro, offering a confirmed percussion range of 1500-2500rpm, though it lags behind the Achedaway's 2800rpm. Complementing this range are six variable speeds.
It has a 2500mAh capacity battery that can run for 180 minutes non-stop. Note that it can only run for 180 minutes straight when no pressure is applied. In our test, it did less when ran at high speeds and with some pressure applied here and there. Charging is conveniently done via USB-C.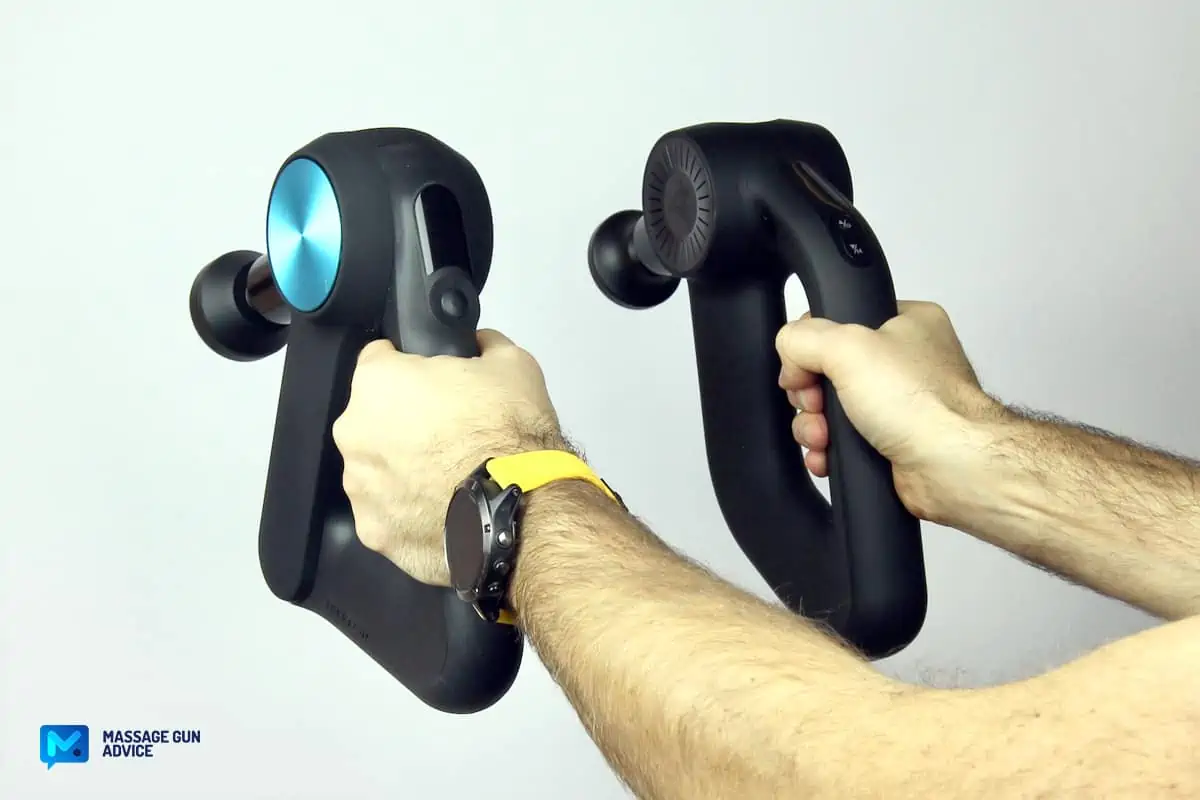 Overall, it feels like a solid device. While we would prefer to see something more original (design-wise), we like that Bob and Brad happily share the amplitude, stall force and percussion information.
We have had a tough time with brands that don't openly disclose important parameters about their devices. This makes it hard to trust both the brand and their products.
The D6 Pro is backed by a one-year warranty and is supported by Amazon's straightforward return policy. Expect top-notch customer service during your interactions.
Although the base price hovers around $250, you can use available coupons to slash the price by almost a third, bringing it down to roughly $170-180. Here's how to avail of this discount:
The last time we checked there was a $60 Amazon coupon available. Then, apply the MGAD6PRO code at checkout to get an extra 10% off. Check out the D6 Pro gun on Amazon.
MORE INFO In our in-depth Bob and Brad D6 Pro Review.
---
Our Take and Verdict
See the table below for comparison of what we think are two best Theragun Pro alternatives.
Feature
Theragun Pro
Achedaway Pro
Bob and Brad D6 Pro
Stall Force
(advertised)
60 lbs
80 lbs
80 lbs
Stroke Length
16 mm
16 mm
16mm
Speed Options
5+
5
6
Battery Life
2.5 hours
2-4 hours
3 hours
Noise
65 – 71 dB
40 – 60 dB
tbd
Weight
2.8 lbs
2.6 lbs
2.8 lbs
Attachments
6
4
7
Warranty
1-year
2-years
1-year
Price
$599 $539
$299 $239
$249
Discount Code
10% Off


X8YZF10

code
$60 OFF


MGA60

code
10% OFF
MGAD6PRO code
Latest Price
Check at
therabody.com
Check at
achedaway.com
Check at
Amazon
Best Theragun Pro alternative: Achedaway Pro, Bob and Brad D6 Pro
---
Final Words
Hopefully, you now believe that there are devices that can outperform the hyped Theraguns. With our recommendations, you can find the perfect one for yourself.
If you have any doubts or further questions, please feel free to leave a comment below. We'll be delighted to assist you and provide personalized advice if needed. You can also join our Facebook group, Massage Gun Talks, for discussions, tips, and more.
Until next time!
Was this article helpful?
Thanks for your feedback!
Post Update History
Here's a quick rundown of all the tweaks and edits we've made to this article to keep it accurate and up-to-date!
Current version last updated on:
October 10 2023 Featured the Bob and Brad Q2 Mini as an alternative to the Theragun Mini. Also made numerous text and link modifications to improve readability and user experience. (Author: Luke)
June 5 2023 Revised introduction, added more information about each device, and new photos as well. (Author: Greg)
February 20 2023 Pricing and coupon information updated. (Author: Greg)
November 25 2022 Following our hands-on review, we featured Bob and Brad D6 Pro as the Theragun Pro alternative. (Author: Luke)
October 30, 2022 Added many new photos showing how we tested each device. (Author: Greg)
September 3, 2022 Bitfinic added as a budget pick for Theragun mini alternative. (Author: Luke)
June 12, 2022 Added Hypervolt 2 Pro as the Theragun Elite alternative, following our in-depth review. (Author: Luke)
March 17, 2022 Replaced Addsfit Max (not for sale anymore) with the new Opove M3 Pro 2. (Author: Luke)
November 2, 2021 Removed Minirex due to customer reports about major shipping issues. (Author: Luke)
Julay 30, 2021 Removed Happy Gun Pro from Theragun Pro alternatives, due to falsely advertised specs. (Author: Luke)
May 14, 2021 Article first published. (Author: Luke)
•
Written by:

Luke Deszczulka
Disclaimers
The views and opinions expressed on this website are those of the authors. Any content provided by our bloggers or authors are of their opinion and are not intended to malign any religion, ethnic group, club, organization, company, individual or anyone or anything.
All product names, logos, and brands are property of their respective owners. All company, product and service names used in this website are for identification purposes only. Use of these names, logos, and brands does not imply endorsement.
It is our policy to make every effort to respect the copyrights of outside parties. If you believe that your copyright has been misused, please provide us with a message stating your position and we will endeavor to correct any misuse immediately.
Some of the links in this post are affiliate links. As an Amazon Associate, we earn from qualifying purchases. This means if you click on the link and purchase the item, we may receive an affiliate commission, at no extra cost to you. This helps us keep this website alive. Learn more here.
Amazon Disclosure
massagegunadvice.com is a participant in the Amazon Services LLC Associates Program, an affiliate advertising program designed to provide a means for sites to earn advertising fees by advertising and linking to Amazon.com. As an Amazon Associate, we earn from qualifying purchases. Amazon and the Amazon logo are trademarks of Amazon.com, Inc. or its affiliates. Please refer to our Privacy & Affiliate Policy for details.