Lifepro DynaFlex Review – Is This Adjustable, Full-Size Gun Any Good?
What to Know: We independently review products we recommend. If you click on links we provide, we may earn a commission. Learn more.
---
Welcome to our Lifepro DynaFlex review. Lifepro has recently added DynaFlex to its portfolio. We did a review on the DynaFlex Mini massage gun earlier this year and saw how effective that little affordable device was.
Well, here is its big brother if you like. It's an impressive full-sized device with lots of features that we have to tell you about.
CYBER MONDAY
Score 20% off at Lifepro and get a FREE Massage Gun on orders over $100. The promo will be applied automatically at the checkout. Browse all the deals now!
---
---
Lifepro Dynaflex Review
By now, you have probably read plenty of our posts that talk about Lifepro and their massage guns.
Well, we won't bore you with repetition for now, but it suffices to say that Lifepro is a well-known and established fitness brand that sells a lot of massage guns.
It's the most active brand and very ardent in keeping its portfolio of massage guns fresh. We have interacted with most of their devices and loved most of them.
For now, let's see what this Lifepro DynaFlex massage gun has to offer.
---
Lifepro DynaFlex Specifications

Feature
Lifepro DynaFlex Specs
Stall Force
45 lbs.
Stroke Length
13 mm
Percussion range
1500 – 3300 rpm
Speeds
16
Attachments
10 included
Weight
2.5 lbs.
Dimensions
11.1" L x 5.6" W x 3.4" H
Noise (decibel)
40 – 65 dB
Battery Life / Capacity
4 to 25 hours / 2000 mAh
(varies by speed)
Pros

Adjustable arm


Good amplitude
Good stall force


Removable battery

Cons

too many speeds




could be lighter

Warranty
Lifetime
Current Price
$199.99 $179.99
here at lifeprofitness.com
(10% discount with

MGA10

coupon)
Lifepro DynaFlex Specifications
---
First Impressions
We know all Lifepro devices come with a carrying case and this one is no different. It comes with a black (branded) two-zipper carrying case. It has a nice texture and feels sturdy.
It has all the contents well placed inside – device, attachments, wall charger, and instructional manual.
---
The Device
It's an intriguing design but not necessarily something out of the ordinary. It looks similar to most T-shaped massage guns that we have seen a lot. We wouldn't say it's exactly a "T" – more like an upside-down "L".
Nonetheless, the straight handle is an important feature to mention here.
Apart from that, it has an adjustable arm. Theragun Pro comes to mind here. However, it's a slightly different approach here (we'll talk about it in ergonomics below). The handle is long and easily noticeable as well.
It's all plastic on the outside, but pretty good quality plastic. It feels sturdy and well put together – no complaints.
Just one color option though; blue with touches of black – the handle is blue as well as the big button on the side. The corners are rounded, which makes the device look sleek and unique.
There is a pretty noticeable (not very large) LCD screen on the back of the top side. It has speed buttons (– and +). The power button is there as well.
There are icons as well; the battery icon, speed gears icon, and the timer – for how long your session has lasted. Another thing on the handle is the battery charging lights.
---
Weight and Ergonomics
Being a full-sized massage gun, we expect Lifepro DynaFlex to be solid. The long handle adds to the size of the device.
It weighs 2.5lbs. Perhaps heavier than most Lifepro guns we've looked at. Lifepro Sonic X for example weighed 2.2lbs (standard for most full-sized guns). Maybe the battery is big (lost of capacity? We'll see). The device feels well balanced though. The extra bit of weight won't do a lot of harm.
The handle harbors the battery. It's a rather long handle – feels just a bit longer than most guns we have handled. But we like it. It helps for extended reach especially when you want to massage your lower back. There are plenty of grip options as well.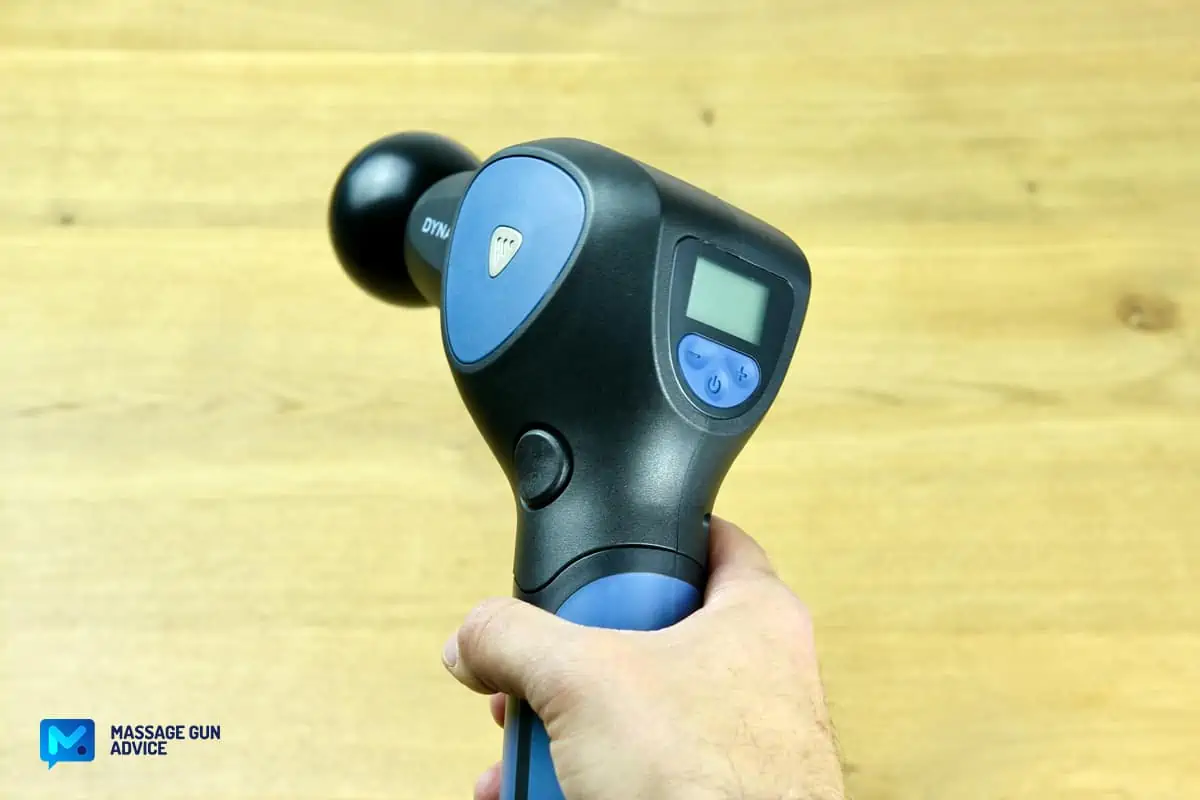 But the standout feature here is the adjustable arm. There aren't many adjustable massagers out there. We did a post recently on adjustable massage guns and this DynaFlex took the top spot.
The arm can be adjusted into 4 lockable positions – the arm fixes itself and doesn't move.
To adjust the arm:
Press the big blue button on the side where the Lifepro logo is.
Press and hold when pushing the arm to rotate.
The four positions are at 0o, 30o, 60o, and 90o.
The adjustability on this one is improved if the previous DynaFlex mini is anything to go by. Unlike that previous gun, the arm here doesn't rotate freely, it fixes firmly into either of the 4 positions.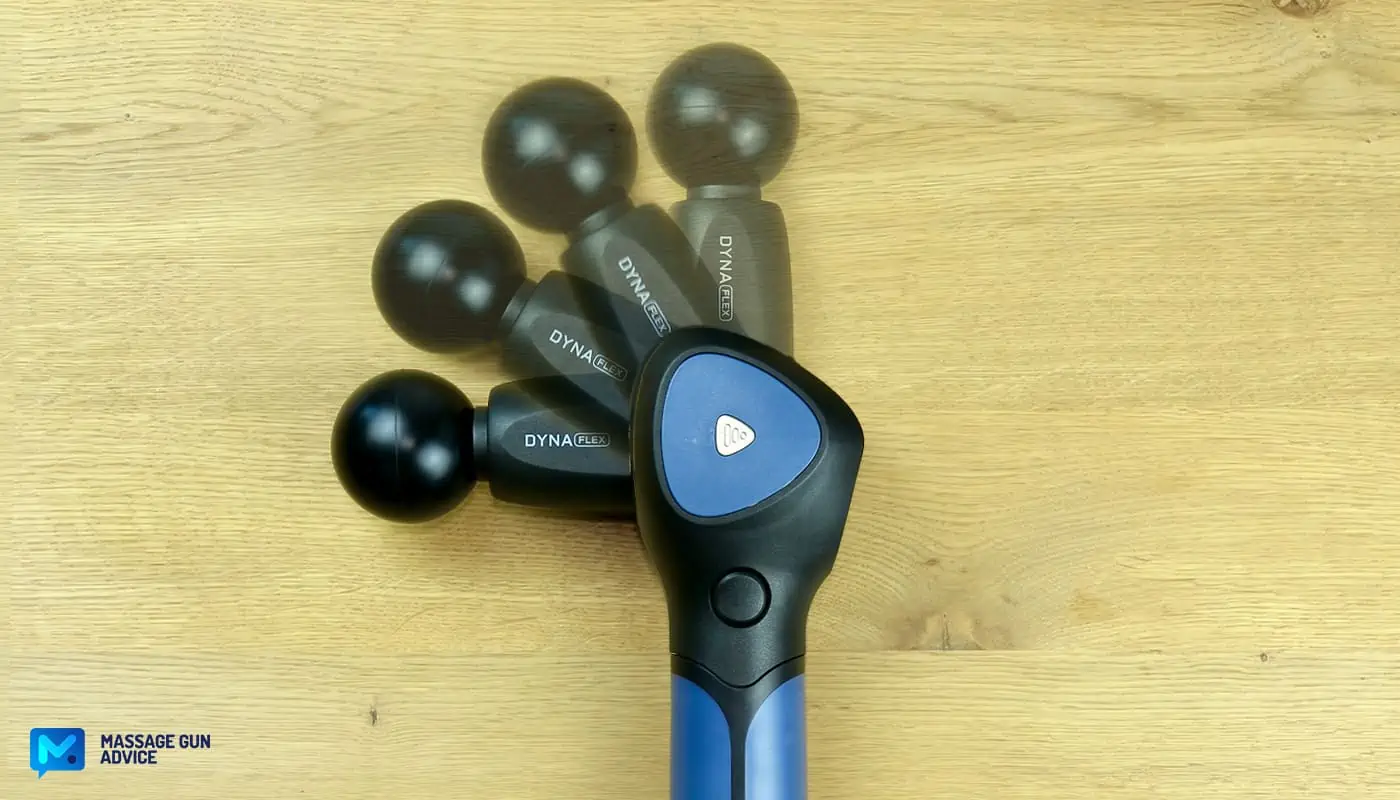 ---
Attachments
You get the feeling that maybe Lifepro was trying to be generous here. 10 attachments is not something you see every day.
We are used to seeing 4 to 6 attachments, which in our experience are usually just enough to massage the whole body. But we are glad that our favorite heads: ball (universal for large muscle groups), flat (good for quads and large muscle groups), bullet (for pinpoint areas), and fork (for the spine and neck area) are included.
Lifepro added 2 variations of the bullet and flat attachments. They look slightly different but we believe they will do the same job and have the same effect.
There is a wishbone head that we haven't seen before. There is also the Kayak head that we saw with the DynaSphere massage gun. We love using it.
All the heads are of good quality. Most are hard plastic but there are also some big soft ones for bony areas and the neck.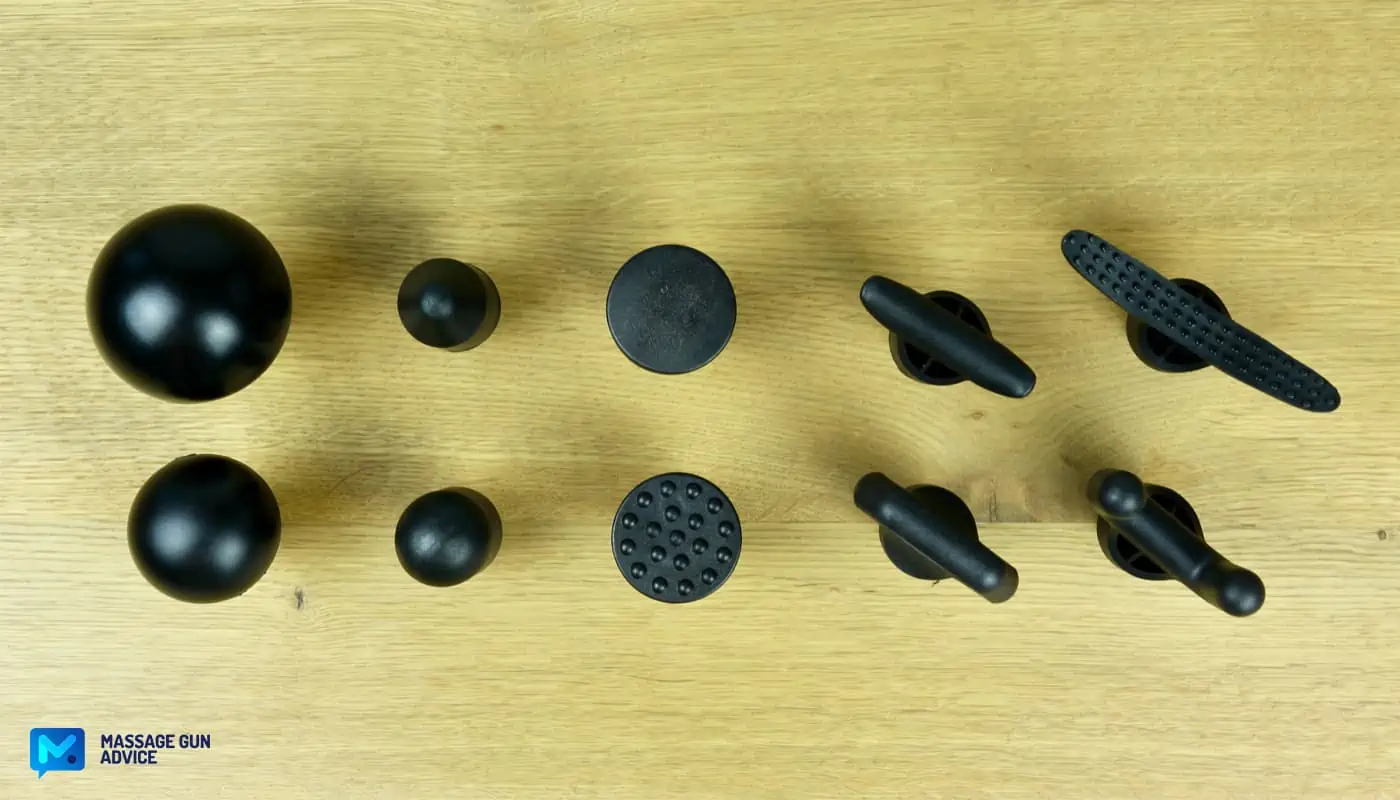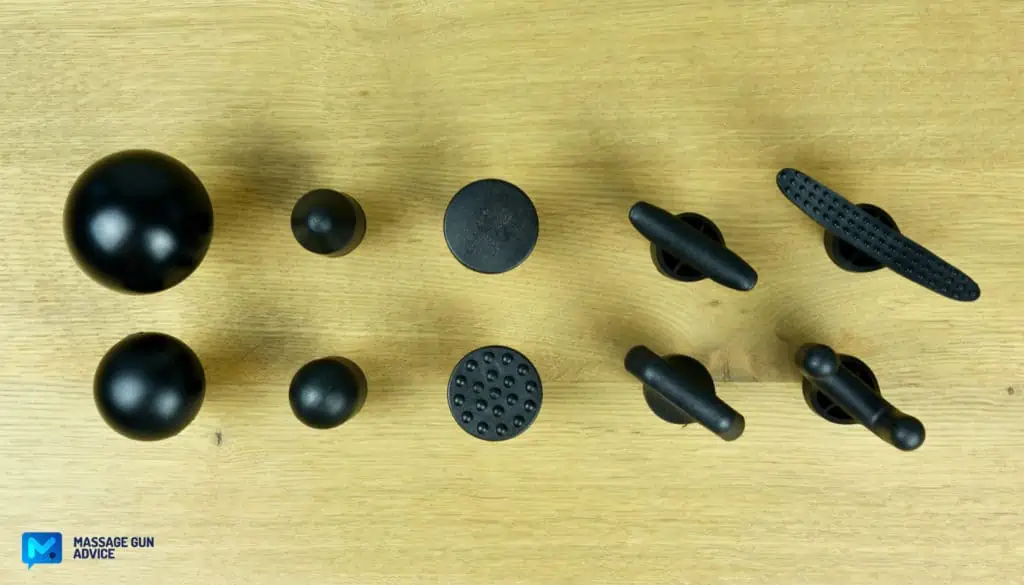 ---
Performance
What does the Lifepro DynaFlex percussion massager have to offer in performance?
---
Amplitude
The distance traveled by the massage gun head on this Lifepro DynaFlex is impressive as well. It's not so high as to be considered an aggressive massage gun like Theraguns and Achedaway Pro (16mm amplitude). It's also not a vibrational massage gun either. It's somewhere in the middle, what we like to call a "sweet spot" not too tiny, but not too long either – 13mm.
We have seen 13mm amplitude from a Lifepro gadget before. The DynaSphere – a budget, non-adjustable device.
With this kind of amplitude you can get a deep tissue massage. You can also use it when you want a soothing and delicate massage where a long stroke length is not needed.
But there has to be enough stall force in order to press this gun to your body when you have to. We know Lifepro always delivers when it comes to motor strength.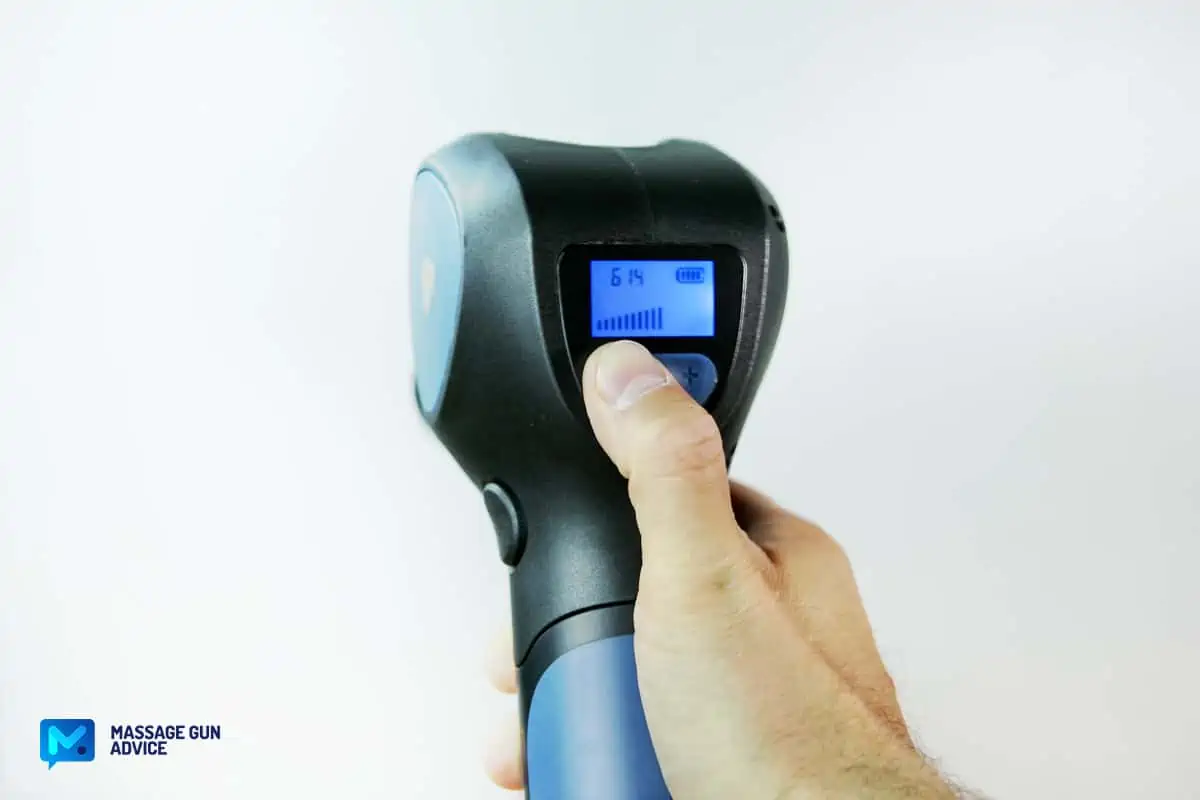 ---
Stall Force
Stall force means the amount of pressure it takes to stop or stall the motor of a massage gun. It's an important aspect to consider when you are looking for a good percussion massager.
Does the DynaFlex have enough stall force to be considered a good device?
Well, 45lbs. of stall force sounds good enough for us. On paper, this is Hypervolt Plus – the best Hypervolt – territory. It's also more than Theragun Elite's and a lot of other Lifepro models as well.
That is to say that this is a great percussion massager. We've seen better, more powerful guns – like Ekrin B37 and B37S – but this one is right up there with some of the best guns we have reviewed. But is it actually that powerful in practice?
Well, having tested Hypervolt Plus, this one feels slightly less powerful. We are guessing the real stall force should be around 40lbs. It's difficult to stall on the highest gear.
However, we noted that just like in many other massage guns, the stall force here is progressive – increases with an increase in speed.
---
Percussions and Speed
We have reviewed many Lifepro massage guns and there is a consistency in the number of hits per minute for many of those guns.
Well, DynaFlex follows that pattern. It has a percussion range of 1500-3300rpm. That means it can get pretty intensive.
It's also a very decent range given the 13mm amplitude. Unfortunately, the wide range here meant that Lifepro could exaggerate the number of speeds. 16 speed gears, to be honest, is one too many to cycle through.
What this means is that you have a gun that easily stalls even in the first 7 or 8 gears. That is because the percussions increase only by 100. You'll have to hit that + button a few times to get the speed that you like, which we are guessing will need some patience.
The stall force starts getting tough at around 2400rpm and by then you must've hit the speed button at least 10 times.
That said, we appreciate the wide range because it means you can start real slow if you want to.
---
Our Take on Performance

This is a strong device that can also be quite intensive given the maximum number of percussions. It has a perfect amplitude paired with enough stall force and a wide percussion range.

However, 16 speed gears are way too many for this kind of device. That's because, even though the stall force is good enough, it takes too many gears to feel the power.

What that also means is that you cannot have a slow and deep massage – the first few gears easily stall when pressure is applied.

~ Greg at massagegunadvice.com
---
Noise
We are glad Lifepro doesn't overstate the noise levels on their devices. We have seen this with many other brands advertising their devices as "very quiet" only to find something different when you turn it on.
The noise level here is listed as 40dB to 65dB. Our own measurement gave us 66dB on the highest gear. This is louder than some of the devices we recently tested e.g. Ekrin 365, but perhaps it is justified given slightly higher amplitude in the DynaFlex (devices with longer stroke length tend to be noisier than those with low amplitude).
The device rattles a bit when pressed against the body but nothing unusual. Expect some vibrations on the handle but nothing too uncomfortable. The long handle helps to mitigate this.
---
Battery
We like the battery capacity of this device. 2000mAh is not new among massage guns – some have more – but it's not bad either.
To make it even more interesting, Lifepro says the battery can last between 4 to 25 hours depending on speed and pressure applied. But we are not really buying that. No one will use any device at speed 1 (which in this case is just 1500rpm) for 25 hours straight. At this speed the stall force will be very low as well.
However, we believe 5 to 8 hours is more realistic with this device. This is good and you can have some juice left in it even after a week.
But the big plus here is the removable battery feature. The charging port is also attached to the battery, which means you can buy a spare battery and use one while the other is charging.
Unfortunately, though, we haven't seen the option to buy a spare battery at Lifepro. Maybe they'll have some soon.
There are 3 LED lights to indicate the battery charging status.
---
Warranty
Lifepro has a lifetime warranty on all their devices – something we appreciate a lot here. They also have a 30-day money-back guarantee which we believe you can exploit creatively.
You can order this device along with another preferred Lifepro gun (say Sonic X), have a hands-on comparison and then send one back. Why not?
---
Price
The device currently retails at $199.99 or just $179.99 if you use the coupon MGA10 that gives you a 10% discount. Only available when purchasing at lifeprofitness.com.
At this price, it's cheaper than Hypervolts and Theraguns. You get a good gun with decent features. If you are not entirely impressed, you can check out alternatives listed below.
---
Who is it Best For?
With this kind of performance, we expect this Lifepro DynaFlex percussion massager to be good for everyday use at home.
Also, because it has adjustability – the arm – and enough power, amateur athletes who want a DIY massage gun will find it very useful.
It's also not a bad choice as a physiotherapists or a chiropractor massage gun. With the removable battery, decent percussion range, good battery life, and adjustability, it fits perfectly into their needs.
But we wouldn't recommend it for those who need a strong and punchy massage (bodybuilders, pro athletes, and weightlifters).
You may need to look for a gun with higher amplitude (preferably 16mm) and even more stall force.
---
Best Alternatives to Lifepro DynaFlex
---
Lifepro Sonic X – Similar Amplitude, More Stall Force
Why this one?
More power – 56 lbs.
Easier to use
Lighter and quieter
We did a Sonic X review before and told you how it looked very similar to Ekrin B37.
Well, if you are out for something superb but without the adjustable arm, here is your gun. For starters, it has a similar kind of amplitude as the DynaFlex – 12mm vs 13mm, the 1mm difference is negligible.
However, it has even more power, which means you will be doing a lot more pressing with it. It has 56lbs. of stall force. If you want a deep tissue massage (large muscles), then here is the gun for you.
Another thing that makes it a good alternative is that Lifepro didn't overdo the speed gears on this one. Unlike the DynaFlex (16 speeds) this one has just 5 speeds.
It doesn't have any LCDs, which isn't a bad thing. We like the angled handle that allows for a natural grip and extended reach for lower back massage.
It's lighter than the DynaFlex – 2.2lbs vs 2.5lbs. It's also quieter – we are guessing the smaller amplitude and the hush motor are the reasons why.
It also comes with a lifetime warranty and the same price or either $199 or $179.99 with the MGA10 coupon applied (10% discount).
---
Opove M3 Pro Max
Why this one?
More power – 50 lbs.
More amplitude – 15mm
A bit lighter and quieter
Here's a different proposition for those who enjoy more power but would also love a punchy massage.
The Opove M3 Pro Max offers you both. It has a 15mm amplitude – Theragun-like and you will not feel the 1mm difference.
You also get up to 50lbs. of stall force which is more than what the DynaFlex offers. It won't be as powerful as the Sonic X above, but it's enough stall force to massage even big muscles.
One thing we'll say here is that Opove may have slightly overstated the stall force for this device, but it's still powerful than the DynaFlex – a tad more, but something you can feel.
Other features that the device offers include a nice percussion range of 2000-3300rpm. That is awesome given the long stroke length. There are 4 speeds as opposed to the cumbersome 16 on the DynaFlex.
It's also lighter – 2.3lbs vs 2.5lbs for DynaFlex. It's also quieter (just 63dB at maximum speed), which is surprising given the long amplitude. You get 5 nicely varied attachments and a case as well.
You'll have to pay $220 to get it but there is a limited time offer that allows you to buy it on their website at $169 – quite a bargain if you hurry.
Cons
You won't get a lifetime warranty, just a 1-year warranty.
However, you still get a decent massage gun from a proven brand. Opove has been around for a few years.
---
Lifepro DynaFlex Review Conclusion
Before we wrap up this Lifepro DynaFlex review, there are a couple of things worth pointing out again.
We are pleased with DynaFlex. It's a quality massage gun with a unique approach to things – an adjustable arm.
We also love the great combination of amplitude, stall force, and percussion range.
Unfortunately, are too many speed gears for our liking but it's something that can be overlooked given other strong features – a lot of attachments, a strong carrying case, and easy controls.
That said, we also believe that Lifepro Sonic X is an equally strong gun – slightly different approach, but a very good device. That's why we have listed it as one of the best alternatives.
---
Quality

Effectiveness

Usability

Accessories

Price Value
Summary
Lifepro Dynaflex is a quality massage gun with a sturdy and stable build. It has an adjustable arm that makes for interesting ergonomics, a perfect amplitude and enough stall force to suit the needs of most people. With 10 attachments, a nice carrying case, and a well-juiced removable battery, it's better equipped than most devices – a good value for the money overall.
---
Article Sources
Lifepro Official Website. lifeprofitness.com
A Barlow, R Clarke, N Johnson, B Seabourne, D Thomas, J Gal. Effect of massage of the hamstring muscle group on performance of the sit and reach test. Br J Sports Med. 2004 Jun;38(3):349-51. doi: 10.1136/bjsm.2002.003673.
Principal Investigator: Isomi Miake-Lye, PhDc; Co-Investigators: Jason Lee, MD, MPH, Tana Lugar, PhD, MPH Stephanie Taylor, PhD, MPH Paul Shekelle, MD, PhD; Research Associates: Roberta Shanman, MLS Jessica Beroes, BS. Massage for Pain: An Evidence Map. Department of Veterans Affairs; September 2016.
---
NOTE: We only use high-quality sources and rely on peer-reviewed studies, academic research institutions, and medical associations to support the facts within our articles.
Was this article helpful?
Thanks for your feedback!
Post Update History
Here's a quick rundown of all the tweaks and edits we've made to this article to keep it accurate and up-to-date!
Current version last updated on:
•
Written by:
Greg Szostak
Disclaimers
The views and opinions expressed on this website are those of the authors. Any content provided by our bloggers or authors are of their opinion and are not intended to malign any religion, ethnic group, club, organization, company, individual or anyone or anything.
All product names, logos, and brands are property of their respective owners. All company, product and service names used in this website are for identification purposes only. Use of these names, logos, and brands does not imply endorsement.
It is our policy to make every effort to respect the copyrights of outside parties. If you believe that your copyright has been misused, please provide us with a message stating your position and we will endeavor to correct any misuse immediately.
Some of the links in this post are affiliate links. As an Amazon Associate, we earn from qualifying purchases. This means if you click on the link and purchase the item, we may receive an affiliate commission, at no extra cost to you. This helps us keep this website alive. Learn more here.
Amazon Disclosure
massagegunadvice.com is a participant in the Amazon Services LLC Associates Program, an affiliate advertising program designed to provide a means for sites to earn advertising fees by advertising and linking to Amazon.com. As an Amazon Associate, we earn from qualifying purchases. Amazon and the Amazon logo are trademarks of Amazon.com, Inc. or its affiliates. Please refer to our Privacy & Affiliate Policy for details.