Bob And Brad T2 Review – An Upgrade To The C2, Or Is It C2 2.0 In Disguise?
Disclaimer: Our content is unbiased, non-sponsored and fact-checked. If you buy via links on our site, we may earn a commission. As an Amazon Associate, we earn from qualifying purchases.
---
In this Bob and Brad T2 review we explore the successor to the Bob and Brad C2 massage gun – we got that gun and reviewed it last year. This is another device from the two famous internet physical therapists.
Bob and Brad have over 4 million subscribers on their YouTube channel and have helped a lot of people with practical advice. They have gone all-in on massage guns and have quite a few of those on Amazon.
We have bought and reviewed most of them – if you can remember, we recently reviewed the X6 Pro.
Today let's see what this new Bob and Brad T2 massage gun has to offer.
---
---
Bob And Brad T2 Review
---
Bob And Brad T2 Specification
Feature
Bob and Brad T2 Specs
Stall Force
44 lbs*
Stroke Length
10 mm
Percussion range
2000 – 3200 rpm
Speeds
5
Attachments
5 included
Weight
1.45 lbs
Noise (decibel)
45 – 55 dB
Battery Life / Capacity
3.5 hours / 2500 mAh
Pros
Well equipped
Carrying case included
Overall quality
Cons
Overstated amplitude
So-so ergonomics
Attachments tend to pop out
Current Price
Check at Amazon.com
Bob and Brad T2 Specifications (* advertised by Bob and Brad)
---
First Impressions
Bob and Brad massage guns are what we would call "basic" – there's little chance that you are going to drool over them for long. However, there's a level of consistency that we like about them – they look and feel about the same.
For instance, it's very easy to mistake the T2 with the earlier C2 – even the X6 Pro isn't very different either. Our guess is that Bob and Brad want their clientele to easily identify their product. Also, the focus may be more on what the device can do rather than what you can see.
That said, the T2 has a familiar straight handle that makes a 90-degree turn at the top. It's not necessarily a T-shape – more of an upside L than a T.
One consistency here is the rather short handle – unlike what you find with a Hypervolt, for example.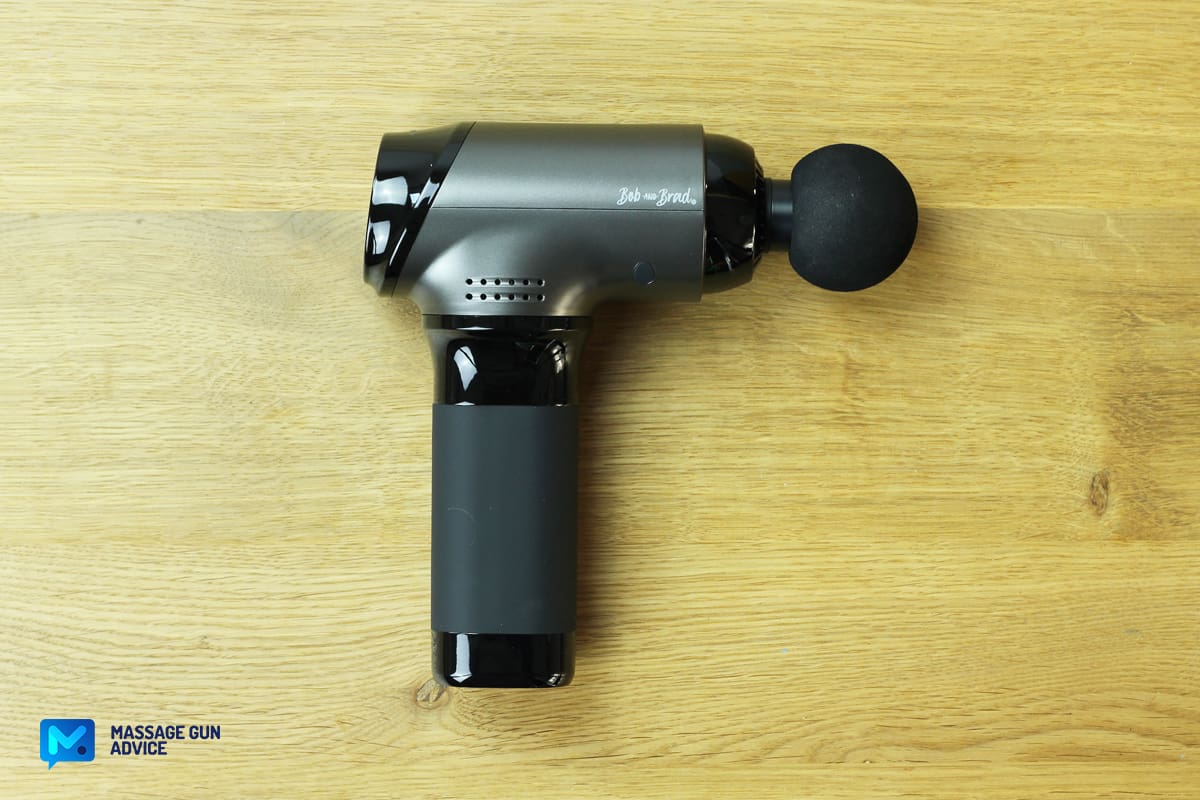 The materials used are more plastic than anything – but it looks and feels like durable plastic. It's also well put together, there are no visible screws. It's a mixture of glossy black and satin.
We must say the combination is well-thought and may resonate well with a lot of people. We actually think the T2 is more appealing than the C2. Unlike the C2, this one doesn't have the ventilation sticking out at the top.
It comes in a sturdy, compact, and zippered carrying case. Inside the case, we found a charging cable, spare gaskets for the attachments, and a pretty awesome manual. The manual has information on the attachments, the device, and how to use it to massage different parts of your body.
---
Size Weight and Ergonomics
Another consistency that Bob and Brad like to maintain with all their devices is the compactness.
Just like the C2, the T2 measures 5.4 x 2.4 x 7.6 inches – that sounds like a mini massage gun, right? No, it's not a mini massage gun, but we wouldn't call it a full-sized gun either – something in between maybe.
That said, it weighs a meager 1.45 pounds without an attachment and 1.57 pounds with the flat head attached. That is just about the perfect size and weight for a comfortable massage. It balances well with most of the weight in the handle.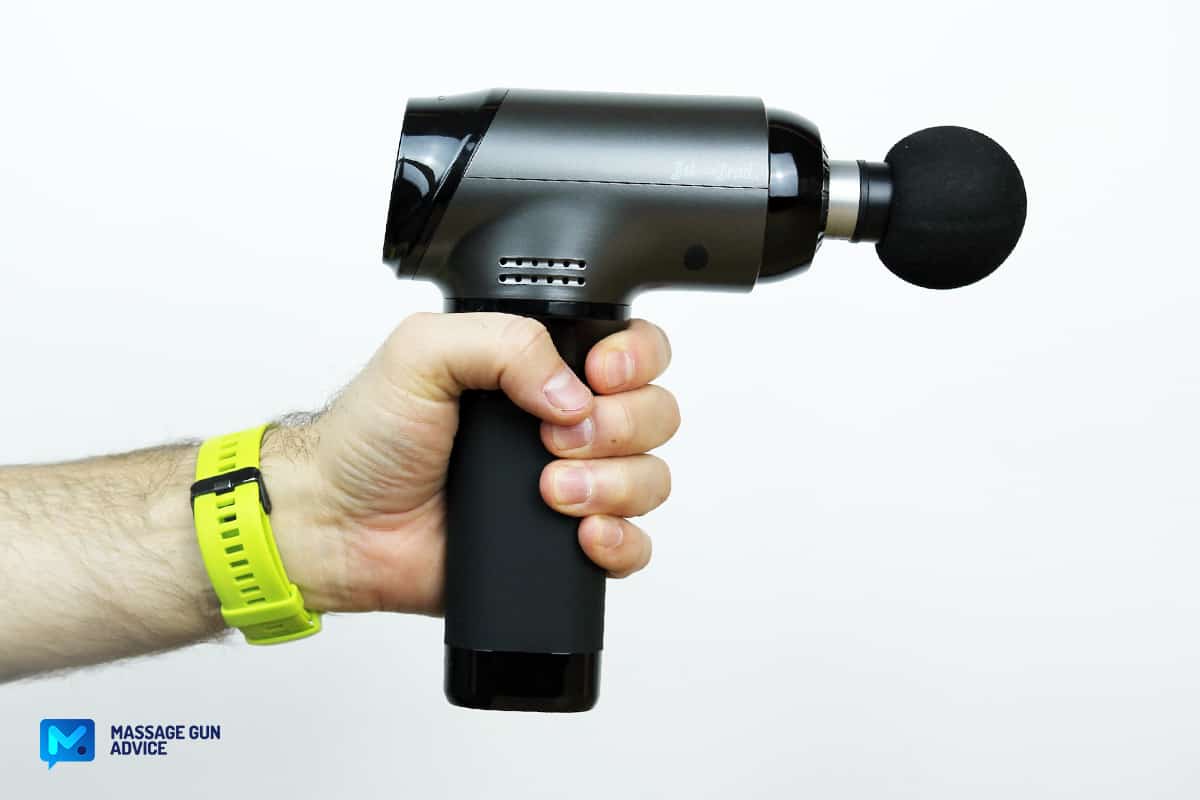 Ergonomics for this gun isn't really great, but it's not so bad either.
For starters, even though it's T-shaped, which we don't like, for good reason – it puts a lot of strain on your wrist – the handle is oval-shaped rather than round-shaped. That means it's more comfortable to hold.
We might say it's similar to what Hyperice has done with their new devices. However, we know that Bob and Brad had this configuration first – think the C2. Even so, the T2 has the upper hand compared to the Hypervolts because it's compact and weighs much less.
We also have to mention that, because of the short handle and compact nature of this massage gun, massaging the lower back or mid-back (DIY) may not be easy. However, we like the fact that part of the handle has good rubber on it to make the grip firm.
There is no rubber at the top or bottom of the handle. That complicates it for people who like to hold the device at the top or those who may hold the bottom when massaging the lower back.
We love how Taotronics (an alternative below) executed the rubber on the handle. Maybe Bob and Brad can borrow a thing or two.
Overall we would say the T2 has a perfect size and weighs just enough for a full-sized gun. However, it feels more like a revamped C2 rather than a new device.
Apart from minor configuration changes, this looks and feels like C2 2.0.
---
Controls
The controls couldn't be more straightforward. Instead of the main switch at the bottom of the handle like we've seen with Hypervolts and many other devices, this one has a one-button control.
The button works in the following way:
Long-press to turn on and off
Short taps of the button changes speed
Just like we saw with the C2, the power button is inset. That means you won't press it accidentally when pushing down the device to apply pressure. This is a practical solution to a common issue.
There are 5 blue LEDs that indicate speed and 4 others at the bottom of the handle to indicate the battery level.
---
Attachments
Bob and Brad know what attachments you need to massage the whole body, so they included 5 nicely varied heads for this gun.
Let's discuss them:
Cushion head – Bob and Brad have always included this massage gun head. It's excellent and has a nice give to it. It's used on sensitive or bony areas. You can also use it for a full-body massage if you need a gentle massage. Another reason we believe Bob and Brad always include this head is because of the kind of therapy they give – advising people how to treat pain areas using massage guns.
Flat head – Another one that's always been included with the other massage guns. It is made of hard plastic. The hard plastic is fine, but the flat end is a bit thinner than usual making the whole attachment look really long.
Fork head – This one is also made of hard plastic. However, we believe the distance between the two prongs could've been slightly wider. That makes it safe to pass along the spine and avoid massaging the spine directly.
Bullet head – This one is for trigger points and deep muscle knots. It's often made of hard plastic (as is this one).
Ball head – This is often the universal attachment for any massage gun. The tip is made of foam – not silicon. It has a very slight give to it but is nothing unusual.
The mechanism for inserting the attachments is push-in. You won't need a lot of force to push them in.
However, we encountered a bit of a problem using them. They tend to pop out. It happened way too many times, especially when we used higher speeds (for a few minutes).
Because of this we can't help but feel the twist on/off system is better. We have seen it with Ekrin 365, and the attachments lock on securely. Simple, but effective solution.
---
Performance
In performance, we look at Amplitude (stroke length), Stall force, and Percussions Per Minute. How does the T2 rank here? Is it better than the previous C2 or recent X6 Pro? Let's find out!
---
Amplitude
Amplitude or stroke length is the distance covered by the massage gun head as it percusses.
The T2 has an advertised stroke length of 10mm. We did our own measuring with our digital caliper and it is indeed 10mm (or 10.19mm to be precise).
Compared to the previous C2, this is already an improvement. The C2 had an 8mm amplitude. To put that into numbers, that is a 20% improvement in amplitude. If you wanted to know the biggest difference between the C2 and the T2, there you have it.
8mm for the C2 made it more of a mini massage gun than a full-sized one. That said, 10mm isn't percussive territory either – it's vibrational at best, but still better than 8mm. What this means is that you won't be getting any percussive or Theragun-like experience. No punchy hits.
However, this is okay if you are looking for a soothing massage or just need to warm up the body for an exercise. It's also just about good enough for soreness relief, improving blood flow, and a general massage for most body parts.
Don't expect this gun to hit deep into the muscle – especially not large muscles. That is a job for massage guns with longer amplitudes – those can hit harder and penetrate deeper into the muscle tissue.
Just to compare, the earliest (first generation) Hypervolt had the same amplitude. The new guns have better amplitude – Hypervolt 2 has a 12mm amplitude. We can also say, it has 50% less amplitude than Theragun or Achedaway Pro. Even Theragun mini has a 12mm amplitude.
---
Stall Force
Bob and Brad advertise the stall force for this gun as 44lbs. That is decent, even better than many guns we have seen before with this kind of stroke length. But is it really that strong?
Well, we tested it against guns with the same caliber, and we have to say it doesn't feel like 44lbs. at all. We tested it against the Taotronics TA-PCA004 gun (one of the alternatives below) and it felt way stronger than this gun. Maybe this gun is slightly stronger than the previous C2 but definitely not as strong as the recent X6 Pro.
It stalls rather easily on lower gears. When the speed is cranked up a notch, the resistance is slightly better. However, even at higher speeds, there isn't much pressure you can apply before it significantly slows down.
We also noticed that when it stalls, it takes about 2-3 seconds before it can start revving again. That is different from the Taotronics and Ekrin 365 which kick off immediately.
That said, we still believe this kind of stall force can serve about 80% of folks who need a massage gun. However, after seeing the specs, you can't blame us for expecting more.
---
Speeds and Percussion Range
The advertised percussion range is 2000-3200RPM. We did our own measuring with a digital laser tachometer and the results were 2012-3113RPM – pretty much the same.
It comes with 5-speed gears to go with that percussion range, which is fairly reasonable.
It's a high revving device, and we're guessing it's because of the low amplitude. That also means that it can get pretty intense on higher gears – especially when you are gliding it over the skin.
A thing to keep in mind is that when you try to apply some more force, the speed will slow – the weak motor can't handle a lot of pressure.
---
Noise
Bob and Brad massage guns have always been quiet, but then again most massage guns with similar amplitude are rarely loud. For comparison, the T2 is a tad louder than the previous C2 – but again lower amplitude means quiet motor.
Our dB meter gave us 54.4/58.2dB for the first gear and last gear. That is decent enough but we've seen quieter guns.
Still, the advertisement says it's quieter than what our dB scale gave us – working noise is only 45dB.
But we guess it's okay. We heard some rattling sound at the highest speed and some vibrations in the holding hand, but nothing unusual.
---
Battery
On Amazon, there is this crazy stat that the battery has a whopping 4000mAh capacity. That would be amazing given the overall size of the gun. How could they possibly fit all that juice in such a tiny massage gun?
Well, we found out that is not the case and that the gun has a 2600mAh capacity – which is reasonable and perfectly okay. They say the battery can last for 2-5 hours of continuous use, and we will not argue with that.
However, we must say that the battery time will depend on speed and the pressure applied during this continuous use. on higher speed gears and more pressure applied, expect the battery to drain out in 2-3 hours.
The battery isn't removable like RecoverFun Pro or Achedaway Pro. There is a 10-minute auto-shutoff to prevent overheating (it gets hot when used for a while).
The battery charge is USB-C, which is great for convenience – better than wall chargers. You can charge it via a power bank.
---
Who Is It Best For?
This kind of set-up screams entry-level all the way. That means it's probably just good enough for everyday use at home. It will be good for folks who are just starting with massage guns and need something basic.
It will also serve well;
The elderly
Women and folks with smaller hands – unlike many other guns, the handle isn't thick at all.
People who work behind the desk – it's a good pick for neck and arm treatment
Runners who want to warm up their leg muscles before running and treatment after running.
But it's probably not the best gun for those;
---
Price and Warranty
Last we checked it was about $120 on Amazon. There was also a $30 coupon – that makes it $90.
Check the current price at Amazon here.
This sounds like an amazing deal until you find out there are better alternatives at a similar price. What's even better is that you can get a solid alternative at half that price.
The warranty here is 1 year – the bare minimum.
---
Bob and Brad T2 vs C2 – Summary
What's new in the T2?
Higher amplitude – 10mm compared to 8mm on the C2
More stall force (on paper) but we're not sure because it feels about the same to us.
The glossy look and minor design changes – the ventilation at the top is gone.
What stayed the same?
The percussion range
Size and weight
Attachments
Carrying case
USB-C charging
Warranty
Battery – the T2 has 2600mAh while the C2 had 2500mAh, but the time on the battery is the same.
---
Best Alternatives
---
Ekrin 365 – More Expensive, Much Better
You will have to spend a little more money on this one but it's definitely worth every extra dollar.
For starters, the stall force is bigger and better. It's 40lbs – true 40lbs. and not just bait. The percussion range is similar here – which is a plus for Ekrin 365 because the other specs are better. It also feels a bit more percussive, although the amplitude is more or less similar to T2's.
The big advantage with Ekrin 365 over Bob and Brad T2 is the handling. The ergonomics are way better here.
You could argue for different approaches, but the slanted handle sits better in your hand than the straight handle. What's more, the Ekrin 365 handle is longer (to reach your back) and thinner (for folks with small hands, especially females).
The T2 may be elegant but Ekrin 365 feels more premium, and the materials used are softer and feel nicer in quality. There is a USB-C type charger here as well.
But perhaps the major advantage is the attachment lock-in mechanism. The twist to secure option is better than push-in on the T2 – the attachments don't pop out on higher gears.
It's safe to buy Ekrin 365 because you get a lifetime warranty compared to just the 1-year warranty with the T2.
NEW DEAL Ekrin 365 is currently out of stock, but you can get a better deal if you pre-order now. Use the PREORDER25 code at the checkout to get 25% off the price – pay only $134.99. You can read all the information here.
Ekrin 365 normally costs $179 but you can use the MGA20 coupon for a 20% discount and get it for $143.20. That is about a third more than Bob and Brad T2, but totally worth it.
MORE INFO Read our hands-on Ekrin 365 Review for more details.
---
Taotronics TT-004 – Half the Price and…Better
The Taotronics TT-004 is better executed than the Bob and Brad T2. However, what's even better is that it's about half the price of the T2!
In terms of size, the Taotronics looks slightly larger than the T2. The weight of the Taotronics is slightly higher at 1.65 pounds.
The handle is also slightly longer and, contrary to the T2, it has rubber all over it to make handling easier.
The body is also not just plastic like the T2, there are some metals here and there that makes it look rather stylish. The quality of the materials used is also better, rather ironic given the price!
Performance is not so bad as well for a gun that costs so little. You get a 9mm amplitude – 1mm less than the T2, but more than enough stall force.
During our tests, we discovered that Taotronics was stronger than the T2. That happens when you apply pressure. The Taotronics may stall, but it resumes revving instantly. The T2 needs 2-3 seconds to kind of reboot, or think about coming back on.
The Taotronics also has one of the widest percussion range we've seen – 1000-3000RPM is something awesome! If only they did not overdo it with 20 speeds. Maybe it's the wide range, but 20 speeds is a bit of an overstretch.
Here you get a dedicated charger and not USB-C (like in the Ekrin 365). There is also just a 1-year warranty like the Bob and Brad T2.
The price is what makes this device a winner. It only costs $49.99 – that's an incredible deal. You can buy it in Taotronics's own store.

We bought several devices from them, and always had a smooth shopping experience.
READ MORE in our hands-on Taotronics TT-PCA004 review
---
addsfit MAX – Same Price but a Different Proposition
The addsfit Max is larger and heavier. It's also a cheap alternative with a bit more to give than the T2.
Addsfit is a strong brand that's been around for a while now. The MAX is their flagship model. It has some interesting specs, especially when comparing it to the T2.
Even though they advertise the amplitude as being 12mm, it's actually 10mm. That is not so bad – it's similar to the T2. It also feels slightly more powerful than the T2, especially on higher speed gears.
For percussions, it can rev up to 3300RPM. That is faster than any of the guns we have mentioned in this article so far.
We love the attachments here – one of the best we've come across for a while. The attachments have a mounting system that prevents them from falling off (like they do on the T2).
You only replace the heads, part of the attachment stays on the gun. The quality of the attachments is also top-notch – they are smooth to touch. And, they are all made of silicone.
There is a removable battery. A great option if you plan to use it extensively.
Addsfit can also give you up to 3 years of warranty if you register your device on Addsfit.com – registering is free.
It normally costs $119.98 but the coupon MASSAGE25 (which gives you a 25% discount) means you get it for only $89.99. That is the same as the C2.
READ MORE Here is our detailed addsfit Max review.
---
Bob And Brad T2 Review Summary
Before we end our Bob and Brad T2 review, we have to note a few things;
The Bob and Brad T2 is a decent beginner massage gun.
The design is well thought out and agrees with everything Bob and Brad has released over the years.
The only upgrade from the mini-like C2 seems to be the 10mm amplitude and perhaps the removal of the ventilation at the top. Otherwise, it feels a lot more like C2 2.0.
So if you love Bob and Brad, this is one gun that stays consistent with everything you love about their devices. However, we think that at this price point, it doesn't represent the best value for money.
There are better alternatives that have similar (or often better) features and cost the same or even lower – Taotronics is a good example.
---
Bob and Brad T2 Rating
Quality

Effectiveness

Usability

Accessories

Price Value
Summary
The T2 is a decent, well-equipped massage gun for those looking for a starter massage gun. The design is good and it weighs just enough for anyone to feel comfortable using it. The 10mm amplitude is the biggest upgrade versus the previous C2, but the less than advertised stall force is a bit of a bother. Not the best value for the money out there, but a solid buy it if you love the Bob and Brad duo.
Disclaimers
The views and opinions expressed on this website are those of the authors. Any content provided by our bloggers or authors are of their opinion and are not intended to malign any religion, ethnic group, club, organization, company, individual or anyone or anything.
All product names, logos, and brands are property of their respective owners. All company, product and service names used in this website are for identification purposes only. Use of these names, logos, and brands does not imply endorsement.
It is our policy to make every effort to respect the copyrights of outside parties. If you believe that your copyright has been misused, please provide us with a message stating your position and we will endeavor to correct any misuse immediately.
Some of the links in this post are affiliate links. As an Amazon Associate, we earn from qualifying purchases. This means if you click on the link and purchase the item, we may receive an affiliate commission, at no extra cost to you. This helps us keep this website alive. Learn more here.
Amazon Disclosure
massagegunadvice.com is a participant in the Amazon Services LLC Associates Program, an affiliate advertising program designed to provide a means for sites to earn advertising fees by advertising and linking to Amazon.com. As an Amazon Associate, we earn from qualifying purchases. Amazon and the Amazon logo are trademarks of Amazon.com, Inc. or its affiliates. Please refer to our Privacy & Affiliate Policy for details.