Disclaimer: Our content is unbiased, non-sponsored and fact-checked. If you buy via links on our site, we may earn a commission. As an Amazon Associate, we earn from qualifying purchases.
---
Today it is time for the Theragun Pro review! We finally got our hands on Theragun's top gun – the powerful Theragun Pro G5, or 5th generation.
We were excited and a bit overwhelmed by the thrill of having this top-of-the-shelf device. Teenagers probably get the same feeling when they lay their hands on a new PS5. You'd think, as experts, such thrills wouldn't carry us away, but we have to admit, we felt something!
But that aside, let's get down to it and look at the Theragun Pro G5 review.
Theragun SALE Save up to $200 on 4th gen Theraguns. Browse all the deals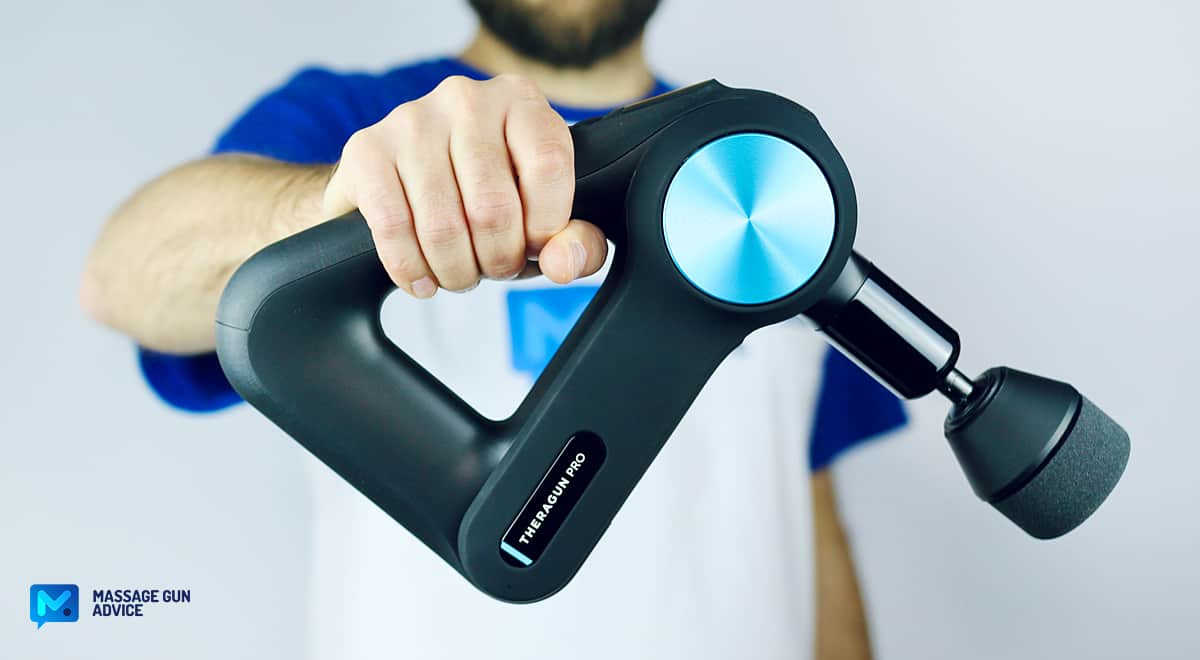 ---
---
Theragun Pro By Therabody
Theragun, as you might be familiar, is the big kahuna of the percussive therapy industry. They hit the ground running with the first massage gun on the market and haven't looked back since.
Since 2016 they have mesmerized the percussive therapy industry with one innovation after another. They are like the Apple of the massage gun world.
The G5 Pro means that it's a fifth-generation device already. Their first generation Pro happened about six years ago.
Because they don't mess about with what they do, their devices are consequently highly priced, and the Pro is the most expensive of them all. So that's what we'll be looking at today.
Is the hefty price justified? Looking at the massage gun industry today, many devices have surfaced with the same or even better features than the Pro.
So what is it that makes Theragun Pro the king of the industry, or would you rather go with the competitors? We'll cover this in our Theragun Pro review below.
---
Theragun Pro Review
---
Theragun Pro G5 Specs
Feature
Theragun PRO Specs
Version
Pro G5 (5th generation)
Stall Force
60 lbs
Stroke Length
(Amplitude)
16 mm
Percussion Range
1750 – 2400 ppm
Speeds
5, unlimited with Therabody app.
Dimensions
10 in x 7.1 in x 3 in
(25.5 cm x 18.0 cm x 7.6 cm)
Weight
2.8 lbs.
Max. Noise (decibel)
66dB
Battery Capacity/Life
2500mAh / 2.5 hours
# of Attachments
6
Pros
Great stroke length
Great stall force
True to specs
On-screen routines
USB-C charging
Quieter than predecessor
Cons
Heavy
Only one battery
Rough sound
Cone head not included
Steep price
Warranty
2 years
MSRP
$599
Where to Buy &
Discount Code:

X8YZF10

– 10% off at therabody.com


HEALTH5

– 5% off at recoveryforathletes.com*
(*FSA/HSA cards accepted)
2022 Theragun PRO Specifications
---
First Impressions, Build Quality and What's Included
We love pulling new massage guns out of quality carrying cases. You feel that you are getting your money's worth and that the brand cares for you as a customer.
Thankfully the Pro comes in a nicely done carrying case (it would be daylight robbery if they didn't include one at such a hefty price).
NEW Interestingly, they changed the case for the latest, 5th generation Pro model – they opted for a soft case. While a soft case may be less protective than a hard case (known from the 4th gen. Pro), it makes the whole package much smaller and thus way more portable than before.
The previous model's case was the biggest we've ever seen in a massage gun, and it turned out impractical in daily use. The new case feels like a much better choice. It is highly portable, has pockets for accessories, and the quality of it is outstanding (we love the materials on the inside, they are very soft).
There is also a pouch for the attachments (similar to the one in TheraFace Pro), a USB-C cable with an adapter (yes, USB-C!), and a sample of the QuietForce™ oil for maintenance (more on it later).
Just like in Theragun Prime and Elite, we also found an Apple-style envelope with pieces of information like a letter from the founder, a quick-start guide, an actual manual with more information, a Theragun sticker, and warranty information.
---
The Device
The Pro has the same triangular design that has become synonymous with Theragun. With its multiple grips it offers more ways to hold it than any other device.
Theragun Pro feels like a genuine piece and not a power tool. It also offers more than the multiple grips in giving you a quality and stress-free massage, as we'll see later on.
It's made of quality plastic, with the handles rubberized. But just like the Elite model, only the outside of the handle is rubberized.
Unlike the Elite, which has a colored ring on its arm, the Pro has a colored circle on the part enclosing the motor.
The arm is glossy and is a fingerprint magnet, but you probably won't touch it as often. Like the Elite, the Pro also features an OLED screen (stylishly done) that displays the speeds, battery level, and the force applied.
NEW What's changed in the 5th Gen?
The new Pro is nearly identical to its predecessor. The only visual difference is the imprinted logo on the side. On the previous G4, the logo was "Theragun" branded, whereas, on the new 5th-gen Pro, we get the Therabody logo, accompanied by a blue stripe underneath. Other than that, the two devices look identical.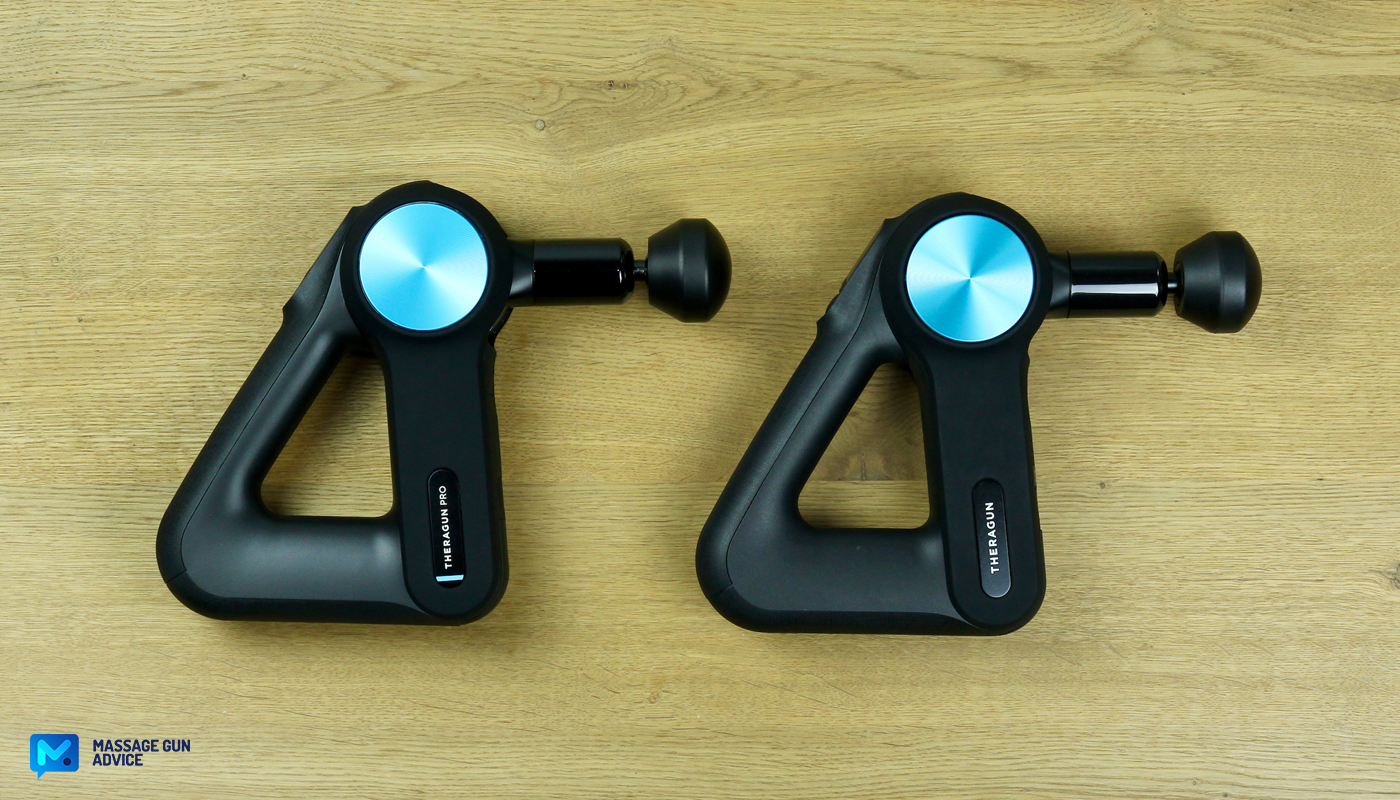 ---
Controls
The mode of operation is similar to the Elite, and the previous Pro model:
Press and hold the power button to turn on/off the device.
Press

+

or

–

to change the speeds.
Press

<

and

>

to cycle between custom preset routines that are saved in the device (more on this later).
---
Attachments
The Pro comes with 6 attachments, so one more than the Elite and the same as the G4.
The attachments are made from quality rubber. They are soft, but some softer than others. We noticed the larger it is, the softer it is as well.
Also, compared to the G4, there have been some minor changes. Let's take a look.
---
Standard Ball
This one is perfect for large and small muscle groups. You can also keep it attached on the device for a general massage.
---
Dampener
The dampener is meant to work on bony and tender areas. It can also be used for a quick overall massage.
---
---
Wedge
This works on shoulder blades and IT bands. It's also the perfect attachment for flushing and scraping when you need to increase blood flow and decrease tension in muscles.
---
NEW
Micro-Point
This is a new attachment that currently comes only with the Pro. We first saw a similar one in Theraface Pro, a.k.a. the "Theragun for face".
According to Therabody, it maximizes circulation for larger areas. It is made of silicone sticks, so it isn't a very firm one.
---
Supersoft™
This is a Theragun-unique attachment that has a soft foam attached to it and it's meant to work on tender, sore, bony, and joint areas.
The foam can be easily detached and replaced. Therabody have a foam tip refill that you can buy separately.
---
The Micropoint attachment is an exciting addition, but we miss the tougher Cone head that isn't included anymore.
The Cone was the firmest one that was meant to work on pinpoint areas, so if you plan to use the device aggressively, e.g., on ligaments around the hands and feet, you might miss it. But at least there is an option to buy it separately.
Another concern that we also raised when we reviewed the Elite is the lack of variety in the attachments.
We still feel that most of these attachments are pretty similar. The ball, dampener, and thumb attachment are all alike. We wouldn't mind if they introduced the fork and flat head attachments. That's just what we feel, having used many massage guns.
Finally, all the attachments can fit perfectly across all fourth and fifth-generation devices, thanks to the universal mount system that's the same on each and every model.
---
Size, Weight and Ergonomics
Just as we expected, the new Pro is the same size as its predecessor, which means it is bigger than both the Elite and Prime (slightly bigger than the Elite, but noticeably larger than the Prime).
It's not the biggest device we have seen, but since it's the top Theragun device (Pro), it can get away with a tad bit of extra size.
As a result, it is heavy as well. It weighs 2.82 lbs or 1.28kg with a standard ball attachment. They've brought the weight down slightly versus the previous G4 model. The new one is 0.13lbs (60 grams) lighter than the old one, not enough to make a noticeable difference. 
It remains slightly heavier than the Elite and Prime – actually 0.3lbs heavier. We would say it's probably because it carries the pride of the family – as we'll see later in our review.
Ergonomically, it's the best Theragun, and it's not just the multiple grip handle.
The Pro is the only Theragun with an adjustable arm. The arm can lock into four positions to make the massage experience even smoother. To adjust the arm, there's a button that you press and release once the arm clicks into a position.
Other brands have tried this feature, but the arm doesn't lock into position as well as the Pro does (looking at you, Lifepro DynaFlex).
The adjustable arm will probably be a huge plus to chiropractors and therapists who may need more options as they massage different people.
If you are going to use the Pro on yourself, the adjustable arm will help if you want to reach the lower and middle back. We don't think the adjustability is a must-have here, though.
---
Performance
---
Stroke Length
This is how far the head of the massage gun moves back and forth to give you the percussions. Also called amplitude, it is what determines the depth of a massage.
Theragun is the king when it comes to stroke length.
The Pro has a 16mm amplitude, and, as in other full-sized Theraguns, this is still the longest amplitude you can get.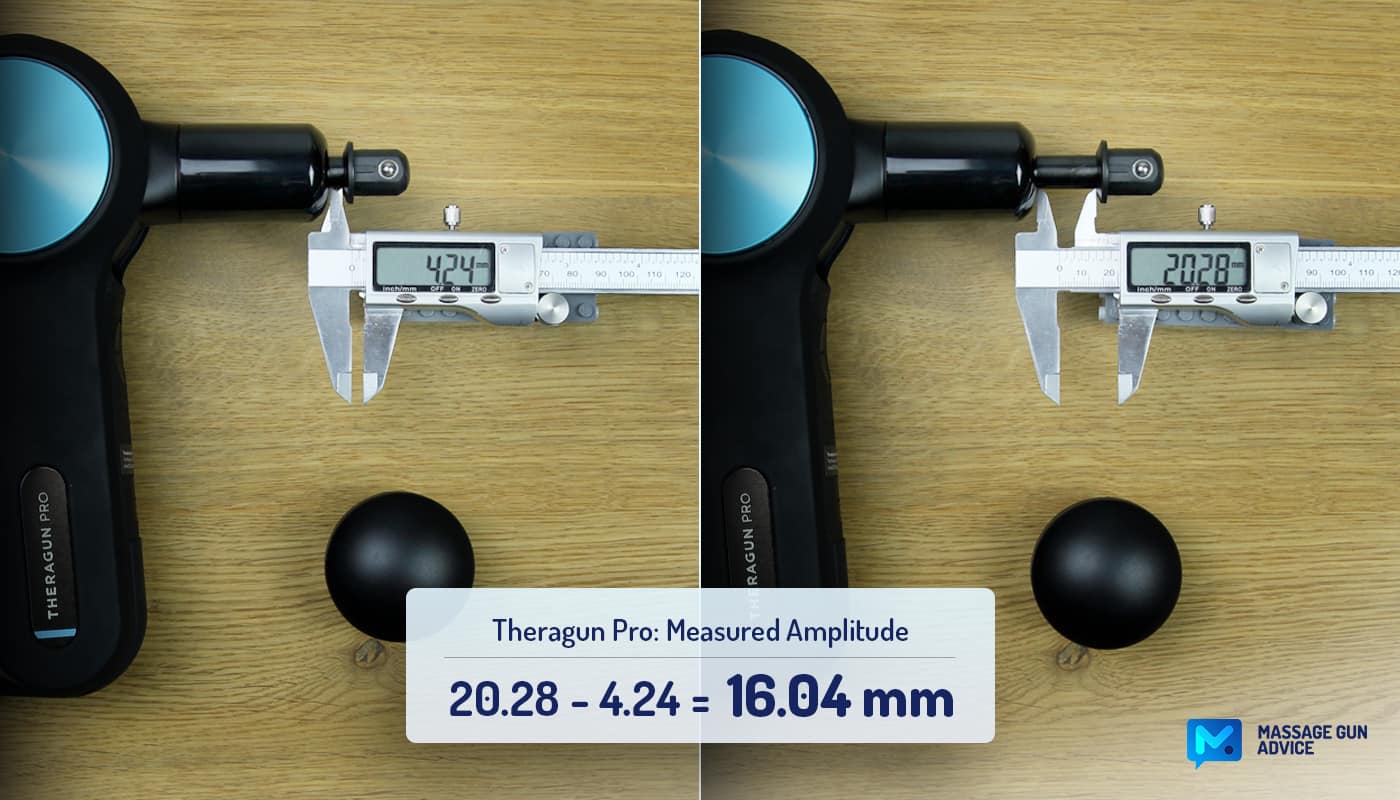 That said, other brands have also started equipping their devices with 16mm amplitude.
A good example is the Achedaway Pro which also happens to be a fierce rival to the Theragun Pro as far as performance is concerned.
With enough stall force, 16mm amplitude guarantees a great punch and a deep-to-the-bone massage.
---
Stall Force
Stall force is the amount of pressure it takes to stop the motor of a device, thereby stalling it. We can never talk of the strength of a massage gun without mentioning its stall force.
The Pro is the strongest Theragun with a 60lbs stall force.
This is often more than enough stall force to get the job done without slowing down percussions upon pressing to a body. There are other devices with more than 60lbs. stall force but we don't think you'll ever need more than than.
Because the Pro also has the long 16mm amplitude, the great stall force means you can have a true deep tissue massage. Unlike its two siblings (Prime and Elite), the Pro can guarantee a deep percussive therapy even to a heavily built bodybuilder or athlete.
However, note that even here, the stall force is progressive. In other words, you won't get 60lbs. across all speed gears. The only time the Pro stalls with 60lbs. of force is when it's revving at high intensity.
---
Force Meter
The Pro, just like the Elite, has a force meter that tells you how much pressure you are exerting on your body.
This shows up on the OLED screen as a bar graph.
We feel this is an important feature for therapists or chiropractors who want to achieve consistency with the massage.
However, if you're just going to use the gun on yourself, we feel that the force meter is not something you'll have to worry about (there's no way to check it when using it on your back).

With consistent use, you can quickly master how to use the device effectively.
---
Performance Comparison
How does the Theragun PRO compare against its main competitors?
---
Stall Force (lbs.)
Stall Force: Only Achedaway Pro and Ekrin B37S can match Theragun Pro's 60 lbs. The former has advertised 80 lbs. but felt closer to 60lbs. in our review, while the latter is stronger on the first 4 gears and almost as strong on the top one.
Stroke Length (mm)
Stroke Length: Theragun's 16mm is the best-in-business and only Achedaway Pro can match it. Ekrin B37s may only have 12mm but instead has plenty of stall force on all gears and offers more intensity. Hypervolt 2 Pro and Opove Apex both have 14mm.
---
Percussions / Speed Levels
Like the Prime, Elite, and previous generation models, the new Pro has the same percussion range of 1750-2400rpm.
You can cycle through these using the 5 built-in speeds:
1750 – first speed
1900 – second
2100 – third
2200 – fourth
2400 – fifth / highest
You can also get custom speeds using the Therabody app.
There are devices that rev with much more intensity compared to the Pro. However, such devices rarely boast a long amplitude as the Pro does. The Pro delivers a true deep percussive therapy massage with its long stroke.
True To Specs
We love that Therabody didn't overstate the above range, as some brands tend to do. We verified the actual percussions on each gear with a high-precision laser tachometer, and the Pro turned out very accurate to the specs (both the new model and predecessor).
---
Pre-Sets on Device – Now More Practical
The one new feature of the Pro model that is also found in the Elite model is that you can save customized routines within the device. Now, in the latest 5th generation Pro, things get even better.
NEW The predecessor, G4 Pro, allowed you to save up to 3 routines. The latest Pro has 4 preset routines, and an upgraded OLED screen now gives you visual instructions on how to use the device for each routine. Those visually-guided, built-in routines are Relax, Warm Up, Recover and Sleep.
This excellent feature lets you quickly access your favorite custom programs without staring at the smartphone screen to get instructions from the Therabody app.
Furthermore, you can customize these routines with different speeds, amounts of time, and the force applied. You can cycle between the speeds using the < and > arrows on the device.
---
Noise
Here's where things haven't been so hunky-dory for Theragun. With all their glamor and innovativeness they just can't seem to solve the noise problem with their devices.
They've compounded matters by running ad campaigns that seem to imply that their 5th-gen devices are quieter. They claim that compared to the 4th generation Theragun Pro, the 5th-gen model is 20% quieter. Luckily we could test this for ourselves.
We pitted the fourth-generation Pro against the new Pro. We actually did notice a difference. The Pro G5 is noticeably quieter than before.
When we tested the decibels, the Pro gave us 66dB at the highest speed, 8 decibels less than the 4th generation Pro, so it's quieter indeed.
The thing is that the G4 Pro has been pretty loud, and when compared to most other devices available in the market right now, the new Pro is still far from being the quietest massage gun.
Then there's the sound itself. While it is now perfectly acceptable in terms of decibels, it still makes its signatory rough sound when operating.
To ensure the new Pro won't get any louder over time, Therabody folks included a single-use sample of what they call the "Quietforce Solution", a WD40-like lubricant, packed stylishly like it was a high-end SPA lotion (or something).
They advise adding a few drops of oil inside the arm piston every four months. It's perhaps not the most user-friendly way to maintain a $600 device, but at least they've been creative in preventing it from getting louder over time. So we'll give them credit for that.
Our Take

Therabody did attempt to resolve the noise issue, which shows us they've been listening to the feedback and likely did their best to address some of the pain points.

The noise has indeed been reduced by about a fifth. The latest Pro is now even quieter than the Elite. However, we still think a top-shelf and the most expensive device on the market should be one of the quietest ones – and this one is definitely not.

We've seen people argue that the loud noise is a tradeoff for the increased power of the Pro vs. the Elite or Prime. However, this doesn't necessarily hold water. We have reviewed many devices that are just as powerful that are quieter.

A good example is the Achedaway Pro, which, despite having over 60lbs. of stall force, is still one of the quietest massage guns in the market. At $599 the Pro should be a bit more hushed down.
---
Battery
Theragun isn't messing about here. They've introduced some major changes in the new 5th Gen Pro model.
Fortunately, the battery remained detachable, so those who need more juice can purchase a spare one.
First, the new Pro no longer comes with two batteries. There is just one. That's perhaps the biggest surprise, and it may feel like a downgrade for some users – think of busy chiros and physios. Also, the dual-battery setup was probably one of the things that somewhat justified the Pro's hefty price.
The battery's shape is now slightly different than it was in the 4th Gen model, presumably making it impossible for creative users to stick the 4th gen batteries into the new model, and vice-versa.
To sweeten things a little:
The Pro now comes with convenient USB charging, a solution often seen in mini massage guns but rarely in full-size devices. From now on, you can use a power bank to charge the 2500 mAh battery on the go – awesome.
Since the USB-C slot is located on the battery, it also eliminated the need to include the battery charging dock known from the 4th Gen. Pro.
Theragun juiced up the battery more than those in Elite and Prime models. Here you're getting up to 150 minutes of continuous use compared to the 120 minutes on the Elite and Prime.
We did, however, put this to practice and ran out of juice in a little over an hour and a half. But, we did stretch the device with high speeds and put lots of pressure.
Is 1.5 to 2 hours enough? In most cases, it should be enough. Doing one 15-minute session a day translates to about a week on a single charge. That said, some brands can give you up to 4 hours of continuous use on battery – Ekrin B37S is a good example.
---
Theragun App
The Therabody app is a thing of class. We take our hats off to the company for taking their time to design an awesome dedicated app for their device.
The thing about the app is that it helps you get the best out of your massage. So it's beneficial if you're not sure how to go about a massage.
For instance, once connected via Bluetooth, the app can recommend the type of grip and attachment type and dictate the pressure applied for every part of the body.
The app has several suggested activities, treatments, and body parts routines. In addition, you get to use custom speeds within the app by sliding the speed button right or left (increase and decrease speeds).
You also get to know the optimal pressure to apply during different routines. The Pro allows you to save up to 3 of your favorite routines. You can easily access these routines any time you need them.
---
Theragun Pro 4 vs. 5 – Summary
Let's wrap up the similarities and differences between the Theragun 4th vs. 5th generation.
Similarities:
Performance (same amplitude, stall force, percussion range).
Look and feel (only minor changes e.g., new logo).
Size and triangular shape (nothing changed in the new model).
5 built-in speeds + custom via the Therabody app.
Adjustable arm, lockable in 4 positions.
Force meter built-in.
Removable battery.
Bluetooth and Therabody app compatibility.
Soft pouch for attachments.
2-year warranty.
What Theragun Pro 5 has that Pro 4 doesn't:
Less weight (2.82 lbs. vs. 2.95 lbs with a ball head).
Lower noise, especially at higher speeds (~66dB vs. 74dB).
USB-C charging port.
New soft case.
New Micro-point attachment (replacing Cone head).
4 visually guided built-in routines via the upgraded OLED screen.
What Pro 4 has that the new Pro 5 doesn't:
Two batteries included – more juice.
Hard case (more protective than the current soft case, but bulky, so less practical).
Wall charger and a battery charging dock (no USB-C charging).
More colors available (e.g., Paris Saint-Germain, Red, even 24K Gold version).
Personalization: Custom engraving (for an extra $50).
Cone attachment (instead of the Micro-point).
Now it costs $100 less.
---
Who is the Pro Best for Then?
The Pro is no doubt the most powerful of all Theraguns. It's designed to be used by professionals.
We think therapists and chiropractors will most appreciate what this device can do for them. Features like the more juiced-up battery, ergonomic handle with multiple grips, and the power this device delivers are straight bang on..
However, it's not just the therapists and chiros that will get the most out of this percussion massager; top athletes and bodybuilders will also enjoy it.
If you are buff with muscles or a serious performer, you need a powerful, high stall force gun with a long amplitude. The Pro delivers all these without compromising.
However, if you are not any of the people mentioned above but just need a top Theragun device, the Pro has everything. Do not be unsettled by its powerful features. You can still use the Pro gently, and it will work perfectly.
Just like the Prime and Elite models, the Pro starts at a low intensity of 1700rpm. Combined with gentle pressure on the skin and the right attachment (use the supersoft one if you're not sure), the Pro can still give you a delicate massage.
If the high cost of the Pro sounds like a deal breaker for you, but you still need a stable Theragun for your massage, the Elite is a good option to consider. It doesn't sacrifice so much on power and it's also quieter than the Pro if you like a peace of mind.
Related Our hands-on Theragun Elite Review and Theragun Prime Review.
---
Is Theragun Pro Worth The Price?
The Pro retails for $599, a pretty high jump from the gun below it (Elite), which retails at $399. The previous generation Pro is still available, currently on sale at $499.
We are therefore talking about the two most expensive massage guns on the market, and even the Therabody discount code doesn't change the picture much.
So is there anything that justifies the Pro being the most expensive gun out there?
They do offer a 2-year warranty for it (which is one more year than what you get with the Elite or Prime).
You can also now purchase (for $100) an Apple-style ProCare warranty that guarantees free repair or replacement within the first year and other benefits.
But it's still not a lifetime warranty like what competitor brands like Ekrin and Achedaway offer.
Other than that, there isn't much innovativeness that it boasts over other perfectly capable massage guns from other brands. Moreover, it's still too pricey even though Theragun has made some progress in solving the noise problem.
The Pro is still a banger device for demanding users with its power and unique features like the Therabody app.
If you like the bells and whistles like guided routines, a Theragun badge, and don't have a problem paying the hefty price, then, by all means, have at it. You will not be disappointed.
However, from the standpoint of value for money, the Pro doesn't pass the bill for the best choice in our opinion. It may have a force meter and Bluetooth and be the only device you can customize with a personal engraving (for $50), but our recommendations below will give it a serious run for its money.
---
If not Theragun Pro then What?
---
Achedaway Pro
The Achedaway Pro is a cheaper alternative that can still boast similar features as the Theragun Pro.
It may not have the same triangular, multiple grip ergonomics (more power-drill shaped), but it packs some serious performance features.
Just like the Pro, the Achedaway Pro has a 16mm amplitude which guarantees a deep-to-the-bone percussive therapy massage.
It gets even better because the Achedaway Pro has 80lbs. advertised stall force. However, when we used it for our Achedaway Pro review, we realized it was less (probably closer to 60 lbs.) but still on par with what the Theragun Pro offers.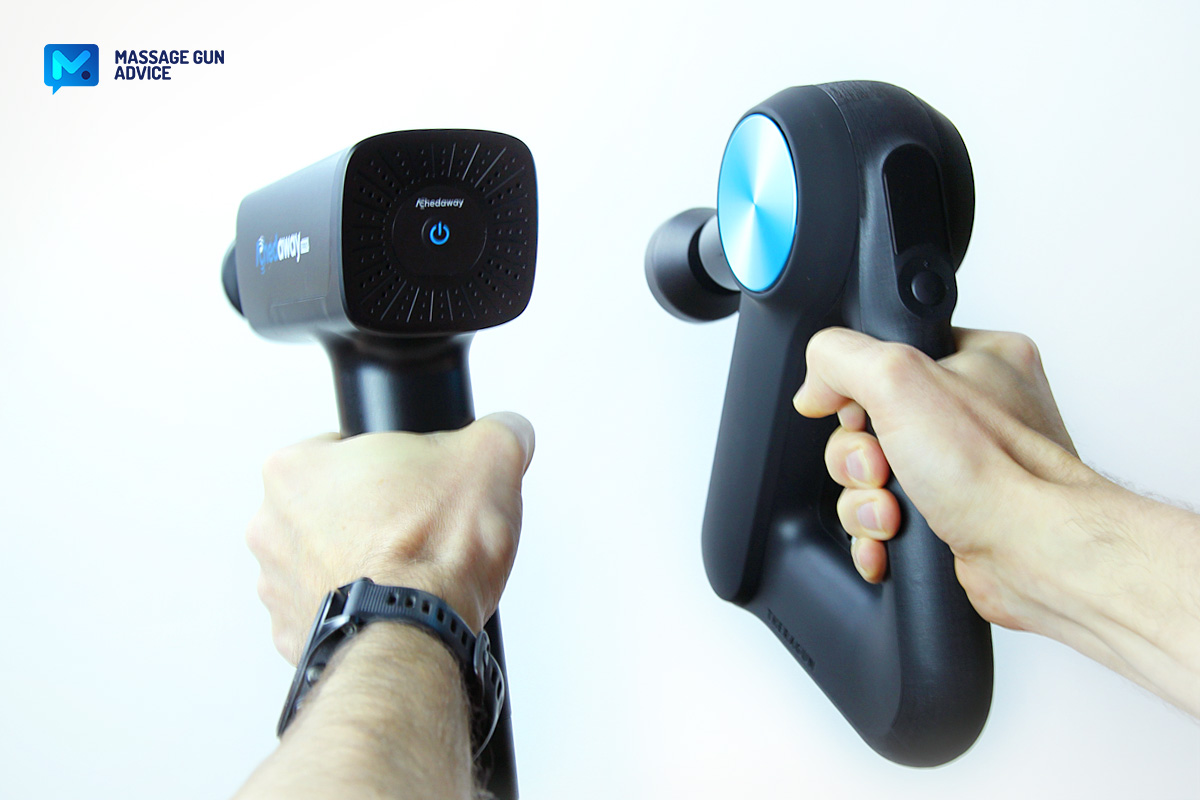 The Achedaway Pro also offers more intensity with up to 2800 maximum percussions. That's impressive, given its long amplitude. It also has 5 built-in speeds.
Achedaway knows how to handle the noise business. Their Pro is super quiet. Contrary to Theragun, it doesn't sound rough at all. It remains the quietest high-amplitude massage gun in the market (the higher the stroke length, the noisier the device usually is).
It also has a more powerful battery (3200mAh) that guarantees up to 4 hours with a single charge. The battery is also removable, and you can purchase the gun with a spare one. It also has a travel case and a 2-year warranty just like Theragun Pro.
DEAL ALERT Use the special HOLIDAY60 code at checkout to get $60 off Achedaway Pro. Pay $239 instead of $299. Apply the coupon here.
The Achedaway Pro costs $299. However, you can use the coupon MGA50 which gives you a $50 discount, which means you then only get it for $249.

If you were to purchase it with an extra battery, you can use the same discount code and get it for $319.
Just a thought; at the price of Theragun Pro you can purchase an extra quiet and incredibly powerful Achedaway Pro for yourself and another one for a friend.
---
Ekrin B37S
Ekrin B37S is one of the most popular massage guns amongst professional athletes who look for super strong performance but don't necessarily want to spend $599 for the top-shelf Theragun.
Design-wise, it is a different concept but also proves to be ergonomic, thanks to the angled handle.
The 115-degree tilt helps reduce wrist and hand fatigue and gives you an inch or two more when reaching the lower back.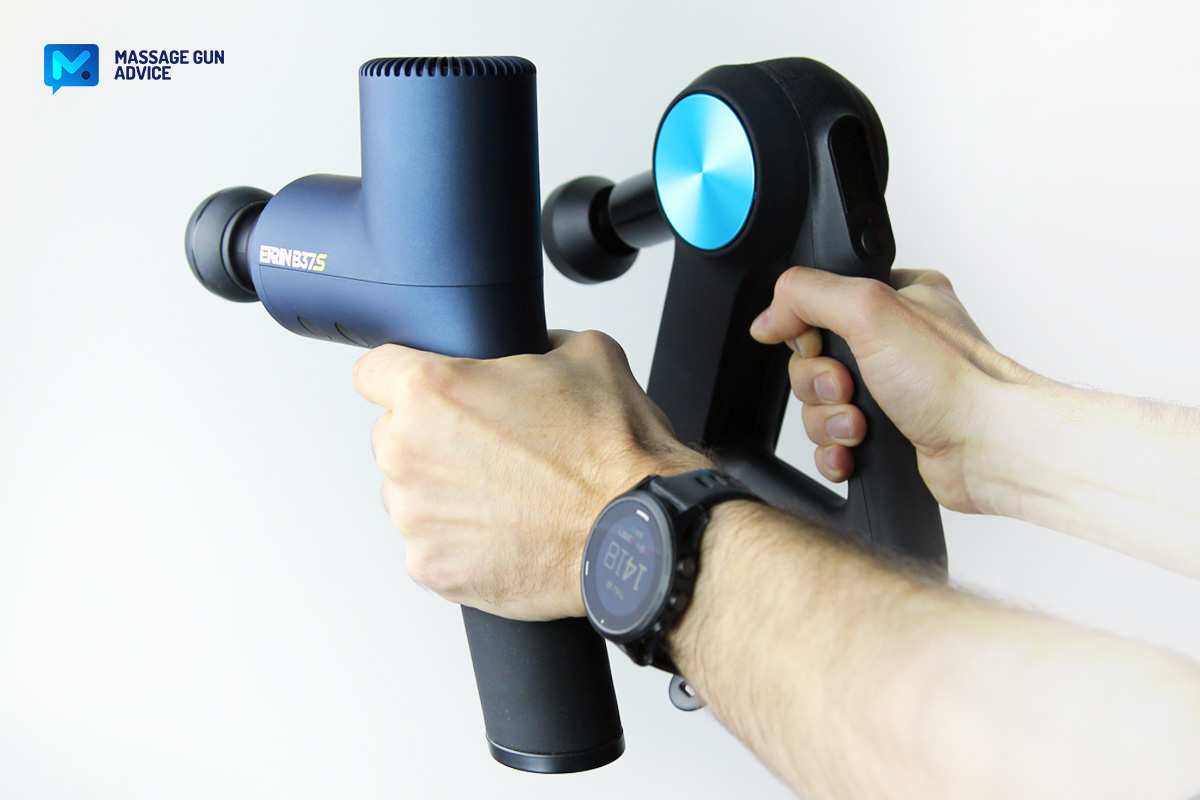 When it comes to the performance features, Ekrin B37s offers a combination of medium amplitude, enormous stall force, and high-intensity percussions.
The 12mm amplitude is less than Theragun's and Achedaway's 16mm, but many people take it as an advantage – it is not as punchy but only until you press it hard against the muscle. Many folks out there, including us, like such a balanced setup.
The stall force, however, is where this Ekrin really shines. The B37s has 56lbs, which on paper is a tad less than Theragun's 60lbs, but when you look at what kind of stall force is delivered on each speed, you will realize that Ekrin B37s outperforms Theragun Pro on low and medium gears.
That's what makes this device truly unique. There is no stalling this massage gun once it starts revving. As a result, this gun can deliver a deep percussive massage even on the first speed, and it won't slow down percussions either (contrary to most 16mm amplitude devices).
It revs up to 3200 percussions per minute, 25% or 800 hits more than the Pro. It does have adaptive speeds, pressure sensor and comes with six attachments that are more varied than what the Pro comes with – the flat head and the fork attachments are available.
It has a carrying case as well. Its battery isn't removable, but it's well juiced up (2550mAh) and can work for 4-6 hours, depending on how you use it.
Last but not least, it is a quiet device with stellar customer support and a lifetime warranty.
It will normally cost you $329.99, but you can use the MGA20 coupon to claim a generous 20% discount, which reduces the price to $263.99 only. Get yours here at ekrinathletics.com.
TIP For more information, read our in-depth Ekrin B37s Review.
---
Theragun PRO Review Conclusion
There goes our Theragun Pro review. We were glad to see Therabody addressing some of the concerns in the new model. It shows the brands' willingness to listen to the feedback and keep iterating on the products.
The previous Pro has been a decent top-of-the-shelf massage gun, and the new 5th-gen Pro is even better, even though some changes might seem somewhat controversial, e.g., the lack of two batteries.
That said, the fact that it's the top percussion massager from a top brand means more should be expected of it.
Some alternatives go for half the price but are noticeably quieter and still offer top performance features, the Achedaway Pro or Ekrin B37s being one of our favorite ones.
If you need more info, check out this page at therabody.com, read our post on the best Theragun alternatives, or ask us a question, so that we can get back to you with a bit of personalized advice.
---
Theragun Pro 5th generation - Our Rating
Quality

Effectiveness

Usability

Accessories

Price Value
Summary
Theragun Pro is powerful, elegant and effective. The latest, 5th generation model has been noticeably improved, but it no longer comes with some of the accessories it used to (e.g., two batteries). It also remains the most expensive device on the market today, and, for its price, we feel it still doesn't authoritatively claim its position as the king of the industry.
Disclaimers
The views and opinions expressed on this website are those of the authors. Any content provided by our bloggers or authors are of their opinion and are not intended to malign any religion, ethnic group, club, organization, company, individual or anyone or anything.
All product names, logos, and brands are property of their respective owners. All company, product and service names used in this website are for identification purposes only. Use of these names, logos, and brands does not imply endorsement.
It is our policy to make every effort to respect the copyrights of outside parties. If you believe that your copyright has been misused, please provide us with a message stating your position and we will endeavor to correct any misuse immediately.
Some of the links in this post are affiliate links. As an Amazon Associate, we earn from qualifying purchases. This means if you click on the link and purchase the item, we may receive an affiliate commission, at no extra cost to you. This helps us keep this website alive. Learn more here.
Amazon Disclosure
massagegunadvice.com is a participant in the Amazon Services LLC Associates Program, an affiliate advertising program designed to provide a means for sites to earn advertising fees by advertising and linking to Amazon.com. As an Amazon Associate, we earn from qualifying purchases. Amazon and the Amazon logo are trademarks of Amazon.com, Inc. or its affiliates. Please refer to our Privacy & Affiliate Policy for details.