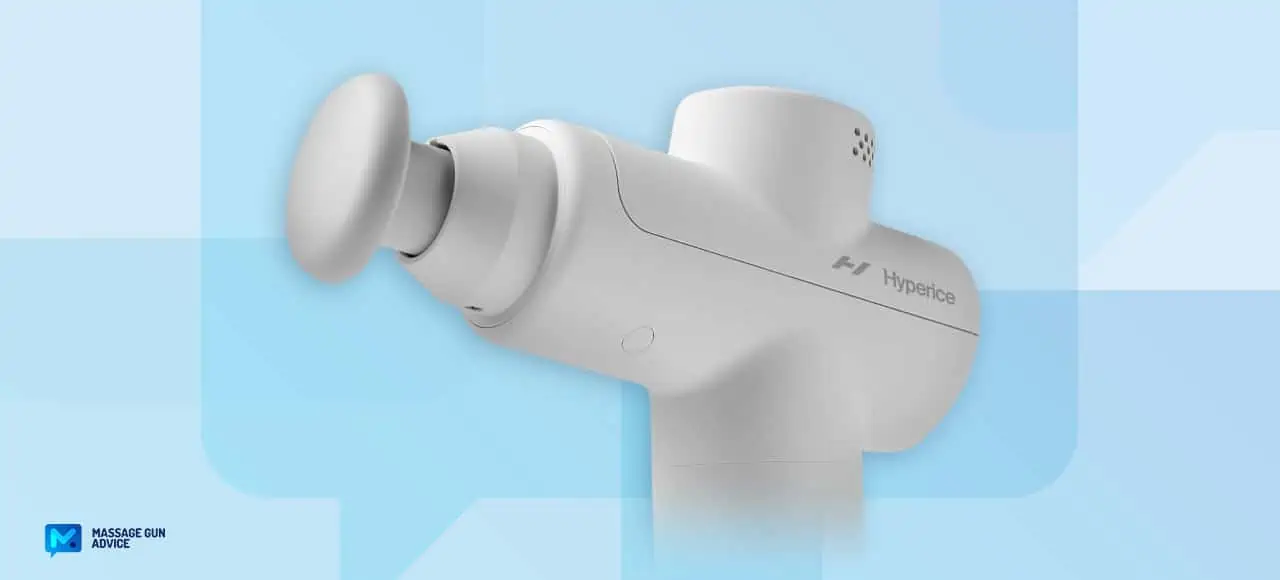 Hypervolt Go 2 Review: A Serious Upgrade or Just a Minor Redesign?
What to Know: We independently review products we recommend. If you click on links we provide, we may earn a commission. Learn more.
---
In this Hypervolt Go 2 review, we will take a look at Hypervolt's smallest massage gun and what it has to offer.
Mini massagers have been on the rise, and every manufacturer is trying to have one in their product lineup. Hyperice was no exception, having the Hypervolt Go in its arsenal. However, on April 4, 2022, they introduced its successor, the Hypervolt Go 2.
As soon as it was released, we got our hands on it. We were curious to see if it was an improvement over the older Hypervolt Go. That one was okay, but not really impressive.
What does the new Go 2 offer? Is it worth your money? And why do we believe the Ekrin Bantam is a much better alternative?
Let's find out!
Key Takeaways
The Hypervolt Go 2 boasts a decent amplitude with low noise operation, although its stall force is on the lower side.
While it's marketed as a mini massage gun, it's actually bigger and heavier than competitors, making it more of a small massage gun; however, we appreciate its sleek color and ergonomic.
In our eyes, the poor accessory offerings and lack of USB-C charging are drawbacks.
It comes at a high price point. That's why we value the Ekrin Bantam as a better alternative in every aspect.
---
---
Hypervolt Go 2 Video Review
Let's kick things off with some cool visuals for our Hypervolt Go 2 review.
Below, you'll find our hands-on video where we unbox the Hypervolt, show off its attachments, and test its stall force on each speed gear. We even put it head-to-head with the Ekrin Bantam.
We'll be diving into all the nitty-gritty details in the review section below, but for now, get a real-life feel of the Hypervolt Go 2 with the video.
---
Hypervolt Go 2 Review
Hypervolt Go 2 Specifications

Our Hypervolt Go 2 Rating
Quality

Effectiveness

Usability

Accessories

Price Value
Summary
The Hypervolt Go 2 has a good amplitude but still lacks the stall force to go with it. We are disappointed Hyperice didn't decide to use the opportunity to introduce new features or innovations. It's more of a visual refresh of the older Go. It is a good complementary device to the full-sized Hypervolts. Otherwise, we think that there are better alternatives to choose from.
Feature

NEW

Hypervolt Go 2 Specs
Max. Stall Force
~10-15 lbs*
Stroke Length
10 mm
Speeds
3 (button control)
Percussion range
2200 – 3200 ppm
Weight
1.57 lbs
Dimensions
6.7 x 7.3 x 2.0 in
Attachments
2 (flat, bullet)
Noise (decibel)
45 – 55 dB
Battery Capacity / Life Time
2500mAh / 3 hours
Bluetooth
No
Pros
Decent amplitude
Low noise
New sleek color
Angled handle
Cons
Low Stall Force
Bigger and heavier than competitors
Thick handle
No USB-C Charging
Poor Accessories
High Price
Not really innovative
Warranty:
1 year
MSRP
$199 $129
Current Price:
Check at Hyperice.com
New Hypervolt Go 2 specifications (*our estimation).
---
First Impressions – What has Changed?
We did a bit of window-shopping before we bought this Hypervolt Go 2 massage gun.
We remember watching a video about the device and how the Hyperice guys went on about this device's design. They say that the main focus was to design something that people would like to carry around with them.
Looking at it now, we feel that video was more advertising that the truth about what the Go 2 looks like.
There is a sense of déjà vu when you first see this gun. What is the main difference between this device and the original Hypervolt Go?
Perhaps shape, the handle, every other aspect of it, or the size and weight? Things that matter haven't changed a lot here.
But some things have changed.
For instance, there is no more black or dull gray but arctic gray. We have to admit the color looks different and appealing. If they didn't call it arctic gray we would probably think it's an off-white color or dull gray. But we'll take arctic gray.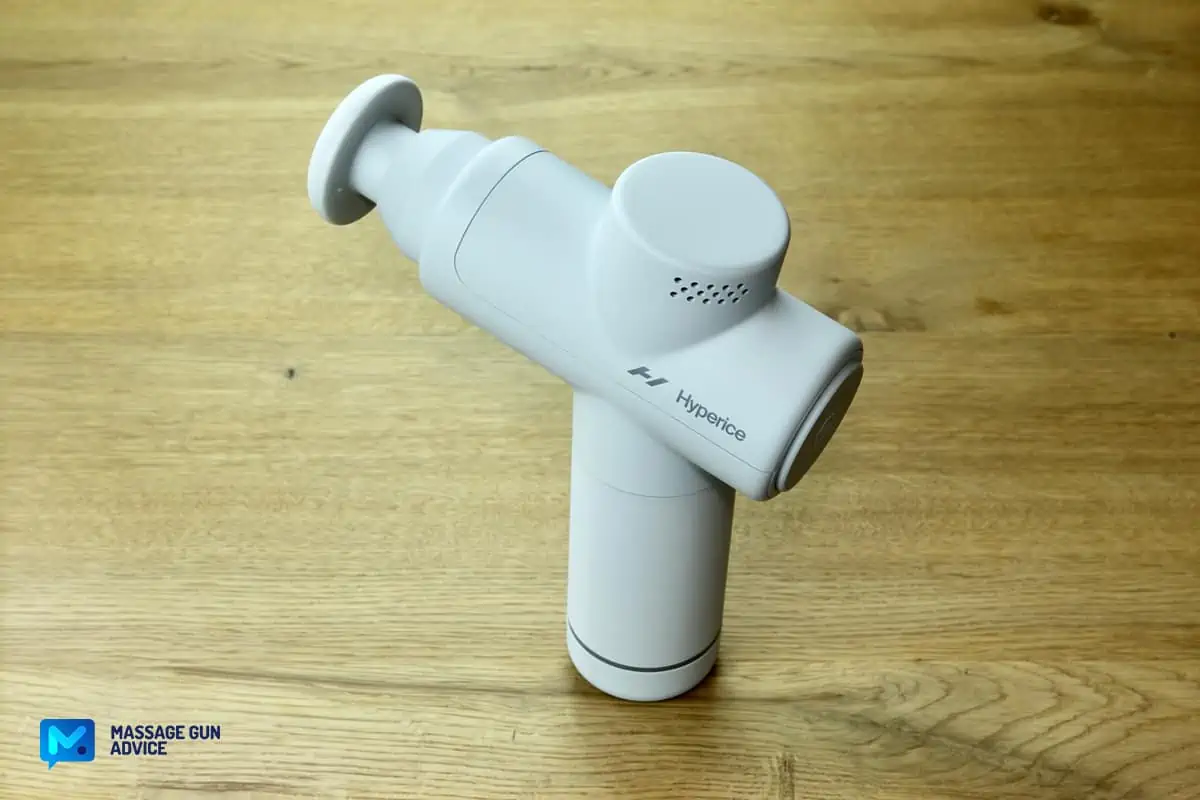 Enough about the color.
The Go 2 doesn't feel like a mini massage gun. We would say it feels and looks like a compact version of the Hypervolt 2. We will talk about the size shortly, but it suffices to say that even though there's a noticeable structural difference with the original Go, not much has changed.
The gun looks simple enough; with no bells and whistles – like LCDs and AMOLED screens. The controls on this one are located on the back panel that wasn't on the original Go.
The speed LEDs are also located here and not under the handle as was on the predecessor.
All these seem to follow the path of the new line of devices. It's nothing we haven't seen before – we are just glad Hyperice is doing something new for a change.
Talking of something new, that back panel with controls looks sleek – it's rounded. The color choice is also different as we have already seen. The build quality and materials used feel pretty much the same as the original Go. Most of it is plastic – but good quality plastic.
The matte finish looks fantastic as well – it's not a fingerprint magnet. That means the device won't easily get dirty. You can easily wipe it with a piece of cloth. The rubber part might need something different to clean, but it's smooth enough, so it won't be such an issue.
Our Verdict

Looking at the device, it's clear that Hyperice spent some time working on the design of this new mini device. However, they seem to have run out of ideas in some instances.

This isn't a completely different device from the Go. What is even more concerning is it looks like a bunch of other massage guns out there.

We were hoping for something a bit more unique; like magnetic attachments perhaps – something Theragun has employed for their new TheraFace Pro device. Or a leather pouch for the attachments and everything else. And is it so hard for Hyperice to include a carrying case for a $199 device?

We were also hoping for some kind of rotary dial as we saw with Hypervolt 2 Pro. That felt unique and cool.

Sadly we have to conclude, after using both old and new devices, this Go 2 feels like Go 1.1 and not 2.0.
---
What is Included?
In the box, we found 2 attachments – the flat head and the bullet head. We also got the usual welcome pack that has quick guide information, information about the Hyperice app, customer service details, and the instructional manual.
They also haven't changed their tradition of including the wall charger with international plugs – we appreciate this from Hyperice.
---
Size, Weight, and Ergonomics
So first, it's smaller than both the Hypervolt 2 and the Hypervolt 2 Pro.
Its dimensions are 6.7 x 7.3 x 2.0 inches. That isn't a significantly huge margin compared to the two members of its family – we'd say it's about 20-25% smaller if you don't factor in the handle.
Perhaps the handle is what makes it different from the two large ones. It's pretty interesting that Hyperice significantly reduced the sizes of the larger ones (compared to earlier versions) than they did the Go 2 compared to the original Go.
Then, this isn't your typical mini massage gun. We have seen plenty of tiny massage guns, this isn't as tiny. If you want to know, put it next to an Ekrin Bantam or even Theragun mini and you'll see what we are talking about.
We have seen full-sized guns this size. The only difference is that this one has a shorter handle; which isn't the best thing – we'll talk about that in a few.
What about the weight, what has changed? Not much. The Go 2 weighs 1.57 pounds; which isn't bad for any massage gun but may be slightly heavy for one that is supposed to be portable.
In fact, the Go 2 is heavier than the previous Go by about 6-7 ounces – a slight difference but somewhat noticeable.
We know that minor competitors have figured out how to make tiny but powerful massage guns. The Bantam is a perfect example of this. It weighs just 1.1 pounds, and it's significantly smaller in size. Even Theragun mini (a direct rival) weighs 1.4 pounds and is smaller as well (albeit the oddly unique shape).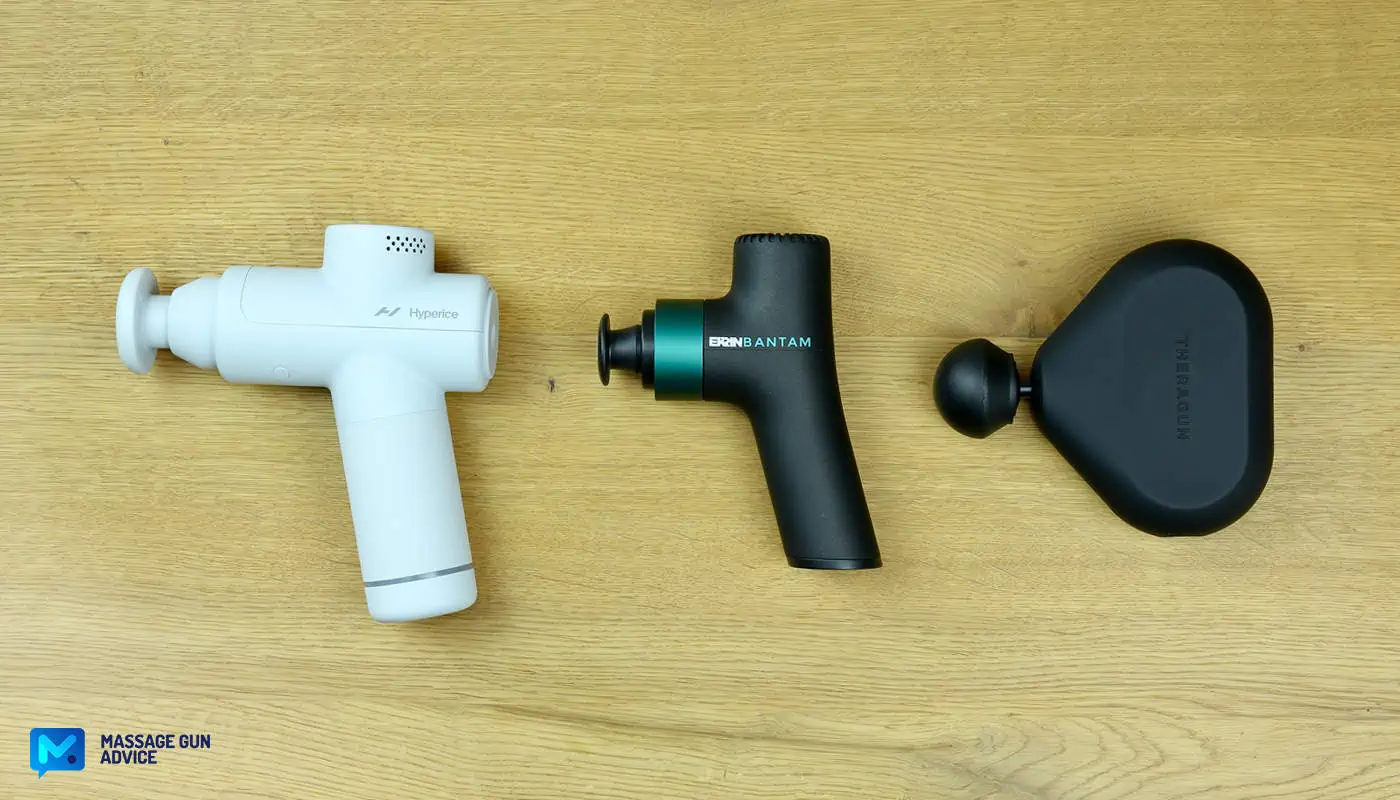 Finally, in ergonomics expect a handle that is pretty much the same as the one on the original Go. It's slightly slanted, which is great; you can hold it naturally and there's reduced fatigue on your wrist.
There is rubber on the handle to make the grip firm. This was also the case for the original Go.
However, the handle is quite thick. Most people will still be able to comfortably hold the Go 2 by the handle. But compared to the larger Hypervolts, this handle feels archaic (like you are using the older versions of Hypervolts).
That makes little sense since we had hoped that the Go 2 would take the same route as the bigger devices – both have redesigned handles that are slimmer now.
Another thing that's changed (worth mentioning) is the location of the power button.
It was previously located between the handle and the rest of the gun such that it felt like pressing a trigger. It's now located in the back panel just like on Hypervolt 2.
We like this current setup because it reduces the chances of pressing it accidentally. It's also more consistent with the other devices.
Our Verdict

We won't complain so much about the ergonomics of this device. It's mostly okay.

However, it's slightly disappointing that they chose not to maintain consistency with the larger devices. The pill-shaped handle (known from Hypervolt 2 and 2 Pro) would've been okay here. The round handle is the same as the original Go.

Also, even though it's compact, it's not a typical mini gun size. It's also slightly heavier than most mini devices. Folks with small hands will find it slightly uncomfortable to use.
---
Attachments
There are two attachments included this time;
The flat head – Used for large muscle groups like quads, hamstrings, back, shoulders, and chest.
The bullet head – Used for trigger points, feet, and hands.
We have to say it's a bit disappointing that they chose to only include two attachments when minor competitors include 3 or even 4 attachments. On the bright side, Theragun mini only comes with one attachment.
TIP One thing you should note here is that both Hyperice and Therabody's mini devices can work with attachments from the larger devices. So, if you have a Hypervolt 2 or 2 Pro, you can use those attachments on Go 2.
However, if you are a new customer (you don't have any of the larger ones), this is probably not the best. Hyperice is looking to upsell the new Go 2 to their existing clientele.
They also chose to include the "hard" attachments here – no soft attachment. This is a bummer because you can't have a soft massage with these.
You'll be glad to know that the attachments take on the color of the device. Instead of gray as in Hypervolt 2, or black for the Hypervolt 2 Pro, these ones look cool.
You can purchase an extra set of attachments separately from the Hyperice website for $24.99 (black only).
Heated Attachment
Recentrly, Hypervolt has introduced a heated attachment. It's compatible with all Hypervolt massagers including the Go 2.
Though we haven't had the chance to handle it in person yet, we're sharing our preliminary thoughts based on the details available on Hypervolt's website and recent press releases.
Design: In terms of attachment design, this is a classic flat head. It's been made thicker to accommodate the battery and the necessary electronics for operation.
Compatibility: We are pleased that this attachment is compatible across all Hypervolt massagers. This shows a level of brand insight that caters to a diverse user base.
Self-contained Heating: The heating and powering mechanism is housed within the attachment, eliminating the need for any external wires or connections to the massager body. This is a refreshing and innovative design, distinct from other heated heads that rely on the massager body for power (e.g. Urikar or Aura Revive).
Heat Level: The attachment heats up to 120°F, slightly higher than the Urikar Pro 2's 113°F, which is a noteworthy mention for those seeking that extra warmth during massages.
Weight: 0.22lbs, this suggests no or minimal effect on the massager's balance, a concern we will investigate further upon we get it in our hands.
Color: The black-only option may not aesthetically appeal to those with the white Hypervolt Go 2 (and gray Hypervolt 2), a minor hiccup for the design-conscious folks.
Price: The retail price stands at $59, which may seem steep for a single attachment, especially considering it's nearly half the price of the Go 2 itself. However, given that it essentially acts as a separate device (with its own battery and controls), and considering it's an addon to the massager you may already own, plus taking into account the potential benefits, we believe it could be a worthwhile investment.
We aim to acquire this attachment as soon as it will be back in stock, and will update this section post-evaluation. Stay tuned!
TIP If the concept of heating during a massage piqued your interest, check out our guide on heated massage guns where we discuss its benefits..
---
Performance
So, how does the Go 2 perform (perhaps in comparison to the previous Go and its peers)?
---
Amplitude
It's the distance traveled by the massage gun head as it percusses.
We all know how Hyperice doesn't seem to pay as much attention to how long the amplitude is as their archival Theragun. The latter have always associated long amplitude.
Indeed Theragun mini has a 12mm amplitude – the best by mini massage guns standard.
The Go 2 has a 10mm stroke length. So this is less than Theragun mini's 12mm, but it matches what other competitive mini devices offer (Ekrin Bantam for example). In fact, most mini guns don't go beyond 7-8mm, so 10mm is actually a pretty solid amplitude.
With 10mm, you get a decent punch. When you are massaging your upper arm, you can see the ripples as you move the gun over your skin. That tells you that the level of punch is good enough.
---
Stall Force
Stall force is the ability of the device's motor to withstand pressure and not stall.
We were hoping for a bit more stall force on the GO 2. However, there isn't much to celebrate here just like the older device.
The stall force is pretty low – and very disappointing to say the least. It takes very little force to stall the device (have you seen that on our video?). Hyperice doesn't provide the stall force information and we had to do our own tests.
From our tests, we are certain this Go 2 has between 10-15 pounds of stall force. That means 10 pounds will stall the first gear, and about 15 pounds will stall the third gear – the highest.
But what does it matter if the device stalls quickly, it's a mini device anyway, right? Well, we agree that you shouldn't expect a lot of stall force from a mini gun – just glide it over the skin and you will get some results.
However, sometimes you need a bit more pressure to massage large muscle groups such as quads and hamstrings. You might be disappointed with this device, it stalls (or slows down) when you apply the least amount of pressure.
What makes it a bigger bummer is that there's 3200RPM on this gun. With a gun revving that fast, you want to feel all the vibrations. However, if pressure is applied, you don't experience these vibration because the device slows down drammatically.
This is why the Bantam outperforms this device even though it's cheaper. It has a better stall force.
That said, you will still be able to use this device on your hands, arms, neck, and upper back. Just don't expect it to work effectively on larger muscles, when pressure is applied.
Even so, the attachments provided with this gun are meant to massage larger muscles. These may not be best suited to work on delicate parts.
---
Hypervolt Go 2 Performance Comparison
This is how the Hypervolt Go 2 compares against the previous Go and other most popular competitors.
---
Stall Force (lbs.)
Our Take
Stall Force: The Go 2 still underperforms when it comes to the stall force. It slows down percussions under minimal pressure.
Stroke Length (mm)
Our Take
Stroke Length: The Go 2's 10mm stroke length is very decent amongst mini guns but it feels like it doesn't reach its full potential due to low stall force.
---
Speeds and Percussions
Expect 3 speed gears on this device and a percussion range of 2200-3200RPM. We expect a 10mm device to vibrate faster than a 12mm Theragun mini.
We confirmed the advertised range using our laser tachometer and the results were 2200/2700/3200RPM for speeds 1, 2, and 3 respectively.
What this means is you are getting intensity from the high vibrations rather than a deeper punch (the punches are still pretty decent though).
On paper, this kind of setup is very good for the job, but as we mentioned above, the Go 2 has a tendency to slowing down percussions under even little pressure – and we find it pretty unfortunate.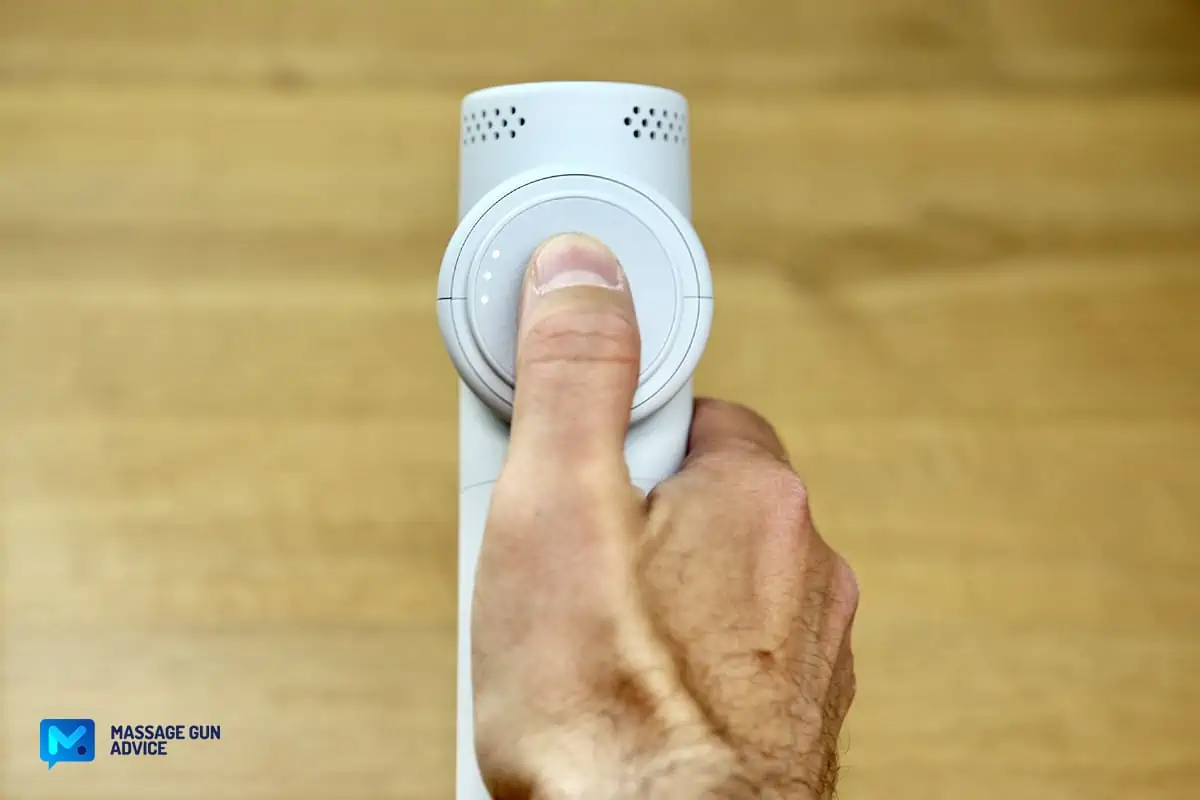 ---
Our Verdict on Performance

Hyperice in their advertising video claimed that they wanted to make the Go 2 "as powerful as possible, in the smallest possible form factor."

However, the performance says something else considering how large this gun is (large mini gun). We won't complain about the stroke length and the percussion range – those are really okay.

However, the low stall force negates any impact those two aspects have on the gun. We would've loved 30lbs. of stall force on this gun to fully utilize the other qualities. We may have to wait for the next Go.
---
Noise
Hyperice has maintained a tradition of producing extremely hushed devices. It's the one aspect we can never complain about. The new Hypervolt Go 2 is very quiet.
We measured the decibel levels and got 45dB (first speed) and 55dB (third speed).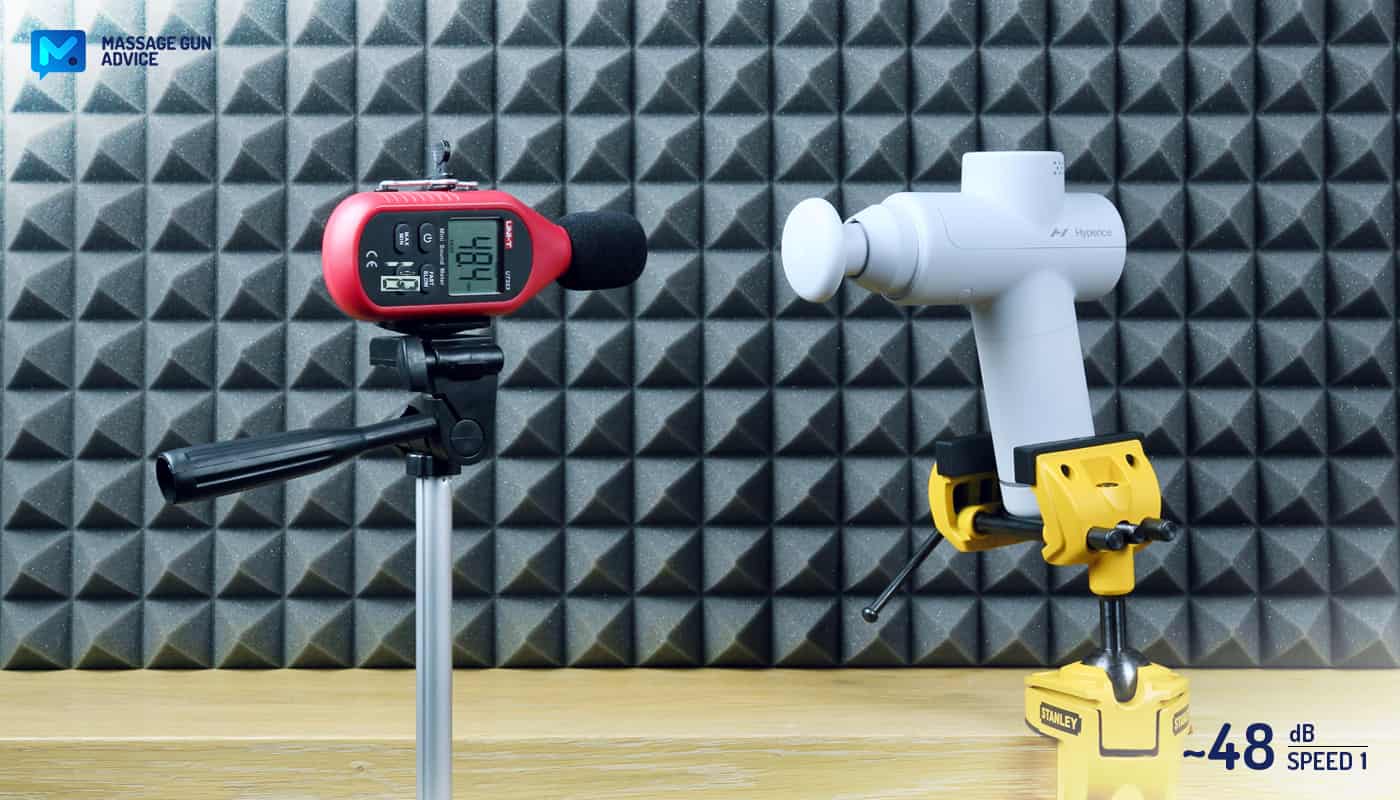 It's not just the quietness that's impressive, it's the smoothness of the sound as well. We love the smaller Ekrin Bantam because it's also powerful. However, it doesn't come close to the Go2 in this aspect.
We noticed some vibrations to the holding hand (third speed mostly) but nothing more than you will feel if you used the Bantam or Theragun mini.
---
Battery
The battery has a bit more capacity than the previous Go. That explains the added weight and the larger body.
The capacity here is 2500mAh – decent capacity if you plan to have longer sessions with the device. The previous Go had a 2350mAh capacity.
Hyperice says the battery can last for 3 hours of continuous use. However, note that many massage guns tend to drain the battery faster when pressure is exerted and when the speed gear is high throughout; this Go 2 is no different.
That means you should expect about 1.5-2 hours of continuous use if you plan longer sessions. That is enough though, and you will probably need to charge the device again after a few days under normal use. However, among mini guns, the Bantam's battery performs far better than the Go 2.
You still have to charge the Go 2 using a wall charger rather than a USB-C type charger which makes charging a bit more convenient. We've seen mini devices, and recently even full-sized guns (Ekrin 365 is a good example) introduce USB-C charging for their devices.
That said, you'll need to charge the device for 3 hours to get to full charge. There's the trademark LED ring on the handle that indicates how much juice you have left: Red indicates near empty, and Green says the battery is full or near-full capacity.
---
App
The Hyperice app, compatible with their Bluetooth-enabled devices (both full-sized ones), offers how-tos, guided sessions, and automated massage sessions.
However, since Go 2 lacks Bluetooth connectivity, it misses out on most of these features. While you can still access routines in the app, the device won't sync with it.
---
Is Hypervolt Go 2 Worth it?
The Go 2 looks like a nice complementary Hypervolt if you already have the bigger devices (the attachments on those can fit on the Go).
Another positive is that the Go 2 costs less ($129) than any of the full-sized Hypervolts. This means if you absolutely have to get a Hypervolt then this would be a nice and affordable entry-level gun from a reputable brand. If you buy it for what it can offer you, then it will do the job just fine.
But we wouldn't recommend the Go 2 against other mini devices that aren't Hypervolt.
At $200 (even with the current price reduction to $129), the Go 2 underperforms massively compared to peer devices. The very low stall force, the limited number of attachments, the lack of Bluetooth connectivity, and the lack of USB-C charging, all disqualify this gun – unless you want Hyperice, that is.
Even though it does what it's meant to do, there's very little (if anything) innovation displayed. It's not as small as many other mini devices and weighs almost the same as some large devices.
Also, the warranty is still just the 1-year, on par with most Chinese brands that sell on Amazon. Ekrin Athletics offers a lifetime warranty for all its devices – even though they cost much less. Same goes for Lifepro. Addsfit is a good example as well (3 year warranty for their mini gun).
---
Hypervolt Go 2 vs. Hypervolt Go 1
Feature
Hypervolt Go

NEW

Hypervolt Go 2
Size Category
Small
Small
Stall Force
~15 lbs
~15 lbs
Stroke Length
10 mm
10 mm
Speed Options
3
3
Battery Life
3 hours
3 hours
Noise
46 – 52 dB
45 – 51 dB
Weight
1.5 lbs
1.57 lbs
Attachments
2
2
Warranty
1-year
1-year
MSRP
$199 $99
$199 $129
Where to Buy
Buy at Amazon
Buy at Hyperice.com
Hypervolt Go 2 vs. Hypervolt Go 1
Let us summarize the Hypervolt Go 2 vs Hypervolt Go 1 details then:
What Go 2 has that Go 1 doesn't
New back panel, same as in new HV 2.
The power/speed button now located on the back panel (instead of front of a handle, like a pistol gun trigger).
Slightly different shape (due to the new back panel).
More weight (about 6 ounces more).
Higher capacity battery (2500 vs 2350 mAh).
Radically different color.
What stayed the same – everything else
Amplitude/stroke length.
Percussion range.
Stall force.
Attachments (just different colors).
Thick, angled handle.
Build quality, and materials feel about the same.
Charging type (wall charger).
Both Lack
A carrying case
Bluetooth
Longer warranty
More attachments
Our Take

Should you upgrade from Go 1 to Go 2? Yes, if you like the new color. Otherwise, both devices have more or less the same features. Well, maybe a few things changed for the Go 2 including a slightly more juiced battery. However, that's more aesthetic that a serious upgrade. They both perform about the same way.

Would we buy the Go 1 or the Go 2? We'd rather have the Go 1 because it's discounted now. Or we'd choose the Bantam where we win even more. It performs better and is way cheaper than any of the two mini Hypervolts.
---
Hypervolt Go 2 vs. Hypervolt 2
Feature

NEW

Hypervolt Go 2
Hypervolt 2
Size Category
Small
Full-Size
Stall Force
15 lbs
~25 lbs
Stroke Length
10 mm
12 mm
Speed Options
3 (max 3200RPM)
3 (max 2700RPM)
Battery Life
3 hours
3 hours
Noise
45 – 51 dB
53-64 dB
Weight
1.57 lbs
1.8 lbs
Attachments
2
5
Warranty
1-year
1-year
Where to Buy:
Buy at Hyperice.com
Buy at Hyperice.com
Hypervolt Go 2 vs. Hypervolt 2 Comparison
Would you rather add $100 and get the larger Hypervolt 2? Here's the Hypervolt Go 2 vs Hypervolt 2 comparison.
Go 2 advantages over Hypervolt 2
It's smaller and more portable.
Has an angled handle.
Slightly lighter (1.57 vs. 1.8).
More percussions (up to 3200 vs up to 2700 – due to lower amplitude).
Hypervolt 2 advantages over Hypervolt Go 2
A 12mm amplitude – more punchy (at the cost of max. percussions).
Longer handle = easier to reach lower back and more grip options.
Slimmer, oval-shaped handle (comfier to hold than Go 2's).
Pressure sensor with LED visualization.
Bluetooth & app connectivity.
3 more attachments.
Similarities
Same stall force.
Same time on battery.
Same control panel look & feel.
Both need a wall charger.
Both Lack
A carrying case.
Longer warranty (1-year).
USB-C charging.
Verdict

If you have the budget to afford the larger Hypervolt 2, then by all means go for it. Even though it's the larger brother of the Go 2, the size difference isn't very significant. It's light, has a higher amplitude, and is better equipped than the Go 2; there are more attachments, a pressure sensor, and Bluetooth connectivity to use with the app.
---
Comparison to Best Alternatives
---
Hypervolt Go 2 vs. Ekrin Bantam
Feature

NEW

Hypervolt Go 2
Ekrin Bantam
Size Category
Small
Mini
Stall Force
~15 lbs
~30 lbs
Stroke Length
10 mm
9 mm
Speed Options
3 (max 3200RPM)
3 (max 3200RPM)
Battery Life
3 hours
6 hours
Noise
45 – 51 dB
50 – 58 dB
Weight
1.57 lbs
1.1 lbs
Attachments
2
4
Warranty
1-year
Lifetime
MSRP
$199 $129
$149.99 $119.99
Discount Coupon
–

MGA20

(Gives 20% OFF)
Where to Buy:
Hyperice.com
Ekrinathletics.com
Hypervolt Go 2 vs. Ekrin Bantam Comparison
We think Ekrin Bantam is the best alternative to Hypervolt Go 2. It offers many aspects that are missing from the Go 2 and is affordable too. We have tested tens of devices, and in our opinion Bantam still remains the best mini massage gun out there.
Similarities
Materials, overall quality – both nice to touch and premium.
Angled handle
Rubberized grip.
3 speeds.
Go 2's advantages over Bantam
A tad quieter, with a smoother sound.
Feels more percussive – amplitude is slightly larger, about 1mm.
Better located control button.
LED speed indicators.
Attachments compatible with other Hypervolt models.
Unique arctic gray color.
Bantam's advantages over Go 2
Much smaller.
30% lighter (1.1 lbs. vs. 1.57).
Slimmer handle (easier to hold, maneuver).
More stall force (~30 lbs. vs est. 10-15 lbs.).
Wider percussion range (2000 – 3200 vs 2200 – 3200).
More attachments (4 vs 2).
Carrying case included.
USB-C charging enabled.
Better time on battery.
Lifetime warranty.
35% cheaper.
Price: Normally goes for $149.99 but with the MGA20 coupon you get an extra 20% off – that makes it only $119.99. Use the coupon at checkout when buying Bantam at ekrinathletics.com.
Our Choice

We'd go with the Bantam. It's better equipped, it's more portable, more powerful, comes with a lifetime warranty, and costs way less – almost half the price of Go 2.
---
Hypervolt Go 2 vs. Theragun mini
Feature

NEW

Hypervolt Go 2
Theragun mini
Size Category
Small
Small
Stall Force
~15 lbs
~20 lbs
Stroke Length
10 mm
12 mm
Speed Options
3 (max 3200RPM)
3 (max 2400RPM)
Battery Life
3 hours
2 – 2.5 hours
Noise
45 – 51 dB
60.5 dB (on top speed)
Weight
1.57 lbs
1.1 lbs
Attachments
2
1
Warranty
1-year
1-year
Where to Buy
$129 at hyperice.com
$199 at therabody.com
Hypervolt Go 2 vs. Theragun mini Comparison
Another alternative to the Go 2 if you have the budget. However, it's not as powerful as the Bantam. Here's a summary.
Similarities
Materials, overall quality – both nice to touch and premium.
3 speeds.
Attachments are compatible with other devices within the family.
Time on battery is the same.
Same price.
Same 1-year warranty.
Go 2's advantages over Theragun Mini
Comfier to hold (angled handle)
Quieter, with a smoother sound
Unique arctic gray color
One more attachment – 2 vs 1.
Mini's advantages over the Go 2
Smaller
Lighter (1.4 lbs. vs. 1.57)
Higher amplitude (12mm – highest in the 'mini' category)
A bit more stall force (~20 lbs. vs est. 10-15 lbs.)
Soft pouch included (can also fit the charger when stretched).
Original design
Both Lack
USB charging
Longer warranty
Our Choice

We'd go with the Theragun mini because it's more percussive than the Go 2. It's also slightly more powerful (better stall force), smaller, and lighter than the Go 2. The design is original and unique as well.

TIP: you may also want to read our Theragun mini vs Hypervolt Go 1 comparison.
---
Bottom Line
That is the end of our Hypervolt Go 2 review. In the end, we have to say it looks sleek, but that's largely due to the new color. However, it feels more like a minor redesign than a serious upgrade.
We wouldn't call this device a mini even though it's the smallest Hypervolt – in the new generation of those devices.
It's more or less the same as the original Go. There isn't a lot of innovation here. We understand that Hyperice was trying to maintain uniformity across their second generation devices, but we would've appreciated an upgrade.
So we will stick to our judgment on this one: if you already own a larger Hypervolt, then this one is an interesting addition. However, on its own, it doesn't compare with other alternatives like Ekrin Bantam.
If you want to upgrade from the previous Go, you should know that only the color seems to have changed drastically and not much else. While the stock last, you'd be better off with the discounted Go 1 than this one.
---
Was this article helpful?
Thanks for your feedback!
Post Update History
Here's a quick rundown of all the tweaks and edits we've made to this article to keep it accurate and up-to-date!
Current version last updated on:
November 6, 2023 External links to the official Hyperice store corrected. (Author: Greg)
September 28, 2023 Information regarding the Heated Head Attachment has been added to reflect the latest release from Hypervolt. (Author: Greg)
September 17, 2023 Minor internal and external linking update. (Author: Greg)
June 15, 2023 Added our exclusive video review of the Hypervolt Go 2 to the post for a more in-depth, visual look at this massager. Also made minor edits to the text and photo descriptions for better clarity (Author: Greg)
April 23, 2023 This post has been updated to reflect the current sale prices for the Hypervolt Go and Hypervolt Go 2. (Author: Greg)
November 21, 2022 We've added more real-life photos of the Hypervolt Go 2 to this post, including images showcasing noise measurement tests. (Author: Greg)
August 19, 2022 Fact-check done by Dr. Gary Tanchak, D.C.
•
Written by:
Greg Szostak
Disclaimers
The views and opinions expressed on this website are those of the authors. Any content provided by our bloggers or authors are of their opinion and are not intended to malign any religion, ethnic group, club, organization, company, individual or anyone or anything.
All product names, logos, and brands are property of their respective owners. All company, product and service names used in this website are for identification purposes only. Use of these names, logos, and brands does not imply endorsement.
It is our policy to make every effort to respect the copyrights of outside parties. If you believe that your copyright has been misused, please provide us with a message stating your position and we will endeavor to correct any misuse immediately.
Some of the links in this post are affiliate links. As an Amazon Associate, we earn from qualifying purchases. This means if you click on the link and purchase the item, we may receive an affiliate commission, at no extra cost to you. This helps us keep this website alive. Learn more here.
Amazon Disclosure
massagegunadvice.com is a participant in the Amazon Services LLC Associates Program, an affiliate advertising program designed to provide a means for sites to earn advertising fees by advertising and linking to Amazon.com. As an Amazon Associate, we earn from qualifying purchases. Amazon and the Amazon logo are trademarks of Amazon.com, Inc. or its affiliates. Please refer to our Privacy & Affiliate Policy for details.