Best Massage Gun For Cellulite – Which One Is The Best For The Job?
Disclaimer: Our content is unbiased, non-sponsored and fact-checked. If you buy via links on our site, we may earn a commission. As an Amazon Associate, we earn from qualifying purchases.
---
Welcome to our best massage gun for cellulite post. In this post, we'll share our top recommended massage guns for cellulite. We will help you decide what kind of device you need to get for this specific condition.
We will also tell you what features are important in a massage gun for cellulite. You will also find out what to pay attention to when looking for a massage gun to improve your cellulite.
As we always do, instead of simply recommending devices, we'll give you the reasons why. We will also explain the differences between devices to help you make an educated choice.
Here we go…
---
---
Why Trust Our Advice and a Disclaimer
We don't give medical advice because we are not doctors. We are massage gun users and this post is written from a consumer (of massage guns) perspective.
We do hands-on tests of several devices every month. We have a clear and transparent process for reviewing these devices.
However, we do consult with our experts to make sure we provide a trustworthy advice. This post has been medically reviewed by one of our experts, Dr. Alex Stone who is a licensed physiotherapist.
---
In a Hurry?
If you don't have time to go through the entire post, we have 2 quick recommendations for you;
Ekrin 365 – This is the most versatile option with enough power, great features, a lifetime warranty, and very affordable.
Opove APEX – This is the new kid on the block. It has a high amplitude if you prefer deeper hits. It's also very reasonably priced.
---
Massage Guns For Cellulite – Things To Know
In our previous article we addressed the question of can a massage gun help with cellulite, and discussed everything you need to know about massage guns and cellulite.
In that article, we also discussed the benefits of using a massage gun effectively to manage cellulite. If you still have questions, we advise you to read that article first before reading this one for recommendations.
In a nutshell, though, that article discusses your options for treating cellulite with a massage gun. While massage guns are not a miracle solution to cellulite, they are:
Effective, low-cost, DIY, and non-invasive way to help you manage cellulite.
They help to minimize cellulite – the same way they help with lymphatic drainage and trigger point massage.
The chances of successfully reducing cellulite are higher when they are used consistently, regularly, and when combined with a responsible lifestyle and a healthy diet.
But there's got to be a way to choose one, right? Yes, you need to know what massage gun will work the magic for you.
Here's how…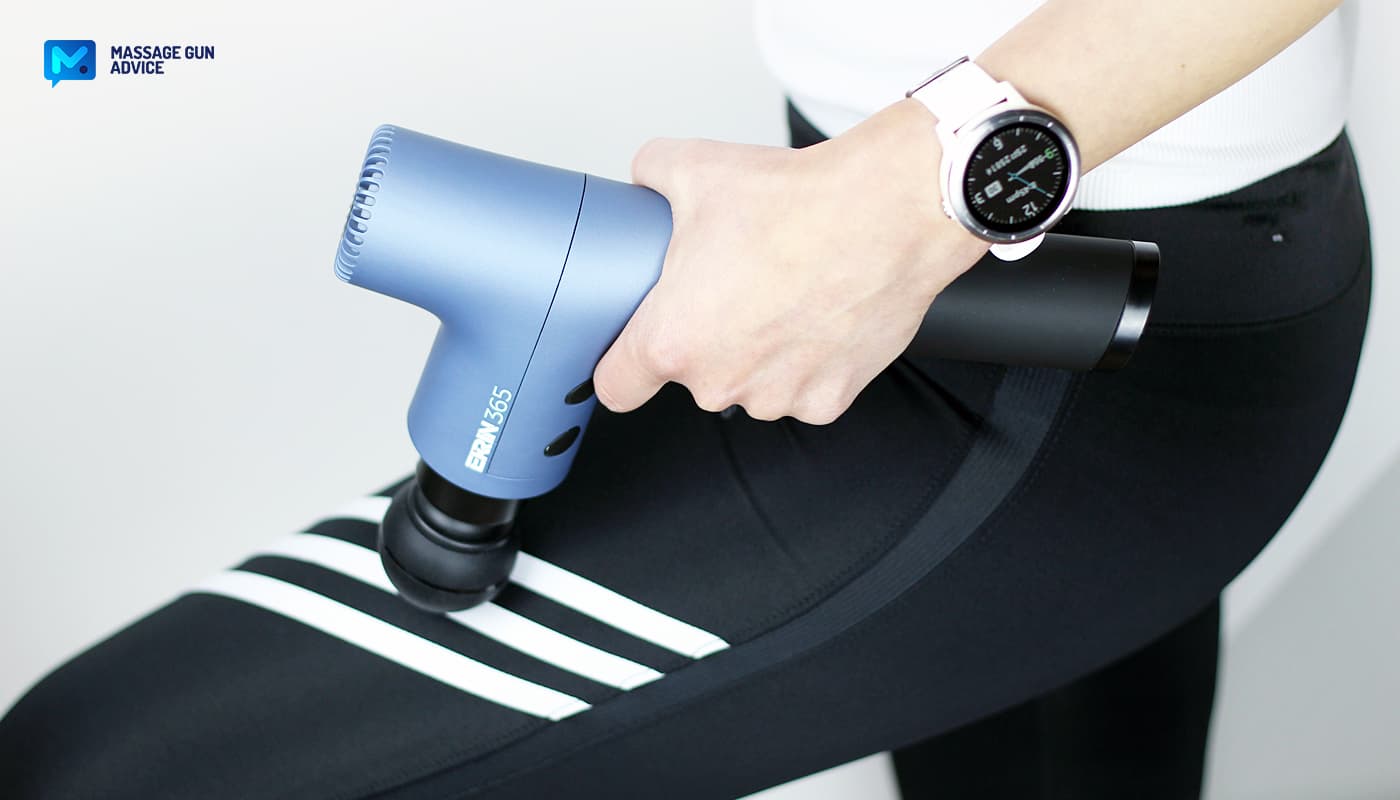 ---
Massage Gun for Cellulite – How To Choose?
As we have said, massage guns are not the silver bullet for getting rid of cellulite. There are other factors that should be considered if you want to get rid of it.
However, choosing the right device could go a long way in managing the problem.
In our opinion, these are the most important things to consider when choosing the best massage gun for cellulite:
How does the device work?
What are the overall characteristics of the device and its effectiveness in doing the job right? This is by far the most important bit.
What is the device's ergonomics?
Look out for the size, weight, and overall ease of use.
That said, here's what to check for in the device's specifications.
---
Amplitude (Stroke Length)
Amplitude or stroke length is the distance the massage gun head travels as it percusses.
For a massage gun for cellulite, there are two approaches to amplitude:
---
1. Cellulite Massage Guns with High Amplitude
These provide deeper hits but percuss with less frequency (or fewer percussions per minute). Unlike devices with lower amplitude, these devices provide harder hits but rev slower. We say a massage gun has a high amplitude when its stroke length is 13-16mm.
Theraguns are the perfect example of such guns. However, when you don't have the money to go Theragun, we know of fantastic devices like Opove Apex and Achedaway Pro.
---
2. Low and Medium Amplitude Massagers
These devices have a shorter amplitude but they vibrate faster. The majority of devices on the market fall in this category (8 out of 10 devices on Amazon have an amplitude below 10mm).
These devices cannot provide a deep tissue massage. However, they percuss faster and can be intensive (sometimes very effective).
That said, we wouldn't recommend anything with an amplitude below 10mm. That's because those tend to offer vibrational therapy rather than percussive therapy.
---
But then some devices can be called medium-amplitude. These devices have between 10-12mm stroke length. We consider this range a "sweet spot." That's because they are not vibrational, and they don't hit too hard either. They also have an optimal percussion range.
Our Advice Then for cellulite treatment, we would recommend the following:
Go for devices with the "sweet spot" amplitude – those between 10-12mm. These are great for improving blood flow to tissues due to their high-speed intensive vibrations. They can also help with enhanced lymphatic fluid movement. They won't be as hard-hitting as the high amplitude devices. The intensity comes from the fast vibrations. Expect a percussion range of 1800-3200RPM.

Or you can opt for the high amplitude devices if you prefer a deep tissue massage. These will do the same job as the "sweets spot" ones but will be punchier. With these kinds of devices, the massage reaches deep into the muscle tissue. Even for those with big muscles (perhaps stubborn cellulite), these devices can get through. The intensity comes from the hard hits rather than fast vibrations like we saw with the medium-amplitude devices.
Whichever category of devices you choose to go with, there's another important aspect that goes hand-in-hand with amplitude.
---
Stall Force
Stall force is the amount of resistance a device can put up with without stalling or completely shutting off. It's what tells you whether a device can provide deep tissue massage (especially on large muscles) or not.
Even a medium amplitude device (10-12mm) can deliver deep tissue massage on large muscles when the stall force is high enough. That's because you can press the device harder against your skin without it stalling.
Stall force also matters for high amplitude devices. We often consider it a bit of waste when a device has a high amplitude and very low stall force. That long amplitude won't go deep into the tissue without a proper stall force.
Our Advice
For the best massage gun for cellulite, we'll recommend a device with at least 30-35lbs. of stall force. More could be better, especially for athletes and people with a large body mass.
However, you don't need 60lbs. of stall force to combat cellulite. Our "sweet spot" for stall force would be 35-45lbs. All our recommendations below have enough stall force to allow for optimal effects on cellulite.
---
High or Medium Amplitude Device for Sensitive Skin?
As we have said, a medium amplitude massage gun gets its intensity from the high vibrations. For some people, the high vibrations (on higher speed gears) may feel uncomfortable on their skin.
The same holds true for the high amplitude device. Those punchy hits on the skin may be too aggressive for people with sensitive skin. That said, you are probably wondering what the right device is here.
Our Advice
Both categories will work fine, even for sensitive skin (areas). How? Well, devices come with different attachments for different parts of the body. For sensitive skin, look out for softer attachments – like the cushioned head attachment.
That is why for our recommendations, we made sure to include devices that have at least a soft attachment for sensitive skin (areas).
Another thing, different devices come with different setups, as far as speed is concerned. You can adjust the speed to a comfortable setting depending on your skin's sensitivity. This way, you can mitigate any pain or discomfort.
Expect devices with 3 to 9 speeds. We know of devices that have 20 or even 30 speeds. We think that is overkill. Most of the time, the manufacturer is overcompensating for something. We don't recommend such devices.
---
What Else To Look At
Apart from what we have seen so far, these factors can also help you pick the right device to treat cellulite.
---
Noise – nobody wants a loud device. Massage guns these days are meant to be quiet. Unfortunately, we have encountered devices from massage gun brands that undestate the noise levels. That's why we verify this information using our noise meters. All our picks are quiet enough and will not disturb a normal conversation.
---
Ergonomics – Everybody has seen a T-shaped massage gun, and to be honest, it is boring. We love devices that try to innovate and come up with something unique. Guns like Ekrin 365 and Opove Apex have tried to innovate. Theraguns are also great with their highly ergonomic devices.
---
Weight – It matters a lot, especially for women, that a massage gun for cellulite should not be too heavy. Originally, massage guns were heavy tools. Lately, however, that has changed. In our opinion, a massage gun to treat cellulite should not be heavier than 2.3 pounds – ideally below 2 pounds.
---
Attachments – 4 to 5 attachments are fine for a full body massage. What you will end up using is often up to individual preferences.
However, a standard ball or flat attachment is good for most body parts – including the parts you will be targeting here; glutes, quads, and hamstrings. The bullet attachment is good for trigger areas, while the cushioned attachment is for delicate (bony) areas or sensitive skin.
---
Battery Capacity and Time on Battery – This shouldn't be a problem with most massage guns these days. That is because most guns can go for 1-2 weeks on a single charge. Another thing, bigger batteries only add more unnecessary weight to the device.
The thing to note here perhaps will be the charger type. USB-C charging is convenient, but only a few devices support it for now.
---
Warranty offered – Cheap guns do not have warranties at all. Even when they do, it's 1 year at best. Best brands offer a lifetime warranty. That should be your goal.
---
Overall value for the money – Don't overpay for a device with poor performance when you can get something better for less. Examples just below.
---
Best Massage Guns for Cellulite – Our Recommendations, Explained
You now know what to look for before picking the best percussion massage gun for cellulite. It's time to look at these devices.
---
Ekrin 365 – Best Massage Gun For Cellulite
This is probably the most versatile massage gun not just on this list but also on the market. It's the latest creation from Ekrin Athletics – a trusted brand. Not only we think that it the best massage gun for cellulite, but we also recently voted it the best overall choice for women.
It offers more than enough to help you manage cellulite and then some. For starters, you'll love the ergonomic handle. Ekrin made the first move to angle the massage gun handle.
This new device adds a twist to that design. It's not just angled to make it easier to handle and maneuver, it's been made thinner. That means guys with small hands (especially women) can handle it comfortably.
It's also a very light device by the standards of regular-sized massage guns. At 1.7 pounds, it's one of the lightest massage guns out there.
With all that, you are getting a device that is:
Easier to maneuver
It does not strain your wrist – less weight and angled handle
It has a longer handle to reach your lower back easily
One of the best massage guns for women – voted top in our post
It gets even better when it comes to performance aspects. The amplitude is about 11mm – in our "sweet spot." It's not going to be too punchy, and it's not just vibrational either.
It also comes with a respectable stall force – up to 40lbs. That means when you want to go deep tissue, you can press it hard against the skin and will not easily stall. Even without the extra pressure, this device has enough power to efficiently massage and help reduce cellulite.
And, when you want a soothing massage, you can adjust the percussions through 5 speed gears over a range of 2000-3200RPM.
PRO TIP If you want more power than what the 365 offers, you can check out earlier versions – Ekrin B37 and B37S.
Other things include 4 attachments, with a soft cushioned ball head that feels delicate on your skin even at higher speeds. There is also a pressure sensor that allows you to monitor how much pressure you are using. It works better when massaging other people.
The battery lasts 4-5 hours on a single charge, and a USB-C charger included. You get a lifetime warranty and superb customer support.
NEW DEAL Ekrin 365 is currently out of stock, but you can get a better deal if you pre-order now. Use the PREORDER25 code at the checkout to get 25% off the price – pay only $134.99. You can read all the information here.
You can buy it for $179.99 or use the coupon MGA20 to get 20% off, making it $143.99 – best under $150 deal for sure. Get it right here.
Overall

This is the perfect massage gun to help treat cellulite. It falls right into our first type category – it's not very punchy but intensive with many percussions. It's also designed especially for women. You can learn more in our hands-on Ekrin 365 review.
---
Opove APEX – High Amplitude Option

Many massage guns could've easily fit in this category, but we picked APEX because it is currently the best bang for the buck gun. We'll pick it for the second category: high amplitude and deeper hits but with fewer percussions per minute.
The intensity of this gun will come from the deeper punches. It has a 14.5mm amplitude (we measured). Compared to Ekrin 365, it's the more percussive gun. Ekrin 365 is slightly more vibrational.
It has a stall force somewhere between 40-50lbs. even though Opove advertises it as 50lbs. Well, it's not 50lbs. but it's powerful enough to not easily stall.
But it's not just the performance that is good about this gun; everything else is on point as well. Just like Ekrin, Opove has a device with decent ergonomics. The handle is aggressively angled to reduce tension on your wrist. It's not as thin as Ekrin 365's, but there's plenty of rubber to make it comfortable to grasp. It's also heavier than Ekrin 365 – it weighs 2.27 pounds – but the weight feels well balanced.
It's a simple device with no bells or whistles. It has no pressure sensor, touch control or even Bluetooth connectivity. It has 3 speed gears with a percussion range of 1800-2300 (very Theragun-like).
It's also pretty quiet for a massage gun in this category. Expect 59-60dB in noise levels.
It comes with 6 attachments. One of them is a cushioned half-ball. It's perfect for massaging delicate areas and sensitive skin. The flat head is also lovely with a large diameter – it's perfect for addressing cellulite on glutes and hamstrings.
The battery is great. It lasted 3 weeks during our tests. We used it every day. It's a bummer that it doesn't come with a USB-C type charger, but we'll take it. It has a 1-year warranty but Opove is a well-trusted brand.
It usually goes for $199, but it currently sells for $165 at opove.com – great value for money for a high amplitude gun.
MORE INFO: Here is our in-depth Opove Apex review if you're interested to learn more about it.
---
addsfit Max – Pocket-friendly Option
There's always an option for everyone. This is the one for those who don't have a budget to spend on expensive guns.
Even though it won't go too hard on your wallet, it doesn't compromise on performance, and it's a pretty decent gun, all aspects considered.
The stroke length of this gun is advertised at 12mm but we measured it and it is actually 10mm. This is good enough and falls within our recommended "sweet spot." It makes for a perfect massage to treat cellulite.
We chose to include it in our list because of its percussion range. It revs up to 3300RPM (verified). Even Ekrin 365 doesn't rev that high. That means it can get pretty intensive for any cellulite's liking.
The only problem with high-vibrating devices is their noise, especially at higher speeds. The noise is a bit annoying on speed 9.
Expect 30-35lbs. of stall force, which should be enough for most people. You will still be able to apply some pressure with the device. Just don't expect it to withstand as much pressure as Ekrin 365 or Opove APEX. It will still be able to release muscle tension.
It has 9 speeds, a bit too many for our liking, but the wide range makes up for the many speed gears. It's a T-shaped massage gun and won't compete with our top 2 recommendations. A good case for "you get what you pay for".
However, the attachments are super in quality. They're all made of soft silicone. Even the hard ones feel soft to touch.
The battery has 2500mAh capacity and will run for 5-6 hours non-stop before you may need to charge it again. That means at least a week on a single charge.
The warranty is 1 year, but it can be extended to 3 years if you register your device on addsfit.com.
It normally costs $149.98, but with MASSAGE25 promo code, you can get it for just $119.99 – a 25% discount. It only works in Addsfit's store right here.
MORE INFO More details and high-res photos to be found in our in-depth addsfit Max review.
---
Bob and Brad X6 Pro – Also Decent

This one here offers a slightly different option to either Ekrin 365 or addsfit Max. It has a 10mm amplitude but up to 44lbs. of stall force. However, it costs more than both Ekrin 365 and addsfit Max.
There are aspects that make it unique, though. For example, the pill-shaped handle makes it slightly better than addsfit. Even though it's still T-shaped, it fits perfectly in your hand. We'd still vote Ekrin 365 over it though.
It weighs 1.9 pounds – more than Ekrin 365 but less than addsfit Max. It revs up to 3200RPM – similar to Ekrin 365 but slightly less than addsfit Max.
The special feature about this gun is the all-metal attachment that can be used for cold or heat therapy (you can freeze or put it in hot water).
We're not sure if that's an added advantage against cellulite, but it works well on sore muscles. The other 4 attachments are the normal kind with a cushioned one for delicate areas and sensitive skin.
PRO TIP There are more heated massage guns on the market.
Bob and Brad now make quiet massage guns. This is perhaps the quietest massage gun on this list. It's slightly quieter than Ekrin 365.
You will get a 1-year warranty.
It normally costs $199, but last we checked it was discounted on Amazon. It's a nice option to have in the back pocket if you don't want to go with Ekrin 365 – which is still better overall. Check out the latest price on Amazon here.
MORE INFO As you may have guessed, we have a dedicated Bob and Brad X6 Pro review.
---
Theragun for Cellulite – Which One to Choose
Theraguns are great devices for addressing cellulite. You just need to know which one will be perfect for your given situation.
All Theraguns, except Theragun mini, have a 16mm amplitude – the highest in the business. With 16mm, Theraguns are well-suited for deep tissue massage. However, that attribute also makes them punchy.
Most people love the deep hits from Theraguns – especially people with a lot of body mass or those who just want a deep-to-the-bone massage.
It may be a different case for those with sensitive skin. If your skin gets painful, the punchy hits may be too intensive for you. You may want to consider a device with a slightly lower amplitude (we have listed those already here).
However, if you have sensitive skin and have to stick with a Theragun, we advise spending extra cash on the Supersoft attachment. It's only included with the Theragun Pro, but you can purchase it separately from their store.
For cellulite treatment, we recommend going with the entry-level Theragun Prime – it has 30lbs. of stall force. Or you can opt for the slightly expensive Theragun Elite, which has 40lbs. of stall force.
Prime is affordable but will easily stall. Still, with 16mm amplitude, it can provide deeper hits that are needed to relax the muscle tissue. If you can afford it, Elite is the more versatile option. With 40lbs. of stall force, it matches our top pick Ekrin 365 and still gives you harder hits with the high amplitude.
You can also choose to go with Theragun mini. It's Theragun's mini massage gun. It has our recommended 12mm amplitude. The only problem, though, is the very low stall force. Theragun mini is quite easy to stall.
The Cons of Theraguns
Price: The entry-level Prime costs almost twice the price of any of our recommendations above. Theragun Elite is even more expensive. Theragun Mini isn't cheap either, it costs more than our top recommendations.
Warranty: It's a 1-year warranty for all Theraguns except Theragun Pro, which has a 2-year warranty. That is disappointing for the money you have to pay for one.
Theragun isn't innovative anymore. They wowed us with the triangular design, but there has been nothing new since.
Our Verdict

Theraguns are great if you can afford them to manage your cellulite. If you prefer deeper hits, they will serve you well. However, they don't offer anything special apart from their Bluetooth connectivity and the Therabody app, which you can do without.

We believe Opove APEX is a perfect gun if you are looking for deeper hits. It also offers better value for your money.
READ MORE Here are all four reviews: Theragun mini, Prime, Elite and Theragun Pro.
---
Hypervolt for Cellulite – Which One?
Just like Theraguns, Hypervolt is also a top name in the industry. It's hard to ignore them, given the influence they've had in the fitness recovery industry.
They recently refreshed their portfolio of massage guns. Instead of the old Hypervolt and Hypervolt Plus, we now have Hypervolt 2 and Hypervolt 2 Pro.
For the full picture, it is worth adding that Hypervolt also offers a mini massage gun, the Hypervolt Go. It doesn't impress us, so we don't recommend it here.
What We Think
Hypervolt 2 is a decent massage gun for cellulite because it has a 12mm amplitude. It falls within our recommended "sweet spot." The only problem is the very weak stall force. It will easily stall when you start massaging your hip area. That is why we'd still vote for any of our recommendations above.
We'd pick Hypervolt 2 Pro (Amazon link). That is because:
It has a 14mm amplitude – only 0.5mm less than Opove APEX (tiny).
It has a decent stall force for the job – 30-35lbs.
It has the same handle ergonomics as Bob and Brad's X6 Pro (pill-shaped). However, Ekrin 365 still has better handle ergonomics.
Aside from Addsfit Max, it's the only gun we'd recommend that has a detachable battery. You can have two batteries if you want.
Cons
Only a 1-year warranty
Hypervolts still don't come with a carrying case. All our other recommendations have one.
They're expensive – Hypervolt 2 normally costs $299, Hypervolt 2 Pro is $399. That said, if you buy at RecoveryForAthletes.com, and apply the HEALTH5 code at checkout, you'll get 5% off the listed price.
Our Verdict

We have nothing against Hypervolts, they are superb devices with a lot of popularity. However, for the price of one, you could get 2 Ekrin 365s or get both Ekrin 365 and Opove APEX – you can enjoy two different options.
---
Best Massage Gun for Cellulite – The Bottom Line
We come to the end of our best massage gun for cellulite post. Before we wrap up, we'll mention a few things.
Massage guns can help you manage cellulite, you just need to know what to look for in a massage gun.
You don't necessarily need the most hyped or super-powerful gun or even the most expensive one to treat cellulite.
There are two options to choose from: you can either go with a low amplitude device with many percussions (Ekrin 365) or choose one with a high amplitude but few percussions (Opove APEX).
Theraguns and Hypervolts are the two giants in the industry (more about this duel here) if you love top-ranking brands and can afford to pay top-dollar. However, if you prefer good value for money, we'd suggest going with our other recommendations.
You can read our post about how to use massage guns for cellulite for frequently asked questions, best practices, tips, and precautions.
Lastly, we have related post about best massage guns for women – check it out.
Happy massaging!
Disclaimers
The views and opinions expressed on this website are those of the authors. Any content provided by our bloggers or authors are of their opinion and are not intended to malign any religion, ethnic group, club, organization, company, individual or anyone or anything.
All product names, logos, and brands are property of their respective owners. All company, product and service names used in this website are for identification purposes only. Use of these names, logos, and brands does not imply endorsement.
It is our policy to make every effort to respect the copyrights of outside parties. If you believe that your copyright has been misused, please provide us with a message stating your position and we will endeavor to correct any misuse immediately.
Some of the links in this post are affiliate links. As an Amazon Associate, we earn from qualifying purchases. This means if you click on the link and purchase the item, we may receive an affiliate commission, at no extra cost to you. This helps us keep this website alive. Learn more here.
Amazon Disclosure
massagegunadvice.com is a participant in the Amazon Services LLC Associates Program, an affiliate advertising program designed to provide a means for sites to earn advertising fees by advertising and linking to Amazon.com. As an Amazon Associate, we earn from qualifying purchases. Amazon and the Amazon logo are trademarks of Amazon.com, Inc. or its affiliates. Please refer to our Privacy & Affiliate Policy for details.