Best Massage Gun For Neck And Shoulder Pain – Top Devices To Help You Manage The Pain
What To Know: our content is non-sponsored and fact-checked for accuracy. We anonymously order and rigorously test each product according to our methodology. We are reader-supported, and if you buy via our links, we may earn a commission. Learn more.
---
What is the best massage gun for neck and shoulder? This has been one of the most frequently asked questions that we have been receiving from our readers over the past year or so.
In this post, we will finally answer that question. We'll look at the best percussive devices out there that can aid you in getting rid of neck and shoulder pain.
We have done our homework, and are ready to give you tips on how to choose, recommend top devices, and explain the differences between each option.
Let's dive in!
---
---
Why Trust this Article – Disclaimer!
While we may give recommendations on what massage guns can help you manage neck and shoulder pain, we are not doctors or medical experts ourselves.
We are massage gun users with a lot of experience handling and testing different devices. We have, however, medical experts on board, who check our articles for accuracy.
This post has been medically reviewed by Dr. Alex Stone who is a licensed physiotherapist.
---
In a hurry?
We understand you may not have time to read through the entire article. However, if you are looking for quick recommendations, check out these top devices:
Ekrin 365 – by far the most versatile massage gun on the market today. It has superb ergonomics, reasonable power, a lifetime warranty, and is pocket-friendly.
Lyric – New device, it's more vibrational than percussive but perfectly suited for neck and shoulder massage.
---
Using Massage Guns On Neck – Key Things To Know
You might want to know that this post comes hot on the heels of our last blog, where we answered the question of can you use a massage gun on your neck.
We also discussed how to carefully massage your neck and shoulder using a percussion massager, talked about the do's and don'ts, including:
Never massage the front part of your neck. You could damage important arteries and cause heart failure or stroke.
The focus should be on the back of the neck and shoulders. Focus on the upper trapezius muscles, just above the shoulders.
Shoulder and neck pain are related because they share some of the same muscles. When you strain your neck, you are also straining your shoulders.
Use soft massage gun attachments to massage the neck and do it delicately. Using only those initial speed gears and nothing too aggressive.
We also described a step-by-step action of how to massage your neck and shoulders.
We recommend reading that article if you want to find out how to properly and safely massage your neck and shoulder. You can then read this one for the best devices to use for the massage.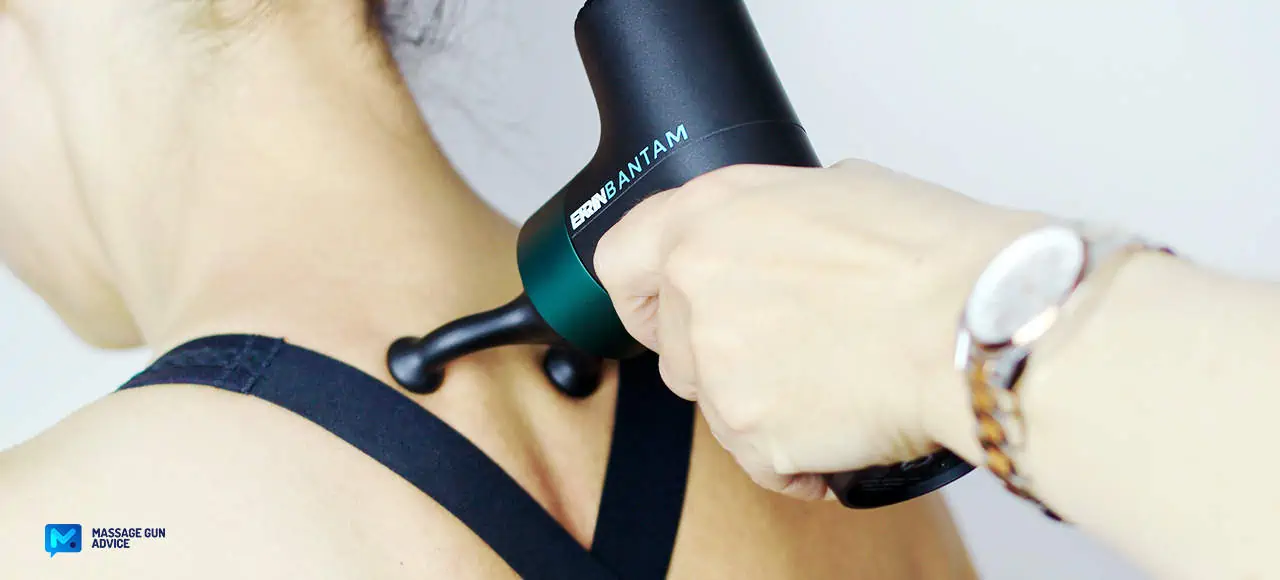 ---
How to Choose a Massage Gun for Stiff Neck and Shoulder Knots
The area around the neck and shoulder does not harbor large muscle groups. That would mean that you would have to get a massage gun with high amplitude, enough stall force, and a reasonable percussion range.
However, since the neck and shoulders do not have large muscles (for most people anyway, bodybuilders may disagree), the power in a massage gun isn't the primary consideration. That, in some way, is good news because a lot of devices can work here.
But massage guns aren't toys, they are expensive gadgets to own. Our advice is that you should spend that money on something that will cover most bases – a device that can work effectively on most muscle groups (and for all types of bodies).
Massage gun brands approach this differently. Here's what you need to keep in mind as you look for a massage gun for neck and shoulder pain…
---
Amplitude
Also referred to as stroke length, it is how far the massage gun head moves back and forth during the percussions. In some cases, it dictates whether you can get a percussive therapy massage or vibrational therapy.
There are two main approaches here:
High amplitude devices: These devices get their intensity from their harder punches. Because of their high stroke length (usually 14-16mm), they hit harder than devices with lower amplitudes. However, they rev slower than their lower amplitude counterparts. A good example of such devices are Theraguns or the Hypervolt 2 Pro.
Low amplitude devices: These get their intensity from the many percussions per minute. They have a medium to low amplitude (usually 10-13mm). We say a device has a low amplitude when its stroke length is 10mm or below (Lyric or Ekrin Bantam). A medium amplitude device has 10-13mm (The larger Ekrin devices, Hypervolt 1 and Hypervolt 2).
How does the amplitude play a part in choosing the right device for your neck and shoulders? Well, in some cases, it doesn't really matter what kind of amplitude you choose to go with. It all comes down to preference and how you feel during a massage.
The main thing to note here is the kind of massage therapy you are getting. High amplitude devices will give you a percussive massage, while the low amplitude devices will feel more vibrational.
If you have never used a massage gun before, and would rather someone tell you what to do in this case, then we would say go for the medium amplitude devices. These devices fall into the category we like to call the "sweet spot." They don't hit too hard, but they're not too vibrational either. We highly recommend going with Ekrin devices; they are perfectly balanced.
However, if you like Theraguns and their high amplitude devices, we have something much more affordable; try Opove M3 Pro. It will not cost you an arm and a leg, and you get pretty much the same features as Theragun or Hypervolt 2 Pro.
---
Stall Force
Stall force means the amount of resistance a device can offer when pushed against the body. This happens when you are looking for a deep tissue massage – especially with medium amplitude guns.
How much stall force does a device need to have to massage your neck effectively?
We'd say it doesn't matter per se. You probably won't need to push the device hard against your neck and shoulder. For most people, the neck and shoulder area does not have a lot of muscle mass.
That means even a device with 15-20lbs. of stall force will be enough to do the job. Plenty of guns out there have at least that much stall force.
But, you will not only be looking for a device that can massage your neck and that's it. You want something that can work on the rest of your body too – a versatile device.
Another thing, if you are an athlete or a gym rat, you will need a device to use after a workout. That's when stall force will really matter.
For these reasons, we believe you should go for a device that can deliver a little more than 15-20lbs. of stall force. Let's give it a number and say, at least 30lbs.
You don't need too much stall force either. For instance, you don't need a Theragun Pro or Achedaway Pro (both 60lbs.) to massage your neck. A device with 30-40lbs. of stall force will be good enough in this case.
We have selected devices for our post that have similar stall force. These devices also offer great value for your money. Also, note that massage guns with high amplitude can still be effective even when you don't apply pressure.
---
Percussions and Speeds
There are a few points to note for percussions and speeds when you want the best massage gun for neck and shoulder pain.
High amplitude devices have a percussion range of 2300-2700RPM.
Low and medium amplitude devices have a percussion range of 1800-3200RPM. However, there are a few that can do way more. For instance, Lyric revs up to 4600RPM – it's very vibrational. When you see a device that revs way above 3400RPM, it often means the manufacturer overstated the number, or the device has a stroke length less than 10mm (in this case, Lyric). Most brands would rather make a device that revs up to 3200RPM or make it a high amplitude gun. Anything else is usually overstated.
For the speed setup, most devices have 3-6 speeds. We prefer a setup of 4-5 speed gears. We can live with 7 or 8, but not more. We have seen devices with a setup of 20-30 speeds. That is more than anyone could ever use.
Our post about using massage guns for your neck and shoulder pain explained that you need to start with lower speed gears. When massaging a painful area or sensitive skin, you don't need to crank up the intensity. Stay with a lower setting and massage as tenderly as possible.
Some devices like Theragun and Lyric have pre-programmed modes for massaging different body parts, and guided routines to help you massage those.
---
Other Criteria to Take Into Account
Here are some other aspects you may want to keep in mind when selecting a device for your neck and shoulders.
---
Noise
The neck is too close to your ears, and most people would prefer something that isn't deafening. Most devices these days don't have a noise problem. However, some are quieter than others – we gave those priority here.
---
Ergonomics
You will need a device that you can comfortably hold as you massage your upper back and the neck.
Some brands are innovative with their devices. We picked those over those that stay with the traditional T-shape.
We included Lyric for this reason. It has an attachable handle extension that makes it super easy to reach your back.
---
Weight
You need a device that you can easily maneuver. A lighter device is easier to handle than a heavy one.
We recommend devices that weigh less than 2.5 pounds. It's even better when they don't exceed 2 pounds.
---
Attachments
4-5 attachments are enough to work on the entire body. What you end up using will be up to you.
However, you will need a soft attachment for the neck and shoulders. Most brands will include a cushioned head.
Others like Theragun have the Supersoft attachment. You can also use the standard ball, the flat, or the bullet attachment for muscle knots in your shoulders.
---
Battery Capacity and Time On Battery
These days, this isn't an issue because most devices can do 1-2 weeks before you may need to charge them again. Plus, having a bigger battery only adds weight to the device.
---
Warranty
Cheap brands don't offer any cover at all. We love brands like Ekrin that offer a lifetime warranty for all their devices.
---
Overall Value For The Money
Consider what you are getting with the device you are choosing. Some devices cost way too much, even when they don't offer anything special.
We made the choice for you here with our recommendations.
---
Best Massage Guns for Neck and Shoulder Pain – Our Picks Explained
---
Ekrin 365 – Top Recommendation

This is probably the most versatile massage gun on the market today. It has just about anything you need for a day-to-day massage. It will be perfect for your neck and shoulder. It has enough power to go with great features in case you need something that can massage even the large muscle groups.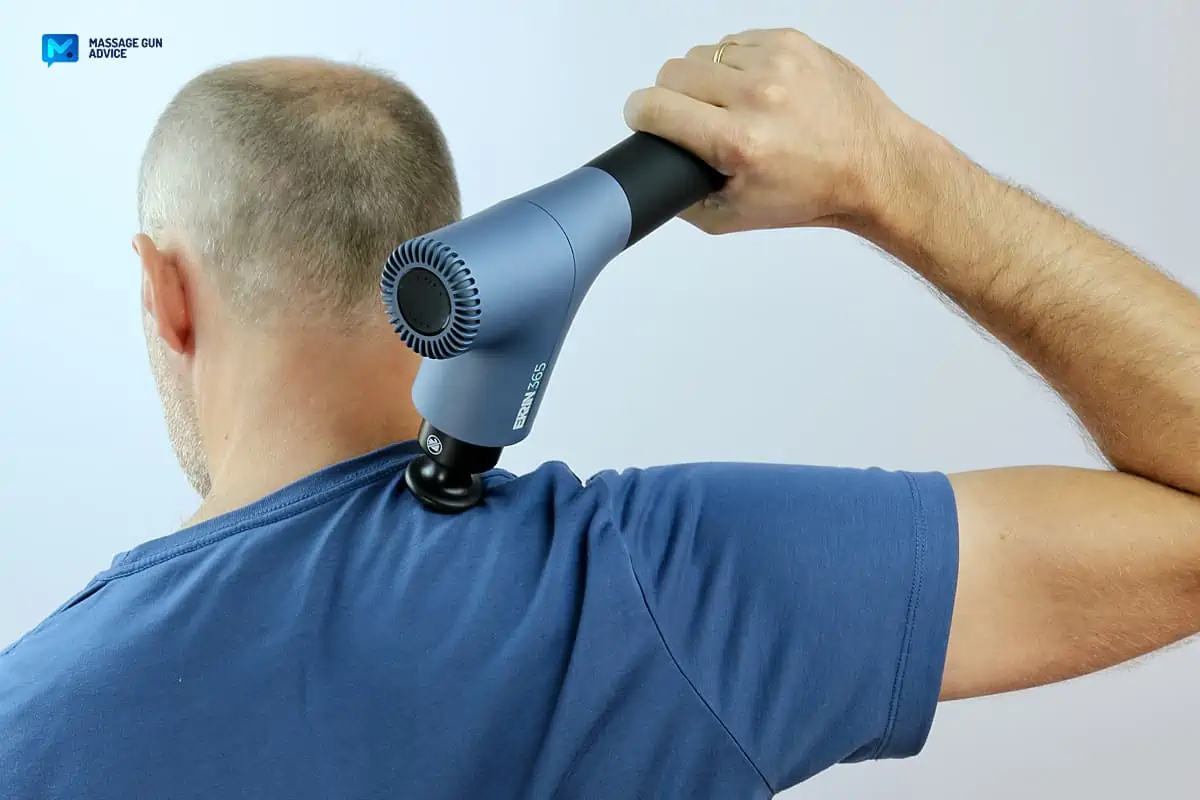 Whenever we have to talk about Ekrin devices, we always want to mention that they are made to specifically address the concerns of many users out there.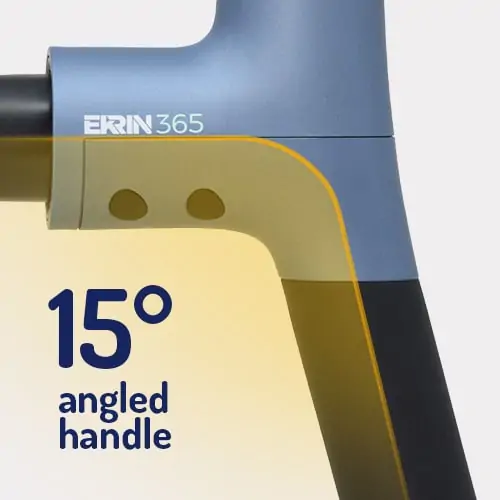 For instance, this device only weighs 1.7 pounds. That's a milestone that many full-sized massage guns are yet to achieve.
Instead of the normal (boring) T-shape design, they chose to go with a slanted handle. All Ekrin devices have a slanted handle. But this one has a twist or two to go with it.
The handle is longer and thinner. Longer because you need to easily reach your back, and thinner for those with small hands (we voted it the best massage gun for women)
It's not just the handle; the power and performance aspects are great too. It has a 12mm amplitude and a stall force of up to 40lbs. That places it in the medium range category – within our recommended specs.
It will not be too punchy or too vibrational. You can also rely on it when you need to massage your whole body. For neck and shoulder massage, you can glide it over, and it will do the job. The lowest speed is 2000RPM.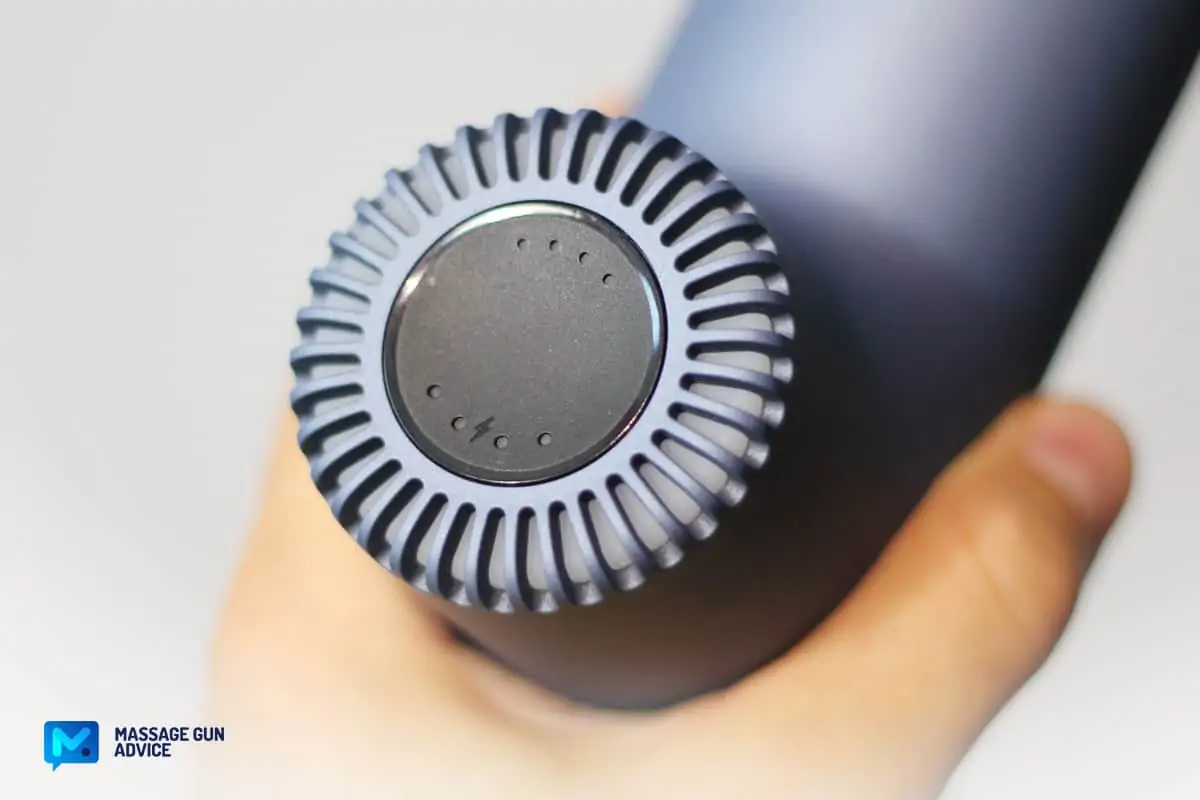 It's a quiet device – only revs up to 62dB at top speed. You get 4 attachments, including a soft ball attachment that you can use for your neck. There is a cone attachment that you can use for shoulder knots.
The pressure sensor comes in handy when you want to massage a friend. The battery lasts for 4-5 hours – you will have enough battery juice to last you a week. You also get to charge it via USB – very convenient.
Ekrin Athletics backs all their devices with a lifetime warranty. They also have a superb customer support team – we checked (incognito).
Father's Day SALE
Enjoy 25% off the Ekrin 365 and any other Ekrin massager until June 18th. Use code MGADAD25 at checkout to apply the discount. Click here to claim your offer
You will need $179.99 to buy it or use our MGA20 coupon to get a 20% discount, which makes it only $143.99 – great deal. Buy it directly at ekrinathletics.com.
Learn More Read our in-depth, hands-on Ekrin 365 review.
---
Lyric Massager – Great for Neck Pain
This is the quintessential neck massage gun. If you are looking for something specifically designed to massage your neck and don't care for the conventional massage gun, this is the massager for you.
If you are a massage gun fan or have been following most of our massage gun reviews, the specs on this gun will sound outrageous. But let us tell you why we picked it for this category.
First, it's a rather compact massage gun – looks almost like a mini massage gun, but the long handle might disqualify it. It's stylish and sleekly designed. It's light and feels very vibrational. In fact, it has a stroke length of 7-8mm, and is advertised to rev up to 4000RPM (we'll tell you more in our comprehensive review).
Yet it could be perhaps the best massage gun for neck and shoulder. Not because of the (somewhat outrageous) specs, but because the manufacturer added a twist to it.
First, it's not a very aggressive massage gun, which would be perfect for neck and shoulder pain.
Second, the manufacturer says it mimics our body's natural rhythms.
To quote Lyric's own words:
"Rhythm Therapy™ for Muscle Pain Relief & Relaxation; combines touch and movement with vibroacoustic frequencies to stimulate the nervous system."
Note While we don't have any information on "Rhythm Therapy", or if it is superior to traditional vibration or percussion massage therapy, we can assume that it is similar in nature to the type of stimulation from most other low-amplitude + high-frequency massage gun options.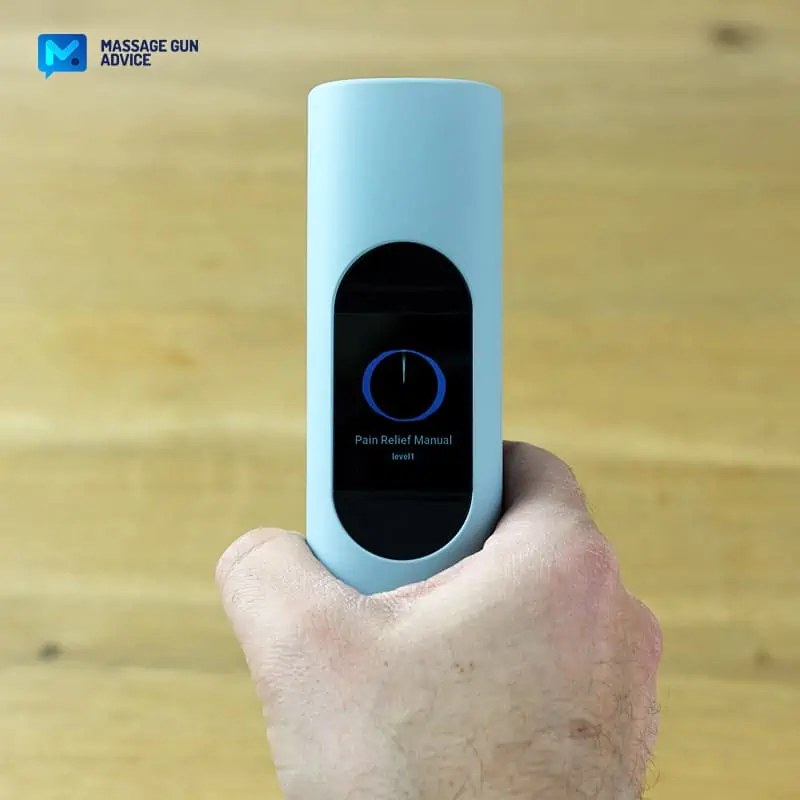 Another thing, it is Wi-Fi-enabled with pre-programmed modes for massaging different body parts. There is a tiny screen on the back of the handle that shows the guided modes.
The softest attachment is the cone head. You can also use it for shoulder knots.
That said, we also chose to include it here because it has a handle extension – the first one we've seen. It takes DIY massaging to a whole new level. Reaching your back will not be a problem with this device.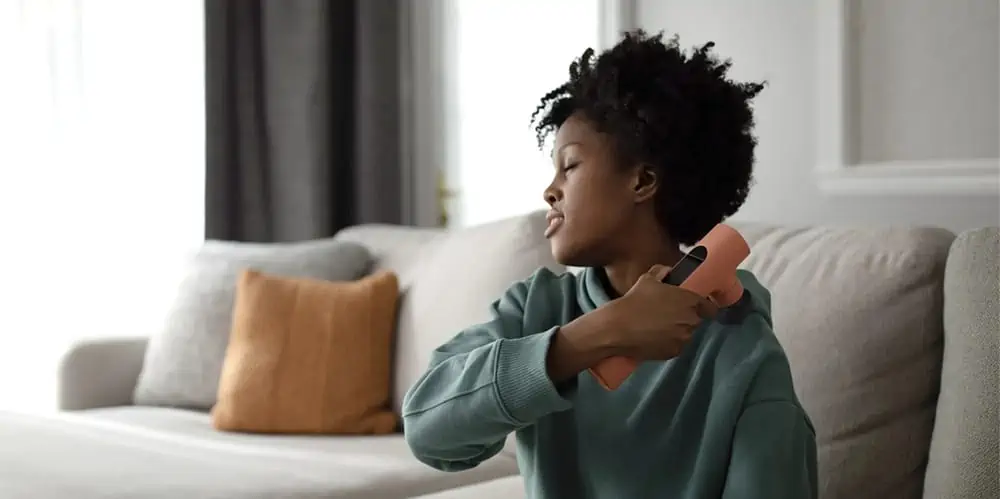 The only problem we have with this massage gun (you guessed it), the specs may not be good enough to massage other areas of the body – especially large muscle group areas. It cannot possibly provide a deep tissue massage. Ekrin 365 will be the better choice in that case.
It has a 1-year warranty, and five colors to choose from.
Lyric is available on Amazon and will cost you slightly more than our top pick. It's a very interesting proposition if you want a soothing and relaxing massage.
---
Opove M3 Pro 2 – More Affordable Option
We may have called the specs on Lyric "outrageous" (though for lack of a better word), but there's nothing outrageous about Opove M3 Pro's specs. This is a stellar device and the complete opposite of what the Lyric massager is.
It's even more percussive than our top recommendation – Ekrin 365. That's because it has a 12.3mm amplitude. It revs up to 2600rpm, which is enough to work on the shoulder knots.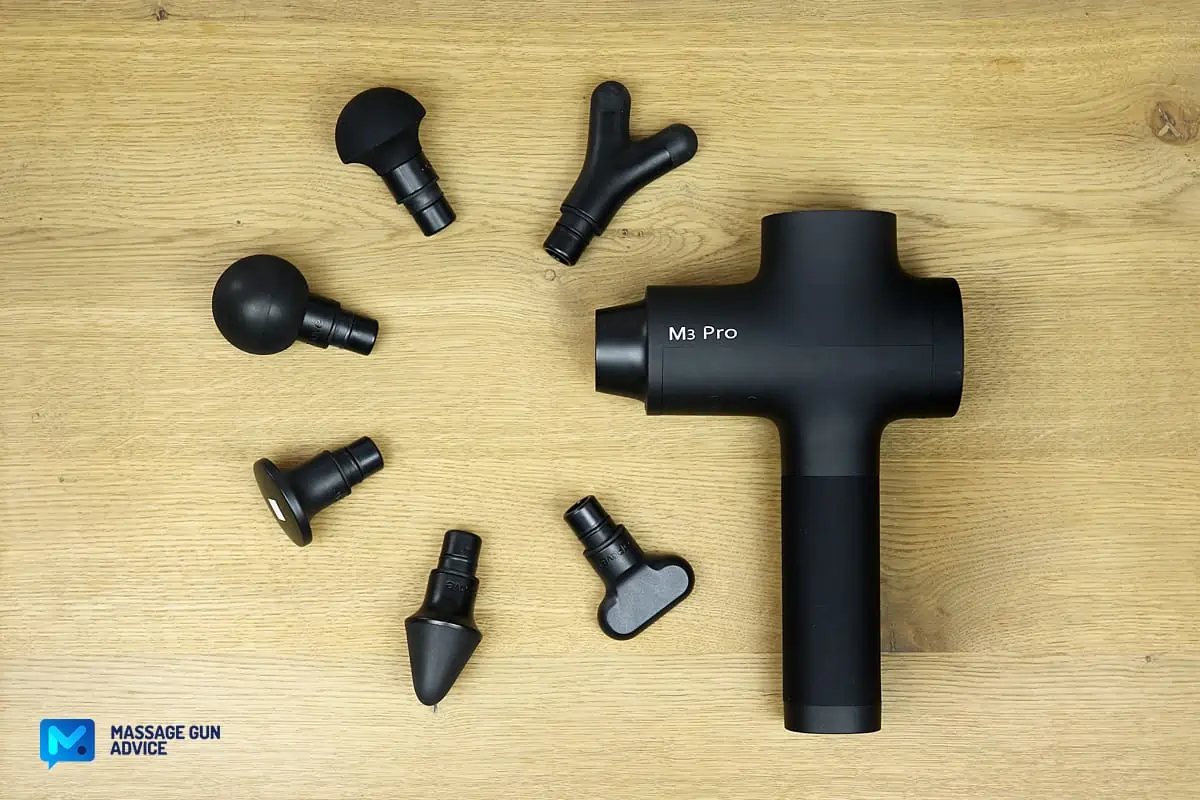 It has a mid-40s stall force which is good for a percussive massage. You can use it on your neck and shoulder. However, don't press it too hard against your neck, as instructed in this how-to post. Just glide it over the area. We recommend this device here for people who may want a percussive massage for the rest of their body.
It's a much bigger device compared to Ekrin 365. It's not bulky, though, and weighs 2.5 pounds. It doesn't feature tilted handle, but Opove made sure the device is easy to hold and operate, by placing lots of good quality rubber on a handle.
It's a very quiet massage gun, revving at just over 60dB at top speeds.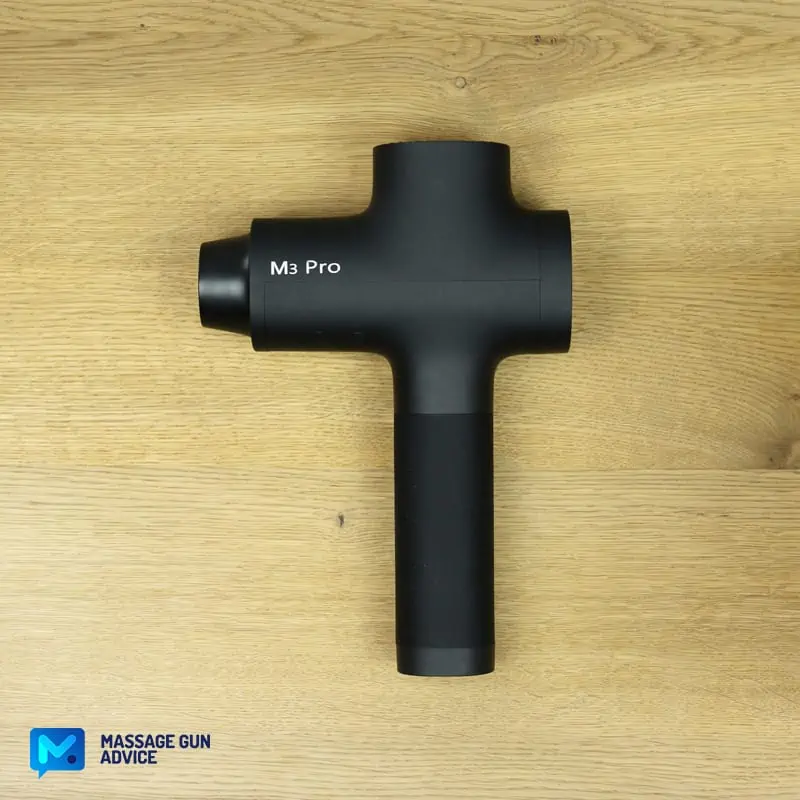 There are 6 attachments included; there is a cushioned ball you can use for your neck and shoulders. You will also find a standard ball attachment and the bullet attachment for trigger points.
It has a good battery that should last 3 weeks (normal massage sessions) with a single charge. It doesn't have a USB charger like Ekrin 365. You get a 1-year warranty.
It usually costs $199, but there is currently an offer that lets you buy it at $119 – great value for an affordable neck & shoulder massage gun.
Learn More Check out our Opove M3 Pro 2 Review for further information and hi-res photos.
---
Which Theragun for Neck and Shoulder Pain?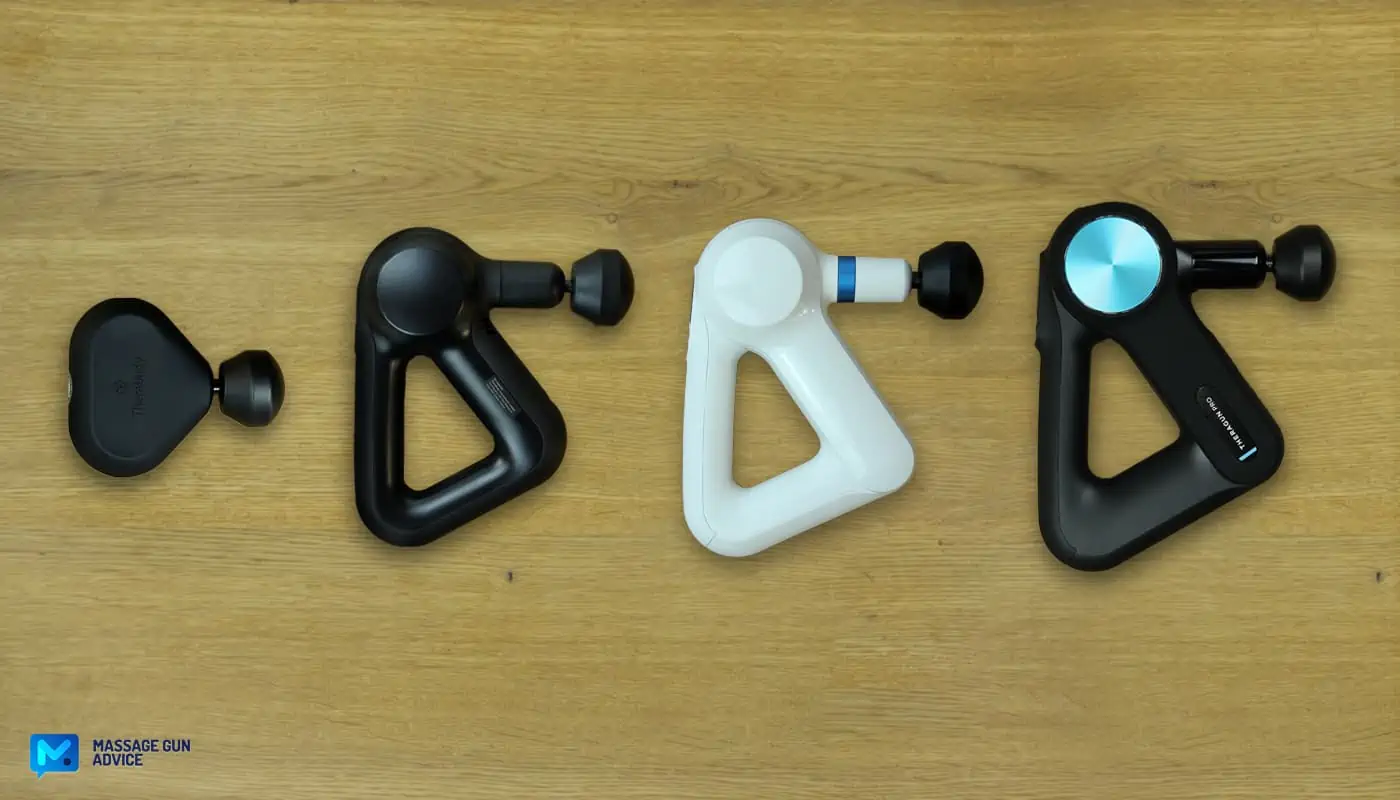 It's right to say that the percussive therapy massage industry owes a lot to Theragun. After all, they started the whole thing.
Theragun devices – especially the full-sized ones: Prime, Elite and Pro – have the longest amplitude on the market (16mm). They are good massagers for deep tissue therapy.
But can they really be effective for neck and shoulder pain? Yes, they will be effective. But the thing is, you don't need the top shelf Theragun Pro, or even Theragun Elite, if your main intention is to use a Theragun on neck or shoulder.
In our opinion, the two cheapest Theragun models will do just fine:
---
Theragun mini
The mini doesn't have a high stall force – only about 15-20lbs. Like we have said, if you just want something for your neck and shoulder, that's probably enough.
It does, however, have a 12mm amplitude – that's the highest in the mini devices category.
The mini is a compact massage gun and very light. The new version (2.0) weighs only 1.1 pounds.
The new model now comes with three attachments. If you own a bigger Theragun, the attachments will fit the Mini.
Here is our full review of Theragun mini. You can buy it here.
---
Theragun Prime
Theragun Prime is a full-sized massage gun. It's considered the entry-level Theragun, and we believe it would be good enough for a neck and shoulder massage.
Prime is smaller than both Elite and Pro. It has a 16mm amplitude and up to 30lbs. of stall force; good enough for the rest of the body.
The best thing about Theragun Prime, compared to Theragun mini, is you get the D-shape ergonomics. You also get 4 attachments with Prime compared to just the one with Theragun mini.
Read our Theragun Prime review. You can buy it here.
---
Aren't Theraguns Too Aggressive For Neck/Shoulder Treatment?
Yes, Theragun may be too aggressive for the neck because of the high amplitude. If you have sensitive skin or if your neck is too painful, Theraguns may be too intensive for you.
However, you can still use them with controlled pressure. Just gliding a Theragun over the back of the neck will do the trick. You can also use the special attachments that will be tender on your skin.
---
Which Theragun Attachment Is Best For Neck And Shoulder?
Theragun patented their Supersoft attachment. It is the one awesome attachment you can use to massage your neck and shoulder areas. However, it only comes with Theragun Pro (the most expensive Theragun).
You'll have to purchase it separately ($20 at www.therabody.com) if you have Theragun mini, Prime or Elite.
If you have Theragun Prime, you can use the dampener, it's the closest one to the Supersoft attachment. However, we'd say Ekrin's super-soft is softer.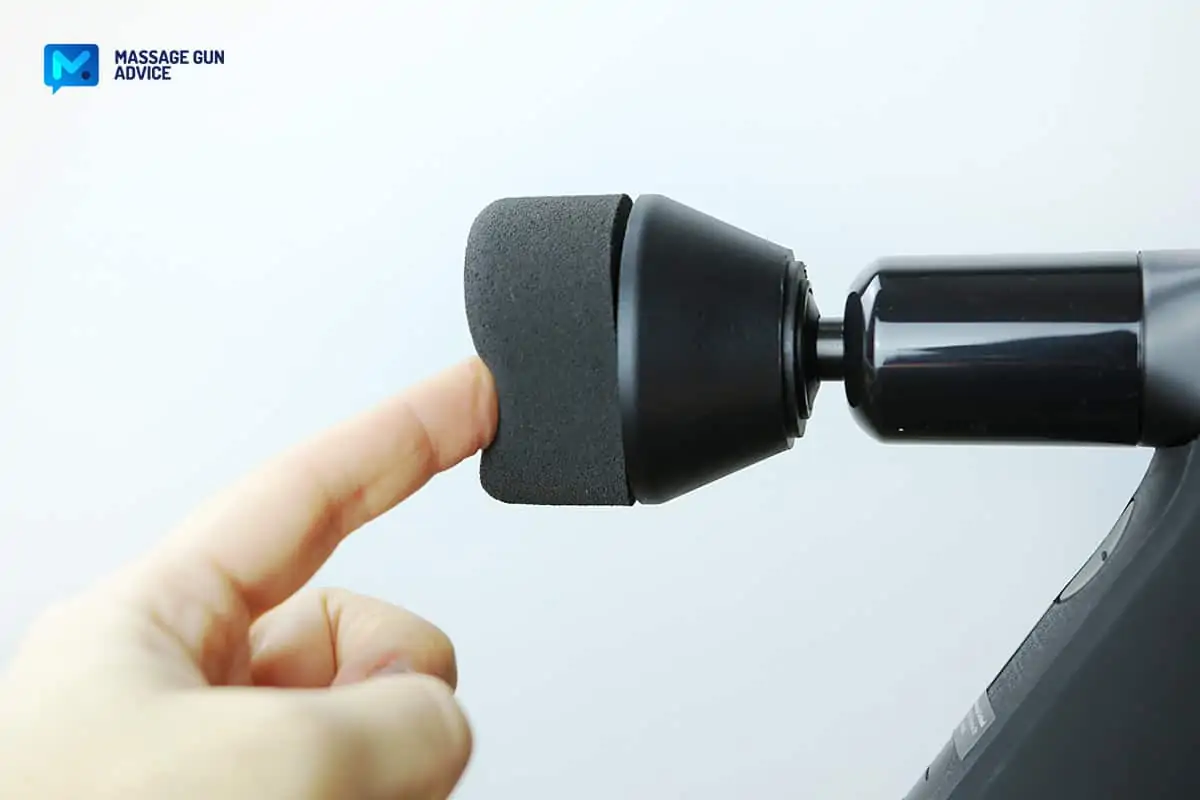 ---
Are Theraguns Worth It in 2023?
Theraguns are awesome devices, but they're also expensive and to be honest, no longer unique (with the exception of their patented triangular design, that is). Just to compare, entry-level Prime is two times more expensive than Opove M3 Pro – Opove is way better than Prime.
Another thing, Theragun still hasn't addressed the noise issue in their devices – the rattling noise at the head of the massage. They all have a 1-year warranty apart from Theragun Pro, which is too expensive.
Theragun mini is a decent proposition for our case, but it's poorly equipped. You are better off going with Ekrin Bantam if you want a mini massage gun. The Bantam is lighter, smaller, and more powerful. It also has a soft ball attachment like Ekrin 365 (read our Ekrin Bantam review here).
Lyric Massager is probably a reasonable alternative to Theragun mini, albeit the radically different concept. Plus, it costs about the same as the mini.
---
Which Hypervolt for Neck and Shoulder?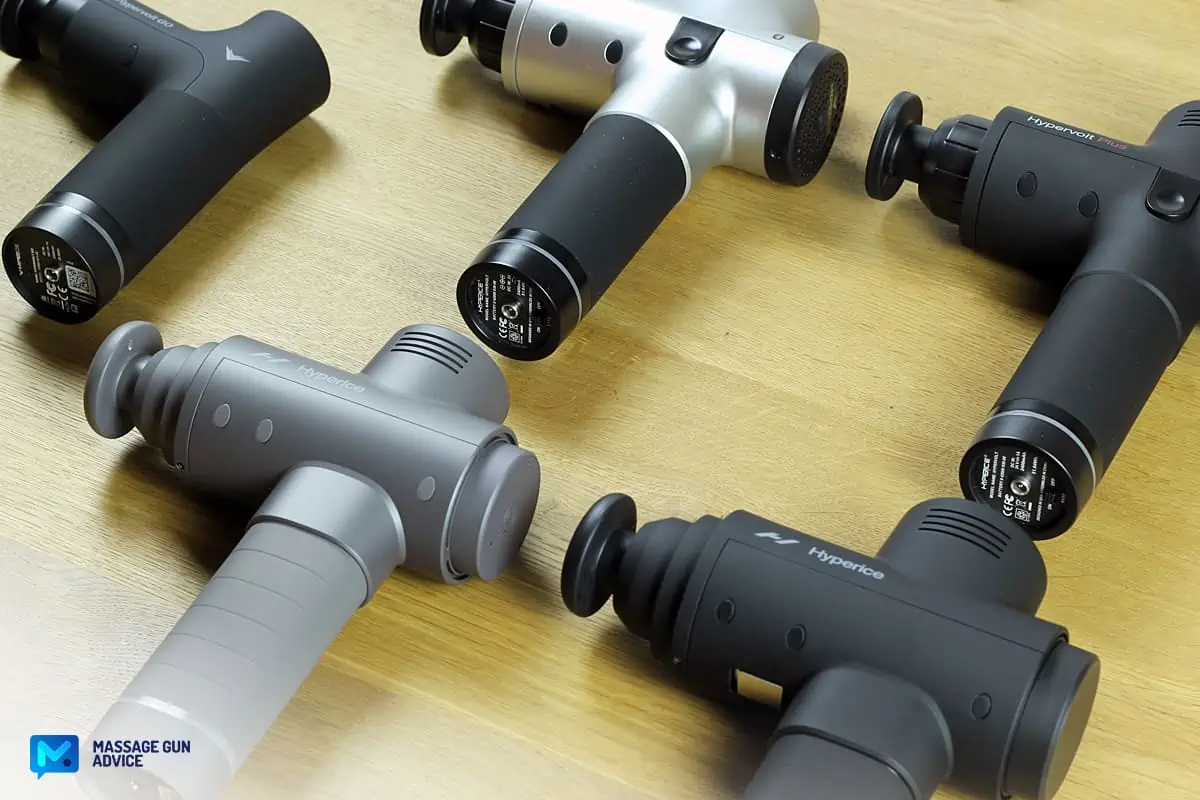 Hyperice Hypervolt is another big name in the industry, going toe-to-toe with Theragun. They recently unveiled their new line of products.
We'll take a look at each of their products and see if any of them is good enough to alleviate neck and shoulder pain.
---
Hypervolt 2
This is the newly unveiled device meant to replace the original Hypervolt 1 (Silver).
We'd say it's probably the best Hypervolt for neck and shoulder massage.
It's not as strong as Ekrin 365 but will do the job as a neck and shoulder massager. It has a 12mm amplitude and about 20lbs. of stall force.
Learn more in our Hypervolt 2 review.
Buy it at RecoveryforAthletes.com and use the HEALTH5 code for 5% OFF!.
---
Hypervolt 2 Pro
This is the replacement for the old Hypervolt Plus.
It has slightly better amplitude than Opove M3 Pro (14mm). That makes it feel more "punchy" on skin. It has about 35lbs. of stall force – good enough for deep tissue massage, but behind the Opove.
However, compared to Opove M3 Pro, this device is very expensive. At $329, you could get 2x Opove M3 Pro (!) and still keep some change (there's an offer on the Opove here).
Find out more in our Hypervolt 2 Pro review.
Interested? Get it at RecoveryforAthletes.com and use the HEALTH5 code for 5% discount.
---
Hypervolt Go 2
It's the mini Hypervolt massage gun. It has enough power to treat the neck and shoulders. It has a 10mm amplitude, which falls within the "sweet spot."
However, it's probably the weakest massage gun we've ever used. It will not be the perfect choice if you are looking for something versatile to massage the whole body. It stalls very easily. Even the smallest amount of pressure will stall it.
More info in Hypervolt Go 2 review. You can also check how it compares to Theragun mini.
If you like it, buy it at RecoveryforAthletes.com. Use the same HEALTH5 code to save 5%.
---
Which Hypervolt Attachment for Neck and Shoulder?
Hypervolt uses hard material to make attachments for their massage guns. However, there's an exception with the cushioned heads included with Hypervolt 2 and Hypervolt 2 Pro – they might be best for neck massage.
You also get the standard ball and bullet attachments that you can also use for your shoulders and trigger points, respectively. You will also have the fork attachment to use along the spine.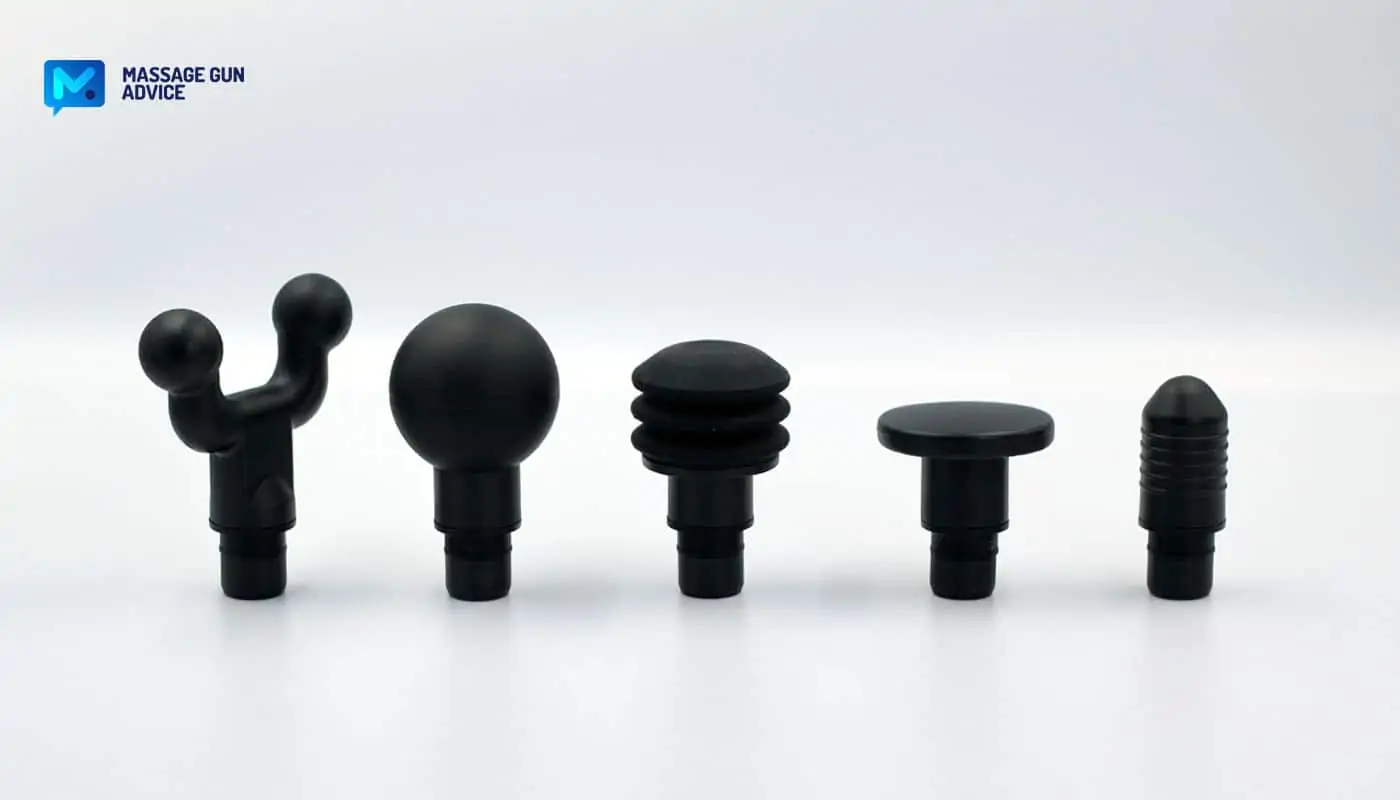 ---
Are Hypervolts Worth It in 2023?
The newly released devices – Hypervolt 2 and Hypervolt 2 Pro – have decent specs and could really be useful when you need them.
However, for $299 and $399, respectively, they're a little overpriced. Just to compare, Ekrin 365 and Opove M3 Pro cost half the price of any of these but, in our opinion, are better thought out and well equipped.
We won't even try to mention Hypervolt Go in the same breath as any of our recommended devices. The Ekrin Bantam and Lyric massager are way better and cost less.
All Hypervolt models come with just a 1-year warranty. That is a bummer considering you can get a lifetime warranty from Ekrin.
---
Massage Gun for Neck And Shoulder Pain – Conclusion
We believe you can now make a decision on which is the best massage gun for neck and shoulder pain.
Remember, massage guns can be awesome in dealing with neck and shoulder pain. You don't need a super-powerful device or even an expensive one to manage the pain in those areas.
We believe you should go for something versatile – you will not only need to massage your neck and shoulder but the rest of your body as well. Ekrin 365 is, in our opinion, the most versatile from the pack, but all our recommendations are unique and appropriate for neck and shoulder massage.
Theraguns and Hypervolts are giants in the industry with excellent devices. However, they are also expensive. You are better off with our recommendations if you want value for your money.
Feel free to ask us more questions here or just comment below.
---
And lastly, here are the top 4 questions you've asked, and our answers, which summarize the topic and once again highlight the most important takeaways.
Can using a massage gun on the neck be harmful?
No, if used correctly, it can help alleviate muscle tension and pain. Avoid the front of the neck, and focus on the back and sides. Use rather soft attachments and gentle speed settings (especially at the beginning).
Which area of the neck should not be massaged?
Do not massage the front of your neck. Focus on the back and shoulders, particularly the upper trapezius muscles. Be gentle and use light pressure with softer attachment heads.
Which attachment is best for neck massage with a massage gun?
There is no one answer, as the optimal attachment varies by preference. Many prefer softer attachments or fork attachments for difficult spots. Experiment with various attachments to find the best fit for you.
Can a Theragun be safely used on the neck?
Of course it can be safe, if used properly. Apply controlled pressure, gently glide the Theragun over the back of the neck, and consider using soft attachments for a gentler experience.
Take care!
Was this article helpful?
Your feedback makes our content better!
Thanks for your feedback!
Post Update History
Here's a quick rundown of all the tweaks and edits we've made to this article to keep it accurate and up-to-date!
Current version last updated on:
April 16, 2023 A FAQ section has been added, addressing the use of massage guns on the neck. (Author: Luke)
April 6, 2022 Medically reviewed by Dr. Alex Stone, DPT, CSCS.
•
Written by:
Greg Szostak
Disclaimers
The views and opinions expressed on this website are those of the authors. Any content provided by our bloggers or authors are of their opinion and are not intended to malign any religion, ethnic group, club, organization, company, individual or anyone or anything.
All product names, logos, and brands are property of their respective owners. All company, product and service names used in this website are for identification purposes only. Use of these names, logos, and brands does not imply endorsement.
It is our policy to make every effort to respect the copyrights of outside parties. If you believe that your copyright has been misused, please provide us with a message stating your position and we will endeavor to correct any misuse immediately.
Some of the links in this post are affiliate links. As an Amazon Associate, we earn from qualifying purchases. This means if you click on the link and purchase the item, we may receive an affiliate commission, at no extra cost to you. This helps us keep this website alive. Learn more here.
Amazon Disclosure
massagegunadvice.com is a participant in the Amazon Services LLC Associates Program, an affiliate advertising program designed to provide a means for sites to earn advertising fees by advertising and linking to Amazon.com. As an Amazon Associate, we earn from qualifying purchases. Amazon and the Amazon logo are trademarks of Amazon.com, Inc. or its affiliates. Please refer to our Privacy & Affiliate Policy for details.