Lifepro Sonic Review – An Oldie Goldie That Packs a Punch!
What to Know: We independently review products we recommend. If you click on links we provide, we may earn a commission. Learn more.
---
Welcome to this Lifepro Sonic review. This is a rather interesting review for a few reasons.
First, this is not a new massage gun. The Lifepro Sonic has been on the market for a while. Even so, it's still a pretty strong device.
Also, we are writing this review based on what we know about the massage gun market in 2022. We have always loved Lifepro and their top-tier massage guns. Even though many aren't premium, they can do a decent job.
The third reason we are choosing to review this product today is that it's the only massage gun under $100 with a lifetime warranty.
However, there are other decent alternatives that we list in this review.
CYBER MONDAY
Score 20% off at Lifepro and get a FREE Massage Gun on orders over $100. The promo will be applied automatically at the checkout. Browse all the deals now!
---
---
Lifepro Sonic Review
Lifepro Sonic Specifications

Feature
Lifepro Sonic
Stall Force
~40 lbs (advertised 70lbs)
Stroke Length
10.5 mm (advertised 12mm)
Weight
2.5 lbs
Speed options
5 / 1200-2700 ppm
(advertised max 3000 ppm)
Noise
49 – 66 dB
Battery Life
2600mAh / 2-4 hours (removable)
Number of Attachments
8
Warranty
Lifetime
Pros
good stall force
good accessories
removable battery
lifetime warranty
Cons
old design
noisy at high speeds.
weight above average
Our Rating
3.8/5
Price
$179.99 $129.99
Use code

MGA10

to get 10% OFF
Lifepro Sonic Specifications
---
First Impressions
Lifepro devices always come with a carrying case, and this one is no exception. Even though it's not the sleekest case you'll ever see, it's better than none at all. Everything fits nicely inside the case.
The device itself is T-shaped. This type of design is generic and rather boring today. But this is not a 2022 massage gun, so bear with the manufacturer. But the standard design has a nice twist to it; it has a long slim handle. The gun itself isn't as small as some of the other full-sized devices we have seen before, but it's far from bulky.
But a few features make it look really out of place in the 2022 market. For instance, the on and off switch is located at the back of the panel. There is also the matter of the speed being indicated as Hz (a bit geeky) rather than RPM.
But the controls are fun. The main button is located underneath the main panel and makes using it feel like pulling a pistol's trigger. This is the same setup we saw with the older Hypervolt Go.
Talking of looking like an old model, this one isn't as old as, say, the very early Theraguns or the Vybe V2 (which still sells, by the way). Those looked like power tools with their rough designs. This one is slightly more modern-looking compared to those.
However, if you have seen massage guns for a while (like we have), you will notice that the Sonic doesn't look modern – at least not by 2022 standards.
You can choose from four colors: black, blue, red, and silver. The build quality is good. It looks and feels sturdy. We love the rubber parts, but the plastic parts could do with an injection of quality.
---
Weight and Ergonomics
This is a full-sized device that looks rather large. We'd say the long handle makes it look tall and somewhat bulky. It measures 9.84 inches tall, 2.64 inches thick, and 8 inches long with the flat attachment mounted. It weighs 2.2 pounds with a flat attachment. The weight is certainly standard considering how large this device looks.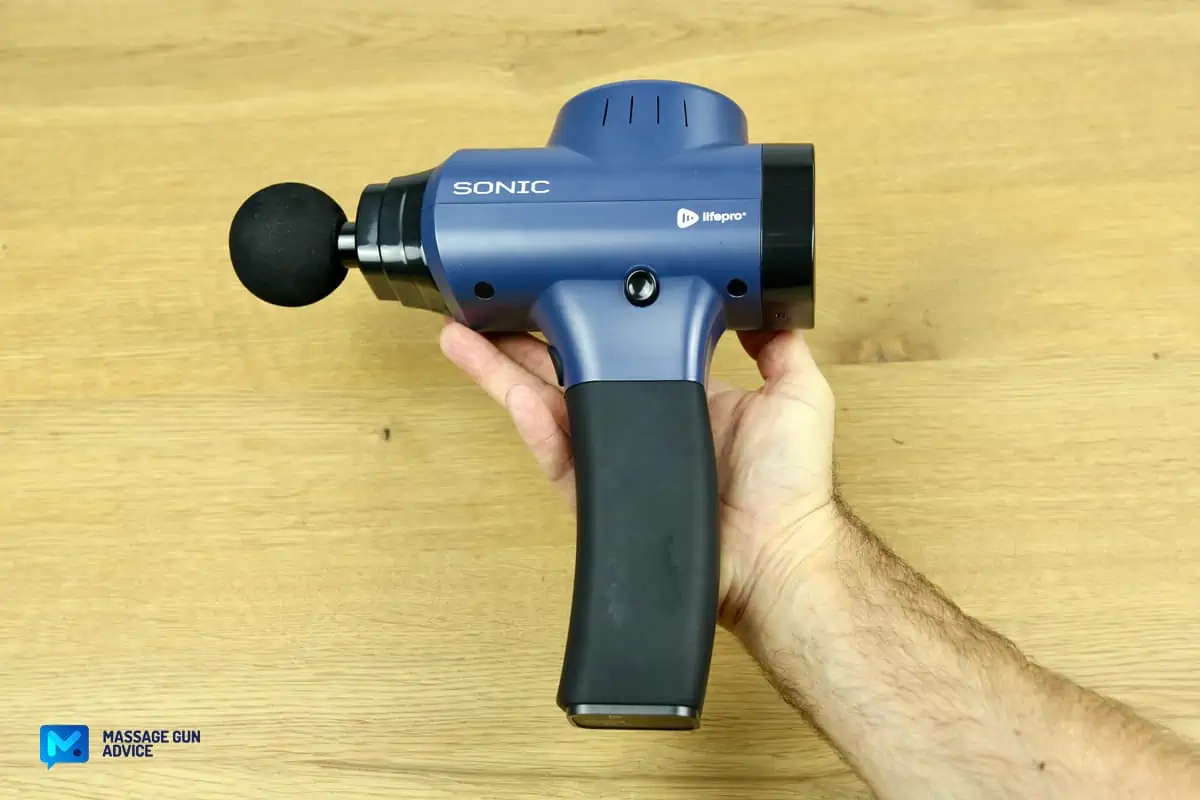 By just looking at it, you can tell the ergonomics aren't that great. If you are like us, you will prefer an angled handle or something that isn't straight.
But this one is straight and long. But it's slim too, so that somewhat remedies the situation. You'll still have a firm grip because of the square-shaped handle.
It's a long handle, so you will have a few different ways of holding the device. Another good thing about a long handle is you can easily reach your back (especially the lower back).
We like that Lifepro added plenty of rubber on the handle to improve the grip. But there are cons to how the handle is set up. The speed setting button is located at a fun place (it feels like you are pulling a trigger on a pistol), but it's also prone to accidental pressing. An accidental press will stop the device if you are at the highest setting. However, this will only happen when you are holding the device at the top.
---
Attachments
The device comes with 8 attachments. This looks awesome at first, but if you carefully examine the attachments, you will notice some aren't needed.
For instance, there are 3 heads that feel the same. These are the finger tip, the bullet, and the pointer. They are all good for trigger points.
The same goes for the two flat heads; the texture flat and the large flat. What is even more interesting is the surface area of these two looks rather small. We know guns that have bigger flat heads – check out Ekrin and Opove.
That said, for a sub-$100 massage gun, it still feels like a good value set.
---
Performance
Let us see how this Lifepro Sonic percussion massager performs.
---
Amplitude
It's the distance traveled by the massage gun tip as it percusses.
Lifepro advertises 12mm for this gun. However, we measured it and recorded 10.5mm. So, about a 1.5mm exaggeration, but it's still on par with many other devices. This stroke length will deliver a percussive massage but will not be as punchy as Opove's 12mm or Theragun's 16mm.
It also means that the treatment you receive will not be aggressive. However, it will be good enough to relieve muscle soreness, help with lymphatic drainage, and massage most muscles.
However, you will not get a Theragun-like experience. The low amplitude will not hit deep into the muscle or be effective on large muscle groups. You will need a high amplitude gun such as Opove with its 12mm amplitude, Theraguns with 16mm, or Hypervolt 2 Pro with its 14mm amplitude.
---
Stall Force
Stall force is the device's ability to withstand some pressure. It often complements the amplitude.
The advertised figure (70lbs.) here is overstated. However, we estimate it's about 40lbs.
That is still top-notch. Not many devices have such a strong stall force at this price point. The 40lbs. of stall force is good enough to allow a lot of pressure to be applied during a massage. Even lower speeds will allow you to apply some pressure.
Lifepro devices have this great feature that makes the device accelerate when pressure is applied. What you get with a device like this is, instead of the device bouncing off the muscle, it pulsates into it.
This is a well-balanced stall force that will suit most folks. Even with the somewhat low amplitude, you can still massage away the soreness and relieve muscle tightness.
---
Percussion
We're used to denoting percussions are revolutions per minute (RPM). But Lifepro does it differently for this massage gun; they use Hz instead. So the advertised percussions are 25Hz or 1200RPM to 50Hz or 3000RPM.
We used our laser tachometer to measure the percussions just to be sure. We recorded 1200RPM for the first speed and 2700RPM for the 5th speed. That is about 300RPM missing for the last speed setting, but this is not a huge discrepancy, so we'll let it fly.
So what you are getting here is good enough percussions to go with the other performance aspects. We think this is an okay setup. The top percussions are better than some modern devices we have seen.
Examples include Aura Revive and Sharper Image. It also revs faster than Opove M3 Pro 2, even though the Opove has a 12mm amplitude. Even Theraguns only do up to 2400RPM but have a 16mm stroke length.
---
Noise
This is not the quietest gun out there, but it won't disturb your peace when you're using it. For a 2019 gadget, it's reasonably quiet. You can watch TV as you massage without raising the TV volume.
Sometimes it gets noisy when you press it against your body. You will also hear some rattling and creaking around the attachment. The dB rating says 49-66dB, but that's only what the motor emits.
If you add the noise from the head, it could be 2-3 more decibels.
You will feel some vibrations in the holding hand. The rubber on the handle should help to mitigate the problem.
---
Battery
The battery is removable. It's probably the only gun at this price point with a removable battery. The downside is that the charging port is on the device not the battery. This means you can't use one when the other is charging.
The battery capacity is 2600mAh – which is the normal capacity for a full-sized device. You should get 2-4 hours of operation. There are 5 LEDs that indicate the charge level on the back panel. There is a wall charger included.
---
Warranty
You get a lifetime warranty from Lifepro. All their massage guns have a lifetime warranty. There is also a 30-day money-back guarantee and friendly customer support – Lifepro is a proven brand.
---
Price, and, is it Worth it?
Before, it sold for over $200, but now it goes for $116.99 at lifeprofitness.com (use the MGA10 code to activate the 10% discount).
With this gun, you are getting good value for money even though it's not the latest hardware. But here are some other alternatives worth looking at.
---
Best Lifepro Sonic Alternatives
---
Opove M3 Pro Max 2 – Better Performance and Quieter
Unlike the Lifepro Sonic, this one is the latest tech that recently came out. It's slightly better in some aspects compared to the Sonic.
For starters, it has a 12mm amplitude that we confirmed using our digital caliper. It also has a similar stall force as the Lifepro Sonic. This makes it a better true percussive device.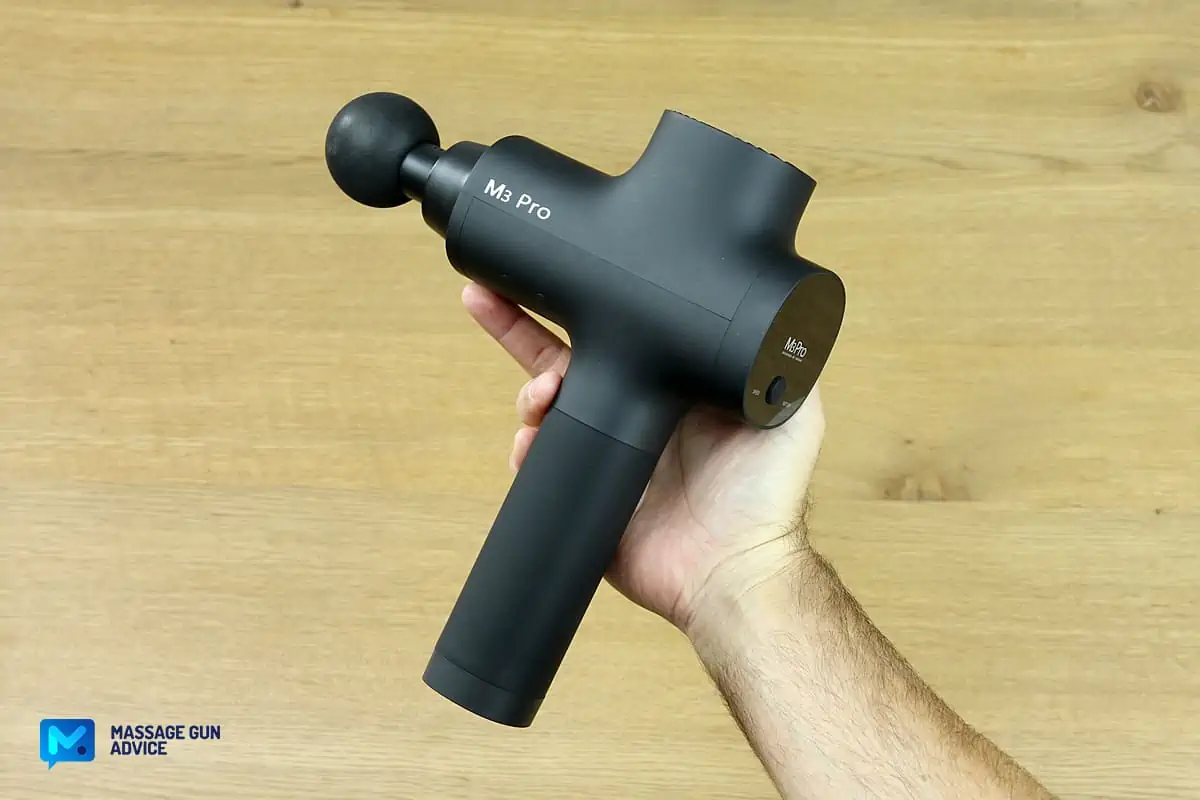 The combination of a high stroke length and good stall force allows it to hit deep into even larger muscles. It comes with 5 speeds even though it has a slightly lower percussion range compared to the Lifepro Sonic.
It's quieter than the Sonic – one of the quietest devices out there. It's made with better materials. It also has high-quality attachments that are more varied, including a soft one for massaging bony and tender areas.
You can buy it for $119 at Opove.com.
Unlike the Lifepro device, which has a lifetime warranty, this one comes with a 1-year warranty. Even so, Opove will answer any questions you may have. They are a reputable brand.
Read More Our in-depth Opove M3 Pro review.
---
Urikar Pro 2 – An Affordable Heated Massage Gun
The Urikar Pro 2 gun is not just affordable, it comes with one of the coolest features a massage gun can have; a heated ceramic attachment for a hot massage.
A heated massage is effective when you are trying to relieve pain in the muscle. It's also helpful when you are rehabilitating an injured area.
It weighs the same as the Sonic but has better ergonomics. Instead of a long straight handle, it has an adjustable handle that holds better.
However, it doesn't have as much stall force as the Lifepro Sonic percussion massager. But it has 12mm amplitude. It's probably the only under $100 massage gun with a 12mm amplitude.
Apart from the heated massage feature, it has massage modes with dynamic speeds. It comes with 6 attachments that are well-varied, including a squishy one for massaging tender and bony areas.
With the code PRO2, you can get it for $93.5 – the price is almost cut in half. This is a great deal if you don't mind a somewhat weak stall force.
Read More Our full Urikar Pro 2 review.
---
Lifepro Sonic Review – Closing Thoughts
We wrap up our Lifepro Sonic review with a few points. This is an oldie goldie device with a lot to offer.
You can use it for pre and post-workout massage. It will also help to relieve pain and improve blood circulation. Even if you are irked by the old design, you won't be disappointed with the power it carries.
We still believe the latest devices have a bit more to offer, but none can match Lifepro's lifetime warranty.
---
Quality

Effectiveness

Usability

Accessories

Price Value
Summary
An oldie goldie that is a sight for sore eyes (perhaps literally) but with decent performance features. It's also the only cheap massage gun with a lifetime warranty.
Was this article helpful?
Thanks for your feedback!
Post Update History
Here's a quick rundown of all the tweaks and edits we've made to this article to keep it accurate and up-to-date!
Current version last updated on:
•
Written by:
Greg Szostak
Disclaimers
The views and opinions expressed on this website are those of the authors. Any content provided by our bloggers or authors are of their opinion and are not intended to malign any religion, ethnic group, club, organization, company, individual or anyone or anything.
All product names, logos, and brands are property of their respective owners. All company, product and service names used in this website are for identification purposes only. Use of these names, logos, and brands does not imply endorsement.
It is our policy to make every effort to respect the copyrights of outside parties. If you believe that your copyright has been misused, please provide us with a message stating your position and we will endeavor to correct any misuse immediately.
Some of the links in this post are affiliate links. As an Amazon Associate, we earn from qualifying purchases. This means if you click on the link and purchase the item, we may receive an affiliate commission, at no extra cost to you. This helps us keep this website alive. Learn more here.
Amazon Disclosure
massagegunadvice.com is a participant in the Amazon Services LLC Associates Program, an affiliate advertising program designed to provide a means for sites to earn advertising fees by advertising and linking to Amazon.com. As an Amazon Associate, we earn from qualifying purchases. Amazon and the Amazon logo are trademarks of Amazon.com, Inc. or its affiliates. Please refer to our Privacy & Affiliate Policy for details.