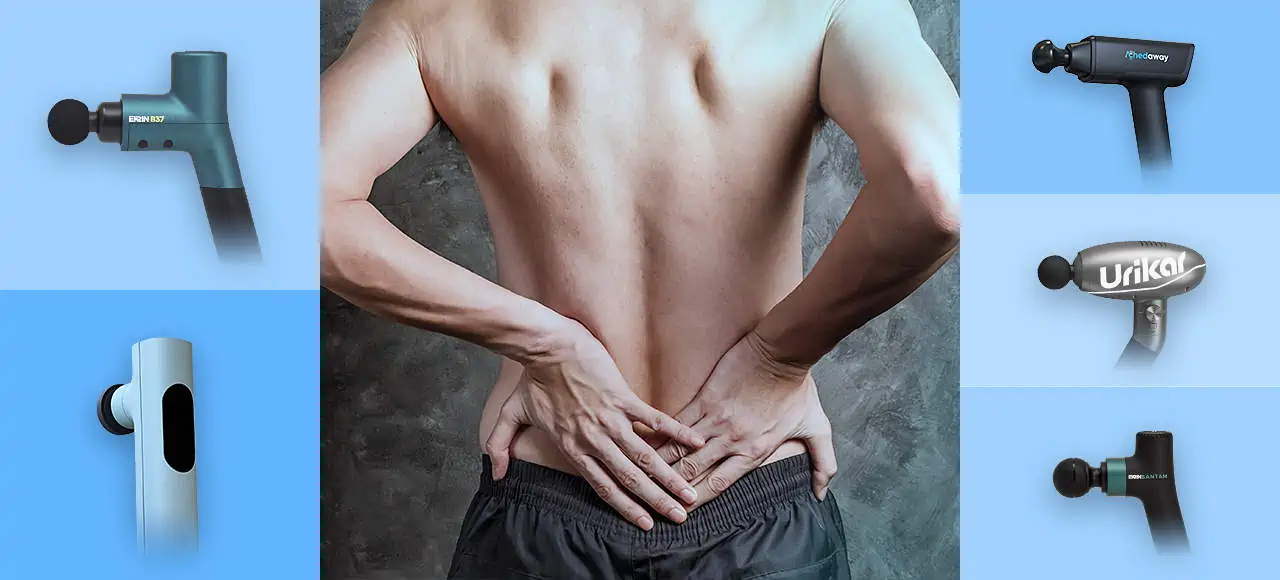 Best Massage Gun For Back Pain – Our Top Picks, Hands-on Reviewed
What To Know: our content is non-sponsored and fact-checked for accuracy. We anonymously order and rigorously test each product according to our methodology. We are reader-supported, and if you buy via our links, we may earn a commission. Learn more.
---
Welcome to our best massage gun for back pain post.
We recently talked in-depth about if and how massage guns are good for back pain. Today we will recommend devices. We will look at what you should look for in a massage gun if you want to use them for your back pain.
We will tell you why we believe Ekrin B37 is the best massage gun for back pain and why you should probably go with Ekrin Bantam if you like mini massage guns.
We will also talk about other alternatives and why you should choose them. Every device recommended here has been tested for months.
Let's roll.
---
---
Why Trust Our Advice and a Disclaimer
We are massage gun consumers who have had a lot of experience using them. We review every product we buy after using them on ourselves.
This post is not a medical advice though, and we encourage you to consult with your doctor prior to using massage guns on your back.
Rest assured, we made sure that the all information provided here have been reviewed and fact-checked for accuracy by one of our experts.
---
How to Choose a Massage Gun for Back Pain
We understand how uncomfortable it can get with back pain. While there may be many reasons for the discomfort, massage guns are a worthy choice for muscular problems that cause back pain.
But you have to choose the right device with the right features for your problem. Not all massage guns will be good for your back pain.
When we talk about massage guns for large muscle groups, we typically pay attention to stroke length (amplitude), stall force, and percussions.
But, for back pain, power doesn't necessarily have to come first.
For example, you will probably need a gun with good ergonomics, easy to use, and then how much power you can get from it.
So let's look at these aspects in detail.
---
Ergonomics is Key
Here we have to pay attention to the length of the handle. The most notorious back problems affect the lower back. You want to get a massage gun that you can comfortably use on your back.
We also understand that some people (those with large body mass and the elderly) may find it hard to easily use a massage gun on their backs. For this reason, we don't believe the regular T-shaped massage guns are suitable for back pain.
Those are no longer the only guns available. Over the past 2 years, we have seen brands reinvent the shape of a massage gun.
In this guide, we recommend devices that have changed the conventional straight handle into something a bit more ergonomic. Such devices make massaging your back easier.
Some of these include Theragun's multi-grip approach, Ekrin's angled handle (Ekrin B37), the clever handle extension on the Lyric massage gun, and the smart 180-degree rotation on the Urikar Pro 2.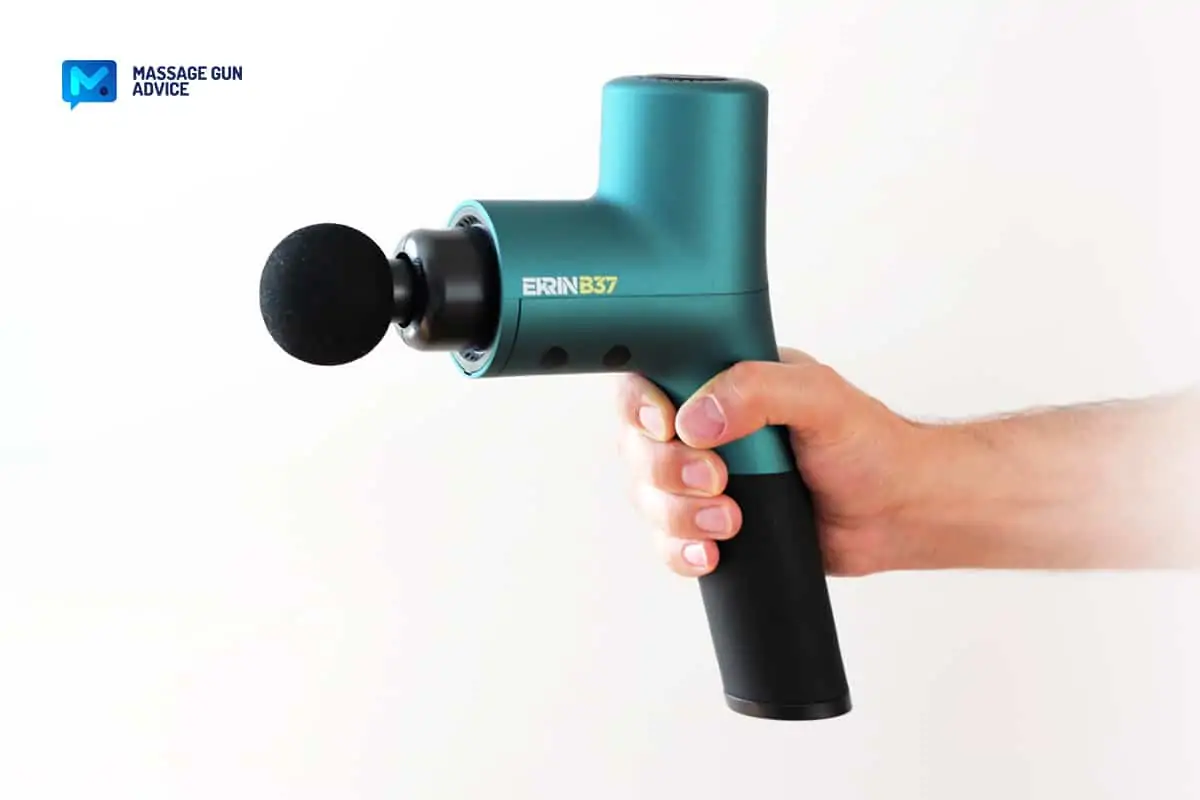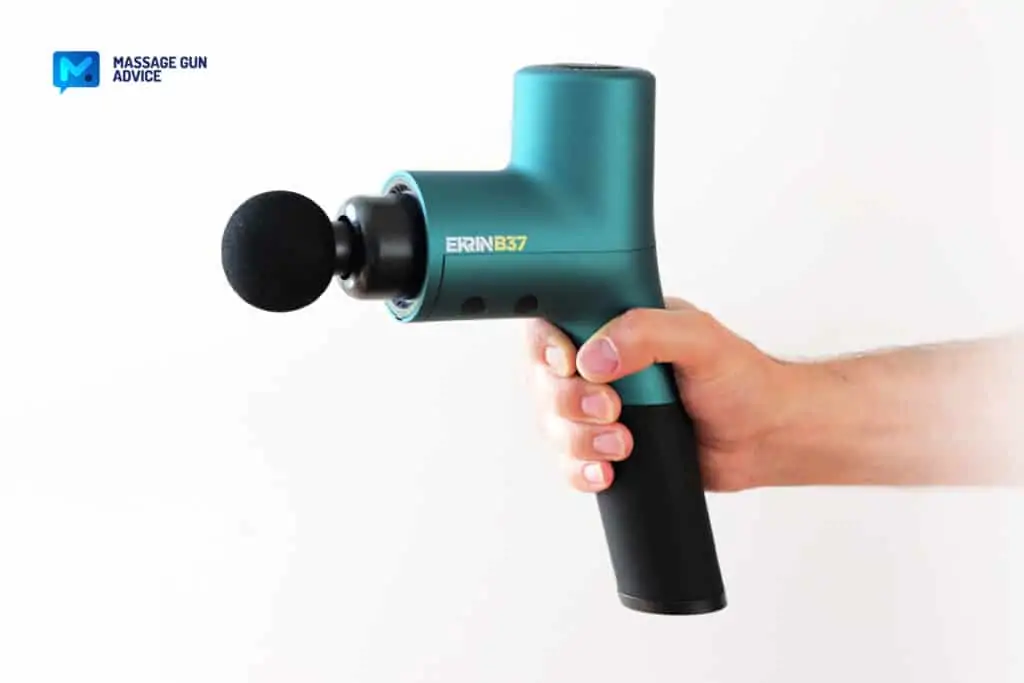 In the same line of trying to reach all areas of your back, it's important to watch how much the device weighs. Trying to maneuver 3lbs. of a power-drill-like machine on your back isn't going to be comfortable.
For that reason, we made sure only to include light devices – ideally 2.2-2.3 pounds or lower.
Achedaway Pro might be heavier than that but there's a good reason we included it. We'll talk about that when we get to it.
---
Power Also Matters
It should be powerful enough to massage all body parts – even large muscle groups. Like we have said, you probably won't need that much power to massage away your back pain.
However, massage guns are not cheap, and it's worth investing in one that is versatile enough to be used on the rest of your body as well.
There is also the case of lower back pain – in particular when massaging the lumbar spine. Therapists recommend massaging the hip area and the upper leg muscles like the hamstring. You will need more power to massage those areas effectively.
We often define massage gun power using stroke length/amplitude, stall force, and percussions per minute. Here's what they mean and what you should take into consideration.
---
Stroke Length / Amplitude
Stroke length is the distance the massage gun head travels as it percusses.
Here, there are two main approaches:
High amplitude devices: These devices are known for their high amplitude (often 14-16mm long). They offer more muscle penetration. Their intensity comes from the hard hits rather than the percussions. They percuss slower and have a small percussion range. They include Theragun devices and Hypervolt 2 Pro.
Low amplitude devices: These are more vibrational than percussive. Their strength comes from the many percussions per minute. They have a wide percussion range but a short amplitude (often less than 10mm). They include devices such as Lyric and Ekrin Bantam. In the same category, we can also mention medium amplitude devices in this category. They are somewhere in between, with 10-13mm amplitude. They include Ekrin devices, Hypervolt 1 and Hypervolt 2.
Stroke Length Comparison of Our Recommended Devices
Note that all values are actual and have been measured by us.
When treating back pain, does the amplitude of a device matter? Not entirely. All categories can do the job just fine. Muscles in your back aren't as big as the muscles in your upper legs – hamstrings and glutes.
However, not that different devices will feel different on your skin when you are massaging. It's very important to know this before deciding what category of devices to go with.
Some people prefer deep hits, while others prefer shallow but fast hits. Sometimes it comes down to personal preference.
Our advice

If you're not sure, go for something with a medium amplitude. We often refer to this as the "sweet spot." That means the hits won't be too hard or too weak. That is why we have Ekrin B37 as our top recommendation. It's perfectly balanced; the same goes for Urikar Pro 2.

If you'd rather have harder hits – Theragun-like approach, we advise going for something slightly more affordable like Achedaway Pro – our second pick. It's a high amplitude device, just like Theragun and Hypervolt 2 Pro, but way more affordable.
---
Stall Force
Stall force is the amount of pressure a device can withstand when pressed against the body.
Enough stall force in a device allows for deeper muscle penetration as you massage. But do you need a lot of stall force for the upper and lower back?
The mid-back and the upper back do not have large muscle groups. For this reason, you probably won't have to press the device hard against the skin. These areas often only require you to glide the massage gun over – the massage should be delicate, especially around the spine.
However, for the lower back, where you also have to treat adjacent muscles (in the case of sciatica), like the hip area, hamstrings and down to the calves and foot, you will need stall force. You should probably get a device that isn't easy to stall for the lower back massage.
Our advise

Because you will need to massage your lower back – including adjacent large muscle groups – we recommend getting a versatile gun. One that won't stall easily when massaging those large muscle group areas. Get a device that can withstand up to 30-40lbs. of stall force.
However, keep in mind that a device with 40lbs. of stall force will only be that powerful at top speed. Lower speed gears have a low stall force as well. That is why you have to stay away from cheap devices that don't have much power.
A gun with enough stall force will work better than a weak gun when you want a slow but percussive massage. That is why we picked only the best guns in terms of power for our post.
Massage Guns for Back Pain – Stall Force Comparison
We estimate stall force by comparing every device we test to 2-3 benchmark devices.
---
Percussions and Speeds
From our experience, most high amplitude devices only rev up to 2300RPM or 2700RPM. For lower amplitude devices, the percussion range is often 1800-3200. That is the typical range for devices from top brands that manufacture top-quality devices.
However, we have seen some good devices that can rev up to 4600RPM. The only thing is that these are highly vibrational. In other words, you are getting a device with an amplitude lower than 10mm. A good example is the Lyric Massager.
Apart from such devices, many devices that go beyond 3400RPM either have very low amplitude or the manufacturer overstated the percussion range. In our experience, a device is either high amplitude or high frequency and rarely both.
In terms of the speed gears setup, many good devices have 3 to 6 speeds. The optimal setup is often 4-5 speeds. However, we've seen good devices that have over 9 speeds (like Lifepro DynaFlex, for instance).
But there are devices with 20-30 speeds. That's way too many for anyone's liking.
Some devices have pre-programmed speeds for massaging certain areas – including the upper and lower back. This kind of setup is awesome to expedite the learning curve but probably not a must-have feature.
---
Other Criteria
We also look at other features, including:
Noise: Nobody wants an extremely noisy device, especially when massaging your upper back that's close to your head. Most massage guns are quiet, especially at lower speeds. However, some are quieter than others – we gave priority to the more hushed ones.
Number of attachments: We believe 4 or 5 attachments are enough for massaging the whole body. There are special attachments to massage the lower back and sensitive or painful areas like the cushioned or super-soft attachments. Some devices promise up to 20 attachments. From our experience, this is more of a marketing ploy than anything useful. Most of those are repeated attachments with minor alterations that don't make a difference.
Battery capacity and time on battery: Many guns today can keep the charge for 1-2 weeks depending on how you use them. Bigger batteries only increase the overall weight of the device, which could affect maneuverability.
Warranty offered: Most cheap brands offer a 1-year warranty or nothing at all. We love brands that can stand behind their products with a lifetime warranty.
Special features: We love brands that include special attachments like heated and cold therapy attachments.
Overall value for the money: Why overpay when you can get something similar or better at a better price.
---
Best Massage Guns for Back Pain – Our Picks, Explained
---
Ekrin B37 – Best Massage Gun For Lower Back Pain
This medium amplitude massage gun is probably one of the most versatile percussion massagers. Ekrin designed it so perfectly it has to be the top best massager for back pain – especially lower back pain. There are several reasons why…
Superb Ergonomics
Ekrin B37 is one of the few massage guns with an angled handle. When everyone else was designing a T-shaped gun, Ekrin thought of a different approach.
The angled handle adds about an inch or two. This makes it easier to reach the lower back. The approach also allows for a more natural grip, which reduces wrist tension and further reduces arm fatigue.
It's also very easy to maneuver since it only weighs 2.2 pounds.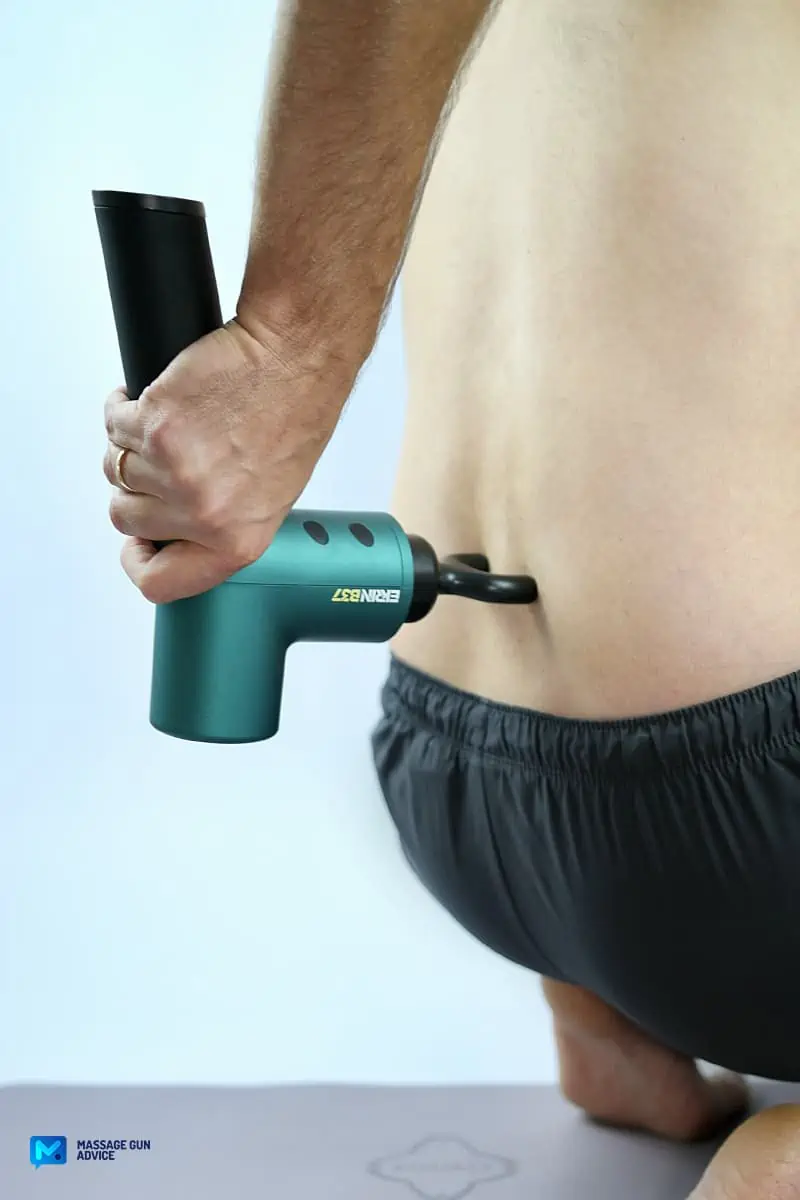 Perfectly Balanced Power
The medium stroke length falls perfectly within our "sweet spot" category. With 10mm amplitude, it won't be as punchy as a Theragun or Achedaway Pro. It's also not as vibrational as Lyric, making it a perfect all-rounder.
But the standout power feature is its stall force. This gun has 56lbs. of stall force – more than enough to massage the lower back and the surrounding large muscle areas (hip, buttocks, and hamstrings).
And, it's not just the stall force on the highest gear that is impressive, lower gears have enough power as well. When you want a slow but deep massage, this gun can offer it.
The percussion range is 1400-3200RPM. That is a wide range that can be very beneficial for massaging the whole body. There are 5 speeds to go with that range. You can have both a slow, soothing massage as well as an intensive one.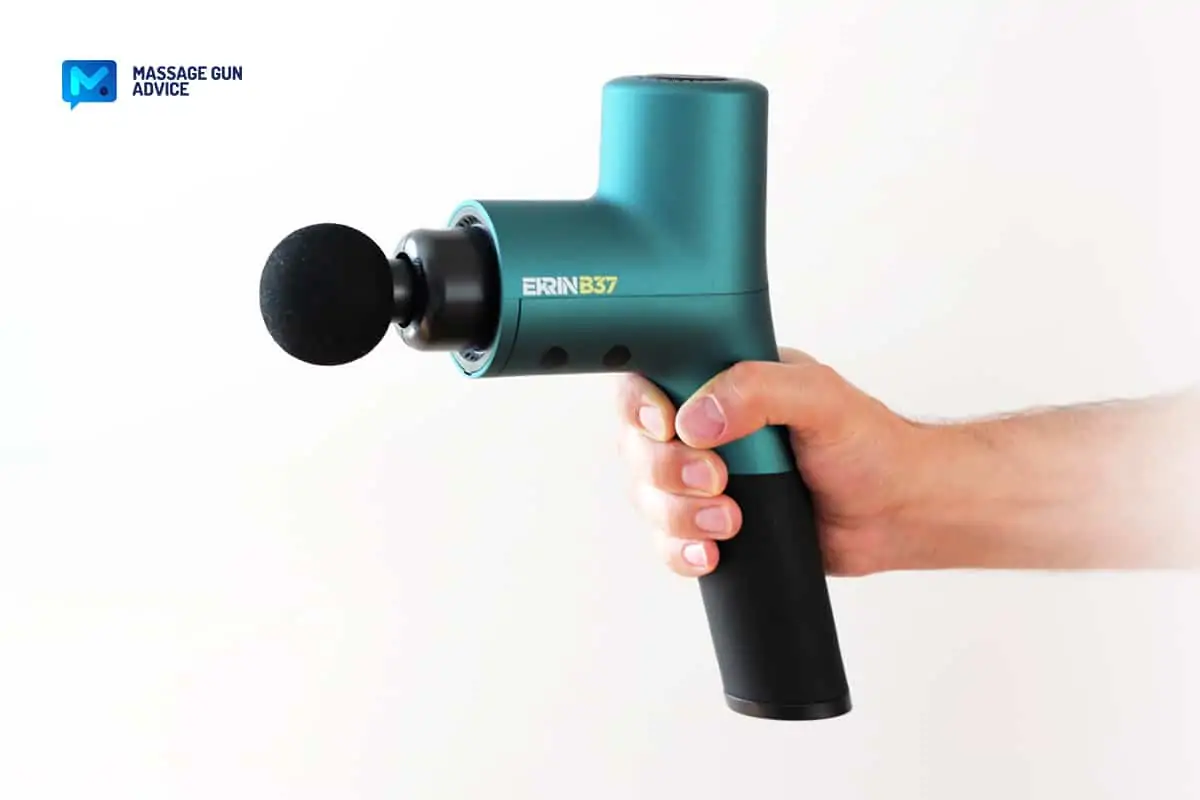 Reliability and Premium Feel
Ekrin is a trusted American brand with a high reputation among massage gun consumers. They have sold thousands of their devices.
We have used Ekrin B37 for a whole year now and it has shown no signs of slowing down. We suspect that is why Ekrin has a lifetime warranty for all their products – they have total confidence in their guns.
We also like the excellent build – the device feels premium in hand. Ekrin does not compromise on the quality of materials used. We'd say it gives Theraguns a run for their money.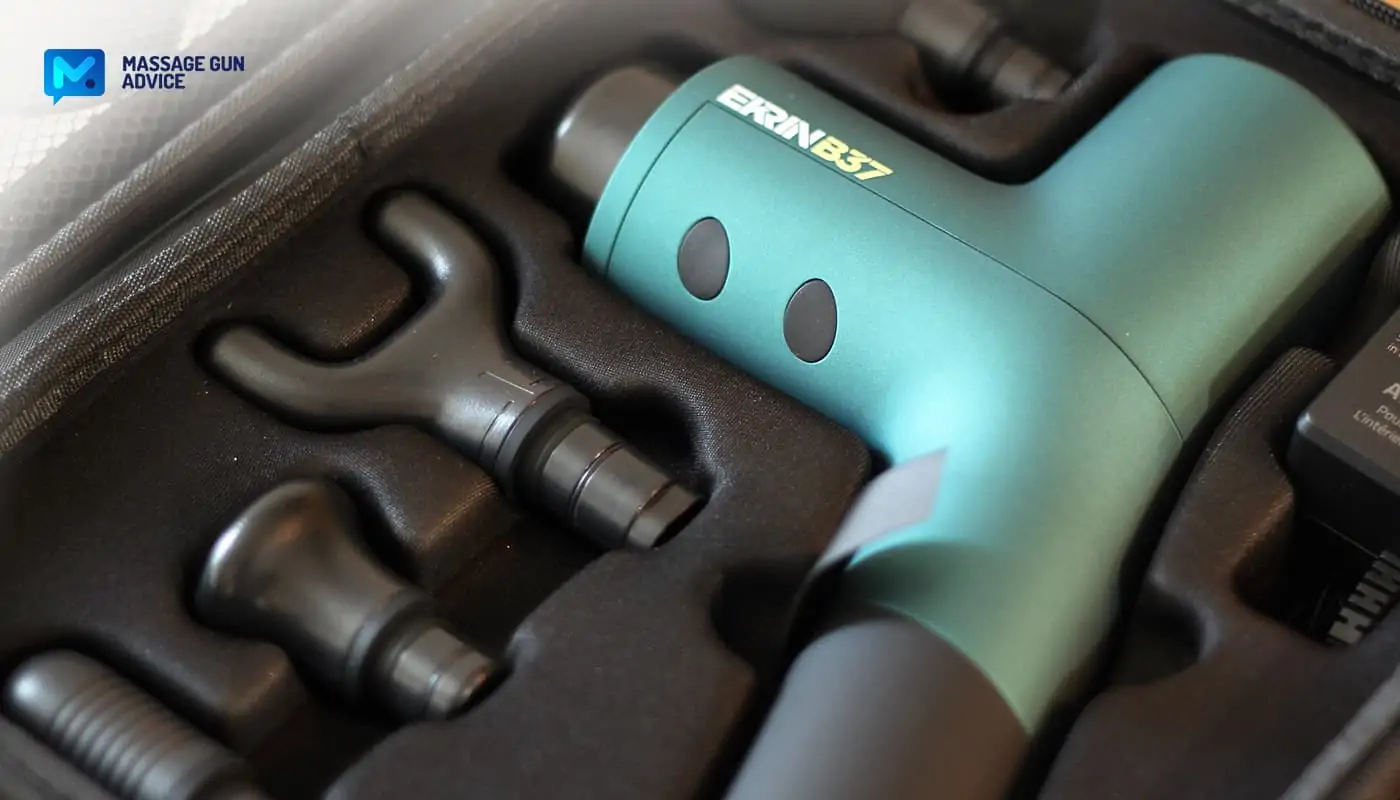 Great Battery Life
This is one of the few guns with an incredibly powerful battery. With a single charge it can go for a full week – even when using high speeds and applying some pressure.
4 Attachments Included – Good Variety and High Quality
It has a ball and flat attachments that will be perfect for massaging the lower back. The fork attachment is perfect for the spine area, and the bullet head can get rid of muscle knots.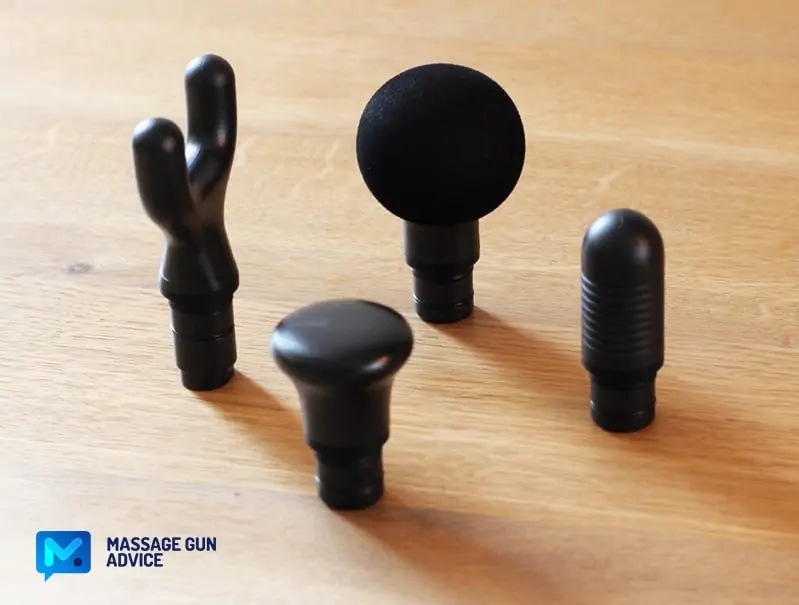 Quiet Massage Gun
Even at the highest speed, this gun is pretty quiet. It will not disturb a normal conversation.
Price
Ekrin Father's Day Sale
Enjoy 25% off the Ekrin B37 (now only $172.49) and any other Ekrin massager until June 18th. Use code MGADAD25 at checkout for the discounted price. Click here to claim your offer
It costs $229.99 if you buy it normally. However, you can apply the coupon MGA20 and get 20% off the normal price, making it $183.99. Buy it at here ekrinathletics.com
LEARN MORE Read our hands-on Ekrin B37 review for more information and close-up photos.
---
Achedaway Pro – A High Amplitude Option

Achedaway's main approach to massage guns is to help manage pain. Their name is derived from two words, "ached" and "away" – Ached-away!
Achedaway Pro is one of the physiotherapists and chiropractors' most used massage guns. But how does it compare to our top recommendation (Ekrin B37)?
For starters, it's slightly more expensive and has Theragun-like characteristics. If you are a demanding athlete or have huge muscles, or don't mind a punchy gun, this is your type of device for lower back pain.
But what are we looking at in terms of power here? Well, Achedaway Pro is slightly more powerful than our Ekrin B37 gun. In addition to a 16mm amplitude, it has a 60lbs. stall force – that's on par with Theragun Pro.
It has a percussion range of 1700-2800 – slightly lower than Ekrin B7, but that's because of the long stroke length.
We also love the 3200mAh capacity battery. However, it drains faster than the battery on Ekrin B37. You will get 2-4 hours for a continuous massage depending on the speed and pressure applied. If you plan to use it extensively, then you might consider getting one with a spare battery – you can charge one as you use the other.
It comes with 4 nice attachments. Two of them are coated with aluminum and feel really comfortable on the skin. The fork attachment is also good for the spine area.
Achedaway Pro is a large device and weighs 2.6 pounds. It comes with a 2-year warranty, which isn't better than Ekrin's lifetime but certainly better than Hypervolt and Theragun's.
It will normally cost you $299 to buy it, but with the MGA60 coupon, you can get $60 discount and get it for $239. That makes it slightly more expensive than Ekrin B37, but it's way cheaper than its counterpart – Theragun Pro.
LEARN MORE Read our hands-on Achedaway Pro Review for further details.
---
Lyric Massager – Best Massager For Upper Back Pain
Lyric is the new massager on the block! It's a unique massage gun that adopts a slightly different style. We loved it because it's not just stylish (the way it's designed), it's also quite effective in what it does.
It's not easy to tell whether this is a full-sized massage gun or a mini one. That's because it's very compact but has a long handle – which is awesome for DIY massage on your back.
Another reason this device may be classified as a mini is that it is vibrational rather than percussive. It's nowhere near our top recommendation Ekrin B37 and certainly far away from Achedaway Pro.
That is largely due to the miniature stroke length of just about 7mm. It's also advertised to have 4000RPM – highly vibrational.
What does this mean for back pain treatment? It means this massager can work on the upper and mid-back. However, for some people it may not be as effective for the lower back and adjacent muscles.
But you get a simple and nice massager with enough attachments to do the job. Their softest attachment is the cone attachment. You can remove trigger points using the thumb attachment. However, there's no fork attachment for the spine area.
You will like the built-in guided routines, with the "Pain Relief" therapy routine for your back pain.
It also has rhythmic vibrations to soothe and relax the muscles. They say it tries to mimic our body's natural rhythms – "combines touch and movement with vibroacoustic frequencies to stimulate the nervous system."
It's also Wi-fi-enabled and pre-programmed with modes for different parts of the body. An LCD at the back displays the instructions within the guided modes.
You get a 1-year warranty if you decide to buy it. Another reason why Ekrin B37 with its lifetime warranty remains a top pick thus far.
It goes for $199, more than Ekrin B37 but definitely a worthy consideration. Buy it at Amazon here.
---
Urikar Pro 2 – Heated Option, Most Affordable

This is perhaps the complete opposite of what the Lyric Massager is. It looks unique but not quite as stylish as the Lyric Massager. It has a rotating arm which we found quite useful when massaging the back. It's a large gun, so there's no confusing it with a mini massage gun.
But here's why we picked it. Urikar Pro introduces something that many massage guns do not have – heated therapy. Heat is proved to calm painful muscle spasms and speeds up the healing process. We talked about it in our post about heated massage gun recommendations.
So how does the heating work? The Urikar Pro 2 has a special ceramic-coated attachment that can be heated. It can warm up to 104-113 degrees Fahrenheit. We measured the temperature, and it was within the specified range.
How does the gun perform, though? Well, it has a 12mm amplitude, which is right within the "sweet spot" range. Urikar advertises it as 15mm, but our measurements gave us 12mm. That is a good stroke length if paired with enough stall force.
But the stall force is also overstated here. While Urikar advertises up to 50lbs. of stall force, our tests proved something different – it's probably about half the advertised value. It doesn't match what Ekrin B37 has to offer and certainly lags behind Achedaway Pro.
That said, this is still a worthy consideration given the heating element it offers.
It weighs about 2.2 pounds and comes with 8 attachments. Seven are regular, while one is the special heated one.
It's advertised to rev up to 3600RPM. However, our measurement gave us a range of 1040-2050RPM. That is still acceptable (given the longer stroke length) but still doesn't match Ekrin B37's 3200RPM.
It's not the quietest gun out there because it makes a creaking sound when pressed against the body – but you shouldn't expect anything more given how much it costs.
The materials used aren't as high-quality as Ekrin B37's. You will have to do with a 1-year warranty.
To buy it, you will part with $169.99 or use PRO2 and get it for $93.5, – a whopping 55% discount. Get it in Urikar's store here.
LEARN MORE Read our in-depth Urikar Pro 2 review.
---
Ekrin Bantam – Best Mini Massage Gun or Back Pain
We have confidence that this is the best mini massage gun for back pain. It's also probably the best mini on the market today. If you want a portable device on the go, this is it.
We have first-hand experience using this massage gun on our hiking trips. Bantam came to the rescue after carrying heavy backpacks for 12 hours or more. We would do one long session in the evening and sometime during the day to help with muscle fatigue. It always worked for us.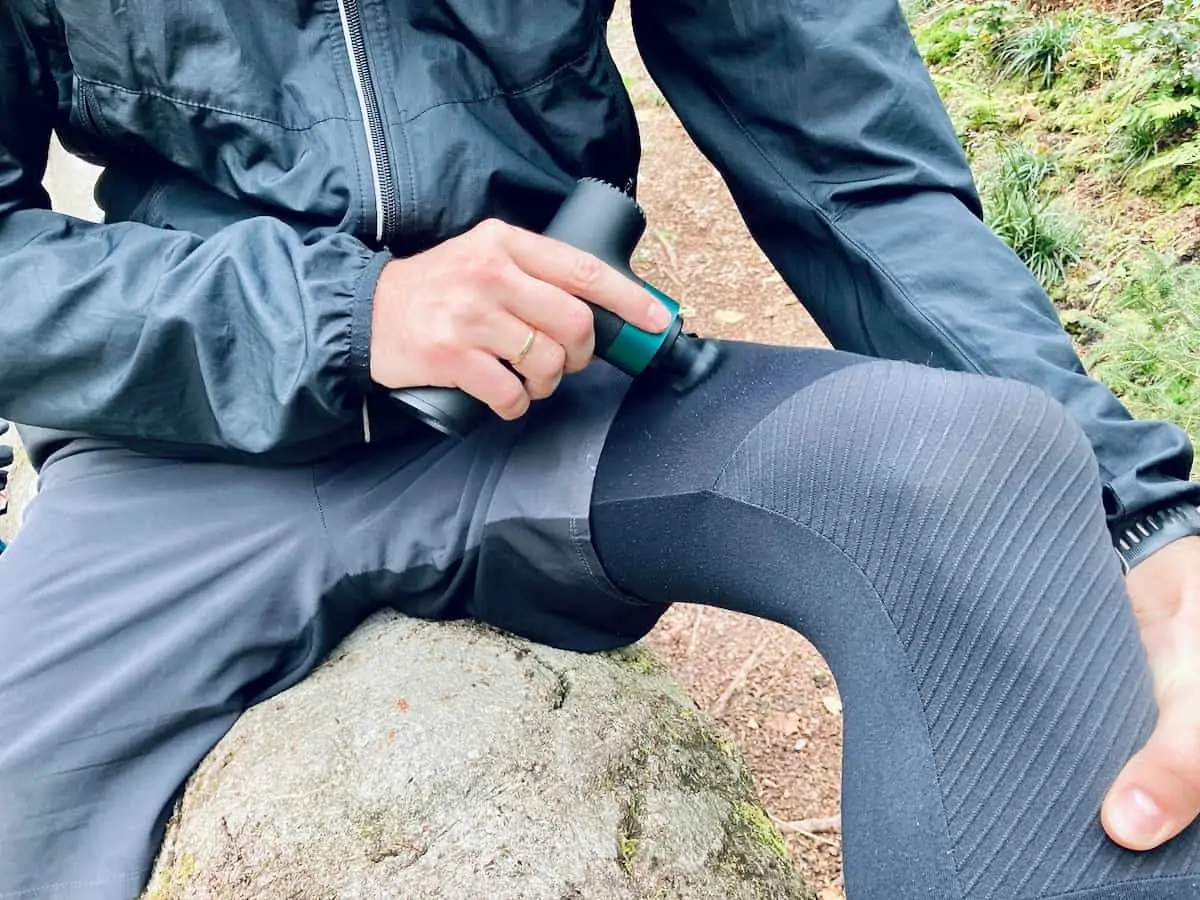 What Makes Bantam Great?
Bantam is a tiny massage gun that weighs about 1.1 pounds – it can easily fit in your jeans pocket. It's also surprisingly powerful for such a tiny gun. It has a stall force of 35lbs. and a 10mm amplitude, which is 30% better than the Lyric Massager.
Theragun Prime may have a 16mm amplitude, but the Bantam has more stall force and more power. It's also twice more powerful than the overhyped Hypervolt Go.
It has a decent percussion range of 2000-3200RPM. That is similar to what you get with Ekrin B37. You can press this tiny gun on your skin and it won't easily stall.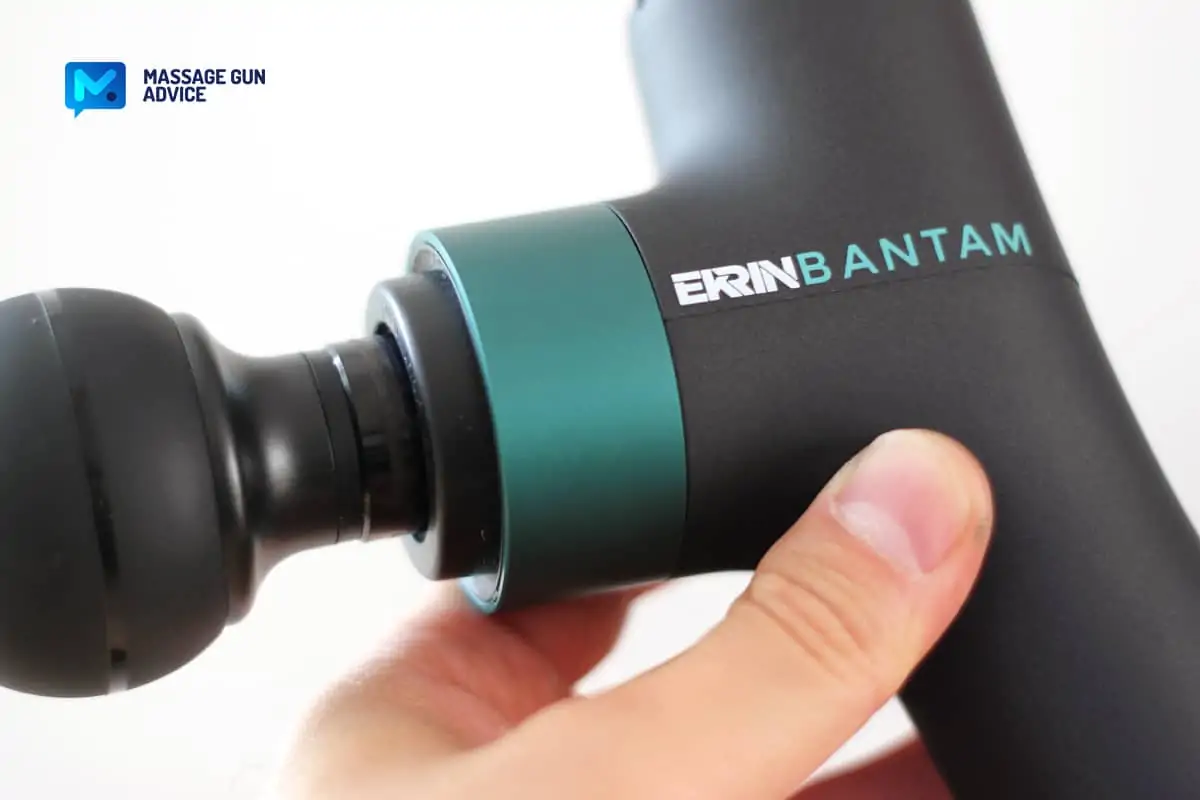 What Else?
The Bantam has the same angled handle as the parent device Ekrin B37, which is very comfortable to hold. It's a slim handle, making it easy to hold for folks with small hands.
It's also made with great materials and has been with us for a year now. You can expect 4 excellent attachments, including a large soft ball head.
It's also very quiet and produces no creaking sounds. This, in our opinion, is perhaps the only mini gun that can rival Theragun mini.
It comes with a lifetime warranty and goes for $149. However, if you use the coupon MGA20, you can get it for $119 – 20% off. Buy it at ekrinathletics.com
LEARN MORE Check out our Ekrin Bantam review to find out more.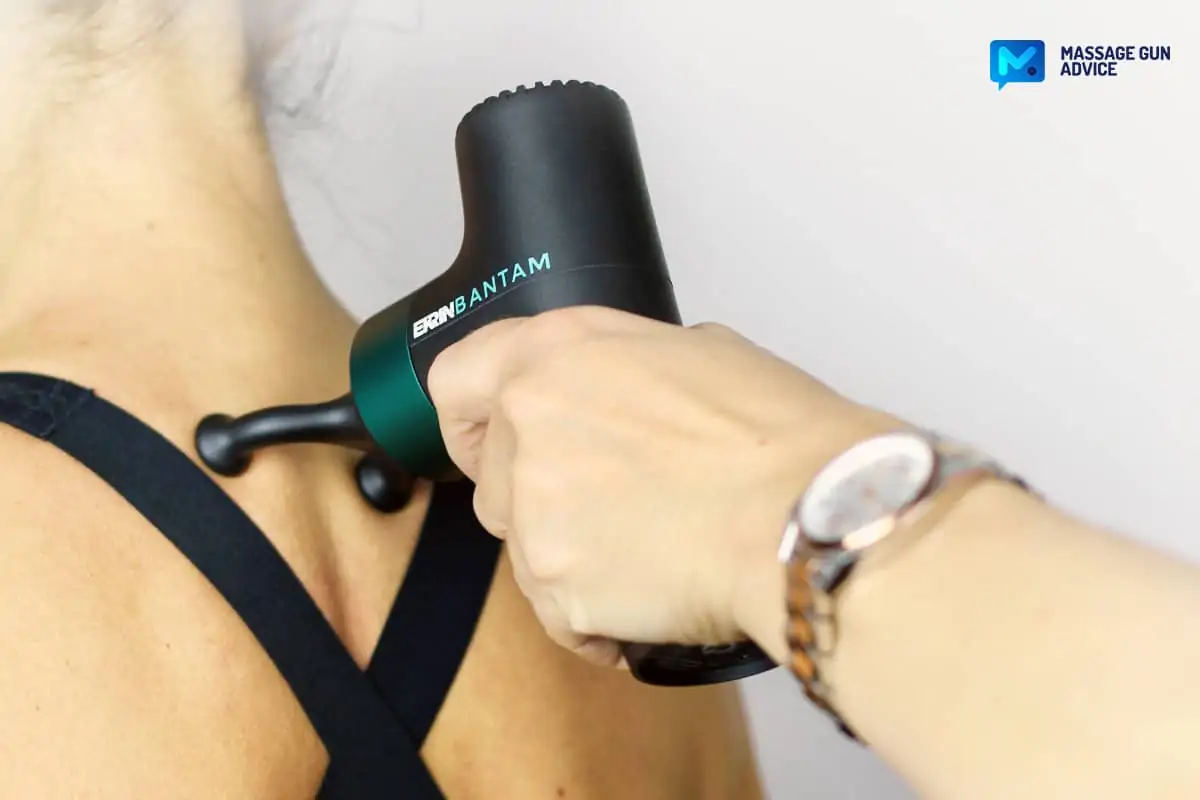 ---
Theragun For Back Pain – Which One To Choose
We owe a lot to Theragun. In fact, they started the whole percussion massagers industry.
Theraguns are high amplitude devices. All the full-sized devices have a 16mm amplitude – the highest in the business. That makes them the sure bet for deep percussion therapy – same as our second pick Achedaway Pro.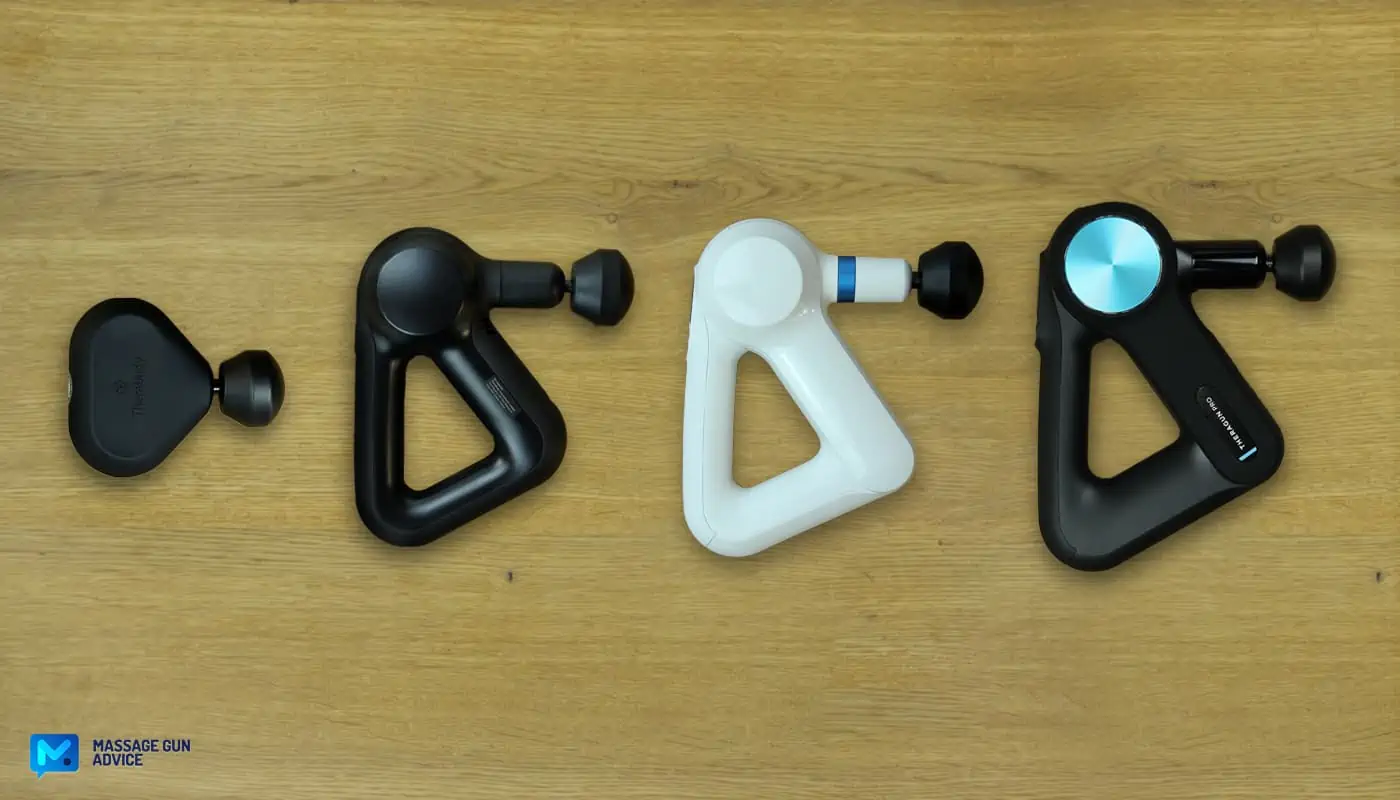 ---
Best Theragun For Upper Back
We suggest going for either Theragun mini or Theragun Prime.
Theragun mini
It's also the mini gun with the longest amplitude in the business. 12mm can do more than just vibrate over your upper back. For those who want a deep percussive massage on their upper back, it will do the job.
Theragun mini doesn't have much stall force – it will stall when 15-20lbs. of pressure are applied. That doesn't match what Ekrin Bantam can withstand. However, you can still use it on your upper back because you don't need to press it too hard against that part.
It's also the most portable Theragun weighing just 1.43 pounds. However, it comes with just one attachment – a ball head. You'll have to purchase others separately if you want.
Theragan mini cost $199 and you can get it directly at therabody.com
READ MORE Check our in-depth Theragun mini review.
Theragun Prime
Theragun Prime, on the other hand, is a full-sized device. However, it's smaller than both Elite and Pro.
It has a stall force of about 30lbs. which is better than mini if you want a deep tissue massage. It also has a 16mm amplitude, which is also the highest in the business.
It has better ergonomics than Theragun mini and holds better.
You also get more attachments (4) with Theragun Prime.
It cost $299, you can get it at therabody.com here.
READ MORE Check our hands-on Theragun Prime review.
---
Best Theragun For Lower Back Pain
We suggest going for either Prime or Elite. Like we've said, Theragun Prime has a 30lbs. stall force and can be pressed against the body for a deep tissue massage.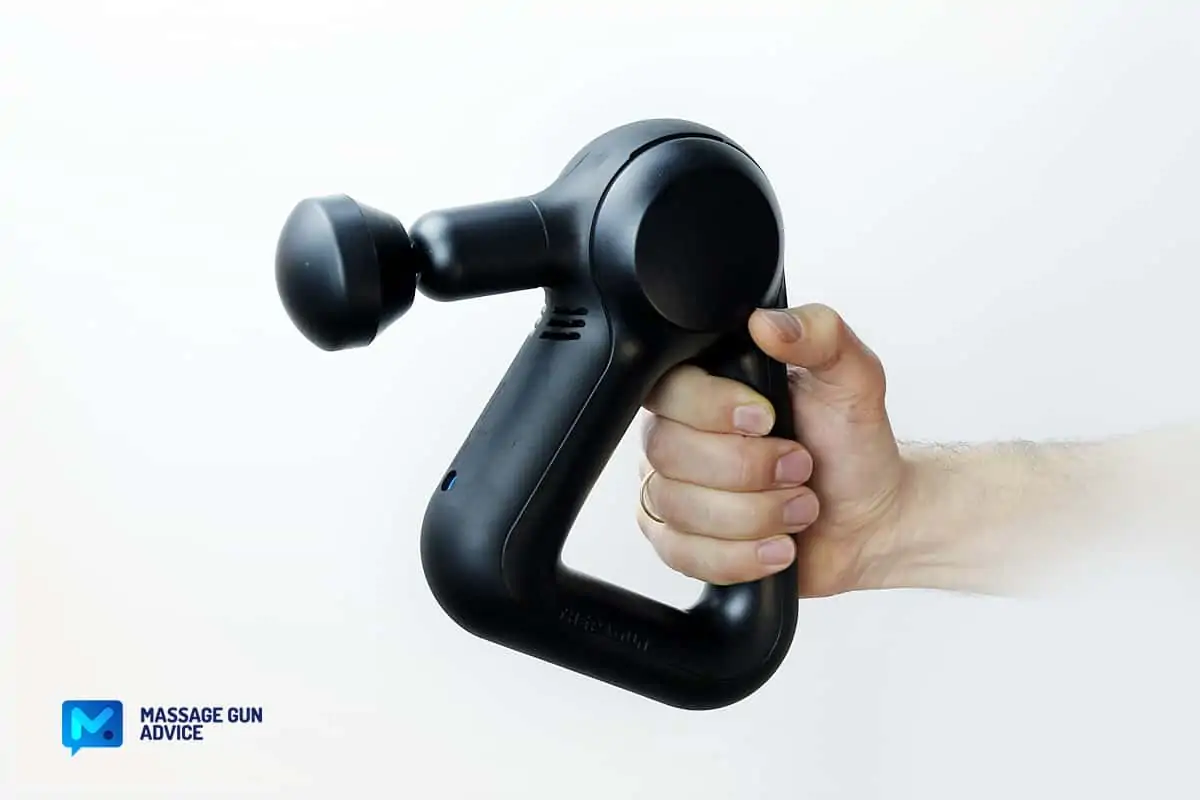 But Elite has some advantages over Prime:
It has 40lbs. of stall force – more than what both Prime and Mini can offer.
Elite is more suitable for when you want to massage the large muscles around the lower back (hip, leg, and buttocks). Also, if you are heavily built, Elite will do a better job than Prime.
Elite has a pressure indicator (sensor). However, this may only be useful when massaging a friend or your partner.
Both can connect via Bluetooth to the Therabody app. The app has guided routines where you can learn how to massage the lower back. You can watch videos on how to do that.
They cost $299 and $399 for Prime and Elite respectively. Available for purchase at therabody.com.
READ MORE Here you can read our very own Theragun Elite review.
---
Are Theraguns Worth It In 2023?
Theragun FATHER'S DAY SALE
Therabody is offering up to $170 off on gifts for Dad, including the Theragun massage guns and other recovery tools. Explore all the available deals.
Theraguns still work great. However, they are no longer the big kahunas they were 3 years ago when massage guns were just starting.
They are also quite expensive for ordinary folks. For perspective, the entry-level Prime is more expensive than Achedaway Pro. Theragun mini is also more expensive than our top recommendation Ekrin B37.
The 4th generation devices (Prime and Elite) are noisy devices – they make a rattling sound that sounds rough and loud. However, this might change this year if they release new, 2023 versions, just like they did with Theragun Pro and Mini, both of which became much quieter than before.
Then, even though they are expensive, they only come with a 1-year warranty. Only Theragun Pro has a 2-year warranty but costs a fortune.
In terms of equipment, Theragun mini is one of the most poorly equipped massage guns with three attachments (the previous version had only one!). Ekrin Bantam is way better and very cheap as well. Lyric could also be a great alternative to Theragun mini, albeit a radically different concept.
---
Hypervolt For Back Pain – Which One?
Hyperice is another industry giant contributing so much to the massage gun space. They try to rival Theraguns with what they unveil now and then.
They recently unveiled new devices – Hypervolt 2, Hypervolt 2 Pro, and Hypervolt Go.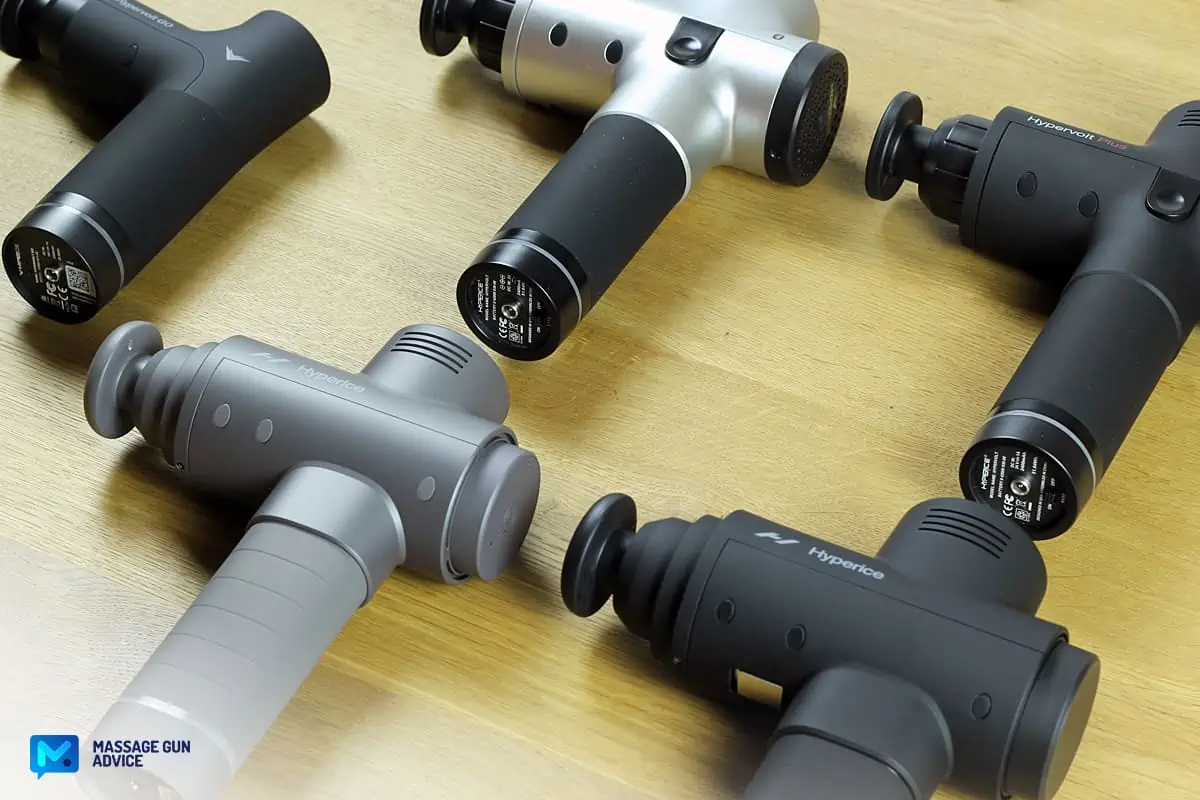 ---
Best Hypervolt for Upper Back: Hypervolt 2
Hypervolt 2 is not the strongest Hypervolt, let alone the strongest gun out there. It's probably the same as Urikar Pro 2 in terms of power.
However, it has just enough to be the perfect Hypervolt for the upper back.
It has a 12mm amplitude – the sweet spot – and about 28lbs. of stall force. That is about enough to do the job.
It doesn't have the perfect ergonomics compared to what Theraguns have to offer.
However, Hyperice changed how they make the handles. Instead of the rounded shape, they recently opted for the pill-shaped handle.
However, it's still the same T-shaped gun.
You can buy it here at RecoveryForAthletes.com. They're the official Hyperice retail partner. Use the HEALTH5 coupon for 5% discount
READ MORE Check our detailed Hypervolt 2 review.
Best Hypervolt for Lower Back: Hypervolt 2 Pro
Hypervolt 2 Pro has a better amplitude than Hypervolt 2 – 14mm. That makes it reasonably punchy but not as hard-hitting as the 16mm Theraguns or Achedaway Pro.
It's also reasonably powerful with close to 40lbs. of stall force (the upper 30s).
The handle is slightly extended – about an inch longer than Hypervolt 2's.
It's a decent device but very expensive. You'll have to part with $399. Our Ekrin B37 is half that price and may offer better performance.
You can buy it here at RecoveryForAthletes.com. Use the HEALTH5 coupon for 5% discount
READ MORE Hypervolt 2 Pro review here.
What About Hypervolt Go?
Hypervolt Go 2 is a good option for the upper back. It has a 10mm amplitude which might be good enough to glide over the upper back and the shoulder area.
However, it fails miserably in terms of stall force. It's probably the weakest massage gun on our list today. It won't work on large muscles – the slightest pressure may stall it.
You can buy it here at RecoveryForAthletes.com. Use the HEALTH5 coupon for 5% discount.
READ MORE Here's our Hypervolt Go and Hypervolt Go 2 review. You can also read our in-depth Theragun mini vs Hypervolt Go comparison.
---
Are Hypervolts Worth It?
The two new Hypervolts are decent devices but not very unique. They don't add so much even though they cost a lot of money. Also, you only get a 1-year warranty with Hypervolts.
You will have to part with $299 for Hypervolt 2 and $399 for Hypervolt 2 Pro (without a discount). Hypervolt Go cannot even rival Ekrin Bantam – the $199 price tag feels like a rip-off.
We believe Ekrin B37 and Achedaway Pro offer better value for money – they are well thought out and better equipped. In fact, Ekrin B37 topped our list of best value massage guns recently.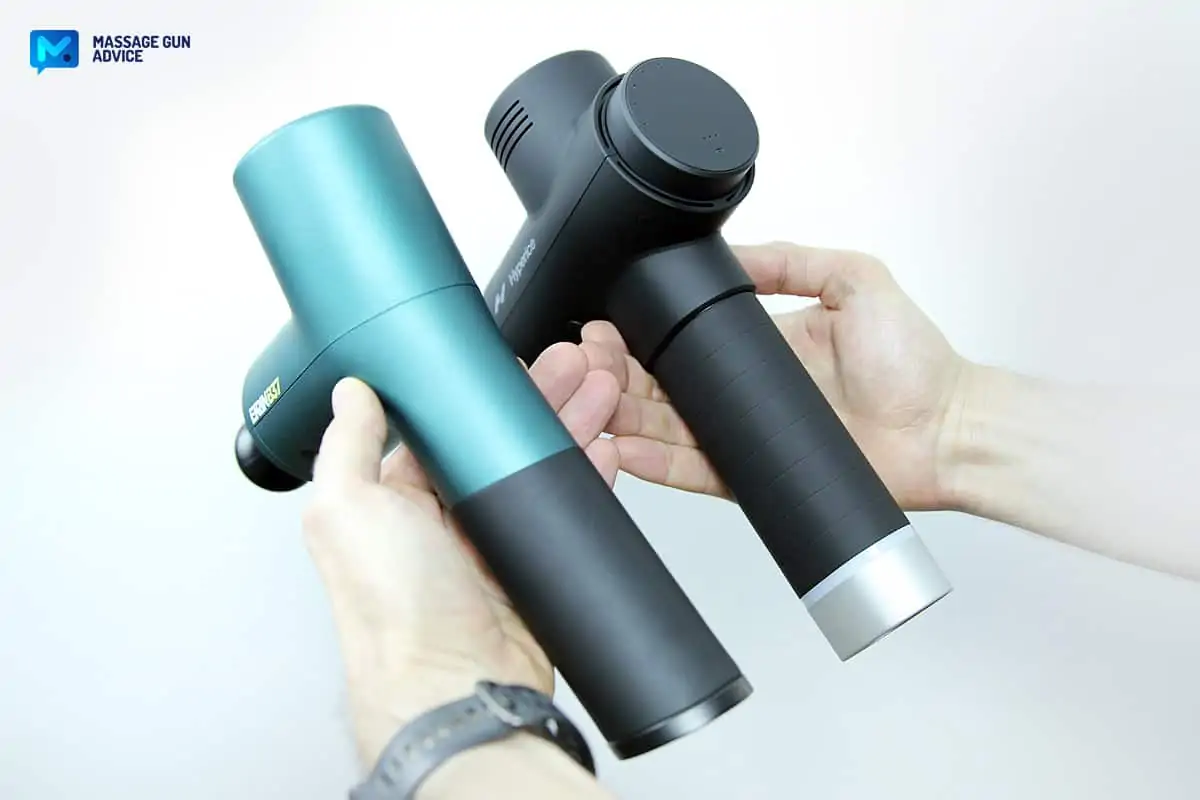 ---
Best Massage Gun For Back Pain – Summary
So, that's all about the best massage gun for back pain. But there are a few things we can take from this.
Massage guns can help to alleviate back pain. They'll be very effective if the cause of the pain is muscle-related.
Before you can choose the best percussion massager for back pain, you need to:
Pay attention to ergonomics – you want something that can easily reach your back.
Power isn't always what matters especially when treating the upper back. However, you will need a massage gun with decent stall force for the lower back.
Buy something versatile that you can use to massage the entire body.
Check out what we have recommended here. They are all different but very effective if you know what you are getting.
Theraguns and Hypervolts are great products to alleviate back pain, but only if you can afford them. Otherwise, we believe our picks offer the best value for your money, and Ekrin B37 is still the most versatile device on the market – best massage gun for back pain and beyond.
Feel free to ask us more questions or just drop a comment below. Take care!
Was this article helpful?
Your feedback makes our content better!
Thanks for your feedback!
Post Update History
Here's a quick rundown of all the tweaks and edits we've made to this article to keep it accurate and up-to-date!
Current version last updated on:
April 23, 2023Added a comparison table to make comparing specs and features easier. (Author: Greg)
February 28, 2023Added new photos of Theraguns, Hypervolts, Ekrin. (Author: Greg)
October 19, 2022Added Urikar Pro 2 to the list, following our hands-on review. (Author: Greg)
August 13, 2022Added stall force and amplitude charts. (Author: Greg)
June 20, 2022Added Lyric to the list of recommendations.(Author: Greg)
April 21, 2022 Medically reviewed by Dr. Gary Tanchak, D.C.
•
Written by:

Luke Deszczulka
Disclaimers
The views and opinions expressed on this website are those of the authors. Any content provided by our bloggers or authors are of their opinion and are not intended to malign any religion, ethnic group, club, organization, company, individual or anyone or anything.
All product names, logos, and brands are property of their respective owners. All company, product and service names used in this website are for identification purposes only. Use of these names, logos, and brands does not imply endorsement.
It is our policy to make every effort to respect the copyrights of outside parties. If you believe that your copyright has been misused, please provide us with a message stating your position and we will endeavor to correct any misuse immediately.
Some of the links in this post are affiliate links. As an Amazon Associate, we earn from qualifying purchases. This means if you click on the link and purchase the item, we may receive an affiliate commission, at no extra cost to you. This helps us keep this website alive. Learn more here.
Amazon Disclosure
massagegunadvice.com is a participant in the Amazon Services LLC Associates Program, an affiliate advertising program designed to provide a means for sites to earn advertising fees by advertising and linking to Amazon.com. As an Amazon Associate, we earn from qualifying purchases. Amazon and the Amazon logo are trademarks of Amazon.com, Inc. or its affiliates. Please refer to our Privacy & Affiliate Policy for details.