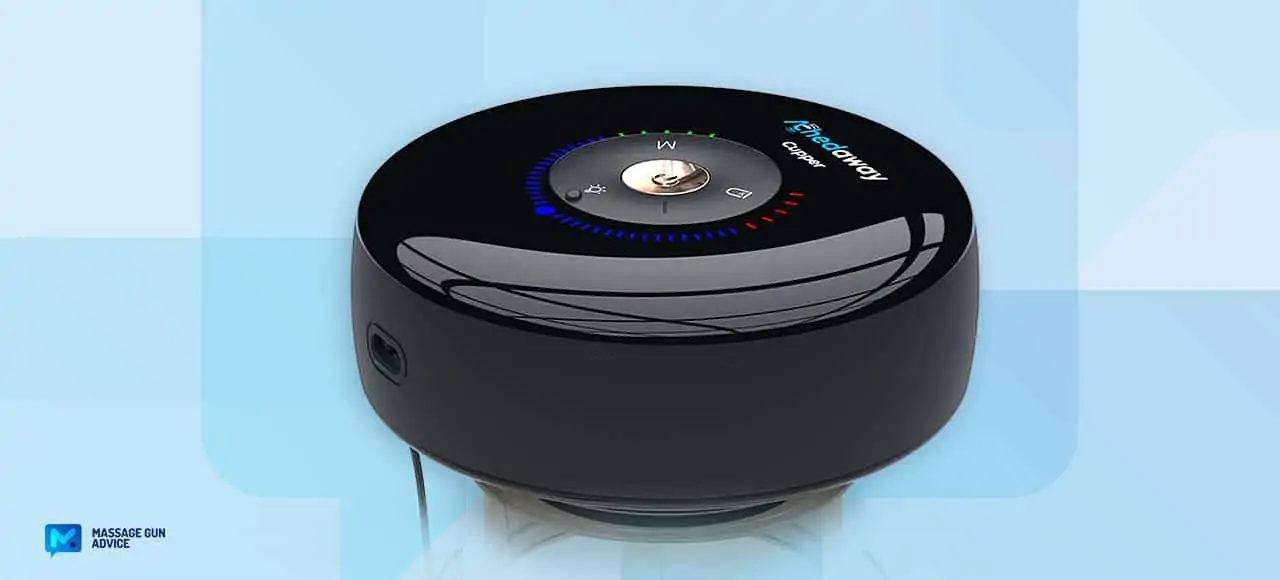 Achedaway Cupper Review – A Dynamic Device For Dynamic Cupping
What to Know: We independently review products we recommend. If you click on links we provide, we may earn a commission. Learn more.
---
Welcome to our Achedaway Cupper review. In this article we'll look at Achedaway's new cupper device that takes cupping therapy to a whole new level.
We've been talking about massage guns for a while now, but the sports recovery tech world is growing day by day. Every once in a while something new pops up.
Achedaway recently got in touch with us and asked us to take a look at their new dynamic cupping therapy device. We were intrigued, and now we can tell you all about it here.
Is this a new fancy gadget or a new take on cupping therapy known to have existed for centuries?
HINT It's a nifty device, perhaps a fresh take on cupping, but there are areas to improve on – read on for more ⤵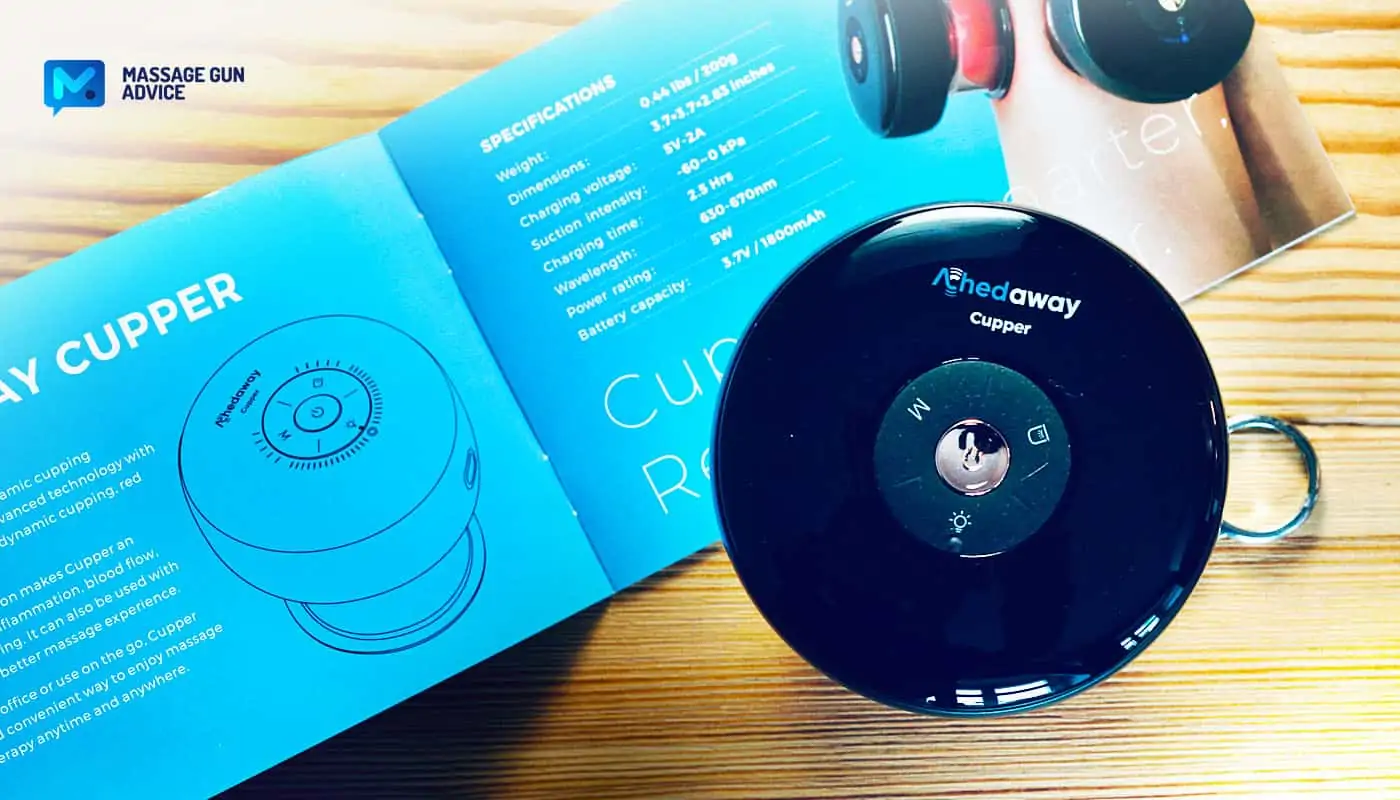 ---
---
Cupping Therapy and Dynamic Cupping – What is it? Benefits?
Just like we saw with massage guns, most sports recovery treatment methods become famous when celebrity sportspeople embrace them – put it on a celebrity and watch it go boom!
The same thing happened with cupping. Although this treatment method has existed for centuries – about 3 and a half millennia – it didn't become mainstream until the world watched Michael Phelps's circled bruises in the 2012 Olympics. Questions were asked, and within a short time those who knew about it have made more of it.
---
But What is Cupping?
The Chinese and Egyptians used it thousands of years ago to treat different ailments. The method started with heat being placed inside a cup (using flammable liquid like alcohol), the cup is then placed upside down on the patient's skin.
This creates a suction effect due to the cooling air inside the cup. However, the flames do not get close to the patient's skin. But with technology and new methods, pressure valves are used instead to create a similar suction effect.
The suction draws skin, fascia, and muscles up into the cup and provides improved blood circulation(1) as well as relieving pain.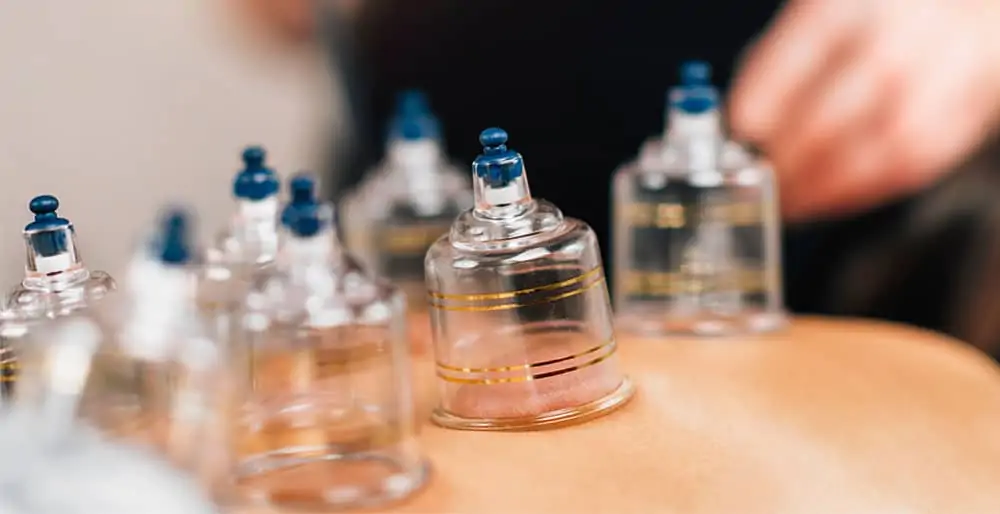 ---
Dynamic Cupping
But then there's dynamic cupping, a form of cupping that involves full range motions sport-specific movement.
The cup is placed on the injured area. A medical practitioner (in this case either a physiotherapist, chiropractor, or acupuncturist) then glides the cup around to affect the underlying tissue.
Another technique employed by this method is affixing several cups across desired spots and then letting the patient go through a series of movements or certain sport-specific movements.
This method has great benefits(3) if done correctly:
Lymphatic circulation stimulation: The dynamic cupping method improves lymphatic circulation by flushing out toxins in the affected areas.
Improved blood flow(1): The suction that happens as the cups are glided over the affected area increases blood flow. This means that oxygen and essential nutrients can travel to the pain areas and repair the damaged tissues.
Relieves muscle stiffness, removes knots, and reduces muscle tension: The vacuum effect can stretch out muscles and also remove knots. Gliding the cup over the affected areas can also stretch out fascia and minimize muscle tension.
---
What Cupping Method does the Achedaway Cupper Utilize Then?
The Achedaway Cupper not only employs the dynamic cupping method, but it takes this technique a notch higher.
The device brings to the fore the dynamic cupping technology, or what they are calling smart cupping. Although to some extent this may sound like a marketing ploy (what's the difference with any other cup anyway), it's not.
Although the cup can still be utilized to do both traditional (static) and dynamic cupping, it has a unique twist to it as well. It uses rhythmic alterations of suction and release. This is not a common feature, and you won't find it with manual cups or even the ones that use pumps.
By dynamically changing pressure, this Cupper makes it a really unique experience. It's not just any gadget, it's a serious proposition for those involved in cupping. It's also a superior alternative to the already existing cuppers.
Bottom Line

The Achedaway Cupper employs the dynamic cupping method. However, it does it in a whole unique sense. Although it doesn't glide around by itself (would be cool if it did), the dynamic pressure concept is truly awesome and unrivaled.
---
Achedaway Cupper Review
Let us now take a look at the device itself.
---
Achedaway Cupper Specifications
Features
Achedaway Cupper
Suction Intensity
5 levels: from 20 kPa up to 60 kPa
Wavelength
630-670nm
Modes
5 pre-programmed modes
Battery: Capacity / Life / Charging Time
1800 mAh / ~3 hours / 2.5 hours
Cup Attachments
3
Weight
0.44 Ibs / 200g
Dimensions
3.7×3.7×2.83 inches
Pros

High Quality


Powerful suction
Dynamic Modes
Bluetooth / App Control


Compact and Lightweight




Reasonable Price

Cons

No carrying case / pouch




No pause button in the App

Warranty
One year
Retail Price
$169.00 $144.00
Discount:
$25 OFF with the coupon

MGA25


Get it right here!
Achedaway Cupper Specs
---
First Impressions
The device comes in a stylish box that somewhat resembles what we've seen with our Hyperice packages – this one is smaller though. Unboxing it, we found a compact device that measures 3.7 x3.7 x 2.83 inches, making it highly portable.
It looks and feels like a premium quality product. The build quality is perfect, and the quality of materials used is high as well. The material used is plastic, but we like this kind of plastic. It looks like it's going to last a while.
The appearance is stylish. It's a glossy plastic that is a fingerprint magnet but looks exquisite when cleaned. It's matte black (plastic) on the side. The buttons are rubberized and feel nice when pressed.
The device is light as well, just 0.47 pounds (or 215 grams; with a middle sized cup installed). There is a mid-sized cup installed. It looks fragile, and you can quickly tell it's not something that will handle a drop.
But the folks at Achedaway knew this and added a lanyard. It's a simple yet effective way of securing the device when it's in use. In case you need extra leeway, there's an extension cord that can make it even longer.
This is perfect when you need to massage your lower back. You can put the lanyard over your neck to secure the device in case it suddenly loses suction and falls off your back.
---
The Cups
The device is fitted with a cup already in case you want to use it immediately.
There are 3 interchangeable cups:
The medium cup is already mounted on the device (screwed on)
The small cup is unique from the large and medium cups. It's curved to make it easier to stick on curved body areas (arm or neck).
The large cup, just like the medium cup, is flat. These two are used on large muscle groups.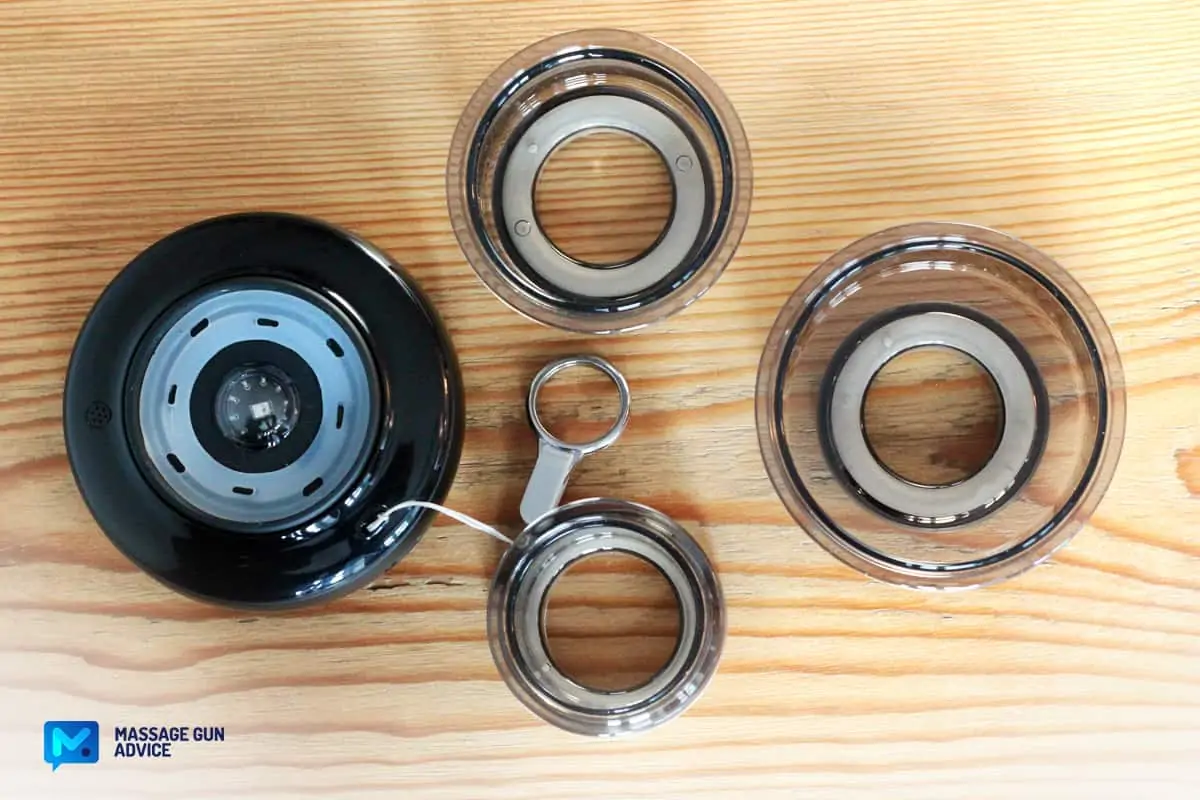 The device also comes with replaceable filters that sit tight between the cup and the device. The filters serve two roles:
To block out impurities – both granular and liquid in case you are using lotion during the massage.
To act as some sort of gasket to prevent air from going in and out of the vacuum intended.
We also found a USB charging cable and an instructional manual. The manual has information on operating the device, charging it, cleaning guides, and other helpful tips, like using the app to control the device.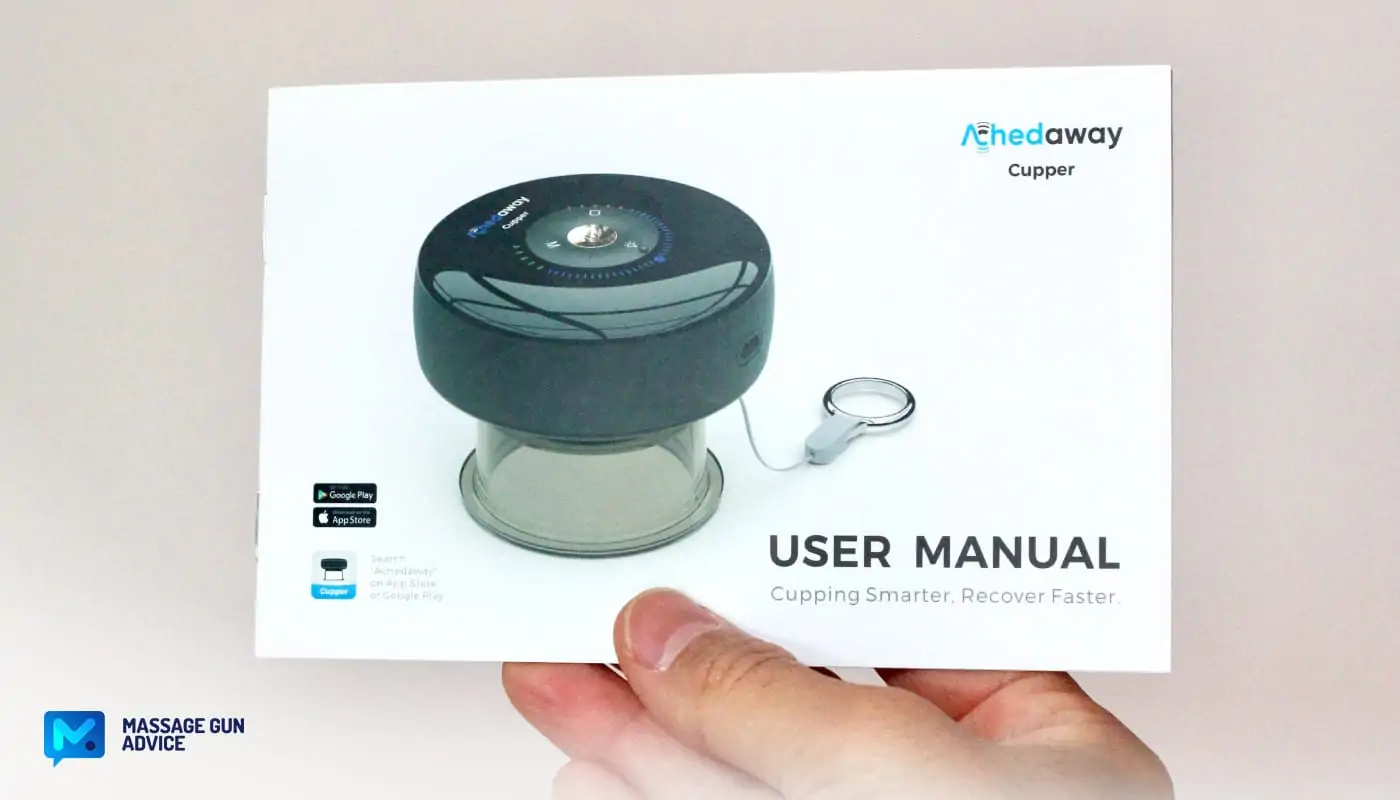 Our overall impression is that this is a superb device, and it feels great to have it with us.
We sort of freaked out with all the buttons and different LED lights indicating different things, but it's nothing we haven't dealt with before (especially with massage guns). Once you start using the device, it quickly becomes clear how it works. It's intuitive and straightforward to use.
---
How Does it Work?
The basic instructions of how to use the device are as follows:
Put the device on a desired part of the body – with the correct cup screwed on.
Turn it on by pressing the power button for about 2 seconds.
Let the device do the work. You can adjust the intensity while the device runs.
When you've heard enough, you can quickly press the power button.
That's it! That simple!
That said, the device gives you some interesting massage modes and controls, and this is where it gets intriguing.
---
Pressure
Applying pressure is an essential element of cupping therapy(2).
The Achedaway Cupper has an impressive pressure range (suction intensity). There are 5 levels that range between 20 kPa to 60 kPa. This translates to 2.9 Psi or 0.2 bar to 8.7 Psi or o.6 bar.
Well, what are those anyway? Let's put it this way, this little device is a powerful sucker – precisely what Cuppers are meant to be, but this one's a bit stronger.
The first setting (default one) already gives you 20 kPa, which is already quite powerful. Scroll all the way to the 5th setting, and the intensity is even greater. It may not be the perfect place to go unless you are a demanding user who needs it.
Depending on the level you want, you can easily control the suction intensity by pressing the suction button a few times. You can also use the app (we'll talk about it in a few) to change the intensity. The red color bars will indicate which level you're at.
---
Modes
But the dynamic pressure isn't complete without the 5 pre-programmed modes. These are the rhythmic alterations of suction and release in different combinations and pressure increments.
They're effective for trigger point therapy and improving circulation (lymph and blood(1)). They also play an essential role in myofascial release, flexibility, and range of motion.
To select a mode, press the M button on the device. The level increases with each press of the button. The green bars LEDs indicate the current level.
The modes work as follow:
Mode 1 is the Wake-up mode, pulse mode, for quick suction – quick release;.
Mode 2 is the Relaxing mode. It's also a pulse mode and a combination of quick and then slow suction. It does more suction than the first mode. It slowly releases the pressure and then starts over.
Mode 3 is the Massage mode. This one does the more prolonged suction then holds the pressure for a moment before releasing it – the release is shorter than the previous mode.
Mode 4 is the Professional mode. It starts with an initial longer suction followed by a series of very short extra suctions with 3-second intervals between the extra bursts. It doesn't really pulse, but it keeps the suction high the whole time. It does that for about 1 and a half minutes, and then turns off.
Mode 5 is the Powerful mode, it is a combination of short and long suctions for extra intensity. It's pretty powerful, especially if you switch the suction power to level 3 or above.
---
Red Light Therapy
The Achedaway Cupper has Red Light Therapy. You can turn it on or off by pressing the bulb icon.
The Red light therapy may sound like an extra feature but it's great for pain management and decreasing inflammation. It heals muscles and skin tissues. The low levels of red or semi-infrared light translate to heat that then heals the body.
---
Achedaway App
The Achedaway Cupper is Bluetooth enabled and works on both iOS and Android. It's a simple yet flawless app.
The connection to the device is seamless and once connected, you can use the app to:
Control suction intensity
Switch between modes, and
Turn the red light on or off
The app also has a convenient timer feature that, once set, can activate the device automatically. It then shuts off automatically when the time elapses.
But do you really need the app? Yes, you need the app for when:
You have multiple devices and need to control them. The app allows you to connect to multiple devices and control them.
You are massaging your back and can't reach the physical buttons on the device. It works perfectly until you need to pause the device. There isn't a stop or pause button on the app and you will have to reach the device for this.
---
Battery
We've talked about all the nice things this device can do and how it works, but how much juice can you get before you need to charge it again?
Well, an 1800mAh capacity battery isn't a bad thing for such a small device.
The time on battery is up to 3 hours but will vary depending on the level of suction. Since you will not take much time massaging a single spot, the 3 hours will be more than you need for a full massage.
We love that the device charges via USB instead of a dedicated charger. You can use a power bank to charge it in case you are traveling with your device.
The battery only takes 2 to 2.5 hours to charge fully. The battery charge indicator flashes red on the device as it charges and changes to green when fully charged. The charge indicator is also on the app.
---
Noise
You can rest easy because this device is not noisy. You can hear the suction pump engaging, but it's nothing discomforting.
You will occasionally hear a beep or two when you press the buttons (even on the app), but these are feedback tones and nothing unusually irritating. The beeps are default and cannot be turned off.
---
Cleaning
Yes, the cups will need to be cleaned, but this is also a breeze and in case you're not sure what to do, there are instructions that will help you.
In a nutshell, though, you need a dry cloth. The plastic cups are detachable and can be removed and cleaned pretty easily and fast as well.
---
Pricing and Warranty
Achedaway sells a single unit for $169 and a double pack for $299. But we have a coupon – MGA25 – that gives you a $25 discount and you can get a single one for $144 and a double one for $274.
You will get all the support you need if you buy directly from achedaway.com. It's also a way to support this excellent brand. There are many real user reviews with pictures on their website.
You will get a 1-year warranty and 30 days to return the product if you encounter any problems.
---
What we Would Love Achedaway to Improve on the Cupper
We love the device, yes (we fell in love with it at first sight), but a few things could be added or improved:
There is no pouch or carrying case. A pouch or a protective bag to carry the device with you would be an awesome addition. The device looks fragile and we all know the box doesn't last. A small pouch similar to what we saw with Theragun Mini would be enough.
Backlighting should be added. The buttons are great and have icons yes, but they're not backlit. This may present a challenge when you have to operate the device in a dimmed room. Also, because the device is round, you can't tell which button to press unless you can actually see it.
A setting to mute the beeps. There's a reason we mute the beeping in our phones. It can be irritating when you don't want to hear the beeps. There should be a setting to turn them off, at least within the app.
There should be a Pause or Stop button within the app.
There should be more practical information on how to use the device on certain body parts. For example, how long should the device be used, best practices, etc. We didn't see that information in their manual.
Guided sessions could be included. Since there's an app, it would be nice to see some guided routines on how to use the Cupper in different scenarios and different body parts. We saw Hyperice and Therabody do this.
There is no Automatic gliding. Wouldn't it be super-amazing if the device could actually glide through the body as it massages you – perhaps a setting for this? Call it wishful thinking, but nothing is too wishful these days, is it?
We hope for an option to extend the warranty. It would be awesome to have this because it means a brand is willing to stand behind their product. We wouldn't mind paying for such a thing.
---
Is Achedaway a Good Brand?
Yes, Achedaway is an awesome and trusted brand. They have a great reputation for designing quality products.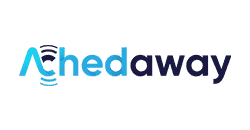 They're a Chinese-American company and have been around since 2019. That is 3 years and more than enough in the fitness tech industry. Their name stands for pain relief – ached-away! We have used and loved their products for a while now. They consult with experts before developing their devices.
We have known them through their massage guns. First with the Achedaway and then the Achedaway Pro, which we have recommended in many of our massage gun reviews.
With the Achedaway Cupper, they are undoubtedly venturing into alternative fitness recovery avenues, which is good to see from a brand we have known so well. Just like Hyperice and Therabody, the brand is definitely on an upward trajectory and thriving.
---
---
FAQs
Can the Cupper be used while charging?
No. Many devices don't allow for this for plenty of reasons. It minimizes damage and accidents as well.
Does the time activate/stop the device automatically?
Yes. The timer is an awesome feature that allows you to use the device effectively. It works just as advertised.
Can you use the Cupper with lotion?
Yes, there is no problem if you want to use lotion – it's actually recommended. You only need to make sure that there is no lotion pooling on the skin before attaching the Cupper.
Is there an auto-shutoff in Achedaway Cupper?
Yes, the device shuts off after 12 minutes of continuous use.
Can Achedaway Cupper do gliding cupping?
In theory, it can. But in practice, the suction is quite strong. It may not work for everyone. Also, that's why it's recommended that you use lotion first, and then you can glide it along the body.
---
Achedaway Cupper Review Conclusion
Before we end this Achedaway Cupper review, let's recap a few things.
This is an innovative device that takes cupping to a whole new level. We love the concept of the device and we're certain fitness enthusiasts will love it as well once they get to use it. It has a well-executed design, it's portable and nicely built. The cups are easy to clean and the battery life is decent enough.
But it all comes down to the dynamic suction with the pre-programmed modes complemented with the Red Light therapy. It's marvelous! We can wholeheartedly recommend the device for these features alone.
The value for the money is very good, in our opinion. It's not a pricey item and many people will afford it. Plus, just to remind, you can save $25 if you use our MGA25 discount code.
You can get your Achedaway Cupper here.
Thanks for reading – feel free to comment below and ask questions here if in doubt.
---
Quality

Effectiveness

Usability

Accessories

Price Value
Summary
The Achedaway Cupper is a powerful, highly effective device that takes cupping to a whole new direction. The dynamic suction with pre-programmed modes is top-notch. The device has a quality design and is portable as well. There are some minor things that can be still improved but overall, this is a highly recommend buy.
---
Article Sources
The Evidence for Common Nonsurgical Modalities in Sports Medicine, Part 2: Cupping and Blood Flow Restriction. David P Trofa, Kyle K Obana, Carl L Herndon, Manish S Noticewala, Robert L Parisien, Charles A Popkin, Christopher S Ahmad. DOI: 10.5435/JAAOSGlobal-D-19-00105
The medical perspective of cupping therapy: Effects and mechanisms of action. Abdullah M N Al-Bedah, Ibrahim S Elsubai, Naseem Akhtar Qureshi, Tamer Shaban Aboushanab, Gazzaffi I M Ali, Ahmed Tawfik El-Olemy , Asim A H Khalil, Mohamed K M Khalil, Meshari Saleh Alqaed. DOI: 10.1016/j.jtcme.2018.03.003
Cupping Therapy: An Overview from a Modern Medicine Perspective. Tamer S Aboushanab, Saud AlSanad. DOI: 10.1016/j.jams.2018.02.001
Cupping therapy and chronic back pain: systematic review and meta-analysis. Caroline de Castro Moura, Érika de Cássia Lopes Chaves, Ana Carolina Lima Ramos Cardoso, Denismar Alves Nogueira, Hérica Pinheiro Corrêa, Tânia Couto Machado Chianca. DOI: 10.1590/1518-8345.2888.3094
---
NOTE: We only use high-quality sources and rely on peer-reviewed studies, academic research institutions, and medical associations to support the facts within our articles.
Was this article helpful?
Thanks for your feedback!
Post Update History
Here's a quick rundown of all the tweaks and edits we've made to this article to keep it accurate and up-to-date!
Current version last updated on:
•
Written by:

Luke Deszczulka
Disclaimers
The views and opinions expressed on this website are those of the authors. Any content provided by our bloggers or authors are of their opinion and are not intended to malign any religion, ethnic group, club, organization, company, individual or anyone or anything.
All product names, logos, and brands are property of their respective owners. All company, product and service names used in this website are for identification purposes only. Use of these names, logos, and brands does not imply endorsement.
It is our policy to make every effort to respect the copyrights of outside parties. If you believe that your copyright has been misused, please provide us with a message stating your position and we will endeavor to correct any misuse immediately.
Some of the links in this post are affiliate links. As an Amazon Associate, we earn from qualifying purchases. This means if you click on the link and purchase the item, we may receive an affiliate commission, at no extra cost to you. This helps us keep this website alive. Learn more here.
Amazon Disclosure
massagegunadvice.com is a participant in the Amazon Services LLC Associates Program, an affiliate advertising program designed to provide a means for sites to earn advertising fees by advertising and linking to Amazon.com. As an Amazon Associate, we earn from qualifying purchases. Amazon and the Amazon logo are trademarks of Amazon.com, Inc. or its affiliates. Please refer to our Privacy & Affiliate Policy for details.