Disclaimer: Our content is unbiased, non-sponsored and fact-checked. If you buy via links on our site, we may earn a commission. As an Amazon Associate, we earn from qualifying purchases.
---
In the world of massage guns, the Ekrin B37s is one of the few that has been quickly gaining popularity. With its sleek aesthetics and promising features, it's easy to see why it's creating quite a buzz. It instantly caught our attention, which is why we decided to write this Ekrin B37s review.
With the many benefits you can derive from a massage gun, it's important to look into its features before you buy one.
You have to make sure that it offers the specs you need to feel completely relaxed, and that can be quite complicated if you don't know where to start.
Lucky for you, this article aims to be your comprehensive guide to understanding this Ekrin B37s massage gun.
Not only will we discuss its features and specs, but we'll also help you understand whether it's the best fit for your lifestyle.
Once you're done reading, you can already determine whether the B37s is right for you.
---
---
About Ekrin Athletics
Established in 2019, Ekrin is a new brand in the massage gun scene. But, it instantly became a big name when it introduced the highly acclaimed B37 massage gun.
With its superior performance and ergonomics, it instantly became a crowd favorite. And since then, the brand dedicated itself to improving its products – and thereby introduced the B37s and more compact Ekrin Bantam.
With the mission to improve athletic performance by assisting muscle recovery and preventing related injuries, you know that the brand put a lot of thought and research while designing this massage gun.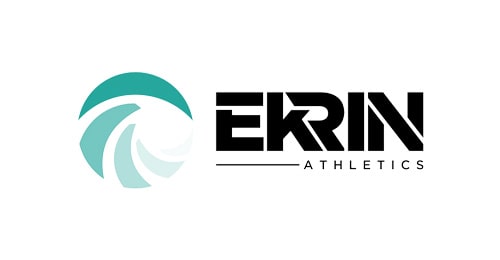 Aside from the quality and superior build of their products, Ekrin Athletics is also known for its responsive customer care services and lifetime warranty. These services help improve the brand's image, which is why it's a trusted name in the industry.
Being a brand that has already proved enough in such a short period, we are all the more excited to try the B37's awaited successor – the Ekrin B37s.
---
Ekrin B37s Review
Before we dive deep into this Ekrin B37s massage gun review, here is an overview of its key features and specifications that you might want to consider.
---
Ekrin B37s Specification

Features
Ekrin B37s
Stall Force
56 lbs
Stroke Length
12 mm
Speed options
5
Battery Life / Capacity
~6 hours / 2550 mAh (non-removable)
Attachments
6
Weight
2.2 lbs
Noise
60-65 dB
New Features
Force Meter
Locking massage heads
Variable Speed
Pros
Very impressive stall force
30% more powerful than B37
Great size and ergonomics
Excellent quality overall
Accessories
Cons
Non-removable battery
handle on a thicker side
Warranty
Lifetime
Base & Discount Price
$329.99 $263.99
Promo code
20% OFF with the code

MGA20

Where to buy with discount
Get the B37S here!
Ekrin B37s Specs
---
First Impressions
At first glance, we could easily tell that the B37s shared a lot of similarities with its predecessor.
It has the same slick aesthetics that give off a modern vibe. It even has the same satin feel to it when you hold it, which makes it comfortable to the touch.
Design-wise, we could say that the biggest difference between the B37 and the B37s is the color scheme – the B37 leans on a more greenish hue while the B37s has a lovely dark blue color.
While it doesn't have a built-in screen, operating it isn't a problem. The Ekrin B37s boasts a minimalist one-button operation, so you don't have to worry about a complicated setup.
You can switch between speeds by quickly pressing the button, and you can turn it on or off by pressing and holding it at the same time.
At the top of the unit, you will see indicator lights that tell us the battery level and the corresponding speed. These lights are the convenient and less battery-consuming alternatives to a display screen.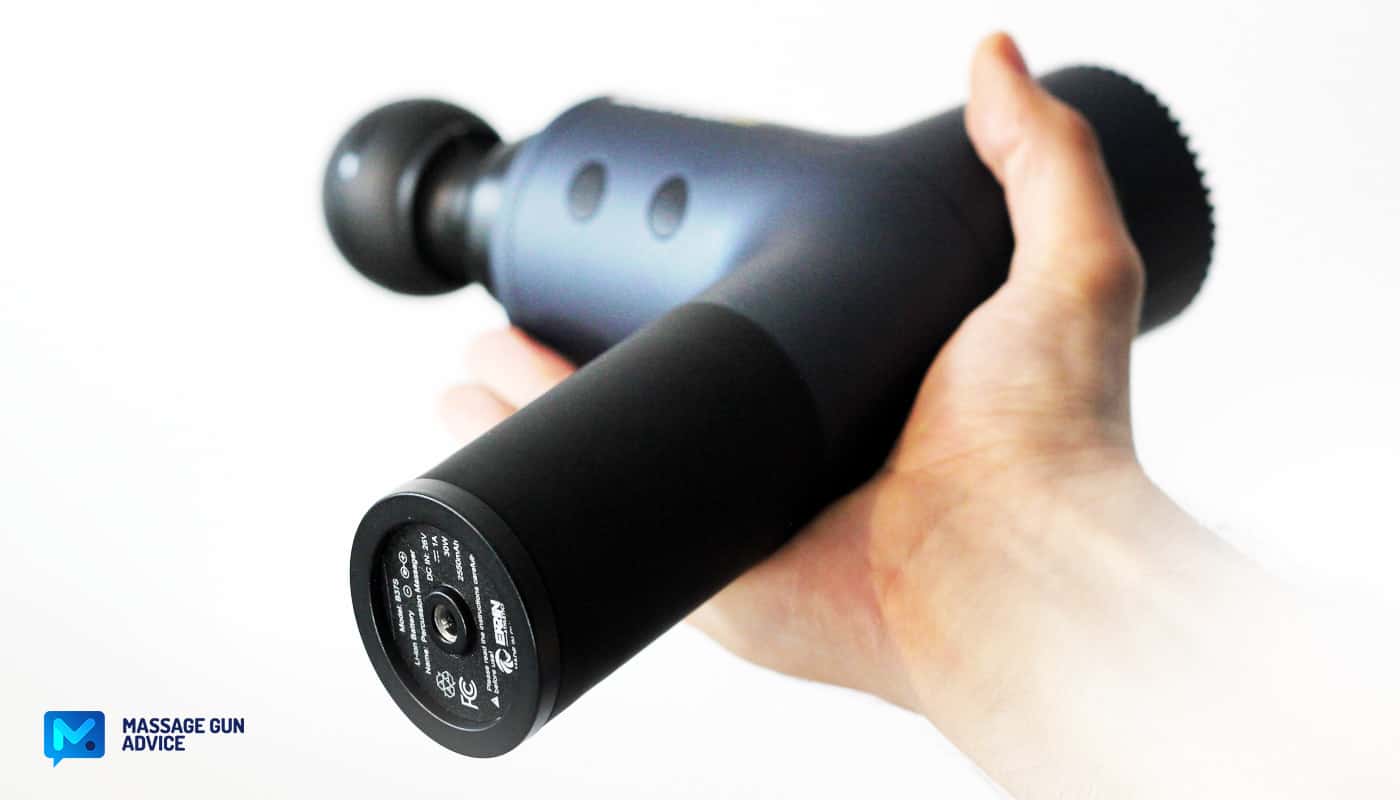 ---
What's Inside
The Ekrin B37s comes in a sturdy two-zipper carrying case with a convenient handle.
The case has a printed sticker at the front that displays the brand and the specific massage gun unit. It has a futuristic font that's easily eye-catching, so you know you'll be lugging it around in style.
Inside the carrying case, you'll find a pocket with the instruction manual and a molded main compartment that holds the massage gun, attachments, and charging cable in place.
This keeps everything highly organized, so you don't have to worry about dents and scratches as you travel to your destination.
---
Attachments
The B37s comes with six attachments – one foam ball, one hollow silicone ball, one flat, one fork, one bullet, and a cone.
The foam ball is perfect for delivering a stronger pressure, while the new silicone one offers a squishy feel that's perfect for relaxing massages.
The new cone attachment has a silicone tip and a sturdy plastic base that helps deliver the right amount of pressure that's slightly buffed out by the squishy silicone tip. This makes it perfect for treating tendons and muscles near bony areas.
As for the fork, bullet, and flat attachments, these are all made of durable plastic material. These attachments help deliver focused and solid pressure, so you can instantly massage target areas.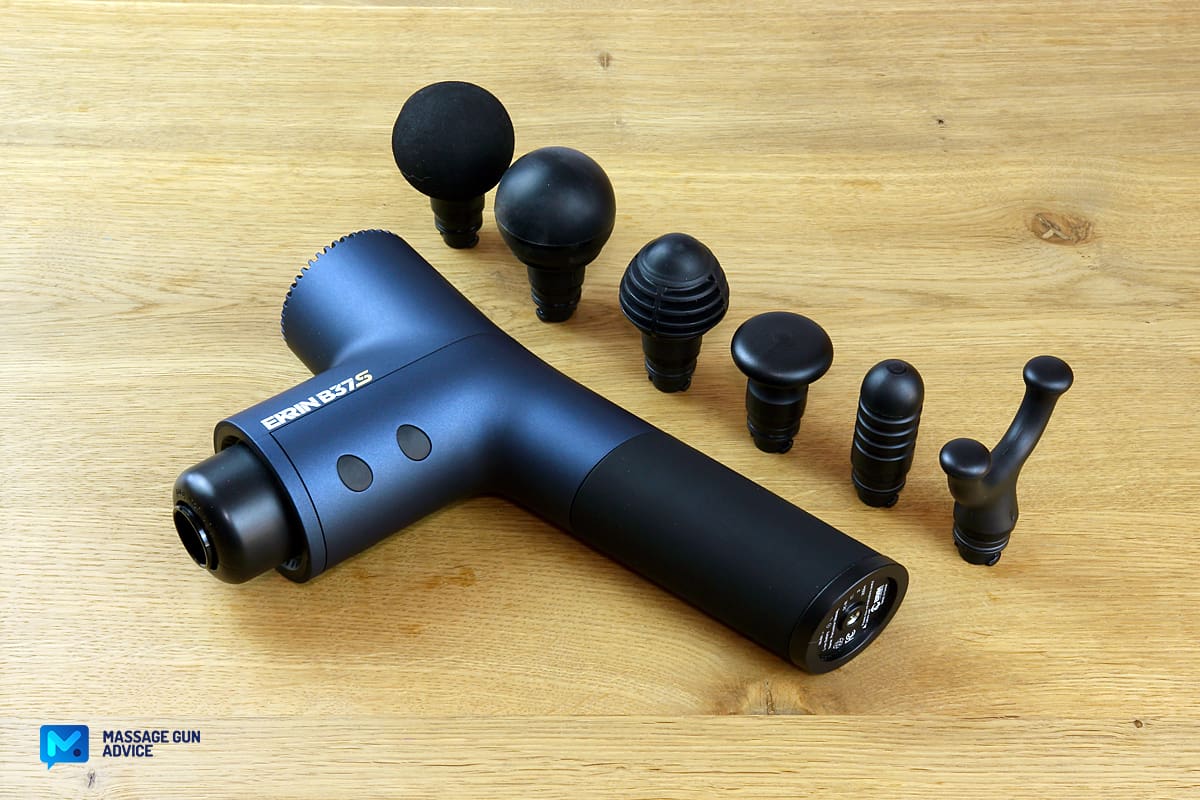 ---
Size
In terms of its size, the Ekrin B37s is a full-scale massage gun that comes in a handy gun shape.
While it's not a slim unit, it's not a bulky one either. This makes it easier to move around, and the angled handle helps reach tricky areas. That's ideal for when you're giving yourself a massage.
At 2.2 pounds, we could say that the B37s is not the lightest massage gun in the market. It has a top-heavy design, but the overall weight feels balanced and comfortable. Overall, we're very satisfied with its size and weight.
---
Ergonomics
Aside from the size, we must mention that we are quite impressed with its ergonomic design.
As we've previously mentioned, it has a handle that comes with a 15-degree angle.
This design not only helps with reaching tricky areas but also helps reduce wrist fatigue. It offers a more comfortable angle for your wrist compared to 90-degree ones, and that allows you to hold it for longer periods without experiencing cramps or hand tensions.
The Ekrin B37s has a relatively large diameter that makes it easy to grasp. And to ensure a firm and secure hold, it has a silicon-rubber grip to keep it from slipping away from your hands.
But admittedly, the larger diameter can be quite a challenge for people with smaller hands.
---
Build Quality
Like the B37, you have nothing to worry about the build quality of the B37s.
Ekrin only uses premium and high-quality materials, so you know that it's built to last a long time. It has a well-designed layout that reflects the thorough engineering process that went into its manufacturing, so quality is the least of your concerns.
It also has a sturdy and durable feel – and you can be confident that it's built to last for a long time.
---
Performance, Effectiveness, and Intensity
Now, let's proceed to the heart of this Ekrin B37s review. We'll now break down its key features to help you understand how it truly performs.
---
Stroke Length / Amplitude
We'll start with amplitude. Simply stated, this refers to the distance by which the head travels from the base of the gun. This helps you determine how far it can go to massage your muscles.
the Ekrin B37s has an amplitude of 12 millimeters. Compared to Theragun's and Achedaway's 16mm, this number may seem insignificant. But, at 12mm, when combined with high no-stall force, the head still delivers a solid punch that's deep enough to treat sore muscles, break down lactic acid, and improve blood circulation.
Besides, the competitors' longer amplitude often comes at a price – a bulkier and heavier design.
So all things considered, we can say that we're quite satisfied with the Ekrin B37s's amplitude.
---
Stall Force
This is where it gets more interesting.
Working hand-in-hand with amplitude is the stall force (also called as 'no-stall force'). This refers to the pressure that's sufficient to stop the motor from running when it's pressed to your body. The higher the stall force, the deeper the muscle penetration – and that leads to a truly satisfying massage.
And with a stall force of 56 pounds, the Ekrin B37s is an undisputed superstar for its size category.
While this number seems identical to its more affordable predecessor, it has an improved progressive system that allows for a more powerful performance with each speed.
At the first speed, the B37s provides you with a whooping 36 pounds of stall force, as opposed to the 28-pound stall force of the B37. At the second speed, B37s delivers 42 pounds, while the B37 only offers 32 pounds. At the third speed, B37s offers 52 pounds, as opposed to its predecessor's 40 pounds. The fourth speed is also at 52 pounds. This gives you an idea of this progressive system.
Nevertheless, that amount of pressure is enough to deliver that deep and powerful massage that's guaranteed to soothe and treat your muscles. You would have to be strong to actually stall the motor on this unit.
Another new feature of the B37s is its convenient reactive force meter. This unit has a ring of blue lights located at the top of the gun. It lights in sections, indicating the level of stall force applied.
This new feature helps you control the force you apply, so you can deliver the ideal pressure whenever you give yourself – or someone else – a massage.
---
Performance Parameters Comparison
Let's see how B37s compares against it's most popular competitors.
---
Stall Force (lbs.)
OUR TAKE
With 56 lbs., 36% of which is available on the first gear, Ekrin's B37s joins the the elite 'strongest massage guns' club.
Stroke Length (mm)
OUR TAKE
12mm is not an industry-leading amplitude, but combined with high stall force, it's enough to provide a deep-to-the-bone massage.
---
Percussions and Speed Levels
Another interesting upgrade offered by the B37s is its improved percussions and new dynamic speed level. This simply refers to the number of beats or revolutions produced by the unit per minute.
You will be pleased to know that this upgraded version of the B37 now offers percussions ranging from 2000 to 3200 percussions per minute. This is spread across five speed levels, allowing you to enjoy powerful pulses from your massage gun.
The original B37 used to have a wider percussion range at 1400 to 3200ppm, and the higher percussion of the B37s reflects the higher power needed to achieve the improved stall force.
While the added power undoubtedly delivers a satisfying solid massage, it would be nice if we had the same percussion range to enjoy in case we need softer pulses.
We also love the dynamic 5th speed level. Unlike the previous four speeds, it doesn't offer consistent percussion. Instead, it alternates between high and low beats to deliver a relaxing and unique massage pattern.
Speaking of speed levels, you can easily determine the current level you're in through its LED indicators. The Ekrin 37s has five LED lights at the top of the unit that lights up with every speed increase. That makes it easy to operate even without a display screen.
---
Noise
We also love how quiet the Ekrin B37s operates. According to their official release, it only operates between 35 to 55 decibels, depending on the speed level you're using.
Upon checking this claim, we discovered that it goes slightly beyond 60 decibels. But even then, such a number isn't considered noisy. In fact, it can be instantly drowned out by other sounds around you.
For comparison, the more expensive Theragun Pro (and Elite, and Prime) are noticeably louder, despite being advertised by Therabody as super-quiet devices.
Much of this quiet operation is the result of its minimal vibrations. This means that operating the B37s isn't as tiring to the hands as its competitors.
---
Battery Capacity
Because of its cordless design, no Ekrim B37s review would be complete without discussing its battery capacity.
This massage gun uses a 2550 mAh battery that allows it to function continuously for up to 8 hours. It also uses a Samsung-brand battery, so you know that it's not like the other cheap ones that usually die out within a few months.
This battery capacity is quite impressive, considering the power it produces and the multiple LED lights that it has to power up.
And to be honest, we're glad Ekrin didn't put a much larger battery in there (think of 2800 – 3200 mAH), as this would add extra weight and possibly ruin the excellent weight-to-size ratio this device has.
---
Price and Warranty
The Ekrin B37s is available on their website for $329.99 – a fair price for all its upgraded features and above-average stall force.
Also, we recommend buying from their website to support the brand, enjoy these discounts and excellent customer service.
But perhaps the best part about owning an Ekrin B37s is that the brand offers a lifetime warranty and lifetime customer support. You can be confident that you'll be taken care of with this brand.
---
Who is it Best For?
Since Ekrin aims to improve our athletic performance, then it's easy to see that it's designed for athletes, bodybuilders, and similar people with active lifestyles and a lot of muscle mass. This is because of its deep penetrative capability and powerful performance.
Nevertheless, its less bulky design makes it quite versatile. That's why we also recommend it for personal use – especially if you prefer strong massages in the comfort of home. Chiropractors and professional masseuses can also benefit from this massage gun, thanks to its quality build and superior stall force.
So if you're looking for a premium massage gun that's a fraction of the price of a Theragun Pro, then the Ekrin B37s is the best for you.
---
Ekrin B37s vs. B37

Feature
Ekrin B37s
Ekrin B37
Stall Force
1 speed: 36 lbs
2 speed: 42 lbs
3 speed: 52 lbs
4 speed: 52 lbs
5 speed: 56 lbs
1 speed: 28 lbs
2 speed: 32 lbs
3 speed: 40 lbs
4 speed: 52 lbs
5 speed: 56 lbs
Stroke Length
12 mm
12 mm
Percussions (ppm)
2000-3200
+ variable mode
1400-3200
Speed Options
5
5
Extra Features
retroactive force meter
lockable heads
–
Battery Life
up to 8 hours
up to 8 hours
Noise Rating
35-55 dB
35-55 dB
Weight
2.2 lbs
2.2 lbs
Attachments
6
4
Discount
20% OFF
MGA20 code
get it here
20% OFF
MGA20 code
get it here
Ekrin B37s vs. B37
Perhaps the biggest question that's often thrown our way is how the B37s differs from the flagship B37 massage gun. That's why we decided to insert such a discussion in this Ekrin B37s review.
Before discussing the differences, let's first discuss the similarities. These Ekrin massage guns have the same amplitude, design, shape, noise levels, size, and weight. Also, you can use the same promo code with both models to enjoy the lower price.
B37s vs B37: Differences
The B37s now offers 30% more stall force that's spread out through a progressive system.
The new version offers a dynamic 5th speed level that alternates between high and low beats that cycle between 2400 to 3200 ppm.
Speaking of ppm, it has a new range of 2000 to 3200 ppm. This is compared to the wider 1400 to 3200 range offered by B37.
It now features a retroactive force meter. This feature helps you keep track of the force you're applying with the help of LED lights at the top of the unit.
The B37s has six attachments, compared to the four attachments that come with the B37 the new heads are the silicone ball head and the cone head.
It has a convenient lockable head design that keeps the head in place despite vibrations and constant massage movement.
Visually, the B37 has a green color scheme, while the B37s offers a darker blue color scheme.
In terms of the price, the B37 is a lot more affordable than the B37s.
Verdict
It's easy to see that the B37s is an upgrade of the B37. It is built with a lot of new specs and features, and these work hand-in-hand to provide you the best massage that a gun could give.

Definitely the new B37s is suited more towards most demanding users, who need serious power and might take advantage of the new extra features.

But admittedly, it comes with a hundred-dollar difference, which can be too much for some users. In this case, there's no harm in settling for the more affordable B37, which is also a very strong and versataile massage gun.
---
Ekrin B37s vs. Theragun
Key Features
Ekrin B37s
Theragun PRO (G5)
Theragun Elite
Theragun Prime
Stall Force
56 lbs
60 lbs
40 lbs
30 lbs
Stroke Length
12 mm
16 mm
16 mm
16 mm
Percussions (ppm)
2000-3200
1750-2400
1750-2400
1750-2400
Speed Options
5
5
5
5
Battery Life
8 hours
2.5 hours
2.5 hours
2 hours
Noise
35-55 dB
65–71 dB
~65-68 dB
65-69 dB
Weight
2.2 lbs
2.8 lbs
2.2 lbs
2.2 lbs
Attachments
6
6
5
4
MSRP
$329.99
263.99
$599
$399
$299
Discount code
20% OFF
MGA20 code
–
–
–
Store Link
Get it here
Get it here
Get it here
Get it here
Ekrin B37s vs. Theragun
When it comes to premium massage guns, Theragun is one of the first names that pop into mind. That's why we want to see how the Ekrin B37s vs. Theragun compares.
Aside from the striking difference between its design and shape, we want to dig deeper into their differences. We'll break down the details below.
---
Theragun Advantages
Theragun boasts a 16mm amplitude, which is longer than the Ekrin B37s' 12mm. This results in a more solid punch from the former.
Both the Theragun Pro and Elite models have OLED screen, while the B37s doesn't have a display screen at all.
The Theragun Pro has replaceable batteries, making it easier to recharge (although the new, 5th Generation Pro now only comes with one battery included).
Theragun models offer Bluetooth connectivity to help you keep track of your massaging progress.
---
Ekrin B37s Advantages
Despite the Theragun's longer amplitude, the B37s offers a stronger stall force than most of the Theragun's massage guns. At 56 pounds, it's twice as powerful as the Theragun Prime and more powerful than the Theragun Elite's 40-pound capacity. The only model more powerful than the B37s is the Pro, which is at 60 pounds – and even then, it's not a significant difference.
The B37s offers a percussion of up to 3200 ppm, which offers a more intensive massage than the Theragun's 2400-percussion capacity.
The B37s also features a more impressive battery life. Its 8-hour maximum battery life trumps the Theragun's 2.5-hour capacity.
We must also add that the B37s operates more quietly than the Theraguns.
Ekrin offers a lifetime warranty for its massage guns, while Theragun offers a 1 or 2-year warranty on its models.
And finally, the Ekrin B37s is more affordable than the Theragun's $399 to $599 price range (for Pro and Elite, respectively). And if you factor in the MGA20 discount code, you'll be paying far less than a Theragun unit – only $263.99.
---
Similarities
Nevertheless, both the B37s and the Theragun have similarities.
Both units feature five speed levels to deliver the best massage for different situations. Also, both units have reactive force meters that help control the stall force exerted. And finally, both units fall within the same size class, although Theragun is slightly bigger.
Verdict
There's no doubt that Theragun is a premium massage gun – and this quality allowed it to establish an impressive following. But, it's undeniable that these guns come with expensive price tags.

If you're not ready to splurge on a Theragun, then the B37s is the perfect alternative. While it has a shorter amplitude, it sure makes up for that through its superior stall force. And when you consider its lifetime warranty there's no doubt that the B37s offer better value for money.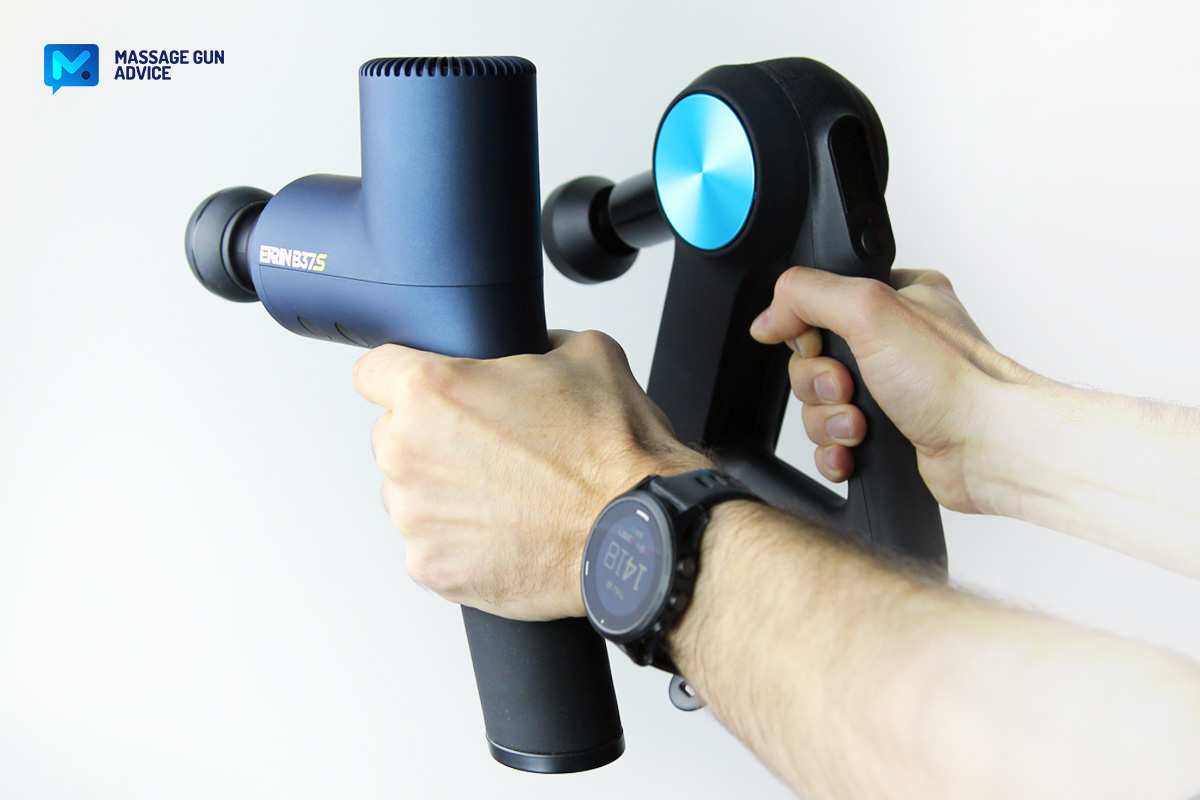 ---
Ekrin B37s vs. Hypervolt
Key Features
Ekrin B37s
Hypervolt 2
Hypervolt 2 Pro
Stall Force
56 lbs
60 lbs
~35 lbs (est.)
Stroke Length
12 mm
12 mm
14 mm
Percussions (ppm)
2000-3200
2000 – 2700
1700 – 2700
Speed Options
5
3
5
Battery Life
5-8 hours
2-3 hours
2-3 hours
Noise
35-55 dB
53-64 dB
54-66 dB
Weight
2.2 lbs
1.8 lbs
2.6 lbs
Attachments
6
3
5
Warranty
Lifetime
1-year
1-year
Discount Code
MGA20
(20% off)

HEALTH5


(5% off)

HEALTH5


(5% off)
Where to Buy with discount
EkrinAthletics.com
RecoveryforAthletes.com
RecoveryforAthletes.com
Ekrin B37s vs. Hypervolt
Another name that's often linked with the Ekrin B37s is the Hypervolt. Let's first discuss the similarities.
Generally, the Ekrin B37s has a similar stroke length as the Hypervolt 2. The only exception is the 2 Pro, which has a longer 14mm amplitude.
Ekrin and Hypervolt 2 Pro feature five speed levels. Hypervolt 2 has only three.
These massage guns have about the same size.
Now that you're familiar with their similarities, we can now break down the Ekrin B37s vs. Hypervolt differences.
Ekrin crushes both Hypervolts when it comes to maximum stall force. Hyperice guns are weaker, and slow down percussions when pressed against the skin – but not Ekrin
Ekrin features five speed levels, while the Hypervolts only feature three.
Ekrin has a superior battery life compared to the Hypervolt's 3-hour maximum.
Ekrin percusses faster than both Hypervolt models. It can go up to a whopping 3200 ppm, giving you more intense massage.
Despite the better battery life, Hypervolt massage guns offer removable and replaceable batteries for added convenience.
The tilted handle design on the B37s offers a more ergonomic feel than that of the Hypervolt.
The Ekrin B37s comes with six attachments, while the Hypervolts only come with five.
Ekrin B37S has better attachment locking mechanisms. Hypervolt attachments require force to be pushed in, so those little rubber gaskets that sit on attachments tend to wear down after some time. There is not such thing in the B37S.
Hypervolts offer Bluetooth connectivity, while the B37s has none.
The Ekrin B37s comes with a convenient carrying case, while neither Hypervolt units have that.
Ekrin provides its massage guns with a lifetime warranty, while Hypervolt only offers a 1-year warranty.
While there isn't much disparity between their prices, you can still save more with the B37s since you can use the MGA20 coupon code when you purchase.
Verdict
Just like the verdict for Ekrin B37s vs Theragun, you can go for the Hypervolt if you prefer its fancy Bluetooth connectivity. But if you prefer a more minimalist interface coupled with a better performance, practicality and a lifetime warranty, then the Ekrin B37s is the way to go.
---
Best Alternative To Ekrin B37s
---
Achedaway Pro
If you're looking for a similarly powerful alternative to the Ekrin B37s, then the new Achedaway Pro will be perfect for you.
This massage gun offers superior performance with its notable stall force and amplitude – but without drilling a hole in your pocket like Theragun and Hypervolt.
Here are some of its notable features, as compared to Ekrin's B37s:
It features a powerful motor that produces a whopping 80-pound stall force (advertised, it actually feel closer to 60-65 lbs. in our test). At low speeds, however, Ekrin B37S will be harder to stall (so it is not so rosy for Achedaway).
It has an amplitude of 16mm – longer than the B37s' 12mm.
It is bigger and heavier than the B37s, weighs 2.6lbs. (vs. 2.2lbs).
It comes with four head attachments and a nice carrying case.
It similarly features premium parts and batteries as the Ekrin B37s, but in Achedaway battery is removable and there's an option to purchase it with 2 batteries.
It similarly is designed with an angled handle, for improved ergonomics.
It doesn't feature pressure sensor though, contrary to Ekrin B37s.
It comes with a 2-year warranty.
It retails for $299, but you can use

MGA50

coupon here and only pay $249, or pay $319 and get it with a spare battery.
Overall, we believe it's a great alternative to the Ekrin B37s (if you don't mind a bigger size, lower stall force at low gears, and a bit of extra weight).
If you're interested to know more about this gun, read our full Achedaway Pro review.
---
Ekrin B37s Review – Bottom Line
After writing this Ekrin B37s review, we must say that it didn't disappoint. We love how powerful yet still compact this device has become.
While it has similar features to its predecessor, it's an upgrade in terms of engineering, performance, and overall design. And with a lifetime warranty to boot, it's easy to see that it's well worth the money.
We hope you enjoyed this B37s massage gun review and as always, feel free to drop us a comment below.
Till the next time!
---
Ekrin B37s Rating
Quality

Effectiveness

Usability

Accessories

Price Value
Summary
The Ekrin B37s did not disappoint. This high-quality massage gun offers plenty of power and boasts superior features without being too bulky. Its perfectly balanced weight ensures improved massaging control and gripping comfort. With its reasonable price, outstanding performance, and lifetime warranty, it would be difficult to get more bang for the buck. Highly recommended!
Disclaimers
The views and opinions expressed on this website are those of the authors. Any content provided by our bloggers or authors are of their opinion and are not intended to malign any religion, ethnic group, club, organization, company, individual or anyone or anything.
All product names, logos, and brands are property of their respective owners. All company, product and service names used in this website are for identification purposes only. Use of these names, logos, and brands does not imply endorsement.
It is our policy to make every effort to respect the copyrights of outside parties. If you believe that your copyright has been misused, please provide us with a message stating your position and we will endeavor to correct any misuse immediately.
Some of the links in this post are affiliate links. As an Amazon Associate, we earn from qualifying purchases. This means if you click on the link and purchase the item, we may receive an affiliate commission, at no extra cost to you. This helps us keep this website alive. Learn more here.
Amazon Disclosure
massagegunadvice.com is a participant in the Amazon Services LLC Associates Program, an affiliate advertising program designed to provide a means for sites to earn advertising fees by advertising and linking to Amazon.com. As an Amazon Associate, we earn from qualifying purchases. Amazon and the Amazon logo are trademarks of Amazon.com, Inc. or its affiliates. Please refer to our Privacy & Affiliate Policy for details.