Ekrin B37s Review – More Stall Force, Better Features. But Is It Worth It?
What to Know: We independently review products we recommend. If you click on links we provide, we may earn a commission. Learn more.
---
Welcome to today's Ekrin B37S review. We've put this popular massage gun through its paces in real-life testing, checking if it lives up to the hype in terms of power and performance.
So, is it really as powerful as they say? Do the massage attachments hold up in everyday use? And is it worth its considerable price?
Stay with us as we dissect and present our findings on the Ekrin B37S massage gun. By the end, you'll have a clear idea of whether this device could be your next wellness companion.
---
---
About Ekrin Athletics
Established in 2019, Ekrin is a new brand in the massage gun scene. But, it instantly became a big name when it introduced the highly acclaimed B37 massage gun.
With its superior performance and ergonomics, it instantly became a crowd favorite. And since then, the brand dedicated itself to improving its products – and thereby introduced the B37s and more compact Ekrin Bantam.
With the mission to improve athletic performance by assisting muscle recovery and preventing related injuries, you know that the brand put a lot of thought and research while designing this massage gun.
Aside from the quality and superior build of their products, Ekrin Athletics is also known for its responsive customer care services and lifetime warranty. These services help improve the brand's image, which is why it's a trusted name in the industry.
Being a brand that has already proved enough in such a short period, we are all the more excited to try the B37's awaited successor – the Ekrin B37s.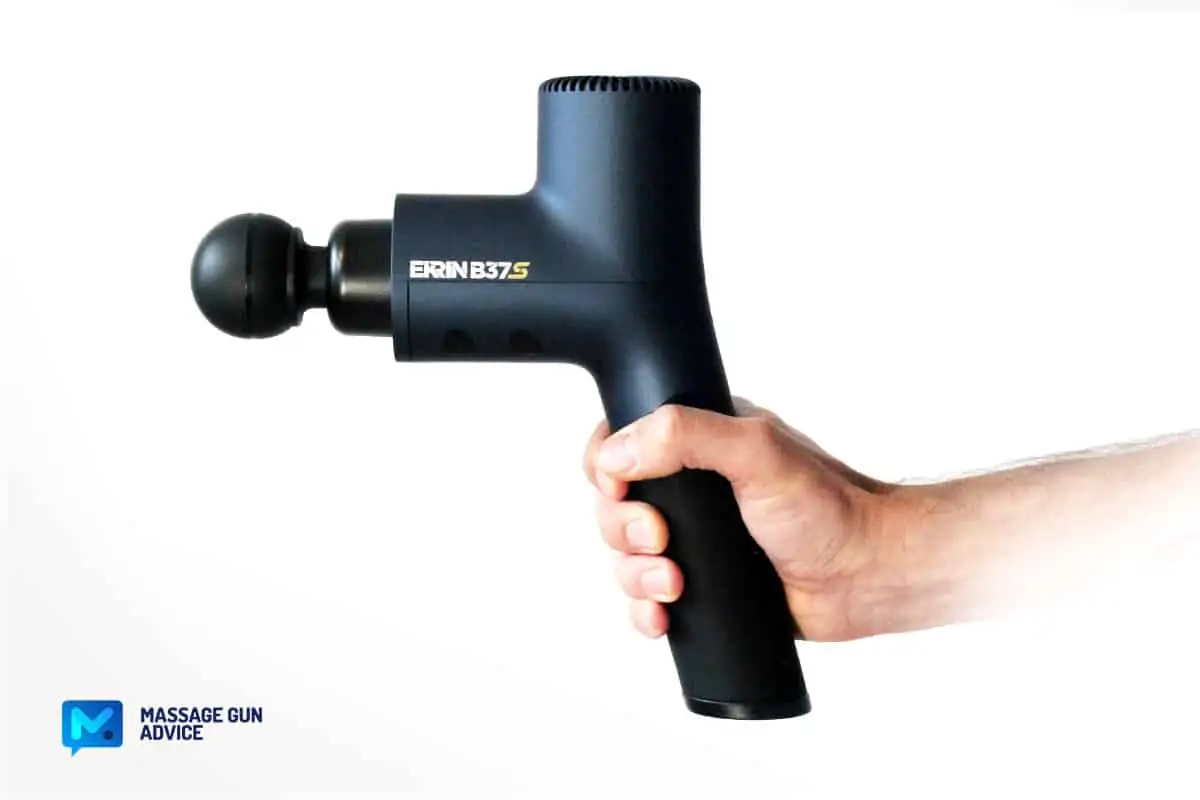 ---
---
Ekrin B37S Review
---
---
First Impressions
While it doesn't have a built-in screen, operating it isn't a problem. The Ekrin B37s boasts a minimalist one-button operation, so in our test we didn't have to worry about a complicated setup.
We were able to switch between speeds by quickly pressing the button, and you turn it on or off by pressing and holding it at the same time.
At the top of the unit, we spotted indicator lights that tell us the battery level and the corresponding speed. These lights are the convenient and less battery-consuming alternatives to a display screen.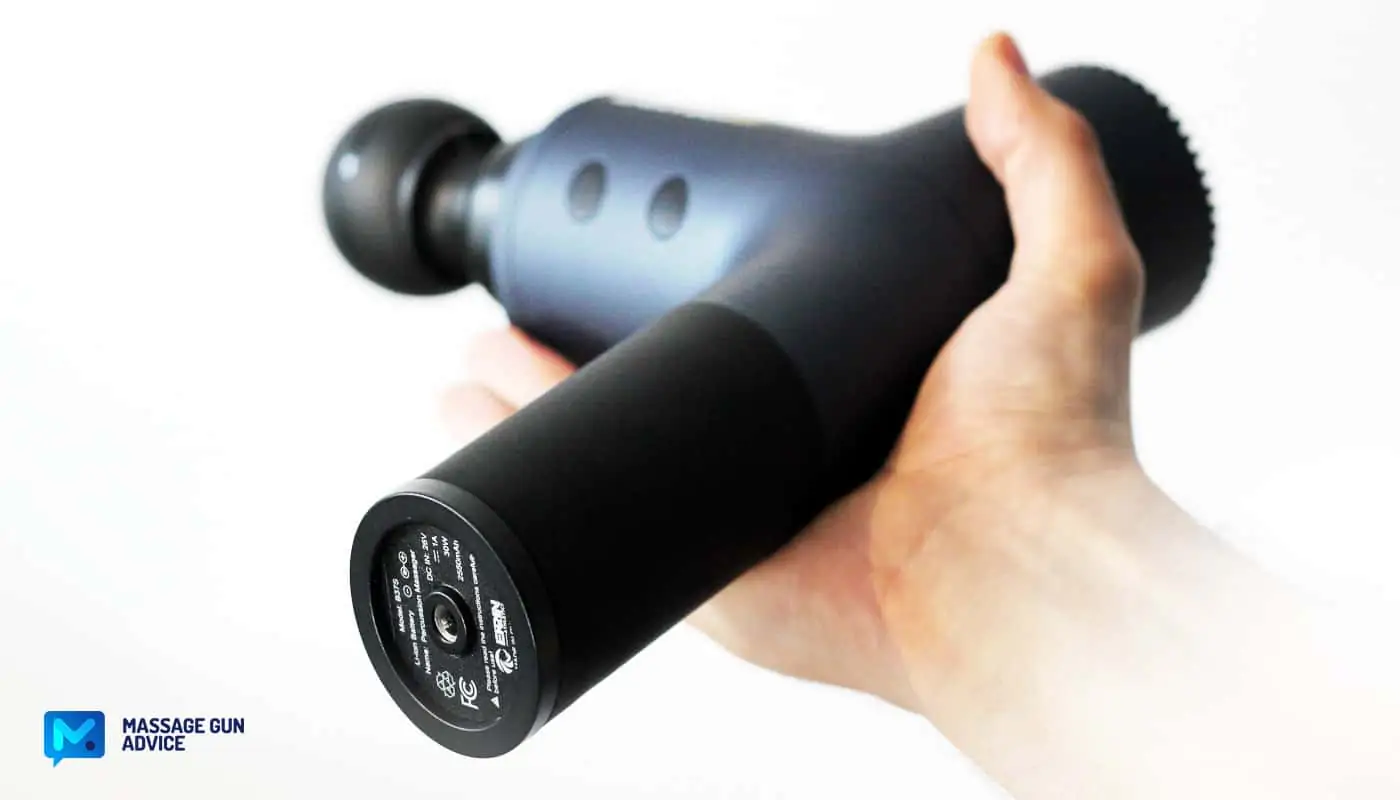 ---
What's Inside
The instruction manual neatly tucked in a pocket and a molded main compartment securely holding the massage gun, attachments, and charging cable.
This thoughtful layout not only protected the components from potential damage during transit but also simplified the process of keeping everything in order.
It's clear Ekrin has thought about the user experience from unboxing to usage.
---
Attachments
The B37s comes with six attachments – one foam ball, one hollow silicone ball, one flat, one fork, one bullet, and a cone.
We found the foam ball ideal for those sessions when we craved a bit more intensity, while the hollow silicone ball's softer, squishy texture provided a gentler, relaxing massage.
The cone attachment, with its silicone tip and robust plastic base, emerged as the go-to for targeting tendons and muscles near bony areas. The silicone tip gently cushions the pressure, delivering a satisfying massage without discomfort.
The remaining attachments – the fork, bullet, and flat – made from sturdy plastic, proved excellent for delivering solid, focused pressure to specific regions. These attachments played a crucial role in our personalized massage sessions, allowing us to target specific areas with precision.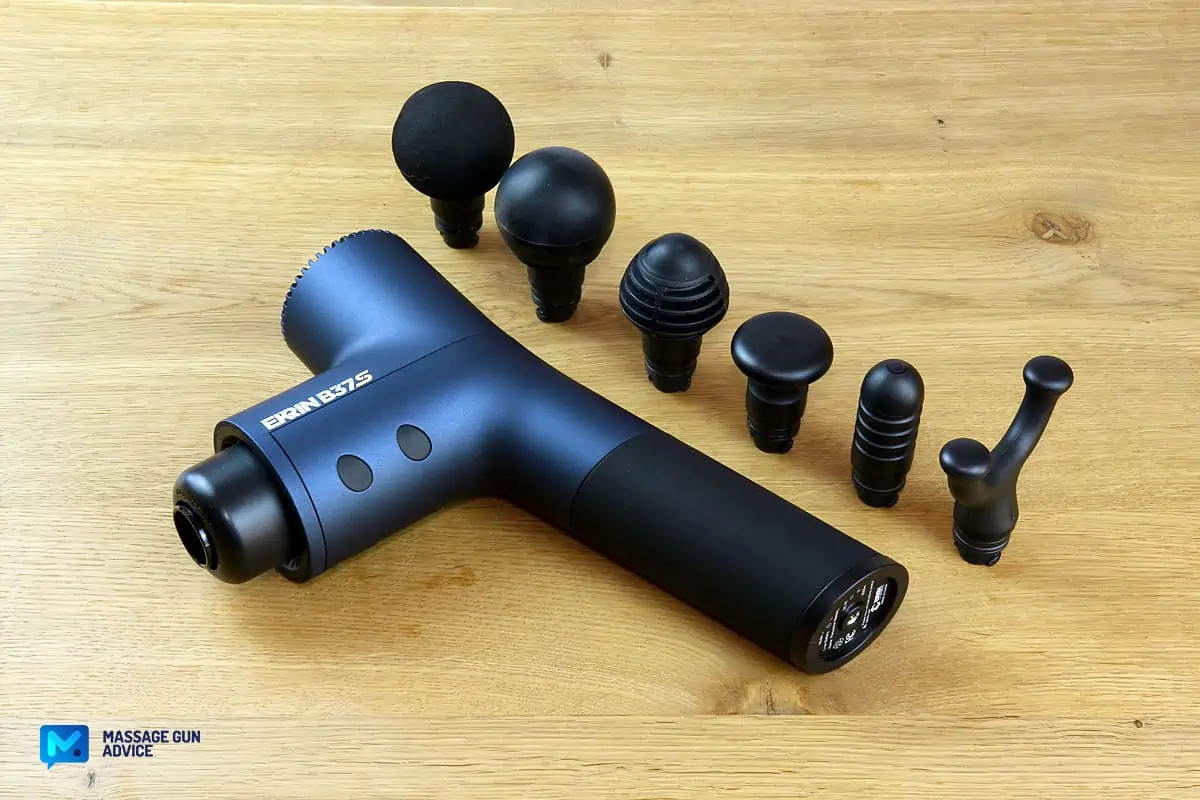 ---
Size
In terms of its size, the Ekrin B37s is a full-scale massage gun that comes in a handy gun shape.
While it's not a slim unit, it's not a bulky one either. This makes it easier to move around, and the angled handle helps reach tricky areas. That's ideal for when you're giving yourself a massage.
At 2.2 pounds, we could say that the B37s is not the lightest massage gun in the market. It has a top-heavy design, but the overall weight feels balanced and comfortable. Overall, we're very satisfied with its size and weight.
---
Ergonomics
The Ekrin B37S truly shines when it comes to ergonomic design.
Our hands-on use revealed just how effectively the 15-degree angled handle allows for easy reach to those difficult areas, while also significantly reducing wrist fatigue.
This thoughtful design offers a more comfortable angle than the typical 90-degree handles, enabling longer, cramp-free sessions.
The B37S's handle boasts a substantial diameter, aiding in a comfortable grip, while the silicone-rubber grip ensures it stays securely in your hand.
However, we observed that individuals with smaller hands might find the larger diameter slightly challenging.
---
Build Quality
In terms of build quality, the Ekrin B37S didn't disappoint.
Just like its predecessor, the B37, the B37S demonstrates Ekrin's commitment to using premium, high-quality materials, promising longevity.
The meticulous engineering behind its design is evident in its layout, giving you confidence in the product's quality and durability.
The B37S feels robust and sturdy, assuring you of its long-lasting performance.
---
Performance, Effectiveness, and Intensity
Now, let's proceed to the heart of this Ekrin B37s review. We'll now break down its key features to help you understand how it truly performs.
---
Stroke Length / Amplitude
We'll start with amplitude. Simply stated, this refers to the distance by which the head travels from the base of the gun. This helps you determine how far it can go to massage your muscles.
In the realm of amplitude, the Ekrin B37S comes with a 12 millimeter stroke length.
While this might seem less compared to the 16mm offered by Theraguns, Achedaway Pro and Bob and Brad D6 Pro, our tests revealed that when coupled with a high no-stall force, this 12mm amplitude delivers an impressively deep and impactful massage.
This powerful punch helps treat sore muscles, enhances blood circulation, and aids in breaking down lactic acid.
A key advantage of this shorter amplitude is a less bulky and lighter design.
After thorough testing, we can confidently say the Ekrin B37S's amplitude doesn't compromise on performance.
---
Stall Force
This is where it gets more interesting.
Working hand-in-hand with amplitude is the stall force (also called as 'no-stall force'). This refers to the pressure that's sufficient to stop the motor from running when it's pressed to your body. The higher the stall force, the deeper the muscle penetration – and that leads to a truly satisfying massage.
The Ekrin B37S, with its stall force of 56 pounds, truly excels in its size category. Despite appearing similar to its predecessor (the B37 model), our testing showed an improved progressive system that offers enhanced power at each speed level. 
At the first speed, the B37s provides you with a whooping 36 pounds of stall force, as opposed to the 28-pound stall force of the B37. At the second speed, B37s delivers 42 pounds, while the B37 only offers 32 pounds. At the third speed, B37s offers 52 pounds, as opposed to its predecessor's 40 pounds. The fourth speed is also at 52 pounds. This gives you an idea of this progressive system.
Nevertheless, that amount of pressure is enough to deliver that deep and powerful massage that's guaranteed to soothe and treat your muscles. You would have to be strong to actually stall the motor on this unit.
---
---
Percussions and Speed Levels
Our tests confirmed that the B37S delivers a range of 2000 to 3200 percussions per minute across its five speed levels.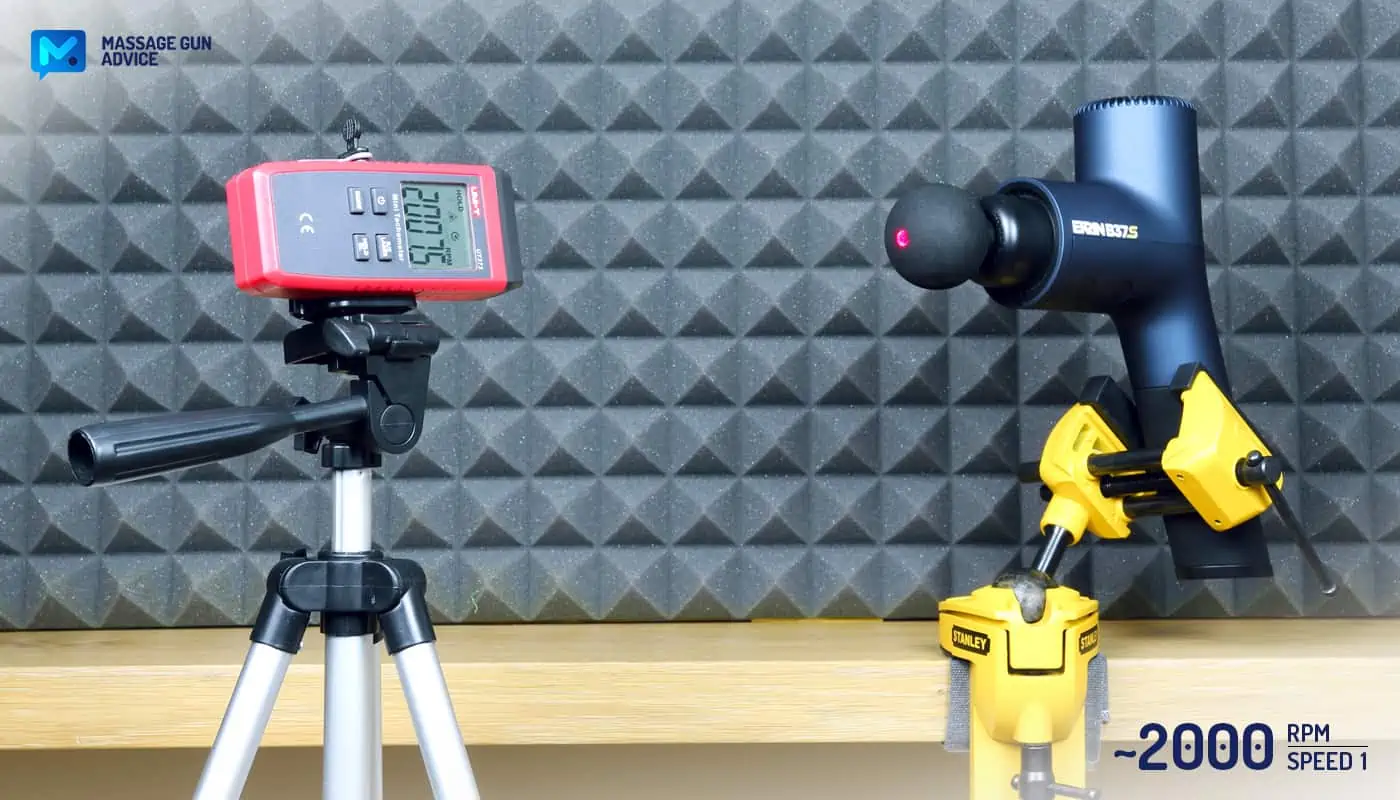 While the boosted power results in a deeply satisfying massage, we found ourselves missing the broader percussion range of the B37 (1400 to 3200ppm), particularly for those moments when a gentler (slower) pulse is preferred.
One feature we particularly appreciate in the B37S is the dynamic fifth speed level. Unlike the consistent percussions delivered in the first four speeds, this level alternates between high and low beats, creating a unique and relaxing massage pattern.
The B37S also includes LED indicators that allow you to easily identify the current speed level. The device displays five LED lights at the top of the unit that light up incrementally with each speed increase.
Even without a display screen, the operation of the Ekrin B37S is remarkably straightforward, as confirmed by our tests.
---
Noise
We also love how quiet the Ekrin B37s operates. According to their official release, it only operates between 35 to 55 decibels, depending on the speed level you're using.
Upon checking this claim, we discovered that it goes slightly beyond 60 decibels. But even then, such a number isn't considered noisy. In fact, it can be instantly drowned out by other sounds around you.
For comparison, the more expensive Theragun Pro (and Elite, and Prime) are noticeably louder, despite being advertised by Therabody as super-quiet devices.
Much of this quiet operation results from its minimal vibrations, which we assume are due to its solid and compact construction. This means operating the B37S isn't as tiring for the hands compared to its competitors.
---
Battery Capacity
Because of its cordless design, no Ekrim B37s review would be complete without discussing its battery capacity.
In our evaluation, we found that the device is equipped with a 2550 mAh Samsung-branded battery, which assures reliable and long-lasting performance. This is a standout feature, particularly when compared to lower-quality batteries often found in other devices that tend to fail within a few months.
Our tests confirmed that the B37S can operate continuously for up to about six-seven hours on a single charge (if not used on high speeds). This is an impressive feat, given the power output of the device and the energy required to illuminate its multiple LED lights.
Interestingly, we were relieved to find that Ekrin didn't opt for a larger battery size (such as 2800-3200 mAh). While this might have extended the operational time slightly, it would also have added extra weight to the device, potentially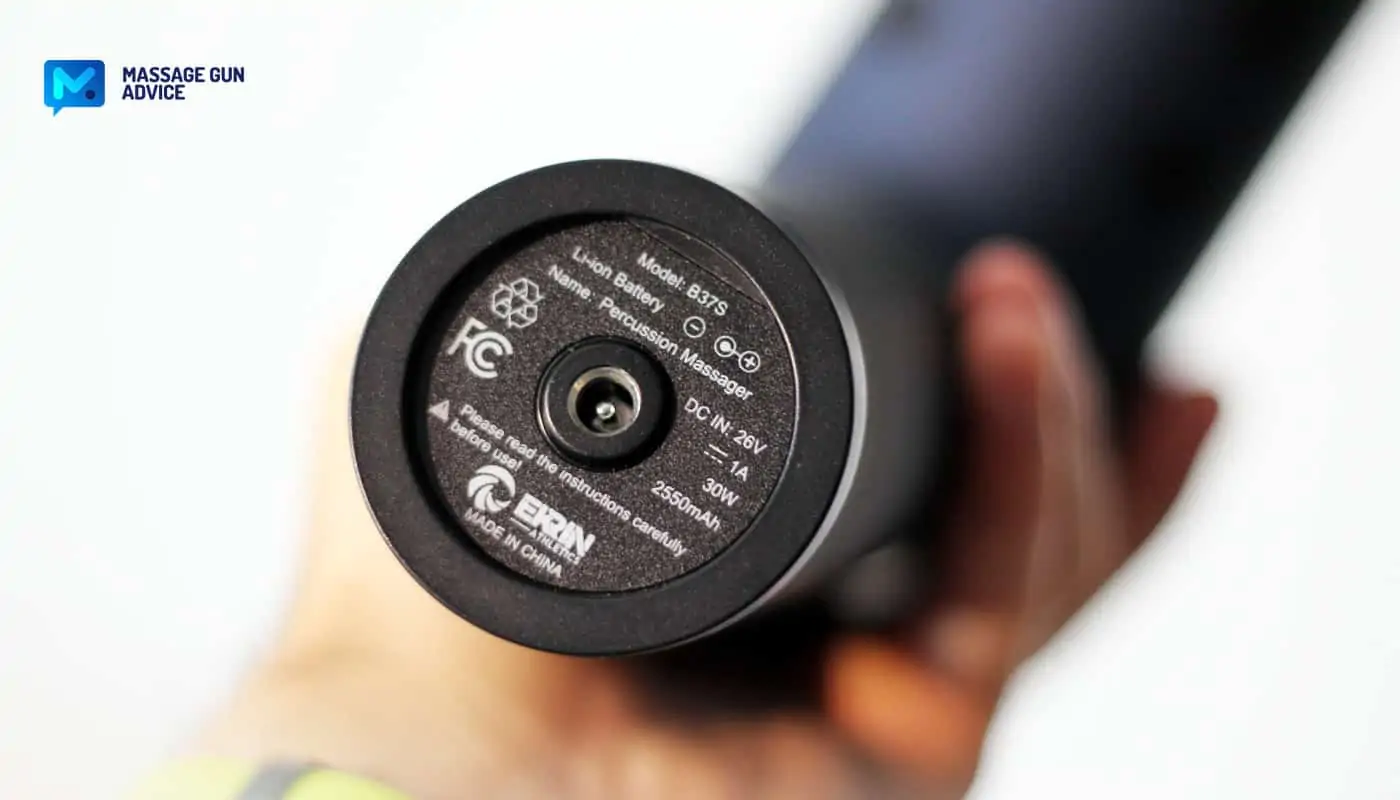 ---
Price and Warranty
The Ekrin B37s is available on their website for $329.99 – a fair price for all its upgraded features and above-average stall force.
Also, we recommend buying from their website to support the brand, enjoy these discounts and excellent customer service.
But perhaps the best part about owning an Ekrin B37s is that the brand offers a lifetime warranty and lifetime customer support. You can be confident that you'll be taken care of with this brand.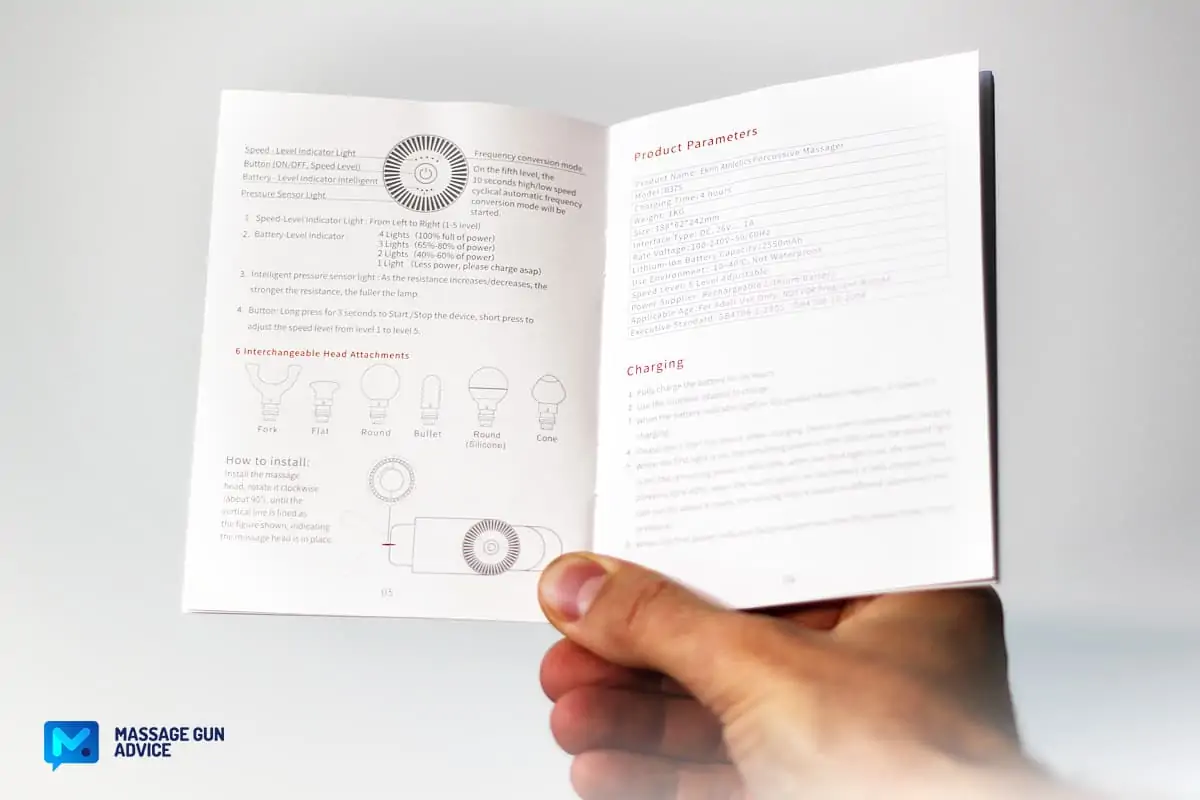 ---
Who is it Best For?
Since Ekrin aims to improve our athletic performance, then it's easy to see that it's designed for athletes, bodybuilders, and similar people with active lifestyles and a lot of muscle mass. This is because of its deep penetrative capability and powerful performance.
Nevertheless, its less bulky design makes it quite versatile. That's why we also recommend it for personal use – especially if you prefer strong massages in the comfort of home. Chiropractors and professional masseuses can also benefit from this massage gun, thanks to its quality build and superior stall force.
So if you're looking for a premium massage gun that's a fraction of the price of a Theragun Pro, then the Ekrin B37s is the best for you.
---
Ekrin B37s vs. B37
Perhaps the biggest question that's often thrown our way is how the B37s differs from the flagship B37 massage gun. That's why we decided to insert such a discussion in this Ekrin B37s review.
Before discussing the differences, let's first discuss the similarities. Based on our personal experience with both Ekrin devices, we can confidently say they have the same amplitude, design, shape, noise levels, size, and weight. Also, you can use the same promo code with both models to enjoy the lower price.
Verdict
---
Ekrin B37s vs. Theragun

When we first picked up the Ekrin B37s, we couldn't help but draw comparisons to our previous experiences with the well-known Theragun. As we explored the B37s, it became a fascinating journey of discovering how the two devices stand against each other.
Aside from the striking difference between its design and shape, we want to dig deeper into their differences. We'll break down the details below.
---
Theragun Advantages
---
Ekrin B37s Advantages
---
Similarities
As we spent more time with the B37s and the Theragun, we noticed that both shared some similar characteristics that shaped our user experience.
Both units feature five speed levels to deliver the best massage for different situations. Also, both units have reactive force meters that help control the stall force exerted. And finally, both units fall within the same size class, although Theragun is slightly bigger.
Verdict
---
Ekrin B37s vs. Hypervolt

As we delved into our exploration of the Ekrin B37s, we couldn't help but draw comparisons with another well-known device we've used — the Hypervolt. Let's first discuss the similarities.
Similarities
Now that you're familiar with their similarities, we can now break down the Ekrin B37s vs. Hypervolt differences.
Differences
Verdict
---
Best Alternative To Ekrin B37s
---
---
Bottom Line
In our review of the Ekrin B37S, we can confidently say that it exceeded our expectations. The power it delivers, despite its compact size, impressed us.
While the Ekrin B37s shares features with its predecessor, the enhancements in engineering, performance, and design are noticeable and significant. Given our user experience and the addition of a lifetime warranty, we can vouch for the value it provides for the investment.
We hope you found this review helpful. Your feedback is valuable to us, so please feel free to leave comments below or join our Massage Gun Talk Facebook group for further discussion.
Till the next time!
---
Post Update History
Here's a quick rundown of all the tweaks and edits we've made to this article to keep it accurate and up-to-date!
Current version last updated on:
November 20, 2023 The post has been refreshed and improved in several places, and the linking has also been updated for better navigation. (Author: Greg)
June 21, 2023 To help our readers get a better sense of the Ekrin B37s, we've added a hands-on video review. Also, we've updated our review with images that showcase the percussion range testing to give you an even clearer understanding. (Author: Greg)
•
Written by:
Greg Szostak
Disclaimers
The views and opinions expressed on this website are those of the authors. Any content provided by our bloggers or authors are of their opinion and are not intended to malign any religion, ethnic group, club, organization, company, individual or anyone or anything.
All product names, logos, and brands are property of their respective owners. All company, product and service names used in this website are for identification purposes only. Use of these names, logos, and brands does not imply endorsement.
It is our policy to make every effort to respect the copyrights of outside parties. If you believe that your copyright has been misused, please provide us with a message stating your position and we will endeavor to correct any misuse immediately.
Some of the links in this post are affiliate links. As an Amazon Associate, we earn from qualifying purchases. This means if you click on the link and purchase the item, we may receive an affiliate commission, at no extra cost to you. This helps us keep this website alive. Learn more here.
Amazon Disclosure
massagegunadvice.com is a participant in the Amazon Services LLC Associates Program, an affiliate advertising program designed to provide a means for sites to earn advertising fees by advertising and linking to Amazon.com. As an Amazon Associate, we earn from qualifying purchases. Amazon and the Amazon logo are trademarks of Amazon.com, Inc. or its affiliates. Please refer to our Privacy & Affiliate Policy for details.