Ekrin B37 Review: Ekrin's Secret Weapon Against The Big Names
What to Know: We independently review products we recommend. If you click on links we provide, we may earn a commission. Learn more.
---
Welcome to this hands-on Ekrin B37 review. We're excited to share our personal experience with this surprisingly good massage gun.
We've been incorporating this device into our daily routine for the past 6 months, and it has proven to be an excellent addition to our muscle recovery regime. We were drawn to the Ekrin B37 due to its popularity, and after using it ourselves, we understood why it garnered so much attention.
Turns out, the gospel about this massage gun is not all hype. It's not only the massage gun that put Ekrin Athletics out there, but it packs a lot of features that impressed us.
And since we love massage gun talk, this one carries power, aesthetics, (we loved it at first sight) and offers real value for money. In fact, we've listed it as the best value massage gun for 2023.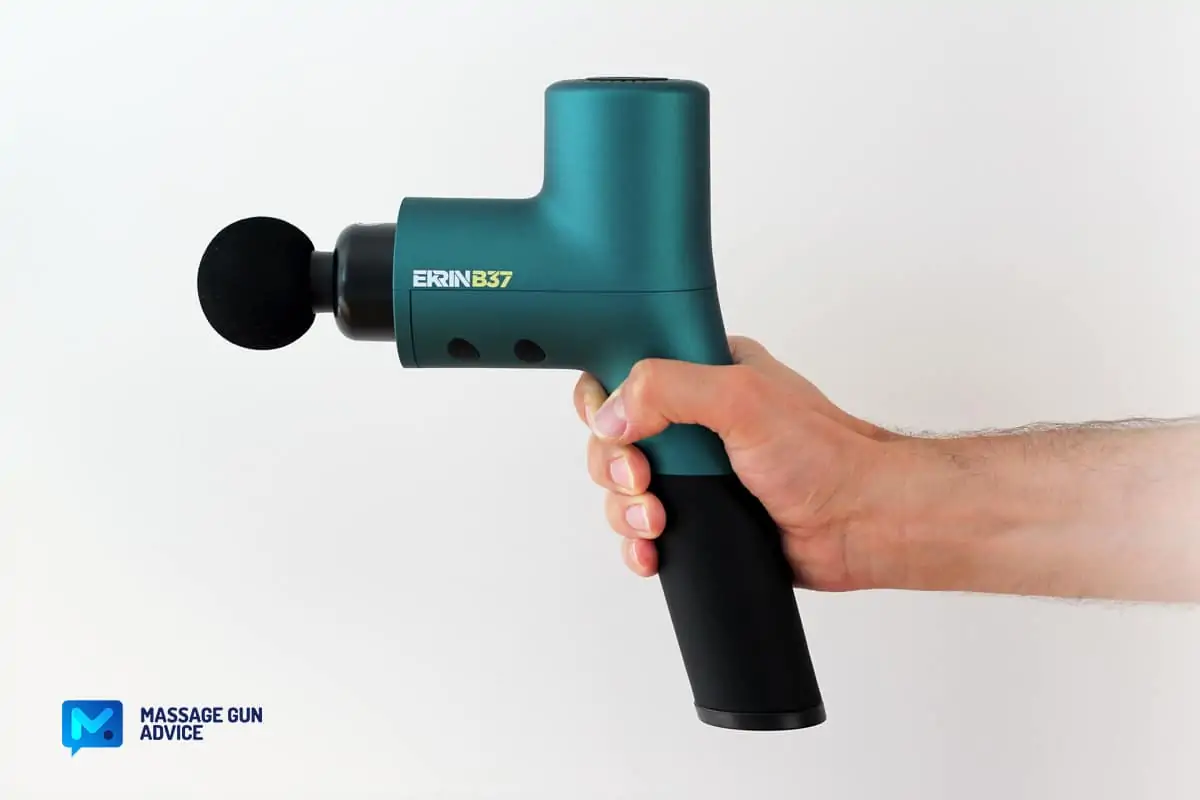 ---
---
Meet Ekrin Athletics
If you've been reading our massage gun reviews you've probably noticed how we've had to explain in some cases that we really don't know about the company but we liked the massage gun anyway.
Well here's one of those reviews where we can comfortably say that we know about Ekrin Athletics. Unlike many other brands, they're not one of those private labels that only exist at Amazon.
In fact, they are one of the few USA massage gun brands! Take it from us, most brands out there are Chinease brands. They just pretend to be American.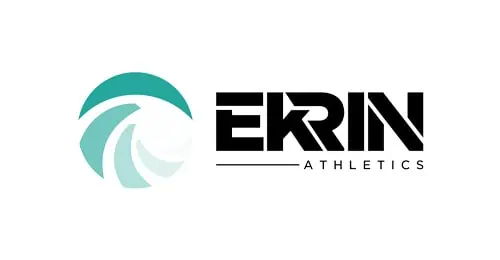 Ekrin Athletics is a relatively new company. They started off in 2019 with two former student athletes who wanted to share with others about being fit and healthy. They saw it fit to emphasize on muscle recovery and prevention of injury to athletes.
In our research phase, we discovered that the name Ekrin has a unique significance, further piquing our interest in the product.
It's a combination of two Greek Words (it's Greek so bear with us here) that mean "Explosive Movement". So we got excited to check out what else they have to offer and we found out that for now they only do massage guns. Which is perfect for us!
Our experience with the Ekrin B37, the flagship product of Ekrin Athletics, has been quite remarkable. We found that the customer praises we read about aligned with our own experience.
They followed it with the newer B37s, later on made the mini-sized Bantam after which they released their third full-size massager, the 365 model.
When we reached out to Ekrin Athletics with our queries about warranties and return policies, their prompt and efficient responses added to our positive experience.
We had a few things to ask about their massage gun. No, we didn't have any problems with it, we just wanted to get clarification on a few things. Like how's their return policy like, and also find out the conditions for their LIFETIME WARRANTY.
Sometimes you just want to get answers directly from company representatives about their product, and we are glad that the response was quick and efficient.
So let's get into the Ekrin B37 massage gun review, shall we?
---
Ekrin B37 Video Review
But before we delve into the nitty-gritty of the written review, how about we start with some moving visuals? We've prepared a comprehensive, hands-on video review of the Ekrin B37 for you.
In the video, we're walking you through the unboxing process, examining the design and ergonomics, demonstrating the various attachments, and testing the speeds and stall force. We even give you a close-up look at the charging process. This video doesn't just tell, it shows, giving you a complete understanding of the Ekrin B37 in action.
So, go ahead, hit the play button for an exclusive look at the Ekrin B37, then continue with the in-depth details we have discussed below. Let's make this review journey as informative and engaging as possible!
---
Ekrin B37 Review
Ekrin B37 Specifications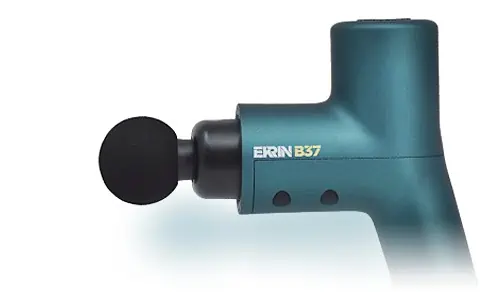 Why we like it:
Versatile and reliable massage gun
Great value for the money
Excellent quality overall
Lifetime warranty
Feature
Ekrin B37
Stall Force
56 lbs
Stroke Length
12 mm
Percussions
1400-3200 ppm (verified)
Speed options
5
Battery Life
4-6 hours (2550 mAh, non-removable)
Noise
48.8 – 60.9 dB (our measurement)
Weight
2.2 lbs
Number of Attachments
4
Pros
Substantial stall force
Fast revving
High-quality components
Battery life
Great ergonomics
Overall quality
Cons
Non-detachable battery
Handle diameter a little large
Warranty
Lifetime
Price
$229.99 $183.99
Discount for our readers
20% OFF with the MGA20 coupon
Get it right here!
Ekrin B37 Specifications (according to Ekrin)
---
First Impressions
So first things first. You can tell that Ekrin Athletics really mean business with the quality of the B37's carrying case. It's nicely built and straightaway tells you that whatever's inside is not a toy.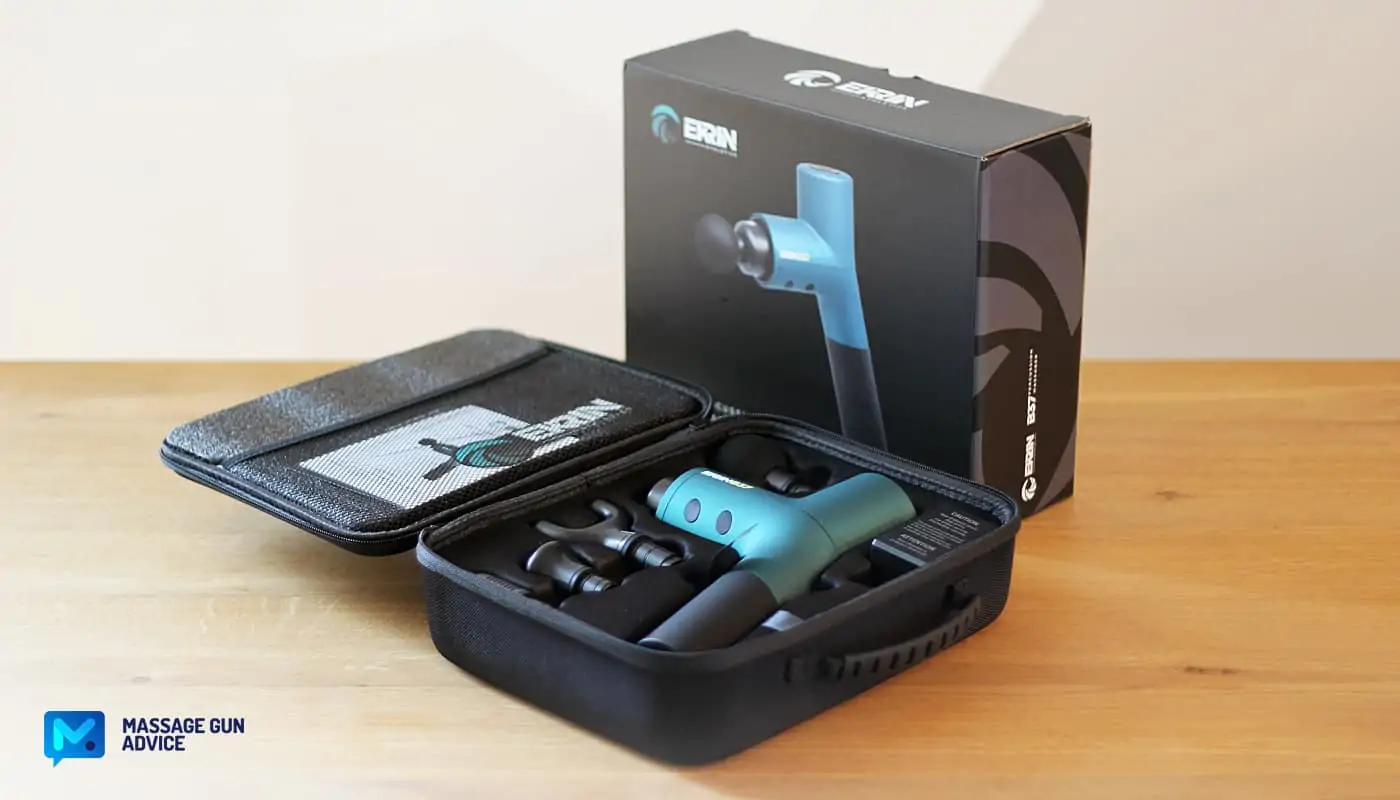 We'll go ahead and call it a nice little travelling case. When unboxing it, we discovered two zippers which again felt really like we were opening a premium package. Enough about the case though.
Inside, the contents are pretty well organized. We noticed the massage heads were arranged nicely. There's the device; kind of sticks out in the middle of the case, and then the charger.
The device itself is impressive, first to look at, and then also to touch. The satin paint gives the Ekrin B37 a stylish and glossy look.
Holding it gives you the impression that it's well thought out. It feels sturdy and durable when hold. Not one of those massage guns that you first hold and straightaway can tell that it won't go the distance.
In our day-to-day use, we appreciated the simplicity of the single button for power and speed control. It's straightforward and user-friendly.
Yet we might say for us simple is better. It's much easier to know you won't have to fiddle with it mid-massage trying to figure out what button does what exactly.
Operation mode is to long press if you want to turn it on or off and then quick presses will allow you to change speeds.
Also, since it's simple use, you don't get the LCD option with this device. Someone might argue that a modern device should at least have this kind of sophistication, and for good reason too. But we like the simplistic approach.
Plus, it doesn't take anything away from the performance, which is what matters most.
---
The Attachments
From our experience, the massage heads follow industry norms, but their premium build quality stood out to us during our sessions. The B37 has four of them included; bullet head, ball head, spine/fork head, and the flat head.
A bit on what we thought about the attachments on this one:
---
Round / Ball Head
We use the ball head to get more of a general massage. If you have used a massage gun before you know this is the go-to attachment. It's always the lazy massage gun head because 90% of the time it's the one always attached.
And the Ekrin B37 one is a bit special, we might say. It's made with a higher quality EVA foam that we liked. Not like one of the cheap forms we have seen from the low-end massage guns. It felt really smooth on our glutes and hamstring.
---
Fork / Spine Head
You guessed it; the fork or spine head is used around the spine. The two prongs go either side of the spine and activate the muscles around there. It also works on the lower back pains.
The Ekrin B37 one was perfect again for us. It's made of tough plastic. We actually enjoyed using it around the calves as well. Some of the bigger guys have had fun with it.
---
Flat Head
The flat head is what we call the must-have. It's multi-purpose. And our favorite. It works on diverse sets of muscles. But we actually love using it for our larger muscles, that's the pecs, the glutes and calves.
The B37 one is made with hard plastic. It still looks rather new considering how long we've used it.
---
Bullet Head
Thebullet head is the focus head. We use it especially when we have pain in certain muscles. We have heavy lifters in our team and occasional shoulder sprains are not uncommon.
For this, Ekrin chose hard plastic as well and we've had good fun with it.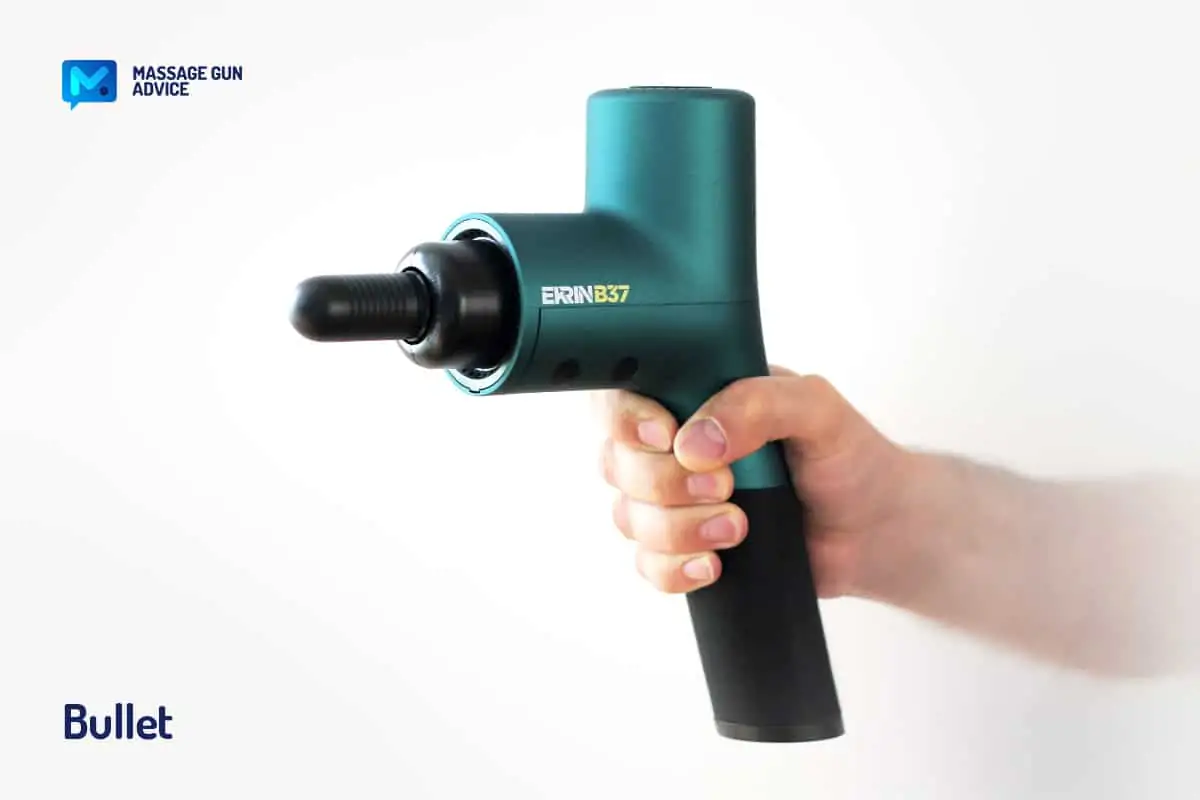 ---
You've probably noticed that the massage heads, apart from the ball head, are all made of hard plastic. This, you might say, doesn't make for a smooth massage like what perhaps Achedaway would offer. But for a novice company making their first product to this standard, we might argue is a plus. We'll get into the praises in just a bit, hang on.
The heads can be easily attached and removed. Actually, apart from the fork head which has a little line on it that indicates where it needs to go in, the other heads just require you to do tiny bits of push and pull.
The line on the fork head is to prevent it from spinning around as you massage the spine area. We did notice though smaller guys appearing to use a bit of force trying to pull the heads off, but the bigger guys had no such problem.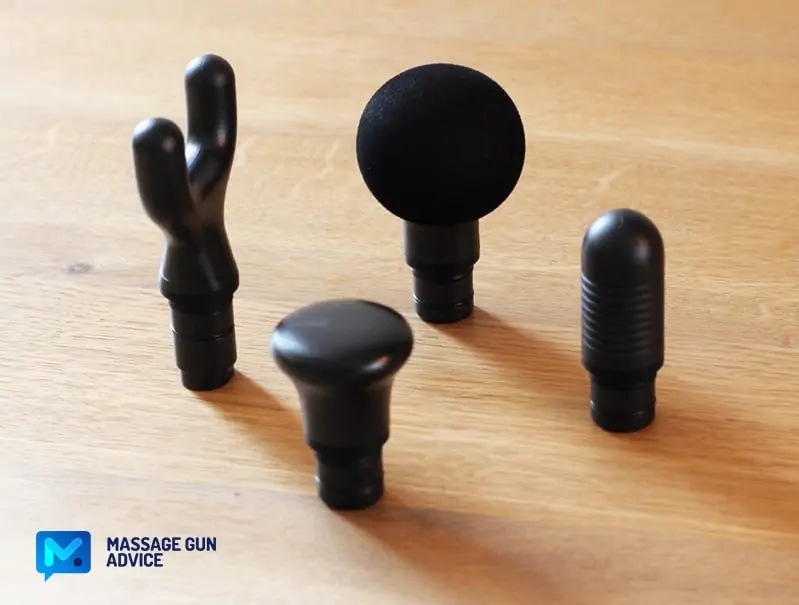 Other things we found in the bag include the instructions manual. They've got special information on there on how to use the heads and also just general massage gun use stuff (if you've never used a massage gun before don't worry).
Our case also included a nice EKRIN sticker which we felt is a nice touch from the company. Shows they do care, and we love small details.
---
Size, Weight, Ergonomics
The gun itself is pretty light. At 2.2lbs, feels pretty standard.
There are lighter guns out there we have to agree, but this one feels just about the right weight. We have used heavier guns that are low standard. We think most of the weight is accounted for by the motor and perhaps the high-quality in-built Samsung battery.
It's just about the perfect size we might say. For a full-scale massage gun it doesn't feel as bulky as some of the industry massage guns we've used before. We've tested some power-drill shape guns that are way heavier (Hypervolt 2 Pro and Theragun Pro feel a bit dense in comparison).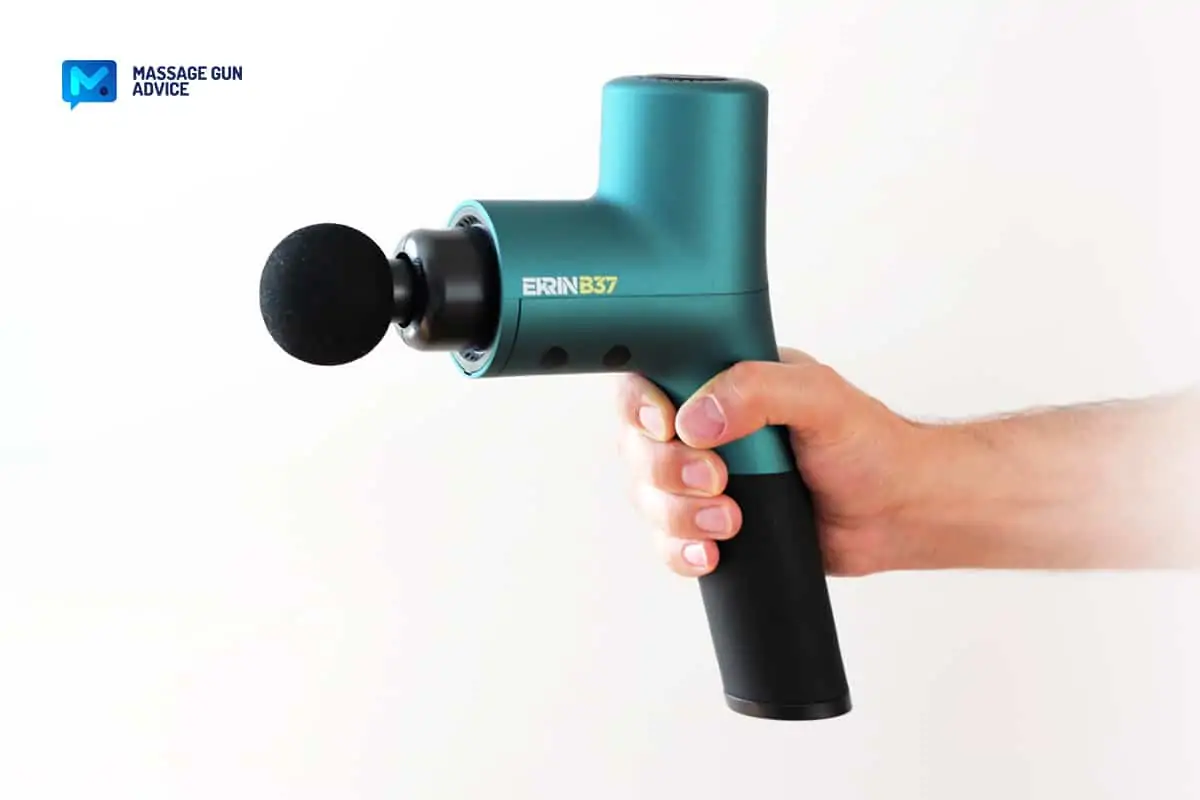 We were really impressed by the handle on this gun. Instead of staying with the industry standard of T-shaped massage guns, Ekrin went with a unique 15-degree angled handle.
This we might say is the standout genius of this device (at least by just looking at it). Many of the straight or T-shaped massage guns we have used tend to put so much tension on our wrists that we can barely even get a 3-minute session without having to stop.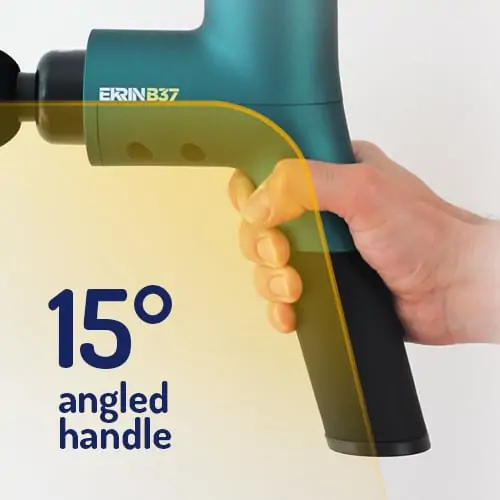 The 15-degree angled handle makes for great ergonomics on the B37. It allows you to reach almost 90% of the body muscles without having to work your arm into difficult positions.
We also found out that with this design we could use the massage gun for longer than we have done with other massage guns (we have tested many).
Ekrin doesn't say it, but even if you were giving a massage to a colleague, the design gives a comfortable two-handed grip (the little extension at the top). You could argue that maybe Theraguns have better handles, but Ekrin did well here for a value massage gun.
The downer here though (not catastrophic) is that the handle's diameter felt a little large for some of the guys with smaller hands.
But Ekrin more than makes up for it with a nicely done silicone rubber grip. If you are a little short on the length of your fingers then don't worry, the rubber grip ensures the device doesn't slip from your hand when you are using it.
For those with smaller hands, Ekrin released the entry-level 365 model. It is lighter and slimmer, but not as powerful as the B37. Check out our hands-on Ekrin 365 review for more details.
---
Performance
To be honest we were a little worried about how this device would perform given we had already tested some of the industry giants (Theragun and Hypervolt). We decided to test it based on what anyone would want in a massage.
Here's some insight into what the Ekrin B37 can give you…
---
Stroke Length / Amplitude
We can often tell the amplitude of any massage gun by looking at the lengths of the attachment heads it comes with.
Amplitude just refers to how deep the gun can hit.
This device offers what Ekrin says it does.
At 12mm it offers the right punch needed to penetrate the muscle deep enough to improve blood floor, get to the sore muscles, and also break up the lactic acid accumulation.
12mm is not nearly enough to rival Theragun's 16mm or Opove Apex's 14mm but to be fair it offers just enough. Plus, the high stall force, and much faster percussions make up for this.
Verdict In our opinion, it has the right amplitude to give deep muscle massage.
---
Stall Force
After an intense workout, some of us like to get our big muscles worked on. Sometimes in order to get really deep into say, the pecs, we have to press the gun really hard on to the body. This can sometimes stop the massage gun.
That force needed to stall or stop the gun is what is known as the stall force.
For a massage gun under $200, the B37 really shines with a 56lbs. stall force. This is impressive because its peers don't even get close.
We'll not get over our heads here especially when it's a couple of pounds behind Theragun Pro and Achedaway Pro, but considering its size we would be pretty fair in declaring it powerful enough.
We noticed that the stall force is progressive with speeds.
At the slowest speed it stalls with 28lbs, second speed with 32lbs., third with 40lbs., fourth with 52lbs., and then finally it's hardest to stall at highest speed with 55lbs. We tried stalling it just as practice and we had to apply a fair amount of pressure to do it.
Verdict At higher speeds this device can provide deep-to-the-bone massage.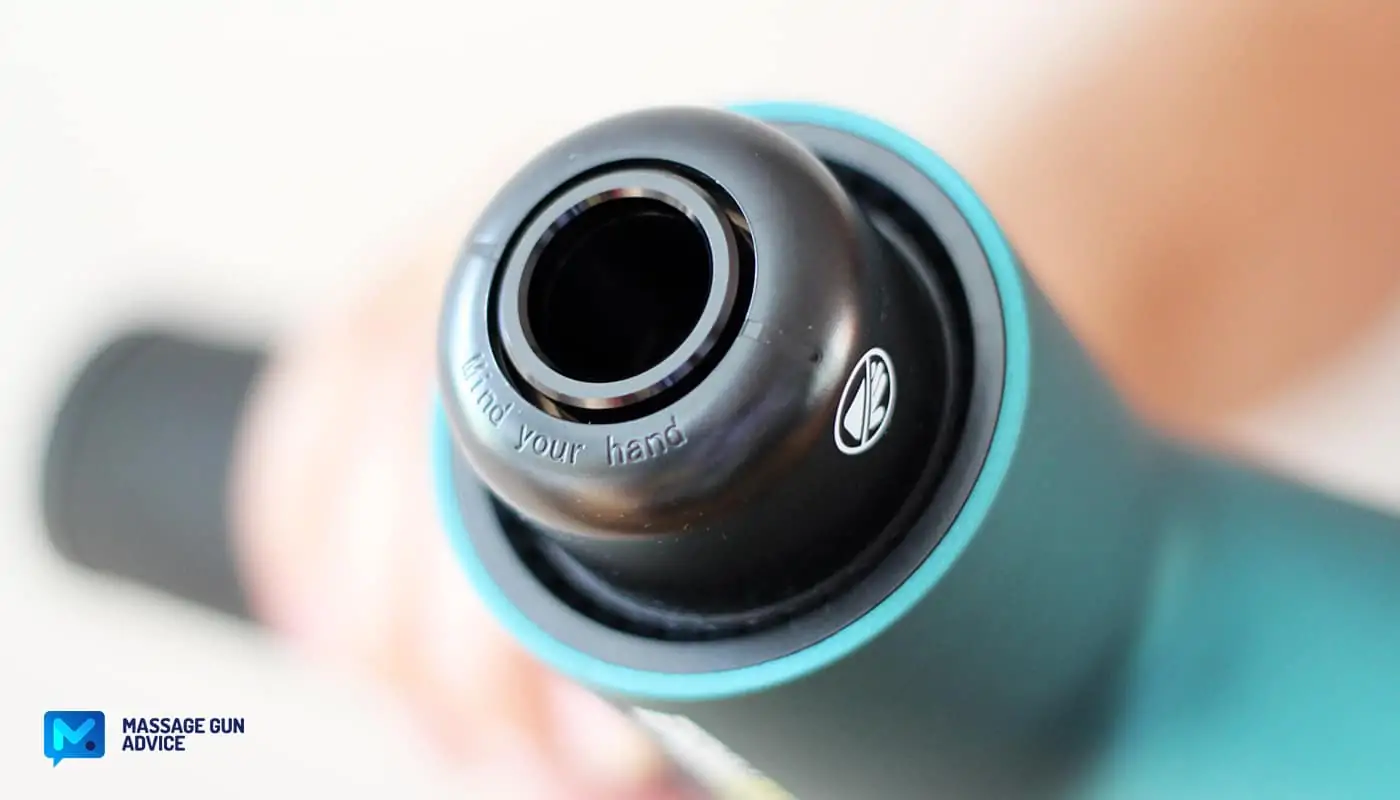 ---
Performance Parameters Comparison
Let's see how B37 compares against other popular competitors.
---
Stall Force (lbs.)
Our Take
Ekrin B37 offers a lot of stall force. 56 lbs. is more than the top range Hypervolt 2 Pro. It's well enough to break through those knotted muscles and tissues.
Stroke Length (mm)
Our Take
12mm amplitude is not industry leading, but more than enough for deep tissue massage (especially when paired with 56lbs. of stall force)
---
Percussions and Speed Levels
The B37 revs between 1400 – 3200RPM. It is what they advertised, and we found it accurate — our laser tachometer gave us the same result.
Pretty standard range, you might say. Fair enough, but what impressed us is how low you can start. Even industry giant Theragun starts at 1750RPM.
You can get precise muscle penetration especially when you are using more pressure. It has simple LED indicators that light up as you change the speeds. It revs across 5 speeds.
But perhaps the most stunning feature of this gun is its ability to deliver the range regardless of the pressure exerted against the skin.
See, most (like 90% or so) massage guns are not powerful enough to keep revving under pressure. Press them slightly, and they slow down, so you don't even get close to advertised percussions — This Ekrin's different. Thanks to the high stall force, it just keeps revving, regardless of the force applied and speed selected.
---
Battery
The battery is a Samsung lithium ion (Li-On) with 2550 mAh capacity. We were a little surprised how Ekrin managed to pack a powerful battery into a rather small device.
Kudos to Ekrin for actually specifying the kind of battery inside the B37. We've seen devices that don't specify this that have gone on to deteriorate in quality in less than 3 months (looking at you, Toloco).
In our test, a single charge gave us between 5-6 hours of use depending on how long we tested it and the amount of pressure we used during the massage sessions.
If you have 10-minute daily sessions it should be able to go for 10 days or even more. There are 4 LEDs below the power button that indicate the charge level.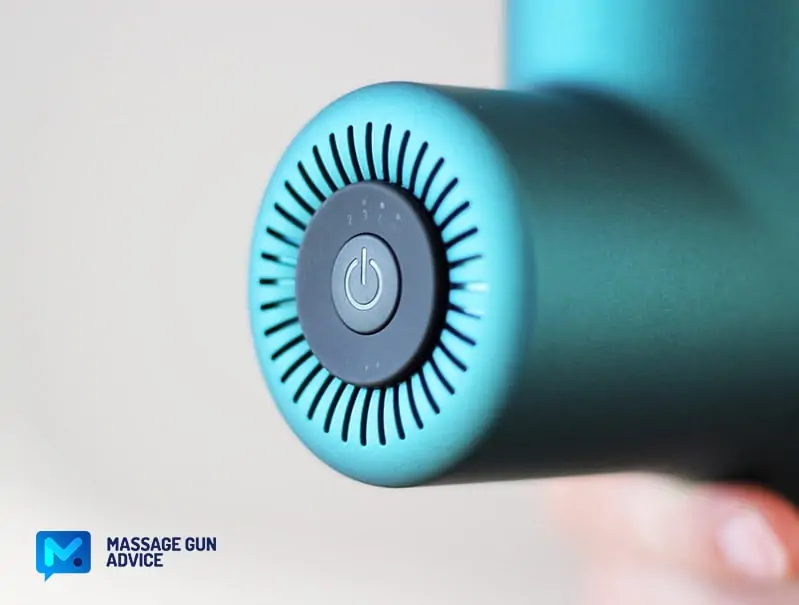 ---
Noise
We wouldn't say it's too noisy and we also wouldn't say it's the quietest gun we've tested, but it's quiet enough. It's one of those things you have to use and judge.
But on our part, we didn't have to raise the TV volume when using it. Ekrin say it's 35 – 55dB depending on speed but it goes from 48.8dB to just over 60dB, with a background noise at 35dB.
One thing we noticed is that it doesn't rattle much when pressed to the body. Also, the vibrations don't transfer to the handle, which makes it quite comfortable to use.
---
Price, Warranty and Where to buy
The device goes for $229.99 but you can get it at $183.99 with 20% off if you use the coupon code MGA20. Buy it in Ekrin store here.
You can buy the device from the company's website. Take advantage of their top notch customer service. They offer a lifetime warranty and lifetime customer support. Also, while there you can check out the reviews from satisfied customers.
---
---
Who is it Best For…
Based on our extensive hands-on experience with the B37, we can attest to its versatility and appeal to a broad spectrum of users.
Professional athletes and bodybuilders will find this percussive device impressive – we've personally tested its ability to deliver deep, effective massages even on larger muscle groups.
If you're seeking a reliable at-home massage tool that offers more than just a gentle rub, the B37 can handle the job. We've experienced its power first-hand during our testing phase.
f you're new to massage guns, the B37 could be an excellent starting point. We found it intuitive to use and its premium build quality stood out even though it doesn't command the same price tag as the Theragun Pro.
Get it from Ekrin directly and save $46 by applying the MGA20 promo code at checkout.
Therapists and chiropractors seeking a versatile, powerful device will appreciate the B37.
The one drawback we noticed during our hands-on use was the absence of removable batteries, an option offered by Theragun. However, this didn't detract from our overall positive experience with the device.
---
Ekrin B37 vs Theragun
When it comes to Ekrin B37 vs Theragun, we would pick Theragun Pro or Theragun Elite to compete, or in this case compare to the B37.
We checked out Theragun Prime but the specs on it are too weak to compare with this. The Theragun Mini is a whole different category. It's a small portable device and comparing it to the B37 just wouldn't be fair at all.
The advantages of our Theragun picks over the B37:
Theragun punches harder with their 16mm amplitude compared to Ekrin B37's 12mm.
Pro and Elite both have OLED screens (you can read speed changes on there). Ekrin B37 doesn't have any screen.
Theragun Pro has replaceable batteries (although the new, 5th Generation Pro no longer comes with two batteries included. There is just one.)
Both Pro and Elite have built-in reactive force meter.
Both Elite and Pro have Bluetooth connectivity and work with a dedicated app. But we've heard rumors that Ekrin could be working on an app.
However, the Ekrin B37 stands out with these points:
Ekrin B37 has a powerful stall force of 56lbs. Only Theragun Pro has a higher force at 60lbs. Elite is way short at 40lbs. and just to mention that the B37 has a stall force twice that of Theragun Prime.
The Theraguns have percussions that range between 1750-2400rpm. The B37 has speeds ranging between 1400-3200. Apart from the short 12mm amplitude, we would argue that the B37 can provide a more intensive massage.
The B37's battery will last up to 5 hours compared to the Theraguns' which can only go for 2-2.5 hours before they run out of juice.
B37 is less noisy (lower by 7-9dB). In our testing, Ekrin's sound was smoother, too. We found Theragun's a bit harsh.
Ekrin offers a lifetime warranty. Only the Theragun Pro offers a 2 year warranty, the other models have a 1-year warranty each.
Ekrin is cheaper. With the

MGA20

code it goes for $183.99, a 20% off the regular price. Theragun Pro goes for $599 while Elite will cost you well over two times more.
Some similarities we noticed:
Both Theraguns have 5 defined speeds just like the Ekrin B37.
Theragun Prime and Elite also weigh 2.2lbs, but the Pro is noticeably heavier (2.8lbs.)
Verdict
Theragun have made a name for themselves because they offer premium quality. However, you'll also have to bear with their premium pricing.

Ekrin may be the "who's he" of the industry, but with excellent customer service and specs that go toe to toe or even beat Theragun we'd opt for it over the giants. The 50-70% lower price here is the deal breaker.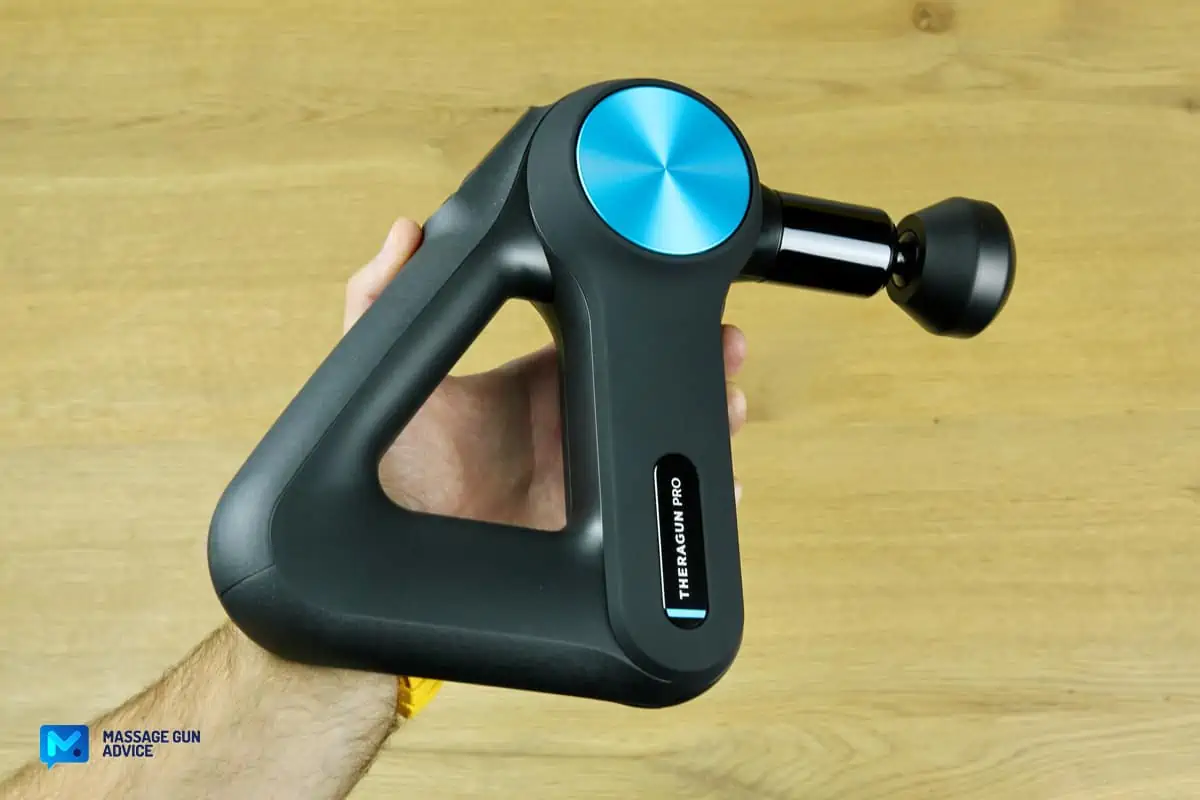 ---
Ekrin B37 vs Hypervolt
Hypervolt is a well-known industry massage gun. We can use Hypervolt 2 Pro as Ekrin B37's peer. Here's our input for the Ekrin B37 vs Hypervolt comparison:
Similarities, not many of them:
Ekrin B37 and Hypervolt 2 Pro have 5 speed levels each.
They also have similar size.
Both have similar noise levels, which means they are both quiet massage guns.
Differences:
Hypervolt 2 Pro is a high-amplitude device (14mm). Ekrin belongs to the middle-amplitude category (12mm.)
B37 revs much faster than Hypervolt 2 Pro. It maxes out at 500rpm more (3200 vs 2700).
B37 also starts at lower frequencies. You get 1400 percussions per minute at the first speed, Hypervolt starts at 1700.
B37 betters all Hypervolts in the stall force category. It has nearly twice as much power than the regular Hypervolt (56 lbs. vs ~25 lbs.). It is also much more powerful than Hypervolt 2 Pro, which has about 35lbs. (Hyperice doesn't disclose it, it is our estimation).
B37 has better ergonomics with the slightly tilted handle. The Hypervolts are power drills.
Ekrin has a stronger battery (5-8 hours compared to 2-3 hours). But Hypervolt 2 Pro will offer you the option of removables.
Hypervolts have 5 attachments, that's one more than the B37 which has 4.
You get Bluetooth with Hypervolts. Not so with the B37.
You get the force meter (pressure sensor) with the Hypervolt Plus. No such in B37 (but the more advanced Ekrin B37s has one)
B37 has a nice carrying case. Hypervolts don't even offer you one.
Warranty: Hypervolts have 1 year, Ekrin has lifetime.
Price: Hypervolt 2 Pro currently goes for $329 at hyperice.com, and the B37 is just $183.99 with the code

MGA20

.
Verdict
If you like the Bluetooth that comes with the Hypervolts or are just into their fancy badge then by all means go for the Hypervolts. However, in our experience, and in terms of real performance specs, the B37 outperforms all Hypervolt devices by a large margin.

On top of that you get a lifetime warranty and also get to save almost half of the price. Yes, Ekrin B37 is our pick here.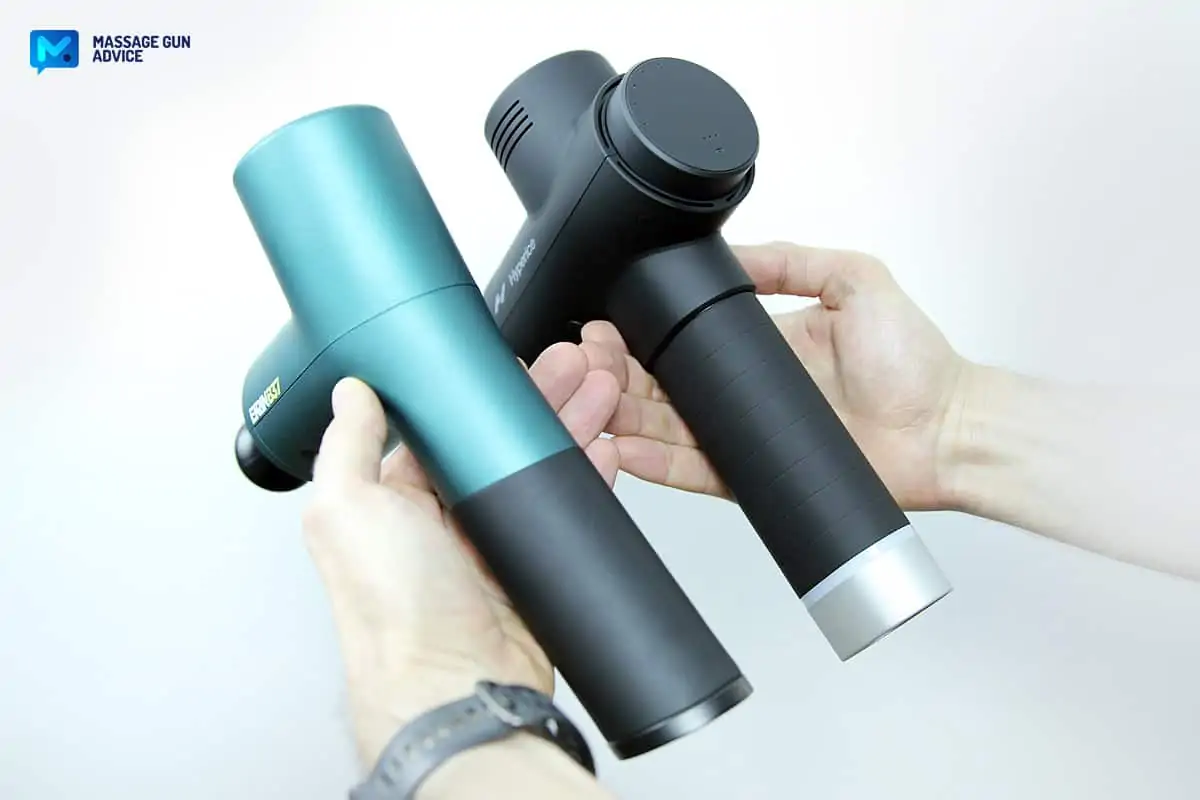 ---
B37 Percussion Massager Alternatives
---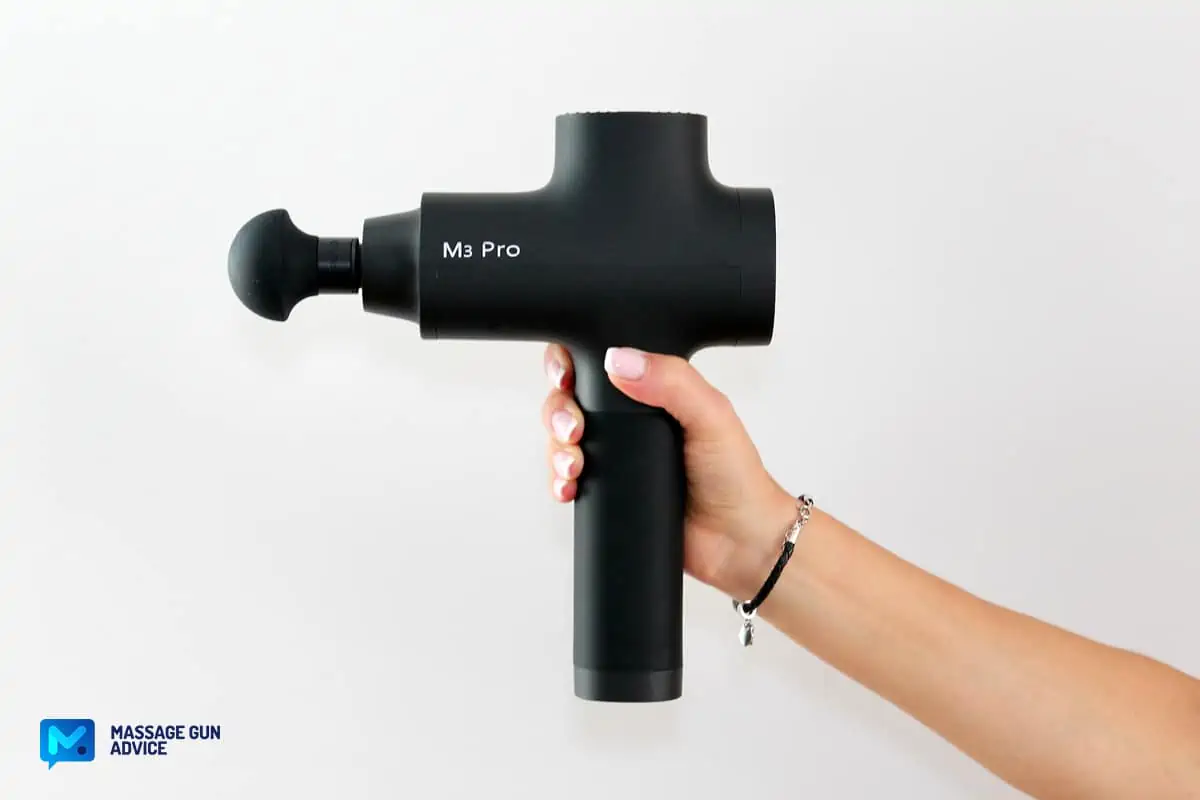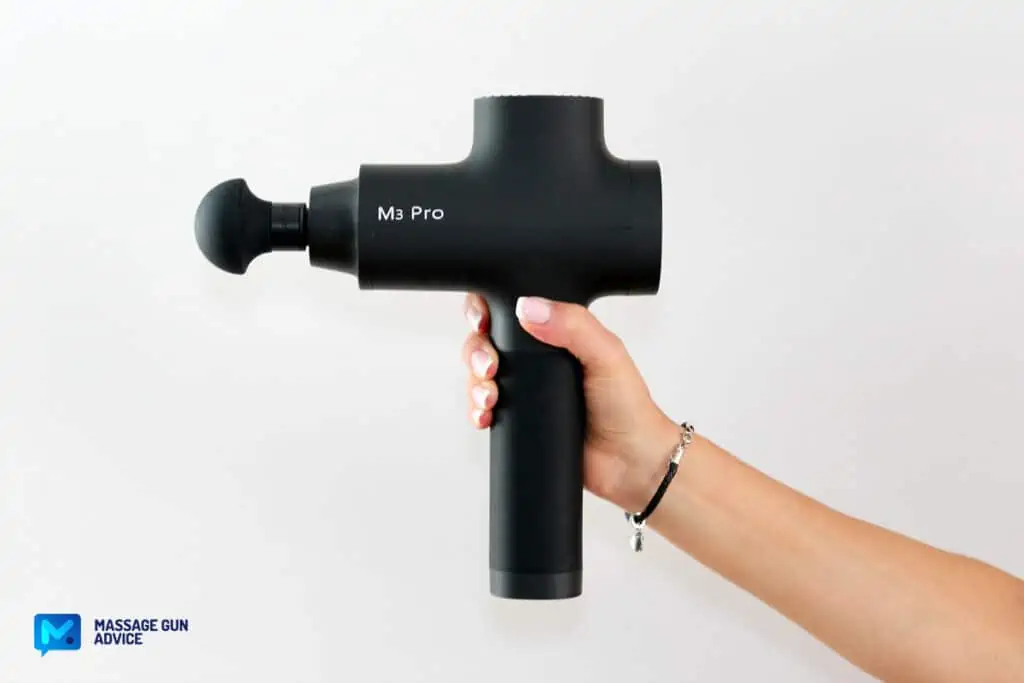 Opove M3 Pro 2
In our exploration of alternatives to the B37, we spent some time testing the new Opove M3 Pro 2. This percussion massager is touted as a contender against the Hypervolt, and indeed, it holds its ground quite well.
While it's a tad less powerful than the Ekrin B37, its price tag is also more appealing. During our hands-on testing, we noticed that the M3 Pro's stall force was a bit lower, and it didn't percuss as rapidly.
If you want something that looks very Hypervolt-ish but don't have the extra bucks to spend, then this is a worthy option.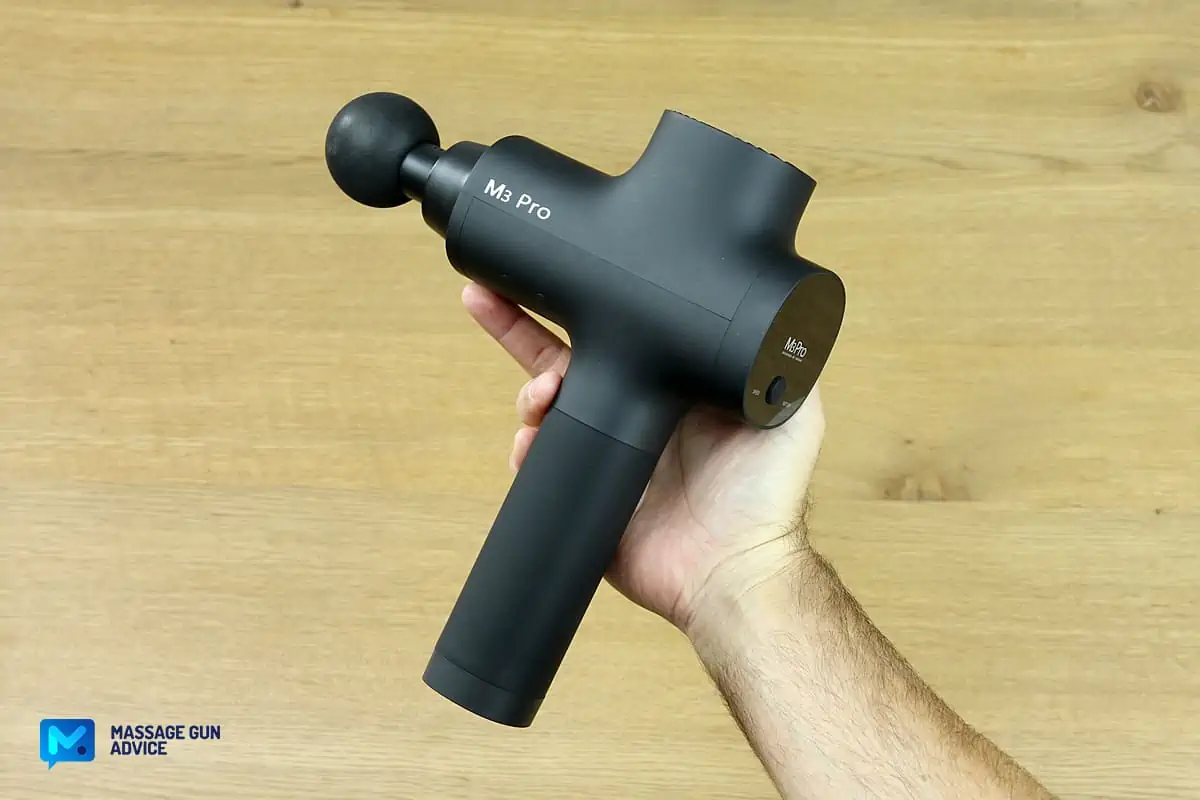 When compared head-to-head with the B37, the M3 Pro falls short by about 10-15 pounds in stall force.
Interestingly, it's also quieter than the B37. However, the Ekrin device revs faster by 600 rpms, which explains the added noise.
The Opove gun includes 6 heads and boasts a 2600 mAh battery, which offered comparable performance during our testing. However, the edge might go to Ekrin due to its use of a Samsung-branded battery.
Both devices were comfortable to handle, but our testers found the B37 easier to hold due to its angled handle and slightly lighter weight.
The M3 Pro goes for $199 but you can use our link to get a sweetened deal and save up to $80. Get it here at $119.
One thing to keep in mind is that you'll get a 1-year warranty if you buy the M3 Pro Max. Ekrin B37 will get you a lifetime one.
---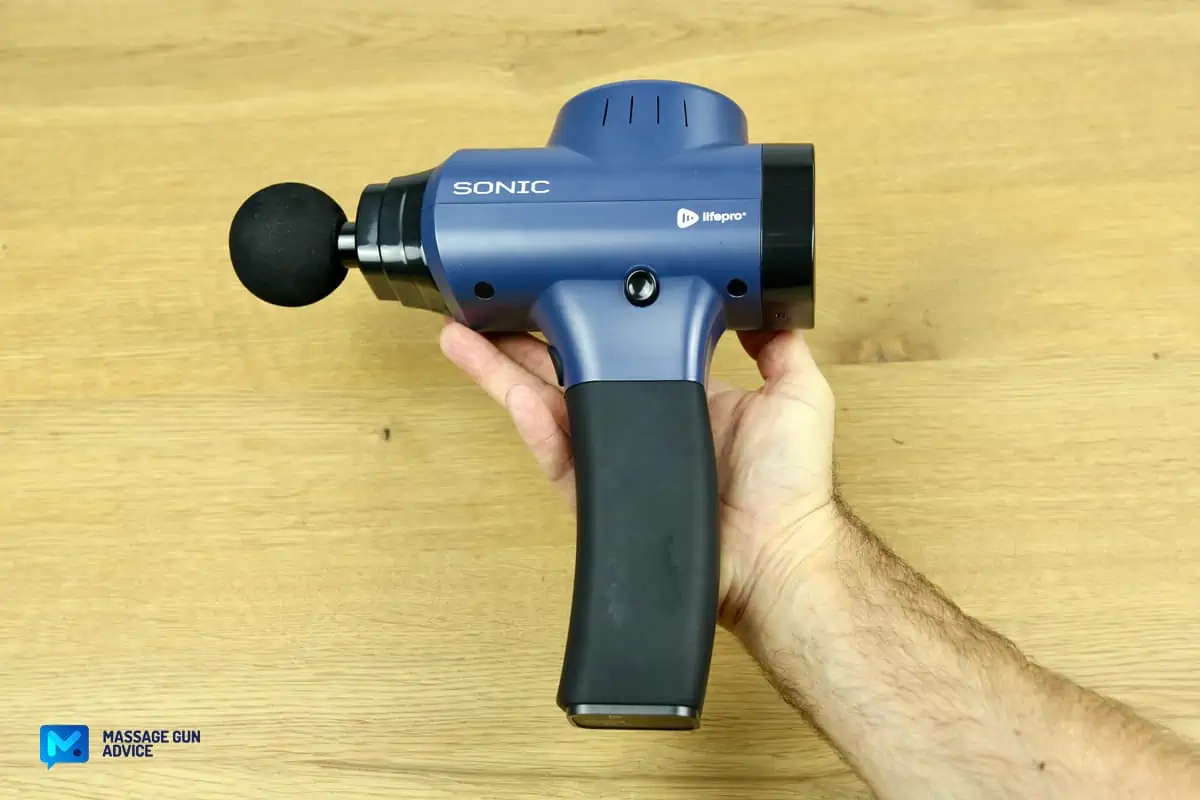 LifePro Sonic
As we continued our hands-on exploration of B37 alternatives, the Lifepro Sonic caught our attention. Its power-drill design is quite reminiscent of the Opove and Hypervolt.
The Sonic, a more budget-friendly option, has an amplitude of 10.5mm, despite its advertised 12mm. This discrepancy results in a slightly more vibrational feel compared to the B37, which we noticed during our testing.
Its stall force doesn't quite match that of the Ekrin B37, but if you're new to massage guns, the Opove-like 40lbs (possibly slightly less) should suffice.
When we put the Sonic through its paces, we observed a decent speed range from 1200 to 2800rpm. While it starts at a lower rpm than the Ekrin, it doesn't reach the same high speed. However, with five speed levels, it offers ample versatility, much like the Opove and Hypervolt.
The Sonic comes with eight attachments, a feature that we found interesting. While some of them felt similar, having a range of options could be beneficial, particularly for therapists.
Its battery is powerful, offering 2600mAh worth of juice. Same as Opove and pretty similar to B37 that has a 2550mAh battery.
It has LED indicators that show battery level and speed (in frequencies). It's louder than B37, with up to 70dB but this is still a reasonable result for such a device that cheap.
We can affirm that Lifepro is a reputable brand, offering a lifetime warranty, a great match to the Ekrin's warranty offering.
It only costs $116.99 with our MGA10 code that gives you 10% OFF the regular price ($129.99). You can get it right here.
---
Ekrin B37 Review – Final Thoughts
After thoroughly testing the Ekrin B37 for our in-depth review, we can confirm that it lives up to its promise.
The device delivered the quality and performance we anticipated: the reliable Samsung battery powered our sessions reliably, and the motor provided the ideal level of power for a variety of muscle groups.
What caught our attention was the device's balance – it felt comfortable in our hands during prolonged use, and the 15-degree angled handle made it easy to reach tricky spots. Its lifetime warranty is a testament to its durability and a significant advantage.
In our opinion, the Ekrin B37 is a worthwhile consideration, even over renowned industry giants like Theragun and Hypervolt. It provides an excellent blend of quality and value.
Plus, with a current offer of $183.99, which is a 20% discount on the regular price, it's an opportunity that's hard to ignore.
---
Quality

Effectiveness

Usability

Accessories

Price Value
Summary
Ekrin's B37 percussion massager is a powerful, yet slick-looking device that outperforms some of the biggest names in the business. It holds confidently, comes with the right set of accessories, features a lifetime warranty and, perhaps most importantly, it is able to provide the deep-to-the-bone massage.
Was this article helpful?
Thanks for your feedback!
Post Update History
Here's a quick rundown of all the tweaks and edits we've made to this article to keep it accurate and up-to-date!
Current version last updated on:
September 11, 2023 Small editorial tweaks and text corrections. (Author: Greg)
June 19, 2023 Added our own video review of the Ekrin B37 Massage Gun. (Author: Greg)
Jun3 6, 2023 Several sections revised to better describe our first-hand experience with the B37S. (Author: Luke)
February 9, 2023 Updated for 2023: new photos added; minor editorial changes. (Author: Luke)
October 1, 2022 Added photographs showing how our reviewer uses the device on different body parts. (Author: Greg)
July 15, 2022 Replaced most photos with the ones coming directly from our test lab. (Author: Greg)
May 10, 2022 Added quick comparison tables to sections where we compare the B37S to Hypervolt and Theragun (Author: Luke)
March 3, 2022 Updated with the comparison vs. Theraguns and Hypervolts. (Author: Luke)
December 18, 2021 Removed Kraftgun Force from the best alternatives section (due to product no longer being available), now replaced by Opove M3 Pro. (Author: Luke)
October 21, 2021 Fact-checked and reviewed for accuracy, by Dr. Gary Tanchak, DC.
May 14, 2021 Updated the review with amplitude, stall force information. (Author: Greg)
•
Written by:
Greg Szostak
Disclaimers
The views and opinions expressed on this website are those of the authors. Any content provided by our bloggers or authors are of their opinion and are not intended to malign any religion, ethnic group, club, organization, company, individual or anyone or anything.
All product names, logos, and brands are property of their respective owners. All company, product and service names used in this website are for identification purposes only. Use of these names, logos, and brands does not imply endorsement.
It is our policy to make every effort to respect the copyrights of outside parties. If you believe that your copyright has been misused, please provide us with a message stating your position and we will endeavor to correct any misuse immediately.
Some of the links in this post are affiliate links. As an Amazon Associate, we earn from qualifying purchases. This means if you click on the link and purchase the item, we may receive an affiliate commission, at no extra cost to you. This helps us keep this website alive. Learn more here.
Amazon Disclosure
massagegunadvice.com is a participant in the Amazon Services LLC Associates Program, an affiliate advertising program designed to provide a means for sites to earn advertising fees by advertising and linking to Amazon.com. As an Amazon Associate, we earn from qualifying purchases. Amazon and the Amazon logo are trademarks of Amazon.com, Inc. or its affiliates. Please refer to our Privacy & Affiliate Policy for details.