What Massage Guns Does the NBA Use, and Which Ones Do Players Prefer?
What to Know: We independently review products we recommend. If you click on links we provide, we may earn a commission. Learn more.
---
What would you call an NBA massage gun? For us, it's a massage gun that the NBA prefers (yes, there is a deal, more on that in a minute) and which ones the players use daily.
Interested? Let's explore.
---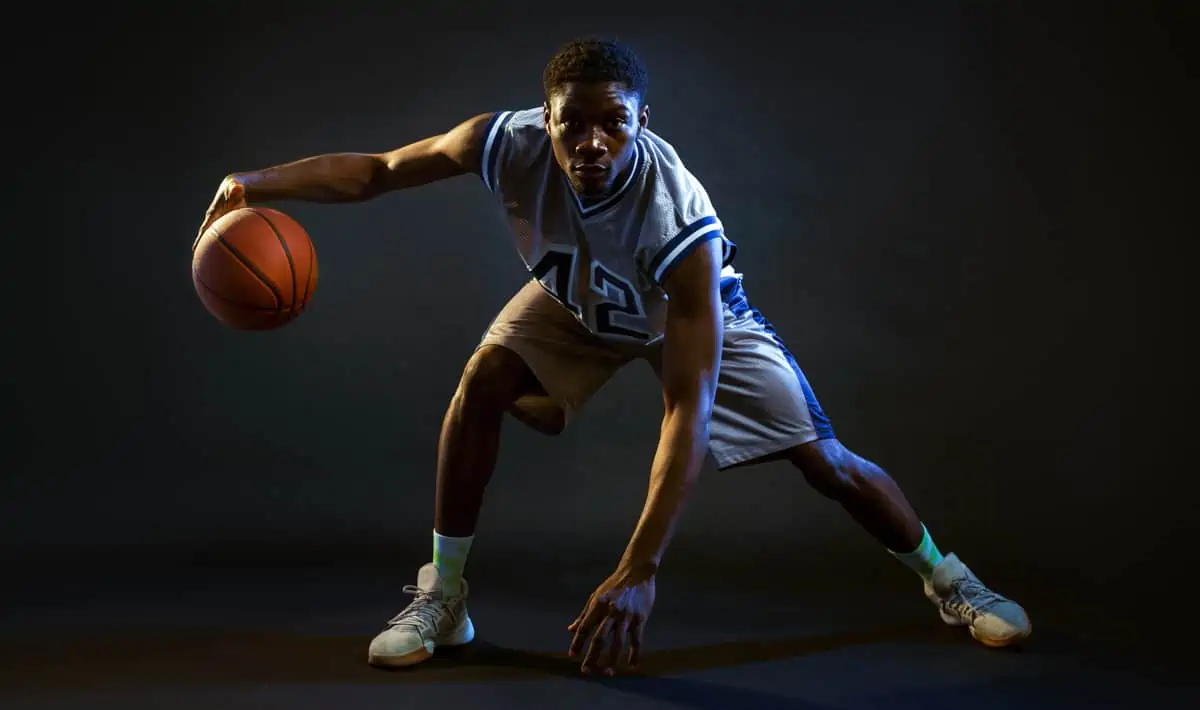 What Massage Gun Do the NBA Players Use?
Watching many games of the regular season and playoffs, we see players use massage guns not only at the pre-game warm-up but also on the bench during the game. We also follow many players on social media, where they share how they use massagers for their daily recovery routine.
What more? The top brands sing NBA players as their ambassadors, and we also know that, as we follow these brands simply because it's a part of our "job" at Massage Gun Advice.
So yes, massage guns are used by NBA players, it's clear, but this is not all…
---
Massage Guns and NBA
Word has been going around (probably longer than we can remember) that Hypervolt is the NBA's darling massage gun. Hyperice, the brand behind the Hypervolt massagers, penetrated the NBA with business in mind before massage guns were even a thing.
What about Theragun? They are more in percussion therapy than Hypervolt. So how did Hypervolt get a way into the NBA before Theragun could even put on their shoes?
Let's find out…
---
Hypervolt – The Official NBA Massage Gun
Let's start with the Hypervolt. Their incredible journey began way back in 2007 – approximately ten or so years before massage guns were even a thing.
Anthony Katz, a history teacher, and basketball coach, approached a then disgruntled Kobe Bryant with the idea of leg wraps. The wraps were to be an alternative to the "leaky plastic bags" that players used to ice their knees.
Katz designed the wraps to Kobe's liking – Kobe had to like them or this whole story would've been off. Katz named the wraps Hyperice, after Kobe's shoes – Hyperdunk. And that is how Hyperice was started.
The Hypervolt was loved by a few other NBA stars including Lebron James who took a few more for his friends Camelo Anthony, Chris Paul, and Dwayne Wade. That's not all, in February last year, Hyperice announced a multi-year sponsorship deal with the LA Lakers.
But that is not where it ends. Hyperice also signed up some best known names as investors.
Blake Griffin (Brooklyn Nets), Chris Paul (Phoenix Suns) i Russell Westbrook (LA Lakers), Anthony Davis (LA Lakers), Ben Simmons (Brooklyn Nets), LeBron James (LA Lakers) all participated in Company's $48 Series A investment round back in 2020.
In the next round, back in 2021, they welcomed Jayson Tatum (Boston Celtics) and Klay Thompson (Golden State Warriors) as the new investors.
As of now, Memphis Grizzlies' rising star Ja Morant is the new hot name in the business (pictured right, holding his Hypervolt 2 Pro)
---
Therabody Catching Up
But Therabody was not going to take Hyperice's multimillion moves into the NBA lying down.
Unlike Hyperice, Therabody (started as Theragun) was founded by a chiropractor, Dr. Jason Wersland, who designed the first massage gun to make his pain go away. He was involved in a motorcycle accident.
Therabody had their own plan to have a bite of the NBA cake. Just like Hyperice, Therabody opted for player sponsorship first – maybe later they could sponsor the NBA.
For now, Therabody has partnered with NBA stars like Paul George, James Harden, Pau Gasol, and Breanna Stewart of the WNBA. NBA's skills trainer Chris Brickley also became the ambassador for Therabody.
They also have a partnership deal with the LA Clippers and Duke University where they are…guess what…yes, an official recovery technology partner.
---
Should You Opt for Hypervolts or Theragun?
As we have said, these two rival entities were started from different approaches.
While Theragun was built from a real doctor's perspective, Hyperice's Hypervolts were started from a consultative point. Katz had to go around asking basketball coaches and players about how to design a recovery tool.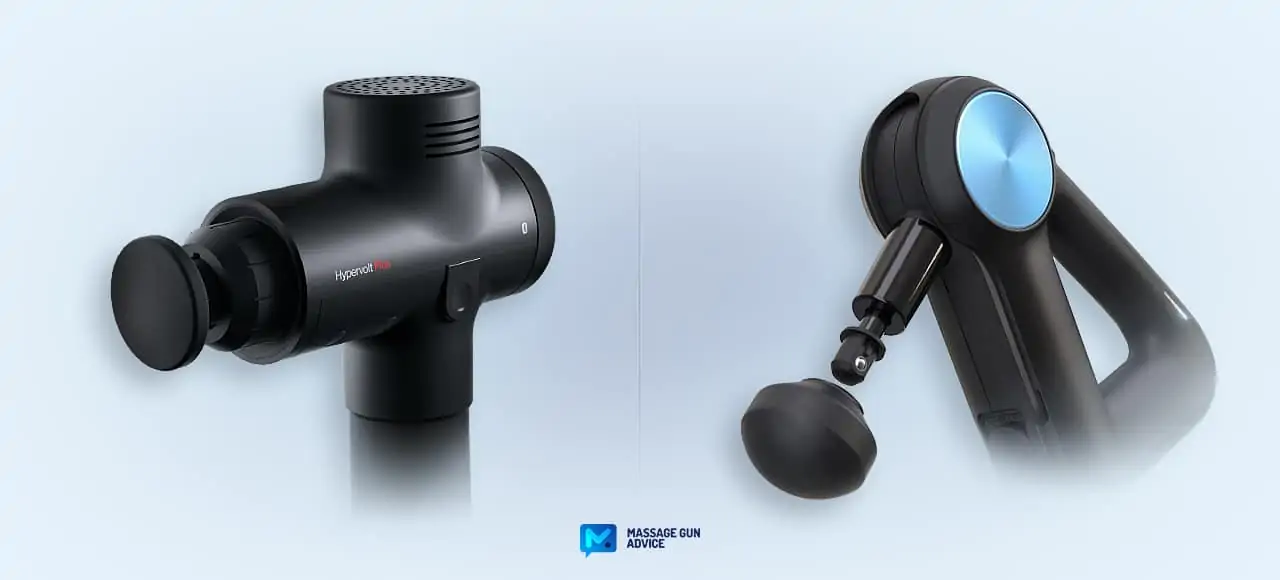 The difference in approach can be clearly seen based on what each product focuses on.
For instance, Therabody focuses on high stroke length (amplitude). Hyperice mixes it up with different designs.
You can check out the main differences between the two brands in our Theragun vs. Hypervolts posts. You can also see our Best Massage for Basketball Players post for recommendations.
---
Is it Just Hyperice and Therabody? Are There Others?
Well, we're massage gun enthusiasts and we wouldn't leave you without mentioning other brands that are just as good if not better.
For all the cons that Hyperice and Theragun have, some brands can address and even better them. Then, there's the price. These new ambitious brands charge much less for their massage guns – 30-50% less.
Keep in mind that we're not talking about the clones that flooded the market soon after the first Hypervolts hit the market.
Both Theragun and Hyperice have been actively suing these knockoffs and have succeeded to some extent in weeding some of them out. A good example is the Kraftgun which looked uncannily similar to Theraguns. The early Lifepro devices were also sued for infringing on patents.
But some brands have been doing honest work to come up with their own versions of what you could call as NBA massage gun.
Some of them we've talked about in individual massage gun reviews. Others we have included in our buying guides, such as the Best Massage Gun for Basketball Players guide.
But let's list a few of them here too…
---
Ekrin Athletics
Ekrin started its brand with aim of helping athletes recover after tough hours in the gym or field of play.
Their massage guns came up with the original tilted handles – perhaps a way to stay clear of the generic T-shape configuration.
They charge a fraction of what any of the two premium brands charge.
It is worth noting that Ekrin's ambassador is WNBA's forward Rebecca Allen.
We have Ekrin's line-up covered with separate reviews: B37S, B37, 365, and the smallest Bantam.
Here's the Ekrin website with all models compared. Plus, you can use the MGA20 discount code for a 20% discount at checkout, should you decide to buy any of them.
---
Achedaway Pro
Achedaway impressed us with their Pro massage gun. It was the first non-Theragun massage gun with a 16mm amplitude.
Not that we haven't seen knockoffs that have attempted this feat, Achedaway Pro does it better – with lots of power behind it. Just like Theragun Pro.
For more details and pictures, refer to our hands-on Achedaway Pro Review here.
It's half the price of Theragun Pro as well, and when you apply the MGA60 coupon code, you will get a further $60 off. Get it here.
---
Opove Apex
For a long time, we knew Opove as a brand that loved to copy whatever Hyperice was doing. The quintessential Hypervolt knockoff brand.
However, they recently moved away from that and have come up with some unique devices. The most interesting one yet is the Opove Apex.
You can learn more about this device in our hands-on Opove Apex Review.
You can also check out Opove's website. Last time we checked, there was a promo going on, and the price was a reasonable $159.
---
These are incredible alternatives that NBA players use. They are not popular by any means, but they are honest in what they promise and deliver.
You can check out our Best Massage Gun for Basketball Players post for more information on these.
---
What Massage Gun NBA Players Use?
---
Conclusion
Hyperice may have been the first NBA massage gun and probably the most prominent, but it's not the only massage gun NBA players use.
Theragun has also made inroads and partnered with some stars in the league.
Apart from the two nemeses, other brands have also been spotted with NBA players. Ekrin massage guns are great alternatives to many NBA massage guns.
You can read our Best Massage Gun for Basketball Players guide to find out more.
Was this article helpful?
Thanks for your feedback!
Post Update History
Here's a quick rundown of all the tweaks and edits we've made to this article to keep it accurate and up-to-date!
Current version last updated on:
October 26, 2023: Updated the introductory sentence for clarity. (Author: Greg)
•
Written by:
Greg Szostak
Disclaimers
The views and opinions expressed on this website are those of the authors. Any content provided by our bloggers or authors are of their opinion and are not intended to malign any religion, ethnic group, club, organization, company, individual or anyone or anything.
All product names, logos, and brands are property of their respective owners. All company, product and service names used in this website are for identification purposes only. Use of these names, logos, and brands does not imply endorsement.
It is our policy to make every effort to respect the copyrights of outside parties. If you believe that your copyright has been misused, please provide us with a message stating your position and we will endeavor to correct any misuse immediately.
Some of the links in this post are affiliate links. As an Amazon Associate, we earn from qualifying purchases. This means if you click on the link and purchase the item, we may receive an affiliate commission, at no extra cost to you. This helps us keep this website alive. Learn more here.
Amazon Disclosure
massagegunadvice.com is a participant in the Amazon Services LLC Associates Program, an affiliate advertising program designed to provide a means for sites to earn advertising fees by advertising and linking to Amazon.com. As an Amazon Associate, we earn from qualifying purchases. Amazon and the Amazon logo are trademarks of Amazon.com, Inc. or its affiliates. Please refer to our Privacy & Affiliate Policy for details.