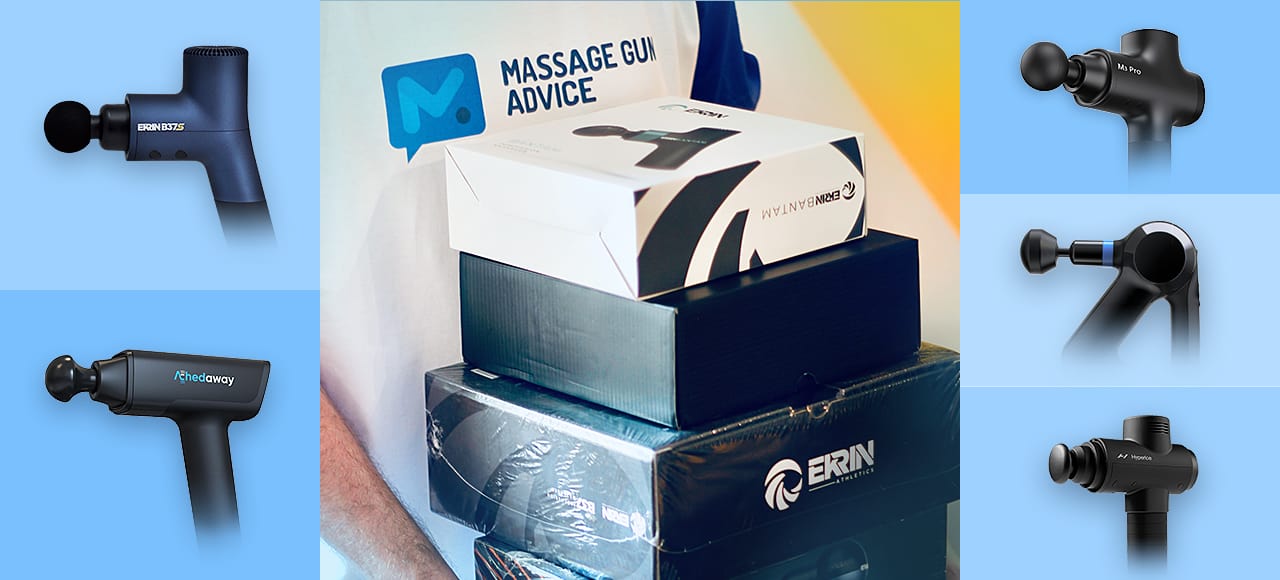 Best Massage Gun 2022 – The Crème de la Crème Of The Year
Disclaimer: Our content is unbiased, non-sponsored and fact-checked. If you buy via links on our site, we may earn a commission. As an Amazon Associate, we earn from qualifying purchases.
---
Welcome to our best massage gun of 2022 guide. This is supposed to be an end-year article (perhaps). But the muscle stiffness and soreness don't keep track of time. There has to be a top 2022 massage gun by now.
Yes, there are a few massage guns that can take that claim. We know because we have tested over 70 devices in the past 18 months. We do several hands-on reviews every month. We know them like the back of our hands.
Are you ready to find the best percussion massager of 2022? Well, buckle up!
---
---
HIGHLIGHTS
Ekrin B37S – It's probably one of the most potent guns out there. It has power, versatility, excellent attachments, a great handle, and a superbly executed pressure sensor. It's also reasonably priced and comes with a lifetime warranty. Save 20% with the MGA20 code.
Achedaway Pro – A top-quality high-amplitude option for a fraction of the Theragun price. Apply our exclusive HOLIDAY60 coupon to get $60 off.
Ekrin Bantam – The best mini you can get. It's tiny but performs way better than some of the full-sized guns. Use the MGA20 code to save 20%.
---
TIP No time to read it all? Jump to best massage gun picks ↓ to read about the above guns.
---
How We Chose – The Process
Unlike what we did before with other guides – for instance, when we looked at best value massage guns – this time, we opted to find the best hardware money can buy today.
Obviously, we can't ignore the value for money factor and haven't been looking for the most expensive guns out there.
However, we opted to overlook it here. We want the best gun, right? How much you have isn't really the issue here today (please bear with us 😊).
Also, we didn't want to list the "Top 20" or "Top 30" devices like we have seen other websites do – very amateurish if you ask us!
Instead, we opted to give ourselves a bit of a challenge – pick the best device in each of the few categories that make all those devices different.
We then went to work and:
examined over 70 hands-on massage gun reviews that we previously did.
narrowed the list based on the criteria explained below.
evaluated and shortlisted the candidates.
did head-to-head tests based on our test procedures.
We then had a long debate to select the winners.
Below we break down the criteria and everything we believe you should know if you want to pick the best device in 2022. The information includes;
What makes each device unique.
How to tell between a good and a poor gun.
---
The Criteria we Used – What To Know
Our criteria has always reflected 3 key aspects of a massage gun that matter the most: performance, weight & ergonomics, and noise. Another two important ones are attachments, and time on battery.
Nothing has significantly changed in massage guns, so we will also stick with these here.
Performance
We always look at three performance parameters all together: amplitude, stall force and percussions per minute.
Why examine these 3 together? One, because each parameter impacts the other in some way and affects the overall performance of a massage gun.
Also, some not-so-clever brands try to wow customers by highlighting a single aspect instead of all 3. This leads to the other two aspects being suppressed – the result is a poor overpriced device.
Let's look at these parameters individually.
---
Amplitude
Also called stroke length, it's the distance traveled by the massage gun head as it percusses.
---
High Amplitude Devices
Range: 14 to 16 mm
Brands approach this aspect differently. Some opt to make it long. We call such devices "high amplitude devices." These tend to have a 14-16mm amplitude (16mm is the highest a massage gun can have).
Such massage guns tend to feel more penetrative. The deep hits provide the intensity needed for percussive therapy.
However, these devices tend to vibrate slower. That means the frequency of percussions is lower. Most tend to have a range of 2300-2700RPM (or PPM, percussions per minute).
Examples would be Achedaway Pro, Theraguns, and Hypervolt 2 Pro.
---
Low Amplitude Devices
Range: Below 10mm
Other brands make the amplitude of their devices short. We call such devices "low amplitude devices." These often have less than 10mm amplitude.
They feel more vibrational and lack a penetrative feel. However, they vibrate faster, and their intensity comes from these faster percussions. Some can percuss as high as 3300-3400RPM.
They are not as robust as the high amplitude devices, but they can still do what they are intended for. However, they may not be as effective when you want a deep tissue massage – if you have ever tried one, you know what this means.
Examples of such devices include; Hypervolt (the first one, no longer in sales), Bob and Brad guns, and most cheap Amazon guns. Also, many mini massage guns fall in this category.
---
Medium Amplitude Devices
Range: 10 to 13mm
But there is a third category of devices that we like to call "medium amplitude devices." These devices have a 10-13mm amplitude.
We believe this is the most versatile and perhaps universal category. These aren't just good for massaging small group muscles; they can also hit deep into large muscle groups. You can use them comfortably around sensitive areas like the back of the neck, hands, and feet.
Note that medium amplitude devices don't sacrifice percussions per minute as high amplitude devices do. Most tend to percuss pretty fast – expect them to go as fast as 2900-3200RPM.
Examples of such devices include Ekrin B37S, RecoverFun Plus, and Opove M3 Pro.
---
Massage Gun Amplitude Classification – Summary
---
Full-Sized Guns
| | Amplitude |
| --- | --- |
| Low | up to 10 mm |
| Medium | 10-13 mm |
| High | over 14mm |
Mini Massage Guns
| | Amplitude |
| --- | --- |
| Low | up to 8 mm |
| Medium | 9-10 mm |
| High | over 11mm |
---
Is One Amplitude Category Better Than the Others?
Not really. It all just depends on what you want from a massage gun. All these categories can do the job just fine. Why?
Percussive therapy works by overriding pain signals to the brain. The rapid strokes of above 2000 hits per minute, produced by a massage gun, help to increase heat within the tissue and help to relieve tension (tension in your muscle tissues is what causes the pain). And since both the low and the medium amplitude guns tend to rev above 2000 hits per minute, they should both work well.
However, the therapy will feel different for each category we just discussed. This information is important if you want to pick the best massage gun for your needs.
Some people prefer deeper and stronger hits – similar to a manual massage. Others prefer less punchy, more vibrational hits – shallow but fast percussions. It all depends on what you want to feel as you massage your body.
Our Advice
People with experience using massage guns will probably know what to go for. However, if you aren't sure which category is bests for you, we recommend going for the medium amplitude category. This is often the sweet spot.
Our top recommendation here is Ekrin B37S – it's perfectly balanced in that sense.
If you like stronger hits or want a Theragun but can't afford one, we recommend Achedaway Pro. It's our second pick. It has a high amplitude, just like Theraguns, but it's twice cheaper (and quieter).
Even so, beware of brands that try to sell you what is not true. For instance, we have encountered cases where a brand advertises the amplitude as 15mm only to check later, and it's 10 or 12mm at best.
Stroke Length Comparison of Our Top Rated Massage Guns
Conclusion
Nearly all massage guns on our list fall into medium or high amplitude category. Only Ekrin Bantam is slightly below 10mm, but it's a mini device – for a mini, it is the excellent result.
---
How do we Verify Stroke Length?
We always verify that the amplitude is what they say it is by measuring it with our digital calipers.
This guide refers to actual amplitudes and not just what is advertised.
---
Stall Force
Stall force is the amount of pressure a device can withstand without stalling or stopping.
Why does stall force matter if you are looking for a top rated massage gun? Enough stall force allows you to effectively massage medium and large muscle groups. This is because you can press the device against the body, and it will continue revving.
We recommend that you stay away from devices that stall easily. This is because such devices will slow down considerably even when very minimal pressure is applied.
For instance, even if a device can vibrate as fast as 3200RPM, with low stall force, such a device may slow down to 1000RPM when pressure is applied. This reduces the effectiveness of massage therapy.
We recommend a medium to high stall force gun – even when under pressure, the motor will hold and deliver an effective massage.
How Much Stall Force do I Need?
Our Advice
Under assumption that the device should be versatile enough to allow effective massage on the entire body (big or small), we would recommend choosing something capable of delivering at least 30-40 lbs. of stall force, ideally more lbs.
Our top picks below are all within the desirable range and all have enough power to work even on larger muscles. They are guaranteed not to slow down under pressure.
And what's the maximum possible? Strongest massage guns can withstand over 60lbs. of pressure exerted. We have seen some guns advertising 70 or 80lbs., but in all cases we found it to be overstated.
Stall Force Comparison of Our Recommendations
Conclusion
Ekrin B37S and Achedaway Pro have enough power to satisfy even the most demanding users. On the opposite side is Urikar Pro 2 – low stall force (but other interesting features). Bantam shines in the mini category – over 30lbs. in such a tiny device is pretty incredible.
---
How do we Verify Stall Force?
It's not easy to measure the stall force of a device. We figure this is why most brands don't tell you how much stall force you should expect from their devices.
We haven't yet worked out electronic means of measuring stall force. However, we have benchmark devices that we use to measure; Ekrin B37S and Theragun Pro. We are 100% certain of the stall force in these devices.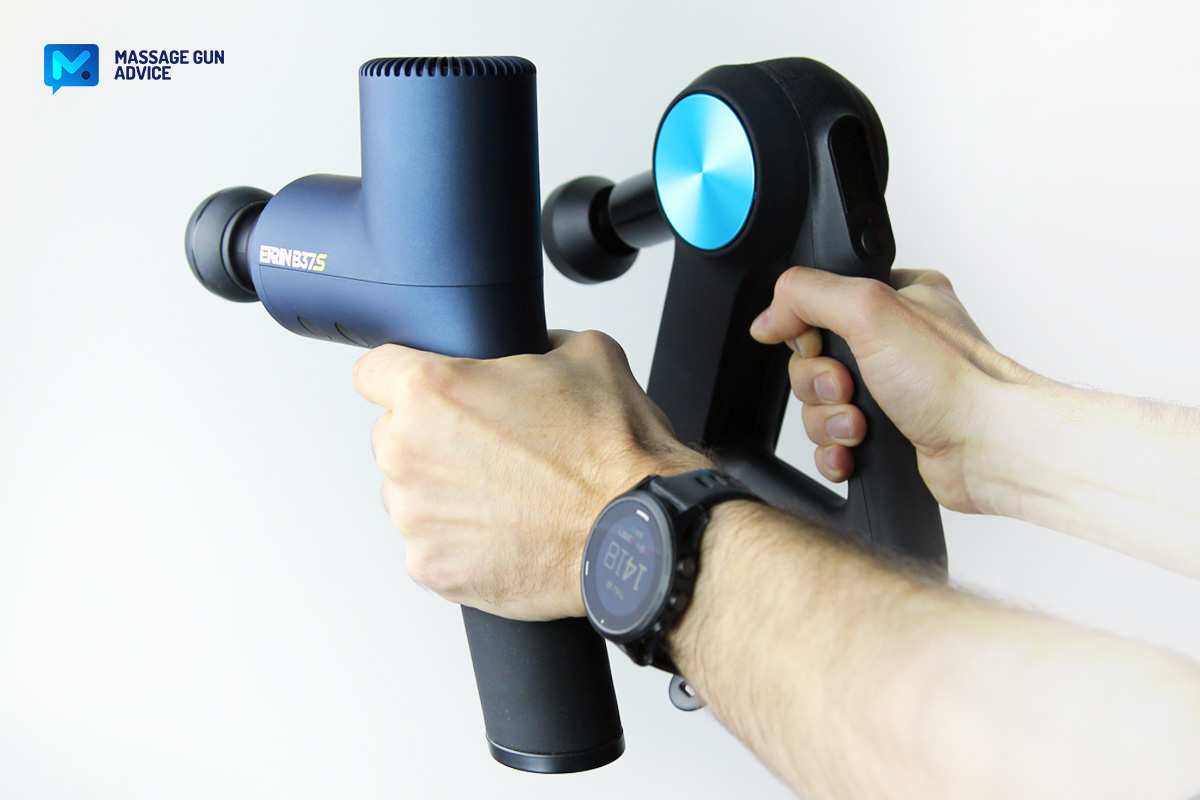 ---
Percussions and Speeds
High amplitude devices tend to have a range "only" up to 2300-2700RPM. Low and medium amplitude devices tend to have a range of 1800-3200RPM.
However, we have seen brands that say their devices can rev up to 3400RPM. We often take this with a pinch of salt. In most cases, the percussion range is overstated, or the amplitude is significantly below 10mm.
In our experience, many devices tend to either have a high amplitude and low frequency or a low amplitude and high frequency; it's almost never both.
We love devices that space the percussion range. For instance, Ekrin B37 has a range of 1400-3200RPM. The wide range is great when you need a soothing (slow) and intense (faster) massage.
Many devices come with 3-6 speeds. This is, in our opinion, an optimal setup depending on the percussion range. We don't generally recommend devices with 20 or 30 speeds – often a marketing gimmick to lure customers in.
Note that low stall force will significantly slow down percussions even when very little pressure is applied to the device. This is why we ruled out guns with a stall force lower than 30lbs.
---
How do we Verify Percussions?
Many brands overstate the percussion range – especially the maximum figure. For this reason, we measure the range ourselves.
We use a digital laser tachometer to do this. We use the same tachometer for every device we test. This way, the results are consistent.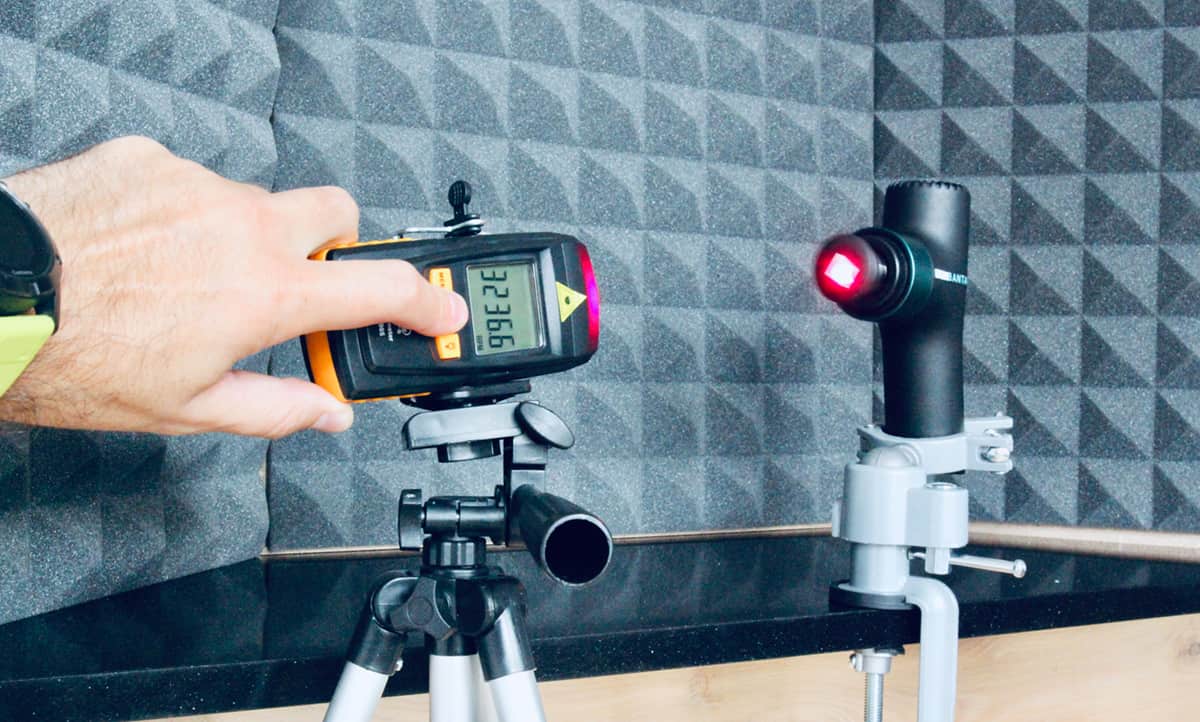 ---
Weight and Ergonomics
The weight of the device plays a crucial role in maneuvering it. It's not going to be comfortable maneuvering a 3-pounds power-drill-like device.
For our list, we only included devices that are light enough to maneuver easily. We went for guns that weigh 2.2-2.3 pounds. We also shortlisted a mini gun (Ekrin Bantam) that weighs 1.1 pounds.
Ergonomics are important when you need a DIY massage. It matters how you hold the device when massaging certain parts.
For instance, it's sometimes hard for the elderly to effectively massage their lower back and hamstrings.
Our Advice
We believe that the T-shaped guns aren't the best for this kind of massage.
Our top recommended guns have great ergonomics. For instance, Theragun (all three full-sized guns) has a multi-grip handle, Ekrin B37S and Achedaway Pro have angled handles, and Urikar Pro 2 has a smart 180-degree rotating arm.
---
Noise
Noise levels emitted when operating the device are an important consideration. You don't want a buzzing machine next to your ear when massaging the neck area.
Good to know: high amplitude massage guns, those with longer head travel, are generally louder than their low-amplitude counterparts.
Fortunately, most guns these days are reasonably quiet, especially at low speeds. However, some are quieter than others. We give those extra points in our ranking.
Our top picks are hushed and will not disturb normal conversations or TV watching.
How do we Verify Noise Levels?
Again, we often don't trust the figures advertised by the brands. To be accurate, we check this ourselves.
We use a high-quality dB meter. We also note how the sound feels – smooth or harsh.
---
Attachments
Brands tend to use attachments to wow customers. Many prefer quantity over quality.
Many cheap brands will offer up to 15 attachments. We recommend not falling for this marketing trick.
Many of these attachments are variations of the 4-5 base attachments – they often feel exactly the same.
For example, Lifepro Dynaflex comes with 10 attachments, but if you take a closer look at them (first photo), you will notice that there are very minor differences between some of them.
Our Advice
We believe 4 or 5 well-varied attachments are good enough to massage the entire body.
Choose quality over quantity. For instance, check whether there is a soft attachment – the best massage guns will have at least one. Cheap guns often only have hard attachments.
Check for the installation method – regular push-n-pull requires force and may wear out the gasket around the device's head (after some time)
The convenient method is twist-to-lock (Ekrin B37S) or something nicer.
Also, check for a pouch to store the attachments or a carrying case.
---
Battery
This isn't an issue in 2022. Most guns can go for a week or two on a single charge. Also, bigger batteries tend to add to the weight of the device.
That said, we gave more points to devices that can go for 4+ hours on a single charge.
Busy Physios and Chiropractors love removable batteries. Most guns don't have this option. Others that do include Achedaway Pro, Hypervolt 2 Pro, and Theragun Pro.
---
Other Things We Look At
Extra Features: We check for extra features such as dynamic speeds, heating mode, pressure sensors, etc.
Build Quality: We inspect how well a device has been put together, how good materials are as compared to the best guns out there (e.g. cheap, thin plastic vs thick, rubberized one; plastic vs metal body).
Warranty: Cheap devices offer a 1-year warranty or nothing at all. Best brands offer a lifetime warranty (e.g. Ekrin). Ease of returns, friendly support is also important.
Price: We consider guns that offer the best bang for the buck.
---
Best Massage Guns of 2022
---
Ekrin B37S – Best Overall

There's hardly anything wrong with Ekrin B37S.
Ekrin built a robust reputation at a time when Theragun and Hypervolt were the only top brands around. Ekrin gave us cheaper but high-quality guns.
Most of their guns are half the price of a Theragun or Hypervolt, but feel the same (or better) quality.
We tested all the Ekrin guns, and Ekrin B37S is the top gun among them. It has everything we touched on in our guide above.
It has the sweet spot medium amplitude – it can be percussive and gentle when needed.
It has a percussion range of 2000-3200RPM. This is a real range; we tested and verified it. Many devices advertise this kind of range, but don't actually get there.
It has 5 speeds. The 5th speed is dynamic, which is rare but awesome to have on a massage gun. The setting alternates between high and low speeds.
That said, this gun's strongest part is probably its stall force.
Even though we have tested and reviewed many high stall force guns, few can rev up to 3200RPM and have a stall force of 57lbs. This is pretty strong and is nearly impossible to stall.
But the stall force isn't just strong at the highest speed setting. The lower gears have more power than any other gun we have tested. For instance, the first speed has 36lbs. many guns don't even do that for their top speed.
What does it mean for this kind of stall force? Well, it means:
The device will not slow down the percussions to accommodate the pressure applied. The percussions are constant across all speeds, even when pressure is applied for a deep massage.
It's possible to get a penetrative, aggressive massage even on large muscle groups.
Since the device has a medium amplitude, it can be used with little or no pressure to deliver a soothing massage. It's up to the user to decide what kind of massage they need. It's like an all-terrain car with a lot of engine power; you can take it to a tough rally and later use it at your wedding to carry the bride – in either case, it performs excellently.
It has a pressure sensor that you can use to manage the stall force. It shows the amount of pressure applied via the blue LED ring at the top.
You probably won't need the sensor for a DIY massage. However, when massaging a loved one, it's nice to have it.
The ergonomics are well thought out. Ekrin introduced the angled handle became the second-best handle after the Theraguns' handles.
The handle allows for a more natural grip and reduces tension and fatigue to the holding hand. You can reach the lower back, and the elderly can easily massage their hamstring. It only weighs 2.2 pounds, and it's easy to maneuver.
It's also a quiet gun. It's probably not the quietest we've ever seen, but it probably carries the day as the quietest high-frequency massage gun. The others don't rev up to 3200RPM. Also, the sound produced is smooth.
It's a durable device. We've had our unit for over a year now. We use it daily and sometimes extensively. It still looks new. The battery is still as strong as new; it's a Samsung branded battery, and that's probably why. We charge the battery once every 7-10 days.
We love the fantastic attachments on this device. The lock mechanism is "twist-to-lock," which is intuitive and secures the head tightly.
The attachments are nicely varied as well. It's a set of 6 attachments, including;
The fork attachment with enough space between the two tips (some brands make them narrow).
A soft ball attachment – one of the softest on the market.
A cone attachment with a silicon tip (most are made of hard plastic).
There is also a carrying case you can use when you need to take the gun with you.
Ekrin offers a lifetime warranty for all their massage guns. This is one of the reasons we love the brand. You can return your device if it's faulty and get a replacement immediately. The customer support is awesome as well.
Our Take
This is likely the best executed massage gun we've tested. It's from a trusted American brand, it's better equipped than most guns on the market, and has a touch of class.
It goes for half the price of Theragun Pro. The regular price is $329.99, but with the MGA20 code, you get a 20% discount. That makes it $264. You can buy it at ekrinathletics.com.
If that's still too high for you, try its sibling, Ekrin B37 (the same discount coupon applies). It has a similar stall force, but the lower gears won't be as powerful as B37S. There is also no pressure sensor, no intuitive attachment lock mechanism, and no super-soft ball attachment as well. Everything else is pretty similar.
LEARN MORE Our hands-on reviews: Ekrin B37S review and Ekrin B37 review.
---
Achedaway Pro – Best for Pros
We've been consistently impressed with it. It's a different proposition if you would rather not use Ekrin B37S – a high amplitude gun over a medium amplitude B37S.
One thing we like about Achedaway's top gun is how they stay true to the advertised specs (most aspects aren't overstated).
We have seen guns that advertise a 16mm Theragun-like amplitude only to deliver something different.
Achedaway matches Theragun Pro in many aspects. We confirmed the 16mm amplitude.
We also confirmed that the stall force is about 60lbs. – Achedaway slightly overstates it as 80lbs. but we are certain that figure isn't correct. For perspective, we compared it against the B37S stall force. The power difference is negligible.
For percussions, Achedaway Pro has more compared to Theragun Pro. We often don't associate high amplitude with more percussions. Achedaway sought to break that barrier.
Instead of pursuing something similar to Theragun Pro's 2450RPM, they went for a max of 2700RPM, 10% more percussions. This means that Achedaway can be penetrative and intensive as well.
What about the sound and noise produced? It's even more impressive here. Achedaway achieved a feat that Theragun has struggled with for a while.
While most high amplitude guns tend to rattle and make unpleasant noise (read Theraguns), Achedaway Pro has a quiet and smooth sound. It's not only the quietest high-amplitude gun, but it's also among the top 5 most quiet massage guns out there.
Achedaway Pro is well-equipped. It comes with 4 nicely varied attachments, with 2 metallic ones – real metal, not a cheap imitation. There is a soft attachment included here as well. You will need it for delicate areas. There is also a carrying case included.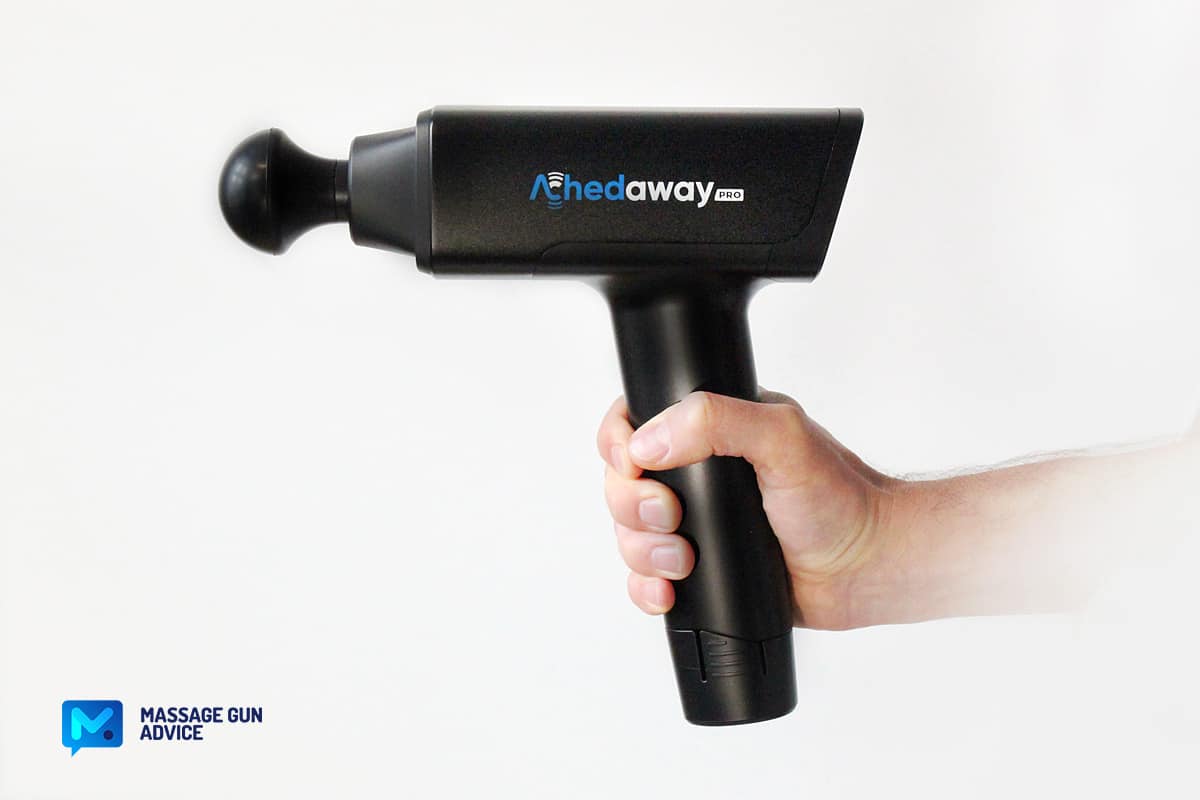 Other features worth mentioning for this gun include great ergonomics; the angled handle helps to reduce wrist fatigue. Also, since the lowest speed revs at 1700RPM, it will stall easily compared to Ekrin B37S (2000RPM for first gear).
It's also bigger and bulky compared to the B37S but smaller than Theragun Pro. It has a removable battery. You can buy it along with a spare battery along if you are a physiotherapist, chiropractor, or would like to use it extensively.
It comes with a 2-year warranty. So, not as great as Ekrin's lifetime warranty but better than Hypervolts and other Theraguns not called Theragun Pro (Pro also has 2 years). Most guns have a 1-year warranty or less. They offer great customer service as well.
DEAL ALERT Use the special HOLIDAY60 code at checkout to get $60 off Achedaway Pro. Pay $239 instead of $299. Apply the coupon here.
It usually costs $299, but with our exclusive MGA50 coupon, you get a $50 discount that makes it $249. You get great value for money here.
LEARN MORE Read our hands-on Achedaway Pro review.
---
Opove M3 Pro (New) – Best Budget
We have known Opove for a while now. They initially just cloned Hypervolts and branded them. Their clones were cheaper compared to the main Hypervolts.
They changed tact, however, and have been producing unique devices (like the Apex, which we like). They recently announced the new and improved M3 Pro massage gun. We've got it, tested it for 3 weeks, and we feel it deserves mention. At least as a budget choice.
It's cheaper than both Ekrin B37S and Achedaway Pro. If you can't afford the Top 2, this is the one for you.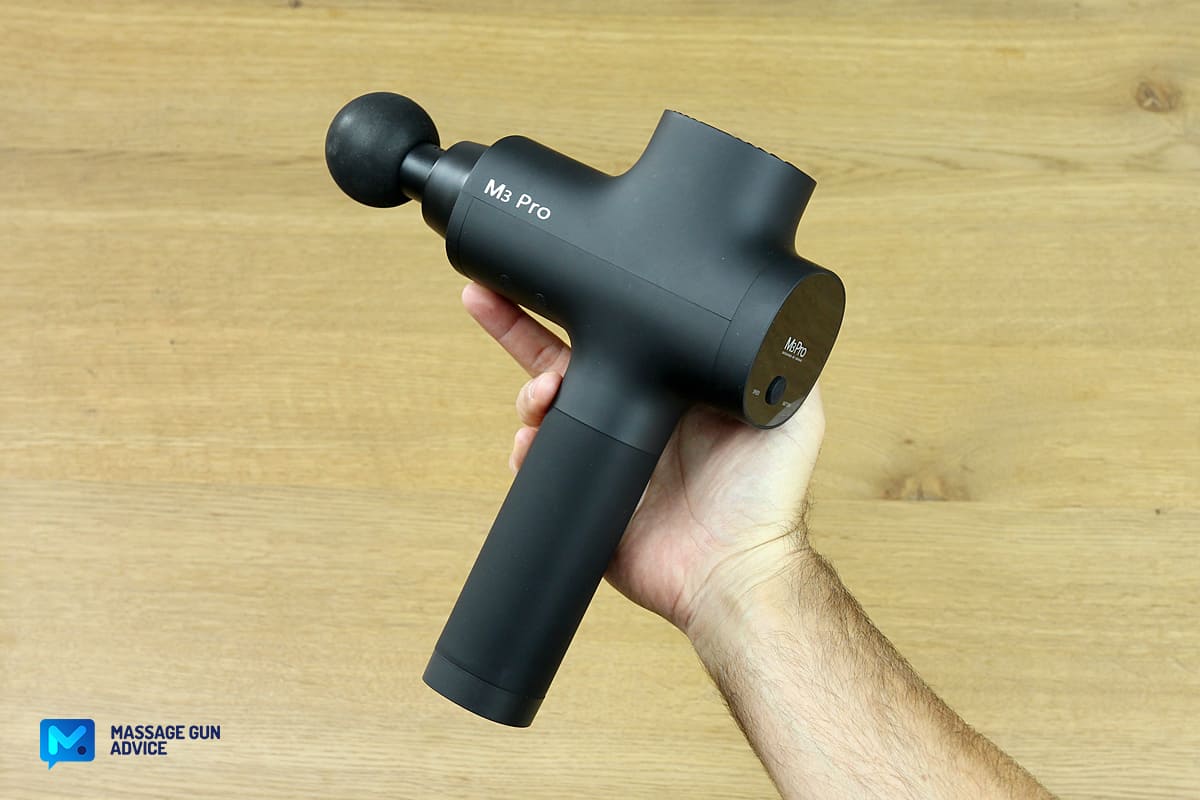 It's affordable and can perform well. It almost feels like a natural alternative to Hypervolt 2 Pro – it looks similar. However, it doesn't have flashy features like a pressure sensor, Bluetooth connectivity, or dynamic modes, which the 2 Pro has.
But you get great basic aspects that matter. For starters, you get a 12mm amplitude. This is within the sweet spot range.
It also has just about enough stall force for a deep tissue massage – around 40lbs., slightly more than Hypervolt 2 Pro. Note that Opove advertises 70lbs but it sounds too good to be true. Still, a decent result.
It has a percussion range of 1300-2600RPM. This is much lower than Ekrin B37S. However, it can start really slow and is a good option for a soothing non-aggressive massage. But it may not perform as well when you need an intensive massage – 2600RPM at the max percussions is so-so at best.
But the main reason we included this gun in our list is its sound (or lack thereof). It's incredibly quiet. It's probably the quietest gun we've tested so far. We can point to the few percussions per minute as the reason. Even so, some guns don't rev much but still rattle loudly. This one's different – it's incredibly hushed.
It has a carrying case and a separate pouch for the 6 attachments. One of the attachments has a soft silicone head. Ironically, the attachments have a feel of better quality compared to Hyperice attachments. They are not all made of hard plastic; they feel softer.
Overall, this might be one of the most promising sub-$150 massage guns out there today. It's super quiet and offers decent specs.
The new Opove M3 Pro will retail for $199, but for a limited time, you can get it at the introductory price of $119 (no coupon code needed). Get it at opove.com here.
LEARN MORE Our hands-on Opove M3 Pro Review.
---
Ekrin Bantam – Best Mini
Mini massage guns are the new hype in the massage gun industry today. They are highly portable and smaller than full-sized guns. Even so, they don't come with all the features and advantages.
For instance, many lack power (low stall force), have low amplitudes, and some may not match full-sized guns in percussions per minute.
You will also not get many accessories with these smaller devices. The battery capacity may be lower. In our experience, for every 10 mini guns, only one passes the threshold we have for them.
But Bantam is a different beast of its own kind. That may be paradoxical, but wait until you hear what it has to offer.
The Bantam can literally fit in your jeans pocket; it's that tiny. However, it performs better than some of the full-sized devices out there.
For instance, it has a stall force way over 30lbs. (35lbs. to be precise). Even Theragun mini doesn't come close to this.
In fact, the bigger Theragun Prime has about the same stall force. Even Hypervolt 2 lags behind Bantam in stall force, and the Hypervolt Go 2 might be bigger but has nothing on Ekrin Bantam.
It has just under 10mm amplitude, which is expected from mini devices. Only Theragun mini has a 12mm amplitude. However, we would pick the Bantam over Theragun mini any day.
That is because the Bantam has way more stall force and a better percussion range – 2000-3200RPM compared to Theragun mini's maximum 2450RPM.
In fact, the Bantam has the same percussion range as the bigger Ekrin B37S.
We did a real-situation test with the Bantam.
So what can you expect from the Bantam with this kind of specs? Well, you can expect to work.
We found this out during numerous hiking trips. We also occasionally take to gravel bikepacking trips. We used it 2-3 times a day en route on our legs and arms (we carry heavy backpacks).
The Bantam was effective in relaxing our arm and leg muscles. We did full body massages in the evening, which significantly reduced DOMS. We fared better than guys who didn't use it.
The Bantam has a moderately juiced battery (probably because of its size). With 1600mAh, Ekrin was likely looking to keep the weight low. Nevertheless, it has a pretty decent time on battery. The battery is USB-C charging – which is great for convenience.
You get 4 nicely varied attachments. We mostly use the flat attachment. The bullet attachment is great for trigger points, and we use the super-soft ball attachment on sensitive areas. There is a small and handy carrying case included.
The Bantam has the same angled handle as the bigger B37S. However, the handle circumference is significantly smaller. The materials used to make it are great. The handle is rubberized.
The Bantam is quiet and doesn't shake excessively like some of the cheap devices out there. It's incredibly durable as well. We've had it for one and a half years, and it still works like it's new. The Samsung branded battery still works great.
Any flaws? Perhaps just one, minor one: it has the controls all backward. We are used to seeing the main button at the top. This one is at the bottom. Not a big deal, you get used to it after a few sessions.
The Bantam comes with a lifetime warranty and goes for $149.99, but you can get it for $119.99 if you use the MGA20 coupon – a 20% discount, save $30.
LEARN MORE Read our in-depth Ekrin Bantam review.
---
The above four are, in our opinion, the best massagers in each category. As it is easy to see, there are no representatives of the giants of this industry there.
Of course, we cannot ignore them, so let us share our thoughts on Theragun and Hypervolt. Which of their massagers do we consider the best?
---
Best Theragun – And Why Not The Pro
Theragun SALE Save up to $200 on 4th gen Theraguns. Browse all the deals
Theragun started the whole percussive devices thing. We are big fans of their products. We often mention them in all our guides and occasionally mention how we compare Theraguns with the different guns we test.
But which is really the best Theragun in 2022?
Our choice is not obvious; we pick Theragun Elite over (everyone's choice) Theragun PRO. Interested why?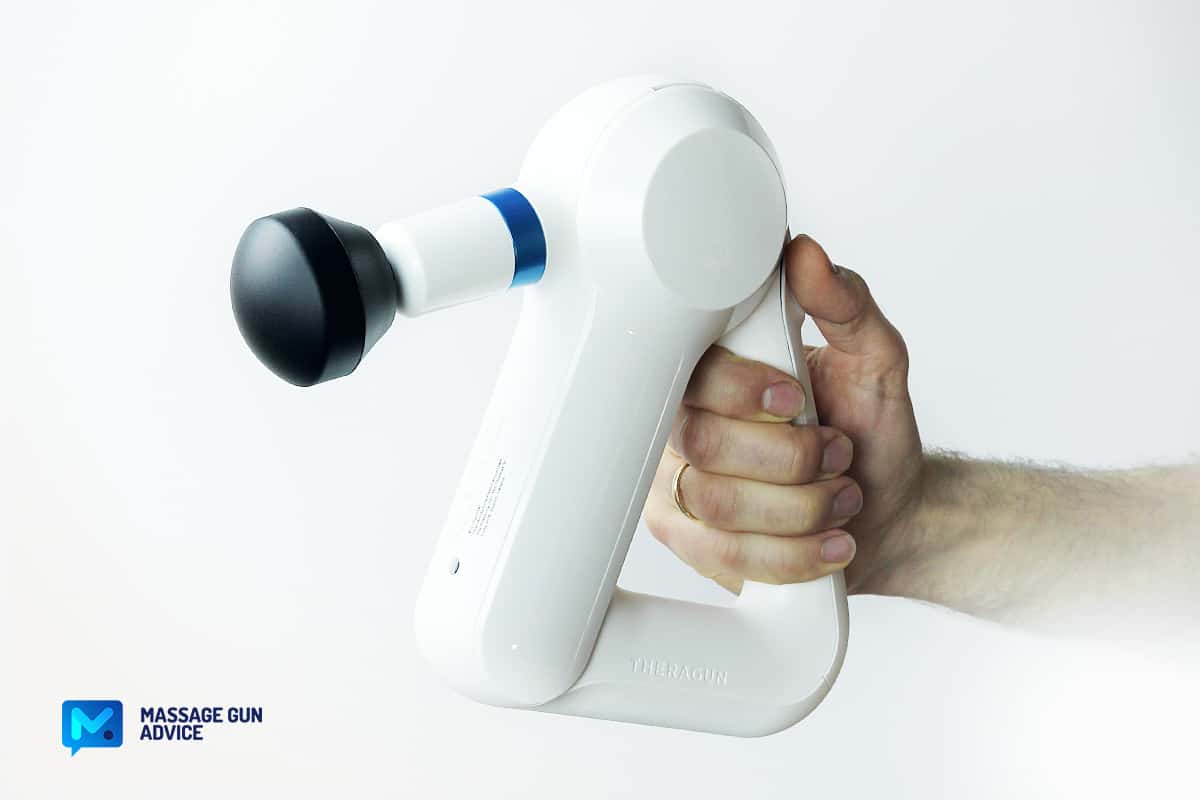 While Theragun PRO may have all the big specs and fancy trinkets to go along with those – 16mm amplitude, 60lbs. of stall force, removable batteries, and an adjustable arm – it still falls short of what we aimed for in our guide.
Here are some points we noted before we picked Elite over PRO:
Theragun PRO isn't really the most practical gun for personal use. Compared to every gun on our list, it's a white elephant.
Theragun PRO is bulky. Even the carrying case sticks out like a sore thumb. It's practically twice thicker than Elite's carrying case. The gun itself is 3 pounds heavy – good luck massaging your lower back with that drilling machine.
Theragun Elite is smaller compared to the PRO.
Did we mention that Theraguns are noisemakers? Well, Theragun PRO is the number one noisemaker. Elite is quieter.
You probably won't ever use the adjustable arm on PRO. Since you already have a multi-grip handle, the adjustable arm is an extra you don't need. Also, since Elite is smaller, it will be easier to maneuver – even without an extra fancy arm.
Does Elite perform better than PRO?
Well, Elite has 40lbs. of stall force, which is not as great as the PRO, but good enough for most people (including athletes).
They both have the same 16mm amplitude, the same percussion range, an OLED display, and a pressure sensor.
However, Elite lacks one attachment that comes with PRO, but that shouldn't worry you; it costs $25-$35 to buy one.
Who would Theragun PRO benefit the most then?
We would recommend Theragun PRO for professional physios and chiropractors. It's the most viable gun for them. Big guys, like bodybuilders and weightlifters probably need more stall force than Elite's 40lbs. They can also easily handle the weight.
But everybody else should go for Theragun Elite because it's more powerful than the entry-level Theragun Prime. It's also better equipped, with a carrying case and more attachments.
Key Cons of the Elite vs. Our Top Picks
Elite is louder and has a harsher sound compared to our picks above.
It only has a 1-year warranty. Theragun Pro has a 2-year warranty.
Elite's attachments are pretty good, but not as varied as in our top recommendations (e.g. flat head, and fork head aren't included).
Elite is expensive. It costs $399. Theragun does price drops from time to time, by about $50, so you might want to wait to buy it cheaper. Even so, it is still miles more expensive than Ekrin B37S and Achedaway Pro.
LEARN MORE Here are our detailed reviews of Theragun Elite and Theragun PRO.
---
Best Hypervolt – Which One?
Hyperice is Therabody's rival. Hyperice is also a giant in the business and focuses on recovery tech.
Their Hypervolts have been around for a while now. But which is the best Hypervolt? The choice here is simpler because there are only 2 full-sized guns; Hypervolt 2 and Hypervolt 2 Pro.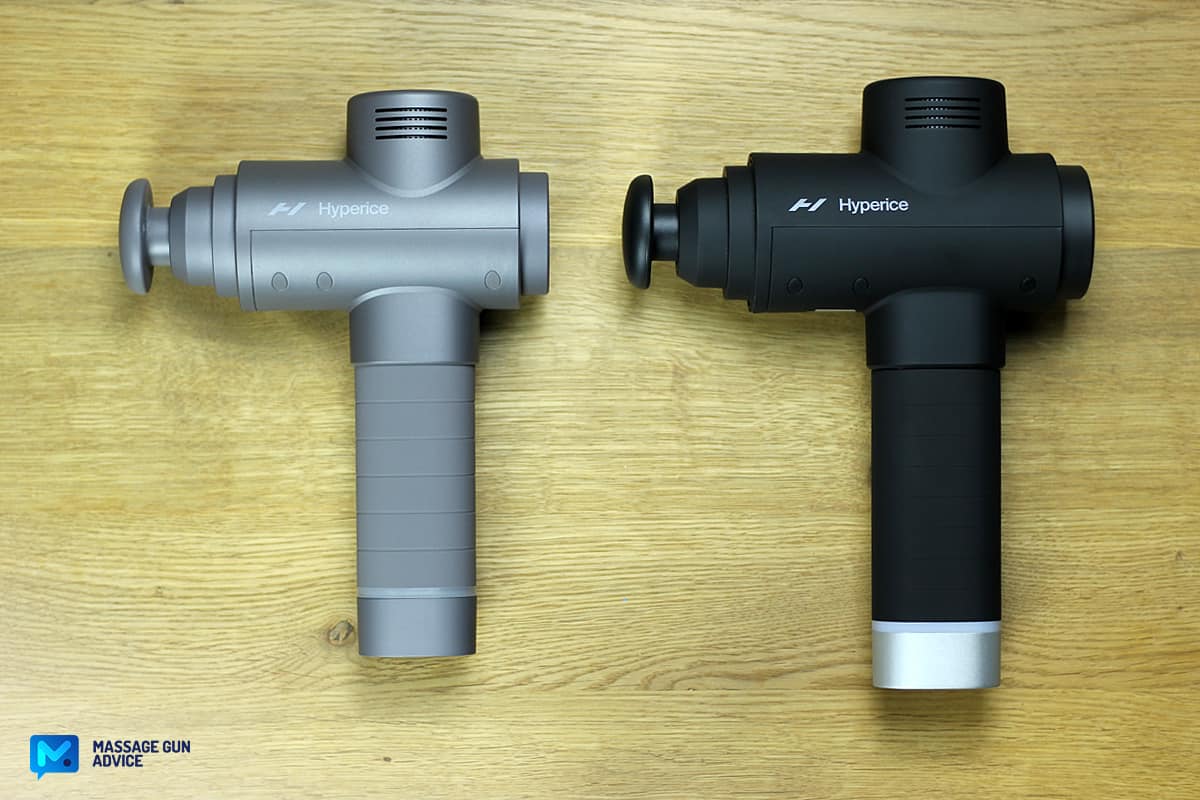 We pick the Hypervolt 2 Pro; it's the best Hypervolt in 2022.
Even though it has a low stall force by its standard, it's still okay for most people. It also comes with a 14mm amplitude. This puts it in the high-amplitude devices category. It revs up to 2700RPM.
If we compare it to Ekrin B37S and Achedaway Pro, it underperforms. Achedaway Pro has about 100 more percussions with a 16mm amplitude. Ekrin B37S has up to 3200RPM.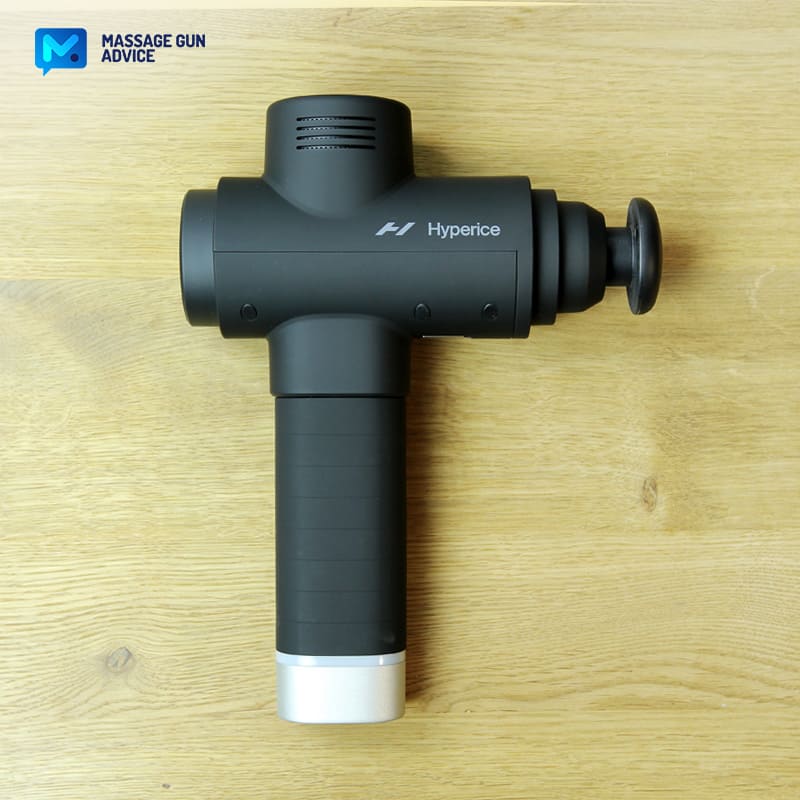 What about Hypervolt 2?
It's weaker than Hypervolt 2 Pro, and at this point, we are barely squeezing the 2 Pro into our guide. However, Hypervolt 2 is lighter and has a 12mm amplitude – this is a medium-level amplitude that can still give strong punches.
It will be a good choice for women, the elderly, smaller people, and pretty much anyone who's starting with massage guns.
But are Hypervolts worth their inflated prices?
Well, we believe Hypervolts don't have anything unique to offer the 2022 market. The app and bluetooth is all they have and that is pretty much it.
Even though Theraguns are expensive as well, their ergonomics still make them stand out. Theraguns also have a high amplitude that isn't very common on the market today.
Hypervolts are still premium guns and are made of high-quality materials. However, brands like Ekrin are catching up fast. Even the Opove M3 Pro is of a similar quality. Besides, other brands are making their devices lighter, improving their ergonomics with each iteration, have better warranties and accessories, and they cost way less.
Our Take
If you want to support the Hyperice and love the hype around their products, you can go ahead and get their devices – they are good massagers, you won't be disappointed. However, if you'd like to save $100 or more, you are better off picking one of our top choices.
LEARN MORE Hypervolt 2 review and Hypervolt 2 Pro review.
---
Other Good Percussion Massagers
---
Urikar Pro 2 – Best of the Rest
We like this massage gun because it's a good budget option. We pitted it against Opove M3 Pro, but it didn't get enough votes to feature at the top. However, it has some pretty decent features that we like.
They include:
A heated mode that allows you to have a heated therapy massage. It has a special ceramic attachment that warms up to 104-113 degrees Fahrenheit.
It has different modes, including dynamic speeds.
It has great ergonomics even though it's large. The arm moves in two positions for a better reach – it works great.
It's cheap, even cheaper than the Opove gun.
We chose Opove M3 Pro and not Pro 2 because:
It's built better – higher quality materials compared to Urikar Pro 2's. It's also more compact.
Opove has a premium feel. Urikar feels a bit plasticky.
Opove has more stall force (~40lbs. compared to 25lbs. Urikar is quite weak in this aspect).
They both have the same 12mm amplitude, but Opove percusses faster. Urikar only percusses up to 2050RPM.
Even though Urikar is quiet, Opove is extremely hushed.
That said, this Urikar is a great budget buy, cheaper than Opove with a discount code.
It only costs $149, but you can get it below $100 if you use the PRO2 coupon code at checkout.
To learn more, navigate to our hands-on Urikar Pro 2 review.
---
Four More Worth Highlighting
We considered these for our list. Unfortunately, they didn't make the cut. We'll highlight them:
---
Lifepro Dynaflex
This is an interesting heavy-duty percussion massager. It has an adjustable arm that locks in 4 positions. You can use it to massage yourself at different angles.
It is a powerful one; it has a 13mm amplitude and a stall force in the mid-40s. It also has a decent percussion range.
However, it's bulky and loud. It also has too many speed settings. But, it can be a worthy buy if you don't mind the negatives.
Also, Lifepro is another brand that offers a lifetime warranty on their devices.
It usually costs $199, but you can use the MGA10 coupon to get a 10% discount. Get it here at lifeprofitness.com.
LEARN MORE Lifepro DynaFlex review.
---
Sportneer Elite D9
This one has better quality than most of the guns in this section. It's perhaps even better than Urikar.
We love the angled handle and how quiet it is.
However, it's no match against Ekrin B37S, Opove, and Achedaway Pro in performance. It's not really penetrative and has a so-so stall force.
It also lacks quality attachments. For instance, it doesn't have a soft attachment – they are all hard plastic.
It's reasonably priced, though. It costs $119.99, or you can use the AFDKOF coupon and get it for 10% less – $107.99.
---
RecoverFun Plus
This one is a solid performer. It has a 12mm amplitude and up to 40lbs. of stall force – pretty impressive.
It also comes with a detachable battery – something rarely seen with budget guns.
However, it's quite heavy and weighs 2.6 pounds. It also has a thick handle that is less comfortable to hold. It's probably better suited for heavily built folks.
It's not versatile enough to make it into our top choices, but is a decent percussion gun nevertheless.
It costs $164 with the MGA5 code ($5 Off).
You can buy it at recoverfun.com.
LEARN MORE Our hands-on RecoverFun Plus review.
---
Bob and Brad X6 Pro
Bob and Brad are the most famous physiotherapists on YouTube. They enjoy quite a following there.
This is their best-performing device. It has a decent stall force that is close to 40lbs. It's about the same as the RecoverFun Plus above.
We awarded it extra points because of the all-steel attachment. You can freeze or heat the attachment for a quasi-cold or hot massage. We also love how quiet it is.
However, we disliked the vertical handle and how plastic-y it feels. It also felt a bit vibrational, but other than that it is a pretty solid device.
Check the latest price at Amazon.
LEARN MORE Our hands-on Bob and Brad X6 Pro review.
---
Best Percussion Massager – Final Words
So which is the best massage gun in 2022? Well, hopefully, we have provided the best answer.
We do hands-on massage gun reviews almost daily. We have explained our criteria and our choices – what makes them great. We believe it's wise to pick a versatile massage gun that can work on all muscle groups. Such a device should be powerful enough and well-equipped.
We picked different guns, but they are all effective. You can choose the best one for you.
We highly recommend Ekrin B37S because it's the most versatile gun on the market today. As for Theraguns, we believe Elite is the most reasonable choice. Even so, you are better off with Achedaway Pro. It offers the best bang for your buck.
Lastly, if you have to pick a mini massage gun, it has to be the Bantam. It's the best by far.
If you still have any questions, feel free to leave a comment below. Thanks for reading, and happy massaging!
Disclaimers
The views and opinions expressed on this website are those of the authors. Any content provided by our bloggers or authors are of their opinion and are not intended to malign any religion, ethnic group, club, organization, company, individual or anyone or anything.
All product names, logos, and brands are property of their respective owners. All company, product and service names used in this website are for identification purposes only. Use of these names, logos, and brands does not imply endorsement.
It is our policy to make every effort to respect the copyrights of outside parties. If you believe that your copyright has been misused, please provide us with a message stating your position and we will endeavor to correct any misuse immediately.
Some of the links in this post are affiliate links. As an Amazon Associate, we earn from qualifying purchases. This means if you click on the link and purchase the item, we may receive an affiliate commission, at no extra cost to you. This helps us keep this website alive. Learn more here.
Amazon Disclosure
massagegunadvice.com is a participant in the Amazon Services LLC Associates Program, an affiliate advertising program designed to provide a means for sites to earn advertising fees by advertising and linking to Amazon.com. As an Amazon Associate, we earn from qualifying purchases. Amazon and the Amazon logo are trademarks of Amazon.com, Inc. or its affiliates. Please refer to our Privacy & Affiliate Policy for details.