10 Best Massage Guns to Buy in 2021
Disclaimer: Our content is unbiased, non-sponsored and fact-checked. If you buy via links on our site, we may earn a commission. As an Amazon Associate, we earn from qualifying purchases.
---
Massage guns aka percussion massagers are one of the most effective post-workout recovery tools. They relieve muscle soreness and alleviate fatigue.
But once you search for Best Massage Gun, your Instagram feed will be crowded with ads of these massagers. The sad part is, many of these self-proclaimed top massage guns are Chinese Products with drastic performance.
Owing to this so-called diversity, choosing the right massage gun can sometimes be challenging. Moreover, terms like stall force, stroke length, percussion range, and even the variety in the design are enough for the confusion.
Keeping all these things in mind, our dedicated team has spent days on research and testing and came up with these 10 Best Massage guns. Moreover, in our buying guide section, we've explained everything you can encounter while buying a massage gun.
Here are our Results for the Best Massage Gun 2021
---
In-Depth Guide for the Best Percussion Massager Gun 2021
This best massage gun guide is a combination of our comprehensive testing and detailed research. But throughout the guide, we never ignored the budget.
Also, in the end, there is a complete beginner, friendly buying guide. If you don't know where to start, try reading that first.
---
Theragun Elite: Our #1 Recommendation
Pros
Unique Design and features.
Has an OLED display.
Wireless charger available.
Usable for most professionals and beginners.
Cons
The battery is not removable.
Slightly expensive.
Not the most powerful massage gun.
Check the current price here >>
Theragun Elite belongs to the 4th Generation Therabody massage devices and probably the best among them.
It offers a combination of high stall force and stroke length, good speed options, excellent battery life, and some very advanced massage options. Owing to these many brilliant features, it is on top of our best massage gun list.
Talking about in-depth features, Theragun Elite has a classical Theragun triangular framework. The construction is polymeric and is very durable. Besides being durable, this design allows a multi-dimensional grip and, ultimately, a soothing massage.
As a powerful recovery device, Theragun Elite offers a 40 lbs stall force and 16 mm stroke length. Both of these things might not be that as high as few other massage guns [Theragun PRO, Hypervolt], but they are sufficient for ameliorating your athletic performance.
Usually, Theragun Elite has five speed-options. But Being a part of 4th Generation Therabody devices, you can virtually have countless speed-options via the Therabody app. The speed range of Theragun Elite is from 1750-2400 percussions per minute.
As a top-tier massage gun, other features like weight [2.2 lbs], noise [65 dB], and battery [2 hours] are super competitive. Five attachment heads also provide diversity in the massage.
But the thing that makes it our #1 choice for the best massage gun is its rare yet advanced massage features. With Bluetooth, Theragun Elite connects with the Therabody app that makes it a completely different massage gun.
Through the Therabody app, you have features like a guided massage for special muscle groups, fast recovery routines, and a force meter. Besides, the Therabody app syncs with apple and Samsung health.
Regarding the price, it might be comparatively expensive than many other massage guns, but it's worth the price. Lastly, Theragun Elite comes with a one year warranty with Therabody's ProCare Program.
Get Theragun Elite right here.
---
Ekrin B37 MassageGun
Pros
Ideal Massaging features.
Reasonably quiet.
Top-notch Customer support.
Cons
Not too powerful.
Attachments could be more.
Ekrin Athletics came into the massage gun industry in 2019. Within one year, they became top-performing massage gun brands with one of the best customer support. Ekrin B37 is a mid-range massage gun by Ekrin Athletics.
Ekrin B37 is a mixture of class and power. It offers many unique features, but like LifePro Fitness, price to features ratio is great. That's why we consider it one of the best massage guns.
The uniqueness of Ekrin B37 is reflected in its design, which is angled 15-degree for an ergonomic grip. Such a grip allows the effortless massage possible.
Also, in terms of built-quality, Ekrin B37 is no less than any expensive massage gun. It has a brilliant polymeric construction that makes it both durable and lightweight.
Regarding percussion, it is equally competitive as other massage guns. With a 56 lbs stall force and 14 mm stroke length, it is a great recovery device for both beginner and advanced therapy. Also, it can be an exceptional device for deep tissue therapy.
Ekrin B7 usability features assist its massaging. With five speed-options, it is extensively customizable. Also, the four attachment heads are great for the diversification of massage.
Note: Ekrin recently released B37s. It is 30% more powerful than B37. Read more at Ekrin B37s Review.
Other usability features like noise and weight are pretty good for the price. The battery, however, is highly exceptional. Even the top-speed Ekrin B37 battery lasts for more than 5 hours. It also comes with a compact carrying case, which makes it easy to carry.
From a price perspective, Ekrin B37 is an affordable massage gun. Keeping in mind its features, Ekrin B37 is one of the best massage guns under 200$ right now. A lifetime warranty is a plus factor.
Use Code 'MGA20' to Get 20% [~45$ OFF] at Checkout.
---
Hypervolt Bluetooth
Pros
Used by NBA Players.
Sturdy Construction.
Diverse Usability.
Has many advanced features
Cons
Not a proper deep tissue massage gun.
Slightly expensive.
Hyperice's Hypervolt is the most copied massage gun on the market. But still, it became unbeatable in terms of its quality. Recently, Hyperice released Hypervolt Bluetooth. It is currently among the few very advanced massage guns.
Hypervolt Bluetooth has a classic massage gun design. Such a configuration allows a simple yet comfortable grip. Built-Quality, on the other hand, is a super-elite. Thus, Hypervolt BlueTooth is a combination of simplicity and excellence.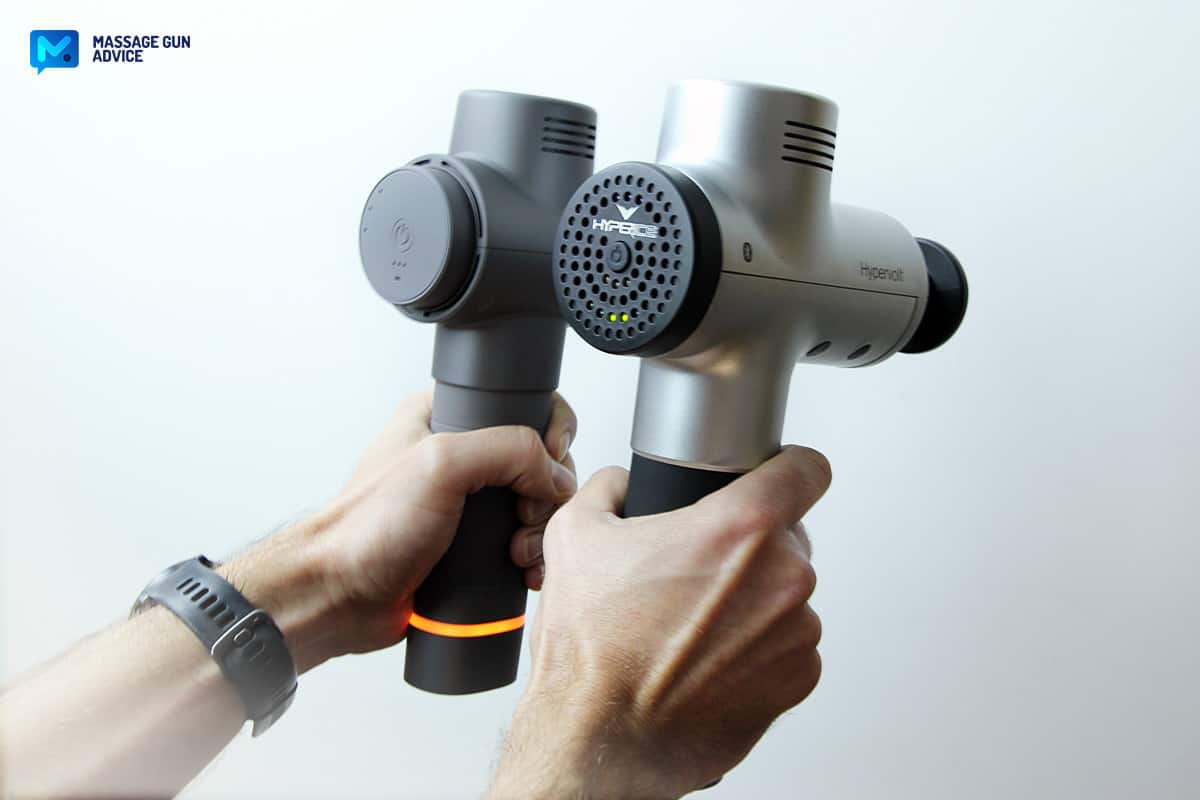 The massaging action of Hypervolt is slightly different from that of most of the other massage guns. It is not a purely deep tissue massage gun. With a stall force of ~60 lbs and 10 mm, Hypervolt can percuss strongly but not in much depth.
On the other hand, the usability of Hypervolt Bluetooth has some serious features to offer. Ordinarily, it has three speed-options, but with app-control, it has practically unlimited speed-options. The battery is both removable and easily lasts for more than 3 hours.
Hypervolt BlueTooth also has a quiet-force technology that allows it to be reasonably quieter than the previous versions. The five attachments are exceptionally well-built and provide a great diversity in the massage. Unfortunately, with a 2.8 lbs weight, Hypervolt is slightly heavy compared with other massage guns on the list.
All these previously mentioned features are useful, but the advanced feature makes Hypervolt BlueTooth one of the best massage guns. Like 4th Generation Theraguns, Hypervolt BlueTooth has an app control.
Through the app, you can use hundreds of pre-built massage programs for particular muscle groups. Such massaging action makes Hypervolt BlueTooth usable for high-grade professional therapy and also for beginners.
A noteworthy thing is Hypervolt is quite expensive than most of the other massage guns on our list. But its advanced features make it worth the price.
---
LifePro Dyna Sphere

Pros
Great for pain relief.
Soft and Durable attachments.
Quiet yet Powerful.
Reasonably priced.
Cons
The Round handle can sometimes be annoying.
DynaSphere is an affordable massage gun of LifePro Dyna Series. It is a combination of some breath-taking features within the budget. In addition, it has the same LifePro legacy, depicted in high-end massage guns. Both of these things make it one of the best affordable massage guns.
LifePro DynaSphere has a minimalistic handheld design. The best feature of this design is its angled grip that is behind the comfortable massage. In addition, this mid-range massage gun has the same, if not better, quality than most of the high-priced ones. So, in terms of built-quality, it is one of the best choices out there. 
Similar to design, LifePro DynaSphere is both powerful and customizable. Its 40 lbs stall force and 13 mm stroke length is at the threshold of deep tissue therapy. In addition, six speed-options and five attachments make it a useful customizable handheld massager.
The rest of the features also make LifePro DynaSphere good enough to be called the best massage gun. These features include 5-hour battery life, 55 dB sound, and 2.1 lbs weight. Moreover, LifePro also provides a LifeTime warranty and a carrying case.
Based on these criteria, LifePro Dynasphere is one of the actual value for money massage guns. The only issue one could find is that DynaSphere is slightly tricky to use due to design; the rest is perfect.
Use Code MGA10 to Get 10% [~30$ OFF] at Checkout.
---
Theragun mini
Pros
Simple yet Unique Design.
Highly Portable.
Great for routine use.
Cons
Only Made for Soft Tissue therapy.
Theragun Mini is the most inexpensive Theragun and our #1 recommendation for the best massage gun under 200$. Though it doesn't provide a compelling percussion, exceptional usability features make it one of the best massage guns.
As Therabody claims, Theragun Mini is unique in many aspects. The first one is the design.
The Theragun Mini has a saddle-shaped design that is exceptionally ergonomic. Additionally, built-quality is different from other Theragun models but is quite significant for the price.
Regarding percussion, Theragun Mini is surpassing for soft tissue therapy. With a 20 lbs stall force and 12 mm stroke length, you get a pretty average percussion.
As a portable massage gun, Theragun Mini offers exceptional usability. There are three-speed options. The battery lasts for around 2.5 hours and is non-removable. With 1.4 lbs weight, Theragun Mini is one of the most lightweight massage guns. In addition, a 50 dB sound is a subtle distinction.
But Theragun Mini has some drawbacks as well. The greatest of all is its single attachment head. Though Theragun provides extra attachments, you have to pay extra for that. Secondly, unlike most massage guns, it doesn't come with a carrying case. Besides all these few things, Theragun Mini is a great choice.
In short, Theragun Mini is a combination of many brilliant and ordinary features. But being a Therabody device put it one step ahead of others. If you need a portable and soft tissue massage gun, there is no better option than Theragun Mini.
---
AddsFit Max
Pros
Good customization options for the price.
Pretty Durable.
An excellent choice for beginners.
Cons
Not very powerful.
Only a starter-level massage gun.
AddsFit recently came into the market and became an emerging massage gun brand. AddsFit Max is their flagship massage gun that has many simple features at an affordable price.
In appearance, the Addsfit max looks like one of many handheld massage devices. But due to top-notch polymeric construction, it is better than many 'so-called inexpensive massage guns.' An unusual thing about the design is it doesn't feel bulky.
Unlike most of the other massage guns, AddsFit Max has a variable stall force reaching up to 35 lbs. Stroke length, however, is constant and is 12 mm. Thus, the AddsFit Max percussion is ideal for routine therapy.
As an affordable massage gun, AddsFit Max has a lot to offer. With the nine speed-options and five super-durable attachments, the massage is pretty customizable. A unique thing about the attachments is that they are made of special antibacterial polymers.
Other Features are also quite generous for the price. These include a 5-hour battery life [removable]. Also, 2.2 lbs weight and 55 dB noise make it the best massage gun.
As an emerging brand, Addsfit offers many excellent services. You get a three-year warranty along with a 30-day money-back guarantee. Moreover, the price is also pretty reasonable.
In the light of all these things, if you're looking for a starter massage gun, AddsFit will be the best choice for you.
Use Code 'MGA20' to Get 20% OFF at Checkout.
---
Reathlete Deep 4s
Pros
Appealing Design.
Has an LED display.
It is made for strong muscles.
Great Battery Life.
Cons
The arm is difficult to rotate.
Not a lightweight massage gun.
Not many massage gun brands that tried something new were able to succeed. Fortunately, Reathlete is among the few lucky ones. They only have Reathlete Deep 4s, but it is worthy enough to be called the best massage gun.
In its design, Reathlete Deep 4s is a combination of Triangular Theragun and handheld LifePro Pulse Fx. As hinted earlier, such a design made it a pretty easy-to-use massage gun. Reathlete Deep 4s has a LED display panel. This display panel, along with the glossing side window, made it a highly aesthetic massage gun.
Like many other similar design massage guns, it has a rotatable arm that makes every part accessible. The rotation is limited to 3 positions.
Similar to design, the percussion of Reathlete Deep 4s is pretty powerful. This upgraded version has a stall force of 55 lbs and a 12 mm stroke length. Owing to these values, this can work brilliantly for athletes.
Other factors like four-speed options, five attachment heads, a 4-hour battery, and ~65 dB sound can also be trusted. Weight, on the other, is slightly compromised for the design, the device weighs 2.6 lbs.
Reathlete provides a carrying case along with a 30-day money-back guarantee for the device. Also, they are very responsive to their customer concerns, so that it could prove a great asset.
We should mention here that Reathlete Deep 4s is comparatively expensive than many other massage guns on the list. It is because they offer the most alluring design a massage gun could offer, along with some brilliant usability. We can say it's worth the price.
---
Opove M3Pro
Pros
Highly Durable.
Very Quiet Brushless Motor.
Diverse percussion range.
Cons
Limited speed options.
Slightly overweight.
Opove M3Pro is known as the best hypervolt replica in the massage gun industry. Owing to many similarities with the first generation Hypervolt and a highly affordable price, it is one of the best-selling massage guns of 2021.
As a Hypervolt replica, it perfectly resembles the first generation Hypervolt. Built-Quality, however, is slightly different. As compared to Hypervolt, it has a somewhat different polymer construction and anti-drop shell that makes it pretty resistant. We can't say it is better than Hypervolt, but it is the best hypervolt replica for the price.
In its percussion, Opove M3Pro performs almost the same as similarly priced massage guns. It has 30 lbs stall force and 12 mm stroke length. These values don't seem perfect if you're looking for powerful massage guns; however, this percussion is pretty decent for athletes.
With three speed-options and 3-hour battery life, the usability is slightly ordinary. Similarly, 2.5 lbs are what you should expect with such stellar construction and design.
Contrary to these, Opove M3Pro is remarkably quiet and produces a sound of 55-60 dB. Opove M3Pro also has four durable attachments and also comes with a carrying case for travel.
As a brand, Opove has a lot of things to offer. Despite being a top-selling massage gun, not many cases are there of customer support problems. Although they provide only a one-year warranty, the massage gun's life-span is much longer than that.
Lastly, the Opove M3Pro price is not too high to bother you; thus, it is truly capable of being called the best massage gun.
Tip: Read detailed review of Opove M3 Pro here.
---
AddsFit Mini
Pros
Minimal in design.
Exceptionally powerful.
Easy to use.
Cons
Not for professionals.
Limited customization.
AddsFit Mini recently replaced Medcursor Mini on this best massage gun list. It is a super portable, lightweight, and a very quiet massage gun. We also consider it one of the best massage guns under 100$.
In its appearance, it looks like a pocket massage gun with an AddsFit logo mounted on it. Though pretty small, its plastic combined polymeric construction makes it very compact.
From its appearance, you perceive it as a massage gun with a fainting percussion. But with 27 lbs stall force and 6 mm stroke length, it could provide great percussion for the money. Although it has only three speed-options, the diverse percussion range accommodates those options.
As a portable massage gun, AddsFit Mini only weighs only 0.7 lbs. Similarly, its brushless high torque motor produces only a 45 dB noise. Likewise, the battery can easily last for more than 6 hours. But it comes with two attachments.
Thus, AddsFit Mini is not a very customizable massage gun, but it provides exceptional money features. It has a three-year warranty and comes with a portable carrying case. Owing to its small size, it is an excellent massage gun for traveling.
In short, if you need a massage gun for a regular massage, AddsFit Mini could be the best massage gun for you.
Use Code 'MGA20' to Get 20% OFF at Checkout.
---
Buyer's Guide for Choosing the Best Massage Gun
First and Foremost, this is not an extensive buying guide rather a summary of things you should consider while buying a massage gun. However, our "In-Depth Guide on choosing massage guns" can help you a lot if you're completely new.
Here are certain things you can look for while choosing a massage gun.
---
Design and Ergonomics
The design itself is not much crucial in the choice of massage gun, but its correlation with usability makes it highly significant. Ergonomics, regardless of its relation with other matters, has a decisive role in massage gun choice.
Examples of Good Ergonomics include super-soft and multi-dimensional grip, rotatable arm, ease to use the massage gun. Also, a massage gun should preferably be neither too bulky nor heavy. Both these things can bring discomfort to the massage.

---
Percussion
Ideally, the greater the stroke length and stall force are, the better will be the percussion. But practically, that is not the case.
Due to percussion's subjective nature, most recovery device enthusiasts consider 25 lbs stall force and 10 mm stroke length great for them. Still, this number can vary. You don't have to worry about the motor's power as Stall force tells us about that.
In addition to stall force and stroke length, attachments and speed are also critical in percussion. Using different attachments on different muscle groups with different speeds can alter the percussion altogether.
In short, when choosing the best massage gun for you, consider percussion a subjective experience rather than a general thing.
---
Customization and Usage
Like percussion, attachments, and speed options/range also affects customization. Similarly, the noise and weight of the massage gun greatly determine your user. We consider everything less than 70 dB and 3.0 lbs can work perfectly well.
Both these values are the upper threshold for noise and weight. Purchasing a massage gun that crosses these values could be very discomforting.
---
Battery Life
Although battery life could be accommodated in the usage, to its importance, prefer it a separate thing in massage gun choice. We recommend choosing a massage gun with at least a 2-hour battery life.
You also get removable and non-removable battery options. Removable batteries are always better as you can have spare batteries, especially during traveling. But now, as many massage guns with non-removable batteries and type C-charging, this removable/non-removable will end soon. Till then, we recommend to prefer massage guns with more battery life, and you have a better percussion experience.
---
Brand Reputation and Warranty
The brand is becoming more important than all other things because of hundreds of replica massage guns. Therefore, you should be very conscious before trusting some entirely new brand. It is always better to spend a few bucks and has a great device rather than saving and repenting later.
Some popular brands include LifePro Fitness, Therabody, Hyperice, Ekrin Athletics, and many others. You can have a Look at our complete best massage gun list.
---
Few Precautions while Buying Massage Guns
Don't rely on the Amazon reviews of an unknown. Many new brands are using manipulative measures to attract a lot of customers this way.
Values like Battery Life, noise, and stall force on the product website or for ideal conditions. A slight deviation is standard.
Always cross-check any covert factors with the money-back guarantee. Many new and unknown brands deduct some portion of money when the device is returned.
---
Closing Thoughts on Our Best Massage Gun Guide
In order to keep this guide concise, we have added only the necessary details. But for enthusiasts, we recommend reading our individual reviews. Also, those who are confused between two or more massage guns can see our comparison section.
Lastly, this massage gun list keeps on updating depending upon the arrival of new massage guns. If you want to see a particular massage gun capable of being on the best massage gun 2021 list, you can contact our team.
Disclaimers
The views and opinions expressed on this website are those of the authors. Any content provided by our bloggers or authors are of their opinion and are not intended to malign any religion, ethnic group, club, organization, company, individual or anyone or anything.
All product names, logos, and brands are property of their respective owners. All company, product and service names used in this website are for identification purposes only. Use of these names, logos, and brands does not imply endorsement.
It is our policy to make every effort to respect the copyrights of outside parties. If you believe that your copyright has been misused, please provide us with a message stating your position and we will endeavor to correct any misuse immediately.
Some of the links in this post are affiliate links. As an Amazon Associate, we earn from qualifying purchases. This means if you click on the link and purchase the item, we may receive an affiliate commission, at no extra cost to you. This helps us keep this website alive. Learn more here.
Amazon Disclosure
massagegunadvice.com is a participant in the Amazon Services LLC Associates Program, an affiliate advertising program designed to provide a means for sites to earn advertising fees by advertising and linking to Amazon.com. As an Amazon Associate, we earn from qualifying purchases. Amazon and the Amazon logo are trademarks of Amazon.com, Inc. or its affiliates. Please refer to our Privacy & Affiliate Policy for details.