Massage Gun for Horses – Equine Massage Gun Reviews
What To Know: our content is non-sponsored and fact-checked for accuracy. We anonymously order and rigorously test each product according to our methodology. We are reader-supported, and if you buy via our links, we may earn a commission. Learn more.
---
Have you ever thought of owning an equine massage gun? Have you ever even heard of massage guns for horses? Well, despite what your answer may be for these questions, we're here to tell you about equine percussion massagers.
---
Equine Massage Guns – The Basics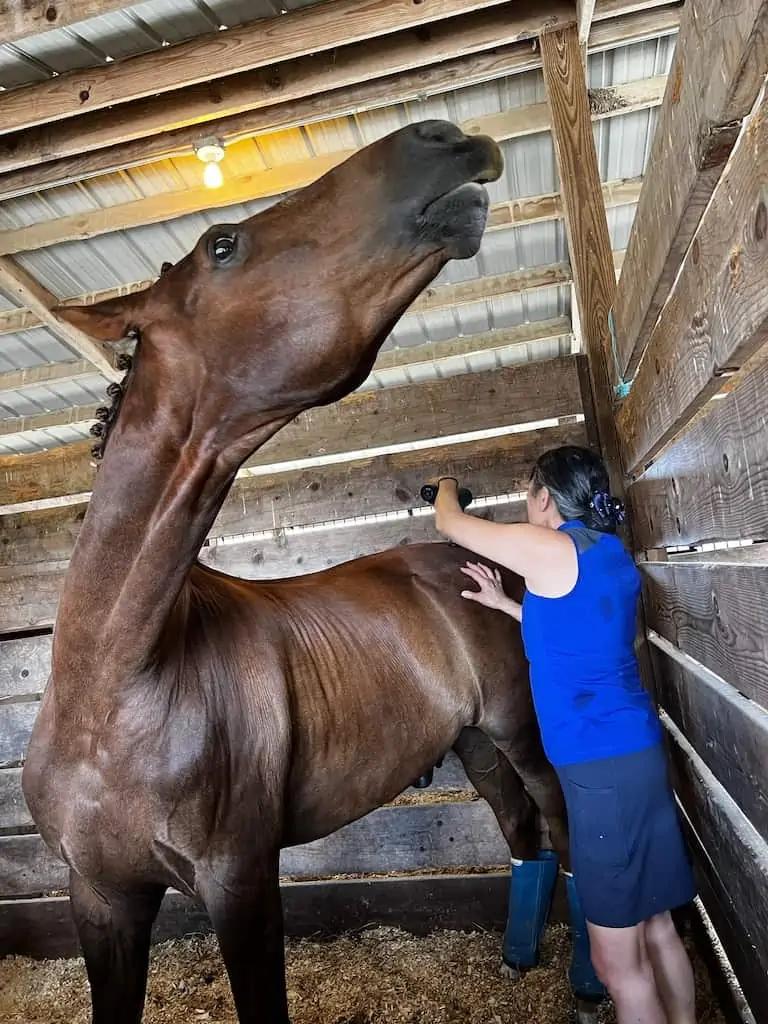 You know how the hype around massage guns has been gathering momentum for a while now, well turns out these awesome devices can be used on horses too.
One crazy thing is that this is not a new thing at all, it's been happening for a few years now (at least according to how far we were able to research, including discussions with actual horse owners).
Just so you are not alarmed (in case you have never heard about massage guns for horses), massage guns work the same way for horses as they do for people.
They are used for specialized muscle treatment, myofascial release, warming up the horse's muscles before training, and relaxing them after training.
But are equine fascia massage guns different from regular massage guns? Can you share a massage gun with your horse? Let's find out, shall we?
---
In a hurry?
If you are looking for an equine percussion massage gun and happened to stumble on this post, and can't read further, here are two products we highly recommend;
Brandenburg Equine Gun – Brandenburg know everything about massage guns for horses and horse massage therapy. You can't go wrong with their product apparently.
Ekrin B37 – Not an equine massage gun per se, but a latest generation device with plenty to offer, better price and a lifetime warranty.
---
How can a Massage Gun help your Horse?
Equine massage therapy has been around for years now. The question would probably be when did equine therapists discover that massage guns could be useful in helping horses? Well, the simple answer would be as soon as massage guns were available (perhaps).
Turns out there are a variety of ways that massage gun therapy (especially percussive therapy) can help keep your horse healthy and fit.
Basic massage to warm muscles and release fascia. Your horse can benefit from percussive massage to warm up their muscles before they engage in activity (training, racing, etc).
Trigger-point therapy to get rid of muscle knots. Since horses are involved in physical activity, muscle knots are a common occurrence that if left untreated could result in discomfort. Percussive therapy is a sure way to get rid of these knots – just get the right physiotherapy to identify them on your horse.
Myofascial release to ease muscular contraction and joint movement. Fascia tightening around muscles can hinder the performance of your horse. Massage gun therapy works to release the tightened fascia to improve the horse's performance.
Lymphatic drainage to get rid of fluid accumulation in the muscle tissues. Horses are prone to fluid accumulation (edema) due to injury or inactivity. A good equine therapist can use a massage gun to drain the excess liquid back into the lymphatic system where it can be cleared.
As you can see, massage guns can be pretty helpful to your horses.
You'll probably need an equine therapist at first to help you with the initial face of knowing what to do. With time, you should be able to administer a massage on your horse by yourself.
There are some great benefits of using massage guns on a horse. Here are the key ones:
Increased performance, muscle recovery, and injury prevention. Percussive therapy helps with lengthening and strengthening muscles to improve the horse's performance. It also helps to keep the horse body relax and quickens muscle recovery between training sessions. Because percussive therapy improves blood and lymphatic circulation, tissue repair is also improved.
Injury and disease rehabilitation. Massage therapy is an effective way for injury rehabilitation not just in humans, but horses as well. Massage guns supplement the standard rehabilitation process and boost the healing of atrophied muscles.
Pain relief and speedy recovery. Some massage guns for horses have the vibrational effect (most are vibrational) that improves blood flow and oxygen supply. This improved supply helps to relieve pain and quicken the recovery process.
Lactic acid release. Lactic acid forms when your horse is involved in heavy activity. Massage gun therapy helps to break the excessive lactic acid and reduce muscle soreness.
Improved blood and lymphatic flow. A massage gun can help to increase blood flow through vibrations and strokes. Lymphatic flow helps to get rid of toxins from the horse's body.
Improves the nervous system's functioning. Massage gun therapy helps to stimulate the nervous system of the horse. This helps the horse to relax and improves its mobility.
Eases muscle spasms and muscle stiffness. Muscle spasms can be painful and can make your horse uncomfortable. They occur due to heavy activity. Massage gun therapy helps to relax the ligaments and ease the pain.
There are other benefits of a massage gun to your horse including the overall wellness of your beloved animal. A happy horse makes a happy owner and apparently, there is no better way to do it than using a massage gun.
"Equine massage gun can increase performance, muscle recovery, and injury prevention for your horse.
---
Are Equine Massage Guns Different From "Non-Equine" ones?
This is a very good question, especially in our case since we have had to deal with all kinds of massage guns.
But is a horse massage gun different from the ones we have had and told you about?
Well, no. They are all the same. They are all just massage guns. The same technology used for the "normal" massage guns works for the equine massage guns.
The fact that they are massage gun for horses doesn't mean they're stronger or they have features only unique to them.
In fact, the equine percussion massagers can also be used on other pets as long as they like it. But the main question here should be whether the equine massagers are actually better than the non-equine (Theragun, Hypervolt etc).
---
Should You Buy a Massage Gun From Equine-Specific Brands?
Well, for the specific fact that some equine brands have a lot of information on how to massage horses, then you should go for an equine-specific product.
Otherwise, we can tell you for sure that equine-specific massage guns are not entirely better than non-equine massage guns. We have handled and reviewed many massage guns and we are confident about this.
Before we compiled this article, we did a lot of research about horse massage guns and what we can say is that these devices are pretty simple – compared to what we have tested and reviewed from non-equine massage gun brands. They're actually a bit outdated, to say the least.
Here is some context to keep you in the know:
Massage guns have evolved significantly since the first models were unveiled back around 2017 and 2018. So much so that models that came along in 2019 feel a little outdated in today's market.
Those earlier versions had simple ergonomics (the 90-degree handle), were drill machines, and weren't as effective – most were vibrational devices.
Things have changed since then with new models that have better ergonomics and longer amplitudes – the distance traveled by the massage gun head as it percusses. The earlier devices had 9-11mm amplitudes that offered vibrational therapy. Enter 2022 and we now have devices with 12-16mm amplitude. Stall force – the pressure it takes to stall the motor of a device – also significantly increased. This means that there are more percussive devices today.
Somehow most equine-specific massage guns seem to be stuck in the past. Many have those vibrational therapy features that seem to be outdated today. There are exceptions of course and we choose one product with the best qualities available.
As you can see, you are better off getting yourself a non-equine massage gun. They are not only outdated in terms of their performance features, but they are also quite expensive. Rather ironic to be honest. It means you could actually be overpaying for a massage gun that would normally cost much less.
But there's one key benefit with choosing to go for those equine-specific massage guns: equine massage-related support. We've picked product from trusted brand – Brandenburg Equine. Founders here are passionate about horses, own horses, and know everything about using massage gun on a horse.
We believe paying a little extra isn't that bad because you will get great support on how to properly massage your horse. We've given that product first priority in our article.
However, if you are the kind that knows how to properly use a massage gun on a horse or would rather learn how to massage your horse on YouTube and elsewhere, we recommend buying a massage gun from a non-equine brand. You'll likely pay less and get more from your product – improved ergonomics, better warranty, and better performance features.
Check out our non-equine brand devices below.
---
Best Horse Massage Gun – Equine Dedicated Brand
---
Brandenburg Equine Massage Gun – Our Top Pick
As far as equine brand massage guns are concerned, this Brandenburg Equine Massager is by far the safest bet. It's a proven brand established many years back by a well-known equine therapist Troy Brandenburg.
You will not just get a massage gun, you will become part of the Brandenburg Equine family. Troy and his team are well versed in equine massage therapy. They have a decent collection of how-to videos and very informative blog posts.
As for their massage gun, it has a classic design that we have seen with many non-equine massage guns – the T-shape design. It has some Hypervolt features that are easily noticeable – the shape and design, the LED band at the foot-end of the handle, and the battery release button. It's also easy to notice the display screen at the back of the device (stylishly done).
The ergonomics are so-so here if you are going to use it on yourself. It may not be an issue though if you are going to use it on your horse. It has a few other grip points when you use two hands.
In terms of performance, you can expect 10-11mm of amplitude and about 30lbs. of stall force. The amplitude may be vibrational, but you can apply a bit of pressure with that stall force.
It also has a percussion range of 1200-3200 – similar range as some of the non-equine brands that we have reviewed.
What we thought was a bit overdone is the number of speeds. Up to 20 speeds seems a bit too much. But maybe they are not so many for an equine therapist. For us, 4-6 speeds are enough.
And fact that you toggle up and down between those 20 speeds by pressing "+" and "-" buttons is rather helpful too, perhaps a tad more convenient than the single-button operation seen in other devices.
UPDATE: Troy Brandenburg himself got in touch with us recently to explain why he wanted the device to have so many speeds: "I needed 20 speeds in this because even though the horse is a large animal and tend to have bigger muscles they are a animal of flight. I wanted the different speeds so they could be slowly adjusted to suit each horse. As I was targeting the lay person who may not always have horse sense I had to put in the different speeds."
Just to be clear, the combination of 10mm and 3200 maximum percussions sounds a lot like vibrational therapy to us. Maybe Troy could argue differently. Either way, our next device is a bit more punchy.
Before that, however, you can expect this gun to be hushed (10mm amplitude is the clue). Low noise is hugely important according to Troy.
I found the noise level was very important. A lot of machines while not loud to us have a different reaction to horses. As I wanted be able to massage around the Poll and Atlas (head) of the horse, it was important to have a sound and pressure that was comfortable to them. Remember a horse is a animal of flight and if you do something that don't like they will react in a negative manner. This could be a problem for the person and horse.

– Troy Brandenburg, in his recent e-mail to Massage Gun Advice
Our 2 cents: As you can see from the quote above, Brandenburg folks know what they are doing and the design choices in their product seem very well grounded.
To continue, Troy's equine massage gun comes with 6 nicely varied attachments; flat, ball, wedge, fork, bullet, and arch (lets you massage a larger area than the fork attachment). They have a guide with videos on how to use each attachment.
The battery has 2400mAh capacity and can run for 4-5 hours on a single charge – plenty of time. The time on battery will vary based on the pressure applied.
The device comes with a hard-shell traveling case that looks classy. It's on sale now and costs $250 (50% discount!) with a 30-day moneyback guarantee. Get it right here.
---
Best Massage Gun for Horses – Non-Equine Brands
If you prefer the latest tech, or more proven devices without the horse logo on them, then here are some great picks that may interest you. If you are one of our readers, then this is probably not the first time you have read about them.
---
Ekrin B37 – Best Pick
Ekrin Athletics may not describe themselves as equine massage makers, but we believe this device would be a great choice for a horse massage gun.
We already know what it can do for humans, and we are pretty certain your horse will enjoy it as well.
UPDATE: Actually, we are not guessing. Since we published this article, many of our readers have purchased this device and then gave us positive feedback. For example, one happy horse owner, Phyllis, recently sent us photos showing her horse, Tucker, enjoying a massage using the B37.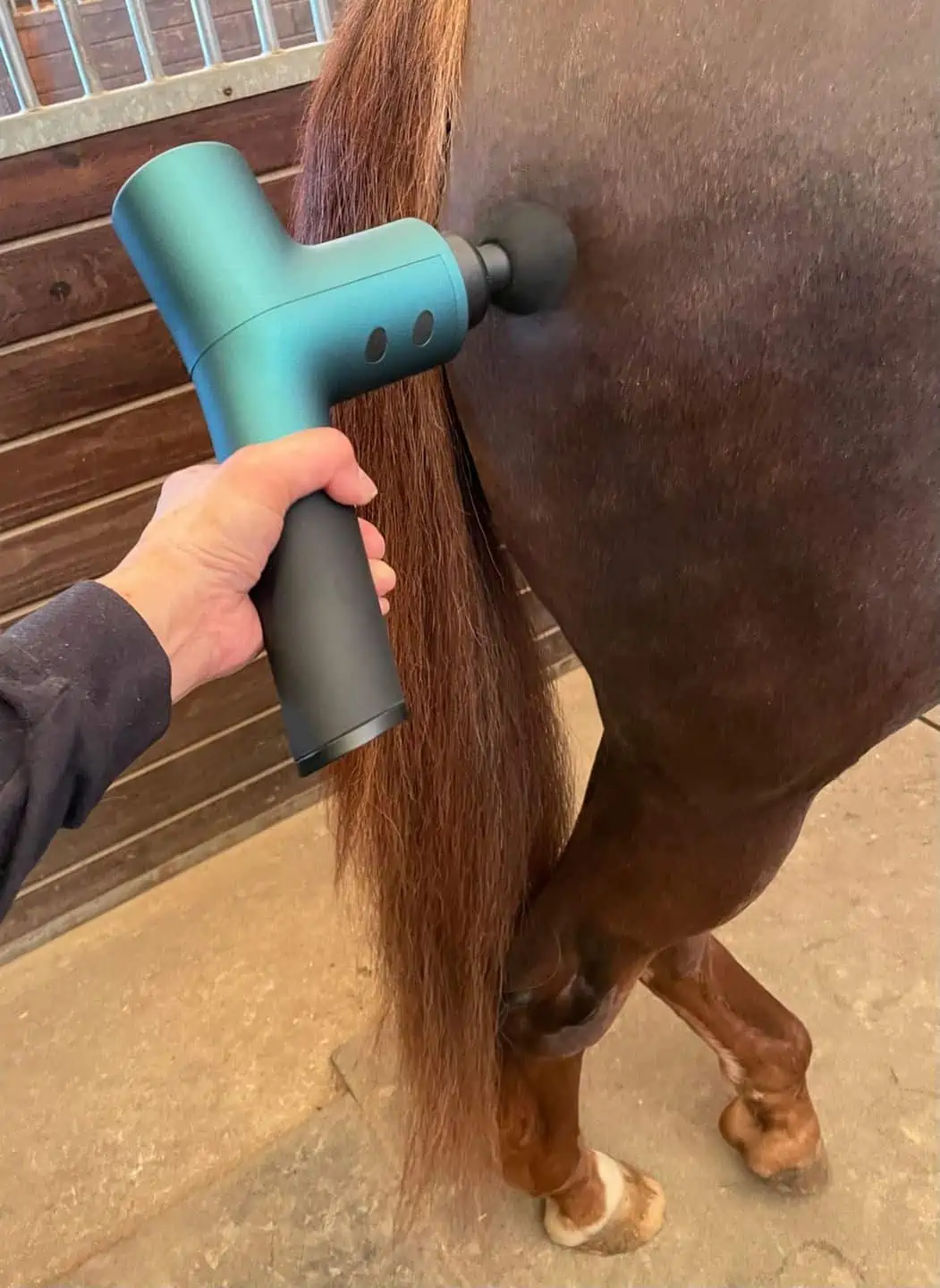 So what's so special about this Ekrin device. For starters, this gun has better ergonomics compared to the product we have seen above. The 15-degree angled handle allows for a natural grip. It's also a stylishly made gun that you will be proud of owning.
In terms of performance, it has a 12mm amplitude and 57lbs. of stall force. You can never go wrong here. With the procedures we named above, having a massage gun that can withstand more pressure is a huge advantage. Especially when you have to deal with muscle knots and stubborn fascia.
When it comes to the amplitude (stroke length), 12mm is what we like to call a sweet spot. Not too vibrational, not too aggressively punchy either.
It (amplitude) also translates to lower noise, because low/medium amplitude guns, like Ekrin or Brandenburg above, generally tend to be quieter than their high-amplitude counterparts.
It also has a 1800-3200rpm percussion range and 5 speeds to cycle through – just enough speeds that won't be a nightmare to cycle through.
It also comes with a lifetime warranty and great customer support. We are not sure about equine massage therapy advice, but we are certain Ekrin will provide great support for device-related queries.
Ekrin Father's Day Sale
Enjoy 25% off the Ekrin B37 (now only $172.49) and any other Ekrin massager until June 18th. Use code MGADAD25 at checkout for the discounted price. Click here to claim your offer
The B37 costs $229.99 but you can apply the MGA20 coupon to get a 20% discount. It then only costs $183.99 (you're welcome!). Buy Ekrin B37 right here. Ps. Don't forget to read actual reviews from fellow horse owners.
TIP You can also read our in-depth Ekrin B37 massager review →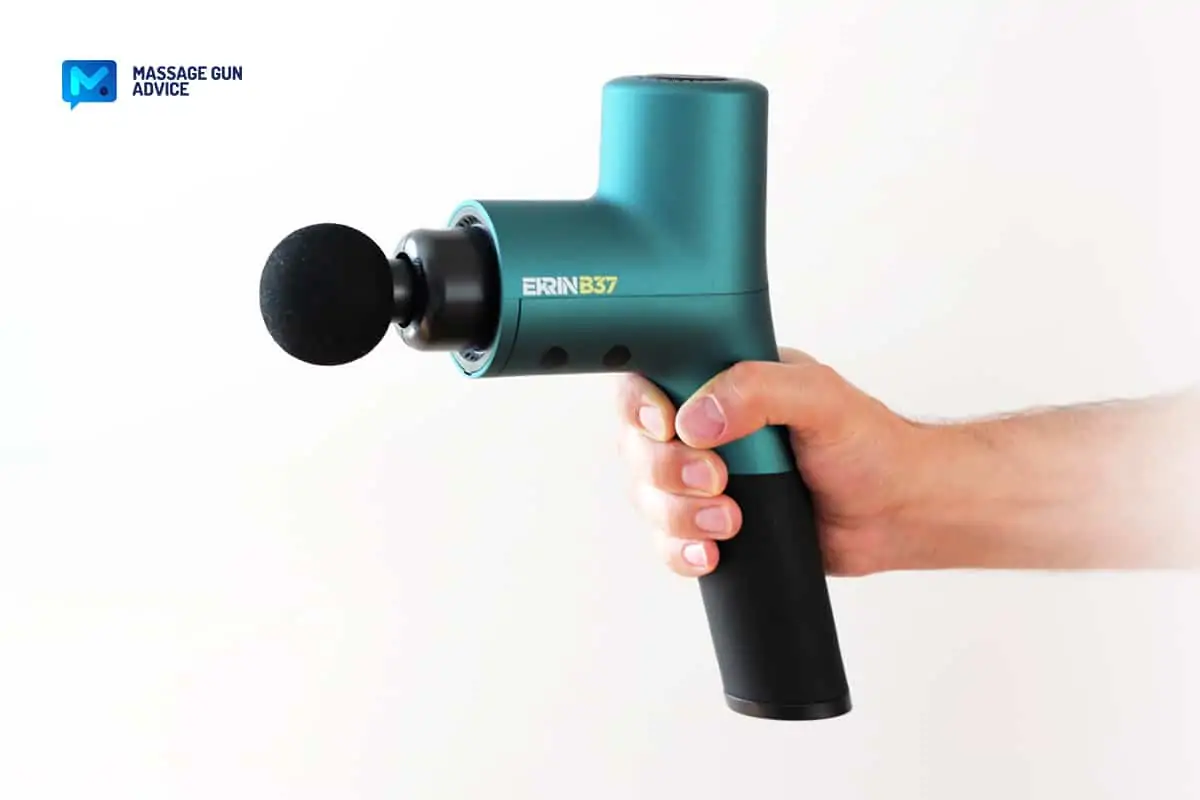 ---
Lifepro Sonic LX Professional – Also Great

Here is another decent massage gun that will not only serve you but your horse as well. It comes from a proven brand and has great features as well.
The Lifepro Sonic LX massager has a similar design (T-shape) as the equine-brand massage guns but it promises better quality.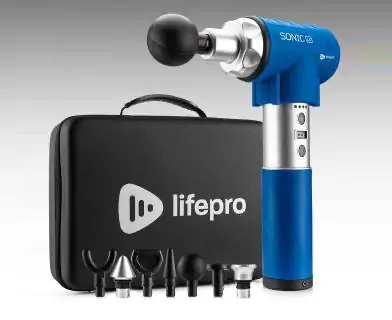 Speaking of quality, it has a 12mm amplitude and 33lbs. of stall force. It's not the reckoning force that Ekrin B37 is, but has slightly more power than both equine brand massage guns.
It has a percussion range of 1800-3400rpm – something similar to the Equirelease massage gun. It has 9 speeds to cycle through – we'll take 9 speeds over 20 speeds any day.
It comes with 10 massage heads which will work just as well on your horse – there are 3 metalic ones.
It's not as quiet as Ekrin B37 but it's quit enough — you don't have to worry about scaring your horse with it.
It comes with a lifetime warranty as well and great customer support.
To get the Sonic LX Professional, you will have to part with $199 or use the MGA10 coupon and buy it for $179 – 10% off.
TIP For more information, refer to our Lifepro Sonic LX review →
---
Achedaway Pro – Most Powerful

This one is by far the most powerful massage gun on our list. If you have a horse with plenty of muscle – perhaps those hindquarters – this is your horse massager. It has plenty to offer both the horse and the rider.
Achedaway Pro has powerful performance features. For starters, it has a 16mm amplitude that promises some hard punches when you need them. Some treatments for your horse will require the hard-punching that this gun has to offer.
When you need to apply more pressure, this gun has got you covered as well. With up to 60lbs. of stall force, you won't need more. It has the same ergonomics as Ekrin B37 with an angled handle.
It's a very hushed massage gun – one of the quietest in the business. It's surprising how quiet it can be given its high amplitude. It makes a smooth, unobtrusive sound and in that aspect, it beats all Theraguns with ease.
It's well equipped and comes with the removable battery option (you can buy it with the spare battery, too). It has a 2-year warranty.
It normally costs $299 but with MGA50 you get it for $249 ($50 discount). Similar range to Brandenburg massage gun.
TIP Here is our full Achedaway Pro review →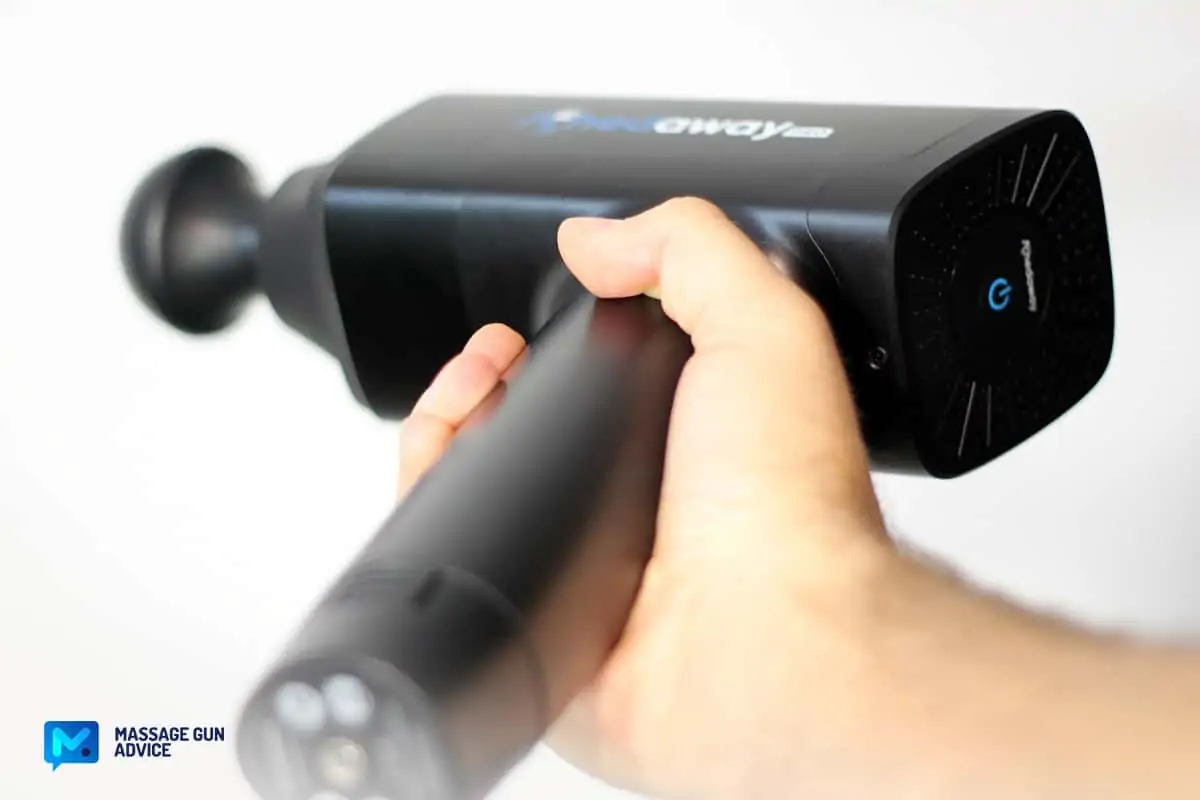 ---
Equine Massage Gun – Conclusion
If you want a typical equine massage gun, there are two choices in the Brandenburg Equine Massage Gun and Equirelease massage gun. If we had to pick between the two we'd go with the Brandenburg massage gun because of Troy's reputation and his top-class company.
However, if the equine-specific guns don't do it for your horse, there are better non-equine massage guns that will do the job even better.
We love the Ekrin B37 massage gun because of its quality. However, the other two are equally great options depending on your needs.
As always, feel free to ask us a question or just drop us a comment below.
Was this article helpful?
Your feedback makes our content better!
Thanks for your feedback!
Post Update History
Here's a quick rundown of all the tweaks and edits we've made to this article to keep it accurate and up-to-date!
Current version last updated on:
•
Written by:

Luke Deszczulka
Disclaimers
The views and opinions expressed on this website are those of the authors. Any content provided by our bloggers or authors are of their opinion and are not intended to malign any religion, ethnic group, club, organization, company, individual or anyone or anything.
All product names, logos, and brands are property of their respective owners. All company, product and service names used in this website are for identification purposes only. Use of these names, logos, and brands does not imply endorsement.
It is our policy to make every effort to respect the copyrights of outside parties. If you believe that your copyright has been misused, please provide us with a message stating your position and we will endeavor to correct any misuse immediately.
Some of the links in this post are affiliate links. As an Amazon Associate, we earn from qualifying purchases. This means if you click on the link and purchase the item, we may receive an affiliate commission, at no extra cost to you. This helps us keep this website alive. Learn more here.
Amazon Disclosure
massagegunadvice.com is a participant in the Amazon Services LLC Associates Program, an affiliate advertising program designed to provide a means for sites to earn advertising fees by advertising and linking to Amazon.com. As an Amazon Associate, we earn from qualifying purchases. Amazon and the Amazon logo are trademarks of Amazon.com, Inc. or its affiliates. Please refer to our Privacy & Affiliate Policy for details.