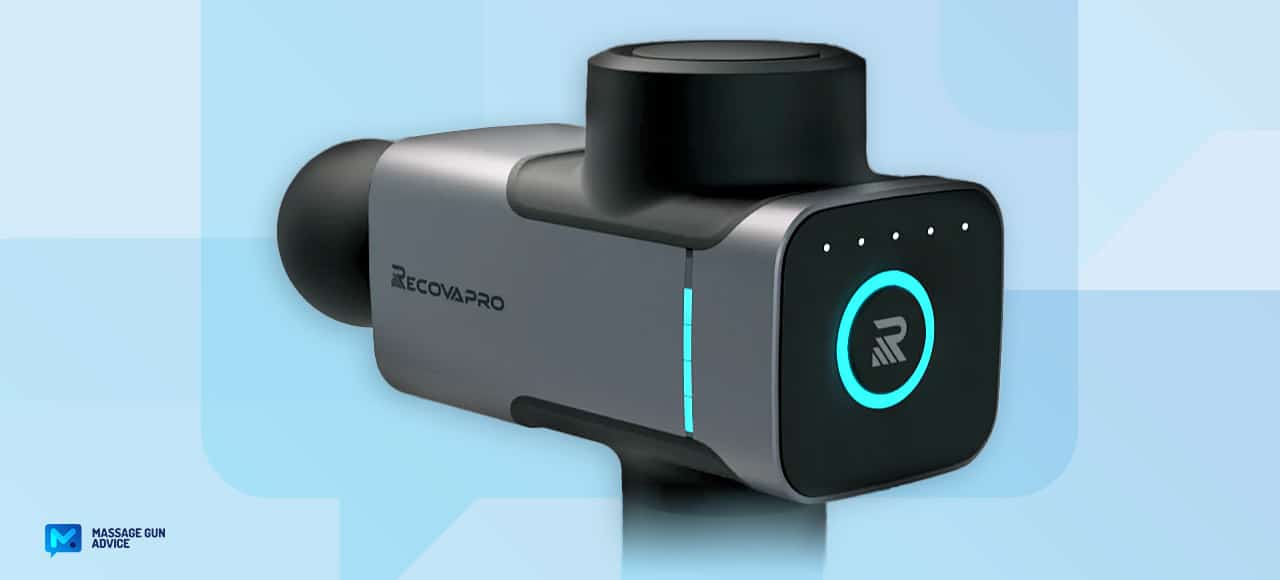 Recovapro MAX Review – A Heavy, but Amazingly Powerful Massage Gun
Disclaimer: Our content is unbiased, non-sponsored and fact-checked. If you buy via links on our site, we may earn a commission. As an Amazon Associate, we earn from qualifying purchases.
---
Welcome to this hands-on Recovapro MAX review. This is RecovaPro's flagship device. It's made for professional athletes and demanding massage gun users.
But does it really have what it takes? Is it the perfect gun across the board? That is what we will try to find out in this in-depth Recovapro MAX massage gun review.
It's going to be an interesting one, so follow along.
---
---
About Recovapro
Recovapro is a top UK wellness and recovery tech company. They primarily make massage guns, and their whole repertoire is reminiscent of Therabody's. A look at their store and you can identify the similarities. They have a flashy brand that wants to compete with Theragun and Hyperice.
It's not just the store and the branding that imitates the top dogs in the percussion massagers industry; it's the interaction with other businesses as well. RecovaPro is deep into sports sponsorship deals.
Examples include:
Deals with football clubs such as Wolverhampton Wanderers in the Premier League and Rangers FC in the Scottish League.
A deal with the famous UK cycling team Ribble Weldtite for the last 3 years.
A partner with British mountain bike slopestyle rider Matt Jones.
A partnership with Apple Fitness+
Just like Theragun, Recovapro started off as a percussion massagers maker but later included more products. Their recent products include compression therapy products.
But they stand out in one way; they operate 3 physical demo stores, two in London and one in Kent.
To our knowledge, no other UK recovery brand has been operating physical stores (Therabody has some, but all are located in the US).
Overall, RecovaPro is a respected company with a great track record.
Aside from the top-shelf MAX model that we review below, they also have the SE and LITE devices, which we also reviewed in our Recovapro SE review and Recovapro Lite review, respectively.
---
Recovapro MAX Review
Recovapro MAX Specifications
Feature
Recovapro MAX Specs
Stall Force
~60 lbs / 27 kg
Stroke Length
14 mm (advertised: 16 mm)
Dimensions
24 cm x 16.0 cm x 7 cm
Weight
2.95 lbs / 1.34 kg (advertised: 2.5 lbs / 1.2 kg)
Noise (decibel)
45 – 65 dB
Speeds
5 speeds
Percussion Range
1400, 1800, 2200, 2600, 3200 ppm
Battery Capacity / Life Time
3350 mAh / 5 hours (advertised)
Number of Attachments
7
Extra Features
Pressure meter
Smart App via Bluetooth
Pros
Fantastic performance
Great stall force
Excellent attachments
Premium feel
Accessories included
Cons
Heavy
Unimpressive ergonomics
Thick handle
Warranty
2 years
MSRP
£269.99 £399.99
Current Price
Check here
Recovapro MAX Specifications (3)
---
Design and First Impressions
If you noticed something in our recent massage gun reviews, we have skipped over a part that we often covered in earlier reviews; the carrying case.
The truth is, most carrying cases are generic and have nothing worth mentioning every time.
But once in a while, something impresses you, and you have to talk about it.
In this case, Recovapro MAX's carrying case looks fascinating.
For starters, it doesn't look like the usual tough-cover generic cases we see with other devices. This one's a genuine bag – a shoulder bag, to be precise. It feels like the kind of bag that carries an important electronic device.
It's not too big and has a metal logo at the bottom right corner. Also, it has a convenient carrying strap and a handle.
It has extra spaces like a zippered pocket on the outside. The inside looks well-organized.
Inside the bag, we found the device and other accessories (which we will discuss later in this review).
The first impression you get is that it's a big gun – full-sized, no doubt. It's not as oversized as the Urikar Pro 2, or the recently reviewed Pulseroll PRO. It looks thick as well (Achedaway Pro comes to mind).
It's rather heavy, which is somewhat surprising. However, the overall quality is great here – we can tell because we have seen a lot of guns.
Despite the uninspiring T-shape design, it has a modern look. Part of it is because Recovapro revamped the overall design of their products last year – what we have here is a fresh, up-to-date look.
The color is a combination of satin black and gray, which makes it look nifty. The edges are rounded to add to the sleek look – reminds us of Apple products.
Recovapro took a metallic approach with this one because there are metals everywhere on this device. For instance, the top gray part. The metal is cold touch which tells us it's authentic.
Again, this is similar to what Achedaway Pro has. The top and bottom of the motor are plastic but feel smooth – almost like rubber was added. This is a top-notch build.
Our Take

Overall, this device gives a very positive first impression. It has the premium feel you expect from a top-brand product. It's like a 180-degree turn from the rather disappointing show by the Recovapro Lite massage gun.
---
What Else is Included?
Inside the noble carrying case, we found the charging dock, which is mostly metal. There are spaces within the stand for the attachments. It gives you a convenient way to stay organized when you take your device outside the case.
There are 5 attachments in a bag, and two placed separately – we'll talk about them shortly.
The charging method is via a wall charger equipped with 4 international plugs.
There is an envelope with a number of cards with warranty information, a quick start guide, and attachment information. Very similar to what we have always seen with Hyperice products.
---
Weight, Size, and Ergonomics
This is probably one of the heaviest guns that we have tested (probably ever). In an attached instruction manual, Recovapro says it weighs 2.6 pounds – is that the heaviest we have ever seen? No.
But we weighed it ourselves, and it's way more than the said weight. Our high precision scale indicated about 3 pounds, or 2.95 if you don't like rounding off. That translates to about 1338 grams with the flat attachment on.
3 pounds is a lot of weight for a massage gun. To contextualize it, the big Theragun Pro weighs 2.6 pounds, while Achedaway Pro, though bulky, weighs about 2.7 pounds. Simply put, you will need strength to maneuver this Recovapro MAX massage gun.
But don't worry too much about the weight if you'd rather have something less weighty. This device is meant for the bulky folks – think demanding users like pro athletes, bodybuilders, and weightlifters.
Even so, it's probably heavy because of the extra metal and a much bigger battery. It's a trade-off that some people will like, others maybe not so much.
Another reason you'll like it heavy, is the amount of pressure you have to use – the weight already helps you exert the pressure. It's a good thing to have if you massage a loved one.
---
What about the size of it? Well, the size is probably okay for a massage gun of this caliber. It measures 24cm x 16cm (no attachment) x 7 cm – i.e. the height x width x thickness.
The handle here isn't very long (which happens sometimes), which helps to moderate the perceived bulkiness. However, it's a thick handle that feels massive. 7cm is quite thick.
---
How are the ergonomics? We'd say so-so at best. The straight handle takes away a few points even before we look at other attributes. If you have small hands, expect fatigue in your wrist if you plan to use it for longer sessions.
Also, it doesn't have as many grip options as Theraguns. We will also rate Achedaway Pro higher here because of the angled handle. The angle helps to grip the device better and significantly reduces tension in your wrist, even during longer sessions.
But Recovapro made iterations to address the cumbersome shape and weight impact. There is a lot of rubber stretching the entire length of the handle. It's not the sleek design we saw with the SE model, but it's well-structured to add more grip.
The main operation button is slightly inlet and doesn't pose the risk of accidental pressing.
Our Take

Overall, this is probably one of the heaviest guns we've ever worked with, but we're excited about what it has to offer. The ergonomics should've been better, but we will not complain so much.

That said, this device is aimed at demanding users who will likely worry about anything else other than a few extra pounds.
---
Attachments
The attachments are awesome. Recovapro actually over-delivered by including 7 instead of the usual 5 or 6.
There are 5 in the bag (case). These include:
Ball Head – It's the soft one and made of silicone and not foam as is usually the case. It's the softest one in the set.
Bullet Head – It's made of hard plastic and works on trigger points and removes deep muscle knots.
Fork Head – It's used along the spine. The two prongs are well placed to avoid touching the spine.
Cone Head with a silicone tip – If you don't like the bullet head's aggressiveness, this one can help target tender areas or bony parts.
Flat Head – The universal one in the set. It looks great and has a sleek surface. It's great for massaging directly on the skin.
There are two other heads included, both packed separately:
Arc Head – It's wide and shaped to fit the forearms, shins, calves, and traps. It's the perfect attachment to use on your quads and hamstrings (2). The 4 pillows are soft, and the larger surface area speeds up the process.
Lumbar Head – It's used to manage lower back pains. It also comes with soft tips. We strongly advise against using it directly on your spine. You can massage the area around the spine, but not directly on it.
Our Thoughts on the attachments

The 5 basic attachments are very similar to the Ekrin B37S – one of our all-time favorite devices.

The lock system is similar too. It's not the basic push-pull system that often requires force to execute and frequently exposes attachment gaskets to quick wear and tear.

Instead, it's the twist-and-lock system that, until now, is only available with Ekrin B37S and Ekrin 365. Can both these brands have the same manufacturer? Who knows, but the execution is great.
---
Controls
The controls are simple – a one-button operation setup.
There are no LCDs or touch screen buttons, which is good because it's faster to cycle through speeds with this setup. The button is at the front of the panel.
Here's how it works:
Press and hold to activate. The blue ring around the button lights up on activation.
Press the button again to change speeds
Press and hold again to deactivate. All the lights go off when you deactivate the device.
---
Performance
We measure performance using the 3 most important aspects of a massage gun: Amplitude (a.k.a. Stroke Length), Stall force, and Percussions Per Minute. The RecovaPro MAX device shines here.
---
Amplitude
It's the distance covered by the massage gun head during the percussive hits.
Recovapro boldly advertises it as being 16mm long. This is Theragun territory and the longest in the business.
However, we did measure it using our high-precision caliper and got 14.44mm. That's about 1.6mm shy of the advertised figure but long enough to make this a long-amplitude device.
We pitted it against Theragun Pro and Achedaway Pro to record the difference in hits, and to be honest, we couldn't tell. If there's any difference, it's very negligible.
Another device we know that has a 14mm amplitude is Hypervolt 2 Pro – a premium device. Opove APEX too boasts of similar amplitude.
Therefore, this makes it a percussive feel device (1), not a vibrational one. Expect true and deep percussive hits. It's probably not the best device for the neck and other delicate areas, but it's perfect for massaging large muscle groups.
But does it have enough stall force?
---
Stall Force
Stall force is the amount of pressure a device can resist without stalling.
Here it's advertised as 60lbs. and we believe them. It feels like some powerful guns we've tested, such as Achedaway Pro, Ekrin B37S, and Theragun Pro.
At top speed, it's nearly impossible to stall it. Even at the lowest speed, you'd have to stall it intentionally.
We think it may even be tougher to stall than Achedaway Pro, especially at lower gears, which ultimately makes it one of the most powerful massage guns in the UK (and likely beyond).
It has a pressure sensor – a trait we often reserve for the top guns. The reactive force meter allows you to control the pressure you apply as you massage. The blue light around the button is the indicator.
It's a nice feature to have, and we believe Recovapro was trying to follow in the footsteps of Theragun Pro and Hypervolt 2 Pro.
We also like the execution and the blue light used.
Nonetheless, it's not a must-have feature, but it's probably expected, given the price tag.
With a 14mm amplitude and a high stall force, this is one of the soberest guns out there. It's made for serious folks who want a deep tissue massage, and we love it!
However, there's more.
---
Percussions
We have tested high amplitude guns and concluded that they rev slower than their medium and low amplitude counterparts. It makes sense because the long amplitude covers a longer distance hence the slow percussions.
However, this is the first high amplitude gun that defies that rule.
At first, we thought the percussion range is overstated, just like we have seen with many other devices. The advertised range is 1400-3200RPM.
This baffled us, so we had to measure it to be sure. We used our tachometer and measured 1398-3168RPM, which is pretty much the same range as advertised.
Here's how the speeds line up:
1st speed – 1400RPM
2nd speed – 1800RPM
3rd speed – 2200RPM
4th speed – 2600RPM
5th speed – 3200RPM
This is the first true high-amplitude gun that revs up to 3200RPM. You could argue that the 14mm amplitude allows for this kind of intensity, but there aren't many like it. This is truly awesome.
Just to put it into perspective, Hypervolt 2 Pro has the same amplitude but has 2700RPM max percussions per minute. Theragun Pro only does 2450RPM at best – 25% less intensive. Achedaway Pro, too, has up to 2700 hits per minute.
We also like the 5-speed setup here. You can see the indicators light up at the top of the main button as you change speeds.
Our Take on Performance

This is an impressive device. It has the 3 crucial aspects lined up perfectly. If you use it with a flat attachment at top speed, it actually starts to hurt; that is how powerful it is.

Many vibrations are essential. They work the nervous system, overloading it, which helps ease muscle tension. Even with 2400 max percussions, the results are pretty decent; Recovapro MAX goes a notch higher.

It's the perfect gun for demanding athletes, pro bodybuilders, weightlifters, and everyone who loves an intensive, deep-to-the-bone massage.

The summation for this kind of performance is that it beats Theragun Pro, and no device in the UK market can stand up to it.
---
Noise
It's not a very quiet massage gun – at least not, compared to low and medium amplitude guns.
Our dB meter gave us 45.1-65.2dB. The low figure was recorded at the lowest speed (speed 1). Even so, the max noise at 65.2dB is impressive, given the high amplitude and many percussions per minute.
Just to compare:
Theragun Pro revs much slower at top speed, but it's way noisier compared to this Recovapro MAX percussion massager.
Compared to Hypervolt Pro 2, the Recovapro MAX is a tad louder, but that's because Hypervolt Pro 2 revs up to 2700RPM.
Achedaway Pro is also quieter, but it also revs slower than the MAX.
Our Take

Overall, even here, this device is remarkably great. You often don't get everything you want in a gun, but this one seems to have it all. It doesn't rattle nor crackle. The attachments mounting system helps to keep it quiet.
---
Battery
It has a well-juiced battery with a 3350mAh capacity. This partly explains the significant weight. The battery can last 2 weeks before you have to charge it again under normal usage.
The vertical blue LED stripe on the left is a battery level indicator. It flashes as the device recharges and turns solid blue when it is fully charged.
You also get a charging dock for convenience. Recovapro Lite has a charging mat that doesn't do much. This one actually works as a charger.
You also get extra charging plugs for the UK, EU, US, and AU. We would've loved the magnetic charging feature (present with the Recovapro Lite) used here.
---
Bluetooth and Recovasmart App
Recovapro says their MAX device is Bluetooth enabled. At least, according to the packaging, we understand this to be an actual feature. It's also indicated on their website.
However, we couldn't figure out how to connect it to our iOS device. One of the cards in the package says, "we made an app for you." The app is called Recovasmart by Recovapro. We searched for their app on Google Play, but also came up blank. We are hoping to get a clarification on this from the brand.
For now, however, it's safe to say the Recovasmart app isn't here yet.
UPDATE: The Recovapro's RecovaSmart app has just gone live on the Apple App Store. It looks like Android users will need to wait a bit longer – but at least we know that they've been working on the app!
---
Warranty and Price
This device used to cost a hefty £399.99 but the price has been recently cut to a reasonable £269.99. Check out the current price at Amazon. It is also available at Recovapro.co.uk.
It's not exorbitantly expensive, but it isn't cheap either. It depends on how you choose to look at it.
It's probably cheap if you pit it against Theragun Pro – it matches Pro in performance, perhaps even betters it. It even outperforms the more expensive (£379) Hypervolt 2 Pro.
However, it's more expensive compared to Achedaway Pro, which performs similarly but costs less.
Compared to guns that cost £100 or less, this gun is in a different league. It doesn't compromise on aspects that matter.
Another big plus is that you can trust the brand, which is a 100% verified UK brand. You get next-day deliveries and up to 90-day returns. It also has a 2-year warranty.
---
Comparison to Best Alternatives
---
Recovapro MAX vs. Achedaway Pro
Achedaway Pro probably matched Recovapro MAX in many aspects. Here's how they compare:
Similarities
Similar stall force on top gears.
High-quality attachments.
Aluminum body.
Build quality is excellent in both devices.
2-year warranty.
Where Recovapro MAX beats Achedaway Pro
Faster percussions (max. 3150 vs. 2700).
More attachments (7 vs. 4).
Better attachment mounting system (twist & lock versus push-in-pull-out).
Pressure sensor integrated.
Charging dock included.
International socket plugs (Achedaway asks you to choose your plug).
Slightly higher capacity battery, 3350 vs. 3200 (but Achedaway can work with two batteries – mind this).
Bluetooth enabled – although the app is only available for iPhones, no Android.
Where Achedaway Pro beats Recovapro MAX
Higher amplitude: 16mm vs. 14mm, both numbers verified by us.
Better ergonomics (angled handle).
Lighter (2.7 lbs. vs. 3 lbs.).
Detachable battery (there is an option to purchase the gun with two batteries).
Lower price.
Our Verdict
These guns have many similar features. Achedaway Pro seems punchier on paper, but the difference is small. Even so, Recovapro MAX makes up for it with more percussions per minute.
Both guns are meant for pros who want a deep tissue massage.
Achedaway Pro ships without custom charges, and the price is reasonable. With the MGA50 coupon you can buy it for ~£218 or £289 with an extra battery.
Read More Our in-depth Achedaway Pro review.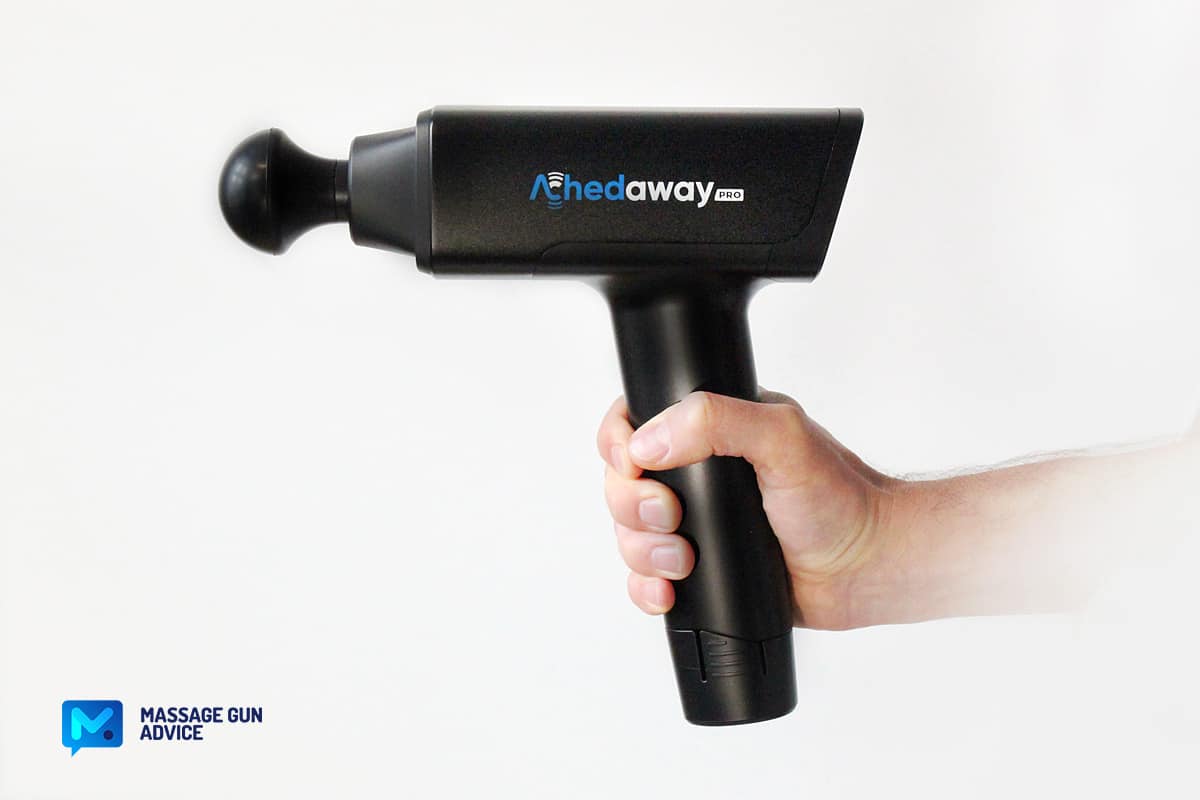 ---
Recovapro MAX vs. Theragun Pro
Theragun Pro is a known premium gun but is a more expensive alternative. Recovapro clearly aspires to match it. Here's how they compare:
Similarities
Similar stall force.
Pressure sensor integrated.
High-quality attachments.
Premium feel & excellent build quality.
Charging stand included (Theragun has a promo right now, normally extra paid).
2-year warranty.
Where Recovapro MAX beats Theragun Pro
Faster percussions (max. 3150 vs. 2400).
Wider overall percussion range (1450 – 3150 vs. 1750-2400).
Lower noise.
More attachments (7 vs. 6).
International socket plugs for traveling are included.
Less expensive
Where Theragun Pro beats Recovapro MAX
Higher real amplitude – 16mm vs. 14mm; both numbers verified independently.
Ergonomics – much better, more ways to hold the device.
Adjustable arm – rotates in 4 positions.
Compatibility with full-size devices – attachments from Prime, Elite, and Pro work for mini.
A tad lighter – 2.9 lbs vs 3.0lbs.
OLED display.
An app that works with the device (guided treatments).
Attachments are compatible with the mini device (Recovapro MAX attachments do not work with Recovapro Lite).
Our Verdict
Recovapro MAX has a slightly overstated amplitude. Nonetheless, the difference is negligible, and it can match Theragun Pro's 16mm amplitude – maybe even outperform it thanks to more percussions and a wider range.
Theragun Pro has better ergonomics, but Recovapro MAX is a better value purchase. If you can afford Theragun Pro, then, by all means, go for it – it's a great percussion massager.
Read More Our in-depth Theragun Pro review.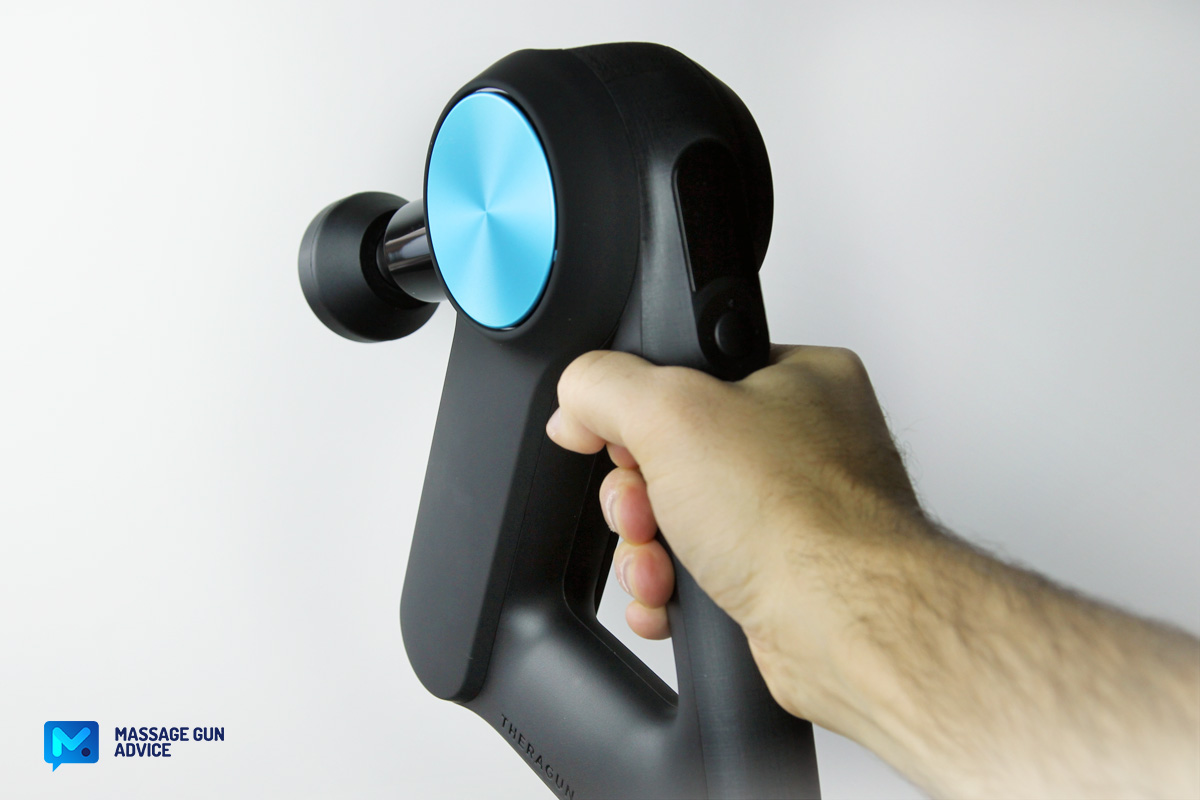 ---
FAQ
How does Recovapro MAX compare to Theragun Elite?
We believe Recovapro MAX easily beats Theragun Elite in performance. Everything else is pretty much the same as Theragun Pro. We believe the cheaper Recovapro SE is the more comparable gun to Theragun Elite.
How does Recovapro MAX compare to Pulseroll?
To be honest, these are two very different guns. Pulseroll has 40% lower amplitude (stroke length) and feels vibrational. It also has fewer percussions per minute compared to Recovapro MAX. Recovapro also has a higher stall force and a more modern and elegant look. We believe the the cheaper Recovapro SE is more comparable to the Pulseroll massage gun.
---
Recovapro MAX Review Conclusion
Here comes the end of our Recovapro MAX review. This is a highly effective and top-notch massage gun. It doesn't pretend to be powerful; it actually is powerful. The brand overstates a few aspects, but it's nothing blown out of proportion.
However, this gun delivers outstanding performance and rivals the strongest percussion massagers on the market. It's also stronger than almost exact-looking Recovapro SE massage gun.
It's manufactured by a trusted UK brand, the price is reasonable and the quality is awesome.
You may want to check out how it compared to Theragun Pro, and especially Achedaway Pro, but ultimately we think this RecovaPro MAX is worth the buck.
---
Recovapro MAX - Our Rating
Quality

Effectiveness

Usability

Accessories

Price Value
Summary
Recovapro MAX is a top-of-the-shelf device with stellar performance stats. It compares well against the top names in the industry. It lacks the ergonomics to make it the perfect gun but performs excellently in other aspects.
---
References
Cheatham SW, Baker RT, Behm DG, Stull K, Kolber MJ. Mechanical Percussion Devices: A Survey of Practice Patterns Among Healthcare Professionals. Int J Sports Phys Ther. 2021 Jun 2;16(3):766-777.
Link doi: 10.26603/001c.23530. PMID: 35382115; PMCID: PMC8964305.
Huang SY, Di Santo M, Wadden KP, Cappa DF, Alkanani T, Behm DG. Short-duration massage at the hamstrings musculotendinous junction induces greater range of motion. J Strength Cond Res. 2010 Jul;24(7):1917-24.
Link: doi: 10.1519/JSC.0b013e3181e06e0c. PMID: 20543728.
Recovapro Official Website: recovapro.co.uk
Disclaimers
The views and opinions expressed on this website are those of the authors. Any content provided by our bloggers or authors are of their opinion and are not intended to malign any religion, ethnic group, club, organization, company, individual or anyone or anything.
All product names, logos, and brands are property of their respective owners. All company, product and service names used in this website are for identification purposes only. Use of these names, logos, and brands does not imply endorsement.
It is our policy to make every effort to respect the copyrights of outside parties. If you believe that your copyright has been misused, please provide us with a message stating your position and we will endeavor to correct any misuse immediately.
Some of the links in this post are affiliate links. As an Amazon Associate, we earn from qualifying purchases. This means if you click on the link and purchase the item, we may receive an affiliate commission, at no extra cost to you. This helps us keep this website alive. Learn more here.
Amazon Disclosure
massagegunadvice.com is a participant in the Amazon Services LLC Associates Program, an affiliate advertising program designed to provide a means for sites to earn advertising fees by advertising and linking to Amazon.com. As an Amazon Associate, we earn from qualifying purchases. Amazon and the Amazon logo are trademarks of Amazon.com, Inc. or its affiliates. Please refer to our Privacy & Affiliate Policy for details.