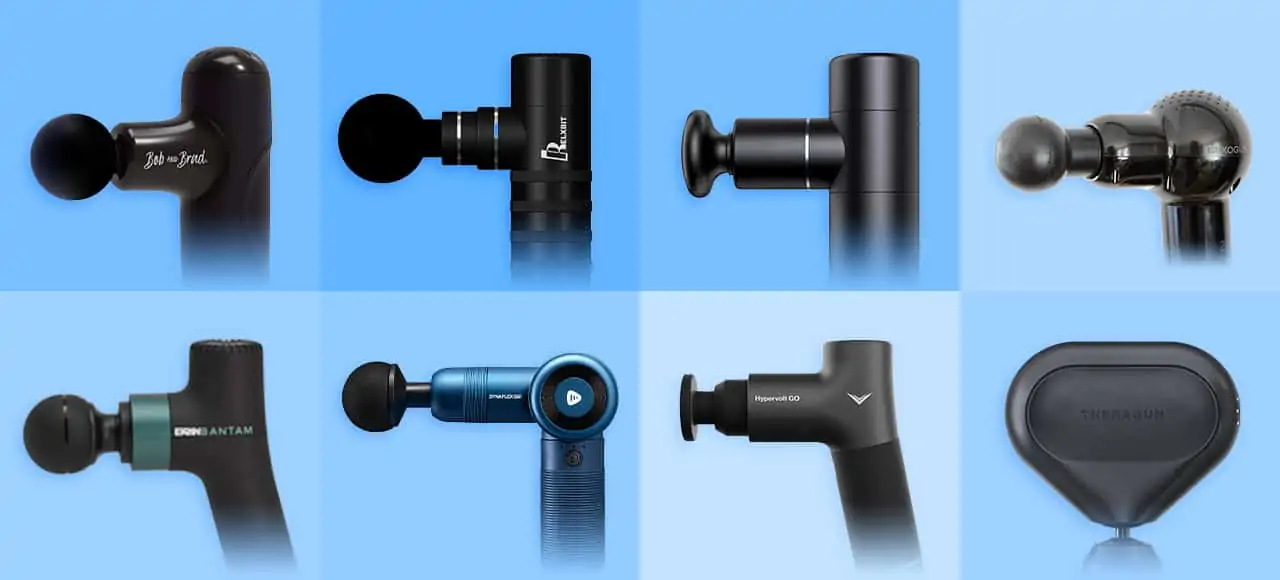 The Best Mini Massage Gun for 2023 (And Why We Think So)
What to Know: We independently review products we recommend. If you click on links we provide, we may earn a commission. Learn more.
---
In this best mini massage gun guide for 2023, we share with you the best options in 'small massage gun' and 'mini massage gun' categories, as well as make the selection process a bit easier.
Why trust our reviews? We bought and personally tested 75+ massage guns over the past two years. We go as far as to verify the official specs with our set of tools because, unfortunately, too many brands tend to overpromise but underdeliver. Here, you get the verified information.
Short on time?
Look no further than the Ekrin Bantam, with its superb portability, top-notch power-to-size ratio, and lifetime warranty. The MGA20 coupon will give you 20% off.
Alternatively, consider the latest Theragun Mini G2. It shines with the highest amplitude among mini massage guns we've tested and is an excellent premium choice for those willing to invest a bit more.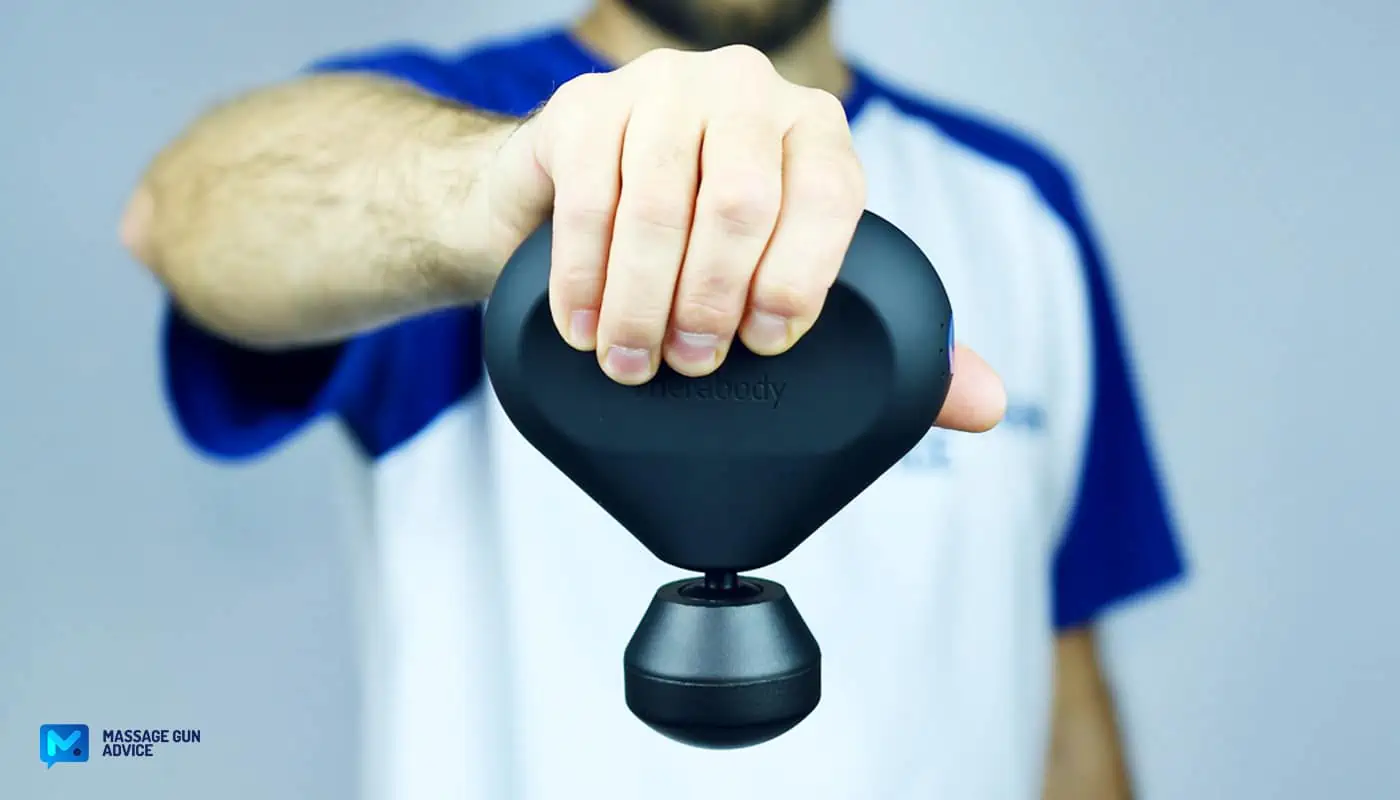 TIP Jump right to the reviews section ↓ to find out more.
---
---
Our Criteria
Here's what we've looked at when testing the devices:
Size: Naturally, we only take mini-sized and small-sized massage guns into consideration;
Performance: Here we look at a number of things;

Stall Force: This is the ability of the massage gun motor to continue working under a certain amount of pressure when pressed on to the body. It affects how effective a gun can be. Basically how deep a massage you can get.
Amplitude: Also known as the stroke length, it is simply how far the head travels back and forth. The longer the better, and the deeper it hits.
Percussion Range: This is how many hits per minute the massage gun can give. Low stall-force devices slow down percussions upon exerting pressure, impacting the effectiveness of a massage.

Brand Trustworthiness: How a brand interacts with its customer is crucial to us and we don't pass up a chance to speak directly with the seller. Customer support has to be on point.
Accessories Included: We check for the number of attachments and if a travel case is included.
Battery and Charger: A good battery means a good product. Convenience in charging, e.g. via USB, is a plus for us as well.
Warranty: We prefer lifetime warranties, but a 1-year warranty is a minimum.
Value for Money: A small massage gun should at least be sold at a reasonable price.
Read More We will discuss these parameters in detail in the guide section below.
---
Our Expert Recommendation
Specs Comparison Table
Here's a sneak peek into 5 of the recommended mini guns after our testing, along with the two previous generation guns, which we think you should avoid.
Ekrin Bantam


Our #1

Theragun mini 2.0


Our #2

Renpho R3
Lifepro Dyna Mini
Bob and Brad Q2 Mini
Theragun mini 1.0


Avoid

Hypervolt GO 2


Avoid

Stall Force
35 lbs
20 lbs
25 lbs
15 lbs
25 lbs
20 lbs
15 lbs
Amplitude
10 mm
12 mm
9 mm
6 mm
7 mm
12 mm
10 mm
Percussion Range (rpm)
2000 –
3200
1750 –
2400
1800 –
3000
940 –
2980
1800 –
3000
1750 –
2400
2200 –
3200
Weight
1.1 lbs
1.1 lbs
1.5 lbs
1.1 lbs
1 lbs
1.45 lbs
1.5 lbs
# Attachments
3
3
5
4
5
1
2
Our Rating
4.9
4.0
4.2
3.8
4.3
3.3
3.0
Read More
Review ↓
Review ↓
Review ↓
Review ↓
Review ↓
Review ↓
Review ↓
---
Ekrin Bantam – Best Overall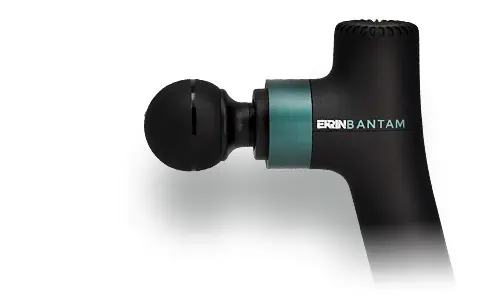 Our testing impressions:
Compact but powerful, up to 3200rpm
Great size and ergonomics
Excellent quality overall
Lifetime warranty
Bantam on Video
In the video below, we're showing off the Bantam, all its attachments, and what's included in the box. Plus, we run some speed and stall tests.
Ekrin gave us two magnificent massage guns in Ekrin B37 and its beautiful sequel, the B37S. They also introduced us to excellent customer support and unbelievable faith in their products with a lifetime warranty for everything they sold us.
You better believe we were eager to lay our hands on their mini massage gun. The Bantam is a darling to us here.
It's basically if the B37 and the B37S had a child it would be the Bantam. Everything they gave us with the full size guns they simply replicated into the Bantam. The only difference being the size.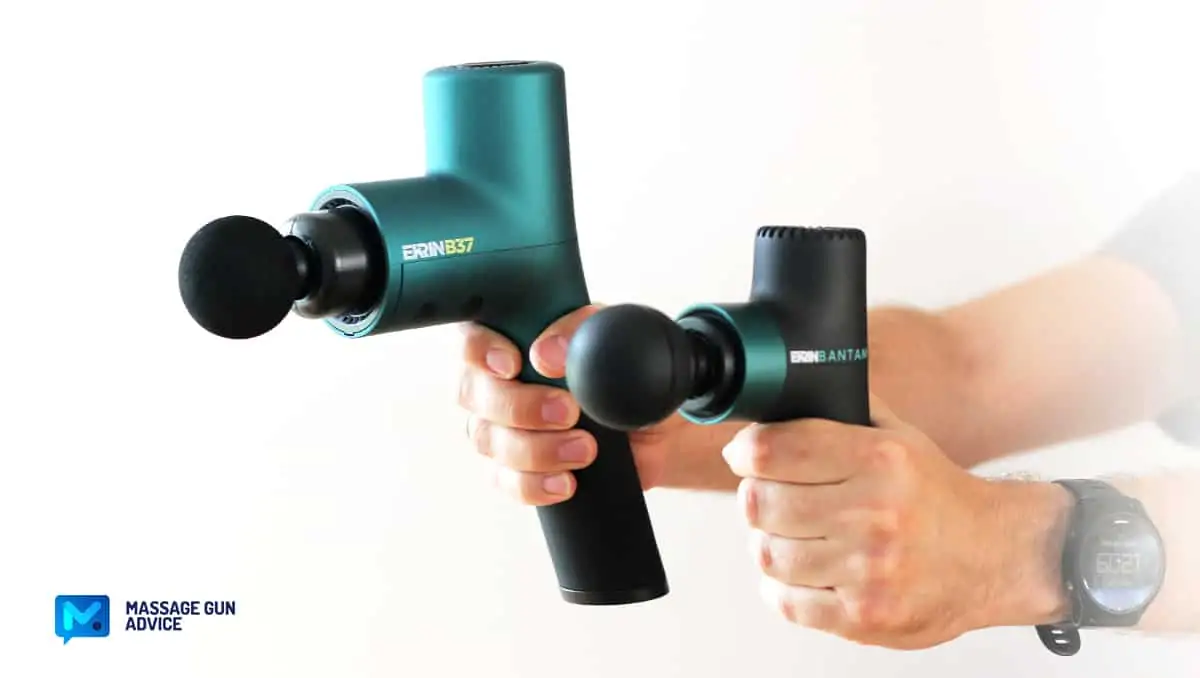 As you can see, it's super compact and perfect in size. In fact, if there ever is an on-the-go travel massage gun, this is it.
It measures just 6.5" by 4.5" by 1.9. Just about the same height as iPhone 12 Pro and noticeably smaller than the Hypervolt Go 2, for instance.
It has superb ergonomics with its 15-degree angled handle and weighs only 1.1 lbs.
The build quality of this mini massage gun is equally impressive. It not only feels durable, it is durable: we've had it with us on a number of hikes, and even though we accidentally dropped it a few times, nothing bad ever happened to it. This is part because of the sturdy, and slightly rubberized plastic it's been made of, and part because of how well it's been put together.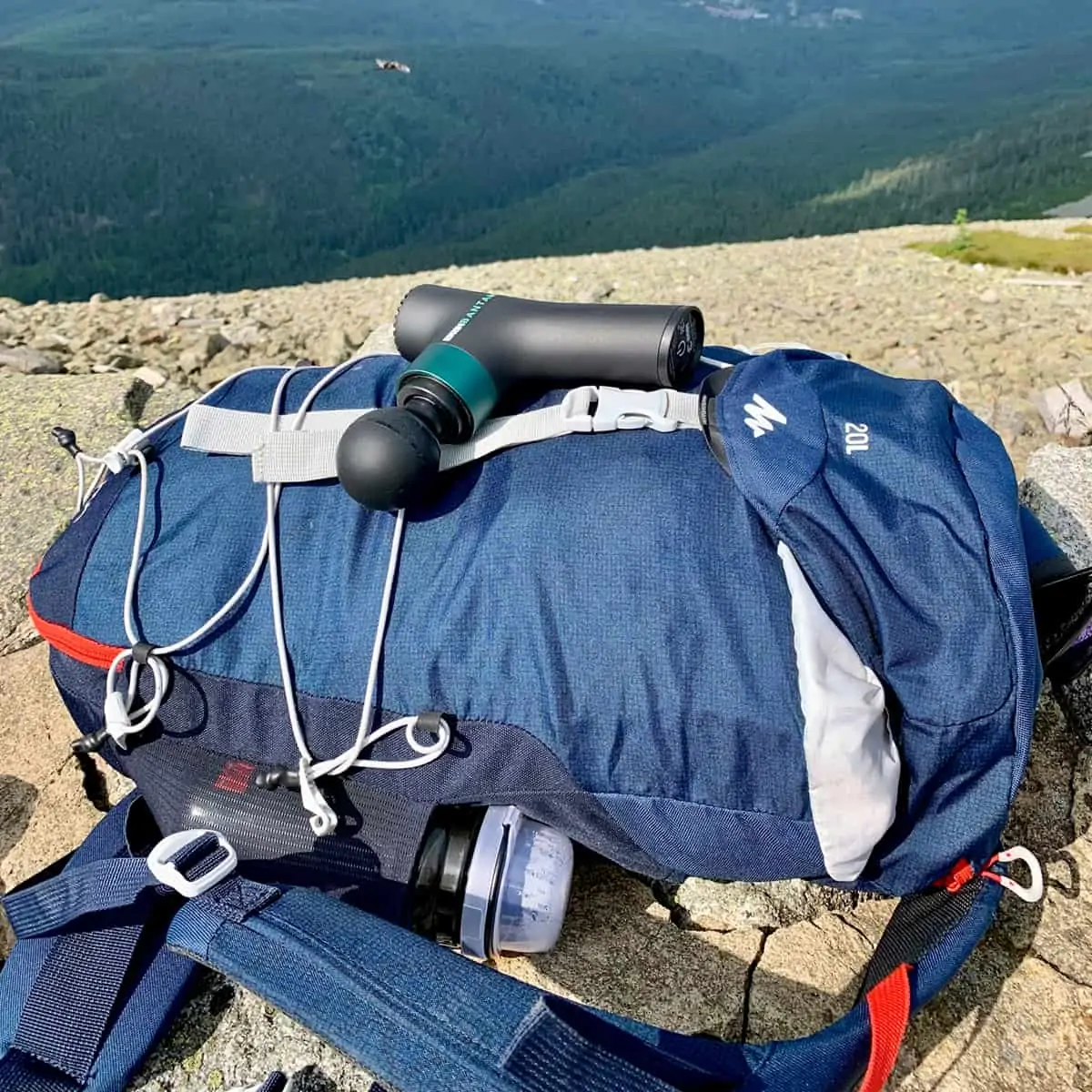 Obviously being a smaller gun you'd expect some compromises. That's why the stall force is 35lbs. and not 56lbs. like the bigger guns. Still this is very impressive power for a mini massage gun. It also has a respectable amplitude of 10mm – you won't need more.
Rpms are impressive as well, running at 2000-3200rpm with 3 gears to separate the intensity. This is standard percussions range for most guns in this category, but it feels slightly more stable. We've verified the percussion range using our laser tachometer device.
Perhaps the most important feature, as far as the performance is concerned, is the Bantam's ability to give an intense, deep tissue massage without slowing down percussions upon pressing it harder to larger muscles. This is where 95% of other mini massage guns fail miserably. They're just too weak for the job.
In other words, when you get the device rev at 3200 hits per minute, it will continue rev as fast even after pressure is exerted (due to high stall force).
It's a quiet device as well, with only about 55-62dB noise level – we checked with our noise meter.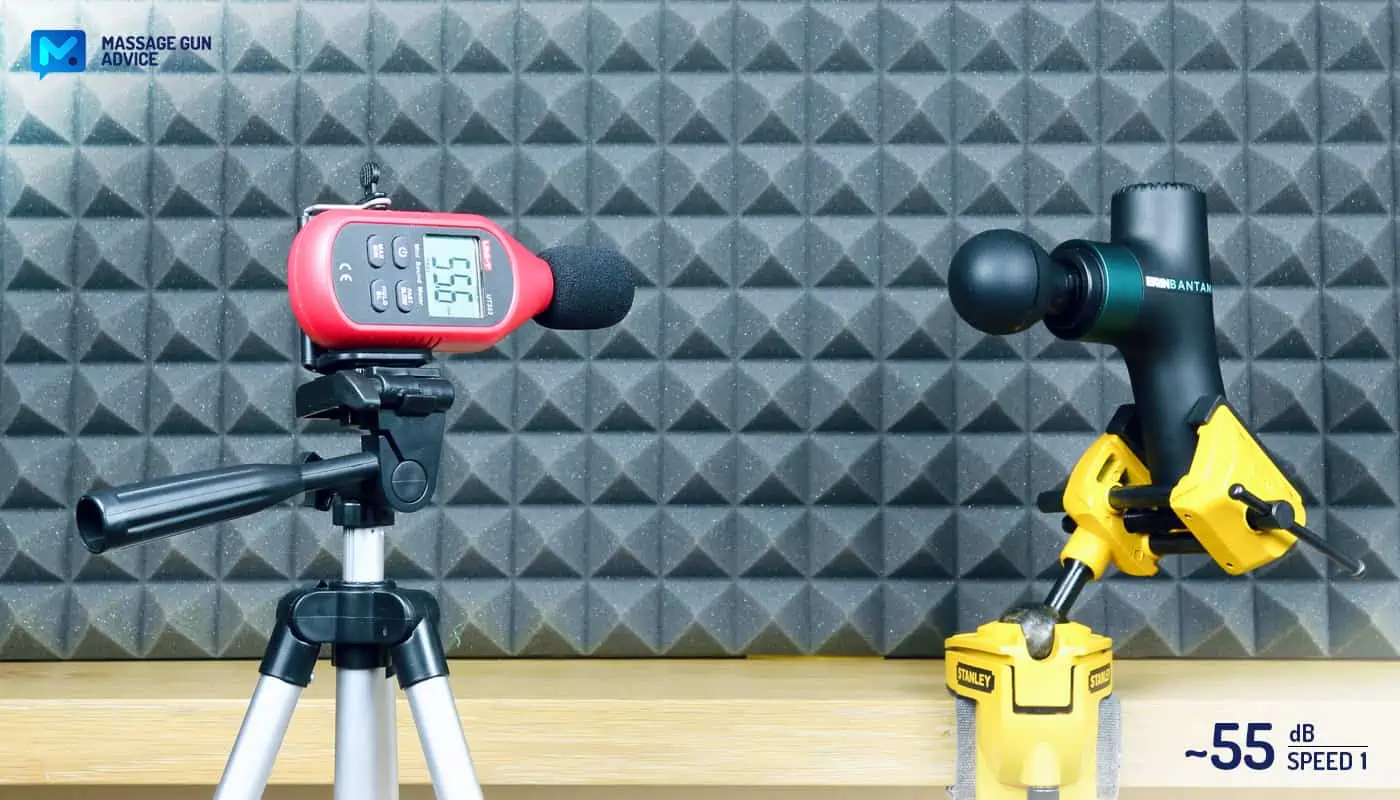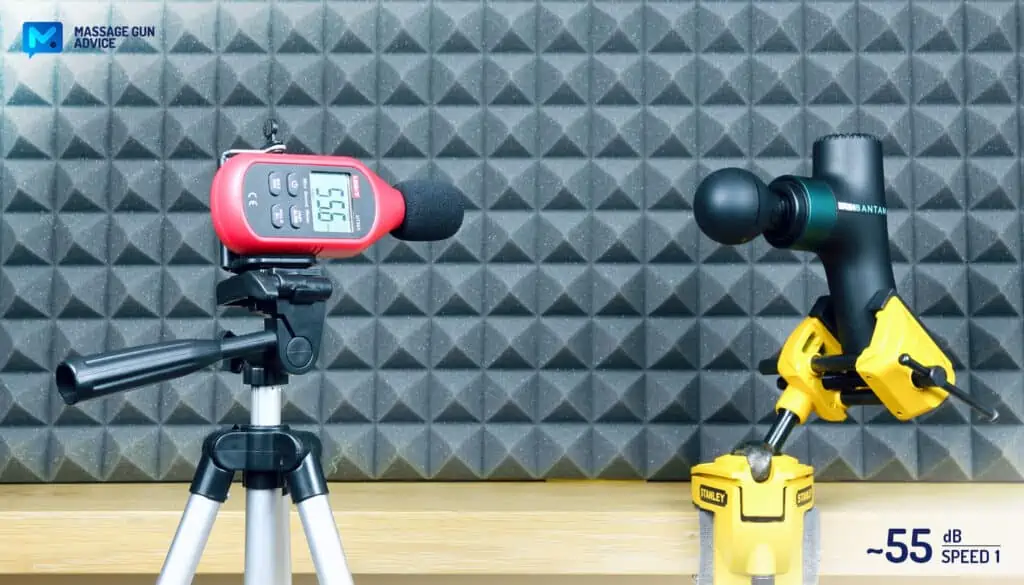 Other things you may want to know include its superior built-in Samsung battery that'll give you 3-5 hours of battery juice. Unlike its bigger counterparts, the Bantam has a USB-C cord charger.
It comes with 4 attachments and a very informative instructional manual on how to use the heads. You'll also be pleased to learn that it comes in a nicely done travel case.
Lastly, this mini massage gun is backed by Ekrin's signature lifetime warranty.
It costs $149.99 but you can use our coupon code MGA20 that gives you 20% off so you can have it at only $119.99 in the Ekrin's store right here.
Read More Check out our full Bantam review if it caught your attention.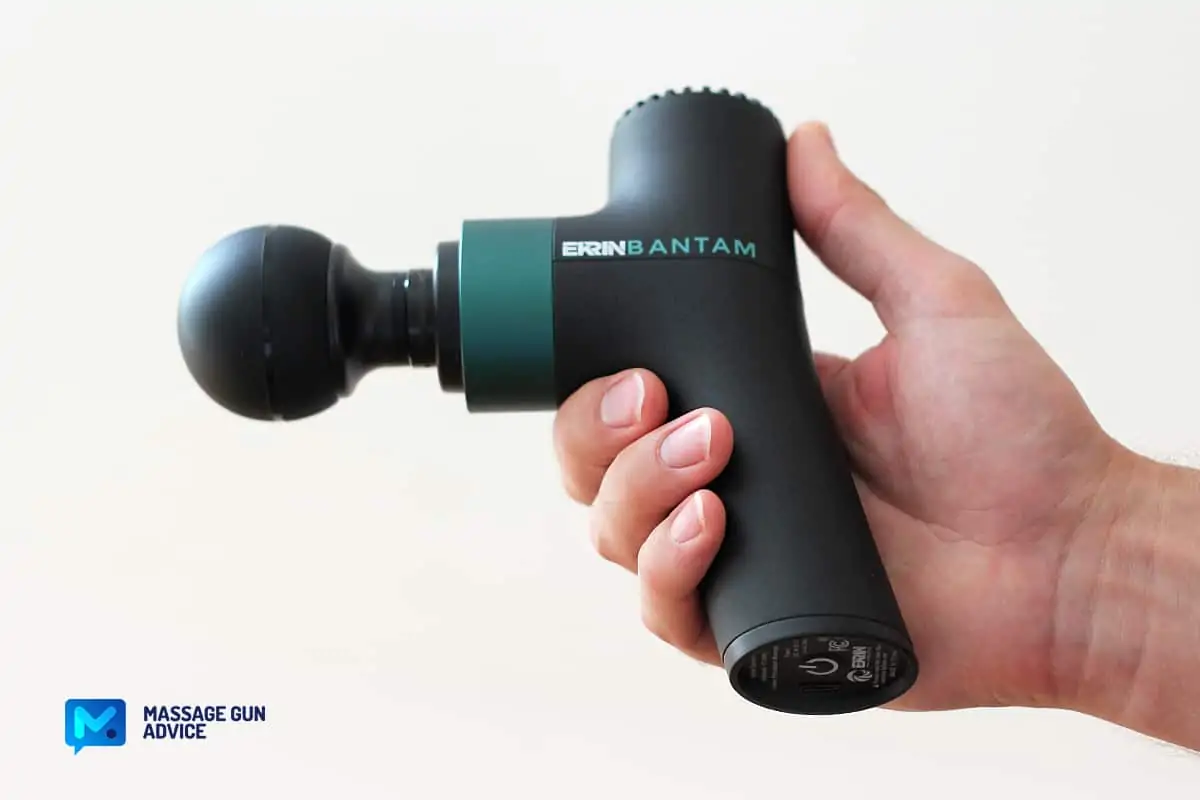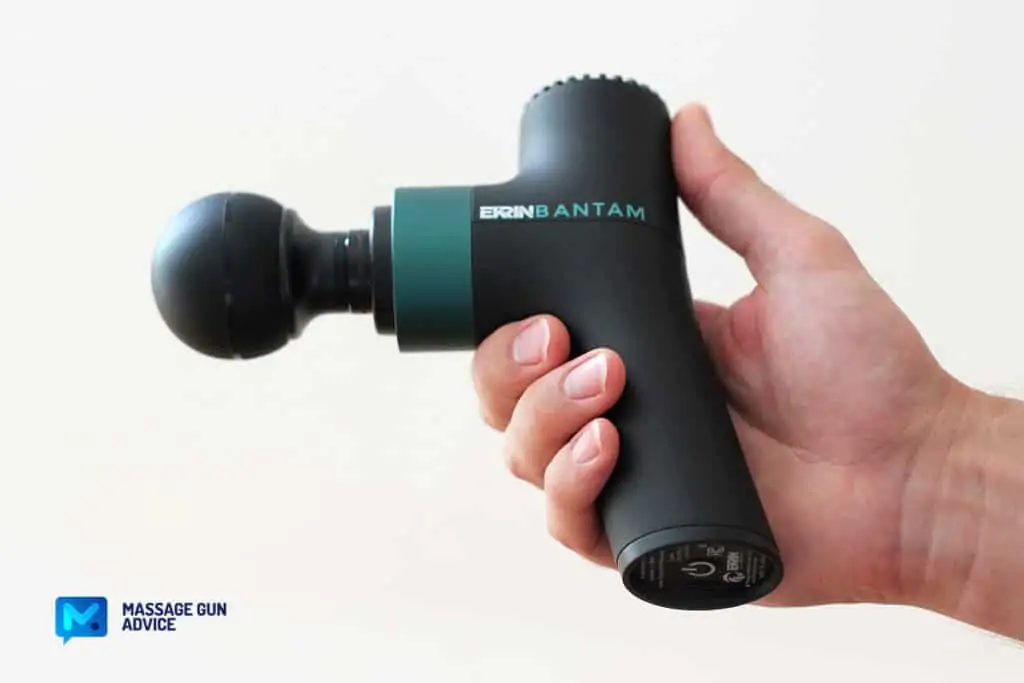 ---
Theragun Mini 2.0 – New, Vastly Improved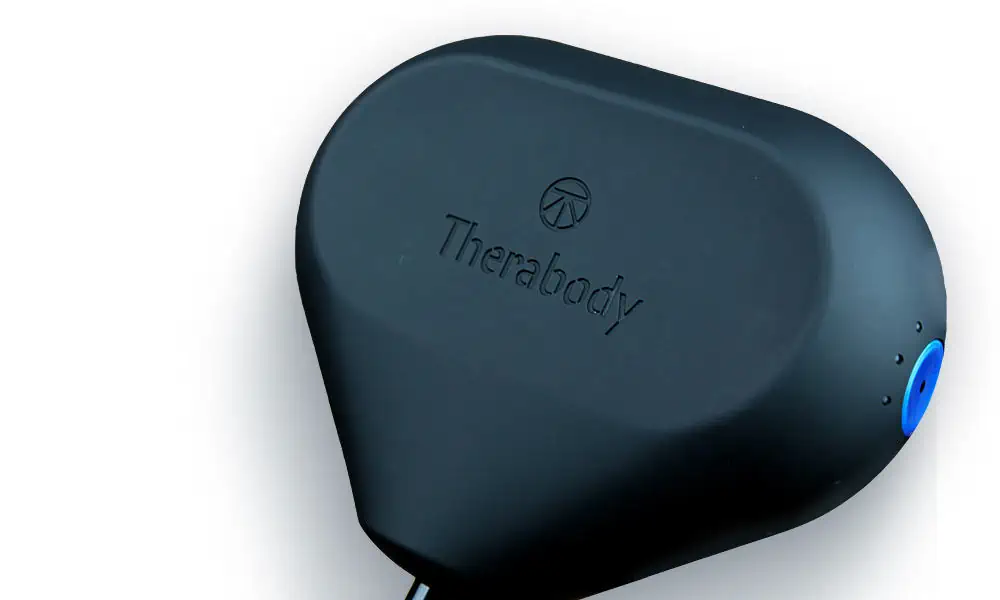 Our testing impressions:
12mm amplitude
High-end build & sleek design
Bluetooth & Mobile App features
Expensive option
While the original Theragun Mini left much to be desired, the Mini 2.0 is a game changer in the mini massage guns arena.
With a verified 12mm stroke length, it packs a punch that even the best mini massage gun on the market, the Bantam, can't quite match (the Bantam still has an impressive 10mm for mini standards, but 12mm is the best). If you prefer a punchy feeling, the Theragun Mini 2.0 is the way to go.
The Bantam will feel slightly vibrational compared to Theragun mini 2.0 in this regard. Still, the Bantam betters Theragun mini 2.0 with its 3200RPM max percussions (vs. 2450 in Theragun).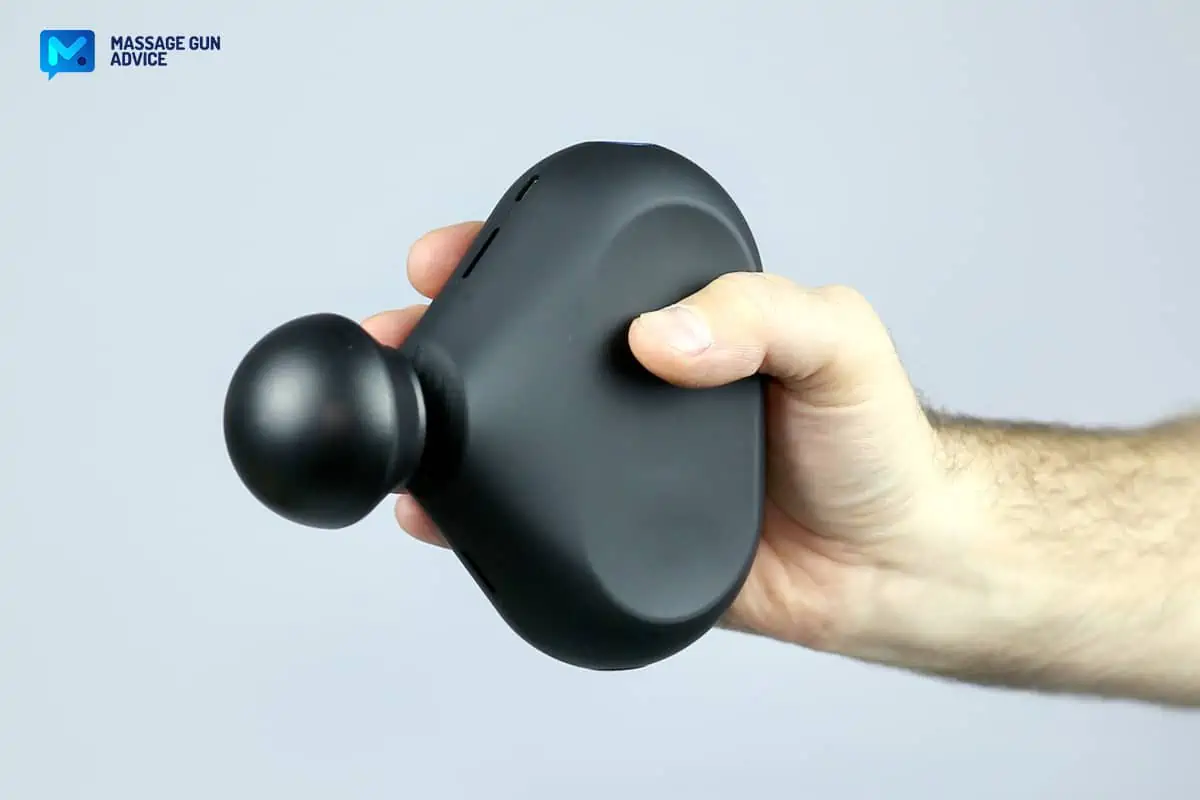 But it's not just the performance that has us excited about this new addition. The Theragun Mini 2.0 is now smaller and lighter than its predecessor, making it even more portable and easier to use. It now weighs just 1.1 pounds (watch out, Bantam!) compared to Mini 1's 1.5 pounds.
Plus, it's finally quiet! Theragun has addressed the biggest concern that users had with the Mini 1. And with its USB-C compatibility and three attachments included, the Theragun Mini 2.0 is now a much better value for its price point than before.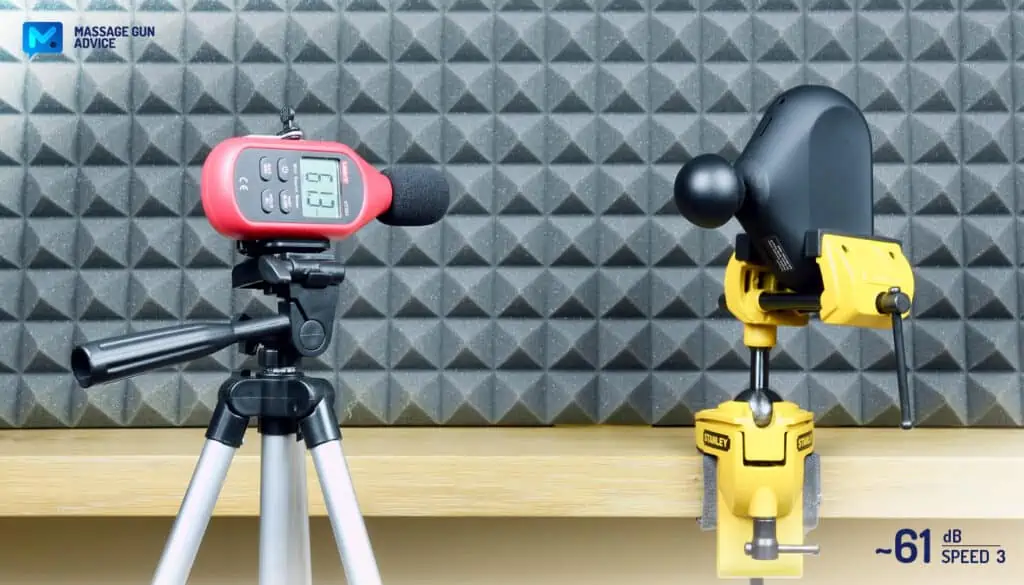 However, despite its many advantages, we feel that Theragun Mini 2.0 still falls just short of the Bantam in terms of overall value:
The Bantam boasts faster percussions (which for many folks is quite effective),
it has more stall force (35lbs. compared to just about 20lbs. for the mini 2.0),
it comes with a carrying case included in its package, making it the better choice for many users.
And with a lifetime warranty and a 20% discount (which you can get if you use the MGA20 coupon), the Bantam is the clear winner when it comes to quality and value for the money.
That being said, we can't recommend the Theragun Mini 2.0 enough for those looking for a mini massage gun that delivers impressive performance in a sleek, compact package.
It's an upgrade that actually lives up to the hype, and we're excited to see what Theragun has in store for future iterations.
Theragun mini 2.0 will cost you $199, but if you apply the X8YZF10 code at the checkout, you will get 10% off – only pay $179.1. Use this link to buy it at therabody.com.
Read More Check out our Theragun Mini 2.0 review for more details.
Renpho R3 – Tad Bigger (but Cheap)
We sometimes like to think that we'd be forgiven for suggesting that this compact gun is an improvement on the full size Renpho R4. 
The R3 Active (formerly the R3 Mini) is not as mini as the others we looked at but it's small and compact if only to compare it with any large gun. It's made of good quality plastic, and finished nicely.
It's the surprise package in our list because it delivers more than advertised.
For starters, the stall force is about 25lbs. At least that's how it felt to us (Renpho does't list it anywhere). The amplitude is 9mm, which is reasonable for a mini massage gun because most range between 6-9mm. It has 1800-3000 percussions per minute.
This for us is impressive, because as you read about our other choices you'll notice they have better percussions per minute range but lower amplitude. The Renpho might not be as fast as the Bantam, or Dyna Mini, but it punches a bit harder than all the guns below.
The R3 is also surprisingly quiet at 51-62 dB of noise. Renpho chose to give their customers something that'll give them peace of mind. Many minis don't come close. It has 4 speed gears which we think is just enough.
The battery is nice, with 2500mAh capacity, so like in a full-size device. You easily get about 2 hours with a single charge, maybe more if you don't apply much pressure. To top it all up, it's very convenient to charge it because, instead of a dedicated charger, it comes with a USB-C cord.
Other noticeable features include a one-button operation which we believe you'll find very useful and convenient. It also comes with five attachments, the most of any gun on our list (ex-aequo with Bob and Brad Q2 Mini). In fact, some mini massage guns will offer you just one (like Theragun Mini 1.0).
Cons – very minor ones:
May be a bit too shaky on higher gears. It vibrates quite a bit.
It weighs 1.5 lbs, so is 50% heavier than the Bantam (same as Hypervolt 2 Go).
Overall, a very decent proposition that might not be as powerful (nor compact) as Bantam, but it is a solid runner-up and our number two choice. It is also an affordable one.
Renpho R3 retails at $99.99 but we'll make it an early Christmas for you our readers with a reduced price. Use the MGA10 promo code at checkout to get 10% off – buy it here at renpho.com.
Read More Check out our Renpho R3 review for more details.
---
Lifepro Dyna Mini – The Smallest One
Lifepro might not be a top banana in the bunch. At least not as far as mini massage guns go. But they built a good reputation with their massage guns, as well as a variety of other fitness products.
Their Dyna Mini is an interesting mini massage gun, though. Interesting because in terms of size, it's super tiny. It's smaller than all of the guns we've looked at. At only about 5.6"H x 3.5"L x 1.7"W, it can easily fit into the pocket.
They say it's made with aircraft grade aluminum. We'll give them that because, anything but plastic, right? A lot of these massage guns are made with plastic.
Onto serious business, and we noticed the stall force is somewhere between 12-15 lbs. which isn't much, but is enough to treat sore neck, provide relaxation after a workout, and also if you are just looking to have a light, soothing massage.
We measured the amplitude to be 6mm, which again isn't impressive as compared to our top picks above, but if you consider the size of this gun, and the price, it is probably acceptable.
Percussion range is 1300-3200rpm with 4 built-in speeds. This is normal range stuff as far as most massage guns go. Even so, it's a super quiet massage gun – much better than what we've seen so far – with 45-53dB noise levels (this is largely due to small amplitude). Hushed!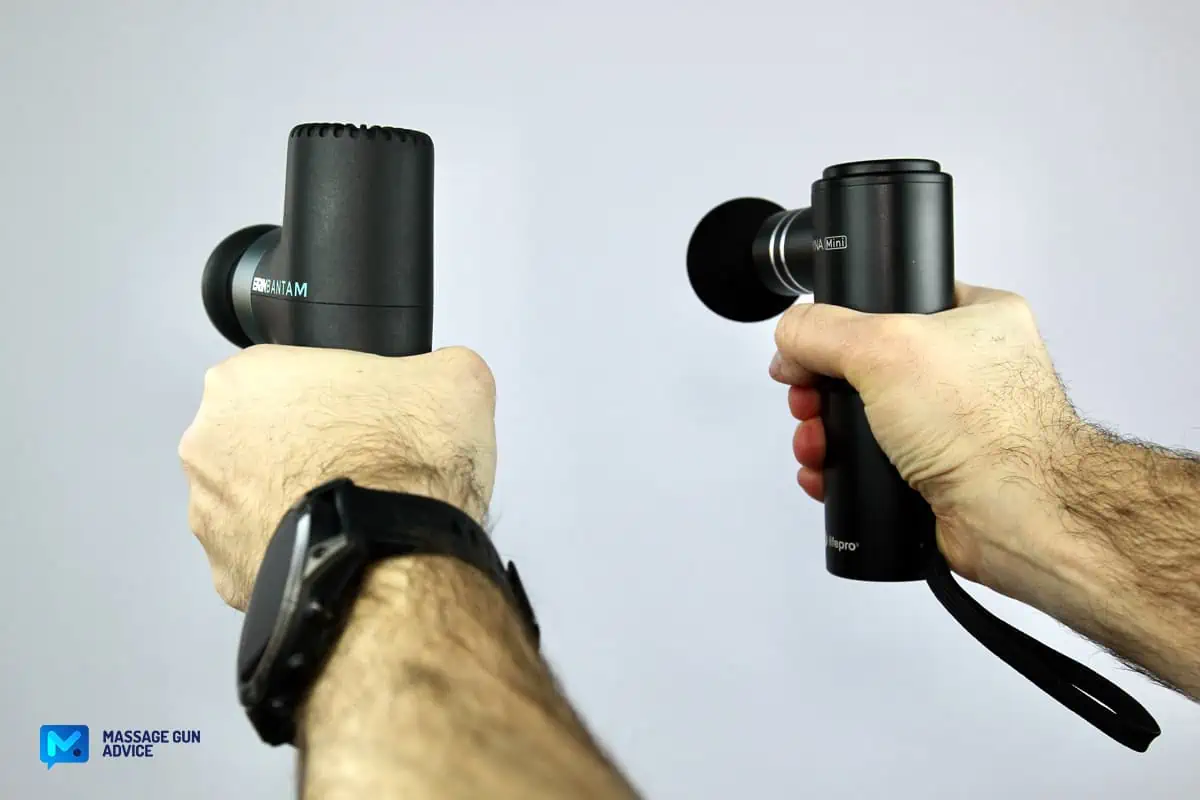 We checked the stats on the battery and our jaws almost dropped. 16 hours is super impressive don't you think? But hold on a minute, we realized it only goes that long if you were using it at the lowest of speeds. If you go a bit more intensive, you'll run out of juice in about 7-9 hours. Which is still pretty impressive.
It may be a tiny massage gun but Dyna Mini comes with 4 attachments unlike Theragun Mini. They offer a lifetime warranty, just like Ekrin, and have a superb customer support system – we had a smooth buying experience.
If you want to buy it you'll only part with $80.90 if you use the coupon MGA10 that gives you 10% OFF the regular price. Get it in the Lifepro Store right here.
---
Bob and Brad Q2 Mini – The Lightest Option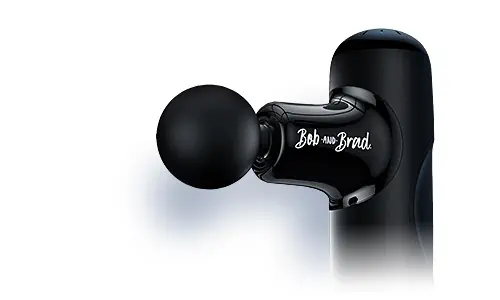 Why we like it:
Compact and lightweight
Sturdy stall force (approx. 30lbs.)
Super quiet (51.6dB at top speed)
Well-crafted design
Bob and Brad have dubbed themselves as the best physical therapists on the internet. It's not hard to see why because they have a YouTube channel with over 4 million subscribers. They help people with actionable advice on how to diagnose muscle problems and treat them.
They also offer very good advice on massage guns. They have been selling percussion massagers for a while now, and the Q2 Mini is one of their exquisite massage guns (the other is the Theragun-like D6 Pro model).
During our test, the Q2 Mini impressed us just like its bigger brother and we chose to include it in this guide as a result.
Talking of fitting perfectly, this device will literally fit in your pocket – hopefully you've pockets that can fit a 5.7"x 3.4 x 1.8 massage gun. It's so small, you may have trouble believing it's not a toy. But at 1 lbs (with an attachment), it is the lightest option on our list, sizable enough to deliver as a true mini massage gun (we think it's the best travel massage gun after Ekrin Bantam).
It has a rather unique shape compared to the rest here. It's a rounded shape that's more oval than anything else.
We would recommend this for people who want to have a massage gun that can relieve slight pain in muscles, break lactic acid build-up, or just get a much needed session after a long day at the office. You'll find the very reasonable stall force quite useful (we estimate it at upper 20s lbs, if not 30lbs.)
The amplitude is a bit of a let-down because it's only 7mm. But the percussions per minute range is decent and will give you up to 3000 hits. We verified both these values in our test lab.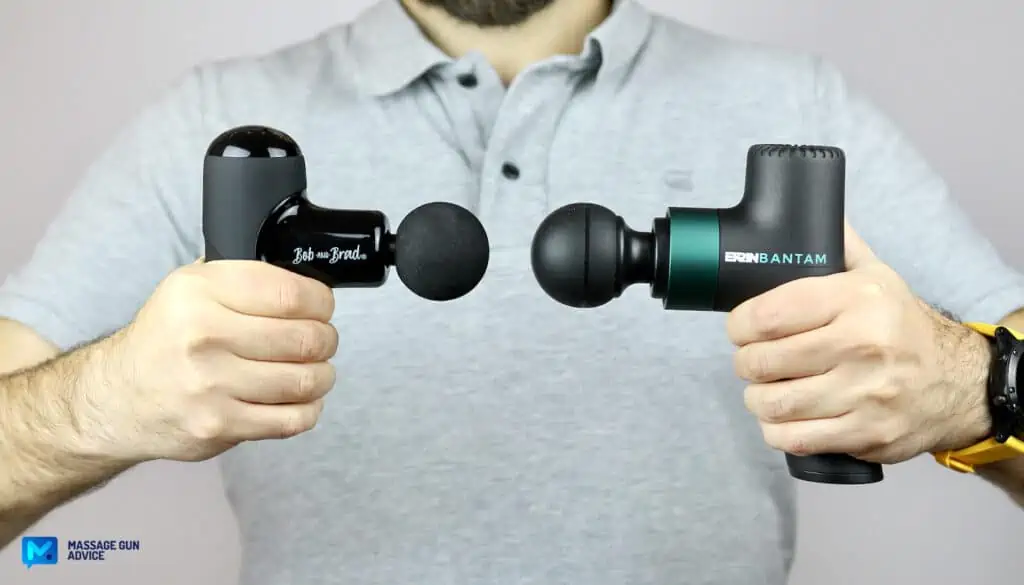 You get 5 speed gears to go with the high percussions. You probably won't get a harder punch, but you'll definitely get a thorough massage.
It comes with 5 attachment heads, which is awesome because with a full set there's more to your massage session.
The battery is powerful enough, parking just the right capacity of juice – 2500mAh. You can use it for 3-4 hours before you think of charging it again. A USB-C charge cord is provided. If you love traveling bags, this one comes in a tiny nice carrying case.
If you're absolutely tight on budget then this mini massage gun will serve you well. It won't offer you the best in power but it's very low-priced.
---
What About Theragun Mini 1.0 and the Hypervolt Go 2?
By now you must have noticed that both these household names are missing from our list. Don't they stand a chance at all?
We've chosen not to simply skip over them but tell you what we think and then you can make a wise choice. That's all we want for you. So take a look:
Theragun Mini 1.0 – Good but Big and Noisy
To be fair we always had mixed feelings about the first generation Theragun mini, which is still available at a reduced price. On the one hand, being a premium product it has some unique features. We'll call those:
Pros
First, we've not seen that design before the mini 1.0. It's interesting to hold as well. But it's not our favorite hold. We're just not sure if this kind of handle is the best for a massage gun.
The amplitude is massive for a mini massage gun. Its 12mm stroke length is impressive to say the least. If we were to judge all our picks by this, then it's the clear winner.
However, that's just about the pros that this gun has over the others. Otherwise, there are plenty of cons in comparison with the Bantam, or even Theragun Mini 2.0:
Cons
Perhaps the heaviest; it clocked 1.4lbs on our high-precision scale.
Just the one attachment (ball). This doesn't give you many options unless you have a bigger Theragun with more attachments, or the new mini 2.0.
It is noisy, unlike its successor which got much better on that front
Does not come with a USB-C cord.
Does not have bluetooth connectivity, so using the Therabody app is limited.
Even at the reduced price of $179 it feels overpriced to be fair.
More to read See our Theragun mini 1.0 vs 2.0 comparison.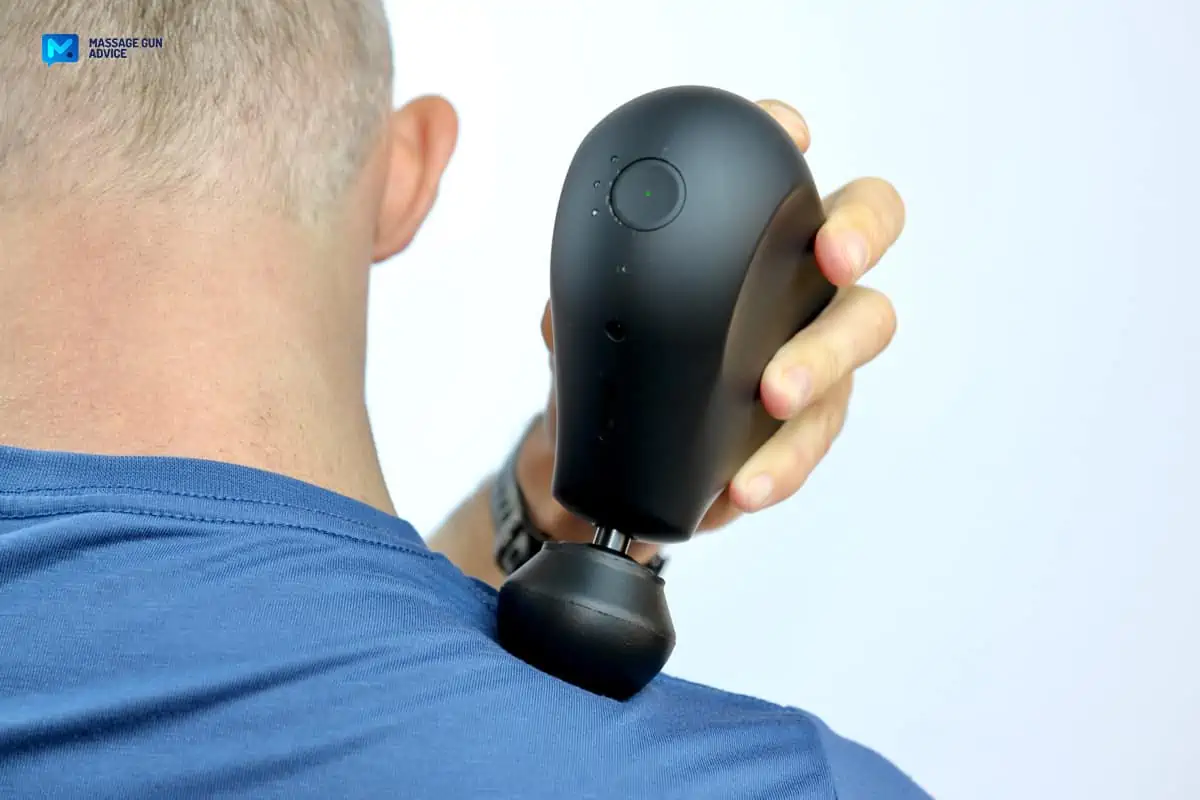 ---
Hypervolt Go 2 – Pricey, With No Clear Advantage

Unlike the Theragun mini, we didn't have any mixed feelings with this one. It doesn't have any clear advantage(s) over the others. At least the Theragun gave us the unique design and a 12mm amplitude. We'll share some points about how we feel:
It has 10mm amplitude which is the same as the Bantam.
It has a disappointing stall force of only about 12-15 lbs (our estimation). It stalls very easily, unfortunately, and it's feels very underpowered compared to all guns on this list (maybe except of the Dyna Mini, but Dyna is like 30-40% smaller)
Not really a unique design – tons of guns look the same i.e. it borrows a leaf from Ekrin's design book as far as the ergonomics go.
It weighs 1.5lbs. Possibly the heaviest of them all.
They also don't get any points over any of the others as far as portability. It's worse really, no pouch, no case, nothing!
It comes with only 2 attachment heads.
No USB-C charging cord option.
Just the 1-year warranty.
Sells at a hefty price point. Definitely not a great option if your budget isn't as flexible.
You see why it doesn't make our list, don't you?
Oh, and it you wonder if the Go 2 is better than the Go 1 then we'll tell you right away – it is not. It is about the same.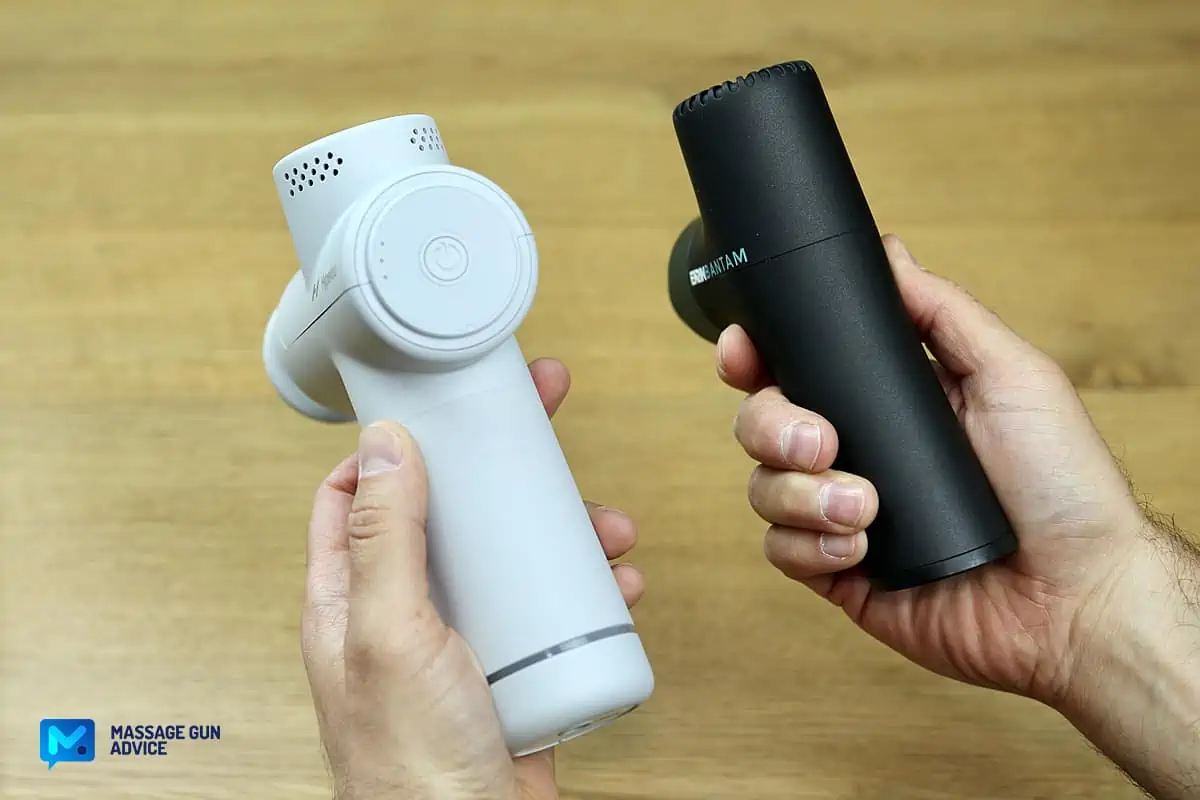 ---
Things to Pay Attention To When Choosing
With massage guns, big is often better. At least if you really want to get results. But small is just as good if not better. They will not give you intensive percussion therapy, but they will offer you just about enough to keep you going. They will work to:
Improve your blood flow ​1​.
Provide relief to sore muscles by breaking up the lactic acid accumulation especially after a workout session.
Reduce tension or inflammation ​2​.
Improve muscle performance ​3​. You can do this by having a quick massage before a workout session. It's even more effective when you have one after.
Read More There are even more benefits of massage gun therapy.
The full-sized massage guns will still give you all of these, or perhaps even better, but the important thing here is the portability the little percussive devices offer you instead.
But perhaps that's just about the only great thing about a mini percussion massager will give you. Unlike their full-size counterparts, the mini massage guns;
Won't give you an aggressive, punchy deep tissue massage. This is because their less than enough stall force and amplitude likely won't get the job done.
Because of this, regular sized guns are a better choice for people with massive body sizes or muscles, athletes, bodybuilders or those looking for intensive percussive therapy.
---
Even though you may not get as intensive massages as the regular sized guns, it's important that your choice will serve your purposes just as well. Here are key things to pay attention to as you make your choice:
---
Size and Weight
Quite obviously, when you shop for a mini massage gun the size and weight are two very important factors. You should know that although most massage gun brands tend to call small massage guns as 'mini', there are two main types as far as size is concerned.
Smallest devices, which we like to call as mini massage guns. These are Ekrin Bantam, Lifepro DynaMini, as well as the Bob and Brad Q2.
Slightly bigger, yet still very compact ones. We call them small massage guns instead of mini. Example devices Hypervolt Go 2, Renpho R3, or Taotronics PCA004.
When it comes to two industry darlings, Hypervolt Go 2 and Theragun mini 1.0, we would classify the former as small and the latter as mini (as the name suggests).
---
Stall Force
This is the amount of pressure needed to stall the motor of any given percussive massager.
This is measured in pounds (you'll notice we always abbreviate it as "lbs."). A stronger motor will not stall easily when pressed down hard on the body.
It's important that the compact massage gun you choose has a stall force of at least more than 20lbs.
We prefer going for the ones that are listed as having 30-plus pounds of stall force. This is because there are many cheap devices bearing the same title that are listed as having only 10lbs. stall force. We are sorry to say that those aren't really offering percussive therapy but vibration therapy.
Stall Force Comparison (lbs.)
Conclusion
As far as the performance is concerned, Ekrin Bantam has the most power.
---
Stroke Length (Amplitude)
This is also known as the stroke length. It refers to how far the massage head will travel as the device vibrates.
The head hits the part of the body you're trying to massage rather than just vibrate over it. With this one, the longer the length, the more punch you'll feel.
For some people, a longer amplitude punches gets the job done much more effectively. For others, however, it is the frequency (percussions per minute) that matters the most – think of what kind of feeling you refer (light or hard kicking).
Most mini massage guns will have about 6-10mm amplitude. This is the accepted standard here. Anything lower than that and you're probably just buying a vibrating tool rather than a percussive therapy device.
You'll notice that our picks fall under the 6-10mm threshold with Theragun mini going up to impressive 12mm.
Stroke Length Comparison (mm)
Conclusion
Amplitude is the only one feature when Theragun mini shines, with its 12mm. But sometimes, you'll want to sacrifice more head travel for more no-stall force.
---
Percussion Range
This is the measure of how much faster the device can hit. However, these aren't really the magic numbers.
Just because a gun has more hits per minute doesn't mean it's the most effective, at least not always. This is because sometimes the manufacturer may choose amplitude over percussion range. In that case the device isn't hitting faster, but hits deeper.
In fact, the longer the stroke (amplitude), the slower device will percuss. For example the Theragun Mini may have only 2400rpms but it makes up for the reduced speed with a 12mm long stroke. On the other hand, Ekrin Bantam has ~20% less amplitude, but revs up to 3200rpms – a whooping 800rpm difference.
Therefore, here, instead of just looking at how fast the device works, or how long the stroke is, factoring in the amplitude is recommended.
Also, you'll do well to pick a device with 3000rpm but with 10mm amplitude, rather than one with 3500rpm but only 7mm stroke length.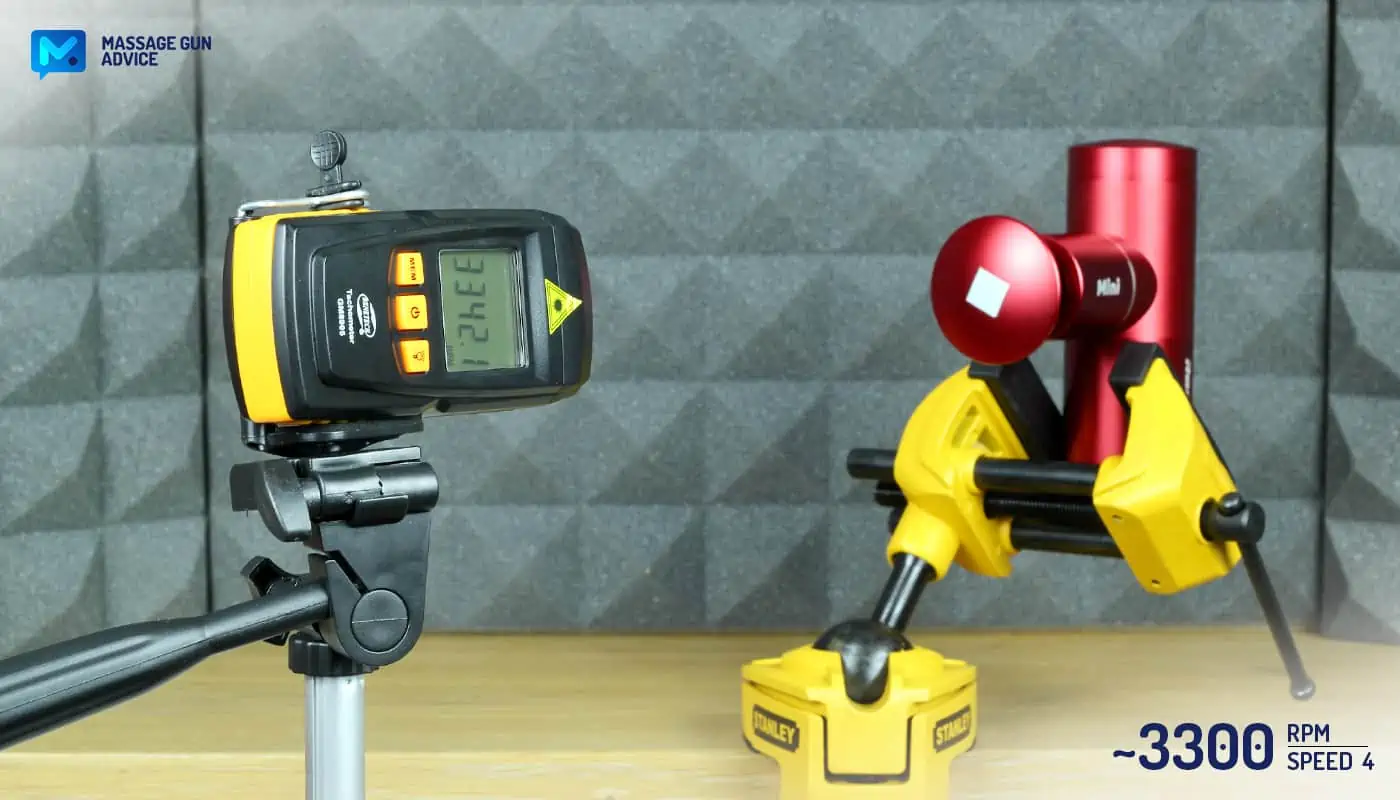 ---
Speed Options
How many speed options is good enough? Most mini massage guns come with 3-5 speed options.
On the lower end look for at least 3, but you'll probably need 4 or at most 5. Sometimes however, it's not surprising to find devices that have over 15 speed options.
In our opinion this is ridiculous (all pun intended). How many times do you think you'll have to press the button on the device to find the right range?
---
Noise Level
A mini massage gun's motor will make a certain amount of noise when it's turned on. There's tolerable noise and then there's madhouse noise levels.
You can get any of these depending on what device you pick. However, since you are probably looking for something to use in the office or at the gym without drawing unnecessary attention, we'd recommend less noisy guns.
The optimum noise level for us would be less than 65dB, with the 35 dB being the ambient sound in the room. Mini massage guns tend to be quieter than their full sized counterparts, so this shouldn't be much of a hassle.
We've made the choice easier here because none of the guns in our list are loud. They wouldn't make the list if they were.
---
…And a Few More Considerations
Apart from what we just explained above, sometimes the cherry on the top doesn't do any harm at all. So here are a few cherries you might want to consider when making a choice:
Materials: As you'll see below, some massage guns are made from metal (aluminum) while some others are plastic/rubber. From our experience, the former are better for home use, while the latter are more practical and better for people on the go (e.g. great for hiking trips).
Number of attachments: One or two attachments on any device just isn't enough for us. Get a device that has at least 4 attachments. This gives you more options to massage different parts of the body.
Battery capacity: You'll rarely find a mini massage gun that won't run for at least 2-3 hours on a single charge. You'll probably only need to charge them once in a week.
Charger type: Smaller massage guns should at least afford you with a convenient charging means. A USB-C is much more suitable than a dedicated charger.
Travel case: You want a device that at least gives you the option to carry your massage gun around easily.
---
Bottom Line
We've come to the end of our mini massage gun guide. Hopefully you have enjoyed the ride and will be a lot wiser when you pick your next mini percussion massager.
To conclude, the Ekrin Bantam is our top pick in the mini category with superb ergonomics, more no-stall force, lifetime warranty and wonderful customer support from the company. It also proved to be very effective in our test, so it doesn't get as comprehensive as this!
Our second best recommendation is the new Theragun Mini 2.0, which will give you a more percussive experience. It now connects to the Therabody app, making it the only mini with the Bluetooth on our list.
Please drop a comment below if you have any questions or need more information. We'll be glad to help.
---
References
1.

Weerapong P, Hume P, Kolt G. The mechanisms of massage and effects on performance, muscle recovery and injury prevention.

Sports Med

. 2005;35(3):235-256. doi:

10.2165/00007256-200535030-00004

2.

Dupuy O, Douzi W, Theurot D, Bosquet L, Dugué B. An Evidence-Based Approach for Choosing Post-exercise Recovery Techniques to Reduce Markers of Muscle Damage, Soreness, Fatigue, and Inflammation: A Systematic Review With Meta-Analysis.

Front Physiol

. 2018;9:403. doi:

10.3389/fphys.2018.00403

3.

Davis H, Alabed S, Chico T. Effect of sports massage on performance and recovery: a systematic review and meta-analysis.

BMJ Open Sport Exerc Med

. 2020;6(1):e000614. doi:

10.1136/bmjsem-2019-000614
Was this article helpful?
Thanks for your feedback!
Post Update History
Here's a quick rundown of all the tweaks and edits we've made to this article to keep it accurate and up-to-date!
Current version last updated on:
November 15, 2023 UX and internal/external linking changes for better navigation and experience. (Author: Greg)
July 14, 2023 Minor editorial adjustments made to enhance clarity and improve readability. (Author: Greg)
July 11, 2023 Ekrin Bantam unboxing/preview video has been added to the article. (Author: Greg)
June 3, 2023Updated for June 2023 with the latest pricing, discount and where-to-buy information. (Author: Greg)
April 23, 2023Added a comparison table to make comparing specs and features easier. (Author: Greg)
February 28, 2023Added new photos of Theragun Mini, Ekrin Bantam. (Author: Greg)
February 15, 2023Added new photos of Lifepro DynaMini. (Author: Greg)
January 9, 2022Added Bob and Brad Q2 Mini to the list, following our hands-on review. (Author: Greg)
December 1, 2022Added Theragun Mini 2 as our second best recommendation, following the review we've done. (Author: Greg)
November 20, 2021Removed Minirex from our recommendations, after hearing reports about major shipping issues.
September 27, 2021 Fact checked by Elizabeth Falk, PTA, OPTA, NASM-PES.
•
Written by:
Greg Szostak
Disclaimers
The views and opinions expressed on this website are those of the authors. Any content provided by our bloggers or authors are of their opinion and are not intended to malign any religion, ethnic group, club, organization, company, individual or anyone or anything.
All product names, logos, and brands are property of their respective owners. All company, product and service names used in this website are for identification purposes only. Use of these names, logos, and brands does not imply endorsement.
It is our policy to make every effort to respect the copyrights of outside parties. If you believe that your copyright has been misused, please provide us with a message stating your position and we will endeavor to correct any misuse immediately.
Some of the links in this post are affiliate links. As an Amazon Associate, we earn from qualifying purchases. This means if you click on the link and purchase the item, we may receive an affiliate commission, at no extra cost to you. This helps us keep this website alive. Learn more here.
Amazon Disclosure
massagegunadvice.com is a participant in the Amazon Services LLC Associates Program, an affiliate advertising program designed to provide a means for sites to earn advertising fees by advertising and linking to Amazon.com. As an Amazon Associate, we earn from qualifying purchases. Amazon and the Amazon logo are trademarks of Amazon.com, Inc. or its affiliates. Please refer to our Privacy & Affiliate Policy for details.