Hypervolt Vs Hypervolt Plus: In-Depth Comparison
What To Know: our content is non-sponsored and fact-checked for accuracy. We anonymously order and rigorously test each product according to our methodology. We are reader-supported, and if you buy via our links, we may earn a commission. Learn more.
---
Welcome to our in-depth Hypervolt vs Hypervolt Plus comparison. If you've been following our blog, we recently did comprehensive reviews of both Hypervolts – Hypervolt and Hypervolt Plus.
Even though we covered as much as we know should be covered, we've had questions from readers who want to know the differences between the two.
We decided to write this Hypervolt vs Hypervolt Plus post to answer some of these questions because we also believe that there are some fundamental differences that need to be highlighted.
We'll try our level best to cover all the nitty gritty details about these two devices and highlight all the important differences. Also, since we are massage gun experts – we have bought and tested tens of these devices – we'll mention – just in passing – some really good alternatives to both these devices.
Stay tuned!
---
---
Key Difference Between Hypervolt and Hypervolt Plus
We highlighted in our Hypervolt Plus review that it's almost an exact copy of the original Hyperice Hypervolt – except instead of a bit of silver at the top, it's all black.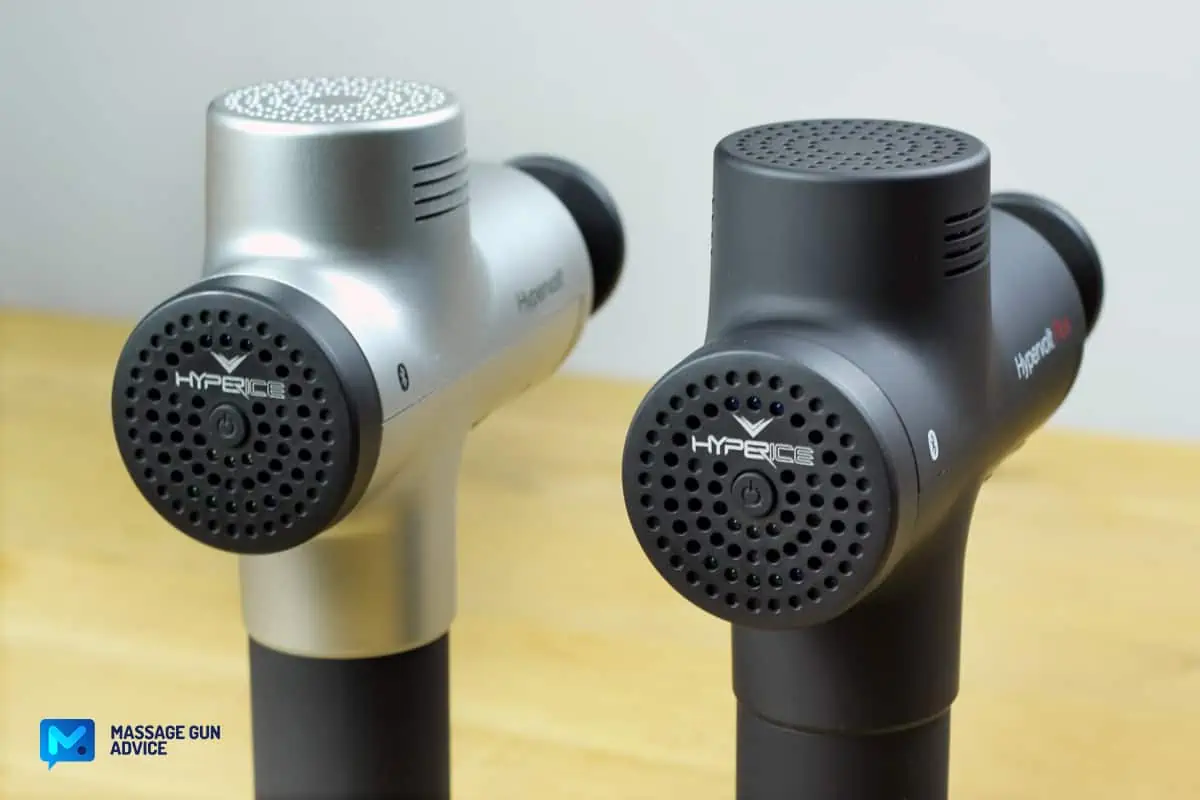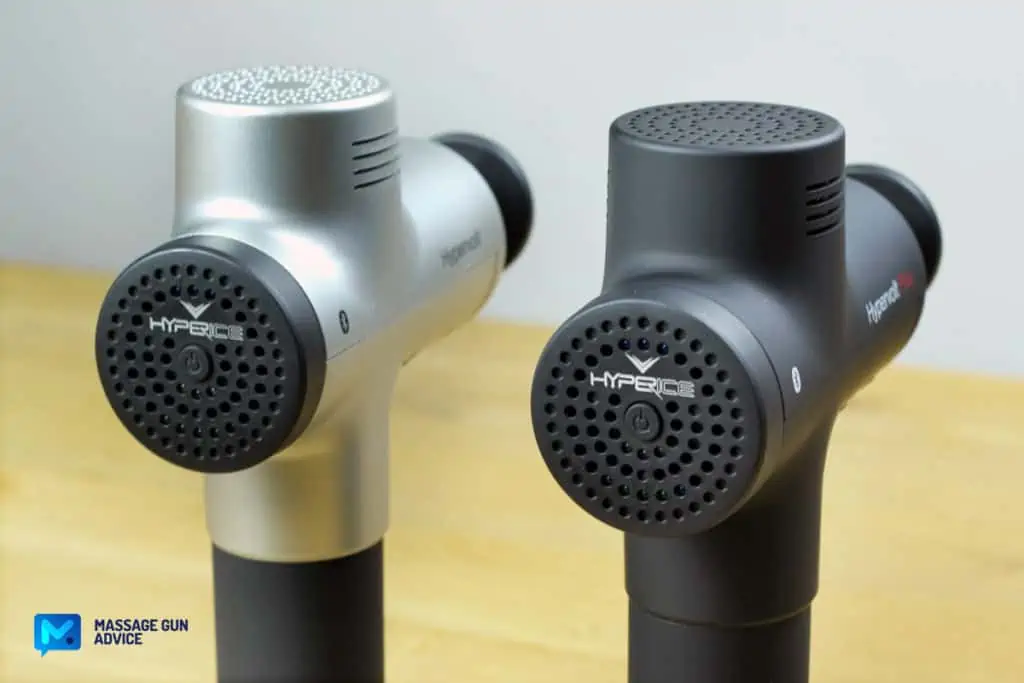 However, in the grand scheme of things (so to speak), these two devices are actually quite different.
They don't do the same thing. Here's what makes a key difference between Hypervolt and Hypervolt Plus…
---
Hypervolt is a vibrational therapy device.
The original Hypervolt is a vibrational therapy device. While it does percuss, it does so only on the surface. It only hits about 10mm deep into the muscle tissue. However, the hits happen at a high frequency – up to 3200 hits per minute. This means that the device can ease muscle tension, heal soreness, get the blood flowing better, and generally improve recovery.
What it won't do though, is provide deep tissue massage, which is the main reason why people buy percussion massagers. At least not on those large muscles (think quads, glutes etc.).

---
Hypervolt Plus is a percussive therapy device.
Hypervolt Plus on the other hand is a percussive therapy device (the real thing if you like). That actually now makes it a direct rival to Theraguns.
It has a more powerful motor (we'll talk more about this later) and the head travel is about 40% longer. What that means is that this device is capable of providing a deep to the bone massage even on larger muscles.

---
As you can see, these two devices may look the same but they actually do very different things. If you have these key differences down, then you have pretty much mastered what the Hypervolts are all about. It's especially important to know the differences if you are a serious athlete or a bodybuilder looking for a good recovery tool.
In September 2021, Hyperice announced the next generation Hypervolt 2 and 2 Pro. Check out our Hypervolt 2 Review and Hypervolt 2 Pro Review.
---
Hypervolt vs Hypervolt Plus: The Nitty-Gritty
Specs Comparison

Feature
Hypervolt
Hypervolt Plus
Device type
Vibrational Therapy Device
Percussive Therapy Device
Stall Force
~35 lbs
~45 lbs
Stroke Length
10 mm
14 mm
Percussions / min
1800-2400-3200
1800-2400-3200
Weight
2.5 lbs
3 lbs
Dimensions
9.34 x 6.5 x 2.5 inches
9.34 x 6.5 x 2.5 inches
Battery Life
2.5 hours (2400mAh)
2 hours(2400mAh)
Attachments
5
5
Noise
55-67 dB
62-69 dB
Power Output
60 W
90 W
Speeds
3
3
Bluetooth/App Control
Yes
Yes
Our Rating

3.4

/ 5

3.8

/ 5
Full review
Read it here
Read it here
Price
Check at Amazon
Check at Amazon
Hypervolt Bluetooth vs. Hypervolt Bluetooth Plus Specs
---
What Each Hypervolt Comes With
Carrying Case
We still can't figure out why Hyperice won't include a carrying case with any of these two devices.
Everybody else is doing it – even the so-called cheaper brands have the courtesy to include one with their devices. We've often wondered how much it would cost them to include a carrying case. We are not going on a rant here, just expressing our disbelief.
The only way you get a case from Hyperice is by parting with $49. There is however, a small pouch to store the attachments – meh!
TIP The only case you get with Hypervolt is the head attachment pouch.
---
Attachments
Both devices have the same set of attachments. There are 5 attachments for each device and we applauded them when we did our Hypervolt vs Theragun comparison.
The 5 include: the ball, flat, bullet, fork, and the cushion head attachment. We explained in detail what each one of these does in our respective reviews.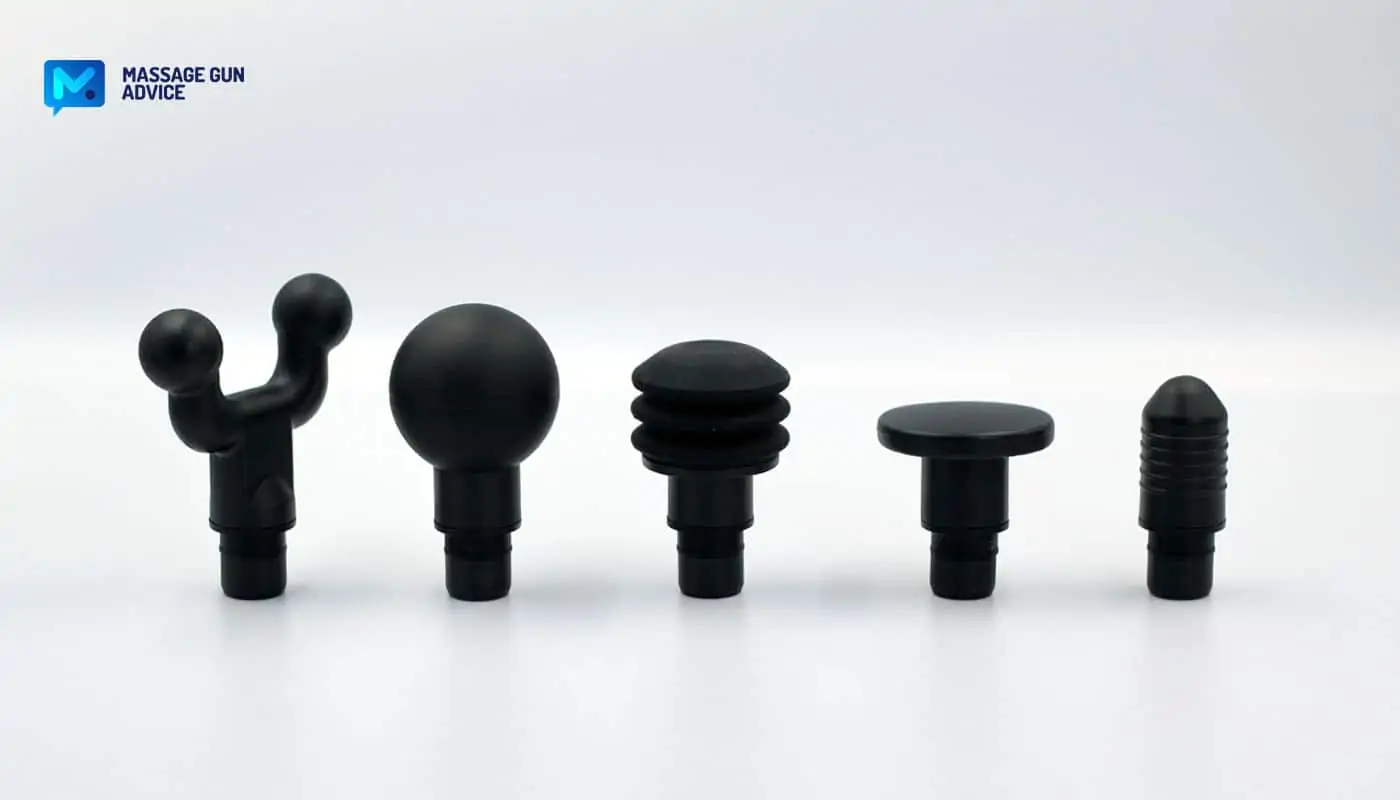 It suffices to say though, we have absolutely no complaints about the attachments. Every box ticked, as far as those go – the hard ones are hard and the soft are soft. The cushion head one is the softest, followed by the ball, which has a slight give to it. Also, the plastic quality is great.
There is also a charger. Similar looking in both devices as well – a detachable cord and a 24V brick.
---
Design Differences
You might recall if you read our Theragun individual reviews or comparison articles our high praise for Theragun's tenacity to keep all 4 of their new generation devices unique.
From materials used, texture, grips, simple fine-tunings, and even the color options, everything is curated so carefully that even though some of those devices look similar from a distance, you'd easily tell one from the other once you get a closer look.
Hyperice on the other hand has been the complete opposite. Their 2 full-sized massage guns look the same. The only thing that isn't the same, if you care to look, is the difference in color.
The original Hypervolt has a silver top covering with the rest of the body being black.
Hypervolt Plus is all black.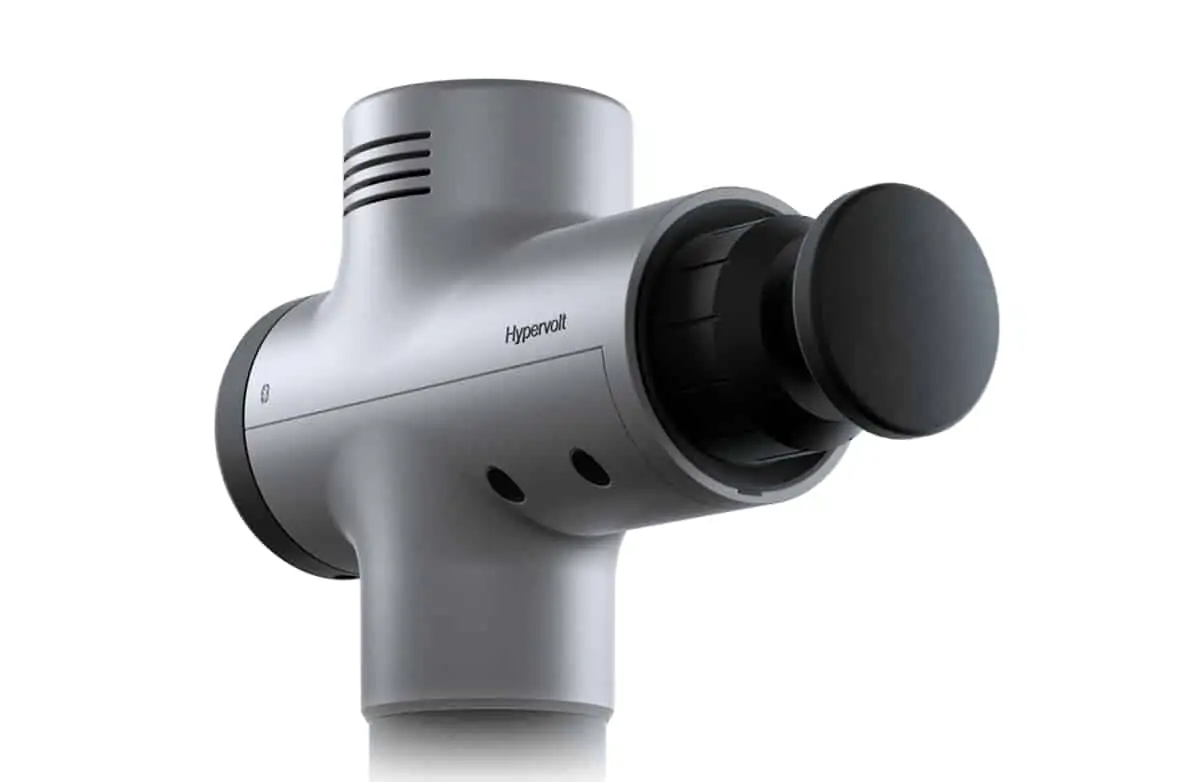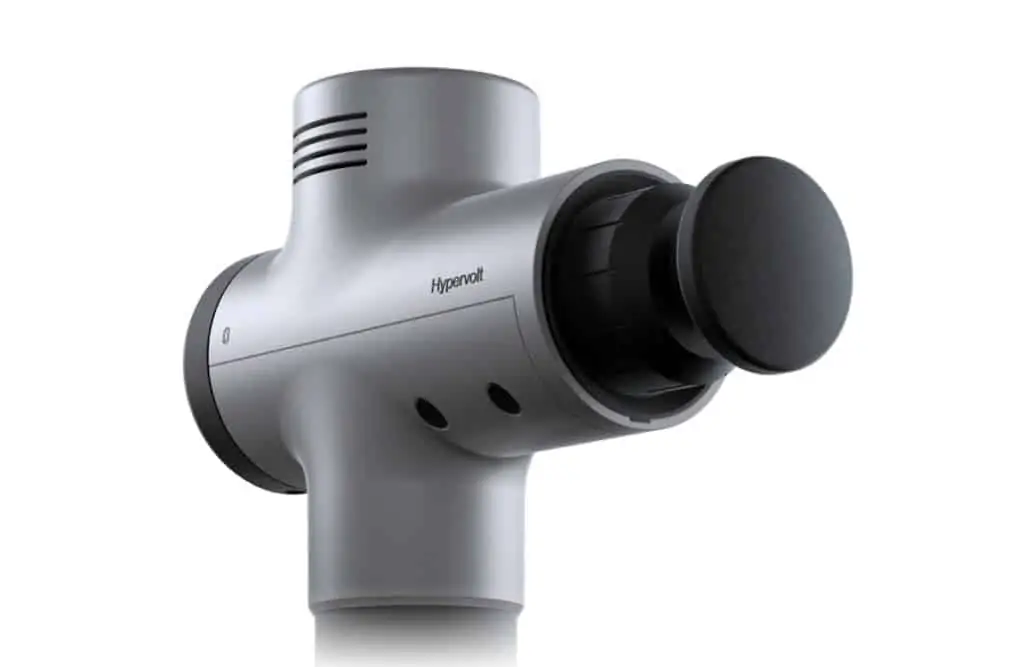 From the look of things they took the easiest route for their second device – took the original Hypervolt body and packed it with new and improved hardware. The best scenario for never changing a winning formula. That is always the best route to use – we are entrepreneurs we know.
The only problem however, especially for the customer, is that you don't get anything new even if you choose Hypervolt Plus.
These two products are the same size; measuring 9.34 x 6.5 x 2.5 (inches). The ergonomics aren't different as well. It's the same T-shape design that we have always complained about. The jack-hammer design may have been cool when the first Hypervolt came into the market, but it's not as cool and can be a pain as well. Using it for too long also causes tension in the wrist.
We prefer what Ekrin does with its devices – the angled handle allows for a more natural grip. But we will appreciate the rubberized handle on both devices – it's not something you see with many other devices.
The back panel is identical as well, with very simple controls (as we like it). There is the main switch button used to put the device on standby mode, and then there's the main operation button used to turn on the device and change speeds.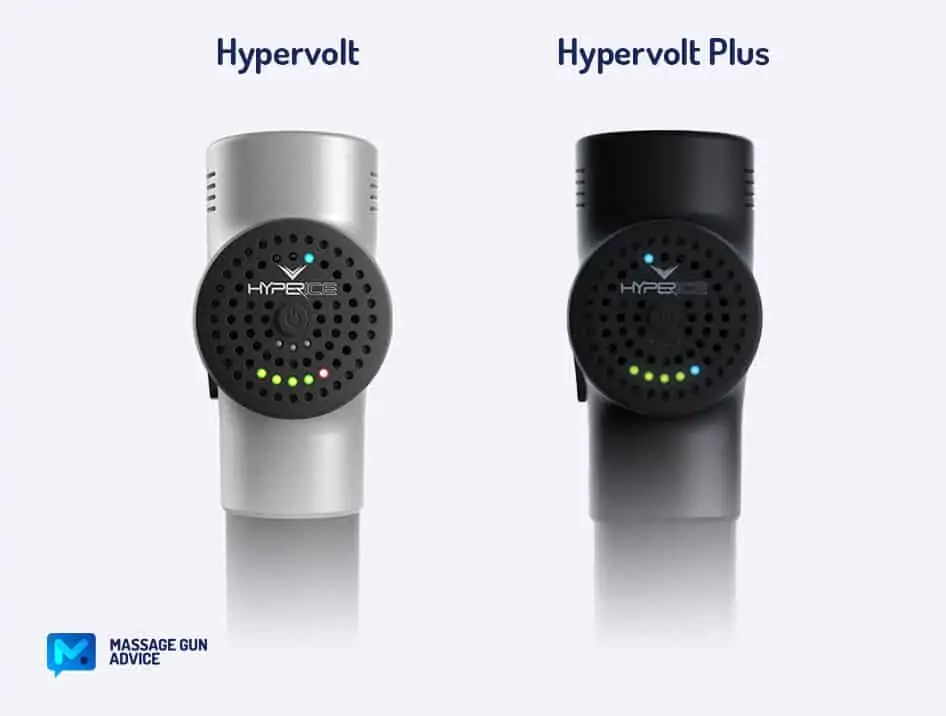 There are different LEDs that indicate different things:
Ring LED round the bottom end of the handle indicates battery power. It changes color to indicate different battery charge levels (red = depleted, green = fully charged).
5 LEDs that also indicate the battery charge level. They complement the ring LED.
There are 3 LEDs above the main button to indicate speeds.
There are 3 LEDs below the main button to indicate the pressure applied – pressure sensor.
Both devices feature a battery push-release button on the side of the gun but it takes a bit of force to detach the battery. We wondered why at first but then quickly figured it was probably a good thing, probably to prevent the battery from falling off during a massage session.
No carrying case, even though both devices are considerably heavy. The Plus weighs 3lbs, 0.5lbs more than the Hypervolt. This may not be such a huge difference but you start to feel it after a while during a long session. Both devices are also somewhat bulky. The plus may be heavy but it packs better hardware.
---
Performance
This is where the difference in these two devices becomes clear.
---
Amplitude (Stroke Length)
Juts to remind you, amplitude is the distance covered by the massage gun head as it moves back and forth percussing over your skin. It's an important parameter in percussive therapy. The longer the distance covered, the deeper into the muscle tissue the massage gun can hit. Shorter amplitudes tend to be vibrational rather than percussive.
How do these two Hypervolts compare here?
The first Hypervolt has about 10mm amplitude – we did our own measuring because Hyperice doesn't disclose that information anywhere. In the percussive world, 10mm amplitude is simply inadequate. It may be good for surface level massage but not deep tissue massage. The latter requires a few more millimeters (12mm or more) and power.
Hypervolt Plus has about 14mm amplitude – again this is not officially from Hyperice, we did our own measuring. The 14mm is closer to Theragun standard (16mm) which is great because now it's the biggest selling point for the Plus over the regular Hypervolt. It can hit deep into the tissue, not as much as a Theragun may, but an almost similar experience. They also added more power to the Plus device.
---
Stall Force
Stall force is the pressure it takes to stall the motor of a massage gun. Sometimes when you want to hit deep into the muscle tissue, you will need to exert pressure to the area of concern. Depending on the amount of force used, you may stall your device. Some devices are easier to stall than others. The harder it is to stall a device, the better that device can perform a deep percussive massage.
So how do these two Hypervolts compare here?
Hyperice increased the stall force in the Hypervolt Plus massage gun. This is a major improvement, and as a result, the Plus is a decent percussion massager.
The regular Hypervolt has only about 35lbs. stall force, which isn't that bad actually if you take into account that some percussion massagers don't even go beyond the 30lbs. mark (Theragun Prime is an example). However, with the 10mm amplitude, it falls short of what is required for a stronger and deeper massage.
Hypervolt Plus has a 30% more powerful motor – 90W over the original's 60W. Again we had to do our own tests to determine the stall force for the Plus because Hyperice just wouldn't disclose that information. We mentioned in our Hypervolt Plus review that the stall force feels like the upper 40s, maybe even 50lbs.
With that it is safe to conclude that with the increased amplitude and a major boost in stall force, the Hypervolt Plus is a truly strong massage gun. While it may not hit the heights of some giants out there, it has all the features needed even for demanding users (Pro athletes and bodybuilders). NBA players love the device now!
That means that this is your go-to percussive device if you love Hypervolt. The regular gun is for users who want to take it slow and tender and are okay with surface level massage.
---
Percussions, Speed Levels and Pressure Sensor
Both devices hit the skin at a rapid pace. They both go up to 3200rpm. However, they only have 3 speeds ranged 1800, 2400, and 3200 (which correspond to the frequencies 30, 40 and 53Hz).
We pointed out in our reviews for both devices how the range is too wide. 4 or 5 speeds would be more appropriate.
We also pointed out in our Plus review how even though the amplitude is increased, the hits per minute were not reduced. We know that devices with longer amplitudes tend to have reduced intensity. We saw this with Theragun, whose devices only rev up to 2400rpm. That means there is whooping 800rpm more with the Hypervolt Plus.
There are 3 LED indicators for speed but you can also hear and feel the speed gear changes as you tap the main button. The pressure sensor is included in both devices and indicated by 3 LEDs.
In our opinion this simplistic execution is not the best. Especially when rivals like Theragun and Ekrin have way better visualization here. Ekrin B37S has one of the best executed pressure sensors we have ever seen.
---
Noise Level
Hypervolt is synonymous with quiet, at least in the percussion massagers industry. They don't only claim this fact, it is true even in reality.
But the two devices differ slightly in the amount of noise they produce in operation. The regular Hypervolt is the quieter of the two devices largely due to the shorter 10mm amplitude and a less powerful motor.
Hypervolt Plus is still quiet. However, the Achedaway Pro is quieter. But it's still quieter than most Theraguns. We measured the noise levels:
Regular Hypervolt 55-67dB
Hypervolt Plus 62-69dB
We did also notice that both devices rattle quite a bit when pressed hard against the body. There are also some vibrations transferred to the handle on top speed. But that isn't unusual at all. In fact, most massage guns do this.
---
Battery
Both devices have the same 2400mAh capacity battery, which is slightly surprising given the additional weight in Hypervolt Plus.
We figured the extra weight could be as a result of the more powerful motor. This powerful motor however, has a negative effect on the battery. The battery will drain faster in Hypervolt Plus than it will in the regular Hypervolt. That said, the regular Hypervolt will run out of juice after about 2.5 hours, while Plus's battery will be depleted after 2 hours.
The batteries will drain faster when the intensity is high and also when the device is pushed a lot.
That said, we still think the time on battery is still poor for both devices if you consider what other brands (Ekrin, Urikar and Achedaway) have been able to achieve with the same capacity battery – their devices have 4-5 hours time on battery without sacrificing on performance.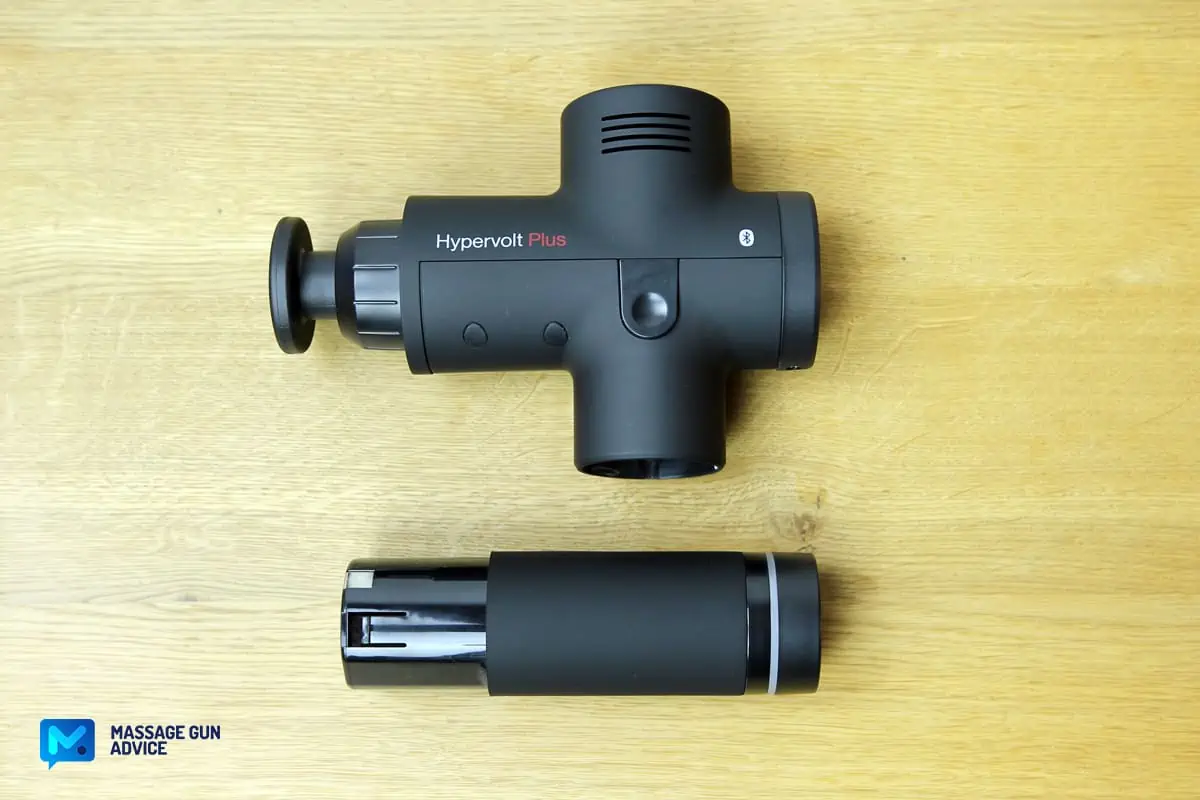 The only positive thing here is that both devices have a removable battery, which means you can charge one as you use the other. However, you'll have to buy the extra battery separately.
We couldn't confirm whether both devices use batteries from the same manufacturer, but we'd expect that they do. We have seen the very first Hypervolts still working at optimum with their very first batteries (since 2018).
As we already mentioned, there are 5 LEDs that complement that ring LED around the handle. There is also a blue LED that indicates whether the device is connected via Bluetooth. It takes about 3 hours to fully charge their batteries.
---
Hyperice App
Both devices on sale in 2021 are Bluetooth enabled, which means that they can both connect to the Hyperice app. We did elaborate in detail on what the app does in both our individual reviews.
However, it suffices to say:
The app has how-to instructions, guided routines and can take over the operation of the devices, i.e. automatically change speeds.
The Hyperice app is a great way to learn how to use your Hypervolt devices if you are novice in massage gun use. You can see how professional athletes use the devices on themselves.
The experience is pretty much the same with both devices.
---
Hypervolt Discount, Price, Warranty
Hypervolts are great devices loved by many customers and embraced by professional sports personalities. But as we have already mentioned, one is a vibrational therapy device, while the other has all the qualities of a percussive device.
But what about their prices?
One answer, it's a lot of money! Well, we could give a pass to the percussive device, but there's absolutely no excuse for the vibrational therapy one.
What about discounts, are there any?
Hyperice recently reduced the prices of both devices by $50. The regular Hypervolt was previously $349 but now it's $299, while Hypervolt Plus went from $399 to $349.
We aren't sure whether this is a permanent change in pricing or whether this is just a temporary move. We'll have to wait and see what happens. It will be interesting to see what happens on Black Friday or Cyber Monday.
TIP It's worth checking out current prices on Amazon to see if anything changed since we posted this Hypervolt vs Hypervolt Plus comparison. Links: original Hypervolt and Hypervolt Plus.
But are these devices worth it? Well, our view hasn't changed since we last published the individual reviews for both devices;
Hypervolts are great devices, no doubt. However, the aspect of value for money simply knocks the original Hypervolt off our recommendation list. There are way too many options that offer so much more at almost 3 times cheaper than the Hypervolt.
Hypervolt Plus is a beast we can keep. It's powerful and reasonably quiet. It could be a worthy investment if you can afford it. Even so, there are still better devices that compete fiercely with it. These offer value for money.
The key disadvantages for both Hypervolts is the poor ergonomics, added weight, poor battery performance, a lot of upsells (carrying case, spare battery), the high prices, and the poor warranty on both devices (just the 1-year warranty for both devices).
The new Hypervolt 2 and 2 Pro have been improved in some areas (like ergonomics). However, they are not as strong as their predecessor (stall force) and they don't rev as fast.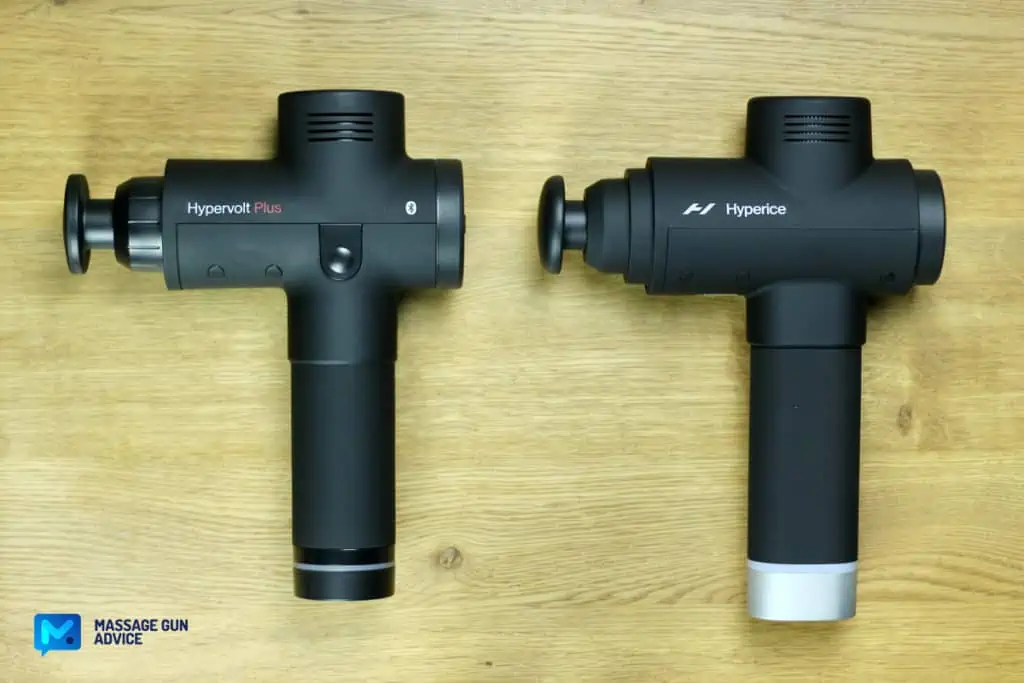 ---
Hypervolt vs Hypervolt Plus Summary
Similarities
Same T-shape design and ergonomics
Same Dimensions
Same Back panel, Controls
Same Pressure sensor
Same battery capacity (2400 MAh)
Both have 3 speeds and same percussion range (1800, 2400, 3180 ppm)
Both have 5 Attachments
Both have Bluetooth for Hyperice app connectivity;
Both have a detachable battery
Differences
Hypervolt made for vibrational therapy, Hypervolt Plus for percussive therapy
Amplitude: ~10mm in Hypervolt vs ~14mm in Hypervolt Plus
Stall Force: ~35 lbs in Hypervolt vs. 45-50 lbs. in Hypervolt Plus
Noise: maximum 67 dB in Hypervolt vs 69 dB in Hypervolt Plus
Weight: 2.5 lbs in Hypervolt vs 3.0 lbs in Hypervolt Plus
Time on battery: maximum 3 hours with Hypervolt, 2.5 with Hypervolt Plus
Color: Hypervolt is black/silver, Hypervolt Plus is all-black
Price: $349 for Hypervolt, $359 for Hypervolt Plus
Both Lack
Carrying case
Longer warranty (just 1 year)
Full Reviews to Read:
---
Hypervolt Alternatives – Give Them a Chance
Despite Hypervolts being very nice devices, it's been a while since they were probably the best devices to have. They are not as unique as when they came out.
Also, Hyperice didn't iterate as fast as the competitors (Theragun and others) did. We have listed some noteworthy alternatives that are similar or even more powerful, are quieter, better equipped, with better warranties, but also cheaper.
We will later have a dedicated post on best Hypervolt alternatives, but here is a sneak preview.
---
Ekrin B37S
In our opinion this fantastic massage gun is probably the best Hypervolt Plus alternative. If there is anything lacking in your Plus, then this device has got you covered.
For starters, it has more power (confirmed by Ekrin and our tests). 56lbs. of stall force is more than you will ever need from a percussive device. It has a 12mm amplitude. That is 2mm less than Hypervolt Plus but with more than enough power, you probably won't need anything more.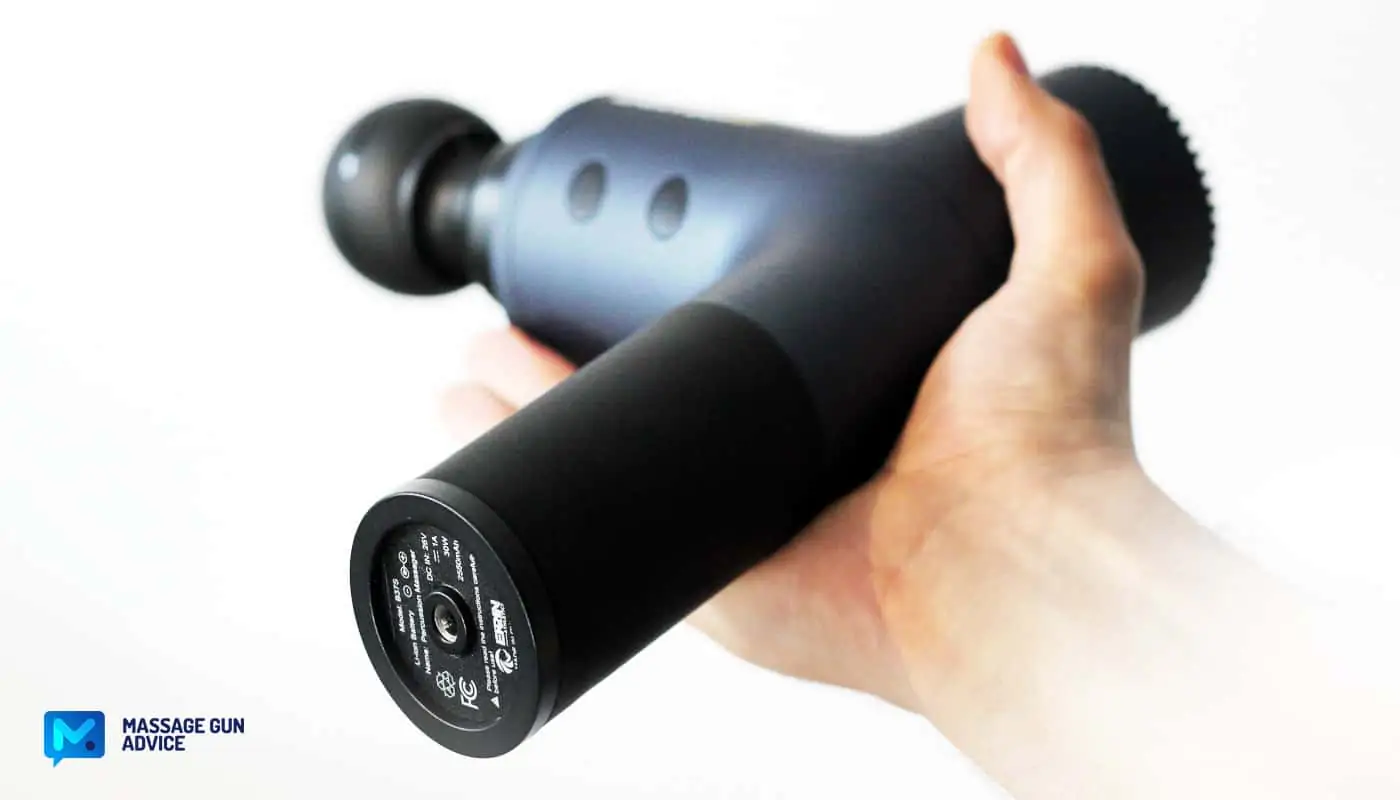 It has better ergonomics, it's lighter and very well balanced. It has the best executed pressure sensor we have ever seen.
There is 8 hours of battery life, a lifetime warranty and lifetime customer support.
It usually costs $329 but with our MGA20 coupon you get 20% off so you can get it here at only $263.99.
Read our full Ekrin B37S review for more.
---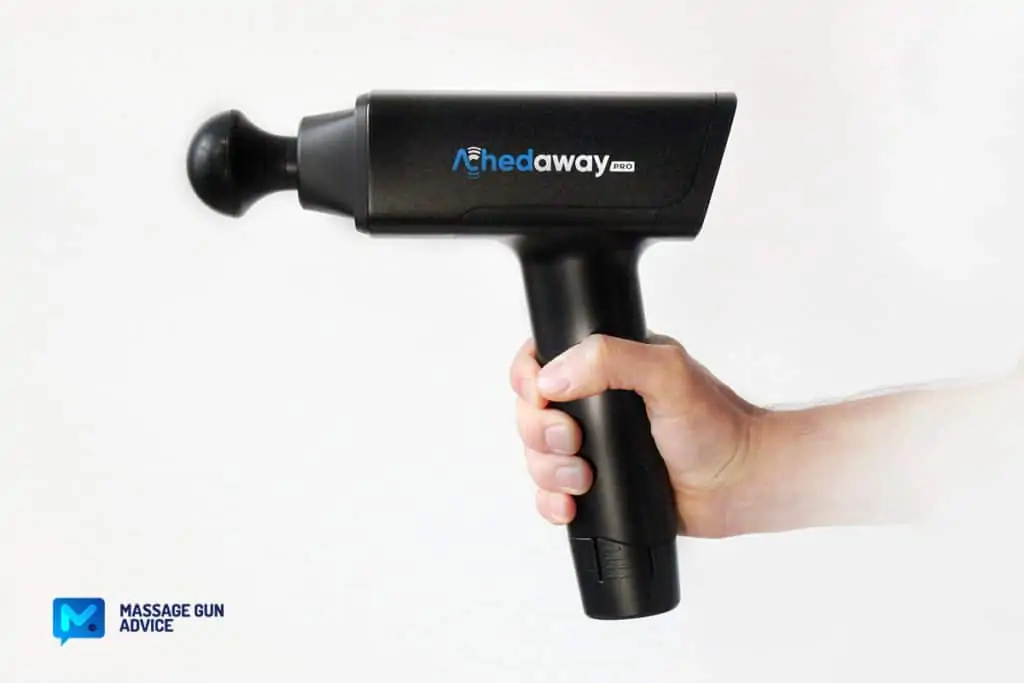 Achedaway Pro
An even more amazing massage gun with power and discretion. The advertised stall force is over 80lbs. It has a 16mm amplitude, which is even better than both Hypervolts.
It's an incredibly powerful gun but way quieter than both Hypervolts. It has a detachable battery as well, and better still you can buy it with two batteries.
The ergonomics are great, similar to what we saw with Ekrin B37S. It has a 2-year warranty.
If you decide to buy the Achedaway Pro, use our MGA50 coupon to get $50 off the $299 retail price. That makes it $249 instead!
Or, if you buy it with the spare battery, instead of paying $369, you will pay $319. That means that for the price of Hypervolt Plus, you get the Achedaway Pro with two batteries and a travelling case for free!
---
Opove M3 Pro 2
We recently just found out about this T-Shaped gun. It is a more simplistic, but even more affordable choice.
The device looks very similar to Hypervolts in terms of ergonomics and general look, maybe a bit more "Pro". It's an affordable choice, not the strongest one out there, but very decent.
It has a 12mm amplitude and 40-45lbs. of real stall force. We say real, because we found at least a few massage gun brands that overstated their product's specs. Not here, fortunately.
The M3 Pro has 5 speed gears as well and a reasonable percussion range of 1300 – 2600 ppm (percussions per minute).
The battery is non-removable but there is better time on battery – 4 hours is doable. It comes with a 30-day free money-back guarantee and friendly customer support.
It usually costs $199.99 but you can now get it for $119.99.
TIP Read our full Opove M3 Pro 2 review →
Need more options? Then check out our Best Hypervolt Alternatives article
---
Hypervolt vs Hypervolt Plus Conclusion
We have come to the end of our Hypervolt vs Hypervolt Plus article. Hopefully by now you have everything you need to know the difference between these two devices.
There isn't much difference at first sight but there is more inside the Hypervolt Plus than the regular Hypervolt.
In 2021, we would choose Plus over the regular one. However, there are very good alternatives that compete very well with Hypervolt and even beat them. We have listed some of them in our article for you.
If you have any further doubts, feel free to write in the comment below!
Was this article helpful?
Your feedback makes our content better!
Thanks for your feedback!
Post Update History
Here's a quick rundown of all the tweaks and edits we've made to this article to keep it accurate and up-to-date!
Current version last updated on:
•
Written by:
Greg Szostak
Disclaimers
The views and opinions expressed on this website are those of the authors. Any content provided by our bloggers or authors are of their opinion and are not intended to malign any religion, ethnic group, club, organization, company, individual or anyone or anything.
All product names, logos, and brands are property of their respective owners. All company, product and service names used in this website are for identification purposes only. Use of these names, logos, and brands does not imply endorsement.
It is our policy to make every effort to respect the copyrights of outside parties. If you believe that your copyright has been misused, please provide us with a message stating your position and we will endeavor to correct any misuse immediately.
Some of the links in this post are affiliate links. As an Amazon Associate, we earn from qualifying purchases. This means if you click on the link and purchase the item, we may receive an affiliate commission, at no extra cost to you. This helps us keep this website alive. Learn more here.
Amazon Disclosure
massagegunadvice.com is a participant in the Amazon Services LLC Associates Program, an affiliate advertising program designed to provide a means for sites to earn advertising fees by advertising and linking to Amazon.com. As an Amazon Associate, we earn from qualifying purchases. Amazon and the Amazon logo are trademarks of Amazon.com, Inc. or its affiliates. Please refer to our Privacy & Affiliate Policy for details.