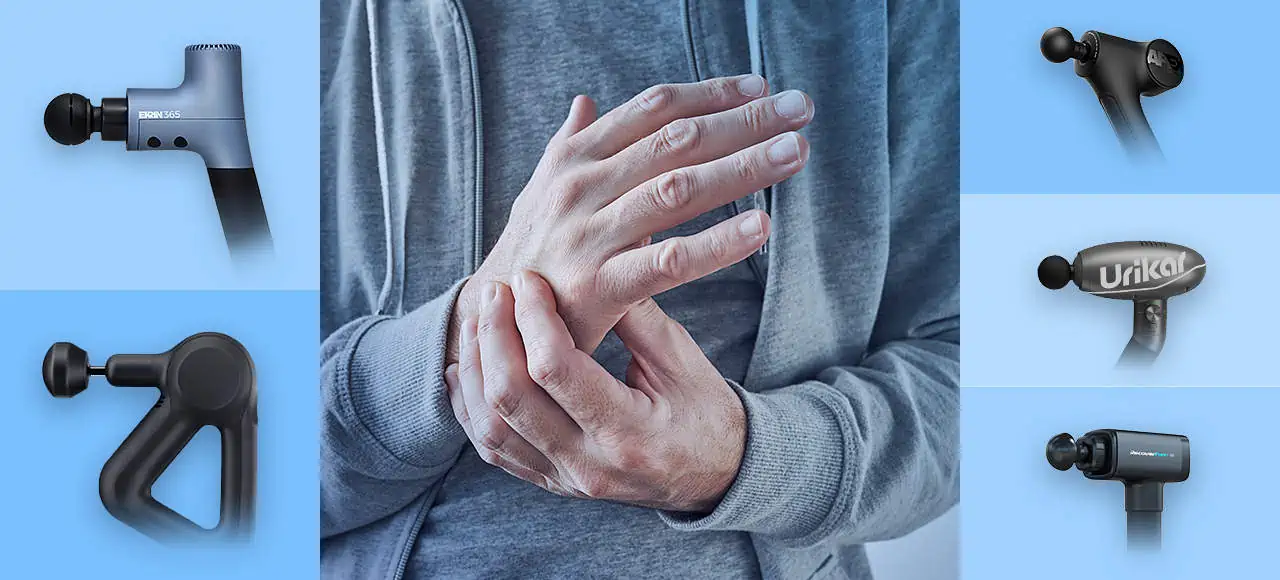 Best Massage Gun For Arthritis – A Physical Therapist's Recommendation
What to Know: We independently review products we recommend. If you click on links we provide, we may earn a commission. Learn more.
---
If you or a family member is dealing with arthritis, you've probably spent many hours looking for solutions to decrease pain and improve quality of life.
As massage guns become more mainstream, they are being used for an increasing variety of problems. It's no wonder we've gotten so many questions from readers living with arthritis. We enjoy using massage guns for a variety of problems, but are massage guns good for arthritis?
We think yes (but not for the reason you might think), and you'll want to keep reading to learn more about arthritis, important massage gun do's and don'ts, why we think the Ekrin 365 is the best massage gun for arthritis, and our favorite alternative device options (including Theragun for arthritis).
Let's begin.
---
---
Why Trust Our Advice and Some Disclaimer
Because research is still needed for many percussive therapy uses, we cannot guarantee benefit from use or safety from harm with use of massage guns.
However, we are massage gun experts with lots of experience to provide our expert opinions. We are also constantly using the best-available resources to offer the best advice to our readers.
This article is written by Dr. Alex Stone, a licensed physiotherapist. The information in this post has not been reviewed by a medical doctor (MD). Always consult your trusted medical professional before using any new health advice.
---
Forms of Arthritis
There are several forms of arthritis, but the most common are osteoarthritis (OA) and rheumatoid arthritis (RA). Both can have a serious impact on the way we look, move, and feel.
Osteoarthritis refers to painful and stiffness of joints due to wearing down of joint cartilage, and it's considered a degenerative problem.
As we age, the cartilage in our joints naturally wears down, but repetitive stress of a joint can accelerate the process, causing uneven wear on one or several joints. Once joint cartilage is worn down significantly, friction and impact cause progressive pain and shape changes in the bone.
Rheumatoid arthritis refers to an autoimmune problem where the body attacks its own joints, causing pain, swelling, and stiffness. This problem can begin at any age, but it typically affects older adults and may be associated with other autoimmune conditions.
---
Are Massage Guns Good for Arthritis?
Massage guns are a relatively new form of percussive massage therapy, and they might be helpful for managing arthritis.
When joints become inflamed and stiff, movement becomes painful.
Massage therapy works to decrease pain and swelling in a joint, and muscle tension around that joint. Because of this, many studies show short-term improvements of arthritis pain from regular massage therapy​1,2​.
Even better, regular massage therapy is documented to reduce pain and improve function for tons of other musculoskeletal (muscle and bone) conditions, including low back pain and shoulder pain​3​.
Because percussive massage therapy shares many similarities with traditional massage, we can assume some of the same benefits.
Lucky for us, massage therapy is a very effective way to reduce the pain and stiffness associated with arthritis.
Percussive massage therapy (using massage guns) is useful because it can decrease muscle stiffness, improve circulation, improve range of motion, and block pain signals between the body and brain.
This combination of reduced muscle stiffness, improved circulation, and dampened pain signaling may be very helpful to manage the common symptoms of arthritis.
Massage guns are especially helpful because they allow you to perform a DIY massage in the comfort of your own home.
This is especially important because many individuals with arthritis pain may be less mobile, and less likely to travel to a treatment office for traditional massage.
Because of their portability, you can also use your massage gun regularly even if you're traveling, charging with a wall outlet, USB, or in the car. This is very helpful for those of us traveling for work, who probably don't have time to schedule a massage in every city that we visit.
So, pick up that massage gun and let's get to work!
---
Massage Gun Do's and Don'ts for Arthritis
For best results and optimal safety, there are some basic guidelines for safe use of your massage gun that you will want to follow.
Do
Develop a regular routine with your massage gun, fitting it into your normal workout or wind-down evening routine to achieve more consistency. You will notice better effects when you perform massages on a regular basis.
Do
Start gently and slowly increase the time and intensity that you are using your massage gun. Listen to your body and adjust based on how you are feeling.
Do
Consult your trusted healthcare professional with arthritis training if you are struggling with severe symptoms of arthritis, especially if you are experiencing more pain with massage.
Don't
Don't use your massage gun directly on your joints. This might seem confusing at first, but you'll quickly find that most joints are covered with sensitive bone that is very uncomfortable (and unsafe) to repeatedly hit. This is especially important for those using a massage gun for knee arthritis.
Don't
Don't massage directly over cuts, scrapes, or bruising. Direct pressure over these areas may increase pain or swelling and prevent you from using your massage gun down the road.
Don't
Don't quit using your massage gun if you are sore afterwards. Soreness is a normal part of the body's recovery process, so focus on adjusting your technique to keep the soreness minimal next time. Those of us using a massage gun for hip arthritis might be shocked by soreness at first, but adjusting is key.
Okay, let's talk about how to pick the best massage gun for arthritis.
---
Choosing a Massage Gun for Arthritis
---
What to Know About Amplitude and Stall Force
There are many factors to consider when selecting a massage gun, including speed, noise, and attachments. We want to focus exclusively on two major factors: amplitude and stall force.
---
Amplitude
Amplitude (or stroke length) is the distance traveled by the massage gun head during each percussion (punch), and massage guns are typically classified as high-amplitude or low-amplitude.
High-amplitude devices (such as Theragun) deliver 14-16mm of motion – they feel more intense and "punchy" due to their larger amplitude, but rev slower at around 2400-2700 RPM.
Low-amplitude devices deliver 10mm or less of motion – they feel more vibrational due to their shallow hits, but rev faster at around 3000-3300 RPM.
Our Advice
If you're unsure which type of device will fit your needs, opt for a medium-amplitude device with about 10-13mm of motion to reach the 'sweet spot' for most conditions.
Medium-amplitude devices are very, very versatile because they can be used for fast revving or hard-hitting, depending on your needs.
Our top pick for a medium-amplitude device is the Ekrin 365.
---
Stall Force
Stall force is the amount of force required to stop or stall the massage head from operating, which indicates the amount of pressure you can apply to your muscles while holding the device.
In our opinion, high stall force isn't a requirement for managing arthritis, but having the option to push harder on larger muscle groups (larger muscles of the thigh and hip) is important.
We don't recommend low-stall-force guns because the quality of percussions (hits) will lessen during basic use, which prevents you from using your massage gun for different reasons that might require more force (like using your massage gun for hip arthritis).
Our Advice
Our advice is to aim for a minimum stall force of 25-35lbs. A device with more stall force is perfectly fine, but you likely won't need to use that much pressure while massaging around arthritic joints. Our top device pick for arthritis, Ekrin 365, has a stall force of around 35lbs.
---
Other Features to Be Aware Of
The ergonomics of your device should allow for comfortable use – we really like angled handles to reduce stress on the wrist and hand.
The weight of the device should feel light for you, and you shouldn't feel any strain in your arms from operating the device.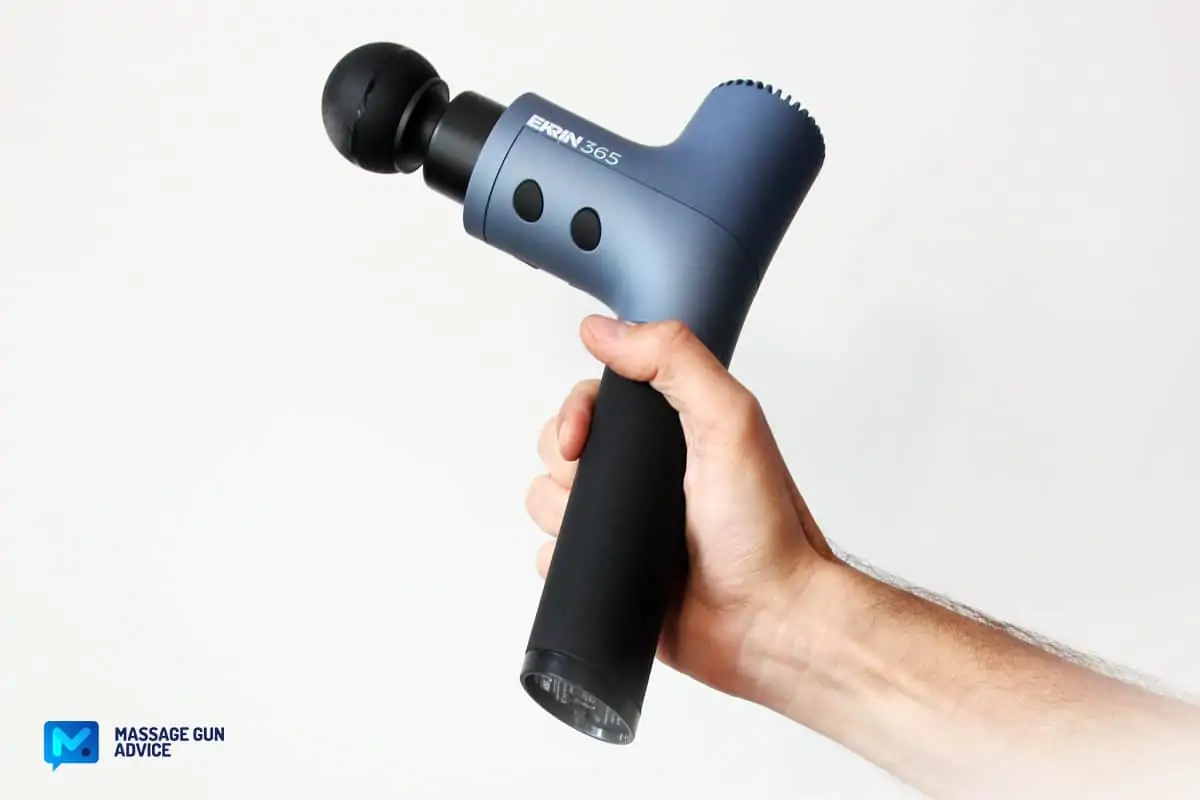 The attachments that come with your device should be varied, including at least one soft/cushioned head for sensitive areas. Most devices come with a variety of attachments, but we find that 4-6 heads is usually enough for any job.
Other features such as speed selection and build quality can be important, but we believe the key factors above will make the most difference in managing your arthritis.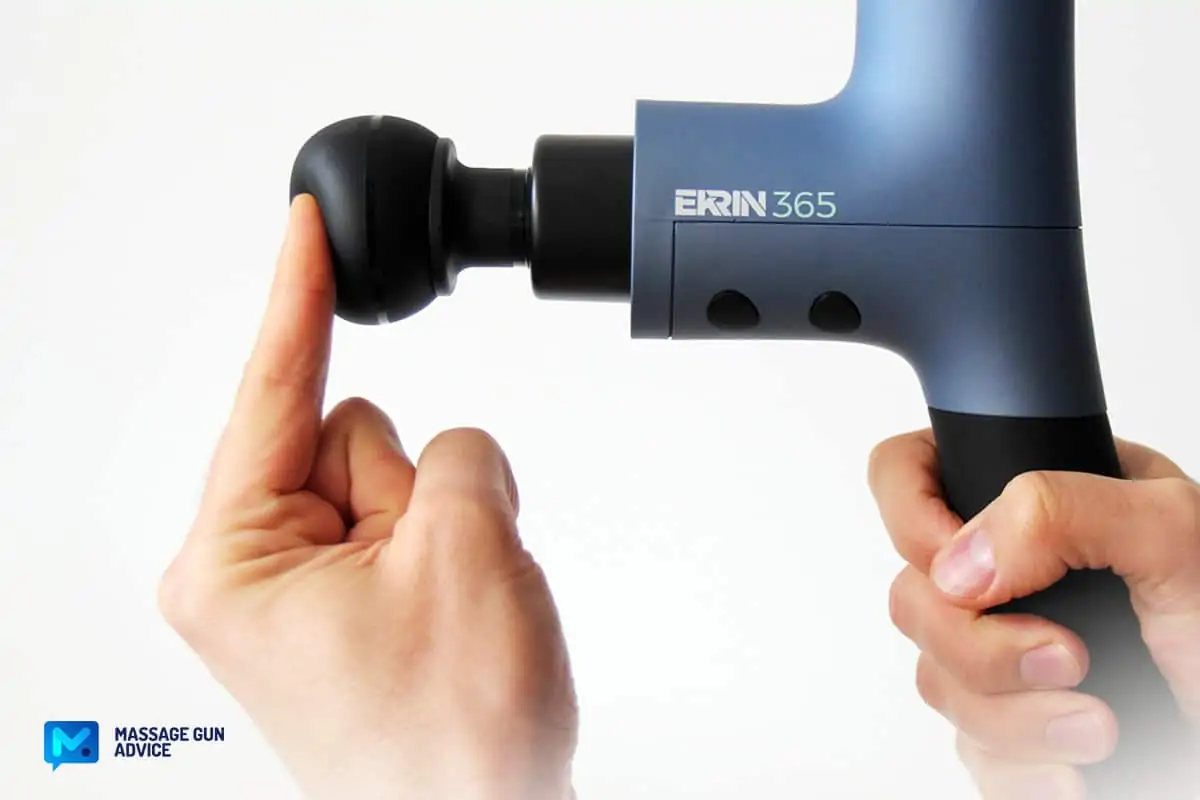 ---
Best Massage Gun for Arthritis – Our Recommendation
---
Ekrin 365 – Our First Pick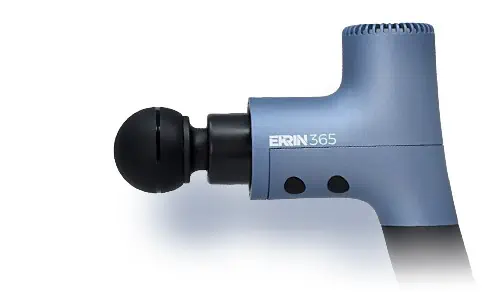 Our testing impressions:
Versatile and reliable massage gun
Great value for the money
Excellent quality overall
Lifetime warranty
The Ekrin 365 is our top pick because it checks all of the boxes above, and may be very helpful for patients dealing with arthritis.
In fact, we even have first-hand experience with massage guns to help manage arthritis, and this device is preferred over others.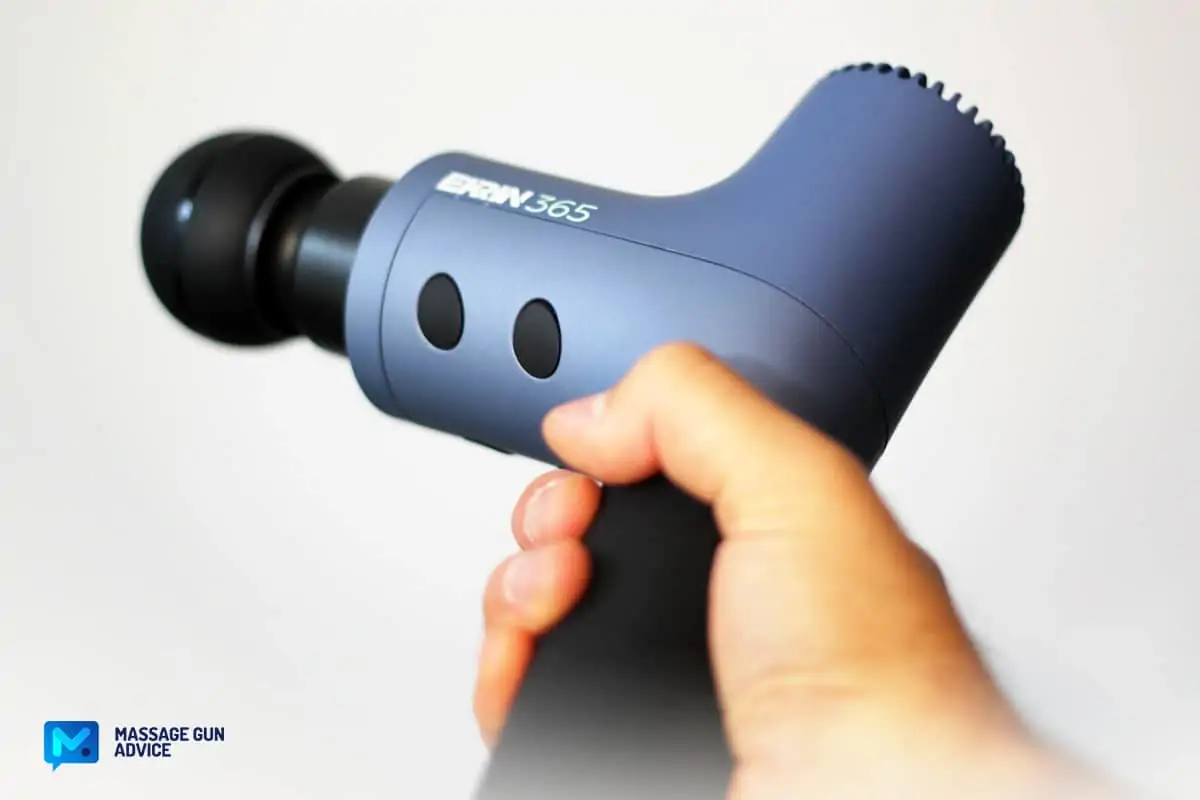 The performance of the 365 is perfectly balanced for many forms of arthritis, but what does that mean?
Well, the device has a medium stroke length of slightly over 10mm, putting it in that sweet spot between 'punchy' and 'vibrational' and making it very versatile for different body areas.
With a stall force of 30-40lbs (even higher than our recommended range), the 365 doesn't stall or slow under pressure. This makes the device a solid choice for larger body areas and bigger muscle groups (like the glutes, hamstring, and quads) that might not be addressed with a weaker gun.
This device can rev fast at 3200 RPM, which is great for increasing blood flow and getting fluid moving around the joint.
Another few reasons we picked the Ekrin 365 as our top recommendation…
Attachments – most other guns come with hard or semi-hard attachments, but the 365 comes with one of the softest attachments on the market: a soft silicone ball head that works great on sensitive areas. Many people prefer to start with a very soft attachment and progress to a harder attachment over time.
The Ekrin 365 also comes with standard fork, bullet, and flat heads which are included with its cousin models, the Ekrin B37 and B37S.
Weight and size – coming in at just 1.7lbs, the Ekrin 365 is smaller and lighter than 80% of massage guns on the market.
Combined with its thin handle, the device is especially easy to hold for people with smaller hands. Those of us with arthritis affecting the hands and fingers, which is more common with RA, should be excited, because the 365 is easier to maneuver than any other full-sized massage gun we've tested (this is confirmed by a user with RA).
Nice touches:
The Ekrin 365 comes standard with a long-lasting battery and USB-C charging.
It's also very quiet, making it a nice option for those living with family or their partners (or getting a massage in while traveling).
The build quality of this device is excellent, making it feel premium in the hand.
The Ekrin 365 comes with a lifetime warranty and great customer service for hassle-free returns.
PRICE: The Ekrin 365 normally goes for $179.99, but you can use our MGA20 coupon to get it for 20% off at $143.99. Buy it at ekrinathletics.com.
LEARN MORE: Read our hands-on Ekrin 365 review.
---
Theragun for Arthritis – What to Choose, What to Avoid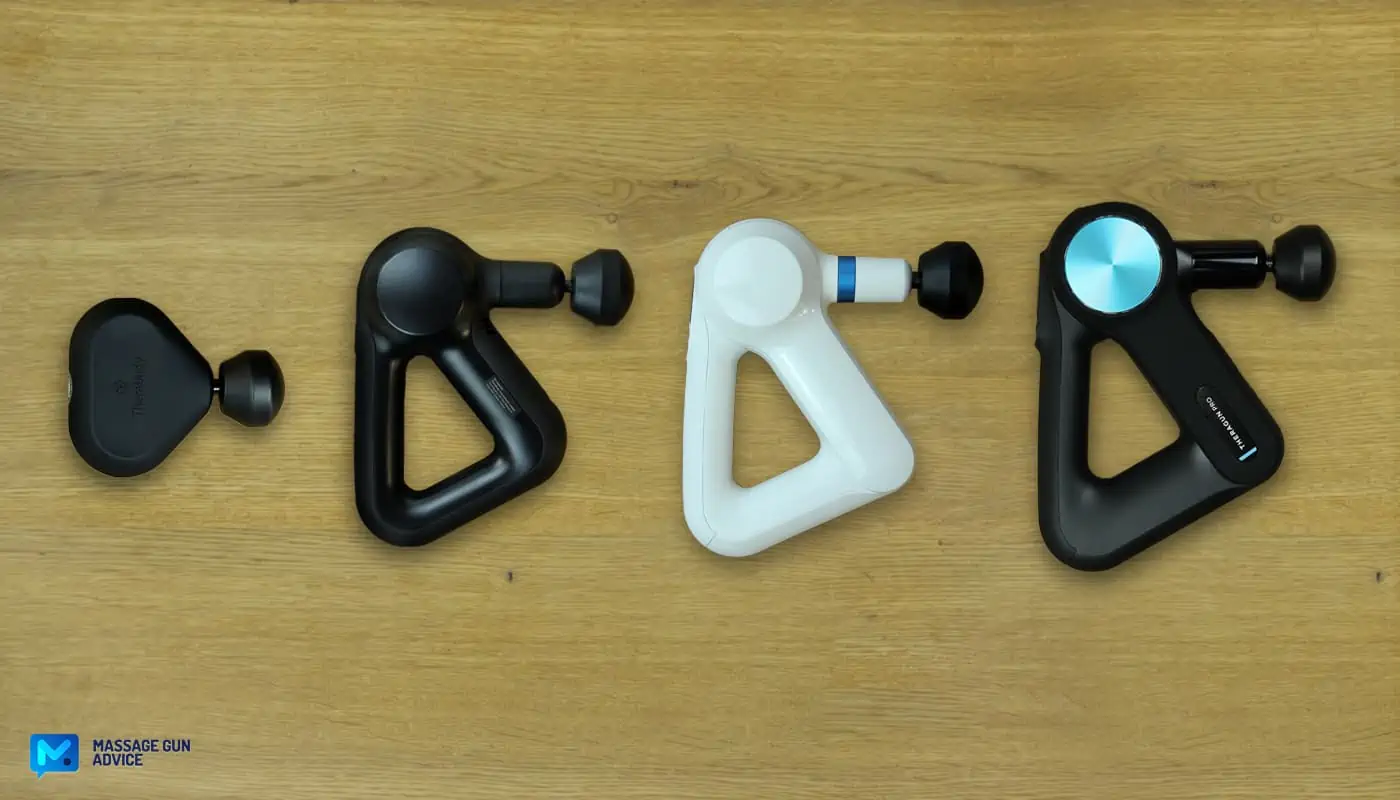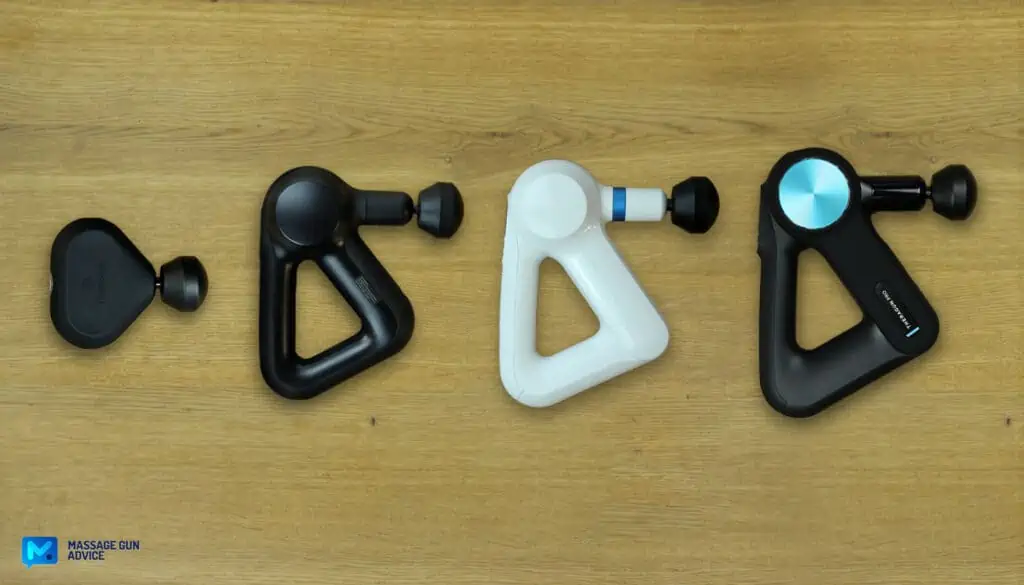 Theraguns are very popular and well-suited for many jobs, including managing arthritis. What makes these devices so popular is their industry-leading 16mm stroke length, maximizing massage depth.
While Theragun offers high-amplitude devices, you may not need all of that stroke length, and some people find these devices too aggressive.
We recommend considering your needs before purchasing – if you're unsure, opt for a medium-amplitude device like the aforementioned Ekrin 365.
Theragun Prime – the Best Theragun for Arthritis in Our Opinion
Each Theragun model offers a different stall force, but our top Theragun for arthritis recommendation is the Theragun Prime.
With 30lbs of stall force, it fits right into our recommended range for managing arthritis.
Due to higher amplitude, this device can reach a speed of 2450 RPM, which is still effective for improving circulation around arthritic joints.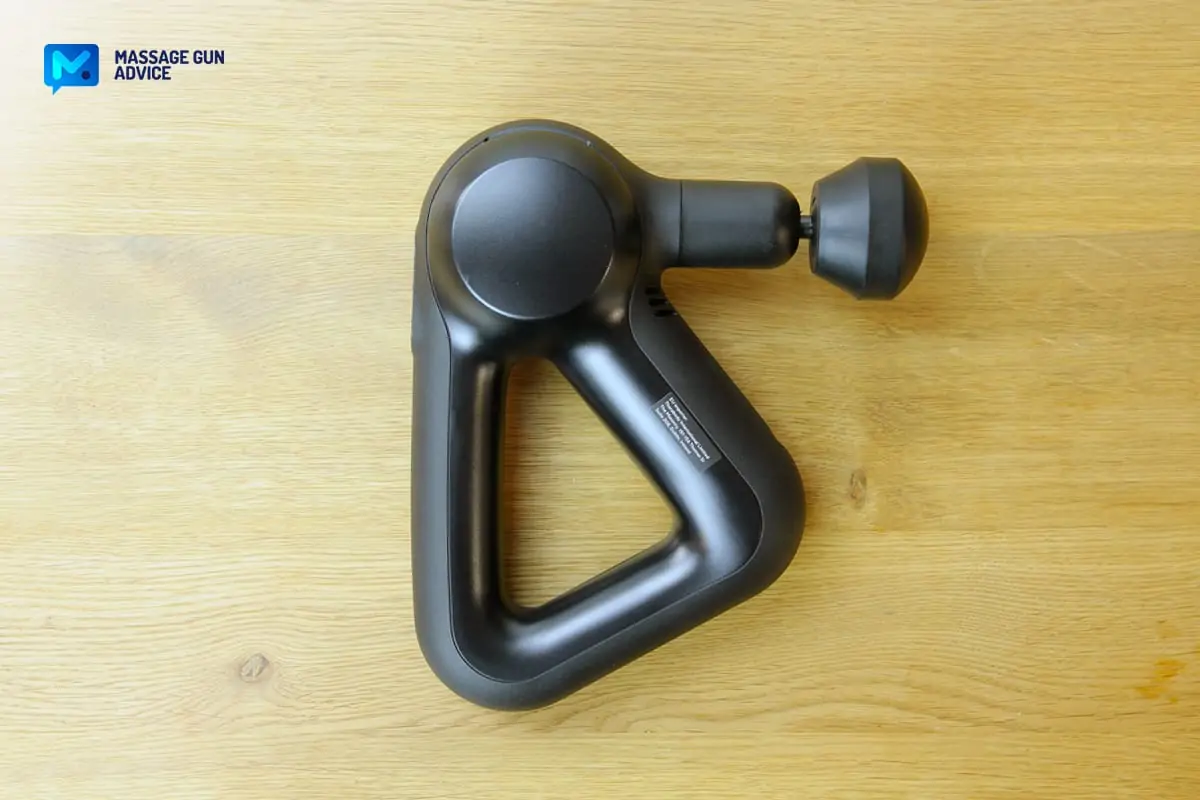 One of the biggest advantages to Theragun devices is their ergonomic design, allowing you to hold them at many different angles.
The Prime is the smallest full-sized Theragun device, with the next step down being the Theragun mini.
We don't recommend Theragun mini because its design may make it difficult to hold and maneuver for those with arthritis in their hands.
For many people with arthritis, Theragun's largest model, the PRO, will be overkill in terms of stall force and overall bulk.
The biggest downsides to Theragun devices are their loudness and high relative price. Most Theragun devices (especially the PRO) have a loud, rough sound during use that is noticeably more intense than competitors with similar power.
They're also expensive, up to twice as much as similar competing devices (like some of our favorites from Ekrin and Opove).
Warranty is very limited with these devices, with a standard of 1 year and maxing out at 2 years for the PRO model.
PRO TIP Be sure to purchase a SuperSoft attachment with your Theragun device for an extra $30. This attachment will allow you to work on sensitive areas that usually can't be touched with a massage gun. This is especially helpful if using your massage gun for knee arthritis, or elbow arthritis.
---
Other Good Percussion Massagers for Arthritis
---
Opove Apex – Quiet and Ergonomic
With 14.5mm of amplitude and a stall force of 40lbs, this device is a great Theragun alternative.
It stays very quiet while revving at 2300 RPM, and maneuvers easily thanks to its angled handle design.
Opove Apex normally sells for $199, but you can get it on sale right now for $159.
LEARN MORE: Check out our hands-on Opove Apex review.
---
Urikar Pro 2 – For a Heated Massage

Although it's a bit bulky, this device is a very affordable option with one major selling point: heating. Using the ceramic heated attachment, you can add more relaxation to your massage around stiff and achy joints.
While it shines with a 12mm amplitude (perfect, in our opinion), it only delivers 20lbs of stall force, limiting its use on larger body areas. The price, however, is hard to beat.
The Urikar Pro 2 normally sells for $149.99, but you can use the PRO2 discount code to get it for only $82.50 – this is the cheapest device on our list!
LEARN MORE Best Heated Percussion Massagers, and our hands-on Urikar Pro 2 review.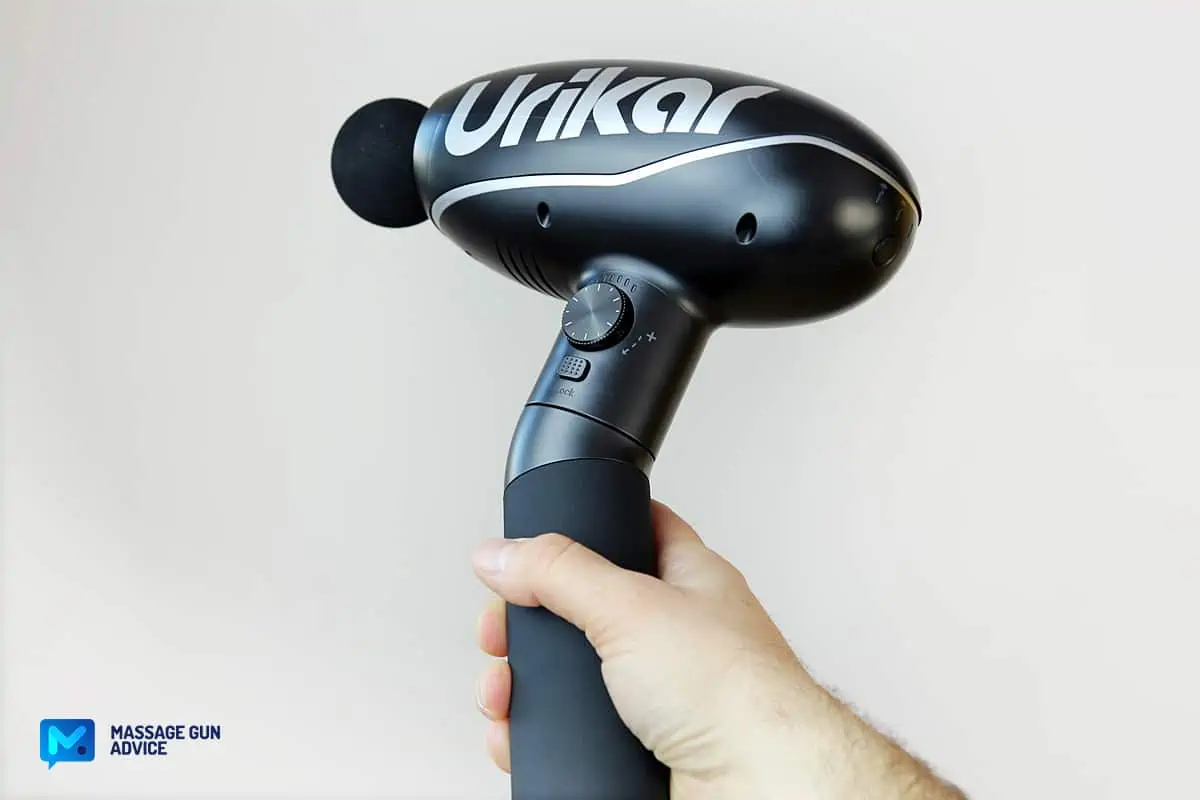 ---
RecoverFun Plus – Another Good All-rounder

This device is a very decent all-rounder, fitting a 12mm stroke length and 40lbs of stall force into one package, making it one of the strongest devices on our list.
The RecoverFun Plus revs up to 3000 RPM, which is impressive considering its stroke length – it's also the only device on our list with a removable battery.
Our only issues with this device are its ergonomics and weight; at 2.5 lbs with a non-angled handle, it can be less comfortable to maneuver than other options on our list.
The full price for this device is $165, but you can use our MGA5 code to get $5 off. Buy it directly at recoverfun.com
LEARN MORE Check out our hands-on Recoverfun Plus review.
---
Are Massage Guns Good for Arthritis? Final Thoughts
We hope that this article answers some of the most common questions we get about massage guns and arthritis.
While arthritis can be a very challenging and frustrating condition to live with, we believe that every tool to reduce pain and stiffness from arthritis is worth its weight in gold.
Do you have experience managing your arthritis with massage guns? We want to know! Leave us a comment below with your best tips and tricks.
Be sure to read the full review of our best massage gun for arthritis, the Ekrin 365, here. For reviews from actual buyers, navigate to this page at Ekrin store and scroll down to reviews section.
Thanks for reading!
---
References
1.

Perlman A, Fogerite SG, Glass O, et al. Efficacy and Safety of Massage for Osteoarthritis of the Knee: a Randomized Clinical Trial.

J GEN INTERN MED

. Published online December 12, 2018:379-386. doi:

10.1007/s11606-018-4763-5

2.

Ali A, Rosenberger L, Weiss TR, Milak C, Perlman AI. Massage Therapy and Quality of Life in Osteoarthritis of the Knee: A Qualitative Study.

Pain Med

. Published online September 1, 2016:pnw217. doi:

10.1093/pm/pnw217

3.

Bervoets DC, Luijsterburg PA, Alessie JJ, Buijs MJ, Verhagen AP. Massage therapy has short-term benefits for people with common musculoskeletal disorders compared to no treatment: a systematic review.

Journal of Physiotherapy

. Published online July 2015:106-116. doi:

10.1016/j.jphys.2015.05.018
Was this article helpful?
Thanks for your feedback!
Post Update History
Here's a quick rundown of all the tweaks and edits we've made to this article to keep it accurate and up-to-date!
Current version last updated on:
September 18, 2023 Some blocks of text and graphics have been changed for a better user experience on mobile devices. Also, there have been minor link adjustments and improved reference listings. (Author: Greg)
•
Written by:

Dr. Alex Stone, DPT, CSCS
Disclaimers
The views and opinions expressed on this website are those of the authors. Any content provided by our bloggers or authors are of their opinion and are not intended to malign any religion, ethnic group, club, organization, company, individual or anyone or anything.
All product names, logos, and brands are property of their respective owners. All company, product and service names used in this website are for identification purposes only. Use of these names, logos, and brands does not imply endorsement.
It is our policy to make every effort to respect the copyrights of outside parties. If you believe that your copyright has been misused, please provide us with a message stating your position and we will endeavor to correct any misuse immediately.
Some of the links in this post are affiliate links. As an Amazon Associate, we earn from qualifying purchases. This means if you click on the link and purchase the item, we may receive an affiliate commission, at no extra cost to you. This helps us keep this website alive. Learn more here.
Amazon Disclosure
massagegunadvice.com is a participant in the Amazon Services LLC Associates Program, an affiliate advertising program designed to provide a means for sites to earn advertising fees by advertising and linking to Amazon.com. As an Amazon Associate, we earn from qualifying purchases. Amazon and the Amazon logo are trademarks of Amazon.com, Inc. or its affiliates. Please refer to our Privacy & Affiliate Policy for details.