Massage Gun for Shin Splints – Can It Help? Which Is A Right One?
What to Know: We independently review products we recommend. If you click on links we provide, we may earn a commission. Learn more.
---
Are you dealing with soreness and pain along your shins while running or exercising? It might be shin splints – one of the most common problems in the world of exercise and sports.
If you've used a massage gun for other problems successfully, you might be wondering if you can use your massage gun for shin splints.
We definitely think yes, but there are some important details to factor in before reaching for your massage gun and hammering away.
In this article, we'll explain what shin splints are, how a massage gun can help (or hurt) your shin splints, and our top device recommendations for managing shin splints.
Let's go!
---
---
Why Trust Us?
We test everything that we recommend. Not only we do hands-on massage gun reviews, but we are also constantly using the best-available resources to offer the best possible advice to our readers.
We also work with licensed professionals. In this case, it was Dr. Alex Stone, a licensed physiotherapist, who authored the article.
Always consult your trusted medical before using any new health device.
---
Shin Splints – What Are They?
The term "shin splints" is a simplified name for medial tibial stress syndrome (sometimes just called tibial stress syndrome or MTSS), and it describes tenderness or soreness along the front/inner portion of the leg, commonly referred to as the shin ​1​.
In most cases, shin splints develop due to a sudden change in activity level and stress to the soft tissues along the front of the leg, causing excessive micro-tears and inflammation deep into the leg.
This is usually due to repetitive stress from activities like running and jumping, so runners and athletes are especially susceptible ​2​.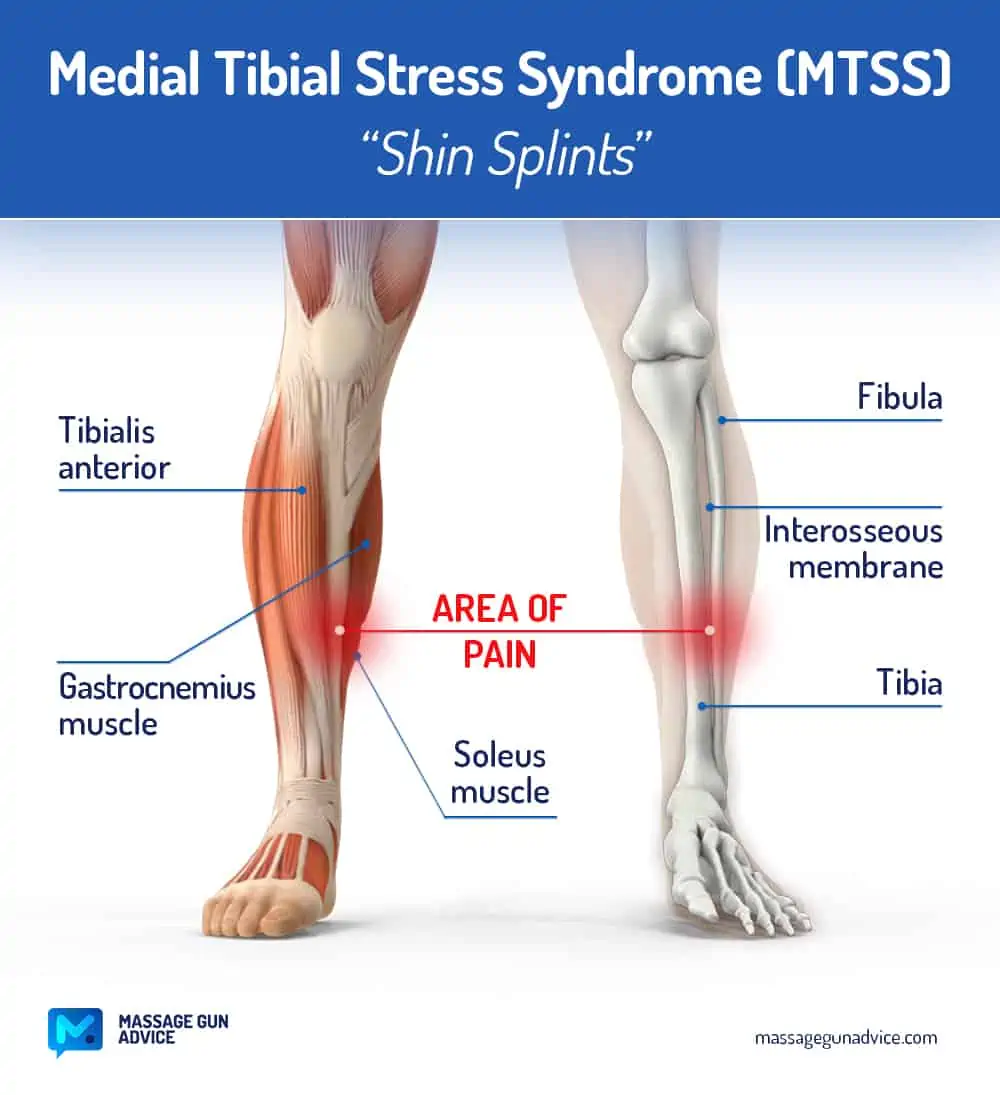 Shin splints are very common and affect up to 35% of runners and athletes at some point. Because symptoms are usually very painful, athletes will often need to take rest from their sport and slowly ramp activity back up before making a full return ​3​.
There are many methods to treating and managing shin splints including rehab exercise, stretching, hot/cold therapies, and massage ​4​.
However, massage guns are becoming a very popular option for treating shin splints.
---
Is a Massage Gun Good for Shin Splints?
While massage guns aren't heavily researched at this time, traditional sports massage is shown to be very helpful in managing sports injuries like shin splints.
Because massage guns affect our bodies similar to traditional massage, we can assume a similar response to a deep-tissue massage ​5​.
Massage is effective for treating shin splints because it increases circulation to the area for faster healing, blocks pain signals going to the brain, and limits formation of soft tissue adhesions that might be building up due to inflammation.
This improves tolerance for activities like walking and running, which need to be slowly ramped up during the recovery process for shin splints.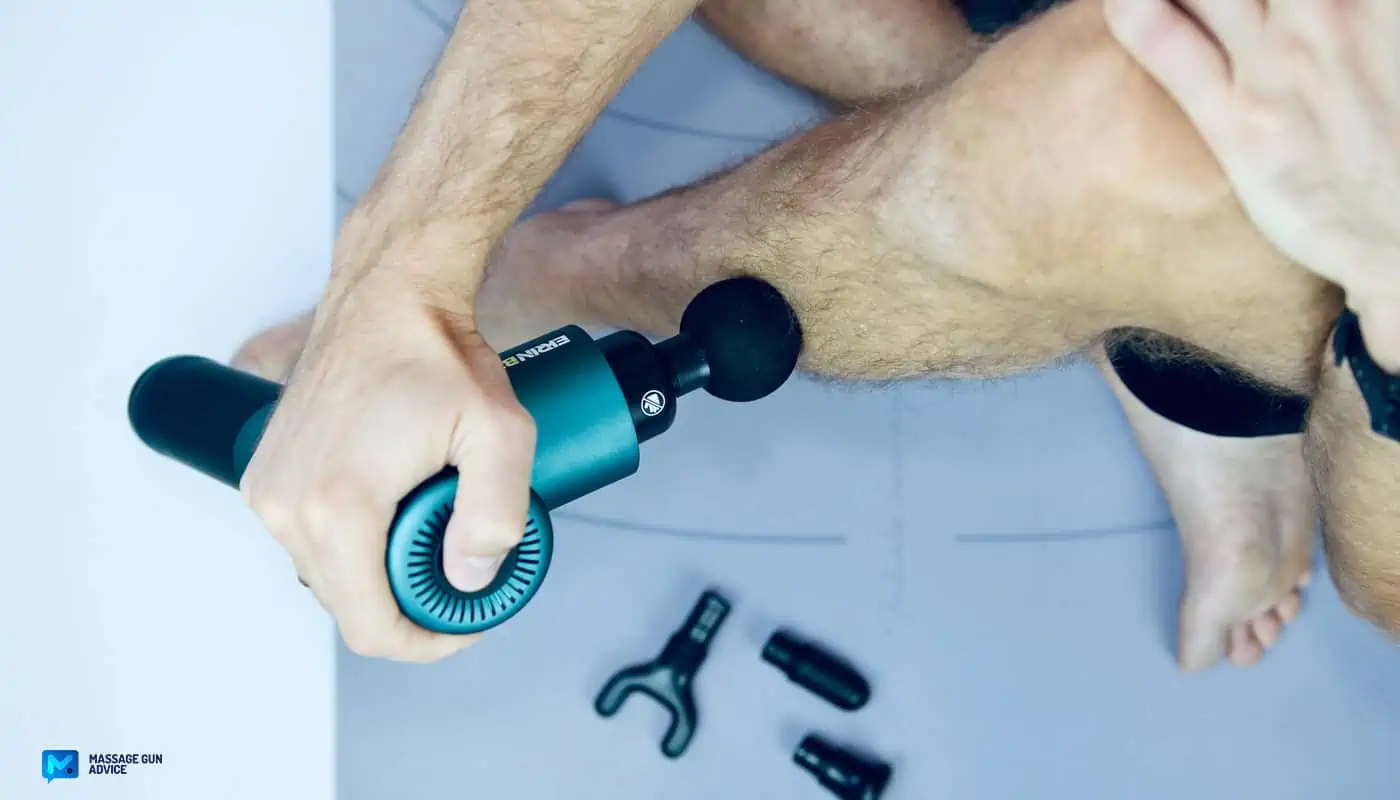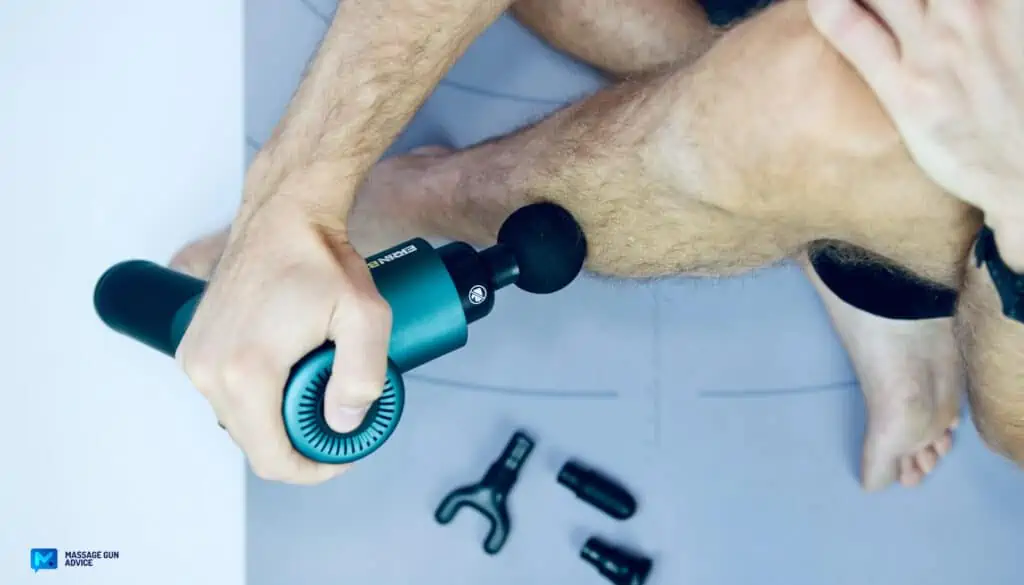 How to use massage gun for shin splints – a few essential tips:
Try not to over-do it at first. Start slowly with a low intensity level and use pain as your guide, focusing on smoothly moving the massage gun head across your leg.
Aim to massage each muscle group individually, paying special attention to the tibialis anterior (front of the leg), gastrocnemius (back of the leg/calf), and posterior tibialis (inner leg).
Avoid massaging directly over bone. This is especially important because your shin bone (tibia) is very prominent and can easily become bruised if struck by a hard surface.
Start by using a wider silicone or foam attachment as these are usually less intense, then switch to a narrower or hard plastic attachment if more pressure is needed to feel an effect.
Read More Check out our post on how to use a massage gun for optimal results.
But how do you choose a massage gun for shin splints?
---
Choosing The Shin Splints Massage Gun
There are two main things to focus on when choosing your device: stall force and amplitude.
---
Stall Force
Stall force refers to the amount of force required to stall the motor of your massage gun device, which directly translates to the amount of pressure you can apply during your massage with your device.
Devices with high stall force (>30lbs) are effective for achieving a deep tissue massage on larger muscle groups and larger users, while devices with low stall force (<30lbs) are best for massaging small muscle groups and smaller users.
Our Advice
While we don't think a large amount of stall force is needed for shin splints, a device with higher stall force may be welcomed because it can be used on other areas of the leg with larger muscle groups – and who doesn't love an all-in-one option?
RELATED We have a post dedicated to high stall force massage guns.
---
Amplitude
Amplitude, or stroke length, is the amount of distance traveled by the massage head during each hit.
Devices with high amplitude (>12mm) tend to feel more "punchy" and are especially useful for working on larger muscle groups like those in the thighs and hips because they can penetrate deeper.
Devices with lower amplitude (<12mm) feel more "vibrational" but can still be effective for working on smaller muscle groups because they offer enough penetration for the job.
Our Advice
If you're unsure which amplitude to go for when choosing your shin splints massage gun, we recommend an amplitude of 10-13mm, which is going to be slightly vibrational without feeling too aggressive or hard-hitting for the shallow grooves of your leg.
RELATED Learn more about high amplitude massage guns.
---
Best Massage Gun for Shin Splints – Our Expert Recommendations
---
Ekrin B37 – Best Pick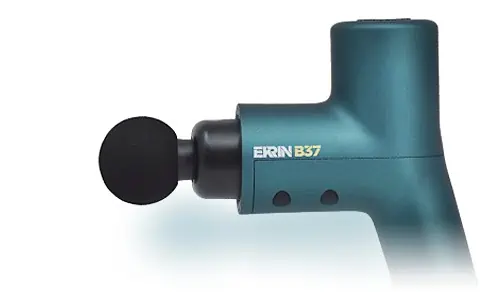 Our testing impressions:
Versatile and reliable massage gun
Great value for the money
Excellent quality overall
Lifetime warranty
The Ekrin B37 is one of our top picks for a medium-amplitude device for a lot of reasons.
First off, the B37 packs 57lbs of stall force, which is more than enough for shin splints, but can also be used on the larger muscle groups of the leg like your quads and hamstrings – even for bigger athletes.
You know how they say a picture's worth a thousand words? Well, you gotta check out our video on the B37. You'll see the size, the build quality, all the attachments, and how it runs through its gears. Seriously, give it a watch before we go any further.
Even better, this device revs at 3200 RPM (verified by us), which is hard to come by with so much stall force. The Ekrin B37 comes with a variety of attachments for getting the job done, allowing you to branch out from your shin splints and into other problem areas.
The build of this device is high-quality, and it's backed with a lifetime warranty from Ekrin.
Ekrin B37 costs $229.99 but you will only pay $183.99 when you use the MGA20 coupon code at checkout. Buy your device here at ekrinathletics.com, and enjoy the 20% OFF.
Read More Our in-depth Ekrin B37 review.
---
Achedaway Pro – High Stroke Length Option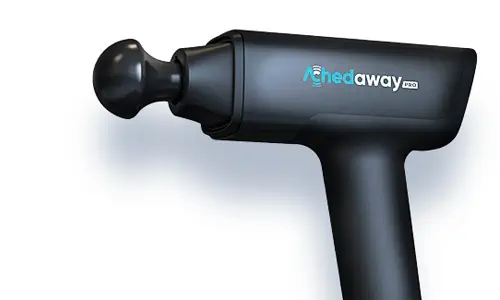 Our testing impressions:
Impressive stall force
Great size and ergonomics
Excellent quality overall
Accessories
The Achedaway Pro is one of our all-time favorite high-amplitude devices – after all, its name literally advertises to take your "ache" away.
Achedaway devices are commonly used by chiropractors and physiotherapists, and for a good reason. This device packs 60lbs of stall force and 16mm of amplitude into a surprisingly sleek package.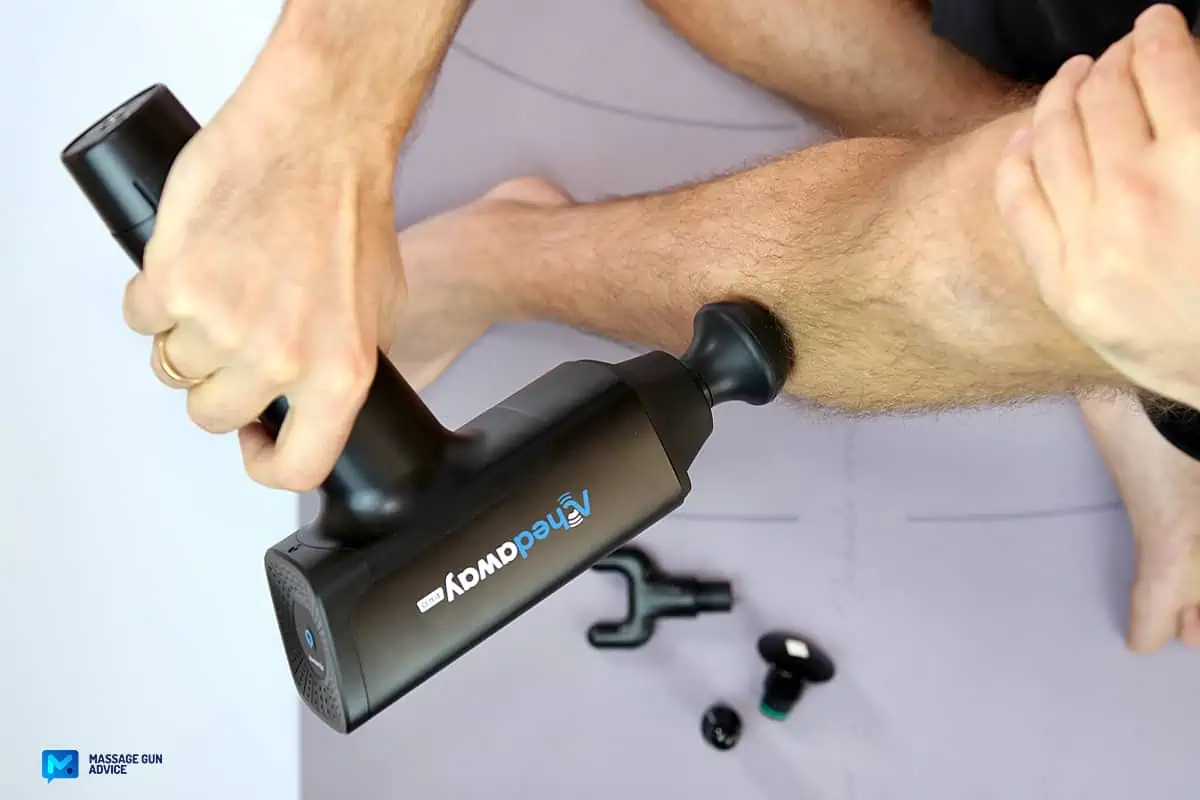 Because of its high stall force, it revs slightly lower than the B37 at 2700 RPM (still impressive for such a powerful device).
The Achedaway Pro comes with an excellent selection of attachments, including a soft/bouncy head that we think is perfect for sensitive problems like shin splints.
While this device may be more than necessary for some people, it's a seriously great option for most.
DEAL ALERT Use our exclusive MGA60 code at checkout to get $60 off Achedaway Pro. Pay $239 instead of $299. Apply the coupon here.
Achedaway Pro retails for $299, but we have an extra discount for our readers. Use the MGA50 code and pay $249 instead – a $50 discount. Buy it right here.
Read More Our hands-on Achedaway Pro review.
---
Theragun For Shin Splints – Which One to Choose?
Theragun has built several top-tier percussive massage devices with excellent design. There's no doubt that they're effective, but are they worth it?
Quick Fact
The biggest difference between each Theragun model is their stall force – 30lbs for the Prime, 40lbs for the Elite, and 60lbs for the PRO. The mini is the weakest at 20 lbs.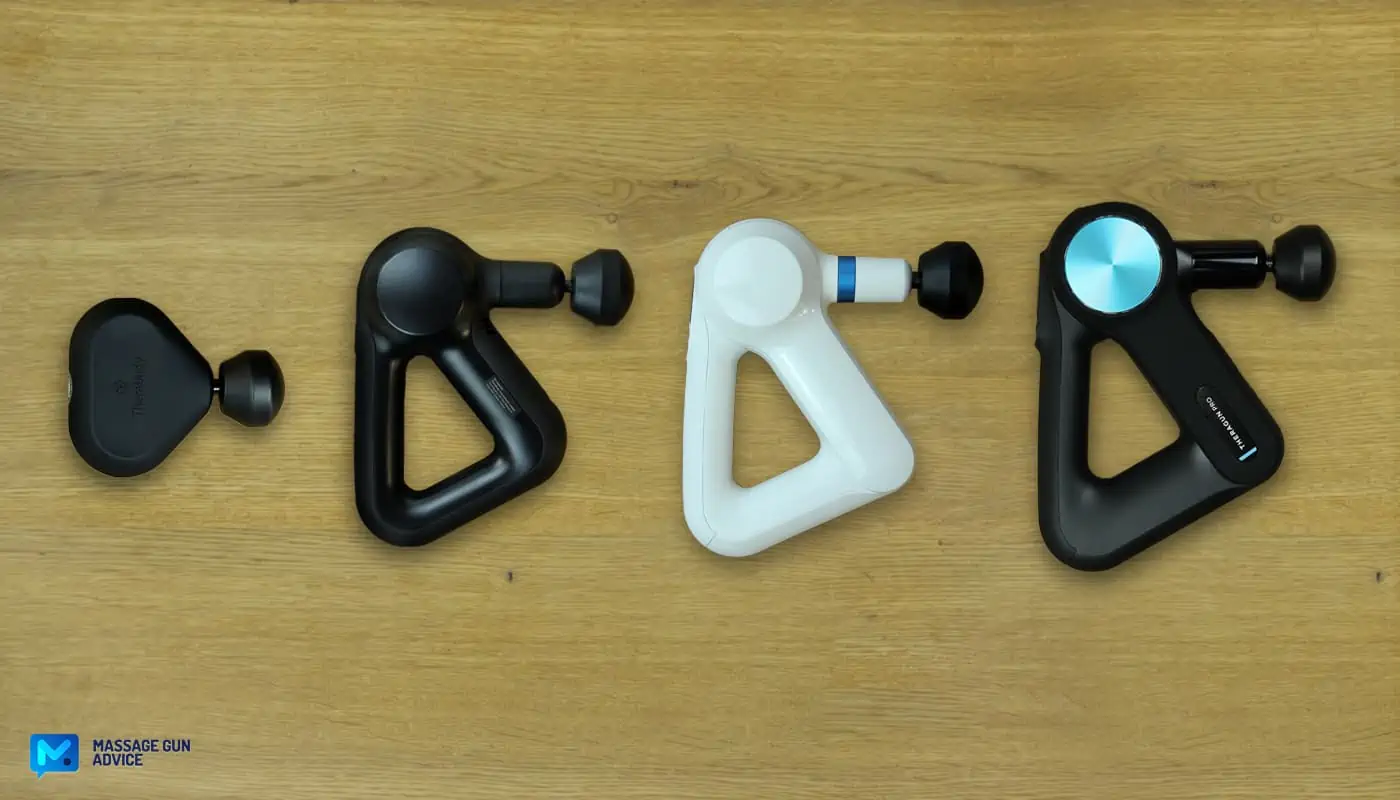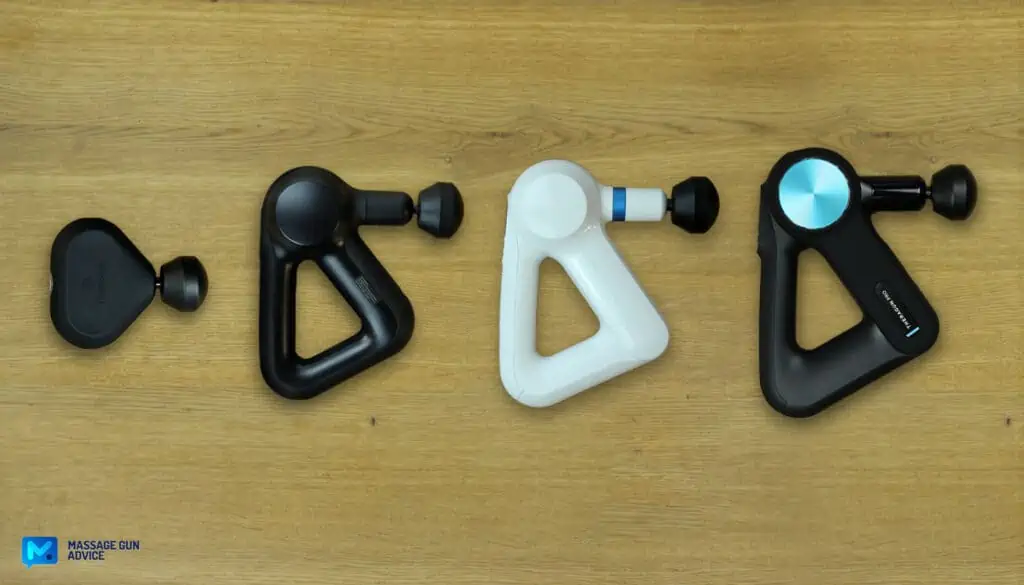 Let's talk about some downsides to Theragun first.
Theragun devices are punchy, boasting an amplitude of 16mm on full-sized devices (only the mini has 12mm). This might be too much penetration for a problem like shin splints on the average-sized person.
They are also very loud, making significantly more noise than most competing devices in 2022.
But, they definitely have some advantages.
Theragun attachments are on the softer side compared to competition like the Hypervolt, making them very useful for shin splints and other sensitive problems. Because of their small size, the thumb and cone attachments can be very useful for slowly moving over the shin and smaller areas of the leg.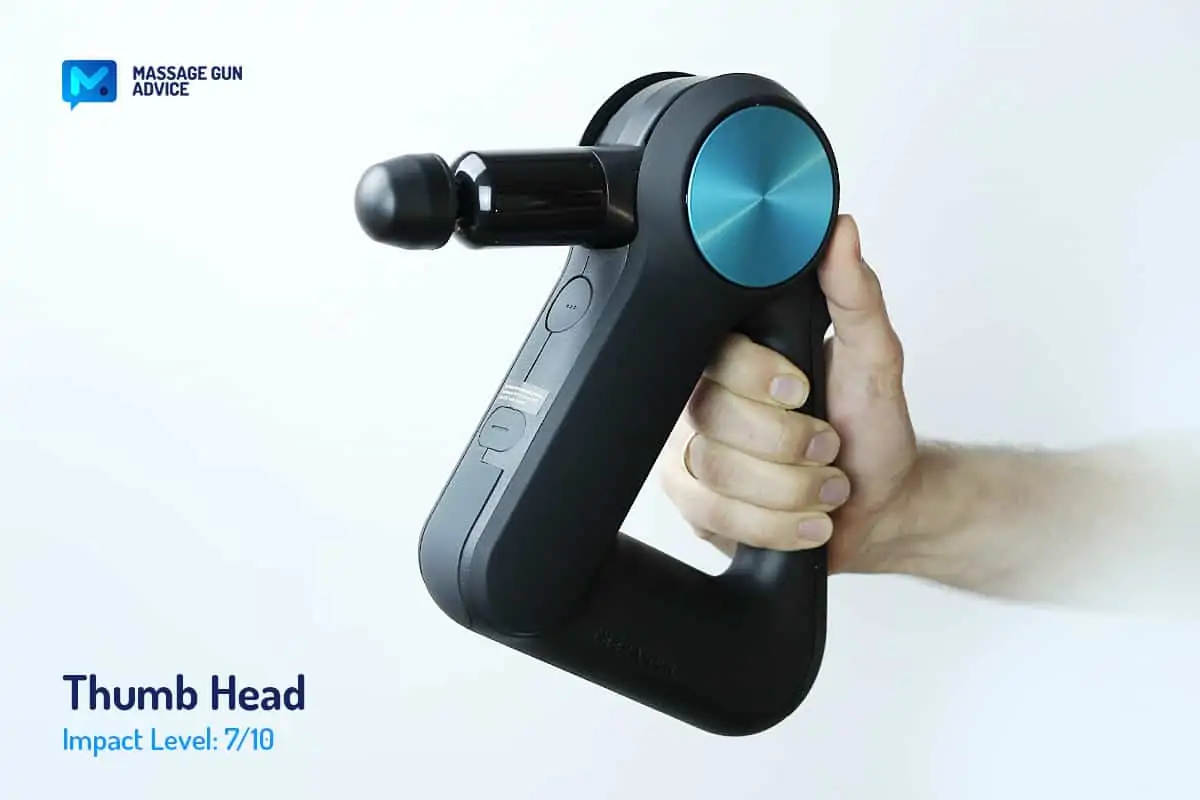 All full-sized Theragun models are also very well designed with an ergonomic triangle-shaped handle, making them very easy to use from different angles.
Other than that, Theraguns are massage guns like any other, working in much the same way to devices from Ekrin or Achedaway (or any other high-quality brand).
---
But which model is the best for your shins?
For managing shin splints, we think the Theragun mini is enough to do the job. However, if you plan on using your device for anything else, you might consider choosing the Prime for some additional amplitude and stall force to get larger muscle groups.
You could also jump into the Elite or PRO models for even more stall force, but that could be overkill for most averaged-sized users.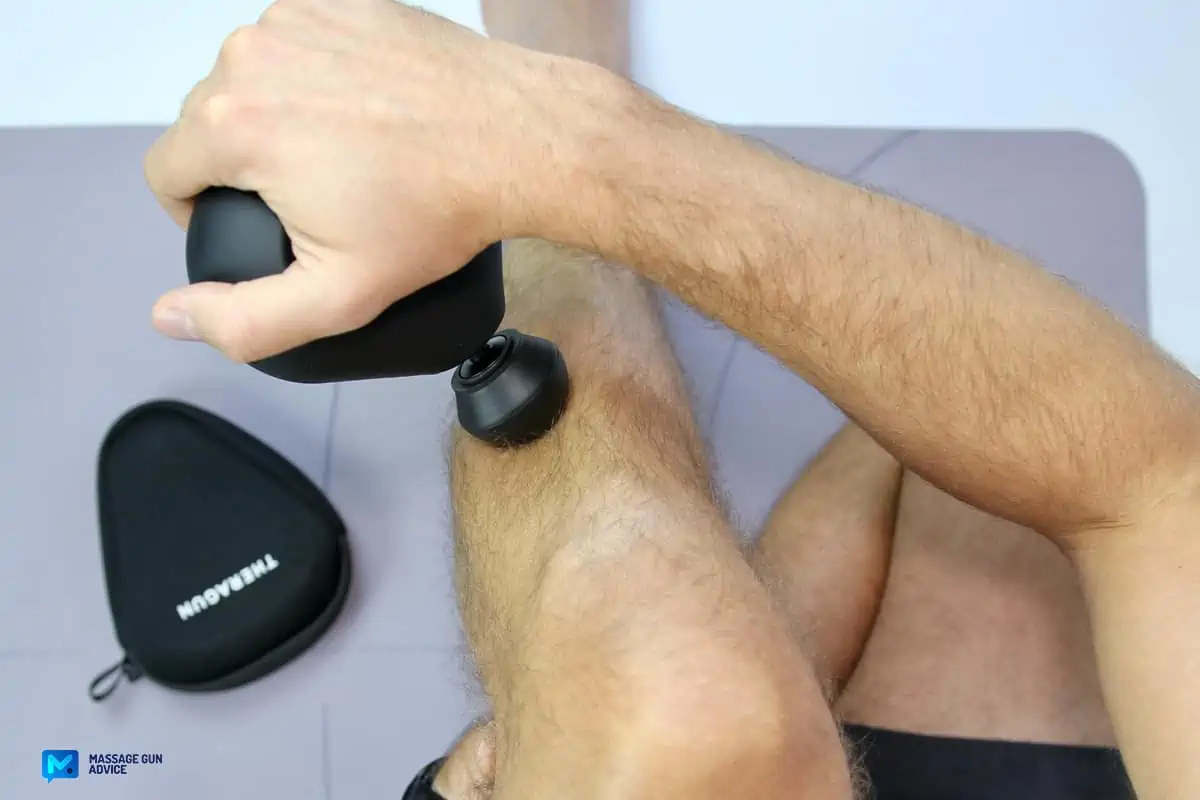 ---
Do we recommend Theragun for shin splints?
Generally yes, especially if money is not an issue (they are very expensive). However, we think you get better value for your money from brands like Ekrin and Achedaway. After all, both of these brands are half as expensive with comparable attachments and better warranties than Theragun.
But if you do choose to buy a Theragun device, you definitely won't regret it.
---
Do we have individual Theragun reviews?
Yes we do, we did hands-on reviews on all Theragun devices available:
---
Massage Gun for Shin Splints – Final Words
Hopefully, this article answers the common questions of whether or not you should use a massage gun for shin splints.
Overall, we think this is a great idea for most athletes and self-care enthusiasts who are practicing safe, consistent use of their massage guns.
Of course, the device that you choose for the job can make a big difference on your results, so be sure to choose wisely!
In our opinion, Ekrin B37 is the best percussion massager for shin splints, due to its balanced performance, great overall quality, and lifetime warranty. For those who prefer punchy hits, we recommend Achedaway Pro – also great quality device.
How about you? Have you used your massage gun for shin splints before? Tell us about it in the comments.
Happy massaging!
---
References
1.

Winters M. The diagnosis and management of medial tibial stress syndrome.

Unfallchirurg

. Published online May 16, 2019:15-19. doi:

10.1007/s00113-019-0667-z

3.

Reshef N, Guelich DR. Medial Tibial Stress Syndrome.

Clinics in Sports Medicine

. Published online April 2012:273-290. doi:

10.1016/j.csm.2011.09.008

4.

Winters M, Eskes M, Weir A, Moen MH, Backx FJG, Bakker EWP. Treatment of Medial Tibial Stress Syndrome: A Systematic Review.

Sports Med

. Published online August 27, 2013:1315-1333. doi:

10.1007/s40279-013-0087-0

5.

Konrad A, Glashüttner C, Reiner M, Bernsteiner D, Tilp M. The Acute Effects of a Percussive Massage Treatment with a Hypervolt Device on Plantar Flexor Muscles' Range of Motion and Performance.

J Sports Sci Med

. 2020;19(4):690-694.

https://www.ncbi.nlm.nih.gov/pubmed/33239942
Was this article helpful?
Thanks for your feedback!
Post Update History
Here's a quick rundown of all the tweaks and edits we've made to this article to keep it accurate and up-to-date!
Current version last updated on:
September 20, 2023 I made some changes to the device spec blocks to provide a better user experience, especially on mobile. I also updated some external links. (Author: Greg)
•
Written by:

Dr. Alex Stone, DPT, CSCS
Disclaimers
The views and opinions expressed on this website are those of the authors. Any content provided by our bloggers or authors are of their opinion and are not intended to malign any religion, ethnic group, club, organization, company, individual or anyone or anything.
All product names, logos, and brands are property of their respective owners. All company, product and service names used in this website are for identification purposes only. Use of these names, logos, and brands does not imply endorsement.
It is our policy to make every effort to respect the copyrights of outside parties. If you believe that your copyright has been misused, please provide us with a message stating your position and we will endeavor to correct any misuse immediately.
Some of the links in this post are affiliate links. As an Amazon Associate, we earn from qualifying purchases. This means if you click on the link and purchase the item, we may receive an affiliate commission, at no extra cost to you. This helps us keep this website alive. Learn more here.
Amazon Disclosure
massagegunadvice.com is a participant in the Amazon Services LLC Associates Program, an affiliate advertising program designed to provide a means for sites to earn advertising fees by advertising and linking to Amazon.com. As an Amazon Associate, we earn from qualifying purchases. Amazon and the Amazon logo are trademarks of Amazon.com, Inc. or its affiliates. Please refer to our Privacy & Affiliate Policy for details.