Physical Therapist Massage Gun – What PTs Use On Patients?
What to Know: We independently review products we recommend. If you click on links we provide, we may earn a commission. Learn more.
---
Have you ever wondered what massage gun a physiotherapist uses? Suppose you have been to a physical therapist and saw them using a massage gun to help you relax or ease your discomfort. In that case, you may be interested in what device they were using – especially if the massage worked to relieve your discomfort.
If this is you, or if you are a physical therapist that wants a new device to add to your arsenal, this article can help you pick one. We will point out the best physical therapist massage gun recommendations and discuss our reasoning behind them. We will also tell you how to pick one.
Follow along!
---
For Those in a Hurry
If you cannot read through the entire post, here are our top recommendations:
Achedaway Pro – A powerful massage gun with a high amplitude, strong motor with a high stall force, removable battery, and great overall value for money.
Ekrin B37S – A versatile massage gun with a mid-range amplitude, even higher stall force, pressure sensor and a lifetime warranty.
We will discuss both of them in details down below.
---
---
Why Trust Our Advice and Some Disclaimer
This article is written from a consumer perspective. We are not physical therapists. However, we know a lot about massage guns since we interact with them every day.
For areas that need medical expertise, we consult with our experts. For this article, we consulted with Dr. Alex Stone, who is a licensed physio. We also scour the internet for credible sources to base our facts.
Our reviews cover a range of products and not just one product. We don't advertise; we give good reasons behind our picks. We also explain the differences between products so that you can make an educated choice.
---
Why do Physical Therapists Use Massage Guns?
Physical therapists help patients recover from injuries (back, neck, sprains, strains, fractures, arthritis, etc.) by monitoring their movement and managing their pain. They use a number of techniques to take care of their patients.
Even though PTs (as they are also called) may specialize in different areas (like orthopedics and geriatrics), the treatment methods may not vary so much.
To care for patients, especially those suffering from muscle injury, PTs will use massage guns to:
Help remove muscle knots
Improve blood flow
Treat trigger points – where pressure is applied to trigger points to hasten the healing process.
Ease tense and sore muscles
All these processes might be done effectively with the use of a good massage gun.
Although PTs will mix it up with manual therapy, massage guns make the job easier. That's why it's essential that the choice of a massage gun corresponds with the kind of treatment required.
---
Theragun and Hypervolt – Two Popular Therapist Massage Gun Brands
Theraguns and Hypervolts are likely the two brands that naturally come to mind when thinking of PT massage guns.
While we think they are not necessarily the best choice (not anymore), if you are a therapist that needs a genuine and thorough massage gun, then at some point you may likely consider one of these two brands' massage guns.
And it's for a good reason. Both brands have advantages over many others:
They are well known, reputed brands that have been on the market for a long time. The first Theragun was unveiled in 2016, while the first Hypervolt appeared in 2018.
Both brands have devices that have been proven to be durable workhorses that can work for a full day without any issues.
They also both come with removable batteries (except for the mini versions and the new Hypervolt 2). Removable batteries are great because you can charge one as you use the other – save time and keep massage sessions going.
But there are differences between what you can get from either brand – we have a comprehensive Theragun vs. Hypervolt comparison article where we look at everything about these two brands.
For now though, we'll say that Theragun has a medical touch to it. Having begun as a device meant to soothe pain, Dr. Jason Wersland, a chiropractic, came up with the idea after a motorcycle accident left him in pain. He needed a solution to alleviate his suffering, and that's how Theragun was conceived.
On the other hand, the first Hypervolt was built for a completely different reason. The first Hypervolt was made for athletes (mainly NBA players).
It was meant to help them recover after workouts or games​1,2​. It gathered quite a reputation in its early days and found its way into PTs and Chiropractic venues as well. The earlier model is still in use even today.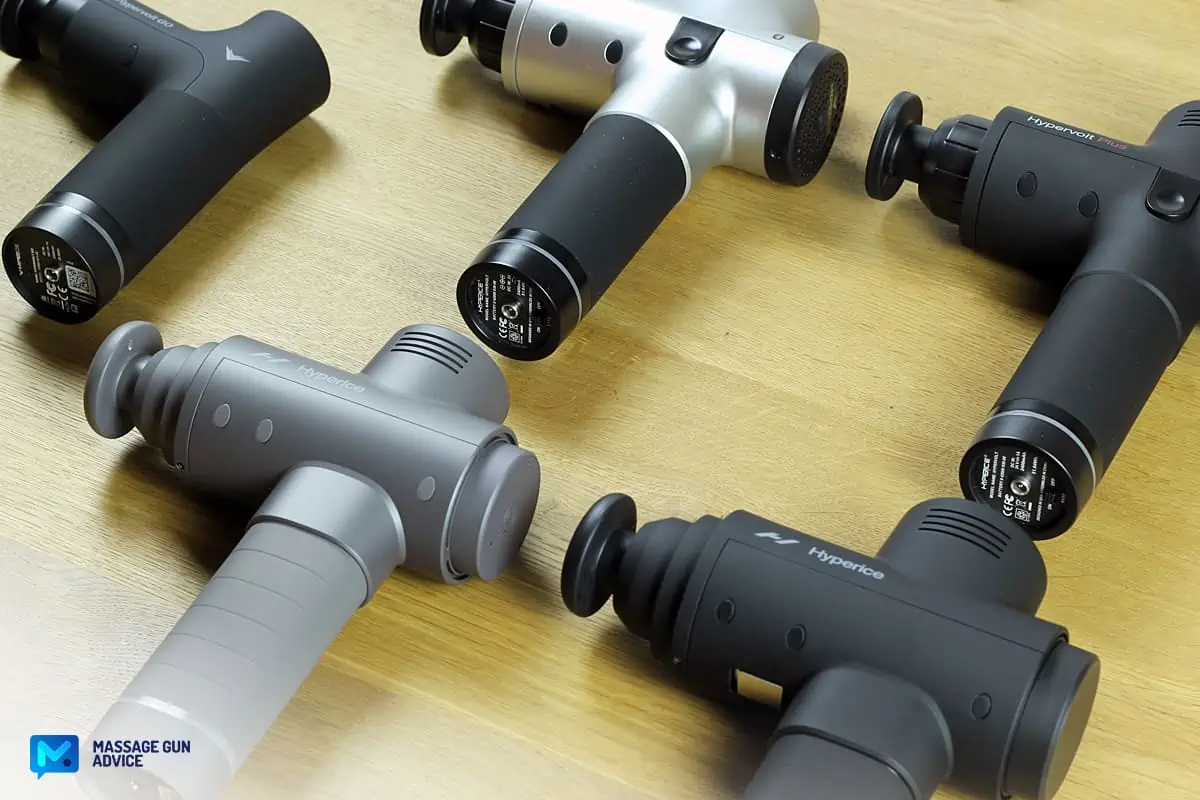 But there are key differences worth noting. There's more in our comparison article, but in a nutshell:
The very first Theragun ever made was meant to be a percussive device. It had a high amplitude and was able to hit deep into the muscle tissue. The first Hypervolt was a vibrational tool. It had a low amplitude and couldn't hit as deep into the tissue as Theragun. It had a higher percussion range.
Theragun's amplitude is "scientifically calibrated" to measure 16mm – the highest in the business. Amplitude here means the head travel of a massage gun as it percusses. It took some time, but other brands are also using this design for their guns. Hypervolt did a revamped version of their earlier gun and increased its amplitude. Subsequent releases (including the new Hypervolt 2 Pro) now have high amplitudes. That means they have finally caught up with Theraguns (sort of).
But the very first Hypervolt Silver (which is still on sale) is marketed as a vibrational device. PTs still use that old device, but usually only for surface level massage when increased blood flow and muscle relaxation are needed. It can also still be used to treat muscle soreness.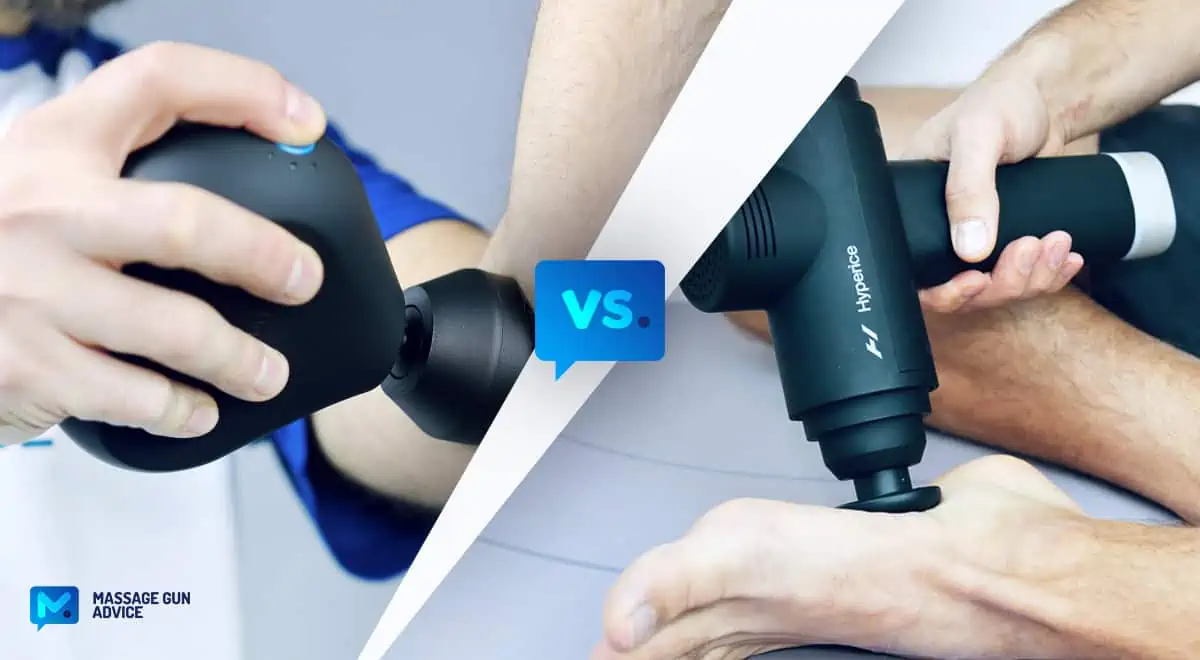 One retired PT sums up Theragun nicely with this comment on Reddit:
"The amplitude of the strokes [..in Theragun] is also significantly deeper at 16 mm compared to Hypervolt's 10. As a result, the massage head penetrates the muscle fibers deeper than a vibration type massager resulting in potential musculoskeletal changes and range of motion improvements. "

~ u/bigpimpinainteasy, reddit.com
If you are ever caught up between whether to go for a Theragun or a Hypervolt as your preferred Physical Therapist massage gun, just remember that one offers you deep tissue massage while the other (especially the first Silver Hypervolt) gives you a vibrational-surface-level massage.
---
Which Theragun and Hypervolt Models as PT Massage Guns?
---
Theragun
From observation, most PTs use all full-sized Theraguns. That includes Theragun Prime, Elite, and Pro.
But the most commonly used is Theragun Pro because of its advantages over its counterparts. Theragun Pro is the best ranked Theragun and the only model that comes with the removable batteries feature. Physical therapists love this because they can use one battery while the other is charging.
The Pro is also the only Theragun model with an adjustable arm that improves its ergonomics even further.
It has the highest stall force – up to 60lbs. of no-stall force at the top speed gear. Stall force is the motor's ability to withstand pressure without stalling.
PRO TIP It is important to factor in the stall force of any device even when that device seems to have a high amplitude. Without proper stall force, the device will easily stall and may not effectively administer deep tissue massage.
Theragun Pro's 60lbs. of no-stall force can penetrate even the largest muscles and effectively massage even bigger guys (bodybuilders and weightlifters).
And lastly, the amplitude a.k.a. stroke length, of 16mm – the highest possible. You can't get a punchier massage than this.
CYBER MONDAY
Theragun Sale is here! Enjoy up to $250 off select Theraguns, along with more deals on recovery tech. Now FSA/HSA eligible! Browse the deals here.
But Theragun Pro is also the most expensive Theragun. If your budget can't cover its hefty price, but you still want Theragun, you can go for the cheaper Theragun Elite. It has decent performance features as well. It doesn't have a removable battery though, but it can be very effective for personal DIY massage.
READ MORE You can check out our Theragun Pro vs. Elite vs. Prime vs. Mini comparison article or read individual Theragun reviews for more information.
---
Hypervolt
For Hypervolts, the best one as a physical therapy massager would be Hypervolt Plus or the newly released Hypervolt 2 Pro.
If you have to go with just one, you should know that both have 14mm amplitude. However, the new Hypervolt 2 Pro has less power. We estimated the stall force to be between 30-35lbs. Hypervolt Plus has a stall force of 45lbs (our estimation). But the new device has better ergonomics, which includes a redesigned thinner handle.
Since that first Hypervolt Silver device, subsequent releases have all seen the amplitude increase. Even the least powerful Hypervolt 2 now has a 12mm amplitude instead of just 10mm like that original silver device.
One advantage you get with Hypervolts is the number of hits per minute. While Theraguns only rev up to 2400rpm, Hypervolts can rev up to 3200rpm. The two new devices (Hypervolt 2 and Pro) only rev up to 2700rpm. But even that is more than any Theragun.
Keep in mind that Theraguns have better ergonomics than Hypervolts. If you don't like the T-shape configuration, you will find them cumbersome to use.
But we like the Hypervolt attachments – they are more varied than the Theragun ones. But Hypervolts are cheaper than Theraguns. They are a solid buy if you can afford them.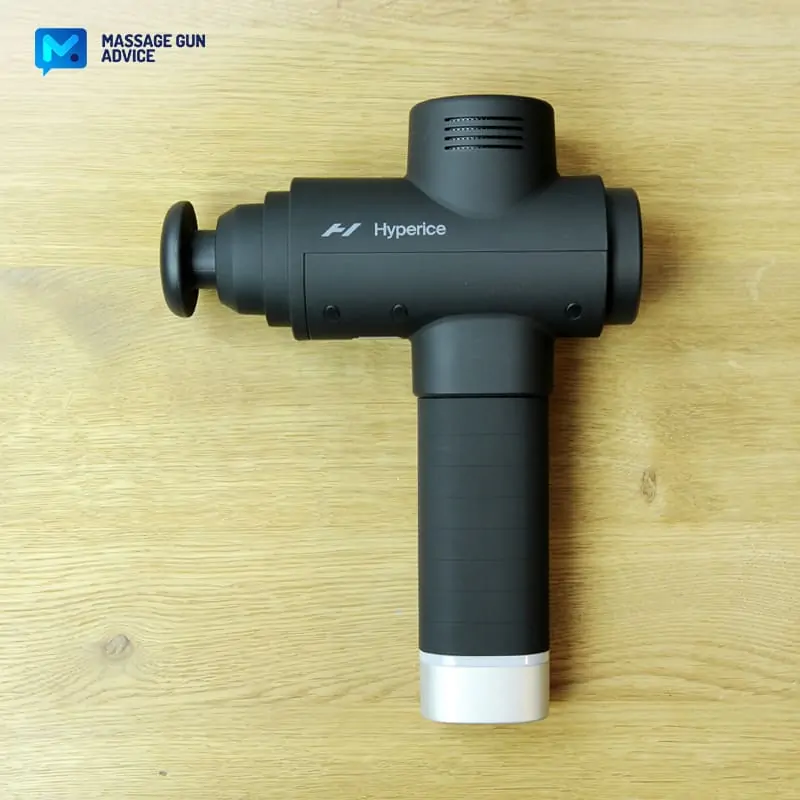 ---
The Cons of Hypervolt and Theragun
Theraguns and Hypervolts may be the easy choice for a therapist looking for something serious, but they have flaws. Flaws that may mean looking elsewhere, especially when you need a personal massage gun. We discussed some of the flaws in individual reviews and comparison articles.
But here are the main Cons:
They are extortionately expensive
They are not really well equipped unless you pay extra or buy the top models.
They are poorly covered with warranties. Just 1 year for Hypervolts and Theraguns except for Theragun Pro – it has a 2-year warranty.
The overall value for money isn't great if you consider the specs, some of which you can get for much less.
Other factors like loud noises during operation (Theraguns), so-so ergonomics (Hypervolts), and excess weight may make you look elsewhere.
There is thriving competition for these established brands. Some new companies have come into the market with exciting devices.
Between 2017 and 2019, it wasn't as easy to find a quality massage gun from other brands – most were knock-offs that were poorly done.
But things have changed. There are devices on the market that cost half the price of the expensive Theraguns and Hypervolts but offer so much more.
That means that PTs can access a wider range of options than ever before. With these new companies now making percussive devices, getting a PT massage gun with a high amplitude and a high stall force is easier.
---
Best Therapeutic Massage Guns – Our Recommendation
The below products are, in our opinion, robust alternatives to Theraguns and Hypervolts, and one of the best physical therapist massage guns available on the market right now (if not the best).
---
Achedaway Pro – Most Powerful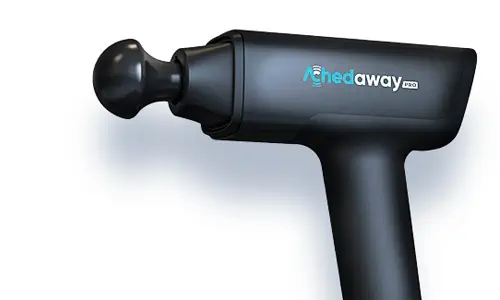 Why we like it:
Impressive stall force
Great size and ergonomics
Excellent quality overall
Accessories
Achedaway Pro is probably the only massage gun that can match Theragun Pro toe to toe. Obviously Theragun Pro might carry the day with its ergonomic design, but when it comes to amplitude and stall force, Achedaway Pro is right up there with it.
It's actually more powerful than Hypervolt Plus and the newly released Hypervolt 2 Pro.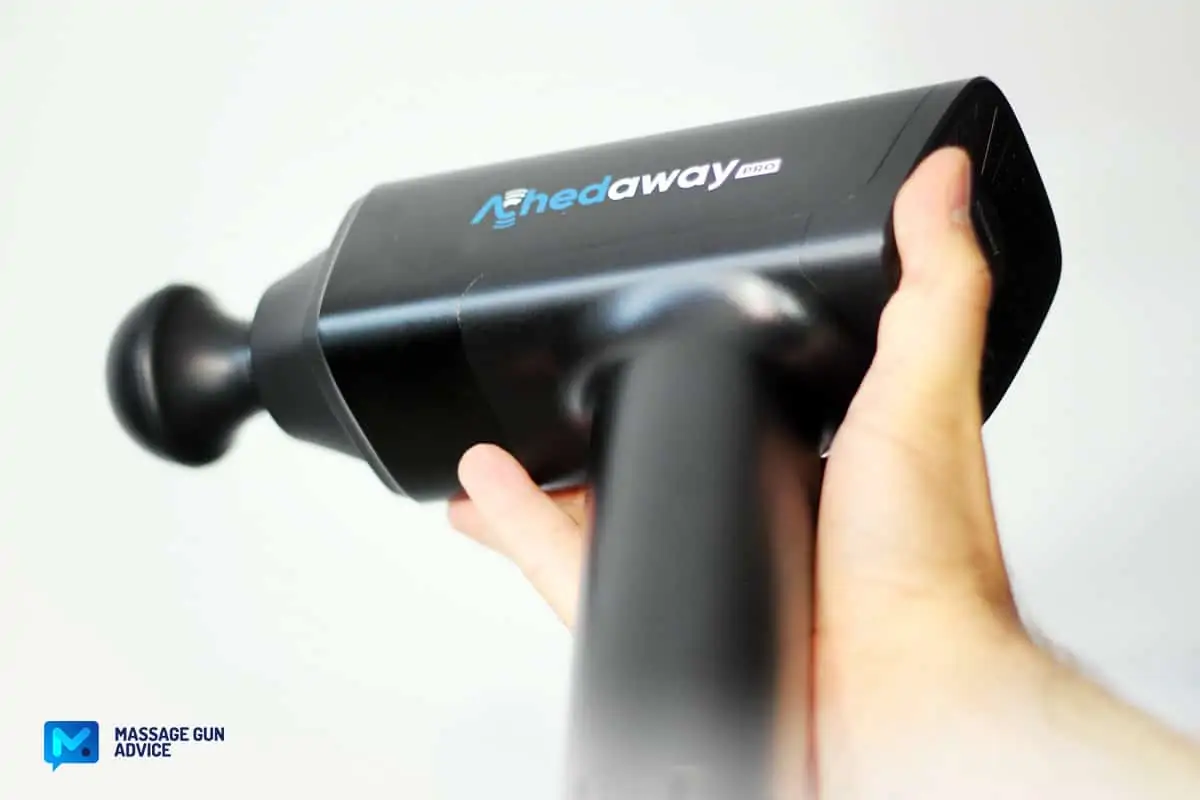 It has a 16mm amplitude and up to 80lbs. of stall force (according to Achedaway). Even though that number seems overstated, when using Achedaway Pro, it's not easy to stall and takes a fair amount of pressure to knock it off – especially on the fourth and fifth speed.
We'll say the stall force is about 55-60lbs. It is also capable of more intensity than Theragun Pro. Instead of just 2400rpm, it can rev up to 2800rpm. That is awesome for a device with a 16mm amplitude.
Achedaway Pro has a better hushed motor than Theragun Pro. It's probably the quietest long amplitude massage gun we have seen so far.
It also comes with removable batteries, although you'll have to purchase the spare separately. It comes with a carrying case and four nicely built attachments – including 2 aluminum ones.
It's covered by a 2-year warranty – same as Theragun pro but 1 year more than Hypervolts.
If you want to buy it, you'll need $299 or choose to apply our MGA60 coupon that gives you a $60 discount in the Achedaway store right here – that makes it $259 or $309 if you buy the one with an extra battery.
READ MORE You can check out our full Achedaway PRO review for further information.
---
Ekrin B37S – Most Versatile
Why we like it:
Versatile and powerful massage gun
Variety of attachments, including a cushioned one
Excellent quality overall
Lifetime warranty
Ekrin B37S is Ekrin Athletics' second massage gun after the maiden Ekrin B37. We love Ekrin's devices because they're superb quality, versatile and practical.
The B37S device is a combination of power and gentle strokes. Instead of the brutal hard hits from Theragun, Hypervolts, or even Achedaway Pro, the B37S offers a different approach. It has a 12mm amplitude, which we like to call a sweet spot – it's not too low or too high.
The newly released Hypervolt 2 has the same amplitude, but as we have already seen, it lacks the power to fully utilize it. That is not the case with Ekrin B37S.
This baby has up to 56lbs. of stall force, which is somewhere near the top guns above. What makes it one of the most powerful massage guns is the fact that the stall force is nicely distributed even at lower speeds. Usually, it is easy to stall a massage gun on the first or second speed, but not this one.
Another reason why we love Ekrin; they don't overstate the specifications of their products. Because of the high stall force, even with the 12mm, you can get a deep tissue massage gun when you need it. Just press the massage gun hard against the muscle.
It has a nice percussion range of up to 3200 hits per minute.
Ekrin introduced us to the slanted handle and we loved it for a change – from the generic T-shape. This design reduces tension on the wrist even when the massage gun is used for a long time.
It has a neatly done pressure sensor that allows you to monitor how hard you are pressing the gun.
It has a carrying case and 6 attachments. It doesn't have a removable battery, but the Samsung-branded battery can last for 6 hours per charge.
Ekrin offers a lifetime warranty and lifetime customer support.
HOLIDAY SALE
Get a whooping $100 OFF the top-shelf Ekrin B37S massage gun. Only $231.00, down from $329.99. Grab the deal now!
If you like this device, it will cost you $329 or just $263 if you use our MGA20 coupon that gives you a 20% discount. Get it here at ekrinathletics.com).
READ MORE You can read the B37S full review for more details.
---
On a Budget? 2 Affordable Physical Therapy Percussion Massagers
---
Opove M3 Pro 2 – Affordable But Good
This one has Hypervolt Plus/2 Pro vibes. It has a similar design, and mimics many performance aspects of the Hypervolt device.
The only difference is that it's way cheaper than Hypervolt 2 Pro (and older Plus). That doesn't put a dent on Opove's reputation; they have been selling massage guns for a while now.
Although it looks similar to Hypervolt 2 Pro, it weighs a tad less – just 2.4 pounds compared to the 2.6 pounds of Hypervolt 2 Pro. It has a 12mm amplitude – 2mm less than Hypervolt 2 Pro, Plus, and 4mm less than Theragun Pro.
It has an advertised stall force of up to 70lbs. but when we tested it, it was more like 40-45 lbs. We measured it against a 56-pound. Ekrin B37 and it couldn't come close.
However, it still feels powerful enough – more powerful than Hypervolt 2. It revs up to 2600rpm. It doesn't come with many bells and whistles but it is well equipped with a carrying case and nice attachments.
Opove M3 Pro 2 will cost just $119.99 here at opove.com.
Read our Opove M3 Pro review for further information on this device.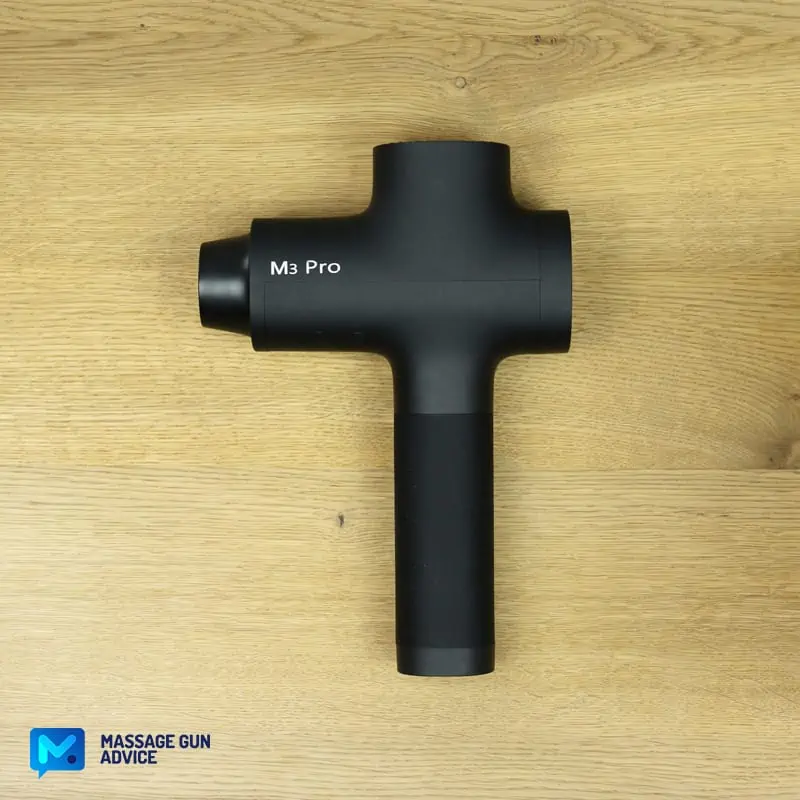 ---
Taotronics TT-PCA003 – The Cheapest One

This one is an even more pocket-friendly option. It's not as decorated as our top recommendations, but it has decent performance aspects.
For instance, it has a 10mm amplitude and up to 30lbs. of stall force. It will not punch as hard and may not work best if you need more power, but it will be great for most users who just want a physical therapist massage gun for a basic massage.
It revs up to 3000 rpm (we verified it) and can get pretty intensive.
We just don't know why they chose to deck it with 10 speeds instead of 4 or 5. That is perhaps too many to cycle through.
Nonetheless, it has 6 nicely varied attachments and weighs a meager 2.15 pounds. It has a 2600mAh battery that can last between 3-4 hours or at least a week if you use it normally.
It usually costs $99.99. You can buy it at taotronics.com. Taotronics is known for sharing coupons on their website, so keep an eye on any discounts available.
MORE INFO: Read our full Taotronics massage gun review.
---
Therapist Massage Gun Summary
Massage guns are great tools with a lot of benefits if used correctly. For a physical therapist massage gun, Theraguns and Hypervolts are a quick go-to.
However, if you want a better bargain and don't want to spend a fortune, you should go for alternatives like Achedaway Pro or Ekrin B37S. They have more or less the same qualities as those top guns.
That said, regardless of what gun you choose to go with, remember a massage gun is only effective when used correctly. Read this article to find out how to use one properly.
Take care!
---
References
1.

Konrad A, Glashüttner C, Reiner M, Bernsteiner D, Tilp M. The Acute Effects of a Percussive Massage Treatment with a Hypervolt Device on Plantar Flexor Muscles' Range of Motion and Performance.

J Sports Sci Med

. 2020;19(4):690-694.

https://www.ncbi.nlm.nih.gov/pubmed/33239942

2.

Sohns S, Schnieder K, Licht G, von Piekartz H. Manuelle Triggerpunkttherapie bei Schulterschmerzen.

Schmerz

. Published online June 13, 2016:549-559. doi:

10.1007/s00482-016-0113-x
Was this article helpful?
Thanks for your feedback!
Post Update History
Here's a quick rundown of all the tweaks and edits we've made to this article to keep it accurate and up-to-date!
Current version last updated on:
September 16, 2023 Content has been updated for improved readability and user experience. (Author: Greg)
•
Written by:

Luke Deszczulka
Disclaimers
The views and opinions expressed on this website are those of the authors. Any content provided by our bloggers or authors are of their opinion and are not intended to malign any religion, ethnic group, club, organization, company, individual or anyone or anything.
All product names, logos, and brands are property of their respective owners. All company, product and service names used in this website are for identification purposes only. Use of these names, logos, and brands does not imply endorsement.
It is our policy to make every effort to respect the copyrights of outside parties. If you believe that your copyright has been misused, please provide us with a message stating your position and we will endeavor to correct any misuse immediately.
Some of the links in this post are affiliate links. As an Amazon Associate, we earn from qualifying purchases. This means if you click on the link and purchase the item, we may receive an affiliate commission, at no extra cost to you. This helps us keep this website alive. Learn more here.
Amazon Disclosure
massagegunadvice.com is a participant in the Amazon Services LLC Associates Program, an affiliate advertising program designed to provide a means for sites to earn advertising fees by advertising and linking to Amazon.com. As an Amazon Associate, we earn from qualifying purchases. Amazon and the Amazon logo are trademarks of Amazon.com, Inc. or its affiliates. Please refer to our Privacy & Affiliate Policy for details.