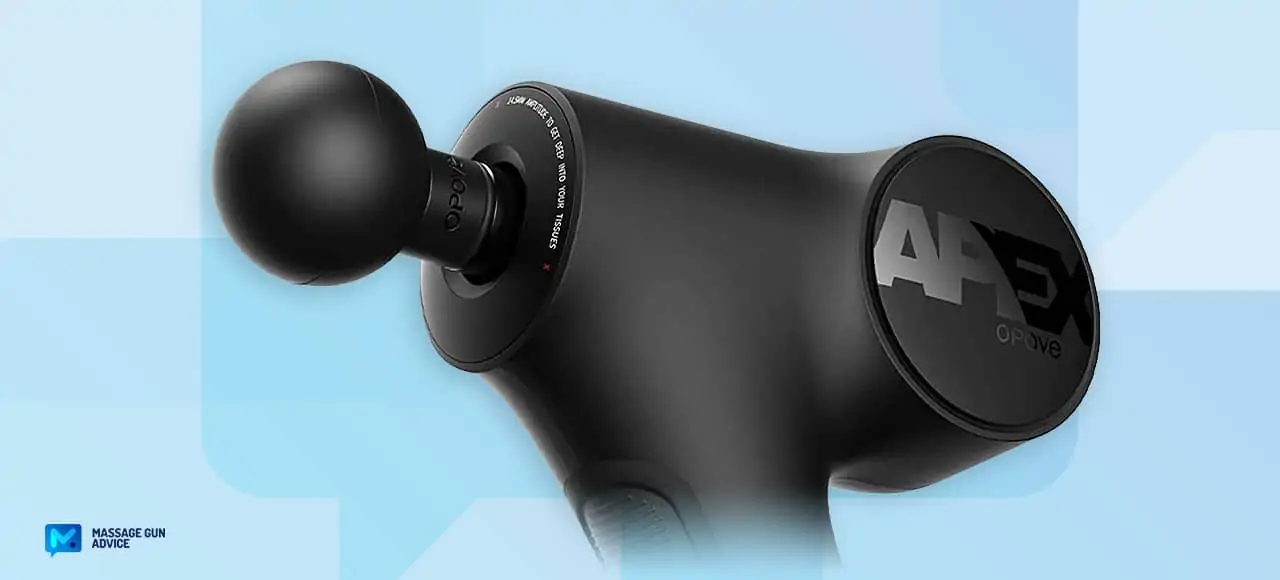 Opove Apex Review – Good Performance And Even Better Ergonomics
What to Know: We independently review products we recommend. If you click on links we provide, we may earn a commission. Learn more.
---
Welcome to our Opove APEX review. We'll take a look at Opove's new darling. A massage gun that perhaps moves Opove above just a Hypervolt cloning brand.
It's a brand new device, we've had it for a few weeks, and we feel confident enough to tell you about it. It's our first device in 2022 as well. As it is customary here, we'll take a look at all this new device has to offer, find out if it's worth a buy, and look at some alternatives.
---
---
Finally an Opove Original Gun
This is not the first time we're looking at an Opove device. The company has been around for a good part of the last 3 years of massage guns, first with the Opove M3 Pro, then with the M3 Pro Max device.
We knew they could make decent massage guns. However, we also knew that they don't particularly have their own unique approach to doing things.
What we mean here is that most of their massage guns have more or less copied what Hypervolt has been doing. We'd call them cheap Hypervolt alternatives. The first M3 Pro looked uncannily the same as the Hypervolt 1 while Opove M3 Pro MAX resembled the Hypervolt Plus. The only advantage is that their versions are cheaper.
Even so, we still like what Opove has done in the massage gun industry thus far. We were excited to hear about their new device and were looking forward to using it.
We were expecting another clone but were hopeful for more robust specs. Surprisingly though, when Opove offered us one to try out, it wasn't what we're used to seeing.
It was a completely different gun from any Hypervolt (or any others). A unique design, finally!
We instantly knew the Opove Apex review was going to be unique as well. Here's what we think.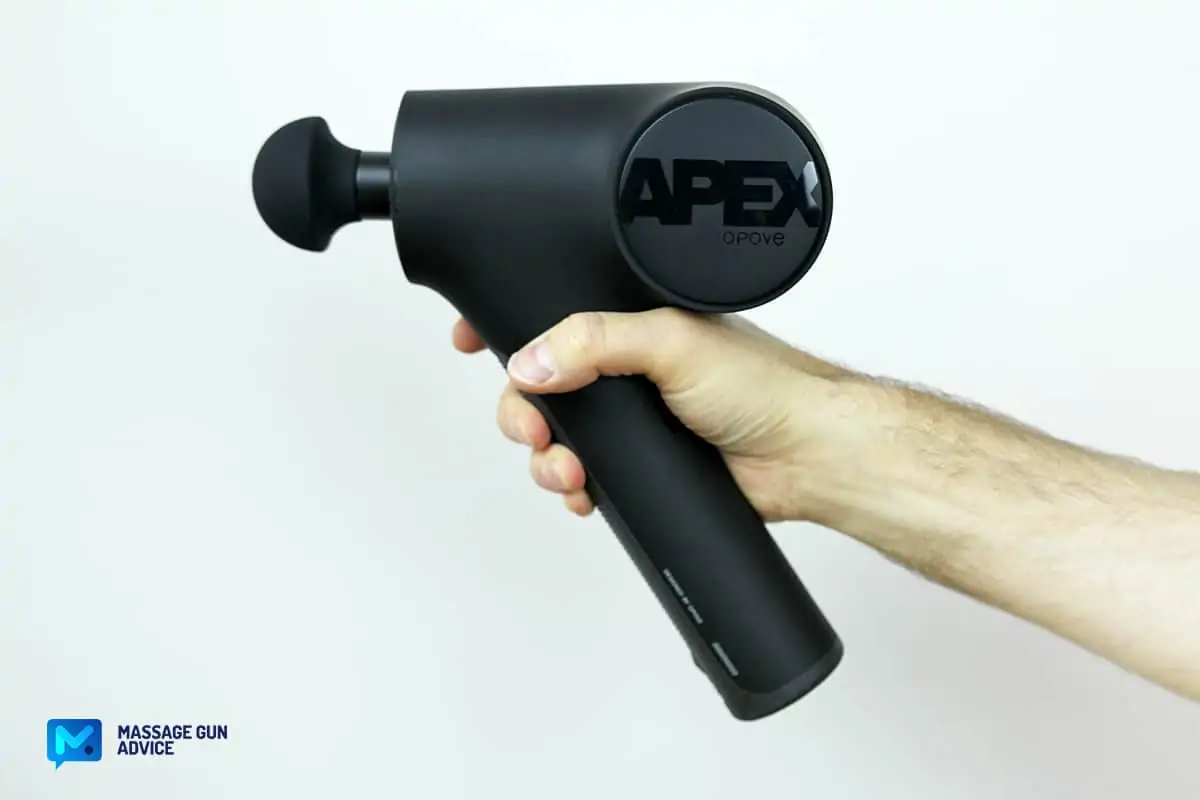 ---
Apex or Apex Pro?
There seems to be confusion around the name Opove Apex Pro. As stated on the packaging, the device name includes the word "PRO," yet it doesn't appear anywhere on the device, in the manual, or at Opove's website. We assume this is a mistake, so we'll refer to the device as simply the Apex.
Also, the maximum rpm is stated as 3200 on the packaging, instead of 2700. More on that further down in this review.
---
Opove Apex Review
---
Opove Apex Specification
Features
Opove APEX
Stall Force
50 lbs
Stroke Length
14.5 mm
Max Percussions
2700 / 2300
(advertised / measured)
Speeds
3
Battery Life / Capacity
3.5h / 2500 mAh (non-removable)
Attachments
6
Weight
2.27 lbs
Noise
50-60 dB
Pros
High amplitude
Decent stall force
Superb ergonomics
Low noise
High quality feel
Cons
Max percussions lower than advertised
Warranty
One year
Price
$199.00 $159
Where to buy with discount
Get it at opove.com
OPOVE Apex Specs
---
First Impressions
Sticking out like a sore thumb (or perhaps like a new thing), the design looks interesting. Maybe because it's something new, or maybe because we haven't seen a design like this before (PS. we have seen many unique designs).
But we should note that this one doesn't look like any Hypervolt – for the first time. But what is that design, though? The top part (the body or motor housing) looks asymmetric; the left side features a big round cap with a shiny "APEX" logo, but on the right side, instead of a round cap, there's a small window where you can peak the motor revving – a cool touch to the design.
The body is made of plastic, the kind of plastic that feels premium when you actually hold the device for the first time out of the box. The material also makes the device comfortable to hold and use.
Our unit is matte black with a bit of shine on it. The body is a fingerprint magnet so be prepared to use a cloth once in a while to wipe away the marks. It's easy to do, you'll see. However, you can also opt for other color options; silver or camo/green.
The handle is angled alright. If you read our massage gun reviews before then you know how we love angled handles. This one doesn't look very different from what we've seen with Ekrin devices or Achedaway Pro. However, this one looks just a bit more tilted. We'll talk about it shortly under ergonomics.
---
Controls
Opove didn't go overboard with the controls, even with the new design. We like that the controls are simple.
Here's how they look:
There are no LCD screens and no touch buttons, just one button to turn the power on or off. It's located underneath the handle. Pretty much the same place as Hypervolt does.
But the activation button isn't Hypervolt-like, it's not even where you'd expect it to be. It's on the ergonomic handle, right at the bottom (not at the base). If Opove moved it up next to the motor casing, it would feel like a trigger on a gun. But there's something about the location of this button; you cannot accidentally touch it from there. Also, since it's not located on the motor casing, you can press the device hard against the body (using two hands) without accidentally touching the activation button.
The activation button also changes speeds
The only LEDs we saw are located next to the activation button. They indicate speed.
---
What Else is Included?
Other things worth mentioning include:
A carrying case – it's rubberized and has two zippers.
A smaller case inside the main case carries all the attachments – very convenient!
There is also a wall charger and an instructional manual (only includes the basic points).
---
Overall

This device gives a very good first impression. It looks solid, and we're sure we'll have it for a long time. It feels somewhat premium. Maybe not as premium as the top guns like Theragun, but very robust.
---
Size and Weight
The Apex is a full-sized gun; that much we can tell. But it's not as bulky as those cheap clones you can often see on Amazon.
The Apex looks compact for a full-sized gun. It weighs 2.27 pounds with no attachment and 2.34 pounds with the flat head attached. We'd say that's just about the standard weight for guns this size.
However, we've noticed a trend where brands are significantly reducing the overall weight of their guns. A good example is the new Ekrin 365 and the new Hypervolts. Overall we can't complain about the weight. It's nothing we haven't experienced before.
---
Ergonomics – Apex Special Handle
What about the ergonomics of this thing? We spend a lot of time talking about massage guns and how different brands choose to make their handles. We love tilted handles, but we enjoy it even more when the handle weight is well balanced.
This is where this new Opove APEX device excels. Even though it weighs more than 2 pounds, you will hardly feel it. It's super comfy to hold and very easy to maneuver when you are massaging with it.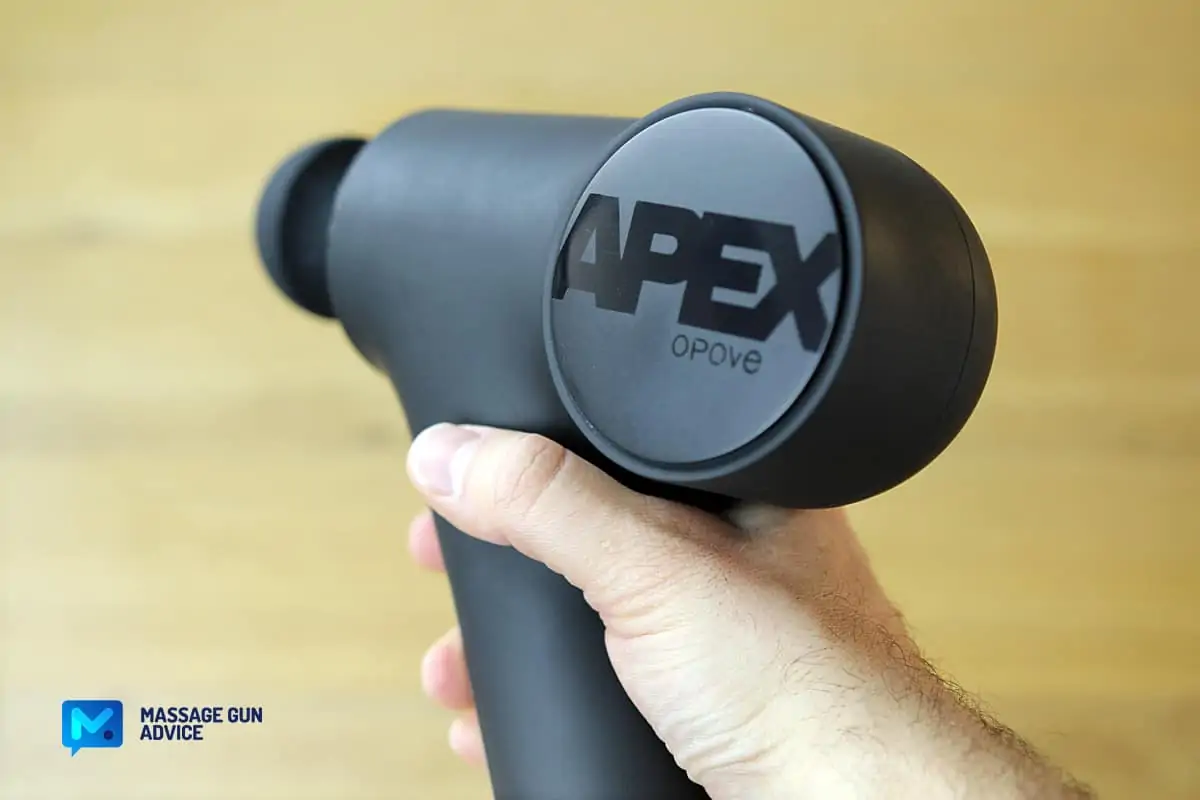 The handle is aggressively angled (we're guessing this is a special kind of angling, perhaps better than what Ekrin or Achedaway Pro has) at 45 degrees. That means you will not strain your wrist when you are using it.
The aggressive angling also does something else that we haven't seen with any other device. When you hold it at the top, the motor casing naturally sits between your thumb and index finger. You can hold it loosely and still be able to apply pressure when massaging with it.
Holding it in hand is natural for the average person. The handle diameter isn't too big. We like the rubber stripe on the handle – it's superbly done. It runs from the top of the handle all the way to the bottom.
Our Take

We like how Opove designed the Apex. It's finally something we can call unique – Opove-unique.

The size is okay, the body proportions are great, and they superbly designed the ergonomics to make this device worth your consideration.
---
Attachments
This device comes with 6 attachments. That's nothing new since we have seen many brands include as many as 9.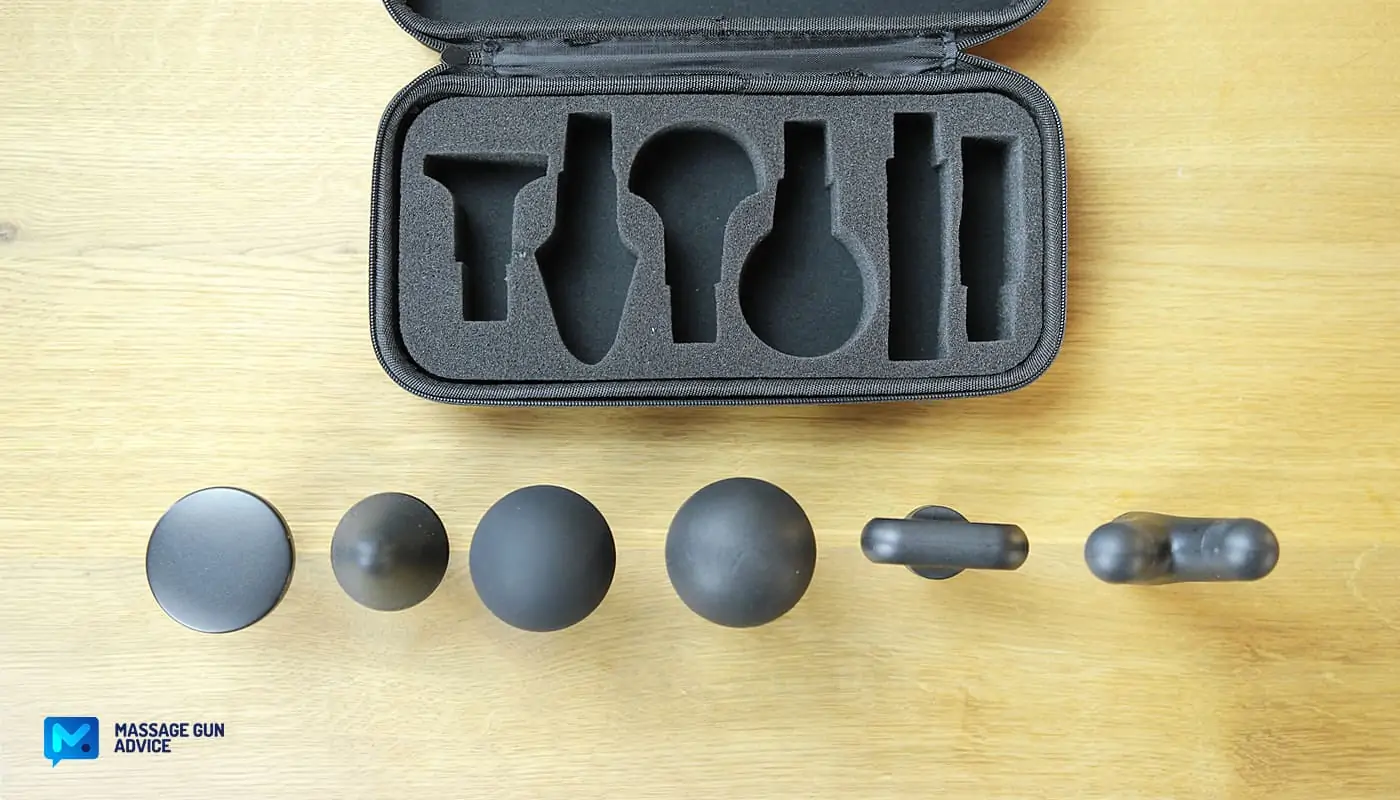 The setup here is pretty standard with many familiar heads. There's just something about the selection, which we'll talk about shortly, but here's what you can expect from the attachments:
The standard ball – Is made of very dense foam with just a little give to it.
The flat head – We love what Opove did with this one. It has a large contact area for massaging big muscle groups. You can use it on your quads, glutes, or any other part of the body when you want an aggressive massage.
The bullet head – This one looks more like a cone attachment (similar to what we saw with Theragun). It's a good attachment for massaging tense calves after running. Athletes will love it.
The half-ball attachment – It's the softest of the bunch. It's the equivalent of the cushion head that we have seen with many massage guns. It's good for massaging delicate areas like the arms and neck.
The shovel/wedge attachment – It's made of hard plastic (unlike Theragun's). It's a good substitute for the flat attachment (it has a small contact area).
The fork attachment – This one should do the same job as any other fork attachment, but it looks slightly different. The two prongs look rather thick, and the gap between them is really small. We actually don't believe it can effectively massage the spine area (never use it directly on your spine). We hope Opove can work on improving this one.
Another thing we noticed with the attachments is they're all branded with the company's name. Opove may be trying to get their brand to the customers. We still think it's a nice touch. Apart from the fork attachment (which needs some work done on it), we like the attachments on this device.
---
Performance
So far, we've seen what you can expect to see when you open the box. Let's now see if this thing can do what it's meant to.
Has Opove made any steps to make a competitive device that can outperform some of the top guns?
---
Amplitude
Sometimes called the stroke length, it's how far the massage gun head moves back and forth. It determines how deep a massage you can get.
We were interested to see how this revolutionary Opove gadget will perform here. As we've said, they adopted everything Hypervolt did for their gadgets.
For this device, Opove opted for a higher amplitude with this device. There aren't many such devices on the market today. There's only Theraguns, Achedaway Pro, Hypervolt Plus, and the new Hypervolt 2 Pro.
Opove made a bold statement with this one. The real statement is that this is a 14.5mm amplitude device. However, they felt the need to put that on the device as well – just to be clear. The statement is printed next to where the attachments are mounted. It says, "14.5mm amplitude to get deep into your tissues."
Of course, we had to make sure it is what they say it is with our precise digital caliper. And, yes, this is a high amplitude device. We're glad they didn't overstate the amplitude like some brands do to try to get you to buy their product.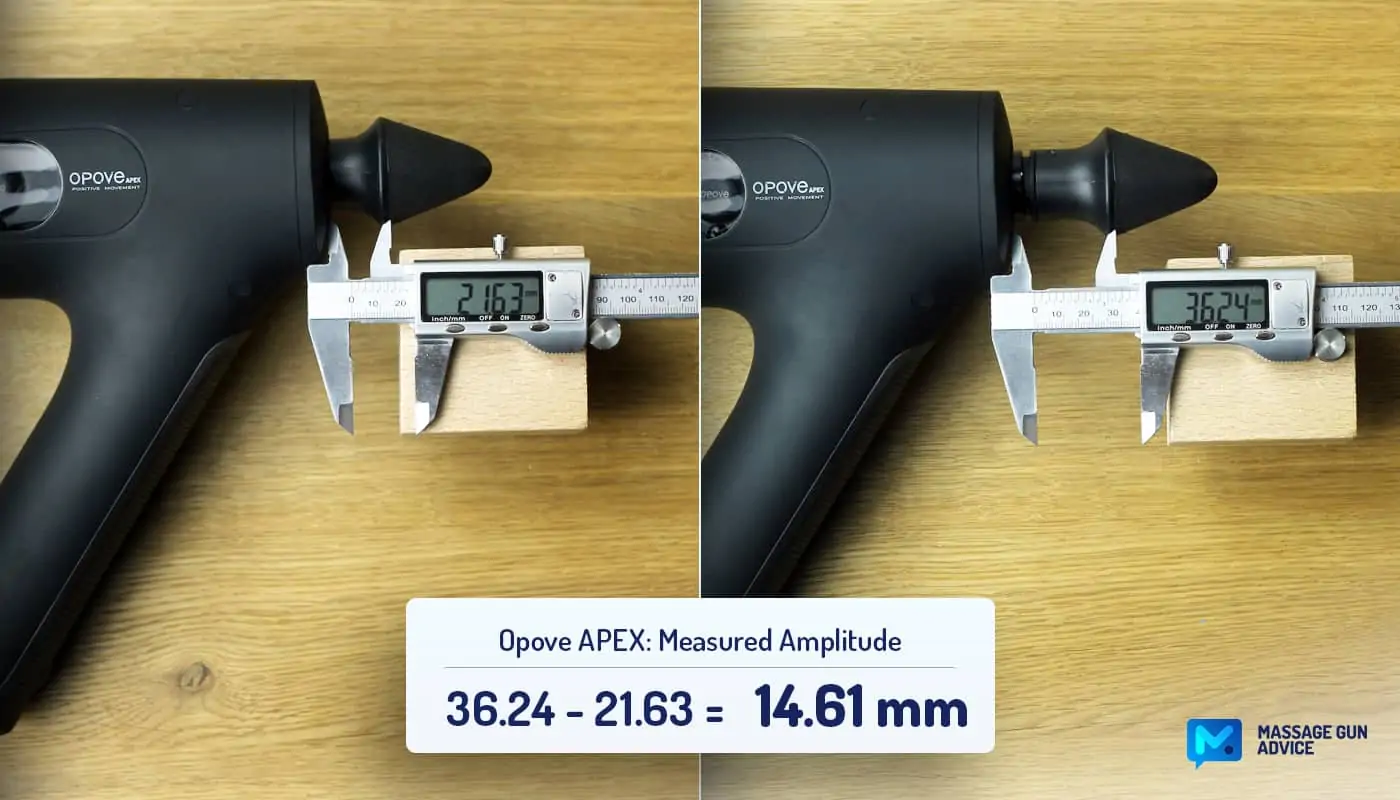 Even so, what does this mean?
It means that the APEX's hits go deeper into the muscle tissue. You can feel that almost instantly. It's not a vibrational feeling. While most so-called massage guns give you the whirrrr! feeling, this one has the thud! thud! hits. It almost feels like you are using a Theragun Pro or Achedaway Pro.
If you're looking for a device that has that penetrative power, Apex will do it for you. Even if you are heavily built, this device can get through those big muscles. It's even better with the improved ergonomics – you can easily aim the device.
If you prefer a subtle massage without the aggressive hits, then you can try devices with 10-12mm amplitude. They feel more vibrational and won't punch so much when you are using them. But high amplitude is not the only thing that matters in performance, you need enough stall force as well.
RELATED: Read our high amplitude massage gun guide for more details.
---
Stall Force
Stall force determines how hard you can push a device against your body without stalling it. Sometimes you need to push a device hard against the body to get a deeper massage. If a device easily stalls, then you cannot get that deeper massage. High stall force is needed to go deeper.
Here again, we wondered if Opove had taken the Hypervolt route and not addressed the stall force. In our Hypervolt 2 Pro review, we talked about how even though the amplitude was great, there wasn't enough stall force to fully utilize it. The device easily stalled.
But that is not the case with this new Opove device. They did their homework and made sure this device wouldn't be easy to stall. The advertised stall force is 50lbs. We were thinking, wow! To be honest, it's hard to understand why brands feel the need to overstate the stall force for their devices. You can easily tell the difference if you have been using massage guns long enough.
In this case, by comparison with our benchmark devices, we can say that the Apex can withstand up to about 45lbs. of pressure at the highest speed. However, that's not to say it's a bad thing. There are only 3 speeds on this thing. That means, even at lower speeds, the stall force is still high.
We also like how smooth the motor feels – one of the best we've seen so far. With other devices, when too much pressure is exerted, the device completely stops and has to be reactivated again.
Here, the device only slows down when you exert too much pressure and continues to rev when the pressure is eased. This is cool since you don't have to press buttons to restart it. It also means the components used to make the motor are top-quality.
Does that mean it's the strongest device we've ever seen? We'd say no. We still believe Theragun Pro, Achedaway Pro, Ekrin B37, and B37S are stronger.
However, it seems Opove has found a sweet spot for this new device's performance.
It performs just well enough, even for professional athletes.
Taking the high amplitude into account, we can actually consider this gun as one of the strongest massage guns.
For its price point, it's definitely one of the strongest guns out there.
For comparison's sake, we'd say it has a better stall force than Theragun Elite and Hypervolt 2 Pro.
---
Percussions and Speeds
The advertised percussions per minute is 2700RPM. Pretty standard for a device of this caliber – nothing really surprising.
The only surprising bit perhaps, is the fact that there are only 3 speeds. We have seen that before, but we wouldn't call it typical. Most devices in this category have at least 5 speeds – we like that setup more just because you have more options.
Either way, we were able to verify (with our laser tachometer) that it's actually not 2700 but 2300 revolutions, or percussions, per minute.
Does the 400 rpm difference matter here? Not really, if you consider that the top-shelf Theragun Pro revs up to 2400 – so very comparable.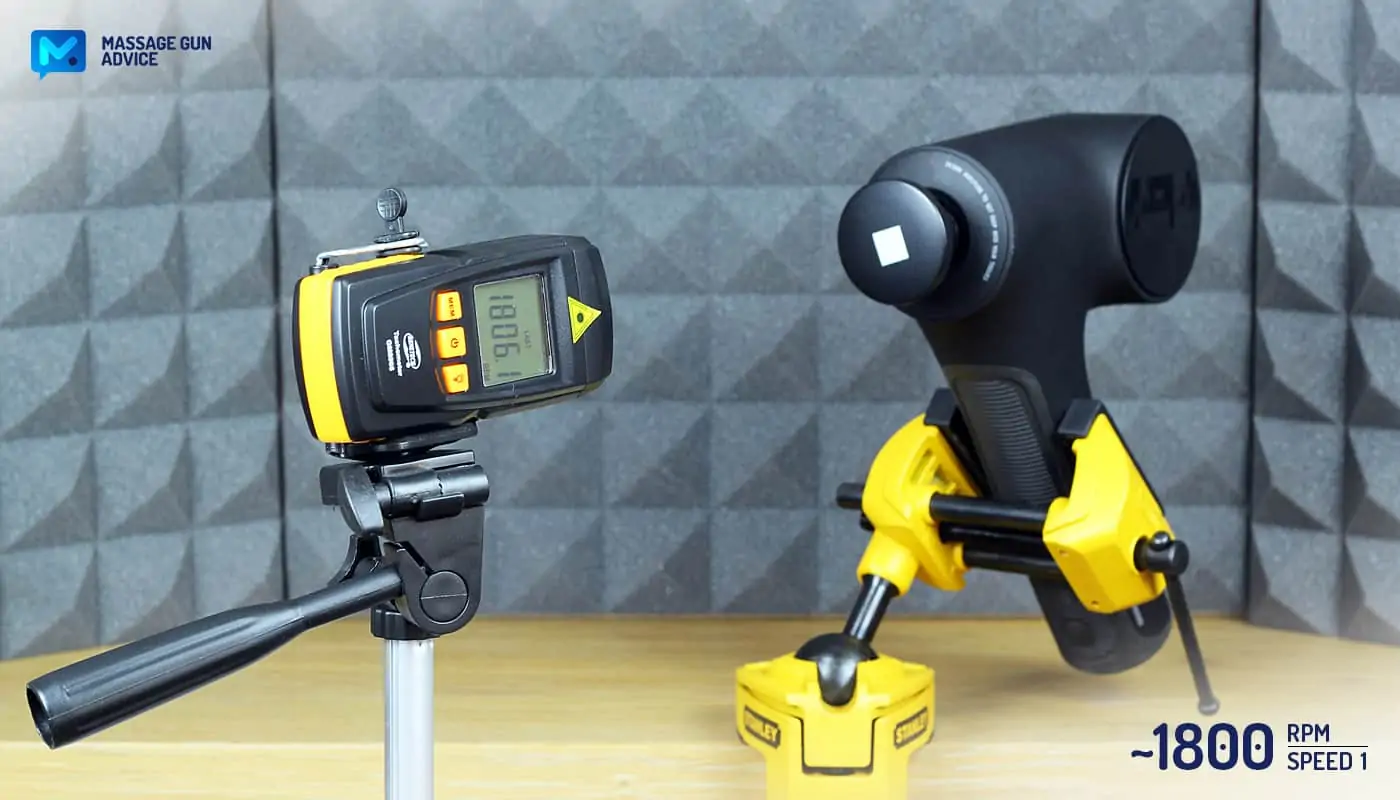 Another thing, Opove doesn't list the full percussion range anywhere, but we've made some tests and here are the results:
Speed 1: 1800 rpm
Speed 2: 2050 rpm
Speed 3: 2300 rpm
After using the device for about a month, we can say we're starting to get used to the setup. Interestingly though, the 2nd and 3rd speeds feel pretty similar, in our opinion.
Just a summary of what we think about percussions and speeds;
Max RPM in mid and upper 2000s is expected for a device with a high amplitude because sometimes, the higher the amplitude, the lower the number of percussions per minute. Theraguns only rev up to 2400RPM because of the long 16mm amplitude.
Opove Apex advertises 2700RPM but it is closer to about 2300. That is still enough, but less than more expensive competitors – Achedaway Pro (2800RPM with 16mm amplitude) or Hypervolt 2 Pro (2700 with 14mm).
We think 2300RPM is still well enough for this kind of device because the intensity comes from the deep punches and not high-frequency vibrations like the smaller devices (lower amplitude).
That said, if you're looking for a maximum intensity (high amplitude + high percussions) then you can check out Achedaway Pro – listed below as one of the alternatives. It will cost more, though.
NOTE: Don't bother about the information on the packaging that says 3200RPM. Opove probably made a mistake.
---
Noise
One thing you should know when it comes to noise is that devices with high amplitude tend to be noisier than those with a lower amplitude. That's because of the rattling around the area where the attachment is mounted. Powerful motors also tend to be noisy.
However, over the last year or so, brands have worked on this. Devices are better insulated, and the motors are quieter. Opove didn't miss out on the positive direction.
Given the longer stroke length, the APEX is better hushed than we thought it would be. Expect around 60 dB on the highest gear and low 50s dB on the first gear.
Even so, the sound is smoother than what you get with devices like Theragun. It's still not the quietest massage gun around – Achedaway Pro still ranks higher even with 1.5mm more in amplitude.
Overall, this device doesn't make much noise, and the sound it makes isn't rough. Opove took it upon themselves to make a high-quality device. It also doesn't make any excessive rattling sounds. There are vibrations transferred to the hand, but minor – nothing anyone can't handle.
---
Battery
The battery is a 2500mAh capacity which is pretty standard for a device like this. We didn't have any issues when using it. In fact, we have been using it for almost a month and have only had to charge it once. Up to 3 weeks of daily use.
Unfortunately, it's not a USB-C charger that we like. It's a wall charger. It is rather bulky, almost similar to a laptop charger. Surprisingly though, it's not as heavy as you'd imagine, given the size. But that shouldn't be a huge issue if you consider that you only need to charge it once every 2-3 weeks.
The battery indicator is located underneath the handle next to the power switch.
You can monitor the charge from there with LEDs:
3 blue LEDs
The LEDs flash when the battery is nearly empty.
---
Price and Where to Buy
The Opove Apex retails for $199, which we think is a very good price point for what the device offers. Even better, currently if you buy directly from opove.com, you can enjoy a special introductory price – only $159. At $159, we think it is a steal.
Besides, we think it's always recommended to buy directly from the manufacturer's website and keep direct contact.
You can also buy it from Amazon. Just keep in mind that most reviews and comments belong to the now unavailable Opove M3 and not this new device. It looks like they swapped the product into an existing Amazon listing.
You get a 1-year warranty which we believe is quite low given how high-quality this device feels. Rivals like Achedaway Pro offer at least 2 years of cover or more. However, they cost more – it's probably a trade-off.
---
Opove Apex Best Alternatives
---
Ekrin B37
We've loved this device and how it still offers strong competition to new devices on the market.
Compared to APEX, it has the same angled handle – different approaches but achieves the same thing. The angle on the B37 isn't as tilted as the one on APEX.
In terms of performance, the Ekrin B37 edges the APEX slightly in a stall force. Instead of just about 40lbs, the B37 has 50lbs.
However, the B37 has a 12mm amplitude compared to APEX's 14.5mm.
The percussions per minute also vary. Instead of 2700RPM, the B37 has 3200RPM. You get more vibrations because of the lower amplitude.
The B37 has a 5-speed setup, and you can see why – there are more percussions to accommodate them. It's perhaps just a matter of preference than anything else. None has an advantage over the other.
The quality of both devices is top-notch – premium feel for both.
If you want to buy the B37, you will have to part with $183.99 after applying the MGA20 coupon (gives you a 20% discount). Buy Ekrin B37 here. Ekrin offers a lifetime warranty.
MORE READ Check out more in our hands-on Ekrin B37 review.
---
Achedaway Pro
Achedaway Pro offers a stronger alternative to the Opove APEX – it's like a big brother to this model for those with a higher budget.
With Achedaway Pro, you have a lot more room in terms of performance.
For amplitude, instead of 14.5mm (still respectable), you get 16mm of deeper punches. It also has more stall force. Like Theragun Pro, you can expect between 55-60lbs. of stall force.
But Achedaway Pro is bulkier and bigger than the Opove APEX, and weighs 2.3lbs or 2.8lbs with the flat attachment mounted on. It's probably best suited for athletes and bodybuilders.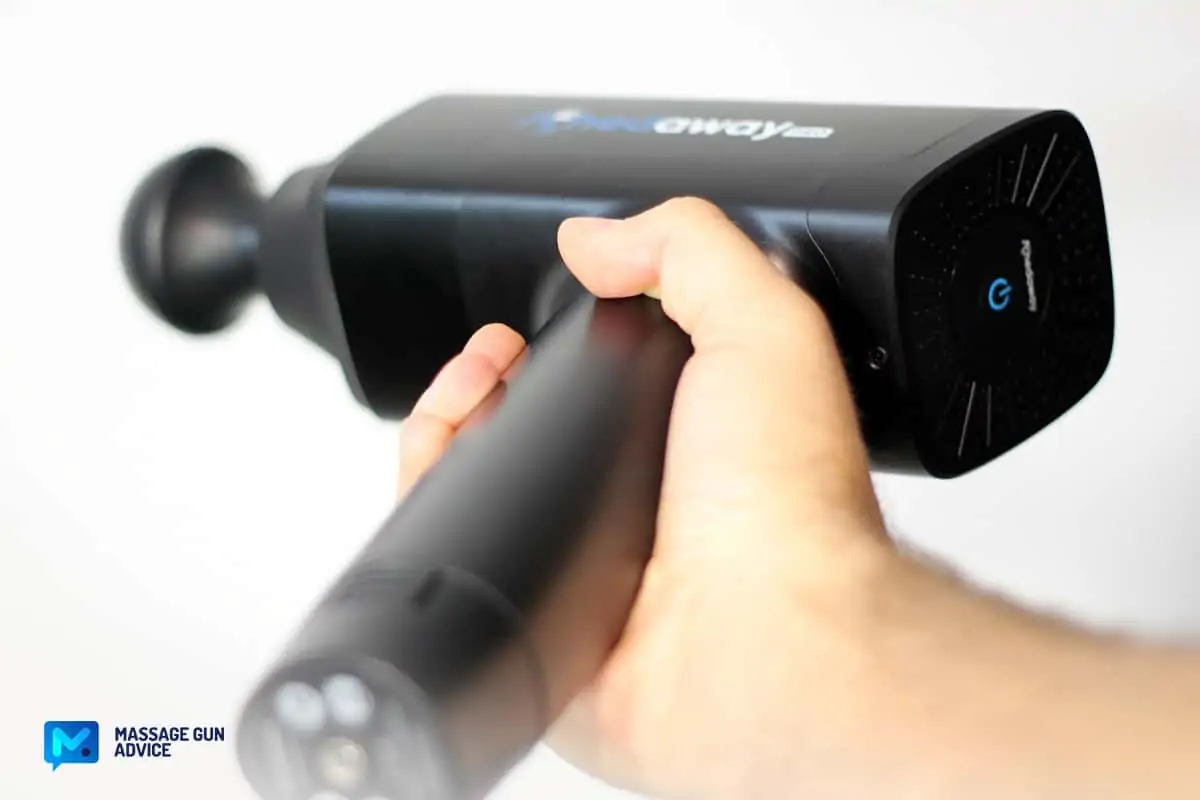 It has a wider percussion range than the Apex, and the maximum percussions per minute are almost 2800RPM, about 500 more than the Apex. It has a 5-speed setup to balance that wider percussion range.
With Achedaway Pro, you get 4 attachments (two are aluminum-coated). It also comes with a removable battery and a better warranty of up to 2 years.
DEAL ALERT Use our exclusive MGA60 code at checkout to get $60 off Achedaway Pro. Pay $239 instead of $299. Apply the coupon here.
For the price, you will have to pay $249 after applying the MGA50 coupon that gives you a $50 discount. It's slightly more expensive ($84 more) than the APEX but also more robust. Buy it right here.
MORE READ Learn more in our in-depth Achedaway Pro review.
---
Opove APEX Review Conclusion
Before we end our Opove APEX review, we'll just mention a few things here.
This is a very decent device and we love it – we're fans now. It has quality even though it has a simple build.
Opove still remains the affordable alternative even though this is a high amplitude gun.
Collectively, this gun is strong enough to serve pro athletes – it can definitely go deep tissue.
It doesn't have all the bells and whistles like pressure sensors, OLEDs, Bluetooth, or dynamic modes, but it still offers decent performance that can rival top guns out there.
The ergonomics are what make this device a winner.
Lastly, if you like our Opove Apex review and decide to get this gun, please consider using this affiliate link. It will cost you nothing extra, but we may earn a small commission from Opove which we can use to buy more devices and do more reviews like this one. Thanks!
---
Quality

Effectiveness

Usability

Accessories

Price Value
Summary
The Opove APEX is a simplistic device that is strong on performance and ergonomics. For its price, it offers the user more amplitude and a stable stall force. It comes in a strong, durable build and is well-equipped for an affordable massage gun. Excellent value for the money – one the least expensive high-amplitude massage guns out there. 
Was this article helpful?
Thanks for your feedback!
Post Update History
Here's a quick rundown of all the tweaks and edits we've made to this article to keep it accurate and up-to-date!
Current version last updated on:
•
Written by:

Luke Deszczulka
Disclaimers
The views and opinions expressed on this website are those of the authors. Any content provided by our bloggers or authors are of their opinion and are not intended to malign any religion, ethnic group, club, organization, company, individual or anyone or anything.
All product names, logos, and brands are property of their respective owners. All company, product and service names used in this website are for identification purposes only. Use of these names, logos, and brands does not imply endorsement.
It is our policy to make every effort to respect the copyrights of outside parties. If you believe that your copyright has been misused, please provide us with a message stating your position and we will endeavor to correct any misuse immediately.
Some of the links in this post are affiliate links. As an Amazon Associate, we earn from qualifying purchases. This means if you click on the link and purchase the item, we may receive an affiliate commission, at no extra cost to you. This helps us keep this website alive. Learn more here.
Amazon Disclosure
massagegunadvice.com is a participant in the Amazon Services LLC Associates Program, an affiliate advertising program designed to provide a means for sites to earn advertising fees by advertising and linking to Amazon.com. As an Amazon Associate, we earn from qualifying purchases. Amazon and the Amazon logo are trademarks of Amazon.com, Inc. or its affiliates. Please refer to our Privacy & Affiliate Policy for details.