Best Massage Gun For Women – Can the Ladies Finally Have Something Tailored Just for Them?
What To Know: our content is non-sponsored and fact-checked for accuracy. We anonymously order and rigorously test each product according to our methodology. We are reader-supported, and if you buy via our links, we may earn a commission. Learn more.
---
Hello and welcome to our post on the best massage gun for women.
Massage guns are awesome tools for athletes, gym rats, physiotherapists, and everyone who wants quick relief from muscle pain. But massage guns are also heavy and jackhammer-like tools that sometimes only fit those with large, strong hands.
But what about women who can't comfortably use the jackhammer-like machines?
We have been receiving messages from women who would love for us to recommend lighter massage guns for them. They are all looking for some ergonomic devices that don't have thick handles.
Well, they are in luck, because today you can find compact massage guns that don't compromise on performance, unlike earlier on when many devices weren't as good. Many brands are now addressing the female clientele.
Today we'll share our top recommendations for these devices. Follow along!
---
---
In a hurry?
Check out these three excellent picks before you go:
Ekrin 365 – recently unveiled, an ergonomic massage gun from Ekrin Athletics. It's light, easy to use, has just enough power and performance, and comes with a lifetime warranty.
Opove Apex or Bantam – these are two different guns. The Apex is a full size, high-amplitude device. The Bantam is the most miniature awesome gun you'll ever use.
---
Choosing a Massage Gun for Women
Before we prepared this section, we considered the feedback we've got from people who use the devices we recommend and also relied on our experience with massage guns. We compiled a list of things women look for in a massage gun and offered tips for first-timers.
---
Size, Weight and Ergonomics are the Most Important Aspects
We hold that massage guns for women should ideally be light. 2 pounds, in this case, may already be too heavy. So we chose to go with massage guns that don't go over the 2-pound limit. For instance, our top pick (Ekrin 365) only weighs 1.7 pounds – it fits perfectly here.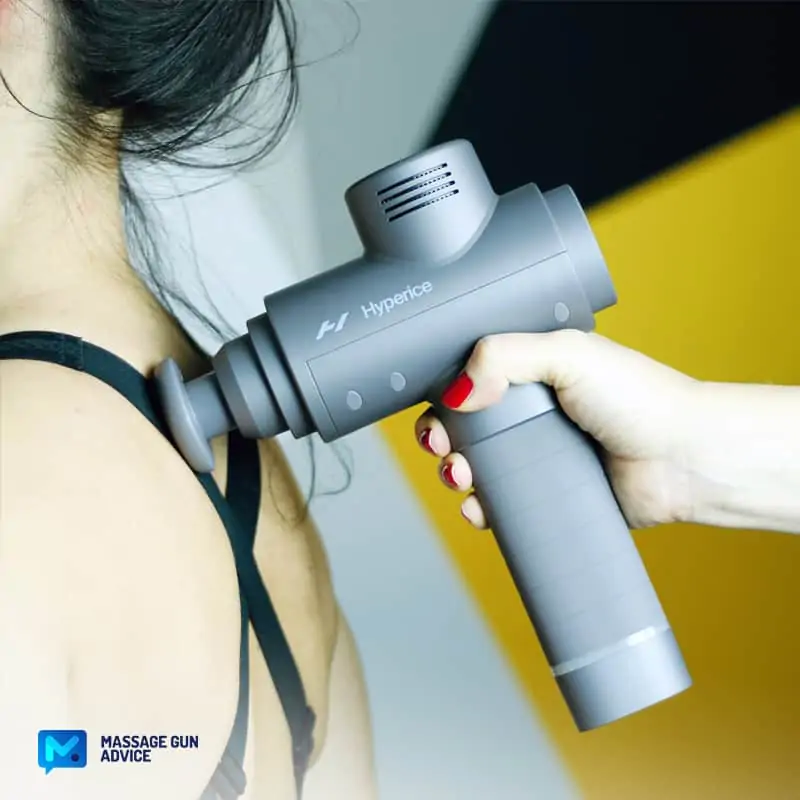 We also believe that a typical massage gun for women should be compact and not bulky. Don't expect to see us recommend guns like Hypervolt Plus or Achedaway Pro in this post.
Based on the feedback we've had from those who have interacted with these devices, lightweight and compact devices are a better choice as long as they can deliver some decent power for a good massage.
In ergonomics, we considered two things:
The angle of the handle – we have already talked a lot about how the traditional T-shape (90-degree) handle causes tension on the wrist and can lead to fatigue when a device is used for long. It also doesn't help when such a device is heavy. So we looked for devices with tilted handles that offer a natural grip and allow for an extended reach to massage your lower back.
Shape of the handle – it's common to find massage guns with rounded handles. There's nothing wrong with this approach, but a device can be uncomfortable to hold if the handle circumference is too big. We went for devices that have a small circumference (if they are rounded). There are also oval-shaped handles that we have no complaints about. People with small hands can easily handle these. Some devices have long (extended) handles, which is a big plus when you want a DIY massage. It's easy to massage your mid and lower back.
We also considered the design of the massage gun – we figured why go for something that looks like a power drill when you can find something more classy and stylish. Some guns look better than others. Clearly, some brands consider women when making their massage guns. We did our best to list lovely-looking devices.
---
How Powerful Should the Massage Gun Be?
When we talk of power in a massage gun, we mean three main things; stroke length, stall force, and percussions per minute.
---
Amplitude or Stroke Length
This refers to the length covered by the massage gun head as it moves back and forth during percussions. The stroke length can be low, midrange (or what we like to call a "sweet spot"), or high. Using real figures, below 10mm is considered low and vibrational, 10-13mm is midrange, while 14-16mm is high.
For women, we recommend going for midrange stroke length. Unless you are a bigger person, a pro athlete, or you really have a reason why you may want something that hits harder, then you can go for a 14-16mm stroke length (Opove Apex).
These types of massage guns provide aggressive and more intense hits. They can be pretty painful too if you are not used to them or have real pain in your body. You probably won't be able to use them comfortably on your shoulders and lower back area.
On the lower end of things, massage guns with low stroke length won't go deep tissue because they are meant for vibrational therapy. Most mini massage guns fall in this category. They often have 10mm amplitude or less. These kinds of massage guns are good if you want a relaxing massage. However, when you want a full-sized massage gun, don't pick one with 10mm or less.
We recommend going for a device that has a 10-13mm stroke length. This is optimum for most women, as per the feedback we've gathered. This kind of massage gun will be moderately aggressive and tender on your skin.
It can also go deep tissue if you want it to, it just has to have enough stall force. You don't want a device that easily stalls.
---
Stall Force
Stall force means the ability of a device to withstand some pressure when it's pressed against the body.
Here you will find massage guns that are listed as having 25-30lbs. which are considered entry-level. Or you will find a powerful device that can offer 50-60 pounds of pressure.
If you are heavily built or have a reason to, then go for the powerful guns and consider something like Ekrin B37 or better yet, the B37S. Otherwise, we recommend that you go for a mid-level gun. Somewhere in the range of 30-40 pounds of pressure.
If you can find a device that has 30-40lbs. of stall force and a stroke length of 10-13mm, then you have a perfect device. This kind of device can allow for a soothing or relaxing massage before or after sleep and also tenderly massage painful areas. You can also use it to warm up tissue.
But this kind of massage gun can also be pressed harder against the skin when you need to. This allows you to have a deep tissue massage or effectively massage large muscle groups.
This kind of massage gun can also massage your feet and treat plantar fasciitis.
---
Percussions Per Minute
The number of hits per minute you get from a massage gun will vary from one gun to another. However, the configurations are pretty similar for most guns here.
One thing to remember here is that guns with a high stroke length tend to have fewer hits per minute compared to guns with low stroke length. This is because the head travels a longer distance. Most guns with 16mm – like Theraguns – have maximum 2400 RPMs. They punch harder but not fast.
Since our picks have 10-12mm stroke length, they will hit faster. Expect 3200-3300 RPMs from a majority of them. Even though they don't punch as hard as the big Theraguns, the hits will be faster. Those extra percussions make them quite powerful.
One exception from the above is Opove Apex, since this is the only high-amplitude massage gun our list – for those who prefer deeper hits.
---
Other Features Worth Checking
Noise – no one likes a noisy device. Just a heads up, devices with longer amplitude tend to be noisier than devices with shorter amplitude.
Attachments – 4-6 varied attachments are enough for a full-body massage. Don't be tricked by devices that have up to 20 attachments. Most of these are cheap knockoffs that aren't good enough.
Battery and charging – Most guns have decent batteries these days, and you don't have to worry about it. You should get a week or more on a single charge. When it comes to charging, some guns have USB charging, which is convenient.
Travel case – It's always nice to have one.
Warranty – Most brands will offer a 1-year warranty. Some awesome brands will offer lifetime and great customer support.
Value for the money – Make sure the device is worth the money you are paying for it.
---
Best Massage Guns for Women – What Do We Recommend
Here are our top women massage gun recommendations.
---
Ekrin 365 – Our Top Recommendation

This is one of the latest and trendiest products on the market right now. We got it and reviewed it a while ago – we love Ekrin Athletics massage guns.
So, what can Ekrin 365 gun offer women? Well, literally everything we've just discussed. We won't be detailed here because we already did a review, and you can check most of the details there.
However, this gun is made with premium quality materials. It's nice to look at with the pastel blue color and a nice rubberized handle. It looks stylish, it's adequately light, and has a nice ergonomic touch.
Speaking of being light, it weighs just 1.7 pounds – awesome for a full-sized massage gun, and it's one of the first guns to lower that threshold for regular-sized guns. That means it's easy to maneuver.
You get excellent ergonomics with a handle circumference of 5.4 inches. You can hold it comfortably even if you have small hands. The handle is nicely tilted to give you a natural grip. It's an elongated handle that can reach your lower back.
In terms of performance, it's what you need it to be. It has a 12mm amplitude, which is a sweet spot as we have already seen. It has a maximum of 40lbs. of stall force. This means you can press it hard against the skin and it won't stall.
The percussion range is awesome as well – up to 3200 rpm. This is a decent range for a soothing massage gun after a tiresome day. Just move it over your skin and relax.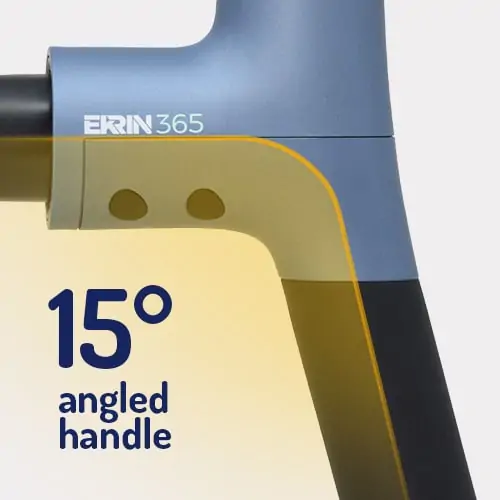 It has a built-in pressure sensor that shows you how much pressure you're exerting. The battery can go for 5 continuous hours on a single charge – that's 2 15-minute sessions a day for at least 10 days.
It's a silent device. It charges via USB for convenience, comes with a nice carrying case and 4 nicely-varied attachments for a full body massage.
Ekrin is a trusted premium brand. You get a lifetime warranty and US-based customer support – they are very responsive; we have been their customers for a while.
Father's Day SALE
Enjoy 25% off the Ekrin 365 and any other Ekrin massager until June 18th. Use code MGADAD25 at checkout to apply the discount. Click here to claim your offer
You can get the device for $179.99 or use our MGA20 coupon (20% off) and get it for $143.99 – great deal!
MORE INFO: Read our hands-on Ekrin 365 review.
---
Opove Apex – For Those Preferring Deep Hits
For women who want a device with a high amplitude and a slightly different approach to ergonomics, this is the device for you.
APEX doesn't cut corners. Opove hit the nail on the head with this one in terms of performance. Instead of embellishing it with Bluetooth OLEDs and other bells and whistles, they opted instead to work on its amplitude and stall force. It's a good alternative for women who want something slightly different in the same price range.
Ekrin 365 boasts a lighter body and a much thinner handle. This one is slightly heavy (2.27 lbs), but the angled handle has more to it. Instead of just the 15-degree angle on Ekrin 365, this one is aggressively angled at 45 degrees.
What's the difference? With this one, there's more than one place to hold. You can hold the top and it will sit nicely between your thumb and your index finger. Even though it's slightly heavier than Ekrin 365, the weight converts into a pushing force that makes for an effortless massage – greatly reduces the strain on the wrist.
What about the stall force, isn't Ekrin 365 much stronger? We'd say it's pretty much the same. Even though Opove advertises the stall force as 50lbs. it's about 40-45lbs. on the highest speed gear.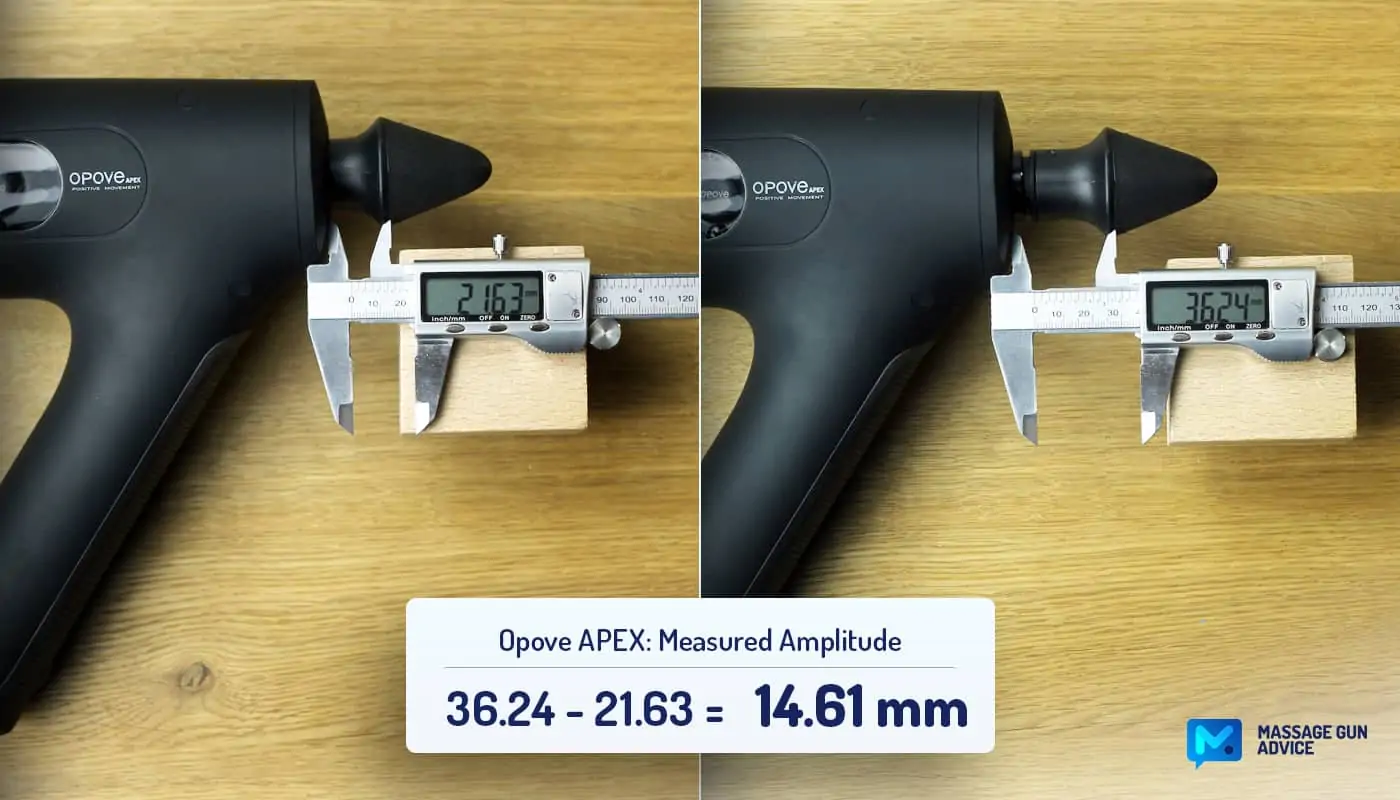 What about the stroke length, isn't 14.5mm too strong for women? As we have recommended, most women usually don't need a very aggressive massage gun. However, there are instances when you need something slightly aggressive. If 12mm won't do it, 14.5m is another sweet spot you can try. Even so, the percussions here are few.
To cut a long story short, this gun is the moderate version of Theraguns and Achedaway Pro, and the most user friendly high-amplitude gun out there.
The device normally sells for $199. You can get a 18% discount which looks as a special introductory price, making it only $165. Get it at opove.com here.
MORE INFO: Read our hands-on Opove Apex Review.
---
Hypervolt 2 – Also Good, but Expensive
This is a new massage gun from one of the top brands in the massage gun industry. It's a full-sized massage gun that we can recommend for women. We're glad we can do that because the earlier Hypervolts were bulky tools that only NBA players loved to handle. They were heavy and bulky and not as ergonomic as they are today.
A recent unveiling has seen Hyperice come up with devices that can serve women as well (not just the women in WNBA, but any woman who wants a massage gun).
We love the Hypervolt 2. We've had it for a few weeks now, and we love the sleek design that is lighter than what we saw with the earlier versions. It's slated gray and also comes with slate gray attachments – we love the combination.
Ergonomically it's improved as well. It's smaller than the first Hypervolts, with a smaller pill-shaped handle. We still hold that Ekrin 365's handle is better, but this one is definitely better than what is on the first Hypervolts. It weighs 1.8 pounds.
We can say it could've been better in terms of performance, but it's still pretty decent. You get 12mm of stroke length. Again, this is better than the first Hypervolt (silver one), which had a 10mm amplitude.
You also get 20-25lbs. of stall force (we had to estimate it because Hyperice doesn't say). Although this isn't as much power as what the first 2 guns on our list give you, it's still good enough for a daily massage when you just float it over muscles, without applying much pressure.
It has up to 2700 rpm and may be less intense compared to what our top 2 guns can give you.
There is a pressure sensor here as well. There is also Bluetooth connectivity when you want to use the Hyperice app. The app has guided sessions that are great for novice massage gun users.
MORE INFO: You can read how to use a massage gun guide if you have never used one before.
Anyway, the battery can last for 3 hours when it's fully charged. You don't get a USB charger with this one. It's a dedicated wall charger.
The warranty is just 1 year, which we have to say is pretty disappointing from a top brand like Hyperice.
The Hypervolt 2 will cost you $299. That is pretty expensive in our opinion. But If you'd like to get one, buy it at RecoveryForAthletes.com, Hyperice's official retail partner. Use the HEALTH5 code to get 5% off at checkout.
PRO TIP Just a though, if you use the coupon MGA20 to buy Ekrin 365, you can get 2 devices for the price of this one Hypervolt.
You can also read our full Hypervolt 2 review here.
---
Ekrin Bantam – For Women on the Go
The Bantam is a proper mini massage gun. It's highly portable and will probably fit in most women's handbags. It's that tiny.
But don't let the size fool you. This is not a toy; it's a serious massage gun.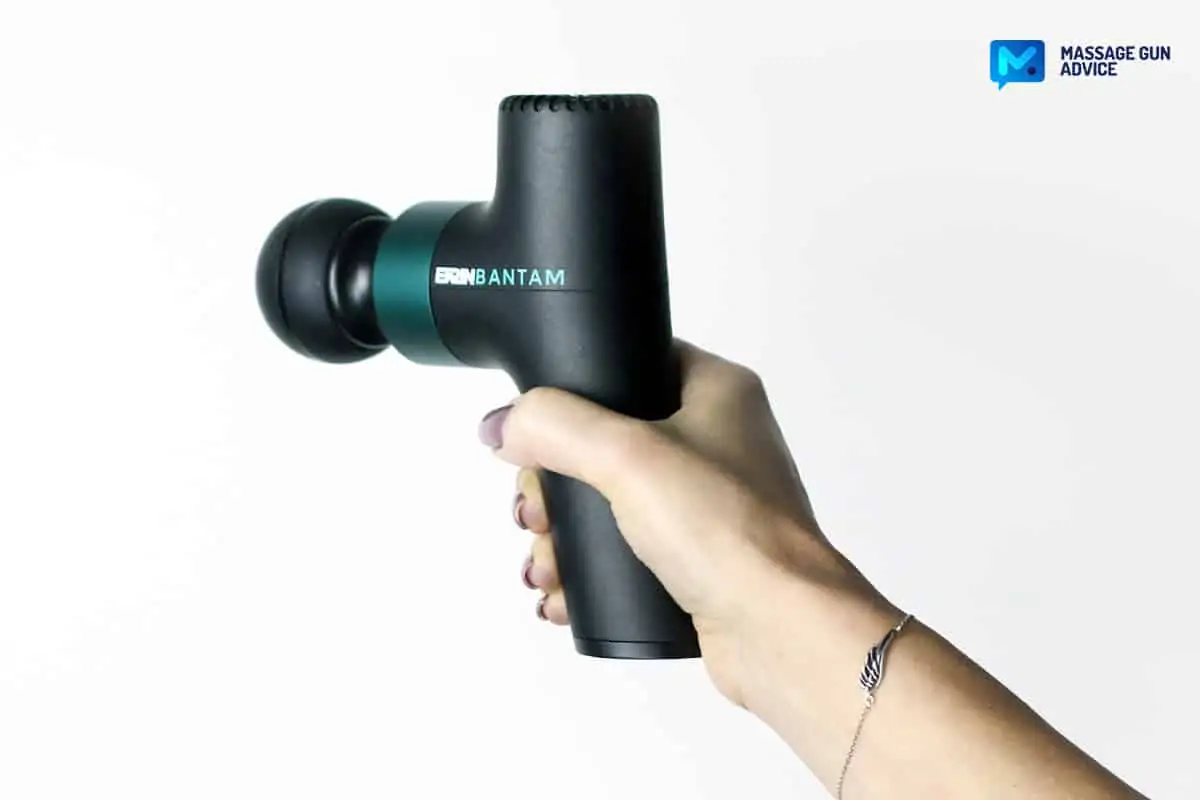 It's easy to hold and maneuver as you use it. It comes with the typical slanted handle as with all Ekrin devices. The handle circumference is 5 inches – about the same size as the bigger Ekrin 365. The handle is rubberized for a firm grip.
In performance, this little massage gun delivers like a regular massage gun. It has a 10mm amplitude – just enough for a mini massage gun; only Theragun mini has more. It has up to 35lbs. of stall force – better than all our devices so far except Ekrin 365. It delivers up to 3200 rpm across 3 speeds.
Expect 4 nicely varied attachments and a carrying case. The battery will last for about 4-6 hours if you use it continuously, or up to 10 days when used normally. It charges via USB and not a wall charger. You get a lifetime warranty and customer support.
It costs $149.99, but you can get it for just $119.99 if you use the MGA20 code, which gives you a 20% discount.
MORE INFO Read our in-depth Ekrin Bantam Review for more information and photos.
---
Which Theragun for Women?
Finally, we have to talk about a Theragun for women. Even if you have never heard of any other massage gun, you've probably heard the name Theragun (or Therabody as they're known these days).
Theraguns started it all. The percussive therapy industry started there. Besides, Theragun has always been unique and consistent with the design and performance of their devices.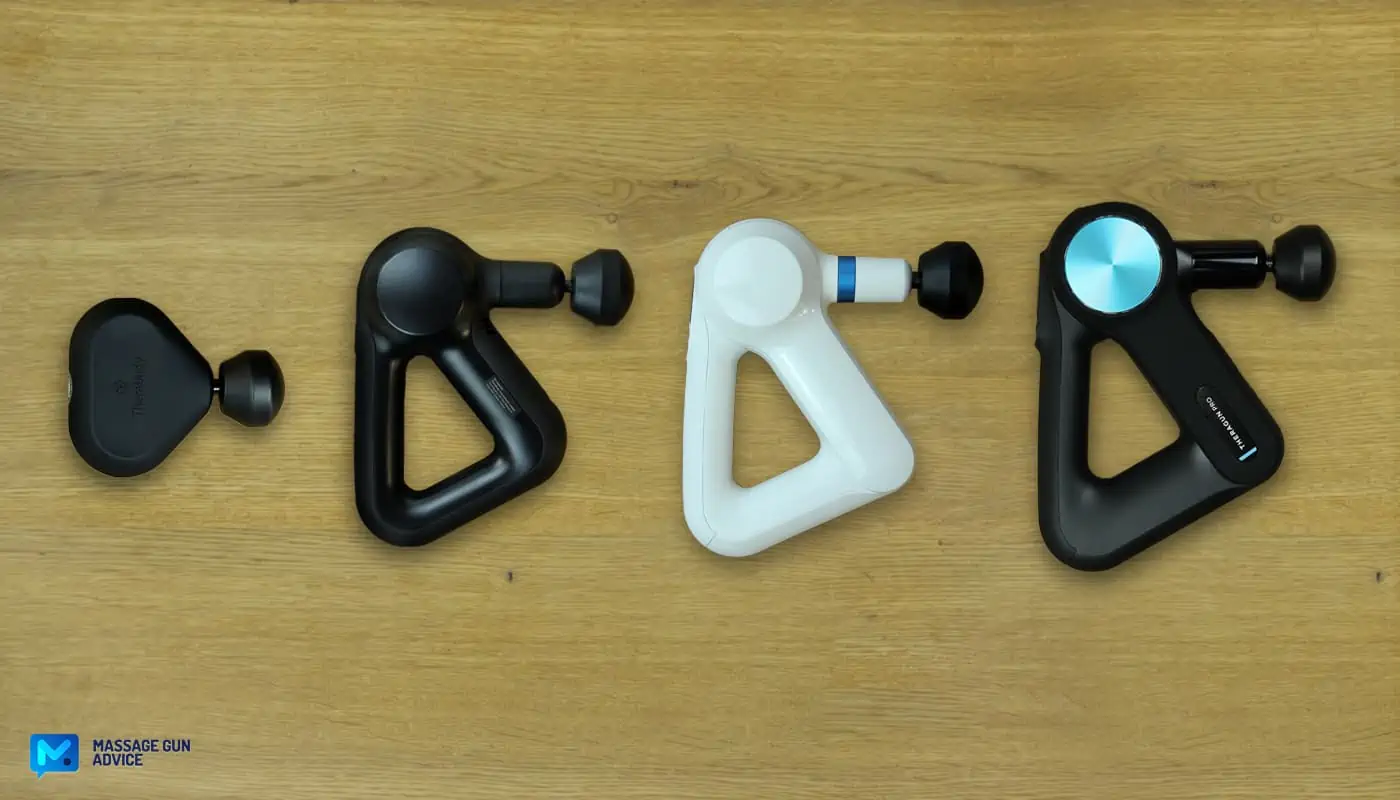 They're known for their high amplitude – all their full-sized guns have 16mm stroke length. That makes them hard-hitting devices. If you prefer punchy massage guns, Theraguns are a great choice if you can afford them. But which one will be perfect for the ladies?
---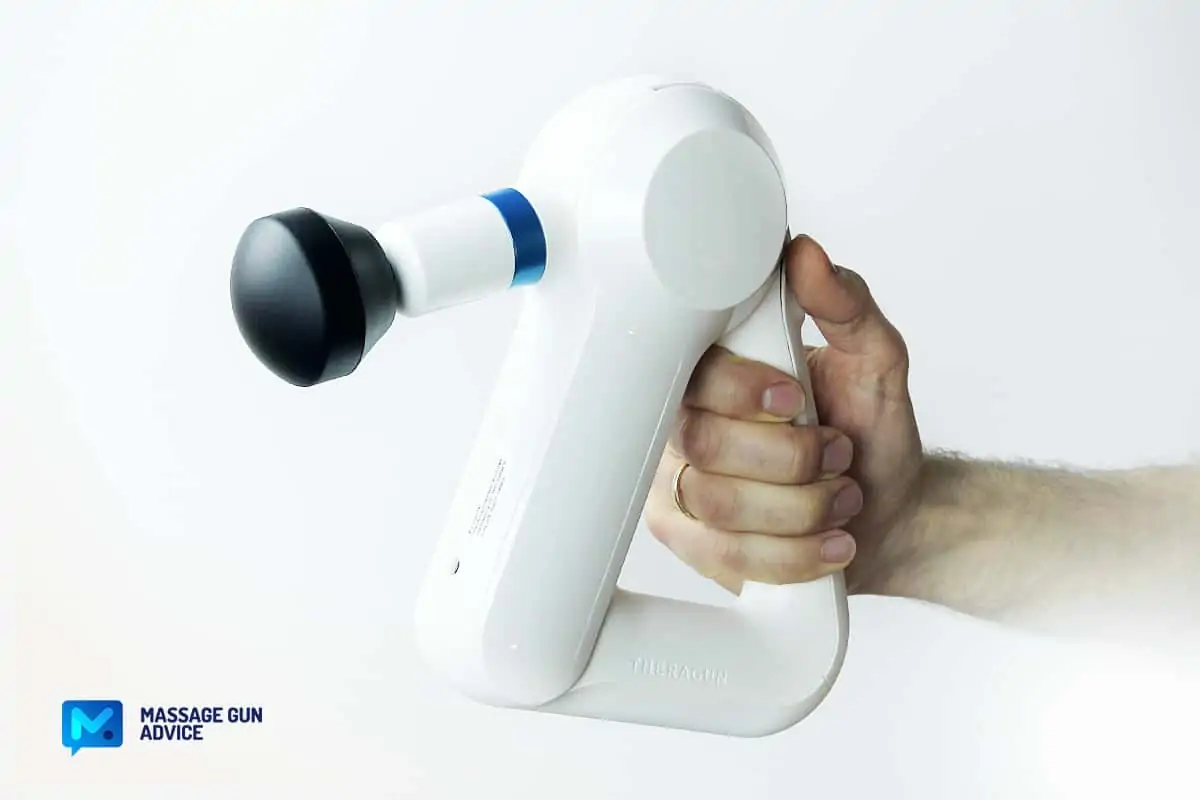 We suggest going for the entry-level Prime. It's compact and reasonably light. It weighs 2.2 pounds – heavier than we would've liked, but it won't kill you. The top gear delivers up to 30lbs. of stall force, which is good enough for 90% of folks out there.
Theragun Prime is also the most affordable of all Theraguns.
TIP Read more about Theragun Prime in our review.
---
---
That said, all Theraguns can only rev up to 2400 rpm – even the smaller and lighter mini. Their high amplitude makes up for the few percussions per minute delivered.
Here's a list of things to note about the two Theraguns:
Theragun Prime has 4 attachments; the mini has just one attachment.
Prime is all black, but the Mini comes in other colors, including Product (RED), desert rose and white.
There is no carrying case with Prime, and there's only a soft pouch for the Mini.
The batteries for both devices are so-so – you will get about 2 hours on a single charge.
Theraguns aren't the quietest guns you've ever seen. Our top picks are better.
Theraguns are expensive: Prime costs $299 while mini costs $199 – you decide!
The warranty for both devices is just 1 year.
Our Take

Theraguns are awesome devices if you want a deep, punchy massage and can afford the high prices. However, for normal folks, they might be too pricey.

They also lack some of the accessories available with other devices (carrying case). The short warranty also doesn't make them a good bang for the buck.
---
Massage Gun for Women – Bottom Line
There is everything you need to know about the best massage gun for women before you can pick one. The market is growing, and new devices are coming up every day. Our list will give you a head start.
Feel free to ask us a question here or comment down below.
Take care!
Was this article helpful?
Your feedback makes our content better!
Thanks for your feedback!
Post Update History
Here's a quick rundown of all the tweaks and edits we've made to this article to keep it accurate and up-to-date!
Current version last updated on:
•
Written by:
Greg Szostak
Disclaimers
The views and opinions expressed on this website are those of the authors. Any content provided by our bloggers or authors are of their opinion and are not intended to malign any religion, ethnic group, club, organization, company, individual or anyone or anything.
All product names, logos, and brands are property of their respective owners. All company, product and service names used in this website are for identification purposes only. Use of these names, logos, and brands does not imply endorsement.
It is our policy to make every effort to respect the copyrights of outside parties. If you believe that your copyright has been misused, please provide us with a message stating your position and we will endeavor to correct any misuse immediately.
Some of the links in this post are affiliate links. As an Amazon Associate, we earn from qualifying purchases. This means if you click on the link and purchase the item, we may receive an affiliate commission, at no extra cost to you. This helps us keep this website alive. Learn more here.
Amazon Disclosure
massagegunadvice.com is a participant in the Amazon Services LLC Associates Program, an affiliate advertising program designed to provide a means for sites to earn advertising fees by advertising and linking to Amazon.com. As an Amazon Associate, we earn from qualifying purchases. Amazon and the Amazon logo are trademarks of Amazon.com, Inc. or its affiliates. Please refer to our Privacy & Affiliate Policy for details.