Best Massage Gun For Women – Hands-on Tested and Approved by Ladies
What to Know: We independently review products we recommend. If you click on links we provide, we may earn a commission. Learn more.
---
Let's get straight to it: We're reviewing massage guns for women today. We asked our wives and sisters to try out more than 15 models and report back on their ease of use, design, and whether they're compact enough for a purse.
With their insights and our technical expertise, we've put together a no-nonsense list of top performers. And guys, this is for you too—especially if you're looking for a gift that hits the mark.
You'll discover:
…and much more. Let's get right to it.
---
Tips for Choosing a Massage Gun for Women
First up, a brief guide based on feedback from our female testers—giving you the essentials from their perspective. We've streamlined their insights with added technical details.
Feel free to skip ahead to our top picks if you're in a hurry.
---
Weight, Size, and Ergonomics are the Most Important Aspects
Our women testers prioritized weight, finding anything over 2 pounds cumbersome. The Ekrin 365 stands out here, hitting the mark at just 1.7 pounds.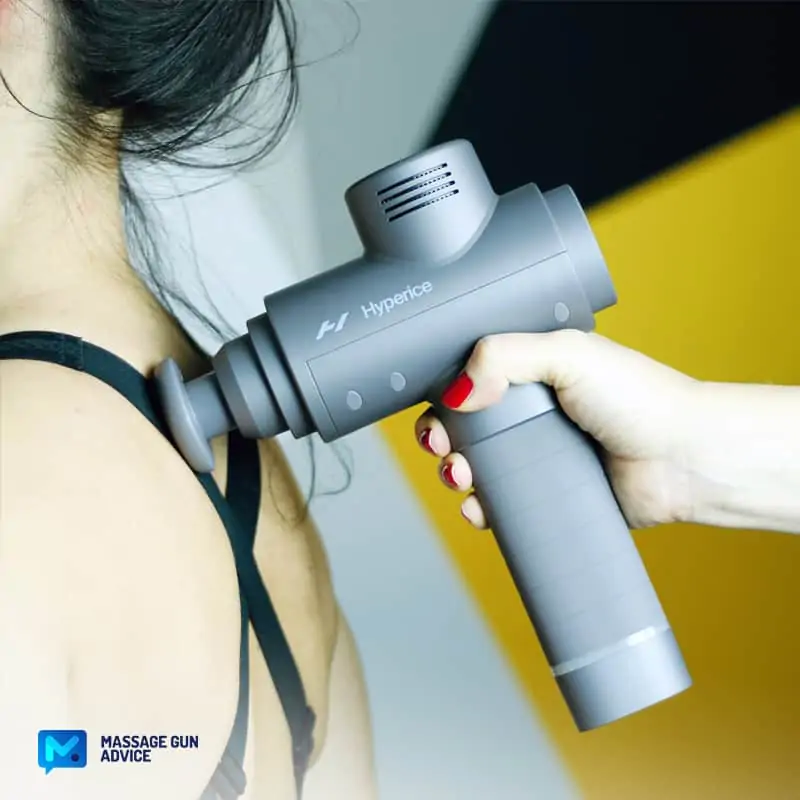 Compactness also mattered. Bulky models like the Achedaway Pro and Bob and Brad D6 Pro didn't make the cut for daily use.
Our Take A massage gun should be lightweight yet reasonably powerful. Don't sacrifice performance for portability — a massage gun needs to be effective.
Ergonomics matter, and here's what to look for:
Handle Angle – Avoid traditional straight handles. They strain your wrist, causing fatigue, especially with heavier guns. Angled handles offer a more natural grip, which is crucial for self-massaging hard-to-reach areas like the lower back.
Handle Shape – Our ladies opted to skip bulky rounded handles. Slimmer or oval-shaped handles, such as the Hypervolt 2's, are more comfortable, especially for smaller hands.
Handle Length – For full-sized massagers, a longer handle is key for self-service on those mid and lower back areas. For mini massage guns, it's less about length and more about how it feels in your grip (and how well it fits into a purse, naturally!).
Last but not least – the design. No one wants a tool that looks like it belongs in a garage. We've picked out massagers that not only feel good but look good, favoring those that seem to have women in mind in their design.
Our Take Based on the attention our female testers gave to aesthetics, we've chosen devices that combine top performance with sleek design.
---
How Powerful Should the Massage Gun Be?
Here's what really matters as far as performance is concerned:
---
Amplitude (Stroke Length)
This is how far the head of the massage gun travels as it pulses. Think of it in three tiers: under 10mm is low (more vibrational), 10-13mm is midrange (the "sweet spot"), and 14-16mm is high, which offers a deeper massage.
Tests and feedback from our ladies show that midrange amplitude hits the right balance for most women—it's gentle on the skin yet can delve into deeper tissue work when needed, as long as the stall force is adequate.
For those needing a more intense massage—like professional athletes or those with specific needs—a higher amplitude, like the 14-16mm range offered by devices such as the Opove Apex or Theraguns, might be preferred. But be warned, they're quite forceful and can be too much for sensitive areas like shoulders or lower back.
On the flip side, massage guns with less than 10mm amplitude are for those who prefer a lighter, more vibrational massage—common in many mini massage guns.
Our Advice For a full-sized massage gun, avoid anything with an amplitude of 10mm or less unless you're only looking for a gentle surface massage.
For more information on why amplitude matters in massage guns, read this post.
---
Stall Force
Stall force means the ability of a device to withstand some pressure when it's pressed against the body.
To keep it simple, here's a simple breakdown:
Entry-level massage guns typically offer 25-30 lbs of stall force. In our opinion, they're fine for light use but might stop if you apply too much pressure.
High-end devices can pack 50-60 lbs of stall force, which is great for heavy-duty use but could be too intense for many women, possibly causing discomfort or irritation.
So, what's the ideal choice?
Our experience and on feedback from our female users suggest that a stall force between 30-40 lbs strikes the perfect balance.
This range is strong enough to provide a deep tissue massage and work out knots in large muscles without being overwhelming. Plus, it's gentle enough for a calming massage before bed or to prep your muscles for exercise.
If you're looking for a massage gun that offers versatility and the right amount of power without going overboard, aim for one in this stall force range.
For an in-depth look at power and stall force in massage guns, check this guide.
---
Percussions Per Minute
Percussions per minute (PPM, or sometimes called RPM) reflect how many times a massage gun strikes per minute.
A higher PPM usually means a more vibrational massage, which the women in our test group preferred for its lighter, more enjoyable touch. Skipping lower speeds, they gravitated towards the highest setting for a satisfying high-frequency massage.
To clarify
Massage guns with longer stroke lengths generally have lower PPMs since the head travels a longer distance. For instance, many 16mm devices – like Theraguns – max out at around 2400 PPMs, delivering slower but more forceful hits. This slower pace can still provide a deep massage but doesn't feel as buzzy or vibrational as those with a higher PPM.
Our selected models, with stroke lengths of 10-12mm, provide quicker hits, usually between 3000-3300 PPMs. For example, the Ekrin 365 leads our list with a peak of 3200 PPMs. While it may not deliver the intense force of larger models like Theraguns, the higher frequency of percussions compensates, resulting in potent performance.
The exception here is Opove Apex. This is the only high-amplitude massage gun on our list – an option for those who prefer deeper hits.
---
Other Features Worth Checking
Noise – high noise levels can be a deal-breaker for many. Our picks are on the quieter side.
Attachments – during the tests, we found that 4-6 varied attachments are usually more than enough. Don't be tricked by devices that have up to 20 different heads. But make sure you get at least one soft tip.
Battery and charging – most modern massage guns come with reliable batteries. You can expect a week or more of use on a single charge. We also highly recommend devices that offer USB-C charging for convenience.
Travel case – well, it's always nice to have one.
Warranty – most brands will offer a 1-year warranty. But there are brands like Ekrin that offer lifetime warranty and great customer support (we talk about it below).
Value for the money – naturally, it is wise to known the device is worth the money you are paying for it.
---
Best Massage Guns for Women According To Our Female Testers
Following extensive trials, the massage guns highlighted below have been handpicked by our female testers as their favorites. Naturally, we agree with their choices (and this has nothing to do with the fact that we always agree with our wives ;).
---
Ekrin 365 – Best Overall
Key Highlights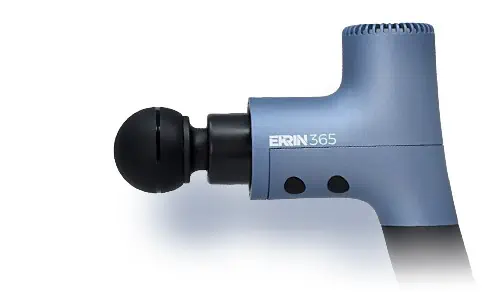 Versatile and reliable massage gun
Great value for the money
Excellent quality overall
Lifetime warranty
This massage gun won our ladies' hearts right from the start. It not only feels comfortable in hand but also features a gorgeous blue color that immediately caught their eyes. Only the Hypervolt 2 could compete with that, but we'll get to that later.
So, what does the Ekrin 365 have to offer women?
Well, pretty much everything we've just discussed. We won't go into exhaustive detail here because we've covered most of it in our detailed review here. Just the key highlights:
Design and Ergonomics
Right out of the box (or the carrying case, which is quite well-crafted), it's evident that this is a premium-quality product with materials that feel great to the touch.
One of the initial surprises for our wives and sisters was its lightweight nature. Tipping the scales at just 1.7 pounds, this full-sized massage gun was remarkably easy for them to handle, allowing effortless maneuvering.
The handle's 15-degree tilt and 5.4-inch diameter were thoughtfully designed to accommodate varying hand sizes, which our beloved testers found comfortable even during extended use. The rubberized grip was appreciated for its slip-resistant properties, which proved invaluable during more intense massage sessions.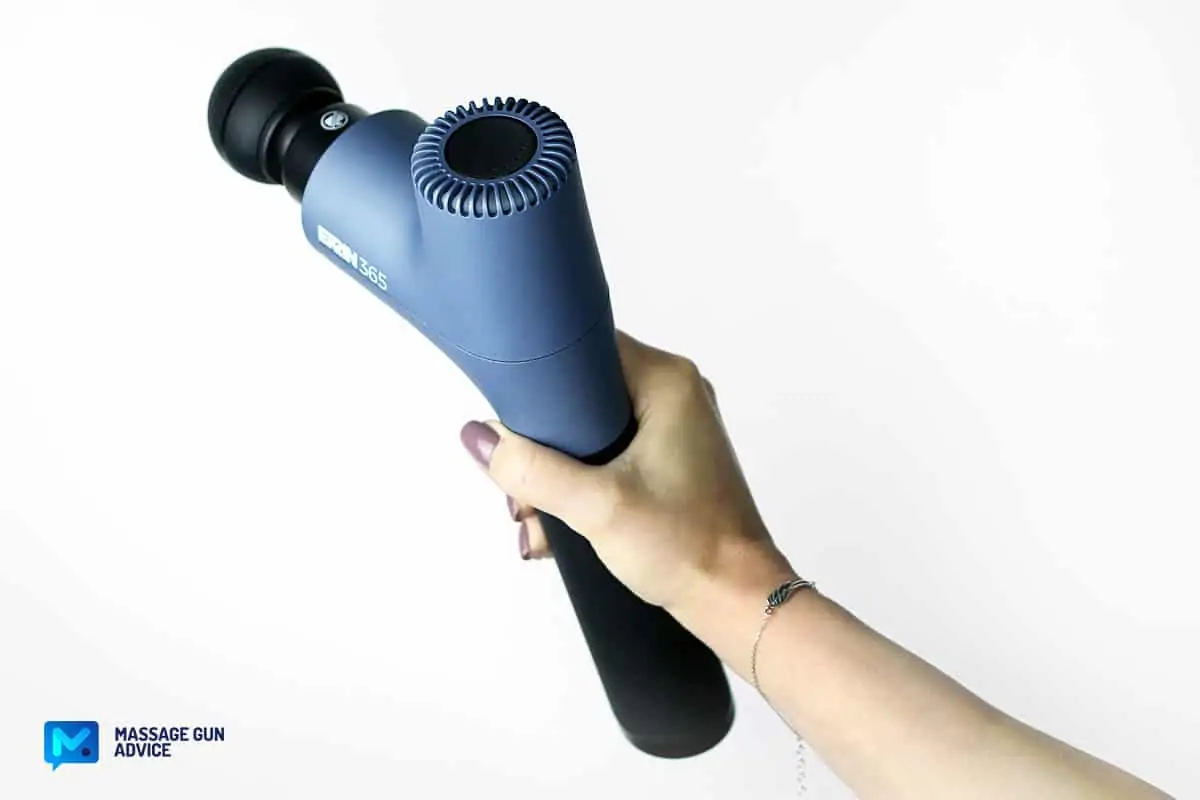 Performance
Here, the Ekrin 365 ticked all the necessary boxes for our female testers. It offers a 12mm amplitude and up to 40 lbs. of stall force, versatile enough to provide gentle relaxation and deep muscle relief. The 3200 PPM maximum speed was noted for its adequacy in delivering a calming experience after a long day.
The 365 also features a built-in pressure sensor. But, it turned out that what excites us isn't very important to our ladies.
We tested the battery, and it can go for 5 hours on one charge. That's enough for at least 10 days of two 15-minute sessions a day. Plus, charging with a USB-C cable is a breeze and easily available at home and in places like airports (yes, you can take it on a plane).
Other things we liked
The device operates quietly, and its sound is smooth and non-intrusive for your daily routine.
The attachments are high-quality and varied. The soft air-cushioned attachment, in particular, emerged as a favorite, frequently chosen for its gentle approach to sensitive areas—a detail that our ladies emphasized as particularly beneficial for women.
Ekrin is a trusted premium brand. You receive a lifetime warranty and US-based customer support, which is highly responsive. We've been their customers for a while and can vouch for their reliability.
Any downsides? Our ladies pointed out that the control panel was somewhat hard to read and not very responsive. They suggested larger LED indicators and better feedback from the button would make it just a perfect massager. Despite this, they still voted it the best option.
Price
You can get the device for $179.99. Feel free to use MGA20 coupon for an additional 20% off. Buy it right here
---
Hypervolt 2 – Pretty, But Expensive
Our Testing Impressions:
Overall quality and premium feel
Nice 12mm amplitude but low stall force
Great for beginners and everyday use
Lack of carrying case, steep price
Our female testers took the latest Hypervolt 2 for a spin and here's the scoop: this model is a game-changer for massage guns for women, shedding the bulkiness of its predecessors for a sleek, lighter design that appeals to everyone—not just professional athletes.
After testing it for a few weeks, we were impressed by its sleek design and lighter build. It's slated gray and also comes with slate gray attachments – we love the combination. They now also offer it in all black.
Ergonomically it's improved as well. It's smaller than the first Hypervolts, with a smaller pill-shaped handle. We still hold that Ekrin 365's handle is better, but this one is definitely better than what was on the first Hypervolts. It weighs 1.8 pounds.
The photos below show it being handled by our female tester:
Performance-wise, it delivers with a 12mm stroke length—better than the first-gen Hypervolt—and a stall force we estimate at 20-25lbs (Hyperice wouldn't disclose the actual figure). It's not top of the line but sufficient for daily muscle maintenance without needing to press hard.
The speed tops out at 2700 rpm, not as vigorous as our top picks but enough for a routine rubdown. It includes a pressure sensor and Bluetooth for syncing with the Hyperice app, which offers guided sessions—ideal for newcomers to massage guns.
TIP Read our post on how to use a massage gun if you have never used one before.
The battery life is solid at 3 hours per charge. You don't get a USB-C charger with this one. It's a classic dedicated wall charger.
The warranty is just 1 year, which we have to say is pretty disappointing from a top brand like Hyperice.
The Hypervolt 2 will cost you $199 at hyperice.com That is pretty expensive in our opinion.
---
Ekrin Bantam – For Women on the Go
Our Testing Impressions: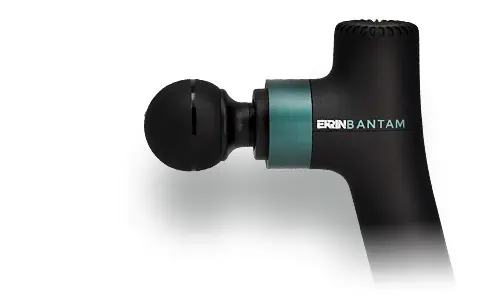 Compact but powerful, up to 3200rpm
Great size and ergonomics
Excellent quality overall
Lifetime warranty
We got our hands on the Ekrin Bantam, and it's a true mini gun in every sense. It's highly portable and will probably fit in most women's handbags. It's that tiny.
Here's the picture that shows it well:
But don't let the size fool you. It is not a toy; this mini gun packs quite a punch.
During our tests, we found it incredibly easy to grip and maneuver. It comes with the typical slanted handle as with all Ekrin devices. The handle circumference is 5 inches – about the same size as the bigger Ekrin 365. The handle is rubberized for a firm grip.
Don't miss our short video showcasing its user-friendly design and how it fits comfortably in your hand. We also take a closer look at the variety of attachments provided.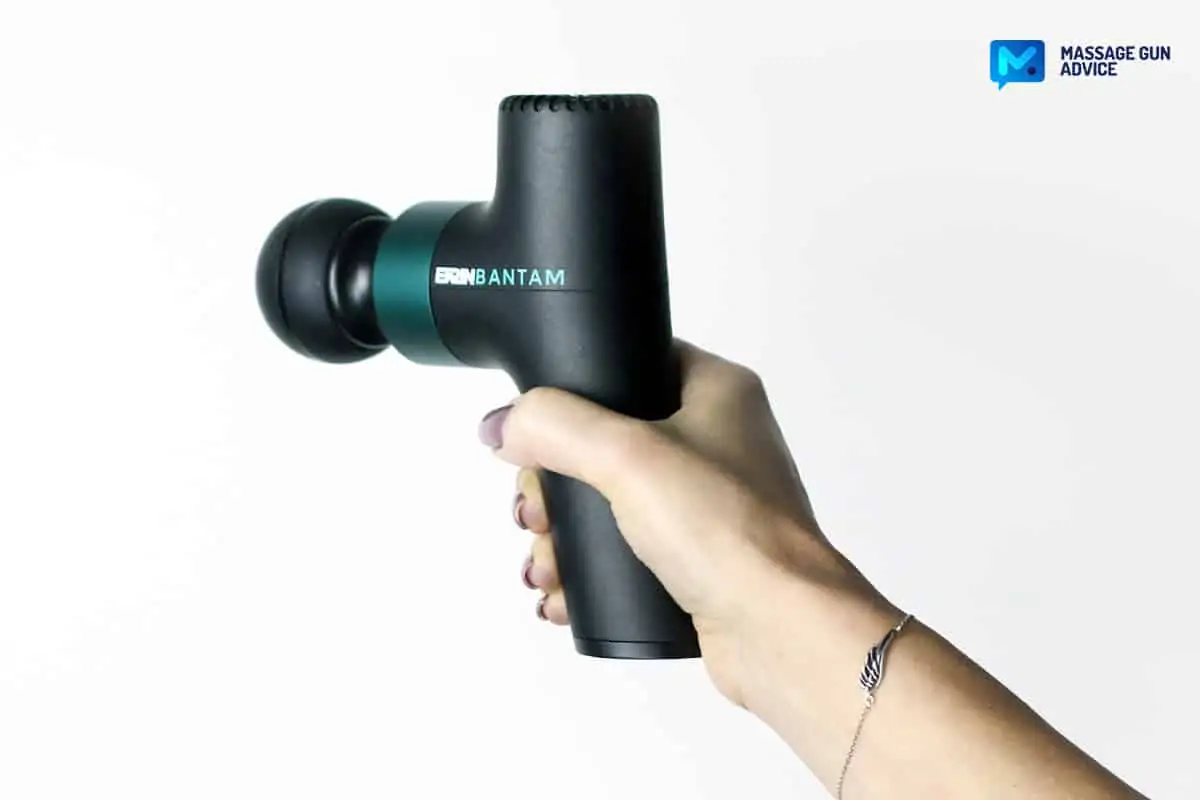 In terms of power, the Bantam competes with full-sized massage guns. It offers a 10mm amplitude—impressive for its size—and boasts up to 35lbs. of stall force. With three speed settings, it reaches up to 3200 rpm.
Included are four distinct attachments and a carrying case for added convenience. The battery longevity is impressive: 4-6 hours of continuous use or up to 10 days of typical use, all with the convenience of USB charging.
Ekrin supports this mini powerhouse with a lifetime warranty and customer support.
It costs $149.99, but you can get it for just $119.99 if you use the MGA20 code, which gives you a 20% discount. Check it out here.
MORE INFO Read our in-depth Ekrin Bantam Review for more information and photos.
---
Opove Apex – For Ladies Preferring Deep Hits
For women seeking a high amplitude device with a unique ergonomic design, our hands-on sessions suggest this might be the one for you.
Opove APEX doesn't cut corners. Opove hit the nail on the head with this one in terms of performance. Instead of embellishing it with Bluetooth OLEDs and other bells and whistles, they opted instead to work on its amplitude and stall force. It's a good alternative for women who want something slightly different in the same price range.
Ekrin 365 boasts a lighter body and a much thinner handle. This one is slightly heavy (2.27 lbs), but the angled handle has more to it. Instead of just the 15-degree angle on Ekrin 365, this one is aggressively angled at 45 degrees.
What's the difference? With this one, there's more than one place to hold. You can hold the top and it will sit nicely between your thumb and your index finger. Even though it's slightly heavier than Ekrin 365, the weight converts into a pushing force that makes for an effortless massage – greatly reduces the strain on the wrist.
What about the stall force, isn't Ekrin 365 much stronger? We'd say it's pretty much the same. Even though Opove advertises the stall force as 50lbs. it's about 40-45lbs. on the highest speed gear.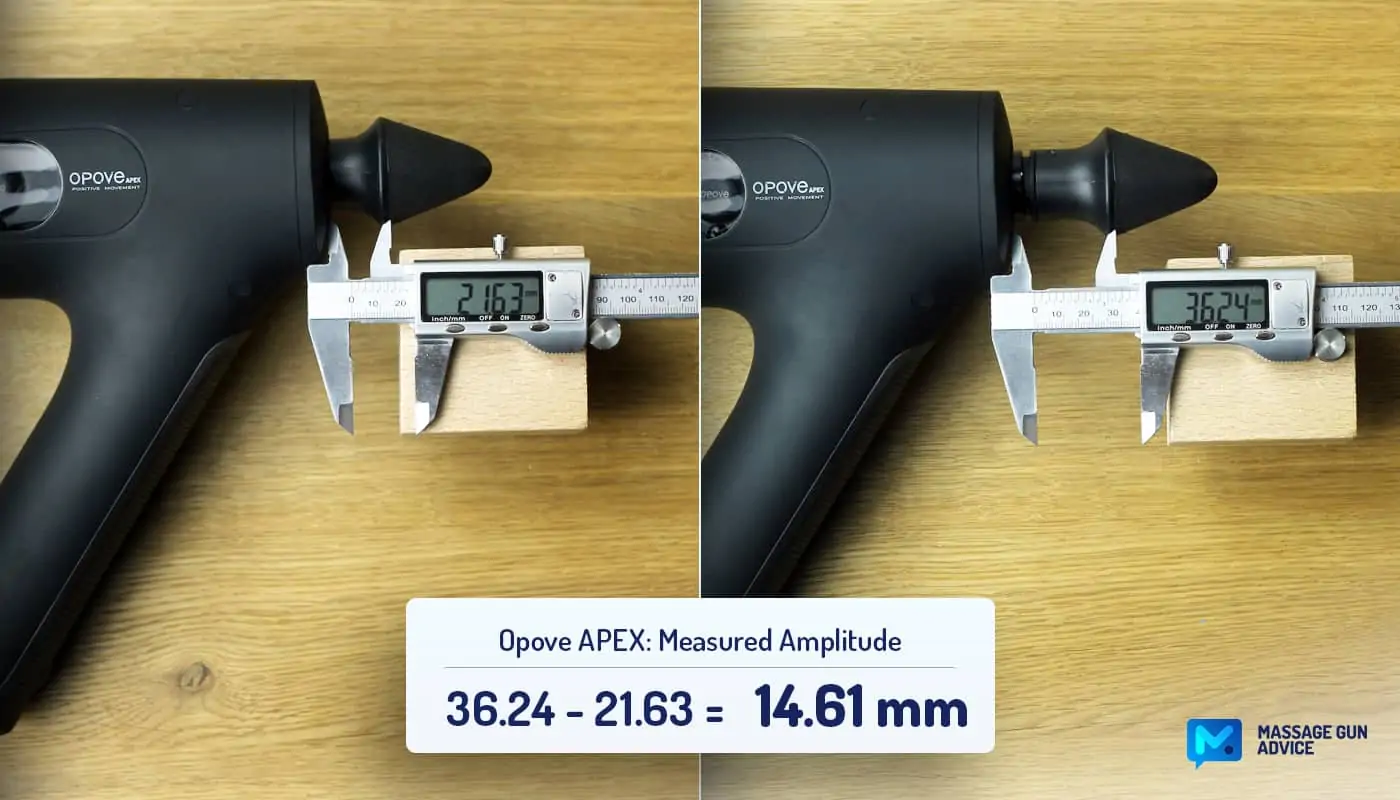 What about the stroke length, isn't 14.5mm too strong for women? As we have recommended, most women usually don't need a very aggressive massage gun. However, there are instances when you need something slightly aggressive. If 12mm won't do it, 14.5m is another sweet spot you can try. Even so, the percussions here are few.
To cut a long story short, this gun is the moderate version of Theraguns and Achedaway Pro, and the most user friendly high-amplitude gun out there.
The device normally sells for $199. You can get a 18% discount which looks as a special introductory price, making it only $165. Get it at opove.com here.
MORE INFO: Read our hands-on Opove Apex Review.
---
Which Theragun for Women?
Of course, our testing journey wouldn't be complete without exploring Theraguns. They're known for their high amplitude – all their full-sized mussage guns have a 16mm stroke length and the mini 12mm. That makes them hard-hitting devices. Just be aware of that.
But which one will be perfect for the ladies?
---
Theragun Prime
We suggest going for the entry-level Prime. It's compact and reasonably light, weighing 2.2 pounds – heavier than we would've liked, but it won't kill you. The top-tier model delivers up to 30 lbs. of stall force, which is good enough for 90% of folks out there.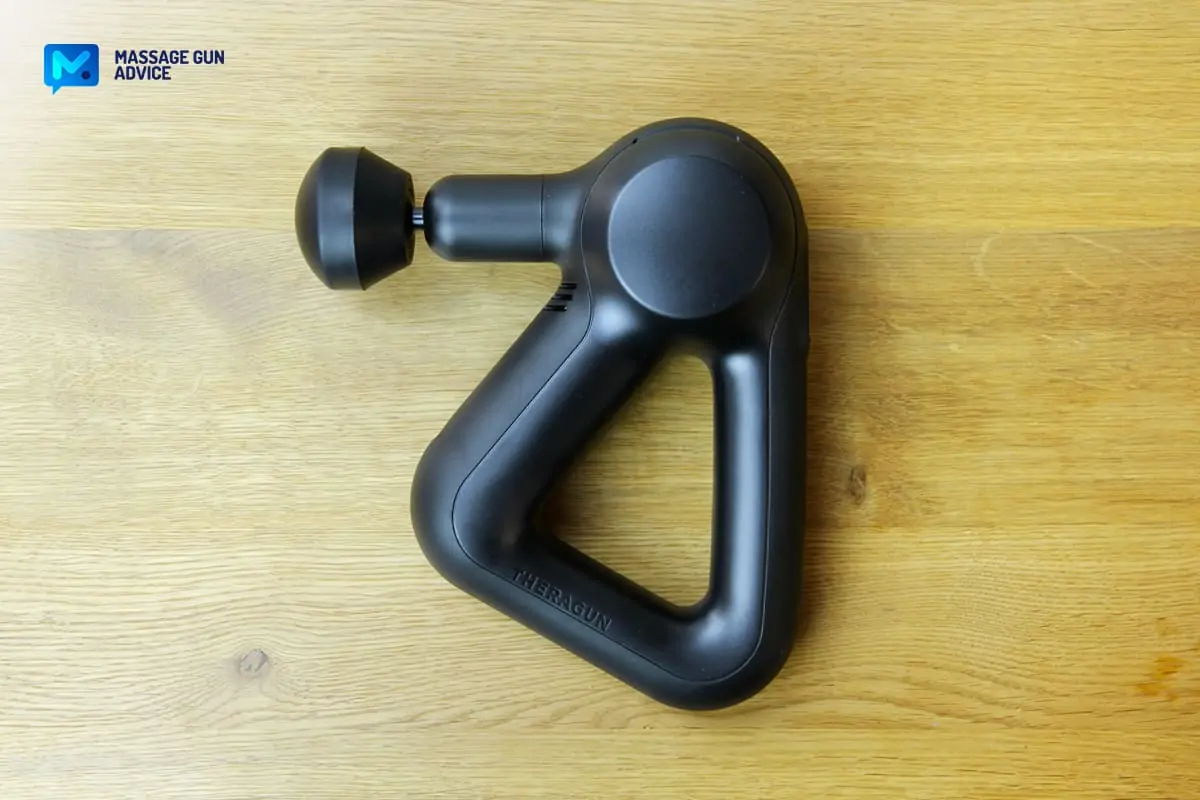 The other two Theraguns were too big and too heavy, as our ladies concluded.
At $299, the Theragun Prime is also the most affordable of all full sized Theraguns.
Read More Theragun Prime in our review
---
Theragun mini
This is by far the best Theragun for women. It's small and travel-friendly, with all the specs in place (note that it has only 2400 ppm; more on that later).
It weighs just 1.1 pounds, has three best-in-the-business attachments that perfectly fit women's needs, and offers Bluetooth connectivity. The last feature is a great way to get started with massagers; our ladies were fascinated by it.
Price: $199 at Therabody.com It's quite expensive, but worth it.
Beside classic black, it is also available in white, Product (RED) and in the beautiful desert rose color.
Read More Theragun mini review here
---
Regarding the percussions, it's worth noting that all Theraguns can rev up to a maximum of 2400 ppm – even the smaller and lighter Mini.
This limitation is due to their high amplitude. Physics is unforgiving, and having both parameters at the top level is impossible. Theragun apparently has chosen the path of high amplitude in its devices. Therefore, the experience is simply slightly different, and many people like its punchy percussions.
Our Take
Would we suggest Theraguns for women? Absolutely.
From what we could see when our beloved testers used them, they were satisfied with the devices, the Therabody App, and the overall massage experience.
Yet, why aren't Theraguns on our list of recommendations?
It boils down to the price. As we stress the importance of value for money in our guide, we believe that there are equally effective, or superior, massage guns available at a more reasonable cost.
---
Bottom Line
Women's insights on massage guns offer a fresh perspective, emphasizing the hands-on experience over technical specs. They prioritize the actual use and the relief the devices bring.
Ultimately, it's the satisfaction and wellness benefits that matter most.
We trust you found this article useful. We're eager to hear about your massage gun experiences. Which model did you pick? Are you happy with it? Your feedback is invaluable – drop us a comment below!
Take care!
P.S. Thank you, Ren, Justa, Aga, and Zuza, for your time and patience. We love you.
Was this article helpful?
Thanks for your feedback!
Post Update History
Here's a quick rundown of all the tweaks and edits we've made to this article to keep it accurate and up-to-date!
Current version last updated on:
November 3, 2023 Revised the introduction, made minor edits in the guide section to make it more clear and concise. (Author: Luke)
September 19, 2023 Added videos showcasing the reviewed devices (Author: Greg)
August 17, 2023 Revised introduction and minor edits in the guide section. (Author: Luke)
January 20, 2023 New information added in a section dedicated to Theraguns for women. (Author: Luke)
September 2, 2022 Added new photos from hands-on testing. (Author: Greg)
May 23, 2022 Added new photos from hands-on testing. (Author: Greg)
•
Written by:
Greg Szostak
Disclaimers
The views and opinions expressed on this website are those of the authors. Any content provided by our bloggers or authors are of their opinion and are not intended to malign any religion, ethnic group, club, organization, company, individual or anyone or anything.
All product names, logos, and brands are property of their respective owners. All company, product and service names used in this website are for identification purposes only. Use of these names, logos, and brands does not imply endorsement.
It is our policy to make every effort to respect the copyrights of outside parties. If you believe that your copyright has been misused, please provide us with a message stating your position and we will endeavor to correct any misuse immediately.
Some of the links in this post are affiliate links. As an Amazon Associate, we earn from qualifying purchases. This means if you click on the link and purchase the item, we may receive an affiliate commission, at no extra cost to you. This helps us keep this website alive. Learn more here.
Amazon Disclosure
massagegunadvice.com is a participant in the Amazon Services LLC Associates Program, an affiliate advertising program designed to provide a means for sites to earn advertising fees by advertising and linking to Amazon.com. As an Amazon Associate, we earn from qualifying purchases. Amazon and the Amazon logo are trademarks of Amazon.com, Inc. or its affiliates. Please refer to our Privacy & Affiliate Policy for details.